With Hurricane (technically tropical storm) Fay hammering central Florida for the last week, my journey South to join Embry Riddle's Daytona Beach campus turned out slightly differently than expected.
Originally scheduled to travel on August 19th, PWM-JFK-MCO, I received word from Embry Riddle the day before my departure that orientation was postponed; with the tropical storm bearing down on Florida, everything in the area was shutting down and waiting out the storm. While this news came just in time for me, a number of other students boarded that day's flight unaware that they would be spending the next three days stuck in a dorm, with a lot of rain outside.
My experience was far more pleasant. Rebooking with JetBlue was
extremely
easy. Changing my itinerary to fit my new schedule was as simple as specifying a new day. Pushing the flight back two days also saved me $14 on my ticket, which was credited to my TrueBlue account. Hotel rebooking for my parents was slightly more challenging, but overall it seemed like everyone was more or less sympathetic of our situation, as everyone in Florida has to endure the same every hurricane season.
Given an extra two days in the state of Maine, I was able to figure out everything I hadn't packed, do everything that I hadn't gotten around to doing, and say a fond farewell to my girlfriend. Overall, I'm starting to like Hurricanes...
But on to the actual flight now:
KPWM - KMCO
Flight #B6-1149
Equipment:
Embraer E-190 (N216JB/Blue Getaways)
Scheduled Departure:
14:20
Actual Departure:
14:40
Scheduled Arrival:
17:26
Actual Arrival:
17:55
Check in at Portland was quick and painless as usual. Since the mid day JFK departure was leaving at about the time I checked in, the line at the desk was limited to only those onboard the Orlando flight. The line was only a couple of people deep, and there were two employees on duty, so the automated check-in kiosks were being left un-used. Since I was packing almost all of my life's posessions into a couple suitcases for the trip down to ERAU, I had two bags and one was very close to overweight. The second bag charge with JetBlue is still only $20 (better than can be said for most other domestic carriers) and the agent didn't raise any concerns over my 51 pound bag, simply slapping a "HEAVY" tag on it, and rounding down to 50 pounds on the label.
The Portland Jetport has recently completed one of many renovations of their facilities, replacing what was formerly a recessed waiting area with a brand new restaurant with views out over the tarmac. Having much time to kill, I stopped in at the Shipyard Brewing Company for a quick lunch before security.
The new Shipyard Co. Restaurant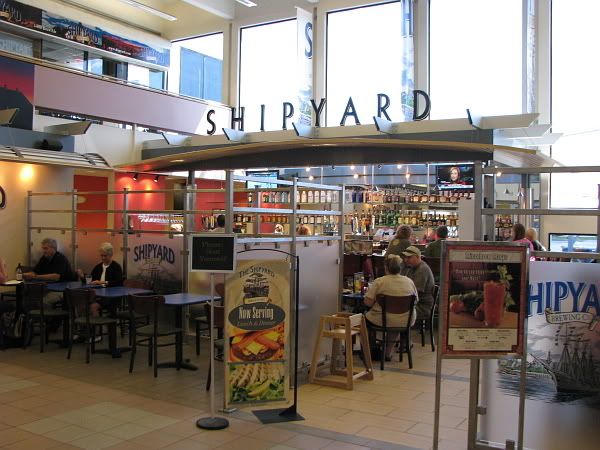 After lunch, and saying goodbye to my girlfriend, security was a breeze. Three of four lines were open, and the line lasted 10 minutes at most. I was afraid that the tangle of cables in my laptop case would raise suspicions, and became further worried when I heard a call for a bag check while my case was in the X-Ray, but it turned out to be a dangerous bottle of Orange Juice in the luggage of the man in front of me. (thank you TSA, that Orange Juice really could have...given the pilot indigestion if gone un-found)
Making my way down to gate 10, I found my timing to be perfect. While there was a crowd around the gate, only the back 5 rows of the aircraft had been called, and my seat in 20A had me right on the plane without delay.
The only view of my aircraft I got before boarding. "Blue Getaways"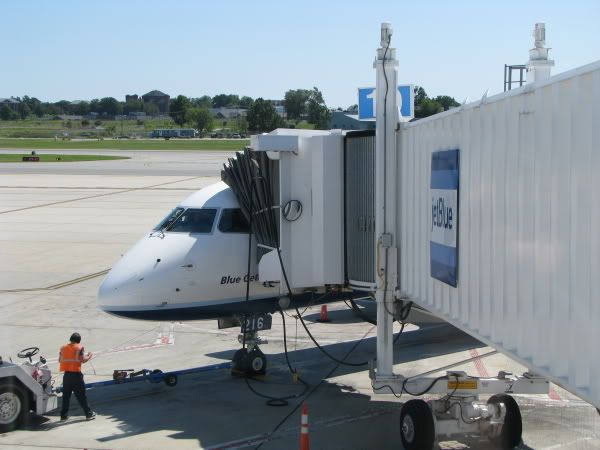 Never having been on an E-190 before, my first impressions were slightly skewed. Looking down the length of the plane from the front, the plane gives the impression of being small and cramped, with a noticably narrow fuselage. But once seated...wow. I'm just sure if it's the plane, or what JetBlue has done with it, but seat 20A was the most spacious and roomy feeling seat I've experienced on a plane of any type. Leg room was far from being a problem, with plenty of space to stretch out in front of me, and it seemed that the width of the seat was slightly greater than a standard economy seat. Add the PTV to all of that, and I was looking forward to a very comfortable flight.
The view out the window, featuring a Mesa CRJ-9, the Jetport, and the skeleton of the Jetport's new parking garage project.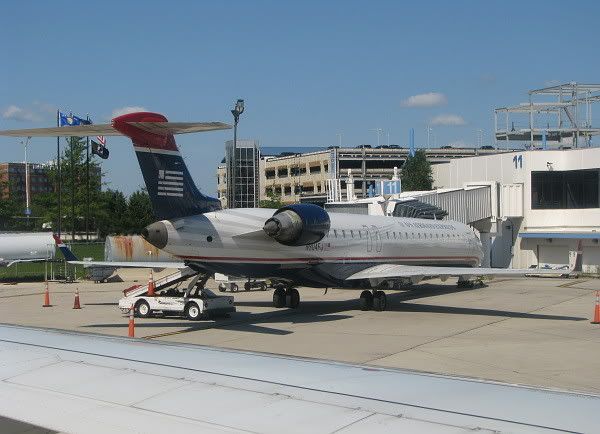 Pushback and taxi was a little late, but not bad. The FAs had some trouble with the safety announcement, restarting the tape a couple of times, but otherwise everything went smoothly. We taxied out behind a US Airways E170, and a Continental Q400. The Q400 went to the penalty box (well of course it did, it was headed to EWR) and the E170 took off in front of us without delay.
A Q400 waiting to head out to Newark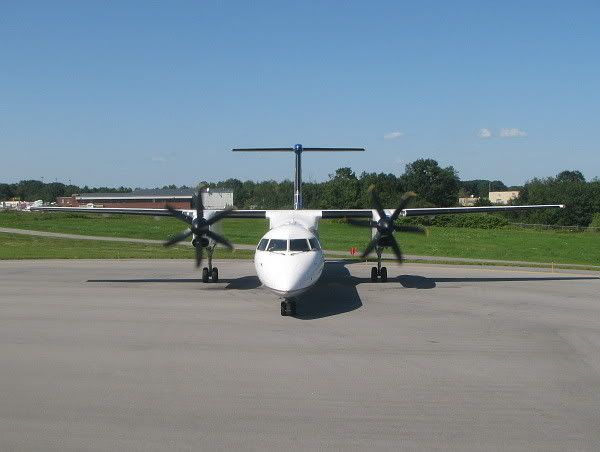 Takeoff was quite powerful (in my opinion at least), and we quickly made it to 10,000ft, where I settled in to explore the in-flight entertainment system.
My Girlfriend captured this shot of my plane on takeoff roll.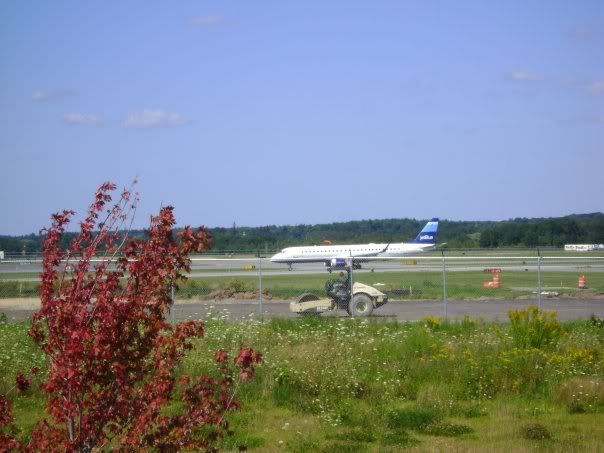 My last shot of the state of Maine, taking off over South Portland and the Maine Mall
Luckily for me, the History Channel was running a marathon of "The Works" (an interesting documentary show about...well, pretty much anything), and Discovery and Nat-Geo both had equally entertaining programs running, so I settled in to enjoy those for the first two or so hours of the flight.
Passing right over the city of Boston at 30,000 feet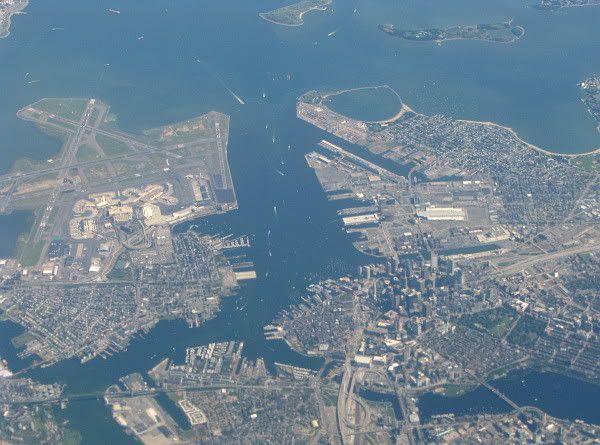 The FAs came through with snack service about an hour and a half into the flight, first offering beverage service, and later coming around with a snack basket. JetBlue doesn't use beverage carts, so all service was done by hand by the flight attendants, taking orders and bringing beverages back from the galley. I had a coke, and JetBlue's signature Tera-Blue potato chips. The chips weren't bad, they simply tasted like a slightly thicker cut regular potato chip.
Snack Service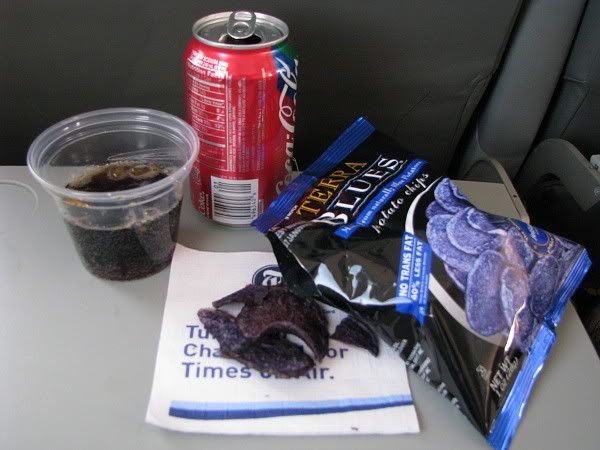 Somewhere over North Carolina, we started to hit some weather, probably just some mid-afternoon thunder storms, but the plane got bumped around a good deal for 10 or 15 minutes, and the seat belt sign remained on for most of the rest of the flight, as we hit occasional bumps all the way down to Florida.
Messages from the flight deck were quite frequent as we headed in towards Florida. Earlier on, we had been informed that we would be coming in to Orlando late, as we were heading out towards Atlanta to avoid the storm. Later on, we were told that we would be overflying Tampa and circling back in towards Orlando. The captain was constantly reassuring the passengers that "if this wasn't safe, we wouldn't be flying you here now" and that he would be getting us there "first safely, then quickly."
Flight track, just after landing (note the tropical storm over the Daytona area)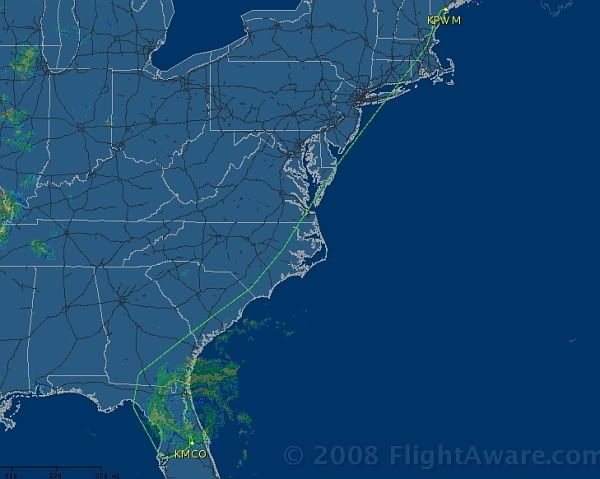 The Weather Channel was very popular throughout the plane.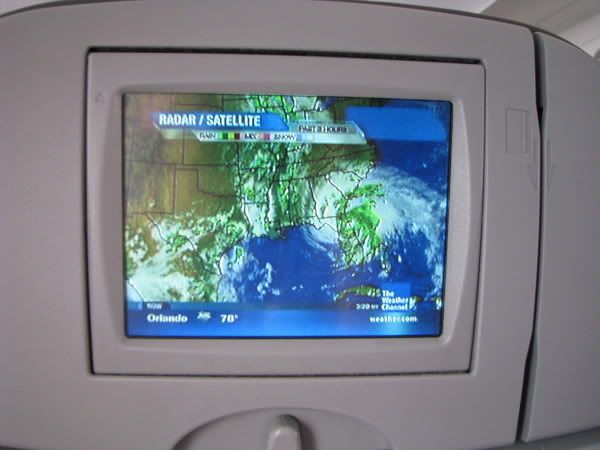 Over Tampa, the captain informed us that we would be in relatively clear weather for the next few minutes, and that anyone needing to use the bathroom should do so now, as we would be entering the storm within the next few minutes, and everyone should be tightly strapped in for the remainder of the flight.
The last half hour in the air was very, very bumpy. I found it rather exciting, flying through heavy rain, and then punching out to clear skies, only to do the same thing over again as we hit the next arm of the storm.
The closer to Orlando we got, the heavier the weather seemed to be. At one point, we caught a cross-wind gust while we were in clear skies, and I was able to watch the ground going by beneath me sideways. At one point, the pilot came on to tell us that he was "disengaging the auto-pilot now to give you as smooth a ride as possible through the storm." I'm not sure if that line was supposed to impress, or comfort us as passengers, but it made the landing to come all the more impressive.
Flying through a cloud. The wings of the E-190 were surprisingly small, giving it a noticeably "small plane" feel.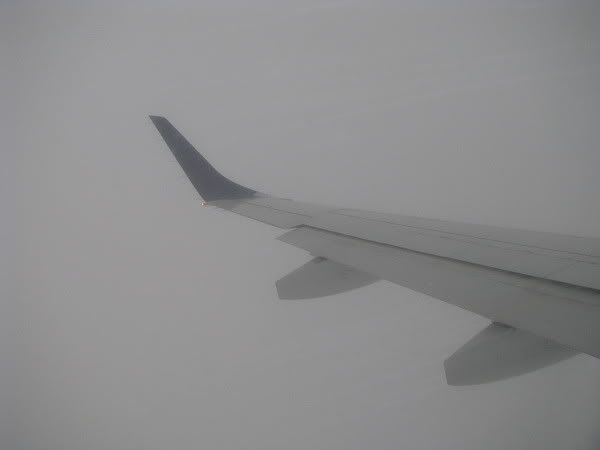 Final approach was not too rough, but still choppy. As we touched down, I found myself looking twice to see if we were on the ground or not. Touching down on the runway was less of a jolt than many of the bumps we had felt earlier in the flight, and the captain definitely deserved the applause he got from the cabin. (yes, about half the people onboard clapped on touchdown. The first time I've experienced that on a US domestic flight)
Touchdown in Orlando
After a lengthy taxi to the gate in the pouring rain, we finally arrived in Orlando, after one of the most entertaining flights I've ever been on. I was one of the last people off the aircraft, and on the way by congratulated the pilot on his landing, and asked if I could possibly see the flight deck. I had totally forgotten how nice Embraer cockpits are, with a full HUD, glass cockpit and all. I ended up having a nice conversation with the captain about the flight controls, and ERAU, and the storm. I wish I had remembered the captain's name now, as I would write him a commendation and send it in to JetBlue, as this particular flight deck crew was by far the most informative and professional I have ever flown with.
E-190 Flight Deck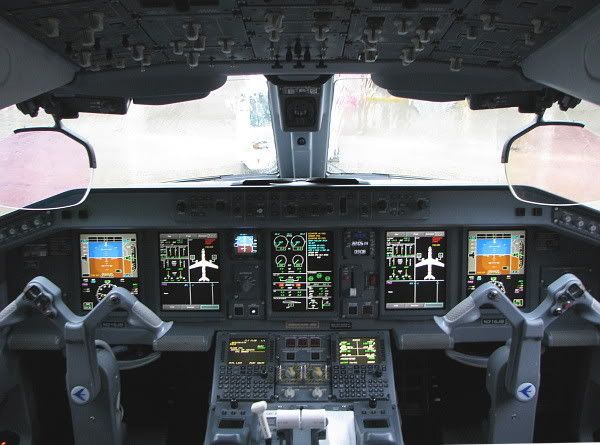 Overall, my experience with JetBlue, the Portland Jetport, and the Orlando Airport was exceptional. An interesting flight, with great in-flight services, quick check in and security, as well as a quick baggage claim, everything ended up working out very well for my flight to Orlando.
Hope you've all enjoyed reading my trip report!