Well,
I'm back with TR number 6, on my recent trip to LHR in WBC. This time around the opportunity arose for me to travel to LHR, but only on the weekend of the Thunder over Michigan air show; so I was forced to split this Saturday up the middle between the air show, and this trip to LHR. It all started at 0dark30 when I drove out to YIP to work the air show with CAP, halfway through the day, I had to leave to catch this flight. When the commander asked me why I had to leave early, and I told him that I had plans to travel to LHR, he was shocked. Here are a few pics from the air show.
Three of the four B-17's
The fourth, permanently based at YIP.
Not the real Belle, just the one they used for the movie.
The USA Jet ramp at YIP, I counted over 10 DC9's, some pax, some cargo.
After leaving the air show, it was off to DTW. The loads looked pretty good on this flight all the way up until a day or two prior to departure. Until 3 days prior, the computer was showing 20+ seats open in WBC, and 90+% full in Y.
Quite a few heavies visible from the parking lot.
Check in at the kiosk was simple and quick, but for the first time in a while I noticed a long line for security, probably a good 10-15 minute wait at both lines on the ticketing level. But luckily I went one level down the escalator, and found no line at all.
After emptying my wallet at the currency exchange, it was off to the gate.
Ship 3314
NW 102 DTW-LHR
August 9, 2008
1810-0705+1 Block Time-7:55, actual-6:30
A330-300 N814NW Delivered Jan. 2007
Seat 03G Gate-A66
Load Factor J-85% Y-90%
View Large
View Medium


Photo © Neil Guinea
Boarding came soon enough, and I made my way on board. I got a middle seat, and sat next to some other nonrevs, two younger women, one with a husband. I guess the girl sitting next to me had never flown in J before, and her friend in the row in front felt compelled to tell her every detail of how to fly in business class. During the entire boarding process this girl did not sit down, I bet she couldn't have kept quiet to save her life. Every little thing she had to explain to her friend. She carried on and on and on for a good half hour, in the most obnoxious tone of voice "oh look, here's the duty free magazine, and here's the menu, and see here's the headset, and oh look the amenity kit, see its got a toothbrush and an eye mask and slippers and chap stick and look, it's got a pen so you can fill out the immigration card, oh yeah and you press these buttons to move the seat up and down…….", honestly lady if you're going to nonrev, please act with some dignity and at least try not to make an ass of yourself.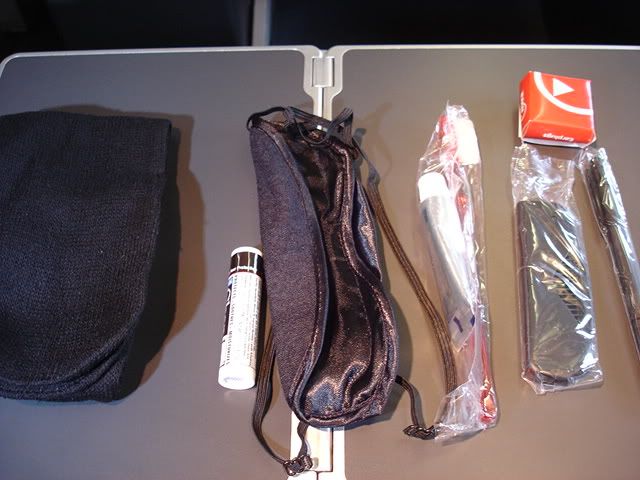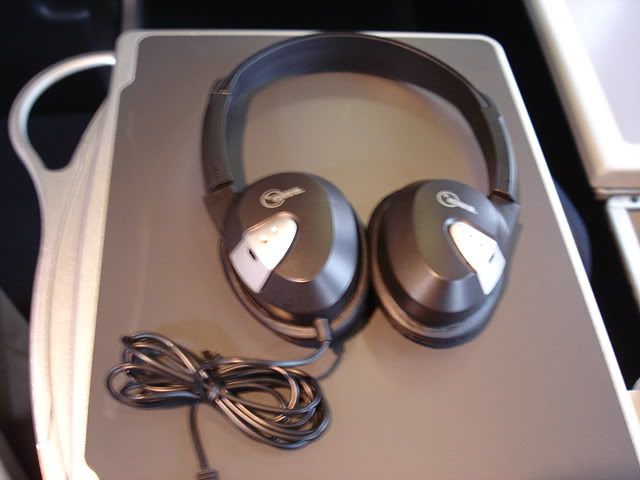 I wonder how much the Mac paid NW to get on the cover of the world traveler.
The movies on the AVOD for Aug.
In the midst of that tirade, I just tried to relax and enjoy the free orange juice. Once boarding wrapped up, the captain announced that due to tail winds, we'd have a flying time of only 6:30, and that we'd be waiting about 45 minutes on the ground, to avoid missing our landing slot into LHR. Well, during that 45 minutes and before they could finish loading all the cargo, a huge electrical storm blew in and shut down the ramp, so by the time it cleared up and we were all closed up, it'd been over an hour. During this time, electronics were allowed, but the IFE was never switched on.
But, that hour flew by and we were airborne in no time. The service started with the usual beverage service, then dinner.
The menu was wrong on this flight, rather than the shrimp and scallops, there was a whitefish entrée.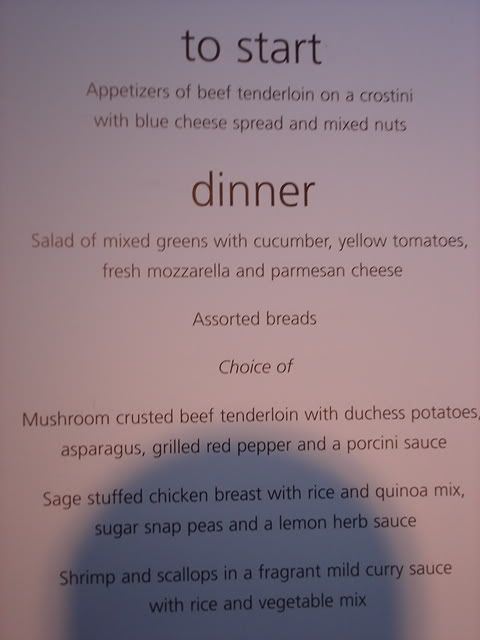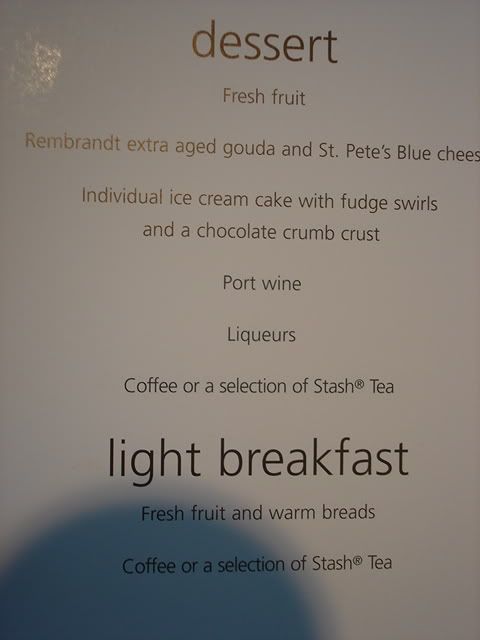 Annoyingly, the lady in front resumed her conversation with her friend seated next to me once the service started. "So what kind of wine are you gonna have? What are you gonna eat? Are you gonna drink a lot, cause I always drink a lot on these flights cause the booze is free" –no joke this conversation carried on for the whole dinner service.
My first choice was the beef tenderloin, and luckily I got it this flight. This was probably the best tenderloin I've ever had in WBC. Way to go NW. Really nothing to complain about from this dinner service (except the whiskey tango seatmates
). Again, way to go NW, a big improvement over the Service on my last AMS trip.
Reserved for crew rest.
We averaged over 620 mph the whole flight, explaining the 6:30 flight time.
After dinner, it was well after dark, and I decided to watch a couple movies. I watched the new Chronicles of Narnia and about half of 88 minutes, until I dozed off. Breakfast came about an hour later. Again, I know I just ate about 5 hours ago, but please NW offer you're premium pax more than this for breakfast!
The hot egg+cheese sandwich served in Y, not bad at all. I was still Hungary, so the purser passed me a few of these.
After breakfast, I asked the purser if I could move to 6A/B, which were reserved for crew rest during landing, and he said "no problem". I could tell we were in a holding pattern for a while into LHR, way too many turns and not enough descending.
AA 772
I never realized AA was so big at LHR, I counted 8 AA 777's.
Eventually, we landed, and within 5 minutes we were at the gate.
After about a 5 minute wait in line at customs, it was off to the tube stop. After buying my day pass for the tube for $14, it was off to High street Kensington. Once at the hotel, I was a bit surprised to see the 20 or so SQ 380 F/A's standing around the lobby, there's something you don't see every day. Although I found it difficult to adjust to the legendary English prices, what I saw of London was a very cool, and would defiantly go back.
Also, I guess that sometime between when I landed, and took off the next day, LHR shut down. Causing many flights to divert to LGW, STN, and so on. I guess I really dodged a bullet here, getting in and out of LHR with no delays.
The 0520 wake up the next morning was a tough one, especially after staying up for 40 something hours, with only a one hour nap on the plane the day before, but I managed.
I was glad to get to ride the bus to the airport, a much more interesting ride than the tube.
Managed to catch the plane on approach that I would fly out on later that morning.
Here are a few views coming into LHR.
I entered into the same exact area I exited out of yesterday. Up the elevators to check in, where I found an electronic kiosk with no line, then through security which had no line, all in all maybe 6 minutes from the curb, to post-security. No Joke.
What is weird about T4 is that even though they list the departures on the screen, they don't post the gate assignment until an hour before departure. What are you supposed to do, just walk around and shop, until an hour before? Anyway, I just walked around looking for the plane, and lucky me, the first plane I saw was N819NW. After finding the gate on my own, I just sat there taking pictures and playing FreeCell until boarding began.
Ship 3319
I don't really have anything to complain about T4, my experience was convenient and efficient. Though, maybe the BAA could've thrown in some free wifi or something like that for the $135 I had to pay in taxes and fees to fly into LHR, haha. Come on AMS only charges $50.
NW101 LHR-DTW
August 11, 2008
0850-1235 Block Time-8:45 Actual- 8:00
A330-300 N819NW Delivered Sep. 2007
Seat 04A Gate-11 T4
Load factor J-75% Y-80%
View Large
View Medium


Photo © Howard Pain
The load on this flight was a little bit less than the DTW-LHR load. I decided not to preboard, and continue playing games on the laptop and taking pictures.
Once the line died down, I got on the plane. I was lucky enough to get a window for this flight. On board I got a USA Today, and within a few minutes, we pushed back. We had a quick 5 minute taxi to 27R, and we were off.
Also, the menu for this flight is wrong, no European cold meat and cheese plate arrival snack! Westbound TATL has over a half hour of previews on the AVOD, so annoying when you just want to watch a movie, good thing they pass out newspapers.
n
Maybe NW was too cheap to pay to run their name. :-P
Hot towels were passed out, and the Lunch/Dinner service began. I think it's a little weird that breakfast wasn't served for this 0850 departure, on NW 39, which leaves AMS around 0830 breakfast is the only option. Nonetheless, the catering out of LHR as well as the service was great.
Once Lunch was over, I finished watching 88 minutes and also watched Great Expectations and Leatherheads, all three of which were very good. Somewhere in between movies, I hit up the snack box, also tried to play trivia, but with no luck, so bejeweled and FreeCell it was until the snack was served.
The strawberry-banana sherbert served in Y.
Something annoying about this seat, to put the screen away, you must clear your tray.
This arrival dish was way better than the traditional cold meat and cheese plate, welcome change(even though it's not on the menu).
Shortly after the arrival service, the lights were turned on and decent began.
The Detroit and Rouge rivers. Why couldn't we have come in 5 miles to the north, I've yet to get a decent view of Downtown Detroit from an airplane in recent years.
Grosse Ile municipal airport.
As the first TATL flight to arrive in DTW for the day, we arrived to a somewhat empty A concourse. I stayed on till all the pax were off, to get a few pics of the cockpit and the empty Y cabin.
To customs.
Conclusion
This trip in WBC was one of my best WBC experiences, so far. Really nothing to complain about, great catering, great service, great AVOD. Nothing really to complain about LHR and T4 either, from my point of view, everything was good.
If you're interested, here's my other TR's
NW DTW-CUN F/Y (many pics)
NW DTW-AMS in Business (many pics)
NW DTW-MEM-BOS in Y (many pics)
NW DTW-LAX Y, (pics+videos)
NW DTW-CDG in Business (many pics)
Thanks for reading, feedback appreciated.