In and around Nuremberg on the CRJ7, the F100 and the B462
Hallo, dear readers,
after two days of flying around in the UK
http://www.airliners.net/aviation-fo...ums/trip_reports/read.main/130958/
and the Netherlands
http://www.airliners.net/aviation-fo...ums/trip_reports/read.main/132256/
there was still a third free day in a row.
What to do Saturdays during the early summer vacation periode?.
And these together with some interesting aircraft?.
Well, lets go!.
Saturday, 26.07.2008
STR (Stuttgart-Echterdingen) - TXL (Berlin-Tegel)
Duration: 50 minutes
Service Lufthansa 289 operated by CityLine CRJ700 D-ACPJ
Scheduled: 08.00 // 09.10
Actual: 08.10 // 09.00
Gate: 160 Seat: 19A
Load factor: Around 70%
Fare: 43,63 per LH leg
History:
18.07.2002: Delivered to Cityline
Leg no. 5 on the CRJ700 and the first on this machine
The main intention for this trip was found after some searching and quickly booked.
A flight on the Fokker 100 departing from Tegel and arriving in Nuremberg, an airport still missing in my log.
This LH service fits perfectly with the later departure to NUE, it was not that expensive and it was an interesting aircraft.
No question, booked.
Online check-in was no problem this time on LH´s website.
Boarding time was printed for 07.40 am. That means the Saturday early morning vacationeers gone on the way to their destinations when I will be there.
And so it was, the airport was quiet when I´ve arrived around 20 minutes prior to boarding.
My Smart jumped in his usual, special parking space, like a remote controlled one and I´ve passed security fast without any time to wait some minutes thereafter.
Eight to nine bus gates beneath at this ground floor area, all used by LH regional services to several european destinations.
A perfectly ontime boarding call, fingers crossed for a new reg, and so it was, a new CRJ 700 waited for me.
Boarding a new reg: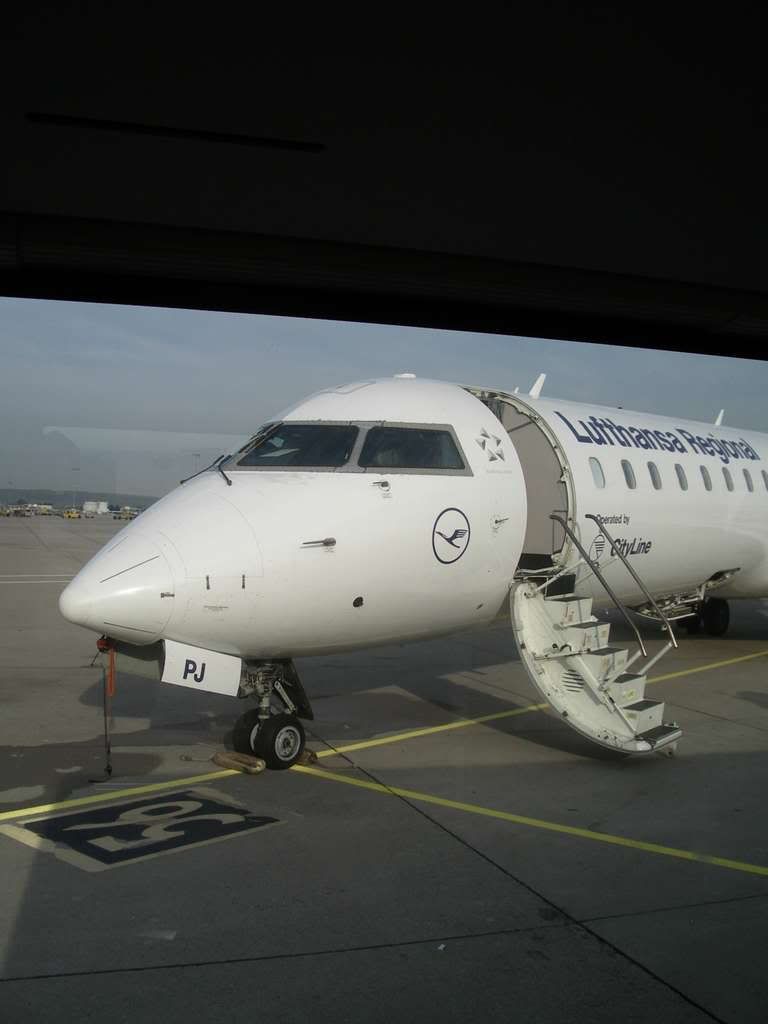 Looks like a long machine:
Two friendly female FA´s on this service. The pilot welcomed us very friendly and detailed during boarding.
The machine fitted with the typical bright grey leather seats, good legroom, well used.
Departure from runway 07, nice weather on the whole route to TXL, no special route or flightlevel information.
Cloud formations: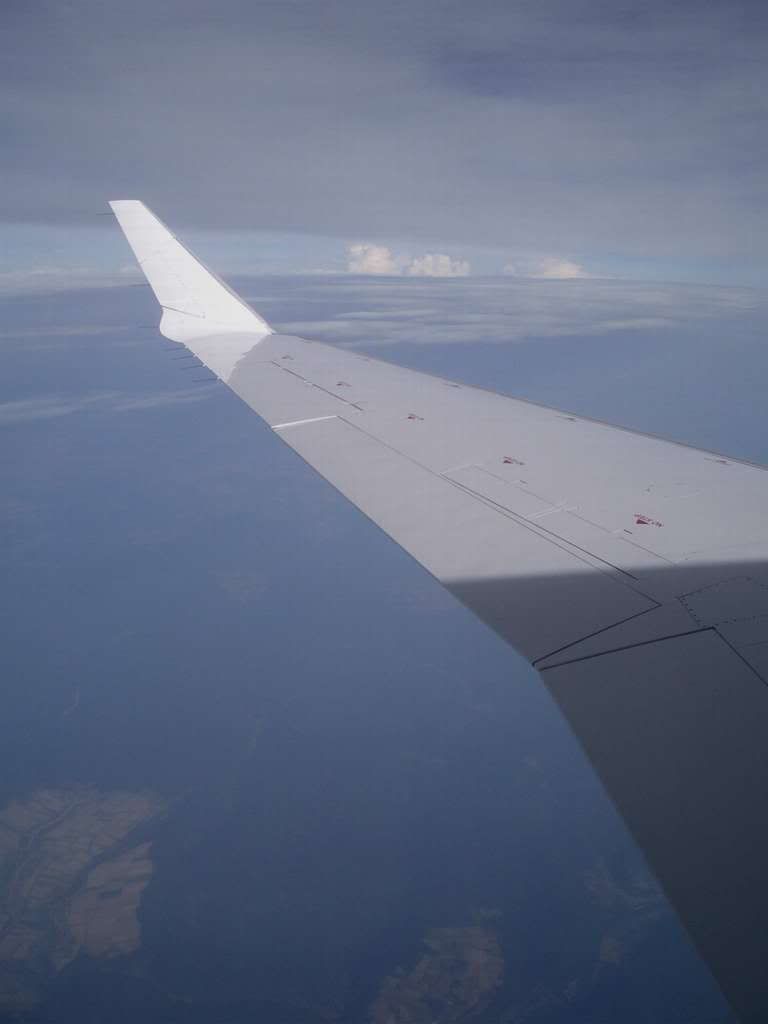 How I like this colour:
Free newspapers and something to drink also for free on offer.
Touchdown on runway 08L some minutes ahead to schedule.
Just arrived at TXL:
Bus deboarding, no need to hurry, enough time till boarding for the next flight.
Saturday, 26.07.2008
TXL (Berlin-Tegel) - NUE (Nuremberg)
Duration: 45 minutes
Service airberlin 6413 operated by Germania Fokker 100 D-AGPL
Scheduled: 11.25 // 12.25
Actual: 11.40 // 12.25
Gate: C51 Seat: 18A
Load factor: Around 40 %
Fare: 55,34 EUR
History:
07.11.1990: Delivered to US Air
27.02.1997: Further to US Airways
19.08.2003: In service with Germania
01.01.2006: Further to DBA
01.02.2007: And finally to airberlin
Leg no. 9 on the F100 and the second on this machine
Further to the next leg.
Arrival was in the main terminal, departure will be from the terminal extension called area C, on of these nowadays typical industrial style buildings.
Some minutes to wait at security, the usual non-frequent-vacationeer-flyer problems there.
The area well filled up with pax, delayed AB services to IBZ and PMI and also delayed, KM to MLA.
Interesting machine, Hemus from Bulgaria: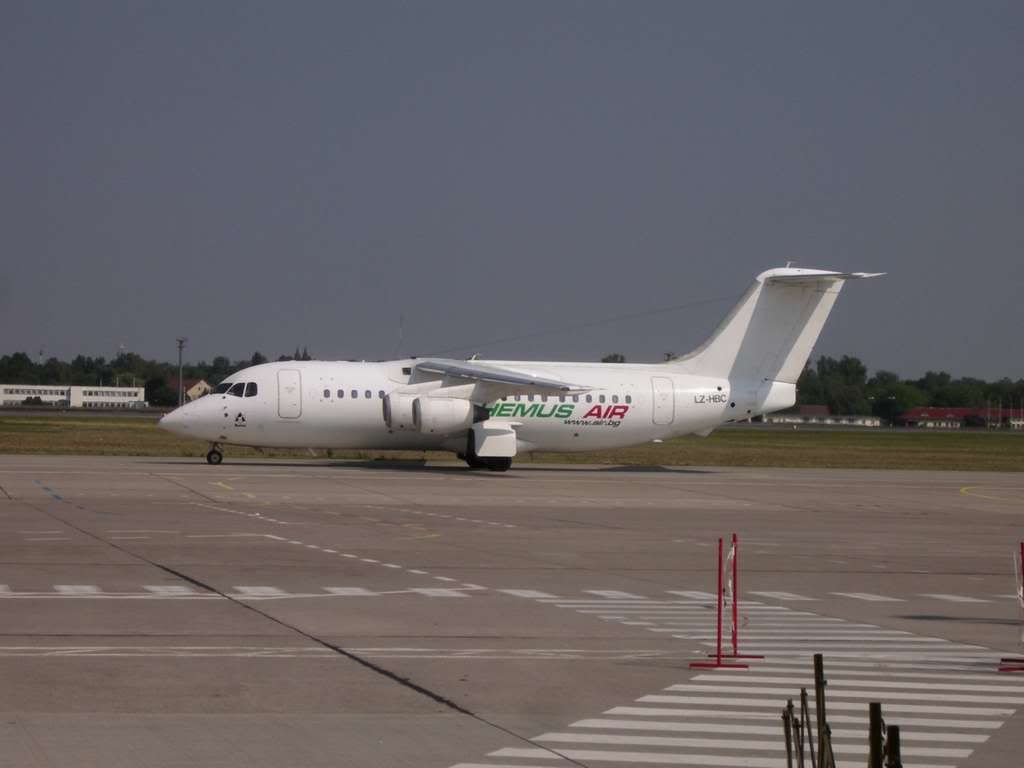 My plane arrived ontime and parked beneath the gate.
Arrival D-AGPL: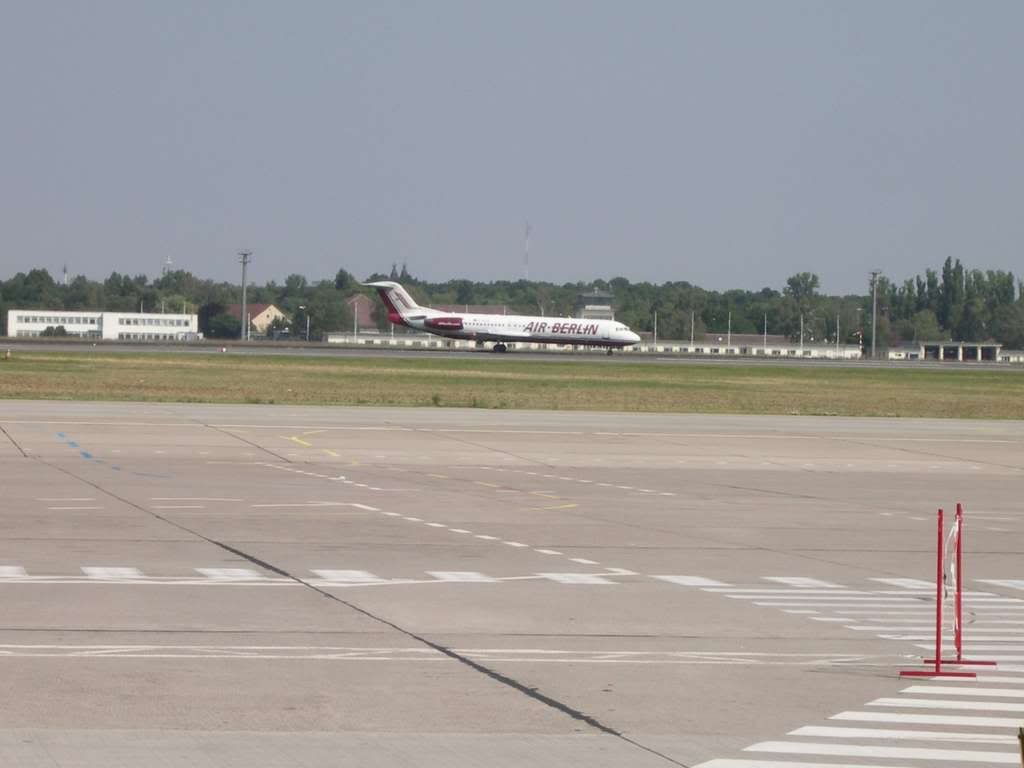 Boarding started in usual AB style later than printed, self service with nice photo possibilitys to the plane.
Boarding: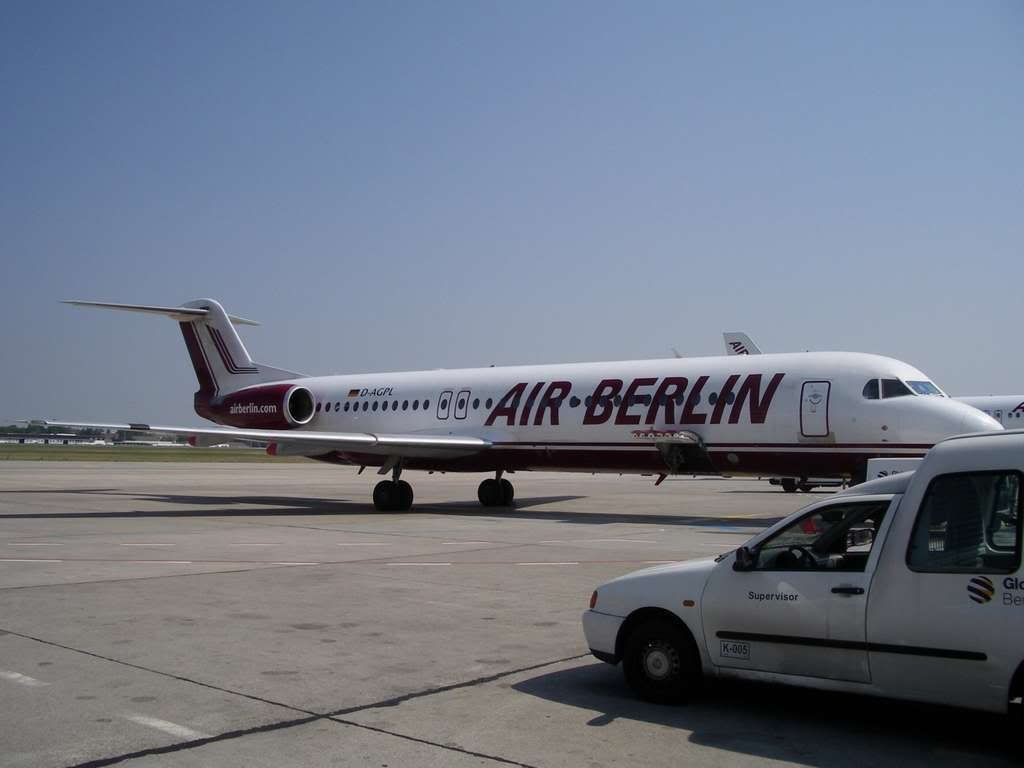 Closer: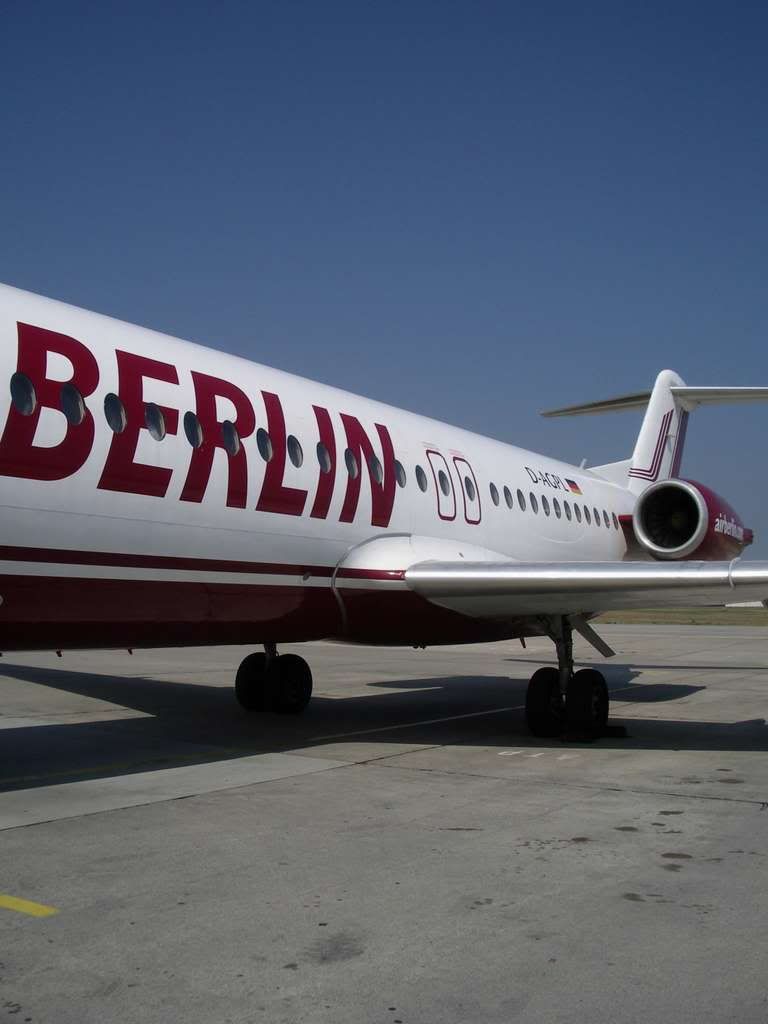 Climbing up the stairs: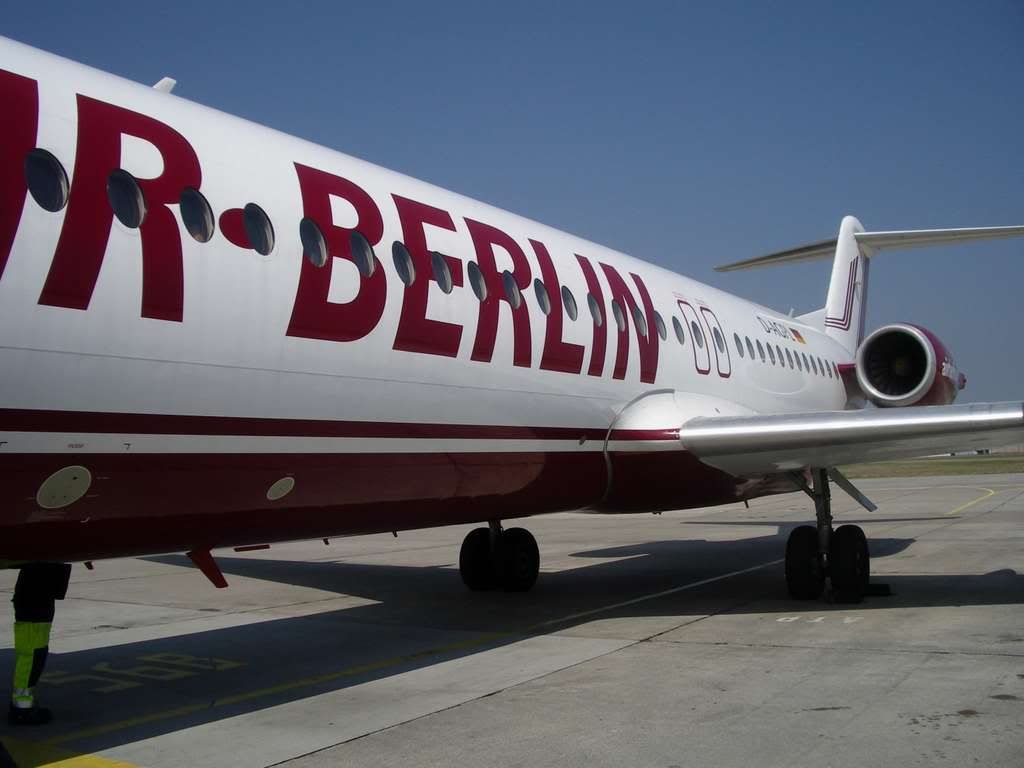 Two real friendly females on this machine. The cockpit crew from Germany.
The cabin fitted with dark grey leather seats, oldfashioned but really comfortable with remarkable large windows in comparison to the earlier CRJ700.
Indoor: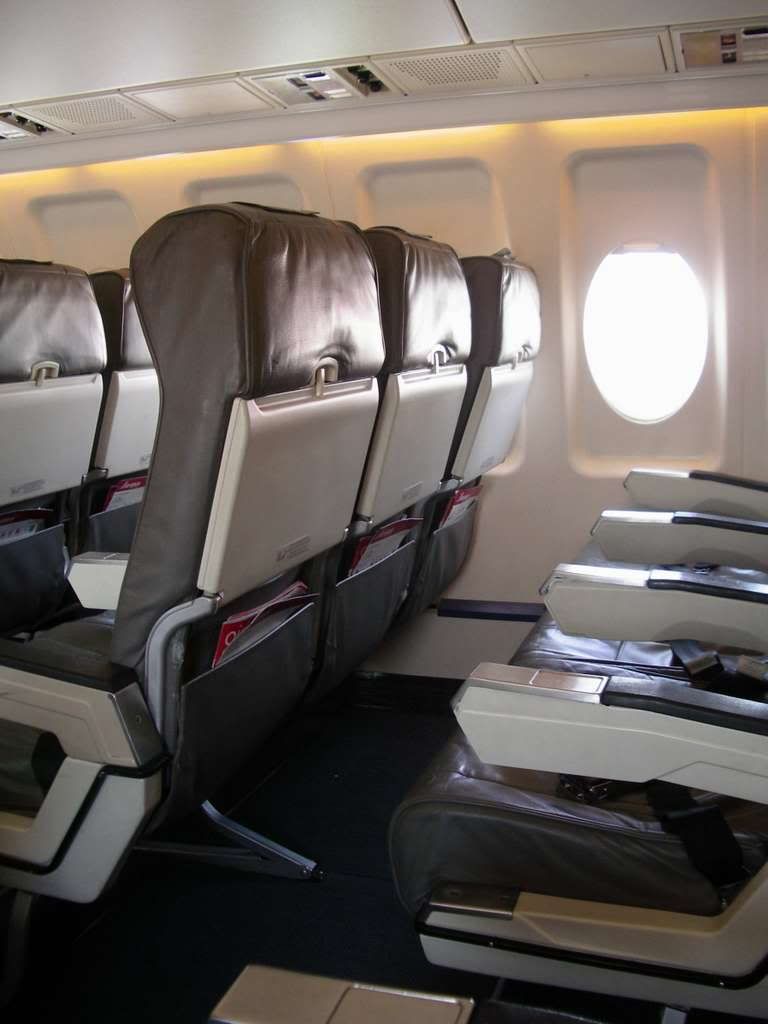 Departure from runway 08R, very friendly and detailed informations during cruiseflight from the captain.
Newspapers, snacks and drinks for free.
Flightlevel 24.000 feet, nothing special around the route beneath the nice weather.
Inflight: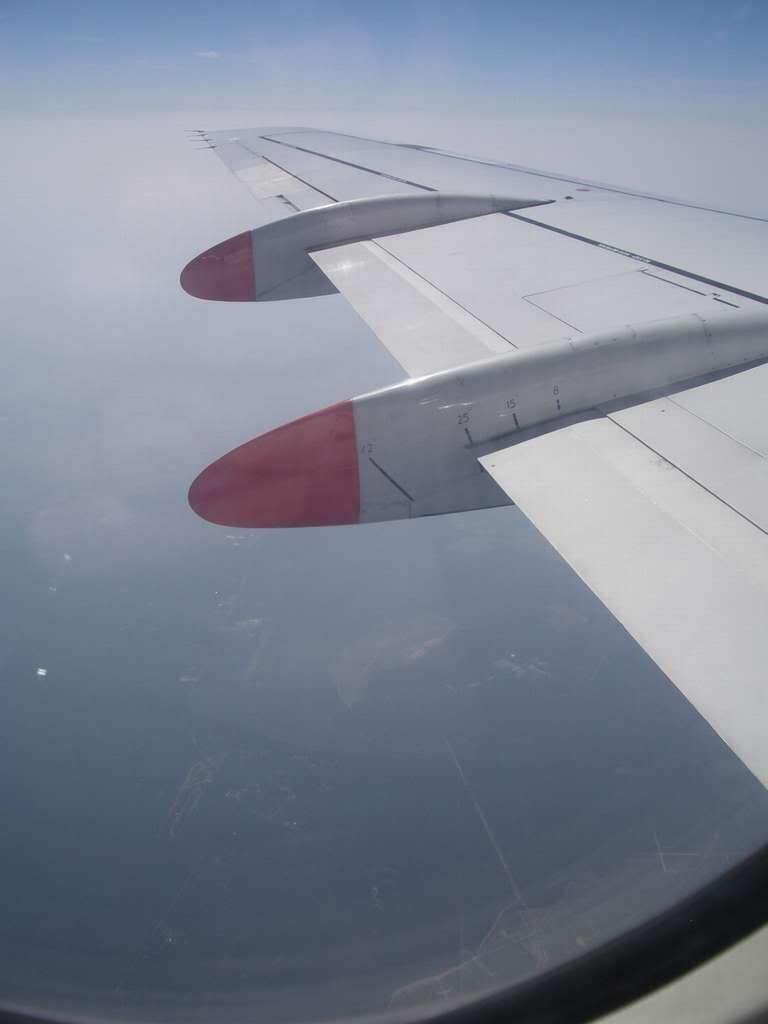 The engine:
Arrival ontime on runway 10
and finger deboarding .
Just arrived at NUE:
NUE is perfetly connected with the city center, the subway leaves the airport station frequently, also Saturdays and runs only around 15 minutes.
A daily ticket costs 3,80 EUR.
Some pics:
The Nassauer House:
The Lorenz Church:
One of the doors to the old town: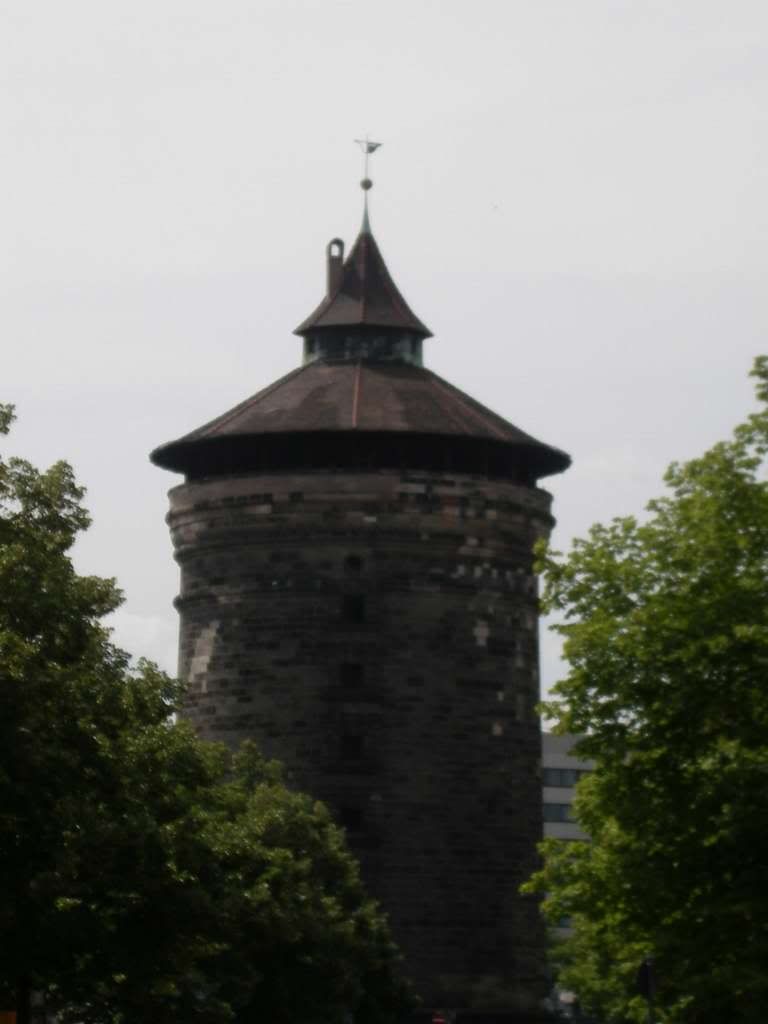 Nice architecture:
Saturday, 26.07.2008
NUE (Nuremberg-) - FRA (Frankfurt-Rhein-Main)
Duration: 35 minutes
Service Lufthansa 929 operated by Eurowings BAe 146-200 D-AEWF
Scheduled: 14.55 // 15.50
Actual: 15.15 // 15.50
Gate: A17 Seat: 16F
Load factor: Around 90%
History:
25.05.1991: Delivered to Meridiana/Italy
27.08.1994: In service with Quantas
09.11.2005: Further to National Jet Systems/Australia
28.01.2006: In service with Asian Spirit/Philipines
03.04.2007: And finally to EW
Leg no. 4 on the BAE 146-200 and the first on this machine
Back at the airport around 2. 15 pm, no time to wait at security and early enough at the gate for the announced boarding at 2.35 pm.
NUE is a modern style building, lots of seating capacities, large glass fronts, good views to the apron, not bad from my point of view.
The airport was quiet, not that much action Saturday afternoon, infact only one AB service to ACE and the other, the surprise of the day!.
The agents at the gate beneath mine handled LH, dont remember the actual flightnumber, like any other real scheduled flight
to Augsburg on the Junkers Ju 52. A strange feeling like 70 years ago.
What a surprise: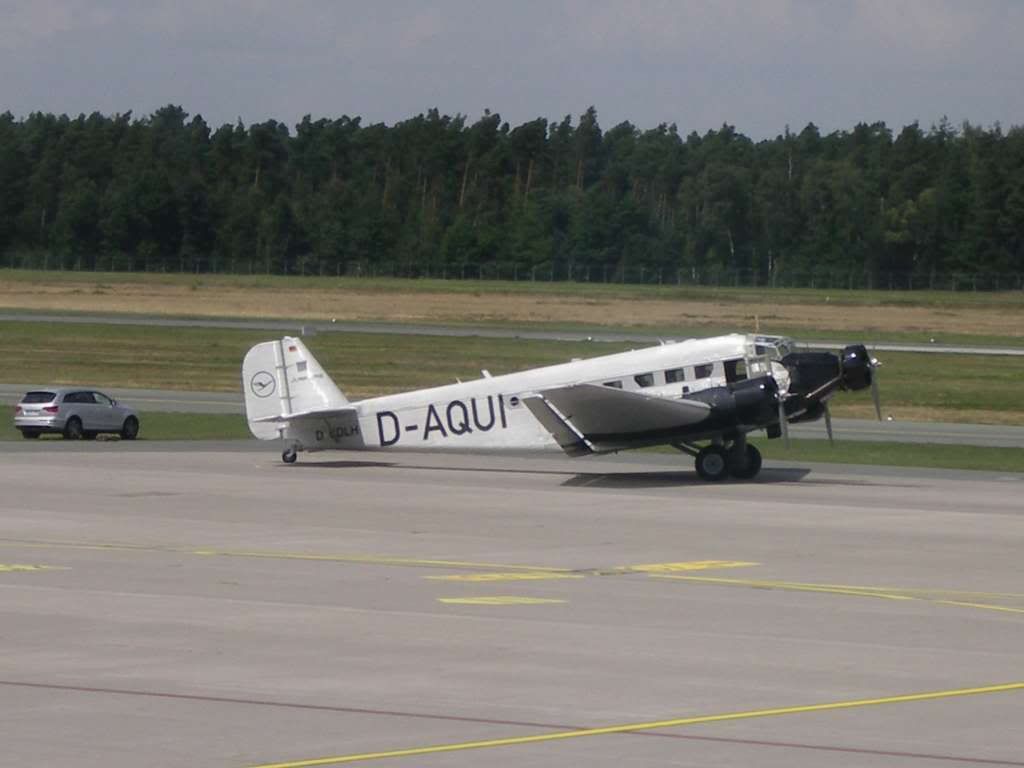 Together with my machine:
The Ju-flight was delayed according to "the late arrival of the incoming aircraft", more strange for this sightseeing flight.
Further to my service. I´ve dont noticed it from the gate, infact finally later during deboarding at FRA. The flight was scheduled on the 146-300 and was downgraded to the
146-200, not bad from my point of view, the 146-200 is still less covered in my log.
D-AEWF at the gate: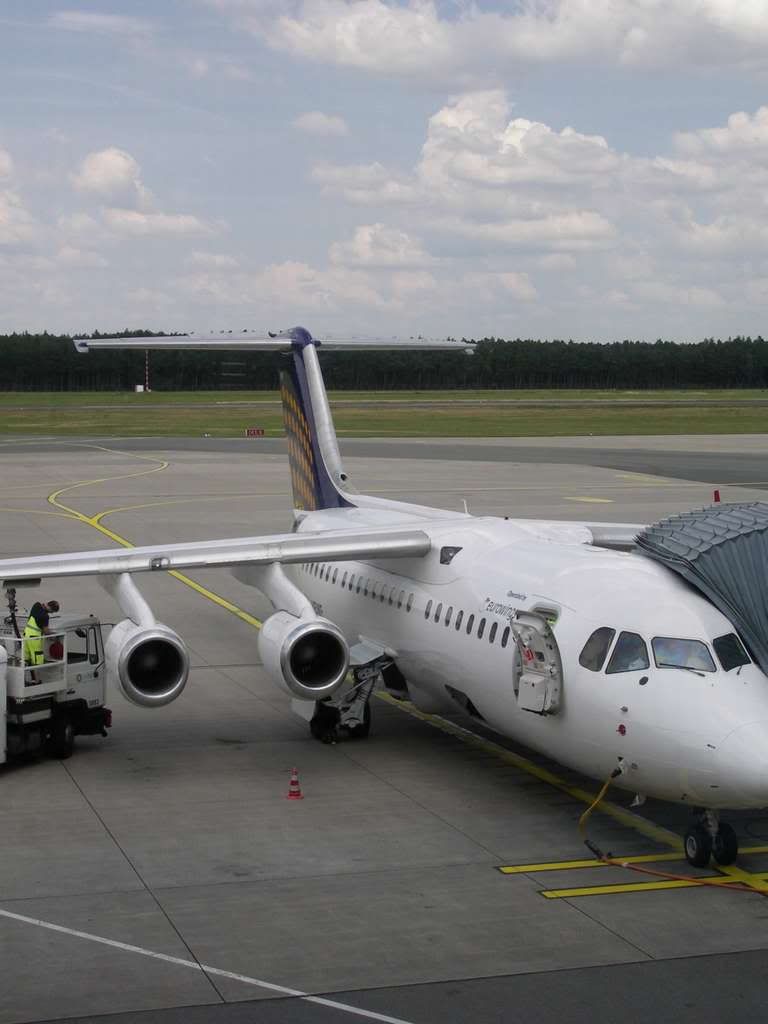 Boading started ontime via a finger to the plane.
One friendly female in front, one annoyed other female in the back of the plane. Here main intention was to chat with some other proceeding Eurowings crew members.
The machine fitted with the usual bright grey leather seats, clean so far, legroom ok. 2/2 seating in row 16.
The girls started serving the biz pax, also some front rows in eco and mentioned that this flight was biz service only according to the flighttime.
Not that amused eco pax.
The cockpit crew was from Germany, the FO as the pilot flying was short on the speakers with arrivals informations into FRA.
Heavy thunderstorm clouds around FRA, but he expected nevertheless an ontime arrival.
Approach was really interesting, for 07 approachs, the planes fly usual along the airport and line in with a turn into 07R or L.
We´re crossed the airport with a heavy thunderstorm southwestern of the airport, turning far northwestern and approached finally for 07L.
Heavy brakes and immediatelly off the runway to the taxiways near the apron area. During taxi I´ve noticed an arriving plane in the opposite direction,
so it seems we´re the last arrival on 07 and they changed the directions short thereafter.
Taxi was really long to our stand beneath T2.
Rainy bus deboarding into Terminal 1.
And now at FRA: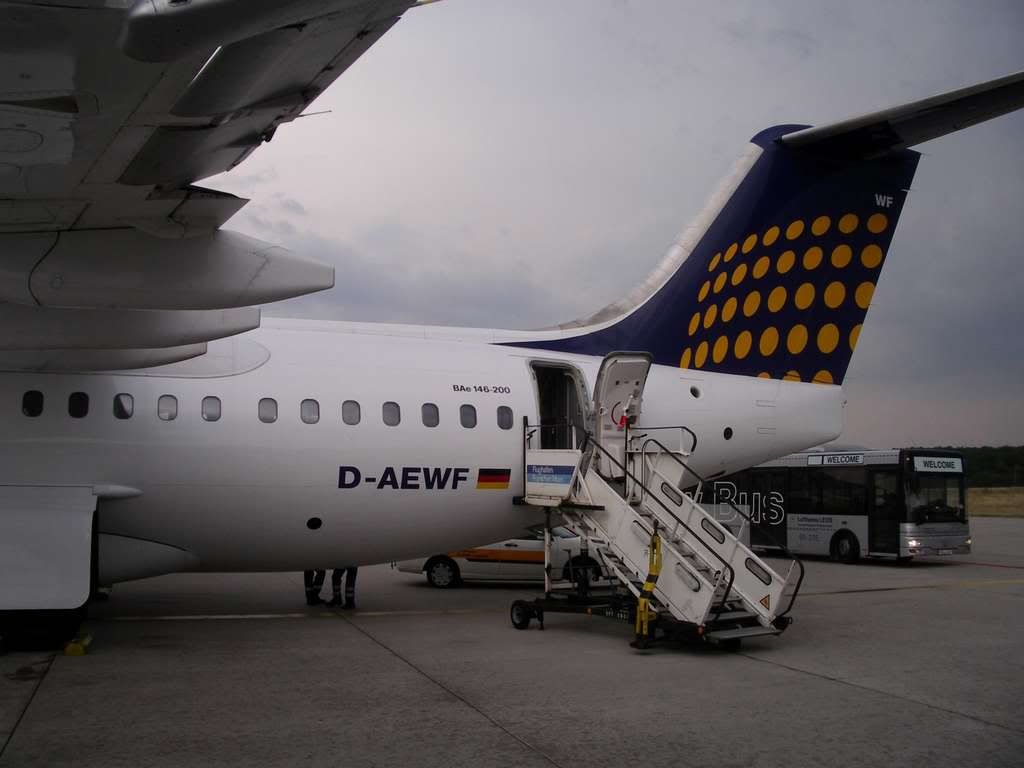 So what to do now?.
There was no afternoon service to STR at Saturdays, so I´ve booked the evening flight.
STR information showed the Cirrus E75 for this leg, still covered in my log.
The weather was bad with all that thunderstorms around, also not that funny to spend some time on the terrace.
Finally I´ve decided to catch the next ICE service to STR, where I´ve arrived around 6 pm.
Ten legs in three days more in my log!.
Three not that much covered plans flown, with the F100 still the most interesting one from my point of view.
One new airport, NUE, so that was another nice day of flying around.
Comments welcome,
Markus (FLIEGER67)
Upcoming:
Sweden (F100/F70/J31/B737)
Germany (A319/D328/A319)
Belgium (B735/RJ85/RJ85/B737)