August 12, 2008
Swiss International Airlines
LX 41 / LAX-ZRH
Airbus A340
Departure Time: 19:15
Arrival Time: 15:40 +1
I must apologize in advance for the lack of pictures in this trip report. I hope to have more posted for the return legs of the trip.
We arrived at LAX at approximately 4:30pm after driving in from Rancho Mirage. Check-in at the Swiss counters at the Tom Bradley terminal was very efficient. We did not have to wait more than 15 minutes. Security was a pain as usual (why are the number of memory cards in my bag of any interest to TSA?). At the gate our flight was parked next to an Aeroflot 763 on it's way to Moscow which was pretty cool (they made at least 8 "final" boarding calls for that flight!).
I noticed at the gate that we would be flying on HB-JMM this evening to Zurich. I was a bit sad as I had hopes of getting on one of the new-style interior Airbus A340s that LX has (I know HB-JMH is one of them). The gate are was packed full and there were even a few small pets traveling on the flight!
Boarding was on-time and we quickly made our way to our seats in rows 41 & 42 (window & aisle). One thing I have to say about the LX seats on the A340 in economy is that they are VERY UNCOMFORTABLE especially on your bottom. The LX seats on the A320 / A321 etc... are far superior in terms of comfort and space. I just don't get it! Why make such uncomfortable seats for a longhaul product?
There was no wait for takeoff and the plane made its way West out over the Pacific and then gradually circled toward the NE overflying Las Vegas, Chicago, Montreal, and then going out over the Atlantic. We were served a choice of a Pasta or Chicken for dinner in economy. I chose the chicken and it was served with rice and vegetables. It was quite good, but nothing you'd ever remember really. The flight was 100% full I assume as there were 2 people sitting in the rear galley for the duration of the flight (children of the crew I think?).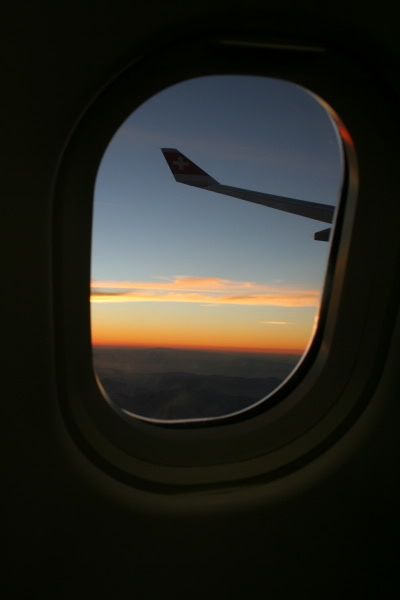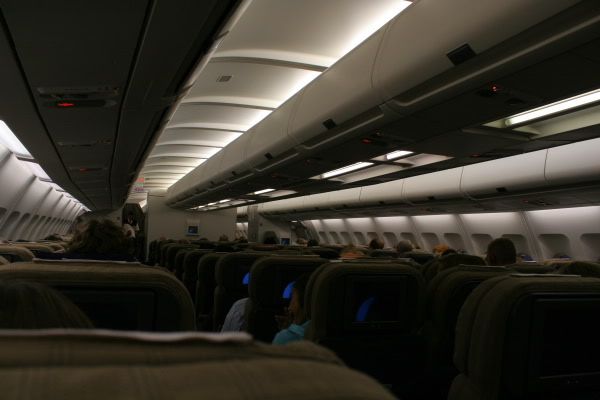 After dinner was served the entire AVOD system in the coach section crashed (no airshow or anything... just blank screens) and it had to be entirely reset some 10 minutes later. The reset process took another 15 mintues if I remember correctly. Last time I was on a Swiss A340 (from CAI-ZRH a few years back) the AVOD system had issues as well. Anyhow, once it was reset there were no other problems with it for the rest of the flight. I was actually quite pleased with the wide entertainment selection that Swiss had loaded. I watched a few episodes of the Simpsons, Malcom in the Middle, and then two movies.
The sun started to rise after we got out into the Atlantic and the FAs wanted all the shades shut for the rest of the flight (until they served breakfast). I managed so sleep for three or so hours once we got out over the Atlantic as well. The flight was mostly smooth. After waking up I took a short walk and stretched (that seat really does a number on you!). The first glimpse of Europe came when we flew over the NW tip of France (I think we also saw Jersey from our side of the plane as well). Flying over France got me thinking about how much I want to visit that country. Never been, but would love to go and see the countryside and visit all along the Maginot Line.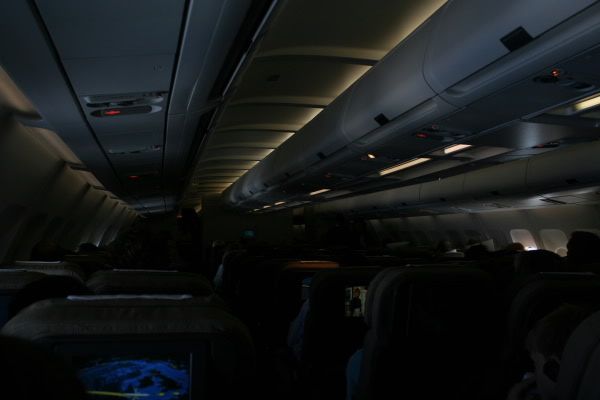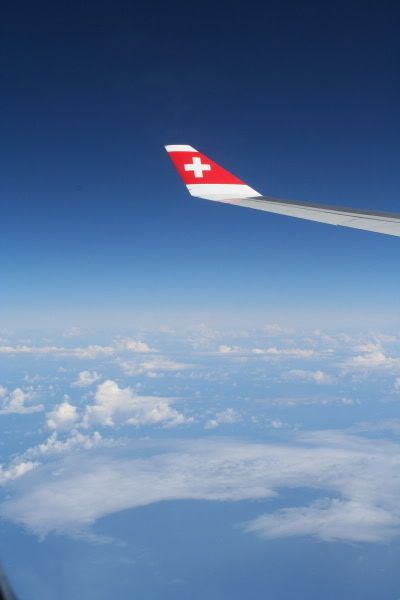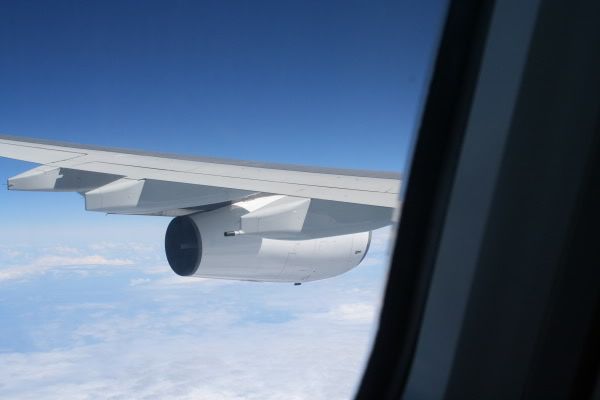 Breakfast was served which consisted of a warm croissant, fruit, and yogurt (along with juices). It was OK, but I really thought they should have went with an omelet at least. There were also hot towels passed out which was quite refreshing too!
We arrived into ZRH (a very smooth landing) into the E concourse and proceeded to transit to our gate in the A concourse for our flight to Rome.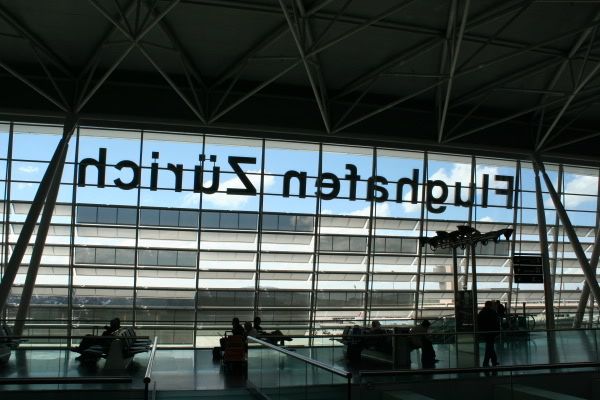 August 13, 2008
Swiss International Airlines
LX 1732 / ZRH-FCO
Airbus A320
Departure Time: 17:30
Arrival Time: 18:55
At this point I was quite tired (hence the lack of pictures for this flight). I just wanted to get to Rome and take a hot shower and fall asleep in a nice clean and comfortable bed. At least this flight was a short one to Rome. Swiss even had the forward cameras on for pushback on this A320, didn't know that had those on these particular planes. We departed on-time from our gate in ZRH and had a short taxi to the runway. We were soon off into the air. We flew west and then south over the Alps. The flight then took us over Pisa and then along the coast into FCO.
There was a lunch served as well as a full beverage service on this short 1:15 flight. We were give a tuna sandwich on whole wheat bread and then some Swiss chocolates (mmmmmm!!!) I still couldn't get over how much more comfortable the seats were on this aircraft compared to the seats on the Swiss A340 (like night and day!). These were wider, better pitch and oh so much better on your bottom and on your back.
Arrival was very nice and we had a great view of the countryside and of the coast coming in. We taxied to the gate and parked right next to an Air China 744... nice! We collected our bags and then upon exiting the baggage hall found our driver waiting to take us to the Rome Hilton. The rest of the trip report will just have some random pictures from Rome. Also check out my Aegean Airlines report that I'll be posting for my flight from Rome to Athens aboard their new A320!
Hilton Rome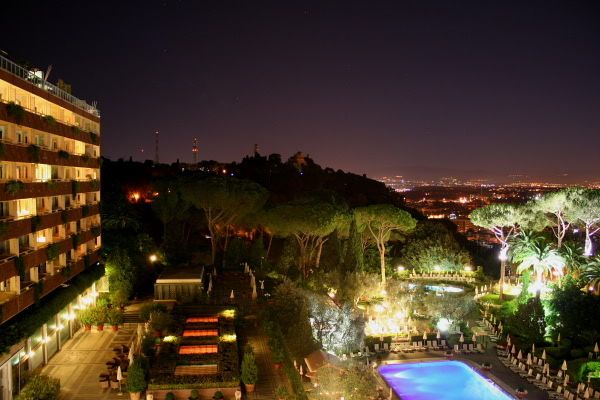 Villa d'Este (my favorite place in all of Italy... I can't wait to go back!)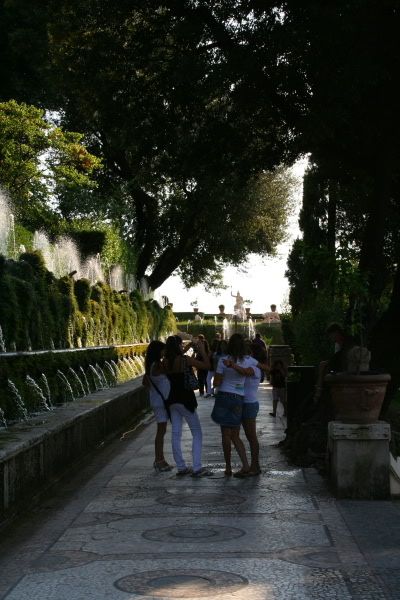 Thanks for reading  
[Edited 2008-08-27 09:15:28]