Hello dear readers,
During July, I was in a *very* busy period at work, so I thought it would be nice to plan a short break somewhere at the end of August, in order to get my mind out of work for a couple of days. Last year, in similar circumstances, I had opted for a quick visit of Warsaw, the capital of Poland, flying Brussels Airlines in
b.flex
(= economy plus). Because I had much appreciated the trip, and also because I love to visit central / eastern european countries (and no, not for the girls, as I'm married...), I again decided to head East.
This time, I planned to spend one full week away, so I thought it could be fun to visit more than one country, and I eventually chose the Czech Republic, Slovakia, and Hungary. Because my budget was rather on the tight side, I combined a redeeming of some Brussels Airlines miles with cheap deals found on the web and finally came up with the following itinerary :
- Brussels - Prague flight on a Brussels Airlines Avro RJ-85.
- Visit of Prague, and the city of Kutná Hora (60 km from Prague, by train).
- Prague - Košice flight on a SkyEurope B737-700.
- Visit of Košice (Slovakia's second city, at the eastern end of the country).
- Košice - Bratislava flight on a SkyEurope B737-700.
- Visit of Bratislava, Slovakia's capital.
- Bratislava - Budapest by train.
- Visit of Budapest.
- Budapest - Brussels flight on a Brussels Airlines B737-300.
Brussels - Prague
BRU - PRG
Brussels Airlines flight SN2809
Avro ARJ-85 OO-DJW, seat 4A
Departure : 10:35, duration : 1:25.
So, in the morning of Saturday, August 23rd, my wife drove me to Brussels Airport, which was somewhat messy on the outside because of important renovation works on the access road and drop-off area. Having checked in online the day before, I had plenty of time before boarding. After a quick photo of the very first Starbucks of Belgium, which just opened in the departures hall of BRU airport, I proceeded through security using the fast line as my
b.flex
ticket allowed me (I just had to scan a barcode on my printed boarding pass to open the gate restraining access to the fast lane), and entered the A pier after the usual very long walk (Pier A in BRU is dedicated to all Schengen-area flights, and is separated from the main terminal building by a very long underground walkway). I had some cosmetic liquids in my backpack, all packed in a transparent plastic bag as required by regulations, but I completely forgot to take it off the backpack for security. However, they went unnoticed...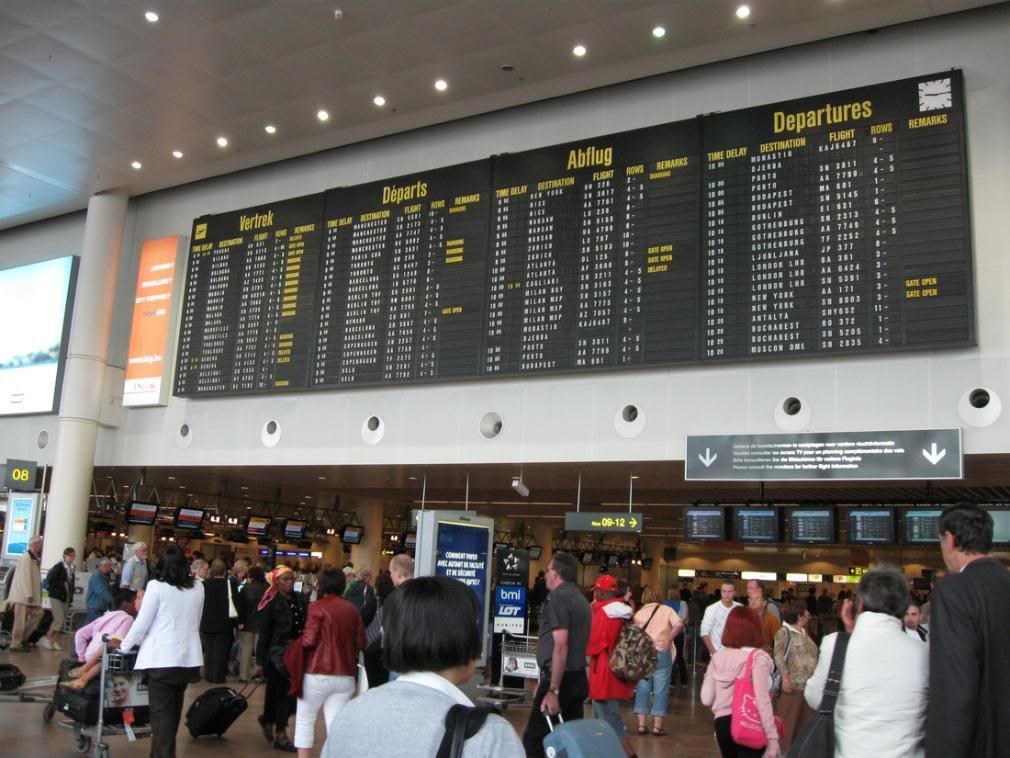 Check-in hall in BRU.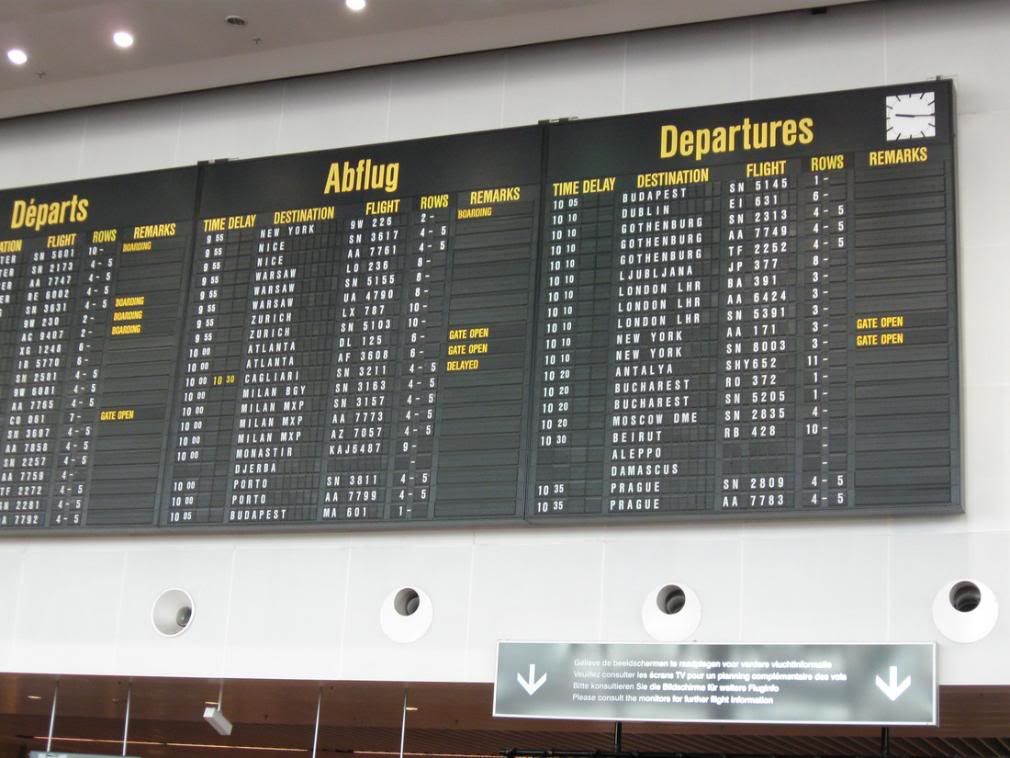 My flight to Prague just appeared at the end of the flight information display.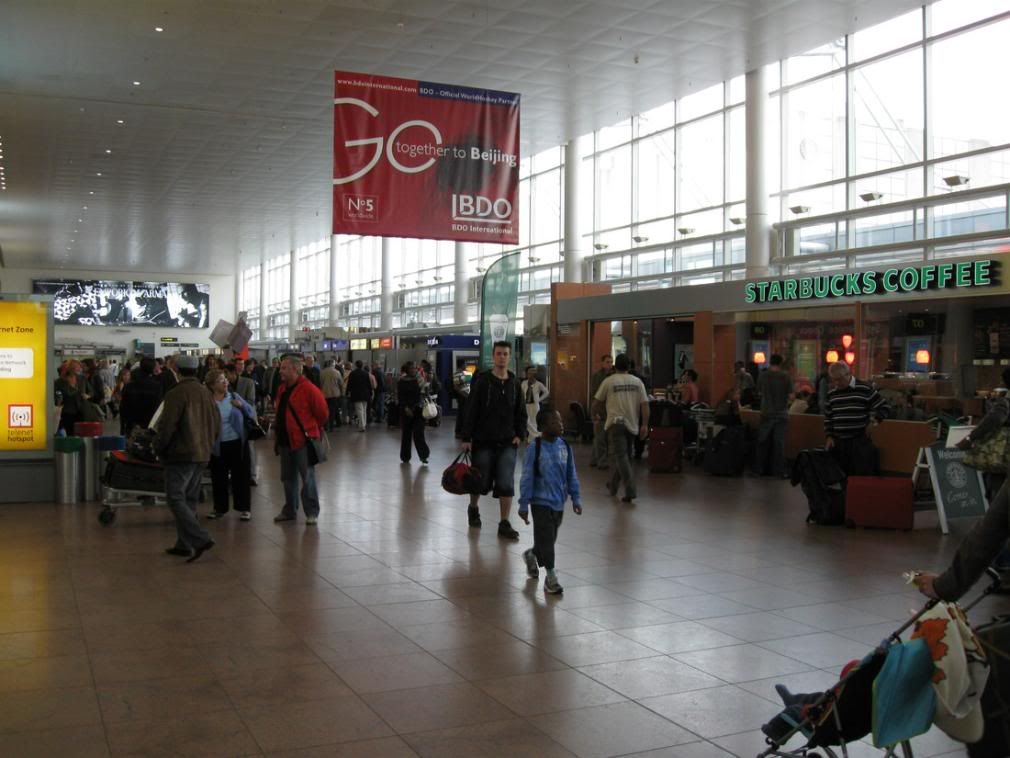 The very first Starbucks of Belgium.
I walked till the end of the concourse and back, to enjoy the views on the apron and runway (25R) through the glassed walls. Somewhat ironically, the earlier flight to Prague, operated by a CSA A320, was delayed and now scheduled to depart at the same time as mine. For those interested, here is a complete list of the aircraft I saw that morning : Adria CRJ in a special "
Hit Stars
" c/s, Aer Lingus 320, Air France ERJ, American 763, Austrian 320, Belgian Air Force 310, Falcon 50, ERJ-135 and C-130, Brussels Airlines Avros, 319, 737 and 333, Clickair 320, Continental 764, Croatia 319, CSA 320, DHL 757F, Europe Airpost 737, FlyBe ERJ, Futura 737, Jet Airways 332 and 77W, Karthago 737, KLM Cityhopper F100 (white c/s), Lufthansa 320, Malev F70, Saudia Cargo MD-11F, Sky Airlines 737, Syrian 320, Vueling 320.
Brussels airport Pier A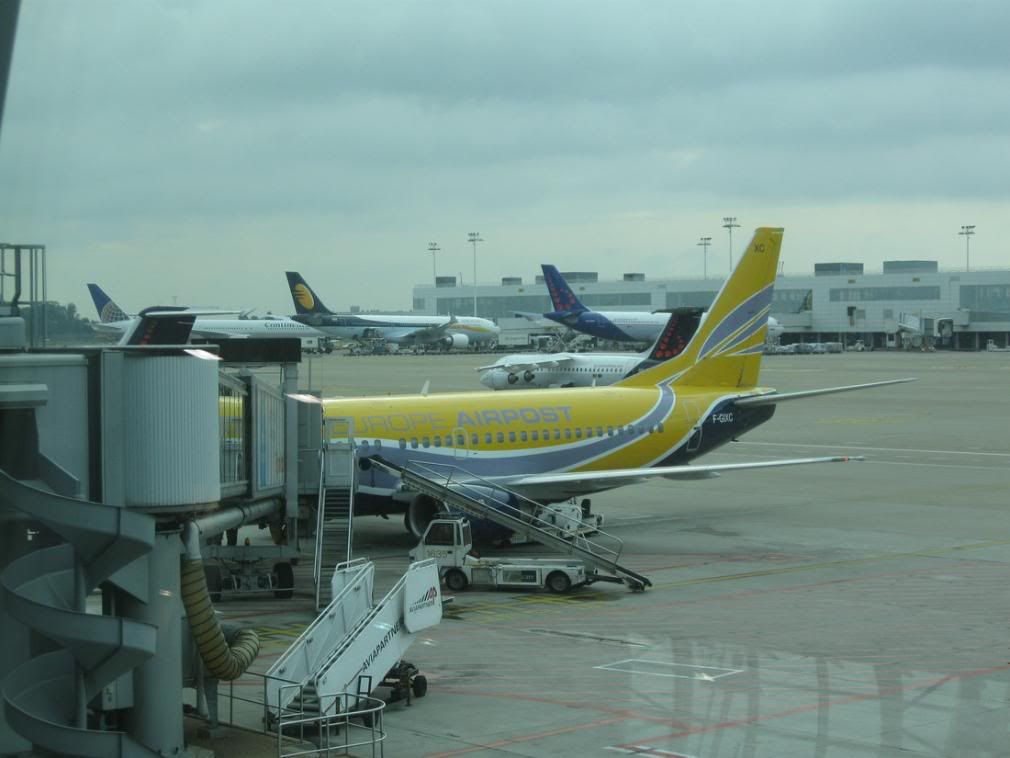 Europe Airpost 737, CO 767-400ER, 9W A330-200, SN A330-300 and
A Brussels Airlines Avro among the heavies...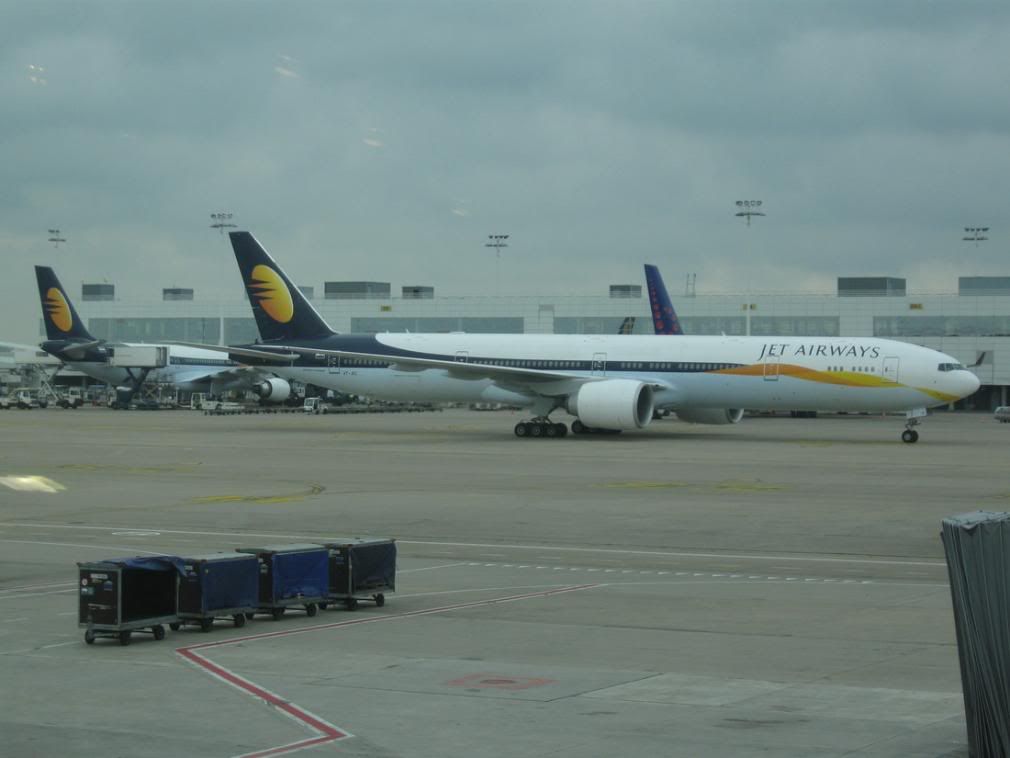 The Jet Airways BRU hub in action : 332 and 77W
Boarding for my flight to Prague began at gate A57 (stand 157R) at 10:15. Today, Avro RJ-85 OO-DJW was operating the flight, in code-share with American Airlines. The aircraft may be 12 years old, but its cabin was in pristine condition, clean and neat, with a comfortable 2+3 layout (I don't want to know how it feels on airlines using 3+3). I took my seat 4A and while we were pushed back, right on time at 10:35, I took a quick glance at the rest of the cabin to estimate the load factor : 27 % (8/30) in
b.flex
economy plus, and a guess of 60 % in
b.light
economy for this Saturday mid-morning flight. After a 10 minutes taxi, we took off from runway 25R and quickly disappeared in the clouds. Shortly after, the flight attendants (2 females) began the inflight service, consisting of a breakfast tray for
b.flex
passengers (cheese and ham sandwich, some pastry and a fruit salad, and of course complimentary drinks), and snacks for sale for the
b.light
pax. The F/As were friendly, but nothing out of the ordinary, and strangely we were not offered free newspapers, as I thought was standard procedure for
b.flex
passengers.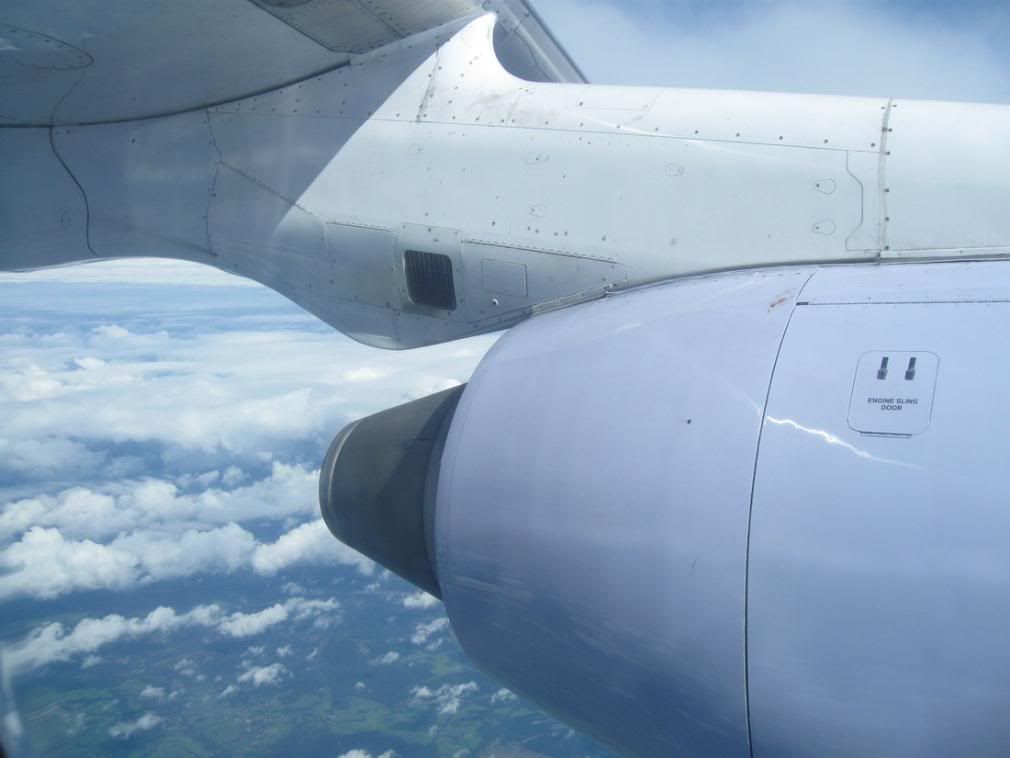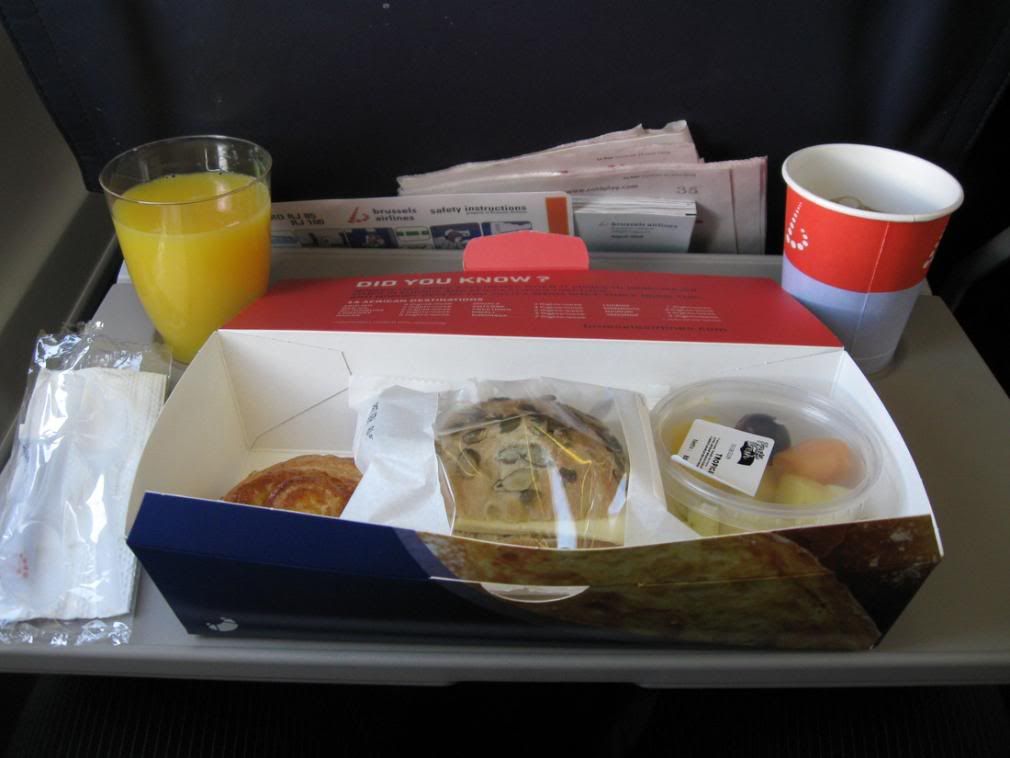 The breakfast tray. It will be exactly the same on the BUD-BRU leg.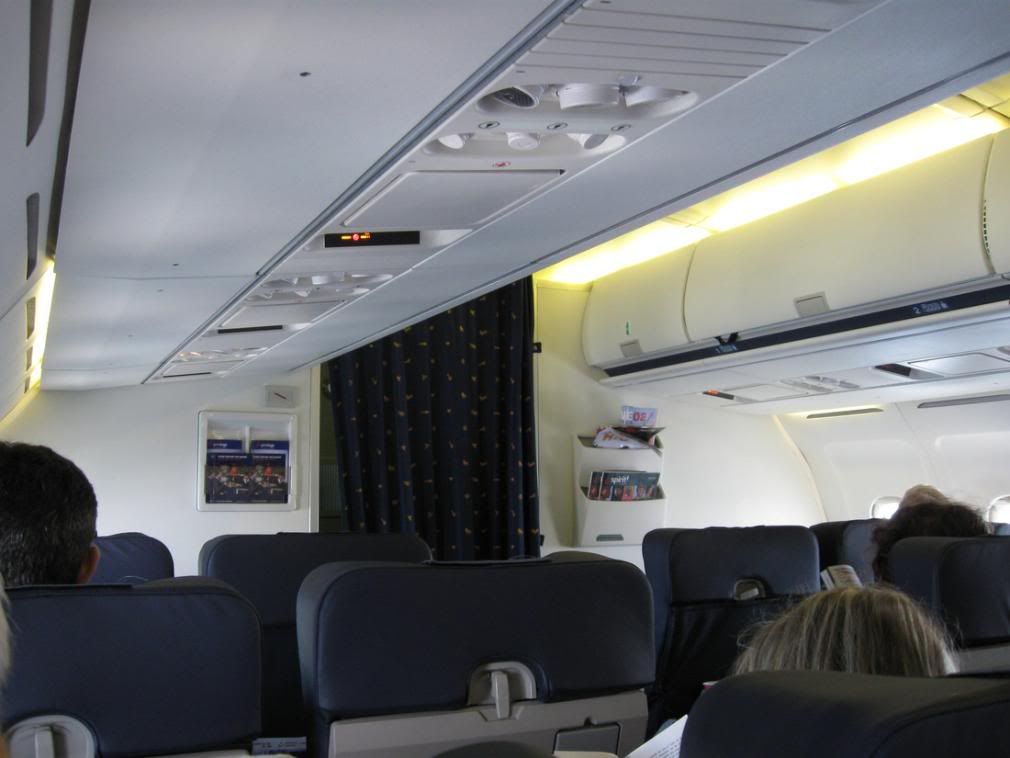 Neat cabin of this ARJ-85.
The flight was not long, and after 1 hour and 10 minutes, we were already touching down on Prague runway 24, after a ride between the scattered clouds during which I had some views of the city's historical district. The airport is clearly dominated by CSA aircraft (737s, 320s and ATRs), with some Travel Service 737s operating charters (including one in an interesting Oman Air / Travel Service hybrid livery) and a couple of others (I saw an Air France operated by Brit Air CRJ, and a Delta 767). The airport seemed very modern, clean and airy, and left me an overall good impression. I took some Czech money from an ATM in the arrivals hall, bought a 3-days pass for public transportation, then took the bus 119 to the
Dejvická
subway station, and I finally reached the center of the old town only 40 minutes after deplaning.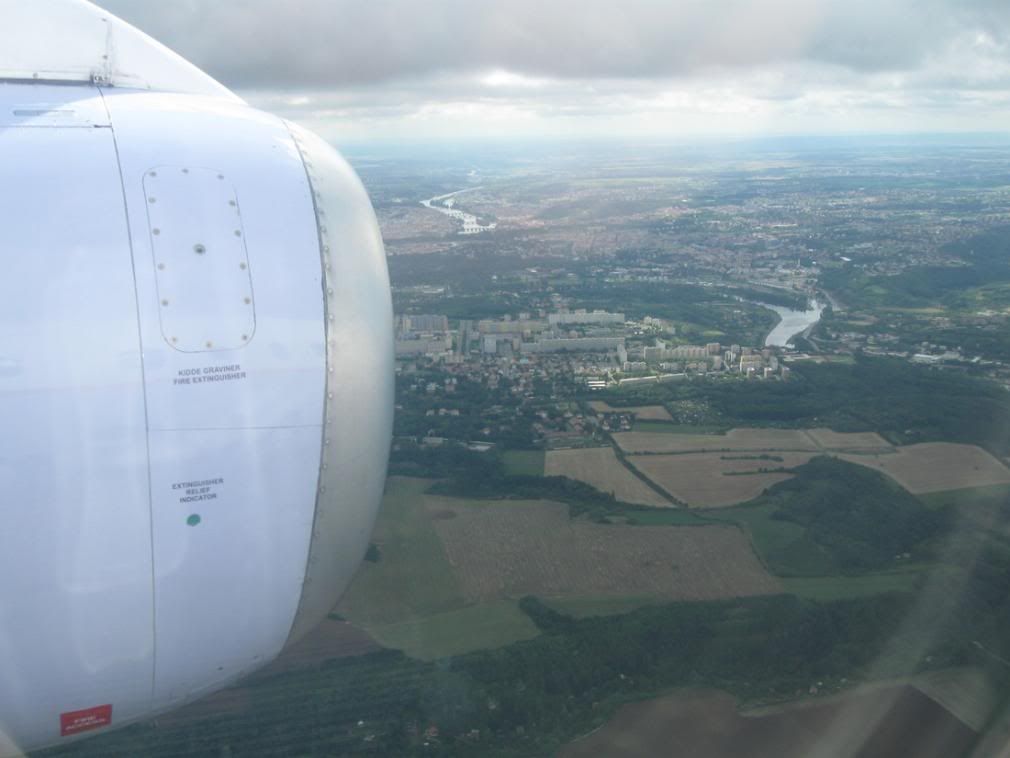 Downtown Prague and its bridges on the Vltava river in the distance.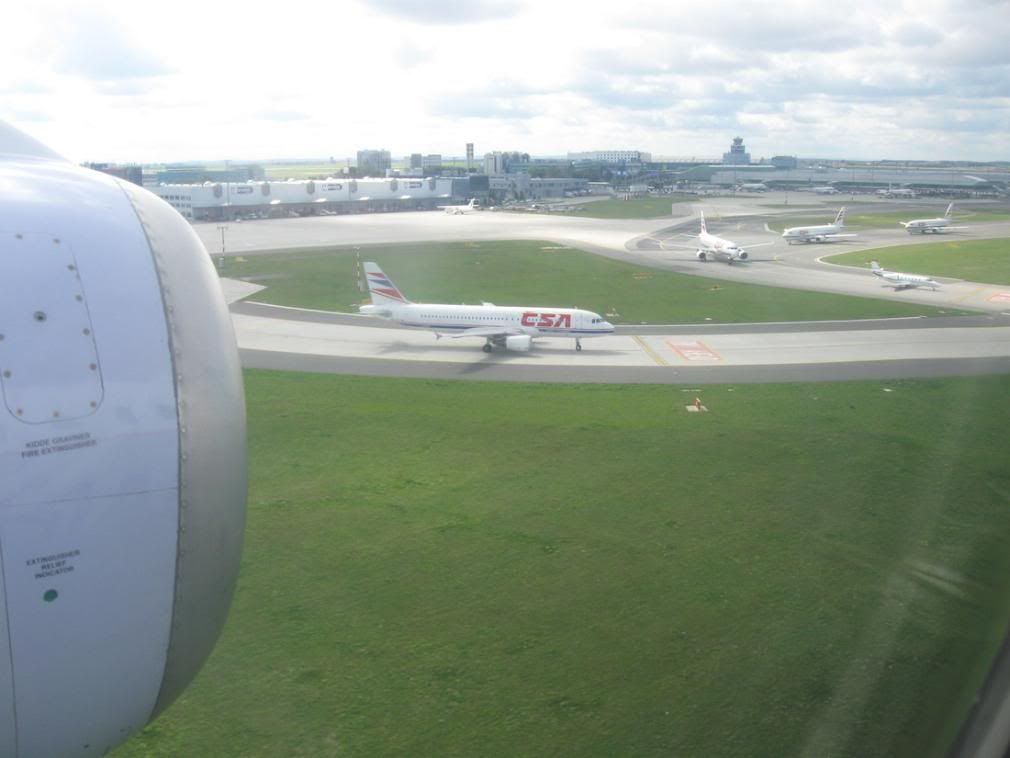 Almost there. Guess who's the dominant operator in Prague ?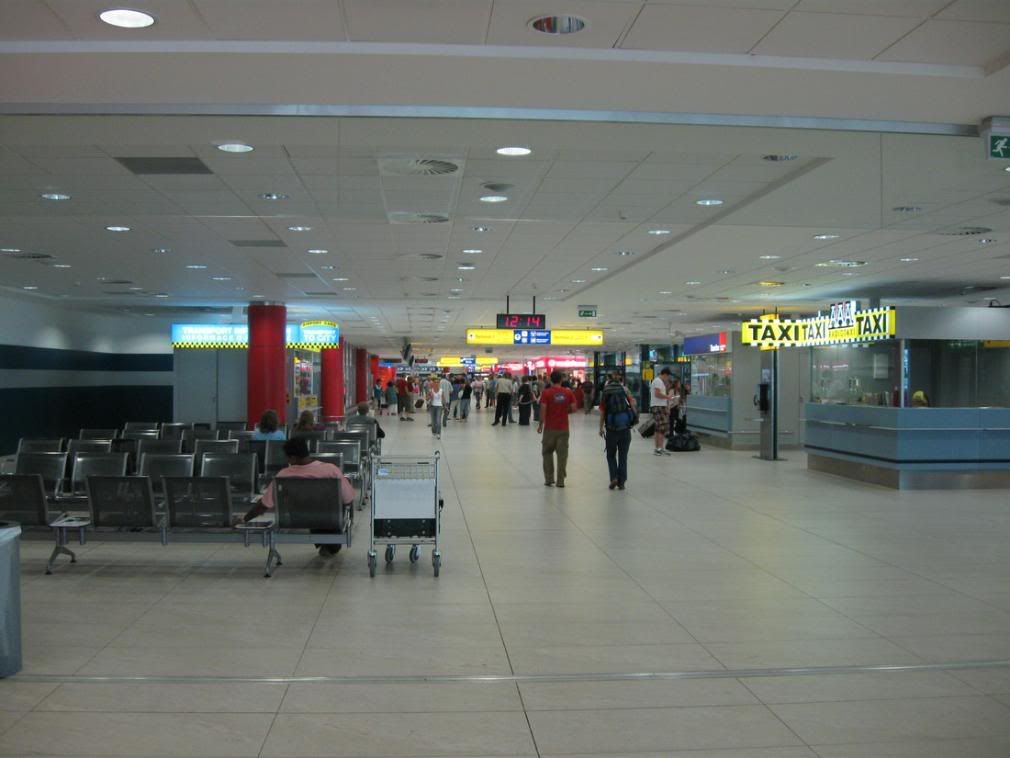 Arrivals hall in PRG.
Prague is really a magnificent city, definitely worth a visit. There are lots of buildings with interesting architecture, plenty of romantic places, and the cost of life is relatively cheap (although it's not always the case in very touristic places). The only drawback in my opinion is that it's much too crowded with tourists during the summer.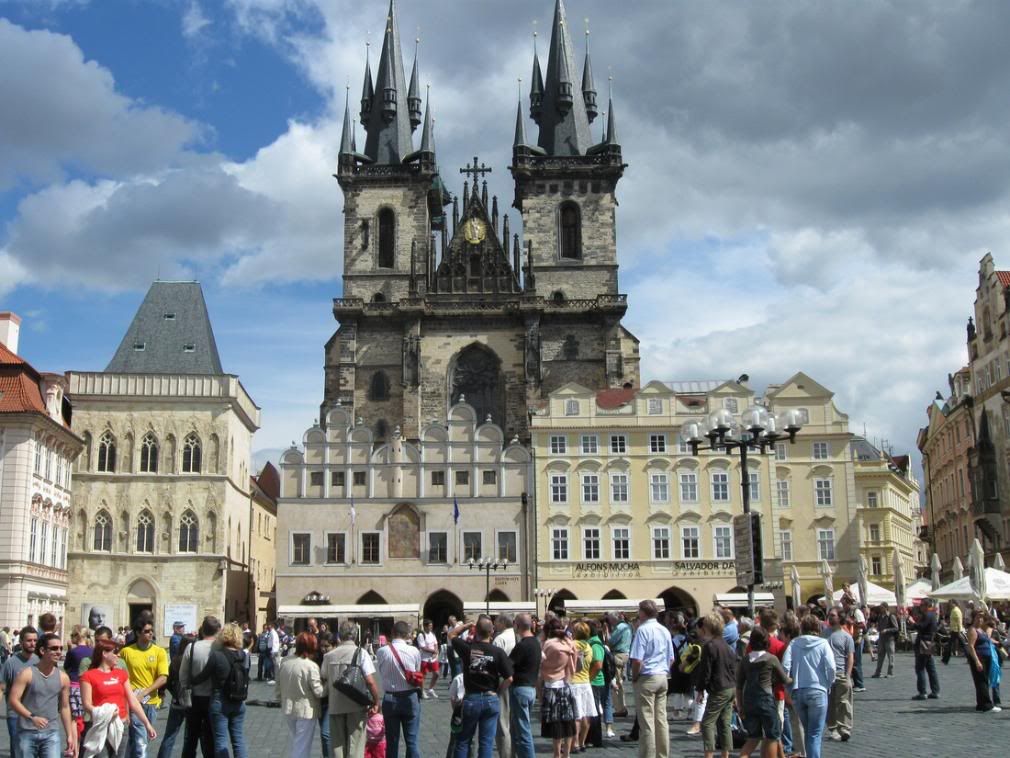 Old town square.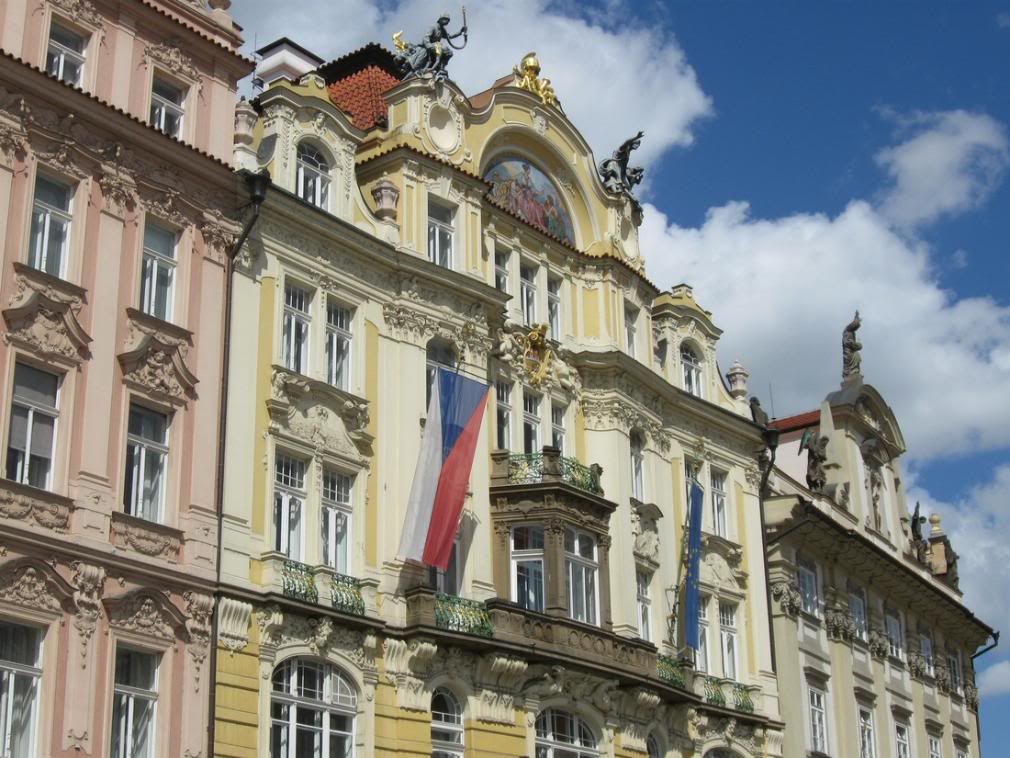 Splendid architecture on the old town square.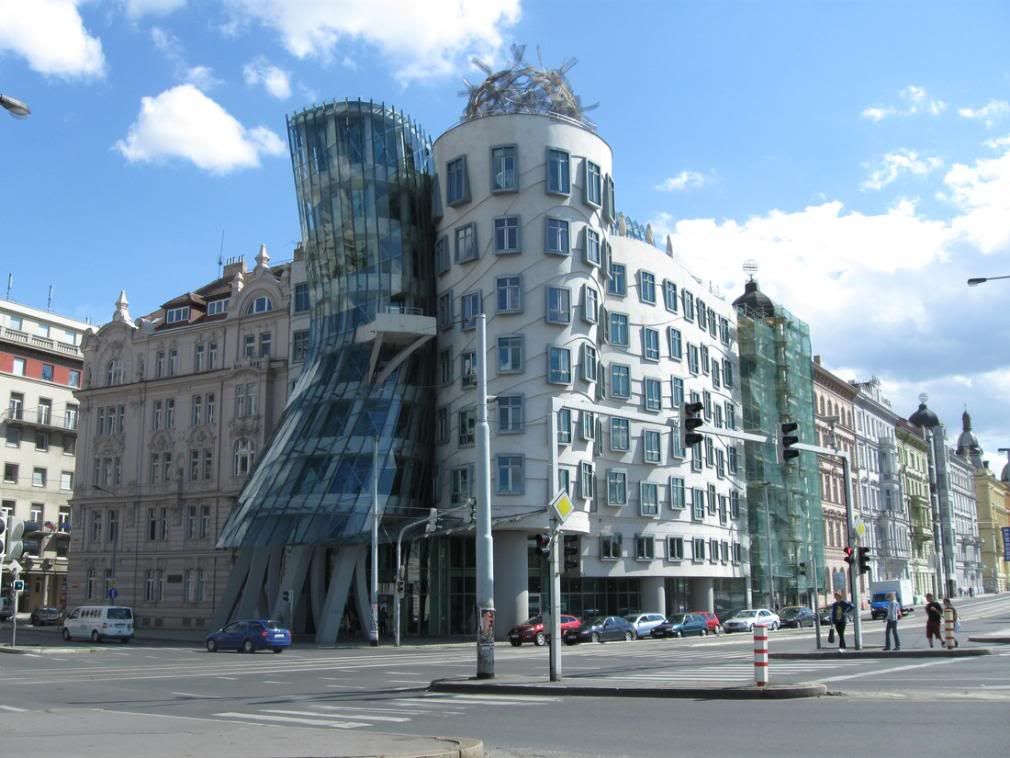 Funny architecture for this so-called Dancing House...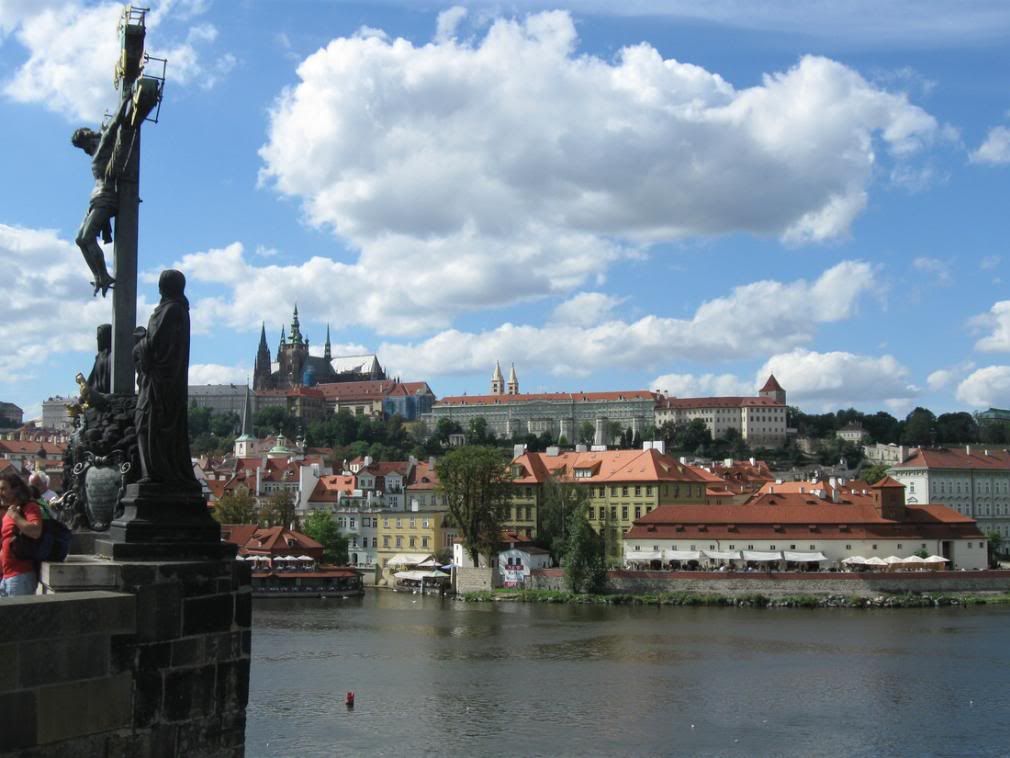 Prague castle as seen from the famous Charles Bridge.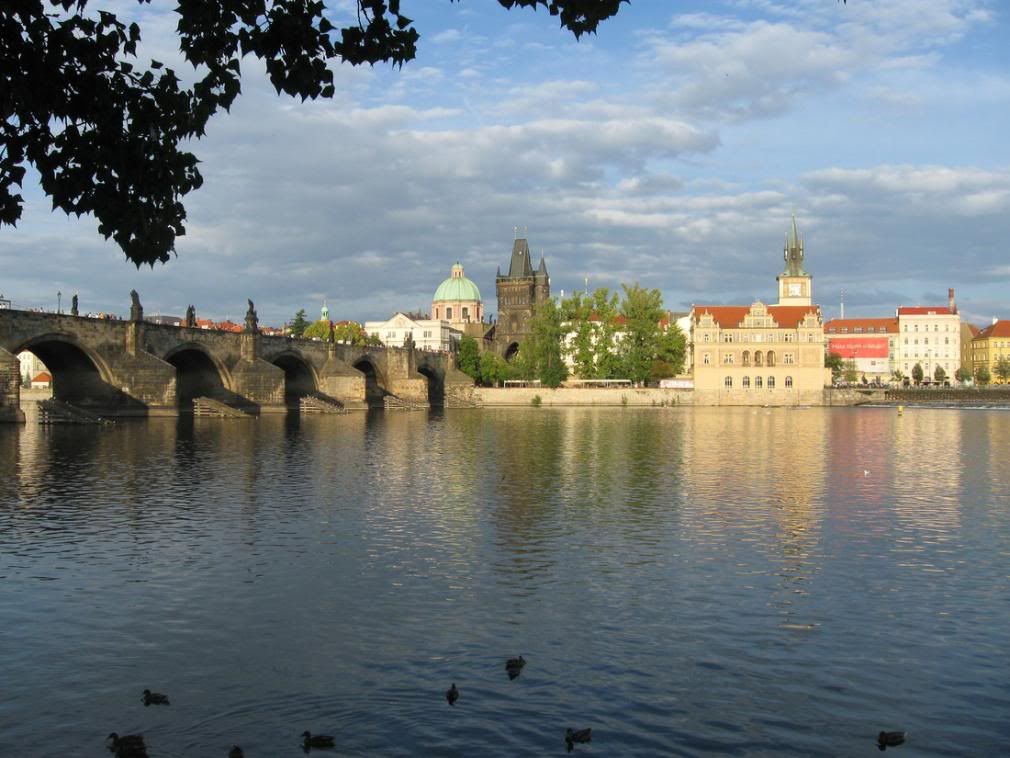 Charles Bridge on the Vltava river.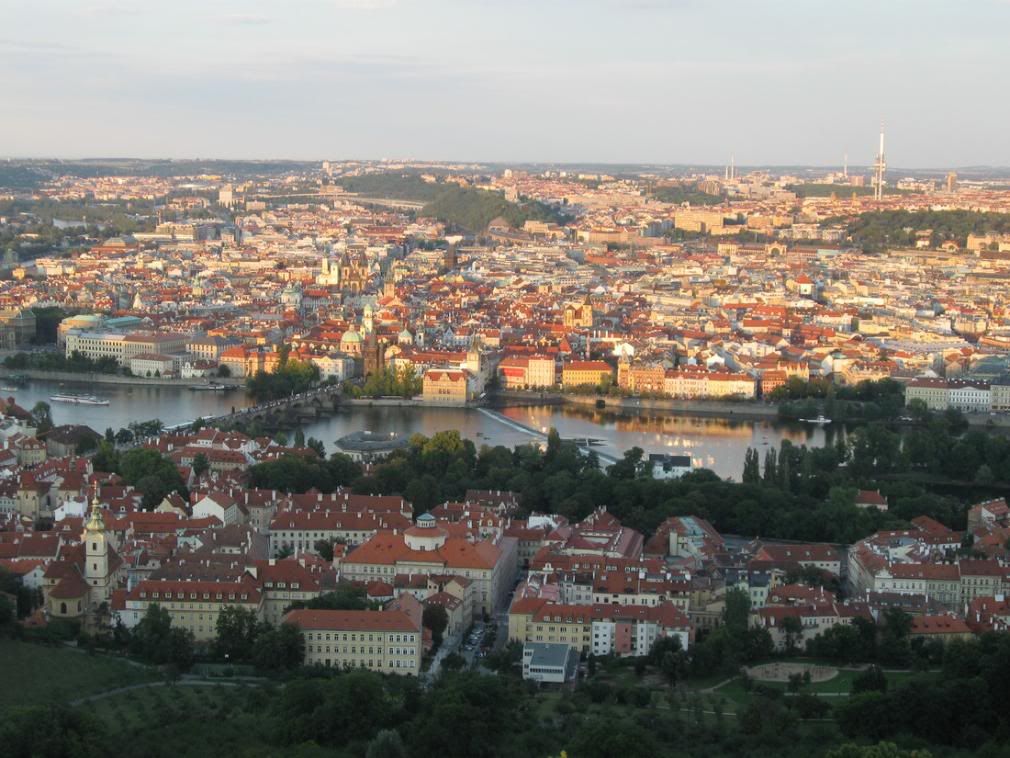 Overview of the old town from the castle.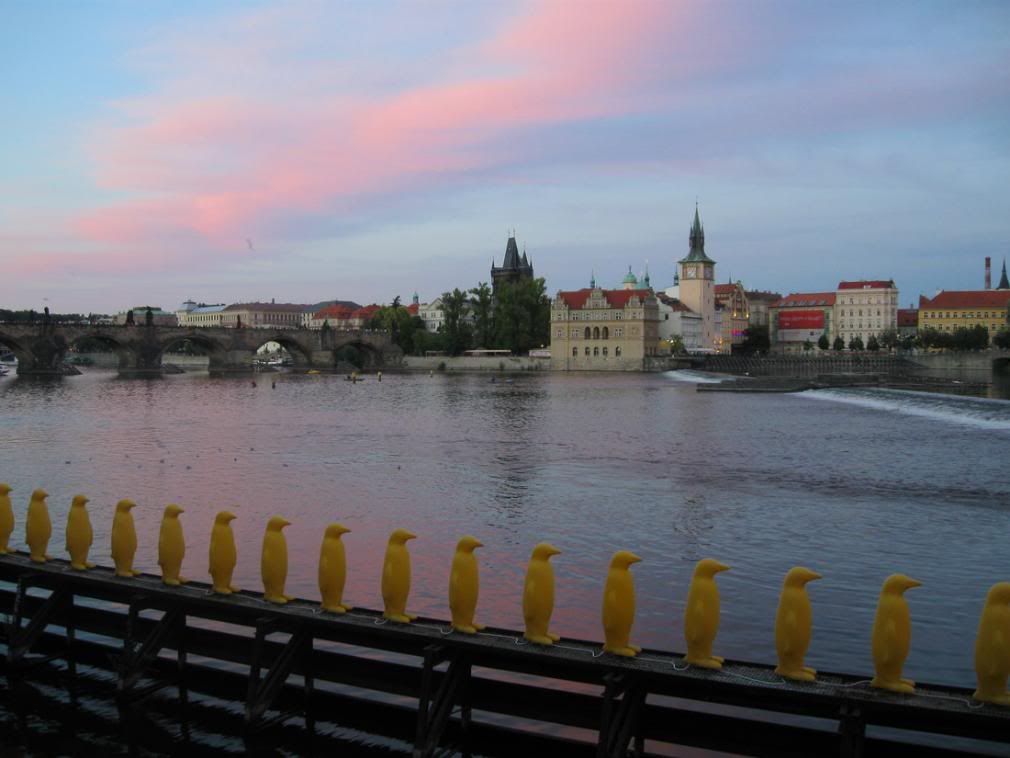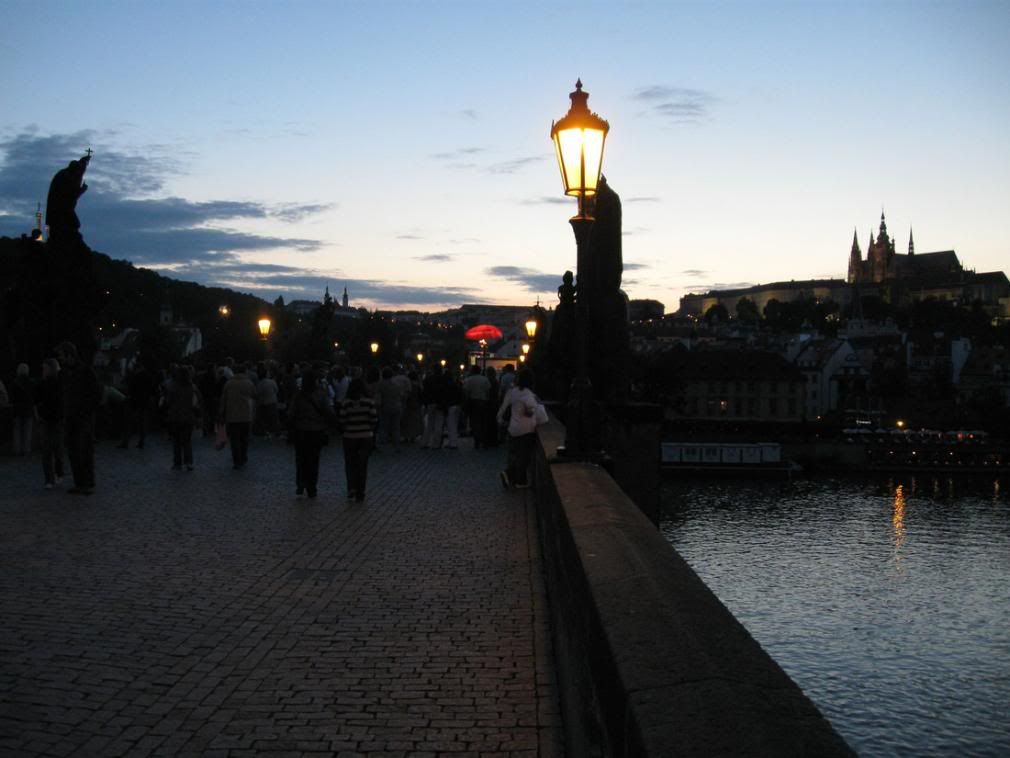 On the Charles Bridge at dusk...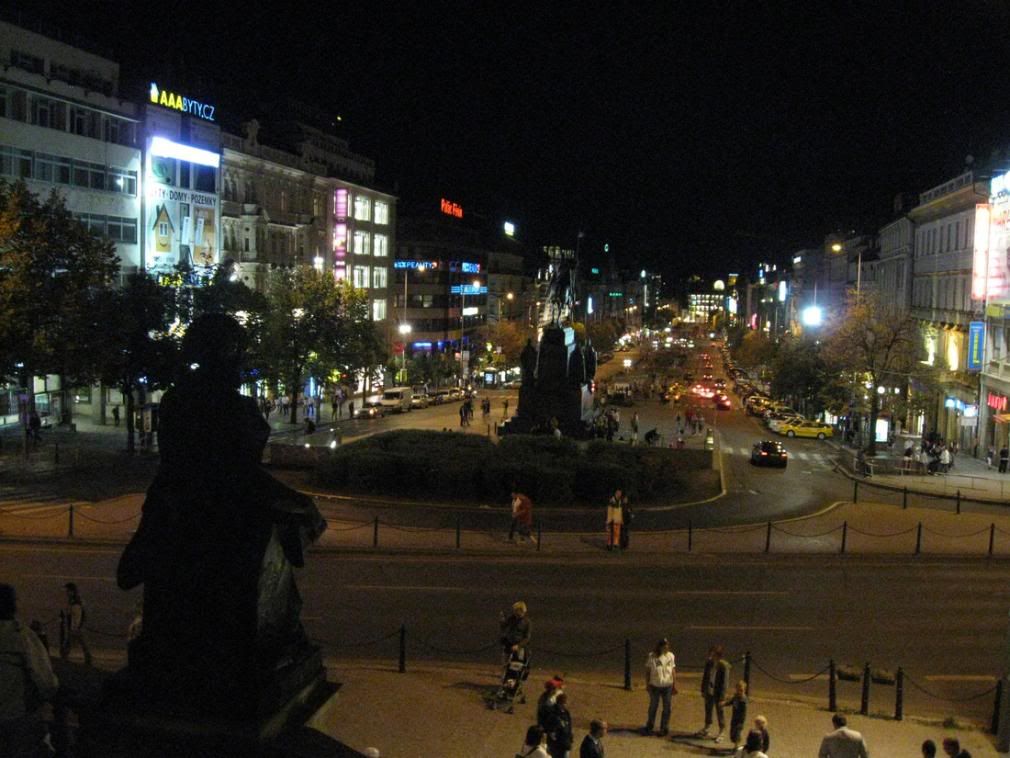 Wenceslas square at night.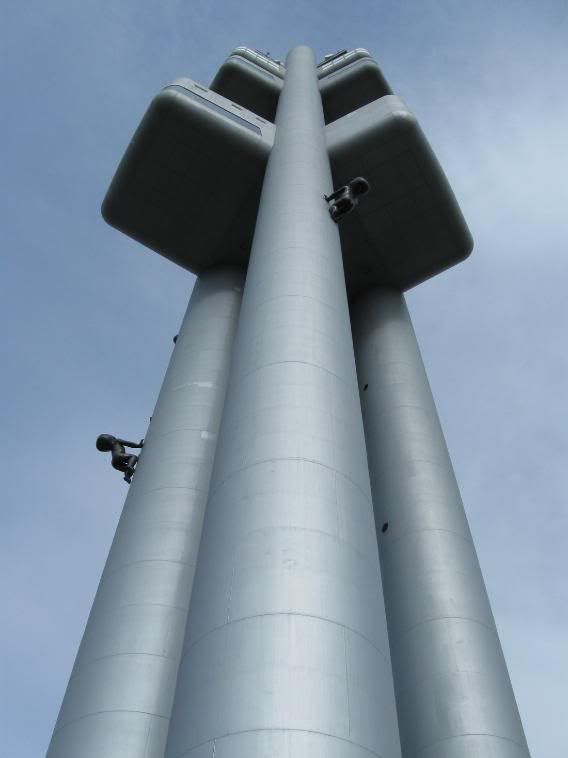 Babies climbing the Žižkov television tower.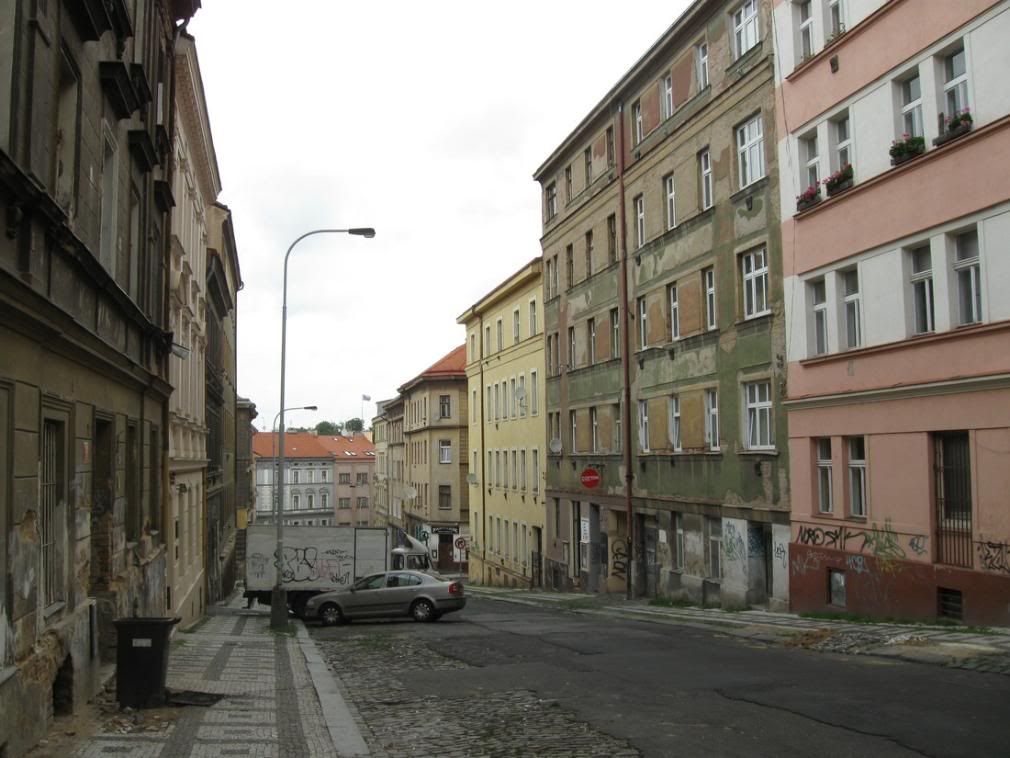 Still some renovation work to complete in Žižkov.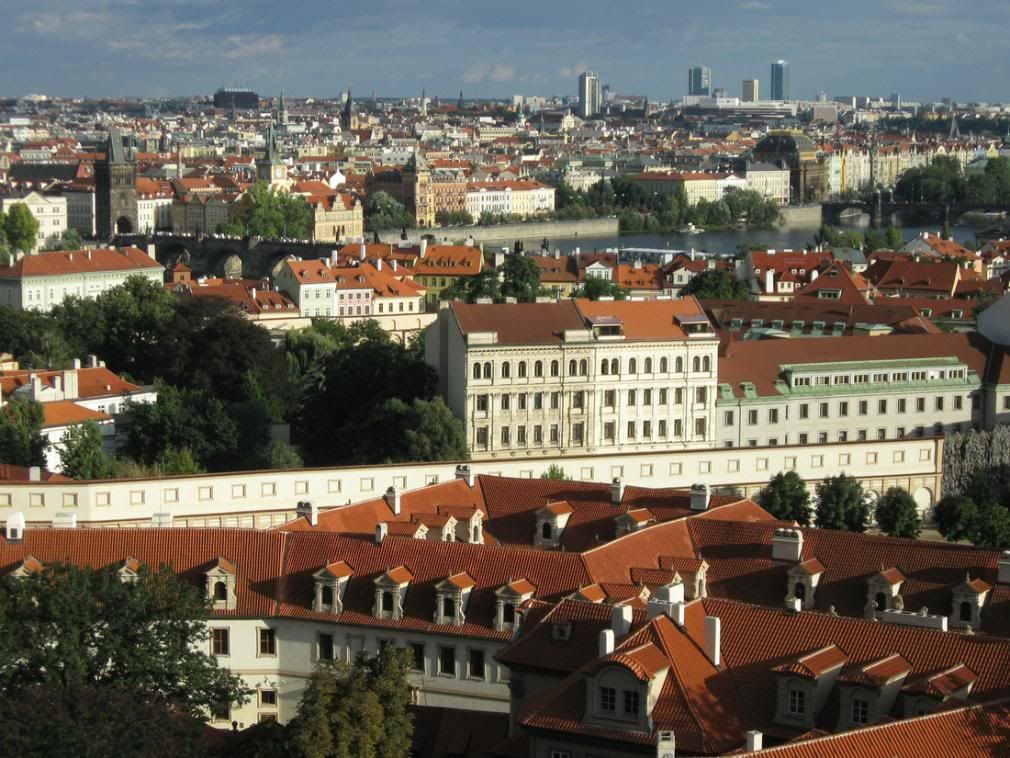 The small yellow tower in the back is my hotel.
During my stay, I also visited the
Kbely Aviation Museum
(free admission), in the northeastern suburbs, with an interesting collection of mainly soviet-era aircraft, including a rare (and superbly restored) example of the Tupolev 104. The museum is located on the
Kbely
airport, which itself is next door to the
Letňany
aerodrome, where it's possible to walk virtually on the edge of the (grass) runway (however, the traffic only consists of some occasional Cessna's).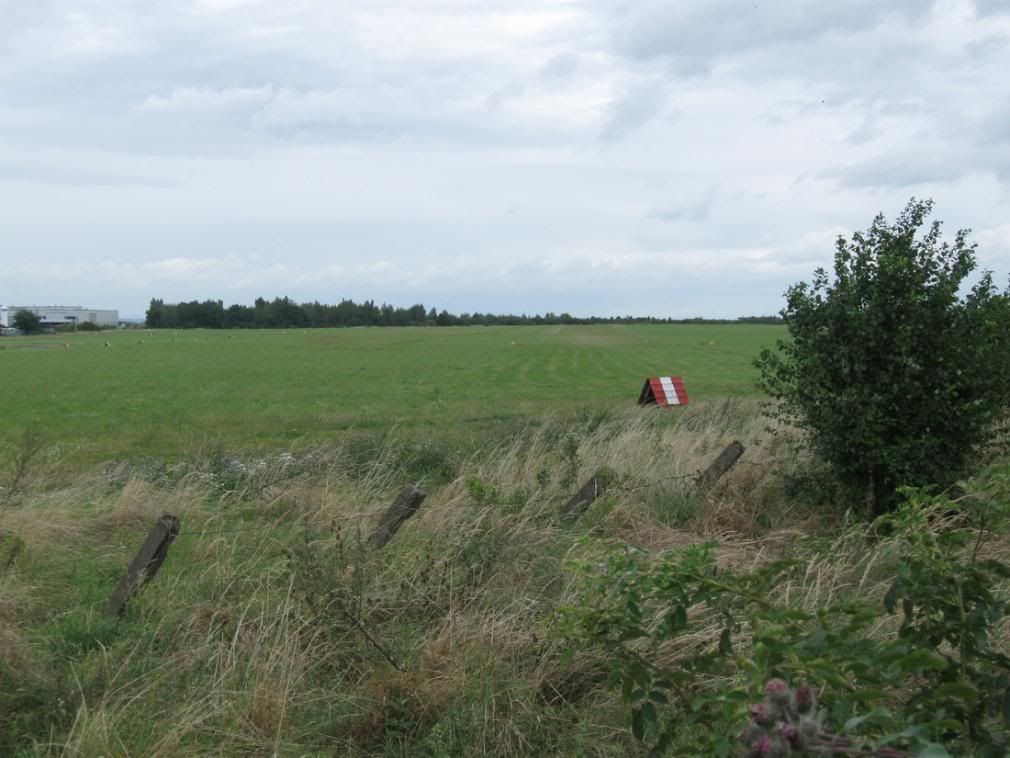 The grass runway of the Letňany aerodrome.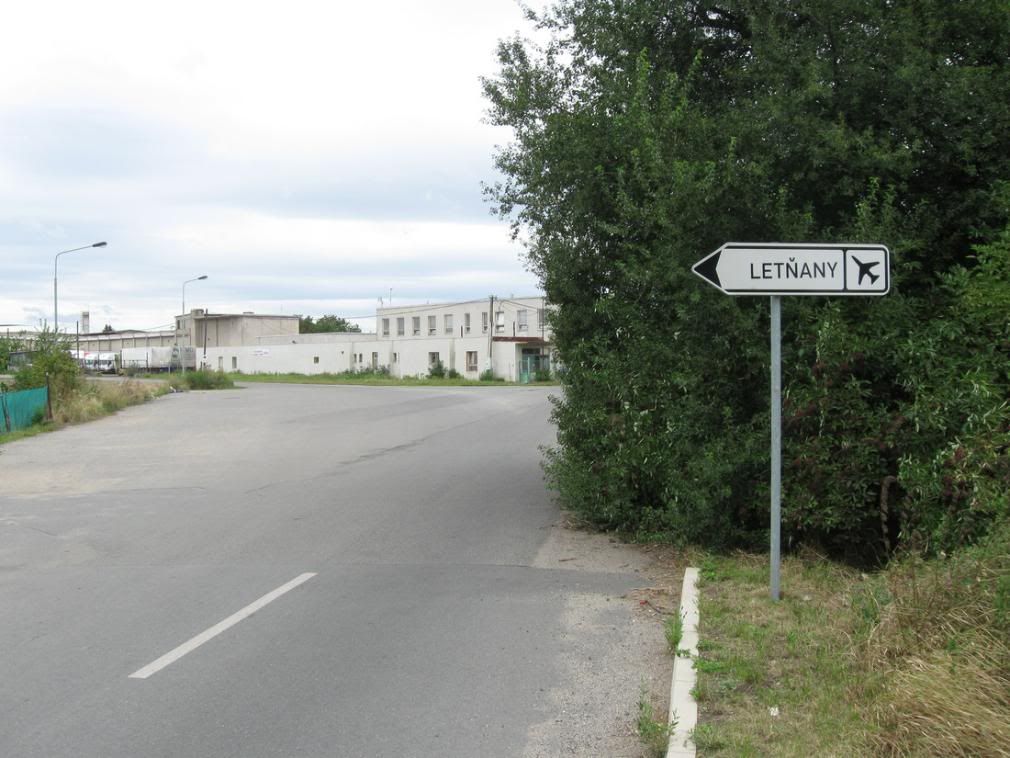 Letňany aerodrome sign.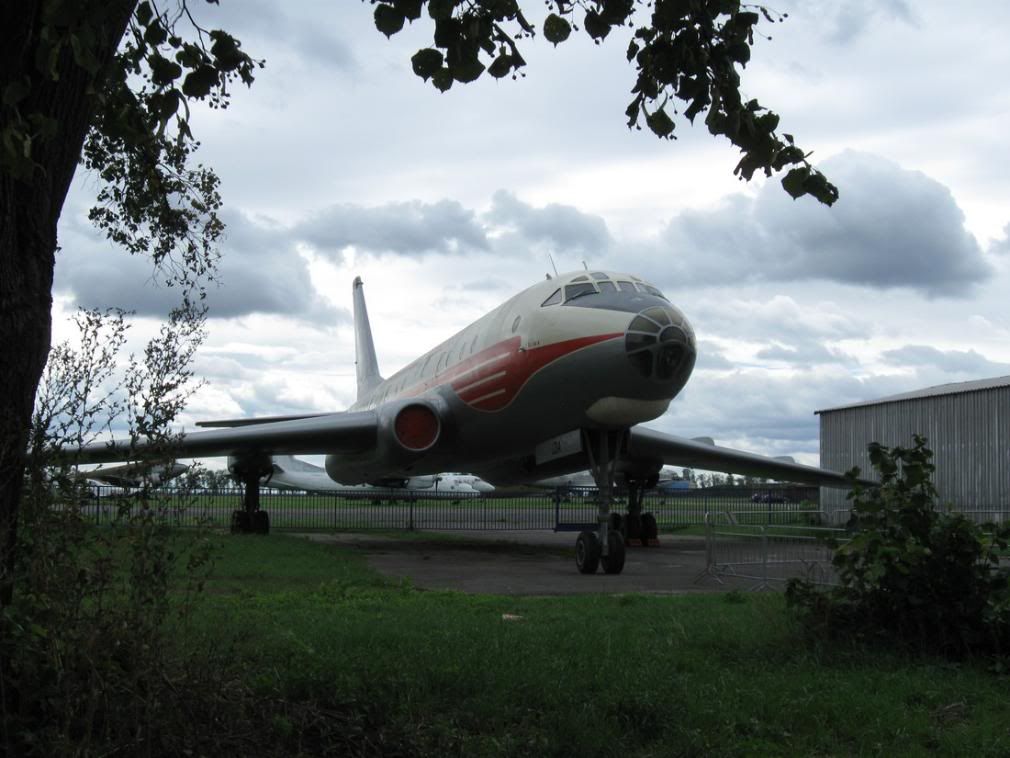 Nicely restored Tupolev 104 at the Kbely museum.
On Monday, August 25th, I took a train to visit the town of
Kutná Hora
, some 60 kilometers from Prague, which is known for the
Sedlec ossuary
, a church decorated with human bones. About 2 kilometers further is the historical town with its
Santa Barbara cathedral
which is part of the Unesco World Heritage List. Walking in the city itself (and eating on a terrace on the central place) was nice, however spending one day there is more than enough.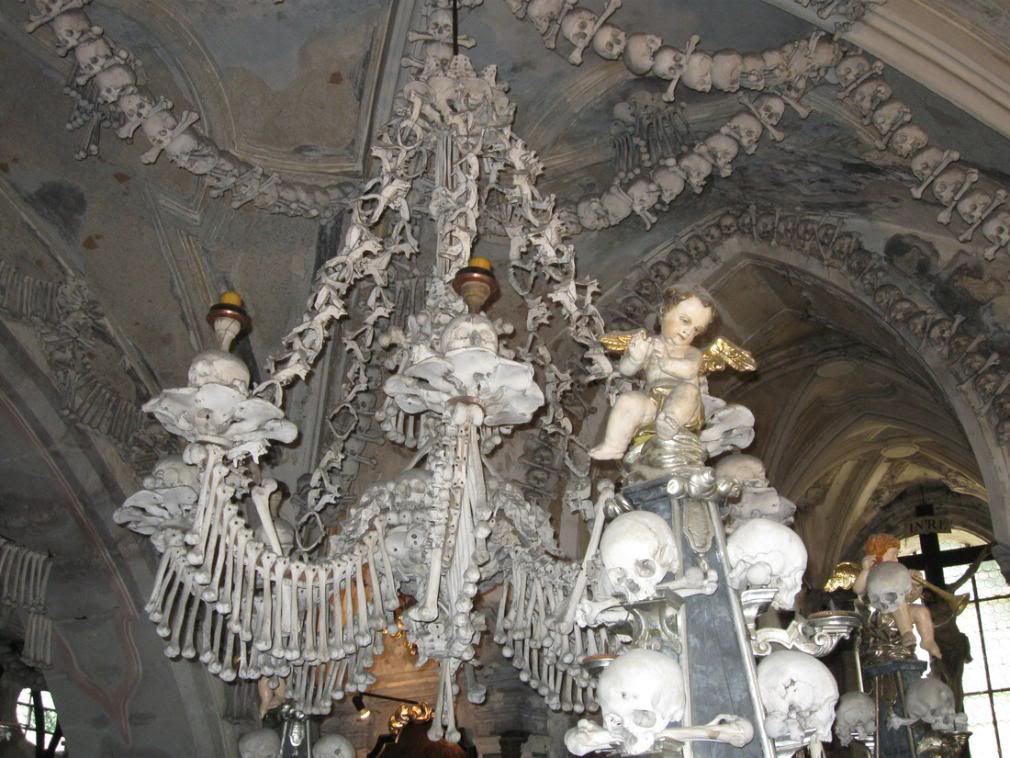 Every single human bone can be found in this morbid candelabra...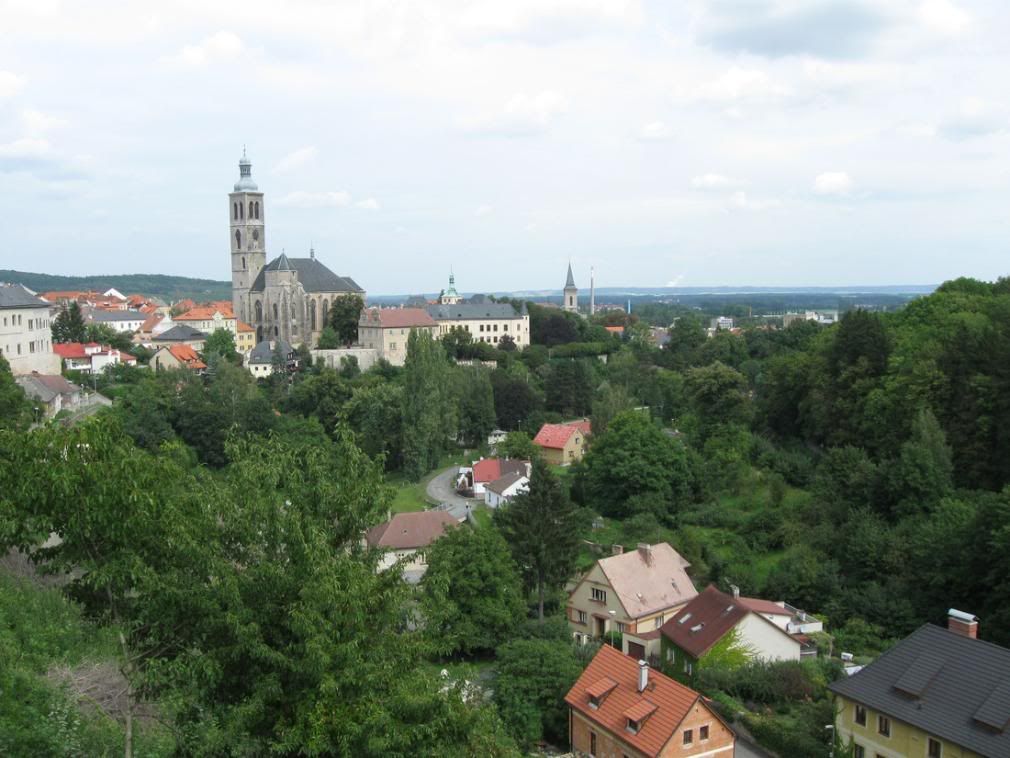 Kutná Hora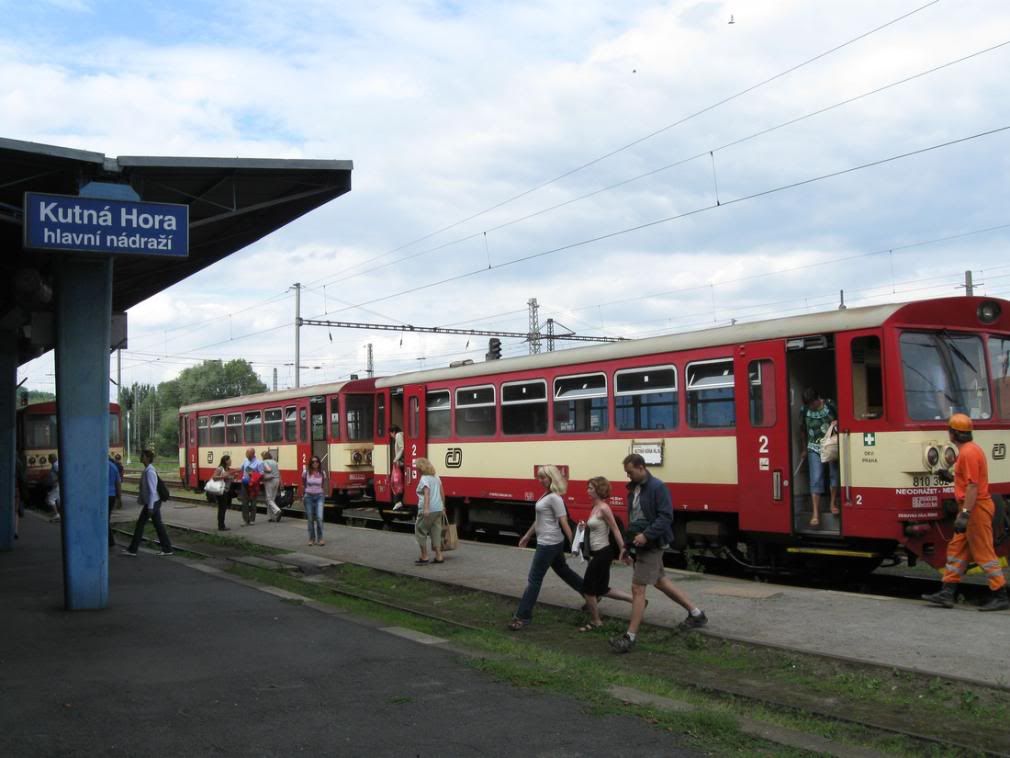 Kutná Hora main station, this small train took me from the downtown station, 2 kilometers away.
Prague - Košice
PRG - KSC
SkyEurope flight NE56
Boeing 737-76N OM-NGL, seat 4A
Departure : 19:00, duration : 1:12.
Upon arriving back in the Prague main train station, I took the subway, then a bus, to reach the airport in
Ruzyně
, where I arrived at 17:00 for my 19:00 flight to Košice.
The 119 bus to the airport at the Dejvická subway station.
Prague airport has 2 adjacent terminals, T1 for non-Schengen and domestic flights, and T2 for Schengen flights. Away from the main terminal complex, there is also a smaller terminal used for general and business aviation (this was the original 1937 terminal). The check-in hall of T2 is modern and very airy (it was opened in 2006), and there was no queue at all to check in for my SkyEurope flight to Košice, contrary to the nearby SkyEurope flight to Rimini, Italy. I passed security without hassle and entered the gates area. My flight was due to depart from gate D3, but as I wanted to explore the airport a bit, I went to the end of the D concourse, from where I got great views of taxiing aircraft as well as the active runway (24). Generally speaking, I found some good viewing opportunities at various places of the terminal.
The airport has 3 runways : 06/24, 13/31, and 04/22. The latter is now closed, and the two most used runways are 24 (on which I landed and departed) and 31. Beside, a new 3500 metres runway parallel to 06/24 should be put into service around 2010.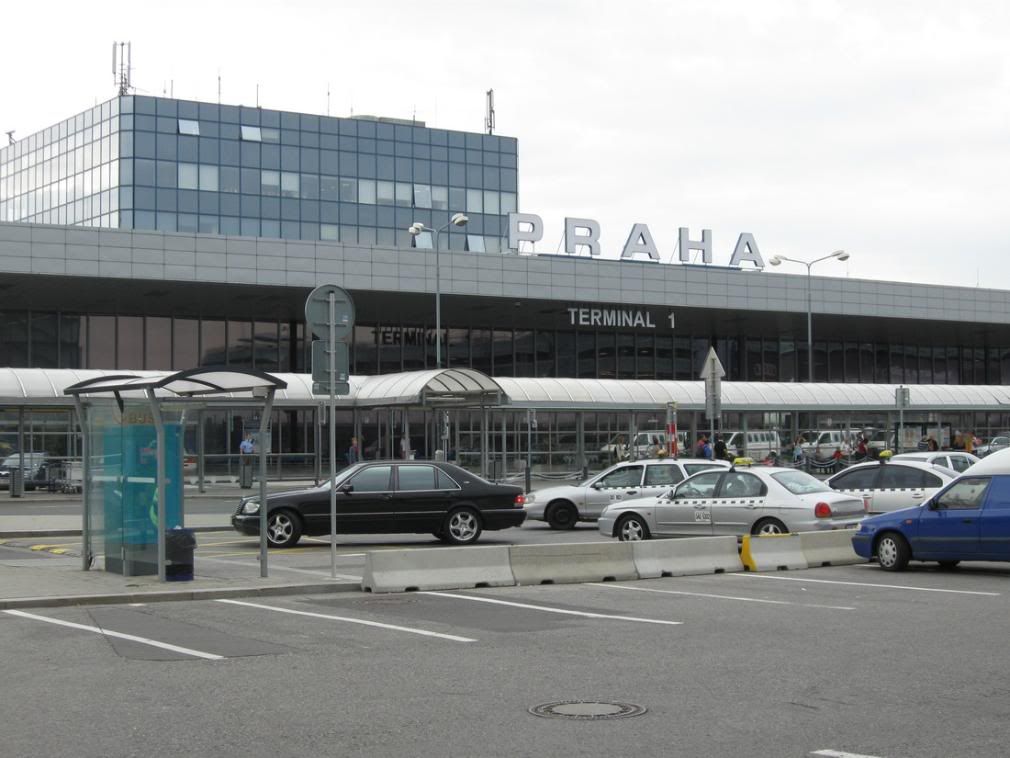 Terminal 1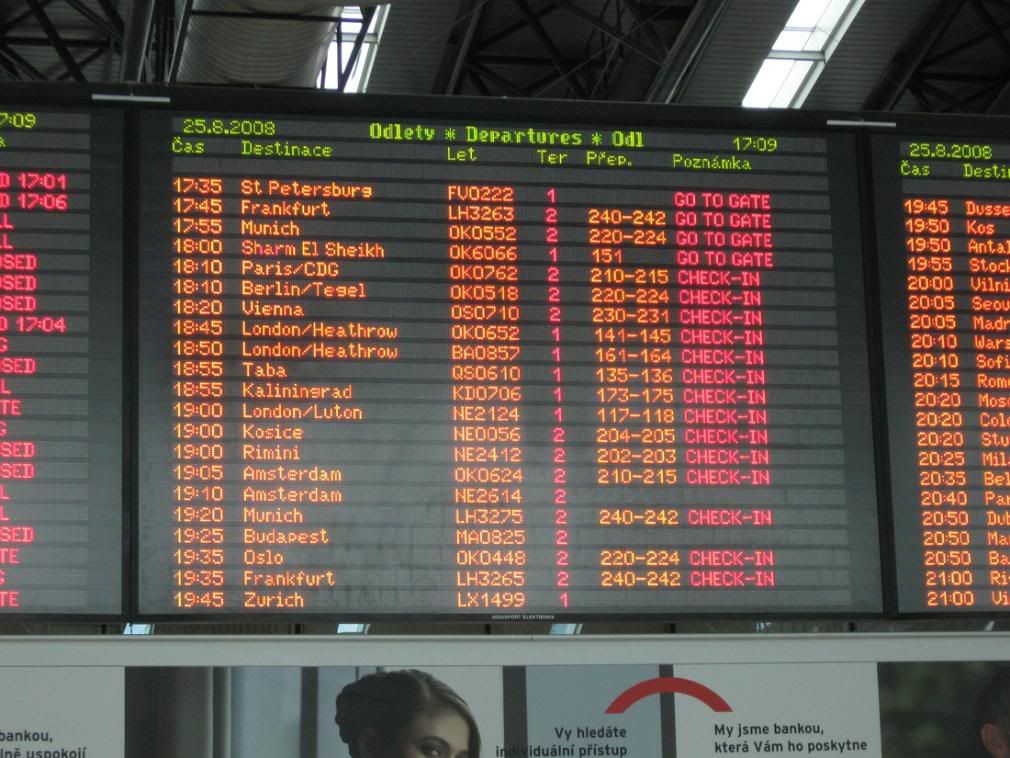 My flight to Košice is scheduled at 19:00.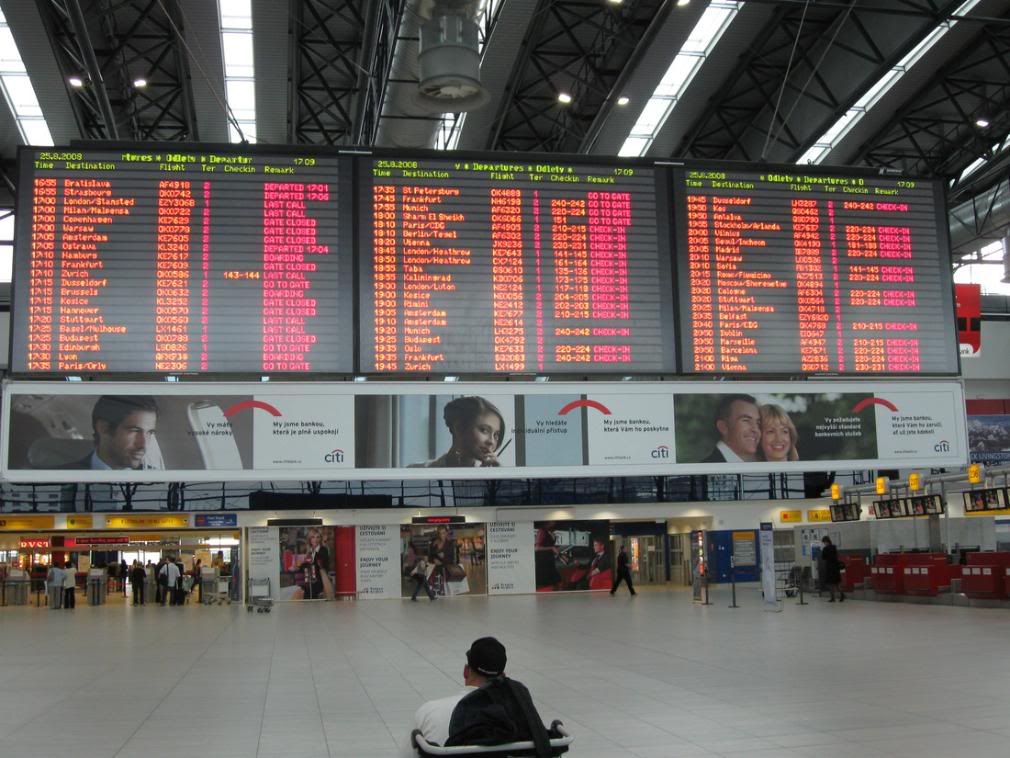 Flight information display in the departures hall of Terminal 2.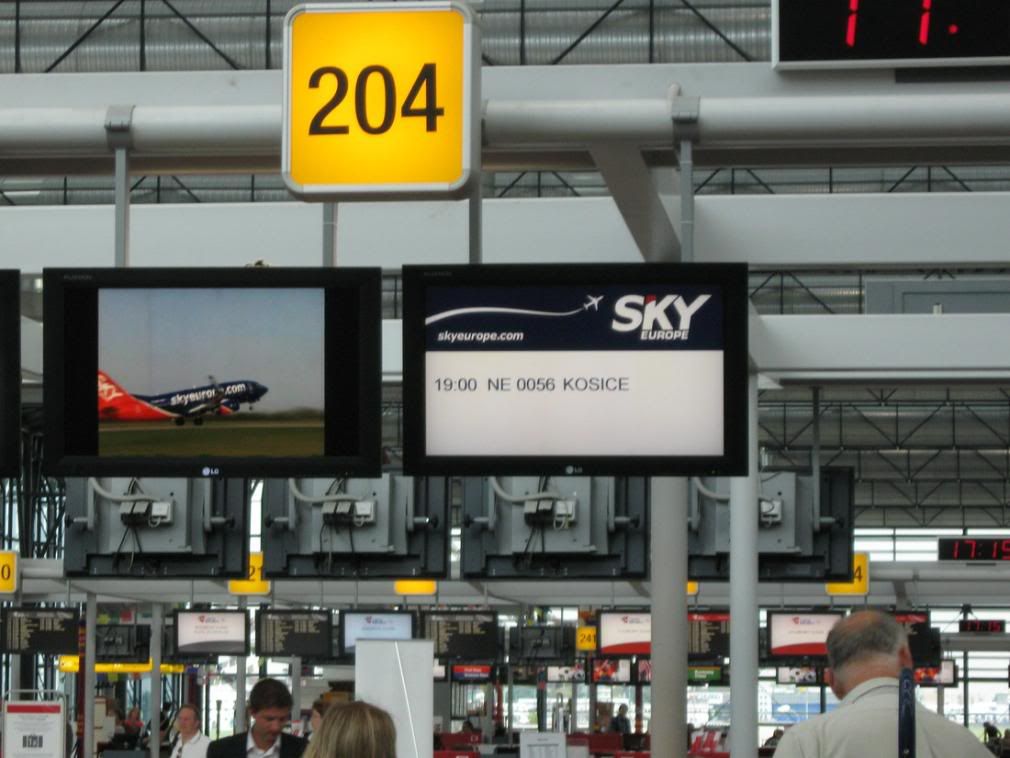 Check-in. The left screen showed nice videos about SkyEurope.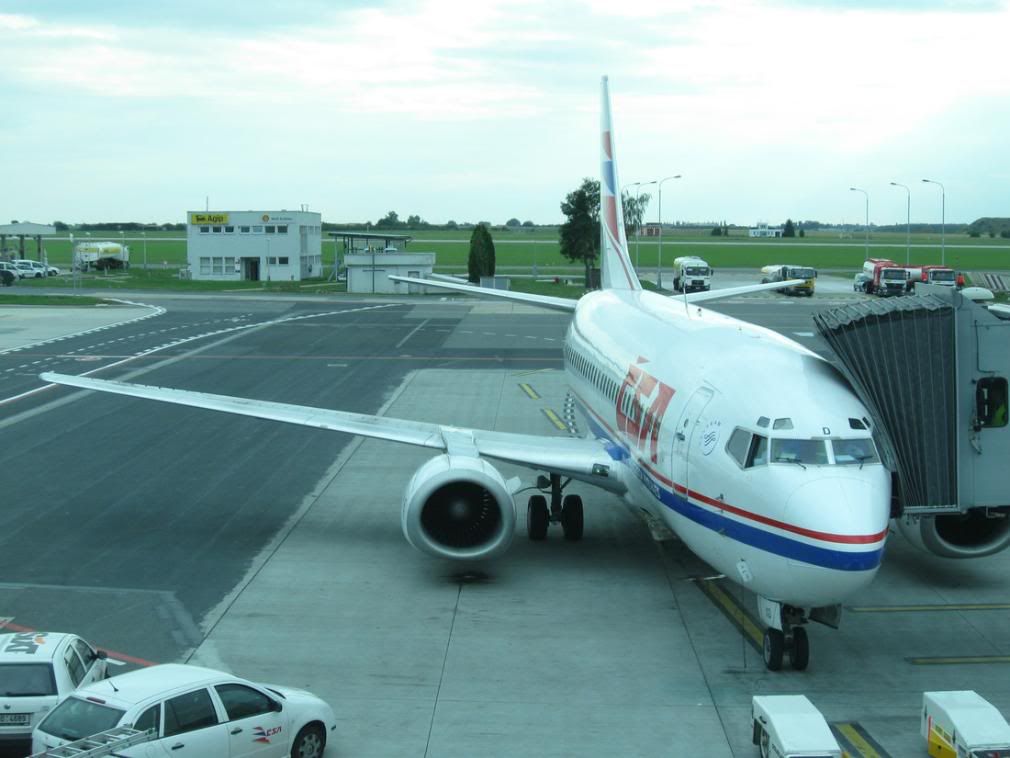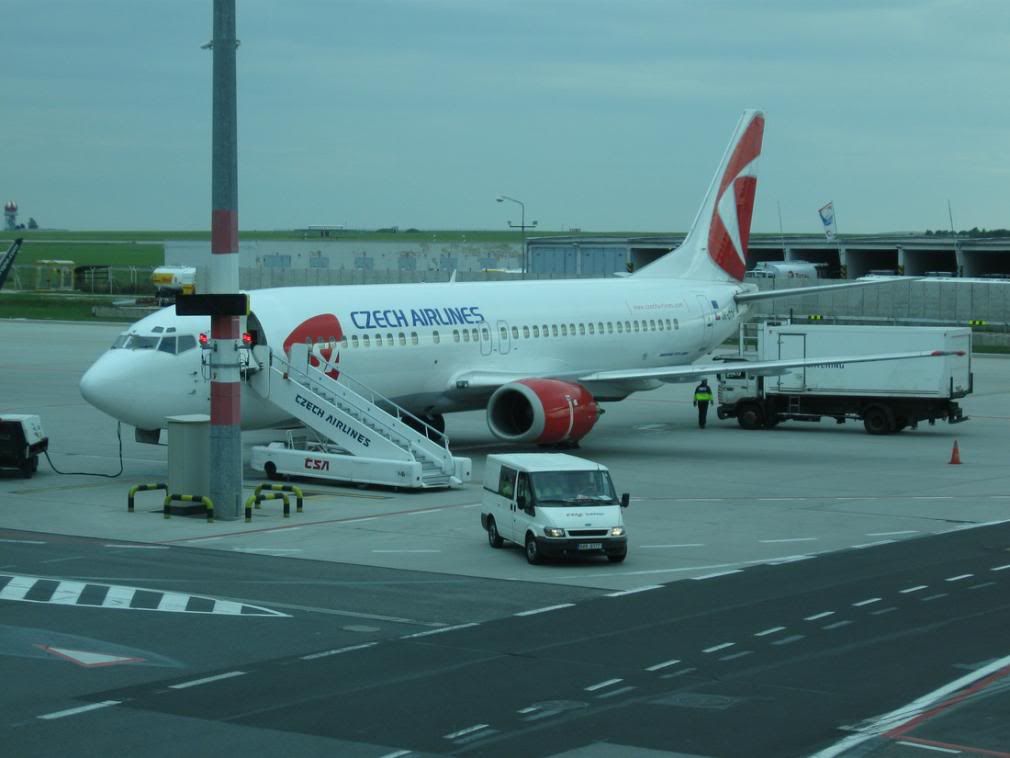 As I was really hungry, I decided to have dinner in the Porto Café Restaurant, located at the intersection of concourses C and D. The beef Stroganov accompanied with Czech beer was actually quite tasty and reasonably priced, at least for an airport. From my table, I had a distant view of the taxiways, where I spotted a KD Avia 737, some Wings Airlines and Travel Service 737s, a Lufthansa A320, a Korean Air A330 and a bunch of CSA planes. After buying some souvenirs, I went to gate D3 where boarding was about to begin. The gate area was too small to seat everyone, although the flight was not full.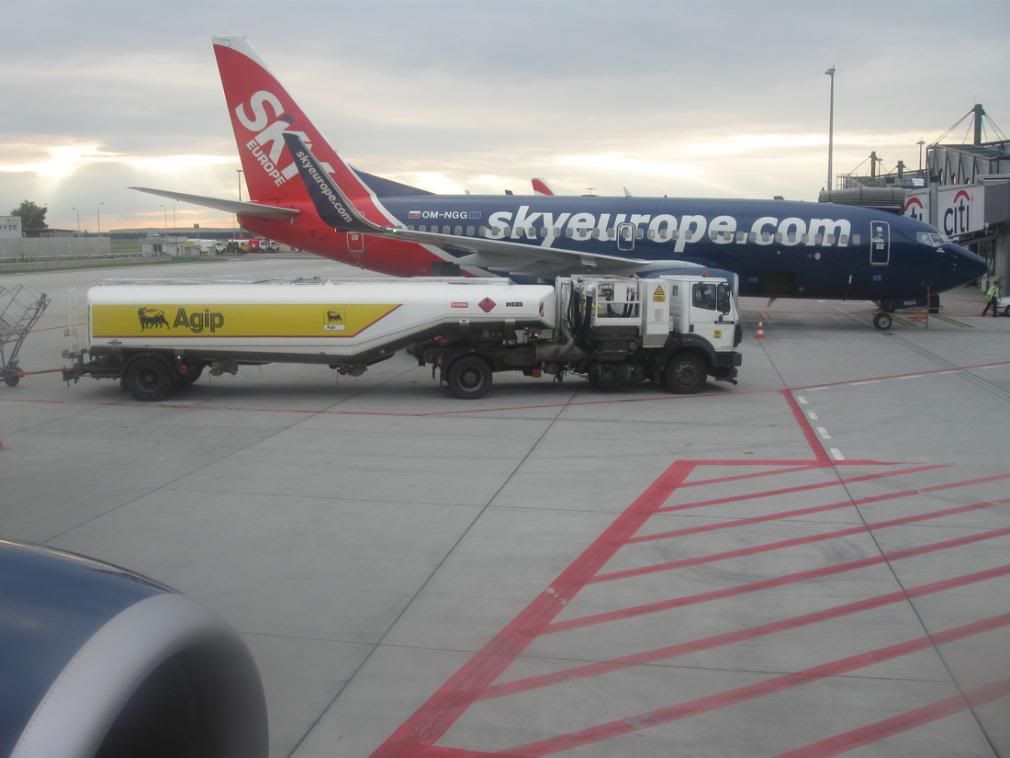 Our neighbour during boarding.
Operating the flight to Košice today was OM-NGL, a 1.5 year old 737-700 equipped with winglets and comfortable fake-leather seats. I noticed that the seat rows on the left and right side of the aisle were not aligned, something I don't remember having seen before. Announcements by the 3 female cabin crew members were made in Czech (or Slovak ? I can't tell the difference...) and difficultly understandable English. It seemed that the majority of passengers were Slovaks from the Košice area. I visually estimated the load factor to be in the 80-85 % range. We pushed back right on time at 19:00, and taxied to the holding point of runway 24, where we had to wait for a couple of landings before lining up and taking off. The evening light was great although the view of the ground was blocked by clouds most of the time, and despite the short flight time the F/As completed a full round of food and duty-free sales.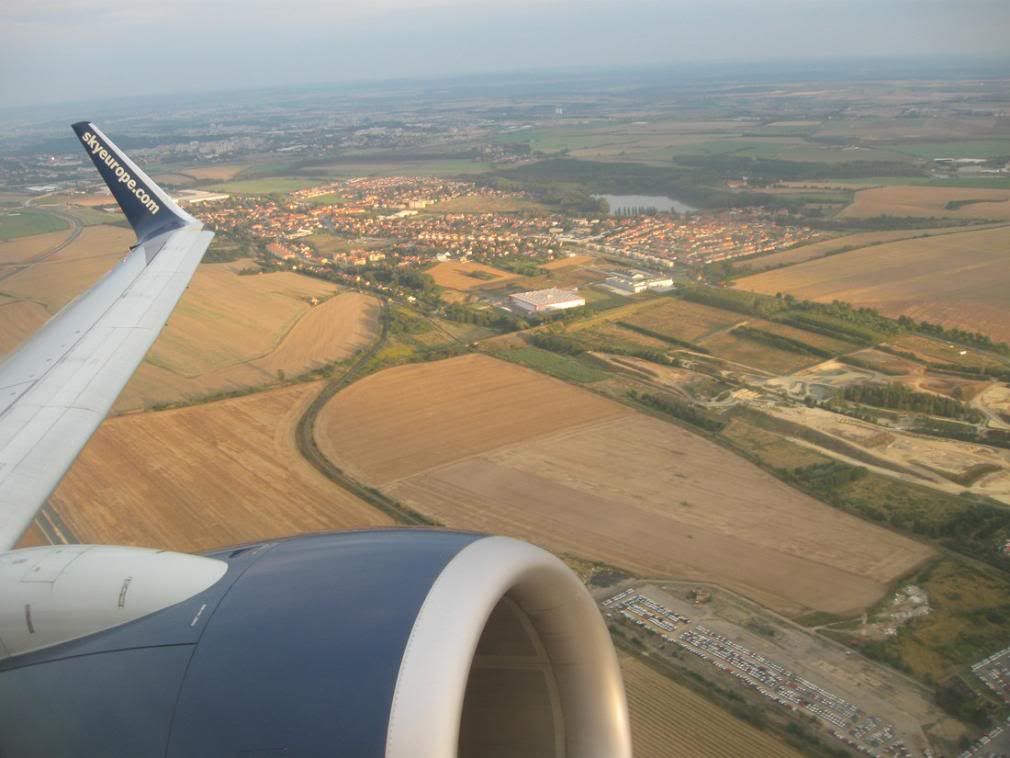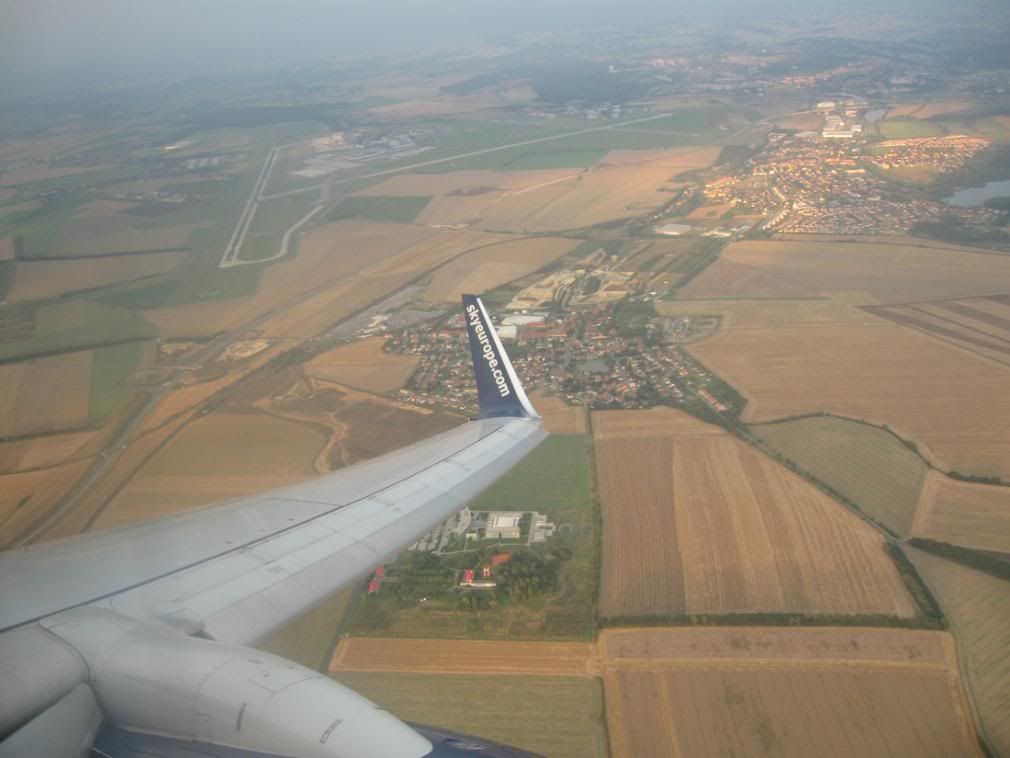 Overview of PRG airport.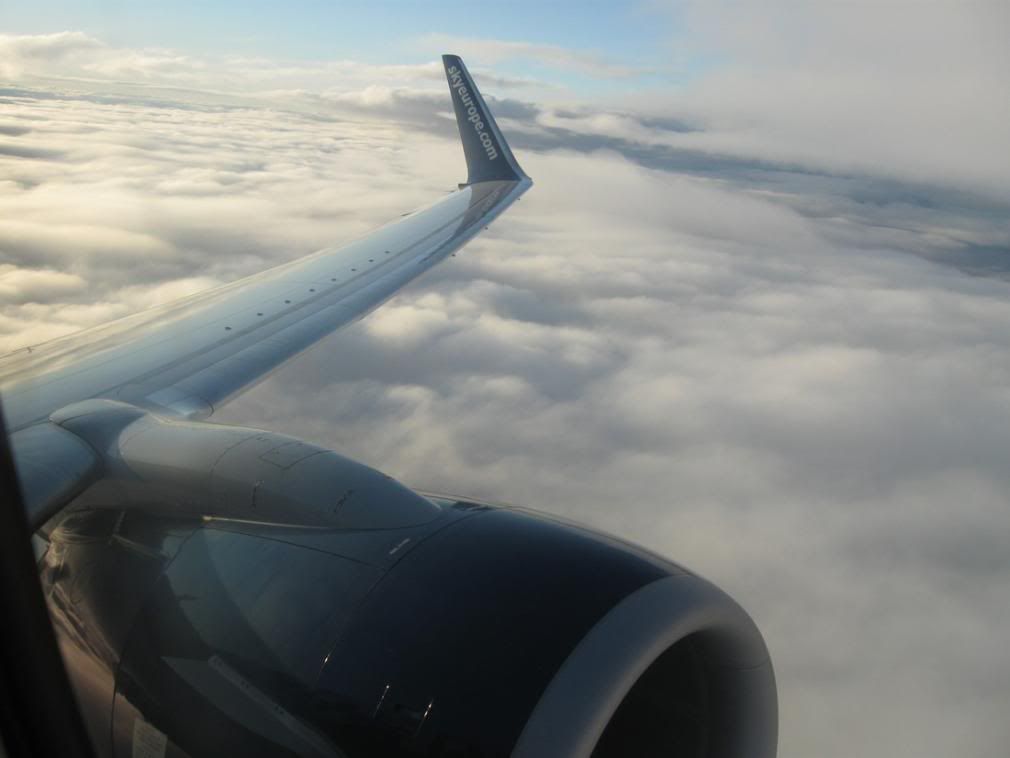 Because Košice is at the other end of the GMT+1 time zone when compared to Belgium, night comes significantly earlier here than at home, so even if it was only 20:00 when we approached our destination, it was already completely dark outside. Still, the approach to runway 01 was spectacular. Just south of the airport is a very large industrial plant (now owned by US Steel...) that we overflew while making a sharp left turn for a short final for runway 01. The area is quite dark as roads are generally not lit, but the lights of Košice in the distance, combined with those of the plant just under the wing and the flashing lights of the runway approach made for a fantastic view. It seemed to me that we flew direct to the KE (KOSICE) NDB with an eastern heading, then made the sharp left turn to enter a 3.8 NM final for runway 01. We touched the ground at 20:10 (on time) and taxied to the relatively small (and very dark !) apron where the passenger terminal is located. Parked there were an Air Slovakia 737 and a business jet, both completely shut off. The 737-300 (OM-ASC) seemed to be parked for some time and was still there when I came back to the airport the following day, although there are some recent photos of it in the A.net database where it can be seen at various airports. Immediately after our arrival, an Air Slovakia 757 landed, arriving from Palma de Mallorca as a charter flight. Once in the terminal (small but modern and clean), I took some slovak money from an ATM and went to the street to find a taxi. The driver, although trying to be friendly, did not speak one word of English (or German, for that matter), but fortunately, I had printed a Google map of where my guest house was located, so I managed to explain where I had to go... Oh, and I needed to remind him to switch on the taximeter...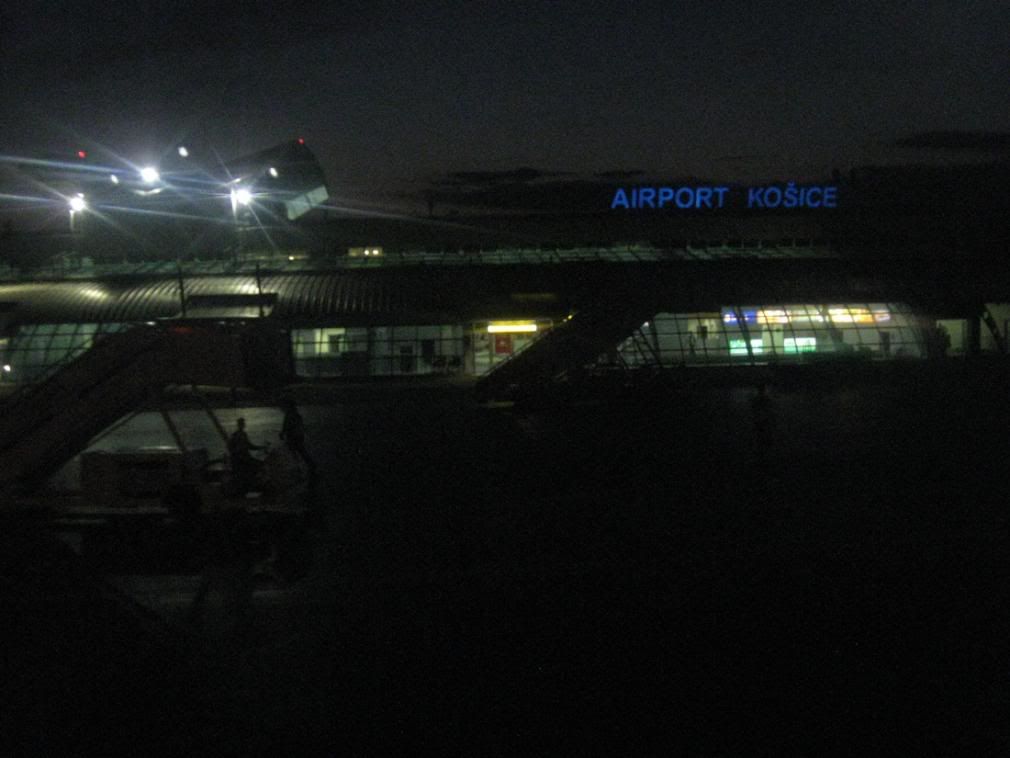 The dark apron at Košice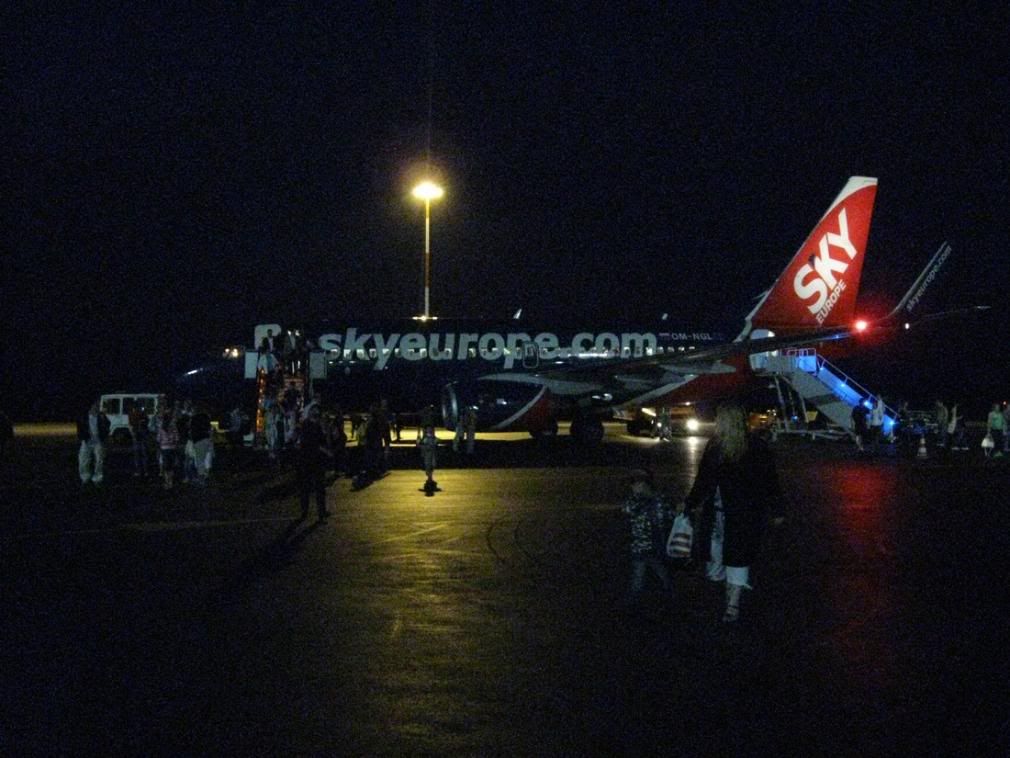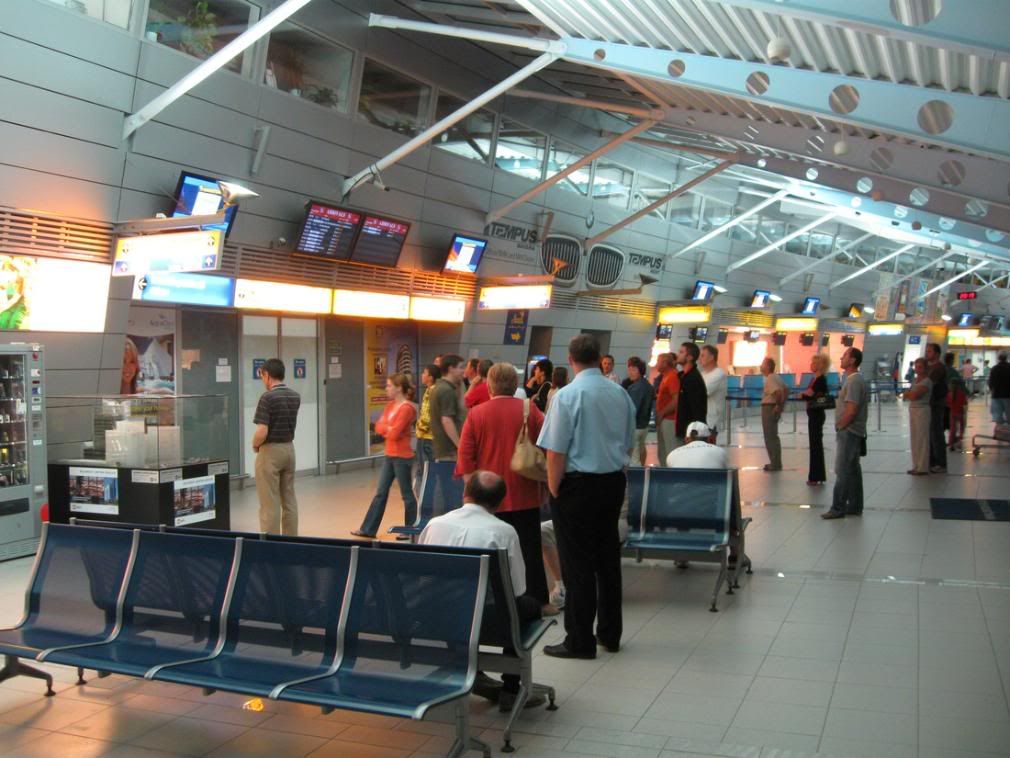 Arrivals area in the Košice terminal.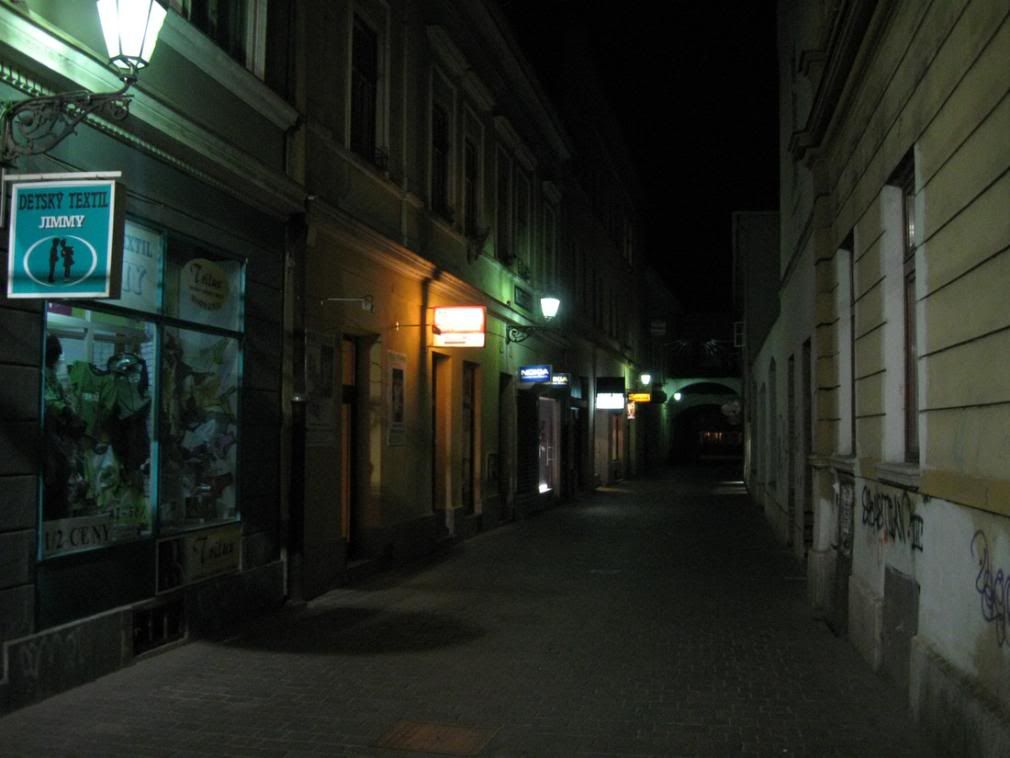 Dark street just beside the guest house.
The guest house (Penzión Hradbov&aacute
was really nice for the city's standards and had helpful English speaking staff. I spent the next day exploring Košice but at the end of the day, I was glad to depart to Bratislava, because I was beginning to be bored : although the center of the city (the
Hlavná Ulica
near the splendid cathedral and state theatre) is nice, the suburbs look a bit "communist" (nice to take a walk to see it once, but rapidly boring), and I'm not much into museums about very specific local subjects. Around 15:45 I took the bus 23 to the airport. Some time before my departure from Belgium, a fellow A.netter contacted me by e-mail, following a comment I had left in the trip reports forum announcing my trip, to inform me of the existence of an aviation museum at Košice airport. He gave me a lot of details about the museum, and I feel a bit bad because I... did not visit it. In fact, as I had walked the whole day, and because the weather was quite warm (30°C) and humid, I felt really tired and went to the airport bar to sample some local beers instead. Beside, I'm more into civilian aircraft, while the museum mostly targets military material.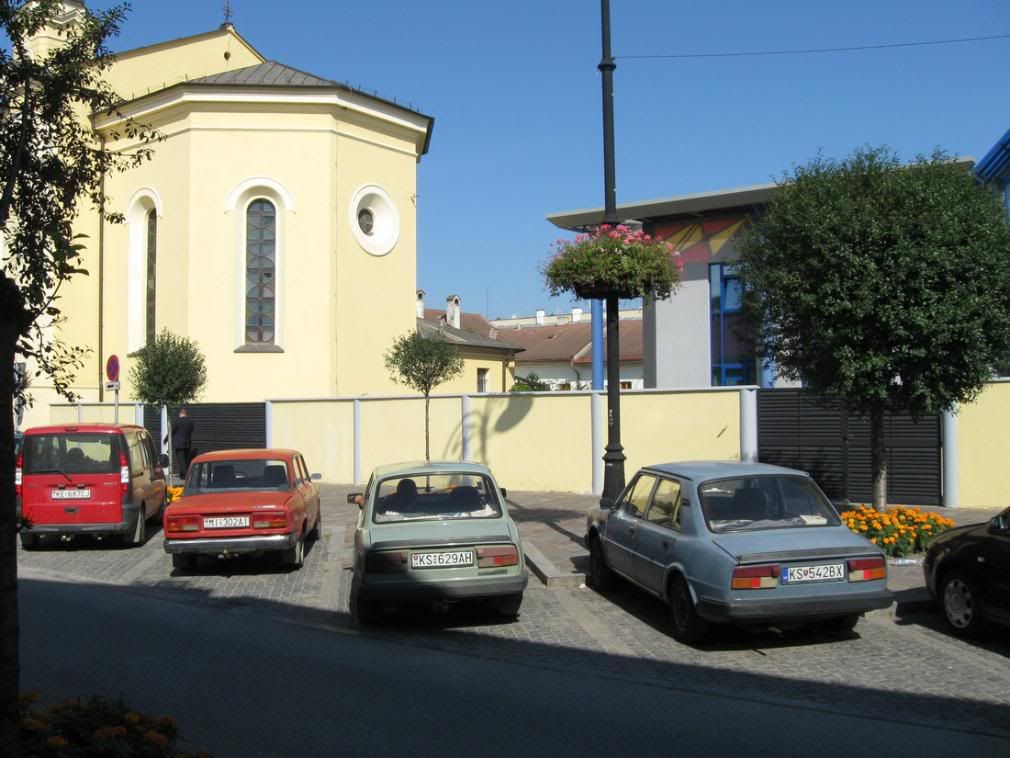 There still are some of those old Skodas in Košice...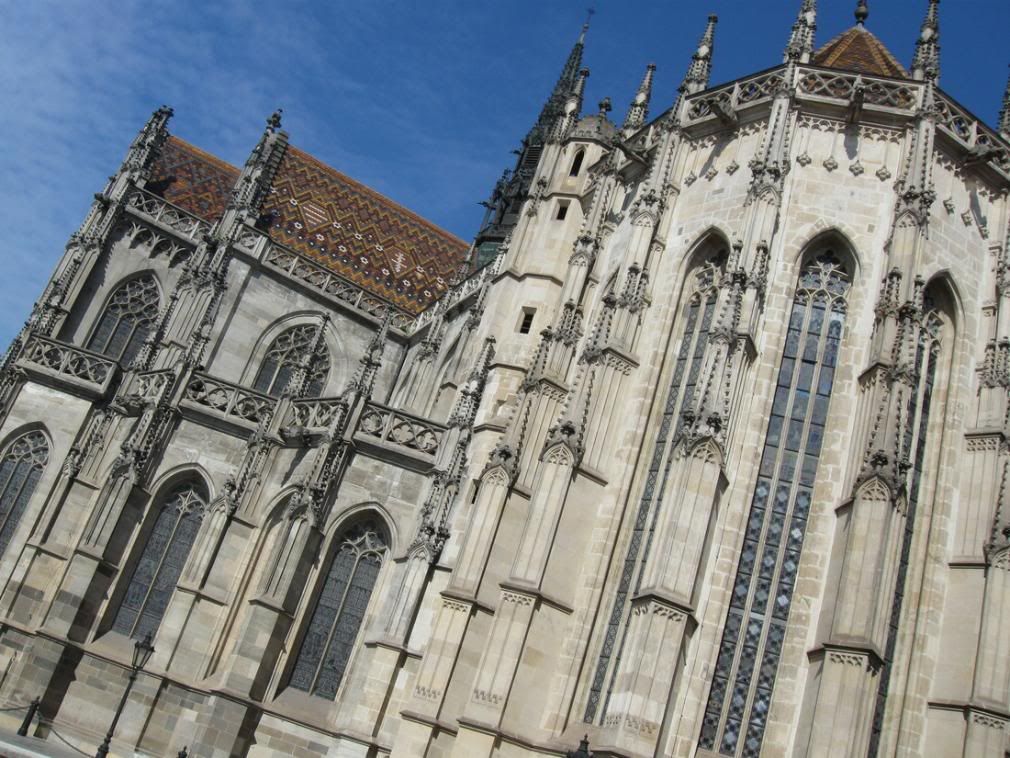 The St Elizabeth cathedral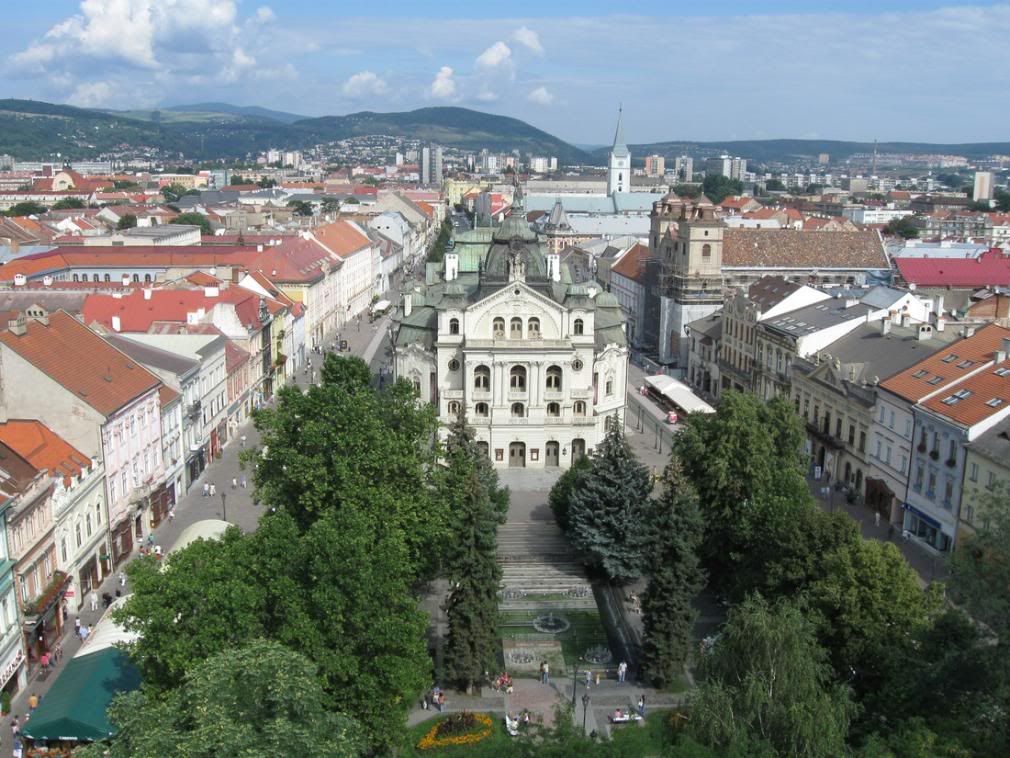 View on the main street and state theatre from the cathedral tower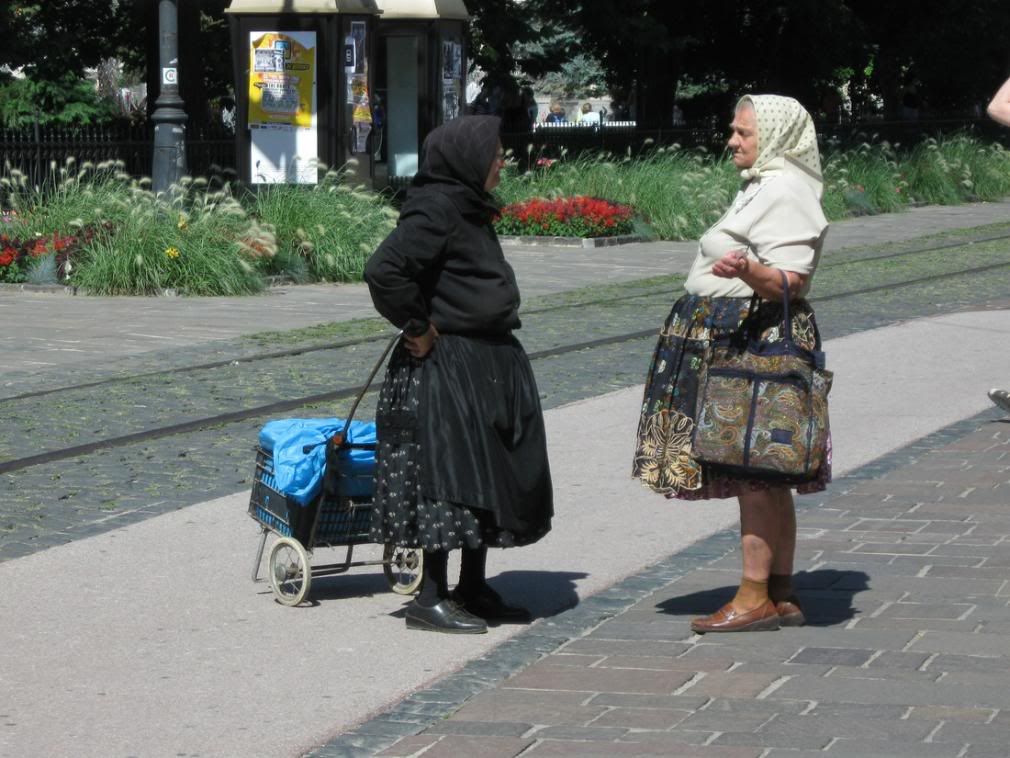 Elderly slovak women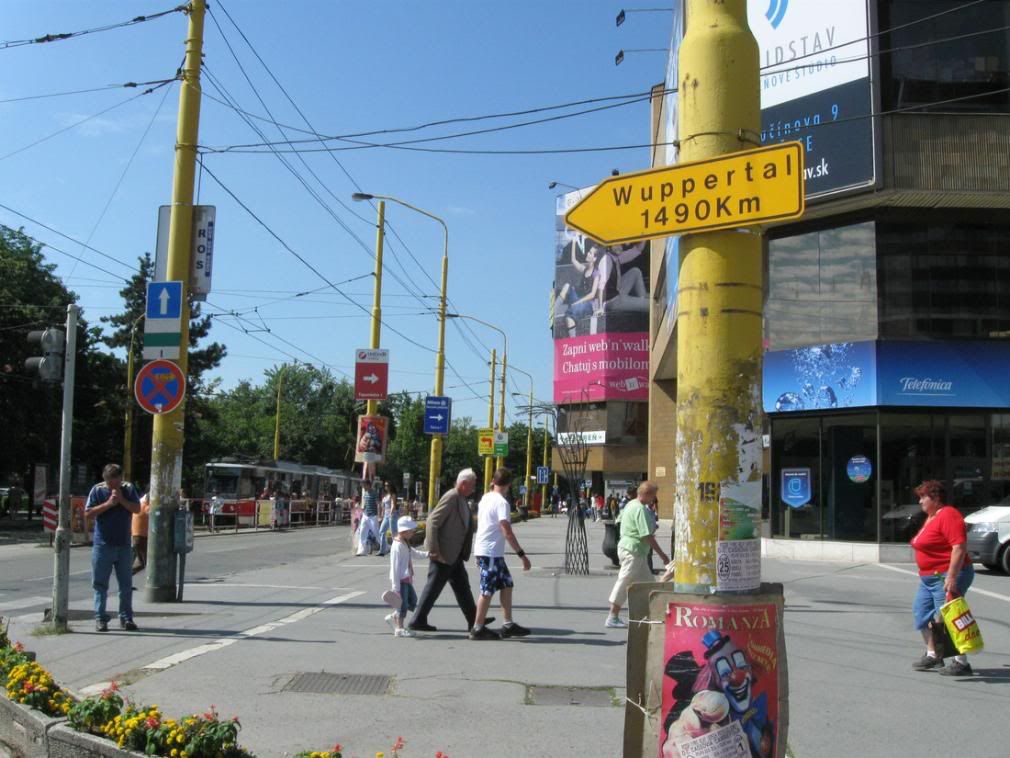 A long way to sister city Wuppertal in Germany.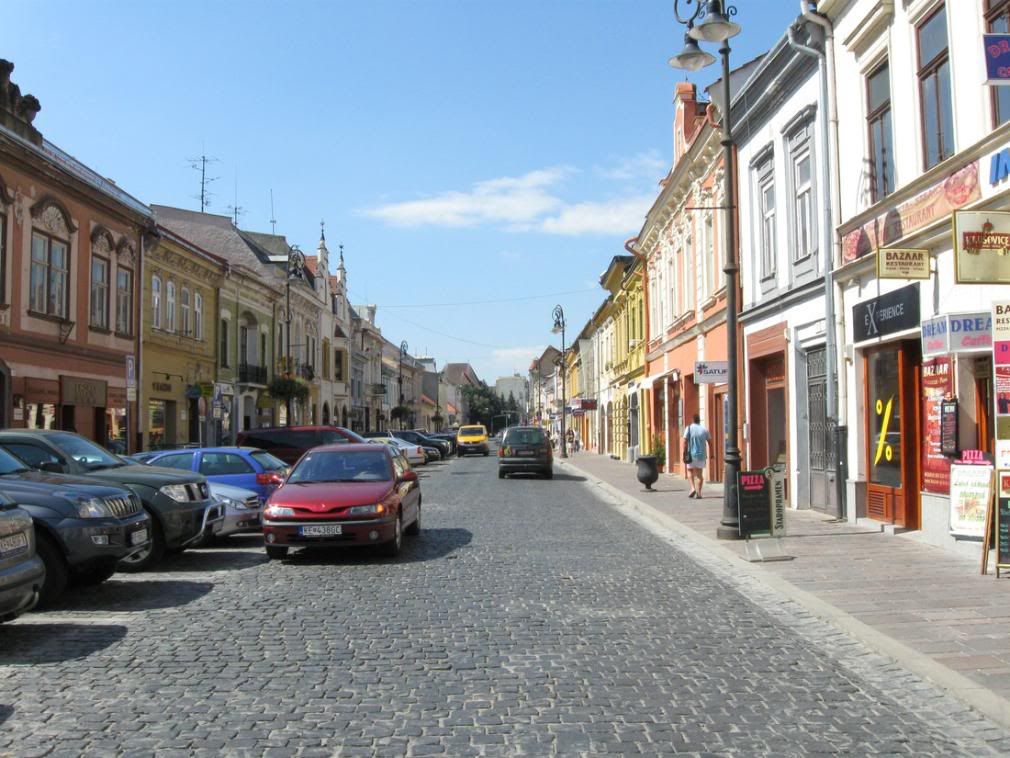 A random street in Košice.
Košice - Bratislava
KSC - BTS
SkyEurope flight NE35
Boeing 737-76N OM-NGF, seat 4F
Departure : 18:22, duration : 0:48.
Check-in was very fast (no queue at all), and I quickly explored the terminal building. It is small but modern, with a handful of check-in counters, arrivals and departures being at the same level (the only level...). There is a bar with an open-air terrace, a couple of car-rental and airline desks, toilets, and that's it. Size-wise, it reminds me of the old terminal of my home airport in Charleroi, Belgium, which closed in January of this year, but the Košice terminal is more modern. Departures for the evening consisted of my flight to Bratislava, a CSA ATR to Prague, and 3 charters to Tunisia, Egypt and Turkey, including a heavily delayed Air Slovakia flight. There is also a late evening Tyrolean Airways Dash 8 arrival from Vienna, that rests overnight and leaves back early the next morning. It is not possible to pass security and enter the gates area until 1 hour and a few minutes before departure, the security check point being closed. The gates area is on the apron level but there wasn't much traffic to watch, apart from the parked Air Slovakia 737 of yesterday. Boarding started at 18:05 with passengers having to walk on the apron to the aircraft, something I like because it gives the opportunity to take a photo of the aircraft. Oh, just one strange thing before I forget : at the security check, when x-raying my bag, the agent asked me whether I had books in it. When I answered positively, she just made a strange remark with a jubilant tone "ah, you know, I had seen them on my screen ! I knew those were books !". I still haven't figured what she meant with that...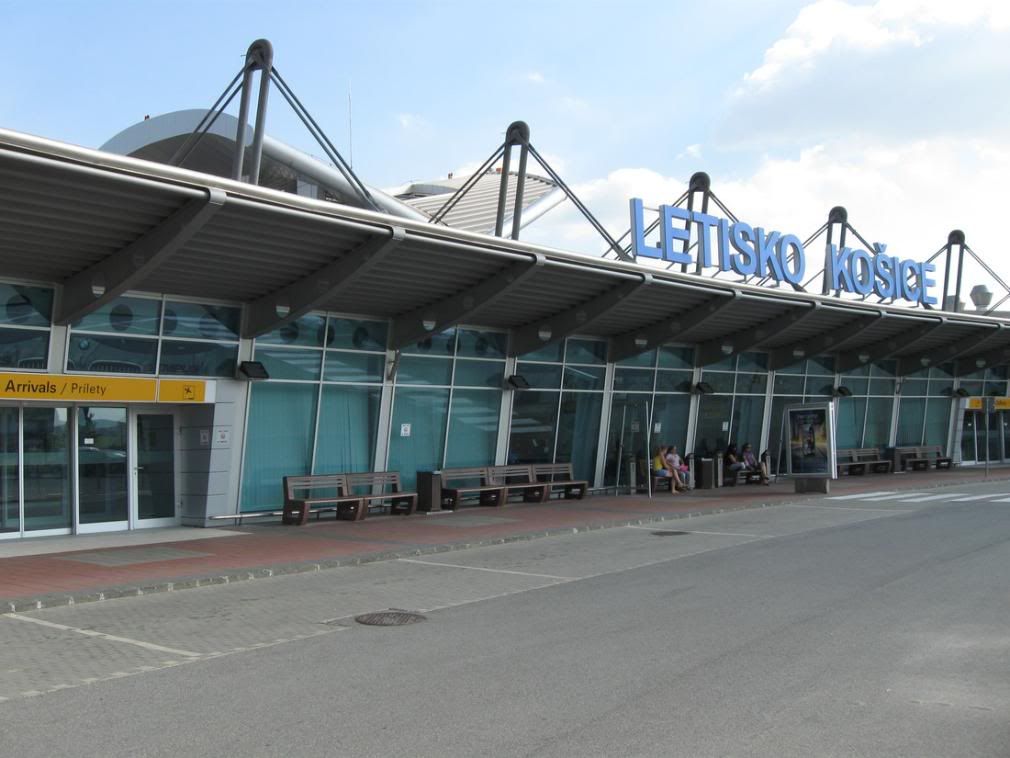 KSC airport, landside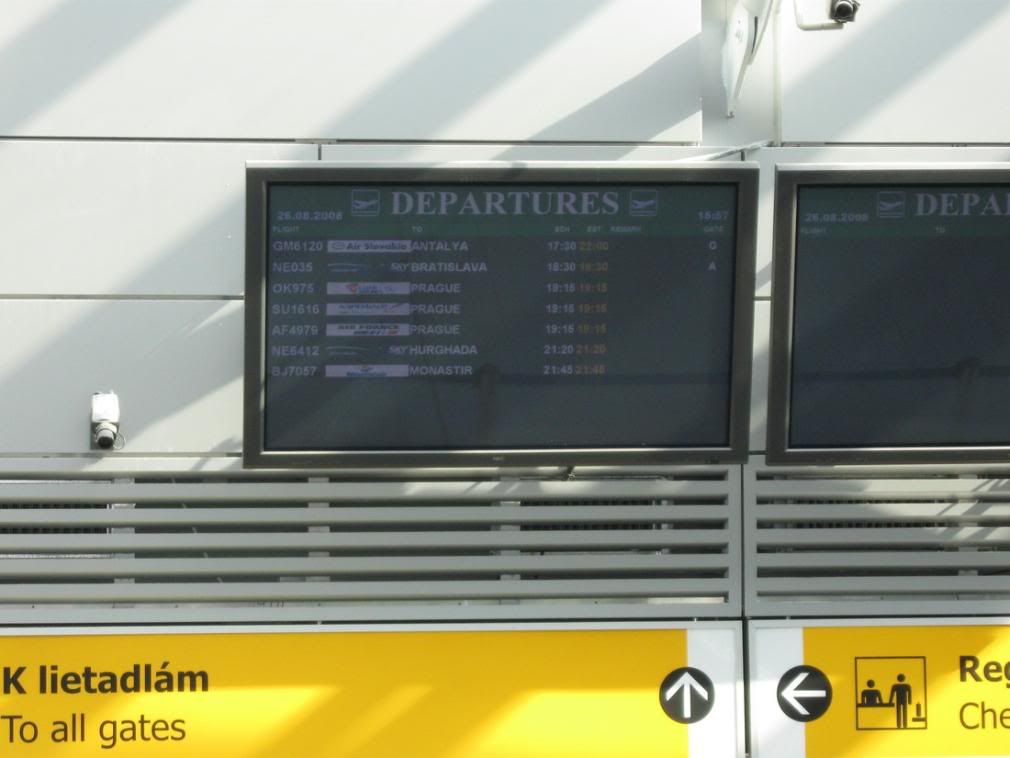 Departures for this evening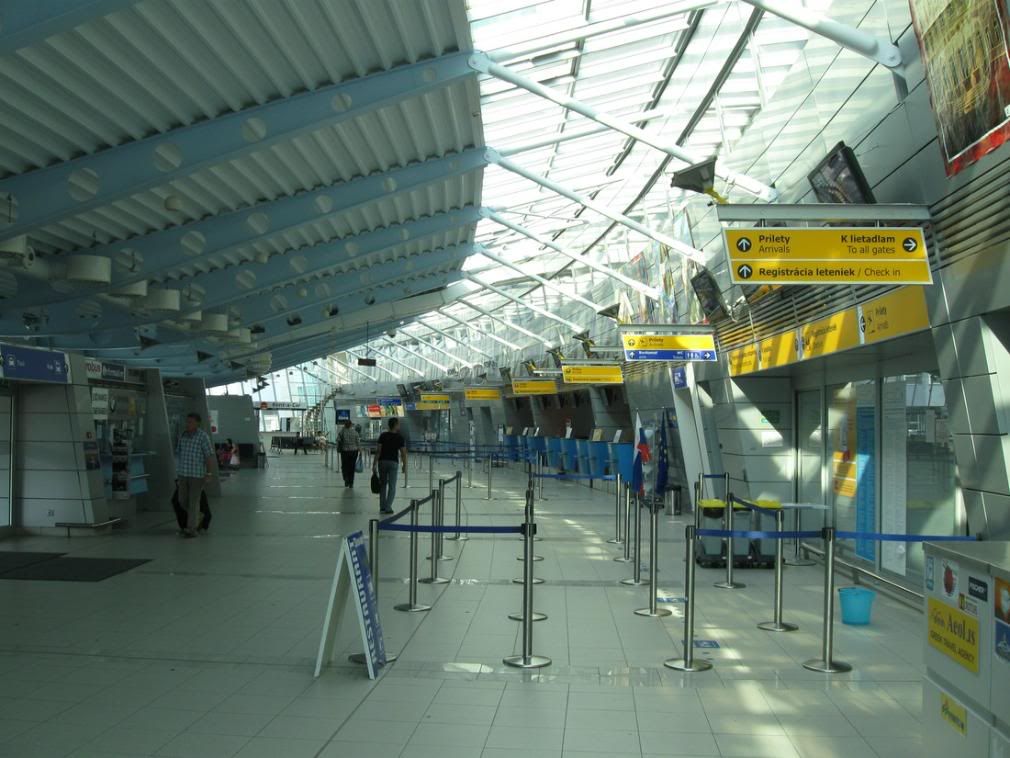 Terminal of KSC airport, landside.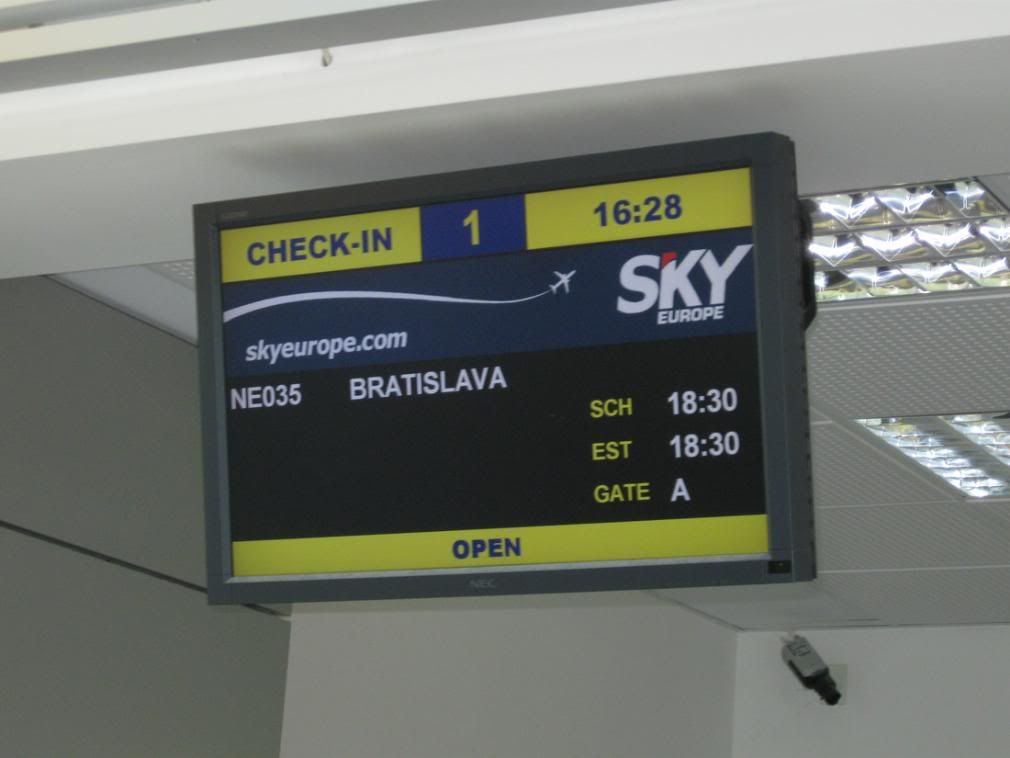 Check in for my flight to Bratislava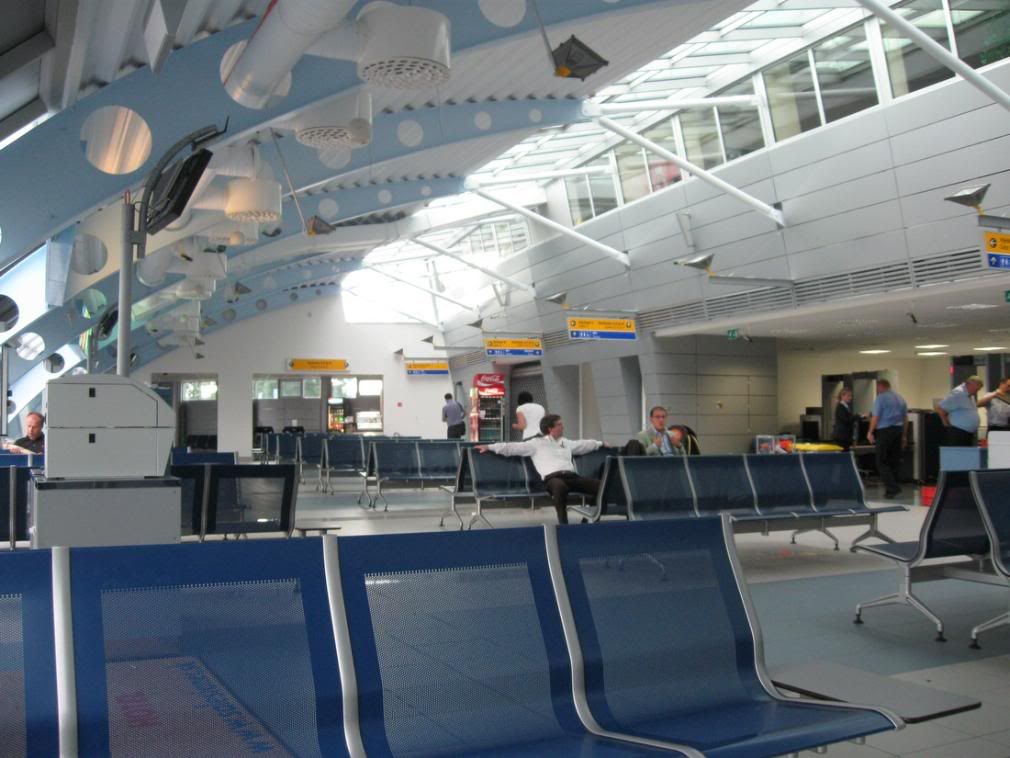 Gates area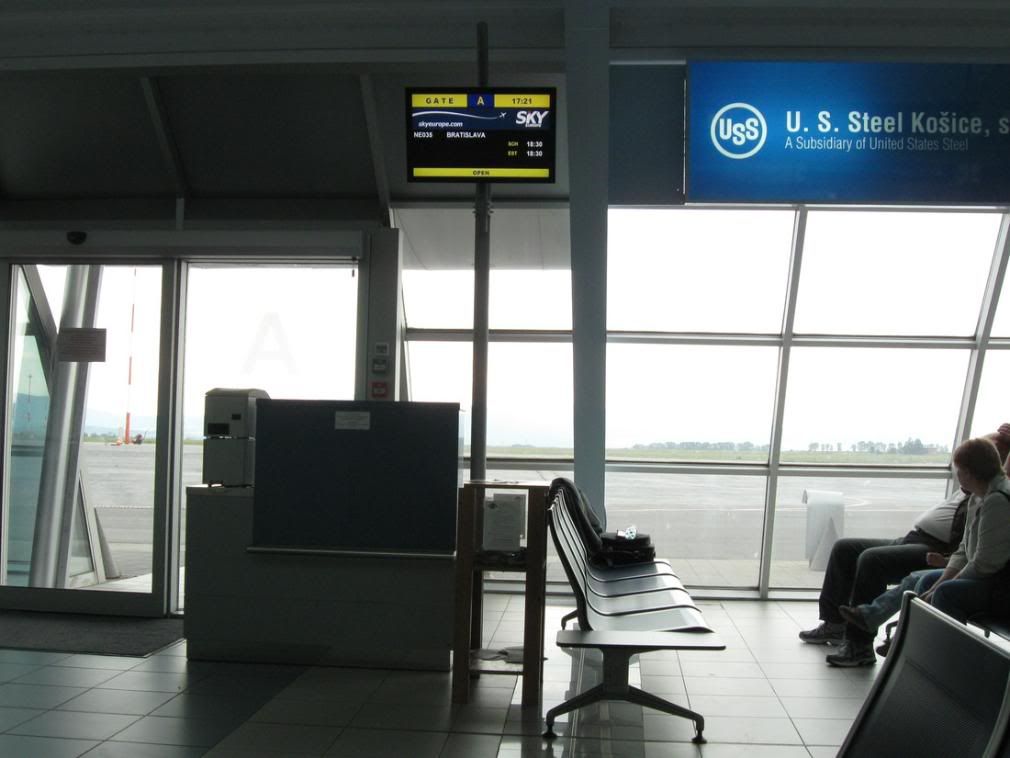 Waiting at the gate
Boaring OM-NGF to Bratislava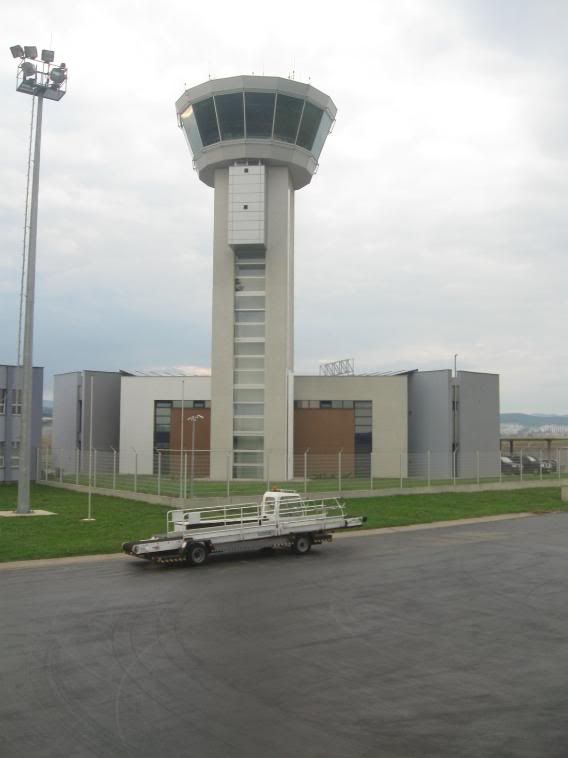 KSC control tower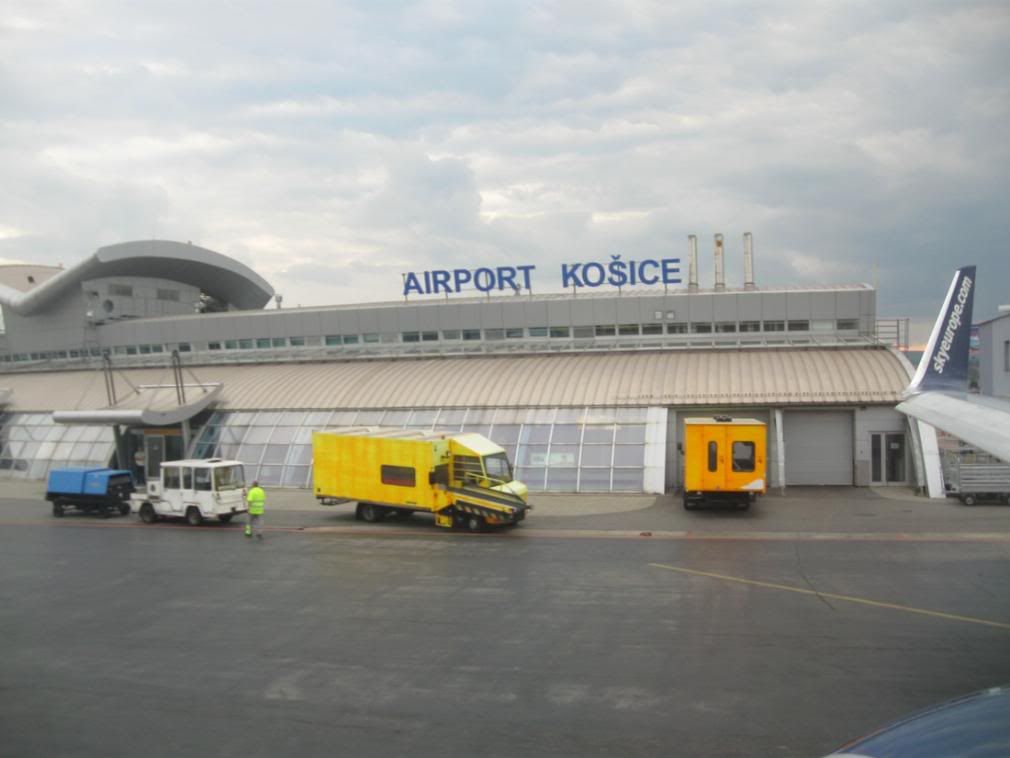 KSC terminal, airside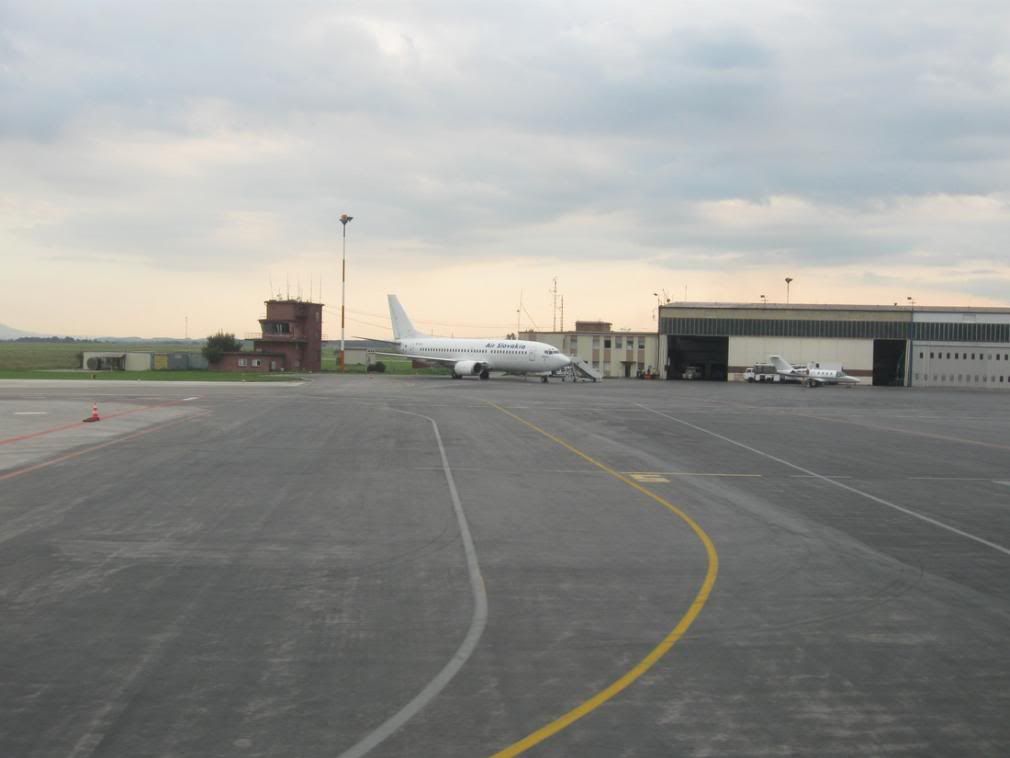 Air Slovakia OM-ASC, parked since at least yesterday.
The interior of the 737-700 (OM-NGF) was of course exactly the same as yesterday, again with non-aligned seat rows across the aisle. Flight attendants were Slovak and their English was really heavily accented. I don't know about the load, but the flight was definitely not full, and I had 3 seats for myself. While waiting at the gate, I had noticed that mechanics were doing something to the front gear, probably changing a wheel, because they offloaded a wheel upon arrival at Bratislava. We taxied to the holding point of runway 19 but had to wait some 6 minutes there because the CSA ATR arriving from Prague was approaching the runway from the South (runway 01). As we had started the taxi early, we still took off on time, at 18:31. Unlike yesterday, there were no sales of anything during the flight, probably because of its short duration (45 minutes). While we were taxiing after landing on Bratislava runway 31, the gentleman seated in front of me, who had seen me take some photos during the flight, asked me (in a gestural language as he only spoke Slovak) if I would mind sending him some photos by e-mail. Of course I accepted.
Holding poing of runway 19, with typical communist residential blocks in the background.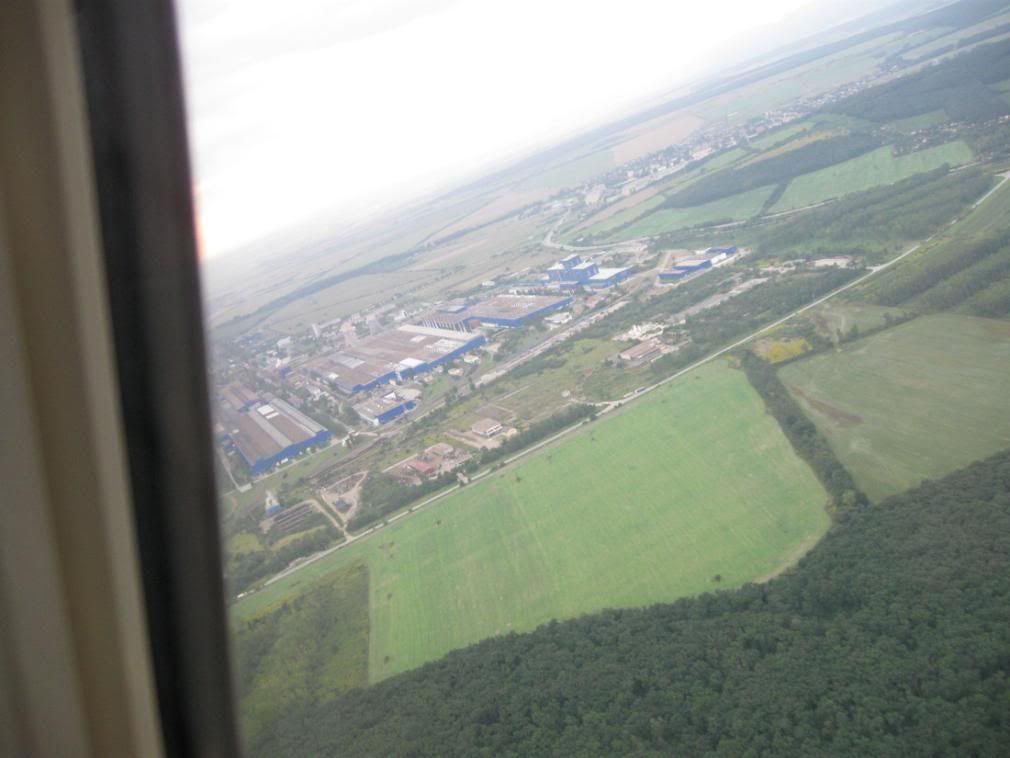 Part of the US Steel plant immediately after take off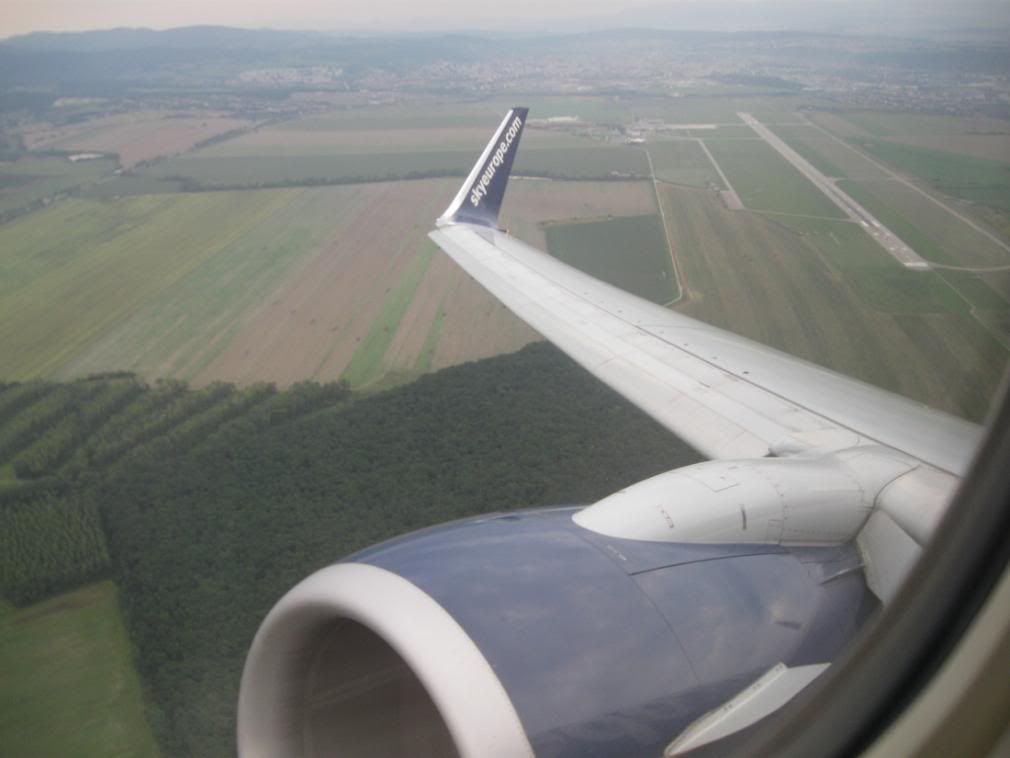 Overview of Košice airport after take off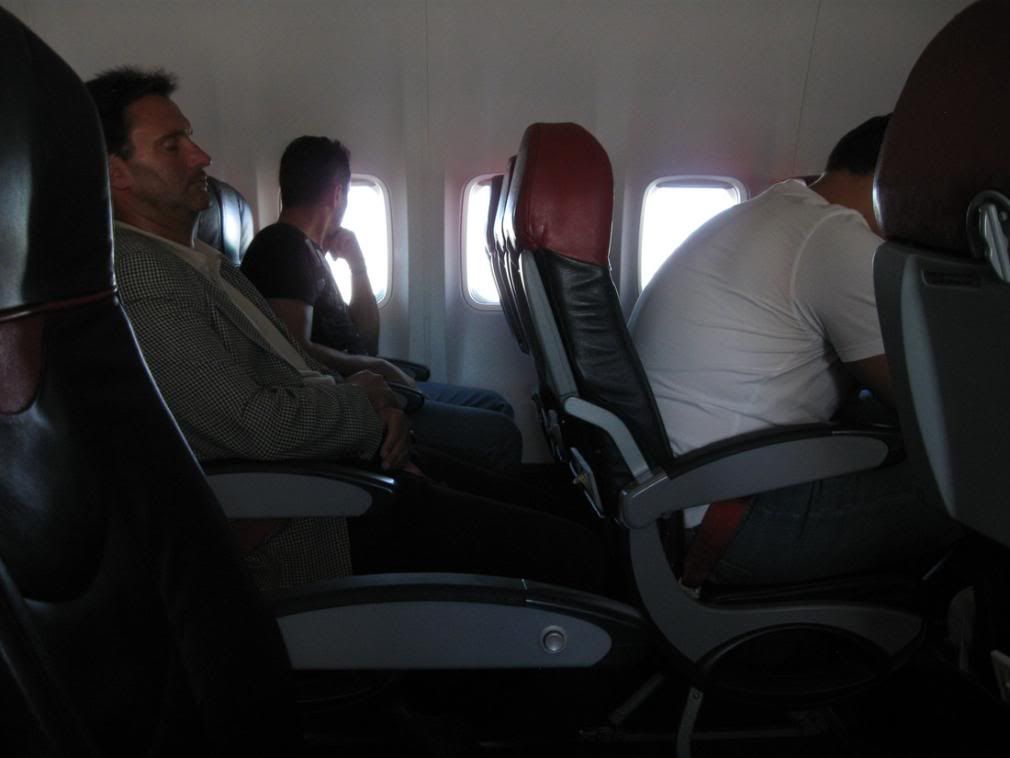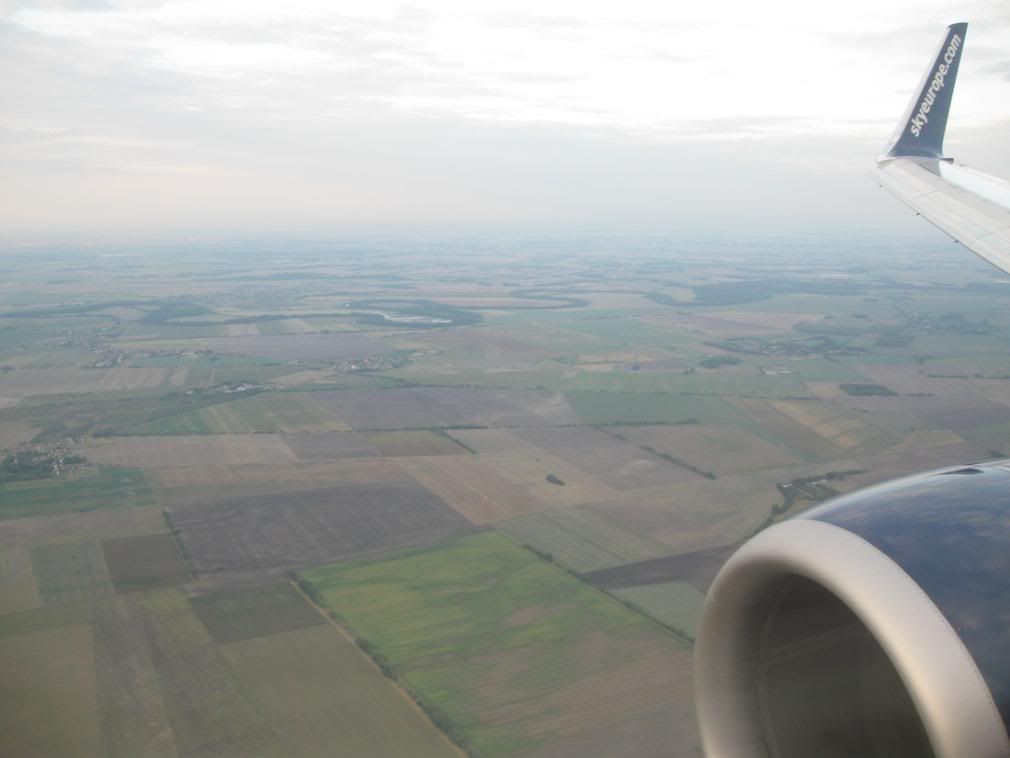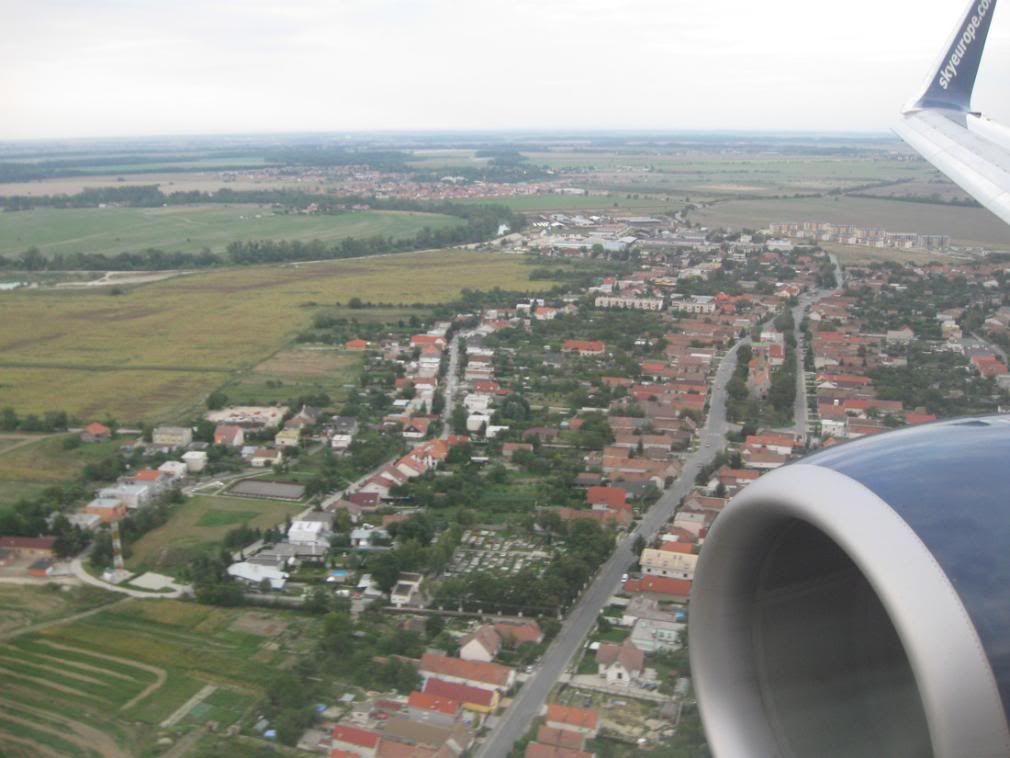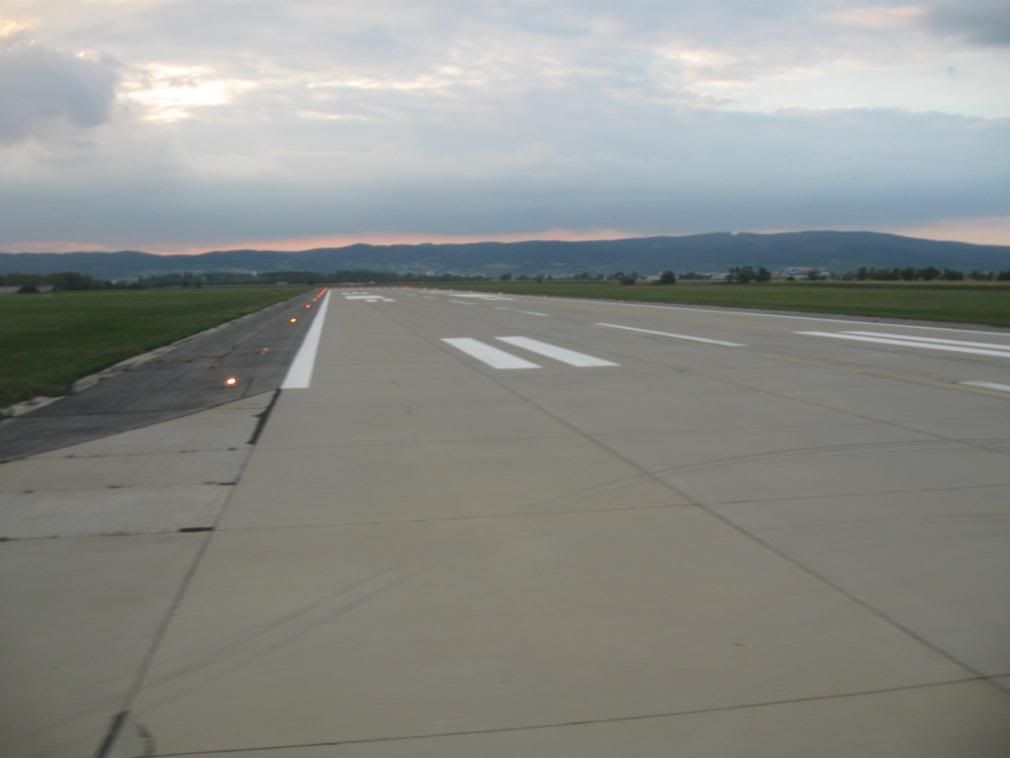 Vacating runway 31 in Bratislava
There was not much traffic at Bratislava, only some parked aircraft (including an Air Slovakia 737-200) and some governmental and VIP aircraft (including a Tu-154). The terminal building looked old-fashioned and small. I had planned to take a bus to downtown Bratislava, but upon finding the bus stop, I realized that the ticket vending machine was out of order. I went inside the terminal (arrivals as well as departures) but did not manage to find any newspaper stand open (it was 19:30). I then went to the information desk, where the employee admitted, with some embarassment, that there was no way to buy a ticket. He instructed me to just get in the bus without paying, insisting that there couldn't be any ticket controls on this line and at this time... So, with some reluctance, as I always pay for public transportation, I followed his advice (not that I had other options anyway...) and just took the bus to the main railway station without ticket. And indeed, there was no control...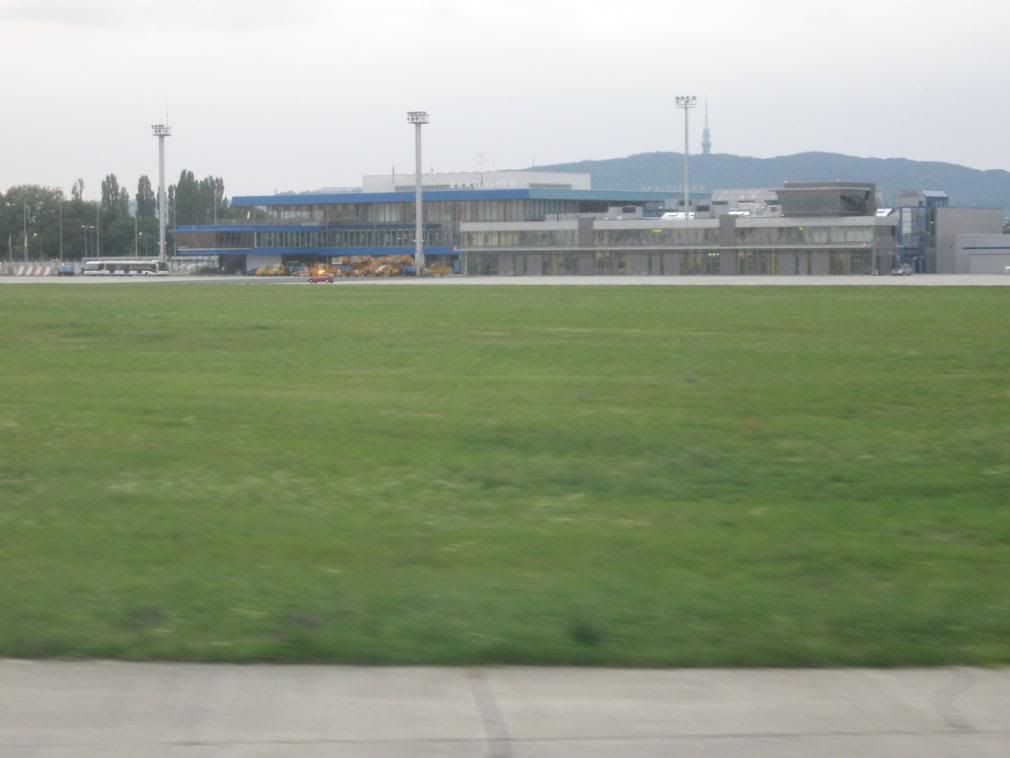 BTS terminal, airside
Deplaning OM-NGF in Bratislava
The old-fashioned BTS terminal, landside
I spent the next day visiting Bratislava, from the nicely renovated pedestrian old town (
Staré Mesto
), to the castle (
Hrad
), passing by the inverted pyramid building of the Slovak Television, the slovak parliament building, the UFO-shaped New Bridge (
Nový Most
) and even the very communist looking suburb of
Petržalka
, on the other side of the Danube river. The visit was interesting, but the scorching sun and high temperature made it quite tiring.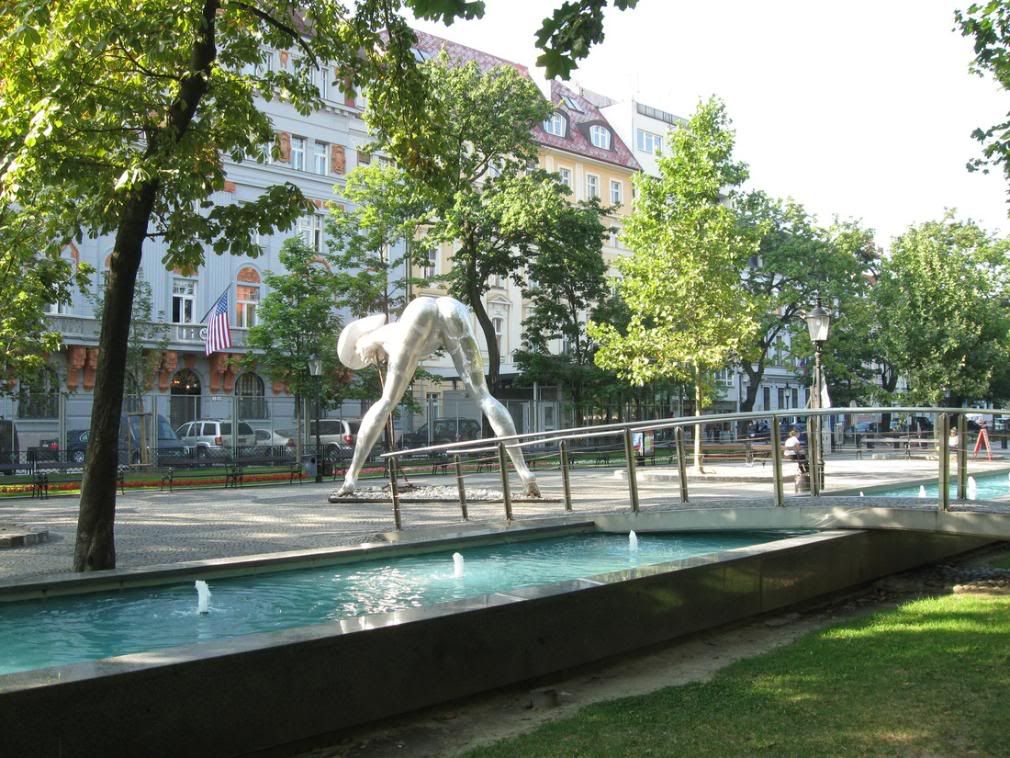 Interesting sculpture in central Bratislava...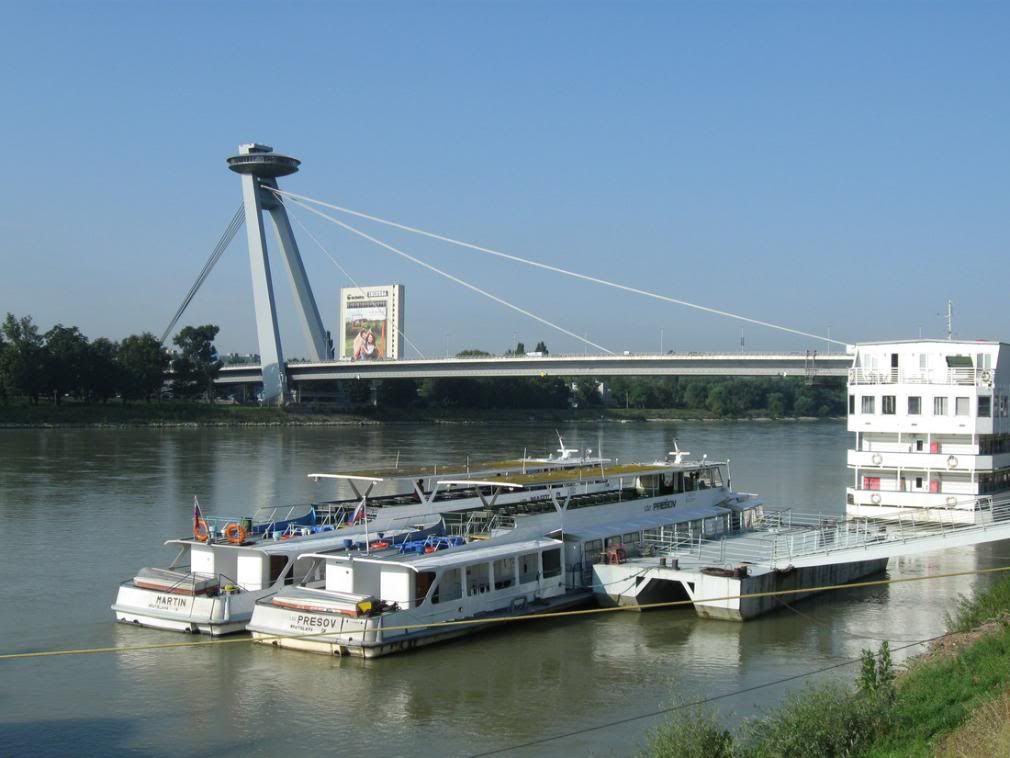 The UFO-shaped New Bridge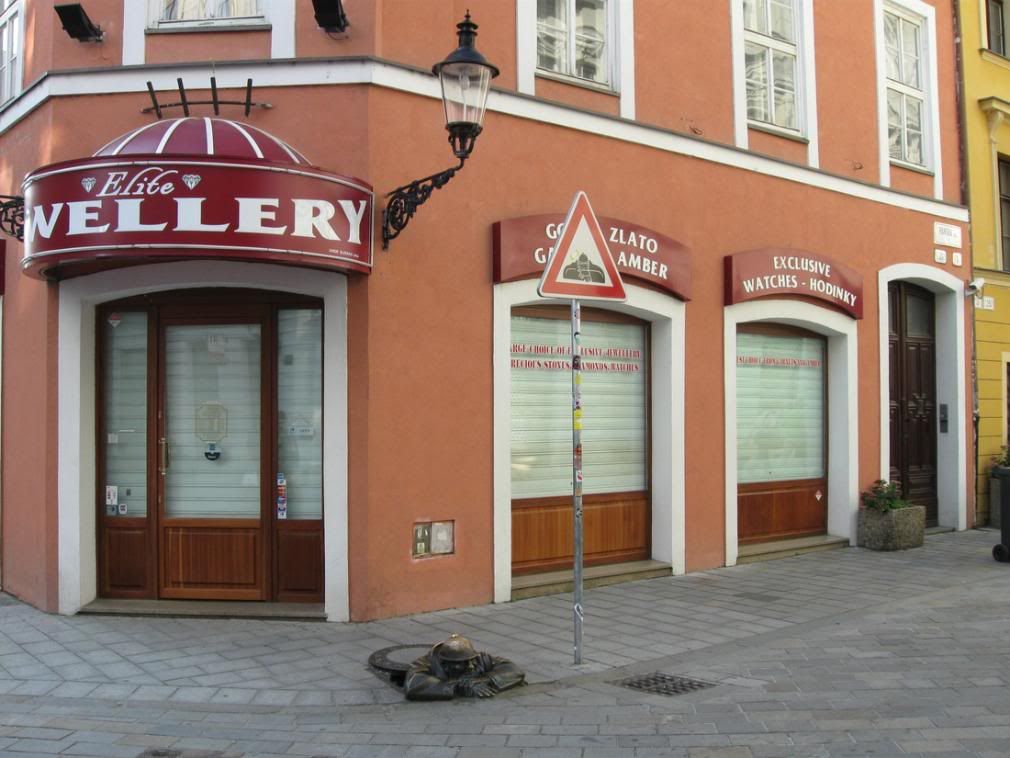 Tourists queue to photograph this funny sculpture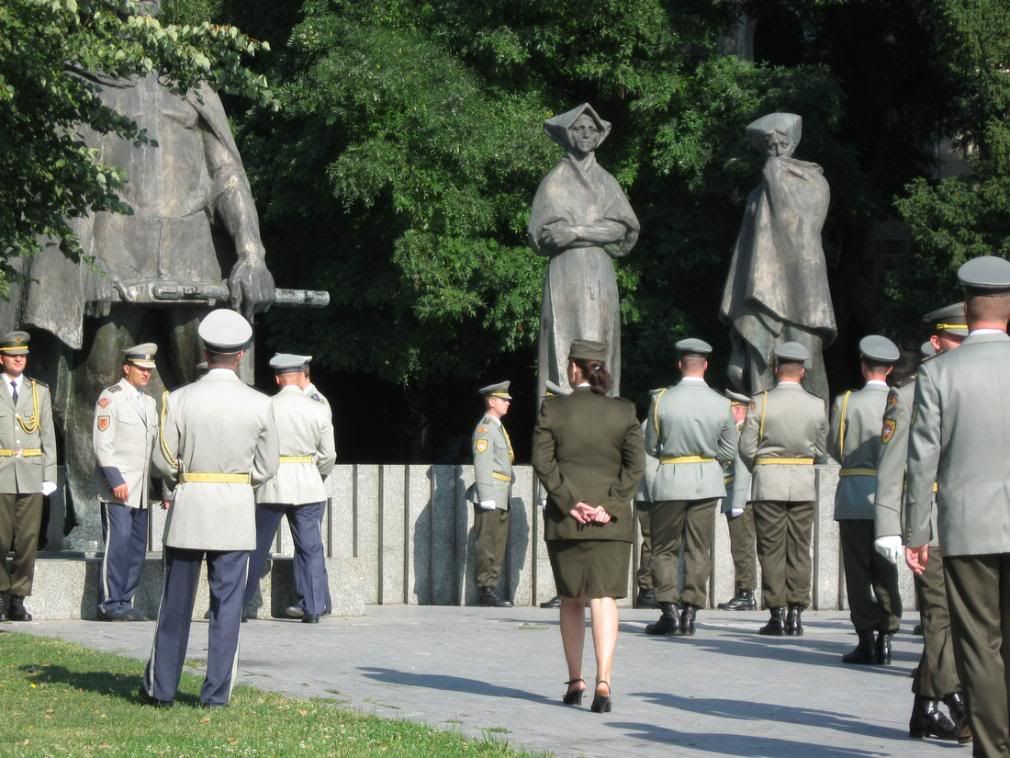 Military parade, slovak style...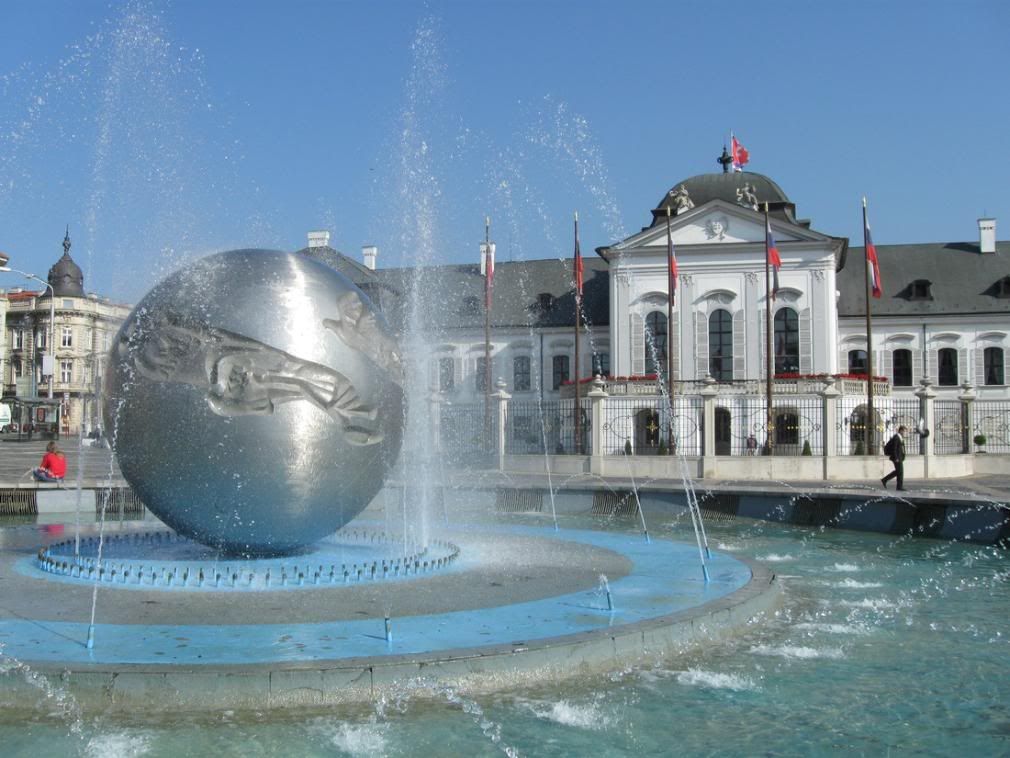 The slovak parliament building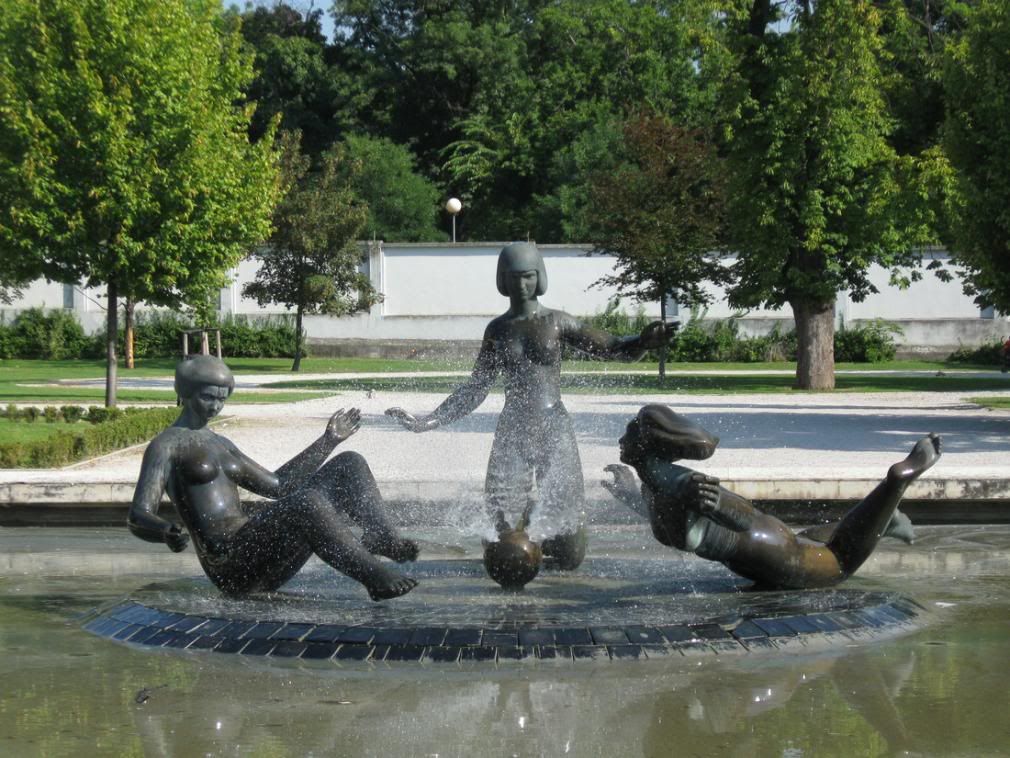 Love this fountain
The inverted pyramid of the slovak television building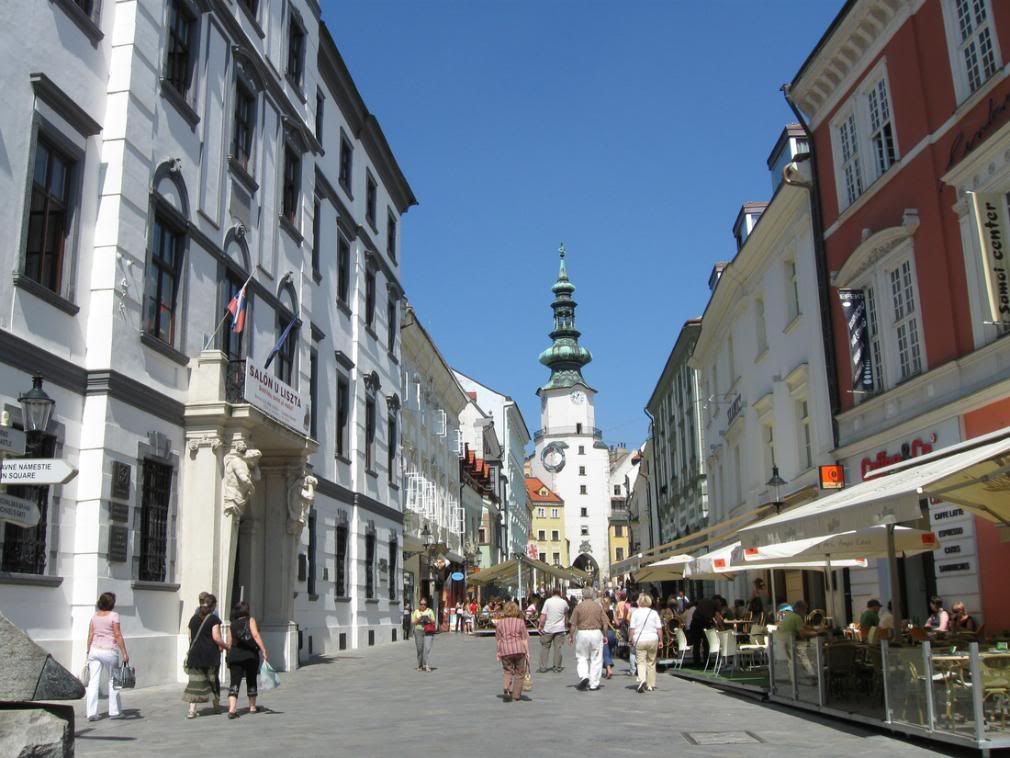 A typical street in the old town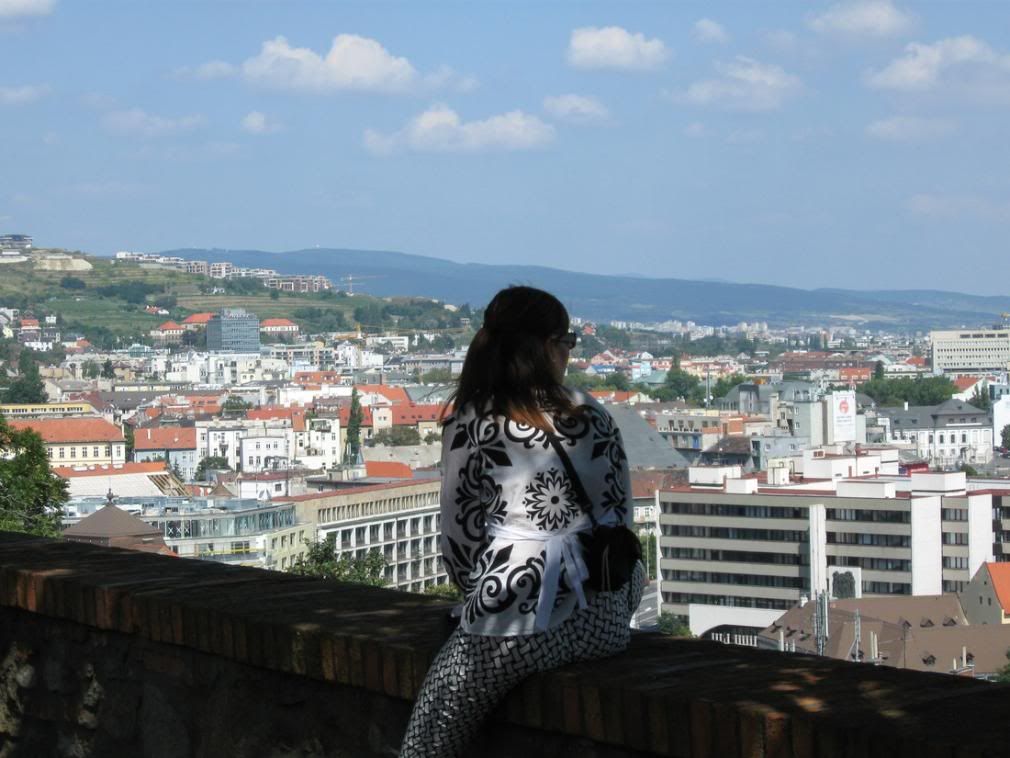 Nice view from Bratislava castle...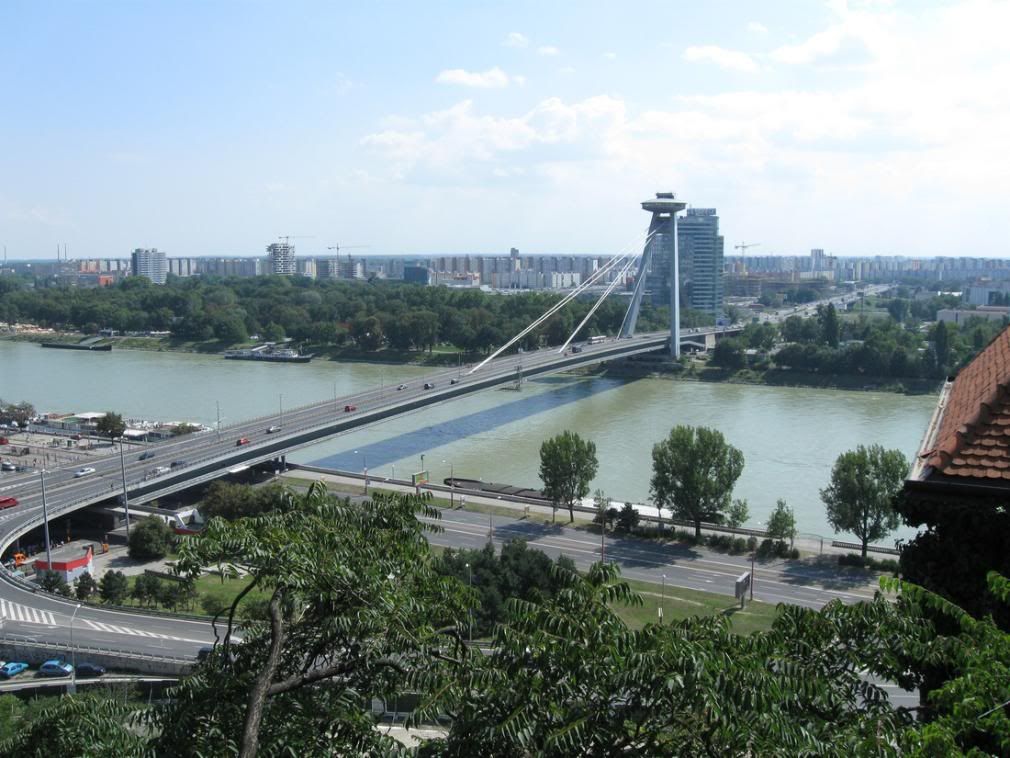 View across the Danube river to Petržalka.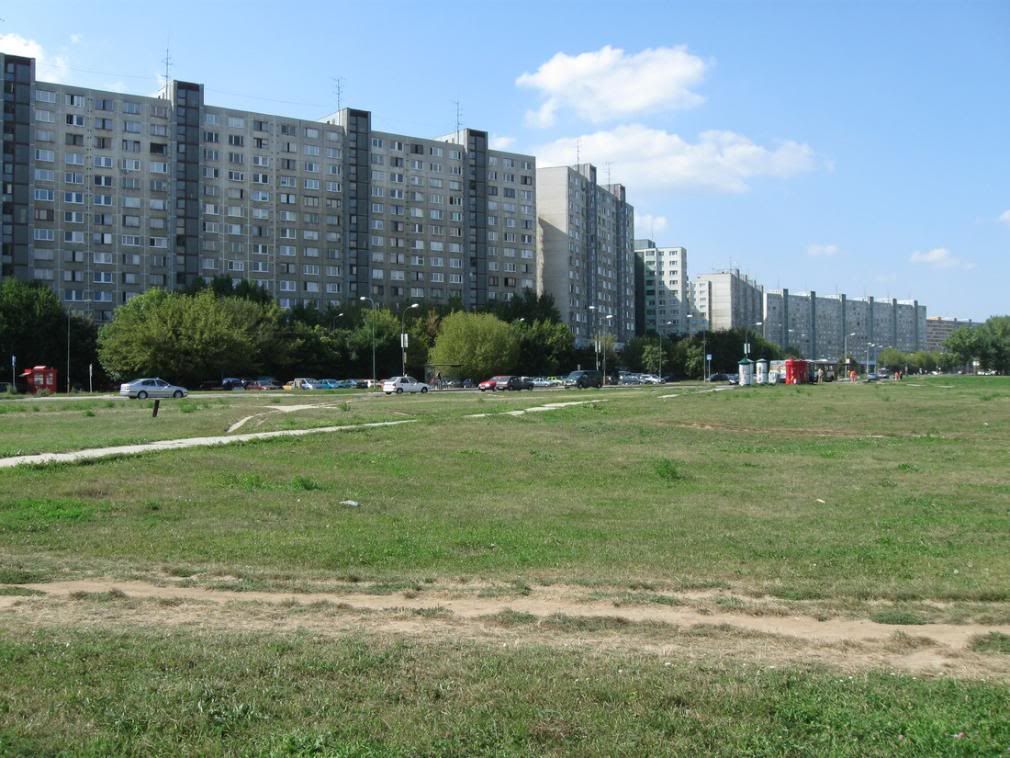 Typical scene in Petržalka
At the end of the day, I went to the train Station in Petrzalka and started a 3 hours (including a stop in
Bruck an der Leitha
, Austria) ride to
Budapest
, where I arrived around 21:00.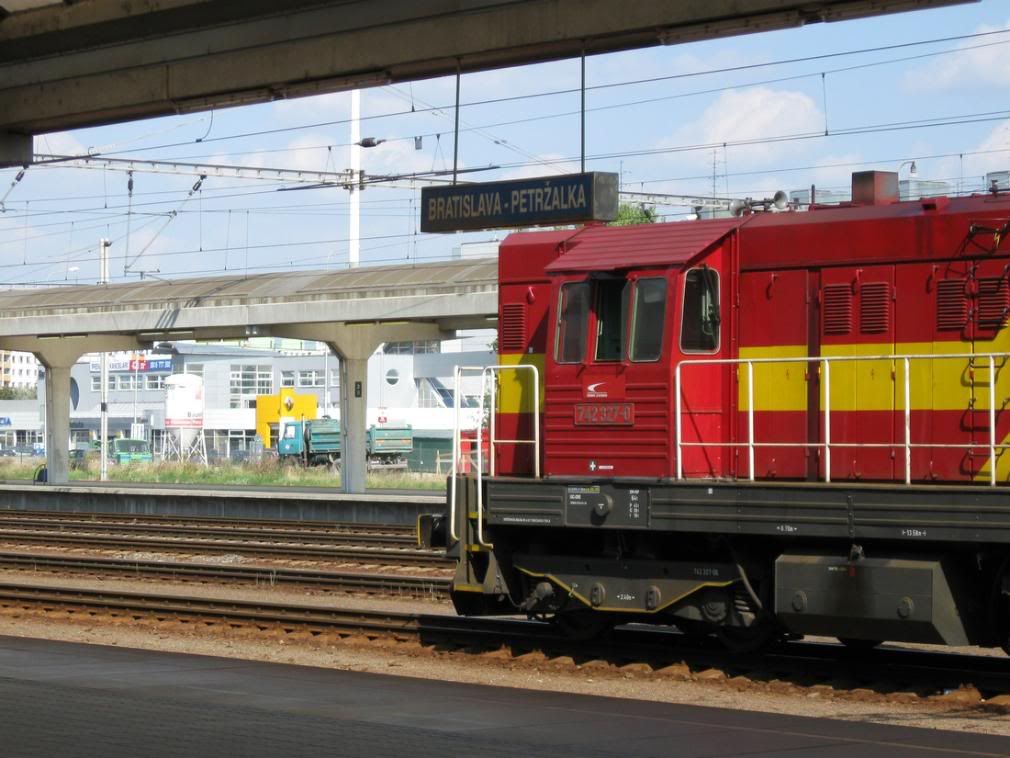 [Edited 2008-09-03 04:54:23]