Greetings to all of you A-netters out there. I have been following this great website of ours for a few years now but I only decided to join in a couple of days ago so that I can perhaps share some of my excitement about aviation. This is going to be my very first attempt for a trip report so please excuse any amateurisms and omissions. I promise to improve as time goes on.
This report is about a one-way trip from the Boston Logan International Airport to Pittsburgh International and from there on to Chicago O'Hare.
Date: 3 September 2008
Flights: US Airways 3168 BOS-PIT ERJ-750. Seat 9F N101HQ
Gate B12
United Airways 6895 PIT-ORD A320 Seat 21F N424UA
Gate C53
Background: A colleague of mine got a new job in Boston and decided to rent a truck and drive herself and all her stuff to Massachusetts from Chicago. I thought it would be a good idea to accompany her and give her a hand with the whole moving process. We would start our journey from the South Side of Chicago, drive though Indiana, Ohio, Pennsylvania and spend the first night just north of Buffalo, NY and a stone's throw from Niagara Falls. The following day, after visiting the falls we would continue through upstate NY, Massachusetts and spend the night at some friends in Hartford, Connecticut. On the third day we would arrive at Boston from where I would fly back to Chicago the following day. On our way we encountered various major and regional airports, some of which I attempted to photograph while on the move (Toledo, Cleveland, Syracuse) resulting in poor shots.
TOL as seen from the highway.
CLE seen as we approached the city of Cleveland
A Delta Connection ERJ 145 on its way to JFK from SYR
I arrived at Logan International with about 2 hours to spare. I checked myself in on the self-service machines and proceeded to the security check with no problems. I tried to find a good spot to take pictures but the US Airways terminal at BOS does not provide you with many thrills mainly because there is no view towards the runways.
And some interior shots of BOS
Some illegal passengers inside the terminal
The flight itself was uneventful. The ERJ-175 looked very clean and tidy. I got two seats to myself which was very much appreciated as leg room was too limited for a 6'4'' guy like me. What struck me was the very small size of the overhead compartments. They were very shallow and could hardly hold 2 medium sized bags.
Boston from the air. I could have gotten some more great shots of the coastline but I was not allowed to use my camera during take-off. I chose to follow the rules.
During the flight we were given one single chance to purchase drinks (coffee $2, soft drinks for $4 and alcohol for $7). I decided not to drink anything as I was getting very hungry and thought I should wait until we got to PIT. After a short nap we were already descending over Pennsylvania.
PIT has a very good reputation and has been winning customer satisfaction awards for years. It looked clean and easy to find your way around, with lots of shops and a huge number of pay-phones which seems not to be the case in most US airports.
After satiating my hanger with something I am not proud to admit I walked around the various terminals looking for opportunities for some good shots.
The ERJ that brought me to PIT departing for LGA
Soon it was time to board the plane. The United A320 interior looked fairly well-maintained save for the seats which had food stains here and there. I had the opportunity to have a fairly close look at some of those stains as the guy in front of me decided to recline his seat all the way down. Great times.
Taking off was smooth, even though the wings seemed to wobble a bit too much for my liking. Indeed the wings looked somewhat old and even rusty at places. Have a look at this picture and tell me if that's a pretty sight.
Soon after take off we were offered complimentary drinks (alcohol could be purchased for an additional $6). I chose to have some tomato juice which tends to not only satisfy my thirst but my hunger too (I guess there must be something about aircrafts that make me want to eat all the time. At least that's how I interpret the continuous drooling every time I come across a plane).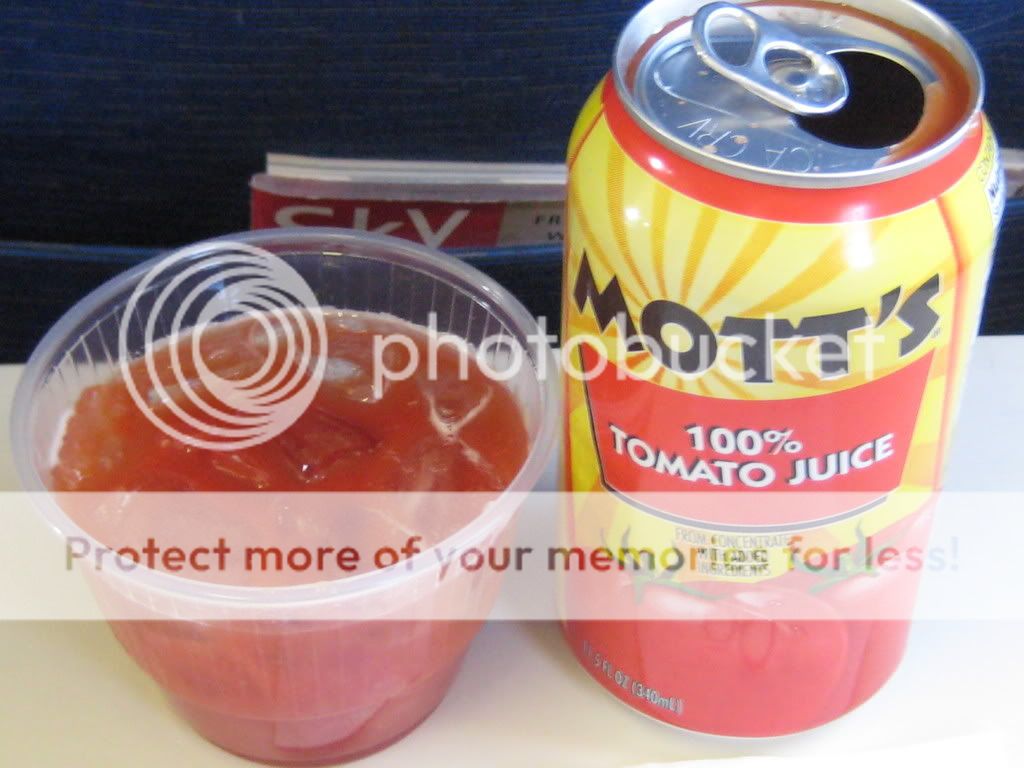 After finishing my drink, and in order to distract myself from the pain in my knees due to the guy in front of me, I decided to look outside the window onto the dark clouds forming over Indiana. Landing was somewhat bumpy. Due to delays in other flights there was no available spot for us in ORD so we had to taxi around the airport twice and then wait on the tarmac for an additional 10-15 minutes before we were allowed to one of the gates.
Final comments:
I have flown a hub-load of flights and I have to say that I was neither impressed nor satisfied by either of the two legs of my trip. Service was pretty standard. Of course not much can be said (or expected) from such short flights, which is fair enough. If I ever had to fly again with either company I would not hesitate to do so. I am curious to see what they have to offer on longer flights.
I hope you enjoyed this report. I shall be back soon with more reports. My next flights are
ORD-DTW-DCA-DTW-ORD (Northwest)
ORD-YUL-ATH-SKG-ATH-YUL-ORD (Air Canada, Olympic, United)
ORD-JFK-EDI-JFK-ORD (Delta)
Many thanks!!