Winglets on a Classic: MUC-RIX-HEL on Air Baltic's 737-300 & 737-500
Background
Several weeks after the successful trip to Spain with four new airlines and one new type it was time for another short venture. Booking two or three weeks in advance means fares can be high - so it took a while to find a good combo at a (somehow) acceptable price. In the end I booked MUC-RIX-HEL on
Air Baltic
(733 & 735) and HEL-MXP on
Blue1
(MD-90). Most online travel agencies didn't offer these flights as a combination - but fortunately
flug.de
did. So I got the flights combined on a SAS ticket which would reduce the risk of stranding if something goes wrong. All I needed was a connecting flight back to MUC and a hotel at Helsinki. It was quick decision to choose
Air Dolomiti
(BAe 146-300) and the Holiday Inn Vantaa Airport (lowest available rate). So the trip would include three new airlines and the rare and most-wanted
MD-90
as well as plenty of time for spotting at MXP.
Intro
Part 1 of the trip report series covers Air Baltic's 737-300 and 737-500 - the other flights will be discussed in separate reports.
Friday, 15 August 2008
Munich (MUC) - Riga (RIX)
Air Baltic, BT222
14:25-17:35 (15:35-18:34)
Flying time: 01:44 (hrs)

Boeing 737-33A
YL-BBI (s/n 2703), first delivered to Ansett Australia in 04/1995 as VH-CZT
Seat 24F
Former appearances as VH-CZT (Ansett Australia) and PT-SSQ (Rio-Sul):
Quick Check-in
Online check-in wasn't available yet for flights departing from MUC so I went to the airport early. Air Baltic's counters were already opened more than two hours in advance - but only for the Vilnius flight, departing some 30 minutes before the Riga flight. However, a friendly agent waved towards me and said she would already handle the Riga service. I asked for the second last row on both flights which she immediately confirmed. Surprisingly, she also gave me the boarding pass for the next day's Blue1 flight, but this time I asked to change to a seat slightly behind the emergency exit (trying to avoid the blind windows). Again, she kindly accepted my request. Check-in was only a matter of a few minutes.
Double Delay
Only a few minutes later I heard an announcement about an Air Baltic flight being late - and I was relieved to hear "Vilnius". However, when I passed the departures screen I noticed a new departure time next to
MY
flight: estimated departure delayed from 14:25 to 15:10! So both Air Baltic flights were late today.
The original transfer time of 1 hour and 50 minutes was now down to about an hour. Still enough for a small airport - but you never know with estimations. I decided to call my girlfriend and asked her to check whether the plane had departed Riga yet - some minutes later she confirmed. But the flight tracker website showed a flying time of 2:26 hours - quite long for that service. So I started calculating - what happens if the return flight to Riga would also take that long? In such a case, I concluded we shouldn't depart MUC later than 15:30 - arrival would be around 18:55 (due to the time difference), some 30 minutes left for the connection.
I knew there would be another Air Baltic flight to Helsinki in the late evening - but it could be full. And staying at Riga for the night and going to Helsinki in the morning would eliminate any chance to get the MD-90 - which would depart HEL at 08:35 already. So I was really hoping my Air Baltic flight would depart without any more trouble.
Boarding - or not?
The plane from Riga arrived exactly at the time estimated, so I was quite confident we would be in the air about 45 minutes later. Most of Air Baltic's 737-300s have been equipped with performance (and aesthetics) enhancing winglets - and
YL-BBI
is one of them: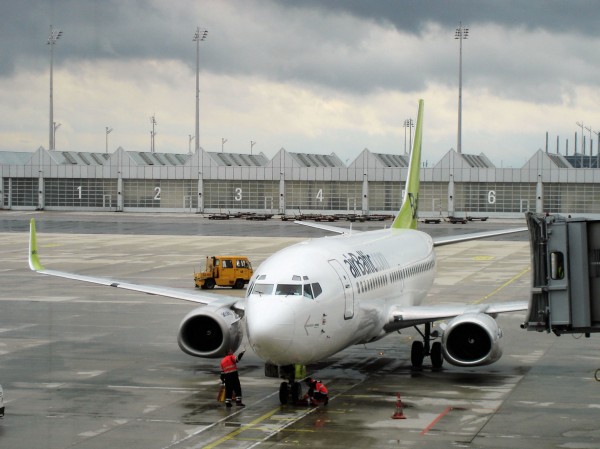 Flight preparations took longer than expected and it was clear after a while we wouldn't be able to depart at 15:10 as originally estimated. I noticed that even the gate agent seemed to be wondering about the boarding delay - he started walking around and looked out of the window several times. Just when I started calculating again, boarding was finally commenced at around 15:00. However, after several passengers had passed, the process was stopped. Apparently a passenger didn't have a valid boarding pass yet - probably he was transferring from another flight. The gate agent wasn't amused and after talking to a colleague he went behind the desk and started feeding the computer with data...the minutes passed and I was starting to get annoyed.  
Finally, after several minutes the guy got his boarding pass and I was really hoping it wouldn't happen again with another passenger...
Cabin Comfort
Friendly female FAs welcomed me on board, two in the front section and another one in the back. The cabin was equipped with worn grey fabric seats - and some seats like mine featured a leather seat cushion.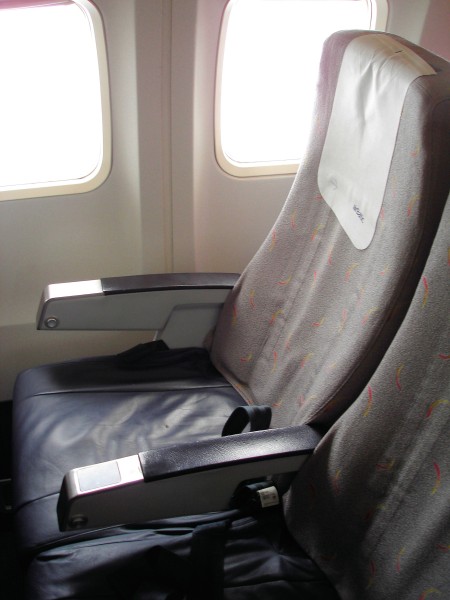 In former times
YL-BBI
was used by Ansett Australia and Rio-Sul. However, according to a picture, Ansett Australia used different seats on the plane. So the question is whether these are former Rio-Sul seats - or seats simply bought elsewhere?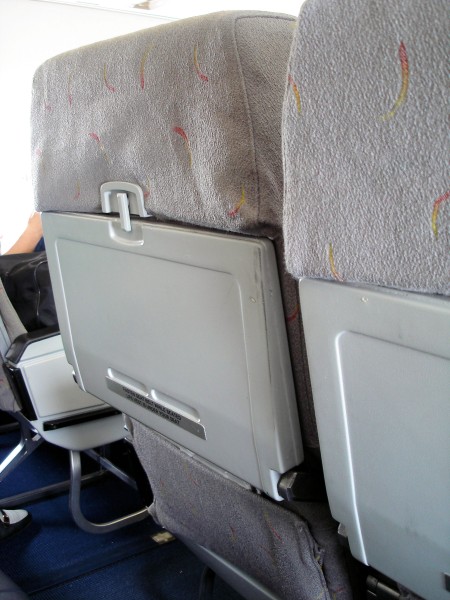 Seat pitch was quite average - but not as bad as some passenger in the adjacent row suggested.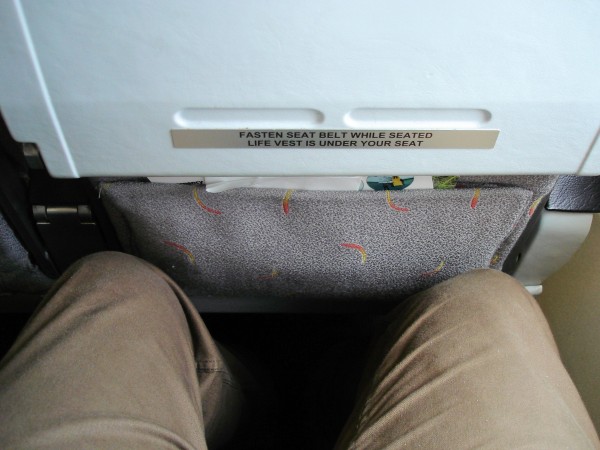 Cabin view - picture taken later in the flight: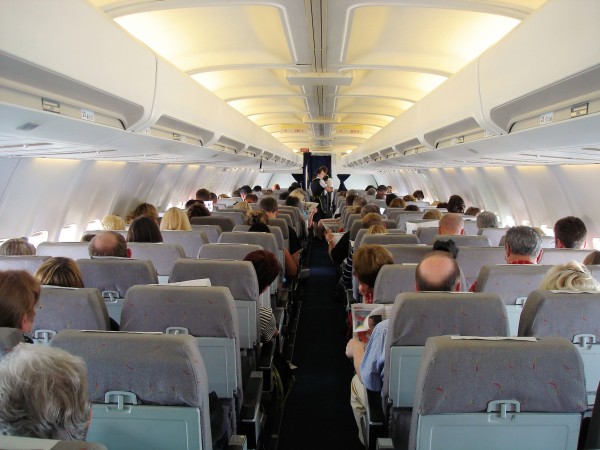 Load factor was about 60 percent (90 passengers booked on the flight according to the check-in agent). Fortunately, I had all three seats to myself. The FAs were quite serious about cabin safety - one of them even took my light jacket away from the middle seat and placed it in the overhead bin.
Finally Moving
After sitting down at around 15:25 I asked one FA whether it would be realistic to get the connection to Helsinki. She lowered her head, shut her eyes for a moment and slightly grimaced - quite a pessimistic expression. She said we probably wouldn't leave for another 30 minutes - which was definitely demoralizing. Then she looked at her watch and after a while she said:
"Yes, you will make it."
I wasn't convinced...
Btw - the crew apologized for the delay, but didn't mention a reason.
Red, orange, green and lots of gray: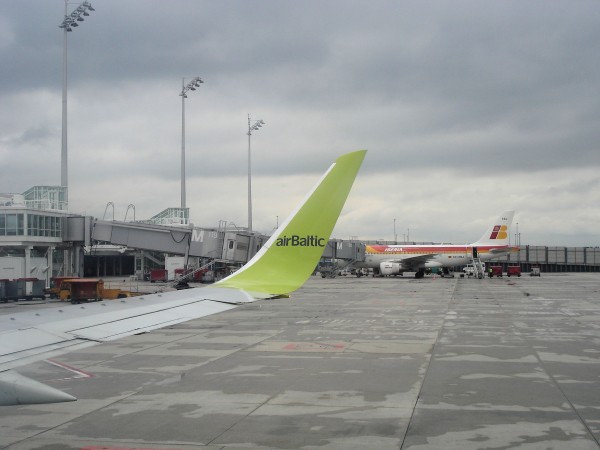 We were pushed back at 15:35 - at least we were finally moving, but the problem is you can sometimes spend a lot of time on the taxiway at MUC...
Fortunately, traffic was low in the afternoon and we quickly lined up for departure on runway 26L. The Air Baltic 737-500 to Vilnius took off ahead of us, followed by a Lufthansa A320. Then it was our turn...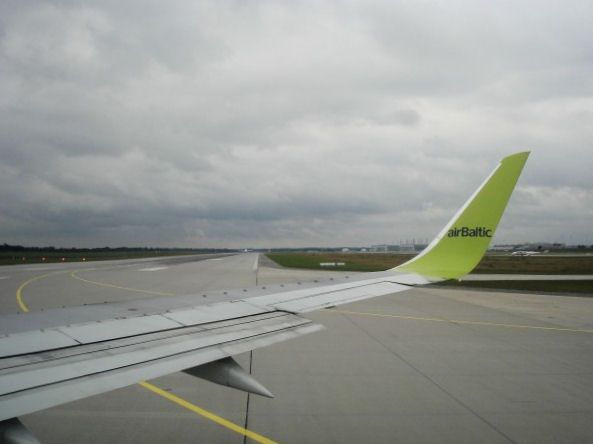 ...and
YL-BBI
started accelerating at 15:46: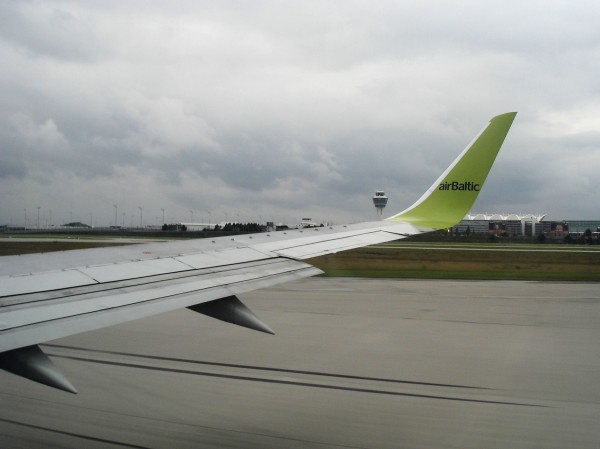 Once in the air I was confident again to get the connecting flight.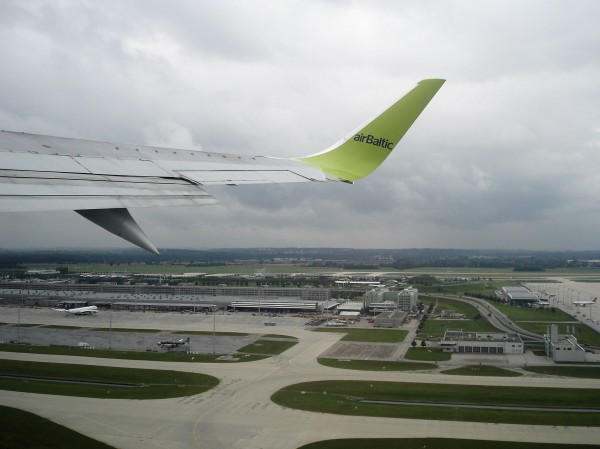 The Snack Check
Air Baltic doesn't serve anything for free like many carriers in these days. So it was time to explore the
"airCafe"
offerings...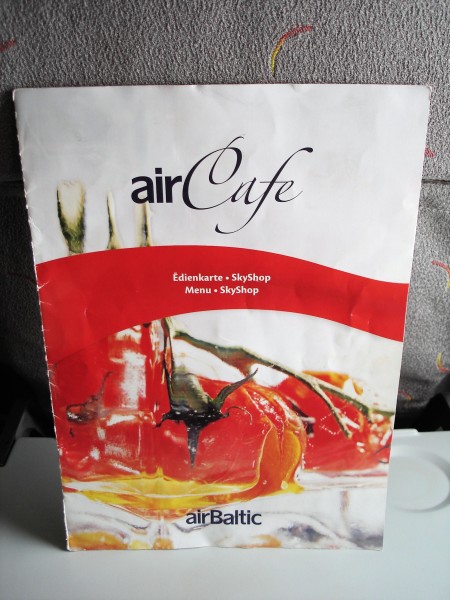 Most prices were reasonable (sandwich for 3,75 Euro), but some items were overpriced (e.g. instant coffee or tea for 2,25 Euro). There was even a choice of hot meals, e.g. salmon steak or tortellini, both main courses served with a "real Italian dessert" and a small bottle of wine for 7,50 Euro.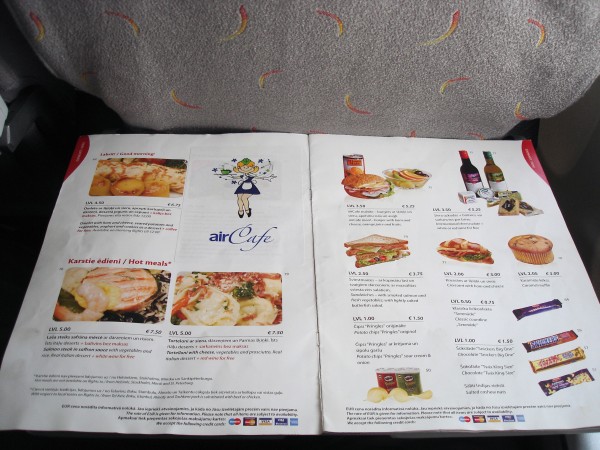 In the end I chose a "burger" combo, consisting of a ham and cheese sandwich, a fruit salad and a can of orange juice. All the stuff was served in a snack box: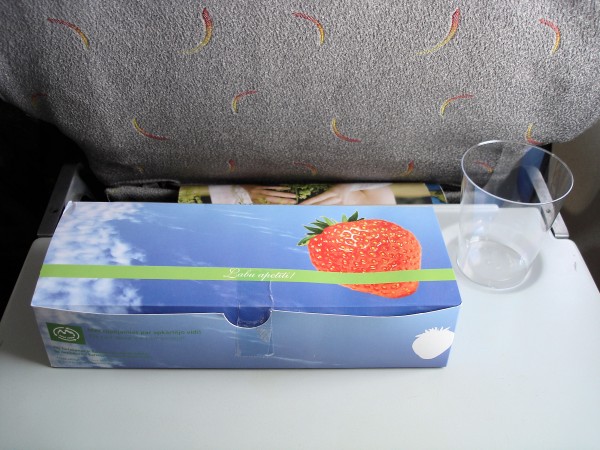 The sandwich tasted good - but other than suggested on the menu, the size of the fruit salad was minimal. And serving a 150 ml can of orange juice is simply ridiculous...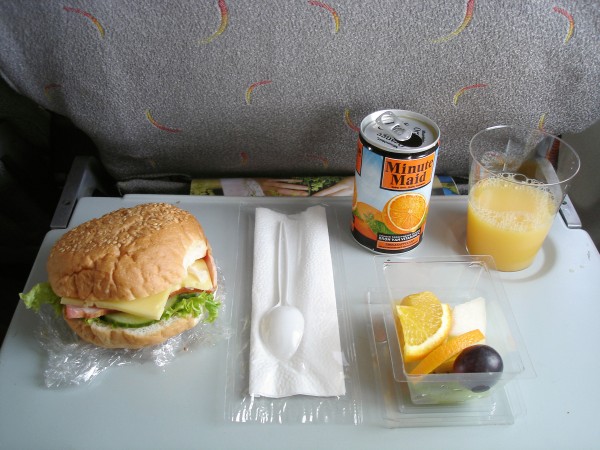 Turbulence Resistance
About one hour after departure we hit an area of turbulence and I had to wonder about an old lady (between 70 and 80 years old) in the adjacent row. Judging from earlier observations it was probably her first flight - and in contrast to other passengers she kept totally calm in these shaky skies...  
After some 90 minutes in the air we already started the (quick) descent - so I would have plenty of time left for my connection.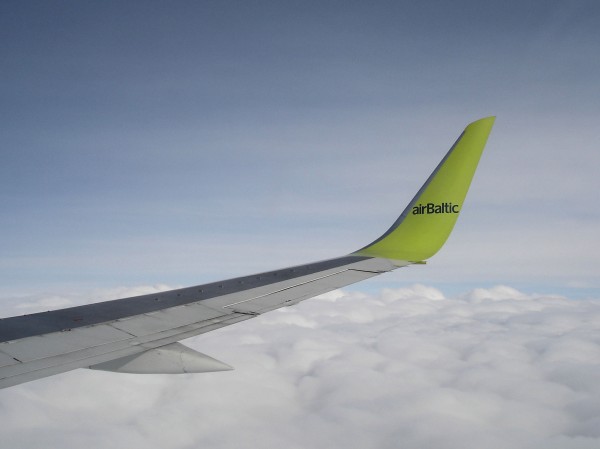 The weather in Latvia wasn't any better than in Bavaria: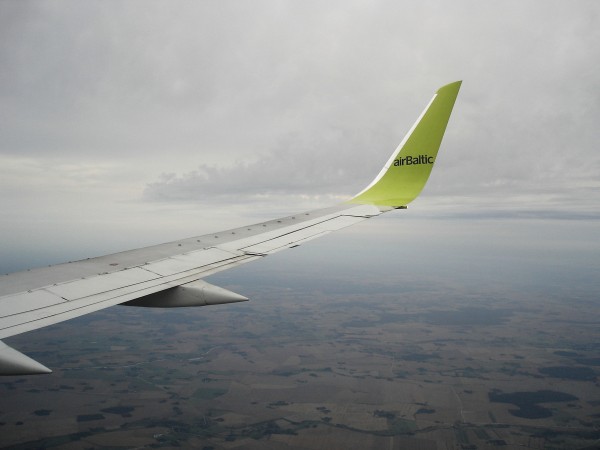 Crossing a river - which one is it?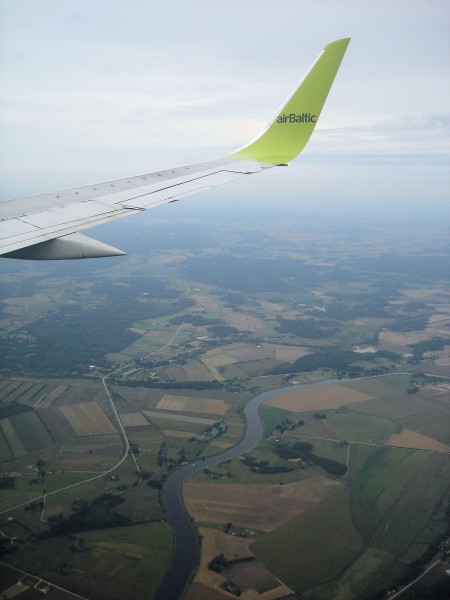 We touched down at 18:30 and arrived at the gate three minutes later, exactly 59 minutes behind schedule.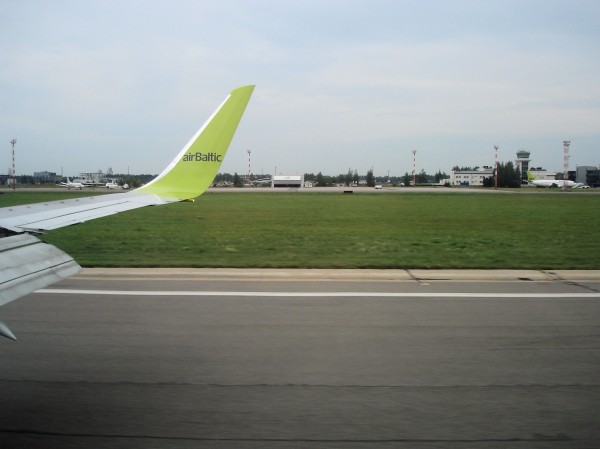 Riga International Airport
is a small, but modern airport - very convenient for connections. In 2007 it handled 3,16 million passengers.
What I liked most is the modern and elegant design of the terminal's interior with lots of wood.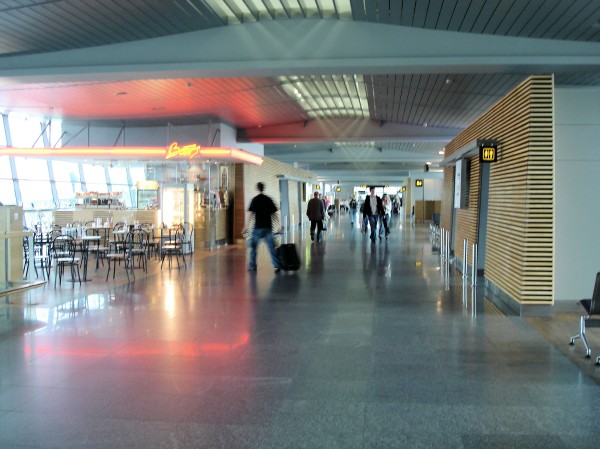 Large glass windows enable good views of the runway and the apron. Of course, Air Baltic dominates the scene. Simultaneous push-backs: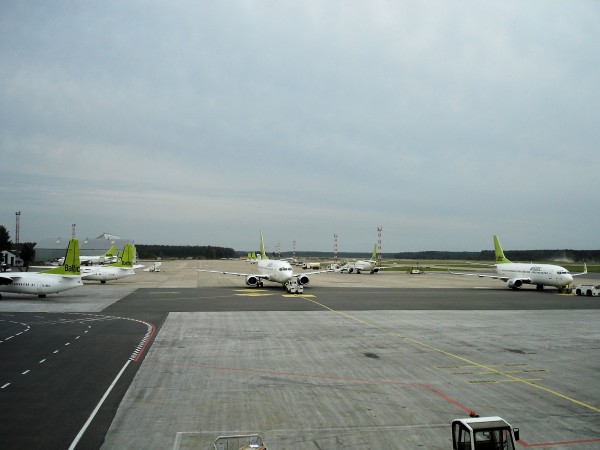 In the end I got 15 new registrations at RIX which is not bad at all.
Friday, 15 August 2008
Riga (RIX) - Helsinki (HEL)
Air Baltic, BT305
19:25-20:25 (19:39-20:24)
Flying time: 00:38 (hrs)

Boeing 737-53S
YL-BBD (s/n 3101), first delivered to Air France in 03/1999 as F-GJNU
Seat 21F
Former appearances in previous Air Baltic colors and as F-GJNU (Air France):
Boarding
was started some 25 prior to departure at a bus gate. The aircraft was
YL-BBD
this time, once used by Air France: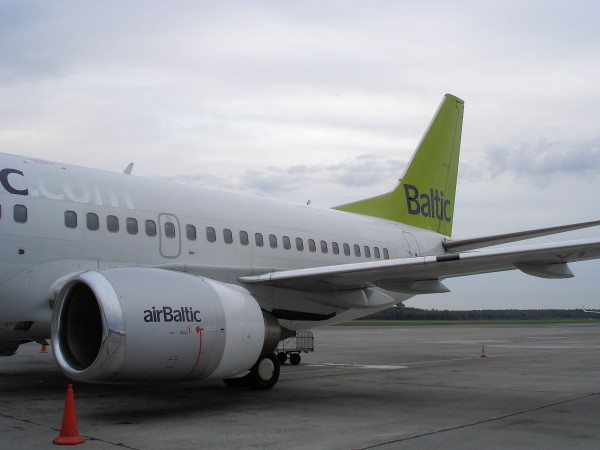 The typical 737 nose: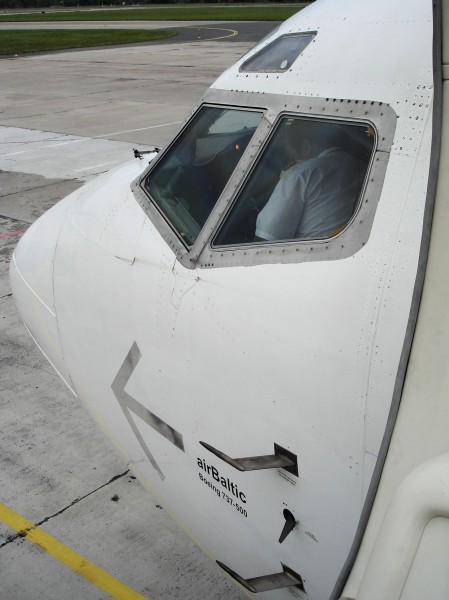 Cabin Comfort
When I stepped on board, friendly FAs welcomed me again - actually known faces, it was the same crew again. The 735's interior was totally different - the cabin was in better shape and equipped with comfortable dark blue leather seats.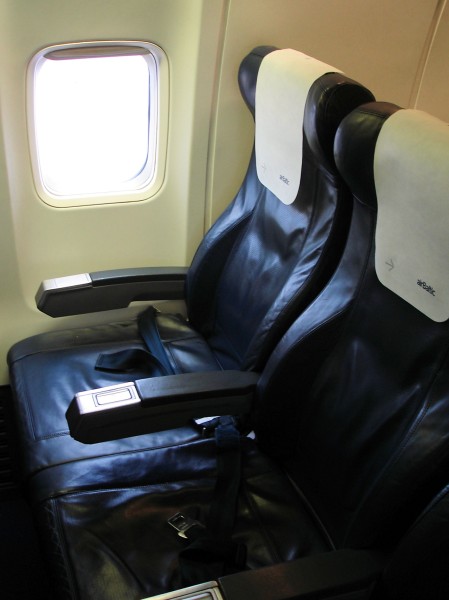 The question is which carrier used the seats before...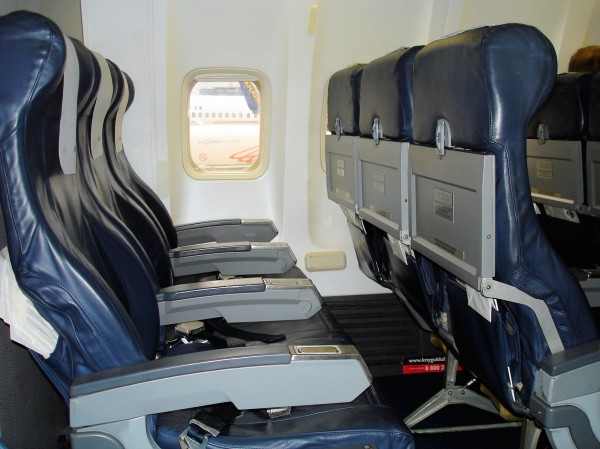 ...considering that these instructions were in English and
German
: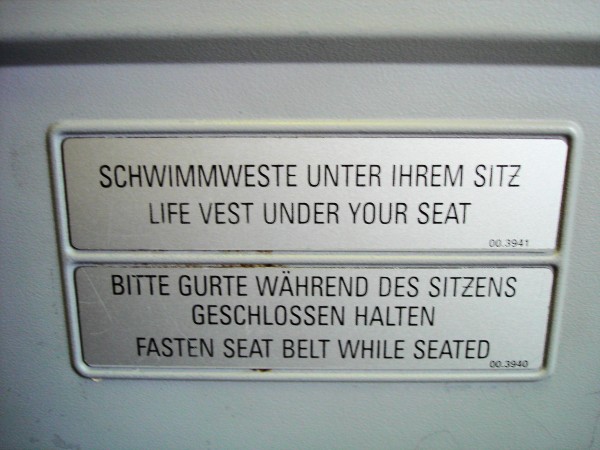 Seat pitch was slightly better than on the 733: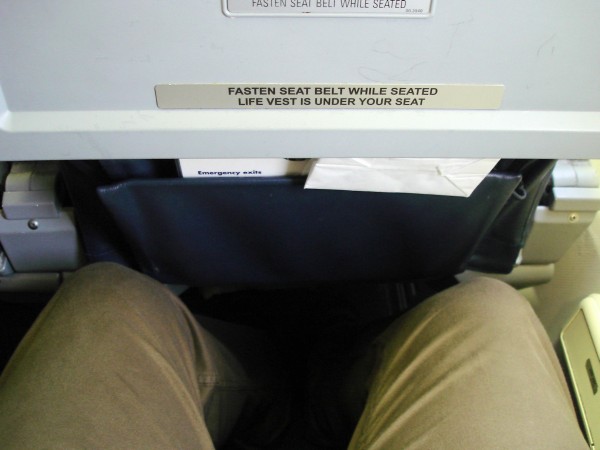 Cabin shot - picture taken later in the flight. Load factor was about 50 percent.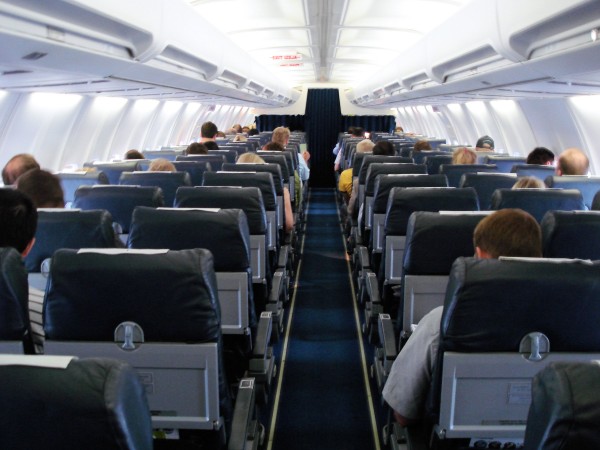 Departure
We left the gate 14 minutes late, but we could immediately roll onto the runway. YL-BDB, one of Air Baltic's two 757s, had just arrived: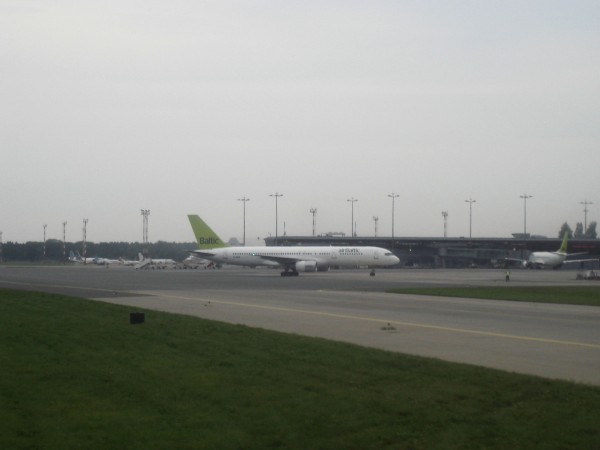 YL-BBD
lifted off after a short takeoff roll. Large socialist style housing areas remind of the country's past: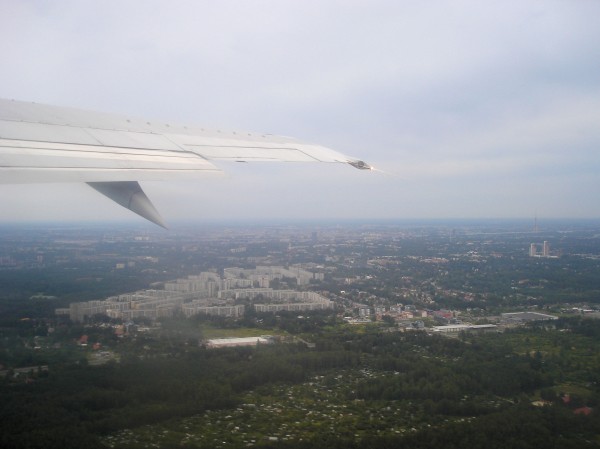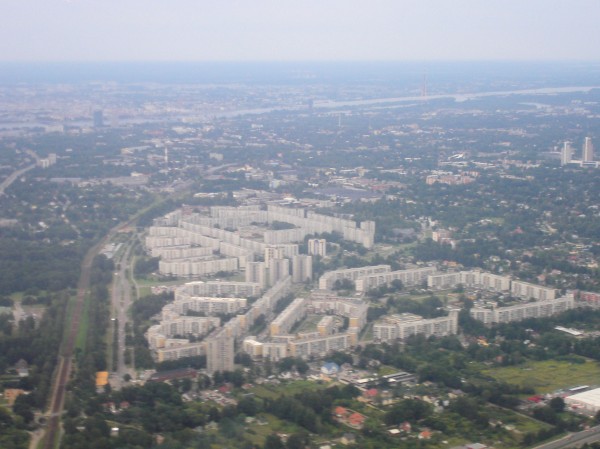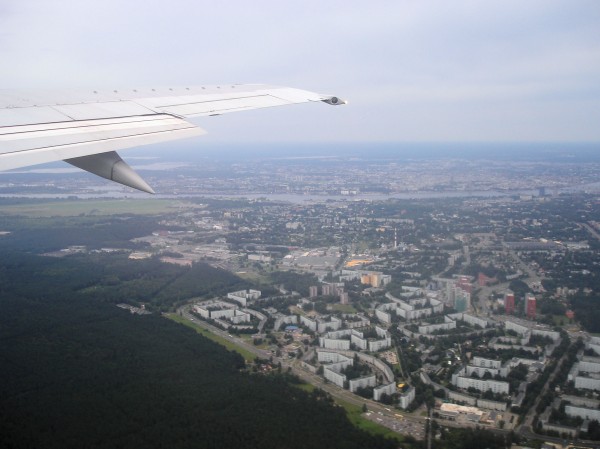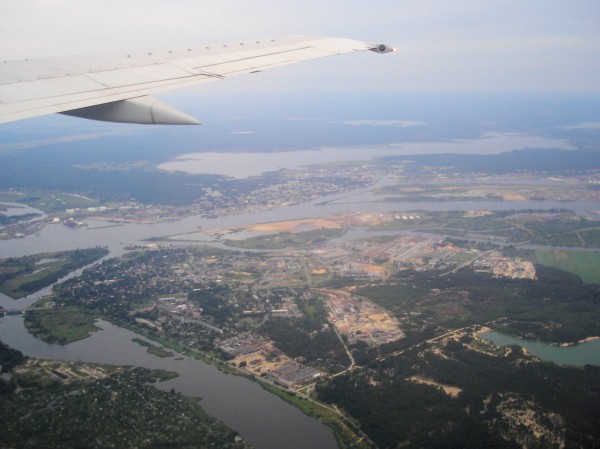 Crossing the Coastlines
Shortly after departure we reached the coastline and crossed the Gulf of Riga.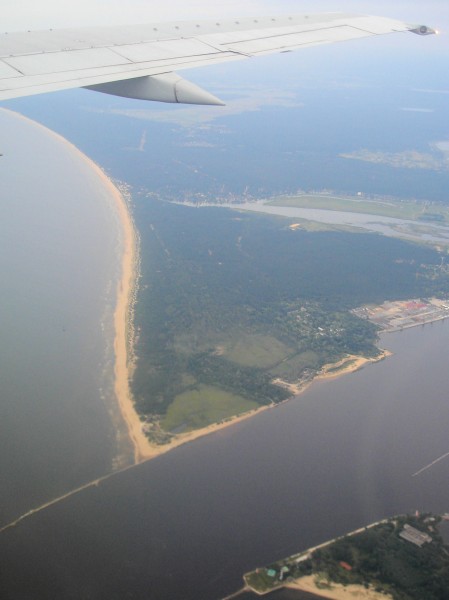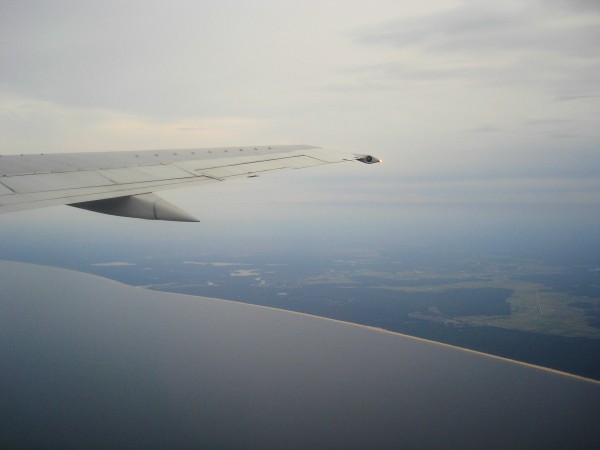 Different layers of clouds and the evening sun created a nice scenery in the Estonian skies: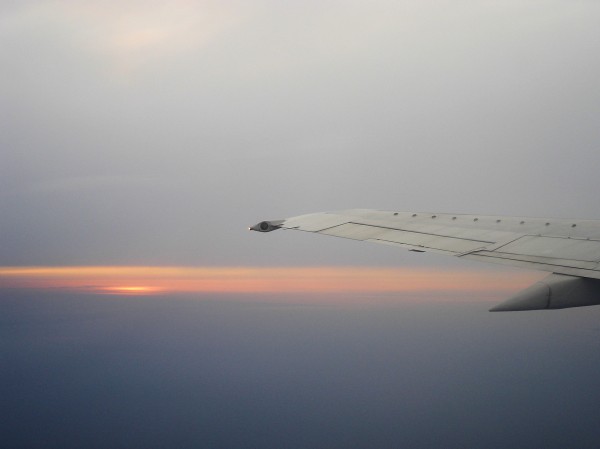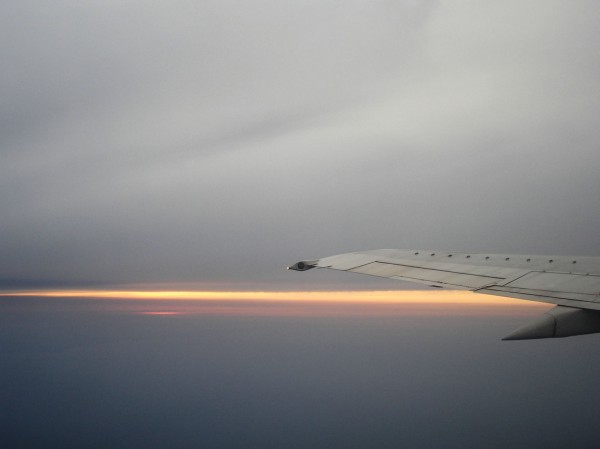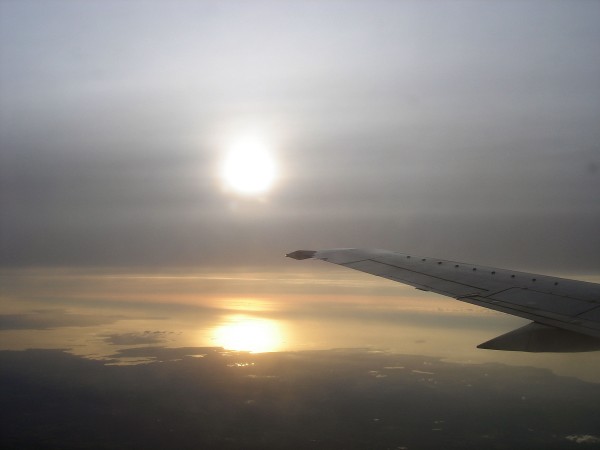 FAs offered drinks and food for sale again, but I didn't order anything on that short hop. Some 20 minutes after passing the Latvian coastline we had reached Estonia's northern coastline.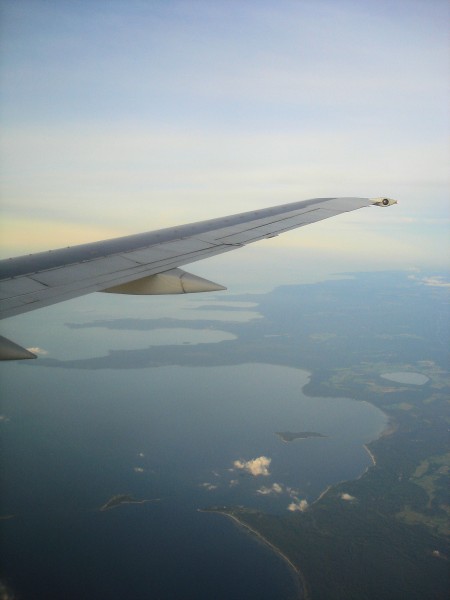 It took only a few more minutes to cross the Gulf of Finland. Tiny islands and a lighthouse:
Beautiful evening scenery: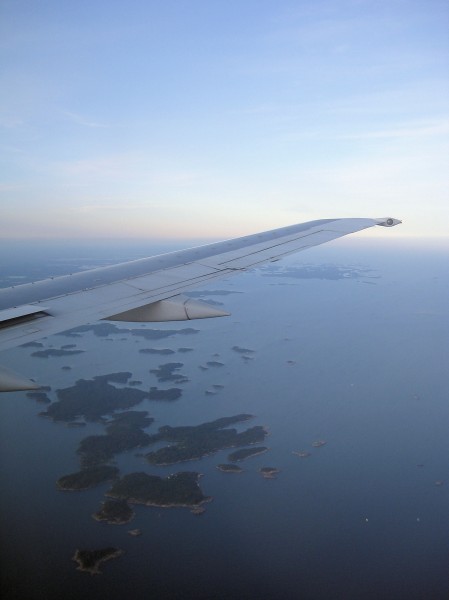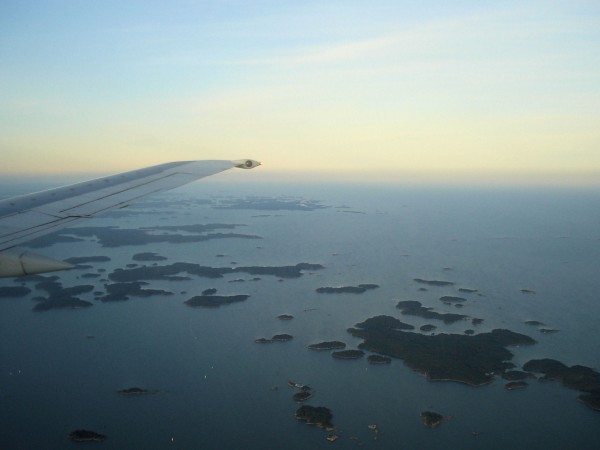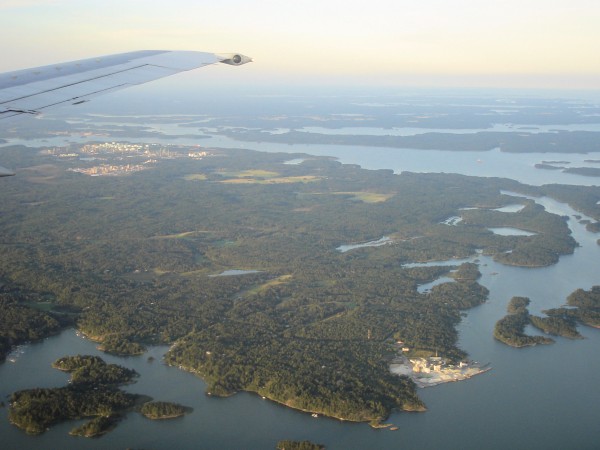 We touched down at Helsinki only 38 minutes after departure and arrived at the gate one minute ahead of schedule. On the way to the terminal we passed Finnair's
Silver Bird
(A319) and the Blue1 MD-90 in Star Alliance colors - my plane on the next morning? Honestly, no...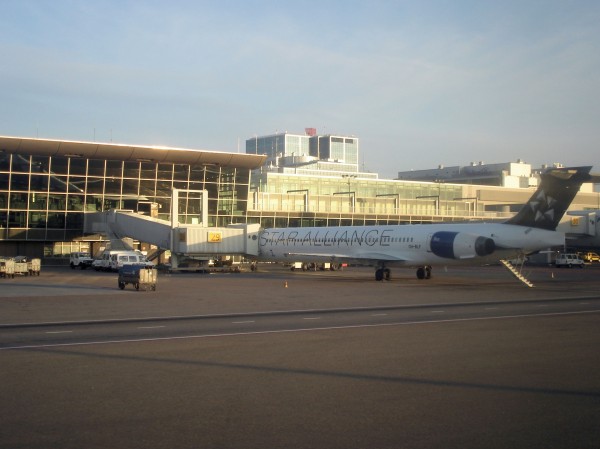 Holiday Inn Vantaa Airport - Inexpensive & Basic
The shuttle bus arrived on time and stopped at the hotel door five minutes later. Except for the reasonable rates (64 Euro) and friendly staff there wasn't anything special about that hotel. The rooms are quite small and offer a rather basic equipment. Anyway, it was absolutely sufficient for spending the night.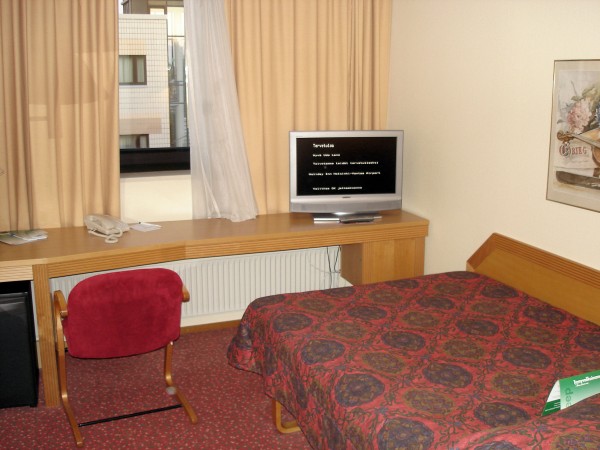 Conclusion
Flying
Air Baltic
was an average experience. Crews were friendly and transferring at Riga was very convenient - but you never know which interior you get on BT's planes. I have no idea about the number of different cabin variants, but Air Baltic should focus on a consistent cabin equipment. At least seating wasn't cramped on both flights. I don't mind about the lack of IFE on these European routes, but catering could be improved. At least portions shouldn't look much larger on the menu than they really are. The delay was annoying - but that can happen with any carrier. I wouldn't hesitate to fly Air Baltic again, the carrier is definitely an alternative to the usual players in the Scandinavian market.
Next report: HEL-MXP on Blue1 MD-90
Best Regards,
PlaneHunter
[Edited 2008-09-10 03:37:43]