MissBA319-131 & I were off to Hawaii for 2 weeks, first stop though was New York City, here is part 1 of our trip.
20.08.08 BA175 747-436 G-BYGD 62KA - Club World
Route LHR-JFK
1st Flight on this aircraft & 15th 747 Flight
SCH DEP10:25 SCH ARR 12:55
ACT DEP10:38 ACT ARR 12:49
View Large
View Medium


Photo © Tom Alfano-NYCAviation
View Large
View Medium


Photo © Neville Murphy-Aviation Images Australia
The private car had arrived early for out 7am pick-up, in fact I noted him outside at 06:30, so with packing complete we headed out the door some 10 minutes early.
Traffic was light this morning, M25 speed restricted as normal in the mornings, that said pretty much all the time these days on this section!
Arrived at T5 at 07:20, not bad! - Found a free check-in machine then headed over to the so called Fast Bag Drop, this is a loose term as it was anything but this morning, large queue's in the otherwise tranquil terminal.
Bag's finally dropped - 4 of them! We headed to Travelex to pick up our US $, thankfully we bought them a week or 2 ago, the rate had dropped quite a bit since then. Anyway, another small queue, all down to what seems excessive paperwork for buying currency, amazing how we seem to make things difficult.
Job complete, now security, here too Fast Track was anything but fast! There was only one screening station open for Fast Track - hence it not living up to it's title. To top it all off, the screener managed to pick up and drop our wedding outfits, god only knows how he managed that, thankfully they were in suit carrier to help protect them, MissBA319-131 was about to kill the guy!...........
From initial check-in to bag drop, currency exchange and security it had taken roughly 50 minutes, not quick at all, even if you take out the time taken at the currency exchange.
I had planned to be in the lounge by 8am, we arrived a little later than planned but still had time for a small breakfast and wander around the shops, would have liked a glass of Champagne but none around as usual.
View from my seat in the lounge
Food selections were excellent as usual, more than this!
really like the lounge, feel quite at home here.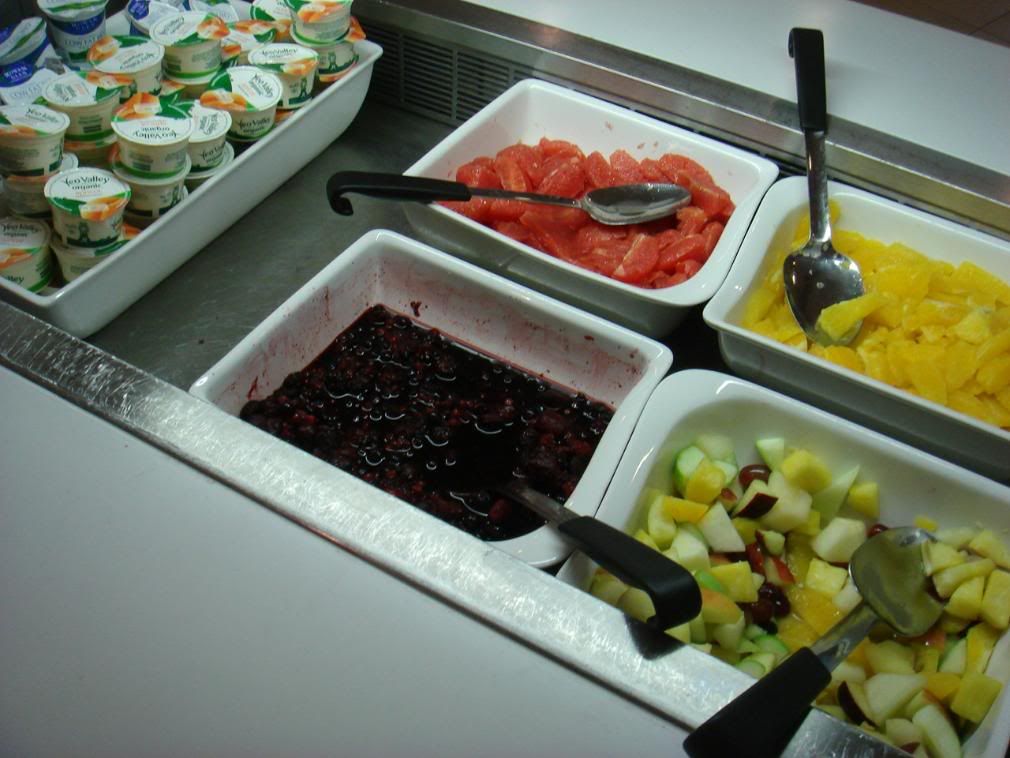 Sat here with a cup of coffee, I felt far more relaxed than I had done in the Virgin Clubhouse a few weeks back, it's so much more relaxed and quite, though I did like the waiter service in the Virgin lounge.
The flight as per usual was departing from the B gates this morning, B37 to be precise, so we decided to leave the lounge with plenty of time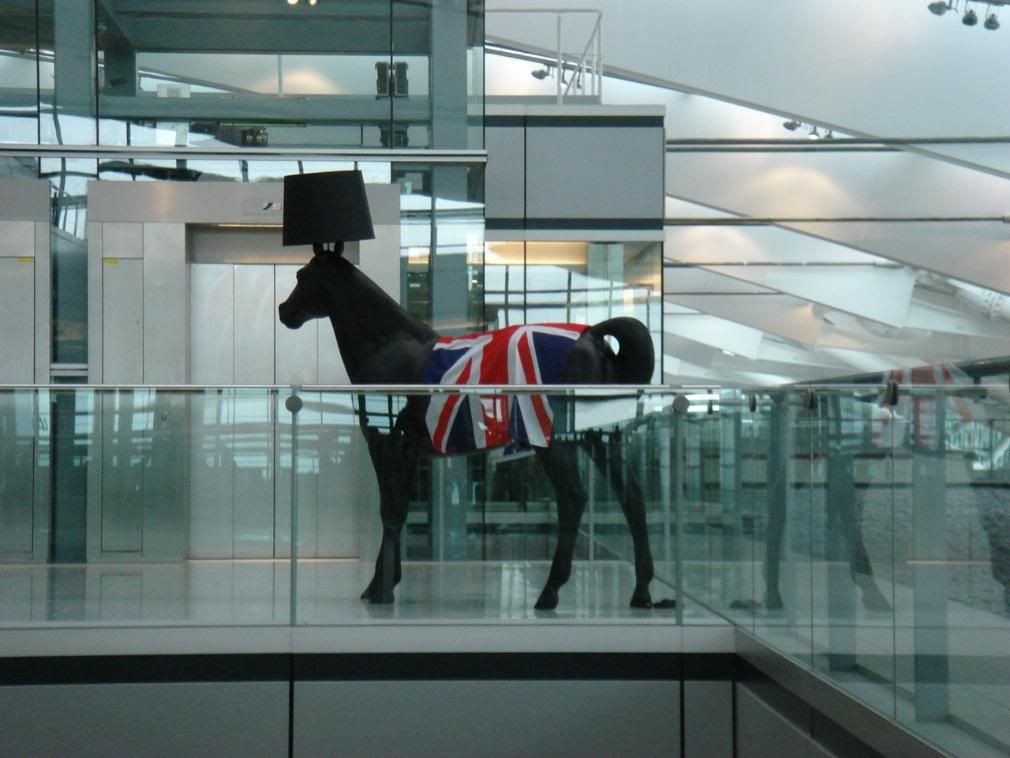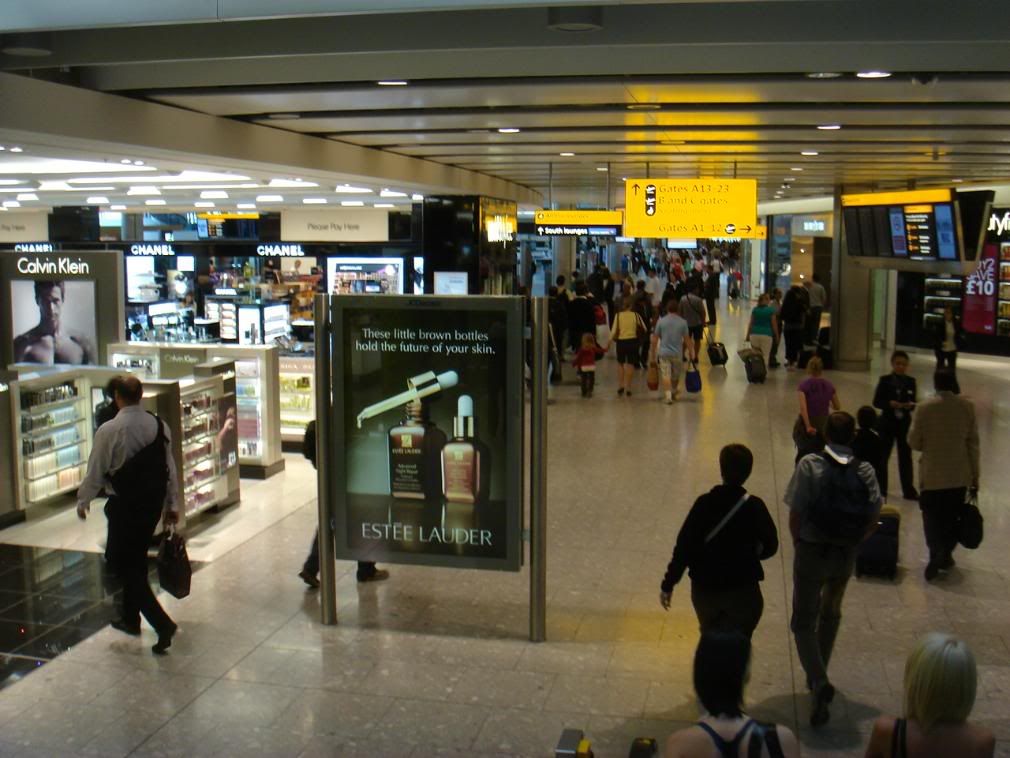 Opps, who broke the glass?
My plane
by the time we arrived, boarding had started.
Thankfully the priority boarding line was open today
within no time we were a the aircraft doors, 2 friendly FA's on duty greeting passengers and checking boarding passes to point infrequent flyers in the right direction.
I had chose upper deck seats this time, so we headed up the stairs, greeted at the top by 2 friendly chaps who immediately relieved us of the 2 suit carriers, thank goodness for that, rid of them for the next 7 or so hours, thanks guy's!
Our seats today were 62 A & B, me being in A as I need the window. For those not in the know, 62 A & K are rear facing emergency exit seats, lot's of space between you and the next passenger, lovely!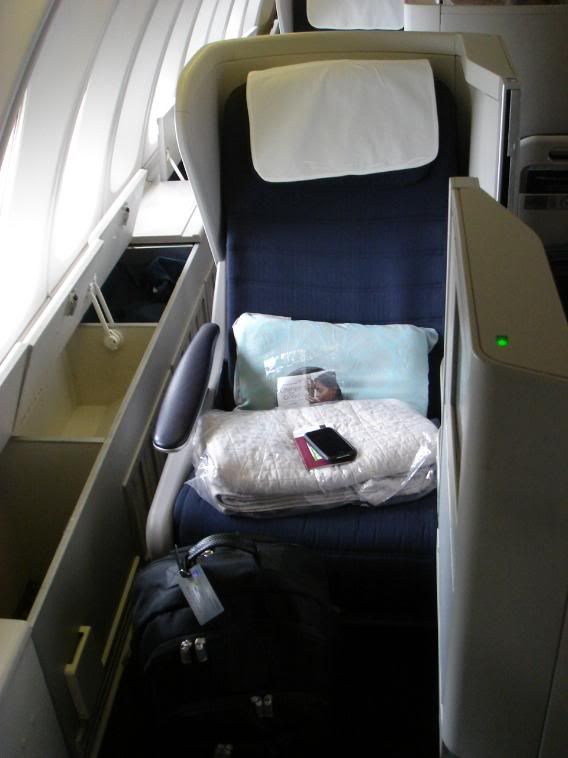 Seat stowage tray
We settled in, you know, books etc out, once seated one of our FA's appeared with water, OK or Champagne, we took the champagne, yes I know it was not 12:00, but it is somewhere in the world!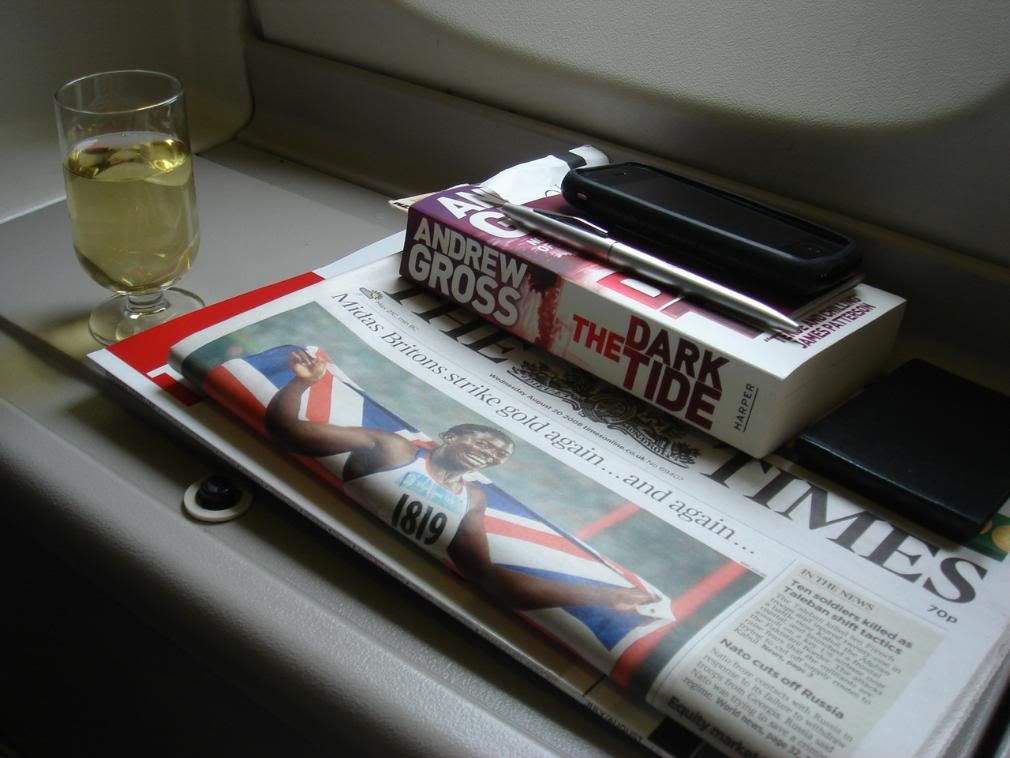 The front door closed at 10:15, though final push did not occur until 10:38 as we had a couple of passengers with paperwork issues. If I'd not been keeping track of time for this TR, I'd not really have noticed as the crew came around to renew our champagne with another glass.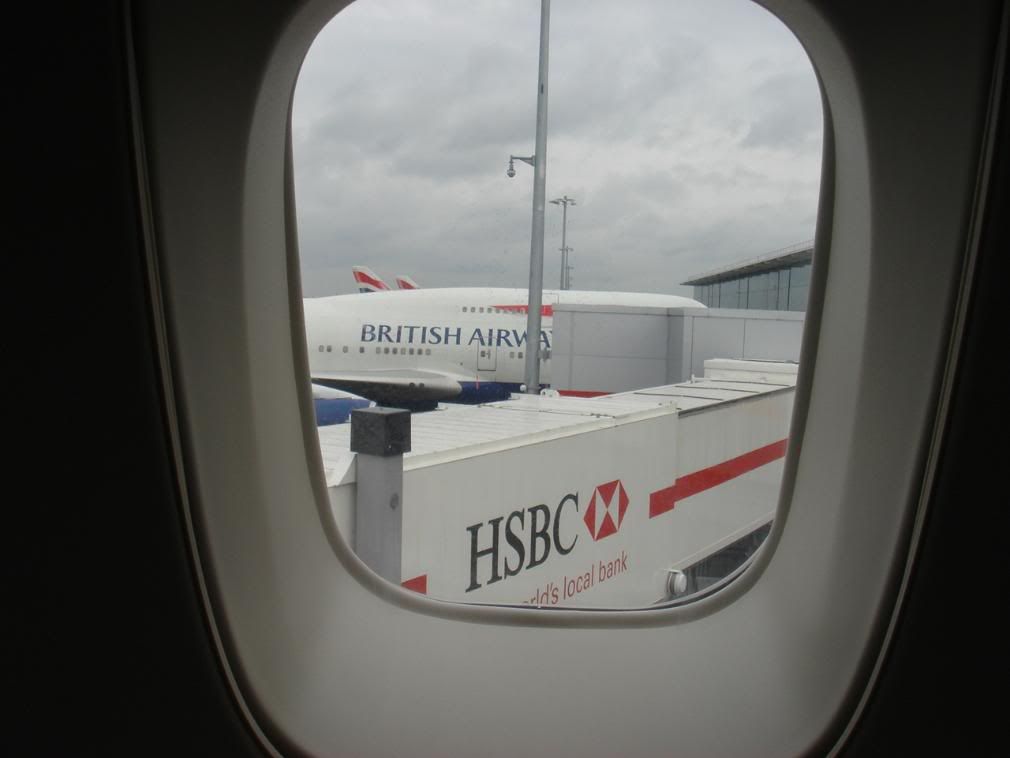 Still odd seeing UA & US @ T1!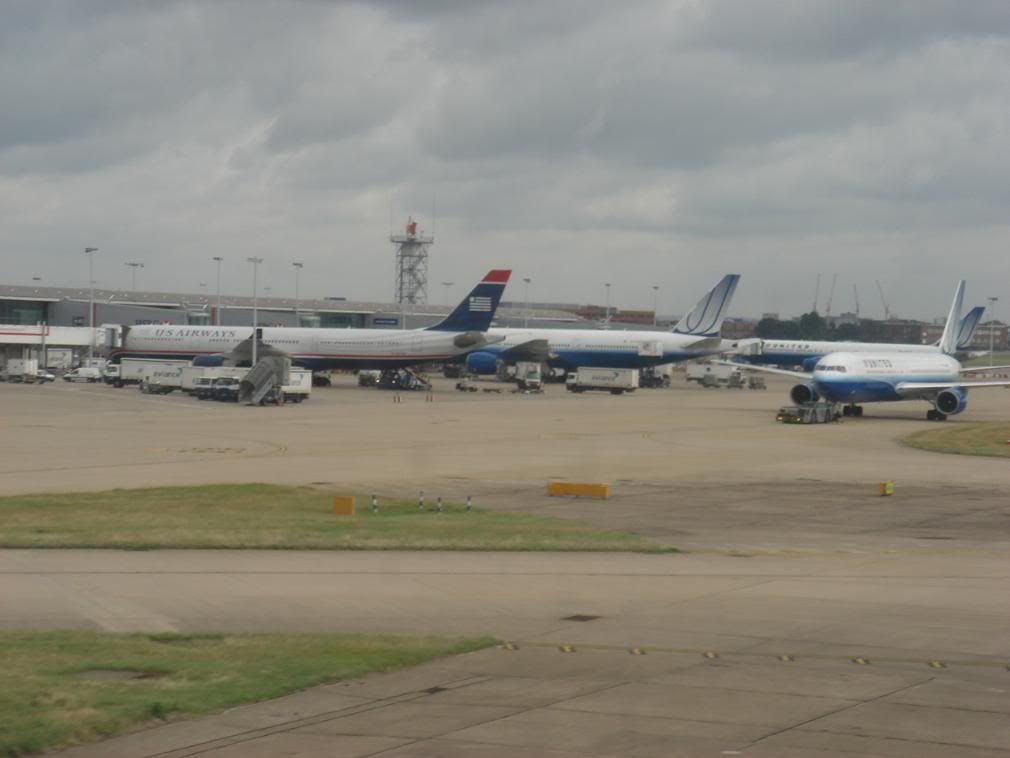 Departure today was from 27L so we had a fairly lengthy taxi to the other side of the runway, most of the gates were empty given the time of day but 9V-SKB sat at the gate this morning.
No matter how many times I see the A380, I still stop and stare, (depending upon departure runway she passes over my house, so quiet compared to the 747, 777) kind of like I did when Concorde still graced our skies. Some say the 380 is ugly and squat, she is, some say they were underwhelmed when they first saw her, I get the ugly etc but, but underwhelemed? - she is huge,fantastic and I am happy to have flown 2 different A380's, she is something special which is quite apparent when I pass her sitting in an aging 747.
Back to the flight, we pulled onto 27L
and turned up the gas, wheels leaving UK soil at 11:07.
At 10:13, just 6 minutes after departure, the seat belt signs were off, 5 minutes later we had hot towels, amenity kits next drinks followed and dinner was served by 12:00, superb!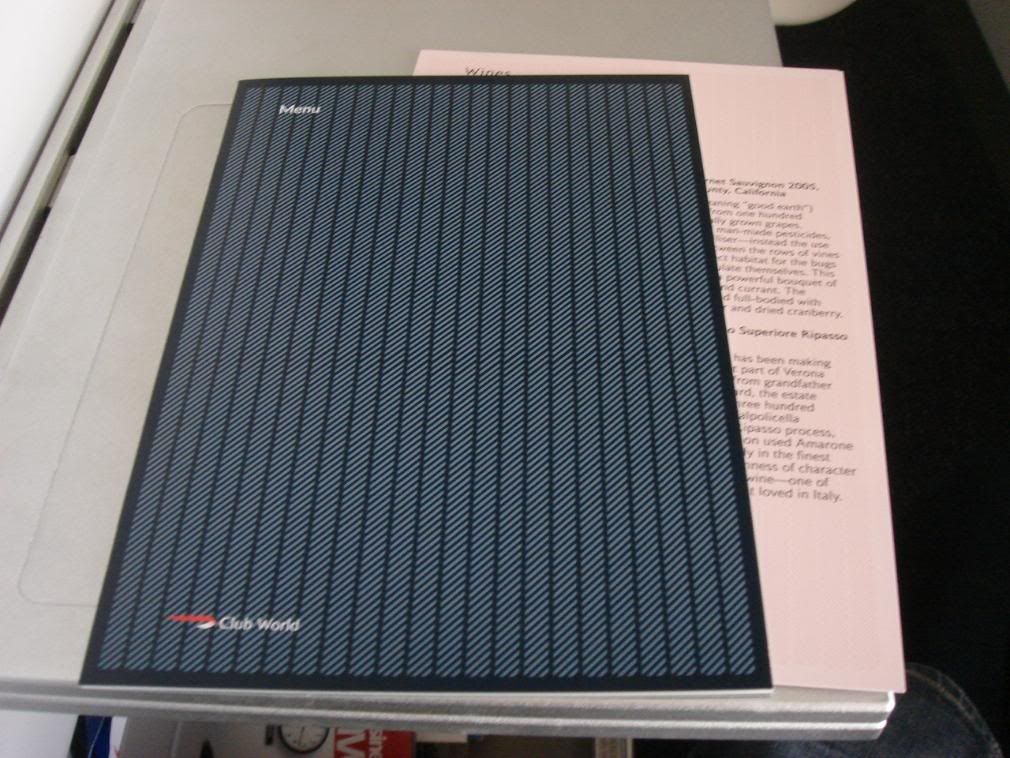 I took the salad to start:-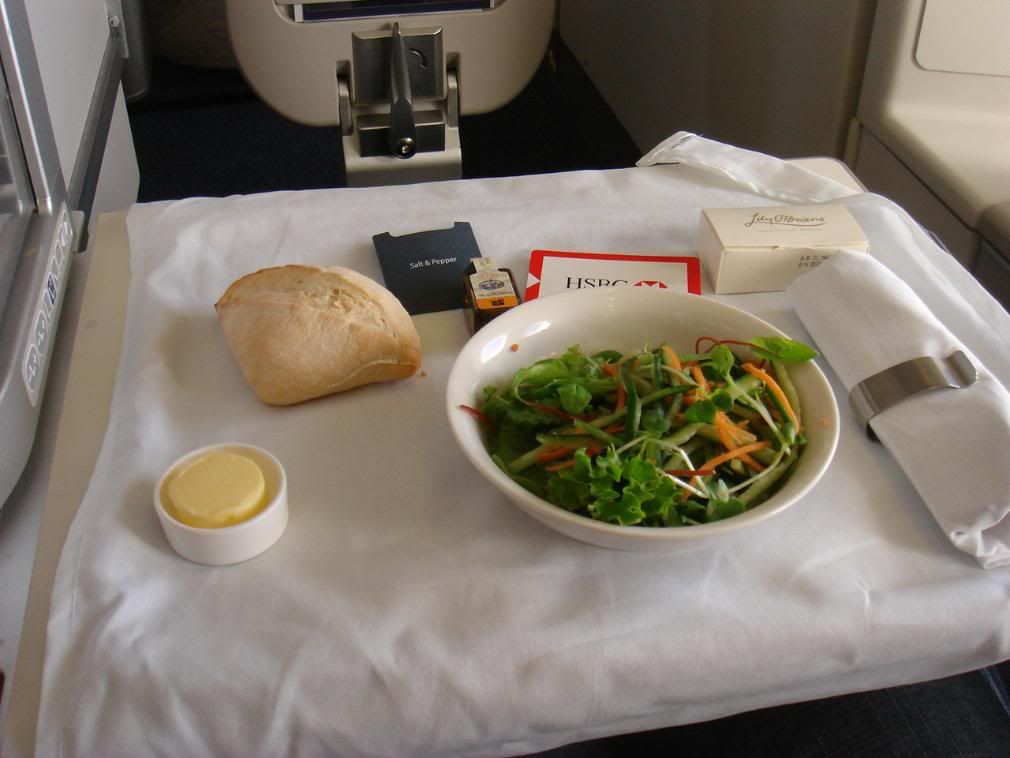 Nicole had a seafood meal as per her Exec Club profile, she got Smoked Salmon & salad to start.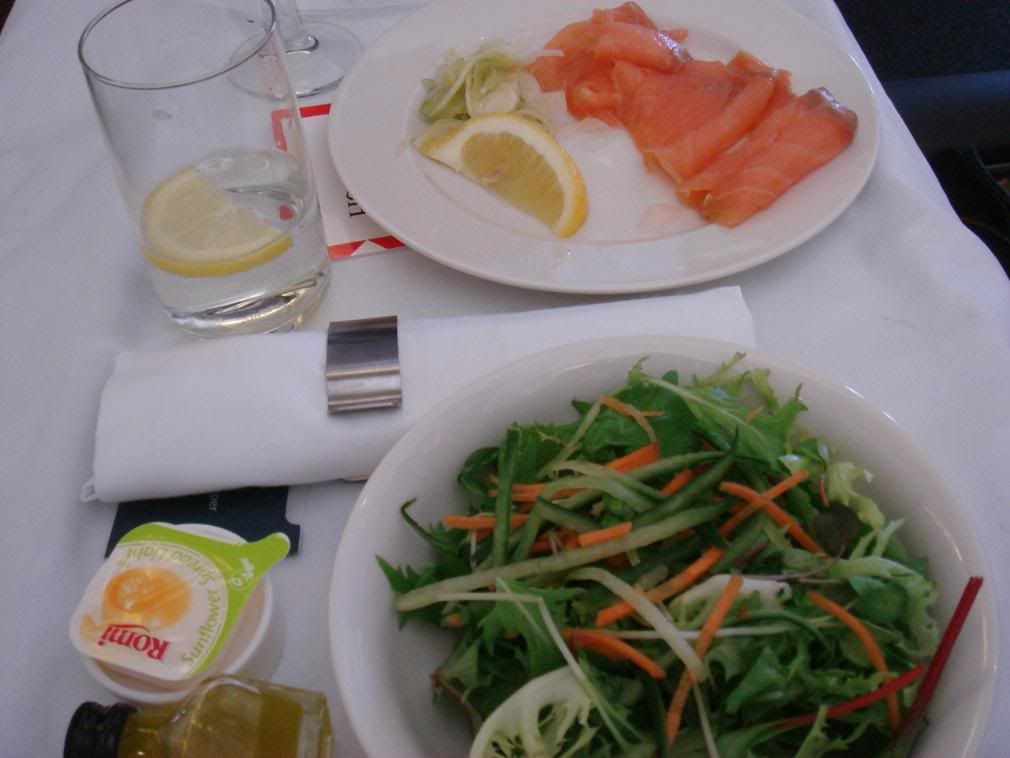 Chicken as the main - simple, but very nice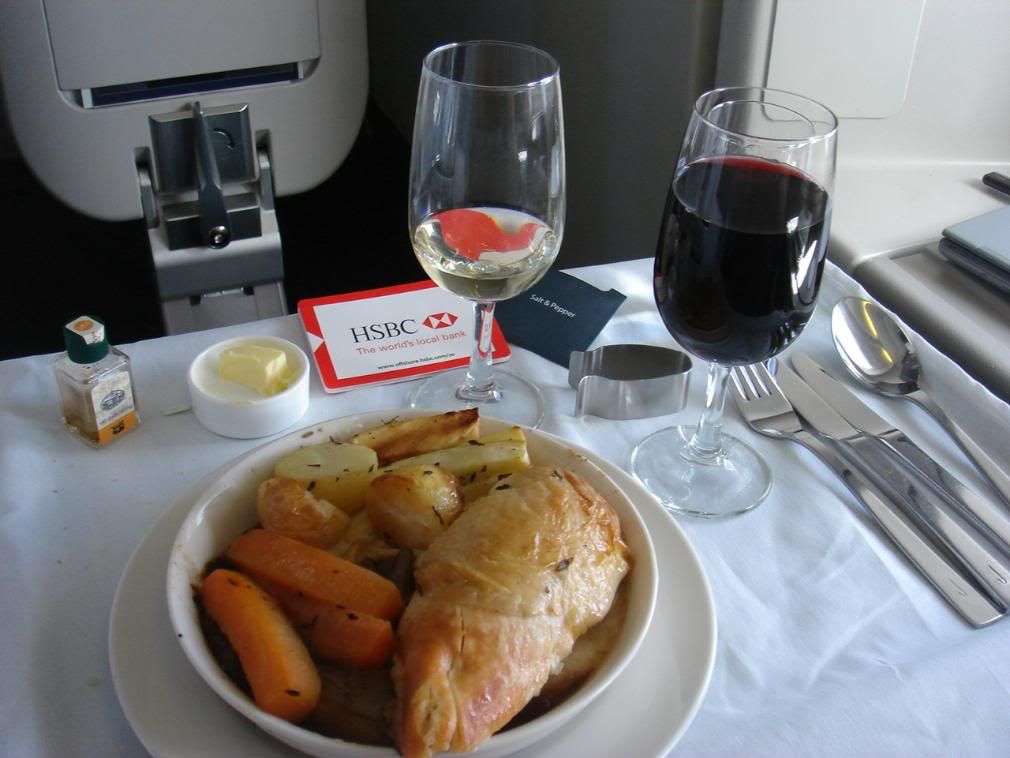 Nicole had Dover sole.
I changed to a red wine for dinner but switched after, I'm really a Rioja and Merlot man myself and there were note on the wine list
The menu said desert was a raspberry desert, however it turned out to be a chocolate moose with a raspberry filling, very tasty!
For those that like to peruse menu's, here they are:-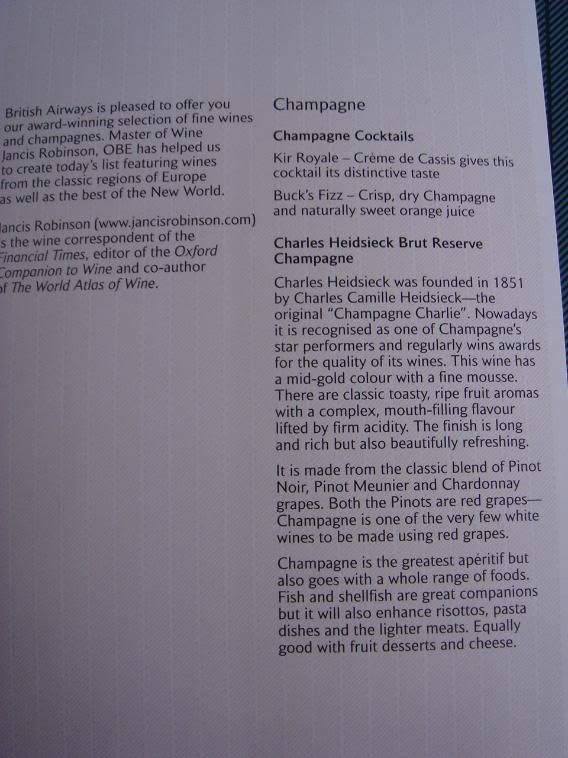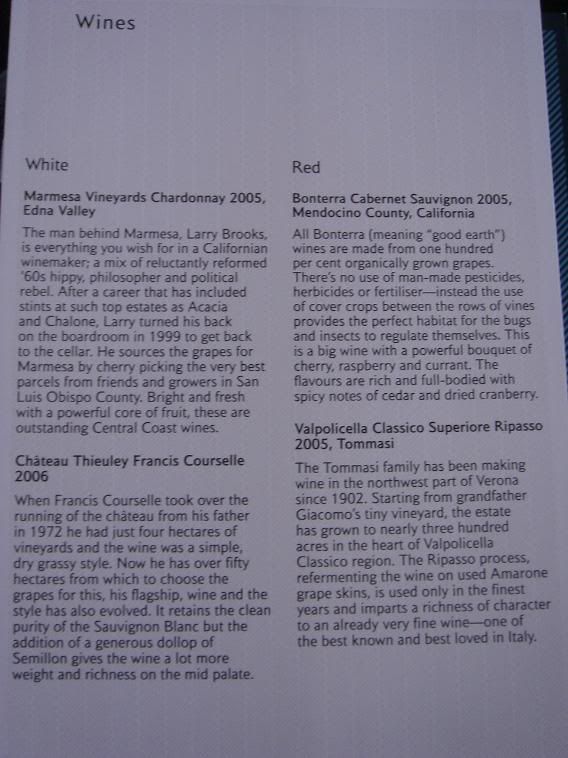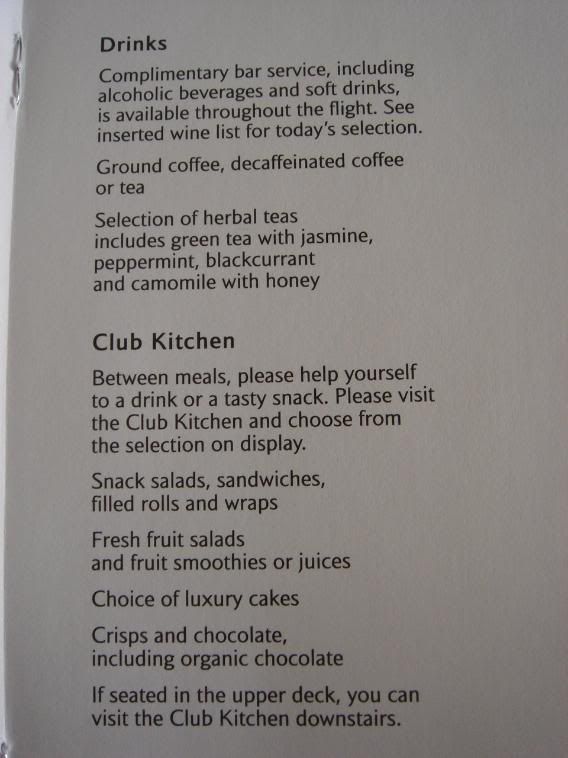 Bathroom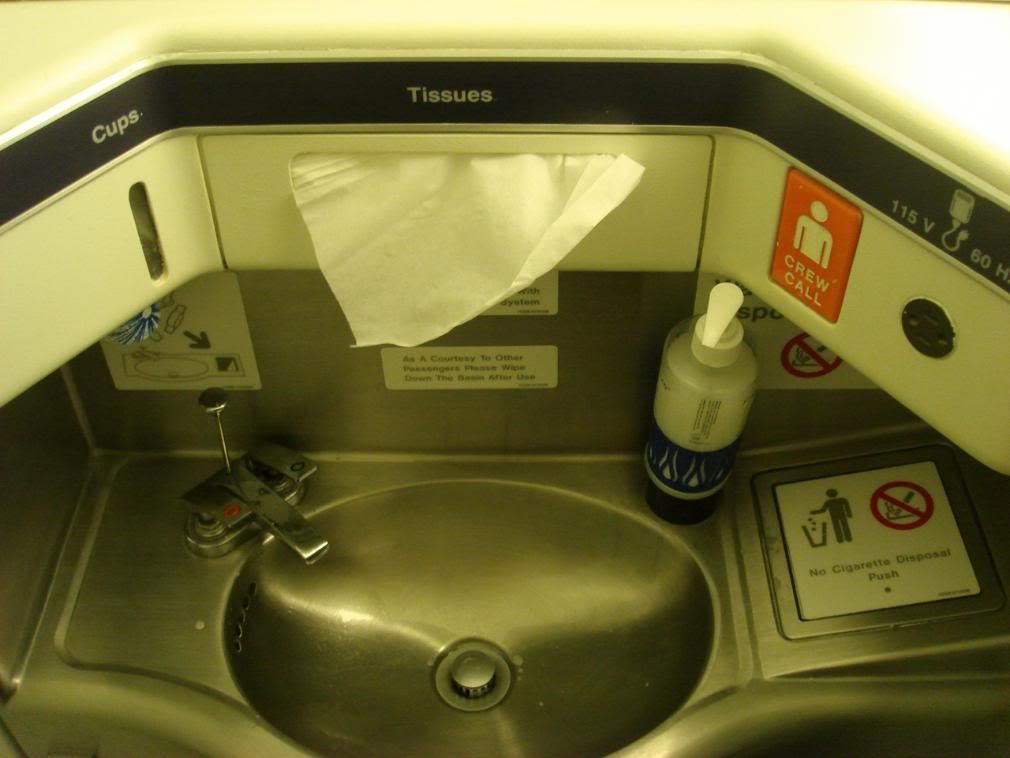 Flying conditions were excellent today, very smooth indeed.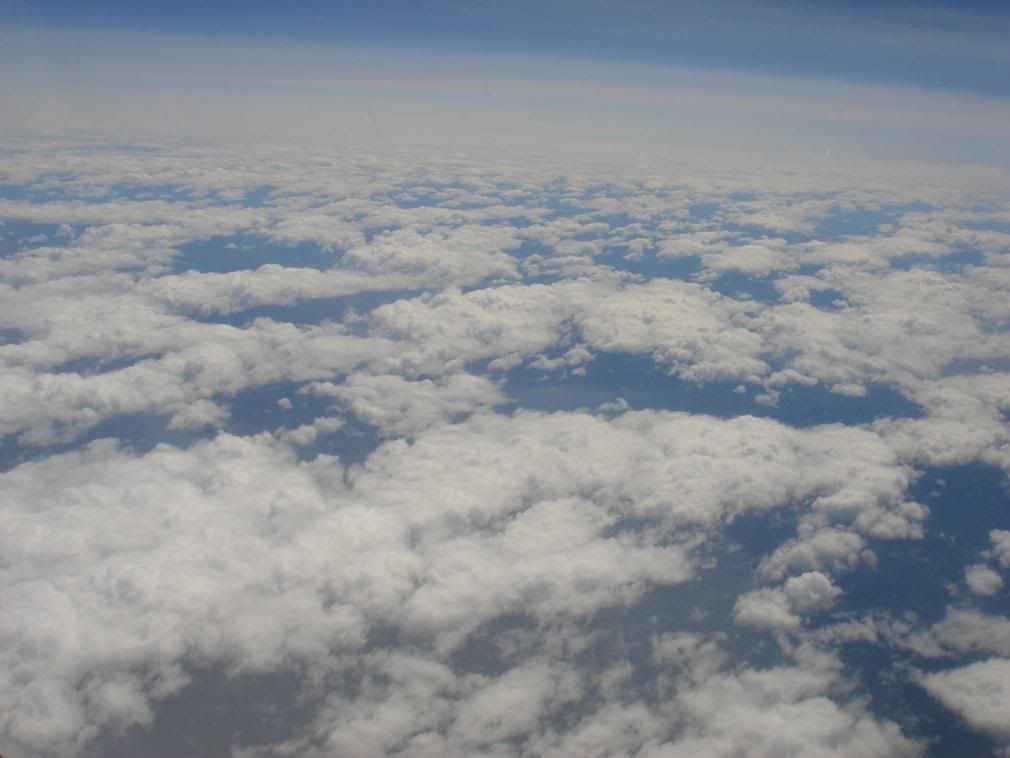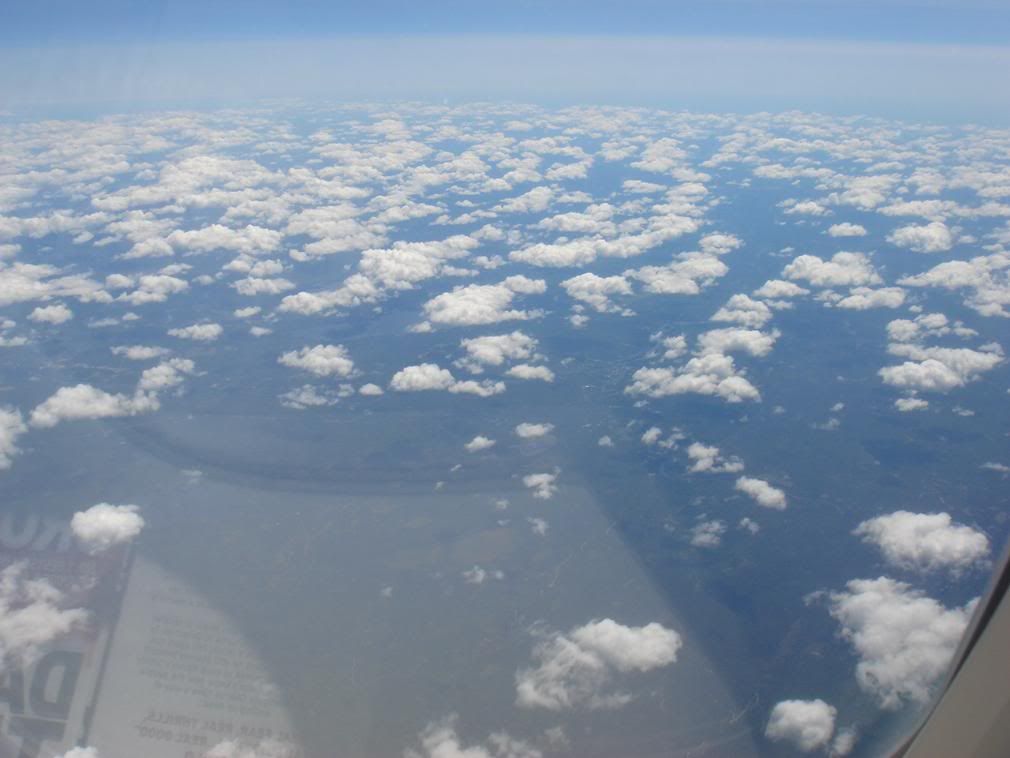 At one stage we passed a Delta 767 but the Canon was not to hand,shame, would have made a great shot!
Part of the cabin
The fleet is starting to look a little ratty
Early hours and about 7 glasses of wine and champagne resulted in a 40 winks.
Our upper deck cabin was full, all 20 seats taken, there were some 4-5 seats free in lower deck CW, WTP was full and economy had a 2-3 seats left empty from what I saw. The BA Y product is pretty darn good, especially when you look at what UA had planned for flights out of IAD, but every time I see a packed economy cabin that reminds me why we I don't mind forking out extra for special occasions.
After my walk of the plane I had another glass of champagne and listened to some music.
After 5 hours 40 minutes of flying, afternoon tea was served.
We both took the Salad of Roasted Vegetables, an excellent option and the Orange tart was pretty good too. Resisting coffee for a change I took tea, usually rubbish on a plane, this was actually a really good cup!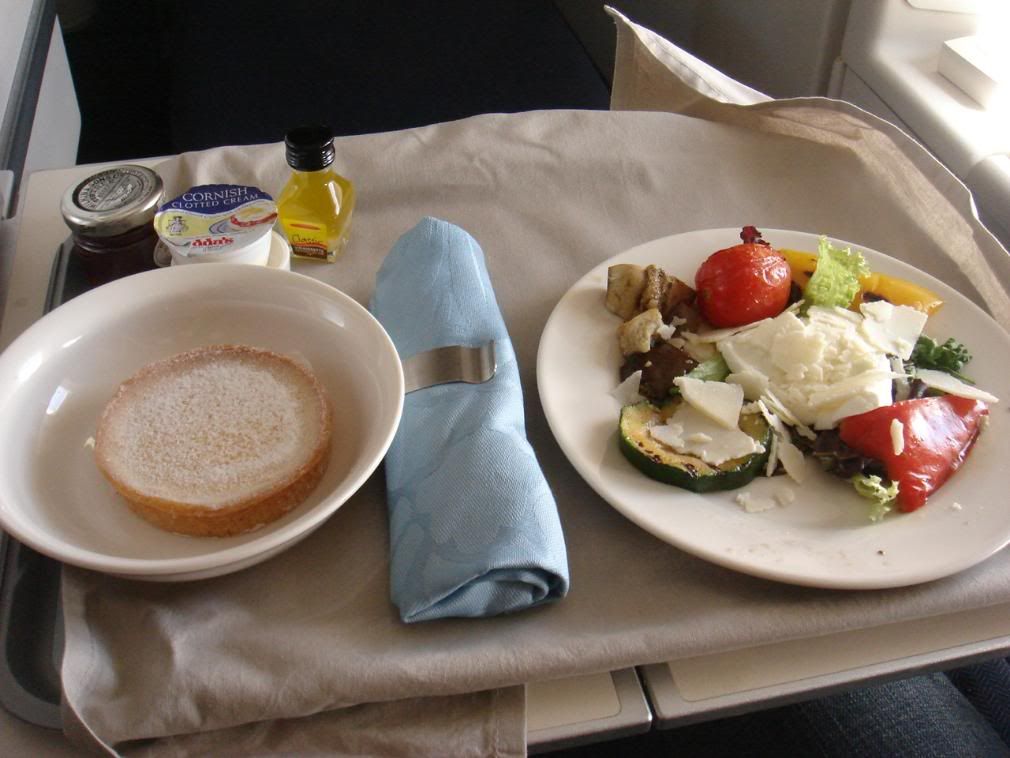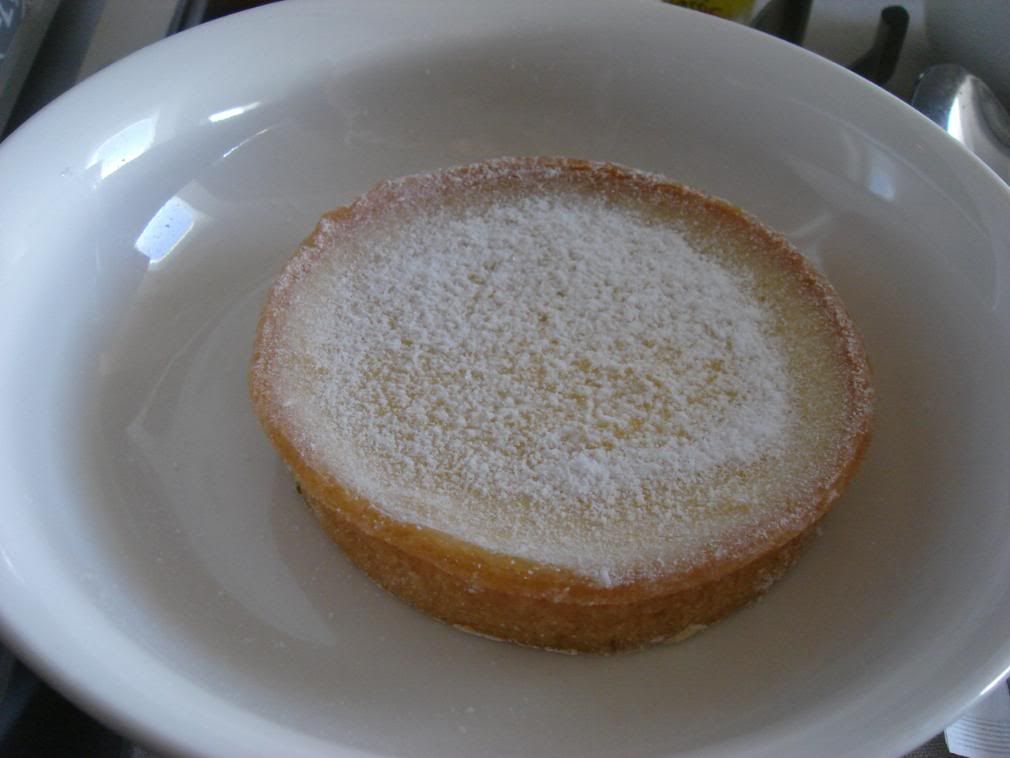 During the service, 1 of the crew gave me a carrier bag with 2 bottles of champagne, wrapped up in socks, nice touch, thanks guys!
We began descent just after afternoon tea was finished.
Weather outside looked superb, here are some descent shots, sorry about the reflection on them, nothing I could do.
This is the best shot I could get of the engines from my seat!
Touch down at 12:49 local time on the standard runway BA seem to use every time I land @ JFK, whilst good for the short taxi to the terminal, it's not so good for a bit of plane spotting en-route to the gate!
Immigration was not too long, bag's were already on the belt when we came out and the chauffer was ready and waiting in arrivals.
All in all an excellent trip, the only downside being the time from check-in to getting airside.
Here are a few NYC pictures:-
Our Hotel
View from the living room
Met up with Roni for a few beers, thaks pal, was good to catch up!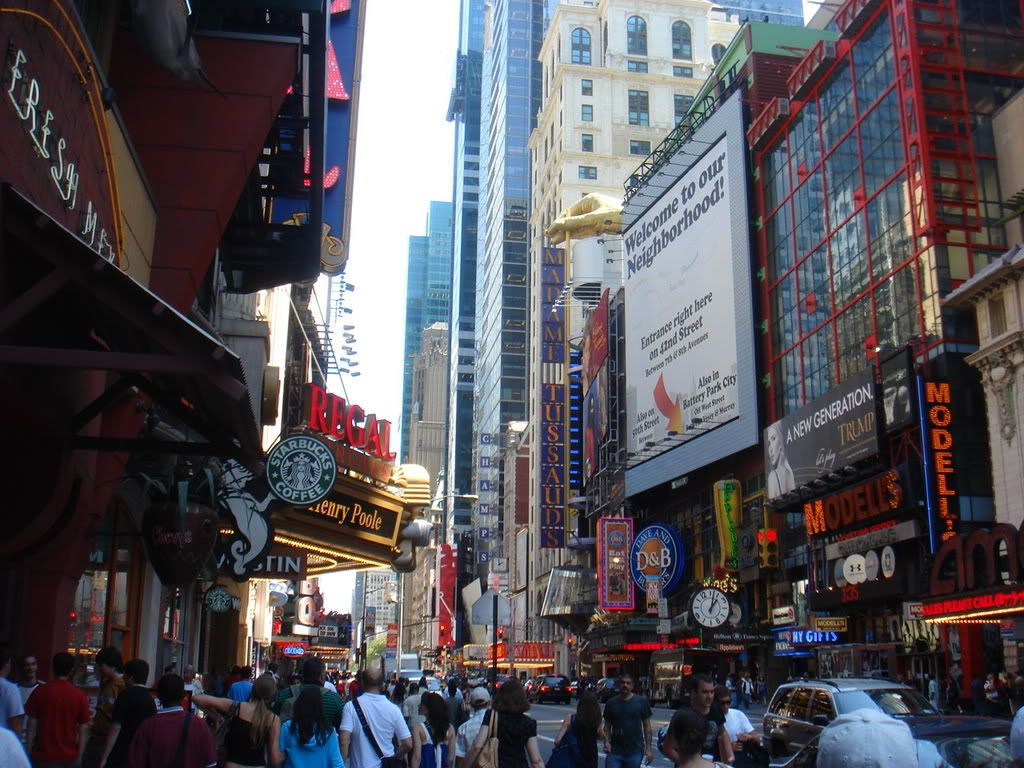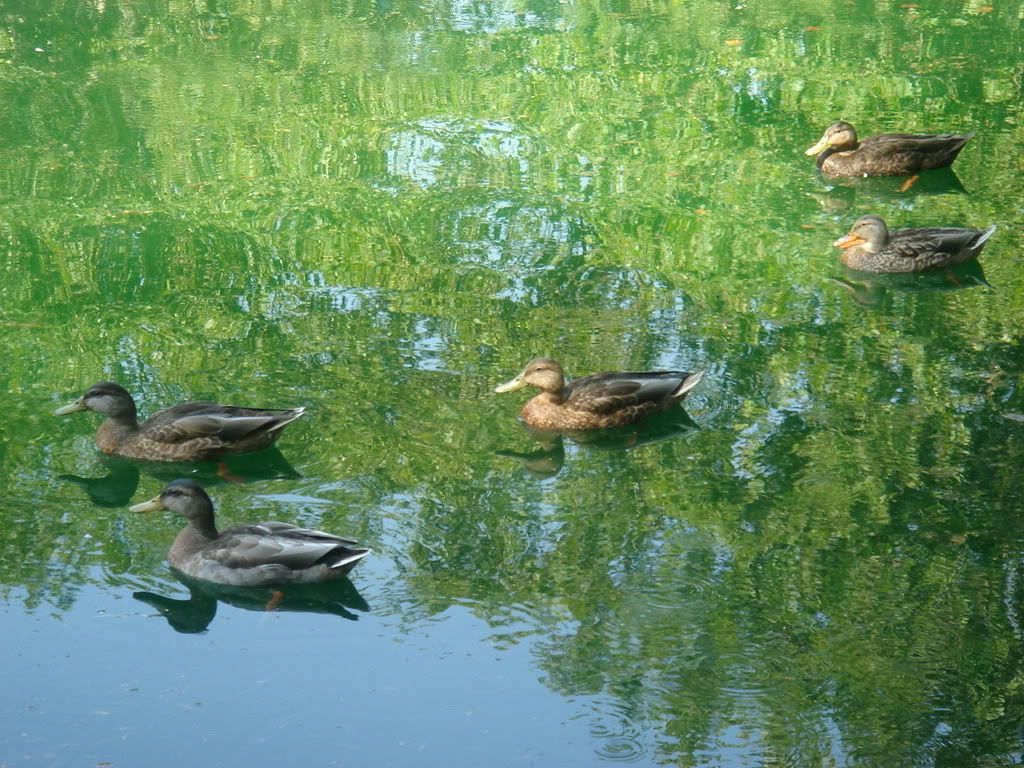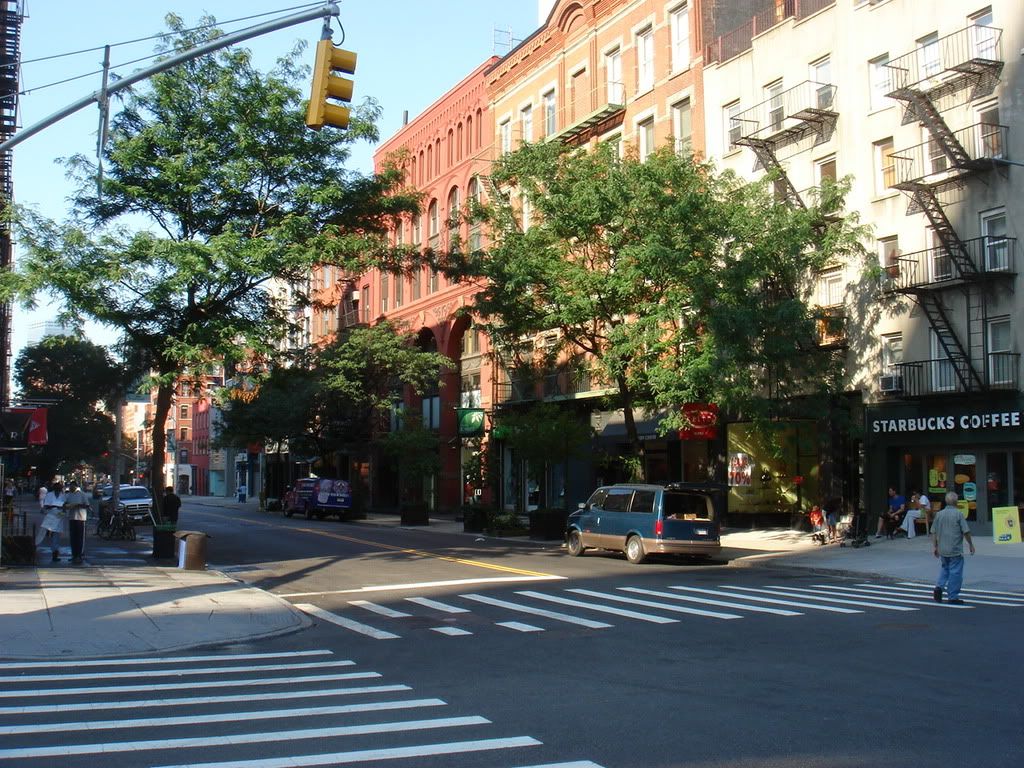 Hope you enjoyed the trip, next up CO in Business First from EWR to HNL.
Regards
Mark