Emirates: LHR to DXB (With Pictures) - Sunday 24th August 2008
The date above signified the start of another five week holiday to Asia. As with previous times, we would be based mainly in the city state of Singapore, since there continues to be a significant family presence from my mother's side. Whilst there is always excitement from my part on another lengthy holiday to the other side of the world, it does come at a price. This being the traveling time from my home in Exeter to the former British colony tends to take between twenty-four and twenty-six hours.
When it came to book the flights, my position was very simple in that I wanted to travel on Emirates, and I could give three simple reasons for this. Number one, their fares were £200 cheaper than the direct option on Singapore Airlines. Secondly, the airline's hub in Dubai cuts the journey into two separate segments, for me personally reducing the jetlag. Finally, two years ago I had an excellent experience with the UAE carrier on a similar routing to Singapore, only difference being that I traveled out of Birmingham (BHX) airport. So in November 2007, the flights were booked through the online travel website Expedia, at the cost of £460 per person. This figure would later on into 2008 be considered as a great deal, as a result of the price of a barrel of crude oil hitting the $150 mark.  
On the day of our departure, we set off from Exeter in the mid afternoon. As with previous occasions, we would make use of the train. I am in agreement with my father that the price of airport car parking and the journey time just cannot compete with one another. Getting from Exeter to Heathrow is reasonably simple in that there are three separate options. The slowest of these is the train that goes towards London Waterloo via Salisbury. You would change at Woking for the bus connection. Then there is the faster option of taking the train to Reading, where I have just finished my first year at university and shall be returning upon my arrival back in the UK, followed again by a coach service. However a collective decision was made in that we would take the train all the way from Exeter to London's Paddington station, and then take the Heathrow Express train service from there. For those who don't know, it is Britain's most expensive train service per mile, and operates every fifteen minutes throughout the day.
London Paddington's architecturally stunning train shed, after arriving on the train from Exeter.
Arrival into Paddington was ten minutes ahead of schedule, which meant that as we arrived, one of the shuttle trains to the airport departed at the same time. This meant that I and my family were able to walk at a gentle pace across to the two dedicated platforms for the airport service and purchase some tickets. These cost a total of £40 for the four of us, which was some sort of weekend deal that was available. Since we were to be away for over a calendar month, we could only purchase single tickets. The normal price for four adults single to London's largest gateway to the world would be a staggering £66.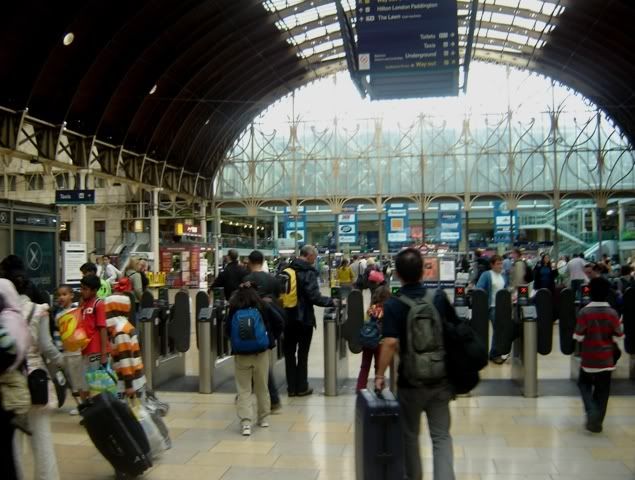 The ticket barriers at Paddington Station. In front of this picture was what used to be the station check in desks, closed a few years ago.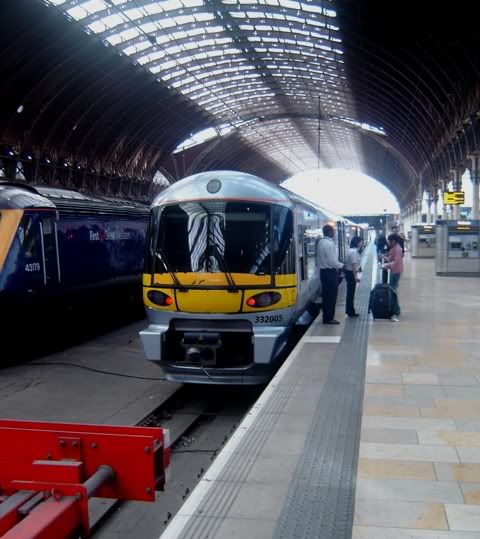 The train that would me and many others to Heathrow Central and onwards to the Terminal 5 station.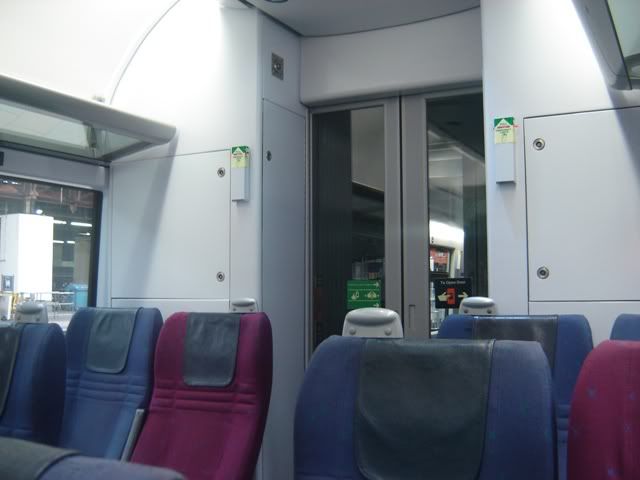 A standard class interior of a Heathrow Express train. For a maximum 23 minute journey, there's not a lot that you can complain about it!
After a brisk journey, we got off the train at the Heathrow Central railway station and made our way over to Terminal 3. This is the home for most inter-continental airlines, the notable exceptions being the two Star Alliance member airlines United and Air New Zealand. Once the lift doors opened to the front of the terminal building, I was completely surprised by the extensive refurbishment that had taken place to make the outside complete open and appealing to the eye. The outside may have completely changed; the inside to any Heathrow terminal was no different, since it was a complete zoo, with people, luggage and trolleys all over the place. The check in for Emirates was located right next door to that of Air India and Pakistan International Airlines. With passengers only allowed to enter the area where the desks were located, their relatives were congregating and therefore blocking the entrance for our flight and check in for flights with Malaysia Airlines and Qatar Airways.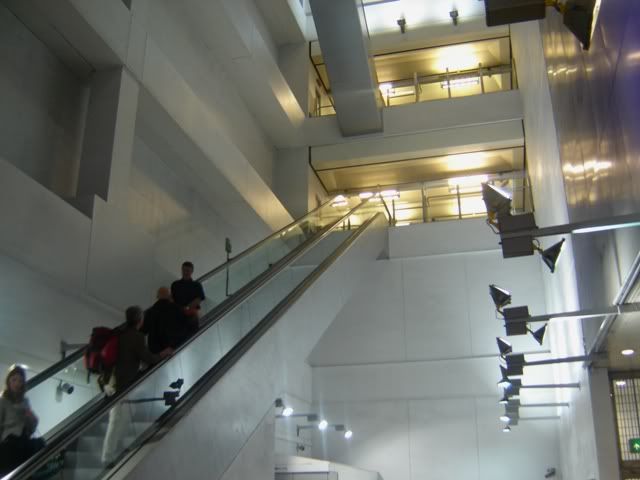 After fifteen minutes on the train, this escalator takes you from the station up to the ticket hall and onwards to the walkway which links Terminals 1,2 & 3.
The night before there was an exchange of words over the telephone between my father and a representative from Emirates, after somehow my booking was altered so that I was to receive a child's meal. All was well in the end and the check in agent from Servisair confirmed this to me personally, and handed over the boarding passes for the first leg to Dubai and the onward leg to Singapore. Before going through to departures, we had one final look at the front of the terminal, where it had became apparent that a very large queue was forming. It turned out to be a combination of passengers who should have been traveling on two separate flights. The first was the lunchtime Cathay Pacific flight to Hong Kong, which was heavily delayed, most likely as a result of a typhoon which was passing over the region the night before. An evening Air India service to Bombay was also cancelled, so one can only presume that alternative arrangements were being prepared.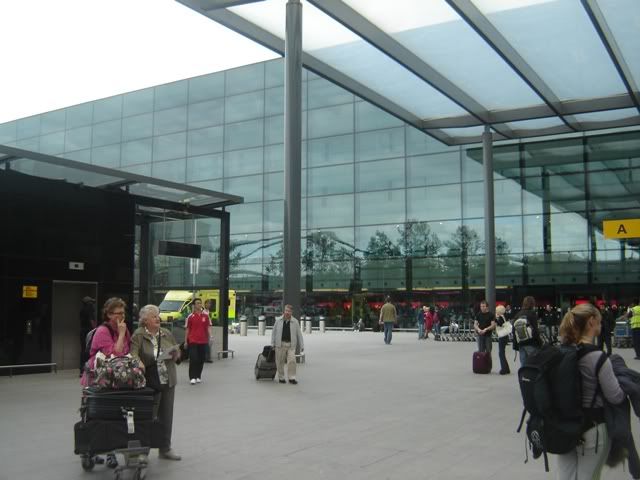 The outside of Heathrow's Terminal 3.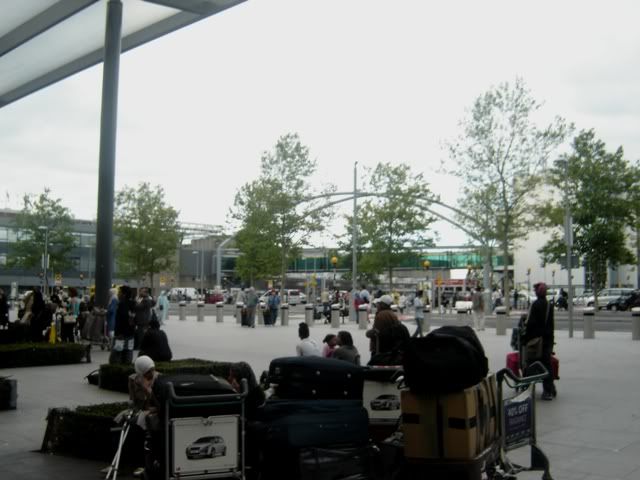 Another shot of outside Terminal 3. This was probably the last place I would have thought of where you would find some greenery!
Going through security was a simple process, since we had thoroughly prepared for the restrictions that continued to exist on any form of liquids. After the four of us through we went to eat at Chez Gerard whilst continuing to wait for what gate our flight would depart from. Even an hour before the scheduled departure, there was no position for our aircraft as our food arrived, which for me was a fine all day breakfast. This was a surprise as just before I left Exeter, I used the website
www.flightstats.com
to check the status of the inbound flight EK 3 and I was able to find that it had left the gate/ temporary stand in Dubai ten minutes behind schedule, and was expected to land at Heathrow five minutes early at 18:35.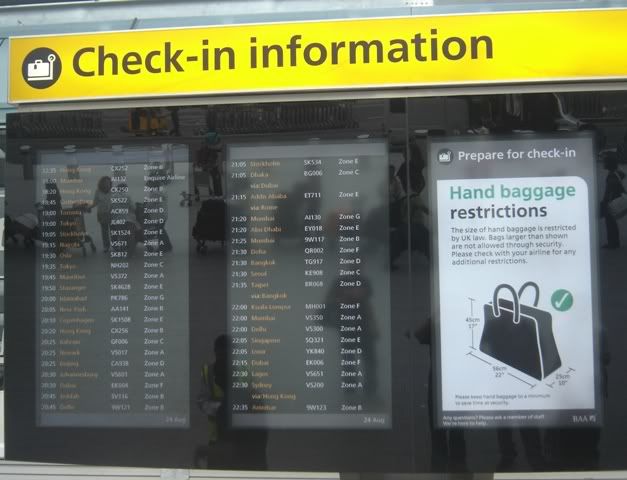 Sunday afternoon/ evening departures from Terminal 3.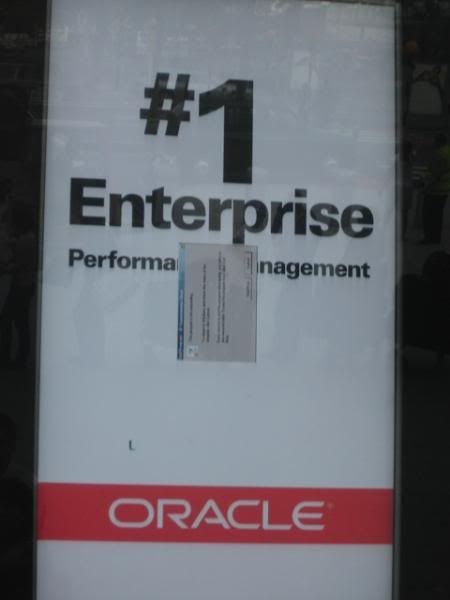 Whoops! This was not the only computer error to be found on that particular day!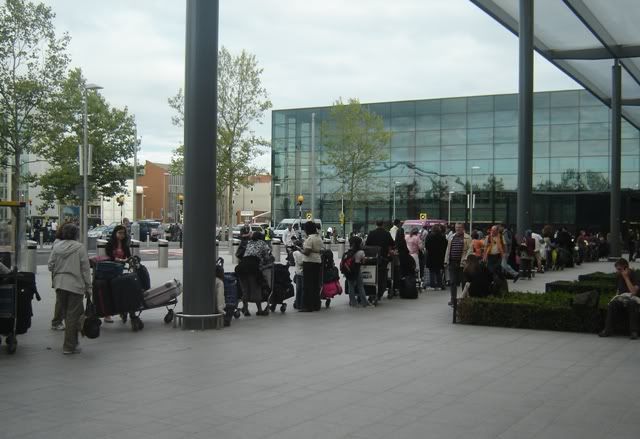 A very large queue for flight CX 252, which should have left at 12:35. It was 18:00 when I took this photo.
We finished our meals collectively and then went to have a look at the duty free goods section, at which point a delay to boarding was announced for our flight of forty minutes. To be honest, I was not worried since I believed that this time could be easily made up in the air. We didn't buy anything at that time, however we wrote some prices down on a notebook, so that we could compare it to some of the other airports that we would be arriving and departing at over the course of the next five weeks. Just a few minutes later, gate 18 was confirmed to be the location of our flight, and of we made the ten minute walk to our aircraft.
One of the main negatives that I can confidently say about Heathrow airport is how claustrophobic some of the corridors can be, and this was evident with where we were to board. A long queue had developed outside, some passengers who were for another Cathay Pacific flight to Hong Kong got confused and believed our queue was to be for their service. Eventually staff had to find the last few passengers from our queue and the Airbus A340-300 went way on schedule. The reason for the long queue was apparent as we got closer to the front. An American Airlines flight from JFK had just landed, and their passengers would go past our gate. To stop the possibility of their passengers getting onto our flight, the two groups had to be managed and the doors locked shut to the arrivals corridor. Once passengers were able to enter the lounge, a selection of newspapers were available, including the New York Times, The Daily Telegraph and that fine right winged rant the Daily Mail. We were informed by a member of staff to keep waiting for the moment, and he also apologized for what was to be a late departure as a result of the delayed arrival of the inbound aircraft. It would be intriguing what the captain would have to say about this issue, especially as I assumed that the flight would be departing on schedule.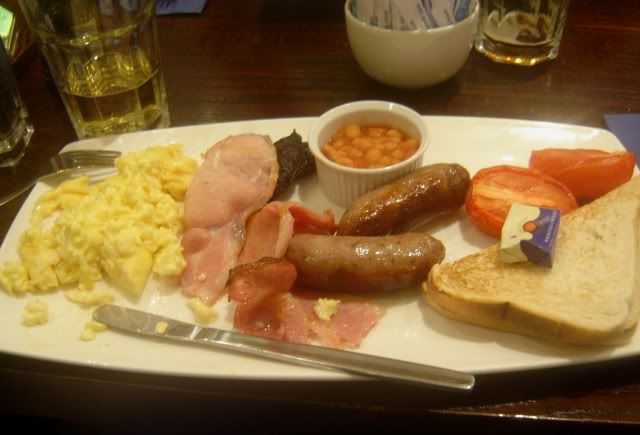 One very tasty all day breakfast from Chez Gerard.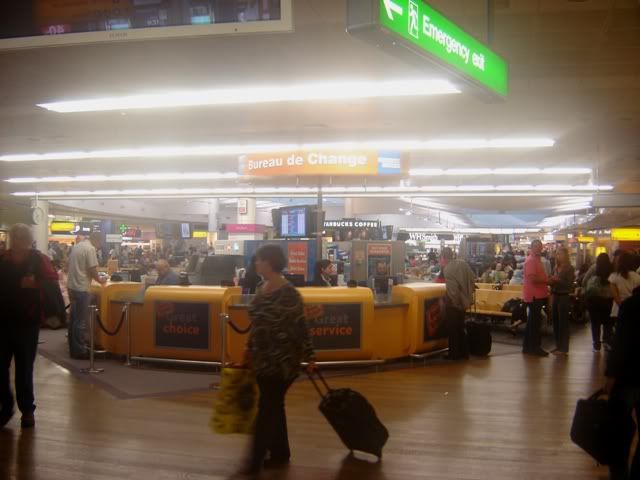 Departures area of Terminal 3.
Emirates Flight No - EK 004
Scheduled departure from London Heathrow Terminal 3, England (LHR) -- 20:30
Scheduled arrival at Dubai, United Arab Emirates (DXB) -- 06:25 + 1 Day

Aircraft Type -- Boeing 777-300ER
Aircraft Registration: A6-EBG
First Flight -- Wednesday 12th October 2005
Delivery to Emirates -- Tuesday 25th October 2005
Alongside a copy of the Sunday Independent that I had bought in Devon, featuring a twenty page puzzle book, I picked up a copy of the Telegraph, which also had a similar feature inside that day's particular edition. A look outside to the apron gave me a first glance of the aircraft I would be traveling to Dubai with, one of the older B77W aircraft in the vast fleet of Emirates. Boarding was eventually called at 21:10, with a specific request made to those traveling in First, Business and those in Economy with young children to go and board first. This however appeared to be ignored as a large proportion of passengers surged to the door, with the agent having to make it clear who was entitled to go to the aircraft and who was not. Once it was actually our turn to board, there was quite a queue down the jet way, but it was flowing through at a reasonable pace. Male and female members of the cabin crew were standing either side of the door and welcomed passengers with a smile and a good evening.
Hot towels were passed around the cabin, as were the menus for what was to be served during the course of the flight. Just before the pushback process began, the captain came on the tannoy and said that our flight time would be around 6 hours and 30 minutes, and that the cause of the delay to our flight was that the inbound service had not been allocated a parking bay. He said in addition that the aircraft was stuck on the taxiway for around 30 minutes, and had to make a few circuits of the apron to stop getting in the way of other aircraft.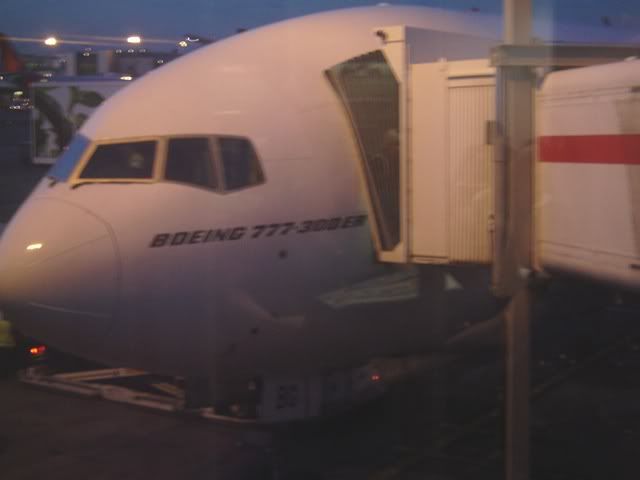 The front of A6-EBG as viewed from the departure lounge.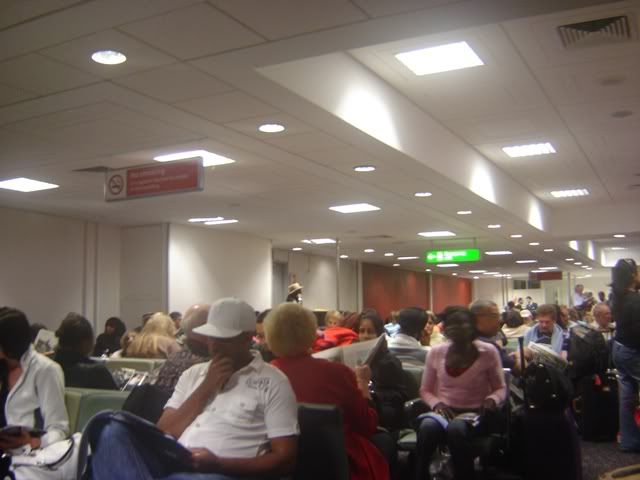 Departure lounge at gate 18 before boarding procedures began.
Pushabck commenced about seventy minutes behind the schedule. A few minutes was then spent in a stationary position to allow the captain to test the flaps and other equipement to ensure that they were in working order. Once this was completed we taxied behind a Boeing 747-400 of Korean Air and the same plane, this time belonging to British Airways. During the taxi the lengthy safety video was played, which in done so in both Arabic and English one after the other. After the flight to ICN left the runway, we performed a rolling takeoff and made our way towards Berkshire, before making a right turn to face the correct direction.
Departure From Gate 18, LHR Terminal 3 - 21:42
Takeoff From Runway 27R - 21:57
Estimated Capacity In Economy Class - 95%
Seat - 30D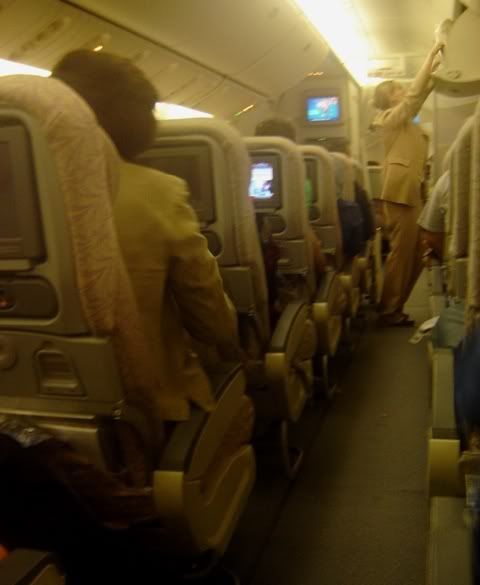 The view from my seat onboard flight EK 004.
Whilst our flight was lifting, I noticed the lady sat in front of me sat to my left was using her phone to text someone. Whilst a member of the crew would walk past, she would hide the item under the compplimentary pillow. Someone opposite told her off before I had the chance to do so myself though. About thirty minutes after takeoff, once the video explaining what was on offer on the flight, a drink service was offered, where I just had an orange juice. At this point I was able to study what I was to have to eat:
Dinner service on board flight EK004

Starter

Waldorf salad With Smoked Salmon
Salad of Celery, Yellow Peppers, Lettuce & Tomato with Orange & Yoghurt Dressing

Main Courses

Chicken in a Herb and Parmesan Crust, With Tagliatelle, Aubergine & Tomato Sauce
Hammour Fish Fillet in Spices, with carrots, broccoli and rice.

Dessert

Honey & Sultana Cheesecake  
I decided to go for the chicken meal on this particular flight. Whilst the chicken was tasty and moist, a negative to point out was that the described crust was different to what I had anticipated. It could be suggested that look was more akin to that of a rubber, although the flavour was definitely there. I can't stand Aubergine, so instead I took the salad and mixed that into the tomato sauce. The cheesecake was delicious, so I had a second portion of this instead.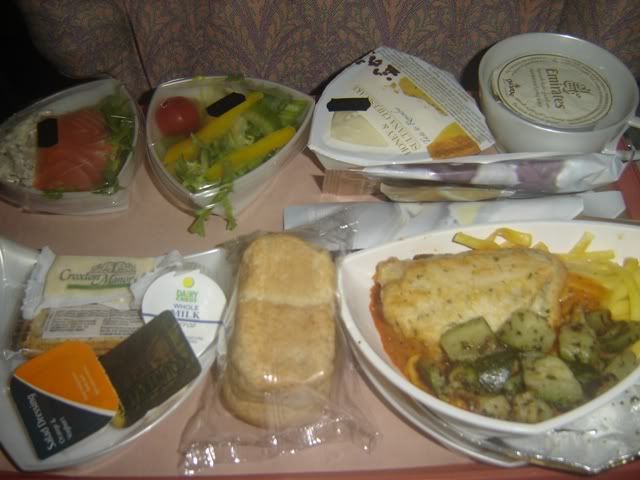 My dinner from LHR to DXB.
The meal service was complete as we flew over the German capital Berlin; we then headed on a much more south-easterly direction, eventually going right over Bucharest and Ankara. Following my meal I decided to watch a movie. I tried to get into Kung Fu Panda but fell asleep after ten minutes. Once I woke up after another thirty, I put on some music a went back to the land of nod for a further two hours, just as we made a couple of left turns to head north of Iraq and into the Islamic Republic of Iran. Our cruising altitude at this point was 35000 feet, having increased from 33000 feet somewhere over Southeastern Turkey. I did eventually settle on a particular movie, which should be recognizable from the screenshot shown below.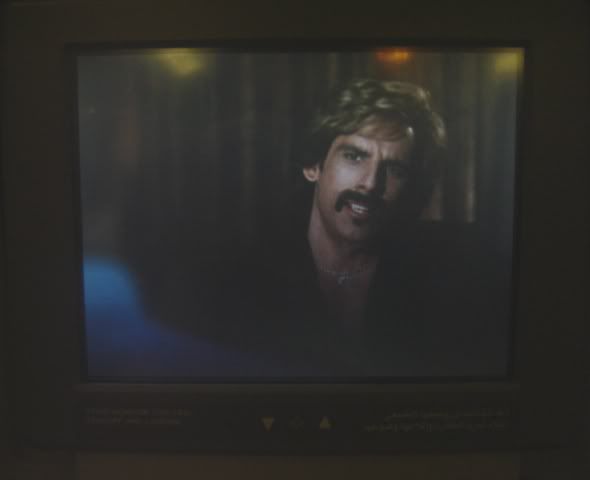 Very enjoyable movie to watch this was!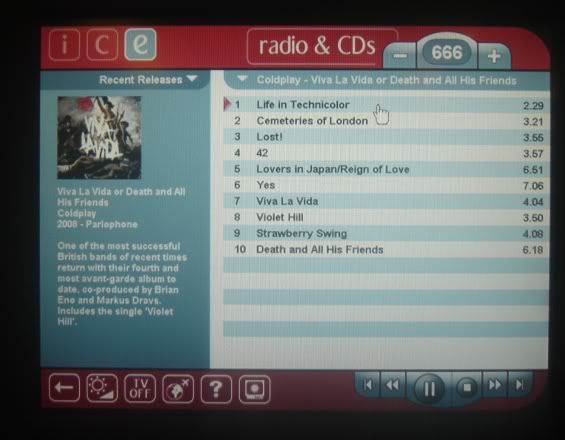 The album I left on to repeat itself as I went to sleep. Whilst there are some great songs like the title track and Cemeteries of London, I do feel a sense of anti-climax with this latest offering.
Around one hour and thirty minutes before landing, the cabin lights were turned on for a refreshment service, which turned out to be a selection of cake bites alongside tea or coffee. The snack I received was a
raspberry and oat crumble cake
, and it was very tasty too. Ideal especially if you have time to eat in Dubai airport before your connecting flight.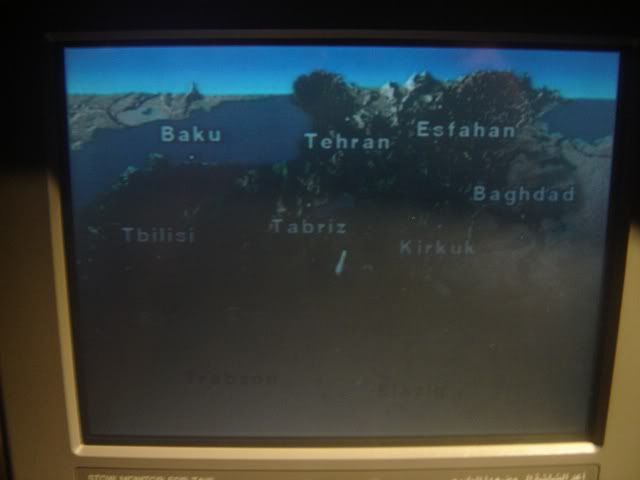 The aircraft's makes its way over Iran.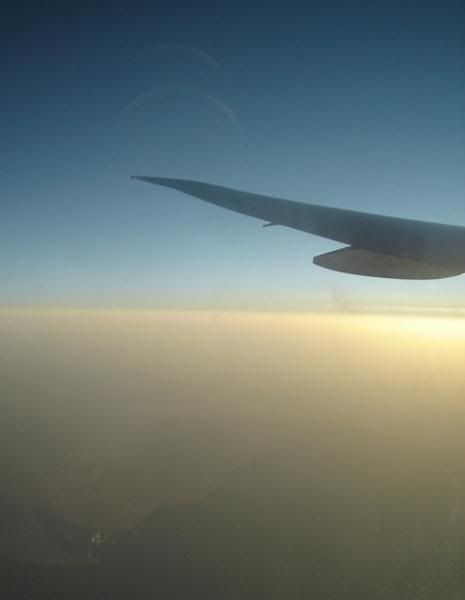 A hazy and early morning over the Middle East.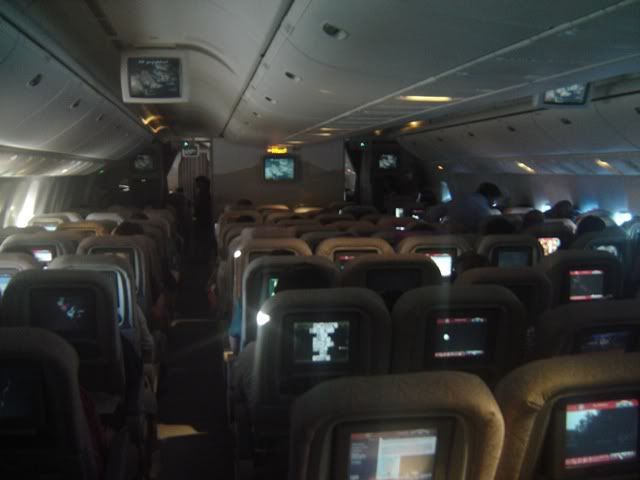 The cabin and the passengers following the completion of the refreshment service.
There were a series of small turns as we descended into Dubai from the northerly direction that we were traveling from. The city could hardly be seen apart from when we were on short finals. We made a very gentle touchdown around 40 minutes behind the schedule, impressive considering how late we had taken off from Heathrow. No reverse thrust was used, and the aircraft traveled slowly to the end of the runway where me parked on a temporary stand beyond the location of the new terminal that is now expected to open in the middle of October. Whilst disembarking onto some steps and the waiting bus, a member of the cabin crew offered me one of the amenity kits, which I duly accepted and thanked them for their good service. That is the second one I have in my possession now, after receiving one on a flight from SIN to DXB just two years ago. 
Time of Landing On Runway 12R - 07:05 + 1 Day
Arrival on the temporary stand - 07:09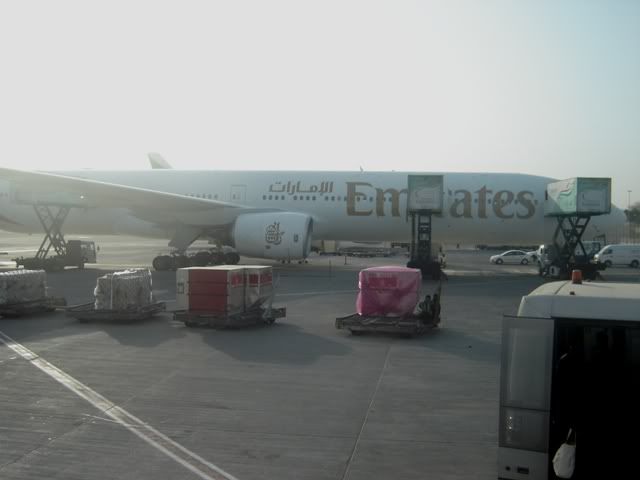 A company Boeing 777 on the temporary stand next door to us.
There was then a bus journey of about fifteen minutes to the security checkpoint for onward passengers. Things had certainly changed from two years ago as the vehicle traveled at quite a slow distance. I seemed to remember from previous that the attitude was one of speed speed speed! There didn't appear to be much traffic about that was not Emirates related. The only items I could see was a Royal Jordanian Airbus A321 and the Privatair A319-100 for a destination in Germany, since it said
On behalf of Lufthansa.
Security was a quick process and we were then free to explore the duty free Mecca that was in front of our eyes.
Emirates once again proved to me on this sector that they are an excellent airline to fly with. Their food options are mainly reasonable, the cabin crew are friendly and they have one of the finest entertainment systems in the sky. I do wonder why there are so many mixed opinions, especially when you look at the skytrax forums. I would be intrested to know what a bad experience with them is actually like. Delays do happen, but this one was beyond the airline's control, and we managed to get half the time back anyway in the air.
Thank you for reading my trip report on this particular sector, they will be many more to come over the next few weeks, so keep your eyes peeled for more. Any comments and suggestions would be greatly appreciated.
With Regards,
Alex.B
Upcoming Reports

Emirates: DXB to SIN
Singapore Airlines: SIN to NRT AIRBUS A380
Singapore Airlines: KIX to SIN
Singapore Airlines: SIN to HKG
Singapore Airlines: HKG to SIN
Emirates: SIN to DXB
Emirates: DXB to LHR (Possibly in business class, I have enough miles to upgrade on this sector, subject to availability.)  
Until the next installment, thanks for reading!  
[Edited 2008-09-12 08:25:17]