24.08.08 CO15 767-424 N67052 -- 3A Business First
1st Flight on this aircraft & 27th 767 Flight
SCH DEP13:30 SCH ARR 18:10
ACT DEP 13:37 ACT ARR 17:57
After a few day's in possibly my favorite city it was time to head off to Hawaii.
I had arranged a town car for a 10am pick up, I guessed we would arrive quite early at EWR but I prefer earlier than later. The journey was pretty quick today, only 35 minutes, much quicker than I had expected! - but it was Sunday morning.
Check-in at the Elite/Business First (BF) counters was quick enough, though the agent lacked any kind of warmth, I don't think she even looked at me once through the whole process! Not the greatest first impression to be honest! - I have flown CO in the past, 15 flights during the 1994-1997 period, all in coach but all were pretty good with some real friendly ground staff and inflight crews.
Anyway, bags tagged with prority tag's etc, we headed through security, pretty painless as Elite/BF have a priority lane, though it joins the regular line so you have to push into the existing queue, not something I'm always comfortable with. Passports/photo ID are checked against BP's before proceeding to the x-ray machines. Shoes off, laptops out etc. My wife still had her flowers from the previous day, despite it having metal pins holding it together, it made it through the machine, I'd not expected that!
Once airside
we headed to the Presidents Club to relax before the flight.
View from The lounge.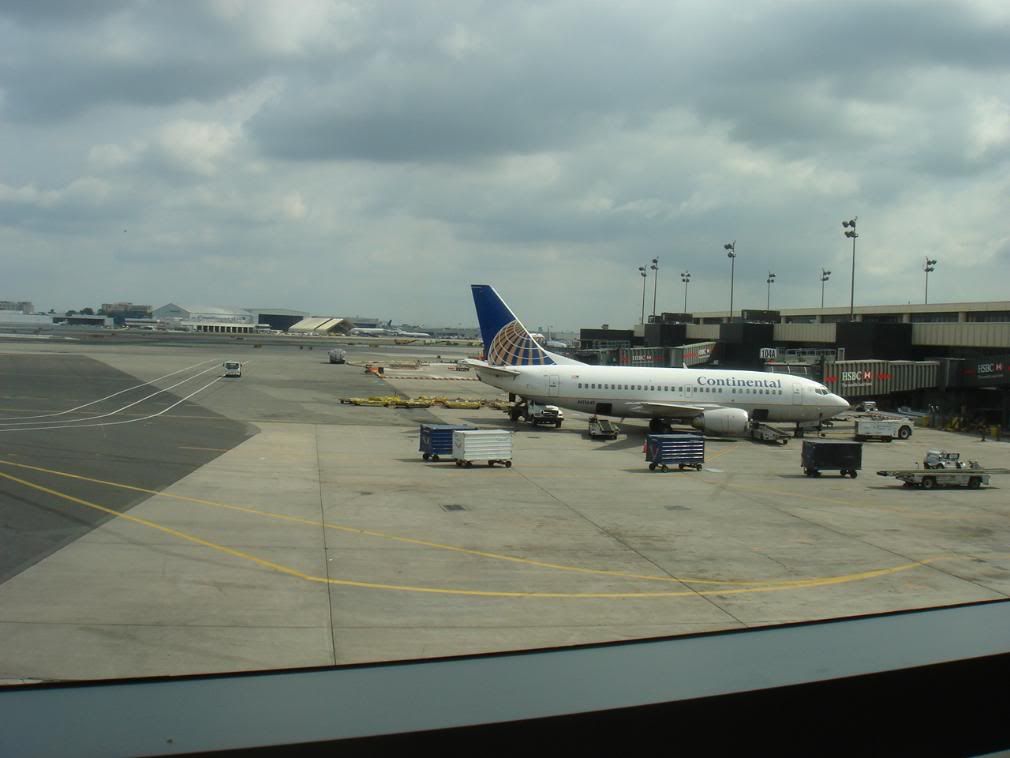 A few lounge shots.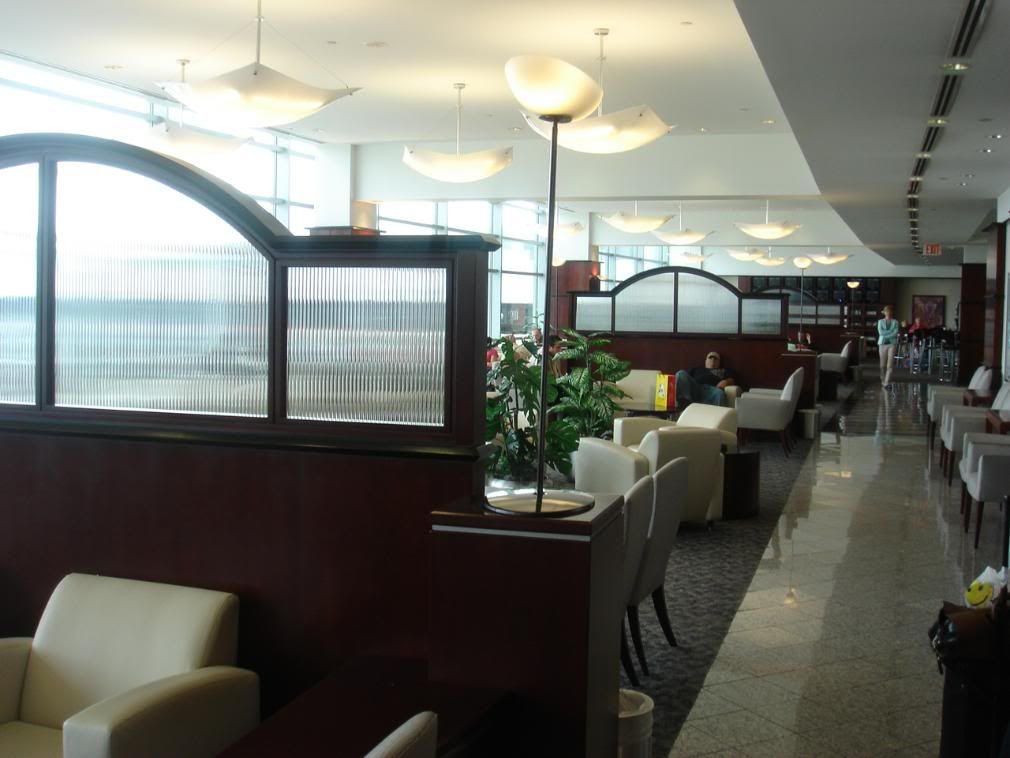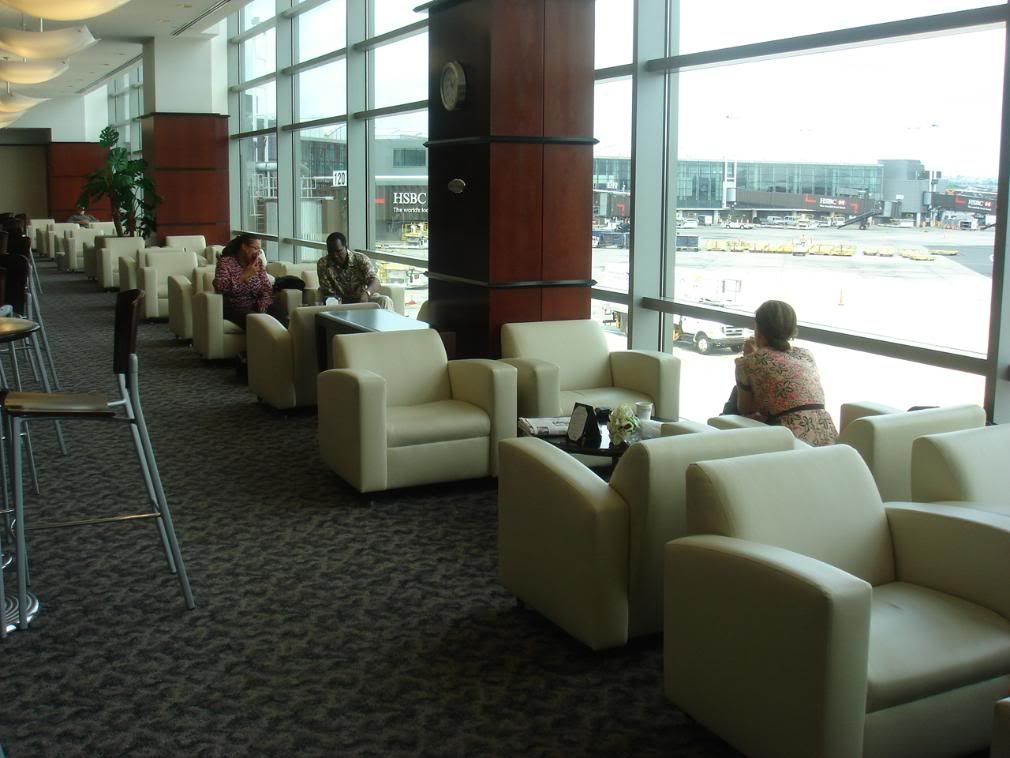 Breakfast offerings were still on place, muffins, bagels and some fruit, apples etc. Though weak compared to the likes of BA, not to shabby and better than AF for example. My biggest gripe is card cups, would it really hurt to have mugs? -- just screams cheap!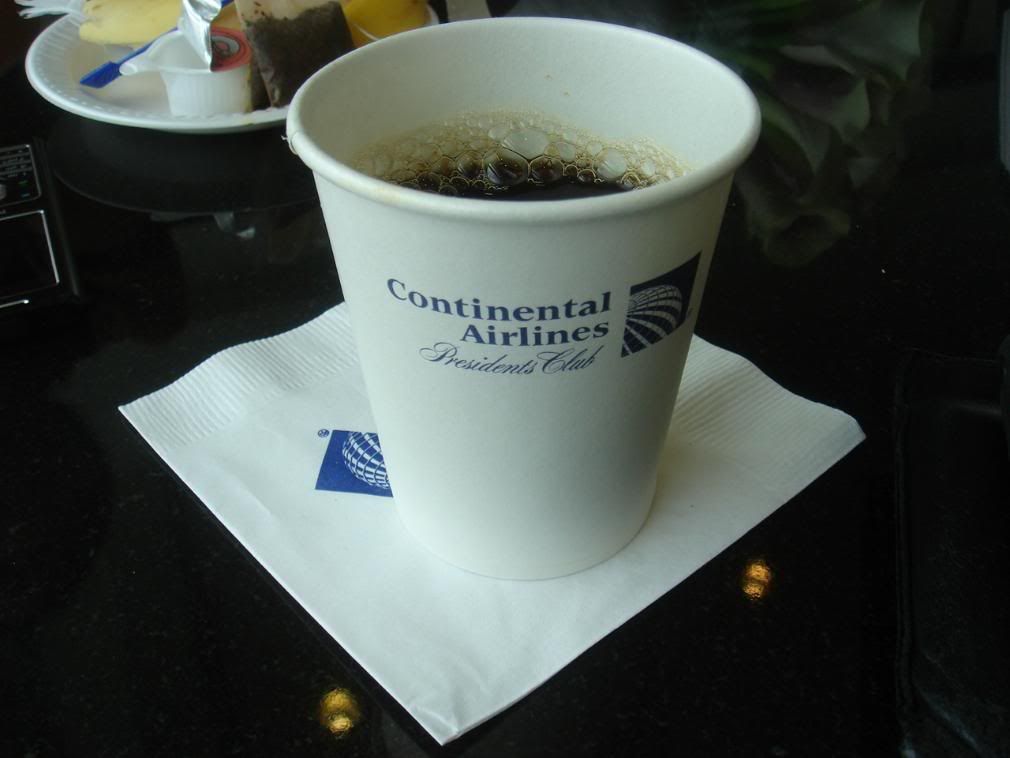 When it hit 12, I decided to have a glass of wine. It appears the lounge offers 1 red and 1 white, I guess you would call it the house wine, if you want something higher quality you pay for it, I decided to see how the house stuff was -- not that bad really & Nicole was happy with her white.
Wine and snacks.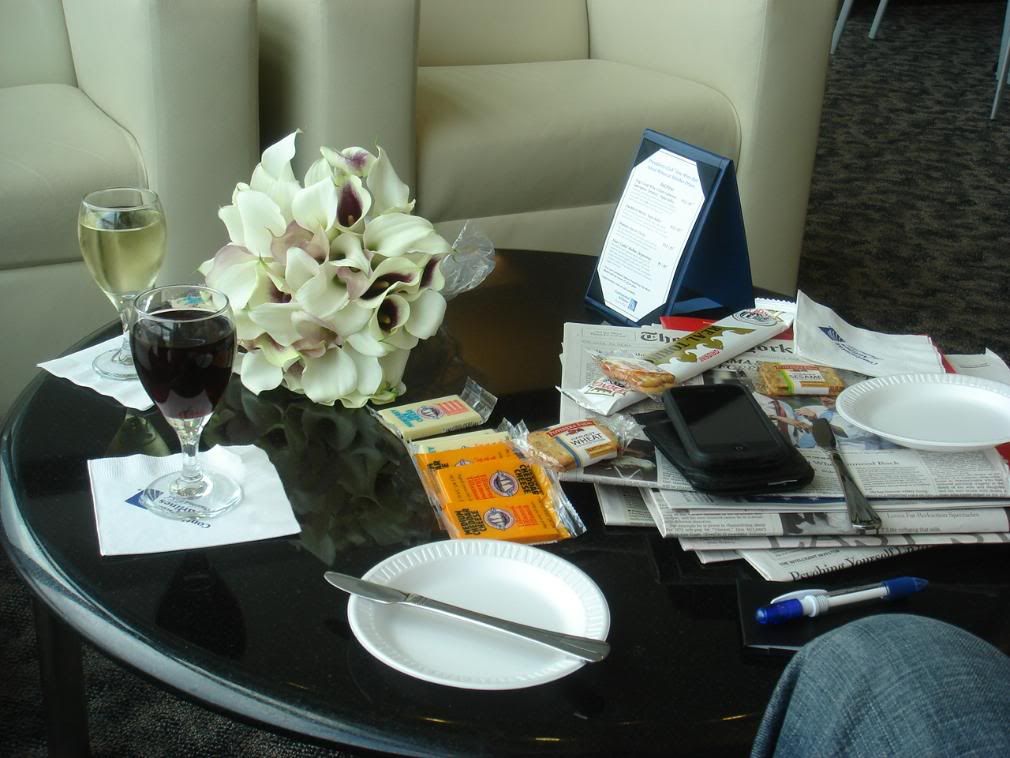 I like that the boarding passes have the departure and arrival time on them, simple to touch but nice.
Since boarding was due to start as 12:45 we left the lounge at that time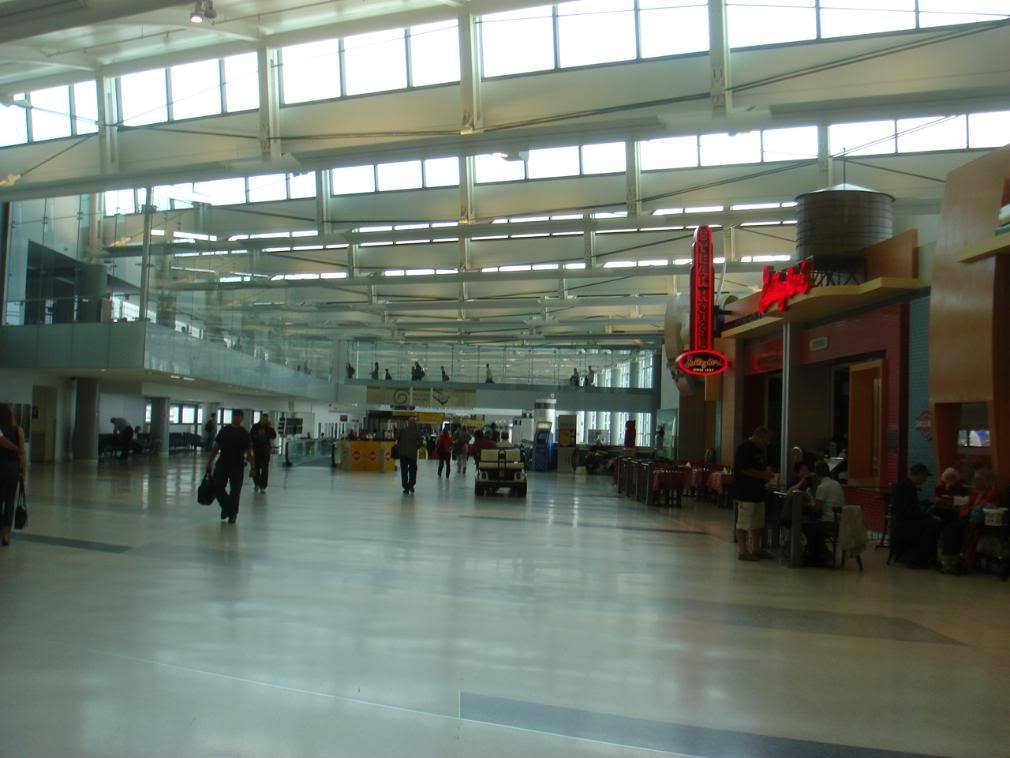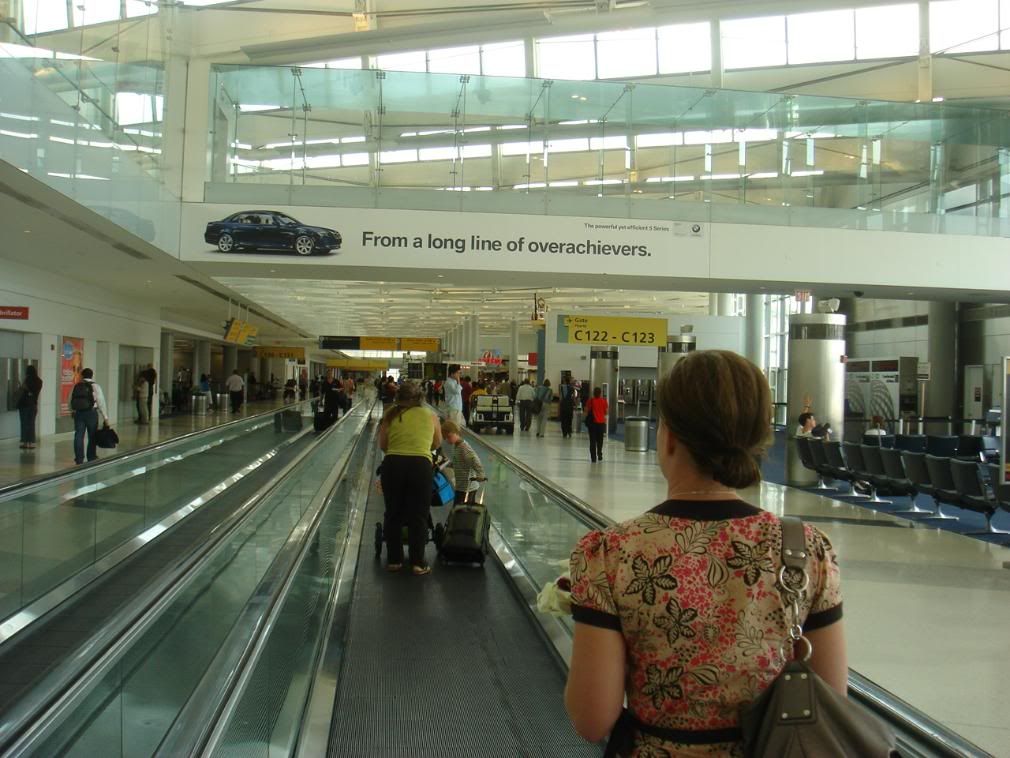 upon arrival at the gate boarding had indeed started.
Our bird to HNL.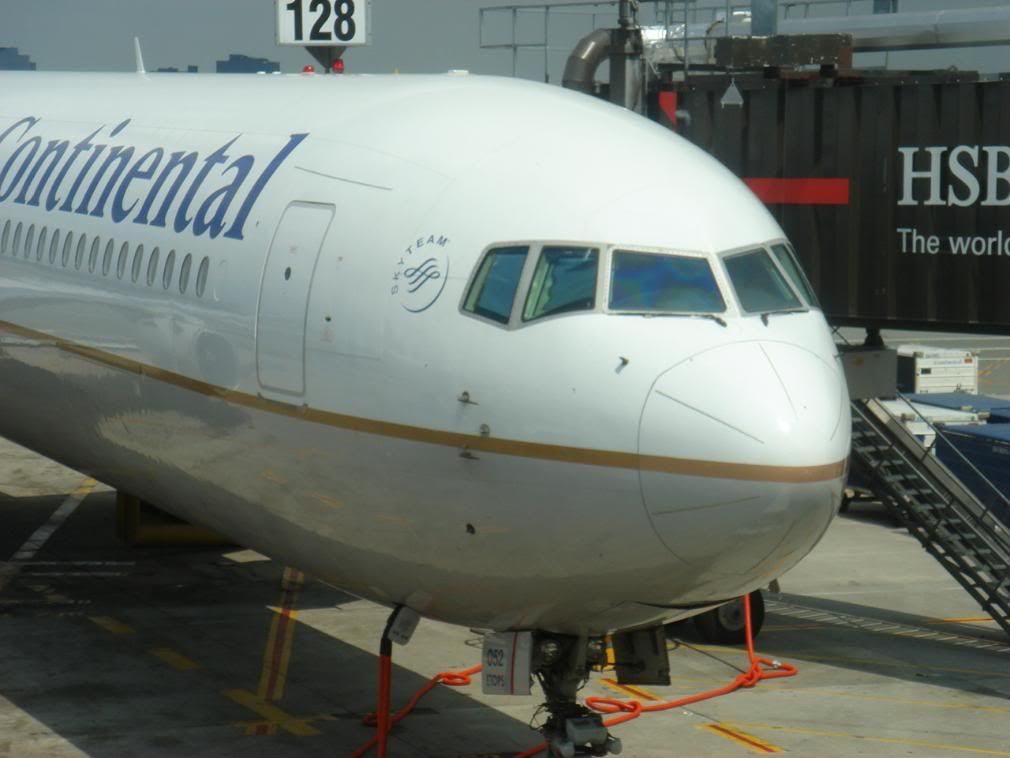 The Elite/BF priority lane intersects with the economy line, so as with security earlier you have to basically queue jump the poor folks that may have been in a line for some time, however I guess that's a perk of travelling up front.
At the aircraft down we found 2 female FA's though unlike my other flights they must have assumed I knew where to go, I pretty much had to stick my BP in front of their noses to get a reaction out of them, I knew where to go, I just expect to be greeted at the door and have my BP inspected.
The BF cabin was clean an tidy, 7 rows on a 2-1-2 layout, once the doors were closed all but 2 seats were taken, not sure how economy was looking.
This was my first flight on a 767 with the 777 style overhead, what a difference! I've seen the pictures but it's not until you stand in the cabin you really appreicate what a difference it makes, god, they make the others look so old!
Initial impression of the seat and space is good, though when the seat in front is in full recline you will struggle to get out of the seat without disturbing your neighbour -- thankfully they are not flat beds or your legs would be crushed!
I guess I am spoilt by BA's Club World seat, which I travel in on most longhaul's, so much more space!
The seat lacks any decent stowage for odds and ends, the only space is under or the back of the seat in front, great for bag's and books, rubbish for pens, notepads I-pods etc that you may want to keep close at hand hopefully this will be addressed in the new BF seat CO is planning to introduce towards the end of 2009.
Not long after boarding an older female FA offered drinks, normally you are given the Water, Champagne or OJ line, not here, so I asked what she had, she started with saying there was no Vermouth........I cut to the chase and asked if they had champagne, yes was the reply so that's what we had -- not a brand I have seen or would choose to by myself though, I finished the bottle but that was the last one I had, I say no more!
Lunch orders were taken, no menu's given out, crew had a photo copy sheet to refer to and pffer pictures, classy!
View from my window
Push occurred at 13:37, just 2 minutes behind schedule. Taxi to the active runway was short, en route the someone in the front office gave us some info on the flight, time, current and expected weather at the destination etc.
Our turn to depart followed N48091, a Continental Express ERJ-145, wheels up at 14:02, not too bad, some of my ground push to take off times as EWR have been over and hour.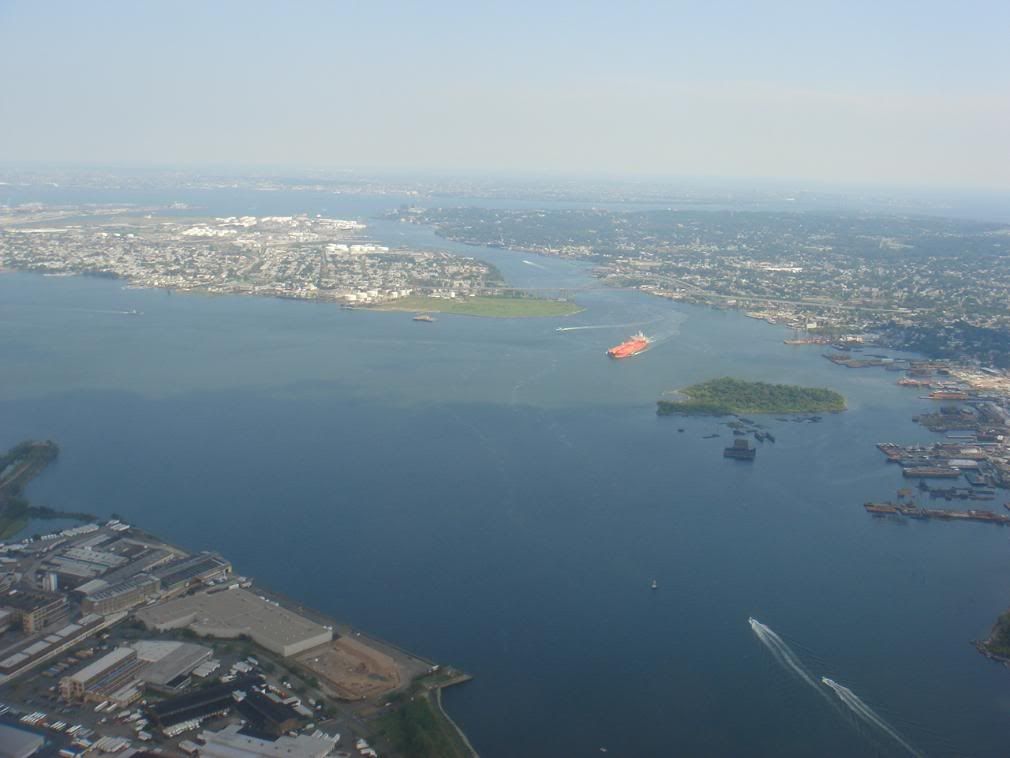 Despite the seat belt signs being on, numerous passengers were getting up to use the facilities, at 14:20 we had a tannoy reminder that we must remain seated until the seat belt signs were extinguished. They finally went out 25 minutes after take off when we reached cruise, by contrast on our last flight, BA turned them off after 6 minutes!
IFE was turned on shortly after departure however had to be re-set as there were issues. For those IFE lovers, it's not AVOD. I never used the system but MrsBA319-131 said there is no indication of how long the loop is before re-play, the screen goes blank, she thinks the loop is about 20 minutes.
Hot towels were issued 20 minutes into the flight, drinks & warm peanuts 40 minutes into the flight. For some reason we were given tumblers for our wine, again, classy!
Given the duration of the flight I had expected an amenity kit to be offered, however none were to be seen, not even a pair of socks or eye mask -- quite poor really.
10 minutes later, not having had time to finish my peanuts, the first course came out.
Starter
I don't eat prawns to swaped mine for Nic's lettuce leaves.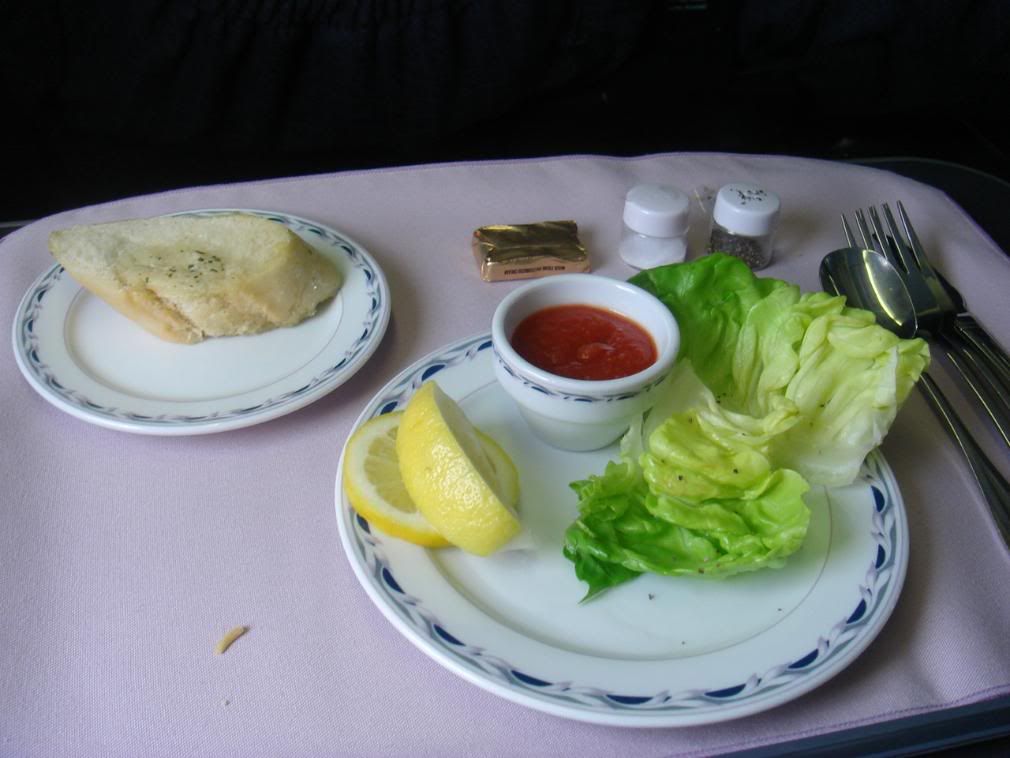 Garlic bread was good though.
Mains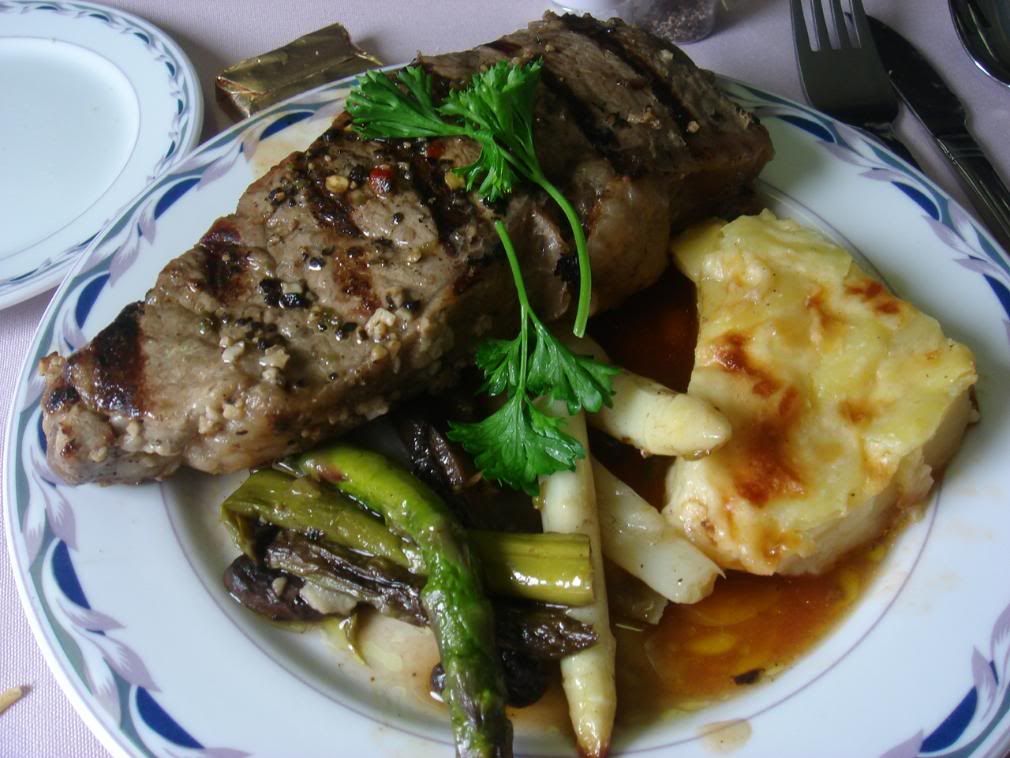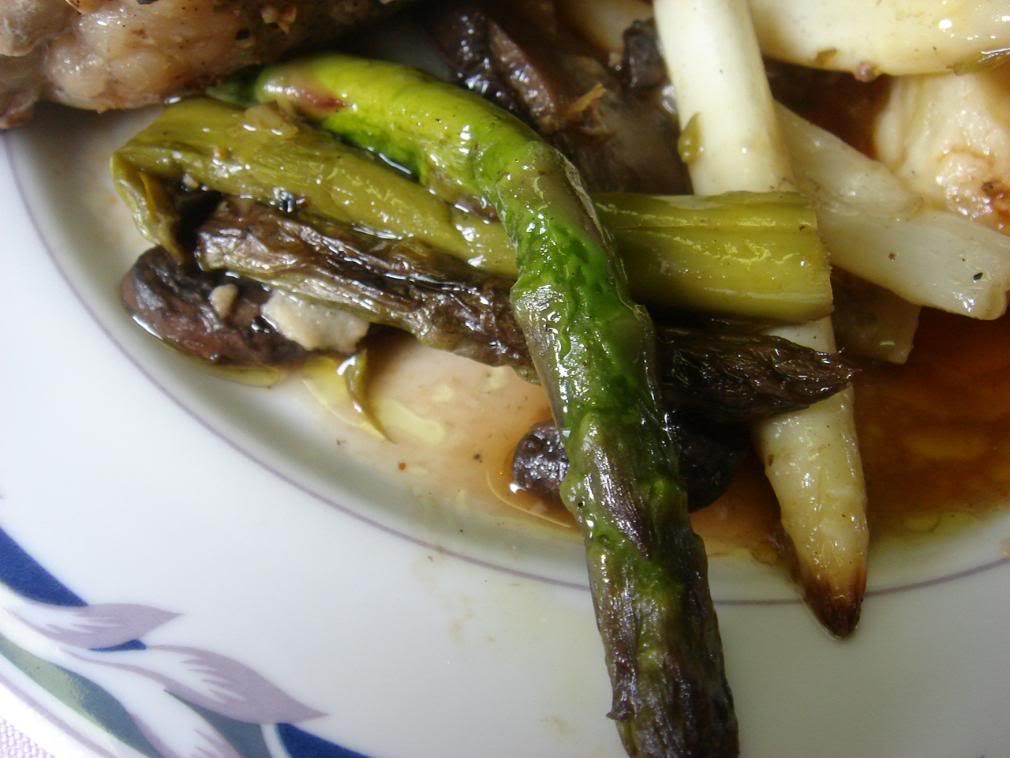 I took the beef which turned out to be very fatty, worst piece of steak I can recall having, it was just about saved by the seasoning. Nicole took the Hallibut which she said was ok though a touch on the dry side.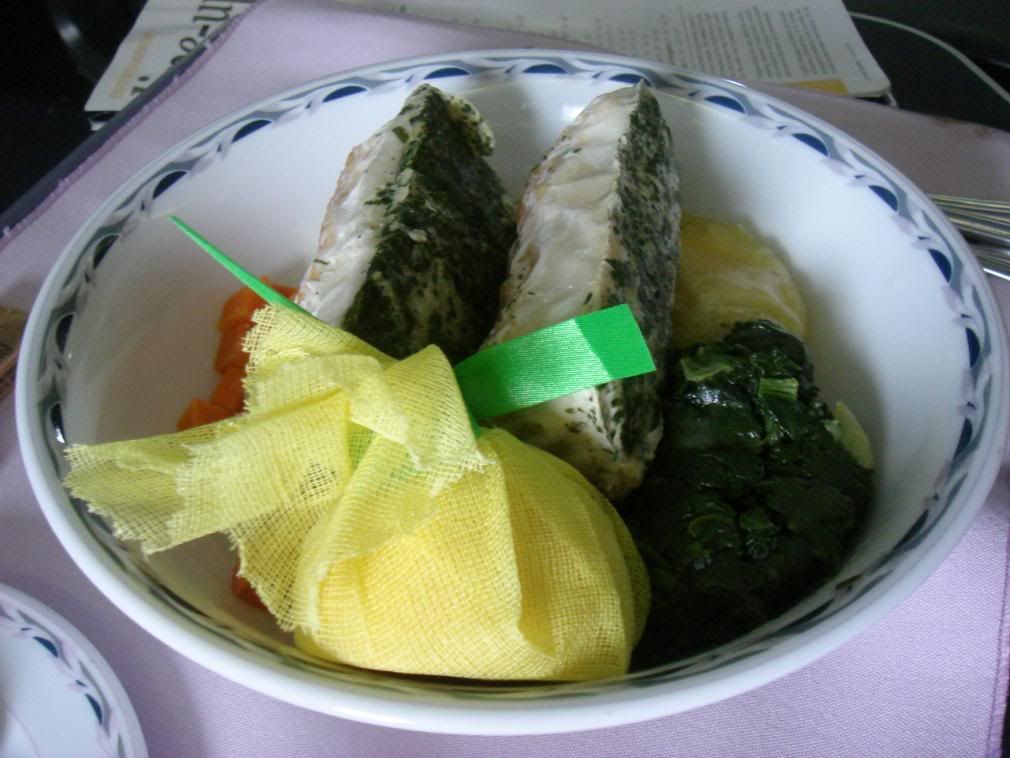 Whilst handing me the steak, some sauce off the place dripped all across Nicole, thankfully the napkin was large enough and in the right place to catch it!
Desert & coffee.
The cheesecakes was nice though I'm not sure what the fruit was in the middle, it lacked taste. Coffee was ok, better than some I've had on a plane.
We hit some mild chop and the seat belt sign came on - and remained on for the rest of the flight.
After lunch mot passengers put down the shades and reclined, I decided to start on this TR whilst fresh in my memory -- we are flying north of Amarillo at the moment at 32,000 ft.
Time for a little country music -- love this tune!
Seat belt signs still on, no chop either!
I can't fault the crew for keeping the drinks topped up, the wine & water glasses never seemed empty.
Real music -- please get back together for 1 last concert!!!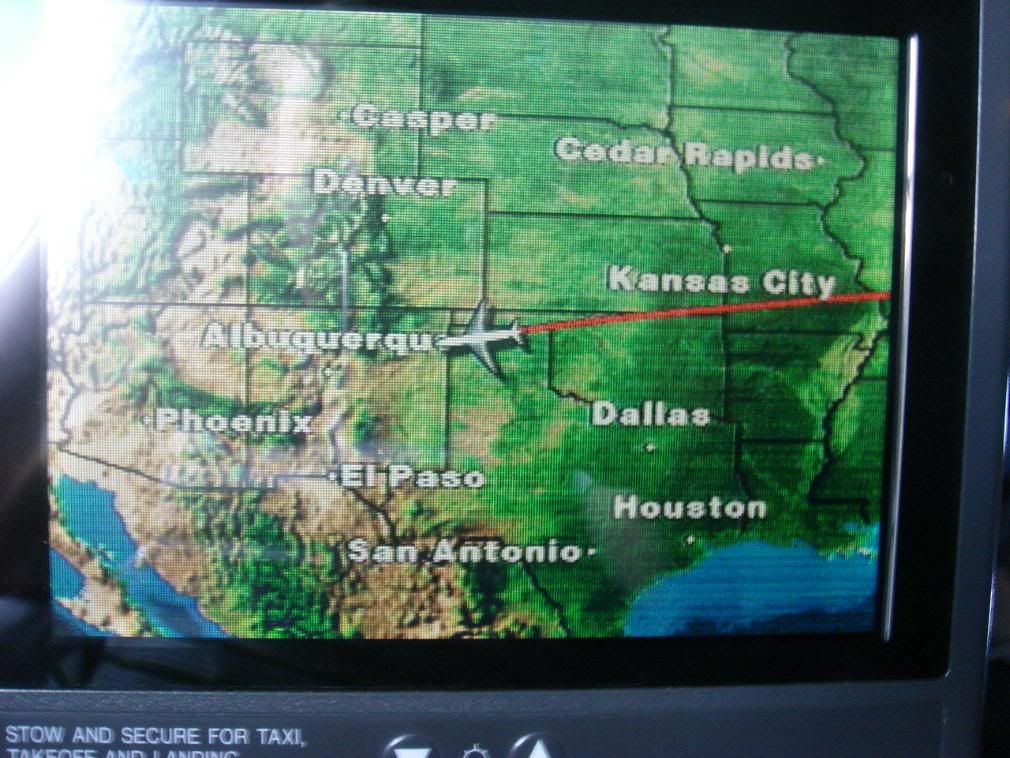 Some stupid stuff for sale in Sky Mall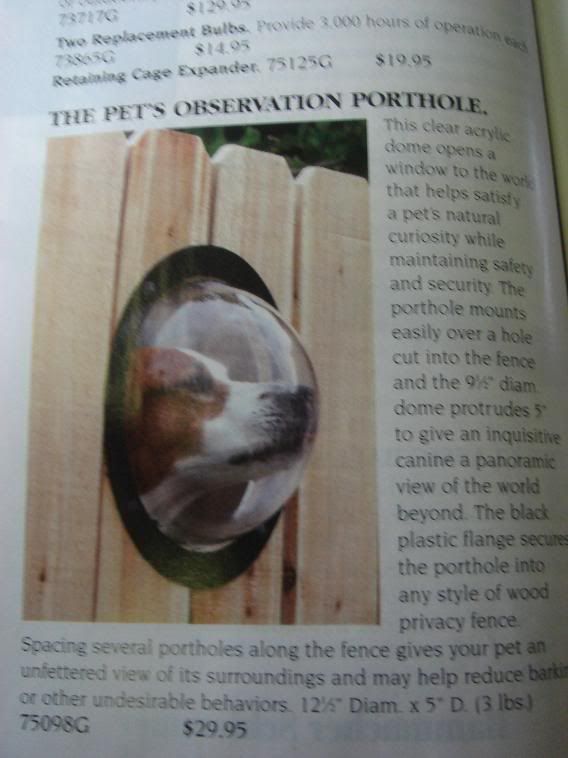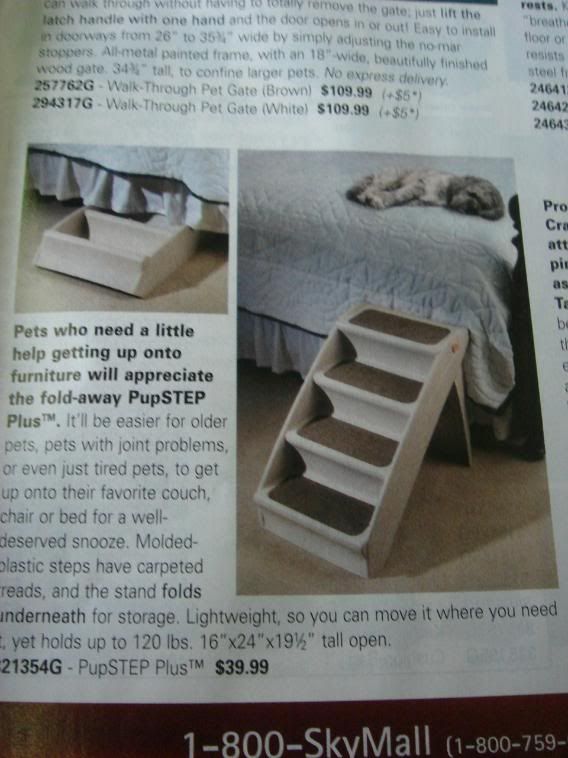 I spoke earlier about the lack of space when the passenger in front reclines, these pictures should give you some idea. At one point I had to pop to the smallest room on the plane, quite difficult to get out when both seats in front are in full recline.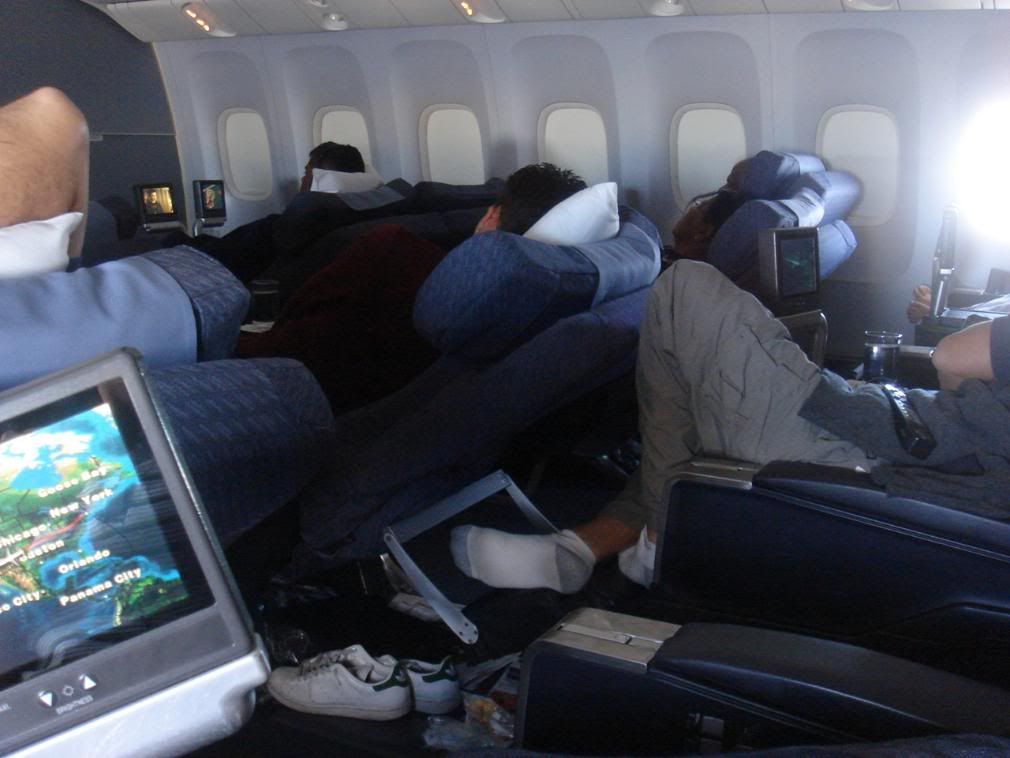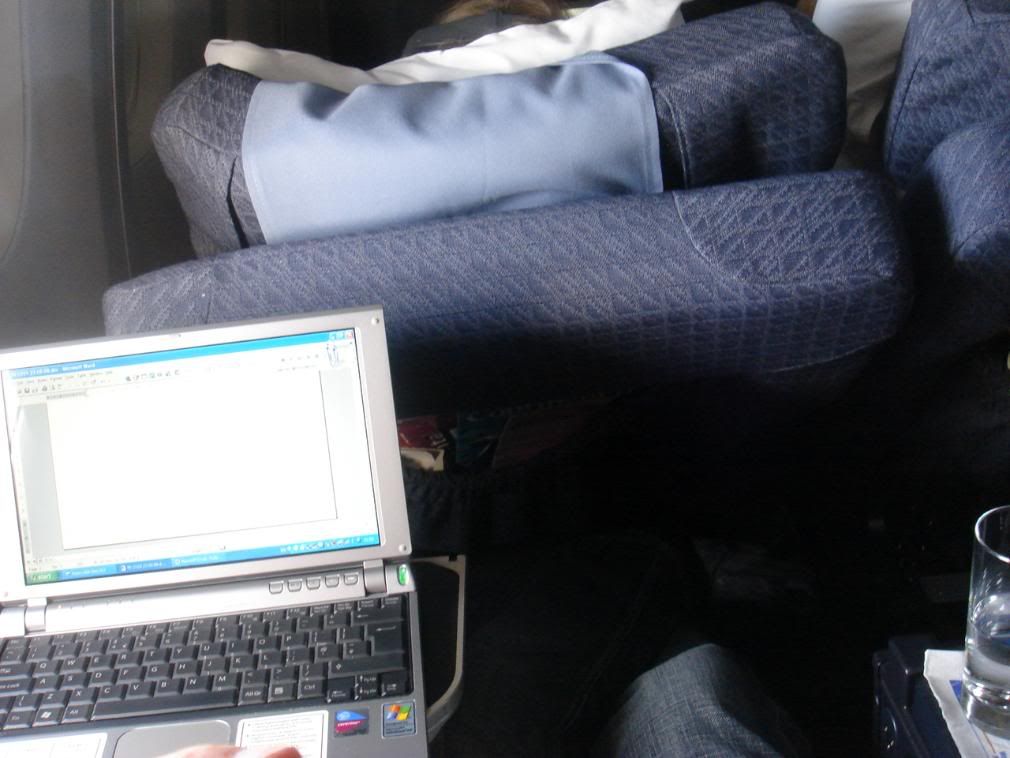 Normally MrsBA319-131 sleeps well on planes, however she did not like the seat and it's lack of recline -- she is too used to BA's CW product, getting fussy!
If you have a choice when travelling longhaul Business where the likes of BA or VS operate, take one of them if you don't want to feel crampt unless CO is significantly cheaper.
LAX!
As we headed past LAX to the Pacific Ocean we climbed to 34,000ft.
I thought I smelt something good, the much talked about cookies appeared with a glass of milk, took the cookie but not the milk, can only drink it in tea or with cereal.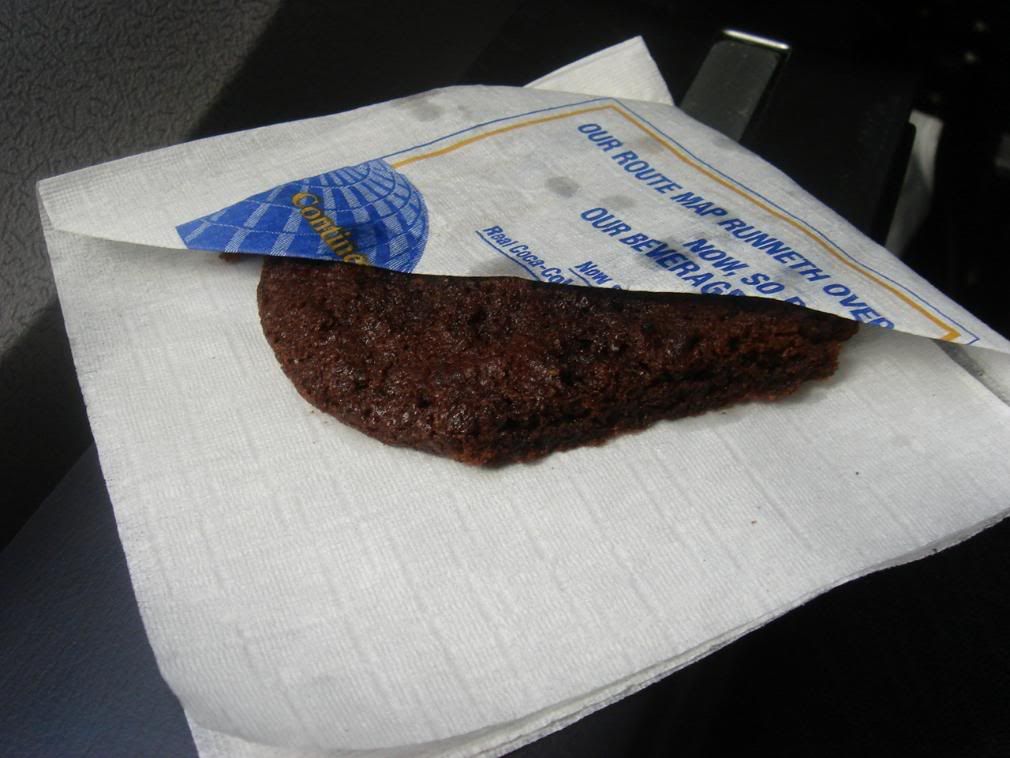 Prior to the cookies, FA service/walkaround's took a dip and both of my glasses remained empty, a quick word and they were replaced with fresh glasses, this time the tumblers were replaced with wine glasses, about time!
About 50 minutes prior to arrival we were served a snack, no choice was given nor any indication of what it was.
I think it was Turkey in a white sauce with what may have been the odd green pepper, this in some kind of soft taco -- was pretty bland to be honest.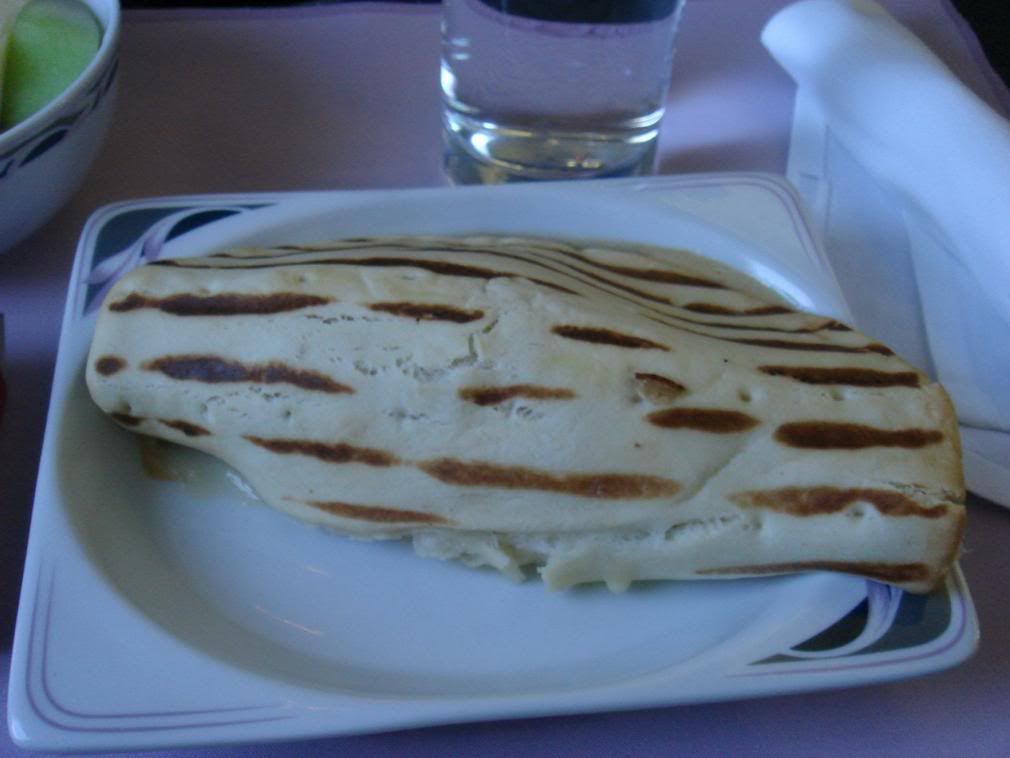 The chocolates were ok, coffee pretty tasteless though my wife said the tea was reasonable.
I see land!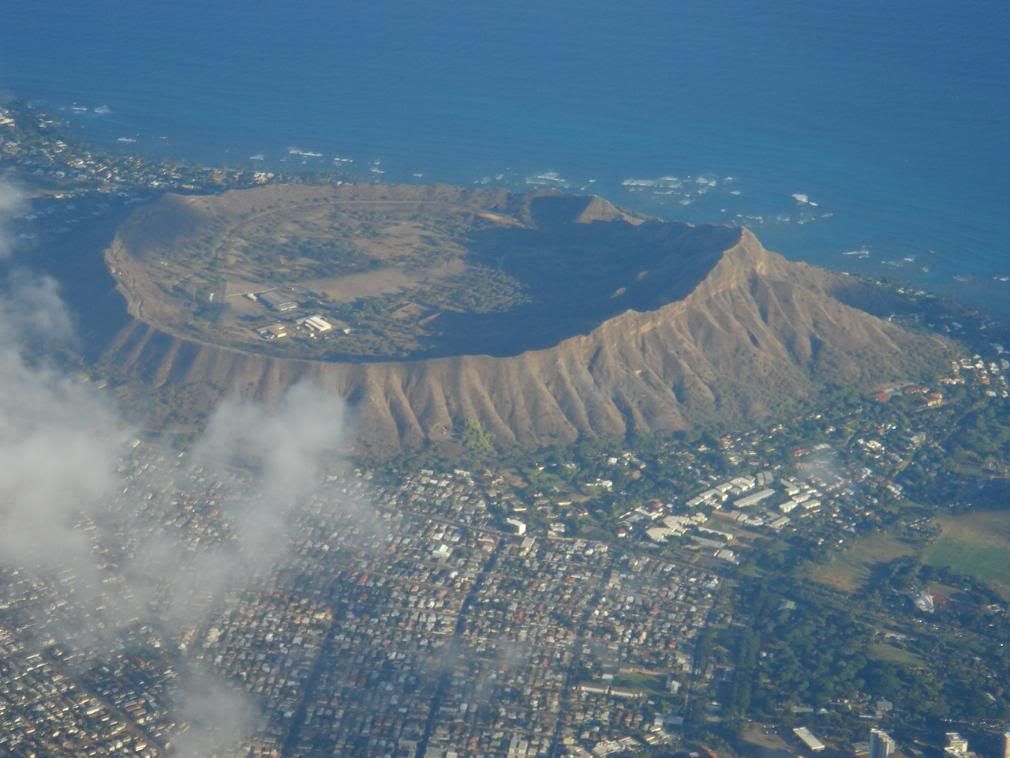 Gear came down at 17:55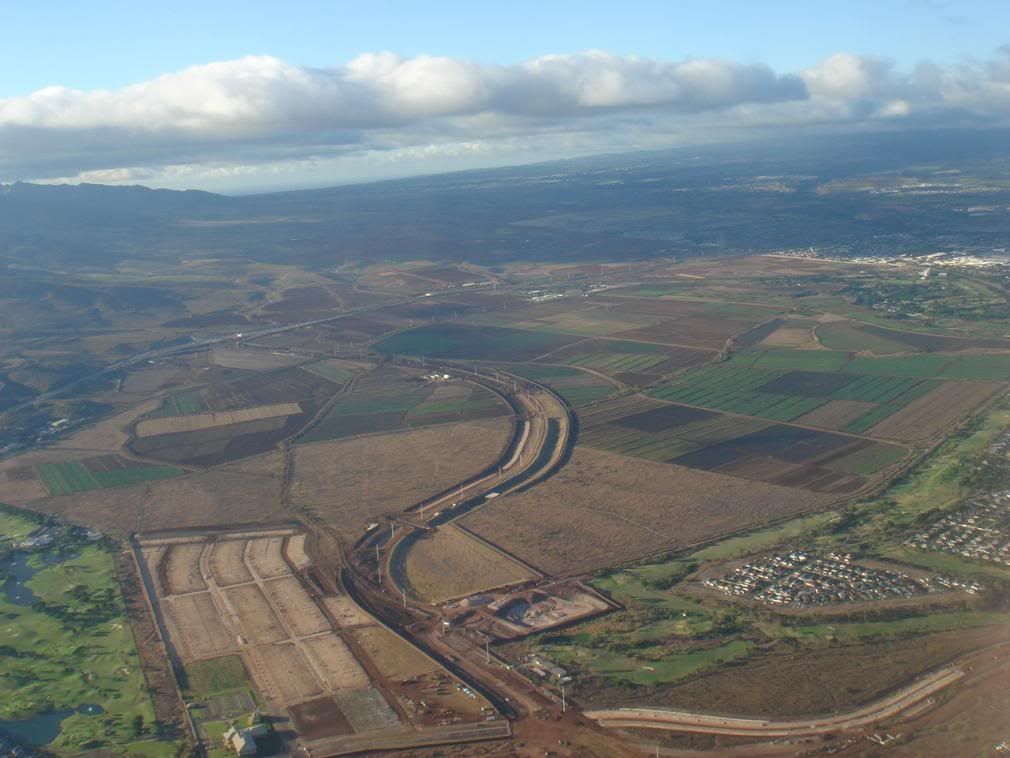 On finals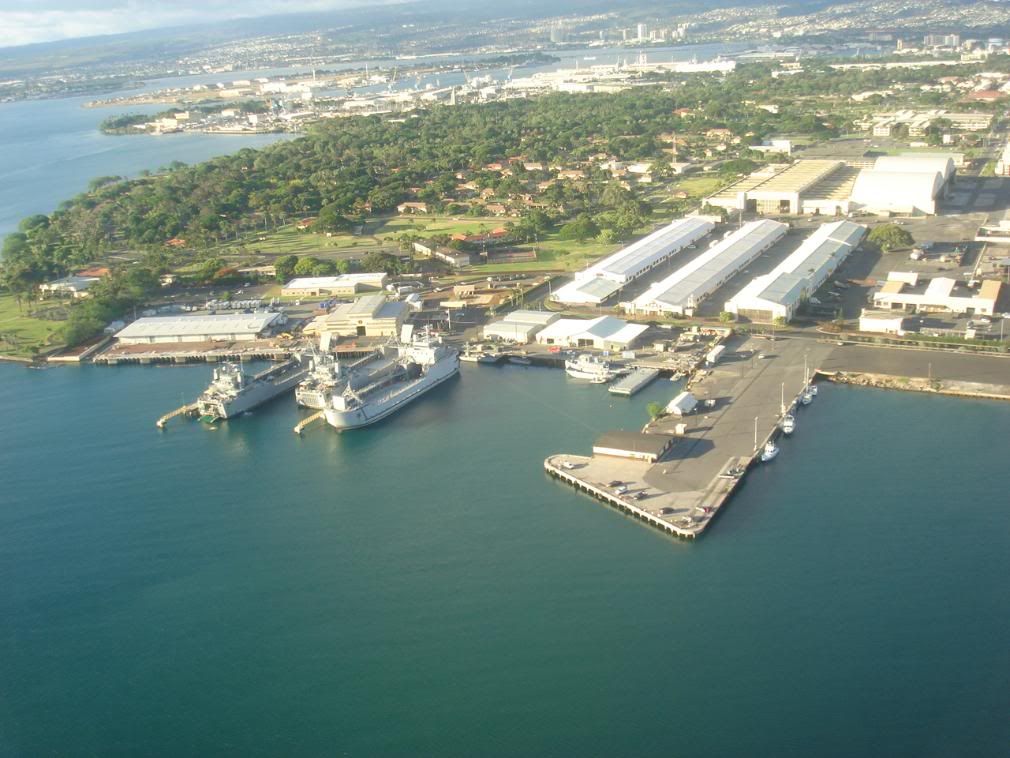 Wheels touched down 13 minutes ahead of schedule after 9 hours 55 minutes of flight, quite glad really as this had seemed a long flight, if fact it seemed longer than other flights of longer duration I had taken, some of those had been in economy!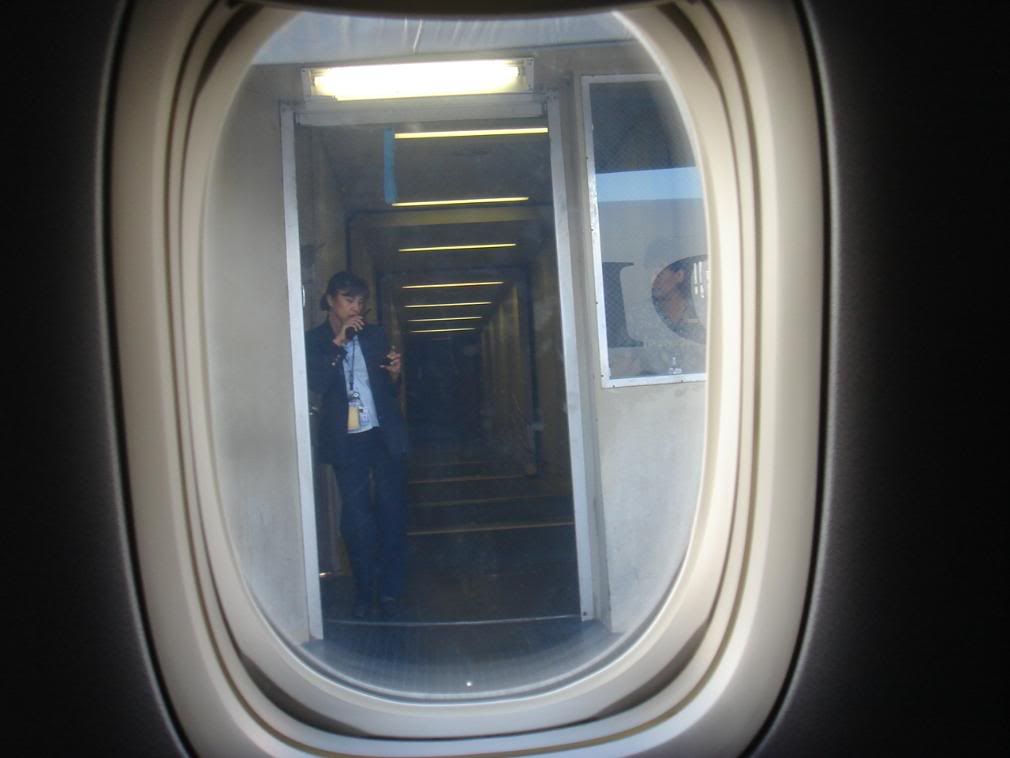 Taxi to the gate was pretty quick, driver was waiting outside the gate area which I though was pretty cool.
Last look at our bird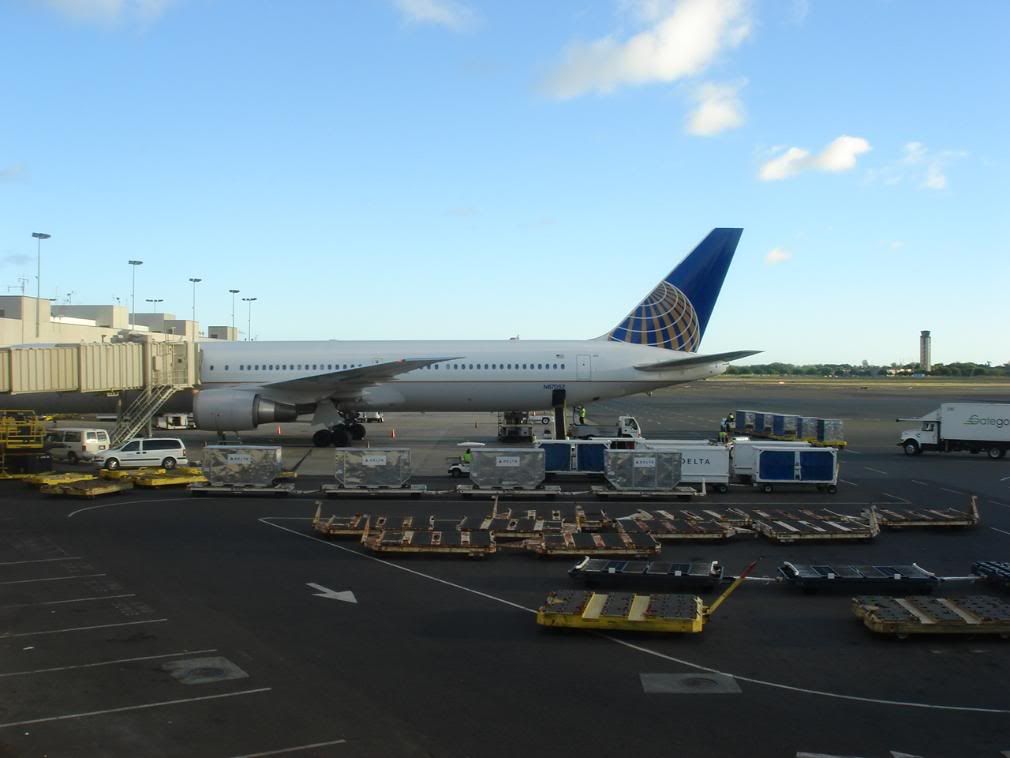 A short walk to the car and he drove us airside too, real cool!
Wish I had more shots of airside, sorry, bad quality too!
Bag's came out quickly, though other non priority bag's appeared before ours.
Well that's is for this TR.
Would I fly CO again? -- Yes, though if on an intl route with choice I'd look at the other options first.
Trust you enjoyed, feel free to drop comments and questions.
Here are a few pictures from our stay in Hawaii
Kind Regards
Mark