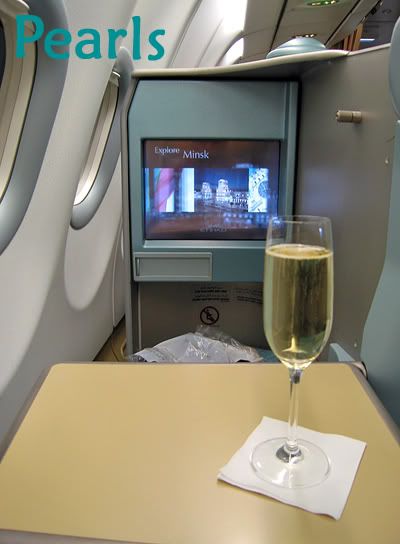 It's unique, it's fresh, and it's bursting with flavor. It may seem twisted, or maybe a little odd, but nevertheless, it's totally new!

Never before seen you may think, rightfully so, as it's the first time!

It's all about you, and only you. Maybe you'll like it, or maybe not. Change is in the air, somewhere out there! Sometimes you'll see it, others you won't! The past has been refined,
Inspired Service
defined.
Welcome to my 9th Trip Report.
This TR will cover the following USA flights:


- AUH – JFK on Etihad Airways A340-500 in Pearl Business Class

- JFK – AUH on Etihad Airways A340-500 in Diamond First Class

- Helicopter tour around New York City

My previous Trip Reports can be found here:
CX: JFK-HKG-DXB In Y A346/772 (Lots Of Pics/Vids)
(by
Ronerone
Aug 28 2006 in Trip Reports)
Etihad: Pearl 2 AMM, Coral Right Back Pt 1 PixVids
(by
Ronerone
Jul 4 2007 in Trip Reports)
Etihad: Pearl 2 AMM, Coral Right Back Pt 2 PixVidz
(by
Ronerone
Jul 5 2007 in Trip Reports)
Cathay Delight: A Trip To Asia's World City
(by
Ronerone
Oct 5 2007 in Trip Reports)
Suvarnabhumi, The Etihad Way!
(by
Ronerone
Jan 18 2008 in Trip Reports)
Ultra-Competitive, Ultra-Long Haul: EY Vs EK
(by
Ronerone
Mar 21 2008 in Trip Reports)
This Is Royal Jordanian!
(by
Ronerone
Apr 12 2008 in Trip Reports)
Syrian Special Performance, Featuring Sam Chui
(by
Ronerone
May 23 2008 in Trip Reports)
The Future Has Arrived: EK A380 Inaugural Flights
(by
Ronerone
Aug 4 2008 in Trip Reports)
It was my nine-day summer break, in which I decided to go to the USA with my brother. In spite of all the trips I have made so far this year, believe it or not people, this was my first long break from work this year! While this TR will only cover the New York portion of the holiday, three days of it were also spent in Minneapolis (and a separate TR for that).
Now that the EK A380 flights had entered the selection mix, this posed some difficulty in choosing the appropriate airline. Who wouldn't take up another opportunity to get on the A380? Well, the fact that I had some Etihad Guest miles to spare was the one and only decision factor in this case.
One thing to note was that it wasn't so easy to secure this award ticket, and I was somewhat discouraged from all that FFP-fiasco. These miles are meant to be used and abused, not saved in some account that keeps them as intangible as can be. Needless to say that even as a Marco Polo Club member, I need to plan ahead
one year
in advance for an upgrade! Boy am I longing for KLM's Flying Dutchman days! So yes, I shall be closely reviewing my FFP policy during the next several months.
For my AUH-JFK portion, I will focus only on certain features, as I have previously reported it in the past (
Ultra-Competitive, Ultra-Long Haul: EY Vs EK
). There have been some differences such as in the in-flight service, and so these will be highlighted here.
Before my flight, I had consulted with my 'insider source' on some intelligence gathering. I was told that the aircraft that will take me to JFK will be A6-EHD, EY's newest A345.
Tuesday August 19th, 2008
Ground Handling:
Check-in went smoothly without any hiccups. However, one thing to note here was that Etihad has now implemented its own above-wing self-handling at AUH hence, doing away with our own Abu Dhabi Airport Services. The staff seemed a little slow and unbothered, but apart from the agents wearing EY rather than ADAS uniforms, there wasn't much difference worth noting. The overall check-in procedures were otherwise almost identical to my previously reported experience.
The New Premium Lounge
I was quite anxious to experience this newly renovated lounge. Having the same location as the previous Premium lounge however, I didn't expect much improvement. The same space has now been separated into two sections, one for Diamond First, and the other for Pearl Business. Heading towards the Pearl section on the right side of the lounge, I entered what I believed to be the most congested and dirtiest area in the airport. There were passengers practically lying on the floor, others sitting on laps of others, and some even had their bare feet up on the couches. The buffet seemed nice however, although not much different than before. As there was absolutely no place to sit, I went back to the reception where the agent handed back our lounge invites, and asked us to go to the Airport Hotel lounge, which was even filthier and filled with drunk and obnoxious passengers. In fact, it was tonight where I had realized the true effects that congestion has on AUH.
I realize that there is practically no space available at the airport for a bigger EY lounge though, and that is probably the only contributing factor to its current disastrous state. So until Terminal 3 is up and running, my preference will remain in lounging by the main satellite building.
Wednesday August 20th, 2008
Boarding
Once on board, I was greeted by the cabin manager, a short Filipina dressed in the new uniform. Cabin Managers on Etihad can now be distinguished from the rest by their light grey uniform. The female uniform is especially nice as the hat is now slightly retro-looking that it reminded me of the older days of flying, and the skirt is rather short, reaching slightly above the knees. Furthermore, female Cabin Managers also wear bright red gloves giving the overall look more from a hotel rather than an airline.
Unfortunately, this time around I was not escorted to my seat like the last time.
Flight Information
Airline:
Etihad Airways
Flight No.:
EY 101
Routing:
Abu Dhabi – New York (JFK)
Scheduled Departure Time:
02:05AM
Actual Departure Time
02:30AM (Pushback)
Scheduled Arrival Time:
08:30AM
Actual Arrival Time:
08:30AM (touchdown)
Equipment:
Airbus A340-500
Registration:
A6-EHD
Inspired Service
This is the new in-flight service on Etihad's Diamond First and Pearl Business classes. It was introduced during the beginning of this year (I think), on flights to LHR and SYD, and is gradually being introduced on the airline's long-haul network. This service allows passengers the flexibility in choosing when to eat and drink from a new menu that features "a la-carte" and "kitchen" style choices. This means that there are no pre-set meal times although orders are taken right after take-off, should you want anything to eat. As for the remainder of the flight, the passenger is given the freedom to choose any item on the menu at any time.
Another element of the new Inspired Service is the lack of trolleys in the aisles. Each person is served individually by the crew, and not in groups, nor with a trolley. For example when I took my seat after boarding, a crew approached me with only my menu and amenity kit to hand to me, and asked what I wanted to drink before takeoff. After so, another crew approached me to hand me my hot towel; hot towels are served to each passenger individually, and not off a tray to everyone.
The outcome is a brilliant idea; however I have found it to cause some congestion in the aisles. As each passenger had to be served individually, this meant that the crew had to go back and forth between the galley and the seats a countless number of times for welcome drinks, menus & amenity kits, and hot towels. Furthermore, given the short time between boarding and pushback, all these service elements had to be accomplished which meant the crew seemed a little rushed.
China Airlines A333 (B-18312) From TPE, With Continued 5th Freedom Service To VIE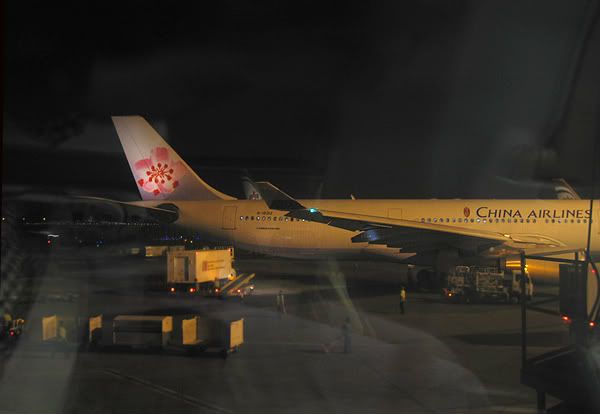 The Onboard Food & Beverage Manager
Etihad now has onboard Food & Beverage Managers, whose exact role I am still unsure about. One F&B manager is assigned to each flight, and they are dressed in a white jacket. From what I was told, they overlook the food presentation for the premium classes, and are active cabin crew in Diamond First. Furthermore, they are available to be consulted for their recommendation of beverage with your meal and so on and so forth. However, from the way I saw it, these F&B managers are a hybrid between Gulf Air's Sky Chef and a regular cabin crew, with no clear role from either side.
The Menu
Kitchen
Anytime

Enjoy full a la carte dining or select individual dishes from the Anytime menu. All the dishes on the menu are available at anytime during the flight today

Tuna stemperata steak, caper and olive sauce (L)

Warm club sandwich with crisps

Eggplant involtini with saffron rice (T)

Hout bil tamatem wal zaytoun (T)
(Cod steaks in tomato sauce with ginger and black olives)

High Tea

Calorie rich bedtime cookies

Arabic baklava (T)

Lemon and walnut popcorn with paprika salt

Warm bella olives with garlic, orange and rosemary

Swedish crisp breads

Baked cheesecake with passion fruit coulis

Fresh seasonal fruit, watermelon jelly

Providore natural ice cream

Selection of cheese



Breakfast Brunch
A la carte

Enjoy full a la carte dining or select individual dishes from the Anytime menu. All the dishes on the menu are available at anytime during the flight today

Fresh white bean taboulleh, pancetta of masala chicken (T)

Prawn and mint salad

--------------------

Prawn curry with rice, raita yoghurt (S)

Soft cous cous with tagine of chicken breast (T)

Arabic braised lamb with pearl barley and gremolata (T)

Rolled Thai omelette with smoked trout (L)

Served with:
Organic five-leaf salad

--------------------

Selection of cheese


Lintzer-torte with crème fraiche

Mini Pavlovas with lemon curd and fresh berries

Fresh seasonal fruit, watermelon jelly

Providore natural ice cream


[S] Spicy [L] Light [T] Taste of Arabia
All meals served are prepared according to Halal requirements. We apologise if your choice selection is not available due to previous guest selection.
Wine List
The Flight
An announcement was made by our captain, advising us of our routing to New York. He also informed us that the flight time for tonight's flight was to be 13 hours and 45 minutes; the longer the flight, the more fun for me!
Shortly after, a Tunisian cabin crew, Wafa, appeared in the aisle. A few moments later she arrived at my seat.
"Monsieur, what would you like to drink after takeoff?"
"A Bloody Mary please"
The doors were closed at 2:25AM, and as the ambience silenced down, five minutes later A6-EHD pushed back with her engines gradually powering on to life. Fifteen minutes later, we took off to the dark skies and began our ULH to JFK.
IFE Flight Info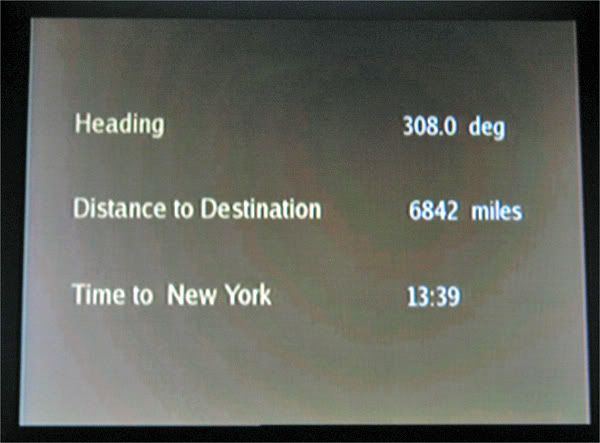 Moving Map
After the seatbelt sign was switched off, the cabin crew got up to prepare for the service. Shortly afterwards Wafa appeared in the aisle taking meal orders from everyone.
"What would you like to eat?"
"May I have the club sandwich and the cheesecake afterwards please?"
Cabin At Night
Shortly afterwards, my infamous in-flight Bloody Mary was brought to me, with an 'Amuse Bouche' that consisted of something, with caviar. I nibbled around it, avoiding the caviar, and it tasted, well, different.
Bloody Mary & Amuse Bouche
Later, my club sandwich was brought to me, followed by the cheesecake.
Club Sandwich
Cheesecake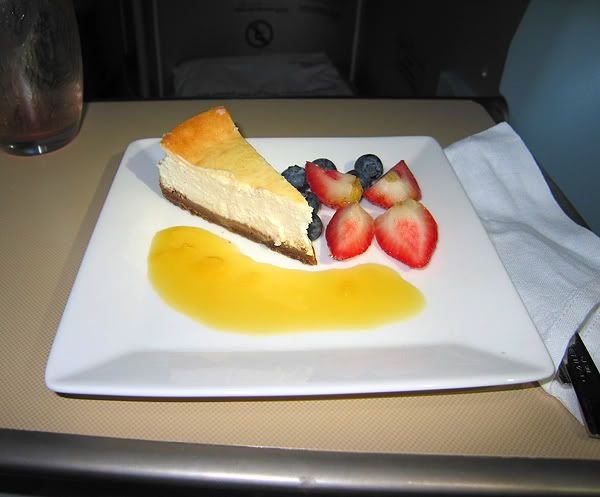 Three of my favorite food/meal items were on offer in this new menu, which are the club sandwich, high tea, and the cheesecake, so no doubt I was to have an enjoyable culinary experience on this flight. As expected, the sandwich was perfectly prepared, with no butter, and was just warm enough. The cheesecake was also mouth-watering.
After my table was cleared, the Filipina Cabin Manager approached me to ask how I found everything so far. After a quick chat, I learned that she has been in her role as Cabin Manager for 8 months so far, and although it still seems a bit overwhelming, it is also a lot more fun.
Judging by her rather junior level as a Cabin Manager, I could only assume the rest of her subordinate crew members were close to brand new in their roles. Nevertheless, the service seemed quite alright so far.
I then turned my seat into a fully flat bed and snoozed for a good 4 hours, only to wake up when it was already light outside.
The View Outside: How Can You Not Love Those Engines?
It was time for high tea, in some far away time-zone somewhere, but nevertheless, that is exactly what I decided to order; with coffee. It originally came with tuna sandwiches, in which I decided to skip, and have only the muffins and the scone. It was absolutely fantastic!
High Tea, High Flight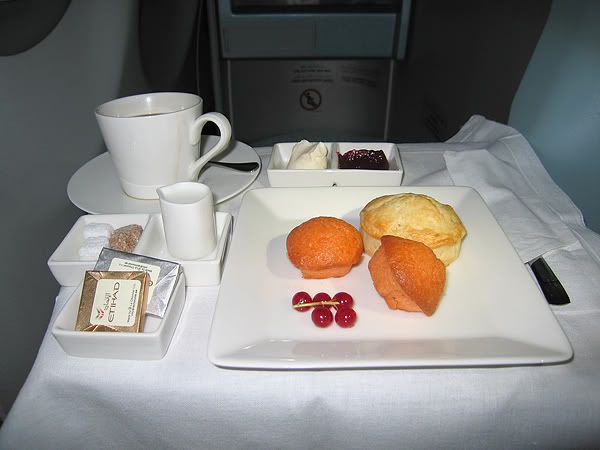 After my meal, I powered on my IFE and watched Kung-Fu Panda, which I found to be quite amusing and the right movie to watch at the time. After the movie, I decided to sleep some more, and only woke up about three hours before landing. By that time, the mood lighting had been activated.
Mood Lighting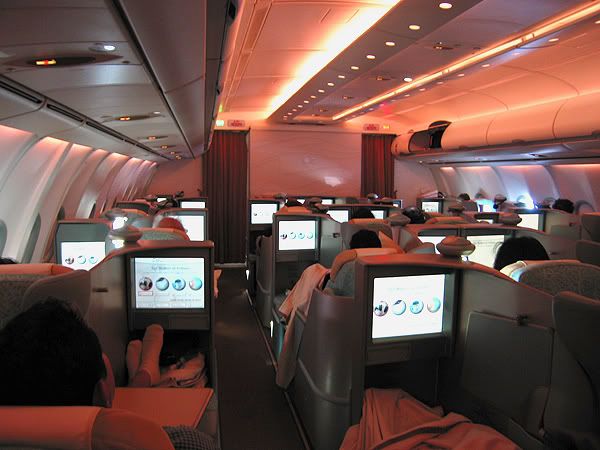 Many of the passengers by then were ordering their final meal, in which I decided to do the same. Wafa approached me again, with a smile.
"Would you like anything to eat for breakfast Monsieur?"
"Yes, may I have the taboulleh to start, and then the chicken cous cous please?"
"Certainly, would you like a Bloody Mary with that?"
"Yes please"
"Very spicy like last time?"
"Definitely"
Breakfast Set-Up
Arabic Mezze-Style Starter
Butter, Sea-Salt & Pepper, and Amazing Bread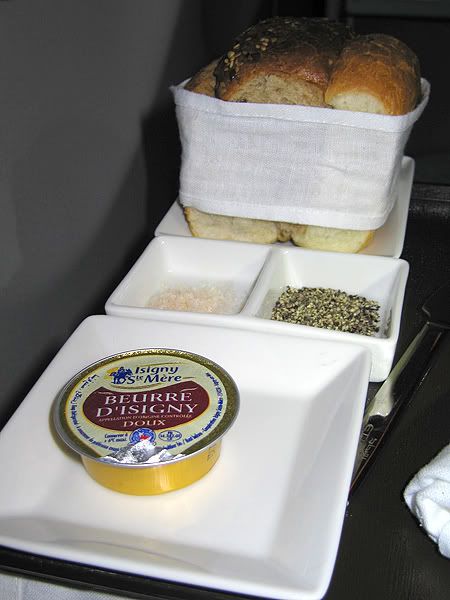 Taboulleh & Chicken Starter: Large Portion For A Starter!
Cous Cous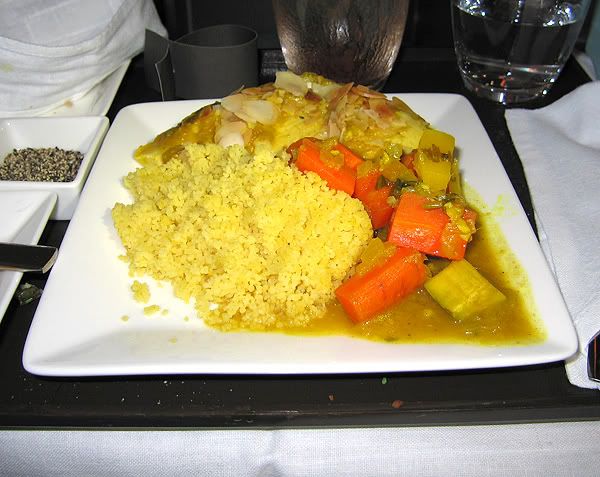 I loved the new presentation of the meals, and for the first time, I found these meal trays to be rather tasteful for a Business Class product. The food, as always, was of very high quality, and great taste.
After my table was cleared, I decided to walk to the back of the Economy Class cabin for a quick stretch. The cabin was jam-packed.
Coral Economy Class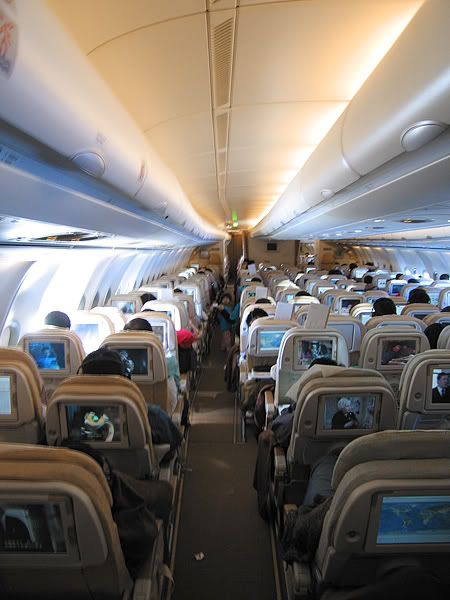 At 7:55AM New York time, we started our initial descent towards JFK International Airport. Also, the fasten seatbelt sign was switched on, and everyone returned to their seats. The crew began their preparations for landing, and collected the headsets.
On Approach: What Airfield Is This? Anyone?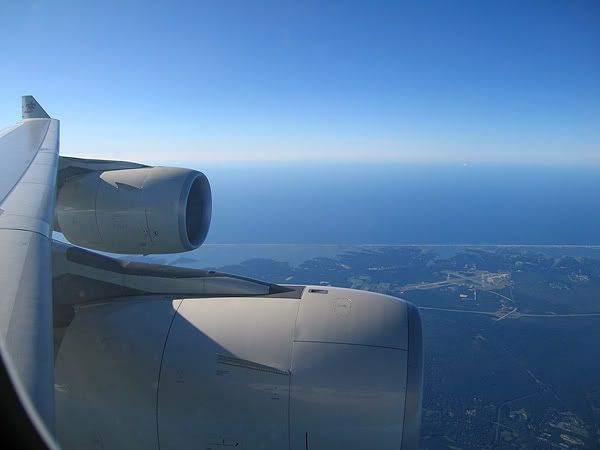 At exactly 8:30AM A6-EHD touched down at JFK, bringing this flight to an end. A few minute taxi, and we arrived at the gate.
Taxiing To The Gate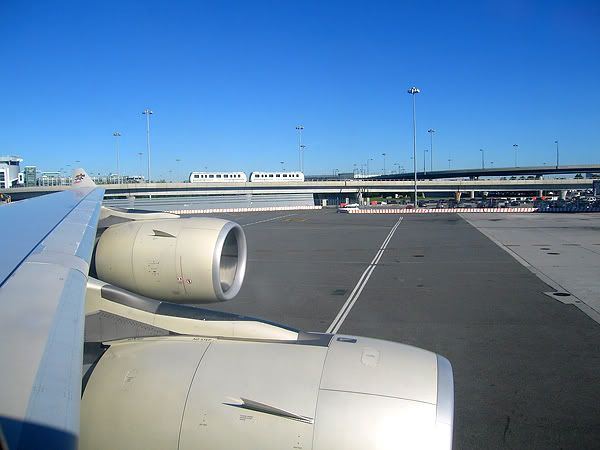 When the seatbelt sign was switched off, everyone got up to gather their belongings in preparation to exit the aircraft. I gathered my things, and proceeded down the aisle, thanked the crew for their effort and went down the aerobridge and into JFK. Immigration and customs were a breeze, and within no time, we were heading out to the hotel in Manhattan.
CONTINUED BELOW