It has taken me an extraordinarily long time to compose a trip report for my trip between Norfolk, VA and El Paso, TX back at the end of May 2008, but nonetheless, I finally got down to it. This was a trip that I will, without a doubt, hold near to me for the rest of my life.
May 31, 2008 was Champion Air's final day of operations, with the last revenue flights taking place on Friday, May 30th. Just a few weeks beforehand, I decided I would make a trip out to El Paso to visit my aunt and uncle. Instead of taking a traditional routing out west, I decided that someway, somehow I would have to get myself on a final Champion flight on May 30. And just that I did!
After some major crunching of numbers I finally found a routing that made sense (to me, anyway) and that would work financially. I settled on an itinerary for May 30 that had me flying ORF-ATL-OKC-LAS-PHX-ELP. Five segments and over 20 hours of travel time in one day! Not bad. After all, I would be flying on the next-to-last (I learned this later on) official Champion flight, and on a Boeing 727.
I managed to secure a Delta award ticket to OKC using Continental miles, which helped relieve some of the cost. Thank goodness for that. To get on the Champion flight from OKC to LAS, I had to book the ticket as a roundtrip through Worry-Free Vacations and opted to be a no-show on the return flight (operated by Allegiant) the next week. I felt terrible about intentionally being a no-show, but desperate times call for desperate measures. For my remaining flights, including the return from El Paso to Norfolk, I purchased tickets on US Airways. In the case that my Champion flight was extremely late or cancelled, I also purchased a reasonably-priced refundable ticket on United from OKC to ELP through DEN.
The very early morning of my trip arrived, and I awoke at 3:30am in preparation for my 6:00am flight to ATL. Making sure to remember my fully charged batteries and empty memory cards, I left the Peninsula and made my way to ORF. It's so nice crossing the Hampton Roads Bridge Tunnel at that hour, as it's practically the only time there's no congestion. For the life of me I cannot remember if I checked in with DL when I arrived at the airport, or if I did so the night before. At any rate, security that morning was rather backed up, so it took me some time to get down to the gate (not that ORF is a big airport). There was plenty of time to get a breakfast pastry while I waited for my flight to begin boarding.
DAL1552
MD-88, N976DL
Seat 31E
The flight this morning was operated by MD-88, N976DL, and was almost full. We left the gate on time and were airborne minutes later. I occupied seat 31E and had forgotten how loud those wonderful Pratts are in the back (not that I minded). The takeoff was powerful and a smooth climb-out followed. During the course of the flight, I received Biscoff and cranberry juice from an extremely pleasant flight attendant who inquired about my itinerary for the day. Boy was she surprised when I went through the rest of my travels. My seatmate works for a geothermal heating company in Oklahoma (he was also headed on to OKC), so we had a very interesting conversation on renewable energy and the benefits of utilizing geothermal energy for homes and office buildings.
The flight soon drew to a close, but during our descent into ATL, the aircraft rocked continuously from left to right as we skirted clouds and fog. The landing itself was very smooth and a tad early. Of course, a long taxi to the gate diminished that early arrival, but I was just happy to have finished my first flight on schedule.
Photos from DAL1552 in-flight and after arrival at the gate in ATL: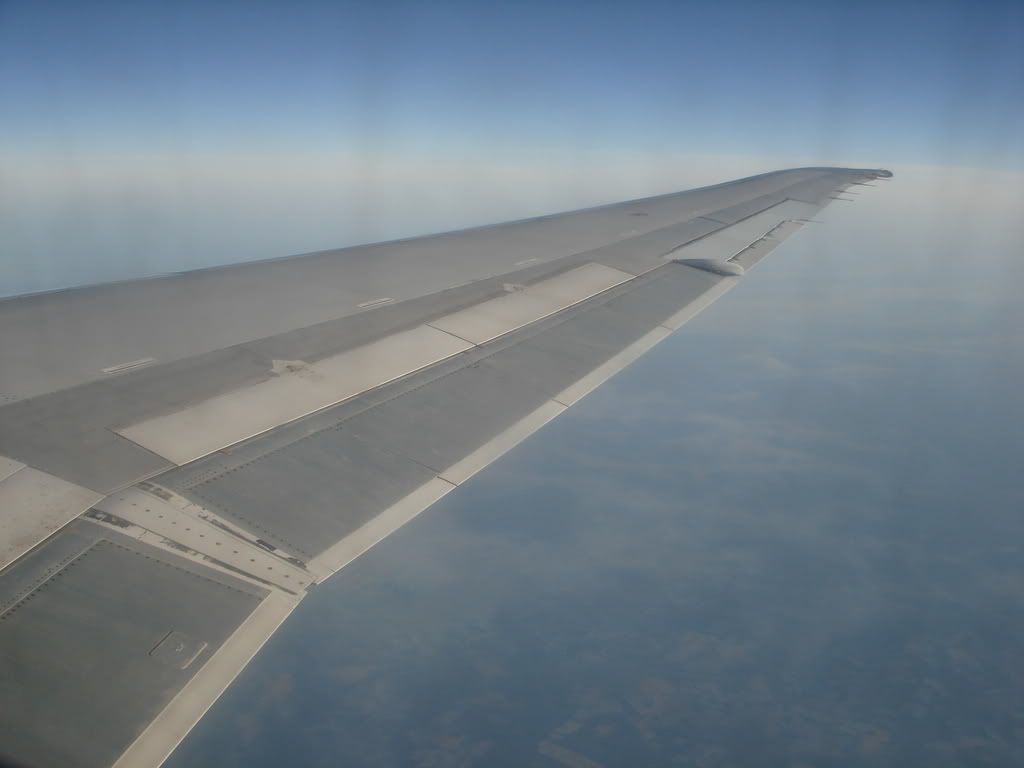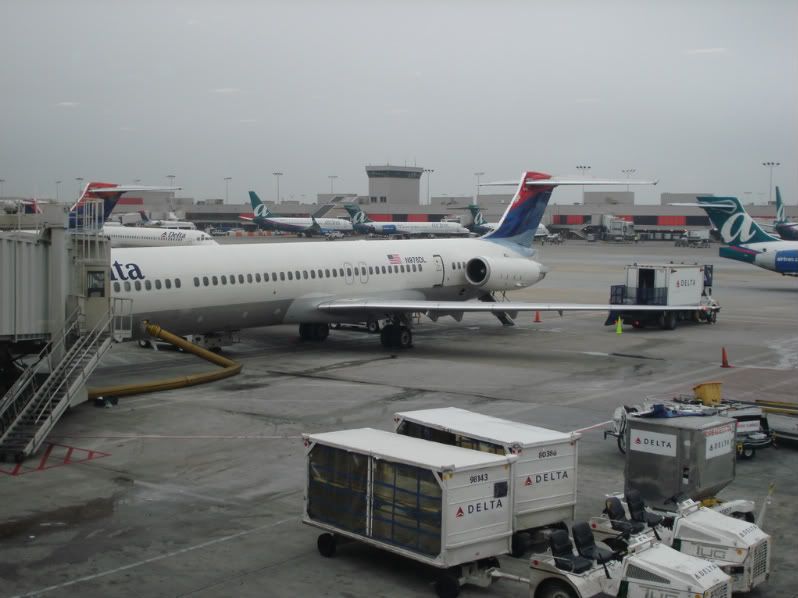 I can't say that I mind the Atlanta Airport, and during my 1.5 hour visit to the great state of Georgia, I enjoyed plane watching and people watching. But, it was soon time to board the CRJ-700, N713EV, to OKC, and a surprisingly orderly boarding process occurred. We boarded by way of a ramp attached to the aircraft, so it was nice being able to get out on the tarmac. Paperwork in order, the forward door was closed on schedule, and a symphony of CF-34 engines began behind me (I was in 18A, the second-to-last row). To see anything whatsoever from my seat, I had to severely crane my neck almost into the row ahead of me. I don't understand why the windows can never seem to be aligned on the larger CRJ series (or some ERJs, for that matter), but it certainly makes seeing anything a challenge and test of flexibility.
ASA4693
CRJ-700, N713EV
Seat 18A
We made a very long taxi to the runway, trailing a rather large number of aircraft. After some time elapsed, my time planespotting came to an end, as we turned quickly onto the active and completed a rolling takeoff. I must say that I was very much impressed by the takeoff performance of the CR7. It took a while to reach cruising altitude, and I dozed on and off until the standard beverage service. The flight attendants on this ASA-operated flight were cheerful and friendly, and did a very professional job. Time passed very quickly, despite this being my second-longest segment of the day. As we began our initial descent into OKC, I noticed the side wall of the aircraft next to me becoming hotter and hotter, to the point where it burned severely to touch it. Forward and behind my seat, the side wall did not seem so hot, and I will admit that some nerves kicked in. I debated on whether to ask a flight attendant about it, but we were soon on final for landing, and the wall began to cool. Could there have been a heavy sun glare bouncing off the tail or wing and hitting the fuselage next to my seat?
We made a very steep turn just prior to landing, but the touchdown was nothing less than perfect. With that, the Delta portion of my trip came to a close. I don't usually fly DL or its regional carriers, but I was very impressed by the quality of both flights. The crews were great, the planes were clean, and both flights were on time. First impressions are often lasting impressions, and because of my positive experience, I will not hesitate to fly DL again in the future. Thanks for the perfect flights!
Some planespotting in ATL and a photo from during the flight to OKC: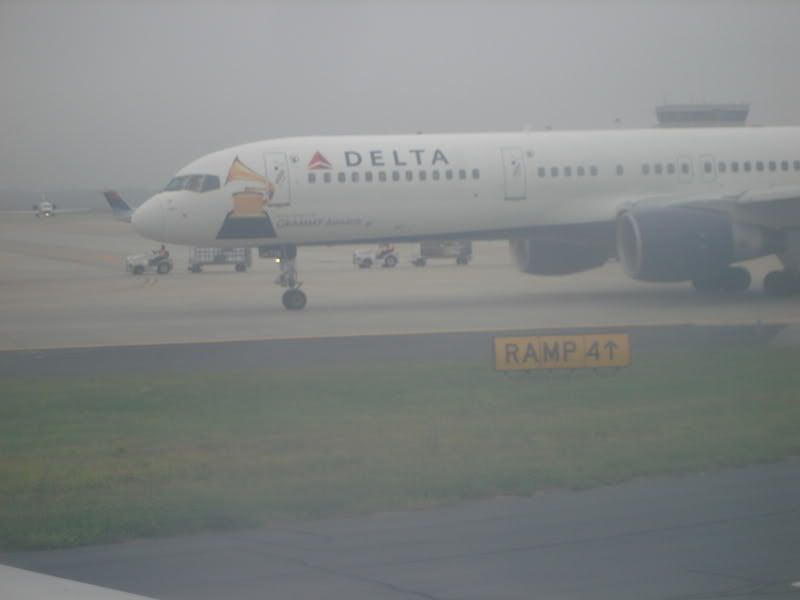 N713EV after arrival from ATL: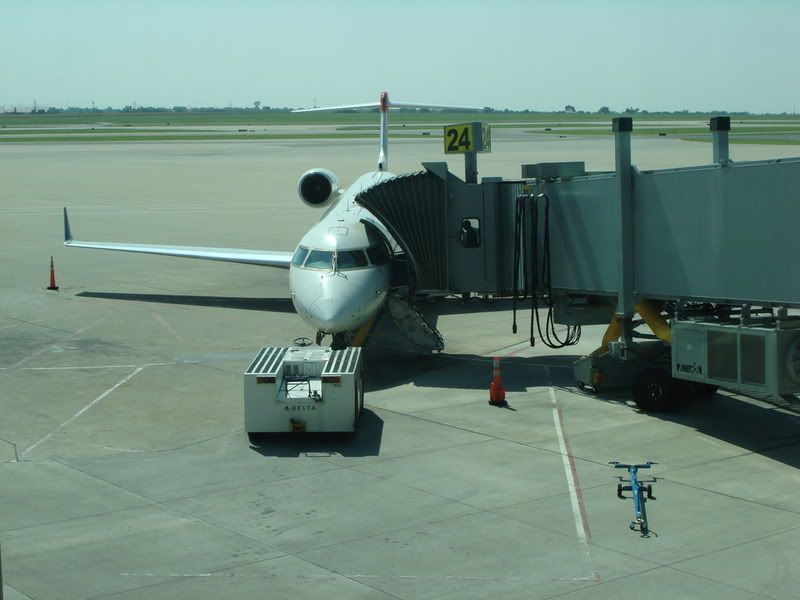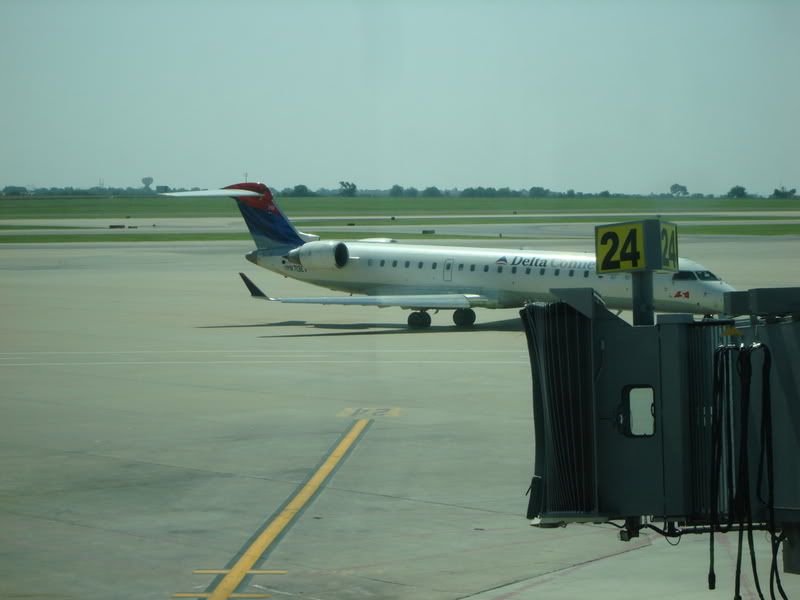 Upon entering the Oklahoma City Airport, I began my 6.5 to 7-hour layover before my Champion flight. I was struck by how nice the OKC airport is on the inside. I had heard that the airport was given a complete makeover just recently, but I had no idea how it would look. After a complete walk of the terminal (which took only about ten minutes), I bought an Oklahoma shirt (hey, I was a visitor for 7 hours!) and settled for some pizza. I enjoyed a leisurely lunch, watching numerous clueless-looking people and trying to understand largely unintelligible announcements.
A view from inside of the OKC terminal: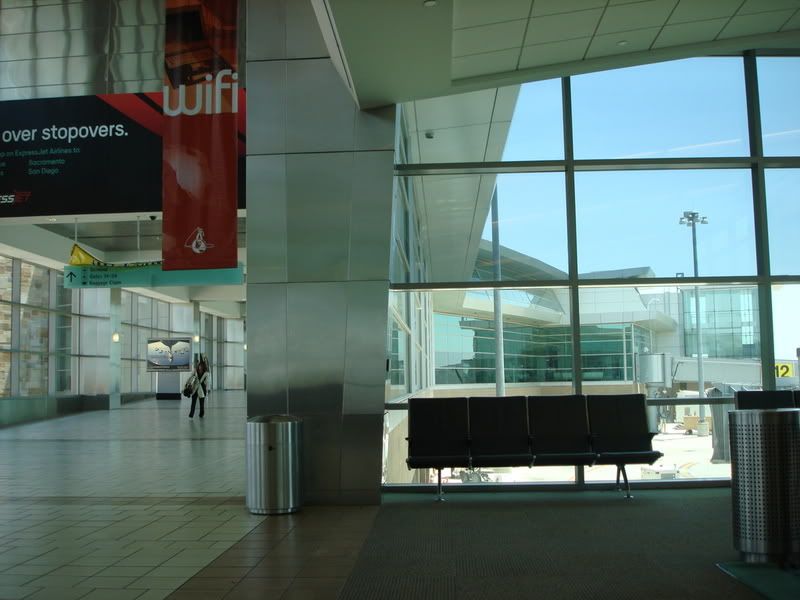 Look what showed up here! I've been trying to see one of these for years: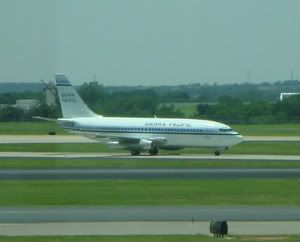 Boingo wireless internet was available, so I purchased a 24-hour subscription. The primary reason I purchased the internet was to track the inbound Champion flight, as it had to travel from Puerto Vallarta to Dallas, TX for U.S. customs, and then on to OKC. Looking at Flightaware history, sometimes the flight got held up in Dallas, so I wanted to be able to tell whether or not I would have to use or cancel my refundable United ticket. For the good part of three hours, all I did was check flight status and weather reports. Champion's flight status tool over the phone was less than helpful, and still reported on time departures, even though it was obvious they would not be. Still having not left security, I spotted the Champion Air crew walking down to the gate and asked them what they knew of the flight's status. They knew nothing more than I did, and so I left security after being airside for roughly 5.5 hours. Realizing I should print my US Airways boarding passes for LAS-PHX-ELP later that evening, I approached the US counters only to find no kiosks and no employees in sight. There was absolutely no sign of life. So, after about five minutes of waiting, I asked an employee from another carrier where on earth US' employees could be. I don't think I every received a straight reply from this less-than-friendly individual who could obviously have cared less about things.
After losing some precious time, I quickly made my way over to Frontier's ticket counter, where Champion Air passengers were to check in. Since Champion was technically a charter airline, much of its operations in OKC seemed to be handled by Frontier, including check-in. I quietly grabbed a stack of Champion Air luggage tags from a basket and waited in line for the Frontier agent. I asked to have a second boarding pass printed as memorabilia, but the agent said he was not authorized to do so. Oh well, never hurts to ask. Then, I realized I had been struck by the SSSS Fairy on my boarding pass. So, off to secondary screening I marched, along with what seemed to be about 50 percent of the Champion flight. Would there have been some reason for this? Anyway, it was painless and the TSA was generally pleasant during the process.
The departure boards in OKC showed the departure time of my flight as being one hour earlier than scheduled for some reason, but I just knew to ignore it. By the time I reached the Frontier gate from which my Champion flight would be departing, the Champion logo and flight information had been placed overtop of the Frontier sign, offering some photo opportunities. I received some blank stares from my fellow passengers until the gate agent announced that this would be Champion's last-ever flight from OKC to LAS and its second-to-last revenue flight overall. Ah, after that I could photograph anything I wanted without feeling suspicious! At this point, I also refunded my United ticket from a gate counter, as everything seemed to be running smoothly.
Photos in the gate area that depict the temporary Champion signage: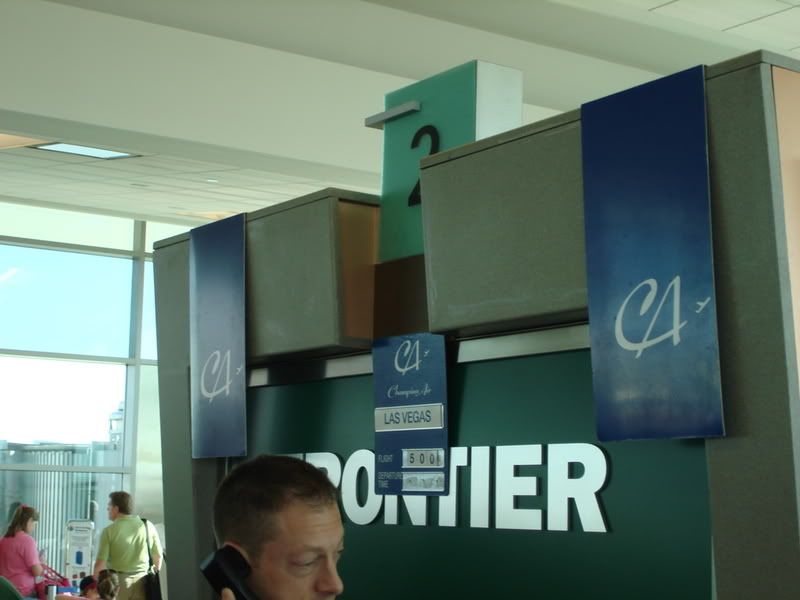 As the departure time drew nearer and nearer, there was still no sign of the aircraft. I explained to some Champion flight attendants and their husbands that I had traveled this far out of my way just to fly on Champion. I also informed them of my already tight connection time in Las Vegas, as I knew I would have to walk between Terminal 2 and Terminal 1, and get my US Airways boarding passes. Knowing my time was limited, I had my mom check me in online, but no airline in OKC could print the boarding passes for me. I figured United would be my best bet, but the individual said he could not print them because they would be on UA ticket stock. Okay, now I was really starting to panic. Departure time at this point was only minutes away, and Flightaware indicated that the 727 had finally left DFW. Several announcements from the gate agent confirmed that the aircraft was inbound, and soon enough I heard a distinctive roar of JT8Ds in reverse. Aircraft N681CA quickly vacated the runway and began its backtrack to the gate. A gate agent made an announcement that the aircraft would be receiving a water cannon salute prior to reaching the gate, and to look directly out the window to see it. Sure enough, two fire trucks lined the taxiway and began their salute. Wow! What a sight it was!