This was a Planned Vacation down to Sin City to let off some steam and enjoy the sights sounds and spectacle that is Las Vegas.
I booked through Alaska's Website and booked Full Fare First down and Back. Some would say why not go for the bargain and buy the $50 space available upgrade. First it is only money. Second I get better Mileage bonuses with a full Fare Ticket. Third Free AS Boardroom Access.
Since Sound Transit's Light Link Rail is about a year and change away from completion I decided I'd try the Metro Transit Bus to the Airport. A Thursday morning during rush this should be fun... Actually it was one of the fastest bus Trips I've taken in Seattle, 45 Minutes door to door with a transfer downtown. I stepped off the bus just shy of 7:30, boarding pass in hand and no bags to check it was straight to Security. I went through the Main security checkpoint, for some reason lately it seems a bit faster than the other two smaller checks. Security was a breeze. Since I'll be sitting for a while I take my customary walk around the airport. I hit all the main concourses A,B,C,and D. Everything seemed in order.
At this point I venture through the wooden doors at the apex of C and D into the Alaska Airlines Board room. A quick stop at the front desk, A glance at my ID and Boarding pass and I'm given the quick tour. The Boardroom in SEA has Two levels, downstairs being the more business end and upstairs being far more casual. I headed upstairs, as I was traveling for pleasure and being high gets me a better view. The appointments inside are very nice. Alaska's Colors are subtle yet all around. It is very relaxing atmosphere. The view is fairly decent, You look out over the C and D concourse and the North Satellite. The Runways are partially visible. I'm betting CO's Presidents Club has the best view at SEA. The morning spread is fairly decent Muffins, breads, pastries, and fruit. Drinks are free, Juices, Soda, beers and mixed drinks. After an Hour and a half Its time to head over to the North Satellite and board...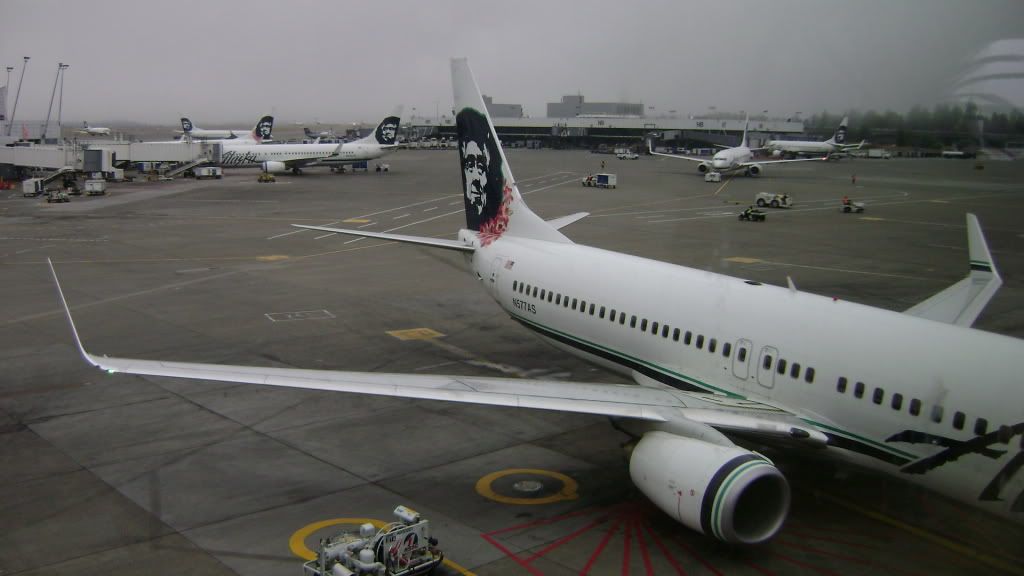 The view from the Boardroom.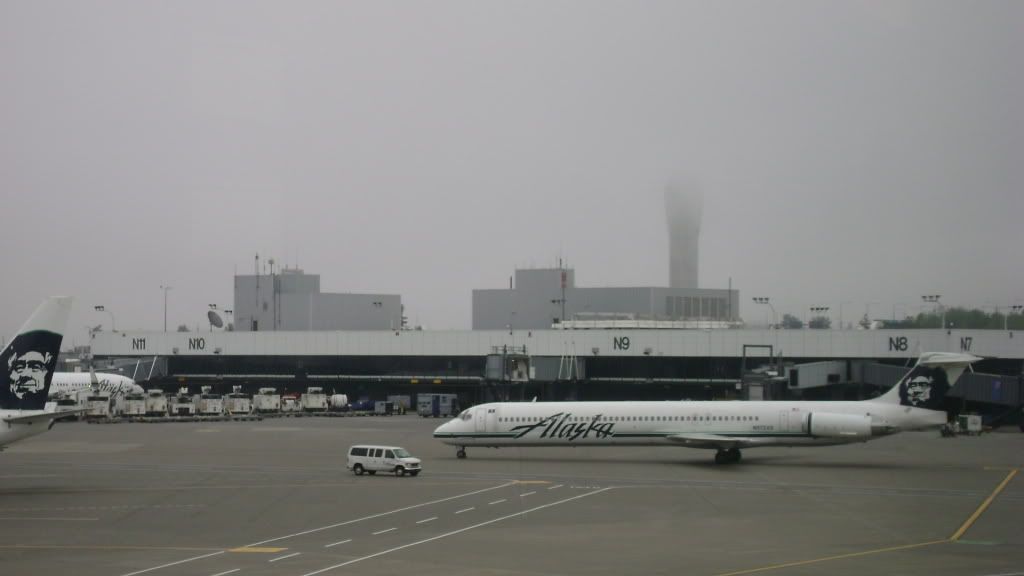 Low Ceilings and, at the time, one of the last few MD-80s
Inside the Boardroom
7/17/2008 SEA => LAS
AS604 737-900 2A
Departure Scheduled 09:25 / Actual 12:20
I head to the end of C and take the train to the N Gates. Up the stairs and I have my normal Shudder. Of all the gates at SEA the N gates seem the most outdated and show the most age. The South Satellite is almost identical yet it seems a better kept. I head to N3 to find no plane yet... hmmmm 20 minutes before boarding. After 10 minutes we get an Airplane. A 737-900 with Winglets! Sweet. The turnaround begins Bags come off, Bag go on, Fuel on, Catering on. Then a Capitan walks up to the podium and walks away from the gate... Hmmmm I think besides the gate agent, I'm the only one who notices this. About five minutes later the announcement comes... The flight will be delayed due to a sick crew member, and a Reserve Capt is called up. I ponder going back to the Boardroom. I decided against it and set up shop in the North Satellite.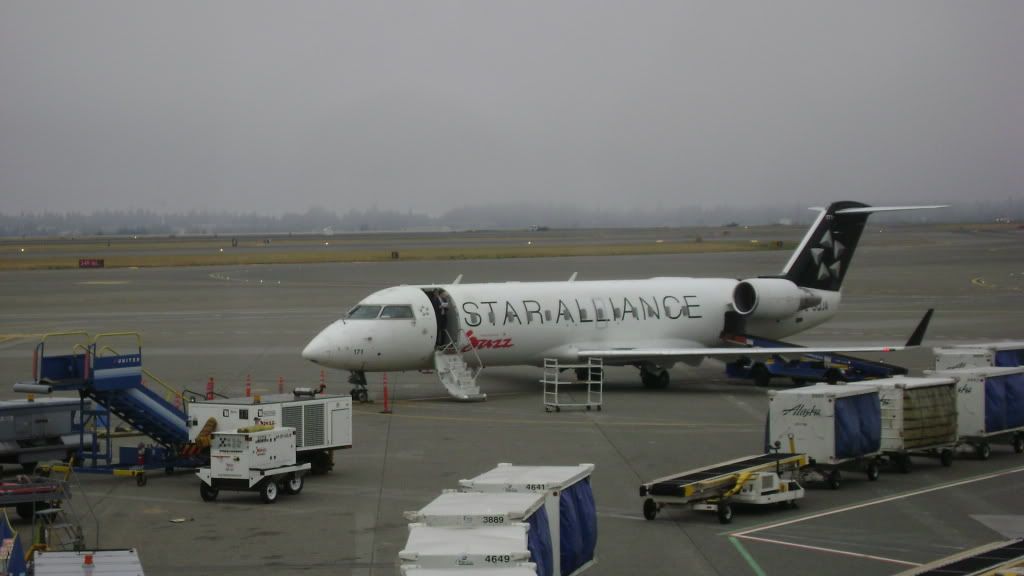 Watching a few United and Air Canada flights depart and arrive and killing an hour and 40 I head back over to the gate to see the door open. The announcement for board is not long after and First Class is invited aboard. I head down the jetway, stow my bag and settle into my seat. A welcome change from Economy. Two windows to myself and a nice seat, Blankets pillows, and a bottle of water. As with most narrowbodies, once you're seated in first You have to wait for the entire airplane to board before you see a FA.
Once we are all on board the First FA come through and confirms our names and takes our first round drinks. The Capt arrives does his walkaround, signs the paperwork and we are off. Once the safety briefing is complete we push and make our half a lap around the North Satellite. Taxi is at a CO pace. I'm surprised that Airport Police aren't pulling WN over for speeding. We are Number 2 for departure. A NW 752 blasts down in front of us. Line up on 16L throttles to T/O and we are rolling. we take about 7,000 feet before we rotate and are climbing. at 300' AGL into the marine layer, at 1500' AGL we are into the clear.
NW Roaring down 16L
A shot of the Marine Layer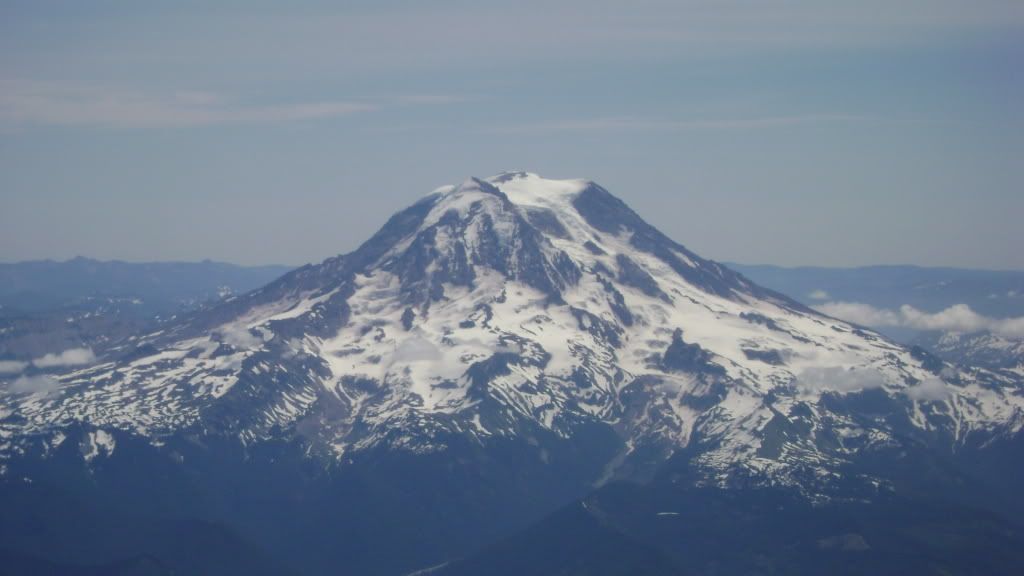 You can't skip Mt. Rainier
A great ride so far, the Capt is on the chatty side but it is all pretty relevant and does make the flight fly by. He takes time to point out all the major Mountains and Cities along the way. Weather is clear and it is a great sightseeing trip. The service in First is just what I expected. Once to get to the last sip the FA is right there asking if you are ready for the next. Absolutely! Food was the snack basket... Honestly I did expect a little more form AS on this one, my wish came true on the return. So other than crackers, pretzels, etc the drinks were great.
Once I picked out NAS Fallon, we hit a large pop in the air. Turns out we flew through Air Force 1's wake. "W" was heading to California to check out the wild fires. Now looking out the window the ground takes on a tan/brown shade, and we track down the Nevada/California Border I look out into the distance, Hoping to catch a glimpse of a black project... No such luck. We begin the descent into LAS I keep my eyes peeled still hoping for something out in the sky. Las Vegas comes into view and I make out the strip, We are on downwind landing to the west so I do get to see the strip and LAS from the air before landing.
The approach and landing are pretty flawless. We do have a rather extended taxi as we are going to the D concourse and the back side to boot. No big deal to me I enjoy taxiing just as much a flying sometimes. We stroll up to our gate next to another AS flight a 737-800 also from SEA. What comes next is pretty typical for LAS.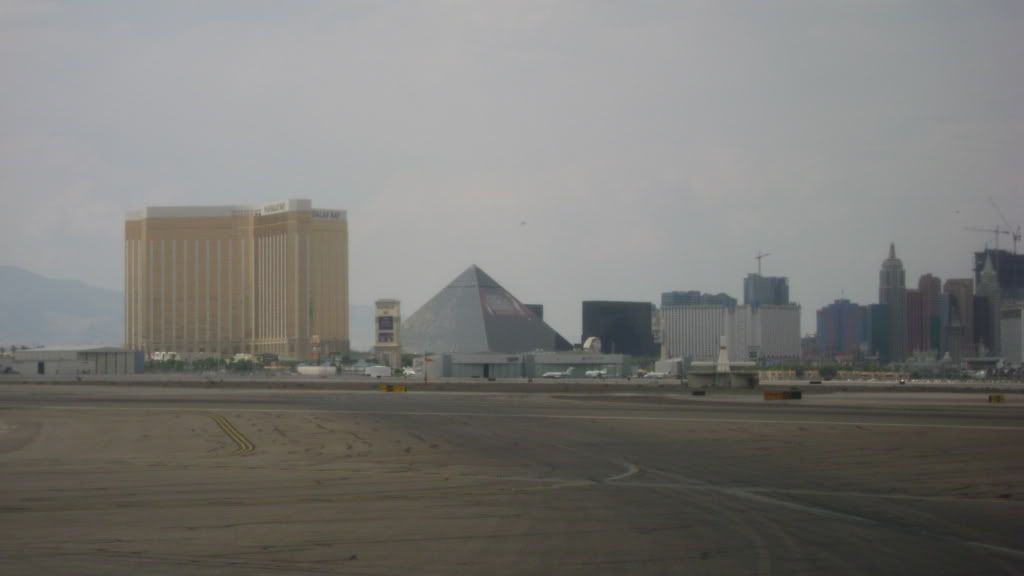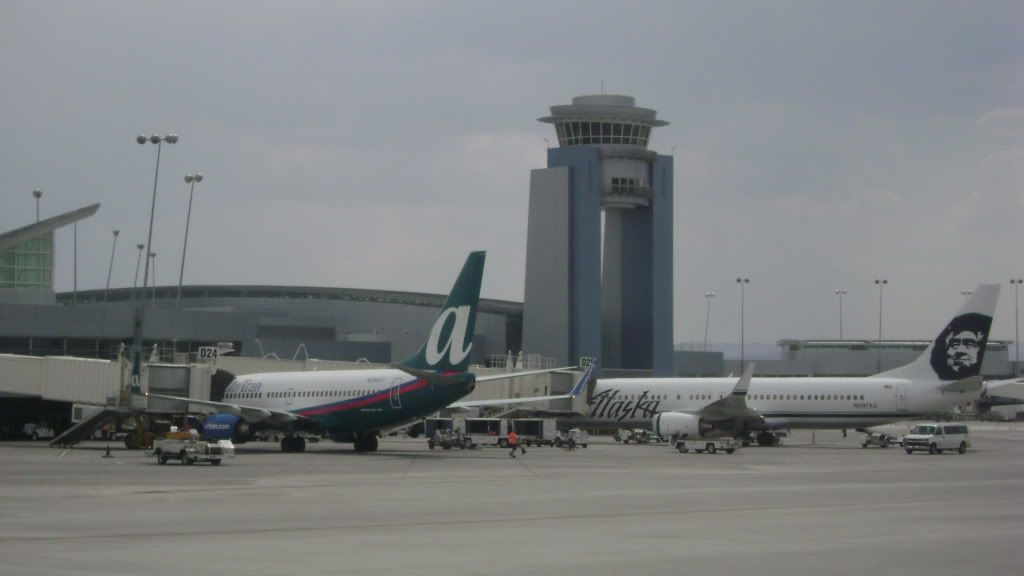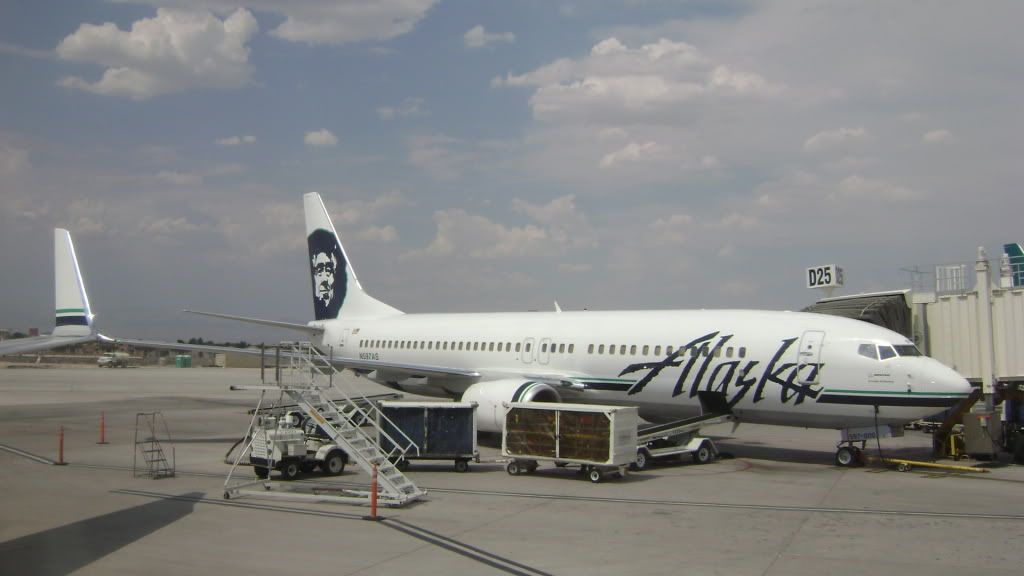 The main Cabin door opens and we begin to file out. When I hit the door POW! the pizza oven Jetway. Well it is LAS and it is JULY 113 degrees on arrival not bad left SEA at 64 and LAS at 113. Out of the gate and to the tram I didn't explore LAS until my return flight I proceeded right to the hotel shuttle as I wanted to get my Vegas Experience off and running.
Overall I'd say my AS experience is standard. No major hangups but nothing outstanding. The one thing that comes to my mind about AS is they need a little more polish and refining and they could have an on par product to CO. I was a little disappointed that they only offer the snack basket and not a more presentable snack. Some NW cheeses, crackers, and fruit on a plate would be sufficient, and would create a feel that you are getting something more than a bagged snack. The Boardroom is a Great little nest to relax before a flight. I could foresee myself buying a membership. All in all they got me there Safely and even though we were late but what happens in Vegas...
501sp
[Edited 2008-09-13 20:32:16]
[Edited 2008-09-13 20:36:56]