Welcome to the first installment in a trip report covering a month of my more unusual travels; a non stop binge to fly as many unusual airlines and aircraft, whilst trying to balance visiting as many interesting places on the ground at the same time! What's probably easier than me trying to explain my route, is to offer up a couple of maps below which mark it all out in plain English, along with the airlines flown:
Routes Flown During the Complete Trip:
Routes Flown Just Within the Ukraine:
The first six flights covered in this report are as follows;
1. 25.06.2008 ... LTN-WAW ... WizzAir ... A320-200 ... HA-LPA
2. 27.06.2008 ... LWO-KBP ... DonbassAero ... Yak 42D ... UR-42372
3. 30.06.2008 ... KBP-LWO ... DonbassAero ... Yak 42D ... UR-42372
4. 03.07.2008 ... ODS-KBP ... South Airlines ... Yak 42D ... UR-CFH
5. 04.07.2008 ... IEV-MPW ... Illych Avia ... An140-100 ... UR-14008
6. 05.07.2008 ... DOK-KBP ... AeroSvit ... B737-400 ... UR-VVM
However there are some little extras hidden away between flights; the national aviation museum in Kiev; an amazing road trip through Moldova; and an unforgetable visit to Chernobyl.
I hope you enjoy reading the first part, apologies for any mistakes  
Day 1; Wednesday 25th June:
Every great journey has to have a beginning and unfortunately that is often by coach.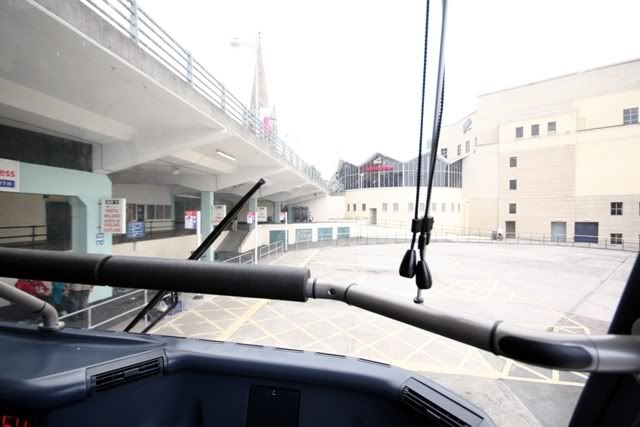 Having had absolutely no sleep due to last minute arrangements (like buying travel insurance!) and feeling more than a little weary for it, my mother drove me the short way down into Plymouth city centre for me to catch the 07:10 coach to London Victoria. The train would have been a quicker and much easier journey, but I'd found a one way fare for just £1 with National Express – not bad for a 250 mile journey! I had planned to catch some sleep whilst onboard, but instead spent most of the time talking to a lady who knew some of my family, which certainly made time pass much more quickly. Arriving into Victoria at 1pm it was just a short walk to catch another coach onwards to Luton and, no sooner had I sat down, than I was asleep and didn't wake up again until we arrived! There was still several hours still to go though until check in opened, so I took a wander down to taxiway bridge, as it presented a good opportunity to see pretty much every kind of business jet there is!
The check in process was quick and easy; I'd already paid for my bag when I booked the ticket, so off went my luggage down the belt and I headed to the pleasingly small security line. I wasn't so impressed with the departures lounge though – it's small, over-commercialised and cluttered. The range of shops wasn't great either, so I just walked straight down to the quieter gate area where ample seating was available. Time ticked on whilst more people mustered at the gate, but there was still no sign of life as the departure time passed into history, or an aircraft on stand for that matter. Half an hour later the gate staff hurriedly arrived, no explanation for the delay was forthcoming and neither was an apology, which myself and others thought was a little curt, but soon our attentions were focused on being herded towards the stairs down to the ramp to be loaded aboard the recently arrived A320.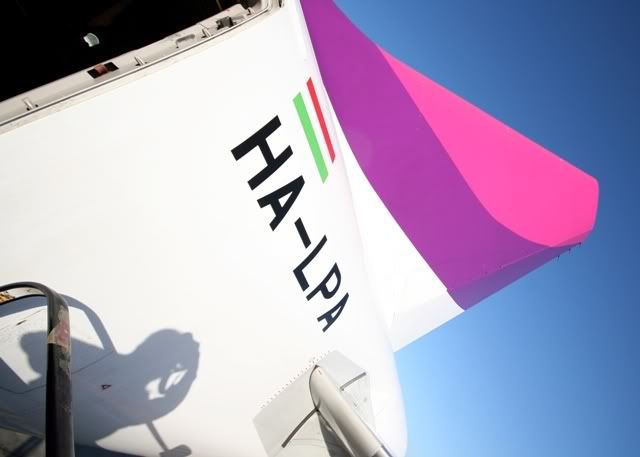 LTN-WAW
London Luton to Warsaw Etudia
Carrier: WizzAir
Flight: W6410
Aircraft: Airbus A320-233
Registration: HA-LPA
Date of First Flight: 19/05/1998
Seat: 22A (IIRC)
Block Departure Time: 19:05
Take off Time: 20:05
Block Arrival Time: 22:30
Touchdown Time: 22:49
Distance Flown: 907 miles
Total Flying Time: 1 hour 44 minutes
Cost: £29.29 o/w inc. baggage
Once everybody was onboard the crew did their best to speed things along, and in good time we were pushing back, although being fourth in line for takeoff meant the taxi to Runway 26 was slow, passing two former Silver Jet 767s along the way – such a shame they went bust as their livery was amazing. It was quite surprising that you have to backtrack along 08 to reach the very end of the runway, I know I hadn't flown from LTN for 10 years or so, but considering the amount of traffic nowadays, I thought that the infrastructure would have been upgraded a little. As I now had a fairly decent camera-phone I decided that I might as well video the take-off, it's not terribly steady I know, but as a first attempt I think it's passable.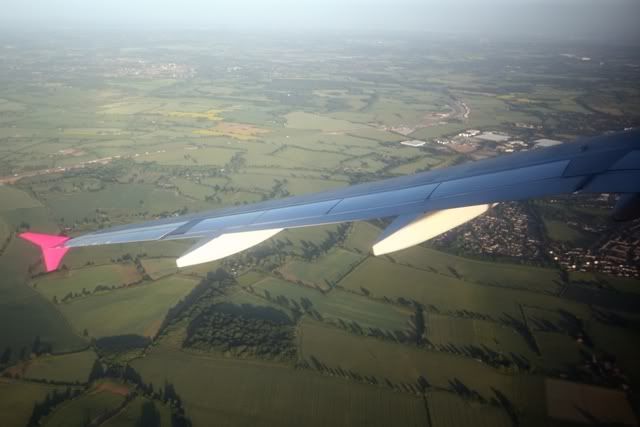 A few minutes into the climb-out the crew informed us that we should make up quite a lot of time en route due to favorable winds, and apologised for the delay which apparently was caused by poor weather on an earlier segment. With that I relaxed back into the seat and nodded off, the next thing I knew Poland was coming up towards me and it was time to prepare for landing. I don't sleep well on planes, so I'm not sure if it was just because I was so tired, or because the seat wasn't too bad comfort wise, even if the legroom was nothing special. By this time it was pitch black outside so there was no point taking pictures of video, 20 minutes late the plane thumped down onto the tarmac of Runway 11 at WAW. Passengers were being bussed in, so I managed to grab a quick shot of the plane before being herded into the CoBus.
Immigration took forever, I must have been standing there for a good 25 minutes waiting to have my passport checked, although on the plus side my bag was orbiting the belt as soon as I got through. The delay meant that I had just missed the last bus into Warsaw, so I found a cash machine and took a taxi into the city, pretty terrifying actually, this guy was driving flat out and weaving all over the place! After some wandering around and then some helpful directions from a friendly local guy who could see I was lost, I made it to the Helvetic Hostel, where Soren had already arrived and had very kindly made up my bed too, so I could just fully crash out!
Day 2; Thursday 26th June:
We had planned to take the sleeper train together from Warsaw to Kiev, however we found that all the trains were full – they could still sell us a ticket, but just not a reservation, which was a little pointless so we turned to other options. We checked at the LOT city office, but flying from WAW was insanely expensive, so the best option looked like an overnight bus to Kiev, costing 130 Zloty ($), and taking something like 15 hours. Then though I had an idea, we could take a bus to Lvov which was nearer and then fly onto Kiev from there; when I'd checked that route before the fares were pretty cheap and, sure enough, a one way LWO-KBP was still available the next morning, for less than $60 each all in! As soon as I'd paid for the coach tickets we headed back to the hostel's free internet and Soren booked the flights, phew – at least that was now sorted and we still had some time to chill out and see a little of Warsaw, including the science and technology museum, which was very interesting and had several aviation exhibits.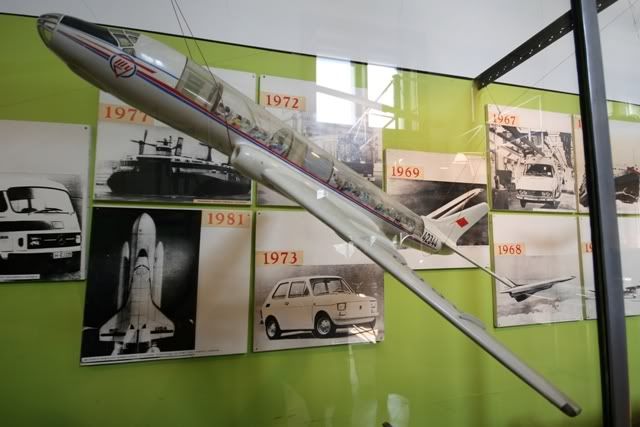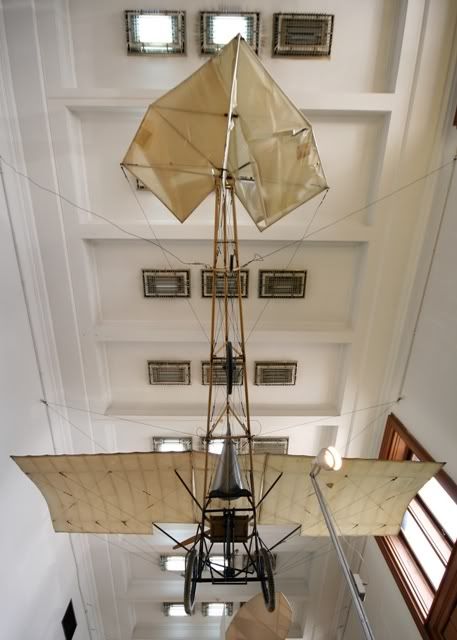 We both wondered if the bus would be some archaic soviet bone-shaker, so it was a relief when a nice modern looking coach pulled up (in fact, it was so luxurious that it even had its own water feature, located
within
the double glazing!  
  ) but the main thing was that it had comfortable seats and a decent amount of legroom for the 300 mile, 9 hour trip.
I'm not good at sleeping on busses either, unless I'm completely dead from exhaustion, but by the looks of things Soren got a decent amount of sleep before the drivers made a stop to have dinner at a Bavarian styled sausage/steak house in the middle of nowhere... darn did it smell good, I wish I'd had some! Then it was on through the night, arriving at the Ukrainian border in the first throws of daylight.
Day 3; Friday 27th June: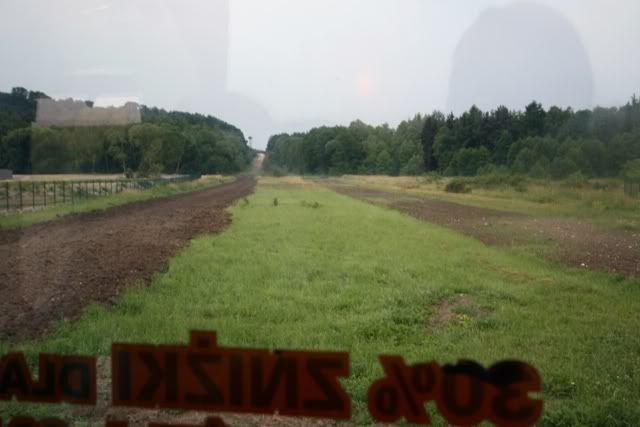 Despite us being virtually the only traffic at the checkpoint and there being a multitude of guards and officials mulling around, nobody wanted to do anything very quickly, but just over two hours later (three with the time difference) the bus was back rolling on the considerably poorer roads and our passports were adorned by a red entry stamp – welcome to the Ukraine! The time at the border though had really cost us; it was 6:30am as a passing sign advised that Lvov was 116km away, our flight left at 08:40… I was seeing a problem here. Peering forwards to catch a glimpse of the speedometer I could see that we were doing between 60 and 80kmph, 'it's still possible!' I thought.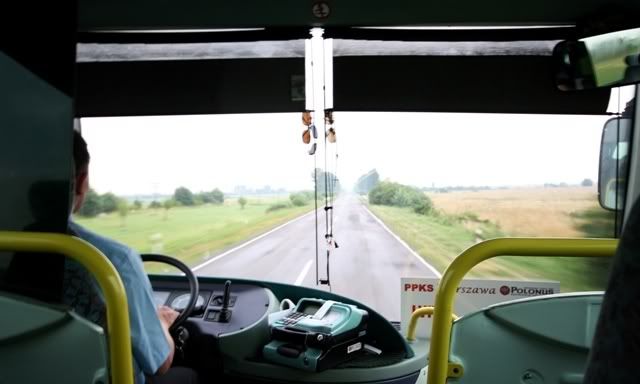 At 8:22am the coach rumbled into a small cobbled square and stopped – finally, we had arrived in Lvov! As passengers spilled out over the pavement Soren ran to hail a taxi and I grabbed our luggage out of the hold – unbelievably the first taxi we found didn't seem to know where the airport was, but the next guy did and we asked him to drive as fast as he could to the airport! This he did, pedal to the metal the whole way, (after initially going around in circles that is) but drawing up to the terminal the air was already resounding to the sound of engines firing up, darn, were we too late? Whilst Soren paid the driver I ran on inside,
'Is this the flight to Kiev?'
I asked frantically,
'Can we still get on?'
There was a nervous silence between us, as the assistant studied something on the laptop which sat atop a lectern in front of him, serving as the improvised check in desk.
'Yes'
– yes – we'd made it! At that moment Soren ran in with the rest of the luggage,
'Give me those motherfuckers'
the baggage handler beckoned jovially, towards our Bergens. This comment was so unexpected that I had to do a double-take at what he'd just said… now there's a guy who's obviously been watching faaar too many Hollywood movies! Boarding passes were thrust into our hands, bags and hold luggage thrown through the scanner and we were hurriedly ushered out across the tarmac to the waiting aircraft. The importance of it being a Yak 42 seemed quite reduced compared to the importance of us actually being onboard and going to Kiev! Neither of us could believe that we'd turned up as the flight was supposed to be departing, with luggage to check, and somehow still got on! I took a quick picture of Soren triumphantly climbing the steps, and climbed aboard myself, ducking under the improbably low door which was then closed behind us.
LWO-KBP
Lvov to Kiev Borispol
Carrier: DonbassAero
Flight: 7D4084 / VV084
Aircraft: Yakovlev Yak 42D
Registration: UR-42372
Date of First Flight: March 1990 (Estimated – not known for sure)
Seat: 20A
Block Departure Time: 08:40
Take off Time: 09:00
Block Arrival Time: 09:55
Touchdown Time: 09:54
Distance Flown: 311 miles
Total Flying Time: 54 minutes
Fare: $56.30 one way
This wasn't my first ride on a Yakovlev aircraft, so I knew roughly what to expect, but even so the noise of those engines firing up right beside you is enough to stir the soul of any aircraft fan. Think of it as sitting in the back of a MadDog, plus a lot more noise! I had planned to film the take-off on my phone, but listening to nine hours worth of music on my mobile had well and truly drained the battery, no big issue though; as the view from where we were seated in row 20 (last row) wasn't the best - due to having a large piece of engine cowling obscuring 70% of your view.
After a boring Airbus ride to Warsaw the wonderful sound which filled the air as this tri-jet fired up and rolled down the runway was more than welcome; thirty five seconds later we rose slowly into the grey skies, embarking on what the engineers at Yakovlev deemed to be a 'climb', but what in reality was no more than a gradual ascent heavenwards due to the curvature of the Earth – Soren joked that even the A343 can perform better than a Yak42, it certainly had on our last flight together with LAN Chile from MAD-FRA!
I had no idea what kind of service to expect on this flight; whilst booking on AeroSvit's website it suggested that we may get a meal, but as it turned out the only refreshments were a small plastic cup of water each… at that point I remembered I'd left my bag full of biscuits and snacks on the coach – doh! The legroom wasn't exactly what you'd call spacious but, as with many Russian aircraft, if you wanted more and the row in front was free, then simply push the seat back over and you'd get a little more knee room.
The Yak 42 isn't that old an aircraft, especially the D versions like this example, (which is the only variant left in service now) yet still the cabin was showing some obvious signs of age; in places it was pretty tatty to say the least. The overhead storage constituted an open rack, adorned with little printed notices reminding you not to place any items on them, presumably because they could slide off during turbulence and hit someone. Either nobody took any notice of them, or nobody could read them because they were only written in English, the crew couldn't care less, that's for sure.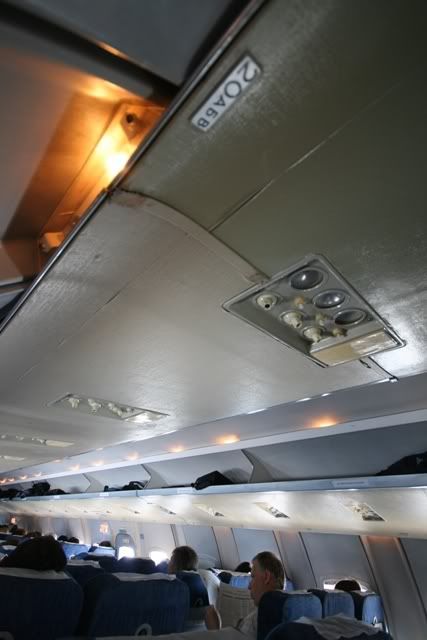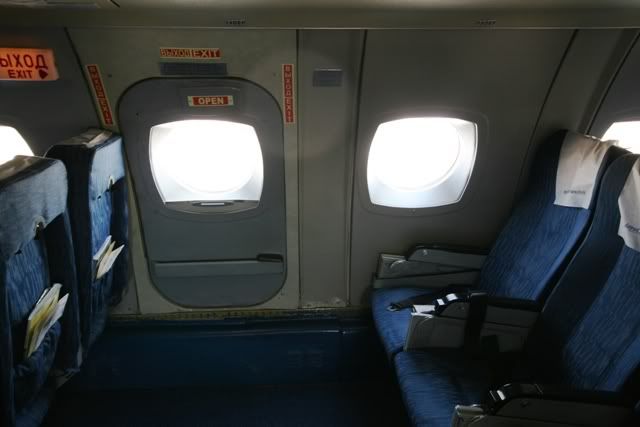 The flight time drifted quickly by and soon the initial signs of decent began; the noise from above and behind waned and the crew scurried about the cabin, collecting refuse from the service. Various suburbs of Kiev offered fleeting glimpses of how the city appeared, sandwiched in-between cowling and wing – we definitely decided that row 20 was not the best for views, although I made a note that 19 seemed to be perfect. The on time touchdown was firm, utilizing much of Runway 36L's 3500m length to roll out down (the Yak 42 has no reverse thrust) before taxing to the stand. Unfortunately the rear door wasn't used, so we were last to deplane and subsequently board the bus to take us to the domestic arrivals area.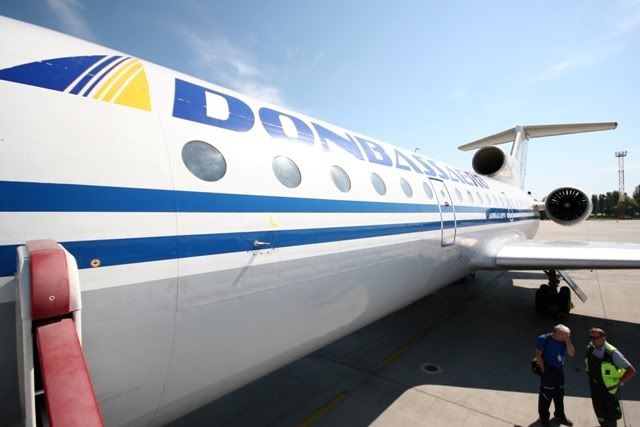 I hesitate to call it a terminal, because the reclaim area is simply a small room; no more than 40ft by 20ft, containing a single totally inadequate belt and a token flight connections desk – it was impossible to get all of the passengers from our Lvov flight around the reclaim at one time, you'd have felt like sardines should another flight have arrived simultaneously.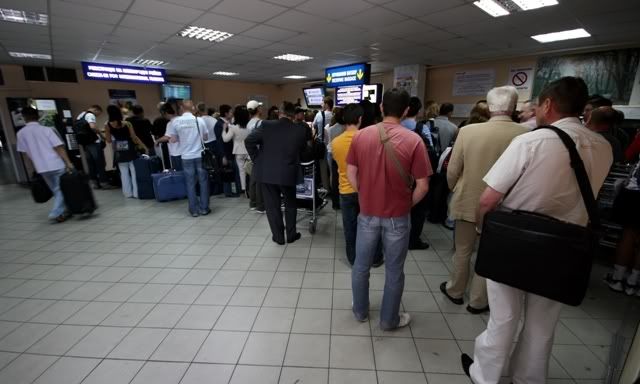 From the airport we needed to make our way into the centre of Kiev, there a dozens of taxi touts, but it was much easier and far cheaper to take a coach to the main railway station, from where we could take the Metro a few stops to meet Jurgen at Liboverezhna, who then took us back to his appartment nearbye, where we met up with David (Dba4U) who had the keys to ours. It's naïve of me really, but I'm so used to seeing Latin characters (which I can interpret even when written in other languages) that, once on the Metro, to be suddenly confronted by everything written in Cyrillic's was mind blowing; I didn't have a clue and if I was on my own would probably have given up and taken a taxi – so all credit goes to Soren for getting us in the right direction!
This was the area where our flat was located – don't be deceived by the soviet high rises; even walking back home in the early hours I felt perfectly safe, safer in fact than if I was walking around my home city late at night.
You'd think that after all that we might have deserved a rest, but once we'd met up with the others at the flat, Judith (Zruda) decided it was time for a route march...  
The Motherland Statue:
Monument to the 1943 Battle of the Dnieper :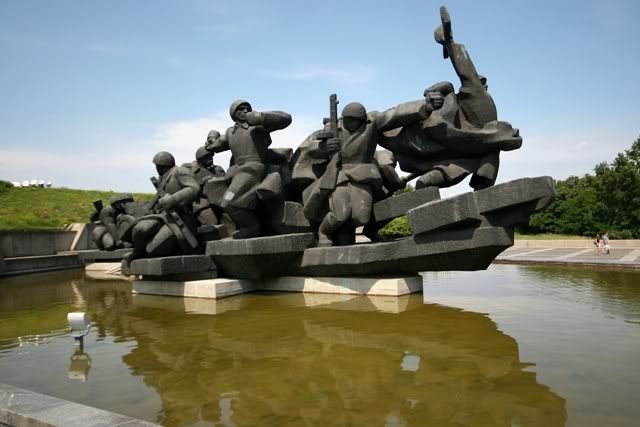 One of the churches/buildings associated with the Lavra: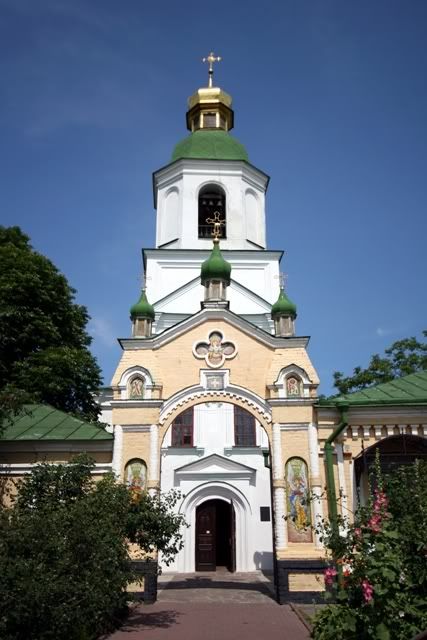 Day 4; Saturday 28th June
Today was essentially a free day in the city, so a group of us decided to visit the National Museum of Aviation, located next to Kiev's Zhuliany Airport… certainly time well spent - it's one of the best collections of preserved Russian aircraft there is. Annoyingly one of my lenses was malfunctioning, so a whole raft of the pictures were duff, but this gives you an idea of what's on offer; it seems pretty strange walking around these museum exhibits when you are hopefully going to be flying on them in the coming weeks! As the airport was only next door, we all walked around to the passenger terminal afterwards so that Jurgen and I could enquire about flying on the An-140 with Ilyich Avia – tickets were available, but the Saturday flight had been cancelled, so if we were flying out on the Friday it could only be one way. After a bit of thought, we just decided to do it anyway and think about getting back later!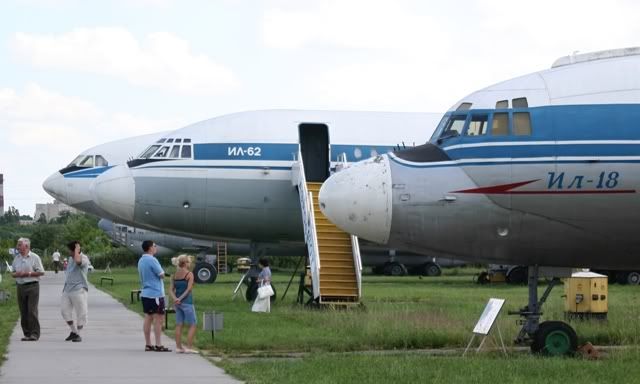 Inside the Il-62: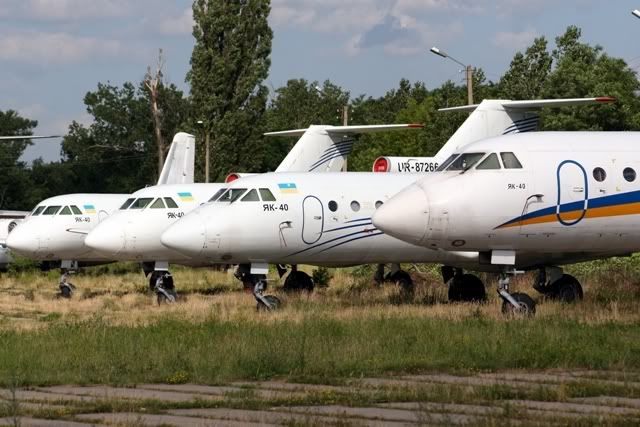 Day 5; Sunday 29th June
This was the day we had all been waiting for; not because Spain were about to beat Germany in the Euro 2008 final, but because we were going to visit the site of the world's worst nuclear accident - Chernobyl. My entire trip was built around this event and date, with more and more gradually tagged on the end, I know it's not exactly aviation related, but to omit such an experience form this repot would be a crime, especially as it was an A.net meet, after all. It's a very sobering place to visit and obviously everyone in the group took photographs, so you may wish to visit the 'Fallout Thread' where a lot of really great pictures were posted: [url]
http://www.airliners.net/aviation-fo...=1954444&s=Fallout#ID1954444[/url]
Here are a few photographs and videos of both Chernobyl and the workers' town, Prypiat: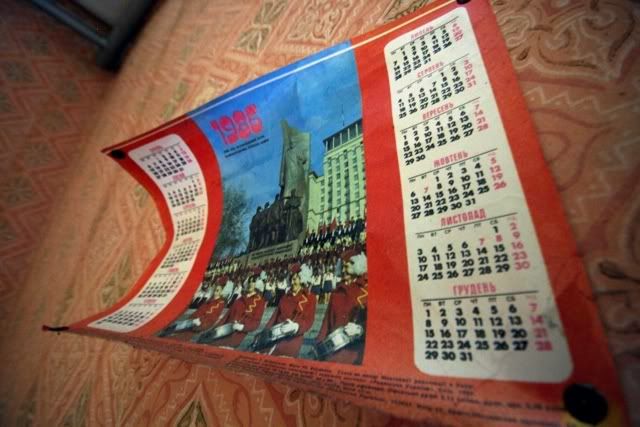 The nearly completed reactors 5 and 6, which were never completed due to the fallout: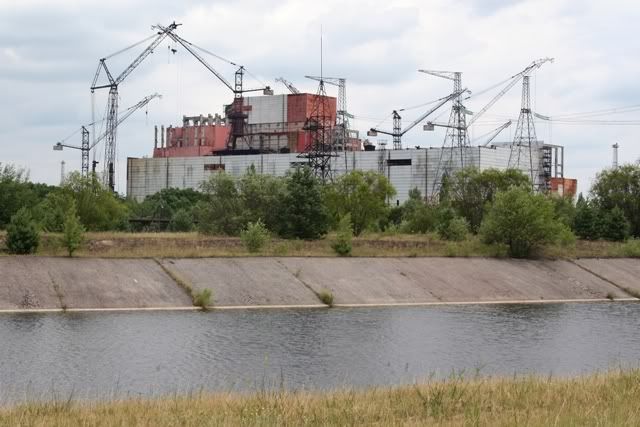 The sarcophagus containing reactor No.4, where the explosion took place: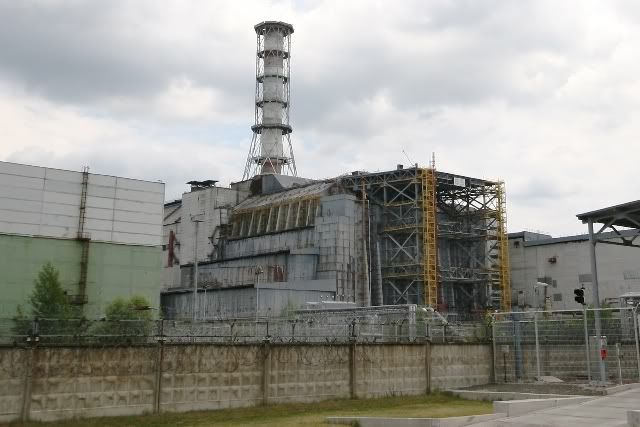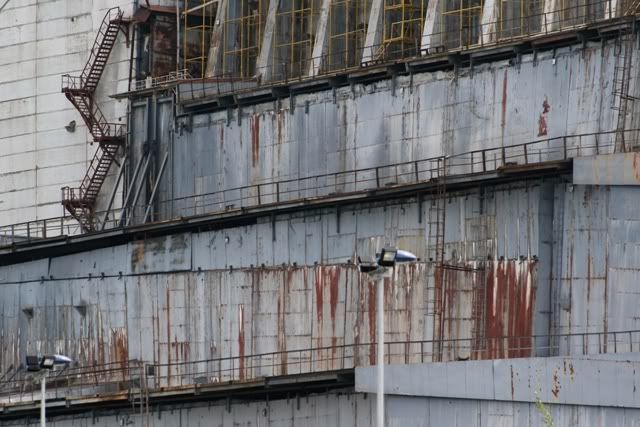 Prypiat, the now abandoned workers' town situated just a few miles from the power plant: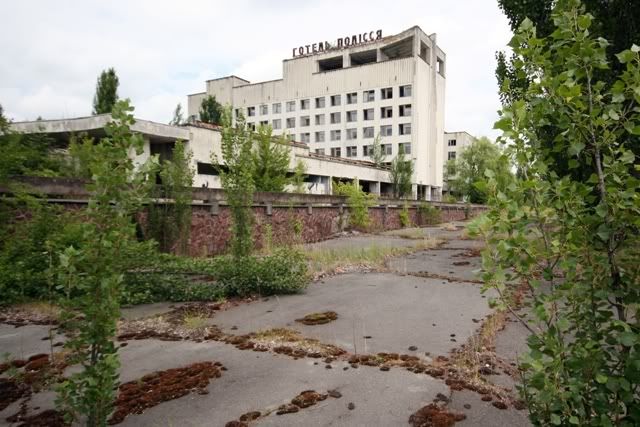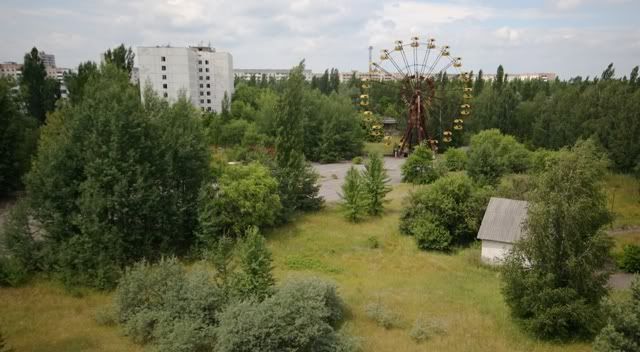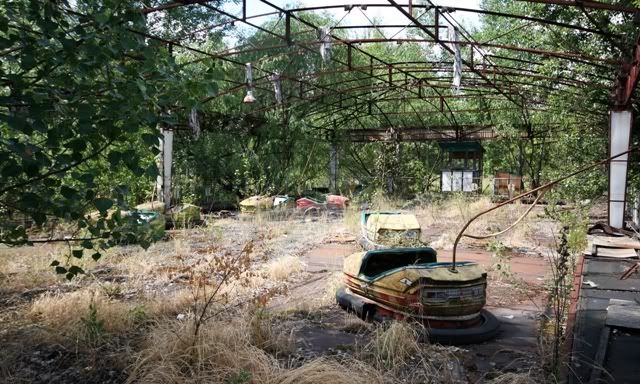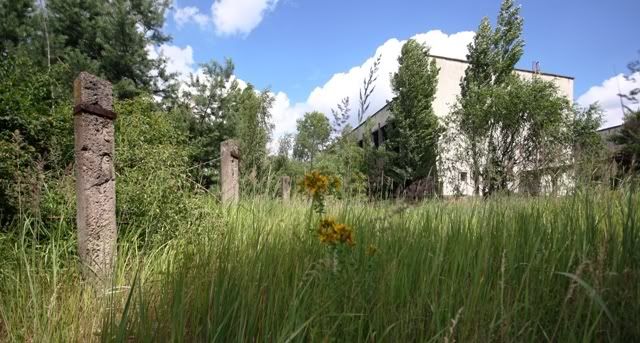 In these videos the guide can be heard explaining a little of what happened before, during, and after the disaster:
Day 6; Monday 30th June
Today many of our group would go their separate ways; however myself, Soren, Jurgen and Judith were continuing the adventure with a four day trip, taking us first to Lvov, then to Chisinau in Moldova, back into the Ukraine for a visit to Odessa, and finally returning to Kiev. We were still debating what the best way back from Odessa to Kiev would be as Soren had to make an early flight on Friday morning; prior to leaving the UK I'd checked options and the cheapest by air was with Dnieproavia on the EMB-145 (at around $150 one way) but, borrowing Gavin's, laptop I checked the AeroSvit site again and couldn't believe my eyes – one way on the day we wanted, at the time we wanted, for $60 each! I booked it for all of us there and then, least it disappear - none of us were going to turn down another Yak 42 flight for that price! 
Judith had ordered us a large taxi for the airport; with 6 of us it made more sense to go together, plus we had a good sing song along the way – I don't think the driver could quite believe us, I'm just thankful that nobody was recording it…
all I wanna do is fly a Yak 42
Once at the airport Soren, myself and Jurgen were on confirmed tickets, whilst Judith was flying non-rev, but there were loads of seats open so check in went smoothly and we all had boarding passes in no time. Security was more thorough than at LWO, but still not too invasive or time consuming, allowing us to spend more time in the rather dull departure lounge. Our gate was number four, located in an extension of the lounge, although if you substitute the word 'extension' for 'tent' you'd be nearer the truth - it's fine during the summer, but I wouldn't fancy sitting out there in a gale during the winter when its sub zero!
Boarding began roughly on time, then promptly came to a halt and we had to get off the bus and sit back down again in the tent. Judith asked one of the airline staff what the problem was, and apparently it was a tech issue with the aircraft. After half an hour or so of relaxing on the not too uncomfortable wooden benches a second call was made, and this time we were shipped out to the aircraft, virtually having the bus to ourselves as the first was too full and getting a nice view of the first WizzAir Ukraine aircraft in the process, which had arrived in Kiev since the Friday, but still some two weeks before it's first commercial flight.
The most striking thing about the Yak 42 though, literally if you are over hobbit height, is that the main front passenger door is absolutely tiny; it can't be much more than five feet high – as the people having to duck in the picture above illustrates. I know that, like the Il-86, most passengers were expected to board the Yak 42 by its internal (rear) stairs, but even so it seems incredibly odd to find such a low door – I wonder if it was the curve at the front of the fuselage which dictated its size?
KBP-LWO
Kiev Borispol to Lvov
Carrier: DonbassAero
Flight: 7D4083 / VV083
Aircraft: Yakovlev Yak42D
Registration: UR-42372
Date of First Flight: March 1990 (Estimated – not known for sure)
Seat: 19F
Block Departure Time: 15:00
Take off Time: 16:09
Block Arrival Time: 16:20
Touchdown Time: 17:11
Distance Flown: 311 miles
Total Flying Time: 1 hour 2 minutes
Fare: $54.80 o/w
It was a little disappointing to get the same Yak that we'd flown to Kiev a few days earlier, but that's life and it's not as if I'm new to getting the same aircraft over and over again! This time I was in 19F and had a fantastic view; the wing to my left and the engine to my right, it really it the best seat on the aircraft for photographs, especially if you like engine noise. All announcements are made first in Ukrainian and then English, generally it was understandable, although you got the feeling that the crews language skills did not extend very far. Runway 36R was being used for take-offs and, at 4000m long, its full length was certainly not going to be required, so backtracking a further kilometer to the piano keys was avoided. This time I ensured that I filmed the take off; it was quite a rapid taxi and, yet again, hearing the engines blast up to power was just awesome from the back!
The view during ascent was fantastic; the lush greens and vibrant yellows of the fields below set against the deep blue sky, scattered with the occasional cloud meant I was pretty much glued to the window for the whole flight. The service was identical to the previous trip in the opposite direction, nothing to write home about.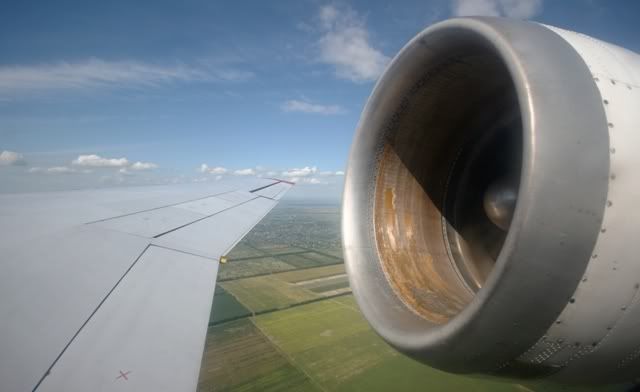 Unfortunately as the decent to Lvov began it was clear that the weather there wasn't quite so good, with an overcast cloud layer making for a dull approach, and a series of banks lining us up on Runway 31 for an average landing.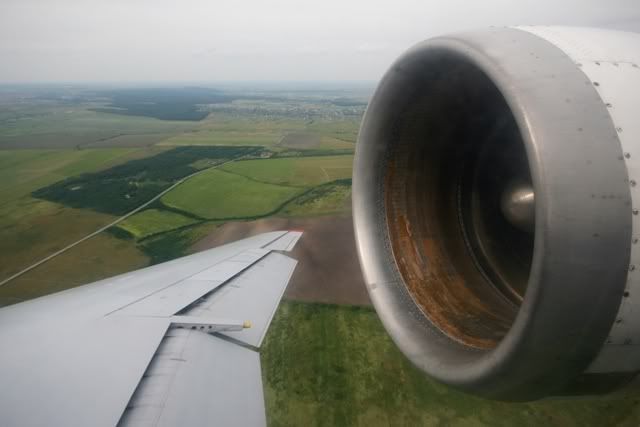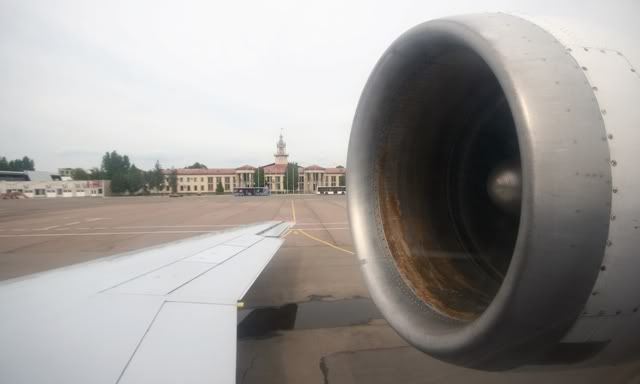 During the taxi I noticed UR-CFA, a South Airlines Yak 42D who's sister ship -CFH would fly us from Odessa to Kiev just a few days later, undergoing some maintenance in a corner of the airfield – considering the condition of its stable-mates I thought that it had just been dumped there! This time the aircraft was parked on a remote stand, leaving just enough time spare to grab a picture of the cabin on exiting, before jumping on the bus to the terminal… where-upon Judith had to jump back on the bus again to go and get her bag off the aircraft.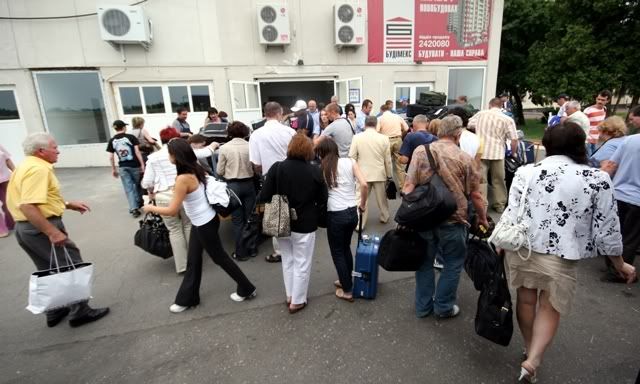 Baggage reclaim was an entirely open air procedure; the cart was pulled over to the waiting passengers and bags handed out. One noticeable thing is that the Ukrainian airports are very hot on checking that you have the right bag – most of the time you have to show the ground staff or an official the corresponding luggage tag before you are allowed to take your checked item. I presume this is to stop anyone just walking into the airport and stealing bags, as many arrival areas are far from secure and waiting taxi touts or relatives can simply walk through and out onto the apron!
The plan now was to head into Lvov, kill some time, and then take the overnight/day sleeper train to Chisinau… however then Soren had an idea! We could hire a car on a one way basis and (Soren and Jurgen) drive the entire way to Odessa, giving us a much better view of the countryside along the way and enabling us to make stops whenever we wanted – it was perfect, and after a few phone calls we found out that it was possible! The airport itself is incredibly beautiful, it feels more like a classically designed train station, so before leaving I made sure that I took a few pictures, as there certainly wasn't time when Soren and I had flown through before.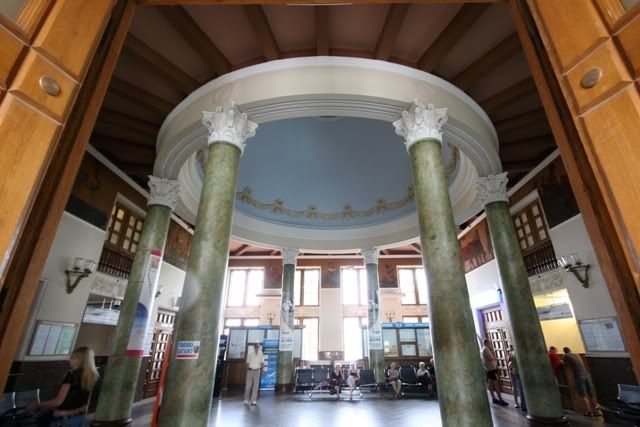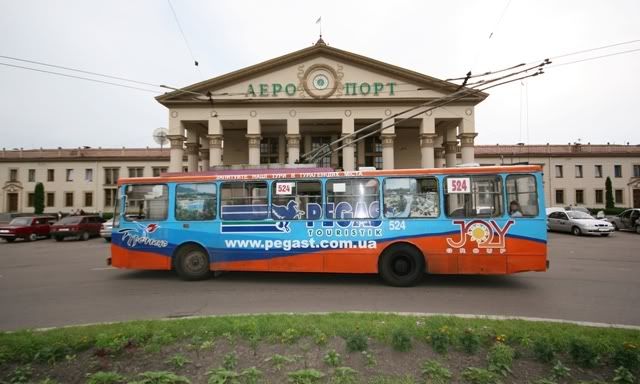 So, now in possession of a car, we headed into the city to find dinner and somewhere to stay for the night, aiming to then make an early start the next morning. I'm really glad that we did, because Lvov is one of the most beautiful cities I have been to, the architecture is fantastic and it feels vibrant whilst being quaint at the same time – another few years and I'm sure it'll be appearing on the radar of those looking for weekend city breaks.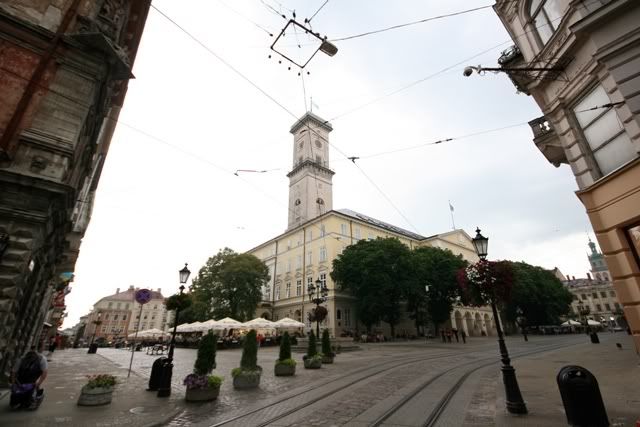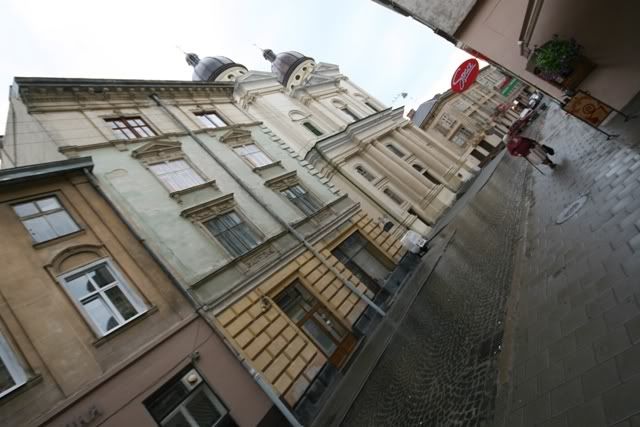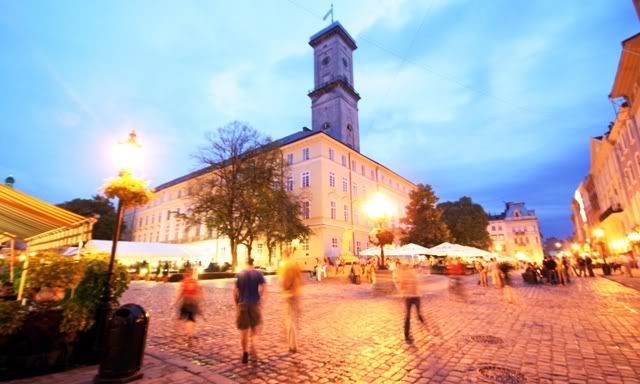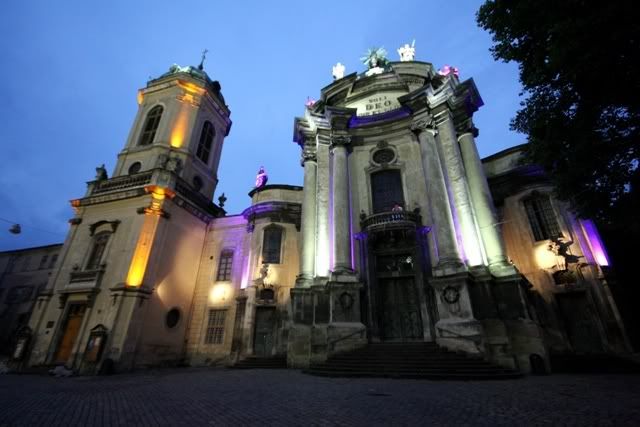 Jurgen found a good hotel with very reasonable prices – if I'm remembering correctly it was something like $20 or €20 per room per night, so split between two it's incredibly good value. The building itself was a reminder of bygone days, grand and ornate, but now disheveled and a shadow of its former glory… just waiting to be reborn.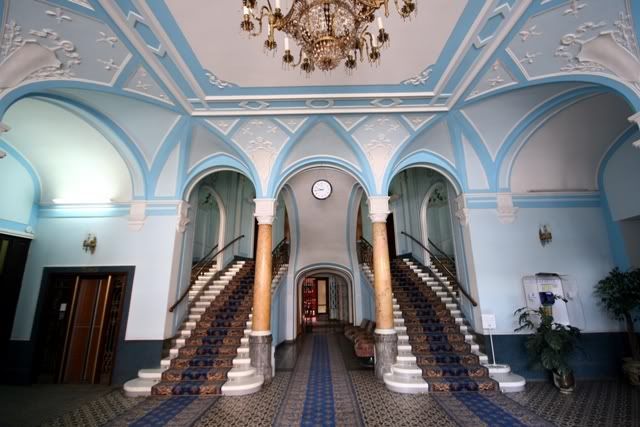 Day 7; Tuesday 1st July:
Once Soren had taxied us out of Lvov the first stop was a CD shop on the outskirts, well you've got to have some music to drive to, haven't you?  
In fact the CD's were such great value that I bought the shop's entire supple of metal genres – for 25HUY, or about $5 an album! Then it was onwards, firstly heading South towards Ivano-Frankivs'k, then slightly West towards Chernivtsi.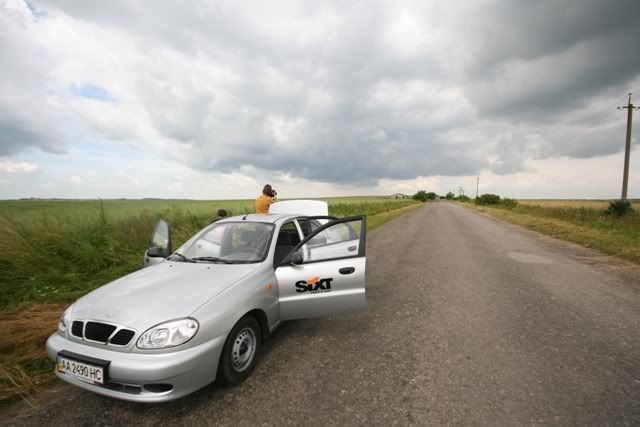 To discourage speeding and dangerous driving, many of the cars involved in major accidents are left at the scene, as a stark warming to other motorists: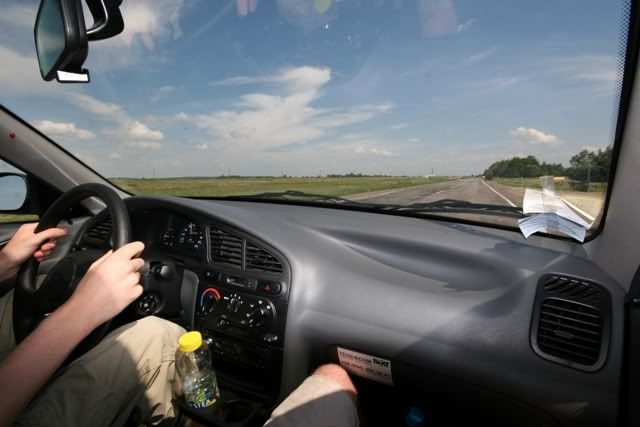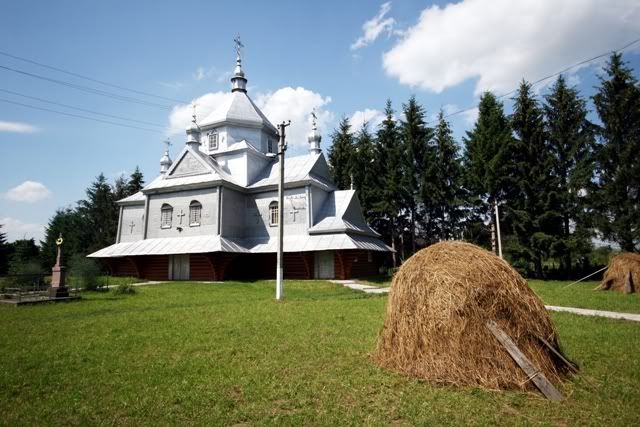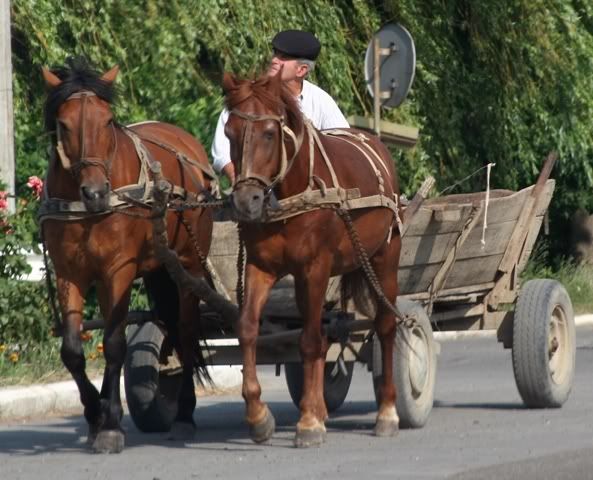 The Ukrainian-Moldovan border crossing:
Aside of a slight 'problem' with a police officer, apparently for exceeding the speed limit, (Attencion Christian, attencion!  
  ) everything had gone completely to plan and pulling up to the Moldovan border point of Criva you could see it was far from busy, so we were hoping for a quick passage… but then we hit the slight problem of paperwork… and apparently not having the right sort. It would appear that the Moldovan border guards were highly concerned that, because we didn't have a certain slip of paper which the rental company should have given us, we may chose to sell our car once inside Moldova and thus ruin the countries economy in the process. Sensible reason or not, they weren't letting us drive the car into Moldova, until that is Judith worked absolute magic; without her we would have been completely lost, as she spoke perfect Russian, so could pick apart their petty excuses and throw them straight back – thank you so much once again! Still, it took hours before we drove out the other side, not quite believing that we had actually made it through at last, and that meant we had some 250 kilometers yet to run, and it was rapidly heading towards dusk. On the plus side though, the map advised us that the main road through Moldova was a duel carriageway for much of the way, and to begin with the roads didn't seem bad at all, such as this stretch through Lipkany;
The light was pretty much perfect and the scenery was fantastic, so we made several stops to take pictures as they were just too good to miss.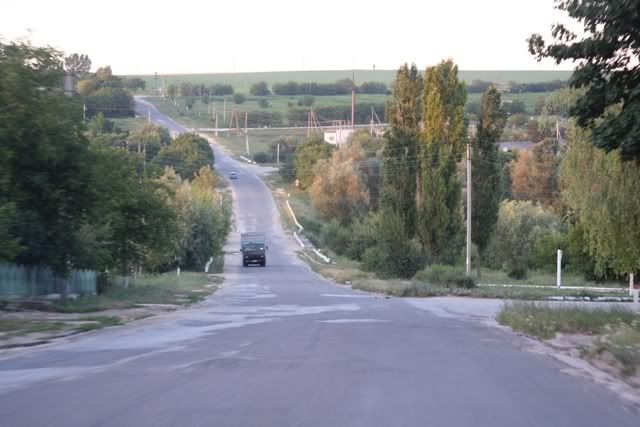 The much awaited duel carriageway never appeared and, although the road had three lanes, there wasn't much guidance as to which one was best to be driving in – just avoid the bumps and potholes at all costs! Once darkness fell it was more and more difficult for Jurgen, who was driving, to avoid the huge lumps and bumps - other cars to follow were scarce, and useful signage non existent; at one point (and with no warning at all) the main road ahead was completely blocked (stopping traffic from using a dangerous bridge it seems) by a large pile of rubble and Earth, into which had been stuck a tiny wooden sign with an arrow on it, directing you down a 'road' to the right towards Lazo, and then, nothing! Once again we have Judith to thank for getting us safely back on the main road, the other side of an improvised diversion around the blockage and, eventually, we reached Chisinau at just gone midnight. Before driving into the city itself a driver swap was made, Soren taking up the wheel, but we hadn't gone more than a couple of miles before the police pulled us over! Why – well it appears he made a left turn, at a left turn… ah the wonders of corruption, $20 later and a McDonalds stop we were back on our way again!  
  Finding the flat where we were supposed to be staying was not easy either; I thought we'd be arriving by train when I left home, so had arranged for a transfer straight from the station and had not printed off any decent maps, but eventually we got there!
Day Eight; Wednesday 2nd July
Today was route-march time again, walking miles around the city, before taking a well earned rest at a bar beside what we guessed to be a lake, when there was water in it that is! The city is very nice, a lot more cosmopolitan than I had expected it to be, but very small – it's quite easy to walk around it in just a few hours.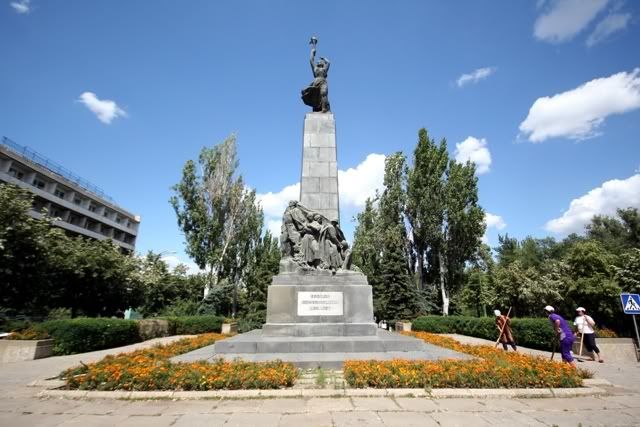 'Soren' corner, site of the expensive left turn:
Guess who?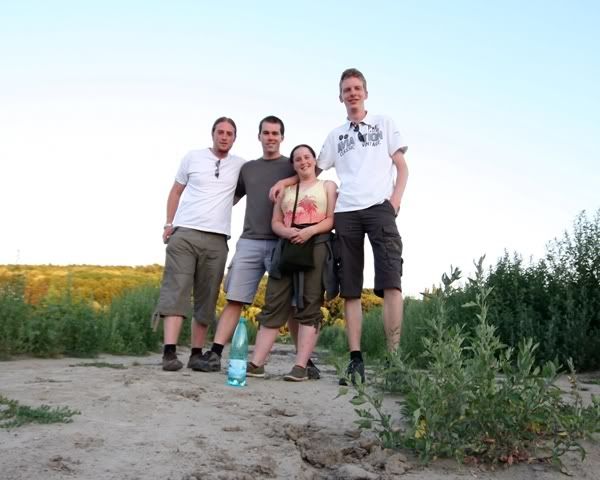 Plus, I can't let taxi-cat be forgotten  
View from the flat in Chisinau at night: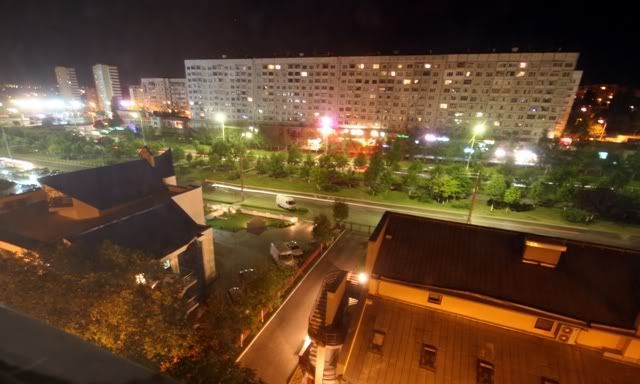 Day Nine; Thursday 3rd July
Today was going to be another road trip day, covering far less distance than two days previously, but nevertheless we still wanted to allow a lot of time for possible hold-ups as Judith needed to catch a flight back home to Prague at 3pm from ODS, and the rest of us also left three hours later to Kiev. The quickest roads to Odessa should get you there in a couple of hours, but unfortunately these roads would take you through the unrecognized Transdniester Republic, where you will basically be instructed to pay a bribe to get through, or bad things will happen to you! After a problems getting into Moldova we really didn't want to exasperate things getting out again, so selected a route which would take us to the South of the break-away region. It was a beautiful day and once again the scenery was beautiful along the way.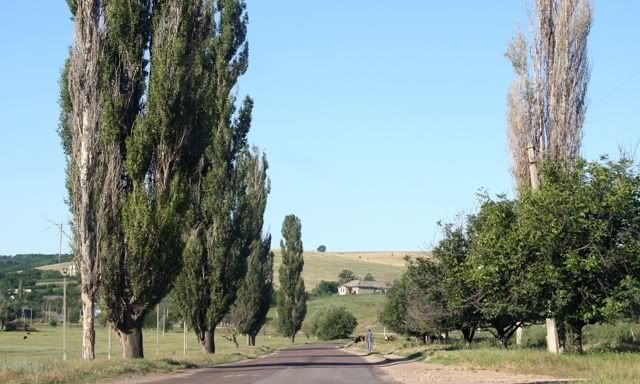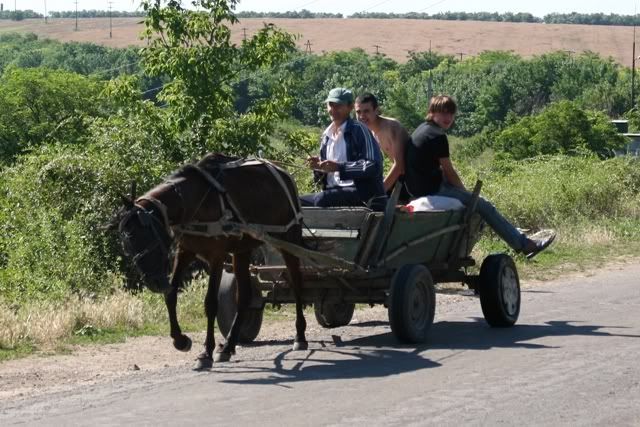 Thankfully the return border crossing at Palanca was quick and simple, taking us just a few minutes at each side, plus a quite long drive through no-man's land when we were no longer in Moldova but not in the Ukraine either! Just 40 kilometers later and we entered Odessa, spending a short while in the city and then heading to the airport; after driving over 900km, it was the end of the road for this bit of the trip, but an incredibly cool episode, all I can say is thank you to Jurgen and Soren for doing the driving, and Judith for being such an excellent translator! 
Judith's flight departing to Prague:
There wasn't enough time to go back into the city, so we decided to stay in the terminal – the flight was only a few hours later. The terminal itself is quite rectangular and sparse; the check in areas are segregated from the main hall and only opens for those passengers traveling when their flight starts checking in.
The domestic check in opened one hour before departure, although really it was a combined security/check in/departures lounge (not an overly big one at that) and, whilst the process was fairly rudimentary, it worked. We were all hoping that the flight would be operated by a South Airline's Aircraft (it had been the previous week when some of the others had flown the same route) and we were in luck! The police weren't too keen on pictures, which was a real shame as boarding was being done via the rear stairs, but I managed to get one or two shots without drawing attention to myself.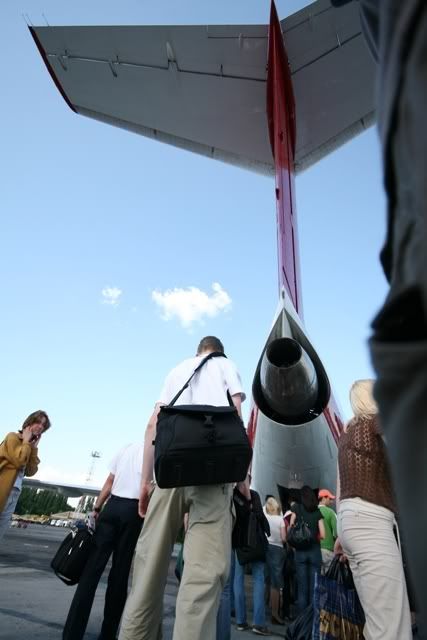 ODS-KBP
Odessa to Kiev Borispol
Carrier: South Airlines
Flight: VV008
Aircraft: Yakovlev Yak 42D
Registration: UR-CFH
Date of First Flight: Unknown
Seat: 19A
Block Departure Time: 18:00
Take off Time: 18:07
Block Arrival Time: 19:25
Touchdown Time: 19:08
Distance Flown: 271 miles
Total Flying Time: 1 hour 1 minute
Fare: $61.20 o/w
Inside the aircraft things felt moderately more modern; the overheads were securable bins and not just a rack, but there was little in the way of South Airways branding, with the notable exception of the safety card. Taxing to the runway took you past an array of stored Russian craft, ranging from small props to Il-76s, many looking as if they would never fly again. The infrastructure didn't exactly feel too up to date either, and it was a very bumpy takeoff, which again I filmed – although the camera shake is pretty extreme due to the bumps.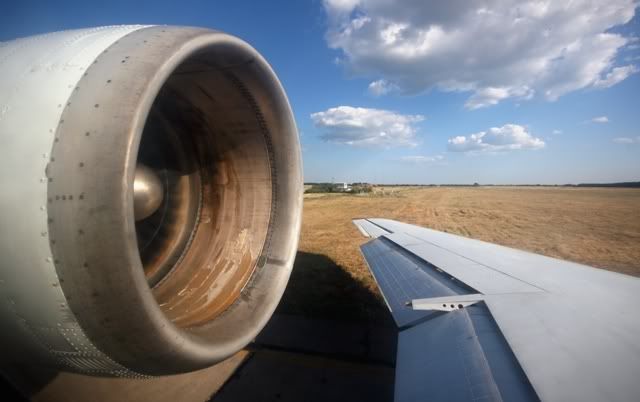 If you're wondering why I panned the camera around in the cabin, it's because Soren is sat a couple of rows in front of me and Jurgen is sat at the other end of my row. To begin with it was hard to tell if the plane was still rolling on the ground or not, but eventually it gained height and found its way into the sky. Being on the left meant that I had the sun in my face and pictures weren't exactly going to come out, so instead I took a few of the cabin;
The service was no different from DonbassAero's flights; one plastic cup of water and, although the seats had fresh covers on them, they still felt the same to your back. Still, it was a short flight, with the descent towards Boryspil beginning only 20 minutes or so after we'd reached cruise.
The gentle touchdown on 36L was much earlier than scheduled, which was good, as it would give us more time to find a hotel for the night. A multitude of aircraft were visible during the taxi in towards our stand, certainly we'd hit it at a busy time, but fortunately most flights seemed to be departing rather than arriving, so after being bussed in we didn't get too bottlenecked in the tiny reclaim hall.
After first walking to the airport hotel, and finding out that they only had very expensive rooms left, we headed to the Boryspil Airport City Hotel, 7km away, which was half the price and from all accounts just as good! The booking system is incredibly non user friendly in my opinion, it actually penalizes you if you wish to book in advance; a room booked on the day may only be UAH300 a night, but booked in advance its UAH500/600! I'm not sure if this is practiced in other countries too, but personally if there had been a choice it would put me off staying at such a hotel.
Day 10; Friday 4th July
Soren had a very early start because his flight left at 9am, however I stayed at the hotel and then took the complimentary shuttle bus to KBP later with Jurgen – even though our flight today was departing from Zhuliany, Kiev's city airport, we still needed to use the internet café to confirm our arrangements for getting back. I had another flight booked on Sunday morning from KBP, thus needed to be back in Kiev by the following (Saturday) evening, so the only sensible option was to go overland from Mariupol to Donetsk the following morning, and to fly back from there in the afternoon. This decided, I bit my tongue and bought a ticket on the flight - I wouldn't have minded paying nearly 200 bucks if it had been something Russian, but no, it was scheduled to be a boring AeroSvit B737-400!  
On the way to IEV we took a divert through the city, partly to try and find the longest escalator in the world (we think we found the right one!), later research suggests that it doesn't still hold the record as Moscow has a longer one now, but, at 432 feet, it's pretty long for a single escalator and took two and a half minutes to ascend.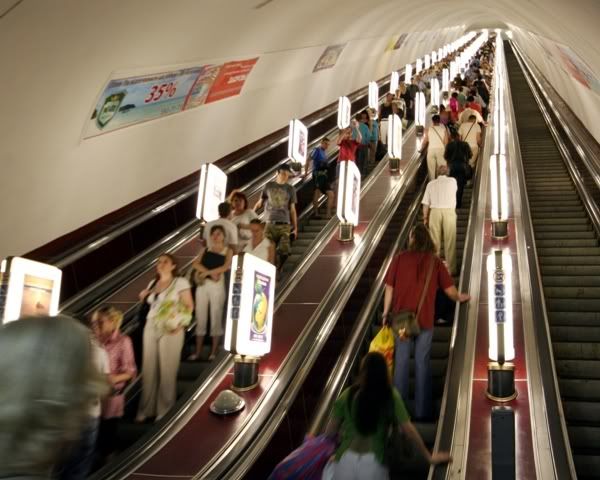 After another short trip on the metro it was just a single ride on a trolleybus direct to Zhuliany Airport, it took almost an hour though as rush hour was well underway and the roads were packed, which in the greenhouse like heat of the bus was not overly pleasant! I was thankful once we reached the sanctuary of the terminal building, and its refreshing air conditioning. There was still some time before check in opened, so after cooling down I took a walk to see if I could see our aircraft. Sure enough it was sat on the ramp right in front of the terminal, joined then by a Yak 40; UR-RTS, which was a bonus to see.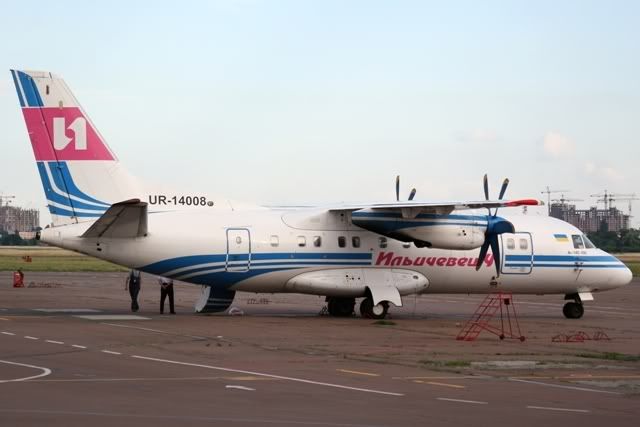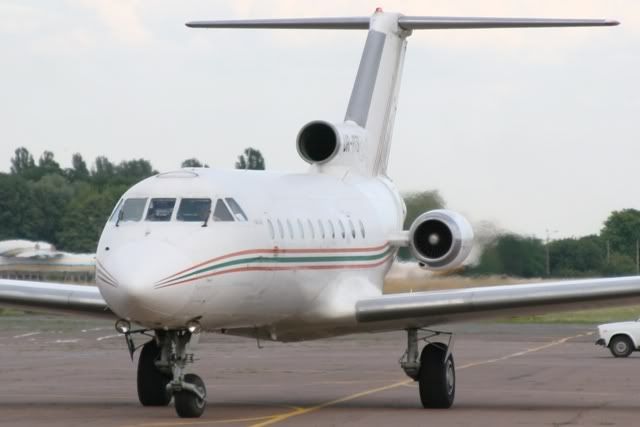 The facilities at Zhuliany are best described as 'compact' with a couple of check in desks serving all flights, except for a couple of people working on the ticket counters, English is not widely spoken – but this didn't hamper proceedings, and once check I had opened I was soon in possession of a hand written boarding pass, as was Jurgen. Despite having checked in, we had to keep hold of our checked bags until after we had passed through the security channel, something which is unusual in Western Europe, but pretty much standard practice in the Ukraine.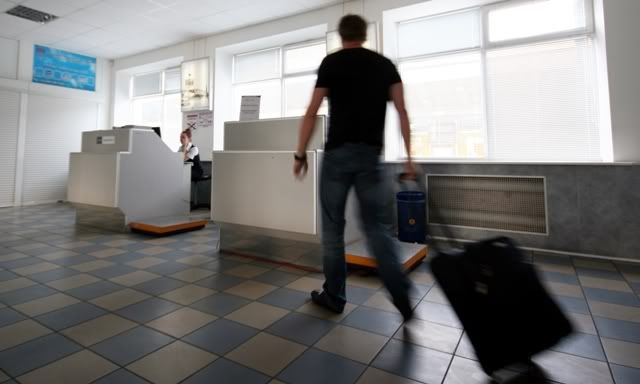 I don't usually take pictures of my tickets or passes – but this time I made an exception as they were rather unusual, and I didn't think I'd ever be flying from the airport again.
The security channel wasn't open yet, so we waited outside on the blue benches – much like the tent back at KBP, I can imagine that this is bitterly cold during the winter months, but today it was quite pleasant in the cooler evening air.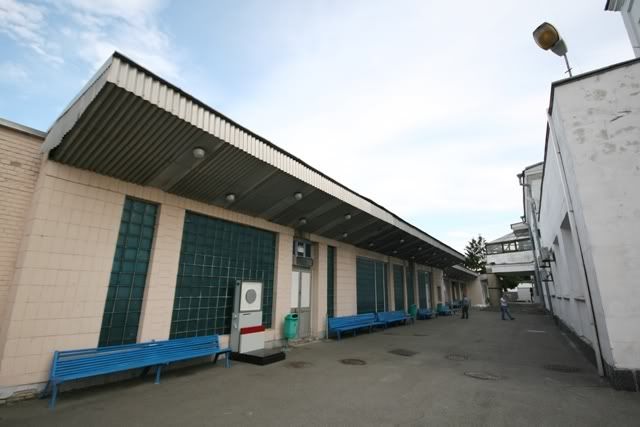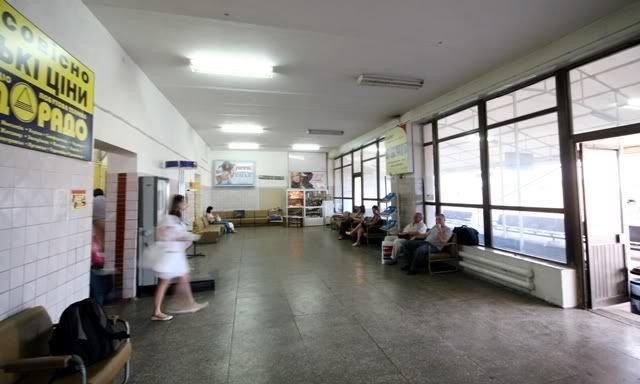 The guards gave everything in my bag a through checking over, I expect they wanted to find out what the large, dense objects were in my backpack – just camera lenses though, so they were quickly satisfied and returned my hand baggage whilst passing my Bergen on to be loaded onto the aircraft. Unlike some other airports, the staff at Zhuliany didn't have any problem with pictures being taken, perhaps because the museum is based on the same site they are accustomed to enthusiasts wishing to photograph these airborne lumps of metal. Even better, at the front of the rather dated (décor wise) departure lounge there was an open terrace, so you didn't even have to shoot though glass, thus you could pick up some of the long term residents decaying away in forgotten corners amongst the weeds – now that's a much better idea for photographers, BAA, are you listening?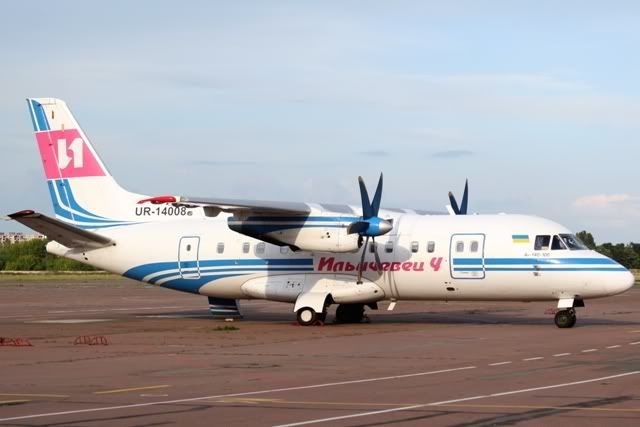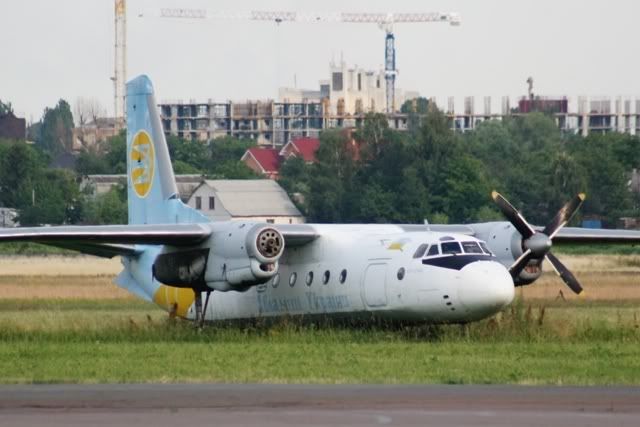 The aircraft was only a short way away, but despite this, the oldest passenger 'bus' I have ever seen turned up to haul us out to it's stand – perhaps they have loaned it from the museum! Seating was apparently free, and boarding was tightly controlled, only a couple of people at a time were allowed to enter the aircraft, and they had to have found a seat before the next passengers were permitted onboard. This actually makes quite a lot of sense, as it avoids a big crush of people trying to push past each other, and fortunately when it was my turn to climb onboard there was still a good selection of window seats available, taking one in front of the prop on the right hand side.
IEV-MPW
Kiev Zhuliany to Mariupol
Carrier: Ilyich Avia
Flight: 932
Aircraft: Antonov An140-100
Registration: UR-14008
Date of First Flight: 21.08.2004 (Delivery date)
Seat: 2D
Block Departure Time: 19:40
Take off Time: 19:49
Block Arrival Time: 21:30
Touchdown Time: 21:25
Distance Flown: 394 miles
Total Flying Time: 1 hour 36 minutes
Fare: UAH720 o/w (about $150)
My first impression of the An140 was very farvourable; it had a very modern feel about it, was spacious, and comfortable to sit in seat and legroom wise. Once the props span into life and we pulled off stand the noise inside the cabin was significantly less than many similar sized western aircraft, like the original Dashes, F50 etc… In many ways it reminded me a lot of the ATR42-500 – especially with the six bladed props, which is no bad thing as it's one of the most comfortable turboprops around.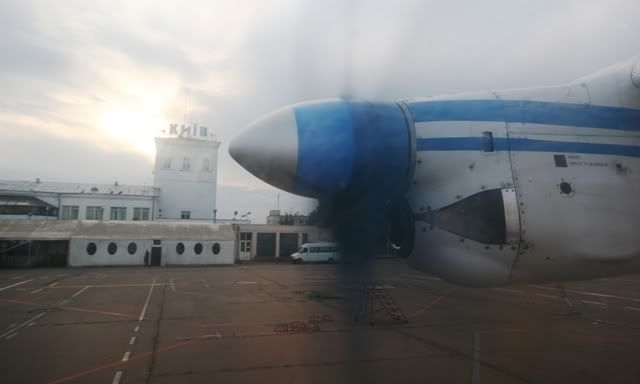 The taxi out to Runway 26 was quite fast, but then once we'd lined up there was a fairly long delay before full power was applied and the brakes released – perhaps take off clearance was still needed, or there were last minute checks being made by the guys up front. The runway is constructed from concrete slabs, so it wasn't the smoothest of rolls…
Initially the acceleration felt rapid, but then the roll seemed to become a bit sluggish, although I suppose it was nearly a full load and, at 400 miles, quite a long flight. What really impressed me though was the climb out – because unlike many Russian aircraft, it actually managed a pretty decent one, then banking hard around to the left in order to pick up an Easterly heading towards Mariupol.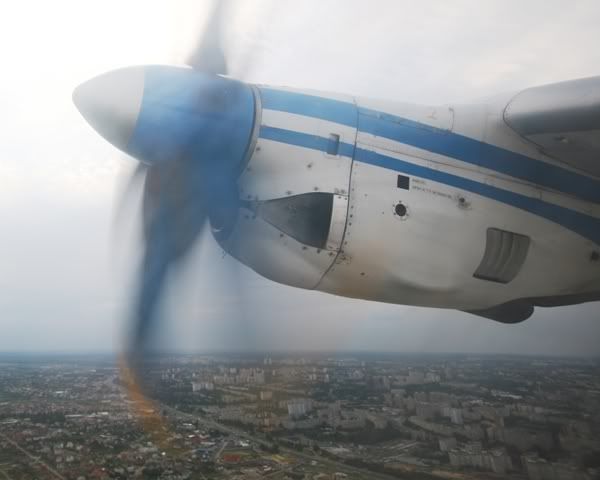 [Edited 2008-09-16 17:43:48]