Disclaimer
My digital camera is a simple 4.0 mega pixel point and shoot, so the pictures are not of as high quality as I would have liked. Also I am an accountant so my writing will not be on the level of many of the great trip reporters (?) on this board. This report will be broken up into 2 parts, the flights to Rome and the flights home. I took less pictures when going to Rome due to it being a night flight and being tired. So expect about 25 pictures in the first part and a little less than 100 in the return report. Enjoy!
Background
In 2005 I went to Italy on a school trip, and my mom had been jealous ever since then, when deciding where to go for vacation this year I bought up Italy. She seemed interested but did not want to go there unguided. Fine. I researched some guided tours and bought to her and my father a Globus tour of the main attractions of Italy (http://www.globusjourneys.com/Product.aspx?trip=9ZJ&source=GL_Product_EU_Italy_Vacations) We settled on Italy's Great cities tour departing September 10 and returning September 18. Being an aviation guru I could not let Globus plan our travel for us. I searched around for airfares leaving from PHL. I'm a United Premier so I knew I would to stay within the Star Alliance in order to maintain my status. We flew US Airways to London 2 years ago and fly them more than I like domestically so I knew they were out. Then I looked towards Lufthansa. I had always seen their plane fly over my house in south jersey and wished one day I could be on it. I also knew I wanted to pay the difference from what my parents would pay for economy and pay to fly business. After some convincing and picture showing I had my parents onboard to fly Lufthansa and they would pay for themselves to fly business and I would pay the difference so I could fly business. We booked about 4 months in advance and then it was the arduous task of waiting until the 10th of September.
Day of Departure
I set my alarm for 6:00 AM so I would be tired and could hopefully sleep on the plane. I woke up at 5:00 AM though filled with excitement that the day had finally arrived. Most of the morning was filled with preparing for our 8 day tour of Italy. Most of the day was spent packing, going to the gym one more time before stuffing my face with food and wine for a week, and cleaning up the house. My brother showed up from work at 3:20 PM so he could drive us to the airport at 3:30 PM to arrive by 4:00 PM for our 6:00 PM departure. We left right on time, not too much traffic on 295 to the walt Whitman bridge, 95 of course was starting to get a little traffical with people beginning their journey home from work, but we did make it to the airport at almost 4 on the nose. The night before I had noticed (at 12:30 AM no less) that our plane seat map had been changed from a 2 class A340 to a 3 class A340, but was still selling the first class seats as business. I quickly called Lufthansa and had my seat changed from 3H to 2K, praying that that seat would hold. We get to the business class check in, 2 agents are helping 2 different couples but a third person walks over to another business class check in desk and calls us over. Check in formalities completed he gives us our baggage tags and boarding passes for both PHL-FRA and FRA-FCO. I noticed my seat to Frankfurt was 4K. I told him that I had reserved seat 2K, and he says since the plane was changed the first class seats are reserved for their gold members which I assume he meant star gold, but I pleaded with him to try and let me keep it, but to no avail. Kind of disappointed, but I knew at least I would have the business seat and was looking forward to checking out the US Airways Envoy lounge.
Lounge
After entering the lounge the first I noticed was how huge it was compared to the lounge in B/C. I was pleasantly surprised, my parents and I walked all the way down to the left above the Lufthansa gate (A16).
Our Plane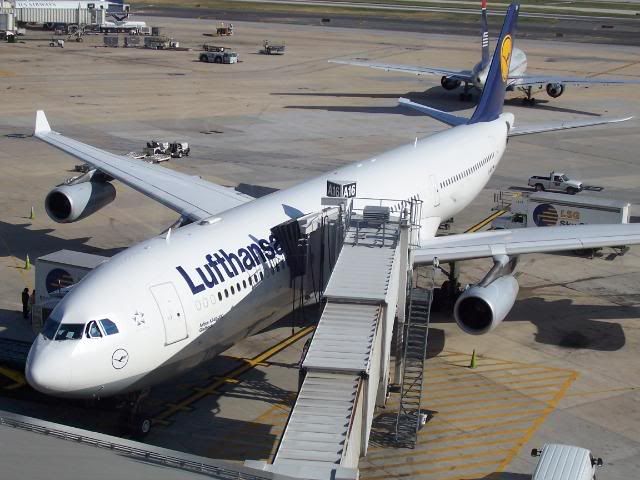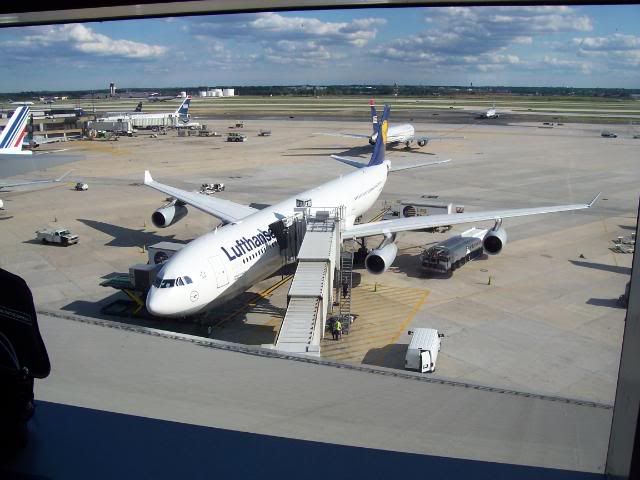 Sitting next to our plane was the earlier British Airways flight 66 to London on a 777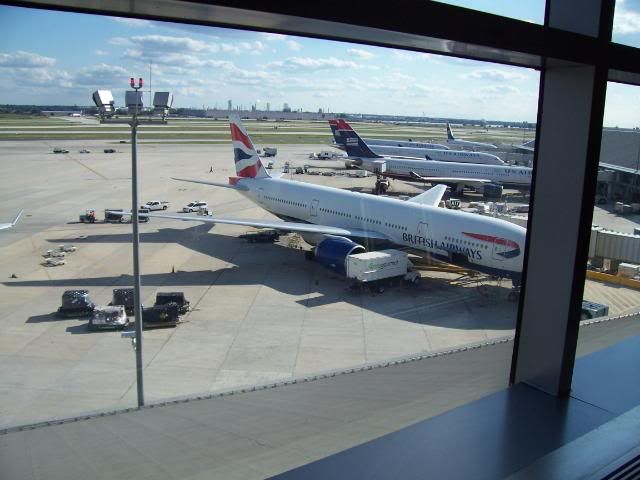 And on the other side was Air France flight 365 to Paris on a 340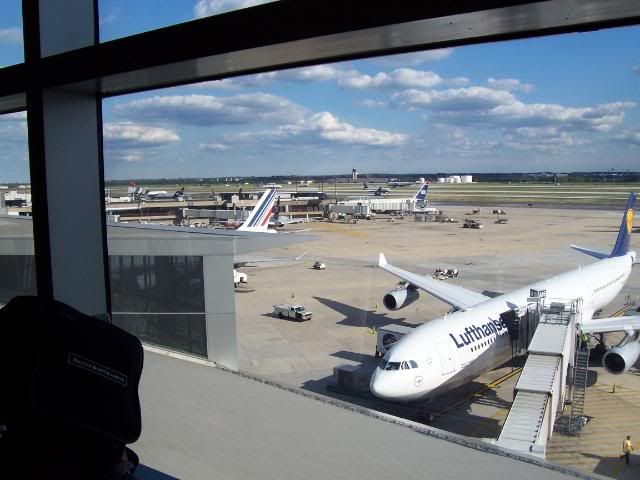 I grabbed a quick snack and a few beers in the lounge before boarding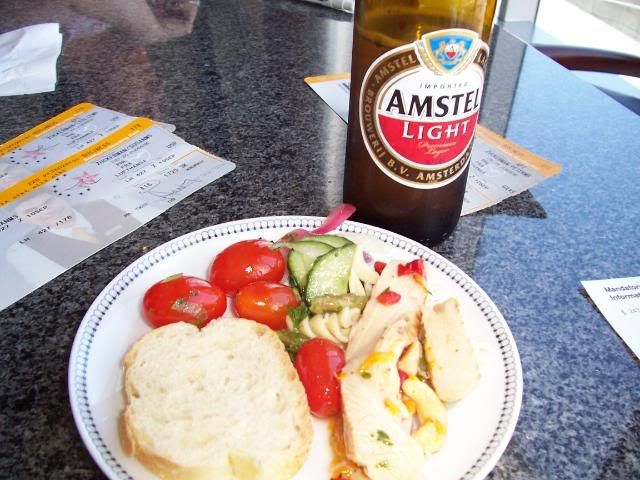 The food options in the lounge are not too bad, maybe 5 or 6 anti pastas, different kinds of bread, and some vegetables with cheese and crackers. There is also a couple kinds of wine, and refrigerator filled with beer (the best part clearly) and all different kinds of canned sodas. I unfortunately did not get any pictures within the lounge, I'm still self conscious when taking pictures and the lounge was packed so I decided not too, but next time I'll make sure to get some.
Lufthansa Flight 427
Airbus A340
Philadelphia to Frankfurt
Scheduled Flight time -- 8 hours and 5 minutes
Scheduled Departure Time -- 6:00 PM
Scheduled Arrival Time -- 8:05 AM
Seat 4K
D-AIGW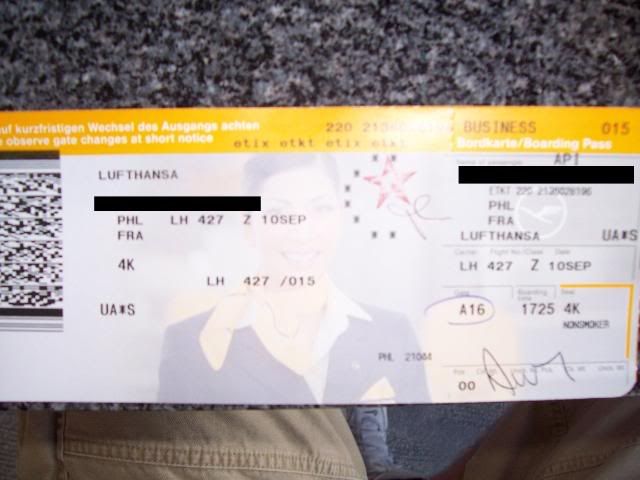 Boarding began at 5:30 PM for families with children and passengers needing special assistant, followed by passengers in business class. Just a side note this was the only time for my 4 flights that there was a separate line and call for business class passengers. Not overly impressed with that obviously.
View from my seat looking at the Air France A340 next to us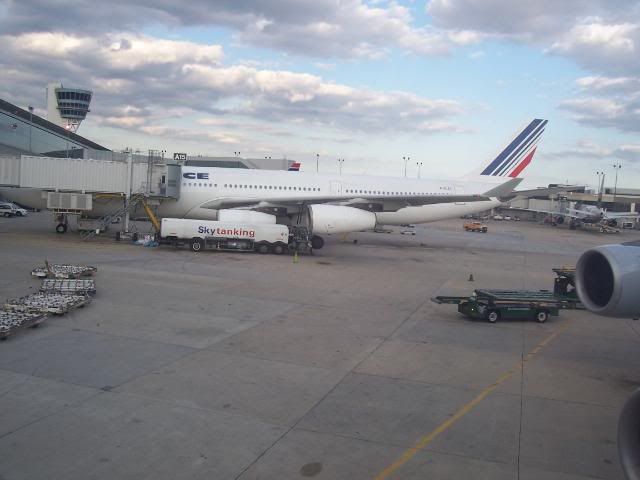 Welcome sparkling white wine, water, and juice was served for a pre departure beverage. I took the sparkling white wine of course and I began to familiarize my self with the seat. Push back was done at 6:00 PM on the nose so I guess we achieved an on time departure.
Us Airways A330 going to somewhere in Europe being pushed back next to us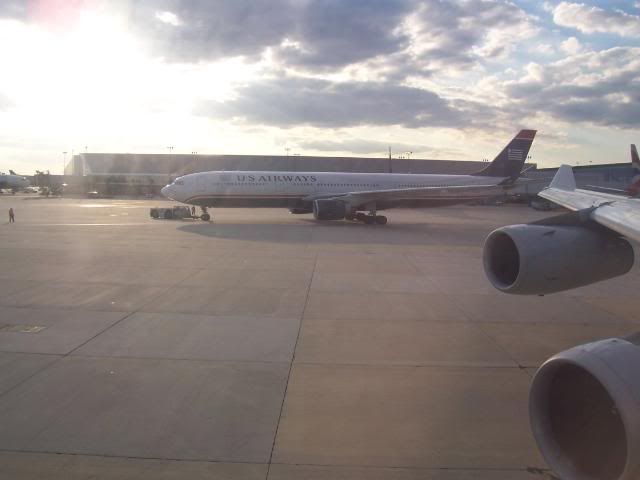 We taxied towards 27L which the usually take off runway at Philadelphia. We had a little bit of a line for take off with all the European flights leaving around the same time. Before long it was our turn to go, following a united 757.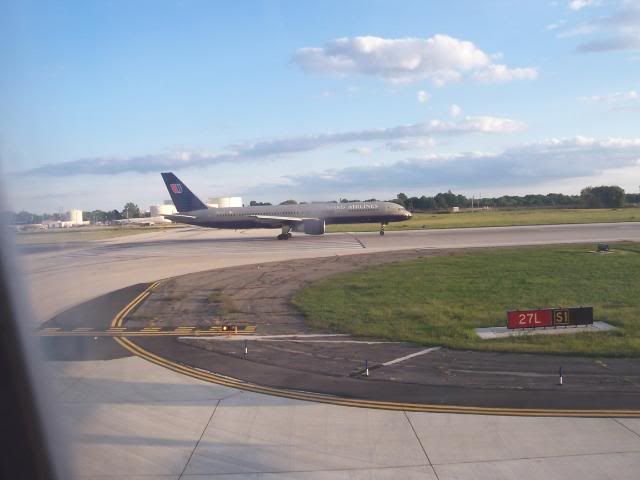 As we turn onto the runway, looking behind us at some of the other planes in line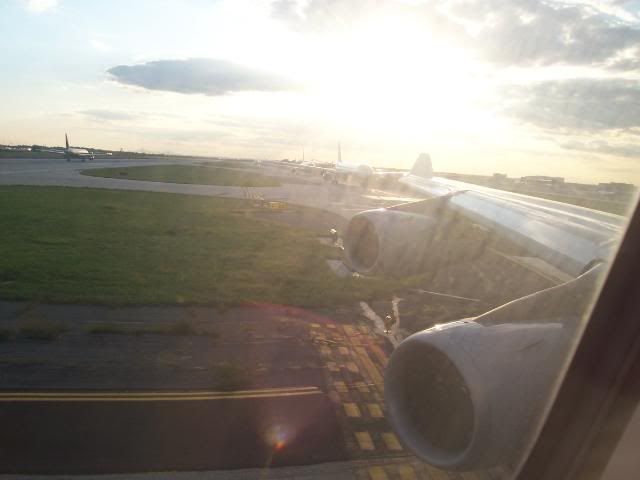 The following pictures show our takeoff from Philadelphia, which was at 6:29 PM, so about 30 minutes from push back to wheels up.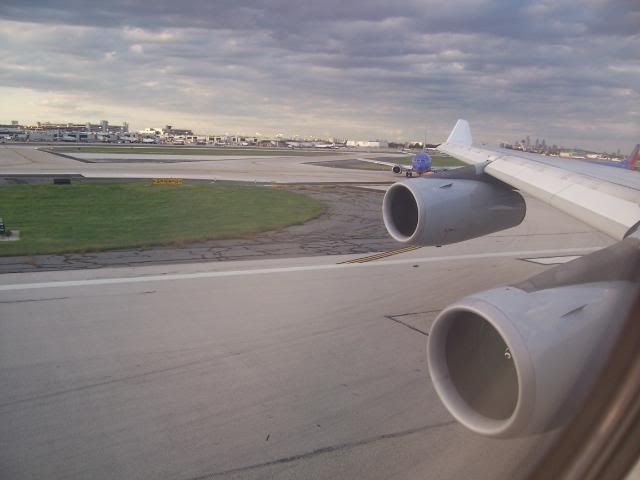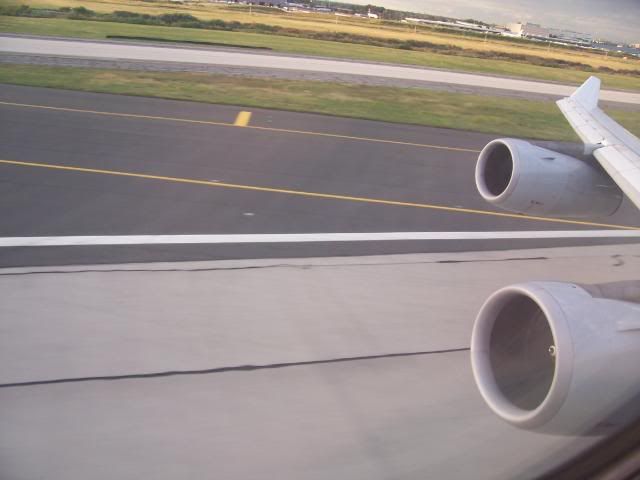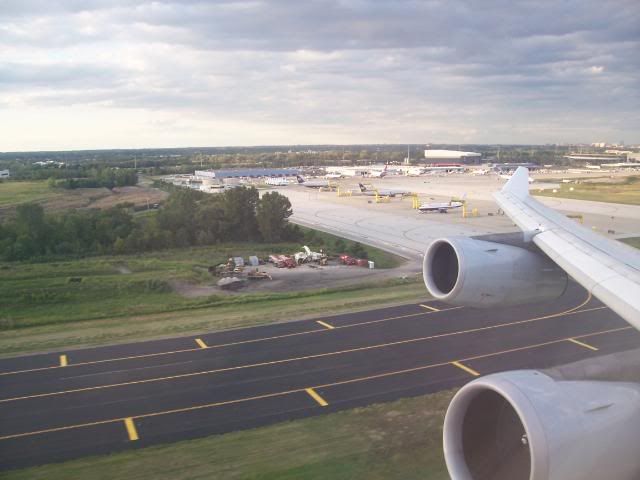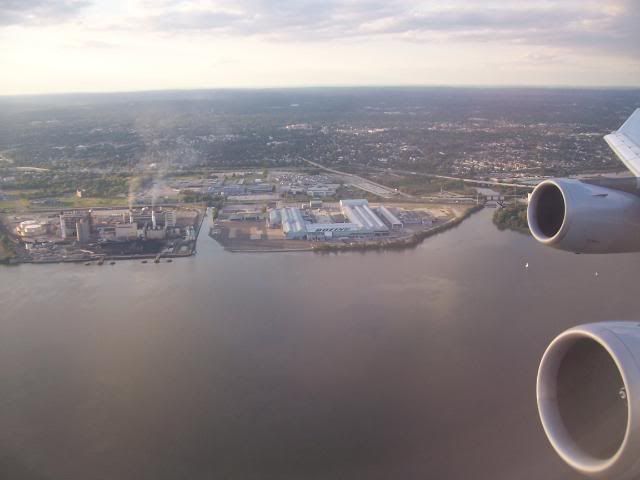 Right after the wheels leave the ground the Map and flight data start to show up on the PTV.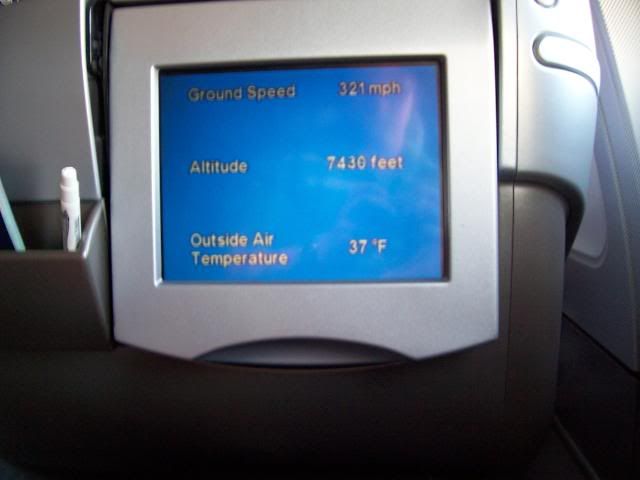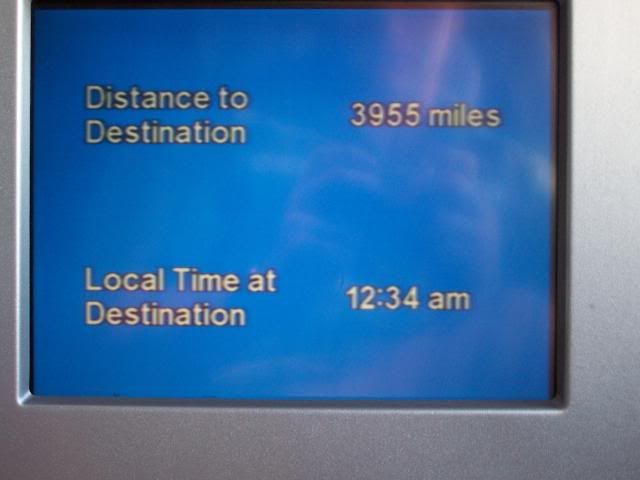 Our Route to Frankfurt tonight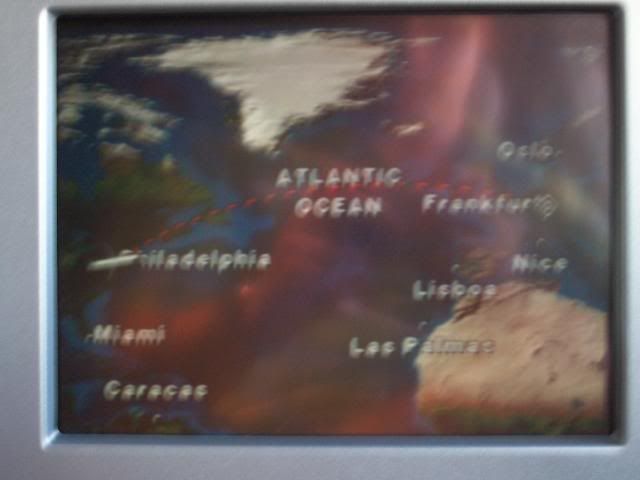 About 15 minutes or so after take off, pre meal drinks were served and menus were distributed. I took a beer, and was given a Warsteiner which turned out to be quite good. I also put on Forgetting Sarah Marshall, which I have seen before but couldn't resist watching it again.
I don't have pictures of the menu so I will write it out
Hors D'oeuvres
Chili and Wasabi Prawns with Asian Salad, Mango
Trilogy of Chicken, Marinated Beef and Egg Salad
Salad
Mixed Salad presented with dressing
Entrees
Grilled Lamb Chops with Variety of Beans and Potato Gratin
Hamburger Pfannfisch, Pike Perch with Mushrooms, fried potatoes and mustard sauce
Swabian Cheese Spatzle with fried onions
Cheese and Dessert
Camembert manchego and Gorgonzola Cheese
Cream Puff with marinated Cherries
Sliced Fresh Fruit
I went with the prawns, the lamb chops, and finished the meal with fresh fruit. I was quite hungry so by the time I realized I should take a picture I had finished the meal, but as you can see it was very good.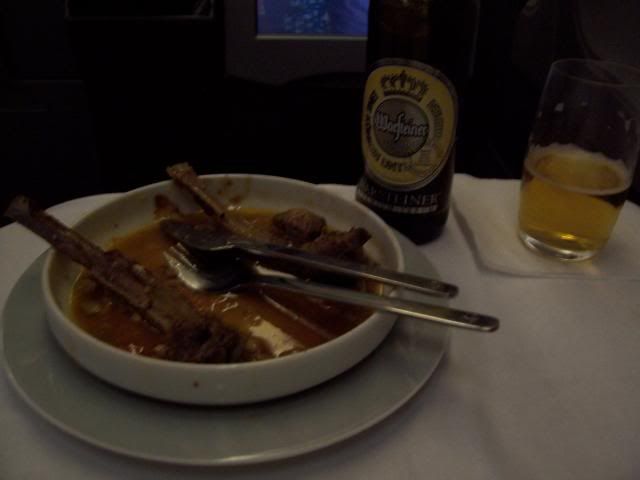 The flight attendants came around for a second drink service before the Entrees and after the Dessert. I got the Fresh fruit for dessert with some tea. After Dessert I went to the bathroom to brush my teeth and then went to sleep for about 3 or 4 hours. I must say the cabin throughout the entire flight was quite warm. The woman next to me asked the flight attendants 3 different times to turn up the air conditioning but it never seemed to help. Is there a reason Lufthansa doesn't put individual air vents in the A340?
I woke up about 2 hours from Frankfurt somewhere between France and Switzerland.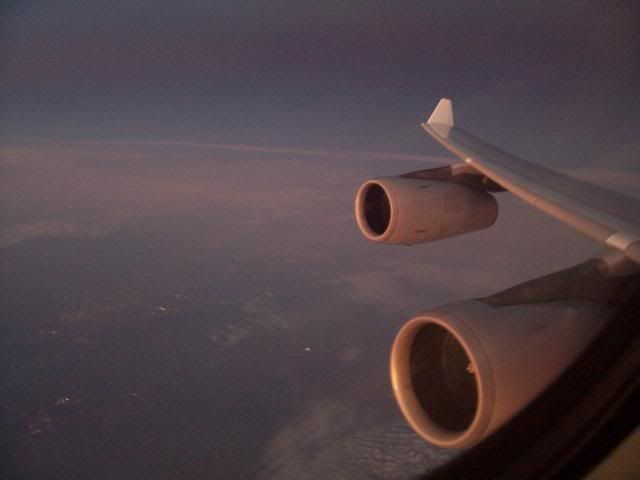 The morning breakfast Menu
Entrees
Orange Juice
Fruit Salad
Turkey Breast, Salami
Emmental, Port Salut and Cream Cheese with Chives
The breakfast was quick good and pretty filling. I guess we had just ate about 4 hours before so not much food was needed anyway.
Coming in to land in Frankfurt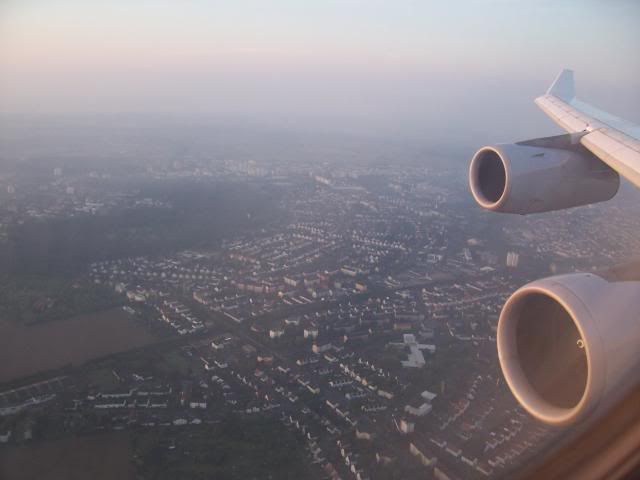 I love this picture, not the best quality, but I like the way the A340 reverse thruster look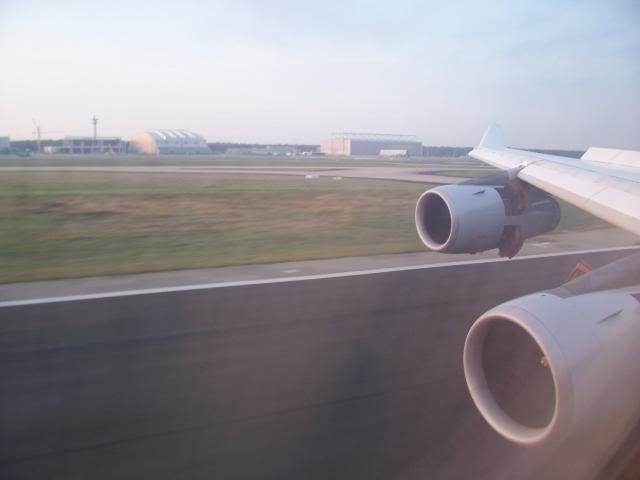 We landed very early at about 7:20 AM local time. With a flight time of just shy of 7 hours. Not quite sure what runway we landed on, but it was one of the 2 parallel ones.
Glarey picture of a Lufthansa A320 I believe, or A319, can't tell with the glare
We reached I believe remote stand F115 or 118 around 7:30 AM. My seat as we exited the plane.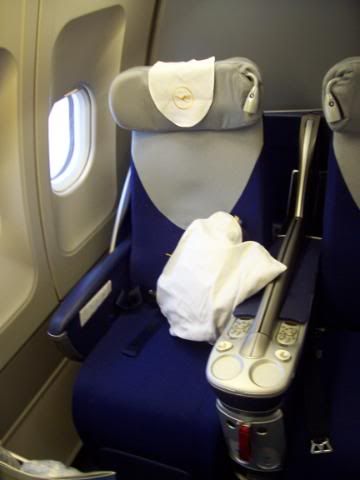 The seat I should have had!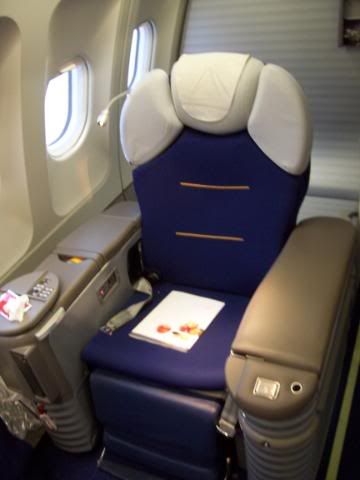 These are all the pictures I have from the portion of the report. I'll quickly fill in on the flight to Rome. We arrived by bus to the B-terminal and proceeded to customs. The line, well lack there of was insane. It was just a mass of people trying to go through customs. We entered into what we thought was a line, it ended up taking about 30 minutes to pass through customs. Our flight was leaving from A36. So we went to the business lounge by gates A24 and A25. This had to be have been the most crowded lounge I have ever seen. People were standing everywhere, there was almost no room to move because there so many people in this lounge. Is this the norm? We finally found a seat in the lounge and spent about 20 minutes in there before getting fed up, so we left and walked to the gate.
Lufthansa Flight 3842
Airbus A321
Philadelphia to Frankfurt
Scheduled Flight time -- 1 Hour and 45 Minutes
Scheduled Departure Time -- 10:40 AM
Scheduled Arrival Time -- 12:25 PM
Seat 7C
D-AIRH
There was bad fog at Frankfurt airport that day, you could barely seen see the planes at the gate, so almost every single flight was delayed. Our flight only ended up being delayed about 1 hour, so I thought we lucked out as compared to other flights. An announcement was made that this flight was full, and boarding began from the back of the plane. No pre boarding class for families with children or passengers needing special assistants. Everyone just pushed their one into a giant group to board the plane, it was a complete mess. The flight time was about 1.5 hours. A small snack service was served which was a salad, bread, and a dessert. It was small but good and filling. We landed at Rome at 1:15 PM so Just over a hour late. We deboarded quickly and made our way to baggage claim. We waited, and waited, and waited, it took 1.5 hours from when we got to the gate for our bags to arrive. No bags were coming out of any of the carousals in Terminal B. No announcements were being made about why, but finally our bags came out, in the first group thanks to the priority tags. We exited the baggage claim and met up with the Globus Representative to begin our wonderful vacation.
This completes this portion of the trip. Like I said Part 1 is less comprehensive than part 2. I took way more pictures on the return, you can expect pictures of the meals, leg room, action at both airports, etc. Look for this report hopefully tomorrow! Let me know if there is anything I missed, and I will make sure to have it in part 2. Thanks