Disclaimer
My digital camera is a simple 4.0 mega pixel point and shoot, so the pictures are not of as high quality as I would have liked. Also I am an accountant so my writing will not be on the level of many of the great trip reporters (?) on this board. This report will be broken up into 2 parts, the flights to Rome and the flights home. This is part 2 and will about my flights from FCO-FRA and then FRA-PHL. Enjoy!
Day of Departure
Our 8 day trip cris-crossing Italy had come to an end back in Rome. We had a 5:30 AM wake up call, and were walking towards the transfer bus at 7:00 AM. We were staying in the Hotel Albani, I'm not sure where that is in relation to everything else in the city, but it took a good 30 minutes to get out of Rome. This was most likely due to morning rush hour traffic. We made it to terminal B drop off right around 8:00 AM for our 10:15 AM departure. We walked over to the Lufthansa check-in, and had to wait about 5 minutes before being called over to one of the two open business counters. Check in was smooth, given priority tags, lounge invitations, and boarding passes for both flights.
Lufthansa Check-In At FCO (Done by EAS)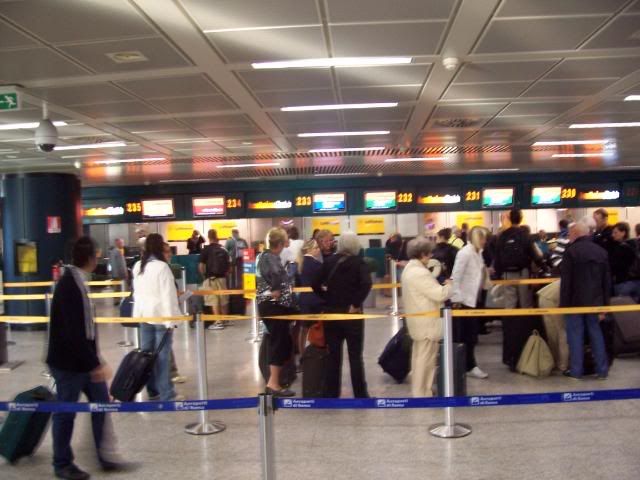 We made out way through security, which was surprisingly quick about only 10 minutes, and it seemed like there was 10 lanes open. We were very impressed by that. We wondered around terminal B for a little purchasing last minute gifts and of course duty free alcohol. We then went on a journey to try and find the Sala i Mosaici, which is the contract lounge that Lufthansa uses in Rome. You have to go up 2 escalators to find the lounge, and make a couple of turns. We had to ask 2 airport workers where the lounge was before we found it.
Lounge Entrance, the doors open right before I snapped the picture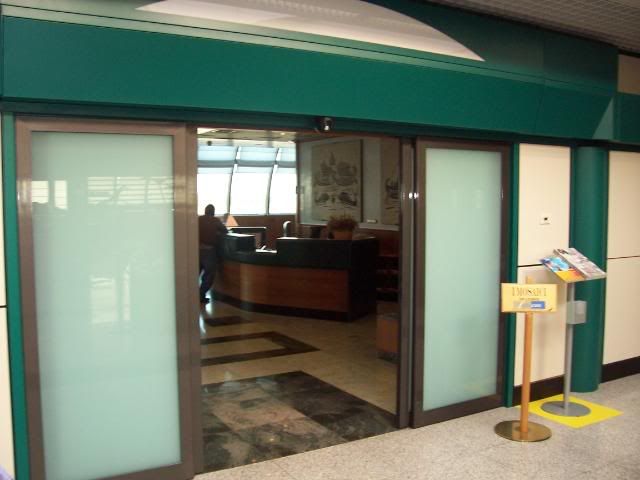 The lounge had a great view of departing aircraft and some good ramp views. There was 1 computer with internet access, the other 1 had a sign saying out of order. The lounge had a fully stocked bar and some light snacks.
Looking towards the entrance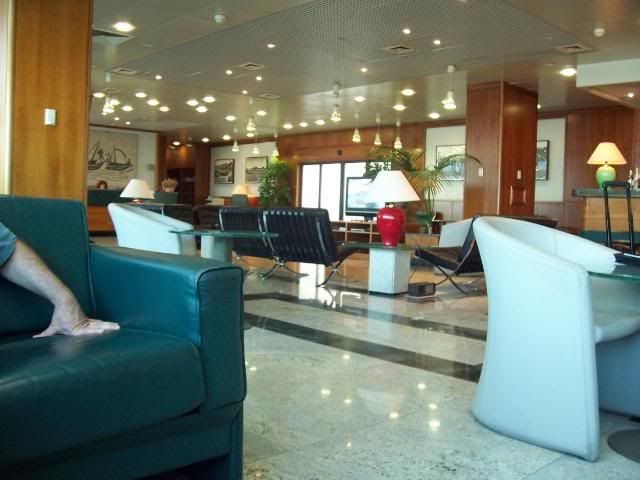 The bar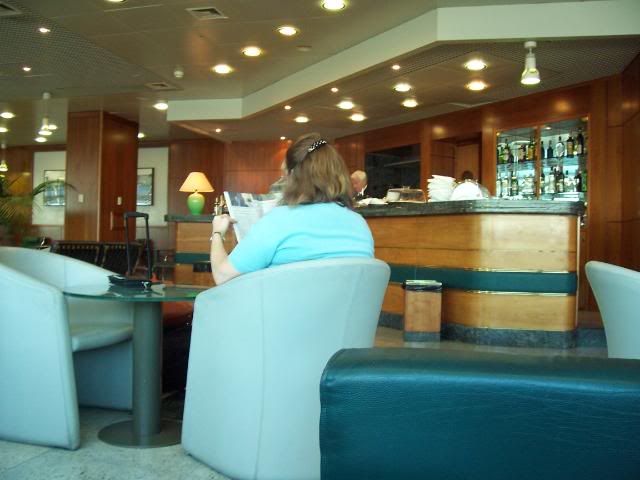 Boarding passes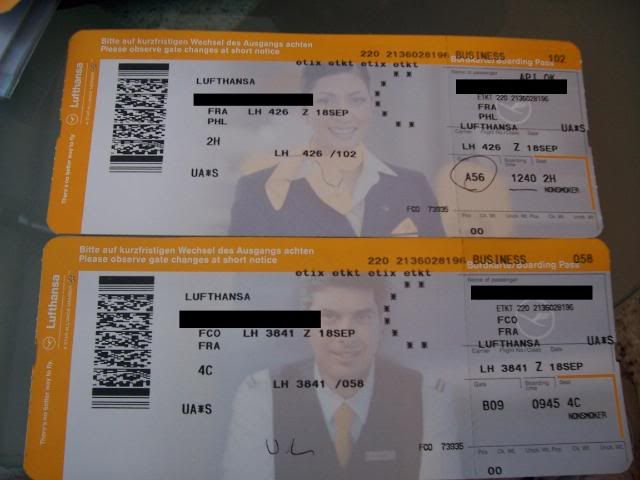 We left the lounge about 20 minutes before boarding, because we knew it was a maze to get back down to our gate at B-19.
Lufthansa Flight 3841
D-AIRE
Boarding Starts 9:35 AM
Get on Plane 10:00 AM
Push Back 10:17 AM
Take Off 10:39 AM
Land 12:16 PM
Flight Time 1 Hour and 37 Minutes
Seat 4A
View Large
View Medium


Photo © Stefan Sjogren - Stockholm Arlanda Photography
Boarding was called at 9:35 AM with no priority given to families with young children or business class. Boarding was through the jet way, to a waiting bus. I'm not sure where the aircraft was parked, but it was a short ride towards terminal 5. When we got to the plane we had to wait on the bus for about 5 minutes while the plane was finished being cleaned. We finally got onto the plane at 10:00 AM.
Boarding shots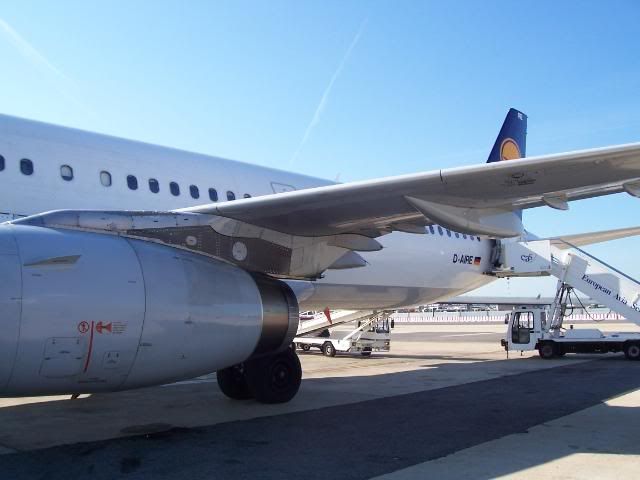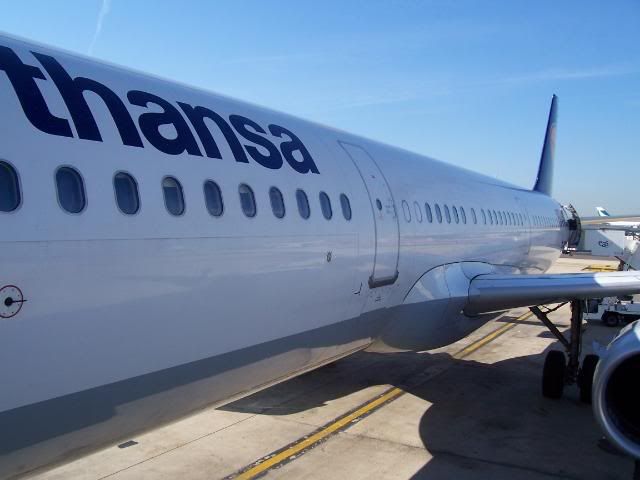 Once onboard we had to wait for a second bus to arrive with more passengers
Empty business class cabin
Leg Room Shot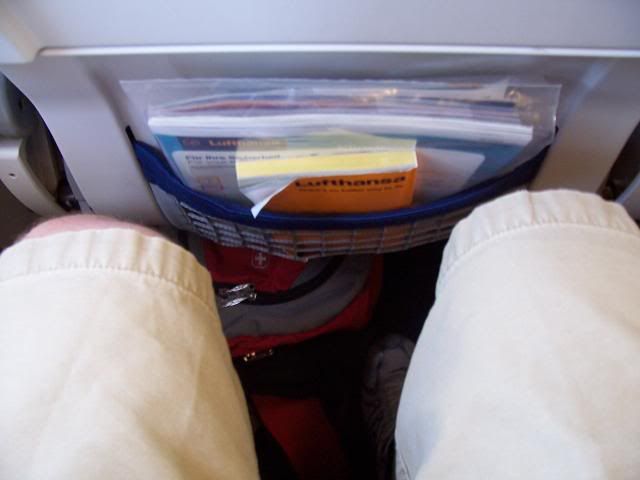 Alitalia 767 EI-CRD next to us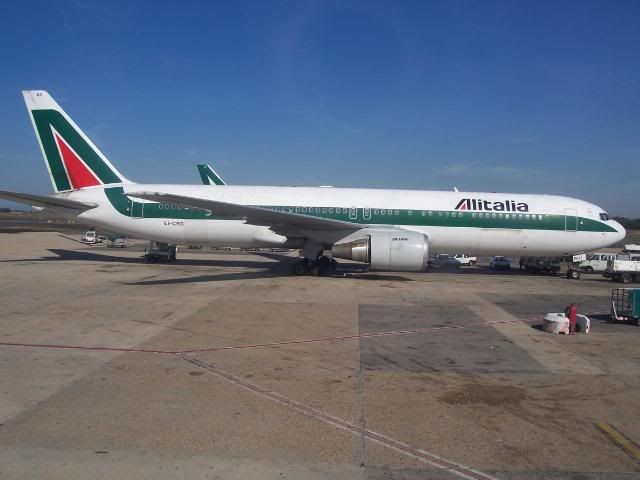 The second bus finally arrived and we were able to push back at 10:17 AM. We taxied towards runway 25, where there was a pretty long line of planes waiting to take off.
American 767 taking off as we taxi to the end of runway 25
Transavia 737 lining up for take off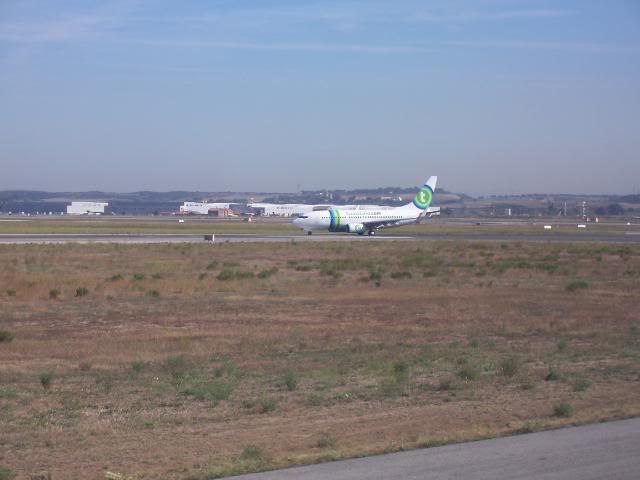 Alitalia 777 preparing for take off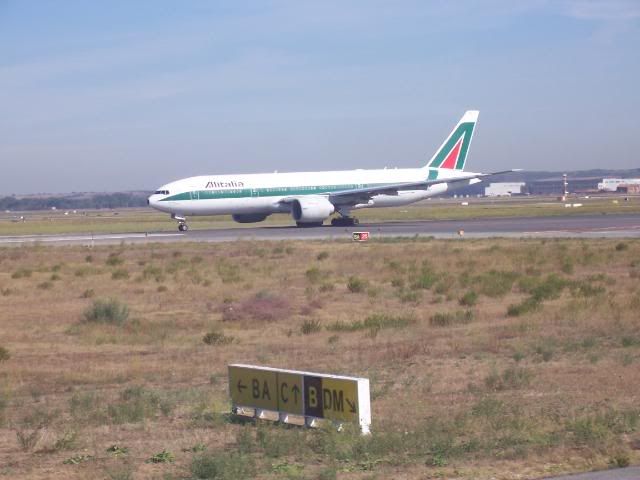 Alitalia 767 and md80 waiting for the 777 to take off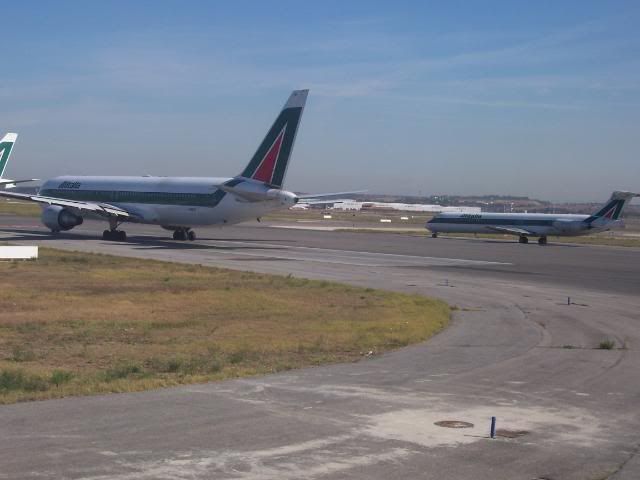 Looking back at our engine while we wait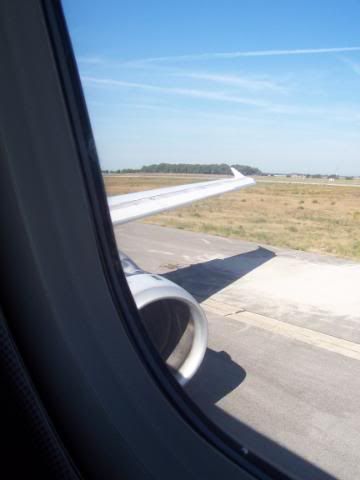 The line of planes behind us as we turn onto the runway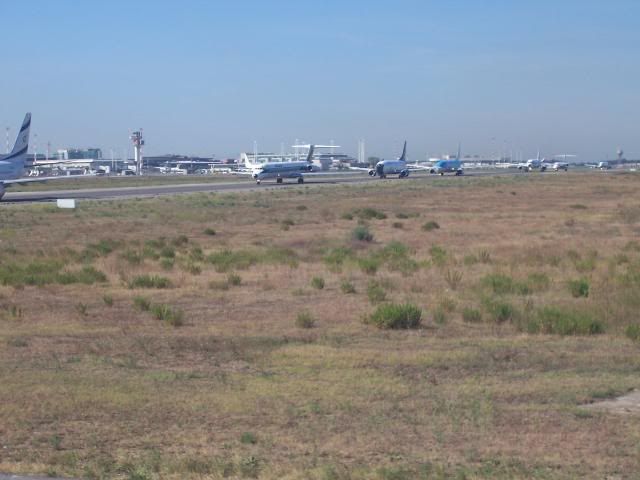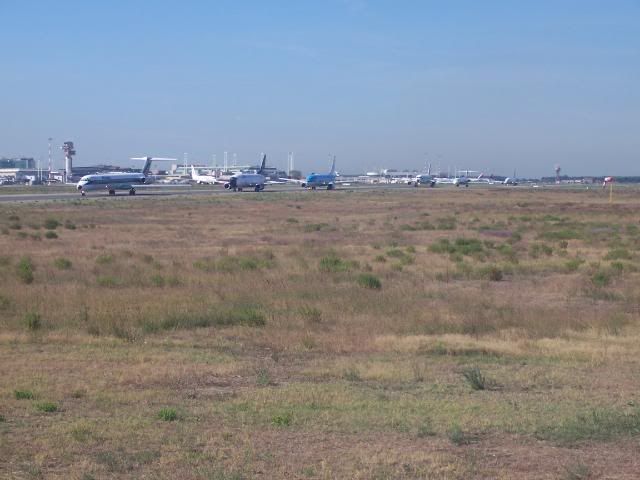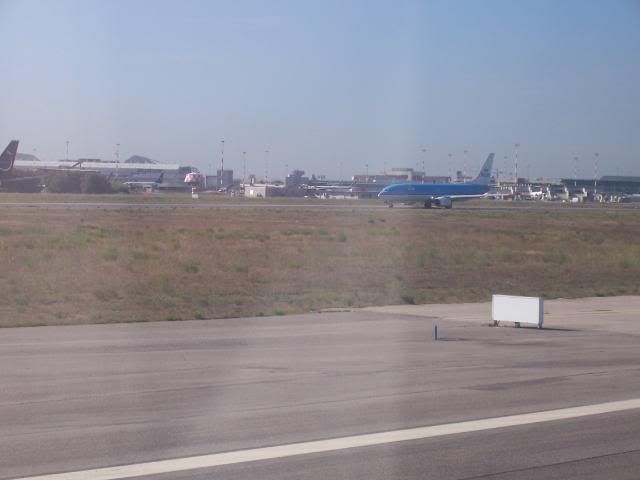 We began our take off roll at 10:39 AM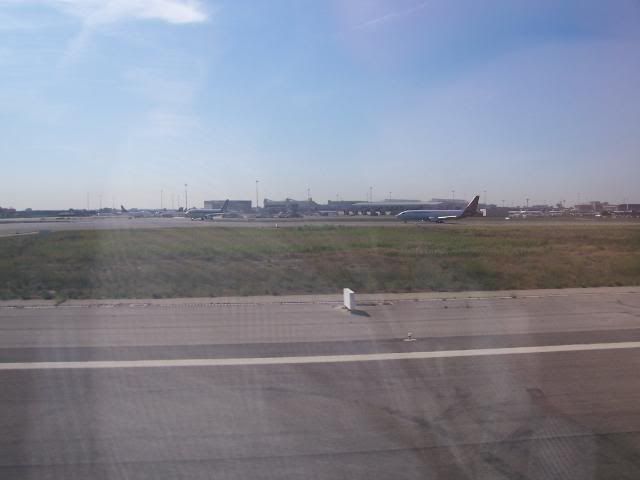 This is the spot where out plane was parked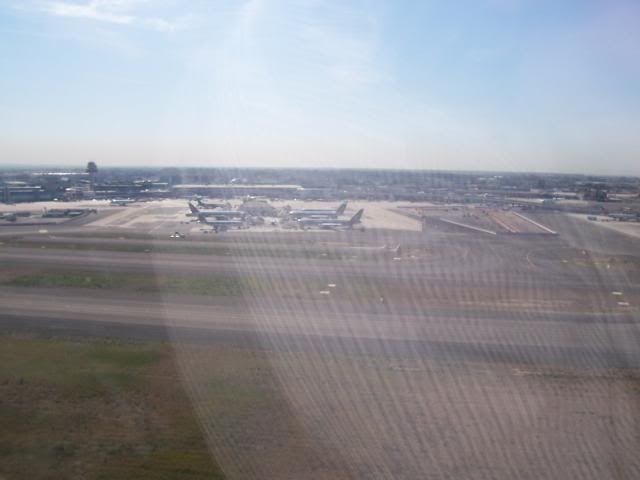 Terminal 5, where most of the American airlines leave from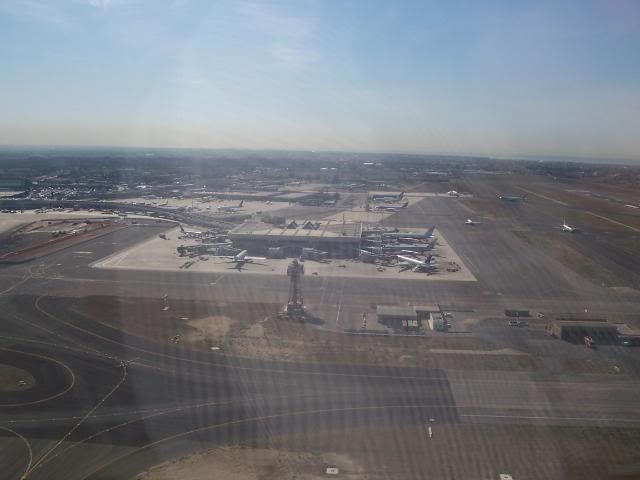 Arrivederci Roma!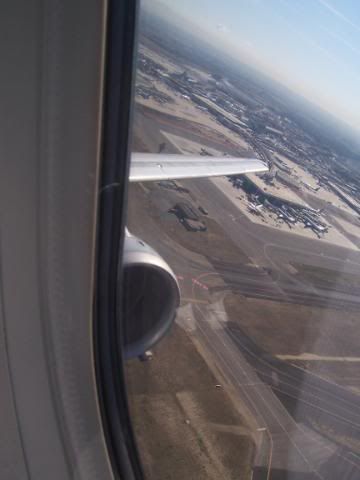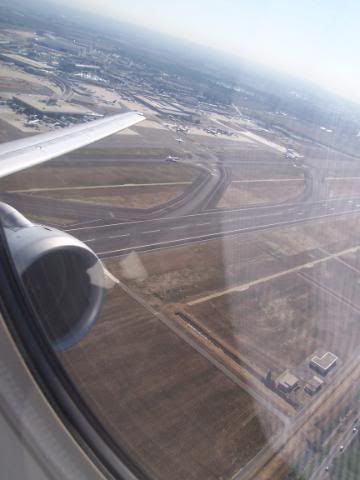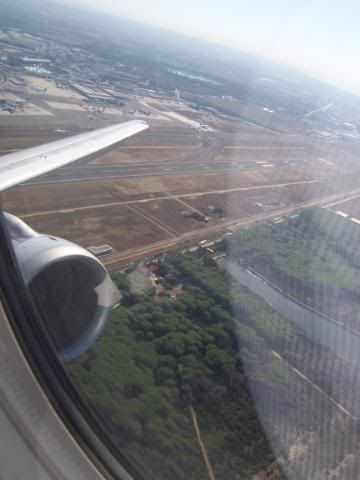 We went straight, with a heading of 250 I assume, before turning right towards Frankfurt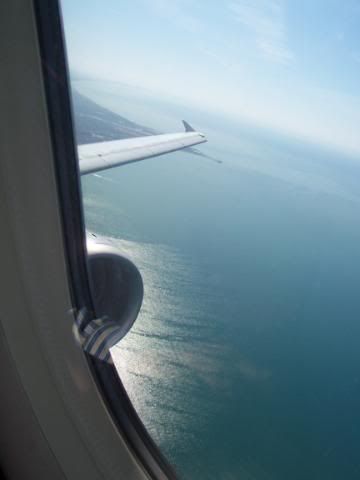 Soon after departure, the flight attendants came around with a drink service and a meal. The meal was a salad with 1 scallop and a piece of smoked salmon. It was actually quite tasty. The meal also came with a roll followed by a pass of the roll basket. It also had a mousse type dessert on the tray.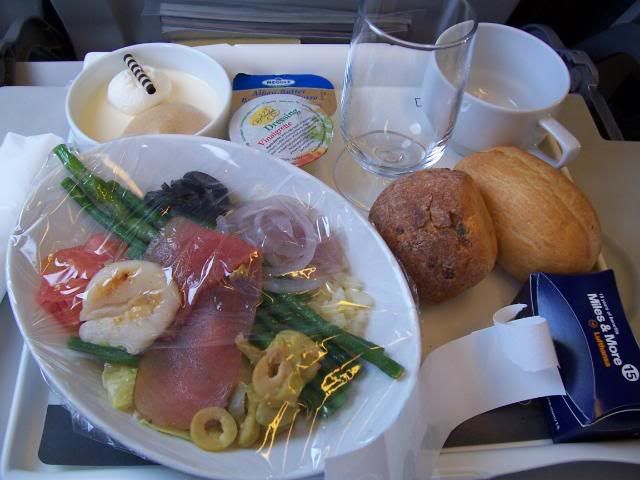 Very good food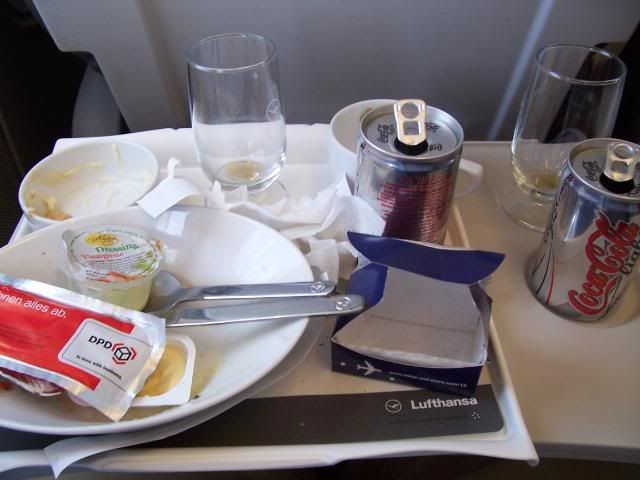 Passing the Alps en route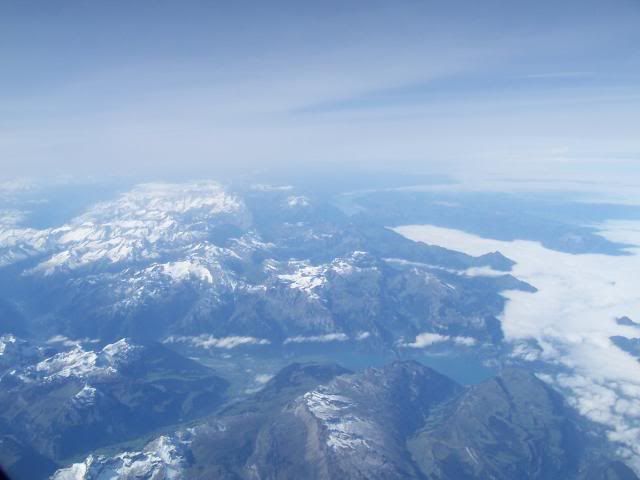 Getting close to Frankfurt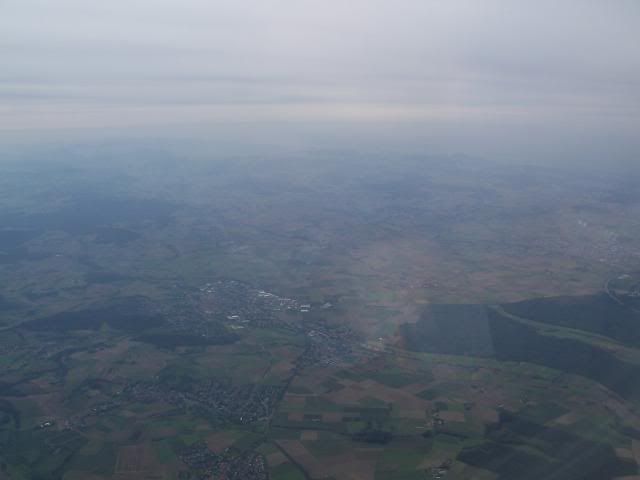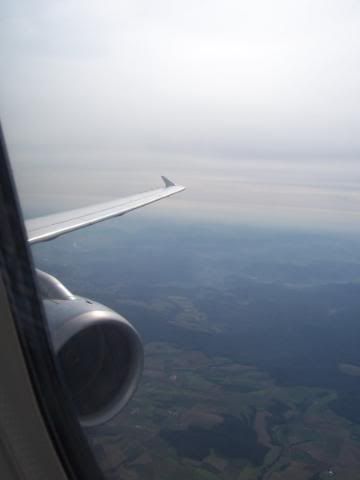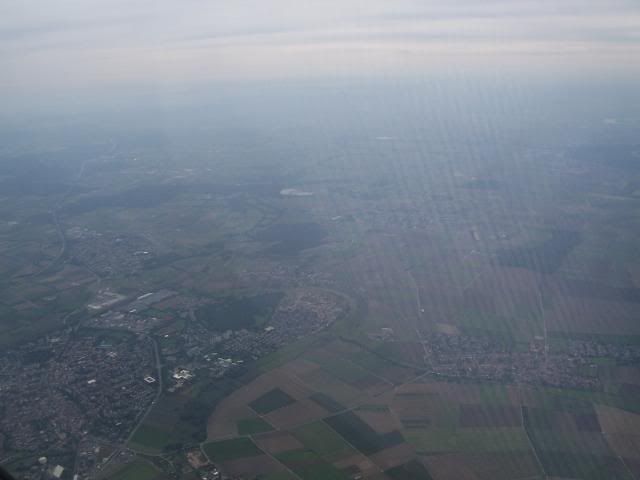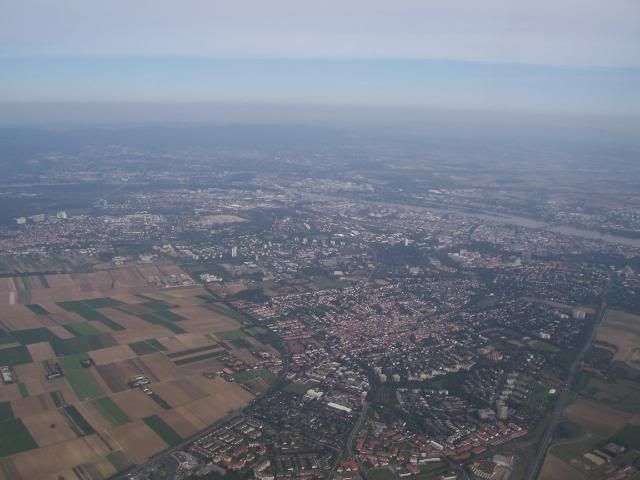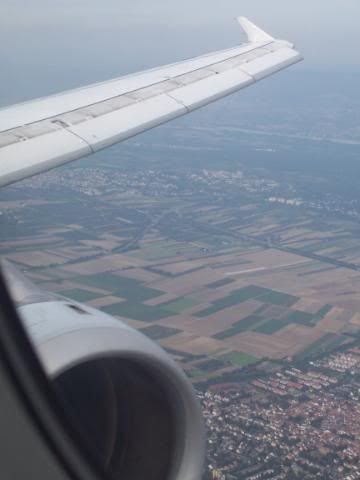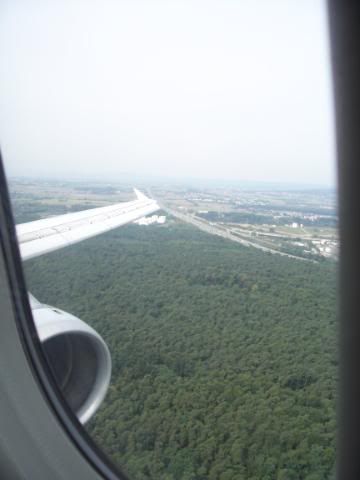 Crossing airport property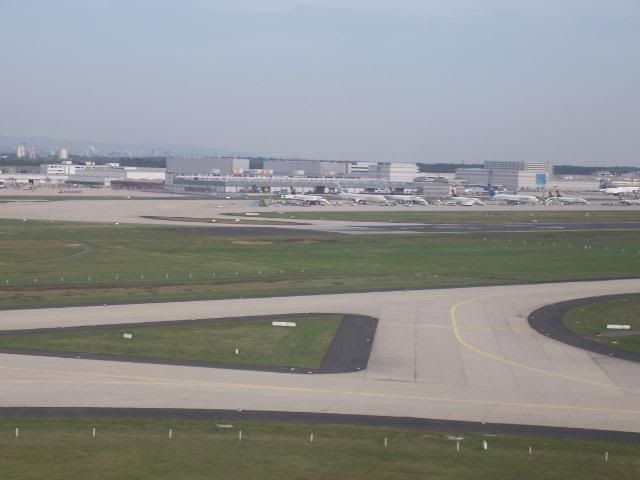 Touchdown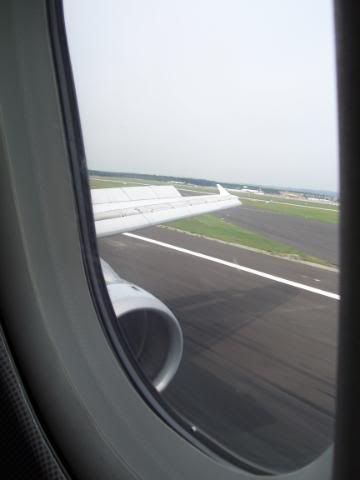 Lufthansa Technik as we taxi to the gate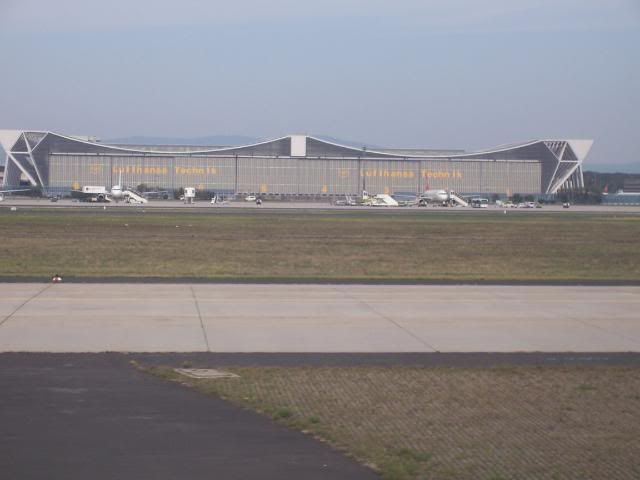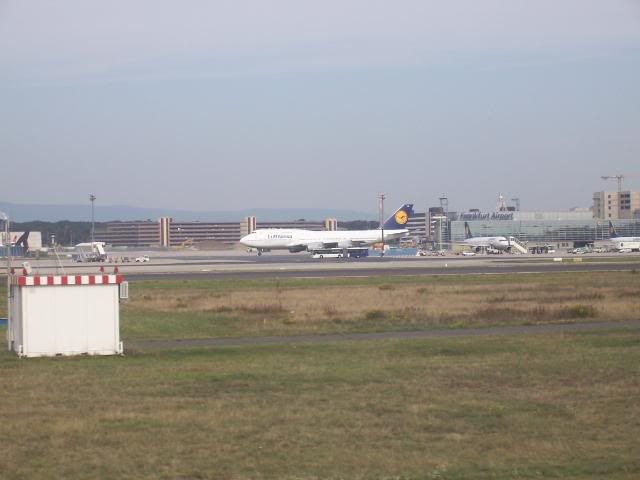 We landed on 7R and held short of 7L as a Lufthansa A330 was landing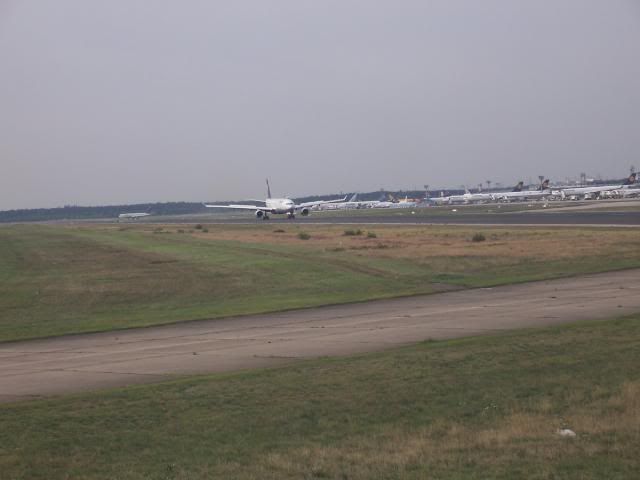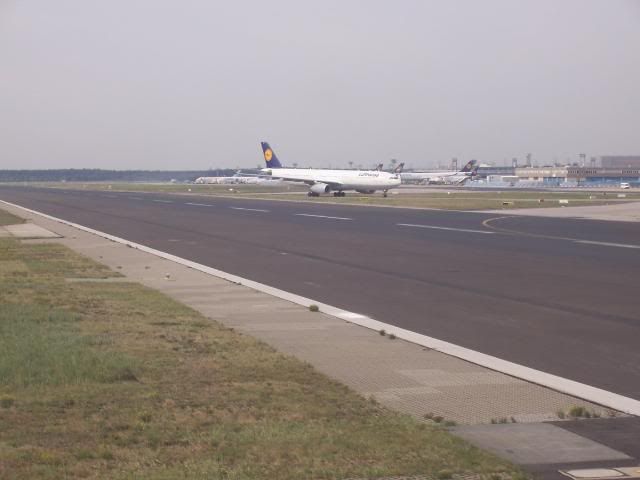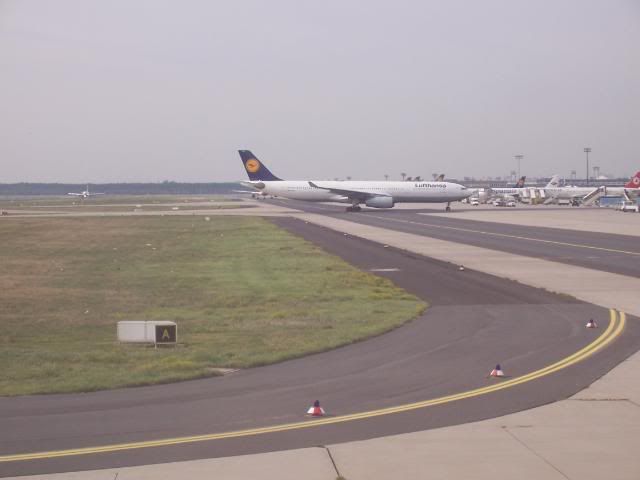 Taxing past a A300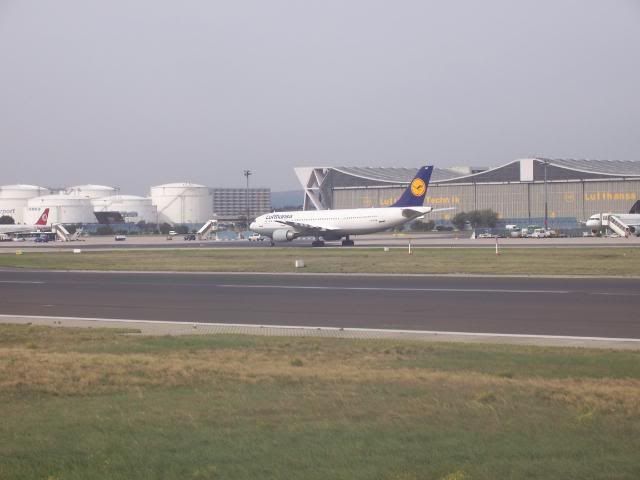 Delta 767 taking off on 7L after we crossed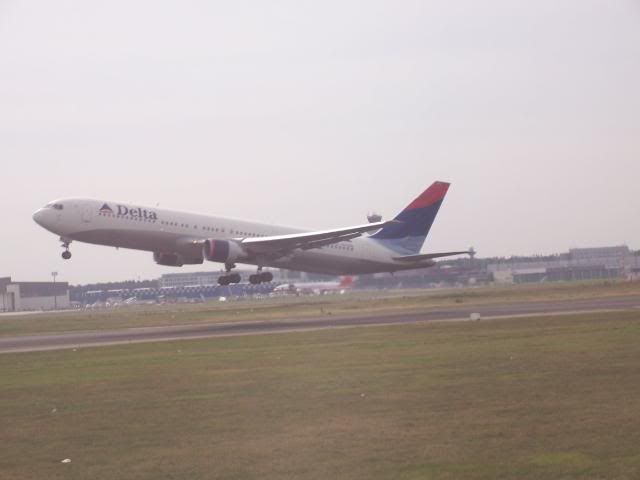 Passing a Turkish A321 on the way to the gate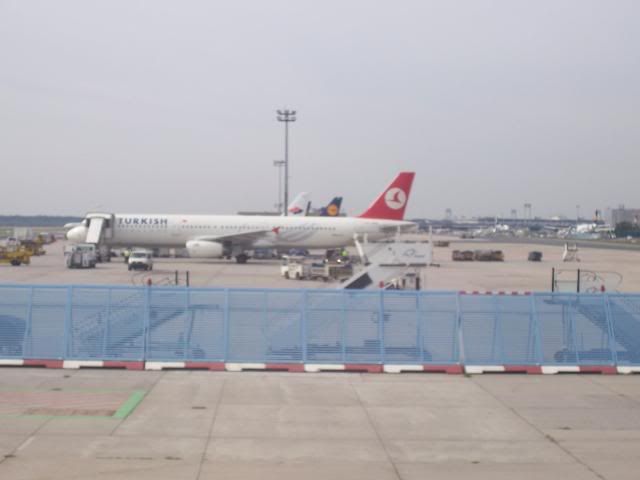 Not sure what gate we parked at, but it was the last gate on the A side in front of the buildings being knocked down.
We didn't get to the gate until 12:30 PM, and boarding begun for out next flight at 12:40 PM according to our boarding passes. We raced off the plane, and luckily the elevators were right across from our gate to go upstairs to the higher A gates, where from what I gather most of the flights to the US leave from. We passed through passport control where there was almost no line, and go to gate A56, which is the first gate after passport control, at around 12:40, where it looked like boarding was beginning. My mom had to go to the bathroom and I wanted to buy something that proved I was in Frankfurt, so we went off to do that quickly. My mom returned saying she hates Frankfurt airport, The bathrooms were only 1 person bathrooms from what she could tell, and the line was over 10 people deep. So we went back to the gate and went to the business class line to what we thought was board the plane. In reality we were put into a holding area for another 15 minutes. I'm not sure what the point of it is, besides to check out passports 1 more time.
I looked out the window and was very happy to see we were going to be on the only A340-300 in Star alliance Livery that Lufthansa has.
Lufthansa Flight 426
D-AIGC
Boarding Starts 1:10 PM
Get on Plane 1:15 PM
Push Back 1:48 PM
Take Off 2:00 PM
Land 4:30 PM
Flight Time 7 hours and 30 minutes
Seat 2K
View Large
View Medium


Photo © Scott McGeachy
Once in the holding part of the gate, a mass boarding class was made, so 200 people pushing to get through the doors to get onto the plane. So out of 4 Lufthansa flights only 1 had a early boarding call for families with young children, elderly, and then business class, star gold, etc.
I was too self conscious to take a picture of our plane at the gate, but luckily we were next to reflective glass.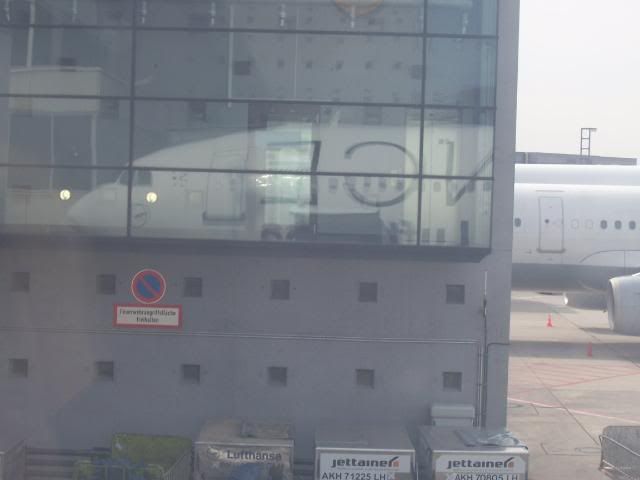 Leg room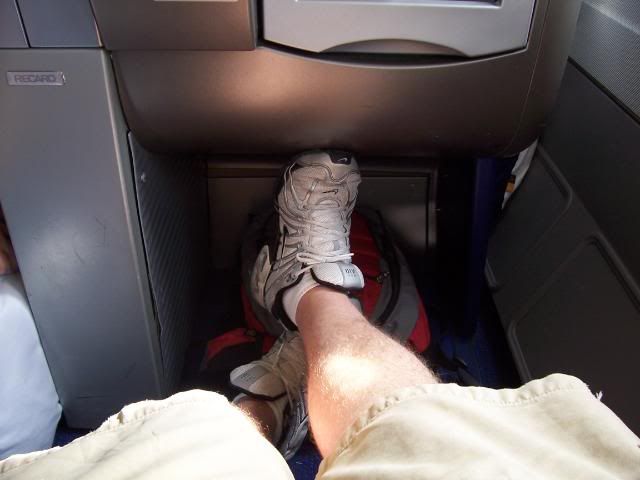 PTV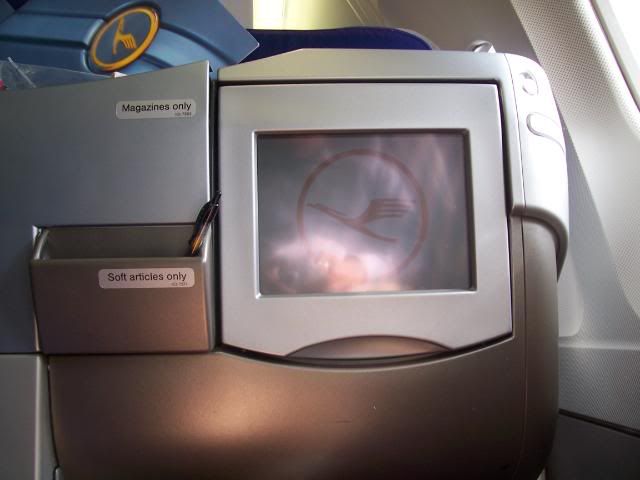 A welcome drink of sparkling white wine, water, or orange juice was offered. Of course sparkling white wine was my choice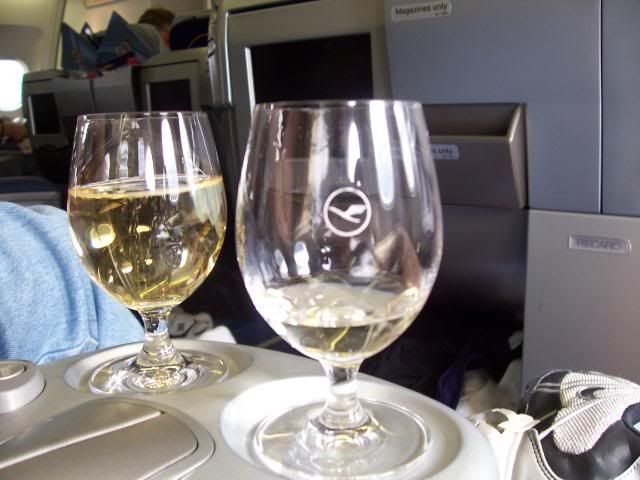 We had too wait a little bit for some bags to be offloaded, but push back was at 1:48, so only about 8 minutes late.
As we had a short 10 minute taxi to runway 18 for take off
Lufthansa 747 in Star alliance paint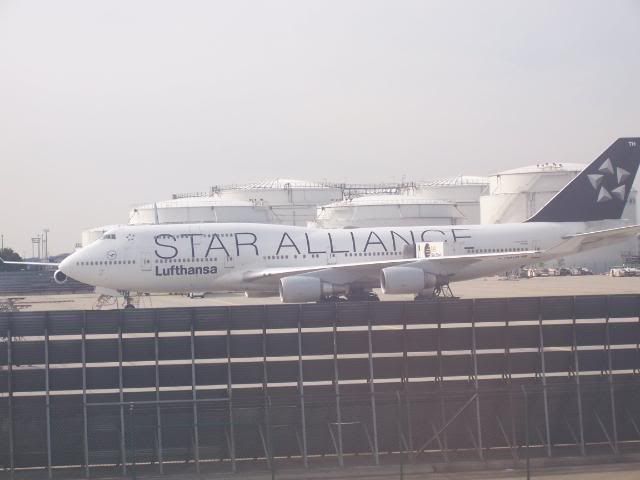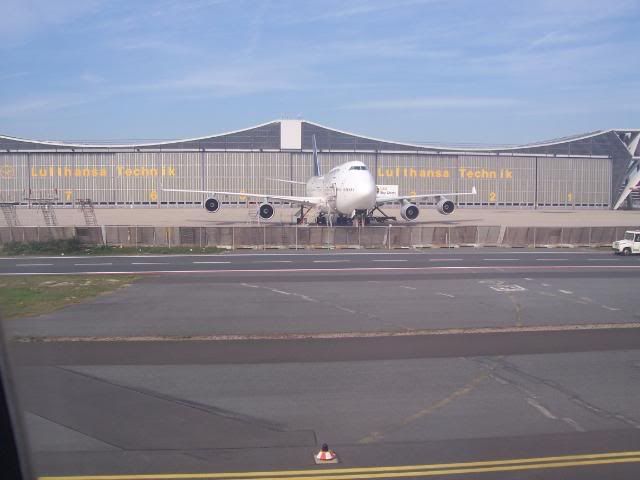 Air Namibia A340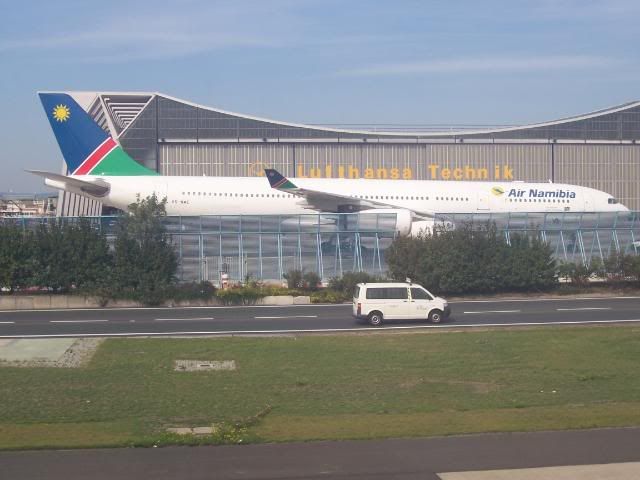 Lufthansa A340-300
Lufthansa Cargo Facility and plane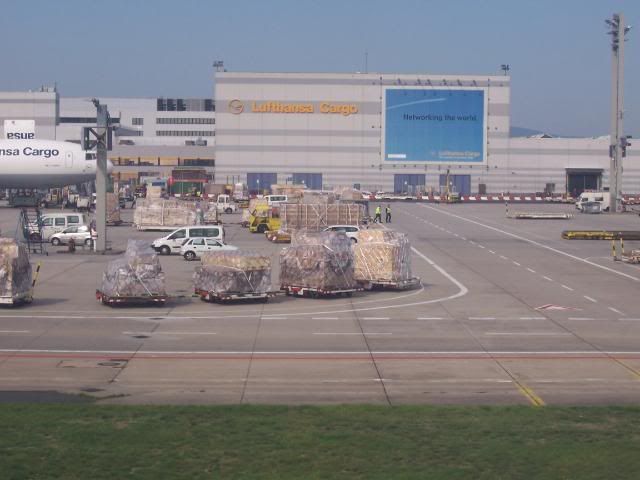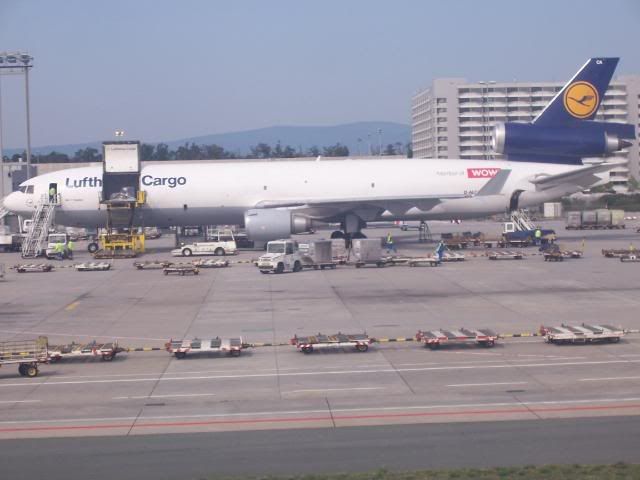 South African A340-600 waiting for its long flight back to JNB
At 2:00 PM on the nose we turned onto runway 18 and immediately took off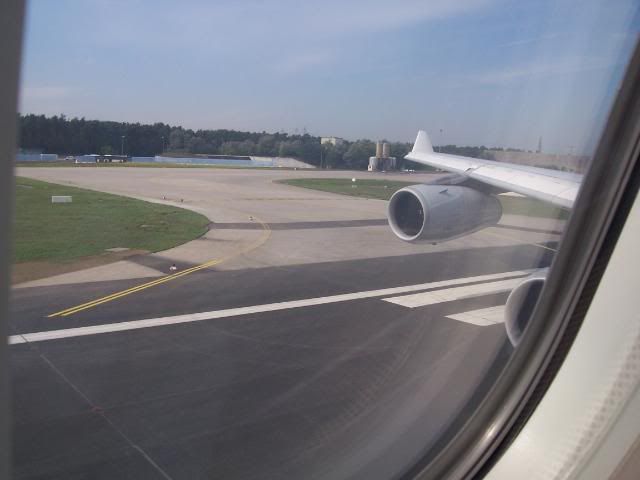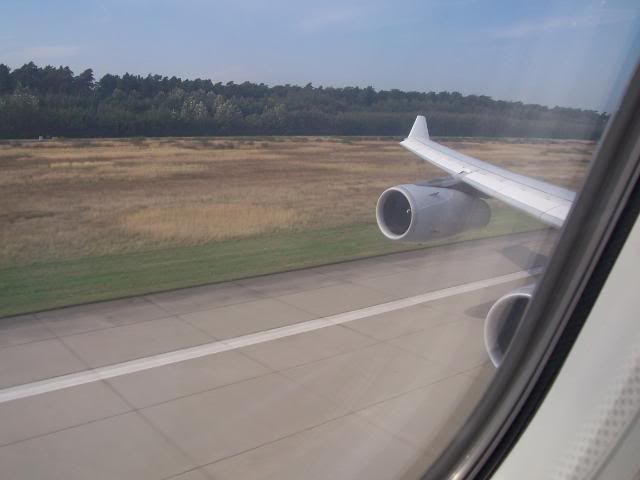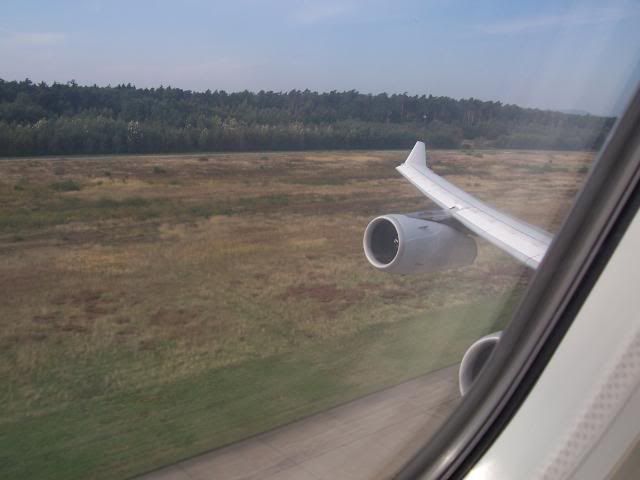 The glare on the PTV was really bad so I don't know how well these pictures will come out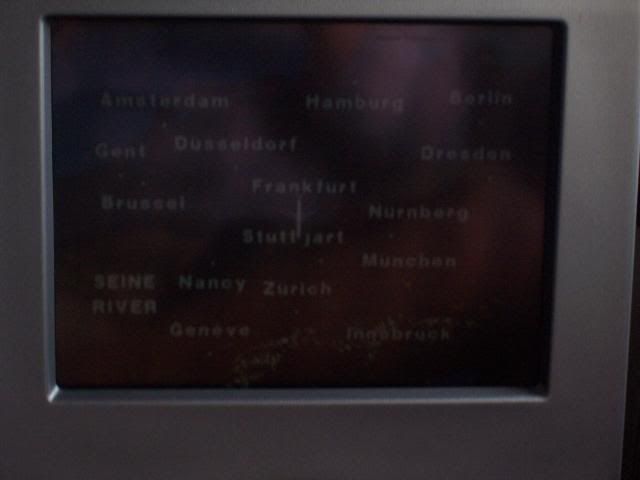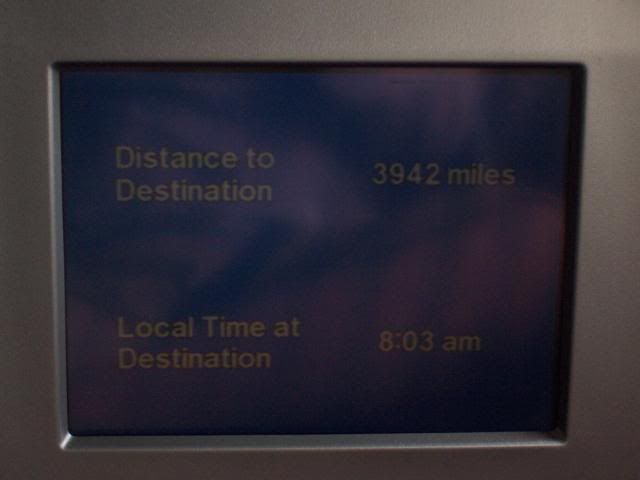 Leaving Frankfurt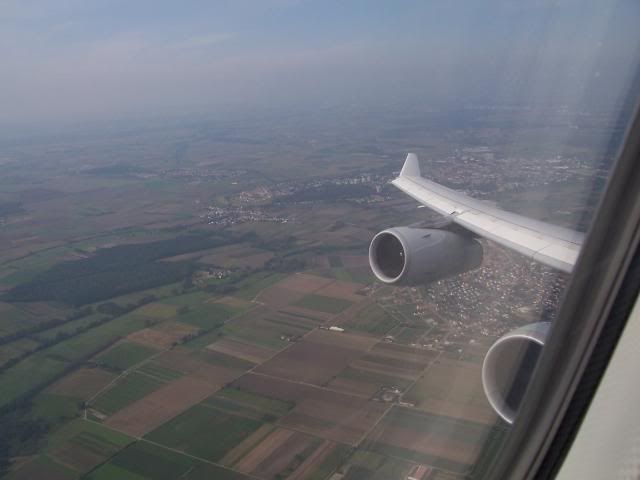 Maybe 20 minutes after take off, the flight attendants came around with the initial drink service and the roasted almonds (which are quite good, I asked for 2 bags and she said of course!)
The menu for our flight back to Philadelphia
Hors d'oeuvres
Smoked Filet of Salmon with Artichokes in Pine Nut Vinaigrette
Terrine of Venison with Apple Celery Salad and Quince Compote
Salad
Mixed Lettuce with Tomato and Cucumber served with Yogurt Herb Dressing
Entrees
Grilled Breast of Poulard on Pumpkin Stew with Potatoes
Braised Halibut in Tarragon Stock with Root vegetables
Green Polenta with Mushroom Ragout
Cheese and Dessert
Camembert, butter cheese and Bavaria Blu
Linz Tart with whipped cream
Fruit Salad with Grapes
I first was going to take the venison, but when the flight attendant showed it to me, it did not look right, so I switched to the salmon.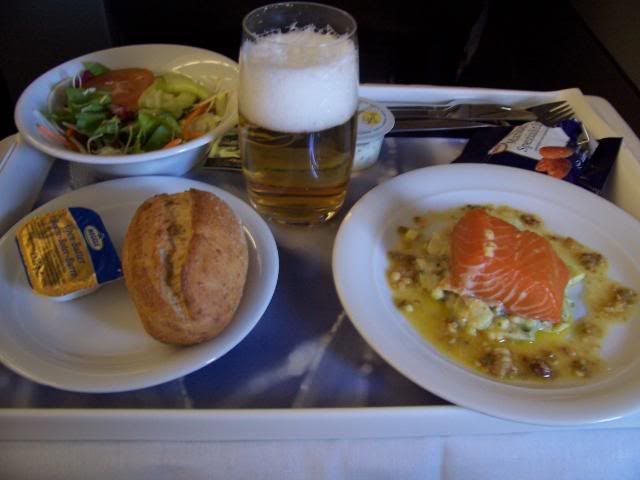 I then went with the Halibut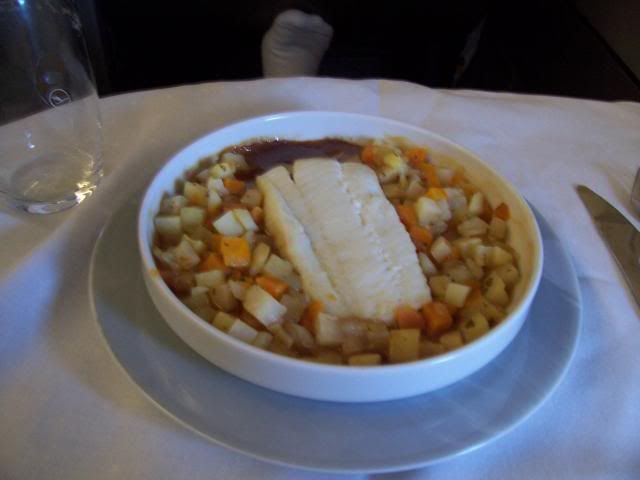 I also went with the fruit salad, which I regret that I did not get a picture of. After the meal I sat back and relaxed and watched Cassandra's dream and the rest of Forgetting Sarah Marshall. Flight attendants came around about 5 or 6 times with a tray of orange juice and water throughout the flight which was quite nice.
More than half way done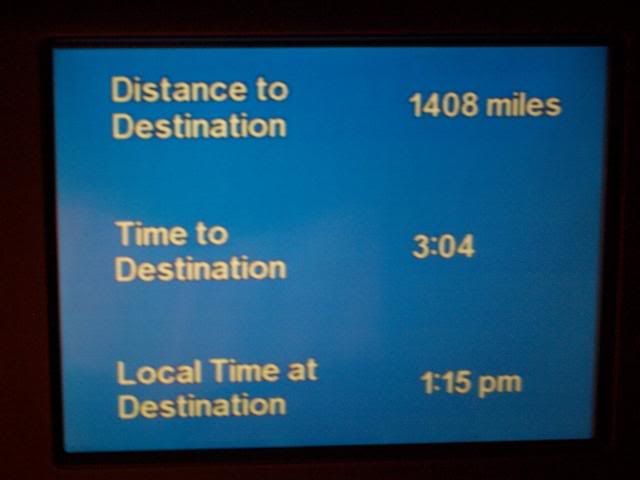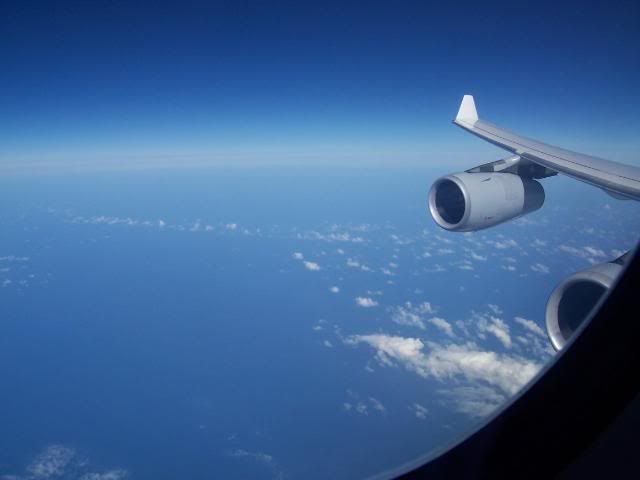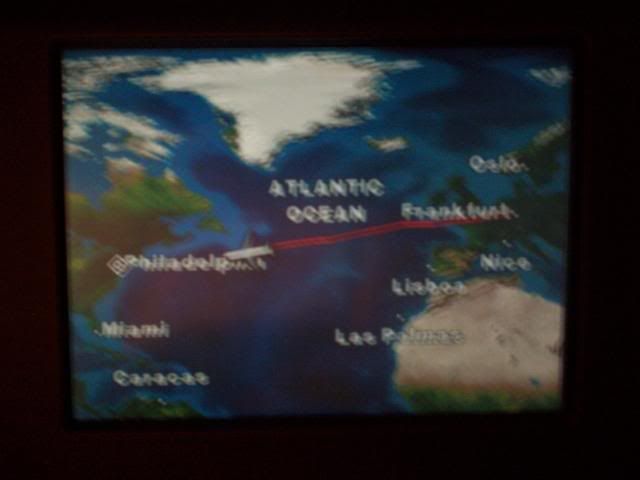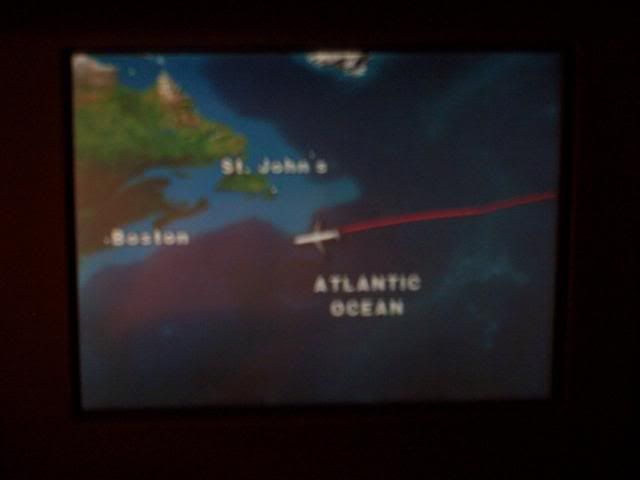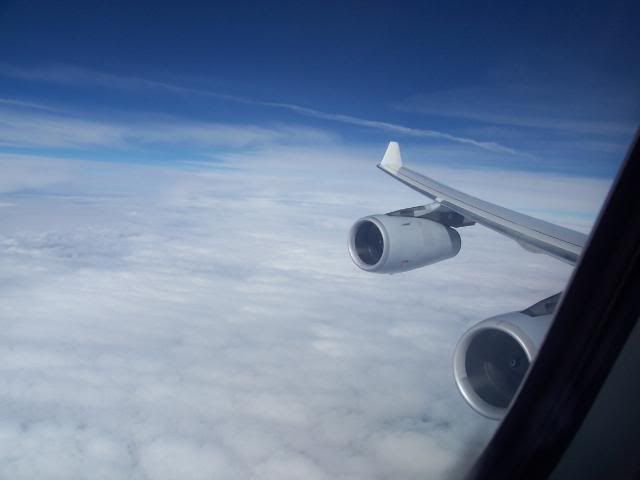 About 1.5 hours before landing the snack service is done.
Entrees
Delicacies from Austria
Jellied Shank of Veal with Herb Vinaigrette and Crayfish salad with sliced vegetable
Specialties from Frankfurt
Tafelspitzsulze, rump of beef terrine with horseradish and smoked trout with Frankfurt green sauce and potato salad
Dessert
Semolina Flummery with spiced Orange
I went with the Frankfurt snack, the beef option was one of the oddest things I have seen. It was small strips of beef in this jell-o type food. It was good but just something I never would have thought to combine. The potato salad was excellent as well.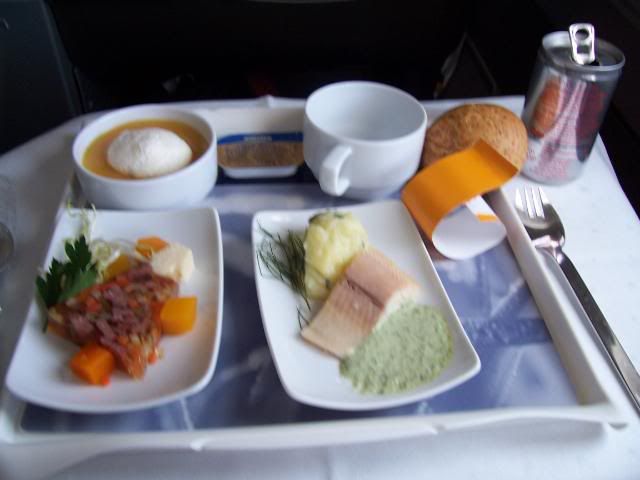 The cabin after the snack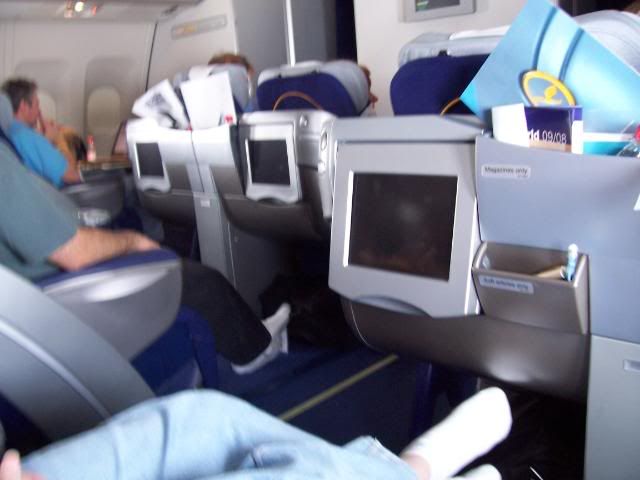 Finally reaching the coast of the US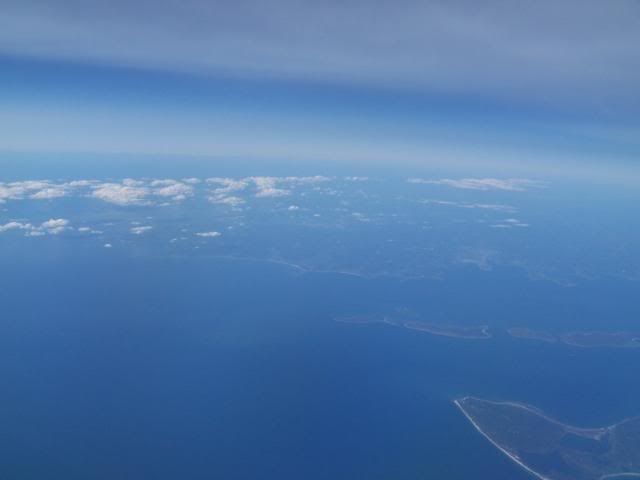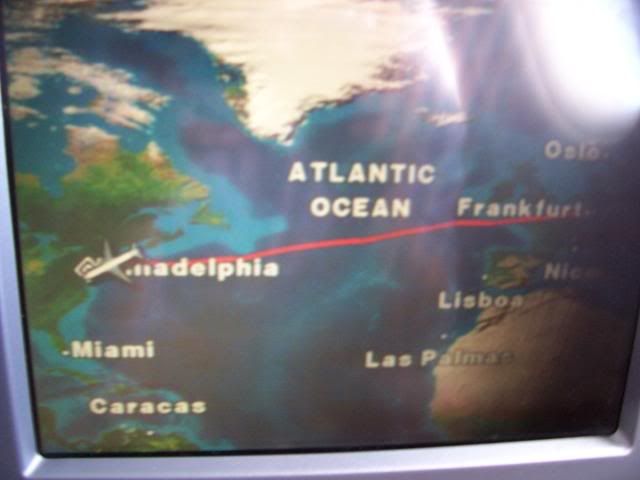 Entering New Jersey to make our way towards Philadelphia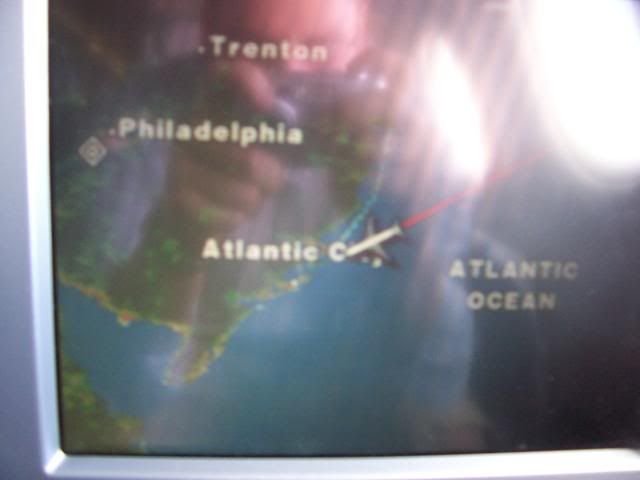 PHL airport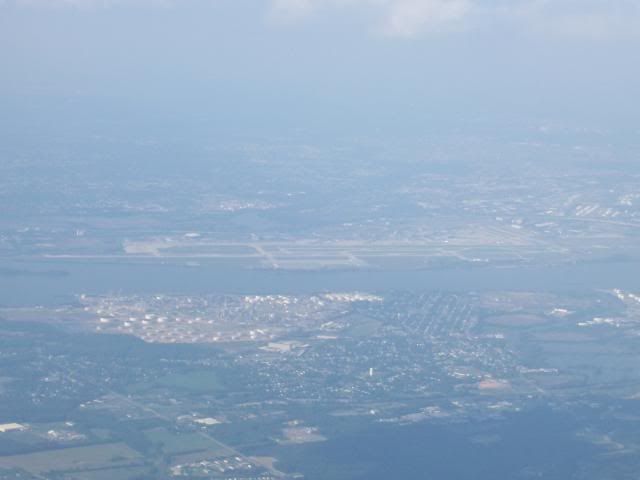 Our crazy route across NJ, it we went straight we would have been early, but because we keep going back and forth we ended up about 10 minutes late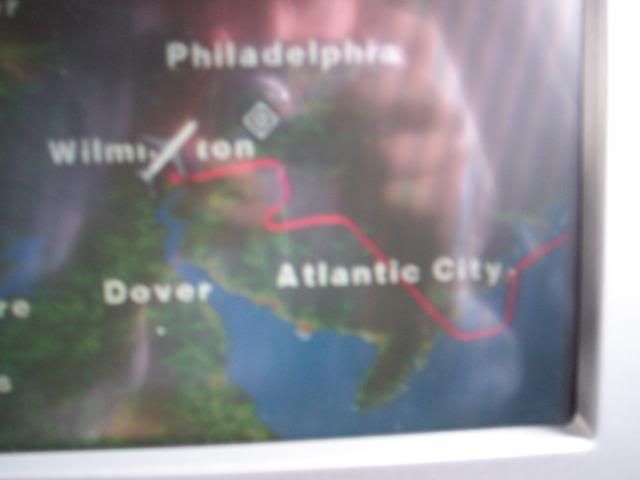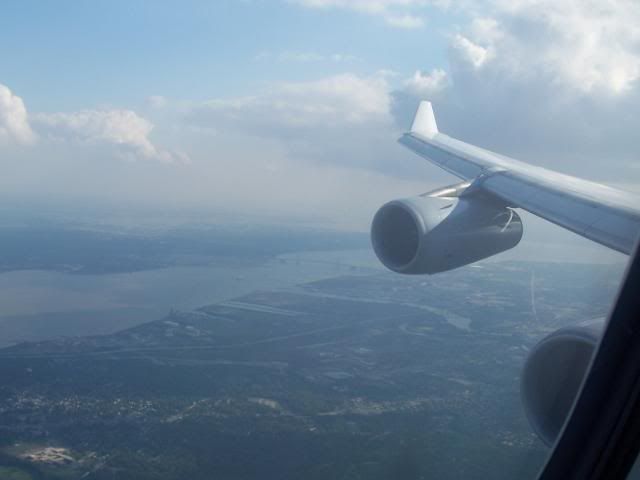 Crossing PHL property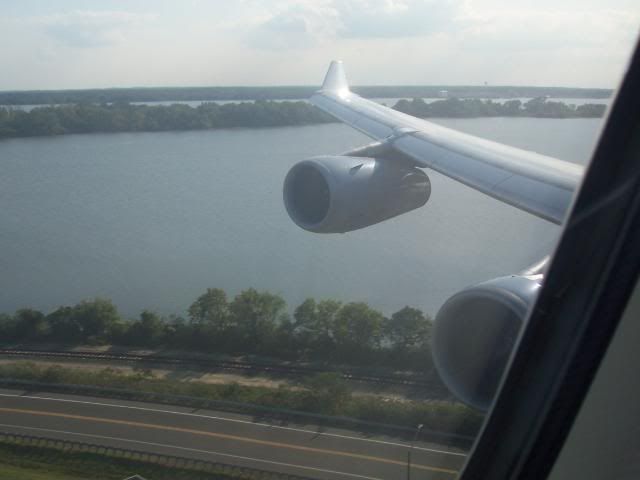 One of the hardest landings I have experience, the main gear slammed onto the runway then shortly after the nose gear slammed onto the runway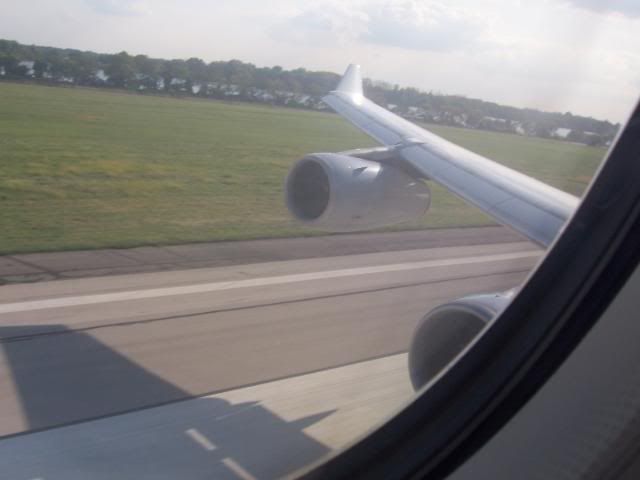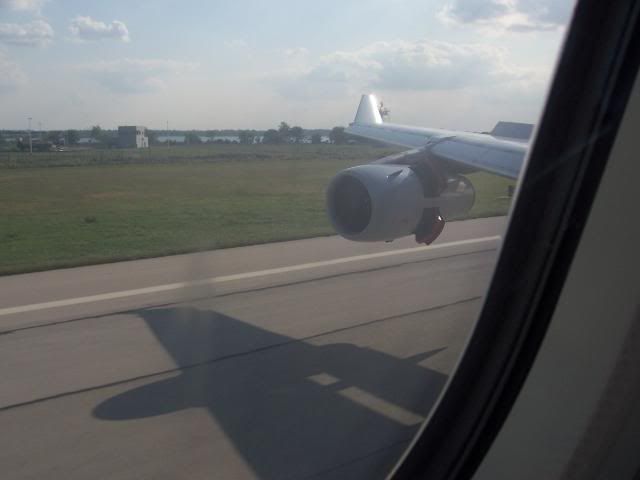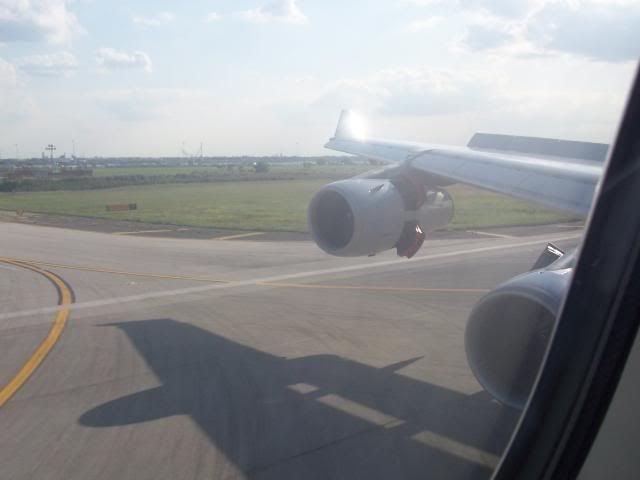 We landed on 9R which is not unheard of at PHL but is usually not the norm, with take offs happening on 9L.
Before we cross 9L and US 767 takes off to go to Europe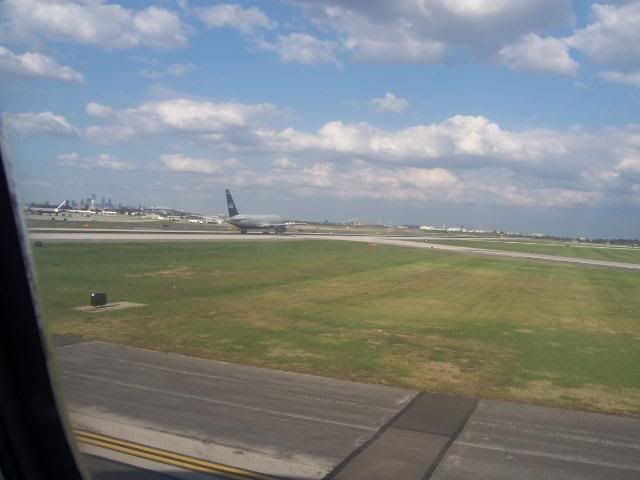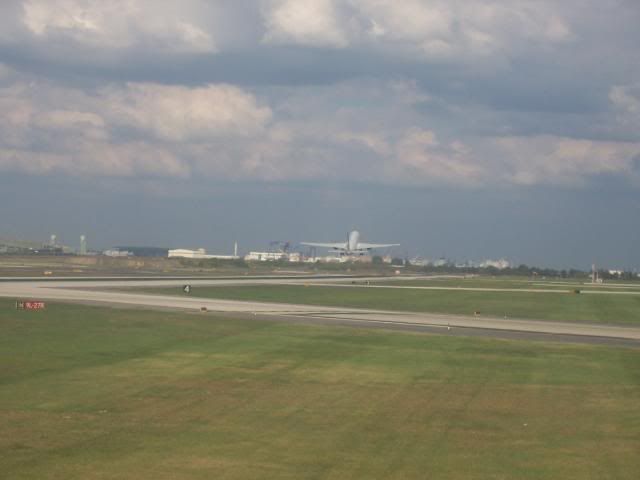 We again pull into gate A16, next to an Air France A340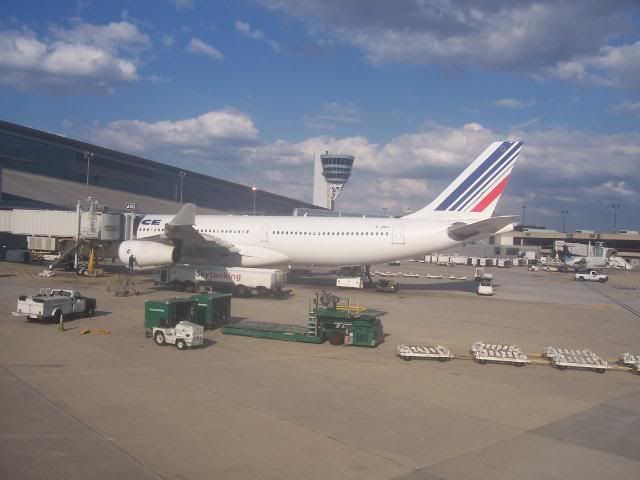 I was happy that when we exited the plane I was able to grab a good shot of our airplane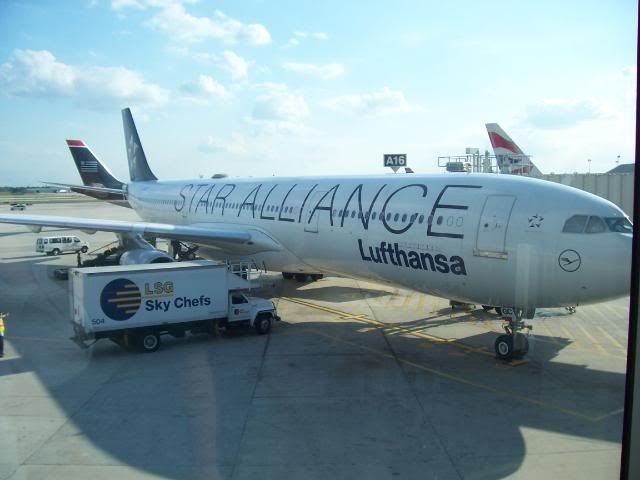 Immigration was pretty quick and our bags were the first ones out. So we landed at 4:30 PM and we had out bags and were leaving the terminal by 5:10 PM.
The amenity kit that Lufthansa gives its business class passengers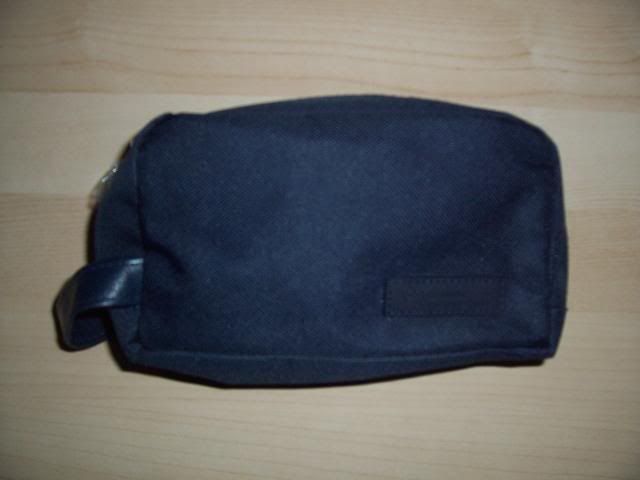 Safety cards (which I did not ask for) and menus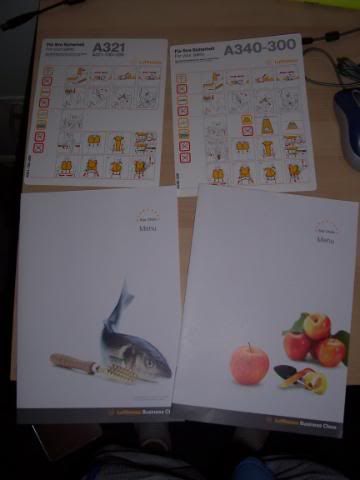 Baggage tags and proof that ticket jackets still exists (only got it in PHL but not in FCO)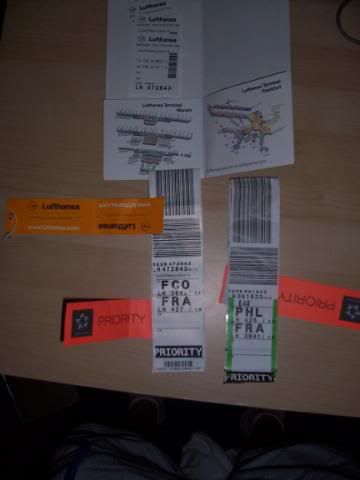 Thank you for reading and I hope you enjoyed it