Plymouth Fly-In & NQY-SBK On Isles of Scilly Skybus, Returning with Brittany Ferries; Comparing Flying Against Taking the Boat!
Welcome to the trip report of my latest wanderings, one which this time incorporates a bit more than just flying! I've wanted to fly in a Twin Otter for ages, so booked a flight on Skybus' new Cardiff route back in March (Trip Report here:
http://www.airliners.net/aviation-fo...ms/trip_reports/read.main/134422),
however a last minute substitution saw one of the Islanders arrive for this flight instead, thus plan B was hatched; to take the flight over to St Brieuc in France. To make things a bit more interesting I decided to fly only outbound, returning by means of Brittany Ferries straight into Plymouth, so that I might make a comparison between the two methods of traversing between Brittany and the West Country. Coincidence had it that, the Sunday before my trip, PLH was hosting its annual fundraising fly in and classic car rally and, as this provided some great views, I've decided to include some pictures in the report!
Sunday 31st August
Unfortunately today's weather was not looking great but, not to be deterred, we drove the mile or so down to PLH, where-upon signs directed us through one of the emergency access gates and onto the airfield to park – quite novel really; parking on an active commercial airfield! Some friends were showing their car which was why the family had decided to come along too (they managed to convince me that I wanted a classic car too 
), but after a while I managed to slip away and shoot some of the locals and visitors. Sadly the poor weather had drastically reduced the attendance compared to last year, but a handful of planes had still managed to make it, with several more dropping in as the afternoon progressed. Aside of the general aviation on show, the display area presented a perfect place to shoot the comings and goings of Air Southwest's Dashes from – a stones throw from the runway and even less from the taxiway, no dirty great fence or gates to get in your way and, most importantly, the light behind you – which is difficult to achieve normally at PLH. G-WOWA, B, C and D turned up during the course of the day and at one point half of the fleet were on the ground together – now that's seriously busy for PLH, although unfortunately there was no sign of the leased ATR.
Air Southwest's Dash 8-311, G-WOWA: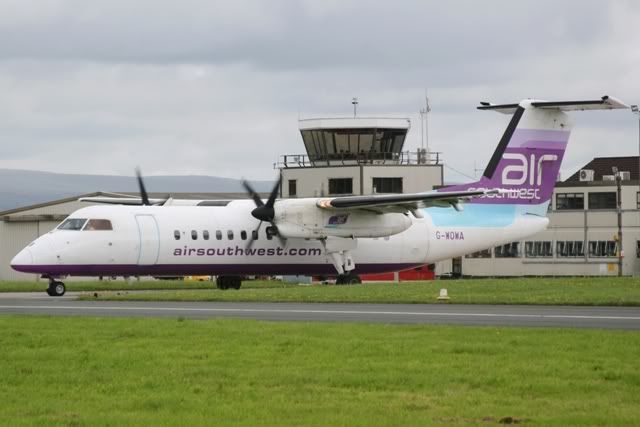 Private Cosmik Aviation EV-97, G-CCPJ: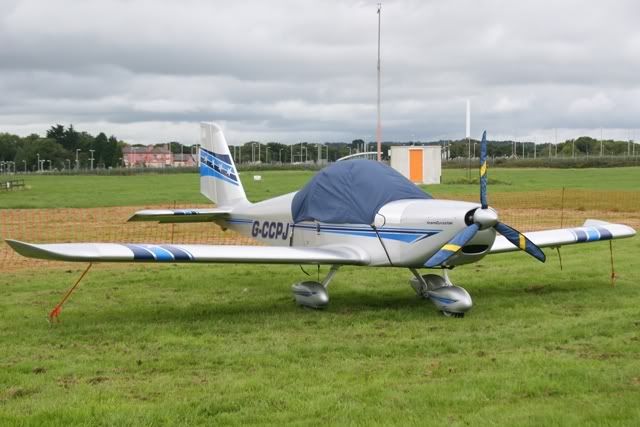 Private Jabiru UL-450, G-BZLV:
Private Aeronca 11AC Chief, G-IVOR: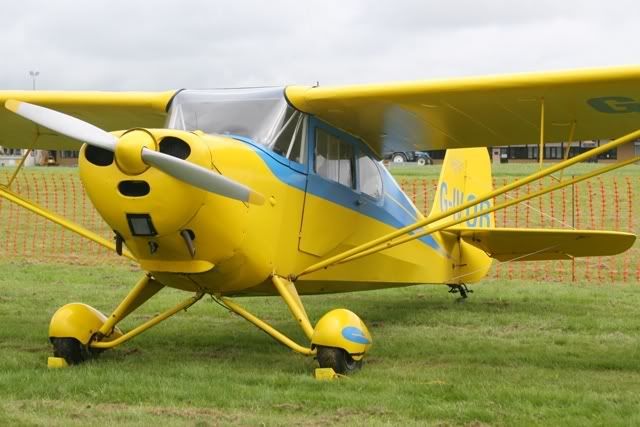 Private Aeronca 7AC Champion, G-BPFM:
Private Jodel, G-CFIC:
Private Piper PA-18-95 Super Cub, G-AYPO: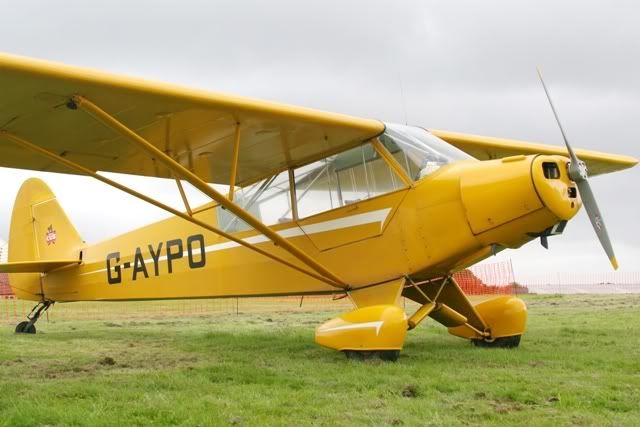 Air Southwest's G-WOWD arriving on 31:
Private Robin 400, G-GCIY:
Private Robin 400, G-GAOH: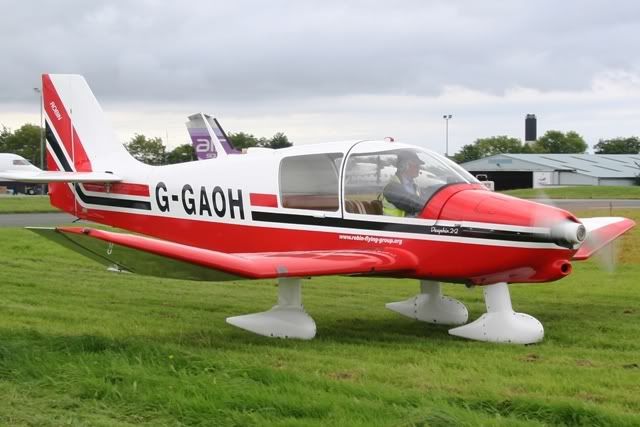 Air Southwest's G-WOWC being tossed around on approach, with Plymouth School of Flying's C152, G-BSTO in the foreground: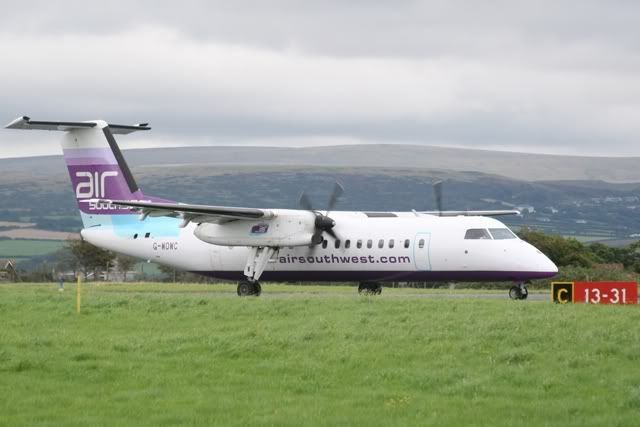 G-WOWA, C and D together: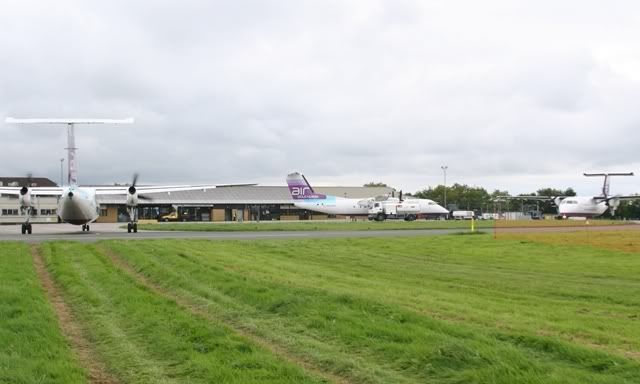 G-WOWD pulling onto the now seldom used Runway 14 to taxi to 31 for takeoff:
Private Lancair 320, G-PJMT: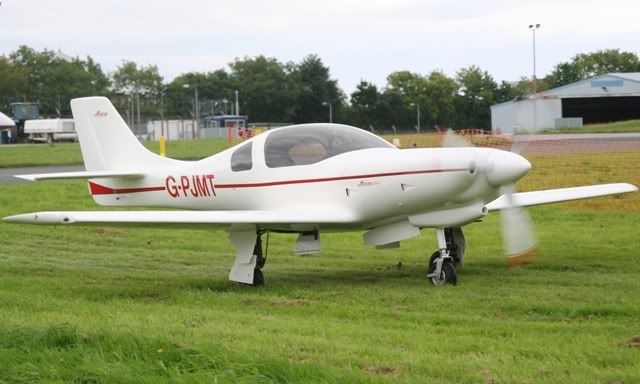 G-WOWD taking off, with the Lee Moor China Clay Pits in the background: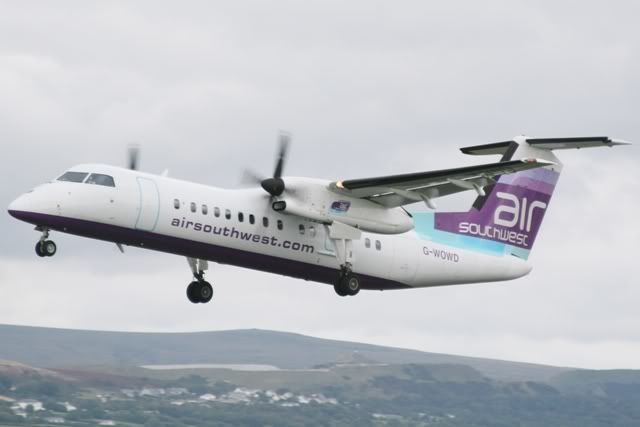 G-BZLV taxing to take off in front of G-WOWC: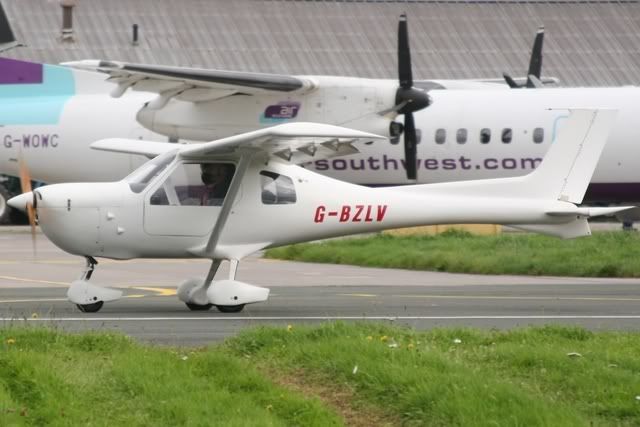 Line up of aircraft about to depart:
Monday 1st September:
As I'd only be gone for about 50 hours I was traveling light, with just a change of clothes and an overnight kit, but after a total lack of sleep the night before (Talking to Trekster and BMIflyer well into the early hours no doubt didn't help) I was not the most awake that I could have been. Although the flight from NQY didn't leave until the mid afternoon, public transport from Plymouth was pretty thin on the ground, so to ensure that I got to the airport on time I had to leave home at 07:45 for the railway station, take an 08:23 train to Newquay and then catch a bus up to St Mawgan, where the airport is located.
The start of a lovely day it seems…
Considering that PLH and NQY are only 40 miles apart it seems ridiculous that a direct train can take almost two hours to travel between the two - but at least it was on time and, as I had an hour or so spare, I decided to take a walk around the town itself, mainly to see the beaches. Even more ridiculous is that two Air Southwest flights a day, originating in PLH, (First rotation to LGW at 06:45 and weekday GLA flight at 07:00) take off half empty to NQY where they make a stop to pick up more passengers… and yet you can't book a seat on either flights! Previously you could book these flights, so to me this is just throwing money away; I travel frequently on the first LGW flight and can see the loads when taking the BRS flight which departs 15 mins earlier, and it's never even half full on the first sector – I understand that you wouldn't want to fill the plane up with just NQY pax, but surely a system could be devised where-upon for every NQY-LGW/GLA ticket booked, a PLH-NQY seat is made available? Certainly they lost my money on that occasion.
Newquay: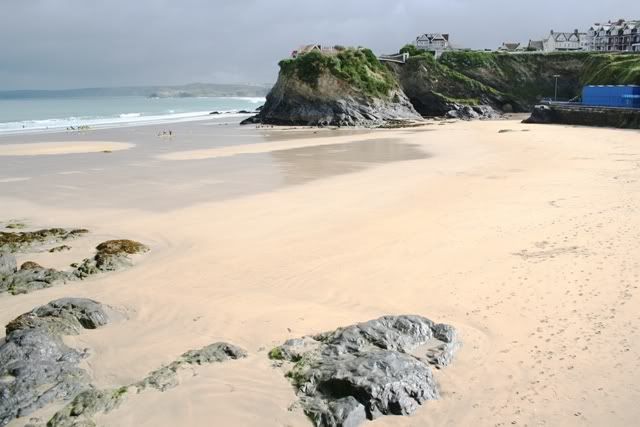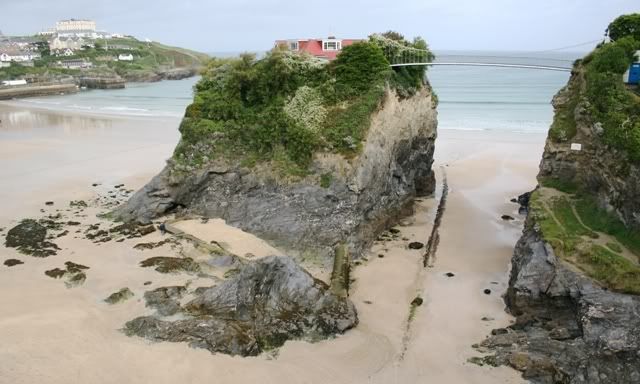 Fistral Bay: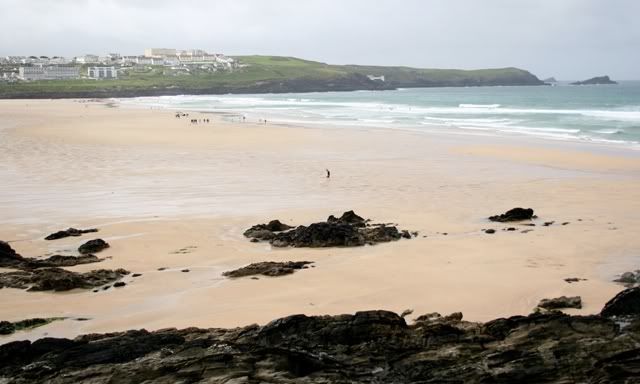 Pentire Head:
At five minutes past each hour a local
Western Greyhound
bus takes you from the centre of Newquay (at bus station – stand three!) to the airport for £2.70 one way, or £4.00 return – giving you a great view of Watergate Bay along the way. Arriving at the airport you could really feel the wind picking up and unfortunately several IOS flights had already been cancelled – although there was some uncertainty amongst staff if this was caused by weather, lack of passengers, or an aircraft going tech. As the check in time approached, a notification appeared beside my flight – "Delayed to 15:45" Great! - there's not much to do at NQY, so an extra hour and a half sitting around wasn't the best of news. The girl checking passengers in was very helpful, but couldn't offer any more assistance regarding the timings. Luckily I'd brought the laptop along, so after paying the airport development fee and clearing security I found a quiet corner of the lounge and sat down to start writing the report thus far… it's certainly making a nice change to describing how noisy Russian aircraft are in the other TRs which I'm currently working on!  
Meanwhile the weather went further and further downhill; the aircraft due to operate my flight made it down safely, but after that an 'indefinite delay' was placed on all IOS flights, along with many apologies from the airline staff… not looking good! Half an hour later they advised that another aircraft had managed to land (the WOW Dash to GLA) and that the moment things were looking up, then the SBK flight would be on its way. Prospects though were not great as the aircraft was supposed to return to the Scillies for the night, but St Mary's has no ILS and therefore closes as dusk falls, in four hours time. Those passengers bound for the Isles of Scilly were by now looking even more disheartened as their aircraft was still stuck on the Scillies - leaflets were handed out advising about the delay/cancellation procedure and possible travel overland by means of a coach to Penzance and the Scillonian III ferry if the worst came. It's not uncommon for the islands to be cut of for days or even weeks during the winter storms, but in the summer it's normally very rare!
After that though communication just disappeared; in the end we only found out what was happening when the pilot due to be flying us made his way back into the airport through the lounge. His verdict was that the conditions were too bad to fly in, yet for some reason the ground staff insisted that it may still take off (like - how? The pilot has just gone home!), thy also insisted that we must not leave – some people wanted to by this stage but were actually disallowed to leave the departure lounge! Eventually, after finding somebody to talk to and four hours after we should have left, all of the IOS flights were cancelled for the day and passengers heading to St Brieuc were given the choice of a full refund plus a taxi to Plymouth where you could then make your own way across on the ferry to France, or the opportunity to come back the next day and try again – Tuesday's flight was no longer cancelled. From a rough headcount it was about half and half; in the end though four people opted for the taxi plus ferry, two decided to drive over in their own car, whilst myself and a couple of others decided to have another go the next day – after all, I was only here to try and fly the Twotter… which would now hopefully be third time lucky!
We were lead out of the gate, across the ramp and back into the arrivals hall to reclaim any luggage which may have been checked in, then were directed to the information desk in the check in hall – which was soon inundated! Once it had been decided firmly what everyone was doing, a taxi was ordered for the four ferry passengers and myself - I live in Plymouth anyway and by this stage it would have taken me four hours to get home by public transport. The Airport Development Fees also had to be refunded for some people, (I kept mine as they are valid for one year and I could use it the next day) which isn't exactly simple; first you have to fill out a form with all of your details on it and then you have to send it, with the original ADF ticket, to Cornwall Country Council, who will then check that it was you who bought it and send you a cheque for £5 in the post – what a palaver! Then just to really make everyone happy, we found out that we'd all been given meal vouchers during the wait… um, no we hadn't! It appeared they had 'forgotten' to give them to us… really useful, so although they did find them ASAP, only five people were still there to receive them. There was only just time to use them anyway, before the five of us got into the taxi and set off for Millbay docks in Plymouth. The driver recognised one couple – he'd had to pick them up from the docks the previous week after Skybus cancelled their outbound flight over to NQY due to 'technical reasons'… they are not the first people I've met who have vowed never to try flying Skybus again – even if it wasn't the airline's fault this time. So, 12 hours after first setting off on the train, I was dropped back in the city center, where I was able to get a lift back home from my mum, returning from a meeting after work. So much for being in France…
Tuesday 2nd September
So, time to have another go! It was pretty much de javu the whole way – I got the same 08:23 service, which was exactly the same train (jolty class 150  
and sat in exactly the same seat! This time, after a quick bite to eat in Newquay, I took the bus half way to the airport and stopped off at Watergate Bay where I walked up the coast path a bit; I knew I could find a bench there with a wonderful view to kill some time. It was windy still, but the sun was shining and it wasn't too cold!
Watergate Bay: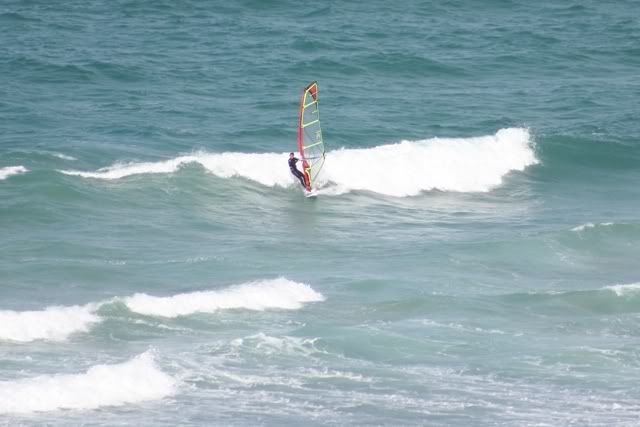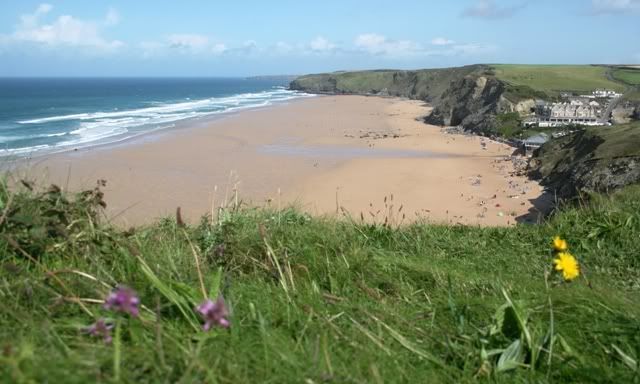 Arriving at NQY again it was a relief to see an absence of 'delayed' notices next to any of the IOS flights, but I checked with the information desk just in case and yes, all flights were operating to plan – hooray! Once more I sat down to add a few more details to this report, joined after a while by a fellow cancelee from the previous day. Check in opens one hour before departure at gate 8 for Skybus, where-upon (with a big grin) the lady told us that it was all going to plan and that we'd actually be going today, something we were all quite pleased about! Well, I say all, but you can hardly call it that, only three passengers decided to take the flight in the end, so we'd have the Twotter all to ourselves.
Check in Hall At NQY: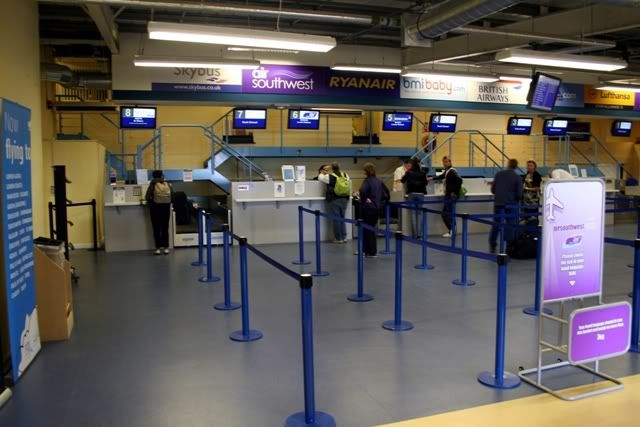 Because of the small aircraft which Skybus operate (Islanders and Twotters) they don't employ stewardesses, so the safety demonstration is performed on the ground, in a corner of NQY's departure lounge – at any airport they fly to you'll see a little TV tucked away somewhere along with some seats. It was short and to the point, and once completed we just had time to grab some refreshments before we walked out to the aircraft, I felt the achievement of finally getting on the DHC6 was cause for a picture, even if the lass who took it missed off the end of the registration.  
G-BIHO Awaiting Us:
The third passenger on the route had already flown across a few weeks previously, and had been telling me about the fantastic views of Plymouth and the South Devon coast along the way, so once the pilot had given a further safety briefing to us, I asked if we'd be flying anywhere near 'home' today. I think he took it as a request, and said that he'd do his best, but obviously it would depend on the routing given. Cruise would be at 9000ft, and it was expected to be a little bumpy in places, but given the conditions that was understandable! Profuse apologies were also given for the delays yesterday, quite fair enough though, as he said; they can fly through a lot of things, but a combination of everything was just too much for the aircraft to have operated safely.
NQY-SBK
Newquay to St Brieuc
Carrier: Isles of Scilly Skybus
Flight: IOS770
Aircraft: DeHavilland Dash 6-310
Registration: G-BIHO
Date of First Flight: 1981
Seat: Free (various taken)
Block Departure Time: 14:15
Take off Time: 14:17
Block Arrival Time: 16:35
Touchdown Time: 16:23
Distance Flown: 163 miles
Total Flying Time: 1 hour 6 minutes
Fare: £65 one way (+£5 airport development fee)
I was quite surprised when the engines started up at just how quiet it was inside compared to other similarly sized aircraft, like the Do228 or SWM Metroliner, and certainly a world away from the noise inside their Islanders! Right on time we left the stand for the short taxi to the midpoint of St Mawgan's huge runway… not that it was going to need more than a sixpence to take off in with today's gale for a headwind; five seconds after the brakes were released we rose steadily into the air, jolted around by a good deal of turbulence during the climb out over Watergate Bay and the Celtic Sea, but once up to a thousand feet the bumps subdued and all was pleasantly calm.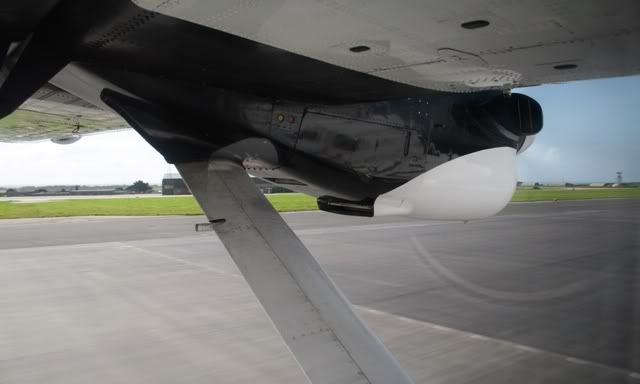 Watergate Bay Below, & Newquay in the Distance:
Looking East Towards Trevose Head: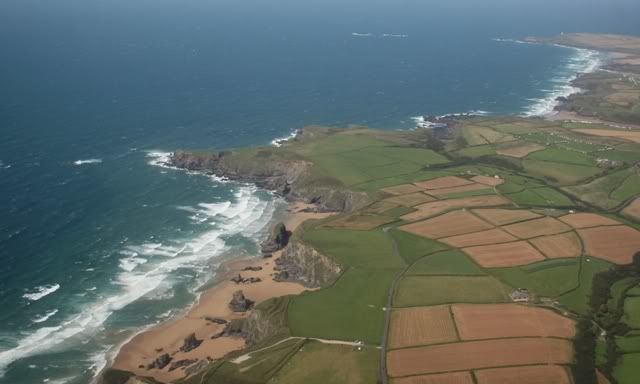 A large right hand bank was made to point the aircraft in a Westerly heading; giving views in the distance towards Wadebridge and Padstow along the coast to the left and Newquay and St Mawgan to the right. The handy thing about such a small cabin is that you can see out of both sides simultaneously, plus through the front as the cockpit is predominantly open – I could simply hold my arm out and reach the opposite window to take pictures.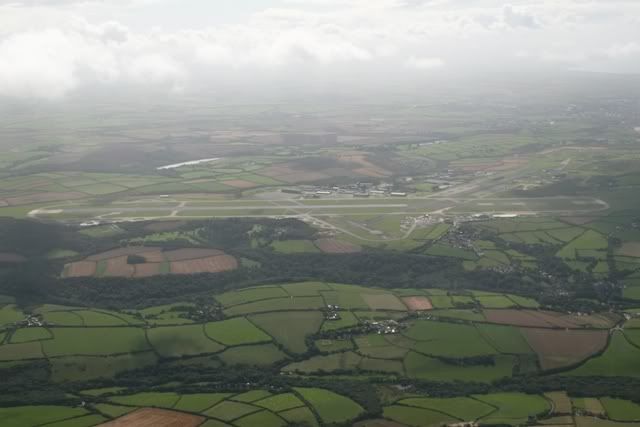 Despite the small size though I didn't feel cramped and the cabin was very well presented, on the contrary, although the legroom varied to an extent from seat to seat, it ranged from perfectly adequate to extremely generous! Headroom really was the only slight issue, (but unless Viking plan on producing a convertible -400 series there's nothing you could do to avoid that) though it was still miles better than the Dornier and, you didn't feel like you were in a drainage pipe with wings, unlike the Metroliner.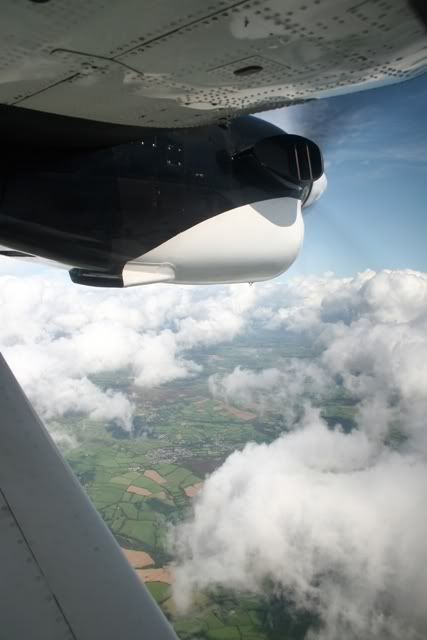 I'd been keenly watching the landscape below, so I knew that Plymouth was approaching and that our current course would take us right over the city, unfortunately though, several huge cumulus lay straight ahead over the river Tamar - after skimming the edges of one which tossed the aircraft around like it was a feather, the pilots wisely chose to fly around the rest, taking us on a more northerly course, directly over PLH. This was fine though, I live just North of the airfield, so got a great view of the my home village (upper centre of the picture) – since the last time I'd been over by air though it's been surrounded on a third side by new development, 20 years ago it was several miles out into the countryside, but sadly it'll eventually be swallowed up by Plymouth I think.  
From here the path took us on over the South Hams towards Kingsbridge, and from there to Bury Head, the closest bit of the South West to Brittany. I have fond memories of Slapton Sands; (the beach pictured below) having spent a week walking it one blustery February many years ago as part of a Geography field project. It played a key role in WWII, being used as an allied training ground for the beach landings in France, tragically many soldiers were killed during a blunder with live ammunition, although that's something which the 'official' history tends to forget about.
As Bury Head receded into the distance there wasn't much else to look at, save the occasional ship plying its trade along the channel, so I took a few cabin pictures.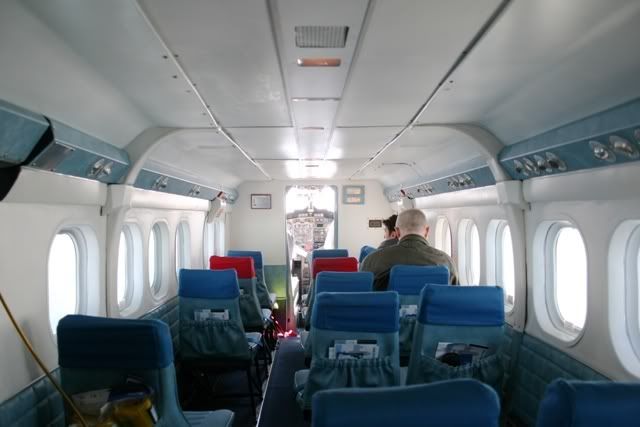 (If found, please return  
Somewhere, 9,000ft below, the ferry I'd be returning on was sailing for France - although I think our route was a little too far North, so there was no chance of seeing it. Away to the left, in the hazy distance, the Channel Islands slipped by (I'll be heading there soon in order to fly the Trislander and J32) then the coast of Brittany appeared to the right, and another announcement by the crew signaled that we were to begin our decent down into St Brieuc, where the weather conditions were pleasant with some sun and a temperature of 17 degrees.
The approach was very scenic, flying just off the coastline providing some wonderful views of the beaches below, then making a slight bank to the right to line up with the runway.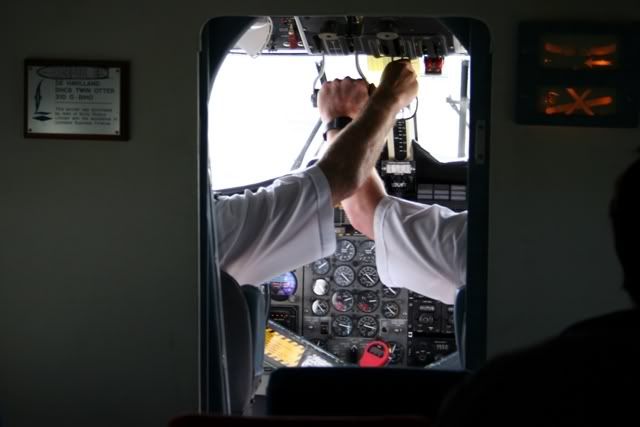 I had a good view as the flaps were lowered down, and the absence of any cockpit divider meant that the crew's motions and the runway ahead were easy to see – even if it did look like they were about to start Morris Dancing at one point!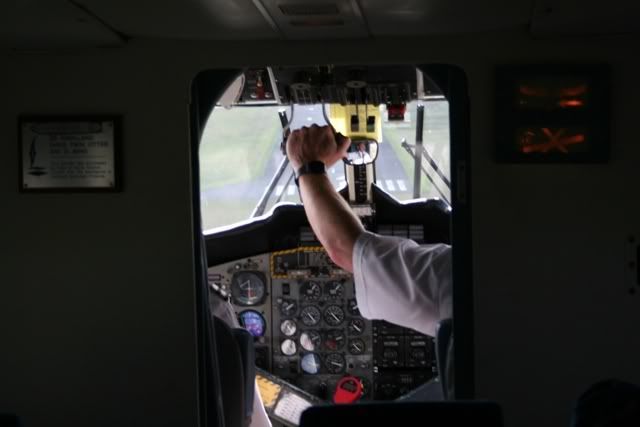 This is the only commercial flight which serves St Brieuc, so unexpectedly there was very little other traffic – however the runway is a decent enough length, so it wouldn't surprise me if SBK appears on Ryanair's radar in the future. A friendly lady greeted us with a warm welcome to France, with instructions to follow her to the terminal, which was just a short stroll across the tarmac from the Twotter. By the looks of it the return flight had a better load, with about ten people from what I could make out.
The presence of two immigration staff to check the passports of three passengers seemed a little OTT, but I guess they were probably bored and welcomed the opportunity to do something! There isn't much to the terminal really, but it looks like it could easily handle much larger passenger numbers as it has a good sized reclaim facility. Obviously we were the first to arrive for a while though, as the exits through the security 'channel' was bolted shut, so I let myself out and tried to find somebody to ask about a bus into the town. Eventually I found someone, and they informed me that yes, there was a bus, but had then walked off onto the apron without further to do, so I figured I'd just have to walk and try and find the bus stop! If all else failed, the lady who was also on my flight said that she'd get her husband to drop me off in St Brieuc when he arrived, (which she quite aptly described as the 'St Austell' of Brittany) however I hadn't walked more than 100 yards when I heard a whistle from behind… so I ran back and voilla – a minibus had appeared! Apparently the chap I spoke to had just gone to get it (I obviously missed that bit, or didn't understand as my French is minimal), and even more amazing, it was entirely complimentary! Thanking the lady for both calling me back and for the lift offer, I climbed aboard – the first thing that struck me was that SkyBus is missing a trick here; there was no mention on their website about this service or in flight, but to me it's a potential marketing tool; Paris is just a few hours away by TGV, so appropriate advertising might bring in a little extra custom to the route.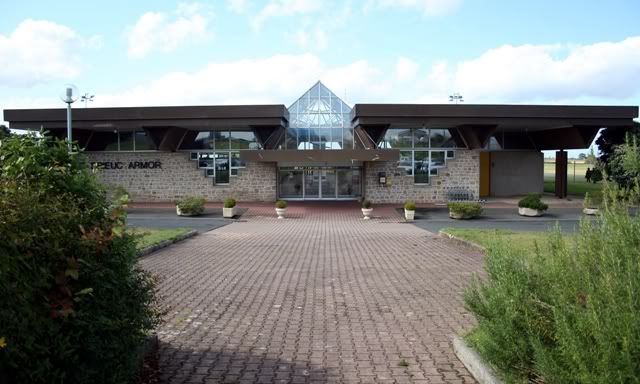 I'm quite glad there was a quick way of getting into the town, as even by transfer directly to the station it took the best part of 40 minutes to get through all the traffic. Still, it was comfortable and free – can't complain! I'd just missed a train towards Brest, so as it was an hour until the next I bought my ticket as far as Morlaix (€13 one way) and headed to a bar for some refreshing amber nectar.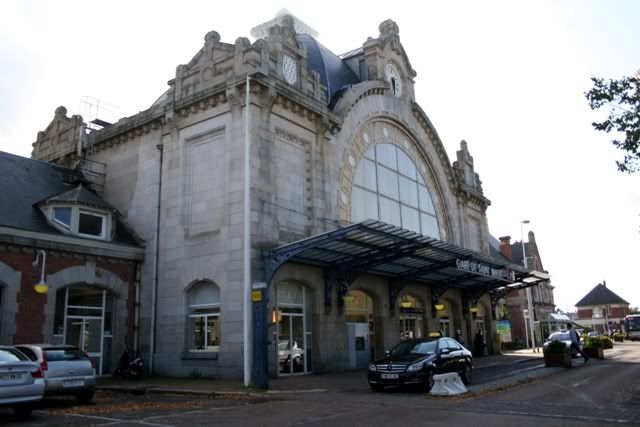 No delay on the train, and 50 minutes later we arrived into Morlaix… where I discovered that very few of the busses and none of the trains which were supposed to be running to Roscoff actually were; the next one would leave at 20:57 and my ferry left at 22:00 – this would be pushing it, especially with check in supposedly closing 45 mins before departure. Nevertheless, I had no choice, so I bought the €4 ticket for the 'train', the rail replacement bus operating the service leaving dead on time. Again, this strikes me as pretty stupid, why not run the bus so that is coincides with plenty of leeway to get the ferry - a popular entry point into the UK with foot passengers traveling around Europe. As the driver knew I was heading to the port he drove right up to the ferry terminal to drop me off, most kind, and I ran straight in and despite only having 30 mins before sailing, they still let me check in – phew, and 20 minutes later I was onboard!
Roscoff-Plymouth
Operator: Brittany Ferries
Built By: Meyer Werft, Papenburg, Germany
Name: Pont-Aven
Tonnage: 40,700
Launched: 13th September 2003 (Laid down 10 April 2003, maiden voyage 24th March 2004)
Accommodation: Reclining Seat
Block Sailing Time: 22:00
Actual Sailing Time: 22:10
Block Birthing Time: 08:00
Actual Birthing Time: 07:56
Distance Sailed: 120 miles
Total Time At sea: 10 hours 46 minutes
Fare: £40 one way, plus £5 for the compulsory seat
Boarding was quick, although those passengers with luggage or prams found the gradient of the walkway up to deck six difficult, getting on was interesting as the ship was bobbing about a fair bit even in the harbor. I really didn't want the set, but you have to have some form of accommodation on overnight crossings, so the only other option was a cabin which is a lot more expensive.
At 22:10 the ropes were untied and quickly maneuvered away from the quayside and out into the bay – it was dark by now, but you could see that the water had a fair swell on it, and once the coastline had been left behind and the
Ile de Batz
was no longer sheltering us, it was really quite rough, so I headed below decks to find some food and a pint! Many passengers were suffering the affects of motion sickness, so the restaurant was pretty much empty, not that it mattered; I had a great view from my table of the sea (visible by the ships' reflective luminescence on the surface), and of what looked like huge avalanches plunging into the hull below me as the ship rose up to crest, then exploding back out again as she crashed back down into the next wave. To be honest, I really wasn't impressed by the ship in this respect (considering her size); it was 'only' a Force 8 blowing and she was flexing, creaking and swaying all over the place – her normal route is Plymouth-Santander in Spain, through the Bay of Biscay, where Force 10s are not uncommon, so I dread to think how the ride is in those!
I spent most of the night writing various trip reports, some letters, and catching up with other work on the laptop, whilst intermittently fetching more beer from the bar until it closed (so apologies for any mistakes caused by my incapacity  
). In the early hours the swell subdued considerably, probably because the Cornish Peninsula was now shielding us from the wrath of the Atlantic Ocean and, with that, the speed tailed off dramatically to no more than a crawl. I couldn't understand why this crossing was scheduled at 11 hours and, considering the speed at which we'd set off, I thought that it must have been a mistake; normally it takes about six and a half hours on the older ferry which runs the route daily and this new (faster) ferry sails the 600 miles to Santander in just under 22 hours, so surely such a comparatively short crossing couldn't take so long… but oh it did! I could have swum faster I think - incredibly frustrating as, once dawn broke, I went back up on deck to take some pictures and I could see the Devon coast some three hours before we actually reached Plymouth Sound. I presume this is so that passengers can get a good night's sleep, besides adversely delivering a bunch of queasy motorists who don't have a clue where they're going straight into Plymouth city centre at 8am every morning… adds amusement to the rush hours I suppose!
Inside the ship, the swimming pool had been drained because of the rough weather, but the paddling pool still managed to throw itself all over the floor in the swell. Really the ship feels more like a cruise liner than a Ferry; the flashy atrium with double glass lifts; a casino; the pool; six or seven restaurants and bars plus a couple of cinema screens, certainly a nice variation on the 'traditional' dimly lit barges which shuttle back and forth from the likes of Dover and Folkstone – it even has a helipad on the back.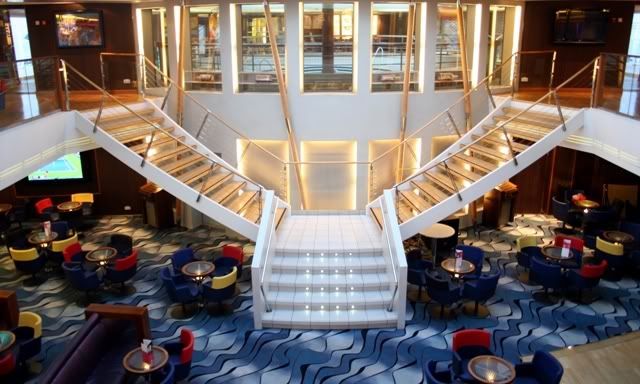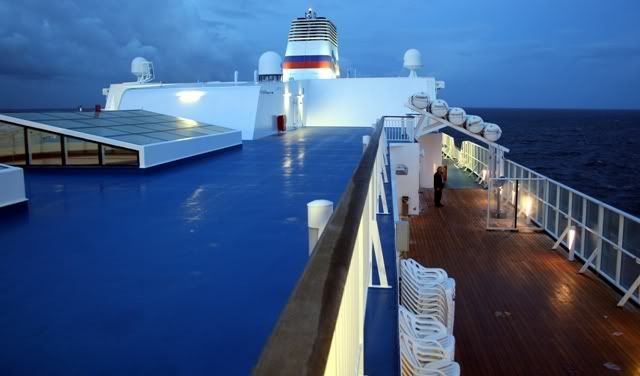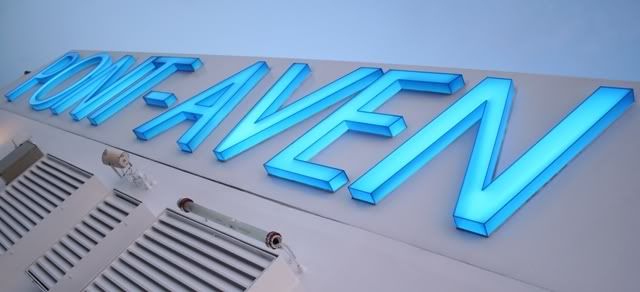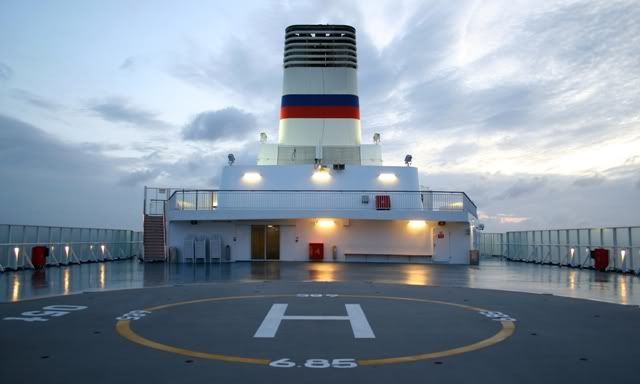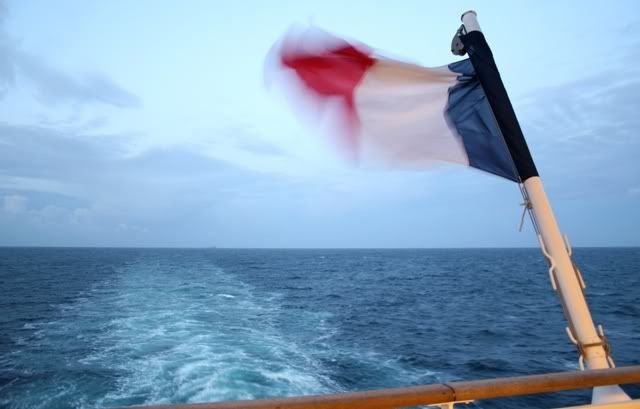 Eventually the Breakwater slipped past in the murky morning light, it was built in 1811 during the Napoleonic wars at a staggering cost of £1.5 million to provide a save harbor for the entire naval fleet in the channel, whilst the circular fort just behind it is one of a number built around the UK coastline right back in 1844 to help defend key strategic locations.
Plymouth's sea front is an unfortunate mish mash of design styles, ranging from the Victoria grandeur of seafront townhouses to rather less appealing concrete towers conceived in the 60s, not to mention the 1920s art deco style promenade itself and accompanying Lido, recently restored. Most famous though is the Hoe; made so by Sir Francis Drake who supposedly played bowls atop it whilst the Spanish Armada approached in 1588, after he'd finished the game he comprehensively beat them, who'd have guessed that 400 years later it would be a British Armada of charter flights doing the invading every summer!
The Hoe: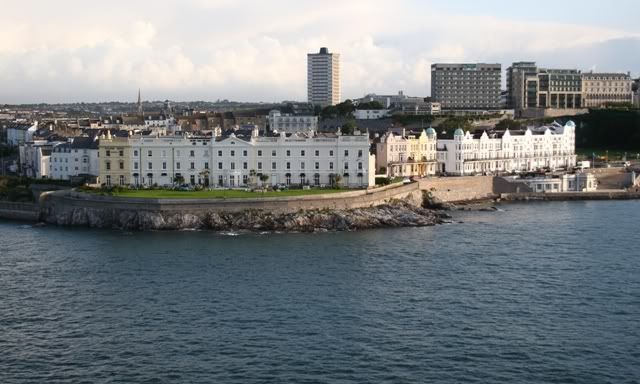 The docks at Millbay was my destination today, but conversely were for many the last step on English ground they would ever take, at one point the many basins were birthed by liners and steamships bound for the far corners of the British Empire and it was the mail they carried which lead to the creation of Plymouth airport in 1914; to expedite the passage of urgent letters and parcels to London. For the past thirty years though it's been an utter pit of the city; run down and decrepit, but finally regeneration is creeping in under a new city masterplan by David Mackay, the man responsible for redeveloping Barcelona.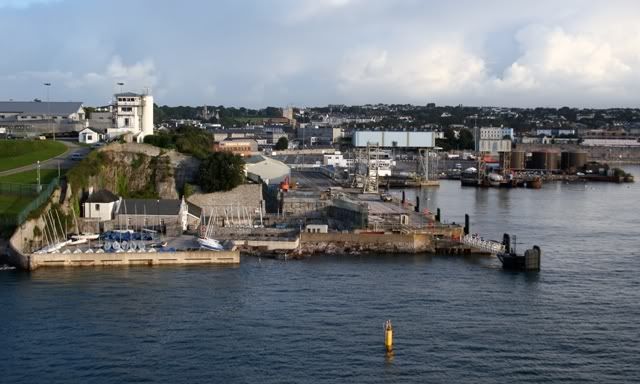 Drakes' Island:
Aside of the commercial ferry port, Plymouth is the British Navies largest dockyard, the largest in fact in Western Europe, so we get some quite interesting Naval movements to watch!
So, to compare the two voyages I would have to say that, depending on your location, the flight winds hands down – it's quick, convenient and not much more expensive than the Ferry really, especially when you consider buying food and drink onboard. However, and this comment was voiced by several passengers, it would make far more sense to be offering the flight from PLH; NQY is only catching those passengers from Cornwall, because there is little justification for people North of Plymouth to carry on driving for an extra hour past the ferry port, only to spend more on a flight,
and
not have their own car once they get to France. For those foot passengers who may be swayed towards taking the flight, NQY is far from an attractive location to reach by public transport; I had to set out at 8am to reach it by midday, and I live only 40 miles from it! However, SkyBus only operate the occasional Christmas Shopping flight into PLH from the Scillies, so unfortunately I think this is unlikely to happen, which is a shame because, as this flight has proven, there is definitely a market there - it's just whether it's big enough to make the flights viable from Newquay… I guess if they return next year it is, and if they don't, then it just wasn't working out for them. Fingers crossed, I would love to fly it again – as I mentioned in the report I would seriously consider using this again to get to Paris.
Thanks for reading, I hope you have enjoyed it and, as normal, if you have any questions or comments then do feel free to post them.
Dan  
[Edited 2008-09-21 19:37:05]