I've been procrastinating this SA Linhas Aereas">TR for a while, but here it is!
We were connecting to SA359 from another SA flight from LVI. For some reason, the agent in LVI was not able to print out our connecting boarding pass for the JNB-CPT flight nor was she able to through-check our baggage.
So after collecting our baggage, we followed the signs that directed us to the domestic terminal. There is a walkway along the airport road that takes you there. I noticed that there is currently a lot construction going on at JNB and I'm guessing that once this construction is finished, connecting between domestic and international flights will be much easier and faster.
In order to get to the domestic check-in area, you are required to go up a series of ramps as the check-in area is on the second floor. There are elevators available, however, you cannot use them if you have bags.
The domestic terminal looked very nice and I noticed that the the self check-in kiosks provided services for more than one airline. One could use one check-in kiosk to check in for an SA, JE, or 4Z flight.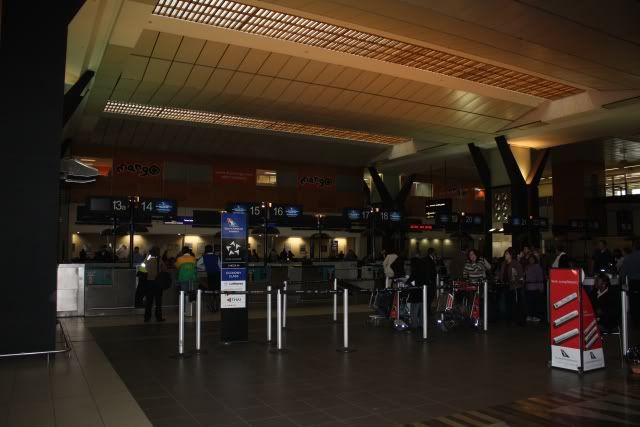 However, very few people used the check-in kiosks as you can only use them if you are traveling without baggage.
As we joined the line for check-in, we noticed that there was a huge scale inside the roped area where there were two SA employees weighing people's bags. As we approached the scale, the SA employees recorded the weights of our bags and wrote them on a piece of paper. Very old-fashioned but interesting nonetheless. After weighing our bags, we waited about 20 minutes in line.
An extremely nice lady then checked us in. She became concerned when she noticed that there was no boarding time on our boarding pass and immediately called someone to confirm that our flight is operating on time.
All flights departing from remote stands board from the ground floor of the domestic terminal, similar to the international terminal at JNB.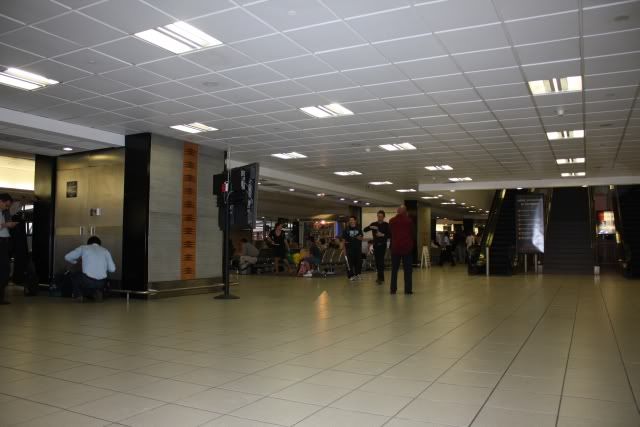 The flight boarded ontime at about 30 minutes before departure. As my boarding pass was being scanned by the SA agent, I noticed that she crossed out my original seat number and reassigned me another seat, towards the front of the cabin. I intentionally requested to have a seat behind the wing, so at first I was not happy to see this. She then mentioned that I had been bumped up to business class! My feelings immediately changed and I was extremely happy.
Now I must wonder how I was bumped up. There was no frequent flier number associated with this reservation so it's surprising they couldn't find someone with a higher priority than me to bump up instead. Oh well, I'm not complaining!
Flight: SA359
Dep: JNB
Arr: CPT
Load Factor: ~80%
Aircraft: Boeing 737-800
Airline: South African Airways
Our aircraft was parked far away, near the international terminal.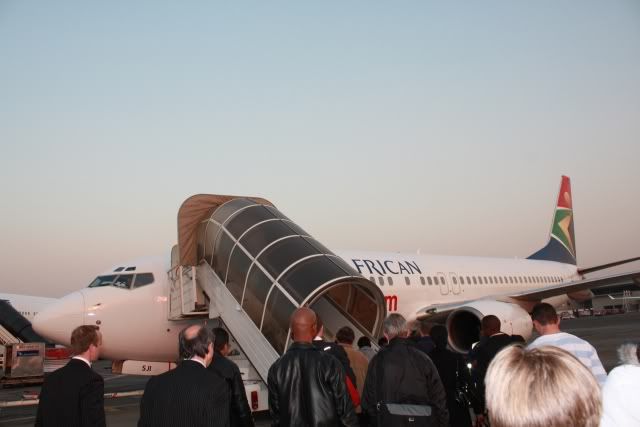 The configuration on SA's 738's in business are a 3-2 config. I don't think I've seen that before.
I noticed that the C cabin was quite empty and maybe 40% full. The Y cabin, however, was about 90% full. Is it possible that we were bumped up (my family + me = 4 people) for weight/balance?
Pushback was right ontime and we began our taxi to the runway. The safety video was played on the drop-down LCD monitors.
I also noticed that we didn't taxi all the way to the end of the runway for takeoff. We turned on the runway from the second to last taxiway and performed a rolling takeoff.
Shortly after takeoff, a video was shown about SA and South Africa. I didn't watch it but it looked cool.
The cabin crew then came around with water and a meal service followed shortly after. I was surprised that we received a hot meal on this flight! I doubt that one could ever get a hot meal on a flight of this duration in the U.S.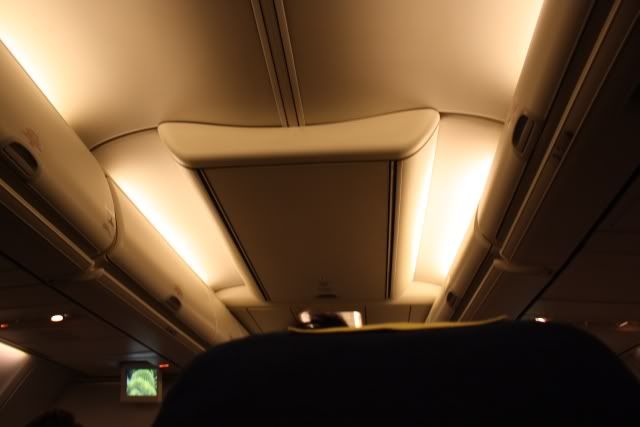 I read the SA's in-flight magazine, which was nice actually. As we began our descent, a recorded announcement was played that told passengers to put their seats in the upright position and give all remaining drinks to flight attendants. Another announcement was played again when it was announced for the cabin crew to be seated for arrival.
The landing was very smooth and a recorded welcome announcement was then played. I have to say that I really like the recorded announcements. After this announcement, the pilot came over the PA and personally announced our arrival into CPT.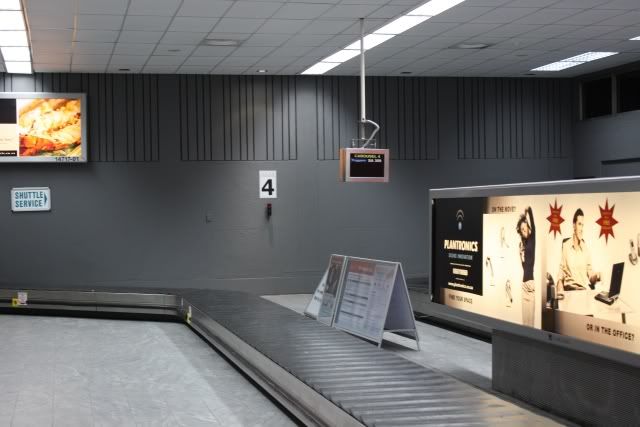 My experience with SA was very good and the service was very friendly and professional. Their Star Alliance membership is well-deserved IMO.
[Edited 2008-09-21 20:28:55]