3 Hours on Blue1: HEL-MXP on the MD-90
Intro
The rare
MD-90
and
Blue1
- one of only two European MD-90 operators - are covered in part 2 of my latest trip report series. Part 1 (MUC-RIX-HEL on Air Baltic 733/735 & background) can be found here:
Winglets On A Classic: MUC-RIX-HEL On Air Baltic
Saturday, 16 August 2008
Helsinki (HEL) - Milan (MXP)
Blue1, KF871
08:35-10:40 (08:38-10:46)
Flying time: 02:56 (hrs)

McDonnell Douglas MD-90-30
OH-BLU "Längelmävesi" (s/n 2140), first delivered to SAS in 10/1996 as OY-KIL
Seat 27A
Former appearance as OY-KIL (SAS):
Crowds and long queues...
were dominating the scene when I entered the terminal building in the early morning. Holidaymakers with tons of luggage had lined up almost everywhere. Fortunately I had already received the boarding pass on the day before at Munich. So I could directly pass through security and start collecting registrations. Here's OH-LVE, Finnair's new logojet, called
Silver Bird
: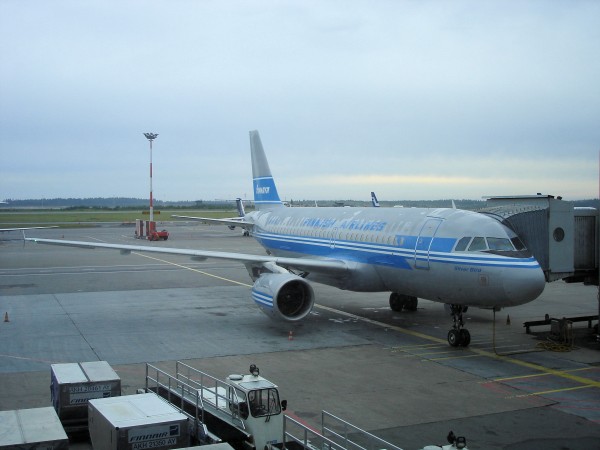 When I arrived at my gate most seats were already occupied - so I assumed the flight would be quite full. Only some minutes later I was glad to see the MD-90 turning in: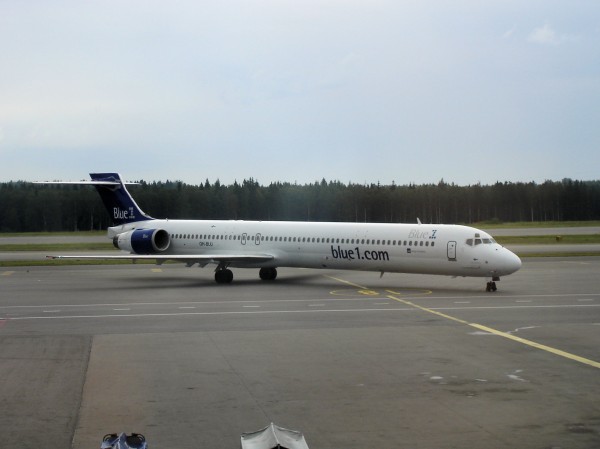 It was
OH-BLU
- actually the first MD-90 delivered to the airline.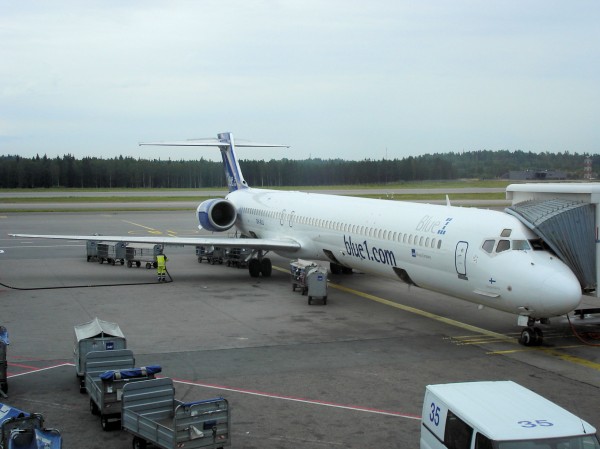 Cabin Comfort
About 25 minutes later it was time to get in line for boarding. Friendly FAs welcomed me at the door and in the aisle. The interior looked worn and the plastic seatbacks weren't an optical delight. While the seats were comfortable...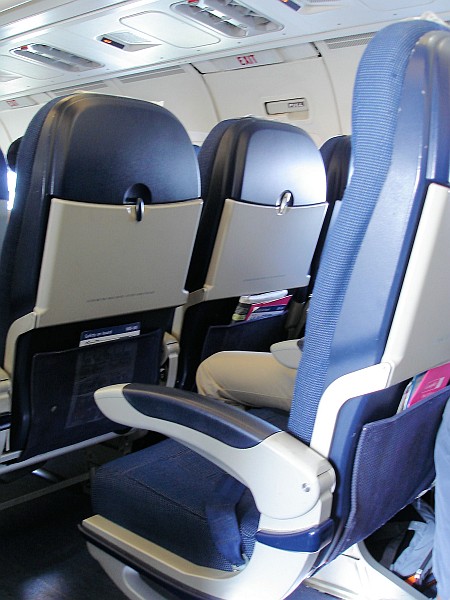 ...pitch was only just acceptable. While the cabin in general was clean, I spotted two old chewing gums plastered onto the seat pocket net...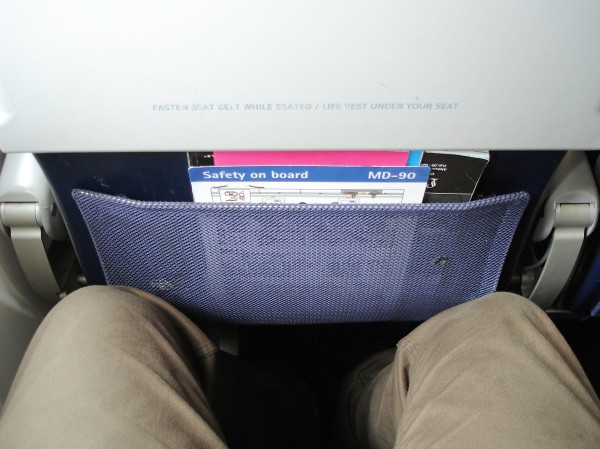 Cabin view - picture taken later in the flight: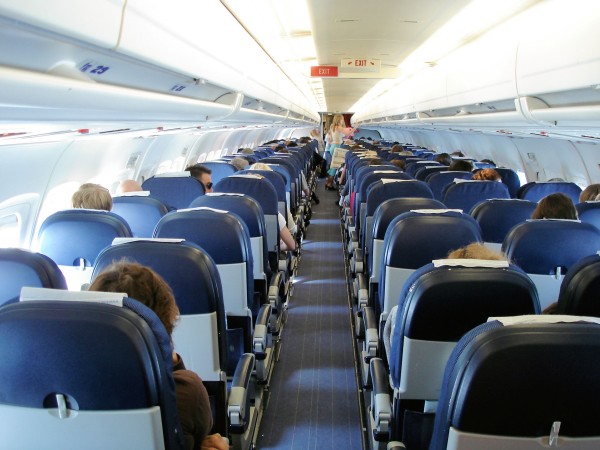 Load factor was about 85 percent, but fortunately, I had both seats in my row to myself. While walking through the cabin later I also had a look at some of the "worst seats in the house":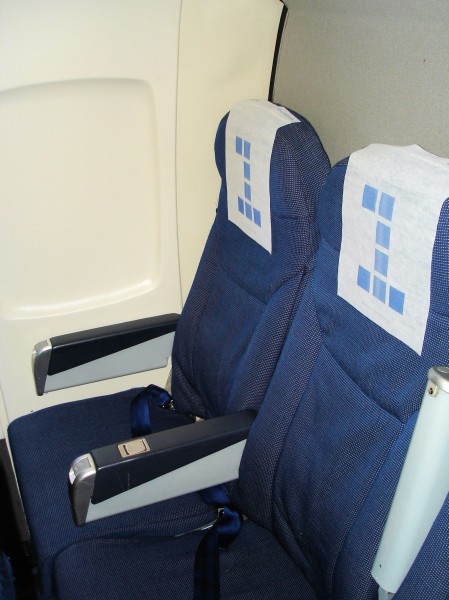 Into Gray Skies
We left the gate almost on time and the quiet IAE V2525-A5 engines were turned on. Parked next to us was OH-LKK, one member of Finnair's growing E-Jet fleet.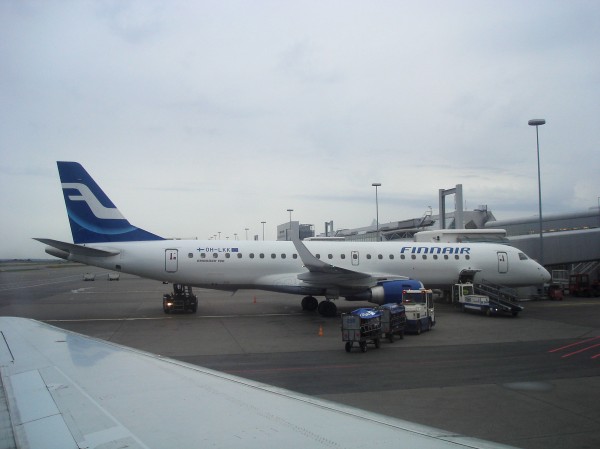 It was quite busy at HEL - one of the interesting birds was JetX's single MD-83 in Primera colors (on the right).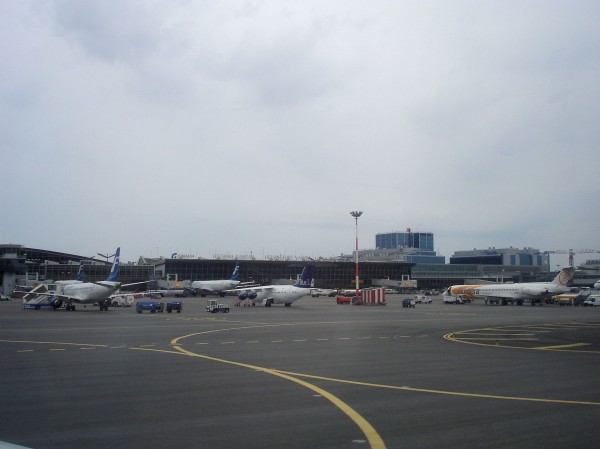 Eight minutes after leaving the gate
OH-BLU
started accelerating - takeoff wasn't really powerful, but at least I could enjoy a steep climbout.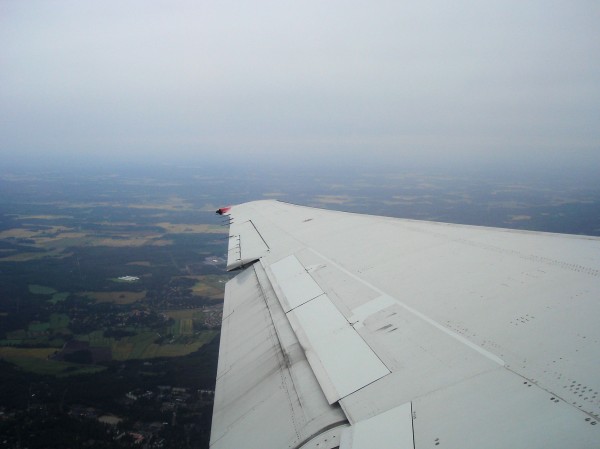 After concerns about possible delays or cancelations in the days before, I was finally relieved now - the "Mission MD-90" was accomplished. Sunny skies only a few minutes after takeoff: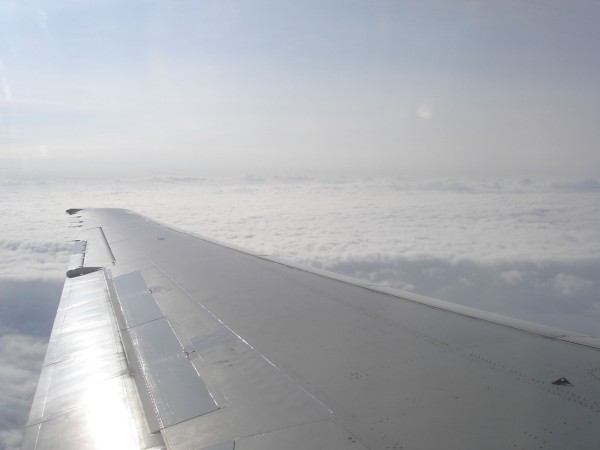 The Snack Check
After a longer time of "no frills", Blue1 has meanwhile started to serve a complimentary tea or coffee again. However, when I took the flight in mid-August, I still didn't get anything for free. So it was time to explore the
Café1
menu. There was a wide variety of drinks and (cold) snacks to choose from, prices were reasonable in most cases. In the end I ordered a breakfast combo for 5 Euro, served in a blue bag: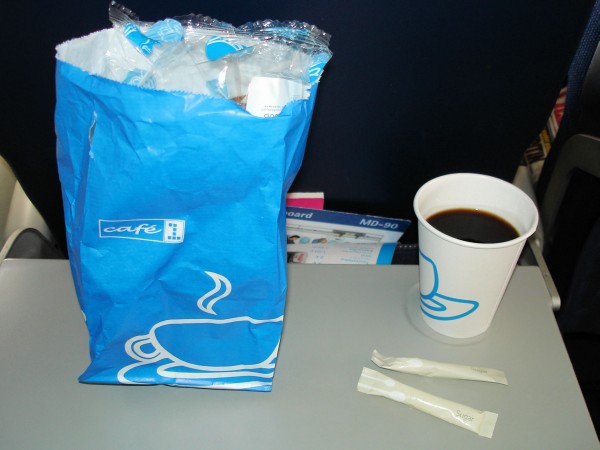 The breakfast consisted of a rye bread sandwich with ham and cheese, a cup of coffee, a vanilla yogurt drink and a cup of apple juice.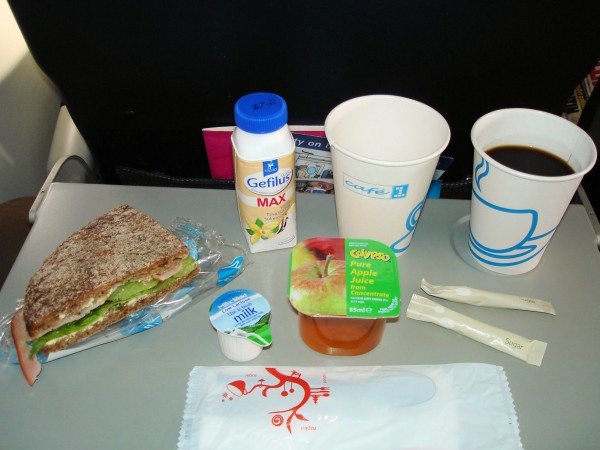 Other than shown on the menu, I got an apple juice instead of an orange juice. I told an FA that I'm allergic to apple and she immediately brought me an orange juice - always smiling.
The sandwich tasted fresh, but the bread was a bit dry, though.
Complimentary drinks are back, but it seems the combos aren't available any more. For all those who are interested, here's the new
Café1
menu:
http://www.blue1.com/Tiedostot/Palvelut/Cafe1_menu.pdf
Turbulence
The remaining flight was uneventful - except from the turbulence which we encountered about 90 minutes after takeoff. After a while of the captain announced he had requested to switch to another flight level. However, seatbelt signs weren't switched off until we were cruising over the Alps. Suddenly, the aisle was full of people who were waiting to use the lavatory.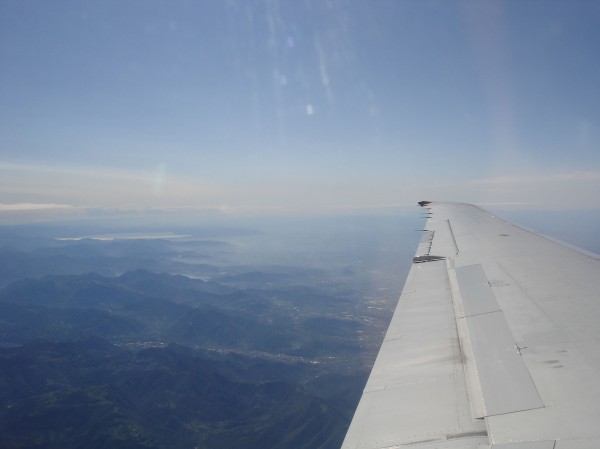 Approach under Blue Skies
Almost all clouds had disappeared now and I could enjoy great views of the North Italian landscape: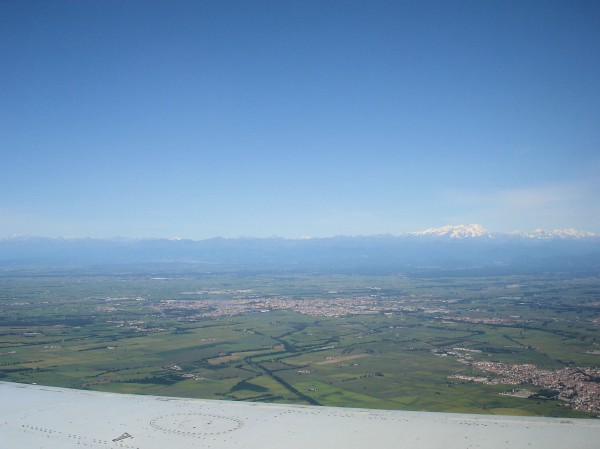 We overflew a number of industrial facilities...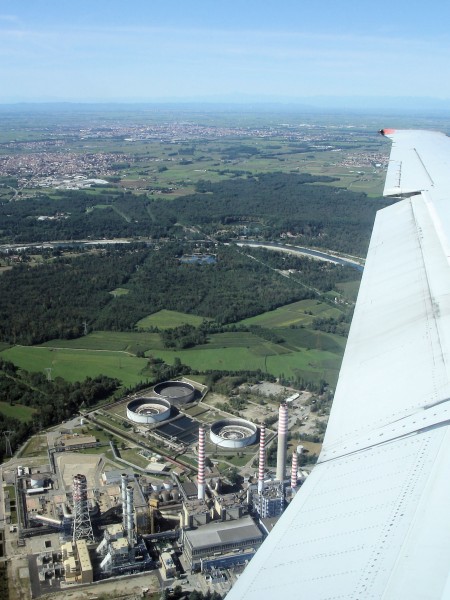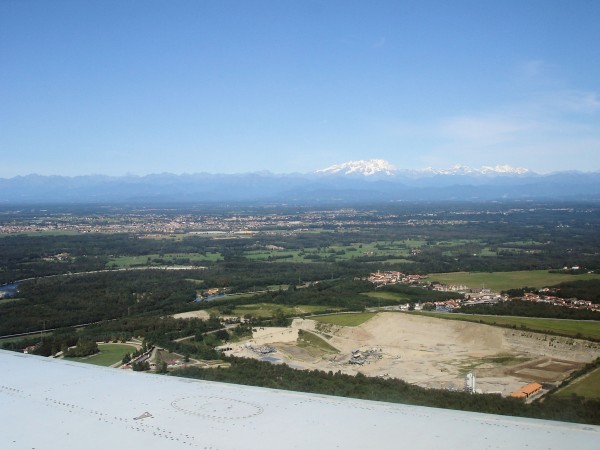 ...and passed the air freight terminal before finally touching down after nearly three hours.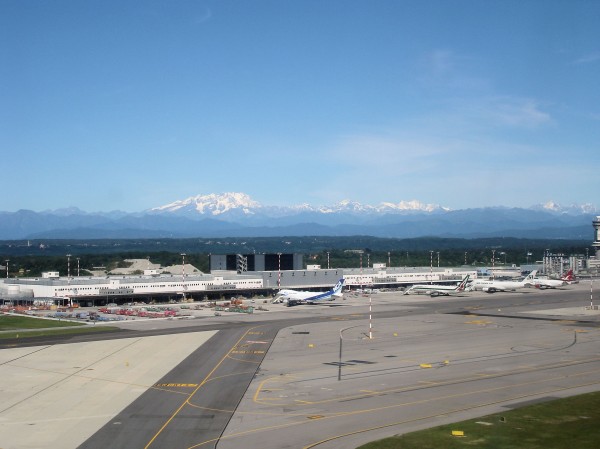 Apparently due to heavy traffic the plane had to stop at a remote position. Of course, I preferred to use the rear exit. Blue tail under a blue sky: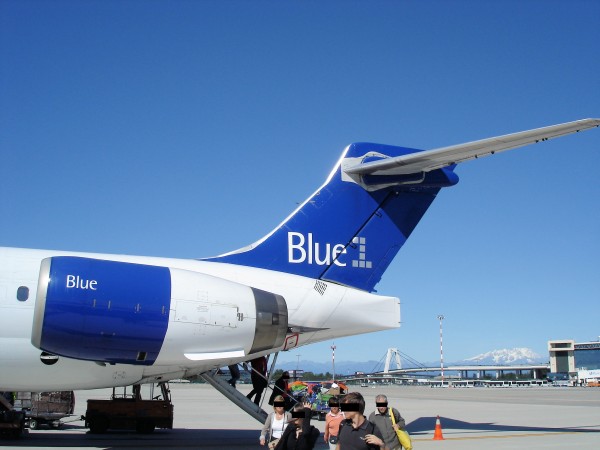 Ten minutes later I entered the main check-in hall where I found a good place for spotting at a large glass front. At least for more than an hour I could log registrations without disturbance...story to be continued.  
Conclusion
Flying
Blue1
was a positive experience - in a large part because of very friendly flight attendants and ground staff. The cabin was mostly clean, but old chewing gums should not be overlooked. I cannot complain about the quality of the catering and the prices. However, it's definitely a good decision to offer free coffee or tea again, especially on such long flights. Seat pitch is still acceptable for me (178 cm), but not for significantly taller people. The lack of IFE is not a major issue, but it would be a nice addition considering the flight time. I wouldn't hesitate to fly Blue1 again - not just because of the rare MD-90.
Next report: MXP-MUC on Air Dolomiti BAe 146-300
Best Regards,
PlaneHunter
[Edited 2008-09-28 00:05:45]