Aloha everyone,
I'm currently sitting in seat 10A on flight 1 from IAH-HNL on Continental Airlines. This is my first trip report so keep that in mind!
Quick background:
This is my 7th flight to Hawaii over the past two years. The only difference between this trip and my last ones is this is for vacation not work. For the past two years I was based on a cruise ship doing 7 day Hawaiian cruises. I always enjoyed flying to Hawaii. You can notice the higher level of excitement compared to other flights. Passengers are always talking about what different islands they are visiting, what beautiful resorts they are staying at and what adventures they have planned. When the Islands finally come into sight for the first time everyone is glued to their windows. This level of excitement has always in a way been ruined for me because I knew that as soon as I landed I would take a taxi to Pier 2 and not have a single day off for the next five months. Well today I can finally be as excited as the person next to me! I knew this trip would be interesting because this is my first time flying in coach since my last three flights here have been in BusinessFirst.
CLEVELAND OHIO-3:00AM.
My dad was driving me to the airport this morning. It was a chilly morning but it was raining really hard so I wanted to give plenty of time to make it to the airport. We left our condo around 3:30 and headed towards CLE. Even though it was raining there was no traffic so we made it in plenty of time. As you can tell by the next two pictures I arrived very early. The good side to this was as soon as check in opened up I was checked in and finished with security in 10 minutes. I was very tired though and forgot to take off my shoes at the checkpoint and I got yelled at, very embarrassing considering I travel quite often.
Empty airport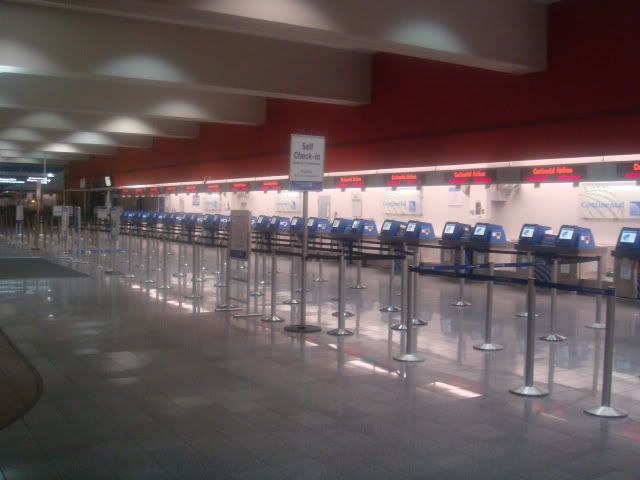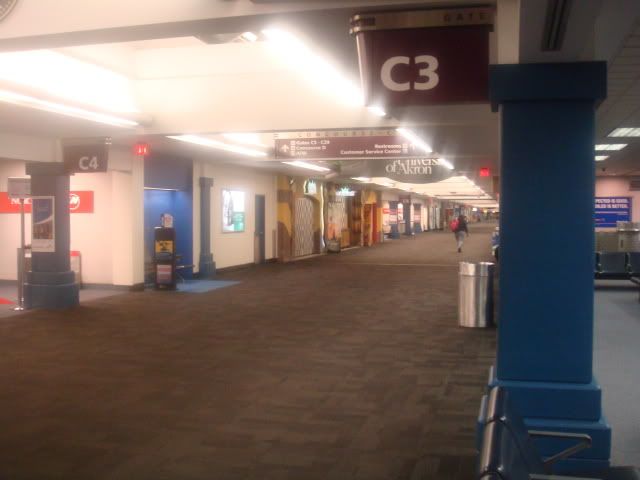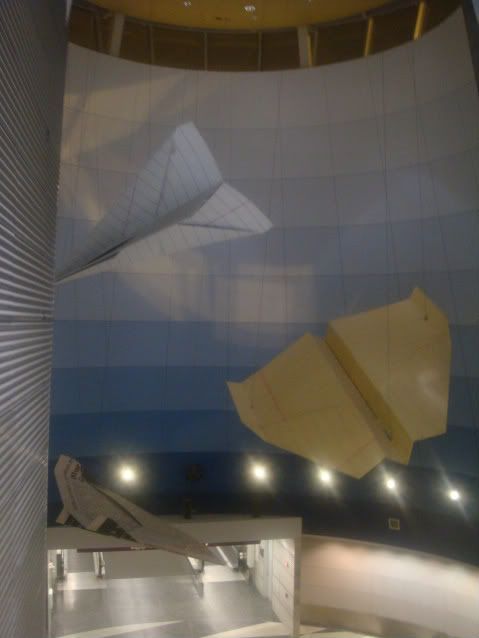 Once I made it though security I wanted to kill as much time walking as possible. I really hate just sitting at the gate for a long period of time. I walked down terminal C, headed over to D, back down C, down B then finished it off with A. After my long walking tour of the airport I headed towards my gate about 10 minutes before boarding. After first class was called they allowed Elite members on. When I checked in last night I was in the number 1 spot for the upgrade but by flight time I was number 5. It wasn't that big of a deal though because my seat was 5E with plenty of legroom.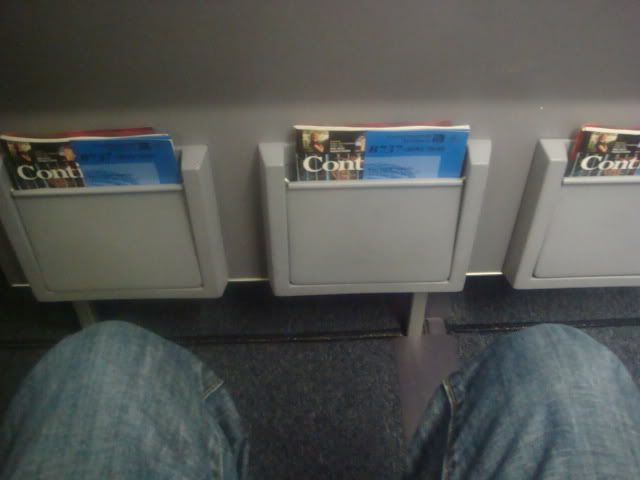 This aircraft was Continental Airlines Boeing 737-800 N24211 operating flight 1045.
Rainy take off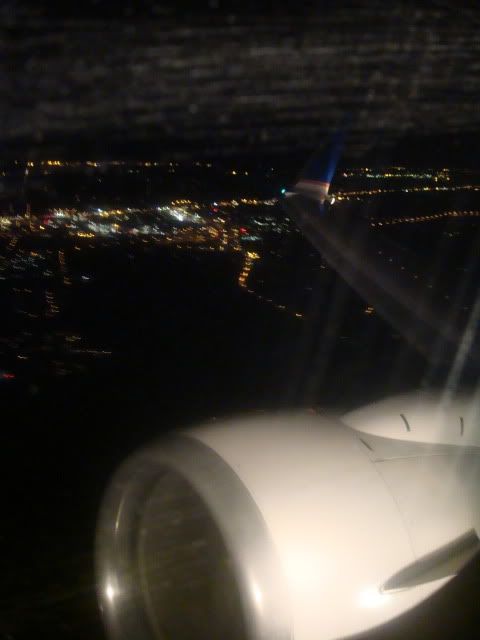 My original seat was 5E but the person in 5F never showed up so I moved over to the window. The goal of this flight was to take off, eat breakfast and sleep for most of the flight. Continental Airlines still serves complimentary meals at meal time. The coach meal for this flight was Honey Nut Cheerios, 2% milk, Cranberry Apple juice and a Banana. This hit the spot just perfectly and put me into a nice long snooze.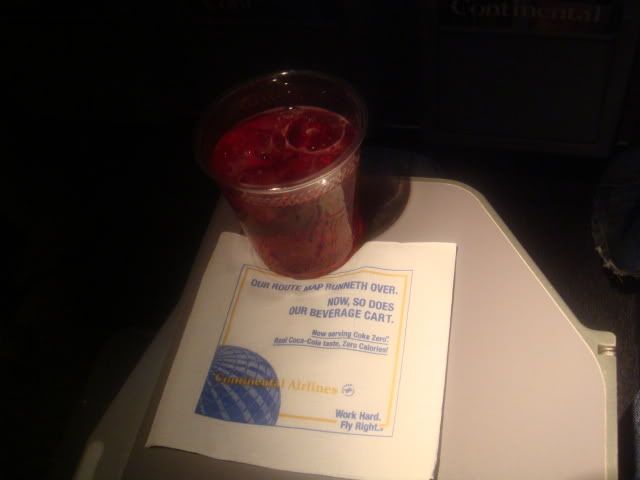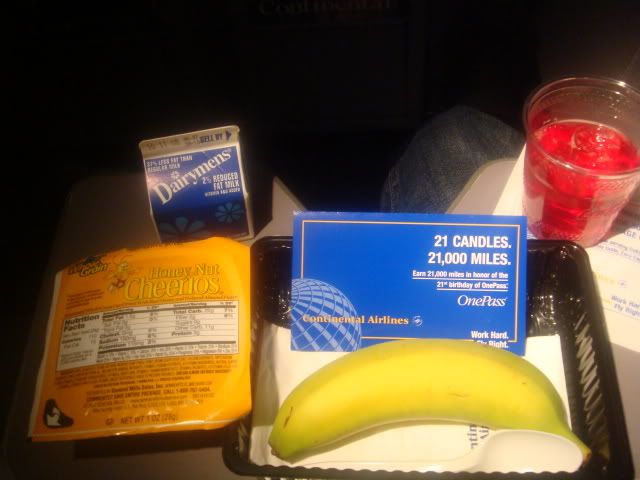 The flight had zero turbulence so I wasn't interrupted till approximately 30 minutes before landing. Approximately 30 minutes before landing they made the "Ladies and Gentlemen we have started our decent into the Houston area and will be on the ground in about 30 minutes." I really don't see why they need to make this announcement so early. My ideal announcement would be "Ladies and Gentlemen we are approaching the Houston area..3…2…1 Welcome to Houston Bush international airport!" Oh well…
About five minutes later I was back asleep and woke up right before landing so I was able to film our landing.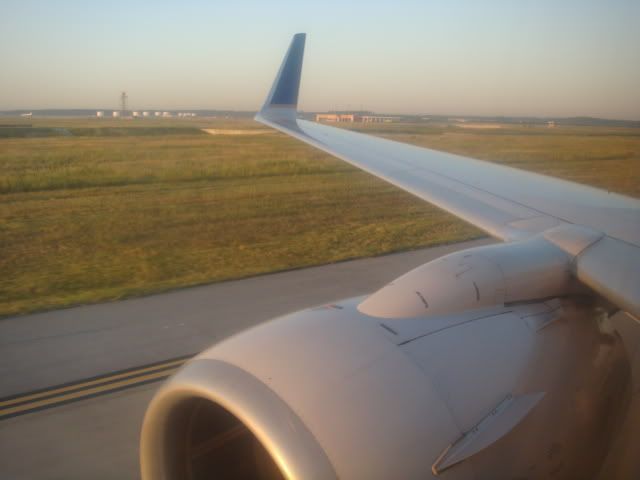 Once landed the blackberry was flipped on to do some texting for the twenty-minute taxi to the gates. Once we arrived at the gate I was in the terminal two minutes later heading towards gate E4.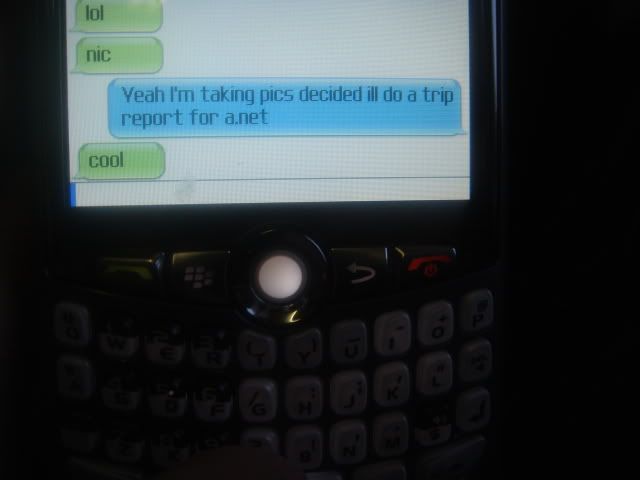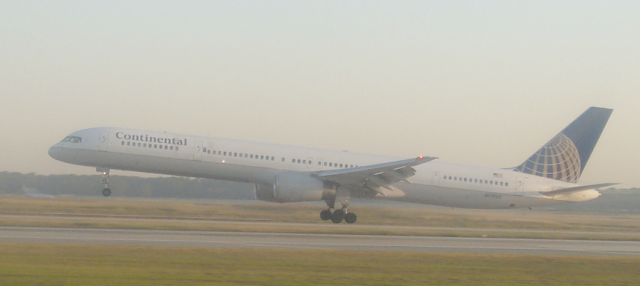 IAH AIRPORT
I was walking towards gate E4 where flight #1 was leaving from, its normal gate. I walked past the great Presidents Club that has the oval glass area and shed a small tear (ok maybe not) that I couldn't go take a shower and get some juice this time. Once I arrived at the gate I had around 45 minutes before boarding started. I decided to go hit the news stand and go to Charley's Sub. My last three trips to Hawaii I picked up one of their subs before the flight so I guess it's a tradition now.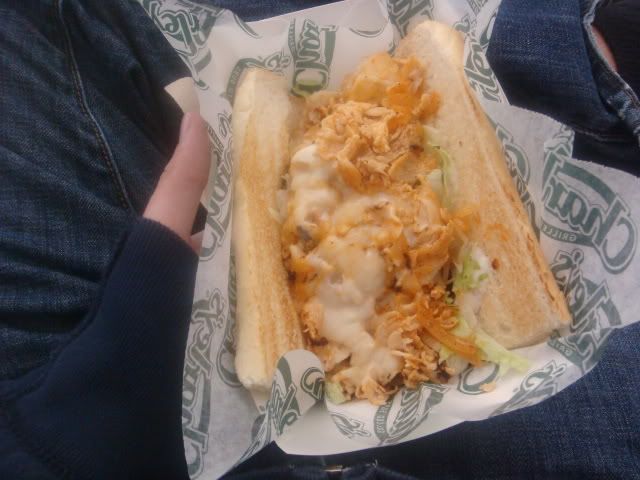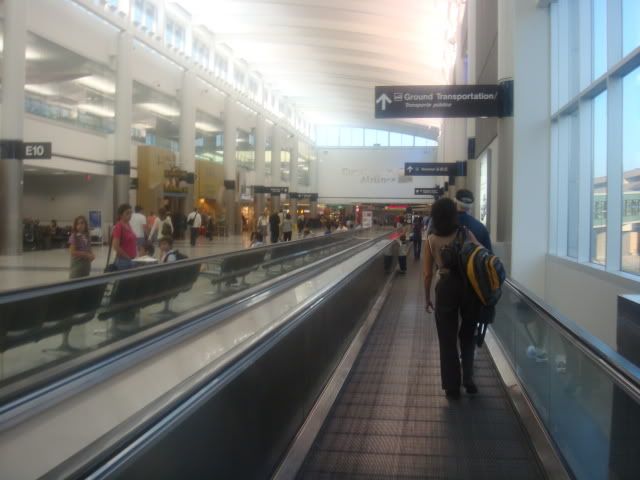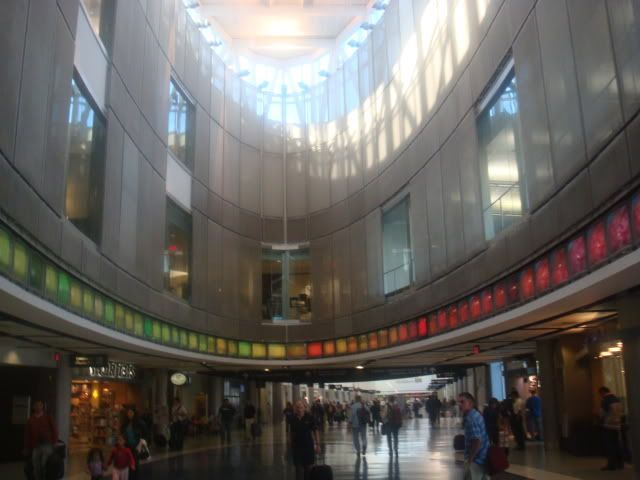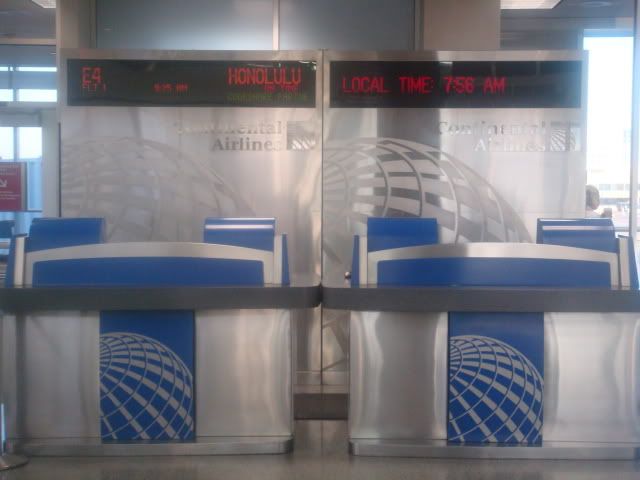 I opted for the Buffalo Chicken Sub. It was good and filling but really hot and messy. The one funny thing is I couldn't find any seats in the food court area so I took up a chair against the wall where the moving sidewalks are. Well I didn't notice the map to the terminal was right above me so I always had people walking right up to me, pointing over my head. One elderly couple that couldn't see anything were literally touching me. It looked like they were trying to get something from me. Anyway I tossed the rest of my sub and headed towards E4 for the flight. Boarding the flight was delayed by fifteen minutes and after BusinessFirst they called Elite members.
(Because I'm writing this part from the flight let me give you a location update: Off the coast of Baja California with 4:35 minutes left of the flight. Current speed is 536 mph at 32,000 feet.)
Continental Airlines Flight #1 IAH-HNL Boeing 767-400 N76065
Right now the 767-400 with Continental is my favorite aircraft. I always just love stepping into the plane. A long walk down the jet way led to the second boarding door before the wing. A nice warm welcome was received from a friendly flight attendant and directed me to take a left and head into the mini cabin of coach.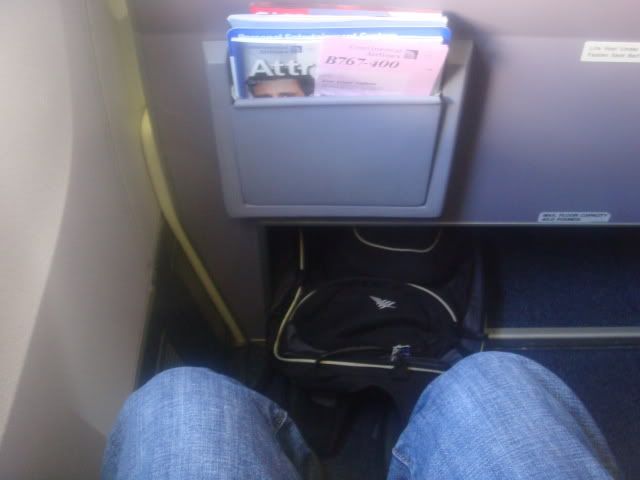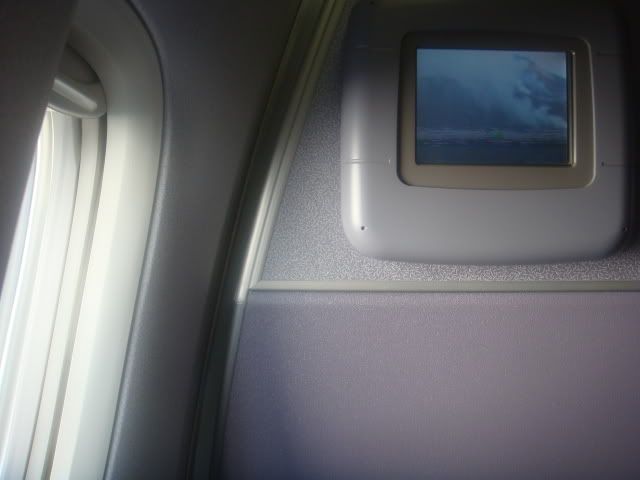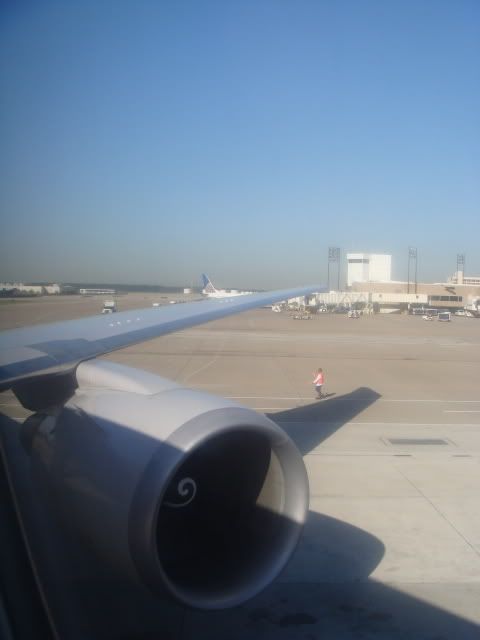 Normally for these flights I like an aisle seat in the middle section so I can get up whenever I want but this trip was for pleasure, I needed that window seat for pics!! As always they had the nice Hawaiian Islands movie and music playing. A few of the flight attendants were wearing flowers so it added to the atmosphere. Even the flight attendants sound so happy and excited when they announce "this flight to Honolulu." I think working in Hawaii so much made me forget how wonderful it is. This trip has already put me back into the mood and we haven't even landed yet!
We left the gate right on time and took a rather short taxi to our runway. After a GV took off we throttled up and headed off towards Hawaii.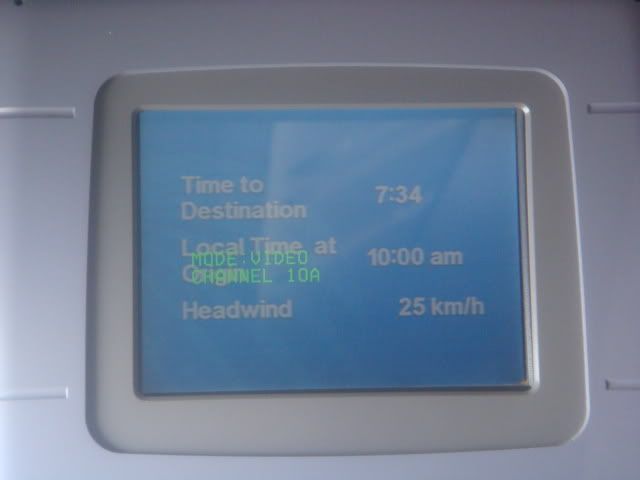 Almost immediately after the flight attendants were allowed to leave their seats the first round of drink service started. I opted for the Ice Tea with lemon and a bag of the honey roasted nuts.
Right as I finished my Ice Tea and Nuts a very friendly and very upbeat flight attendant came over and gave me my lunch. I must say his attitude is refreshing. You can tell he really enjoys his job. He acted shocked when I said "Thank You!" After he gave me lunch he refilled my Ice Tea. Today's lunch was a Cheeseburger, Green Salad with a Pepper dressing, Chips and cookies. Not bad considering almost every other airline but Delta charges for meals/snacks to Hawaii. Everything tasted good. I know a lot of people hate their cheeseburgers but I enjoyed it. I am a huge fan of airline meals. Not the taste exactly but just the entire experience plus it really helps pass time. Once the trash was collected they gave me another full can of Ice Tea! Keep it up Continental!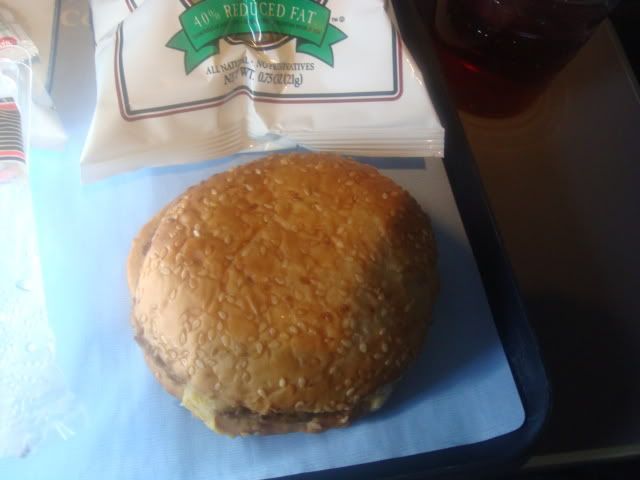 Full Can!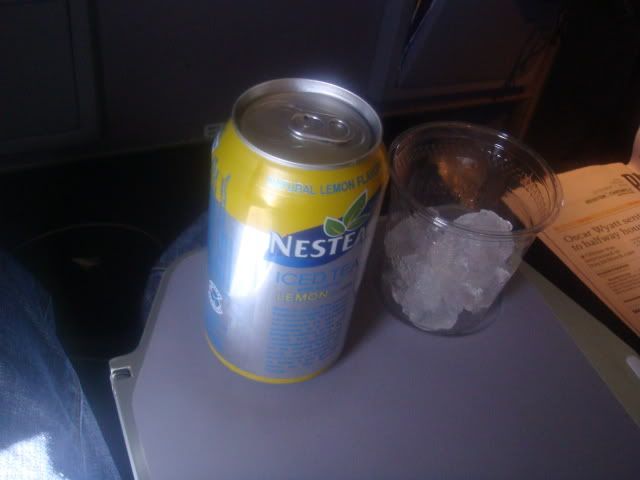 I watched Hancock during lunch. I wanted to watch the movie Get Smart but of course channel 2 isn't working. My luck is every flight the movie I really want to watch isn't working. I can't wait for Continental to get avod on their 767s.
Hancock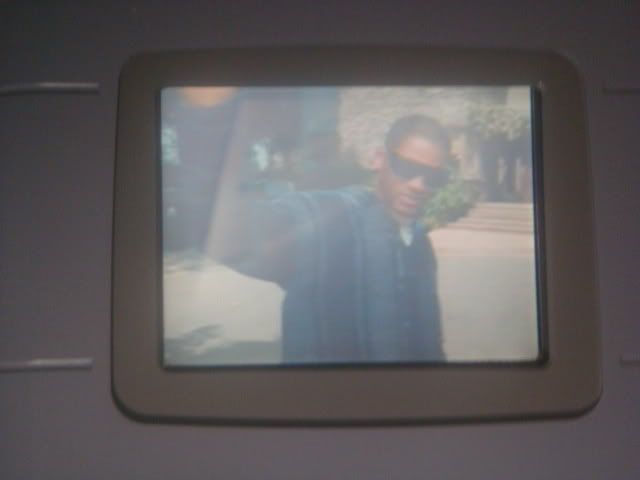 Here are a few pictures from the flight so far. (the picture I took of myself in the seat got a strange reaction from the guy next to me I'm sure!!)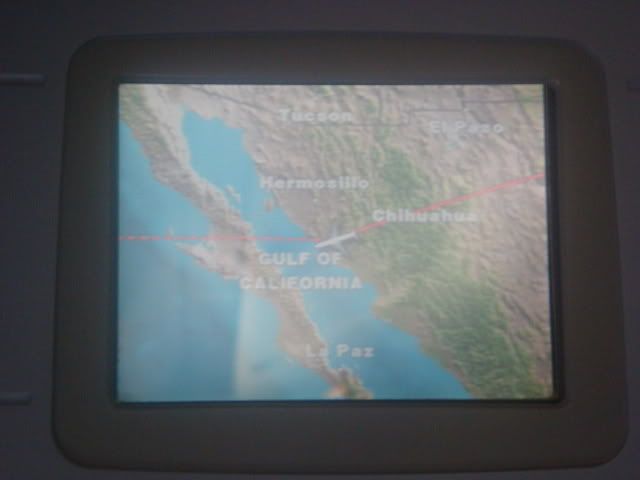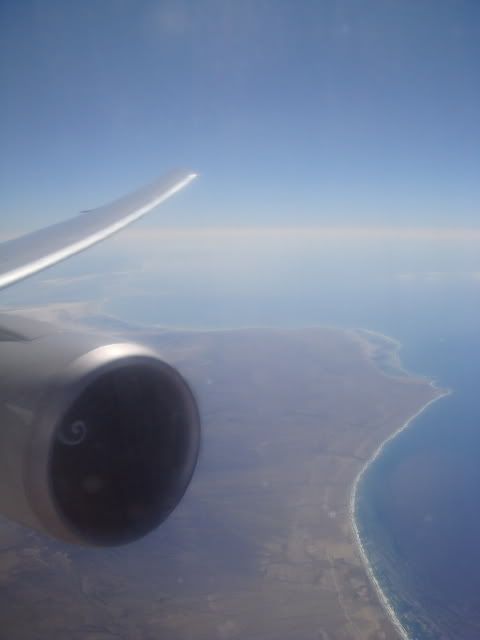 Made it to the Pacific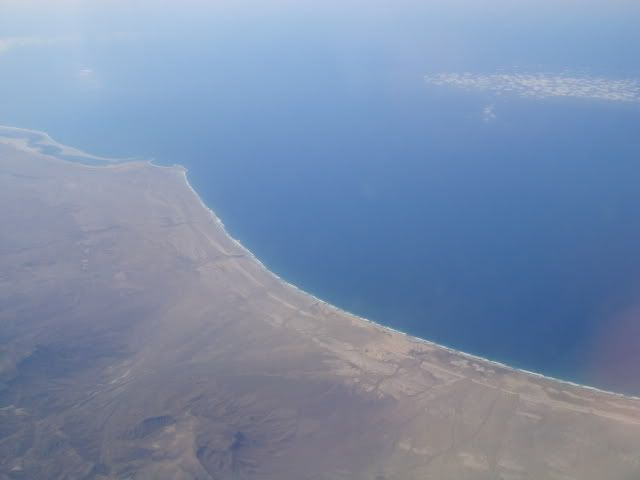 Ok you are all caught up for now. I'll write more when I arrive!
-Update currently 9:35 Am in Hawaii and we have just over three hours left. Here is our current location.
Galley
Main cabin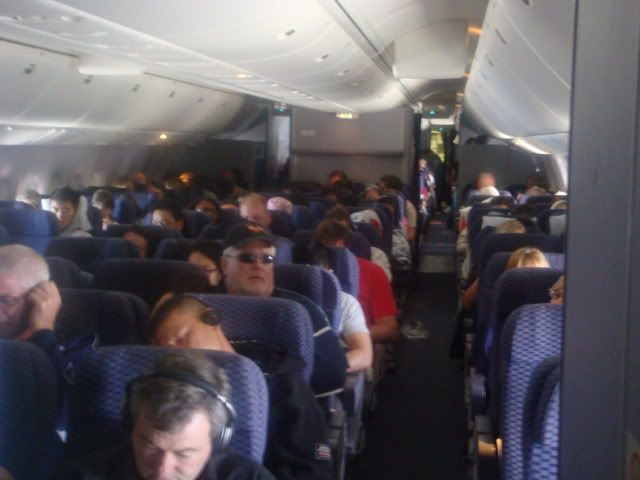 Mini Y cabin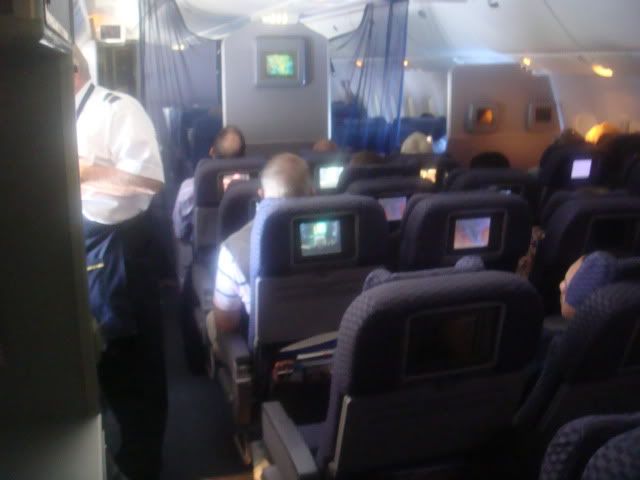 777 style bins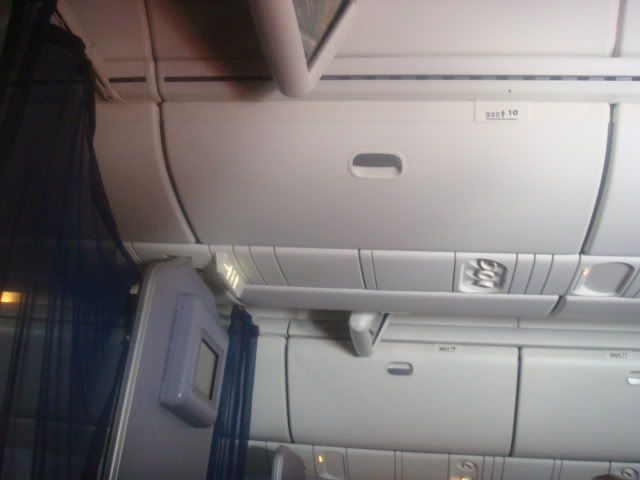 Row 10
Around 1.5 hours before landing they served the second meal of the flight. This was a turkey sandwich with cheese, lettuce and a packet of light mayo. The meal also came with a candy bar and a small bag of carrots. The sandwich was on the dry size and small but no complaints for a second complimentary meal.
After our second meal we started to approach the islands. This is where the real excitement started. You really can feel the buzz in the cabin. The best part of landing was what I spotted in the water. At first I saw the wake and I assumed a whale just jumped but then I realized that would be way too big for a whale. Luckily I had my camera on hand.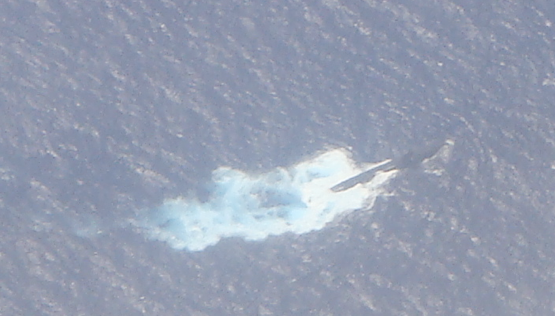 I spot Hawaii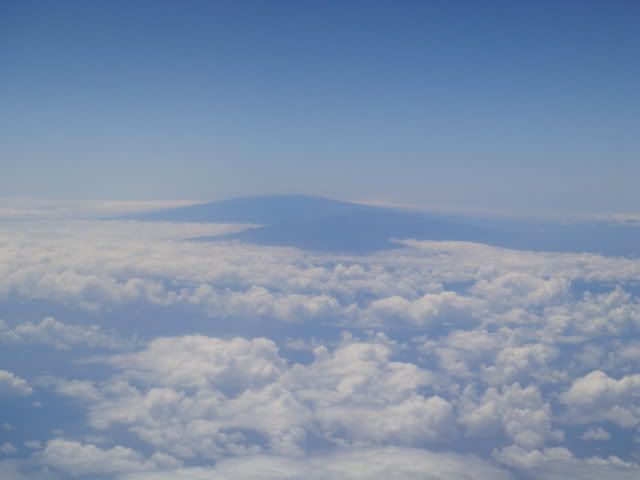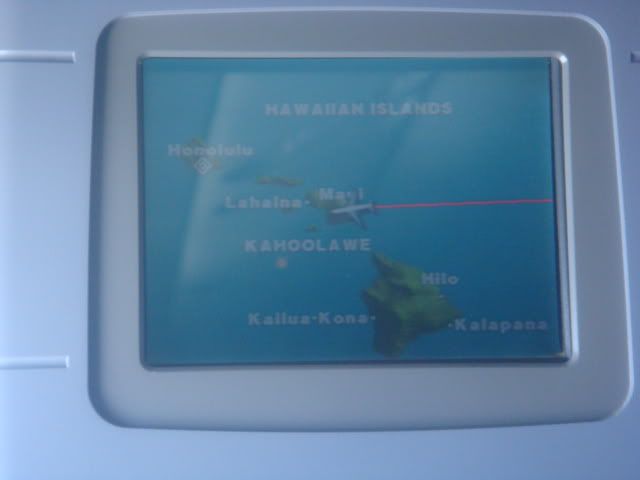 Wailea Maui, home of the Grand Wailea & Four Seasons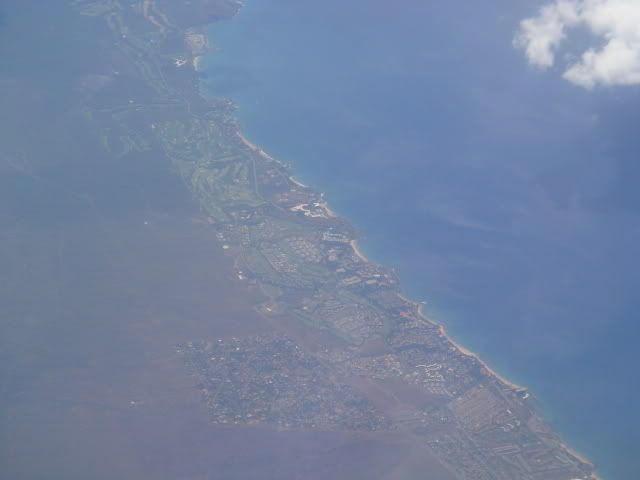 Lanai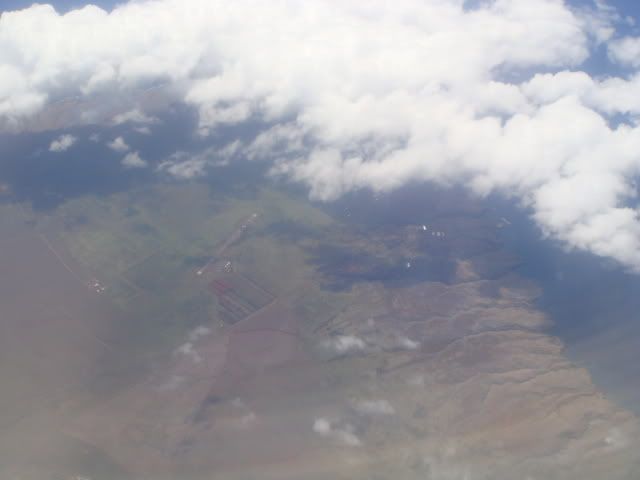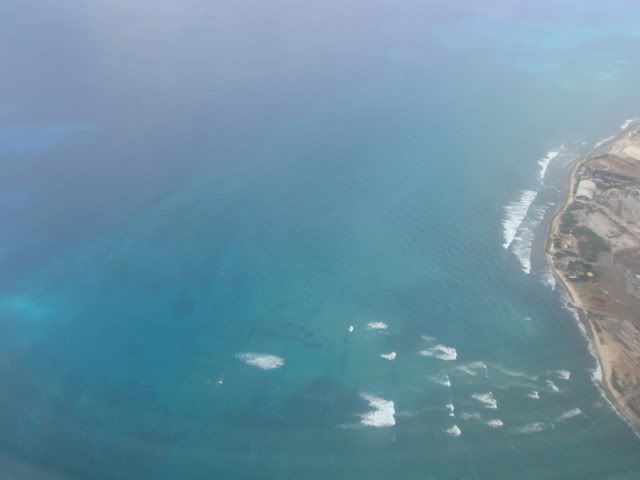 Oahu
Once we landed we did the taxi next to the long line of Hawaiian's 767s and JAL airlines planes. The taxi was quick and once I arrived at baggage claim my bag was in the first 10 to come out.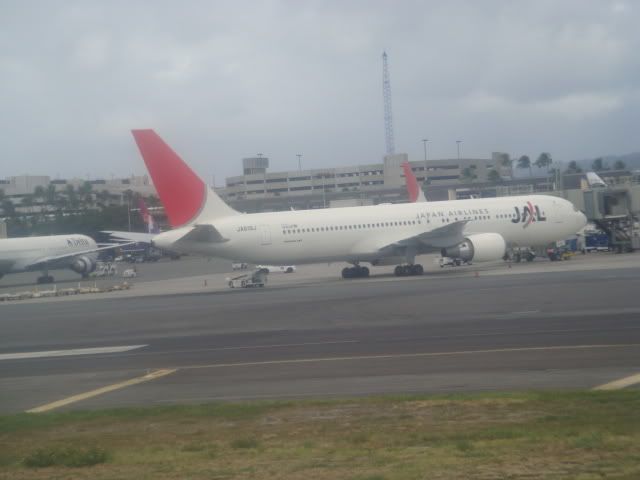 Note on water service:
Water-during the flight I counted four (4) times the flight attendants came around with trays of water. This was in addition to four (4) full drink cart offerings (one before and after of each meal).
After collecting my bag I headed to my hotel and walked to Aloha Tower and Ala Moana Mall. Time for bed but I can already tell these next few days will be great. Tomorrow my old ship docks and I'm so excited to see the old crew again. Hope you enjoyed my first trip report!
Hotel room
Hilton Hawaiian Village
Needed something besides airline food today.