Hello everyone,
Welcome back to my next trip report, just a weekend trip to Tennessee to visit relatives, before returning back home for school.
Be sure to check out my other TRs
http://www.airliners.net/aviation-fo...ums/trip_reports/read.main/130404/
AA Transcon
http://www.airliners.net/aviation-fo...ums/trip_reports/read.main/126805/
VivaAerobus AUS-CUN
http://www.airliners.net/aviation-fo...ums/trip_reports/read.main/106448/
Flagship Detroit DC-3
http://www.airliners.net/aviation-fo...ums/trip_reports/read.main/102590/
SXM
http://www.airliners.net/aviation-forums/trip_reports/read.main/99470/
CUN
http://www.airliners.net/aviation-fo...ums/trip_reports/read.main/132792/
MSP

Background
Not a whole lot of background for this flight. Booked the tickets with relative ease , the only problem was I kept getting unlucky when trying to buy the tickets, and right before the purchase page, it repeatedly said the lowest fare had changed. As a result, I wound up having to call them, which was frustrating. Nevertheless, sooner rather than later, day of departure arrived.
Thursday, October 2nd
I woke up about 7:15 for my 9:25 flight. I was pretty tired, but I always manage to wake up fairly easily when I get to fly. My parents and I left (in two separate cars, since they were staying in TN longer, and I had to get back to school) around 7:30, and arrived at the airport about 8. My check-in was painless, with the self-service machine, but my parents, who were in the F line, had to wait considerably longer, due to some problem with the family in front of them. Kinda funny/ironic, really. An uneventful trip through security found me airside, and hungry. With more than an hour until my flight left, my first task was to venture over to the gate and try to nab an exit row on one or both of my flights. I headed over to gate 13, and the friendly gate agent hooked me up with 21F on my AUS-DFW flight, but no luck on my DFW-BNA flight (she offered me an exit row aisle, but a true plane freak would never accept such things
). I asked the captain who was standing at the counter to fill my data sheet out, and he obliged. Then, I headed over to the Maudie's (Tex-Mex) in the airport to get some breakfast tacos, and scarfed those down. Shortly thereafter, boarding with the new Priority AAccess lines began, and I made my way onboard with my parents, who were in the row in front of me for this flight.
AA 446 (second time on this flight in three months)
AUS-DFW
MD-83
N9628W

Scheduled Departure: 0925
Out: 0918
Departure Gate: 13
Seat: 21F
Departure Runway: 17R
Off: 0930
Cruising Altitude: FL 230
Cruising Airspeed: 300 KIAS (450 kts GS)
Route: AUS2.LZZ JUMBO.JEN8
Arrival Runway: 36L
On: 1008
Arrival Gate: A15
Scheduled Arrival:1025
In: 1016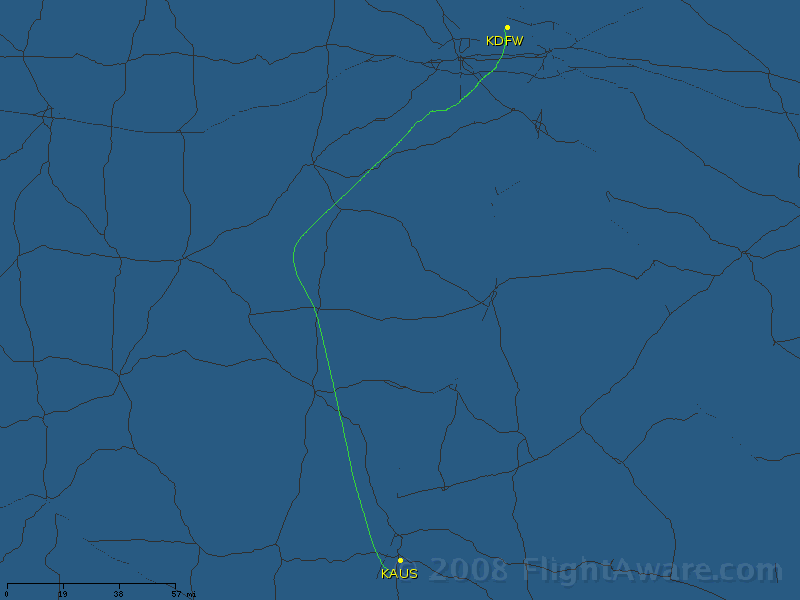 AA446, according to FlightAware
For anybody who's ever read my trip reports, they already know how this flight goes. Taxi, takeoff, climb, cruise (for about 5 minutes), descend, land, taxi to gate. It's so bland/routine, and this flight was no exception. A few pictures and videos: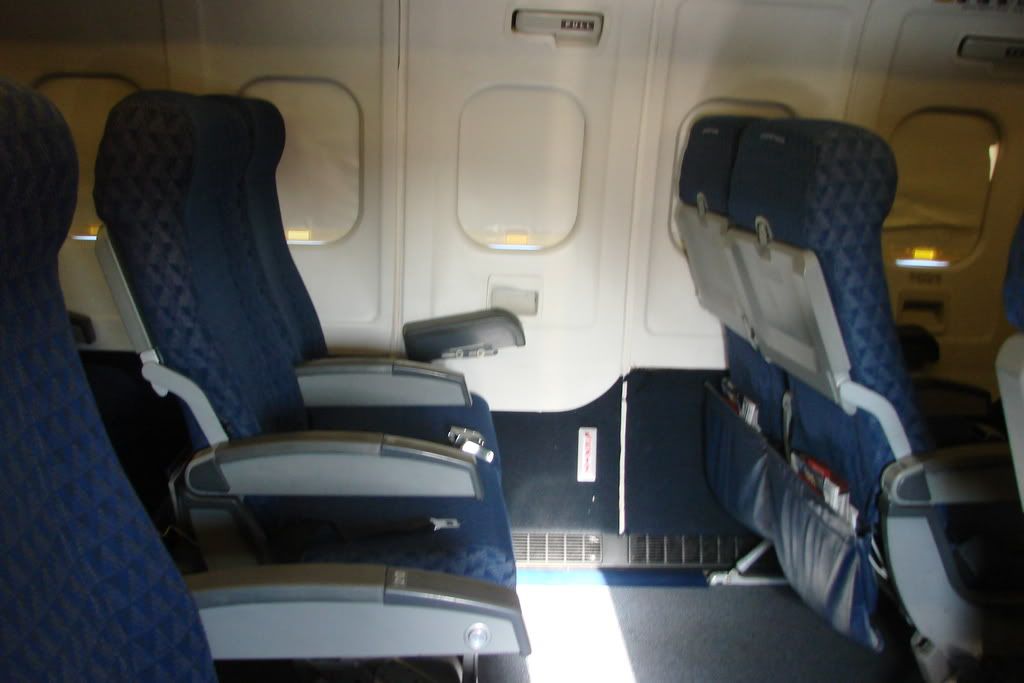 legroom
http://www.youtube.com/watch?v=QF3p1_qEnSE
Takeoff from AUS
Austin
Climbing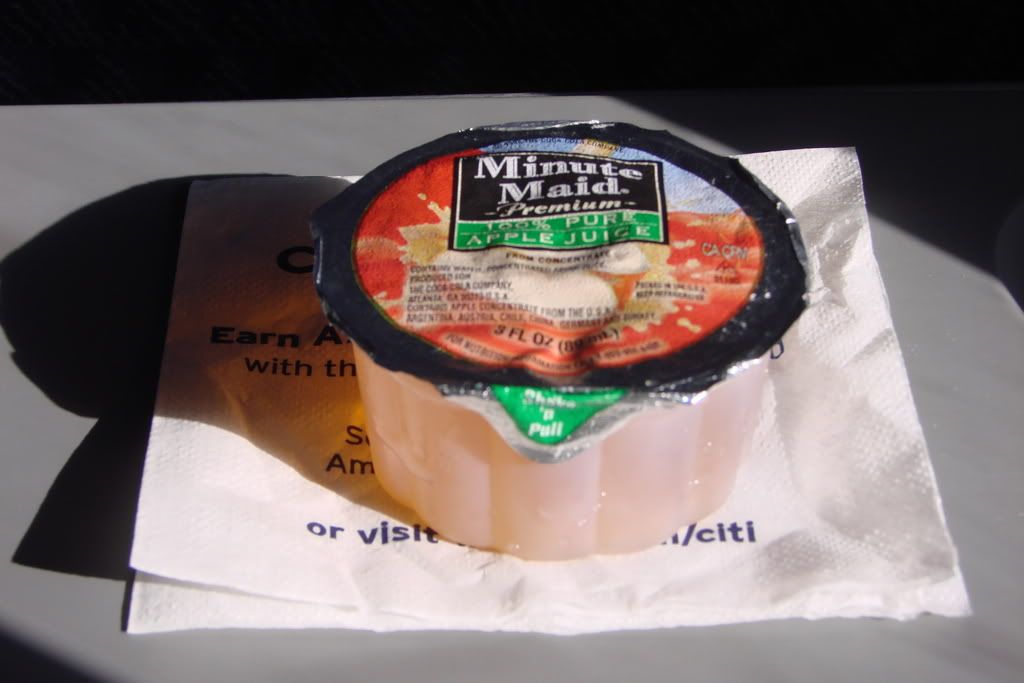 Apple Juice (I don't know why, but apple juice always tastes better in these little cups, probably because the only time I ever have them is when I'm flying, where EVERYTHING is better)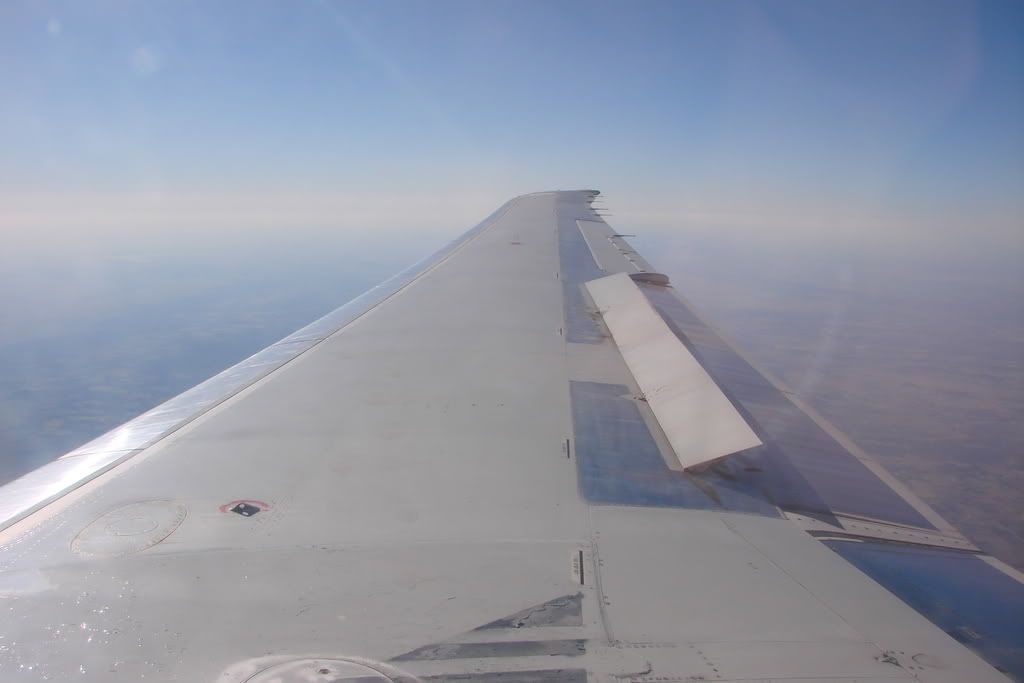 Descending into DFW, using the speed brakes.
http://www.youtube.com/watch?v=SVQXu_VwyIk
Landing at DFW
N538AT, my ride from SXM-SJU last year. Now at DFW. Small world.
After landing, we had a relatively direct (aka not one of those land on 18R, taxi across the Bravo bridge, taxi north on Kilo to the A or C terminal...takes forever) taxi across the Yankee bridge to A15. The most important thing on this flight in my eyes is that it's on time, and today we were early. So far, so good.
Connection in DFW
We had almost two hours in DFW, so I walked over to the AA Employee Store, and browsed around. I wound up buying a shirt. I headed down to my gate at C27, and chatted with the captain for a while. I asked him to fill out my data sheet, and again, he was happy to do it. I switched my seat to 7F, the bulkhead, nice and quiet up there (compare the difference in the videos). I went over to TGI Friday's and grabbed a turkey sandwich to go. Shortly thereafter, we began boarding.
AA 2024
DFW-BNA
MD-82
N77421

Scheduled Departure: 1220
Out: 1217
Departure Gate: C27
Seat: 7F
Departure Runway: 35L
Off: 1229
Cruising Altitude: FL 350
Cruising Airspeed: Mach .745 (434 KTAS)
Route: TRISS2.TXK J42 MEM GHM5
Arrival Runway: 20R
On: 1353
Arrival Gate: C3
Scheduled Arrival:1410
In: 1400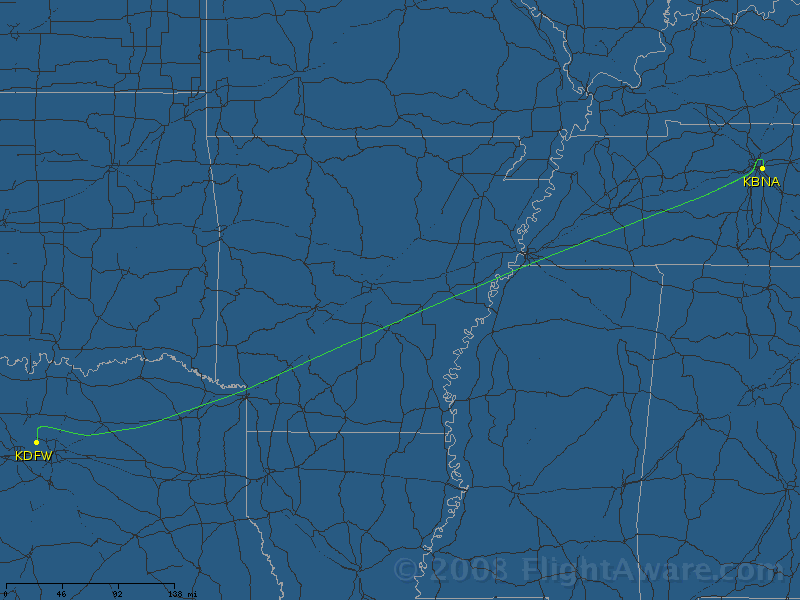 AA2024, according to FlightAware
This was a very pleasant flight. It started with a chat with the flight attendant who was standing at the beginning of Y about lots of things from management to football, and continued with our purser, Tony, and his jokes. Everything has become so monotonous and impersonal, it's always refreshing to see people like Tony try and lighten the mood. Judging from the laughs, he succeeded. I took a video of part of his safety announcement, there's nothing to see out the window (and sorry about the breathing).
http://www.youtube.com/watch?v=IbGgpZ_5r5A
Safety Announcement
We taxied down to 35L, where we were about 4th in line for takeoff. Shortly after, we lurched onto 35L, and away we went.
http://www.youtube.com/watch?v=315EyUgONRg
Takeoff from DFW
After takeoff we turned to the northeast to join the departure.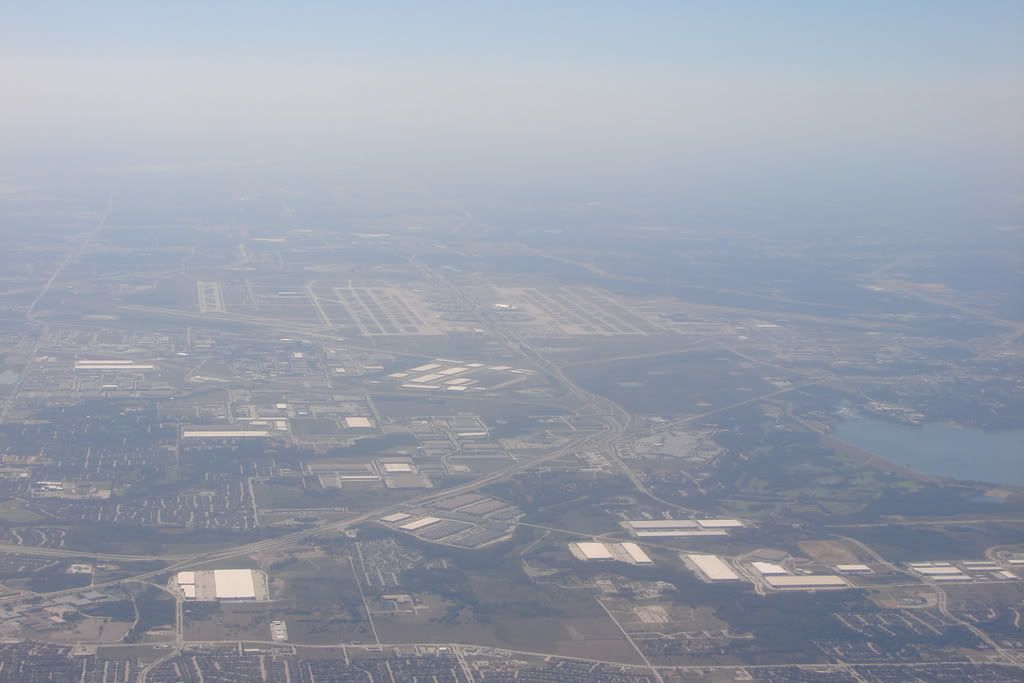 DFW in the distance on a hazy day.
We climbed to cruising altitude, and the flight attendants came by with some Premium Snack Mix. My parents were in 6 A & B, so they hooked me up with some before coach got it. I enjoyed my sandwich from TGI Fridays, and a whole can of Sprite. I've noticed on AA that except on my short hops from AUS-DFW and vice versa, I've always been given the whole can. Always appreciated. The flight continued uneventfully, and after a surprisingly short time, we began our decent.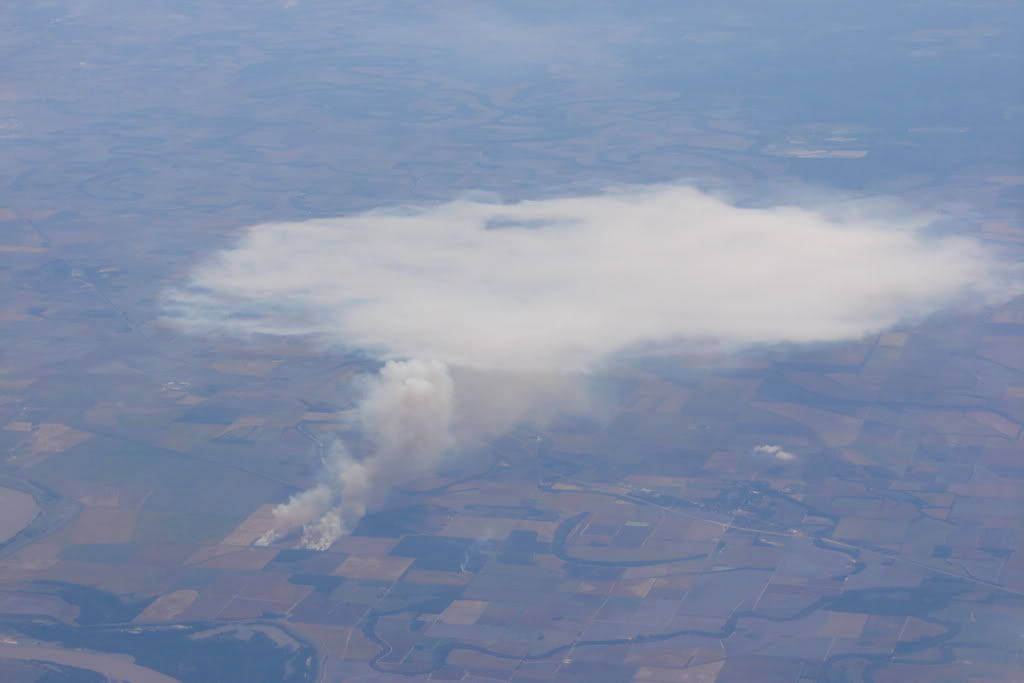 A fire somewhere in Arkansas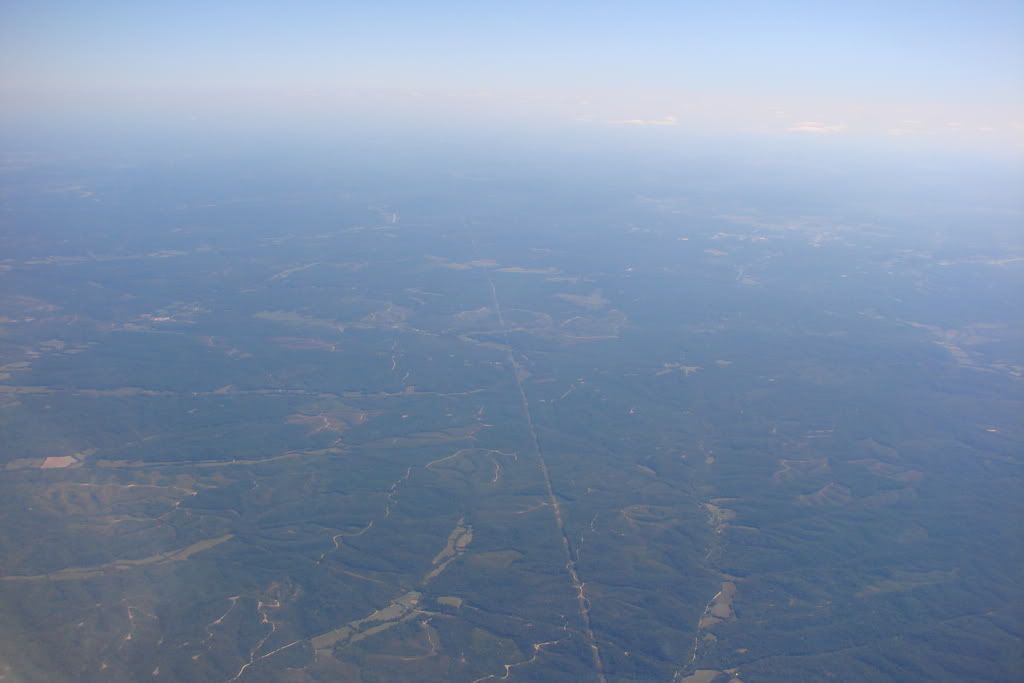 Descending into BNA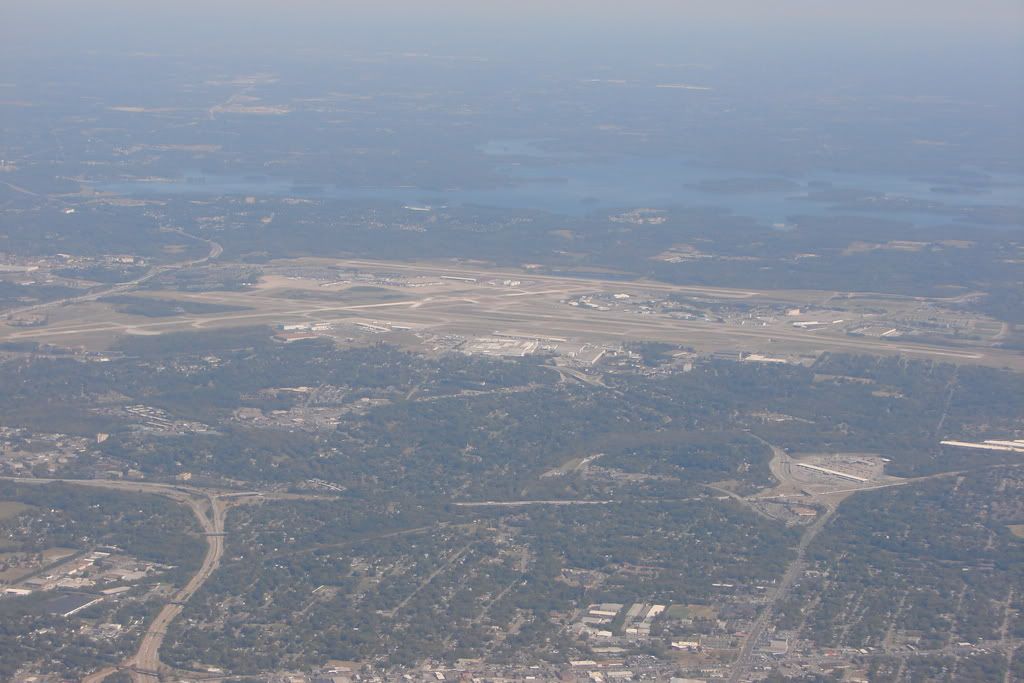 BNA on the downwind for 20R
We turned to the north over downtown Nashville for our downwind for landing back to the south. Shortly afterward, we turned back to the east on base, and then south for final.
http://www.youtube.com/watch?v=uiwcpwMJLeY
Landing in BNA (stay tuned at the end for some more funnies from Tony)
After an awesome welcome to Nashville, we made a leisurely (and by leisurely I mean slow LOL) taxi to the gate, where we arrived 10 minutes ahead of schedule. Good job AA!
Gate C3
I stopped by the cockpit to get my data sheet, and compliment the F/O on a nice landing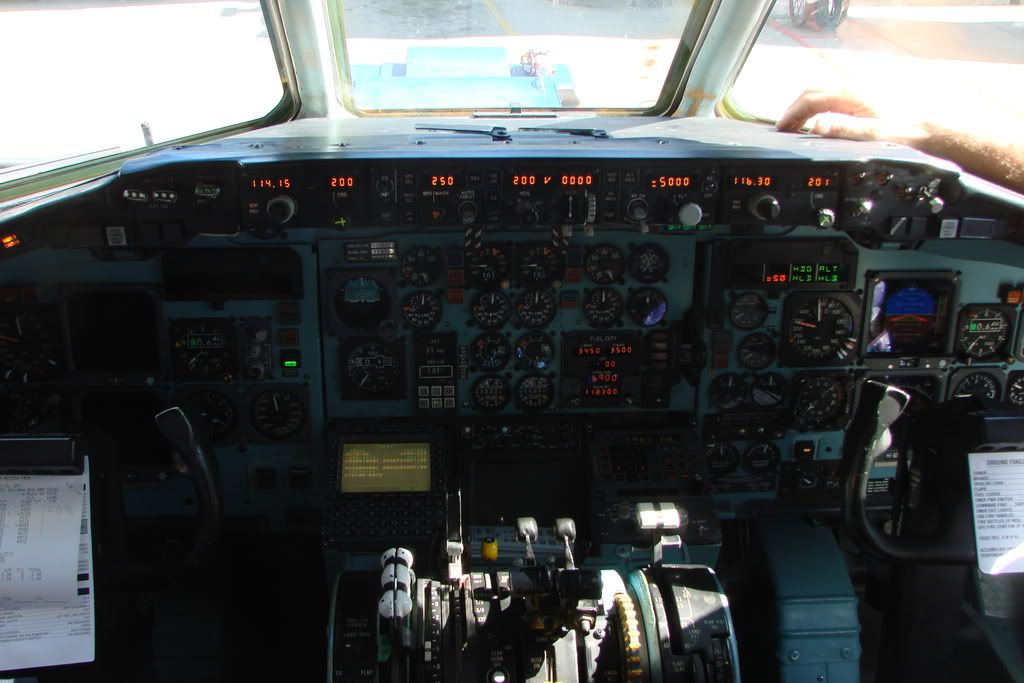 MD-82 cockpit
We waited around for the bags for quite a while, but got them, and hit the road for Chattanooga, then Knoxville on Saturday.
Sunday, October 5th
After a pleasant trip in Tennessee, accompanied by some marvelous scenery in the Smokies, it was time to head back home. Suffice to say, I was looking forward to this the most, because of the Triple in First. Before that, however, here are a couple of pictures from the trip,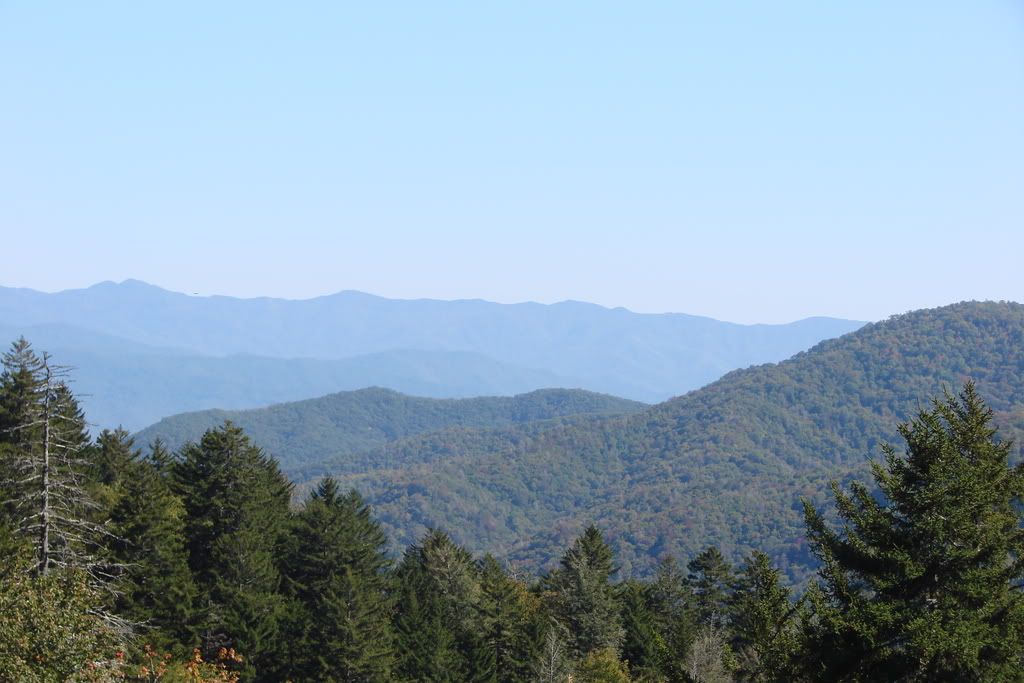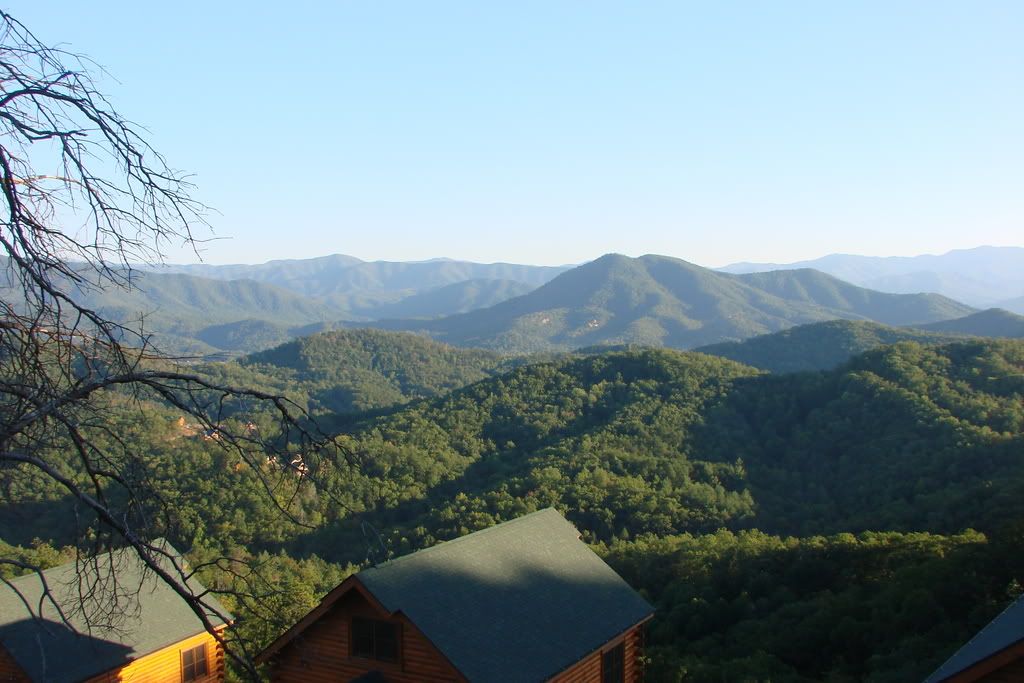 Beautiful scenery out my room window
I got dropped off at McGhee-Tyson airport around 12:30 for my 2:45 flight (not quite sure why it was so early), I had my boarding passes in hand and was through security about 12:40. I stopped off at Ruby Tuesday to watch some of the Titans game. I snapped a few pictures of the terminal.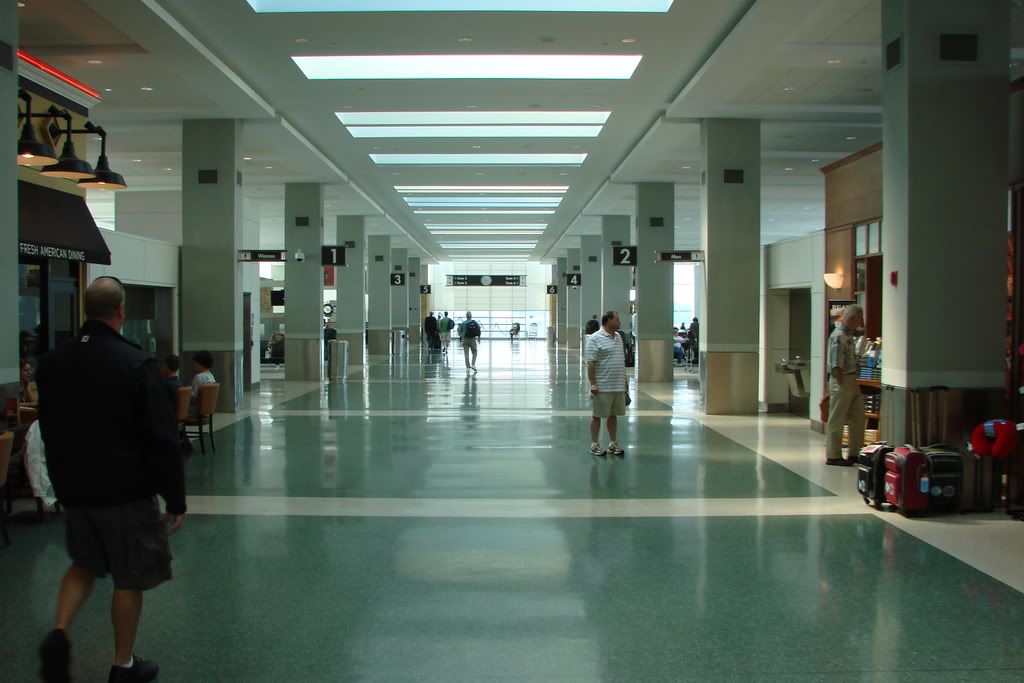 Looking back toward gates 1-4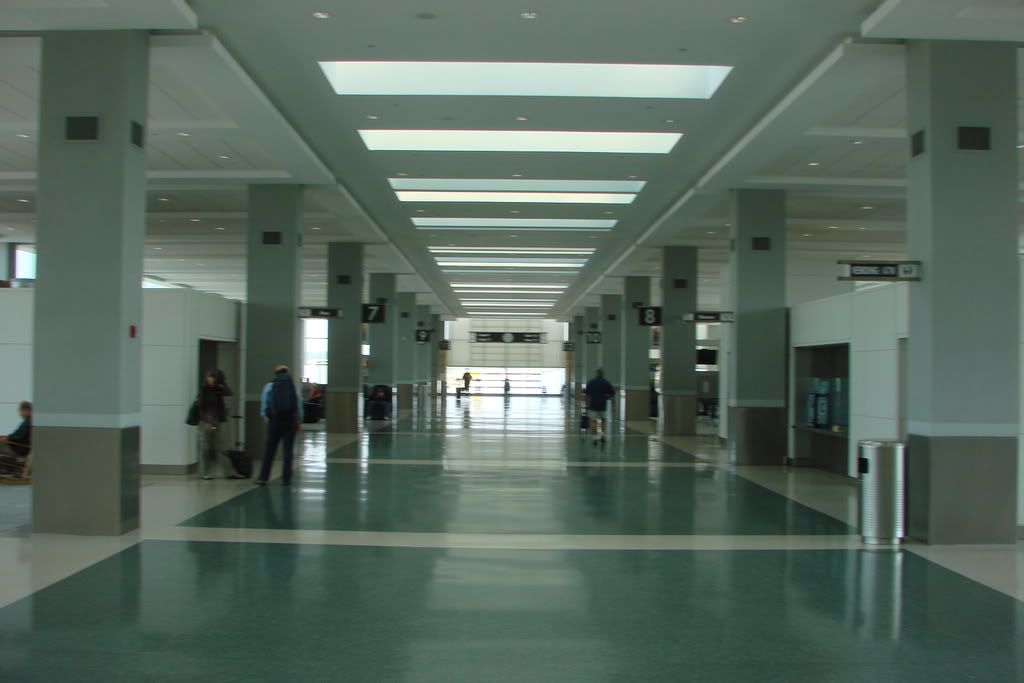 Looking toward the other end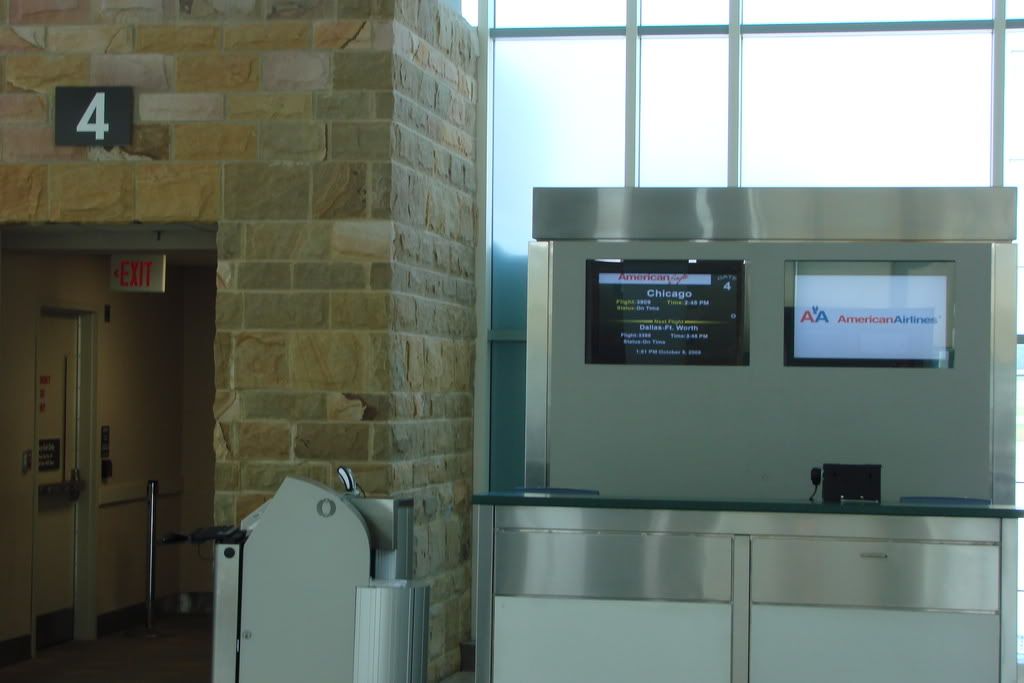 Gate 4, my gate
I chatted with the F.O. who had overnighted in Knoxville, and based on my camera and data sheet, he knew that the report was going on a.net. We talked for quite a bit until the plane got here about flying and getting hired by the airlines. I also had a really nice chat with the flight attendant, Sue, who was very nice, and took good care of me. After a while, our ER4, N689EC, arrived from Chicago.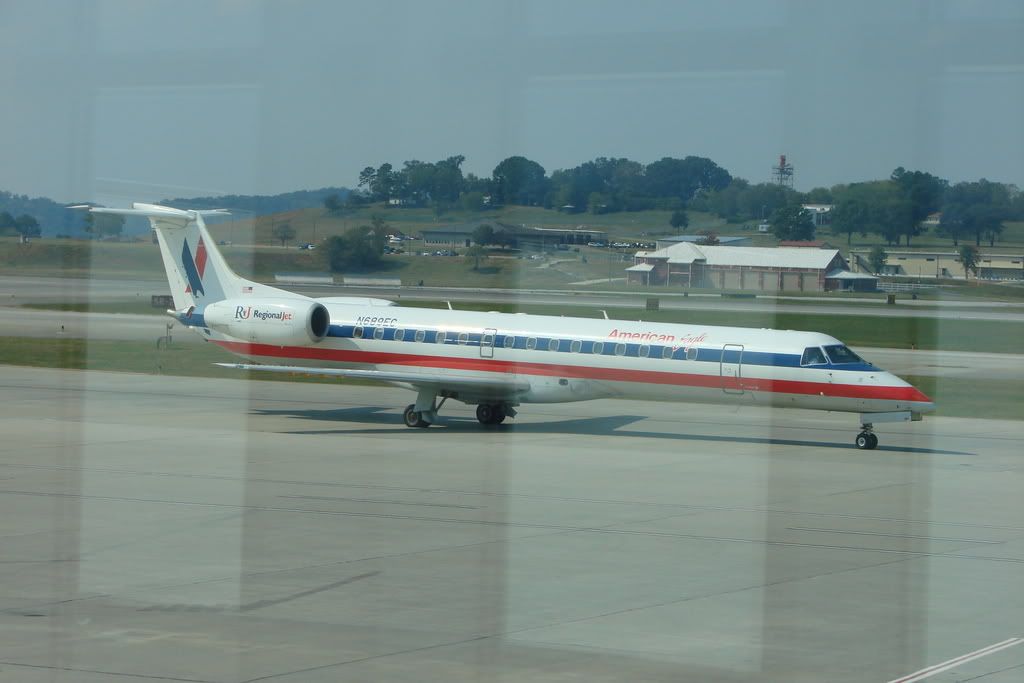 N689EC
The passengers deplaned, and we began boarding shortly thereafter.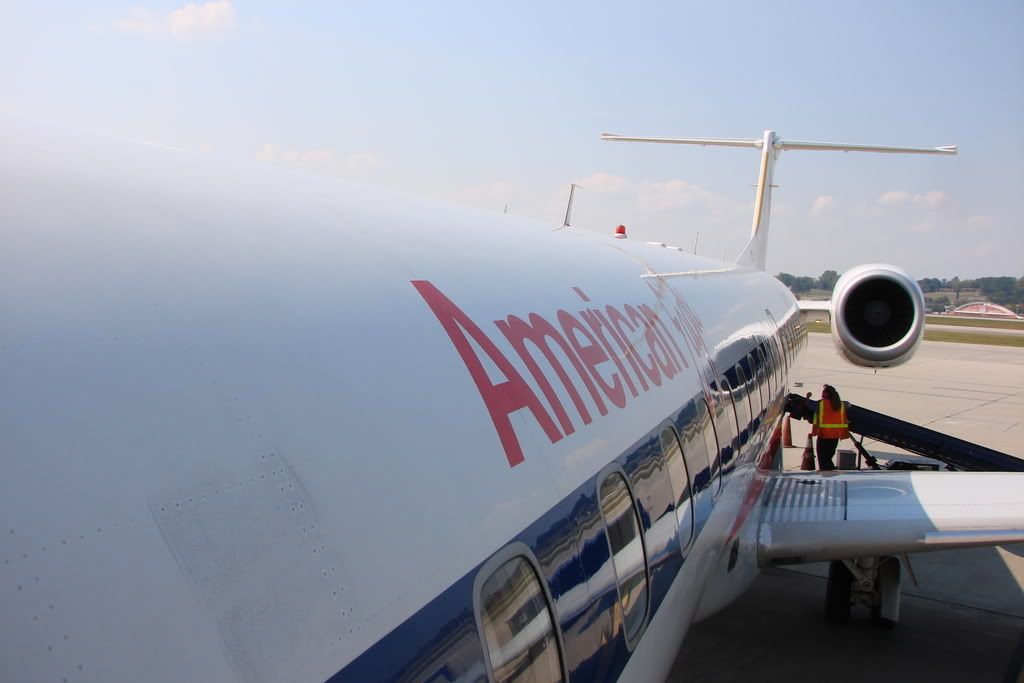 Boarding AE3909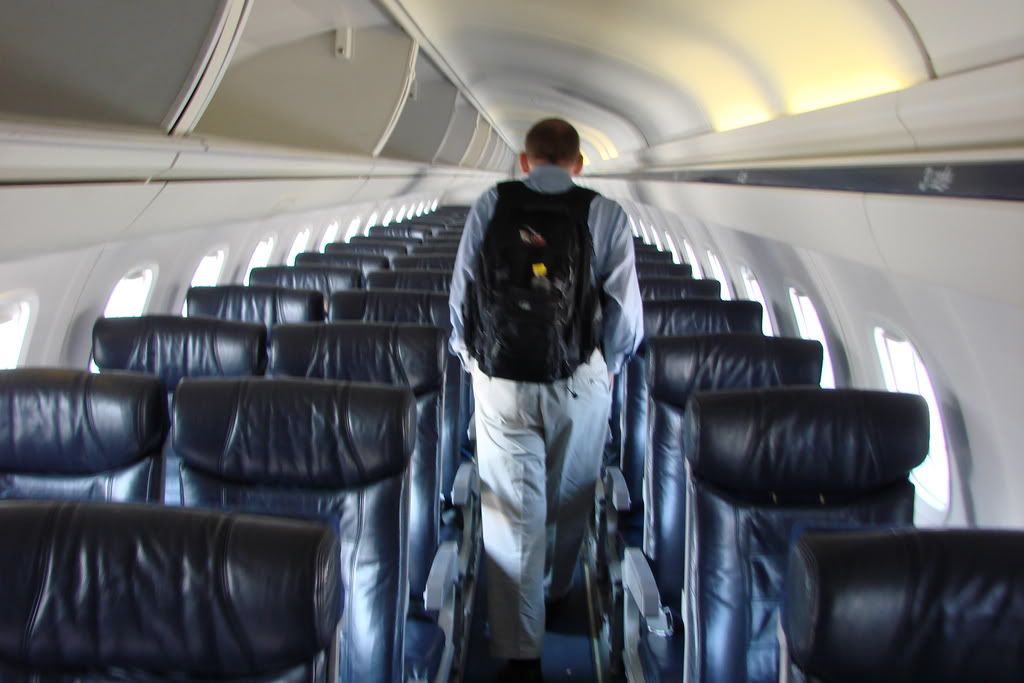 Cabin Shot
AE 3909
TYS-ORD
ERJ-145
N689EC

Scheduled Departure: 1445
Out: 1442
Departure Gate: 4
Seat: 10A, moved to 11C
Departure Runway: 23L
Off: 1457
Cruising Altitude: FL 320
Cruising Airspeed: --
Route: VXV HOPAP VOSTK HEVAN MZZ ROYKO VEECK BOONE BEARZ
Arrival Runway: 4R
On: 1517
Arrival Gate: G1A
Scheduled Arrival:1535
In: 1525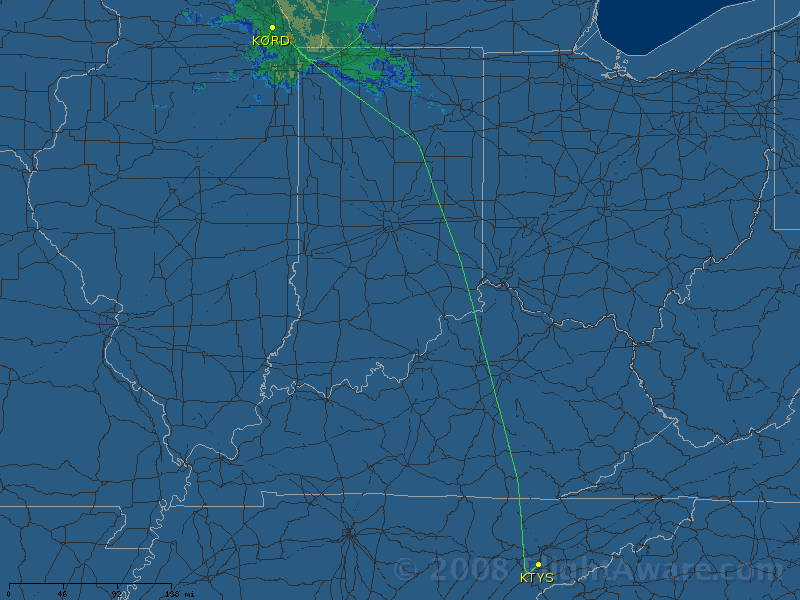 AE3909, according to FlightAware
We pushed back early, and taxied to 23L. We waited around for quite a while before taking our position.
http://www.youtube.com/watch?v=DBvwAtB7r5M
Takeoff from TYS
Climbout
We climbed out, turned back to the northwest, then northeast to join the departure. Our flight today took us just past CVG.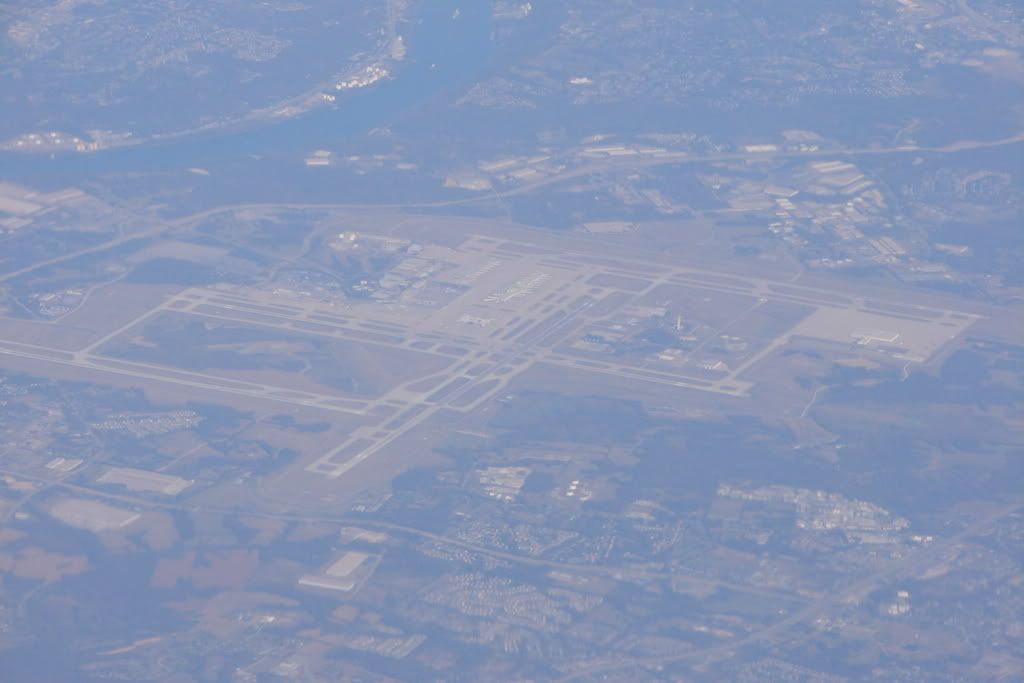 CVG
Sue did an excellent job making sure everyone in the cabin was comfortable, and she even gave me a free bag of cashews!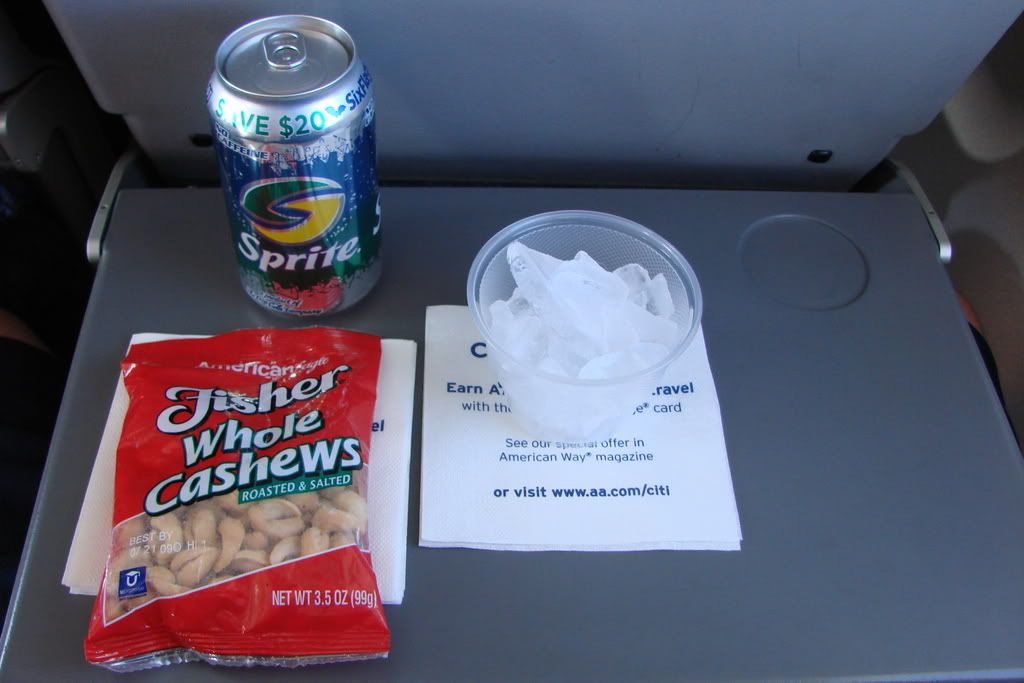 Snack!
The flight was otherwise uneventful, and shortly after, we began our descent into ORD.
The view outside on descent
We descended into a cloudy ORD, and approached from the SSE. We flew right past US Cellular Field, where about 45 minutes later, the Chicago White Sox would lose to the Tampa Bay (Devil) Rays.
US Cellular Field
Downtown Chicago
Turning to final
http://www.youtube.com/watch?v=uXAYpFubh9I
Landing at ORD
The F/O told me not to criticize his landing, or be too hard on him in my report, because he's been in a bit of a rut. Well Aaron, your second landing was outstanding!
I honestly thought it looked pretty good coming in, just came down a bit hard the first time. After landing, we taxied to the gate, and I went up to get a copy of the ACARS times printout. I took a quick shot of the cockpit, too.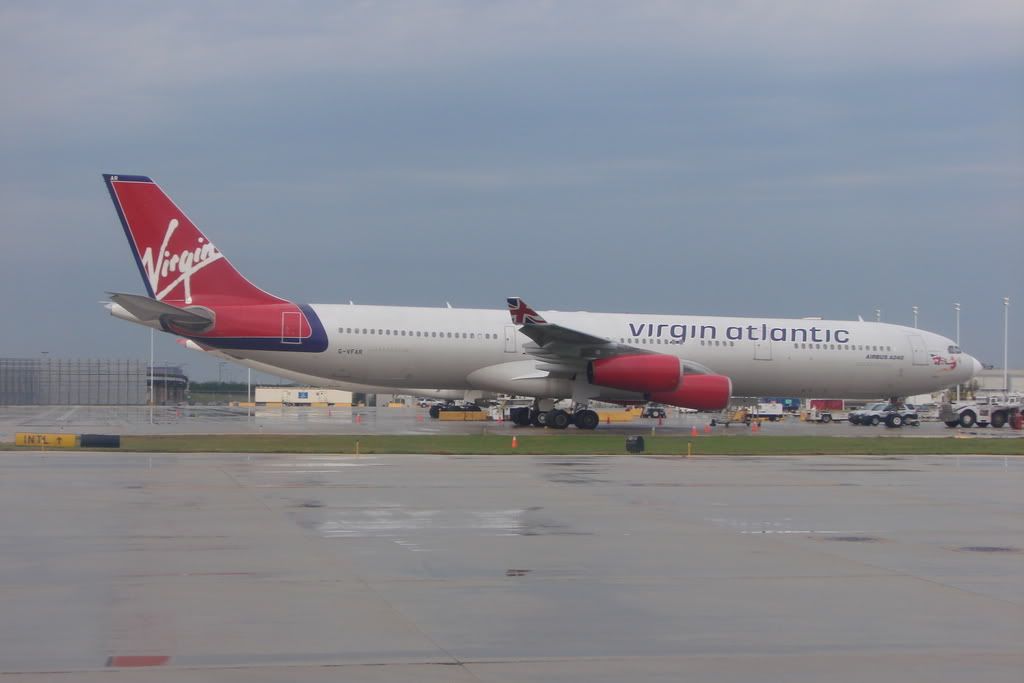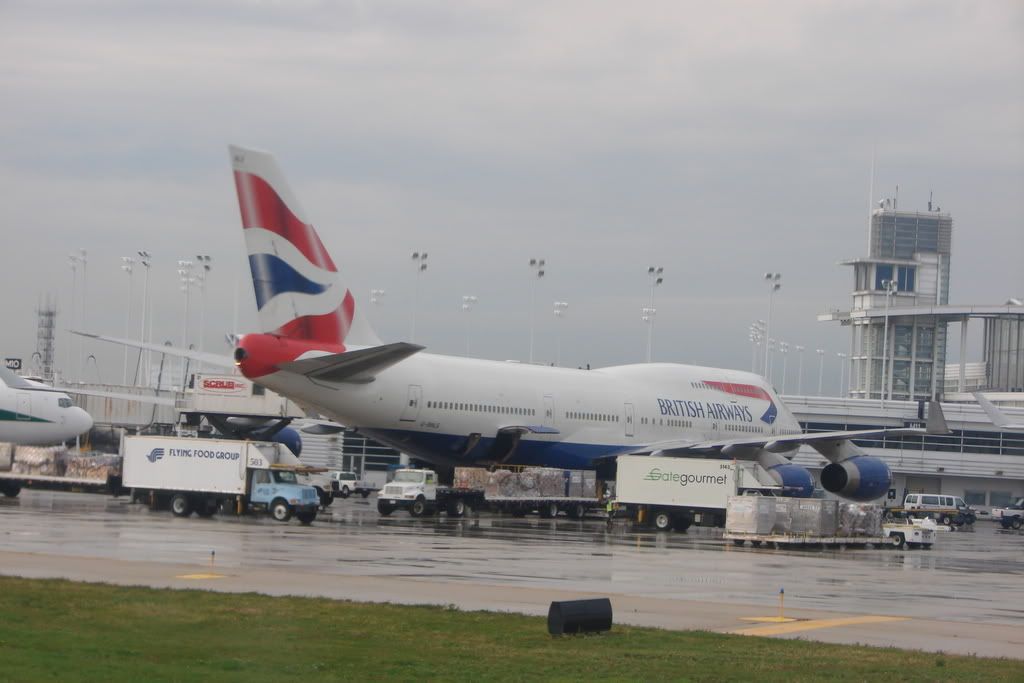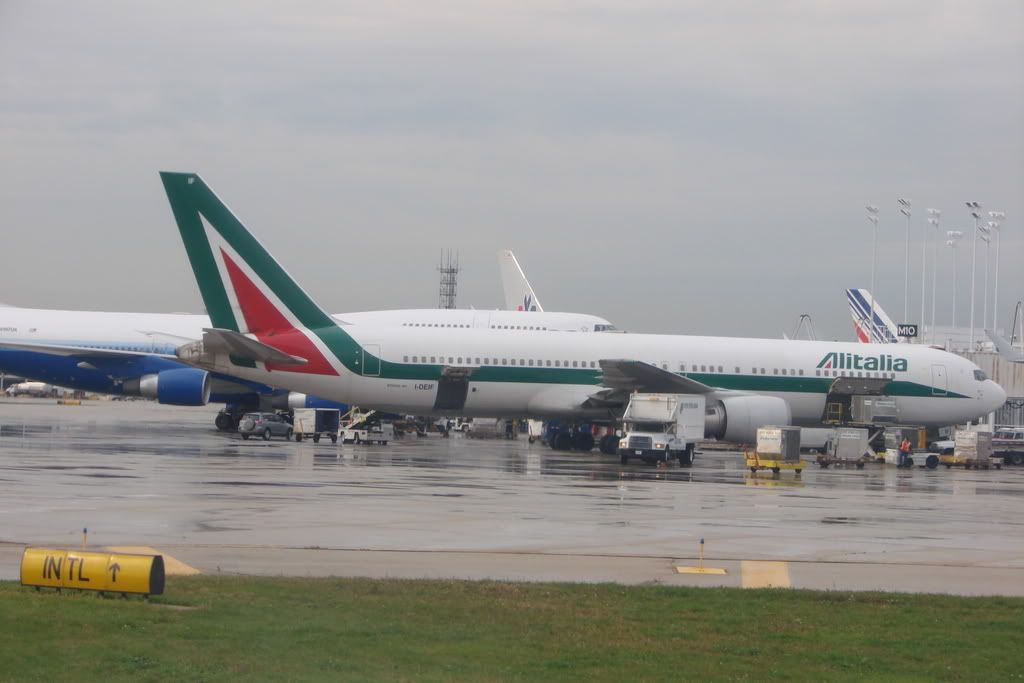 Terminal M excitement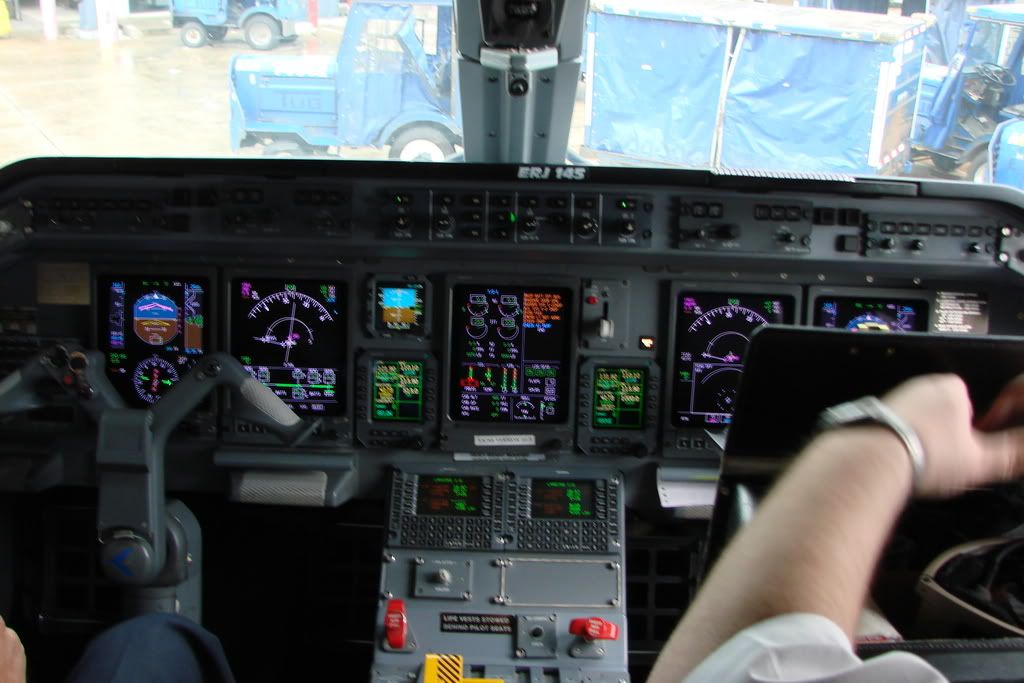 ER4 Cockpit
Connection in ORD
I had about 4 hours in Chicago, so I headed up to the Admirals Club to watch my Cowboys, and watch some planes.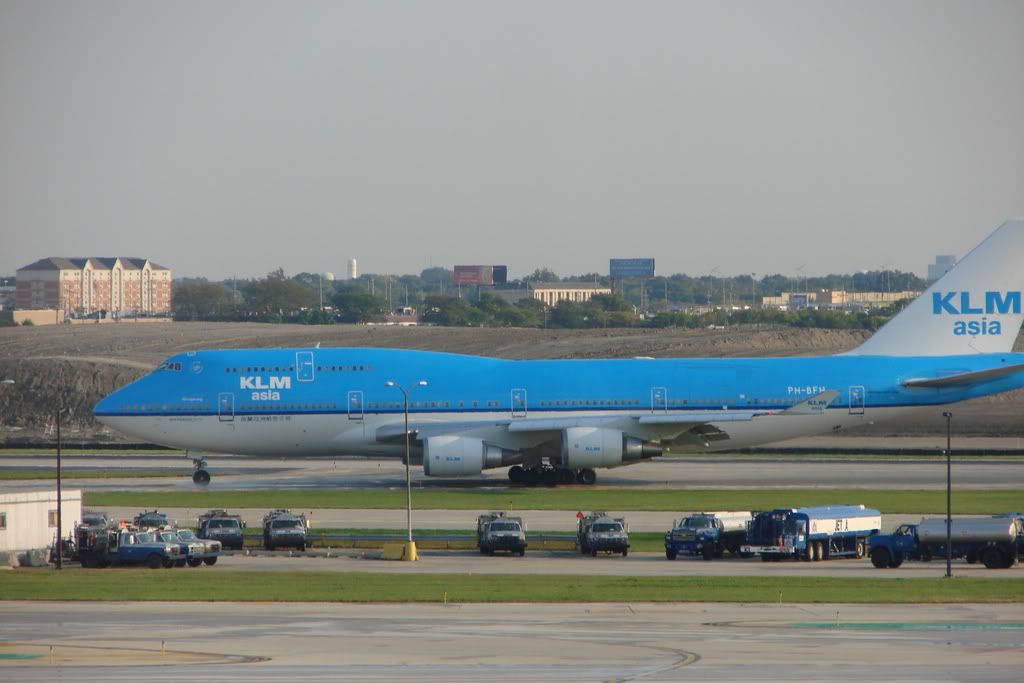 KL 744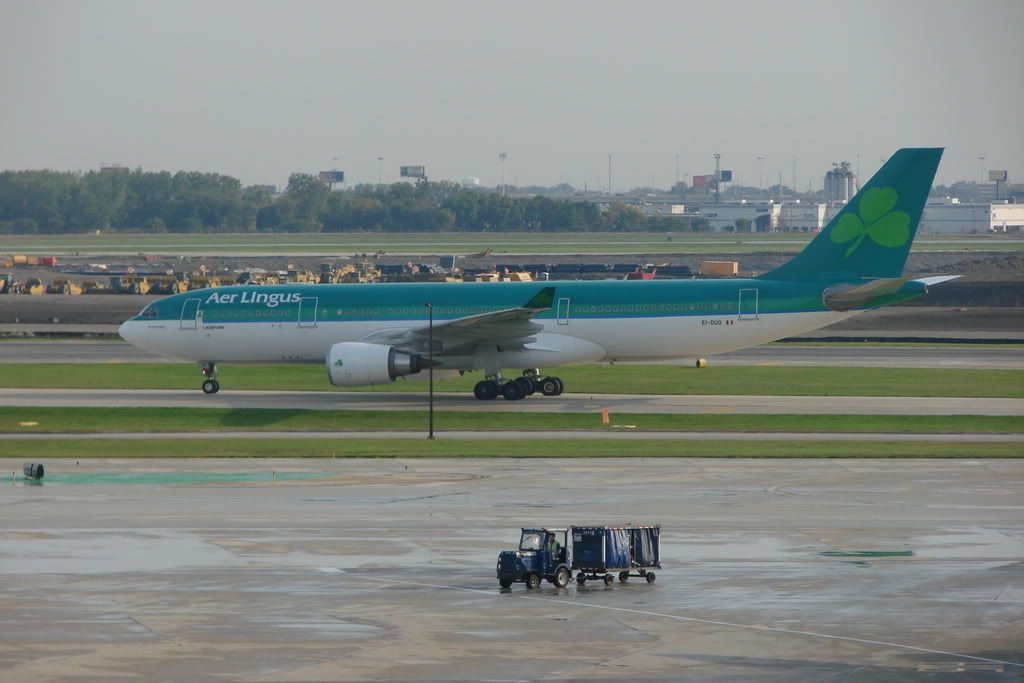 Aer Lingus A330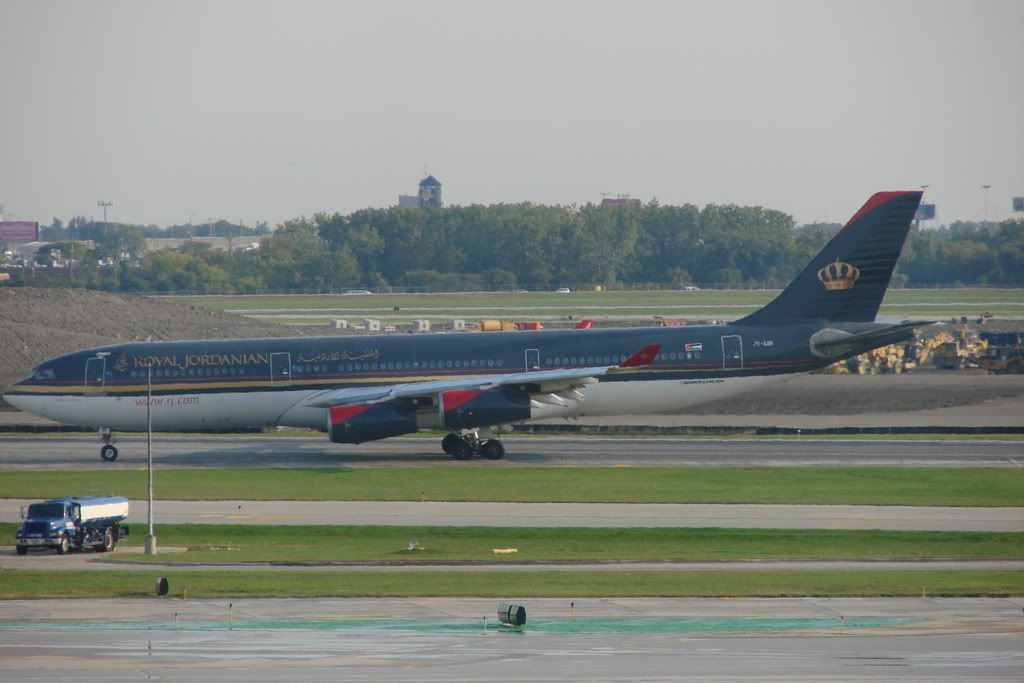 RJ 342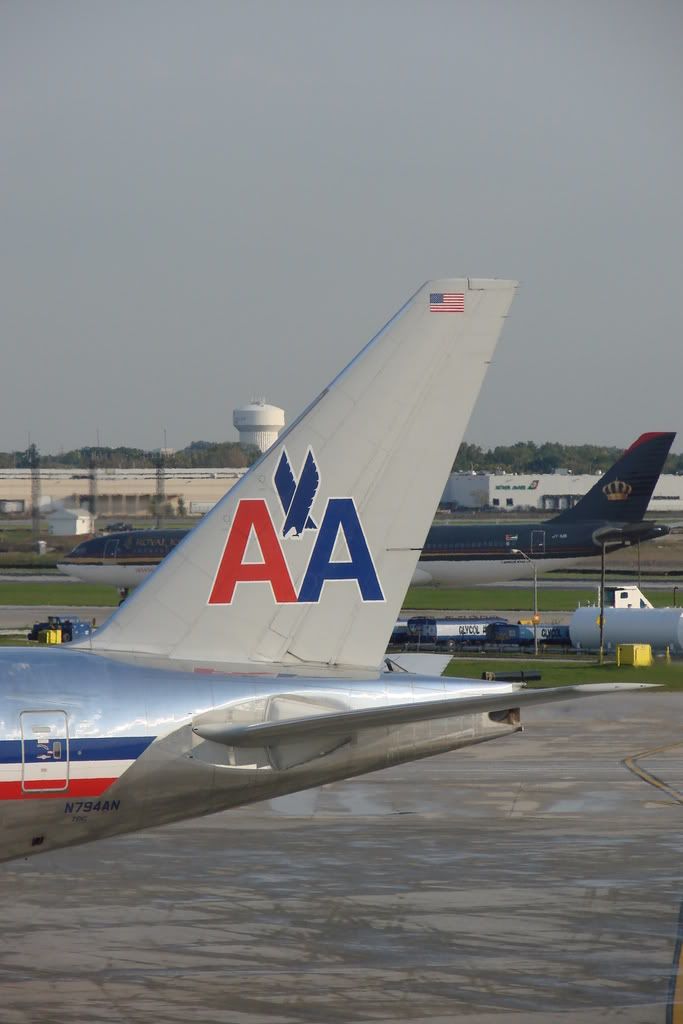 N794AN Tail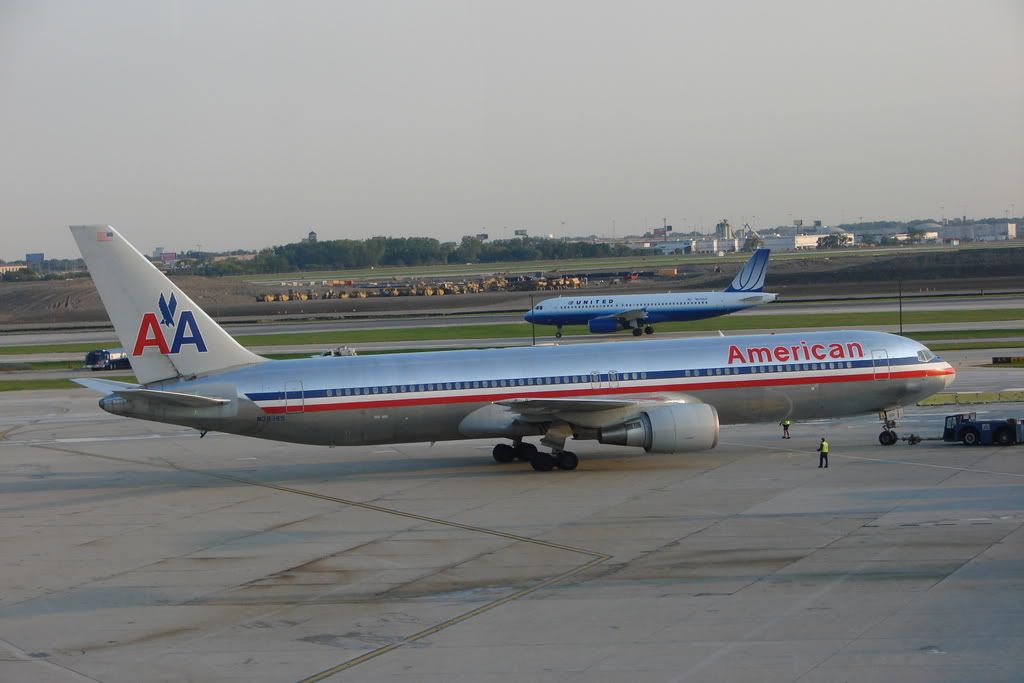 AA 763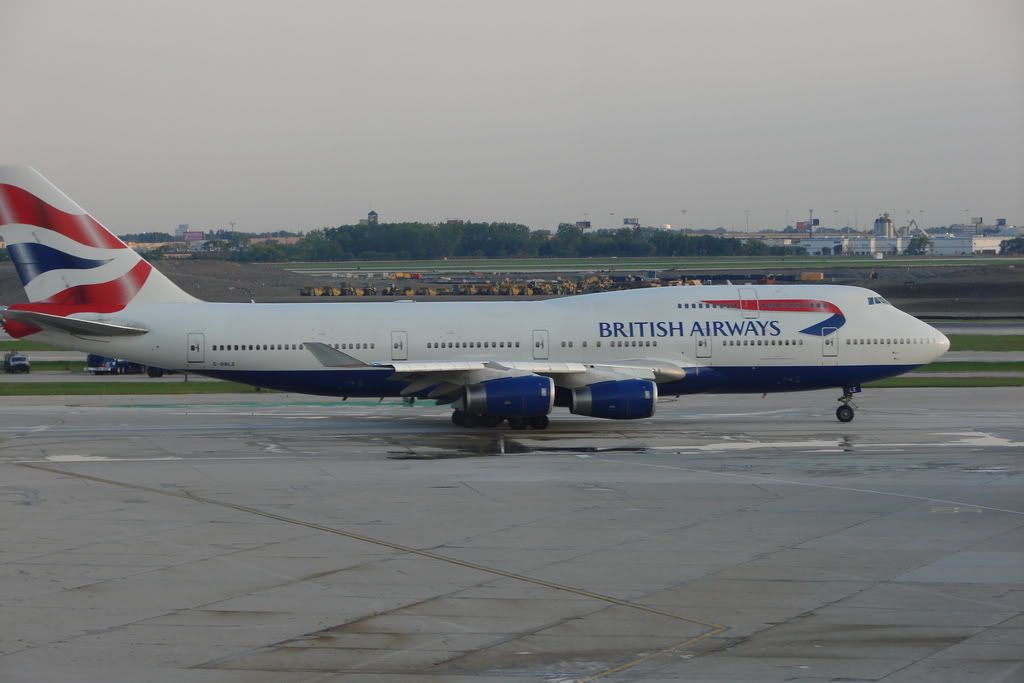 BA 744
UA 772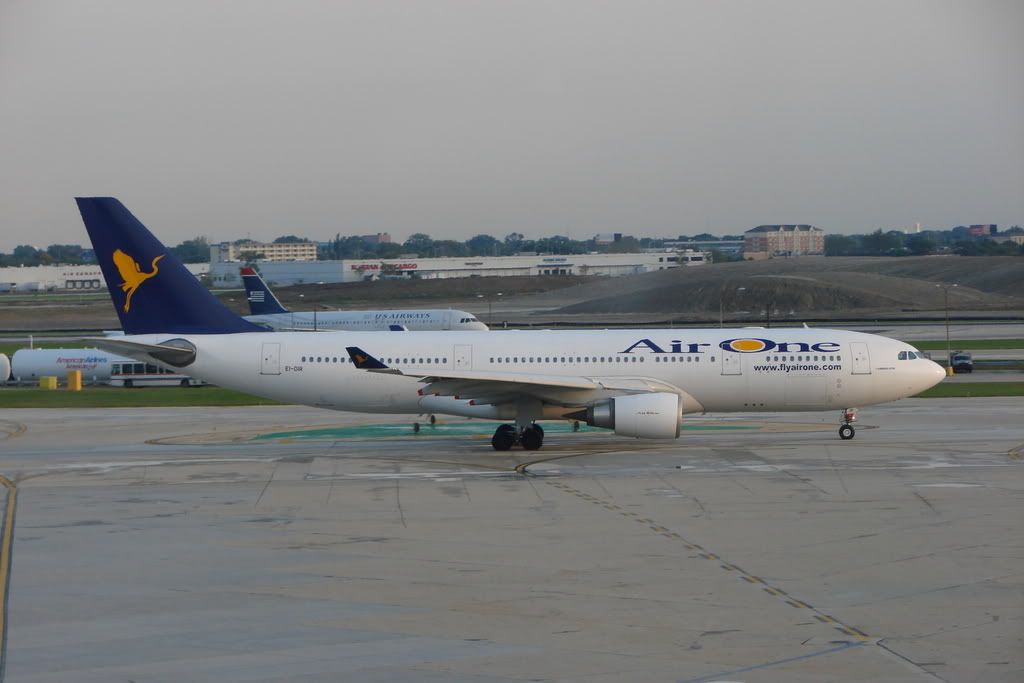 Air One 333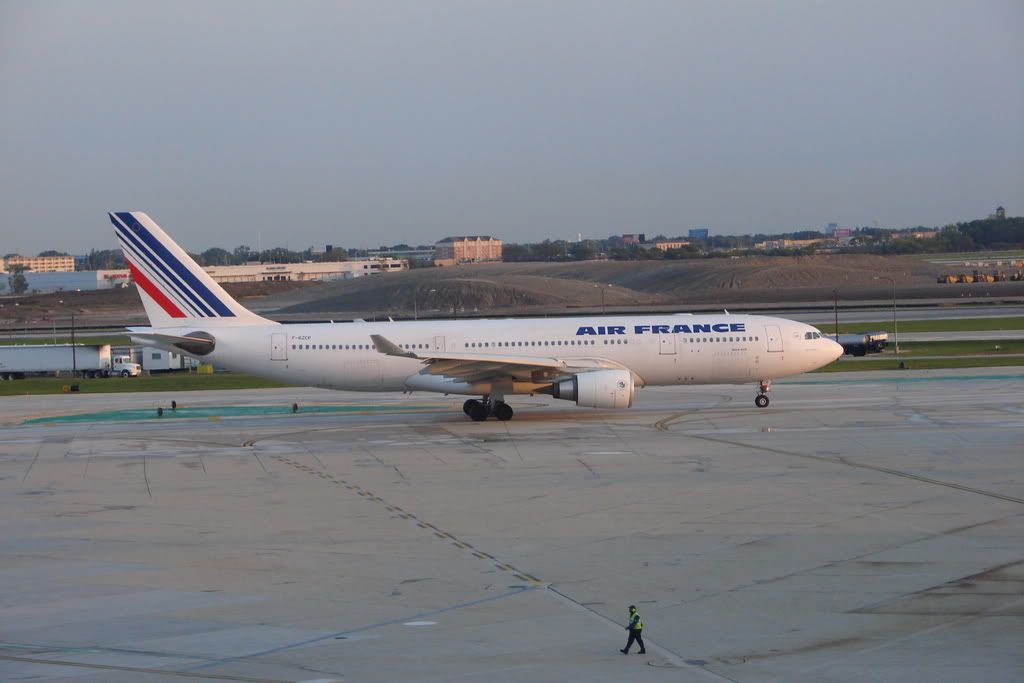 AF 332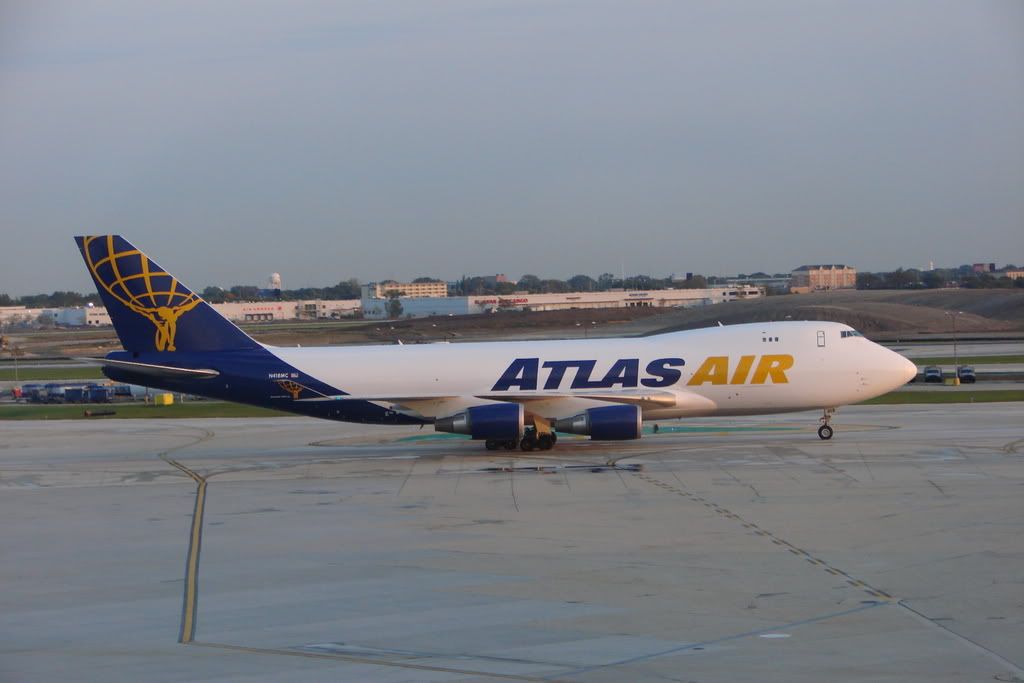 Atlas Air 744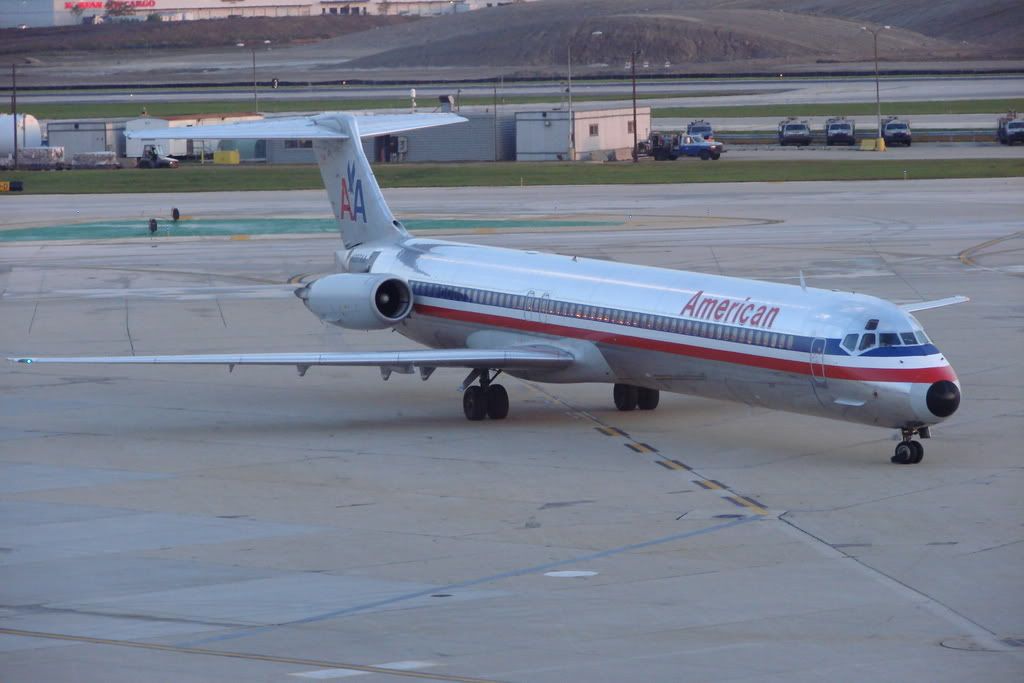 And of course the obligatory AA Maddog shot
After what felt like a real long time, I ventured down to an insanely crowded K12 boarding area. I think a lot of it was overflow because K14 was AA 292 to Delhi.
Boarding began shortly after.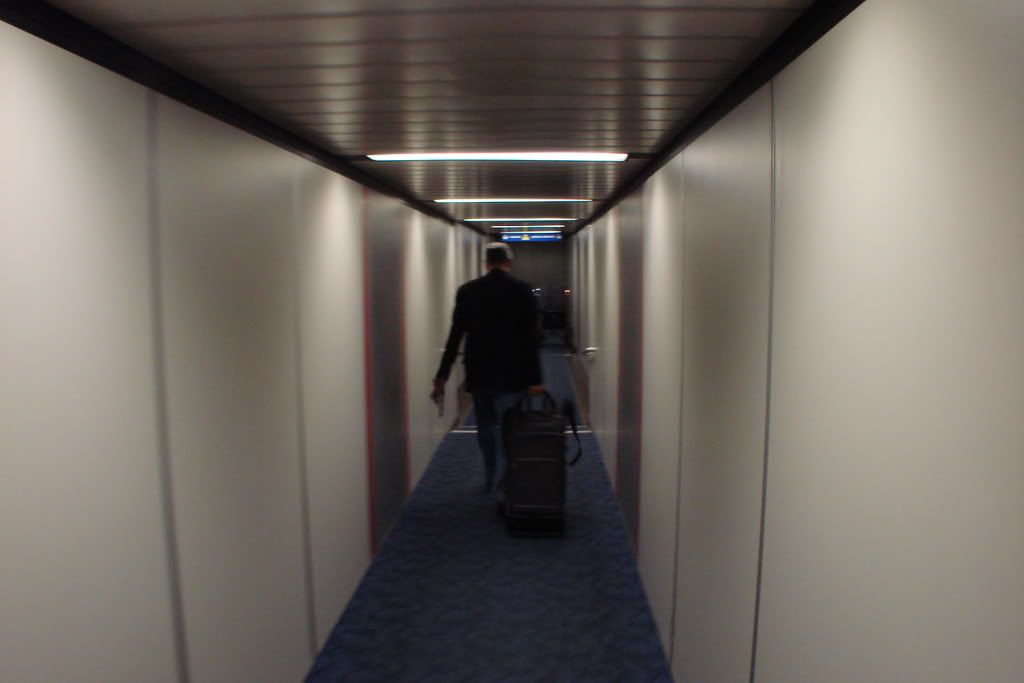 I love walking UP to get to a plane
AA 47
ORD-DFW
777-223
N786AN

Scheduled Departure: 1915
Out: 1921
Departure Gate: K12
Seat: 1A
Departure Runway: 22L
Off: 1944
Cruising Altitude: FL 400
Cruising Airspeed: 460 TAS
Route: ACITO ADELL ARLYN STL RZC FSM BYP5
Arrival Runway: 17C
On: 2131
Arrival Gate: D30
Scheduled Arrival: 2135
In: 2140
AA47, according to FlightAware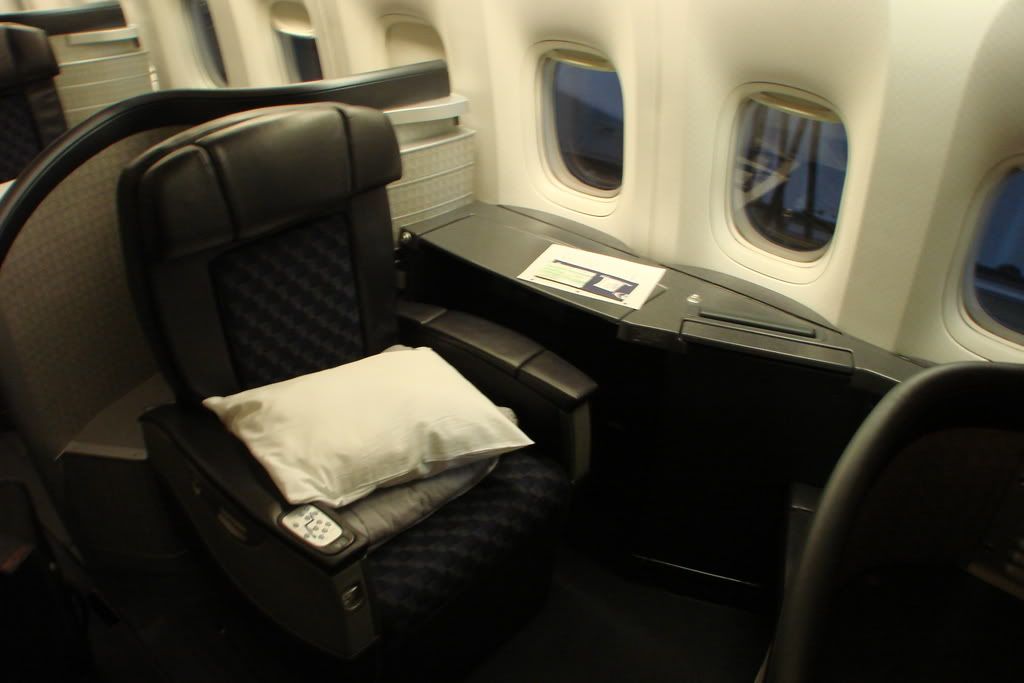 Seat 1A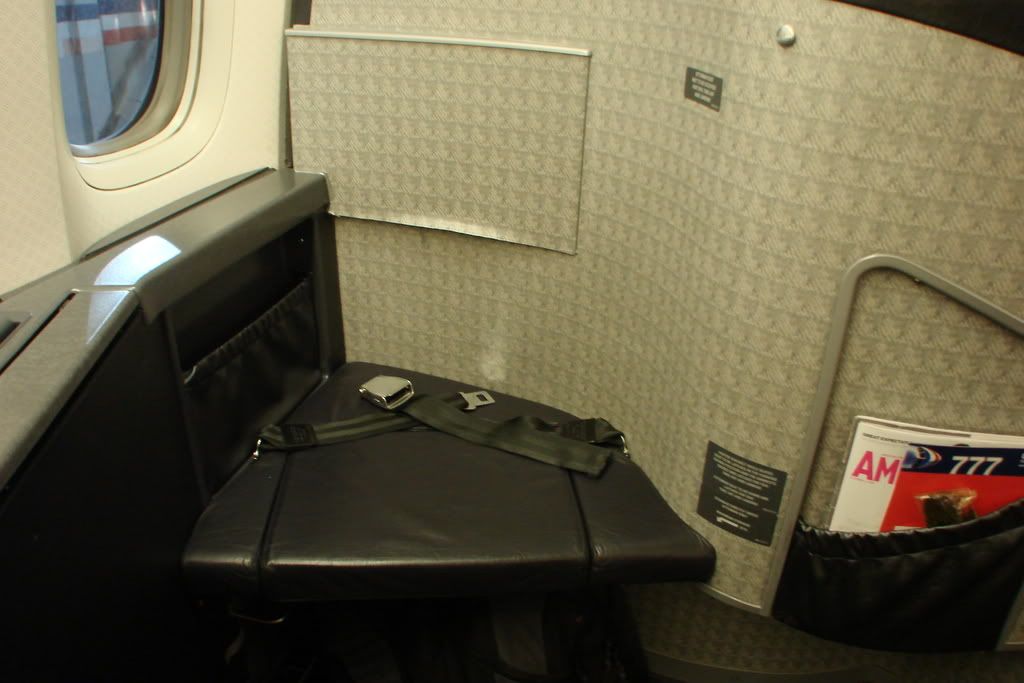 More Seat 1A
We pushed back a little late, and made a slow taxi to 22L.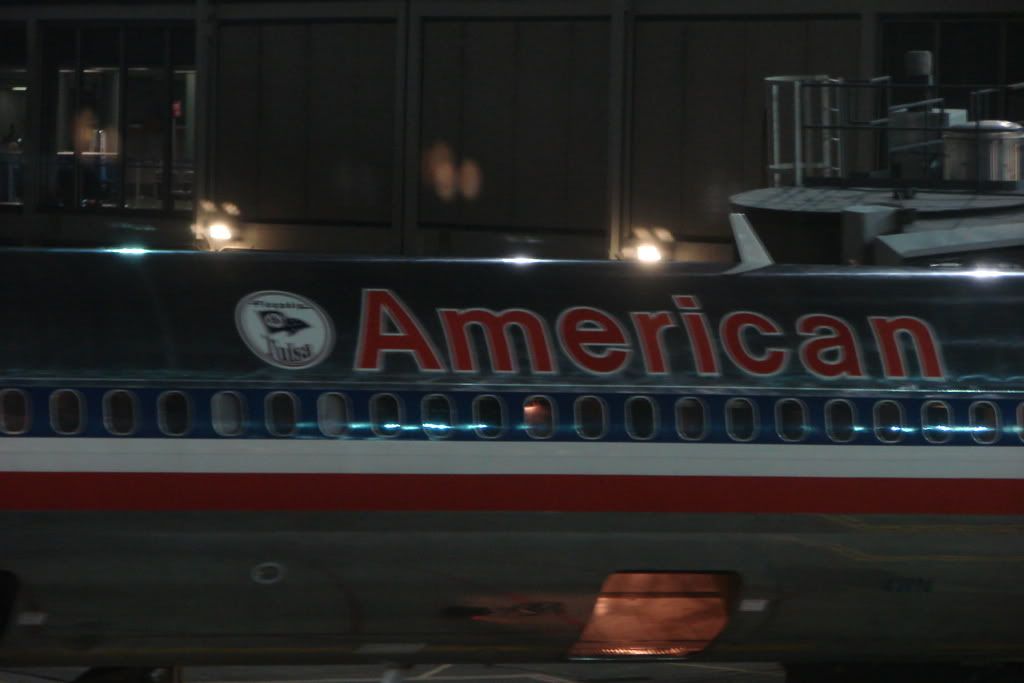 Flagship Tulsa
What more can I say about the Flagship Suite. It's so beautiful, and so comfortable. The service was great, but we were only served a cheese pizza, and then cookies. The pizza was delicious, but it was less than had been offered previously on this flight (admittedly, it is now later than it was back then). The service was good, but some of the F/As seemed a little...off. There weren't as many smiles as I've normally seen, but they were perfectly pleasant.
No more pics and/or vids the rest of the way, as it was too dark, unfortunately. I settled in to watch some movie (strangely enough, I can't even remember what it was, now), and even tried to sleep a little. My philosophy is no matter how short the fligh, or what time of day, in the FS, you have to at least put it into bed mode for a little bit.
We landed a bit late, and I went up to the cockpit for a little while to chat with the pilots. Eventually, I had to basically drag myself off my favorite aircraft, and back to the world of Super 80s.
Connection in DFW
I had a little less than an hour in DFW, so I stopped by Mickie D's for a little bite to eat, and made my way over to A13 for my flight to AUS. We started boarding very shortly after I got there.
AA 2426
DFW-AUS
MD-83
N951TW

Scheduled Departure: 2235
Out: 2231
Departure Gate: A13
Seat: 5F
Departure Runway: 17R
Off: 2240
Cruising Altitude: FL 220
Cruising Airspeed: Mach .7/ 440 KTAS
Route: JASPA2.WINDU BLEWE1
Arrival Runway: 17R
On: 2313
Arrival Gate: 13
Scheduled Arrival: 2325
In: 2319
Another uneventful flight, but the flight attendants were very nice on this late flight. Landed early, and had no trouble retrieving my bag, where my most recent trip came to an end.
Hope you all enjoyed my report. As always, comments, questions, criticism are always welcome.
Cheers and Hook'em Horns!
Cameron