This will only be my second trip report, so suggestions will be welcome.
When they announced the Dutch Environment Tax I promised myself I would try to avoid this tax as much as possible. (Good excuse to see some other airports).
I searched around the web and found an attractive fare with TG from Frankfurt to Bankok for 560 euro inlcuding tax, I booked it right away, and since the NS at that time charged roughly 100 euro for Amsterdam to Frankfurt by ICE, and Lufthansa only 98 euro I booked the latter.
I arrived 2 hours before departure at Schiphol Airport, as I always do for flights to far away destinations, better to relax at AMS airport at the panoramaterrace then hoping the public transport are not suffering from delays.
I was the second in line at the check in desk for dropping off my luggage (I checked in online), but somehow it took 10 minutes to get to the bags dropped, good thing though that they managed to check my bags all the way to Bangkok, just had to pick up my boarding pass.
Good weather today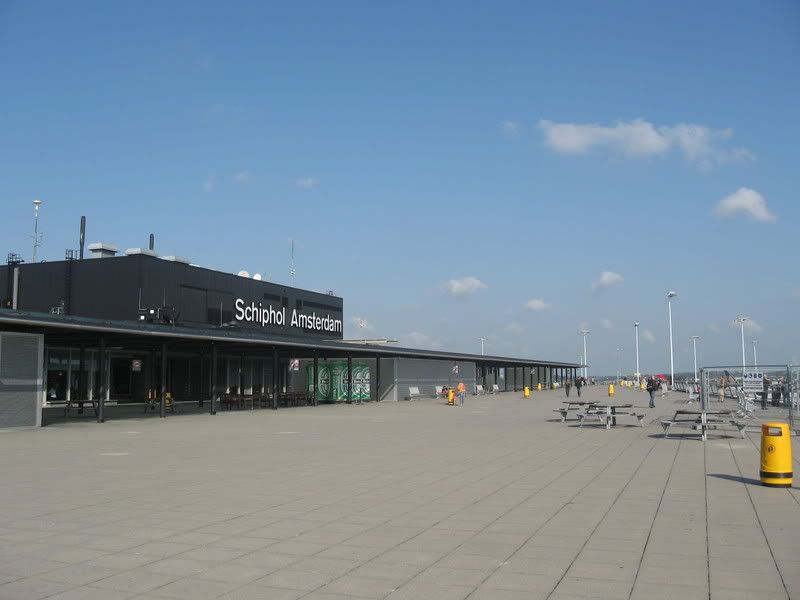 The line at security looked long, but truth to be told, I only stood there for 2 minutes, so I guess there is no reason to complain, and they are actually quite nice nowadays.
There she is;
September 25, 2008
Amsterdam (AMS) - Frankfurt (FRA)
Flight number; LH4675
Departure; 12:40 (12:55) - 13:50 (13:50)
Aircraft: Airbus A320 (D-AIQL)
Load Factor: 32%
Seat: 25 A
The aircraft arrived on time, but somehow Lufthansa managed to delay the departure by 15 minutes because they did things slow, from boarding to counting pax... or maybe it is me and I am to much used to budget airline flights...
Finally we are moving;
Take off!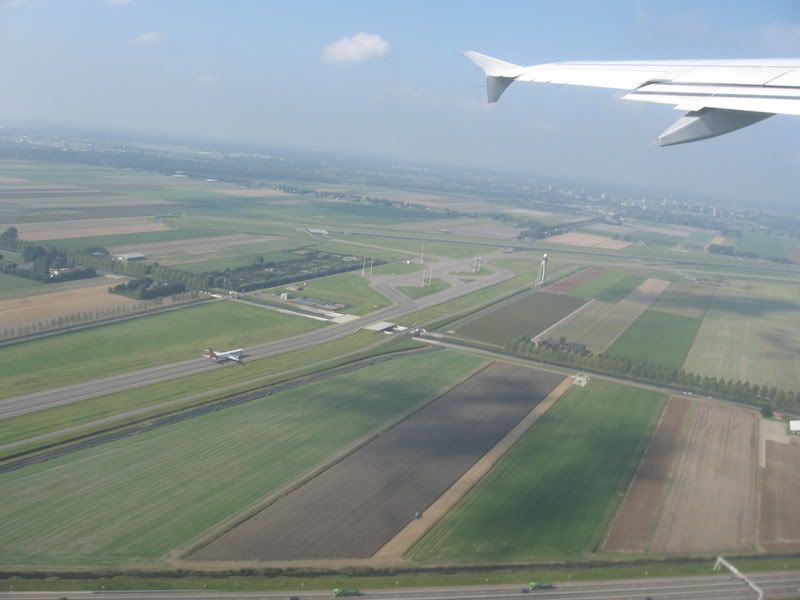 I am not sure which city this is, if you know, please tell me.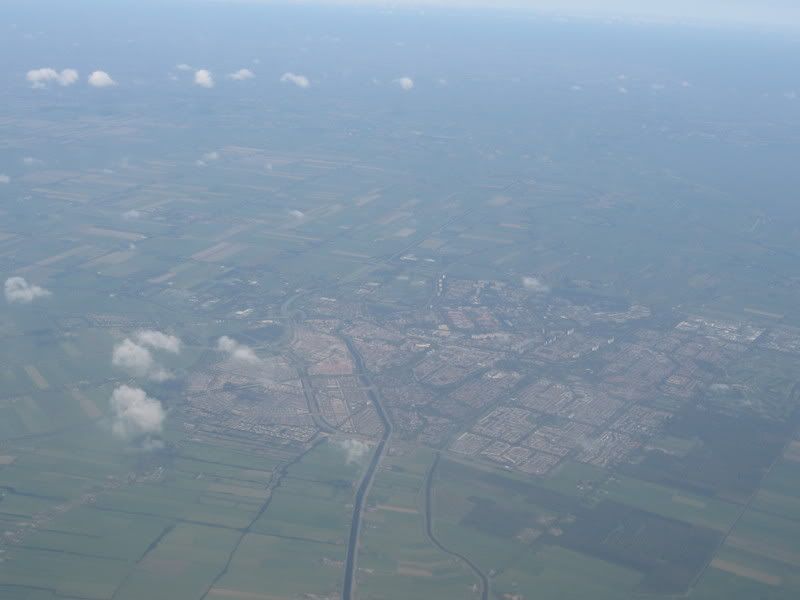 Time for a well earned meal on a full service carrier;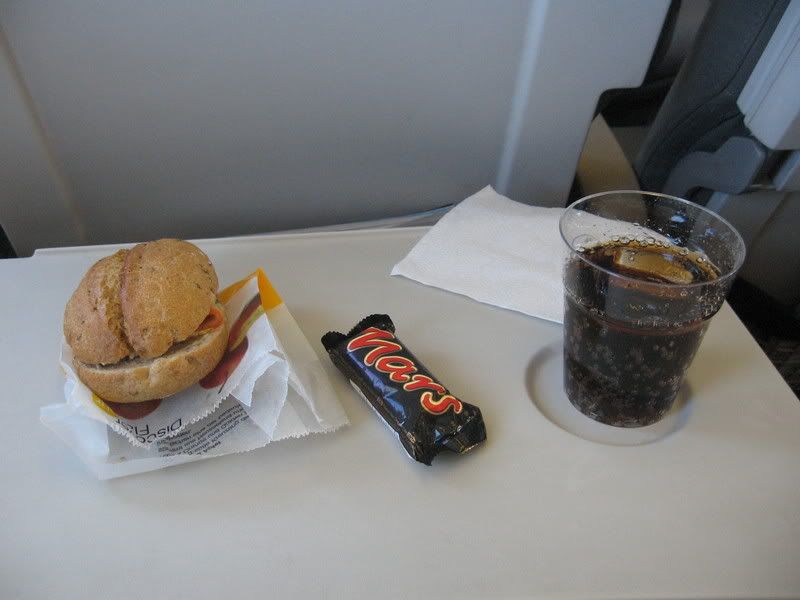 The clouds were getting thicker and thicker as we reached Frankfurt which caused quite a lot of turbulence, which I enjoy since then you really feel you are flying;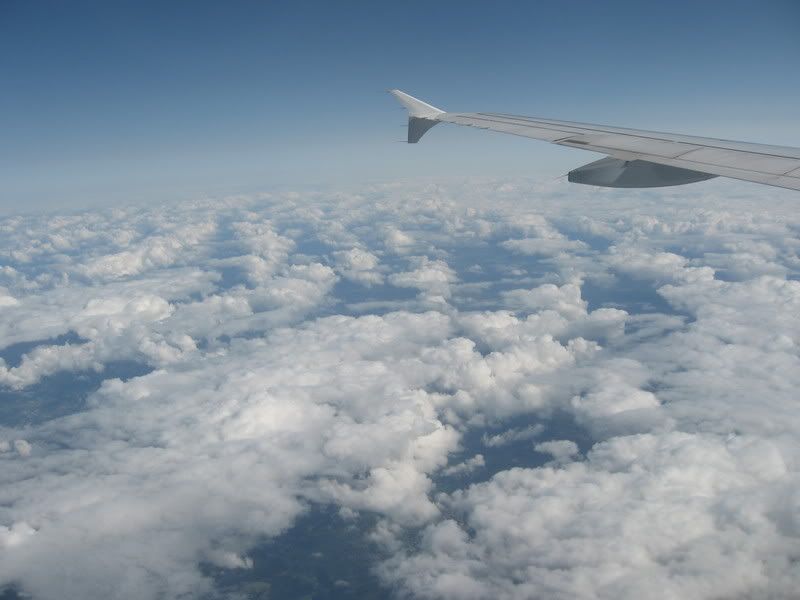 There was no air bridge available, so we had to get bussed to the terminal, since there where only 50 people this was not too bad.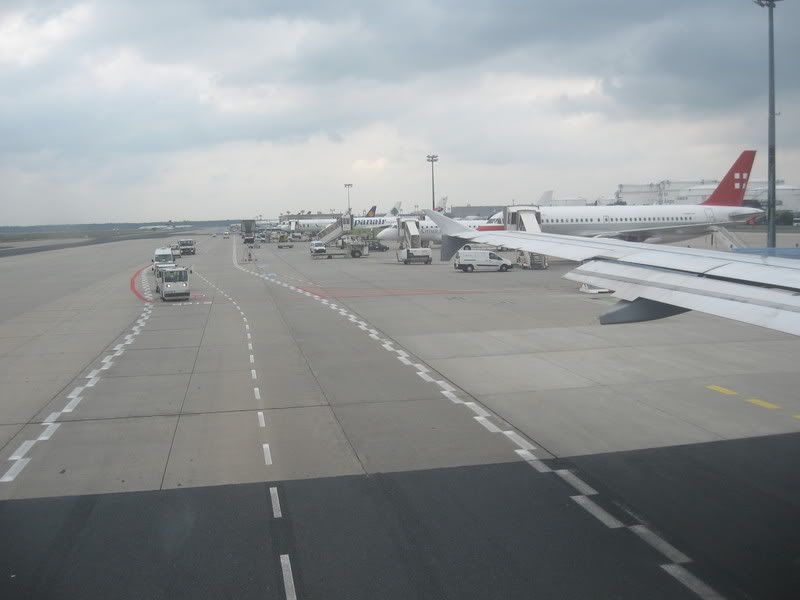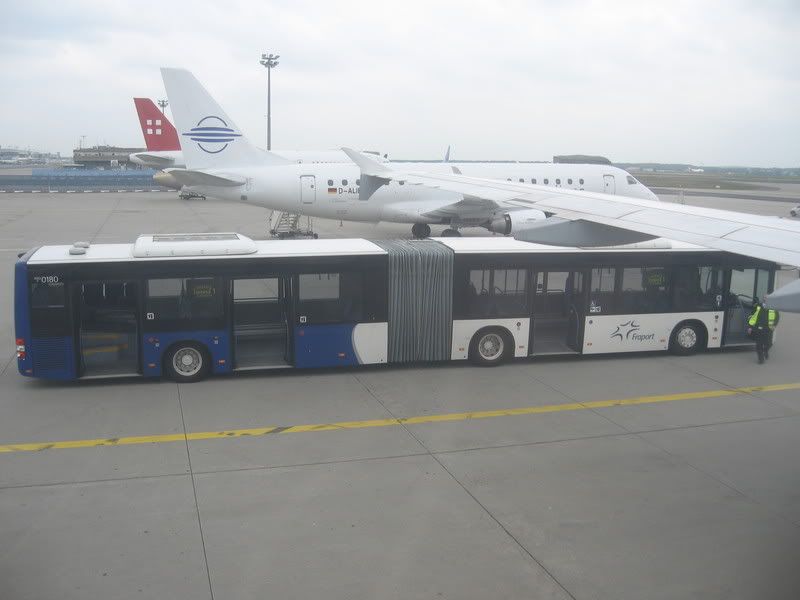 In Amsterdam I was told I had to go to the Lufthansa transfer desk to get my boarding pass but all the desks I visited where not manned. Luckely the countergirl in Amsterdam told me this would probably the case and I could check in with the TG desk at 6 pm.
When walking out of the gate area, I walked into the TG check in desk, and they where checking in people for the 3 pm flight.
I had no intentions to take this flight, I wanted to visit Frankfurt, but I managed to get my boardingpass for the 20.15 flight since my luggage was checked through anyway. (Although the lady at the check in counter did not want to do this, the manager, agreed with me there is no reason not to give out the boarding pass since my luggage was checked through).
Eating and drinking is quite expensive in Frankfurt restaurants, with one exception beïng the MC Donalds. If you have time, they got a nice view of the runway.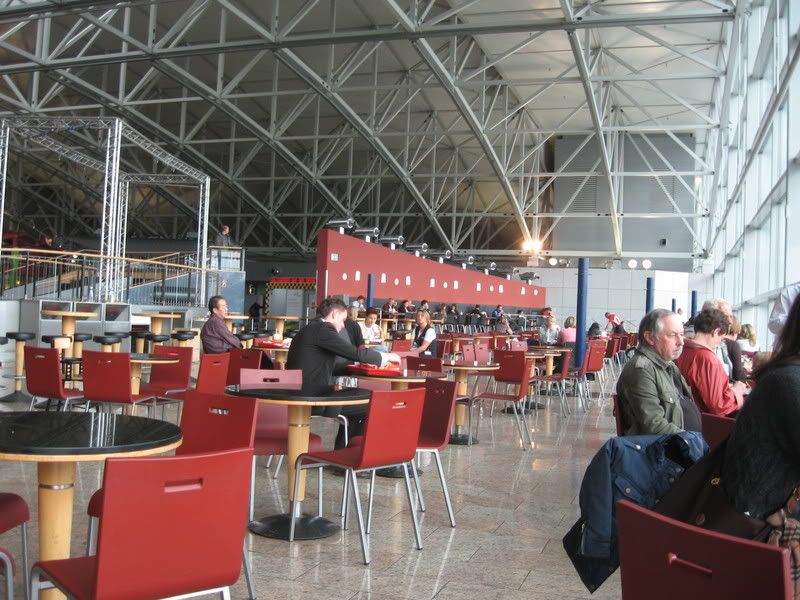 Time goes by fast, and soon it was evening and at the gate I could see the bird taking me to Bangkok;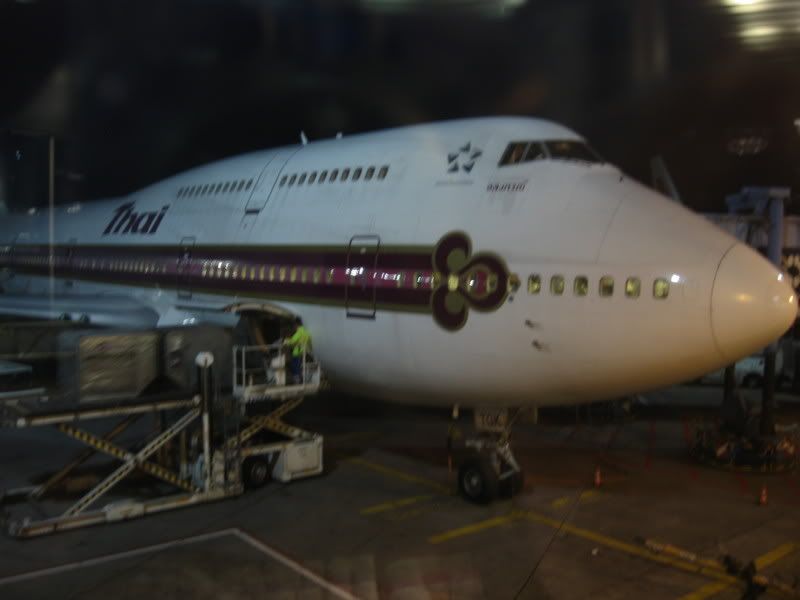 The gate area looks okay, although there are no toilets, so be warned if you go there early.....
September 25, 2008
Frankfurt (FRA) - Bangkok (BKK)
Flight number; TH0923
Departure; 20:15 (20:45) - 11:55 (12:05)
Aircraft: Boeing 747-400 (HS-TGK)
Load Factor: 98%
Seat: 64 H
I though boarding was complete around 8 pm, I was one of the last to board, but there where some issues with another passenger so we endured a slight delay.
Since this is a night flight there is not much service besides the first drink and meal service. The old boeing 747-400 do not have personal entertainment, and to my surprise at night there was no movie playing. (I do not care much about this, I have a mp3 player and I try to sleep, but no movie playing at all for 6 hours is in my opinion a bit odd).
The colours of the seats look nice;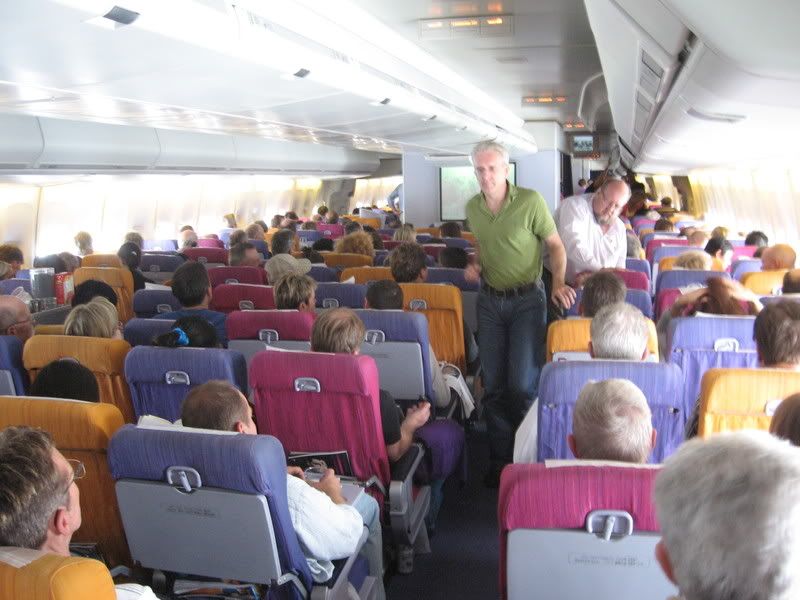 More pictures I not managed to take, since this is a night flight I will take the aisle seat so I do not have to disturb my neighbour whenever I want to walk around the plane.
The landing was okay, albeit at the wrong side of the terminal where we would finally be dock into the gate. But hey, I was on holiday so no time pressure or anything!
After 2,5 weeks Thailand and all its traffic jams it was time to go home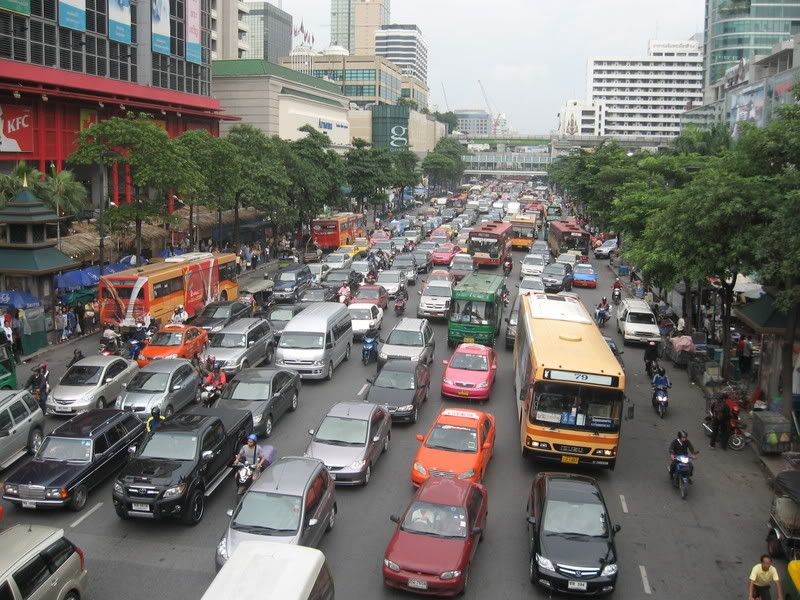 Flying with TG means there are loads of check in desks, and since this flight leaves at a convenient hour, all the desks where even manned, resulting in only 2 minutes wait and I was on my way. Same as outbound they managed to check my bags through to Amsterdam, only had to pick up my boarding card in Frankfurt.
The Terminal after security
Can somebody explain me why there are no salespoints for (soft)drinks after security screening? For sure they will be able to make some profit.
This airport is not airlinespottingfriendly for taking pictures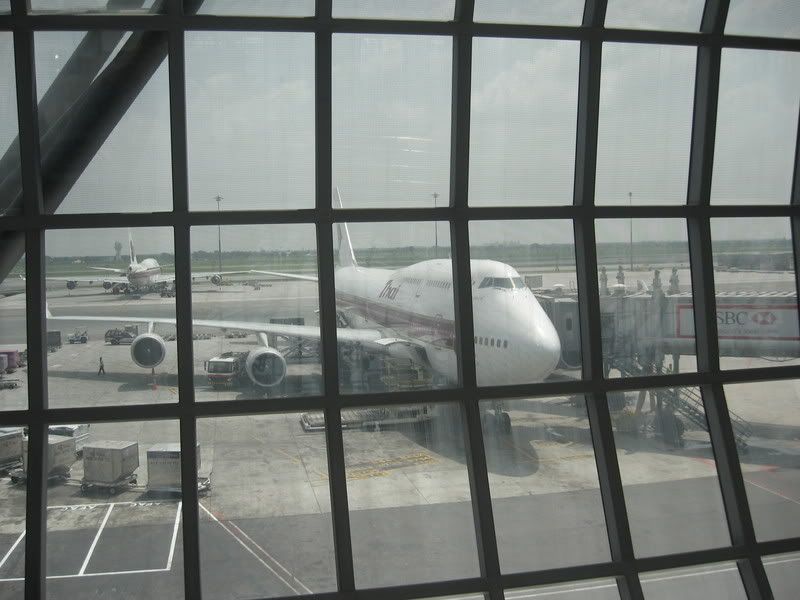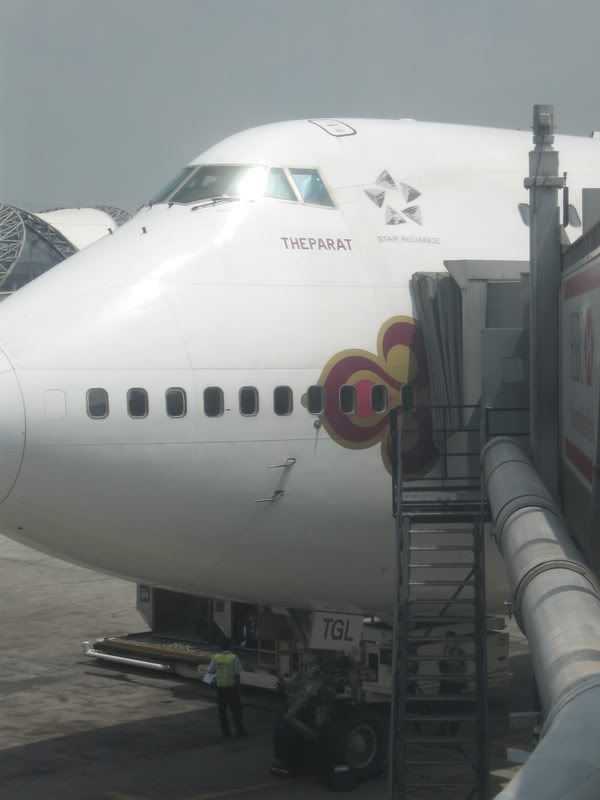 Nice view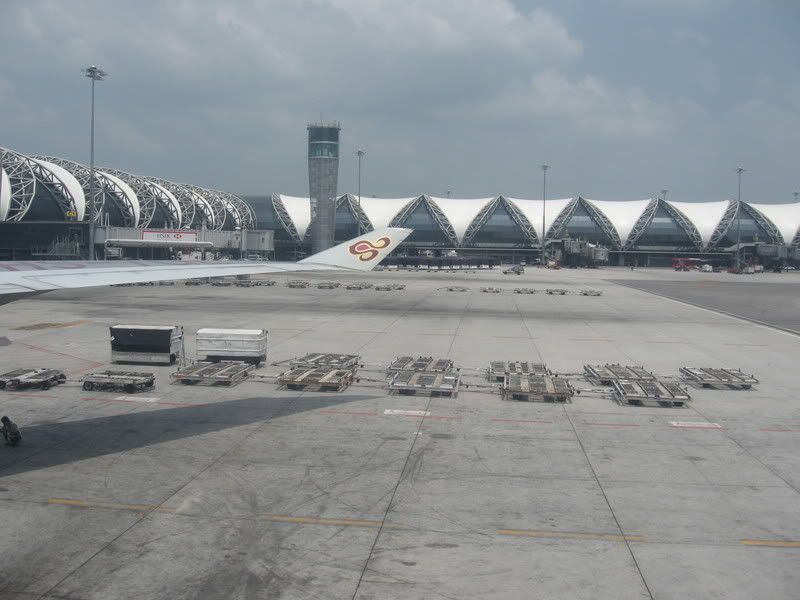 My favourite budget airliner;
There is the airline where I will be flying to Hong Kong with;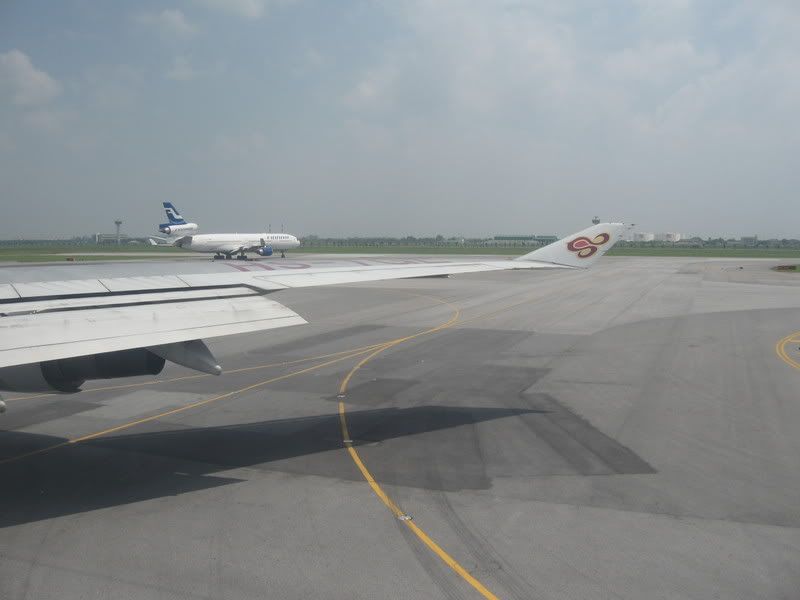 October 12, 2008
Bangkok (BKK) - Frankfurt (FRA)
Flight number; TH0922
Departure; 11:55 (12:25) - 18:10 (18:25)
Aircraft: Boeing 747-400 (HS-TGL)
Load Factor: 85%
Seat: 69 K
I was one of the last people to board, personally, if you have a seat number, I don't understand why everybody wants to board at the same time, I will just relax in the gate area waiting till the big rush is gone and everybody boarded the plane.
There were a few people on connecting flights late, so we departed a bit after planned departure time, but this is not too bad since I had enough connection time in Frankfurt.
Take off; Sukhumvit Road naar Bangkok.
Getting in the clouds soon;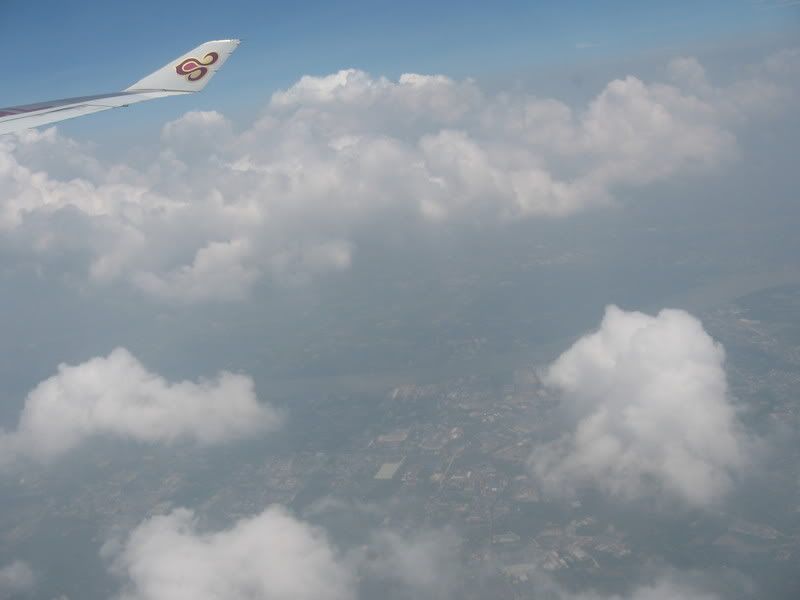 The meal service lunch;
There is not much to do with no inflight entertainment, they did play some movies, but on a far away screen it is hard to really get into it. A day flight in my mind takes longer then a night flight, since I found it difficult to sleep.
The onboard staff try to let you lower your window, but since it is a dayflight and I am having a window seat this will not happen. I understand you might want to lower some windowblinds so the TV screen is better visible, but there is no reason for all the window blinds to be lowered.
Somewhere inflight where at least something else then clouds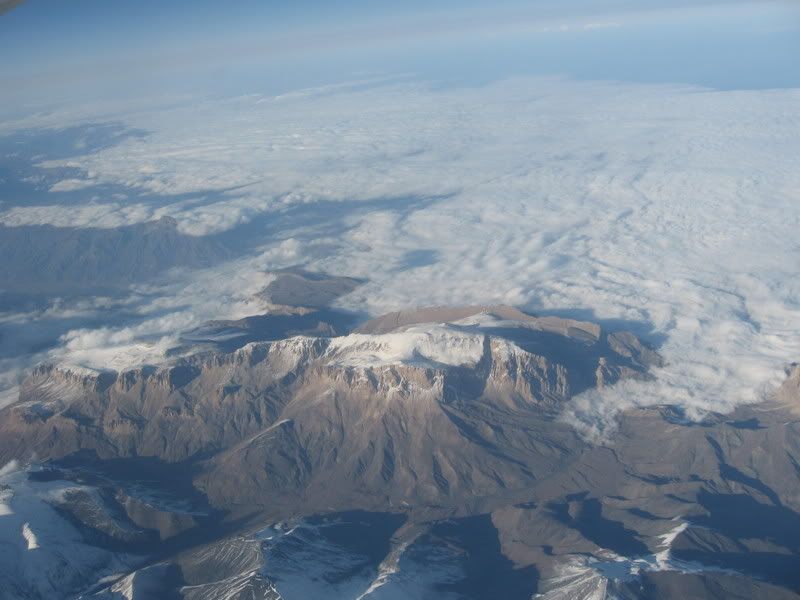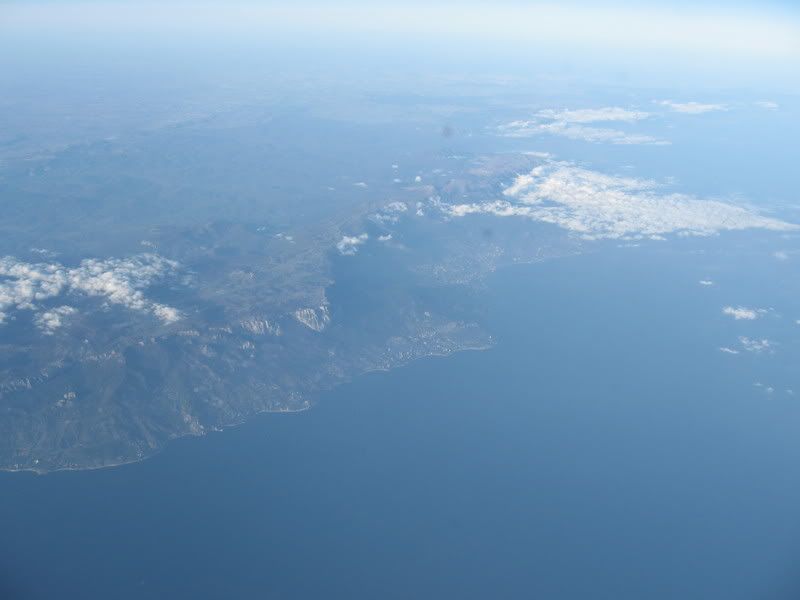 The meal service dinner;
Yes I was dissapointed, this was the exact same fruit platter as I had for lunch. Most airliners actually try to give u something different.
The taste was good though, and for me fruit and yoghurt is the only thing I can eat onboard an airplane, a hot meal my stomach somehow just can't stand....
A bit foggy on approach to Frankfurt;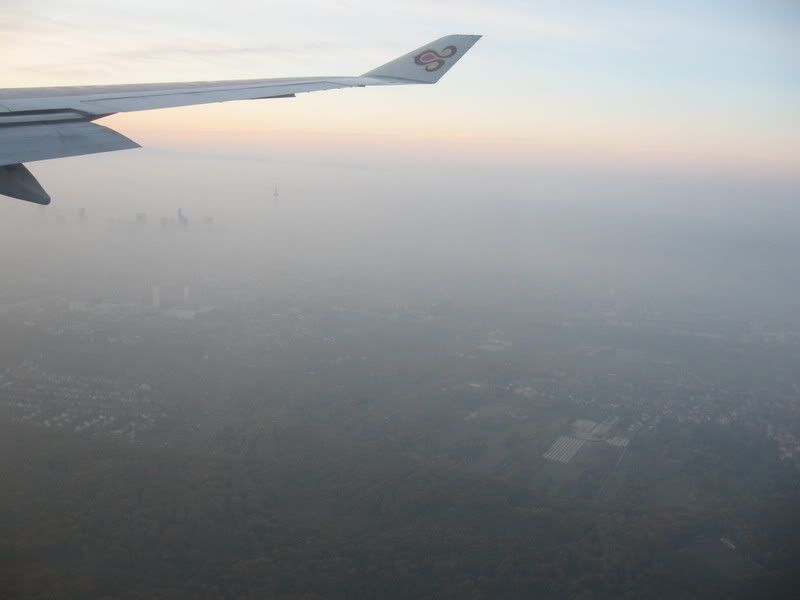 Touchdown
The flight arrived a bit behind shedule, now I really was happy with my flight back to AMS later that evening, rather then the train, since the last train leaves at 19.25, and while it is possible to catch the train, it will cause some stress while waiting for your bag.
I relax waited until about everyone deplaned, and I made my way to the terminal, since you arrive from an 'high risk' country for illegal immigration there are borderpolice checking passports right at the gate, although they are selective who has to show their passport, and when you are european appearance you just walk by.
At the actual passport check point it was busy, but as normal in Europe, if you have an EU passport, they just have a quick look and you are on your way.
I had some 2 hours to kill until my next flight, so I walked around, get my boarding pass hassle free at one of the many lufthansa desks, eat some dinner at the MC Donalds before heading to my gate. (A30 gate, so it took me longer then I thought from terminal 2 where MCD is located.
Not many passengers;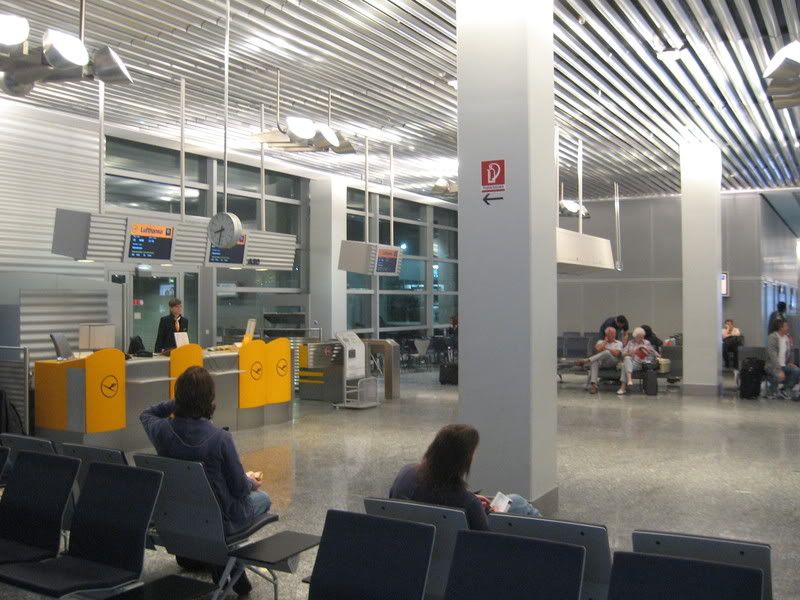 My last picture;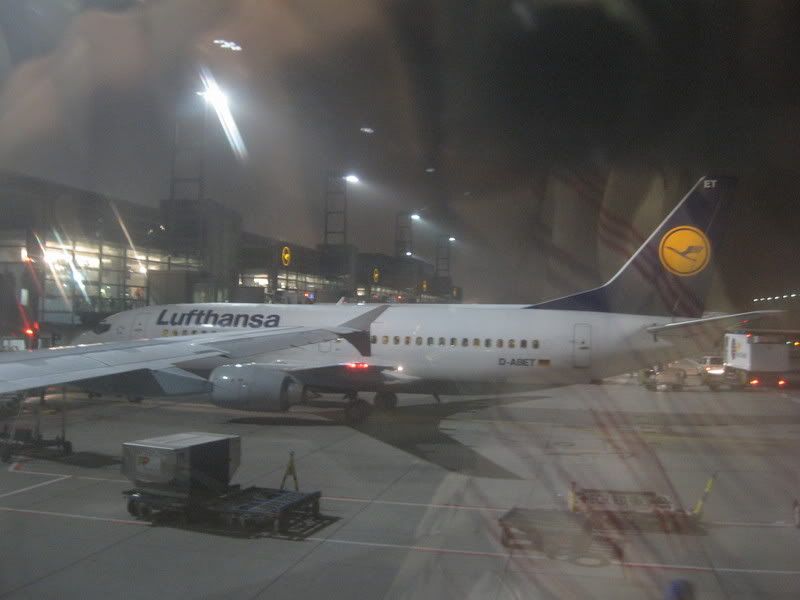 October 12, 2008
Frankfurt (FRA) - Amsterdam (AMS)
Flight number; LH4688
Departure; 21:10 (21:30) - 22:20 (22:35)
Aircraft: Airbus 320 (D-AIQD)
Load Factor: 27%
Seat: 28 A changed to 26 F
On board, I realised the flight was really lightly loaded, and 28A is not the best window seat, and since 26F was free I changed to there.
42 people to board can go quite quick, boarding started at 21:00 and was completed 21:10. We only had to wait 20 minutes for pushback, hence the slight delay.
The flight to Amsterdam was quite uneventful, normal drink and candybar service. When landing in the evening at Amsterdam you most likely land at the 'Polderbaan'. This was the case, and by earlier landings I know it would take about 10-12 minutes to the gate.
Lufthansa is probably on a fuel saving program, and they managed to take 21 minutes to the gate.... As it was late at night this annoyed me a bit, they were really taxiing slow....
All in all this flights where okay, Frankfurt is a nice airport, albeit a bit pricey, 3,90 euro for a bottle of soft drink after security is daylight robbery, but it looked well organised and nowhere I had to wait long for anything.