For this trip, I had bought bus tickets with Megabus, but after finding a great deal on LAN.com that I simply could not refuse ($55 + 80 in taxes = $135 total r/t), my third and fourth flights of the year came to fruition, and on a LAN Airlines Boeing 767 to boot! Perfect.
Booking was swiftly done through LAN's straightforward website. I was able to choose the seats through the website, and luckily enough, there were two window seats left. I chose Seat 35A, which gave me a less obtrusive view, with the wing still visible. A small happy-dance ensued. Just kidding! I was still happy though. After all, how often do you see a South American carrier flying between North American cities, and that with 767s?
Fast forward to the day of the flight. After attending a morning Anthropology class at 9AM, which is the only class I have on Thursdays, I went back to my residence and speedily packed my small messenger bag with clothes and toiletries that would keep me fresh for the three days that I would be in New York. Tedious, but exciting at the same time. After that is done, I was off to the airport on Mississauga Transit with a connection on GO Transit, which is way more convenient than taking only Mississauga Transit to the airport, which I vow to never do again. Thanks to GO Transit, I got to the airport within 40 minutes of leaving the campus.
Unfortunately, I wasn't sure whether or not the GO Transit bus went to Terminal 3 (Mississauga Transit doesn't), so I got off at Terminal 1 and had to take the LINK Shuttle Train to get to the check-in counters for LAN. The LAN counters were located at the edge of the terminal, and was staffed by 3 people. I arrived approximately 2 hours and 45 minutes prior to scheduled departure time, and the check-in line was quite deserted. The ground crew were friendly and reasonable, keeping a smile on their faces. One person standing next to me was also flying to JFK, she had said that she found out about the airline while searching for NYC flights online.
After that was done, I went to get precleared at US Immigration. The whole process was unbelievably fast and convenient. This time, they decided to stamp my passport (they didn't last time, wonder why?)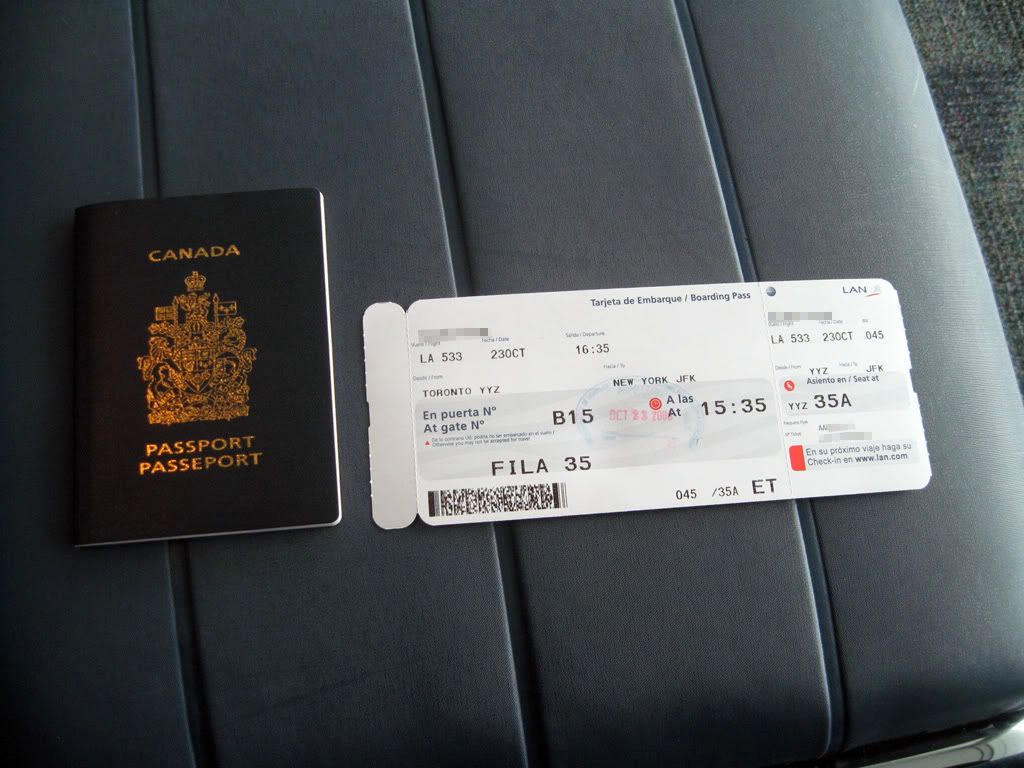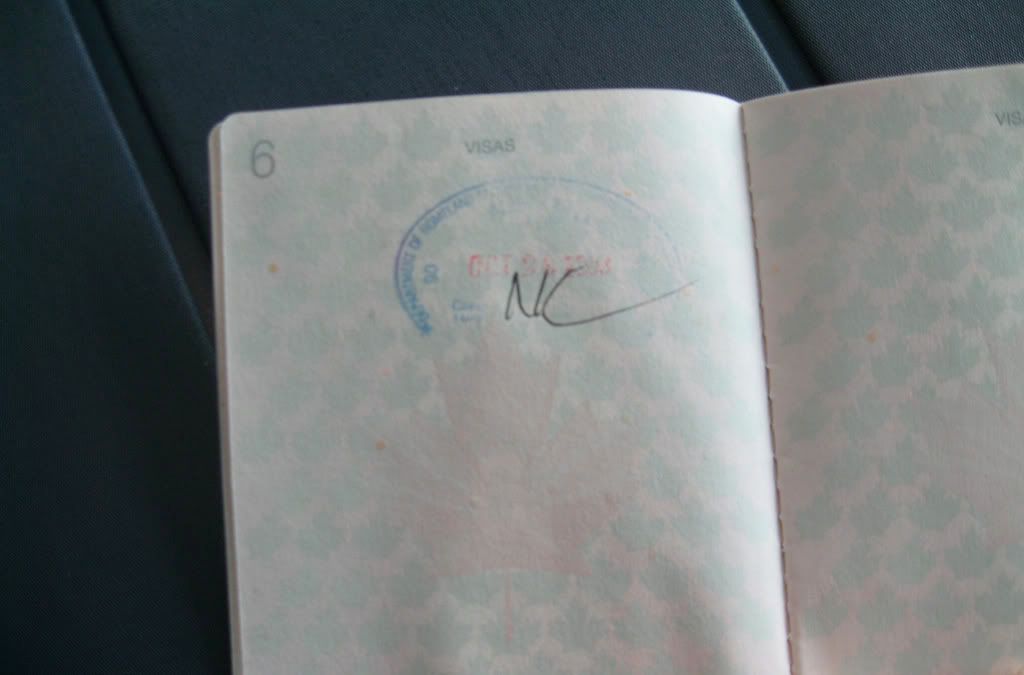 I wasn't looking forward to spend time in that dull, secluded wing of the terminal that only has a news shop, a grill/bar, duty free and an overpriced sandwich shop. Nothing really interesting to spot either, especially during that time of the day. So, I bought a copy of MAD Magazine to alleviate my boredom... For 30 minutes.
Finally, boarding time! One problem though, we're not actually boarding, and my naivete in believing that boarding would actually occur that time was realized. However, the actual boarding time didn't deviate that much from the planned boarding time, so I didn't mind. As usual, the business class passengers and OneWorld high-tier members were allowed to board first, followed by the rearmost rows of economy class.
Flight Facts:
LAN Airlines flight LA533
YYZ-JFK (with continuation to SCL and EZE)
23 October
Depart: 16:35, Arrive: 18:20(ish)
Boeing 767-316/ER CC-CZT
Seat 35A
Upon boarding the aircraft, I was pleased to see that the aircraft, CC-CZT (delivered in 1998) was equipped with updated interiors and new seats. The business class looked inviting, but alas, I wasn't able to come up with the $1000+ they wanted to charge for it. Hey, I guess economy isn't bad after all, considering that the seats in economy were still very comfortable with a fantastic AVOD system equipped.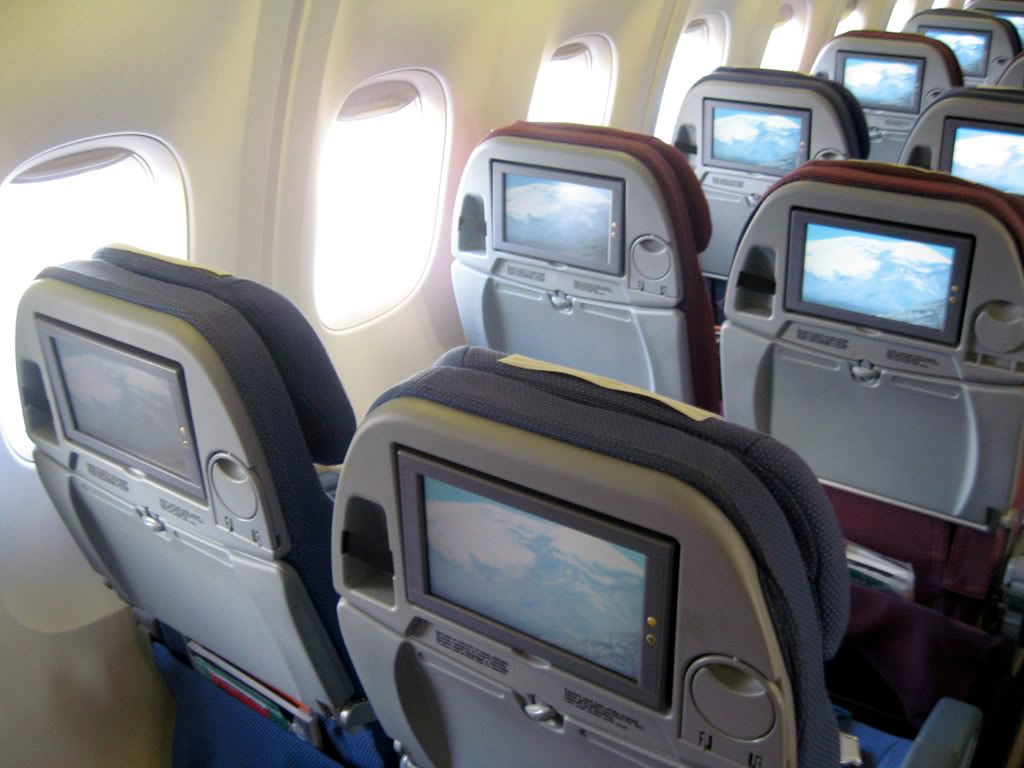 The boarding processed finished and everyone was seated after a rather lengthy time of people standing up and talking to their travel companions that were seated away for them. A *lot* of people (and I mean it) had oversized luggage that had to be moved somewhere else. It was rather chaotic. Makes me wonder why they can't check that before boarding the plane.
We took off facing the East, and we were treated to a nice view of Toronto's suburbs. The AVOD system turned on a few moments after, and flight attendants began to prepare for the drink and snack service. Can't believe that they would actually serve snacks on a short flight like this!
The snack consisted of a tasteless sandwich with only cheese and lettuce. Yuck! At least they tried, and that's what really matters on a short flight like this, where other airlines probably wouldn't bother providing a single peanut. I got some Ginger Ale as well. The people ahead of me got free wine. The service was fair. Not as friendly as the flight attendants from my previous American Airlines flights on this route, but they were prompt.
I began to explore the intuitive entertainment system, which happened to be touch screen. The selection was fairly decent, much better than I had expected. Prior to this flight, I have used EVA's AVOD system, and I can say with confidence that LAN's system is miles ahead.
The comedy section alone (Which is pretty much the only section I care about, other than the inflight map) had over 16 selections. Not bad, not bad at all. A short Just For Laughs skit was suitable for a flight of this stage length.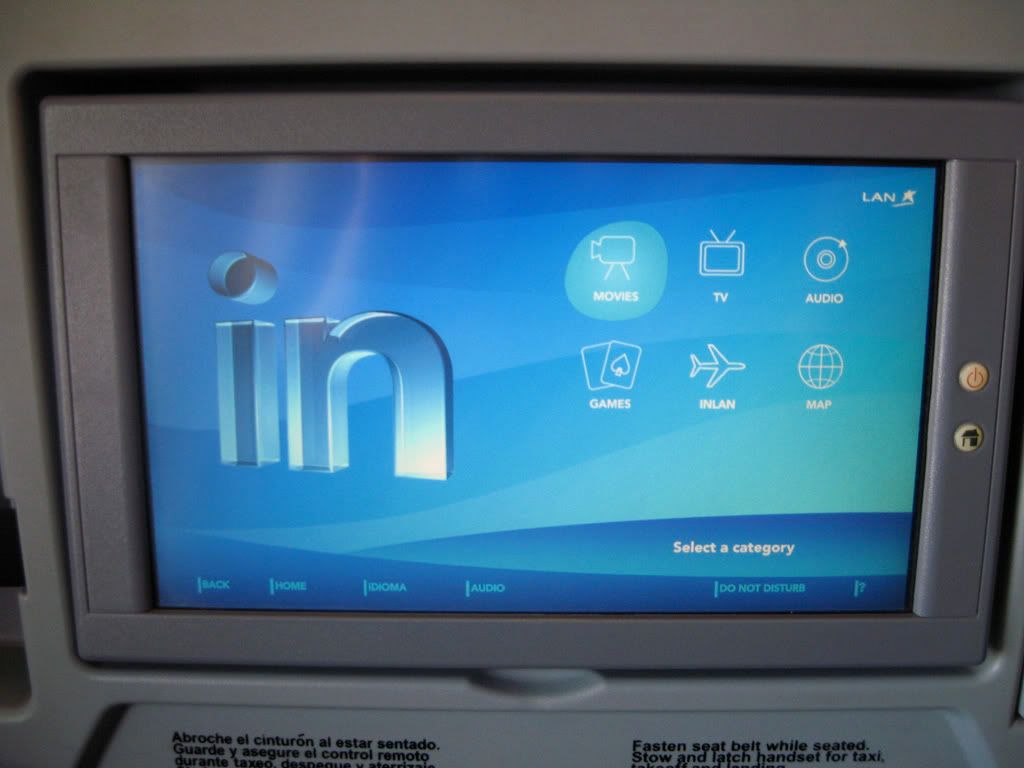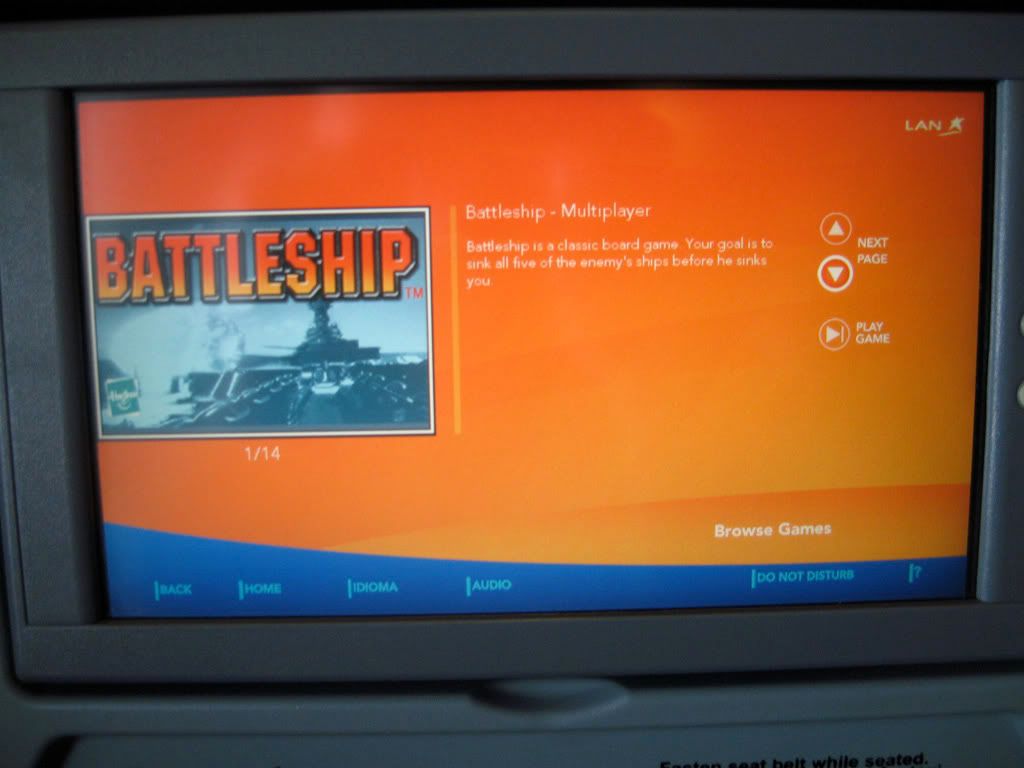 As the snack service finished, the sun was setting and we were treated to a nice view of the Adirondacks.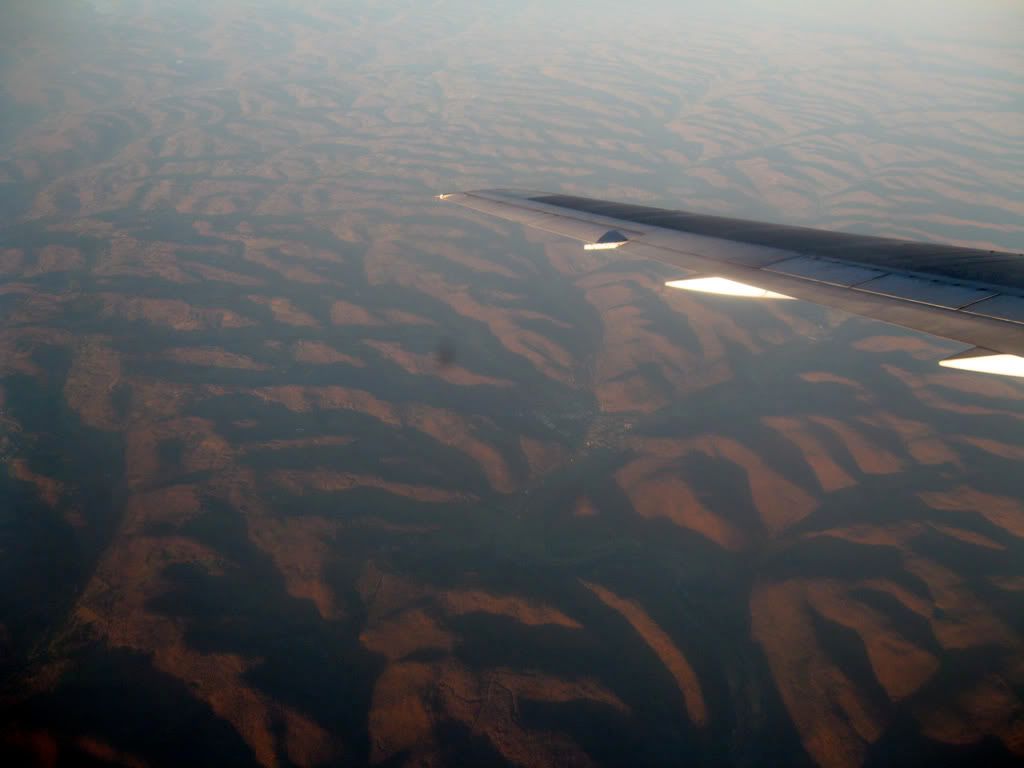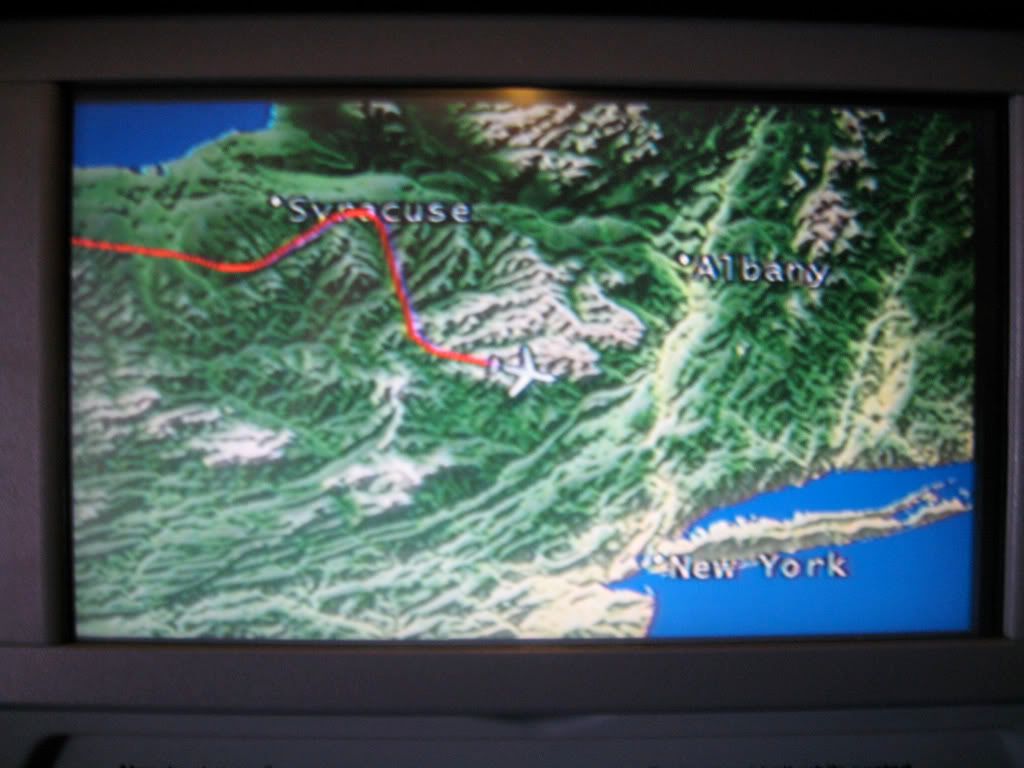 My seatmate was a middle-aged guy wearing business attire. To say that his behavior during this flight was unusual would be an understatement. He kept on compulsively attaching and detaching the cup holder, and kept on pulling and releasing that rubber strap located to the left of the screen (what is the purpose of that thing anyways?)
Time goes by so fast on such a fantastic, long-haul equipped aircraft, and we began to descend towards JFK. The captain announced that we were put on a holding pattern that we would stay in for 20 minutes, due to congestion. What can I say, other than "par for the course!" We flew over Manhattan, and circled around the Atlantic, approaching over the Rockaways. Here's the video of the landing. Sorry, Airliners.net won't let me embed the video.
http://www.youtube.com/watch?v=Rh85ChZOArM
As we touched down, my seatmate's cellphone rang. That totally ruined the mood of my video.
Upon landing, the flight attendant gave the usual post-landing announcement and informed us that we were allowed to use cell phones, but not other electronic devices. Hmm, I wonder how that works.
We taxiied towards Terminal 4, and I got to see jetBlue's fantastic new terminal. Brilliant. After a lengthy disembarkation process, I took the AirTrain to Howard Beach and took the uber-speedy A Train to Chambers street and took the 3 train up to the Upper West Side, where I would be staying for the next two days.
Overall, it was a great flight, especially for the price that I paid. Sometimes, you get more than what you pay for!
Thanks for reading. The return trip will be posted in the near future, schedule permitting.