On the Malaysian Airline System, is where I had my first taste of true in-flight service a few years ago. However since then, and when I had started keeping current on this airline's happenings, things began to go downhill on the management side, as we all know of course. From concerns on selecting which million dollar painting should be hung in their headquarters, to paying millions more on consultants for doing the most pathetic work one could ever imagine, who cared if the Buenos Aires route was a loss maker? What's more important, was ensuring that catering loaded an adequate supply of Don Pérignon on that flight since management was flying there on a regular basis. Yes, life was a party for MAS once upon a time and simply put, this airline had a lot of dirty laundry, whereby the money loss was only a small part of the bigger picture.
Thanks to Mr. Idris Jala however, he managed to clean things up, and bring MAS back to the money-making entity that it is today. Some may chuckle at my stating that statement, but in reality he managed all obstacles with the best of his abilities, and you cannot deny that. Sadly however, what holds in the future for this airline, is something yet to be seen. After all, this weakling is being constantly bullied by its long-lost progressive twin, the neighboring you-know-who, and that is not an easy challenge in today's world. But one thing that MAS has managed to rigorously hold on to and claim its own, is its infamous in-flight service. And rightfully so, with or without the awards, everyone who's flown them before knows what I am talking about.
It has been ages since my last MAS experience, and this opportunity had me excited as I glanced through the memories of some of my best flying experiences between Dubai and Newark. Fly any other airline in the world and you will never be treated as First Class, all the way in the back of the bus! Yet the MAS experience has these sudden tiny outbursts of perks that, while traditionally unheard of in the industry, can blow your mind away for years to come! For this alone, Malaysia Boleh!
Welcome to my 10th Trip Report.
This TR will cover the following areas on my trip to Malaysia, on Malaysia Airlines Golden Club Class:


- DXB-KHI-KUL A330-300 (KHI=Transit stop only)

- KUL - DXB - (BEY) A330-200 (This flight continues to BEY)

- An extensive picture report of KLIA

- Sightseeing pictures around Kuala Lumpur

My previous trip reports can be found here:
Pearls & Diamonds: Inspired By Etihad Airways
(by
Ronerone
Sep 12 2008 in Trip Reports)
The Future Has Arrived: EK A380 Inaugural Flights
(by
Ronerone
Aug 4 2008 in Trip Reports)
Syrian Special Performance, Featuring Sam Chui
(by
Ronerone
May 23 2008 in Trip Reports)
This Is Royal Jordanian!
(by
Ronerone
Apr 12 2008 in Trip Reports)
Ultra-Competitive, Ultra-Long Haul: EY Vs EK
(by
Ronerone
Mar 21 2008 in Trip Reports)
Suvarnabhumi, The Etihad Way!
(by
Ronerone
Jan 18 2008 in Trip Reports)
Cathay Delight: A Trip To Asia's World City
(by
Ronerone
Oct 5 2007 in Trip Reports)
Etihad: Pearl 2 AMM, Coral Right Back Pt 2 PixVidz
(by
Ronerone
Jul 5 2007 in Trip Reports)
Etihad: Pearl 2 AMM, Coral Right Back Pt 1 PixVids
(by
Ronerone
Jul 4 2007 in Trip Reports)
CX: JFK-HKG-DXB In Y A346/772 (Lots Of Pics/Vids)
(by
Ronerone
Aug 28 2006 in Trip Reports)
Please excuse the pictures in the first portion of the report as they seemed a little 'off' to me, and I think it is time I got a new digital camera. However 'Big Ben' (my big camera) comes out to play later on hence, improving the picture quality in the last portions
This was a business trip to attend the 14th World Route Development Forum which was held in Kuala Lumpur this year October 12th to 14th.
In selecting the appropriate flight to KUL, an early arrival time was a major factor in the decision making process. Coupled with the fact that I was a bit 'bored' with Etihad, I had the other two options of Malaysia Airlines and Singapore Airlines to choose from. Curiosity had my hopes for the latter, but flights from Dubai were sold out on my travel date (AUH flight arrives too late). Better yet, when I discovered that on that day, the Malaysia Airlines flight to KUL stopped in Karachi, my search for the optimal route had come to an end; MH it was! As for SQ, I think I can leave it for the day I can afford flying the A345 to EWR.
Thursday October 9th 2008
I left the house for Dubai at 1:40pm. I had to stop at the office on the way to pick up my laptop, which I had forgotten there due to the mad last minute rush earlier that morning. After the casual drive to Dubai, I arrived the airport long-term parking garage at 4:30pm, where I had dropped my car, and then proceeded to the departures hall.
I looked around for a porter to help me with the two suitcases and one box filled with work things that I was carrying. However, this turned into a rather extensive project because there were no porters in sight. When approaching one of the newly assigned airport helpers wearing the red "May I Help You?" t-shirts, I was told to "just look for them outside by the trolleys somewhere." Eventually, after lurking the curbside like a lost cause, I finally got a hold of one, who took over my cargo responsibility.
Going through security, I arrived the check-in desks at around 5pm. I handed the DNATA agent my ticket and passport, and had the luggage placed on the belt.
Malaysia Airlines Check-In Counters
I enquired about whether I could earn Etihad Guest miles on this MH flight, but unfortunately this was not possible, as FFP mileage between the two carriers is only accrued on specific codeshare flights. Carrying on, the agent informed me that I had an extra 25kg of weight over my 30kg limit, and I had to pay for 20 of them. Having no choice, I agreed to pay the amount and had to proceed to the 'Excess Baggage' counter to pay before I could receive my boarding pass.
After a good 15 minutes had passed, I was finally handed back my passport and ticket, and given my boarding pass and lounge invitation.
Boarding Pass
Lounge Card
Going through immigration and security, I had arrived the main airside building by 5:30pm. It was rather quiet at this time, as it wasn't during the crazy peak-hour. This time around, I decided to skip the lounge as it was nothing I hadn't seen before, and walk around the terminal, and then head to the gate early.
Dubai Duty Free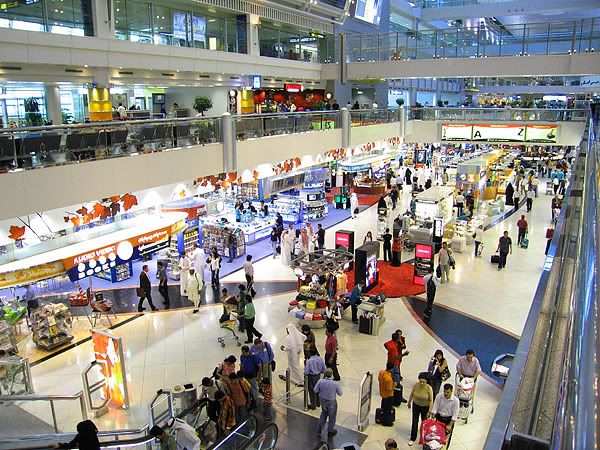 On My Way To The Gate
By 5:50PM, I was at Gate 128. I approached the DNATA agent and handed her my boarding pass. She tore off her larger portion and handed back my stub, after which I proceeded inside the holding area. Taking a quick glance around, I could tell that the load on tonight's flight was to be quite light, and maybe not more than 70%.
Moments later, a quick look outside the window reveals 9M-MKE pulling in as MH160 inbound from Kuala Lumpur and Karachi. I have to admit, the MH livery while simple, is absolutely sharp. Then it suddenly hit me, I was really flying MH again!
9M-MKE At The Gate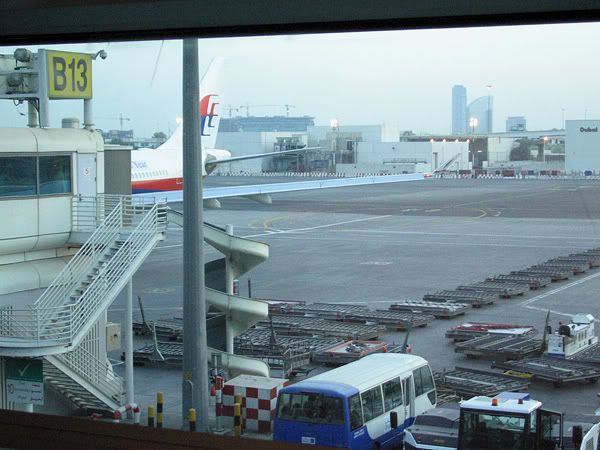 Gulf Air A320, soon to Bahrain
The Holding Area
At around 6:00pm, the crew boarded the aircraft, and it seemed that we would be slightly delayed as departure time was only 40 minutes away. At 6:35pm, an announcement was made calling for all passengers that require assistance to board the aircraft. This was followed by economy class passengers, and premium passengers were allowed to board at their leisure.
I gathered my belongings, and proceeded towards the gate and through the aerobridge. Turning left into the "First / Business Class" aerobridge, I arrived at door 1L, where the lead MH stewardess was standing, dressed in her pink kebaya. I handed her my boarding pass, where she took one look to see my seat number.
"Mr…..Hawi? Is it?"
"Yes it is"
"Welcome on board, seat 4G is down that way and to the right"
By 6:40pm I was on board.
CONTINUED BELOW