Feedback always appreciated.
Trip Report: 055
Flight Category: J-ISR (See Report End)
Date: 20 Sep-08
SDT/SAT/Dur/Delay: 1635/1830/01:55 hrs
Flight:
LAN LA 533
, 366 miles
Routing: YYZ-JFK
Aircraft: 763
Seat: Business "Premium Business", 1L
I > Background:
Having been stationed in YYZ on a client site for a month, I decided I needed some NYC love and booked myself a quick trip to New York on LAN's new tag on flight. It has been operational for 2 weeks and I was excited to see the loads and passenger profile.
A quick search on A.Net tells me that while I was the first to fly, HOONS90 was far quicker to write a TR on this segment. His excellent report can be found at
http://www.airliners.net/aviation-fo...ms/trip_reports/read.main/136103/.
However, this remains the first report on LAN's J class product between YYZ and JFK.
II > Pre-Flight:
a) Before Airport:
LAN is a Santiago, Chile based airline that has evolved from its strictly Chilean roots to become a pan-American entity. In a continent lacking consistent service, LAN has carved a niche by not necessarily providing amazing service … but by providing a consistent and reliable product that gets you from point A to B without any significant headaches. It is an extremely well-managed airline, and have some great staff members in its route planning and revenue management team.
The JFK-YYZ-JFK tag was added at the begin of September and is times to connect to various Latin American flights ex-YYZ. Air Canada already flies nonstop to LIM, SCL, and EZE … so I am curious to see how long the flight will last. However, since I have faith in LAN's route planning division, I will just have to accept that they must have done their route research.
Ticketing for the flight was done on the extremely well designed and easy to use LAN website at
www.lan.com.
The site is crisp and clear, and one can view their booking later and do modifications. Additionally, it allows online check-in and my biggest requirement, seat selection! Though, exit row seats cannot be selected for premier passengers.
b) At Airport:
LAN uses the first set of counters in the U.S. side of terminal 3 at Pearson International Airport. I was quite early to check-in and the counters were wide empty. There was a special line for Business Class and Elite fliers and I walked to it. It was very apparent that the agent was new to the job and did not quite know how to work the LAN system. I am a
Commodoro
member of Lanpass (their highest level … and yes, I think the title of the status is very pretentious), which is basically One World Emerald. As a "Commodoro", I am entitled to unlimited upgrades; however, this is only applicable on certain fare floors; and in case I haven't confused you yet, there are several routes where there are no fare floors. YYZ-JFK is one of those sectors where space available upgrades are thus possible. Only thing is, the agent did not know this and it took over 30 minutes and me connecting with my laptop to the LAN site to show her this. Since J was wide open, the agent was able to offer me an upgrade instantaneously and not at the gate.
After collecting my boarding pass, I went through the fastest U.S. pre-clearance at YYZ ever and was soon off to the American Airlines Admirals Club. The agent gave me one drink chit and welcomed me to the bare bone lounge. During morning banks of AA flights, I can only venture on how busy this must get. Anyways, since there were no internet terminals, I just used the time to run my mobile bill and catch up with my family and friends scattered around the world.
30 minutes prior, I walked to the boarding area. Business Class and elite members were called first and I seem to be the only one walking to the plane. Entering it, I realized why. I was the ONLY passenger in the entire 30 seat Business Class cabin. Now, I have flown several times before … but NEVER had I ever had an entire premium cabin to myself.
Anyways, as I smiled at being the only person in, the purser warmly greeted me and asked he could bring me anything. I chose some water, and one of the flight crews brought it instantly to me. One small thing though – the inflight magazine was missing from my seat front – isn't this a minor thing crew should check in a premier cabin?
J class load was thus 3.3% (1/30). Y load was around 50% … and interestingly made up mostly by passport holders from Canada, Philippines, China, India, and Korea. I am sure that the later 4 would have had limited exposure to LAN service without this flight; and LAN crew would never have normally encountered them either.
Airport - External:
(Toronto Airport – T3)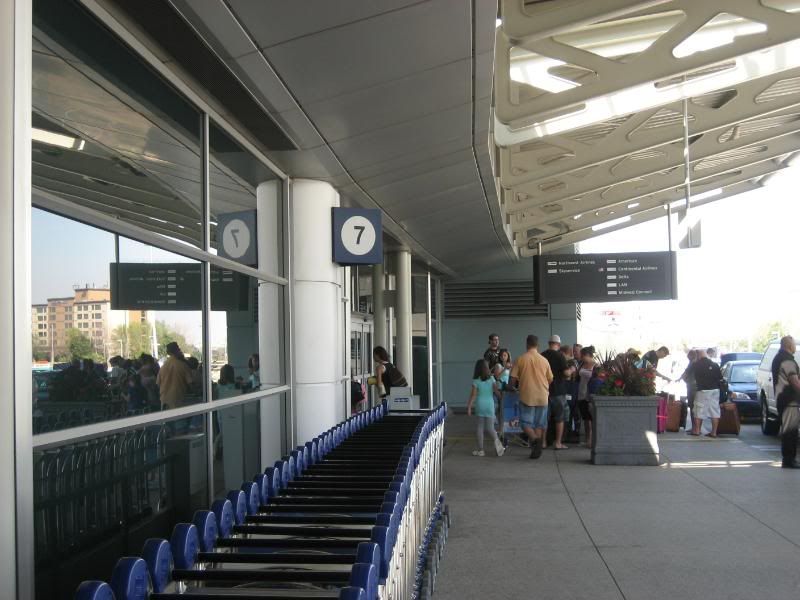 Check-in: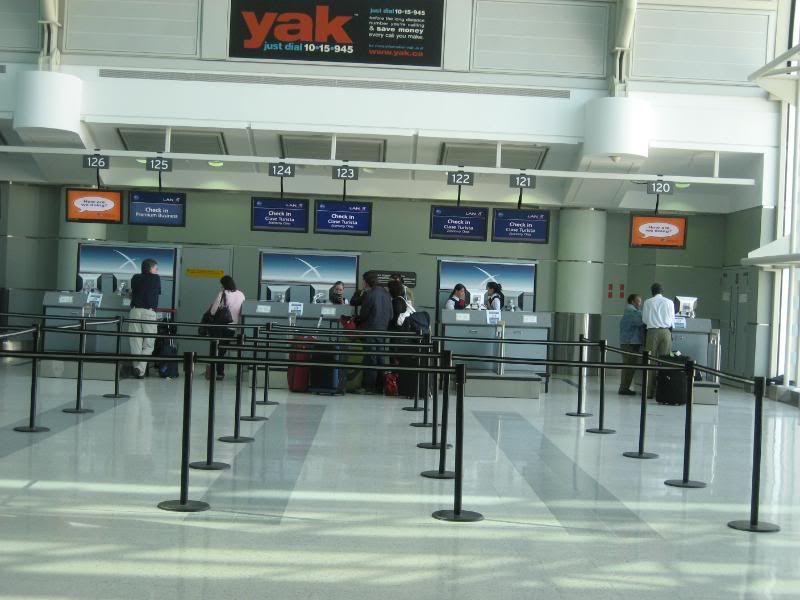 Airport - Internal:
(Pre-Security)
(Interesting collection of airline check-in counters)
(FIDS)
Scenes of the tarmac:
NONE
Lounge
(AA Admirals Club)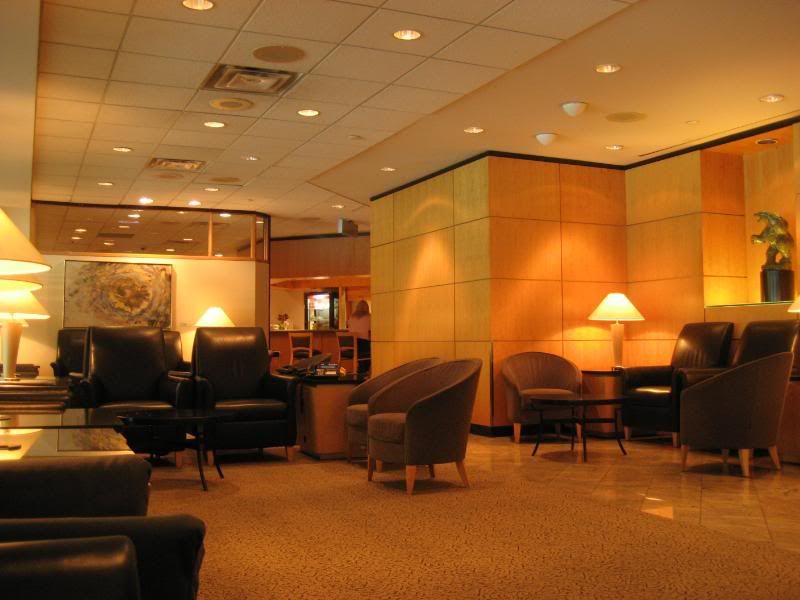 Boarding:
(Boarding called)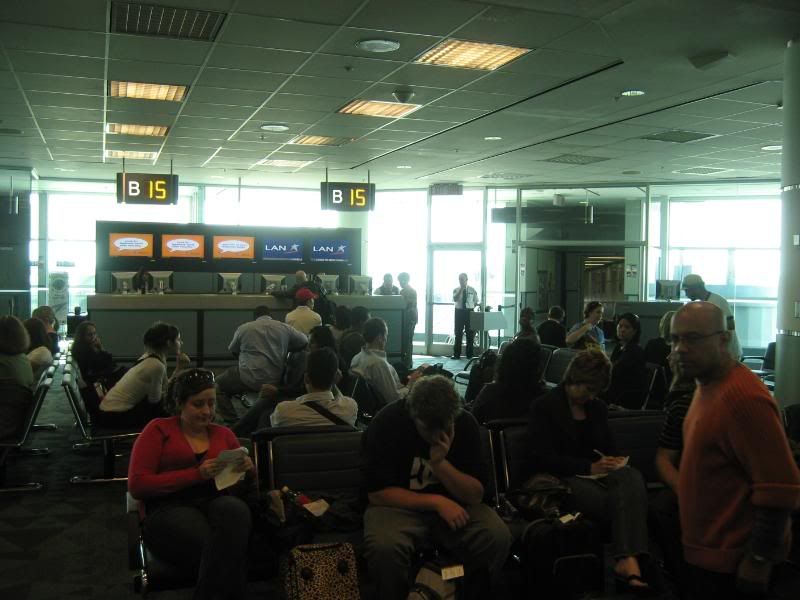 III> In-Flight:
a) Service Schedule + Impressions:
Drink service while on ground along with newspaper trolley. Cold towels after the fastest 763 takeoff I have ever witnessed … the super light loads must have helped. Headphones distributed immediately after take-off; and then, a sandwich and drink service.
b) Aircraft + Seats:
LAN has one of the better looking 763's out there. Inside, the J class cabin of the 763 was kept spotless by the LA crew. Even the bathroom was spotless (and it remained so, as I was the only user)! LAN has one of the top J class seats out there. It has ample legroom and is full-flat at the touch of a button. This full-flat position makes a huge difference and is VERY comfortable to fall asleep on. Moreover, the seat comes with some useful areas for storage, the useful power supply, and well placed seat controls. Pretty impressive overall, as I was comfortable in a myriad of positions (seated, reclined, in bed).
Aircraft:
(763 upon arrival @ JFK)
Views from Aircraft:
(Airlines at YYZ; amazing how charter and pseudo-charter have such high movements)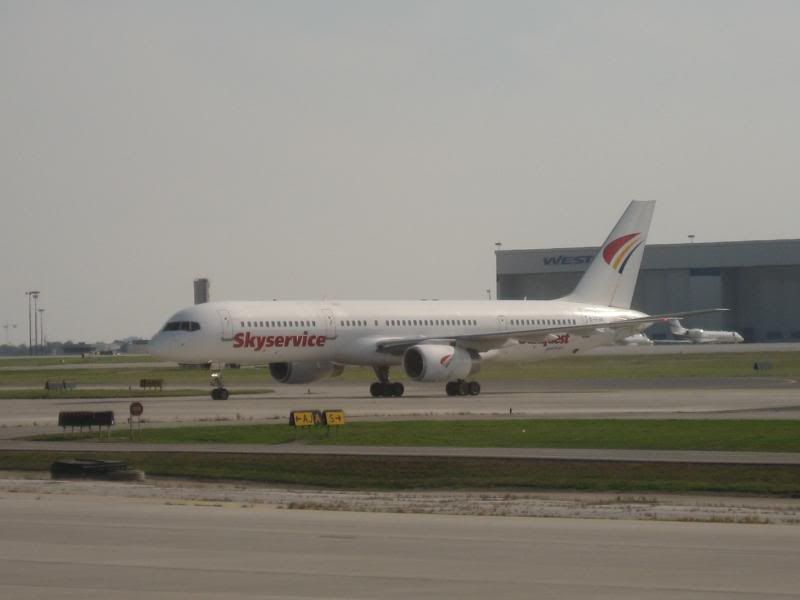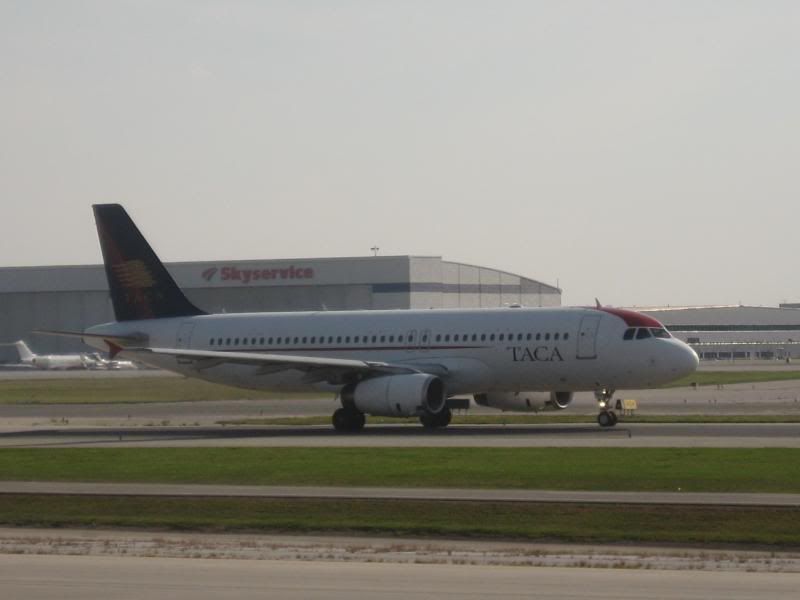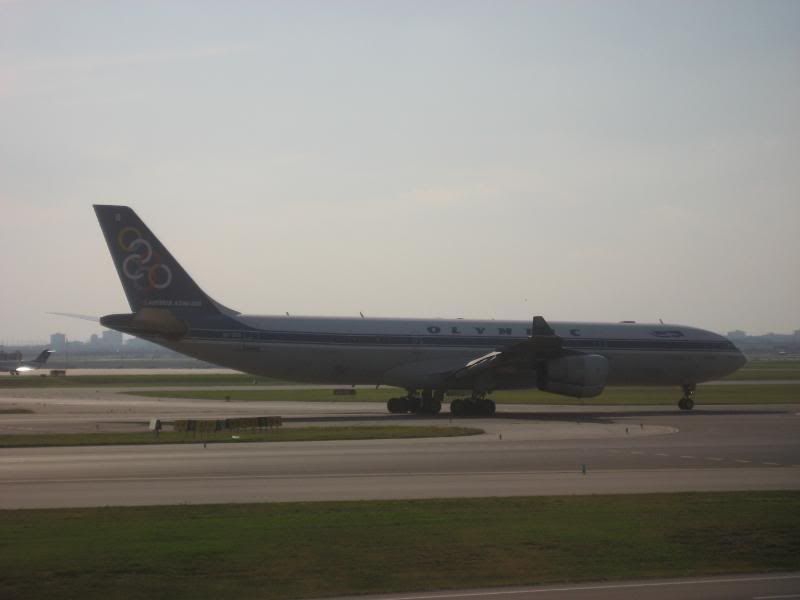 (Over the Niagara Falls)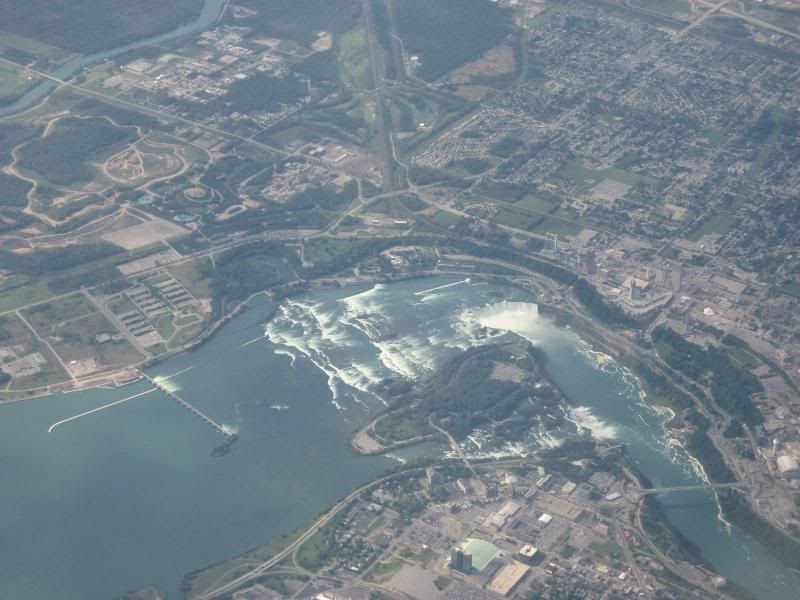 General Seat Views + Seat Legroom
(Interesting and very convenient pockets in seat)
(Power Supply)
(Controls – and place to plug in USB)
(Seat controls)
(Legroom)
Seat Recline + Angle View: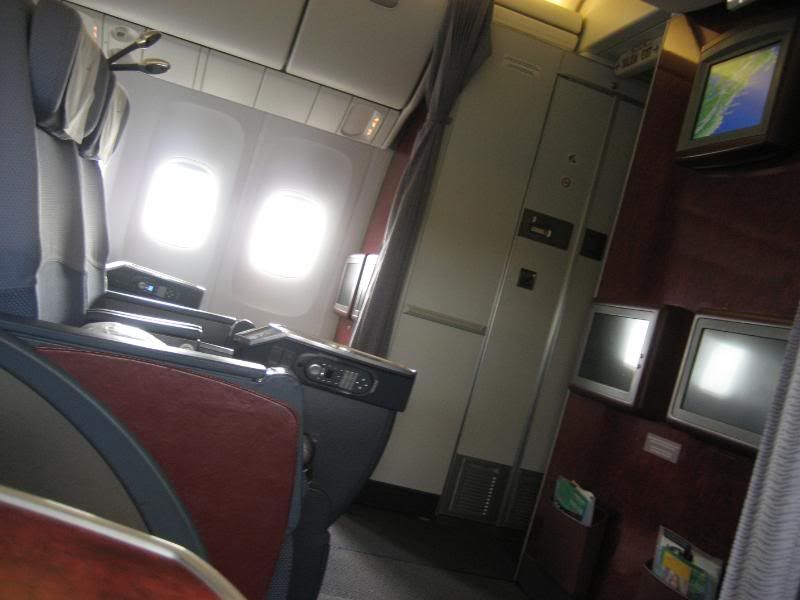 Cabin: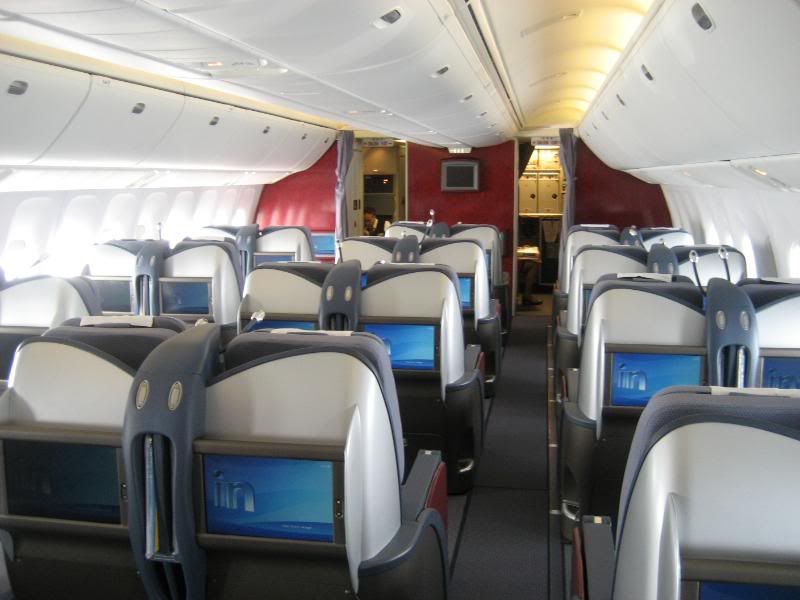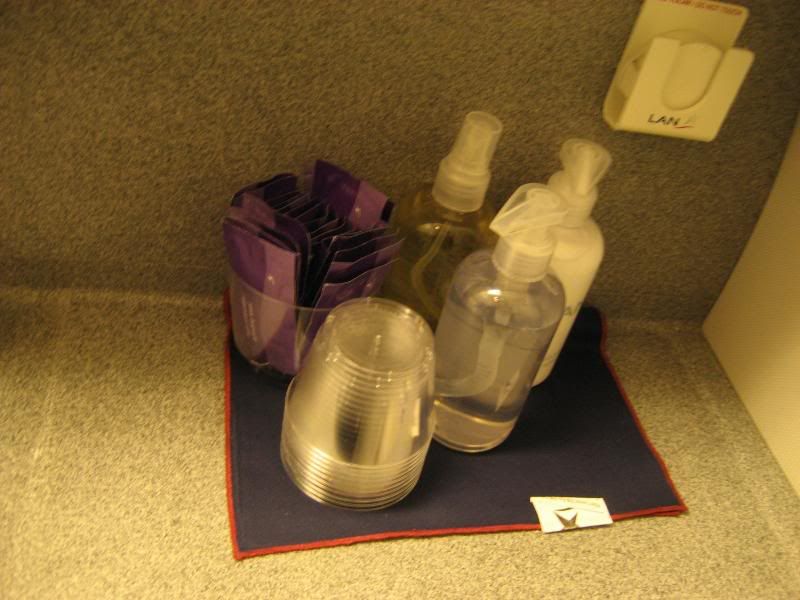 c) Meal + Beverage:
On the ground, the choice of drinks were orange juice and water. A sandwich service included two sandwiches and the crew came by several times too see if I needed anything additional. While no menus were distributed for this short flight, a full bar service was available, including a choice of great Chilean classics.
(Water on the ground)
(Sandwich and drink upon take-off)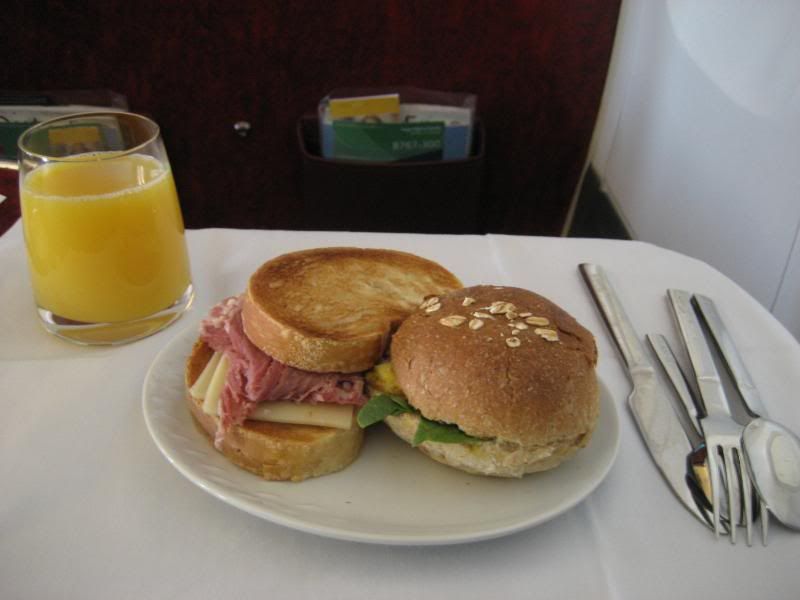 d) Inflight Entertainment:
LAN's "IN" inflight system got above high marks. It had a great selection of programs, including English and Spanish movies (several genres: total of around 30 movies), TV shows, Audio, Games, and Flight Info. The screen was huge and the resolution was great. Adding to this were quality headphones and a great nimble control mechanism. Additionally, LAN's inflight magazine was pretty good … and unlike other Latin carriers, their English articles were actually well translated and readable.
(IFE Welcome Screen – note the good quality screen)
(Impressive controls and headset)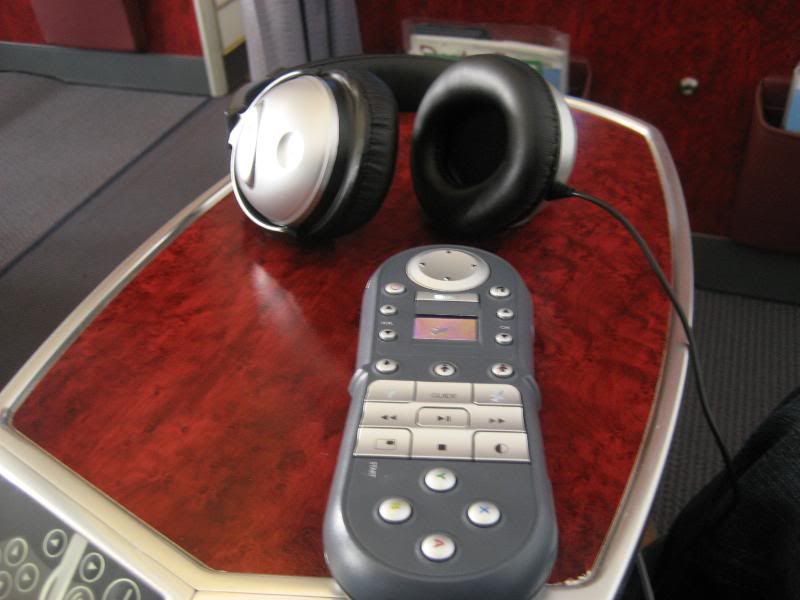 ("Dude, where's my inflight mag?")
("In-flight magazines", Boarding Passes, etc.)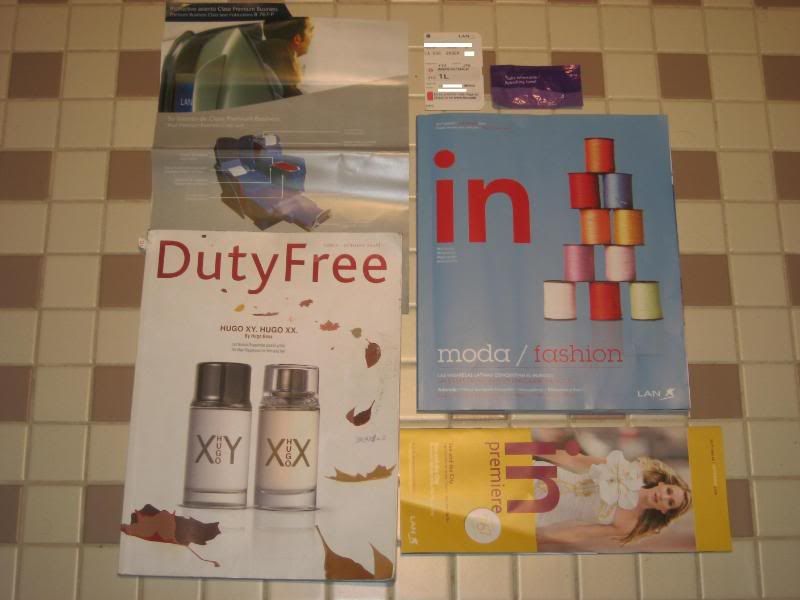 e) Crew:
I have had "issues" with LAN crew in the past; my major gripe with them was that they had become too "Lufthansa/SAS" like where warmth took a backseat to efficiency. This flight was completely different! From the moment I stepped onboard, the crew was actively trying to make my trip memorable. From being personally greeted by the purser to attentive service using my name, they earned high marks. Coming through the cabin periodically to check on me, plus the head purser coming and asking about the flight was all very good. Moreover, we had a pilot who must love his job … he kept on giving us a history of LAN, and told us to enjoy the LAN difference reminding how LAN does not charge for meals, headsets, drinks, etc. Additional bonus points for telling us that he would try to get us over Niagara Falls … and then showing it t us when we were over it. My only gripe was the crew's inability to speak even passable English. I even struggled with
IV> Post-Flight:
Having pre-cleared immigration (for the first time at JFK T4), I walked out and was off to the Air Train in a matter of minutes.
(Aircraft @ JFK)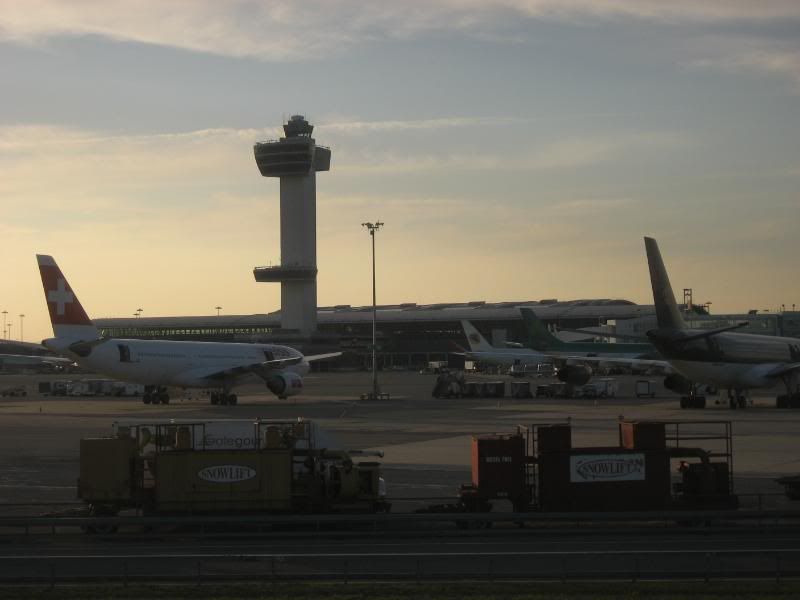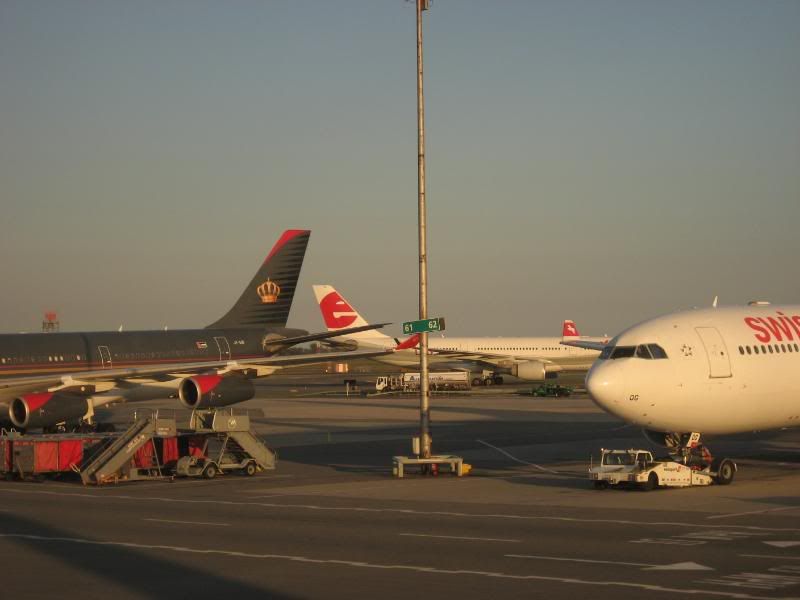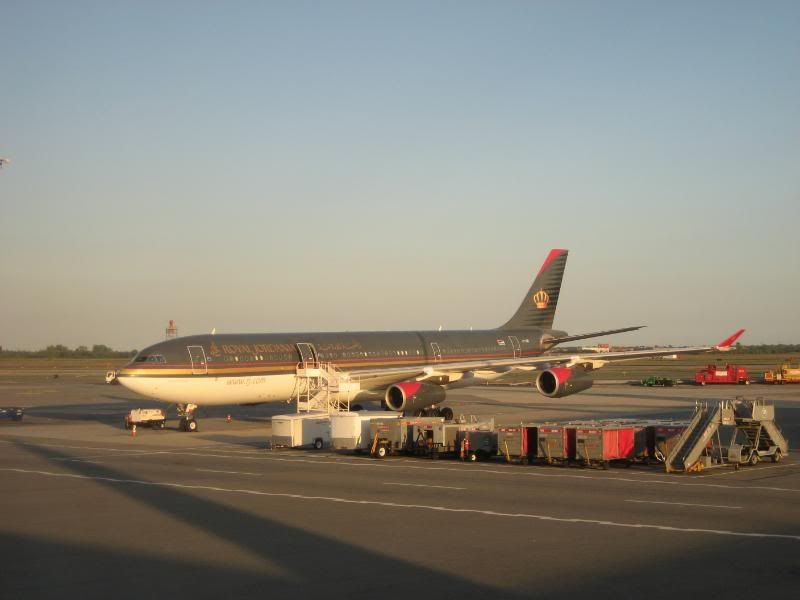 V> Impressions + Scores:
LAN's J class has clearly improved by leaps and bounds. While the LAN hardware may not set industry benchmarks, it is still one of the top ones out there with an amazing flat bed and a superb IFE. The short duration of the flight did not afford many opportunities to judge catering, but I was VERY impressed by the crew who were professional and had a warmth that was definitely lacking from my numerous earlier LAN experiences. Their smile was genuine and they truly enjoyed their first flight to YYZ (they do a JFK-YYZ-JFK turn). I really hope this is indicative of a major transformation of LAN towards a more service oriented company. As mentioned, LAN might not be a world benchmark airline; however, it still is probably one of the best carriers out of Latin America. Definitely would fly them again … especially if in their excellent Business Class.
1.0 > RESERVATION: 9.0
2.0 > CHECK-IN: 5.0
0.5 > LOUNGE: 5.0
0.5 > BOARDING: 8.0
2.0 > SEAT: 9.0
0.5 > AIRCRAFT OVERALL AMBIENCE: 9.0
1.0 > IFE: 8.0
2.0 > CREW: 8.5
2.0 > FOOD: 6.0
0.5 > BEVERAGES: 7.0
0.5 > A.KITS + OTHER FREEBIES: 5.0
0.5 > DISEMBARKATION: 9.0
1.0 > ON-TIME RECORD: 9.0
WEIGHTED OVERALL IMPRESSION (WOI): 7.46
(Pre-flight WOI of all reviews: 6.41)
* Weighted Overall Impression (WOI) aligns scores with what matters most. Weights are indicated alongside each category.
(Scores are based on comparison with other airlines in THAT class of service – No comparison of Y vs. F for example)
VI> Other Trip Reports:
PREMIUM:
8.61:
Air Canada (49): YYZ-SCL: 06/2008
8.11:
Aeroflot (33): MOW-DEL: 09/2007
8.04:
Korean Air (40): NRT-ICN: 10/2007
8.02:
Delta Airlines (24): JFK-CDG: 08/2007
7.46: LAN (55): YYZ-JFK: 09/2008
7.82:
Singapore Airlines (06): EWR-SIN: 09/2006
7.14:
Swiss (52): SCL-GRU: 06/2008
6.93:
Delta Airlines (18): SEA-JFK: 11/2006
6.81:
Air Canada (17): ICN-YYZ: 10/2006
6.70:
KLM (32): EBB-AMS: 08/2007
6.25:
Korean Air (45): NAN-ICN: 10/2007
6.11:
TAP Portugal (53): GRU-OPO: 06/2008
5.75:
Singapore Airlines (16): CCU-SIN: 10/2006
5.64:
NorthWest (46): ICN-NRT-SEA: 10/2007
5.39:
LOT (54): WAW-JFK: 06/2008
4.42:
Air France: CDG-JNB (25): 08/2007
ECONOMY: Long + Medium:
9.26:
Air India (48): JFK-DEL: 02/2008
7.38:
Avianca (01): BOG-LIM: 07/2006
6.26:
Jet Blue (21): CUN-JFK: 02/2007
6.06:
Air Canada (04): YYZ-YVR: 09/2006
5.89:
USA 3000 (19): PUJ-BDL: 01/2007
5.79:
Air New Zealand (42): RAR-NAN: 10/2007
5.46:
TAP Air Portugal (23): OSL-LIS: 05/2007
ECONOMY: Short
8.56:
Paramount Airways (38): BLR-MAA: 09/2007
8.24:
Kingfisher (14): IXA-GAU: 10/2006
7.87:
Indian (34): BOM-MAA: 09/2007
7.72:
Alliance Air (13): CCU-IXA: 10/2006
7.57:
Indian Airlines (10): DEL-CCU: 09/2006
7.23:
West Jet (03): YYC-YVR: 09/2006
7.15:
JetLite (37): BOM-GOI: 09/2007
6.70:
Spice Jet (09): CCU-DEL: 09/2006
6.63:
Air Fiji (44): NAN-SUV: 10/2007
6.58:
Air Tran (02): EWR-MDW: 08/2006
6.44:
CO Micronesia (39): ROR-YAP: 10/2007
6.41:
Pacific Sun (43): NAN-SUV: 10/2007
6.37:
Skybus (47): SWF-CMH: 02/2008
6.33:
Kenya Airways (29): NBO-BJM: 08/2007
6.31:
Indigo (15): GAU-CCU: 10/2006
6.22:
Air Link Swazi (28): MTS-JNB: 08/2007
6.22:
Air India (36): HYD-BOM: 09/2007
6.13:
Adam Air (07): SIN-CGK: 09/2006
6.13:
Air Rarotonga (41): RAR-AIT: 10/2007
6.00:
Transairways (27): INH-MPM: 08/2007
5.95:
Air Canada (05): ALB-YYZ: 09/2006
5.85:
SAS Norge (22): OSL-AES: 05/2007
5.81:
LAM Mozambique (26): JNB-MPM: 08/2007
5.69:
Air Deccan (12): IXZ-CCU: 10/2006
5.67:
Rwanda Air Exp (30): KGL-NBO: 08/2007
5.07:
Go Air (35): MAA-HYD: 09/2007
5.00:
Sky Airline (51): IQQ-SCL: 06/2008
4.96:
Valuair (08): CGK-SIN: 09/2006
4.78:
Air Comet Chile (50): SCL-IQQ: 06/2008
4.74:
Fly 540 (31): MYD-LAU: 08/2007
4.33:
Viva Aerobus (20): ELP-MTY: 02/2007
4.11:
Air Sahara (11): CCU-BOM: 09/2006
(Note on Codes: Y – Economy, J – Business, F – First :: I/D – International/Domestic :: SR/MR/LR – Short/Medium/Long Haul)
VII> Other Pictures:
All these pictures were taken prior to my return flight a few days later to YYZ at JFK.