Tiger Airways, Singapore to Darwin return
A few days after arriving in Singapore after coming down from China and Hong Kong (on United 895, see my report online soon), I decided I'd had enough of Singapore, and had to look for places to go next. After a bit of looking on the web, I decided I'd go to Phuket in Thailand, as Air Asia had a good fare for the next day, and at a good time. The hotels on Phuket looked good value too. I also had a look at the Tiger Airways website, to see what they had on offer, and then remembered someone I met the previous day was doing to Darwin. I had a look at the fares, and they were nearly identical to going to Thailand, as there were no fees or taxes payable. My return flight was the last one of the year, so perhaps the lack of fees was an incentive to fill up empty flights – either way, I got a bargain. How many other people book the day before on a whim to go to Australia? The fare was just over 100GBP return including checking in two bags.
October 2008
Singapore (SIN) – Darwin (DRW)
Scheduled: 1810-0015 (4h35m)
Actual: 1817-2348 (4h01m)
TR 702
9V-TAH Airbus 320
I got a bus from Orchard Road to Terminal 1 at Changi airport, then slowly walked over to T2 to get the bus to the budget terminal.
T1
I was bit disappointed to be going from the budget terminal as the normal terminals in Changi are so nice, but the budget terminal turned out quite nice anyway. The bus journey took about five minutes, and we were dropped outside the cheap but very cheerful terminal. The exterior was festooned with decorations for Deepavali, the Indian festival of light.
Departure Screens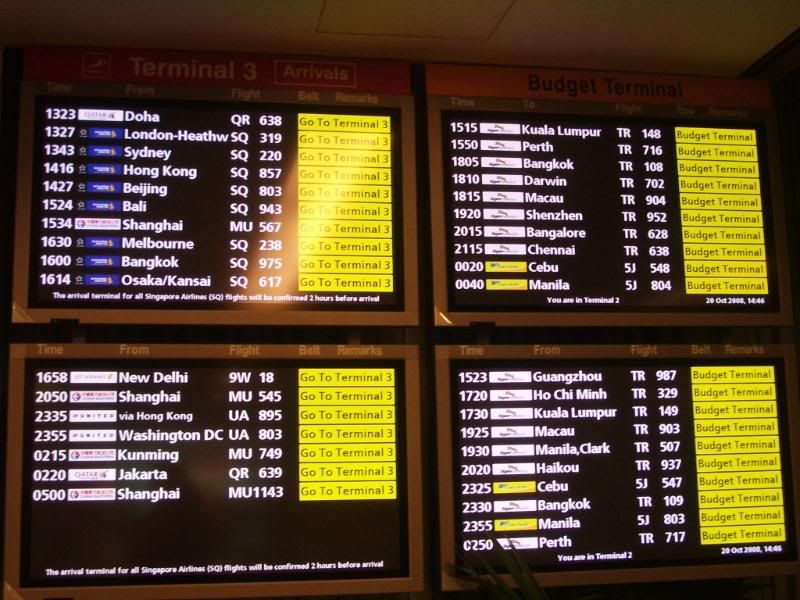 I arrived at the clean, but sparsely furnish check in area at just before 4pm, just as the check in counters were announced.
There were three flights leaving within five minutes of each other, Darwin, Bangkok and Macau. Incidentally, the only other Asian lo-co route I've flown is from Macau to Bangkok. Each flight had two desks, and each with very long queues. It took about twenty minutes to be served. The staff were quick and efficient, and gave me my requested seat. When you book, you can pre-reserve exit seats for SGD35, or any other seat for SGD10, but I didn't bother with this as I was expecting the flights to be empty. I'd paid for a 25kg luggage allowance, but they didn't say anything about my bag weighing nearly 28kg. The budget terminal was a lot nicer than I thought it'd be – nice and airy, and with just three flights going out, not too busy. There was a place where you could charge laptops/use the internet, a 7-11 etc.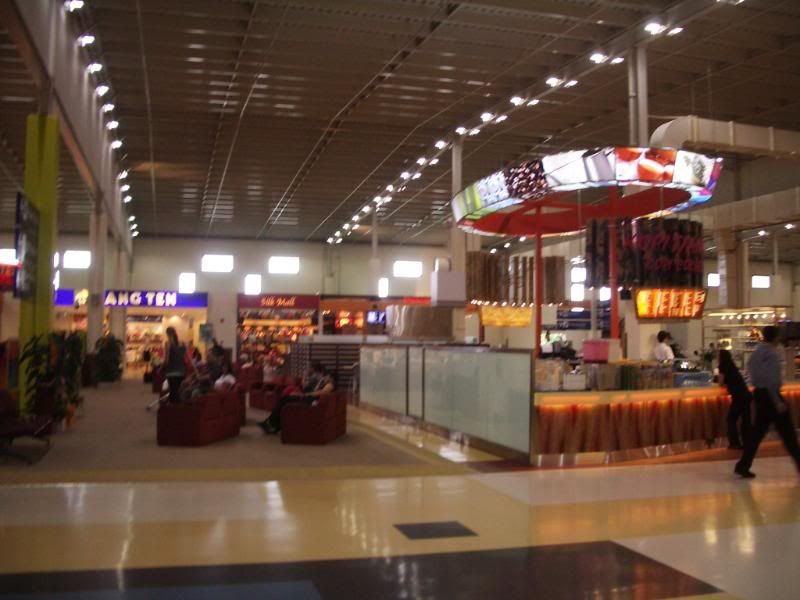 I suppose Changi found it hard to let go of all the creature comforts found in the main terminals. Unlike in the other areas, security screening was done just after immigration, so anything you bought in the departures lounge could be taken aboard. In the other terminals, security is done at the gate, so you can't bring on bottles of water, which is a bit rubbish.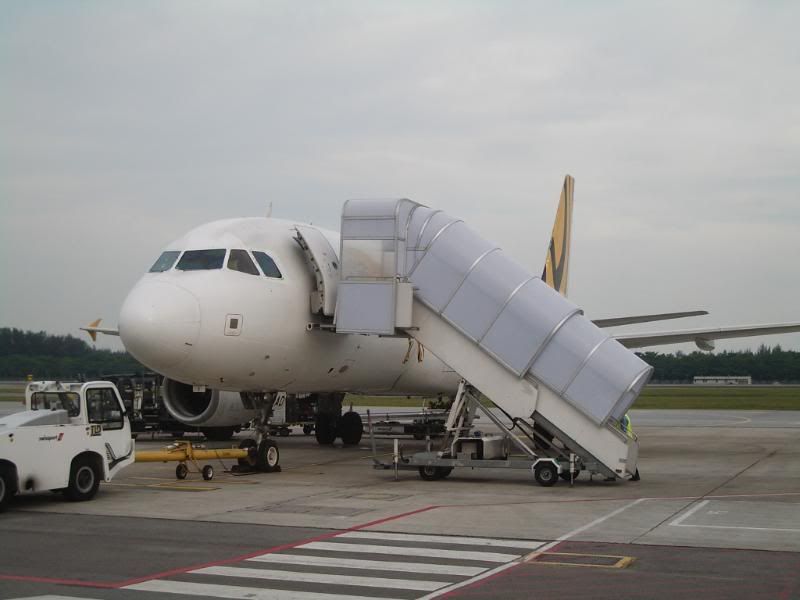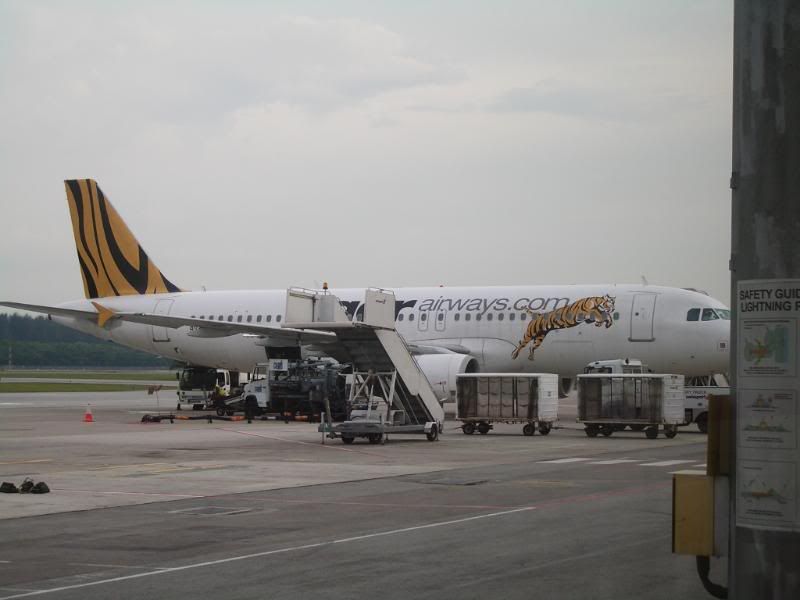 Boarding started half an hour before schedule departure, and was a bit easyjet-esque, with people standing in long line prior to boarding. Unlike easyjet, they only used the front door for boarding. Despite imagining that the flight would be quite empty, it turned out it was about 90% full. Strangely though, in the row behind, there was an empty row of three, so I moved there for take off. We took off a bit behind schedule, into a beautiful tropical sunset. Heading East, it got dark pretty soon. There were four member of cabin crew (Singapore crew), and two Australian sounding guys from the flight deck.
I was sharing a row with a couple of elderly Australians. The row behind on the other side of the aisle was empty, and remained so after the doors closed, so I moved back. I thought I might be lucky and have three seats to myself for the flight.
The 'normal' terminals at Changi
We took off without having to wait for anyone into a beautiful sunset.
Gaining height over Indonesia
After the seatbelt signs were turned off, someone in the row behind asked if they could take the window seat (I sat next to the window for take off, but then moved to the aisle). I couldn't say no, so she moved over. I wasn't planning on using the other seats so it wasn't a problem, although I would have liked to have the window for landing…
The crew were very efficient in coming thought selling hot meals (they looked ok), and drinks etc, then coming and collecting the rubbish. I had a few snacks of my own so didn't buy anything, even though the prices were much more reasonable than those in Europe. There was no IFE (no screens or anything), so everyone just had to make up their own entertainment – I watched a film on my laptop.
About thirty minutes before we landed, the captain came on, and told the cabin crew to prepare for landing. We landed nearly half an hour early, which was very welcome given the time. Darwin airport is pretty small, with the only other aircraft visible a Qantas B767, which would be departing shortly for Sydney.
Tiger Airways I'd just disembarked from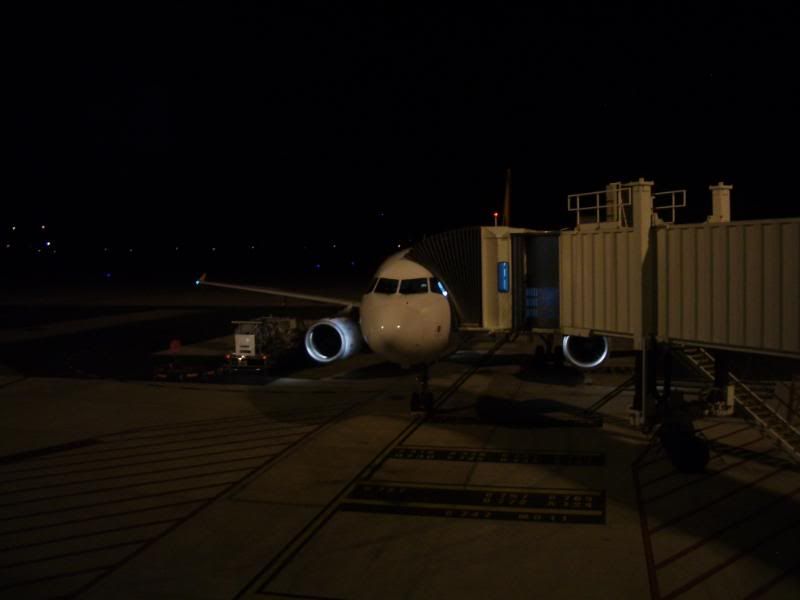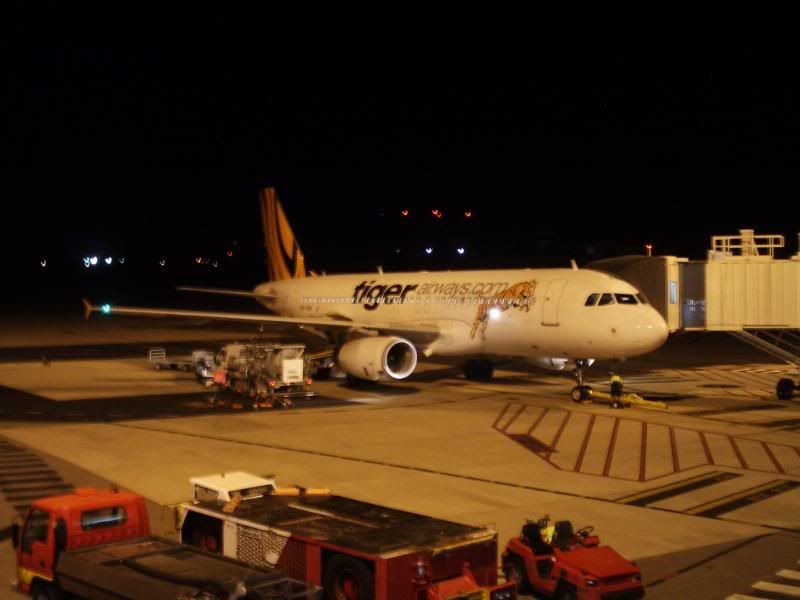 There was no queue for foreigners arriving, but a few people at the Australian/NZ desk, and I was stamped in in less than a minute. Like in NZ, you have to fill in a form about what you are bringing into the country that could cause any ecological damage (e.g. food/soil etc). I had a packet of biscuits on me that I bought at the airport in Singapore. I didn't want to be fined $50,000, so I told the immigration officer about them, and they said to just go and get your bag x-rayed, and see if the other officers have an issue with it – they didn't, which was good. It seems like everyone who declared something had their bags x-rayed (quite a quick process), but everyone else had a manual check, which I think took longer, so it pays to declare something. I think I heard that from someone else before…not sure where though.
I got the shuttle bus from outside the terminal into town. Whilst I was waiting, I could hear all the boarding announcements – it's really annoying. All announcements were broadcast everywhere in the airport, so internal arrivals had to endure loads of boarding calls for domestic flights – completely nonsensical. Why can't they target the announcements?
A few picture from the Northern Territories:
Darwin City Centre
Aboriginal Art work – its over 60,000 years old.
Lots of nature in the Top End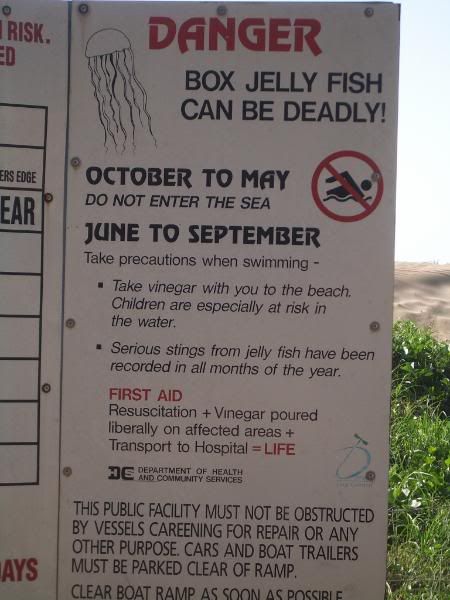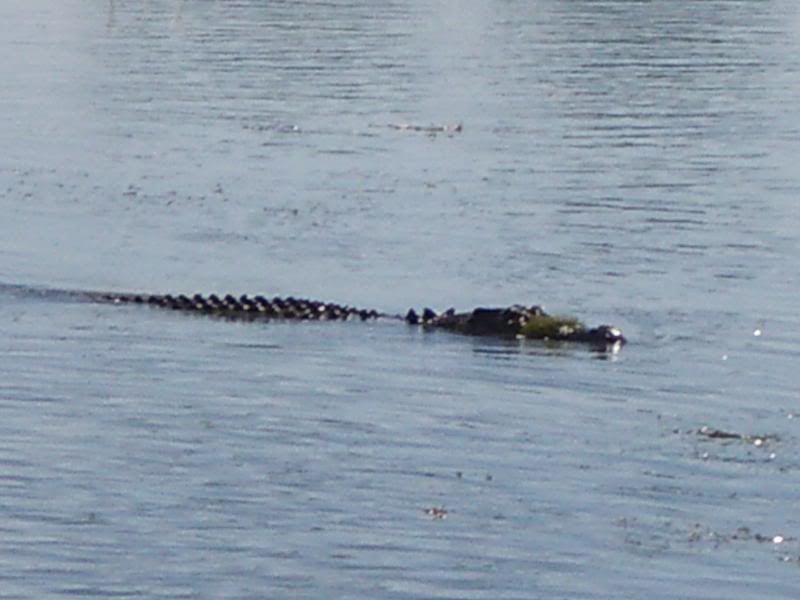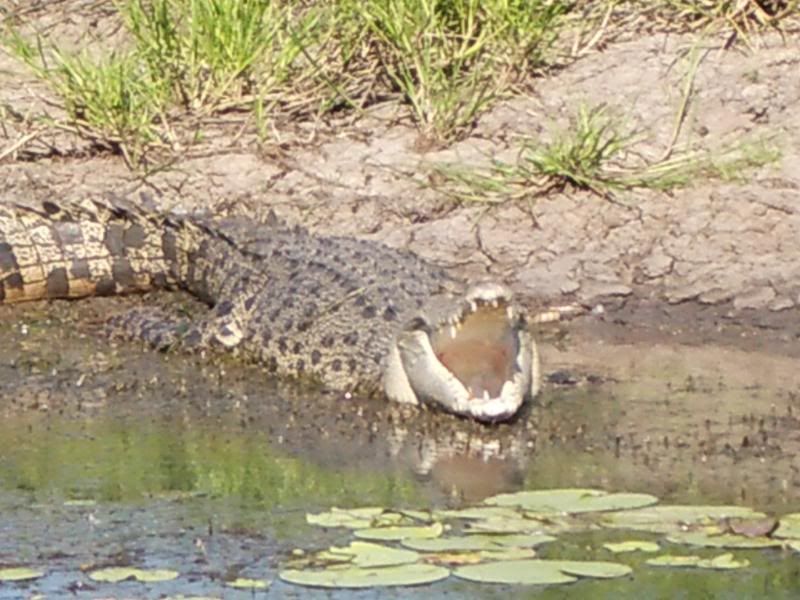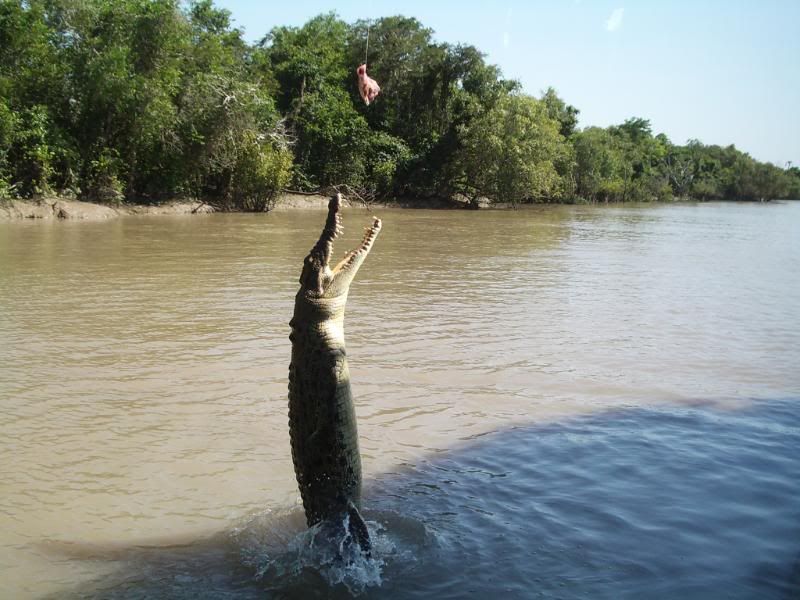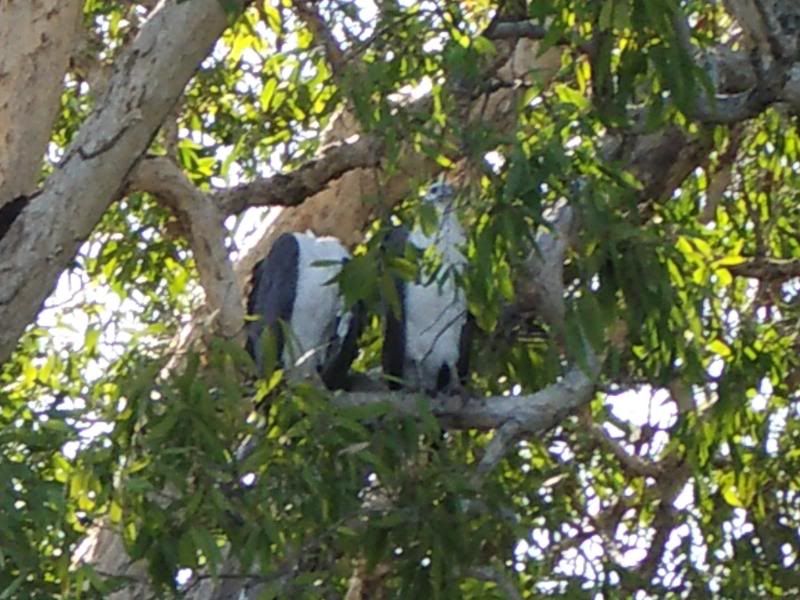 After seeing all those crocodiles, I thought I ought to try one…burger style
The Top End is well known for it's beautiful sunsets, and the Mindil Beach Market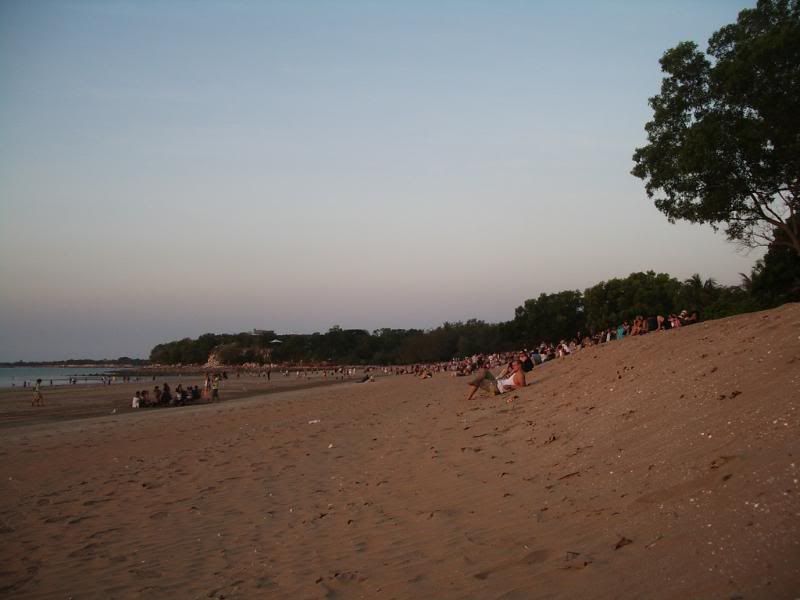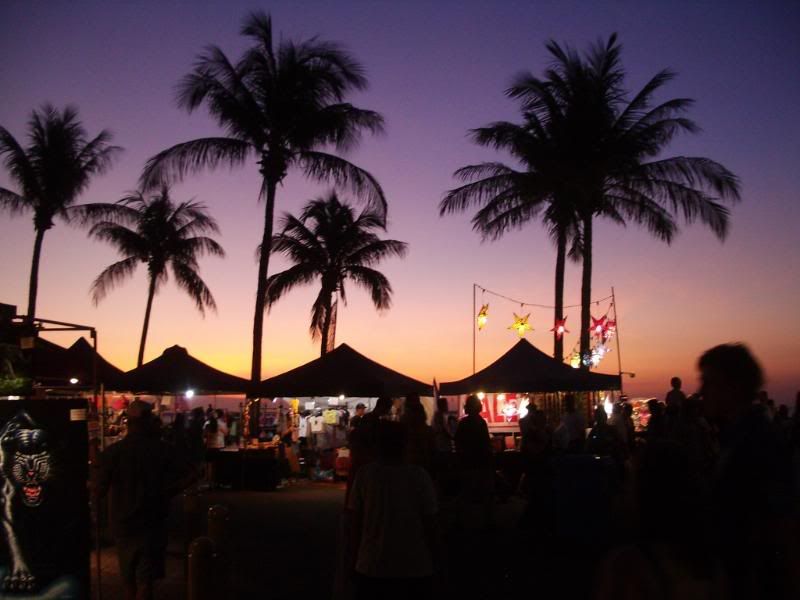 After 4 great days in the Top End (the Northern Territories nickname), it was time to catch the last Tiger Airways flight of the year out of Darwin, and head back to Singapore.
October 2008
Darwin (DRW) – Singapore (SIN)
Scheduled: 0055-0330 (4h05m)
Actual: 0104-0337 (4h02)
TR 703
9V-TAD Airbus 320
As I was chucked out of my accommodation at 10am (!), I got an early bus to the airport (9pm), which got my to the airport nearly 4 hours before departure. I went to chill out I the arrivals area, as there were no seats near the check in desks. Late night (2300-0200) seems to be the busiest time for the airport, so the airport was quite busy, even though there were no departures for the next few hours, with lots of people waiting for the desks to open.
Just under three hours before the flight departed, the desks opened. I was about 40th in line, and waited nearly an hour to be seen. The staff were so slow for some reason. When I got to the desk, I was curious as to how inefficient the staff were, and what they were up to, except, they were pretty quick with me, and very polite (calling me by my name, etc), and I was all done in about 3 minutes. Obviously it was the previous passengers with the problems, although staff weren't able to print the boarding passes, and had to go to a different desk, and printed them out there – weird.
After I had my bags taken off me, I went for a walk outside, to see if there were any good photo opportunities.
Darwin Airport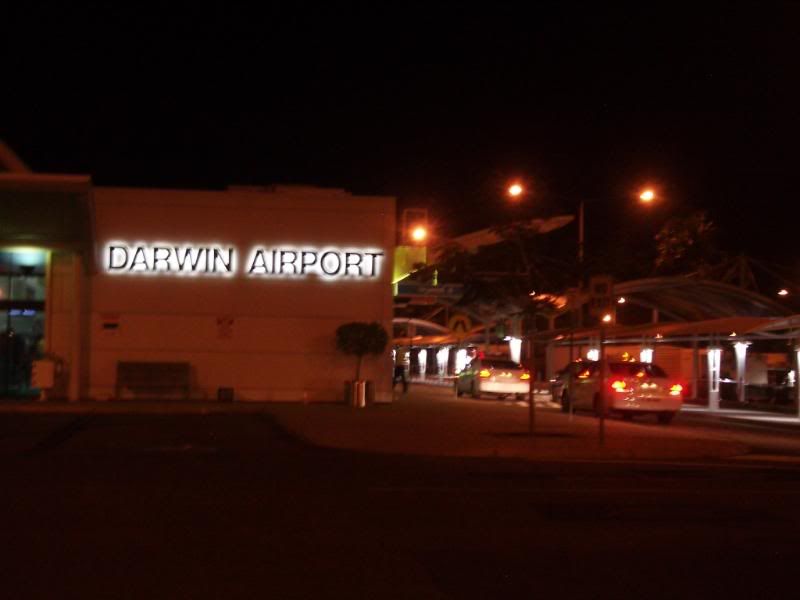 Qantas B717 scheduled to do the morning run to Alice Springs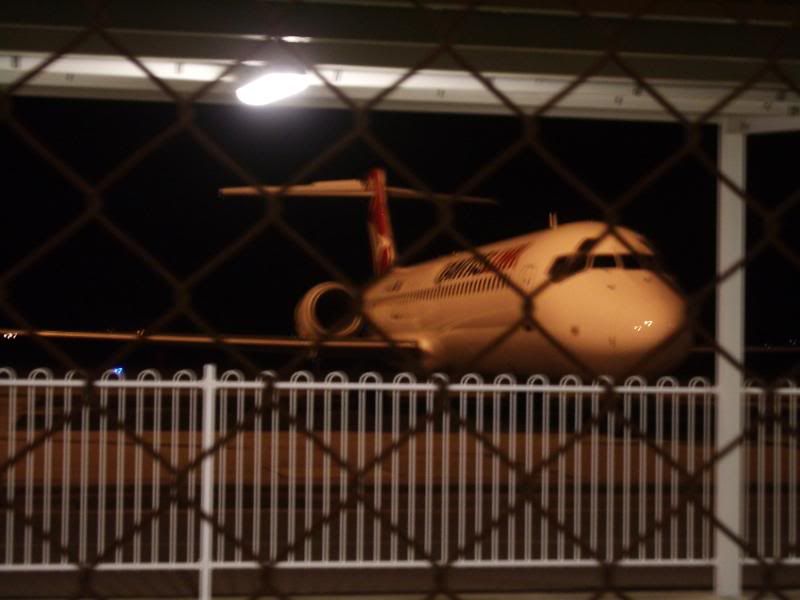 Arrivals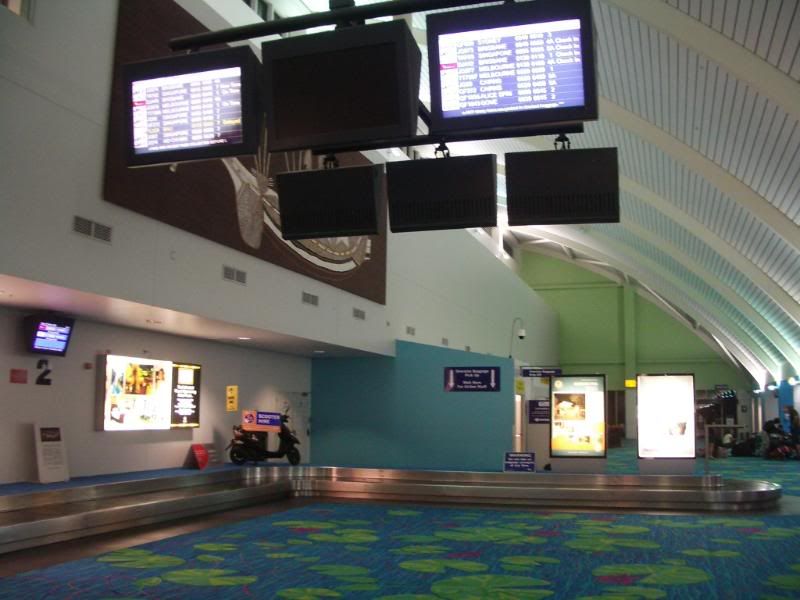 Departure board. JQ58 is from Singapore to Carins, with a stop in Darwin. Jetstar offer 2 daily flights to Singapore (one to Carins, one to Melboune), whilst Tiger flies (flew) 4 weekly.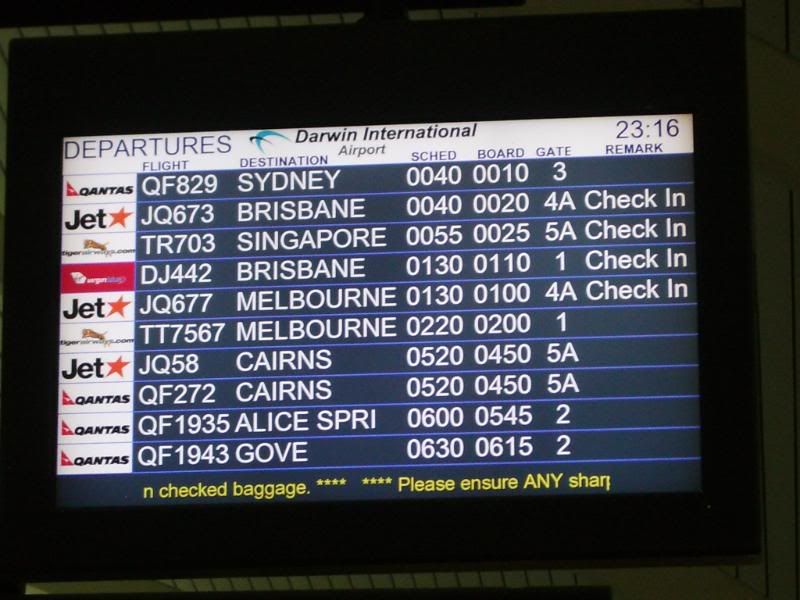 Security was fastish, and soon I was in the rather empty departure lounge. There was a desk area with plug sockets, so I plugged in my lap top, and found some free wifi, so was sorted for my wait till boarding. There was a further security checkpoint for international flights, which included the dreaded 100ml rule. A French girl in front of my was having an argument with the guards about all her bottles that she hadn't check in – pointless (from just about every aspect). WHAT is the point of this rule?
Jetstar to Melbourne
Qantas to Sydney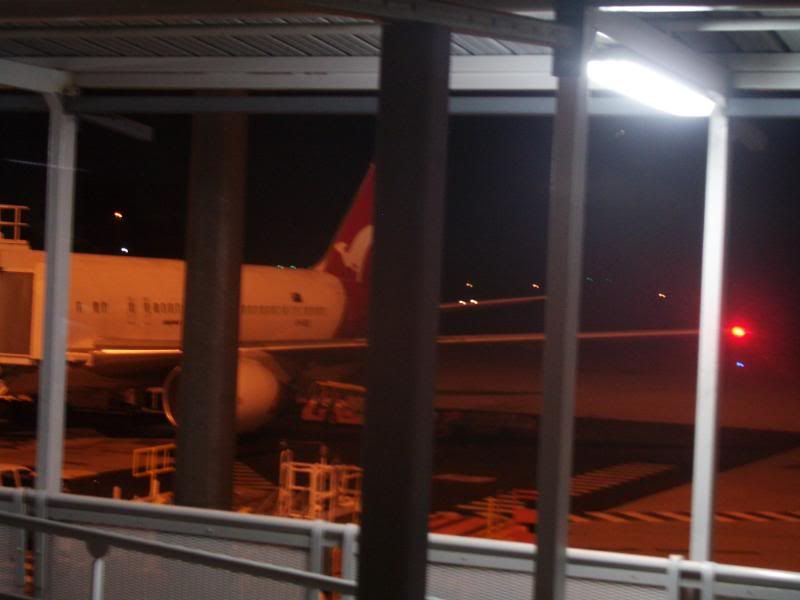 Boarding started at half midnight, and soon everyone was aboard. I tried taking a photo of the plane but was stopped by the police as they said it the airport was shared by the military. They seemed a bit sympathetic though, and were very polite. From where we were standing, the only plane visible was Tiger Airways. There was nothing even remotely military about the scen, was everywhere else was pitch black. Ridiciulous. I had an empty seat next to me, which was nice. This time, it sounded like we had an Italian pilot, but an Aussie co-pilot. The flight, which I was expecting to be empty as it was the last one of the year, was surprisingly busy, perhaps +80%. After take off, the cabin crew did a drinks service etc, but I fell asleep as soon as we took off, and dint wake up until the lights came on full 20 minutes head of landing.
Tiger Airways back in Singapore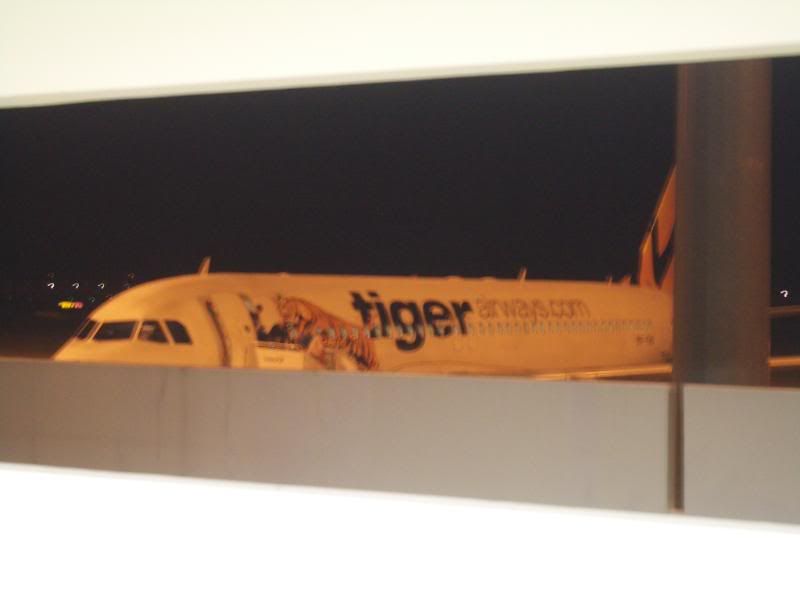 We landed ahead of schedule, and were soon on stand. We were the last arrival of the night, just ahead of arrivals from Shenzhen and Perth. The airport was relatively busy then from those two earlier arrivals. Once through, I got the interterminal shuttle bus to T2, then got the train to T3 where I had so sort out some things with United for my onward flight (see my other trip report, out soon).
Hope you found that interesting. More reports soon (United HKG-SIN-HKG in Y, Singapore KUL-SIN in C, and Singapore LHR-SIN-HKG in Y on the A380).