UA HKG-SIN-HKG Y Class, SQ KUL-SIN C Class
October 2008
Hong Kong (HKG) – Singapore (SIN)
Scheduled: 2000-2335 (rescheduled to depart at 1950) (3h35m)
Actual: 2011-2321 (3h10m)
United (UA) 895
Boeing 747-400 N121UA (old colours, new interior)
I was starting my trip just across sea, in the Chinese mainland city of Zhuhai, where I was visiting a friend. From Zhuhai, there are a couple of options to get to the airport, but the only vaguely convenient one, and also the most expensive, was taking the ferry direct to the airport. The ferry was RMB 280, which given the distance and duration (50 minutes), was very expensive for China (a 2 hour domestic flight from Shanghai to Beijing starts at around RMB 700). I've taken the ferry a few times from Zhuhai to Hong Kong itself, which is pretty efficient, as it drops you in central Hong Kong. Zhuhai ferry port is nice and small, and there is a good value duty free shop.
After I'd bought my ticket for the ferry, I had my bags consigned, and they checked my flight details. You can only use the airport ferry if you have a same day connection departing at least 180 minutes after the departure of the ferry. Also, there are only 2 ferries a day, so the chances are you'll have a long wait at the airport. I was on only the 1530 ferry, so I was meant to have a wait in HKIA of about 3 and a half hours. The ferry crossing was as a usual, although the boat was nearly empty (maybe 20 pax out of over 250 seats).
Perhaps they are charging too much for this service, or maybe it just isn't advertised well enough. It did mean lots of space to stretch out in. From the ferry, there were some murky views though the sea mist of the airport. I saw my plane arrive from Chicago. For some reason, it's scheduled to sit in HK for nearly 4 hours before flying on to Singapore – must be a long and frustrating wait for transit pax.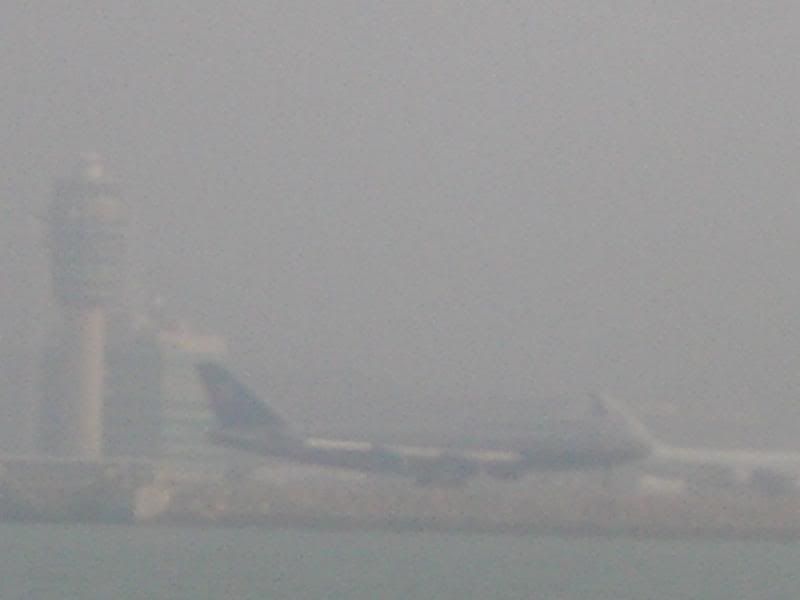 UA B744 Landing in HKG
Our boat arrived on time at the Sky Pier, which is located at the far north end of the Airport island. It appeared to be just a prefab building with a security point and about 20 check in counters; doesn't really compare to the check in areas of the main terminals. Most airlines were represented there, with most sharing with other airlines, although in seemingly random pairings. Swiss was sharing with Qantas and Qatar, Thai with Royal Air Nepal, and BA with Air India etc. United was the only airline (other than Cathay, whom had three desks) that had a dedicated desk. It was also the only airline with a queue, and a big one it was too. I had arrived just behind a big tour group, who were all having their bags tagged, although curiously, they all already had boarding passes (the passes they had were orange, but my, issued at this desk, was white, so they must have got theirs somewhere else). After about 20 minutes, they'd all been processed, and I was given my boarding pass (I asked for Economy Plus, but they said I'd have to pay, so went for an exit seat just behind instead) and my bag tagged. I was then told I'd have to wait to see if I was eligible for a tax refund, as I'd probably already paid the HK departure tax. After a bit of a wait, it turned out that I had, so was given a HKD120 refund as I didn't use the 'immigration services'. I would have thought that part of the airport tax went to the airport, not just immigration, especially as the land and sea borders with China/Macau are free. Either way, I was HKD120 up, and ready to spend it. There was a bus that drove us from the ferry terminal to the main terminal which afforded some good views of the tarmac.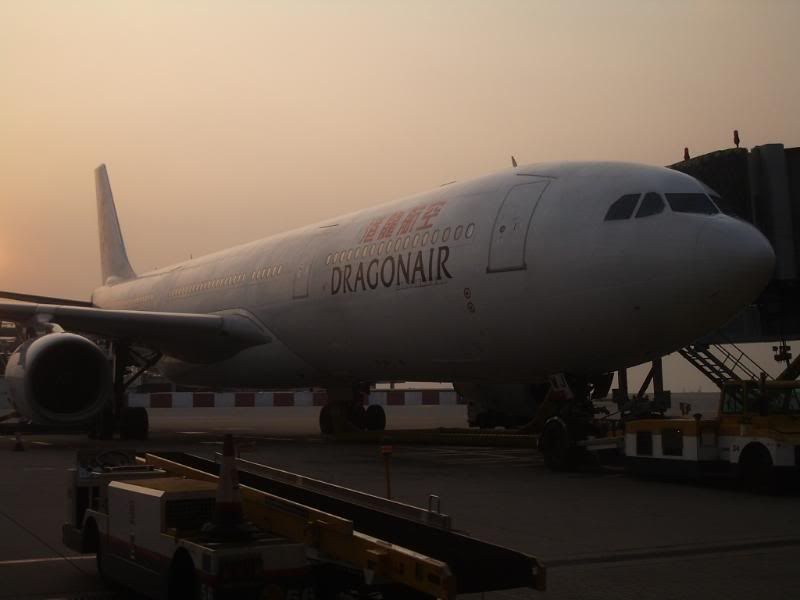 HKG Terminal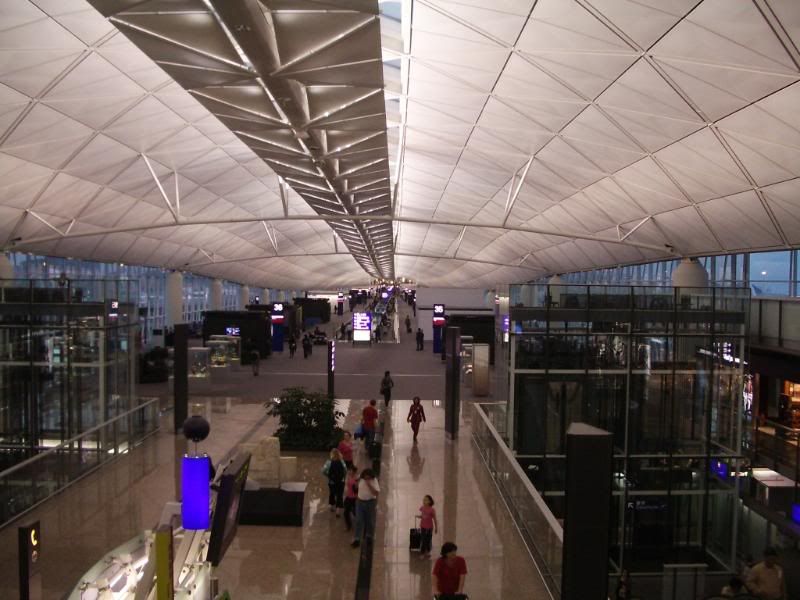 The terminal was much busier than the last few times I've used it (i.e. early in the morning), but still not too crowded. I went to the sports bar and had a burger and a beer, then sauntered up to gate 61.
Our aircraft tonight would be N121UA, a B744 in the old colours, but with the upgraded interior. The routing was from Atlanta to Singapore via Chicago and Hong Kong. The cabin crew were Singapore based, and the flight crew were from Chicago. Next to us was a B744 with the new colours, enroute from San Francisco to Ho Chi Minh City.
My flight to Singapore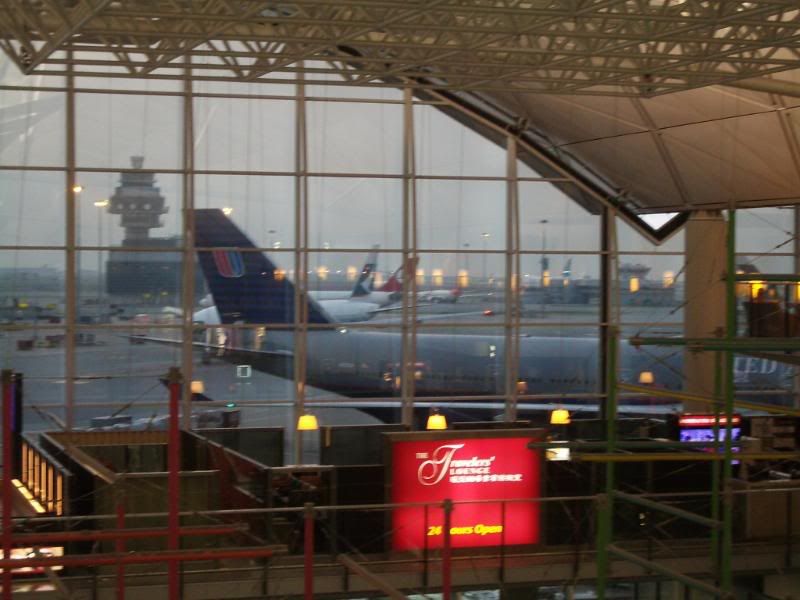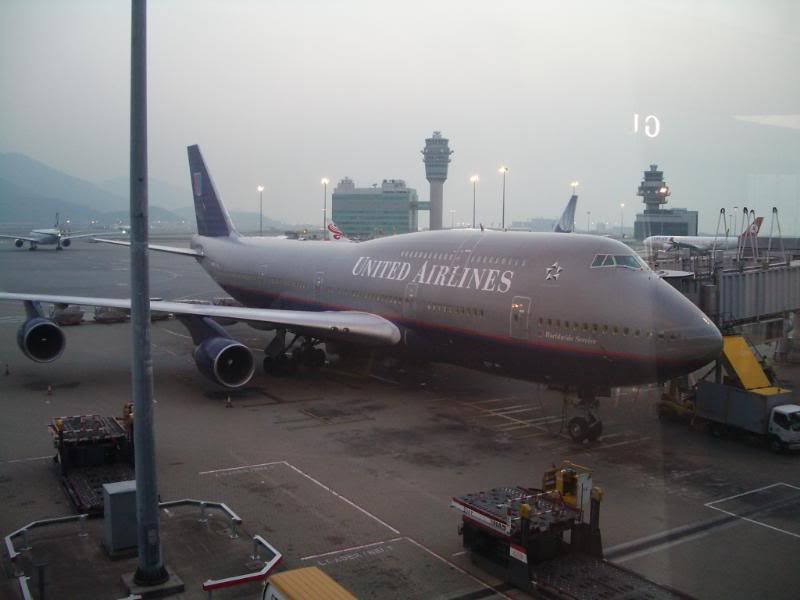 The Flight to Ho Chi Minh (note the nose cone)
Deaprtures
By the time I'd arrived at the gate, boarding was well underway. I had a 'group 1' boarding pass, so was able to board immediately (at the time they were only doing 1 & 2). The cabin crew were greeting everyone at the door, and directing them to their seats. First impressions of the cabin and the crew were good. The new business class seats looked amazing, a unique layout I think. The economy cabin had a reasonable pitch, and the seats and fittings all seemed new. There were a number of new-looking LCD monitors around the cabin, which had a good picture. The only negative (and this is a big negative) was the lack of PTVs. Why would you go the whole hog installing excellent seats in Business and First, then not put PTVs into Economy, especially on this longhaul aircraft? Surely if you take the time to put new seats into Biz, you can do it with Y? It wasn't the end of the world for this relatively short sector, but if you're going all the way from Chicago to Singapore, it might be. Even Lufthansa are installing them. The 767 and 777s have them, why not 744s?
I had been given an aisle seat in the exit row at check in, but moved back two rows before takeoff, as there was an empty set of three two rows behind. Most other people had two or three seats to themselves – the flight was not very full. The captain came on to introduce himself which was a nice change from travelling domestically in China when you never hear anything from the flight deck. This captain was pretty chatty, and talked out the routing, and expected flight duration (3h03m), and expected areas of turbulence. He also said that channel 9 would be on, which was great. I think channel 9 is such as good idea – why haven't any other airlines adopted it? Thanks to it, I know we departed on 07R, and landed on 02L.
We took off a little behind schedule (they retimed the departed by 10 minutes on the day of departure, not sure why, especially as we ended up leaving late) into a dark Hong Kong sky. At 8pm everyday, there is a big laser light show over Hong Kong harbour which I was hoping to see, but didn't.
Dinner was served in a box (never a good sign). There was no choice, and nothing hot. Inside the box was a cheese and ham sandwich, a bag of cheese and onion crisps and a cookie. Doesn't really compare to the other Star Alliance airline on this route (Singapore Airlines). When I flew with them the previous month, there was a choice of three hot meals, snacks, alcohol, the whole shbang. The seats and carpets on the SQ B744 weren't as new as on UA though. There were lots of non-alcoholic drinks on offer, and the crew, who were excellent, brought more on request.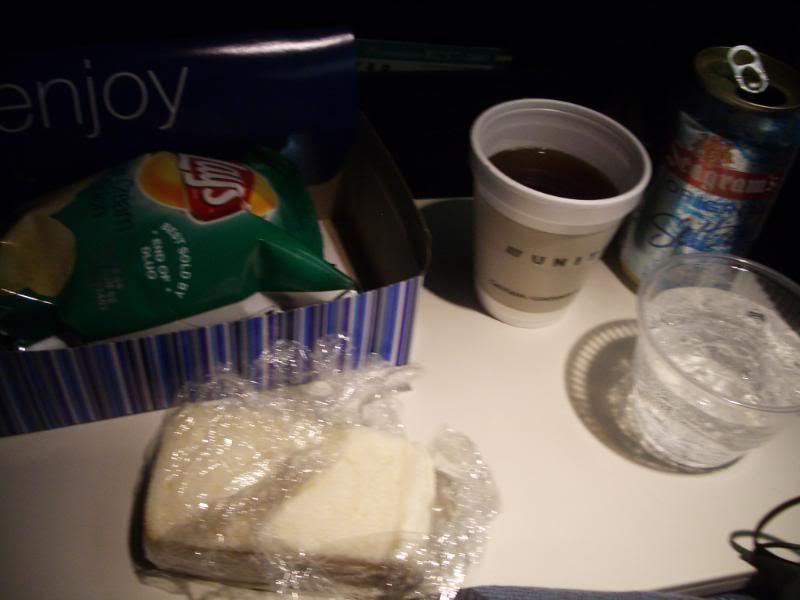 The film, shown on the overhead screens, was the bucket list. Not wonderful, and unfortunately, you can't switch it over to the moving map.
The Cabin
Moving Map
The new Biz cabin
We landed on 02L a bit earlier than scheduled, and thanks to the very efficient immigration team in Singapore, it took hardly any time, before I was heading into the city.
At the gate in SIN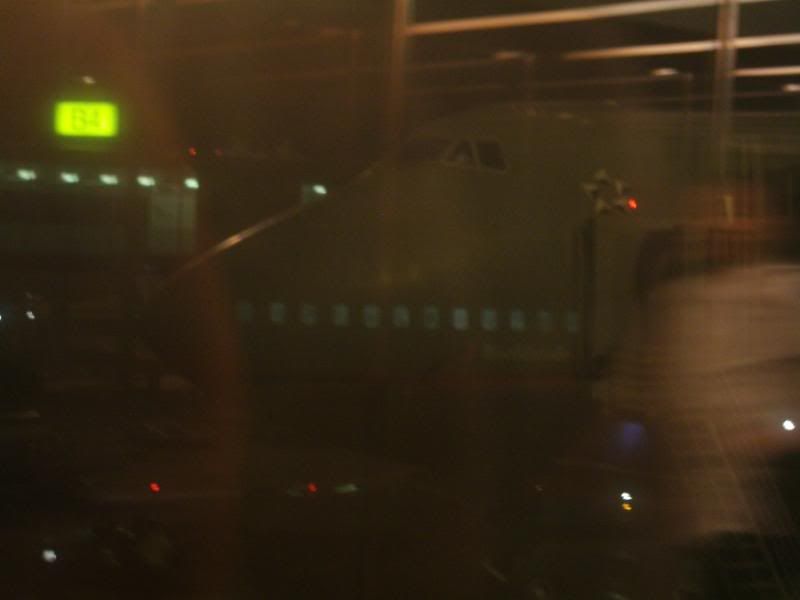 Overall, I thought the flight was good value, and efficient. It's nice to enjoy the extra service, alcoholic drinks and IFE offered by the likes of SIA and Cathay, but at a 250% surcharge, United is clearly the airline of choice of this route for many.
Uppers: The flight was basically empty so lots of space, friendly crew
Downers: Horrible flight times (arriving into SIN at 11.30pm), limited meal service, poor IFE
During my time in Singapore, I found out about Tiger Airway's 'end of season' sale. Their 4 weekly flights to Darwin in Australia were being suspended for the winter (their wet season), and so they were offering return flights for just over 100GBP return (you didn't have to pay any taxes etc, just the fare). I couldn't say no, and booked the flights an hour after I found them, to leave the next day. After 4 days in OZ, I returned on the last flight of the season. See the trip report here…
http://www.airliners.net/aviation-fo...ums/trip_reports/read.main/136203/
I got back from Darwin into SIN at 0337, and headed to T3 to change the dates on my United flight back to Hong Kong, before going into the city centre to get the intercity bus up to Kuala Lumpur in neighbouring Malaysia to see some family friends. I decided to get the bus as apposed to flying, which turned out to be a mistake. The Deepavali festival was on, so the trip took nearly 9 hours, instead of the normal 5 hours (37 mins flying). Nightmare.
The Bus to KL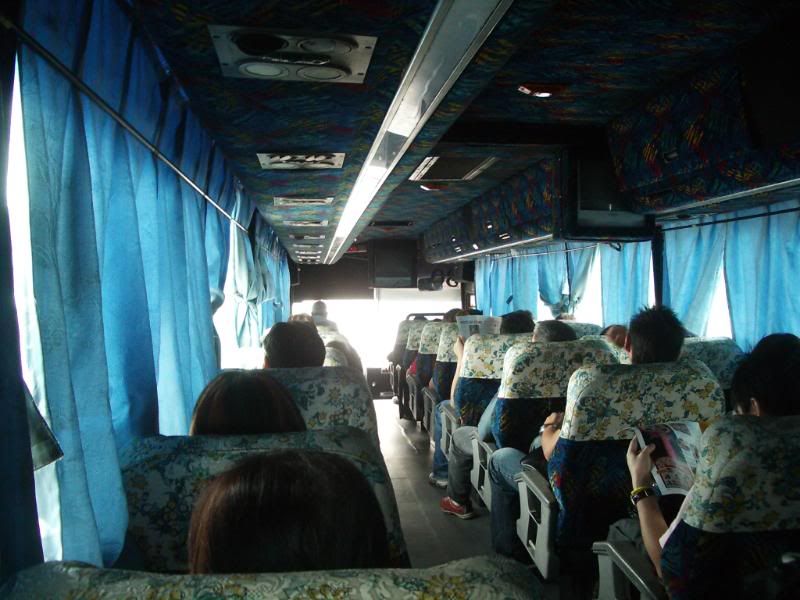 Monkeys in KL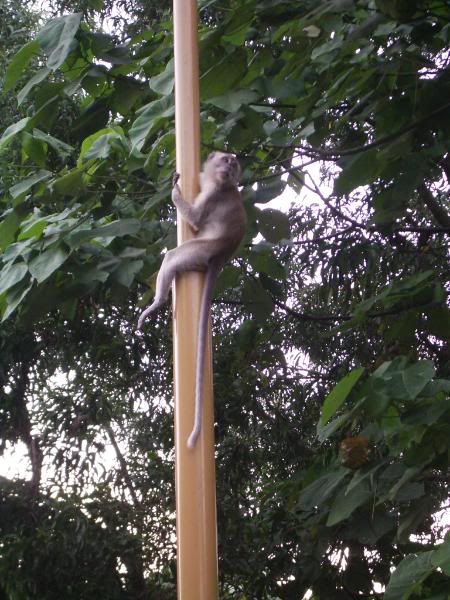 Night Market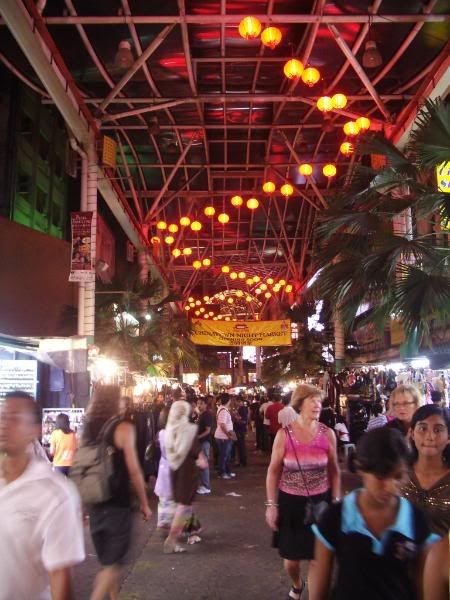 KL Cityscape – the KL Tower and Petronas Towers
After a few days relaxing in KL (Kuala Lumpur), it was time to return to Singapore and my onward flight to Hong Kong. There are sis airlines that fly 23 flights a day from KUL to SIN; Singapore Airlines, Malaysia Airlines, Air Asia, Silk Air, JAL and Tiger Airways. Obviously, I'm a Star Alliance man, so Singapore Airlines it was. Also, I wanted to check my bags all the way though to HKG so I wouldn't have the mess around with immigration in SIN. I wanted to try JAL, but no airmiles….
Economy on the route costs 86 GBP, and Business is 30 GBP more, so I went with Business. JAL is 20 GBP cheaper, so JAL Business is only 10 GBP more than Singapore Airlines economy. As I had a few spare hours at the airport, I though the extra 30 GBP was worth it, so I could use the lounge. In addition, I'd be able to increase my luggage allowance from 20kg to 30kg for the 1st leg, and hope that they'd let the extra slide of the 2nd (they did, 25kg, with a 20kg limit).
I was going to book this flight on the SIA website as then I'd be able to book my seat etc, but just as I was about to press 'confirm', I noticed that there was a 'charge' of nearly 100 Ringitt. I was paying full fare Business, as they don't discount on this route, so didn't do any fare comparison first. I had a quick look at expedia, and they showed the flight for 117 GBP, so nearly 20 GBP than on the SQ website. They only had the MH codeshare showing, so I booked that.
Despite having flown into and out of Kuala Lumpur (KLIA) quite a few times, I've never taken the train (nor even been on a Malaysian train), so I thought I'd give the KLIA Ekspress a try. Trains go every 15 minutes, and takes just under half and hour – not bad given the distance.
KLIA Airport Ekspress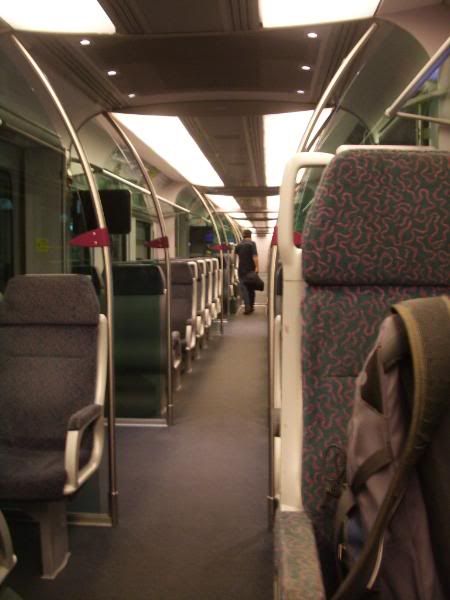 The train was clean, and empty – perhaps because of the national holiday, there weren't too many pax.
MAS 737 taking off (taken from the train)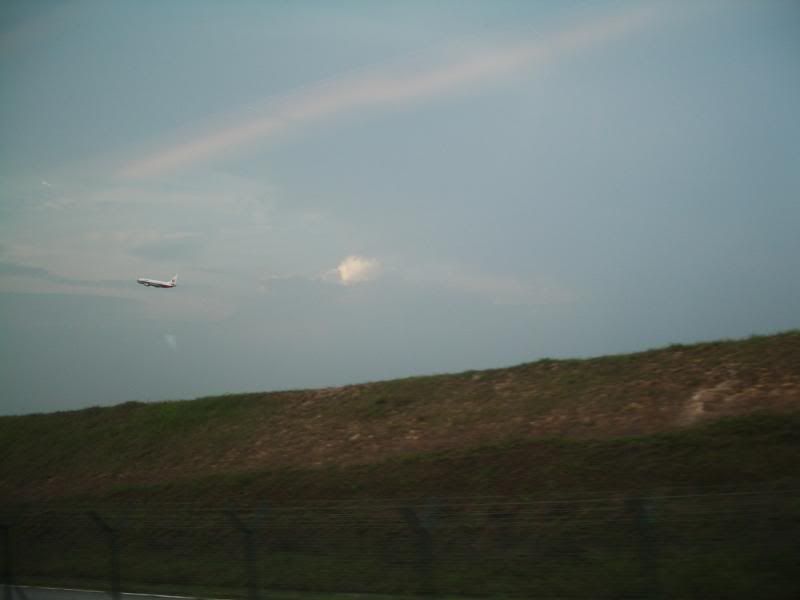 The station is directly under the terminal, and in no time I was at the nearly empty SIA desks.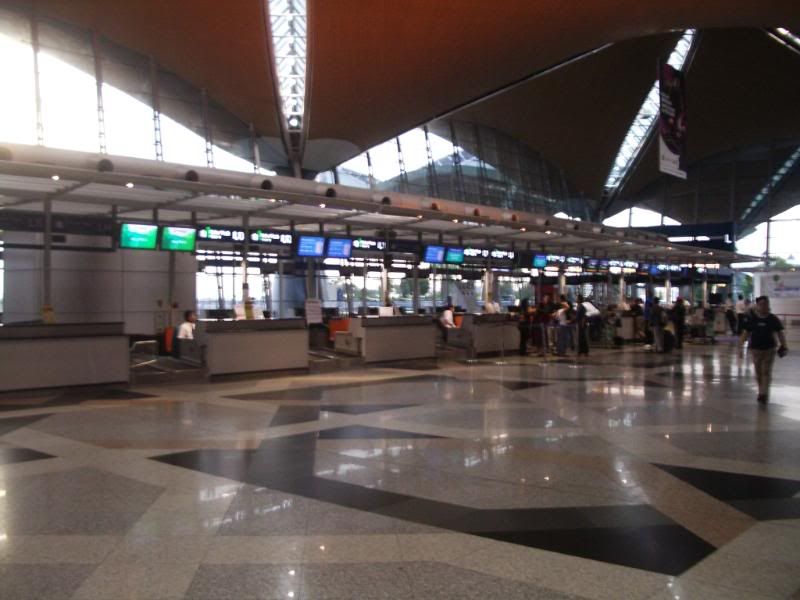 There was a couple in front of me for the only Business desk, but they only took a minute. I was worried about a number of things checking in:
1) I wouldn't be able to get my bag checked though, so wouldn't be able to spend the night in the airport, and would have to clear customs in SIN, and wait til the morning to check in
2) They would ask to see an onward flight ticket from HKG for immigration purposes (which I didn't have). The last time I flew into HKG on a o/w (on SQ from LHR), they were quite fastidious about this.
3) That there'd be no window seats left. I'd tried to check in online, but as I booked the codeshare with MAS, SQ didn't recognise their PNR, so couldn't prebook a window.
4) They wouldn't tag my bag with 'priority' as I was connecting to an economy flight
5) They'd make me repack my bags, as I had 25kg of stuff, but my UA allowance was only 20kg.
Somehow, however, everything went to plan, and none of the things I was worried about occurred. Phew. I was given a window seat, and my bag was tagged though to HKG, and I was given a boarding pass for the UA flight too. I was given a fasttrack flyer, so I could zip though immigration (not needed, as there was no one at immigration).
KLIA departures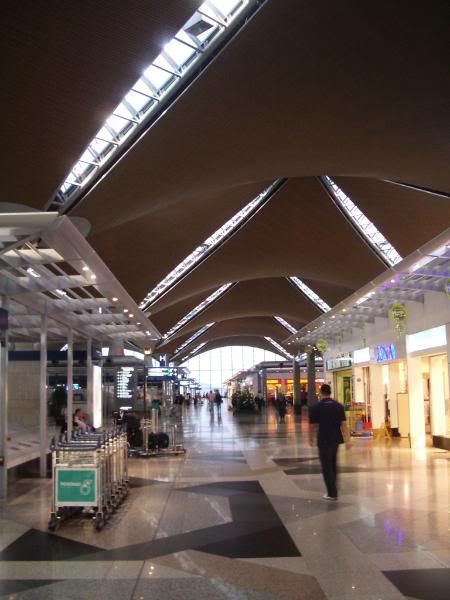 Deepavali decorations
Departures
Viewing area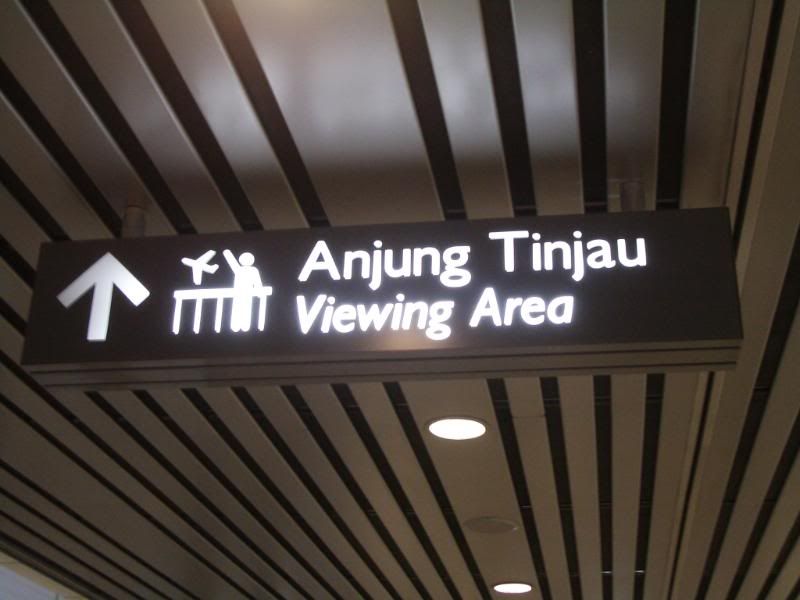 The Satellite for International departures
The earlier SQ B777 to Singapore, in the Star Alliance livery
MH 737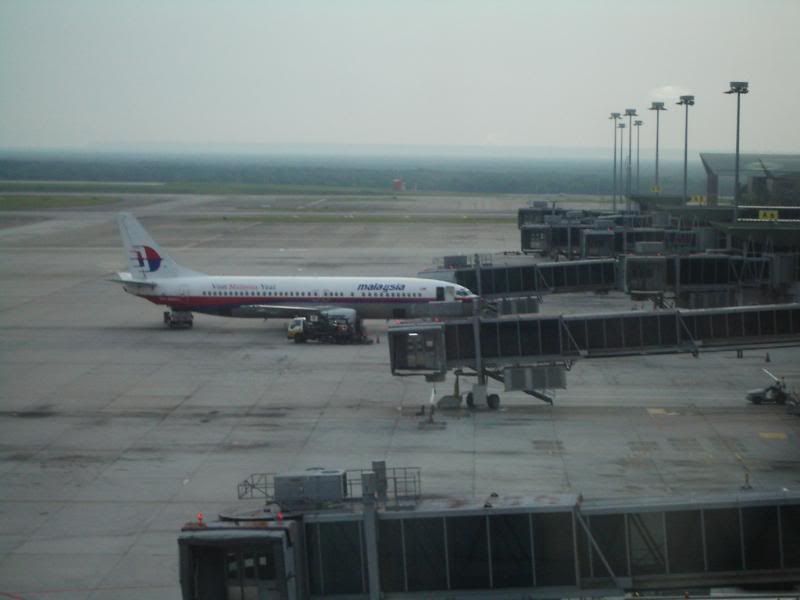 JAL to Singapore and Osaka Kansai
I caught the transit train over to the international satellite, which was quite busy inside. I changed the last of my Ringitt to Singapore Dollars, then went to find the SQ lounge, which is located to the upper level with all the other lounges. I was hoping as I'd booked the MH codeshare that I'd be able to get into the MH lounge, but couldn't.
The lounge was very small, but there were only a couple of other people in it, so it wasn't a problem. There were some noodles and sandwiches, which were ok. There was lots of alcohol too, so I had a beer, then a G&T, and stuffed myself on noodles, knowing that there's only so much food you can eat on a 55 minute flight.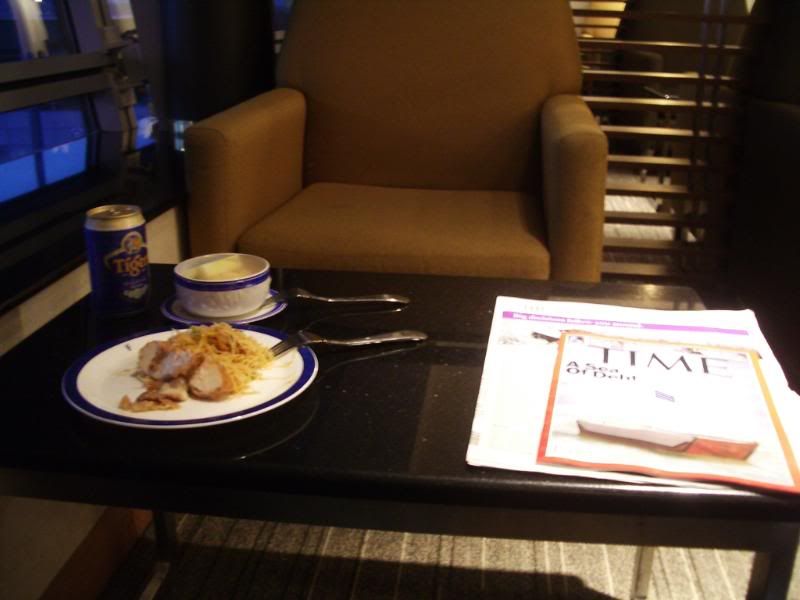 View from the lounge of an MAS A330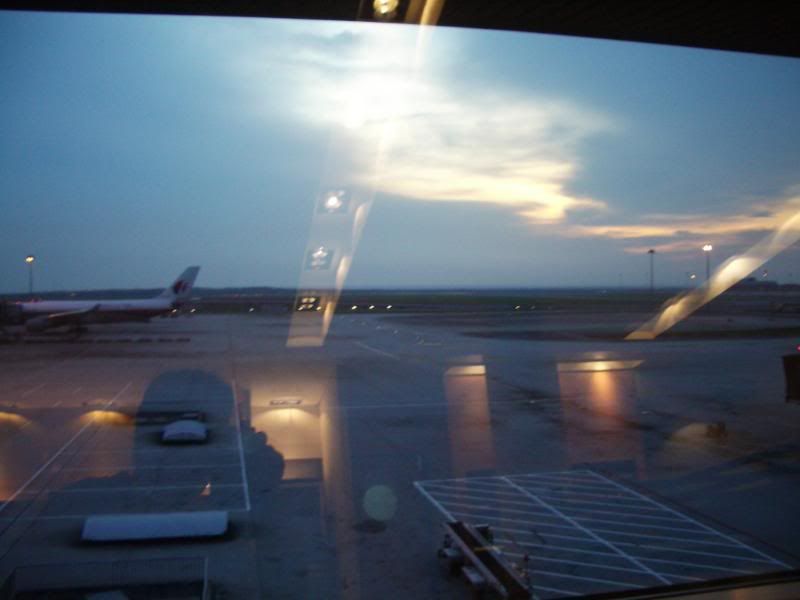 My SQ 777 arriving
After a while in the lounge, which was pretty good, I went down to the gate. There was a further security check, which was a complete farce. I had liquids (and a bottle of water I'd forgotten about) in my bag. They put the bag though once, then put it back on again then waved me though. What's the point? When they do that, it makes me feel so much less safe then before when they didn't have the extra checks. It shows that you can take stuff onboard, and that no one cares. Very bad 
Business class pax were called to board first, and nearly everyone in the room stood up to board. There were separate airbridges for each class, so it wasn't a problem. I was greeted at the door by a pleasant Singapore Boy, and directed to my seat. There were too few passengers, and too many staff (10 pax to 4 staff), so I felt a bit awkward taking photos, so there aren't many good one of the plane. Sorry.
October 2008
Kuala Lumpur (KUL) – Singapore (SIN)
Scheduled: 2030-2125 (0h55m)
Actual: 2040-2117 (0h37m)
Singapore SQ 119 (codeshare with Malaysia Airlines MH 9143)
Boeing 777-200ER
The last time I flew SQ business class was on their Spacebeds on the B777, so wasn't sure what to expect on their regional B777. The cabin was very spacious, and the seat very comfy. Pity the flight was so short!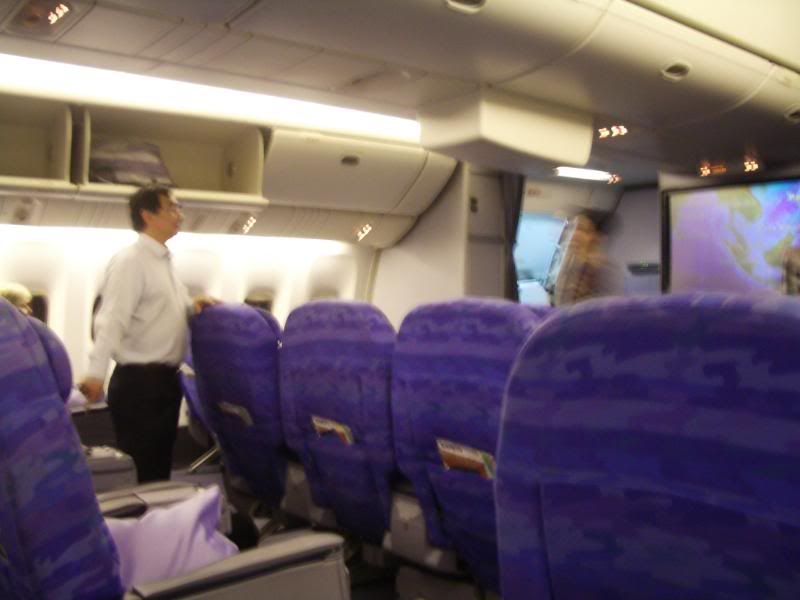 Legroom
A choice of orange juice or water was served whilst the last pax boarded. The flight was pretty empty in Business, with just 10 pax, so loads of space for everyone to spread out.
Welcome Orange juice. Plastic cup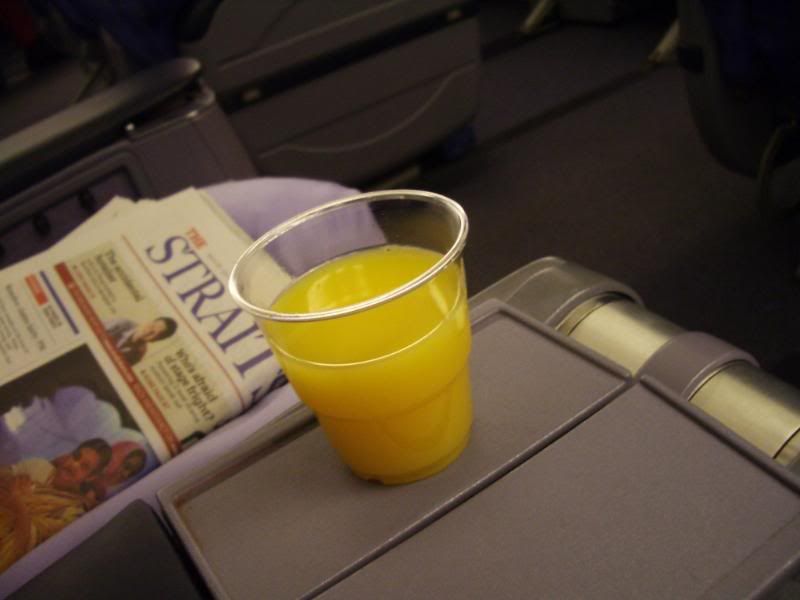 Newspapers and magazine were handed out. I asked for something English, but the FA must have just though I asked for something in English, so gave me America Today.
Once the doors were closed, we were off to the active. I saw a LH B744 enroute to Bangkok and Frankfurt. I bet KLIA were delighted when LH decided to fly down. There are so few foreign carriers in KLIA nowadays. From Europe, there's KL and LH, then a few other randoms (EK, QR, JL), then other local carriers like SQ and CX.
Once the seatbelts went off, I headed to the bathroom (all the beer in the lounge had take it's toll!). The bathroom was quite spacious, and there was some cologne and stuff.
By the time I was back at my seat, they had started the very brief service. There was a choice of something with tuna or a croissant with chicken. I went with the chicken, which was very nice. They offered tea or coffee, and water. I asked if they had any wine, but they said they didn't, only beer, so I had another tiger.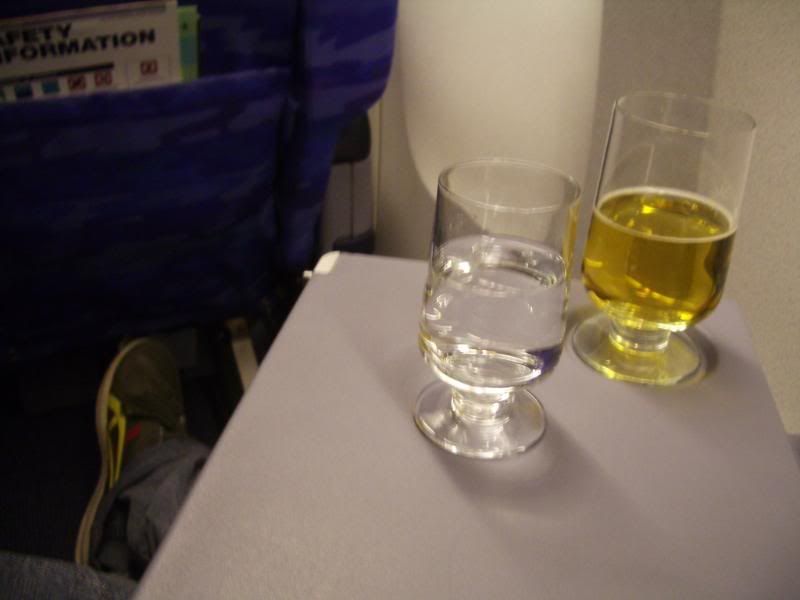 The croissant was really tasty. They maybe should have removed the plastic though. The captain came on and announced we were beginning out descent into SIN as I was about 1/2 way though the croissant. I hurried up a bit. The crew came around collecting bits and bobs around the cabin.
As my tray was cleared, I asked for another beer, which was served literally minutes before we landed. Not bad service! It just goes to show what can be achieved on a 37 minute flight.
Disembarkation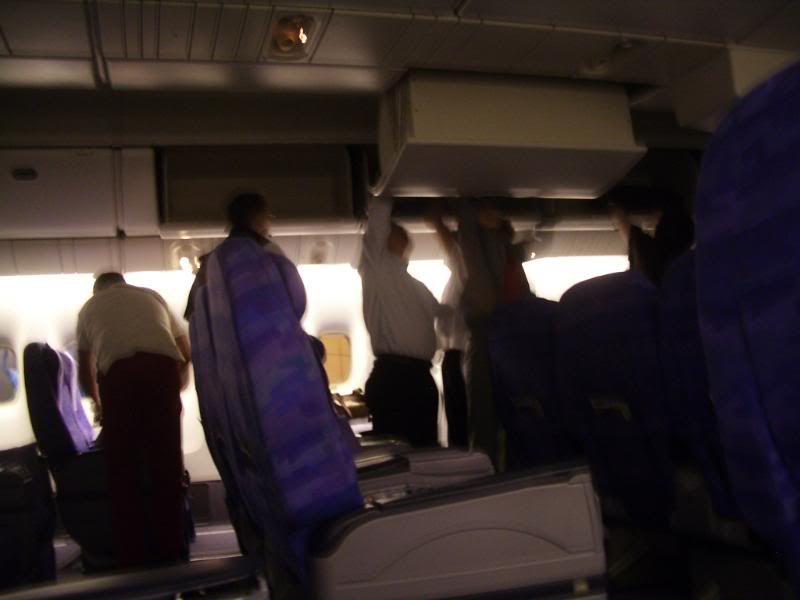 Singapore seemed very busy this evening, with lots of flights heading off to Europe and Northern Asia. My connecting flight on United would be leaving in some ten hours, so I had plenty of time to explore the airport a bit. In September, I had an even longer layover when I was coming back from London, enroute to Hong Kong, during which I did a proper tour of the three terminals. I'll post that trip report soon… This time, however, I just changed the last of my Singapore Dollars into Hong Kong Dollars, watched a film in the cinema, then used Skype, before crashing out on one of the many chaise lounges.
Walkways in SIN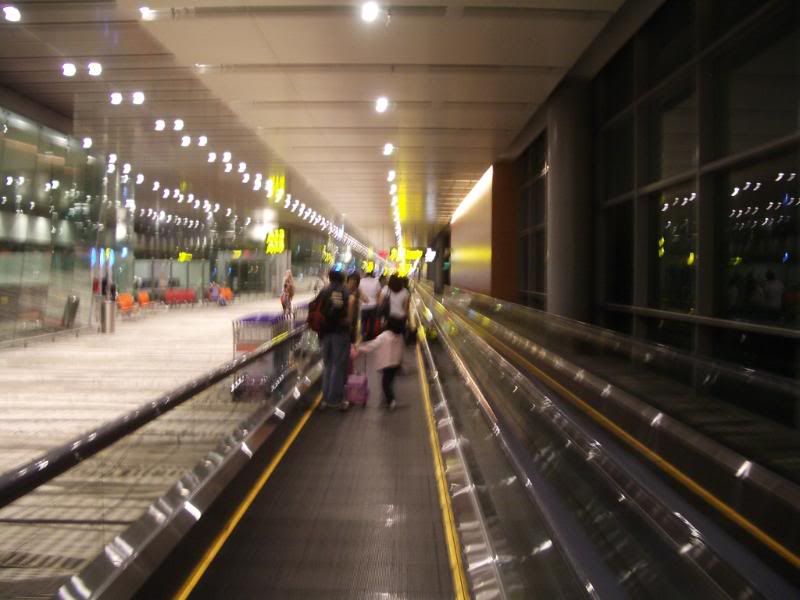 A380 heading to Tokyo Narita
Departure boards – UA 896 first flight of the day
My UA B744 to Hong Kong, and Chicago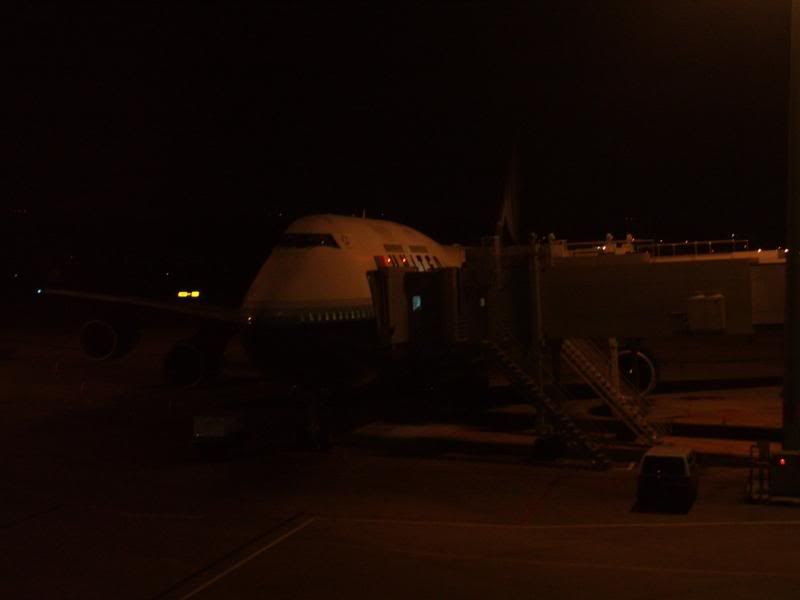 I woke up a bit later that I was planning at about 6am. I went to the 24 hour convenience store to buy some last minute stuff for the flight, then went down to security. There weren't too many people there. Through the glass I could see people already going down the airbridge. Security was far more efficient than in Kuala Lumpur, even though security was a bit tighter (USA bound plane).
October 2008
Singapore (SIN) – Hong Kong (HKG)
Scheduled: 0650-1025 (3h35m)
Actual: 0701-1017 (3h16m)
United (UA) 896
Boeing 747-400 N181UA (new colours, new interior)
I didn't see the registration when I boarded, but a discussion on this website lead me to believe that I was on N181UA. The crew member at the door directed me towards my seat. The flight didn't seem to busy, maybe 50%, so plenty of empty seats. I had one of the seats of 2 near the back, with the entire row of 4 in the middle empty.
The captain, who once again was Chicago based, gave us a brief introduction to the flights, including a warning the it might get a bit choppy. He then, to my astonishment, repeated what he'd just said in Chinese! Wow, an American captain that speaks Mandarin. As someone who has spent years learning Chinese, I know the effort me must have gone though to rehearse that speech. His tones were about as good as mine though. Very impressive nevertheless. We pushed back on time, taxied and took off into a very nice sunrise.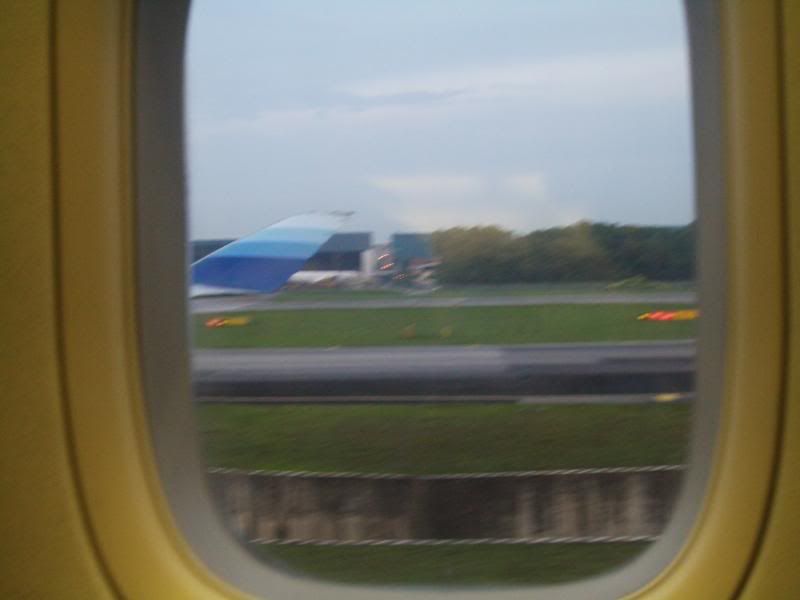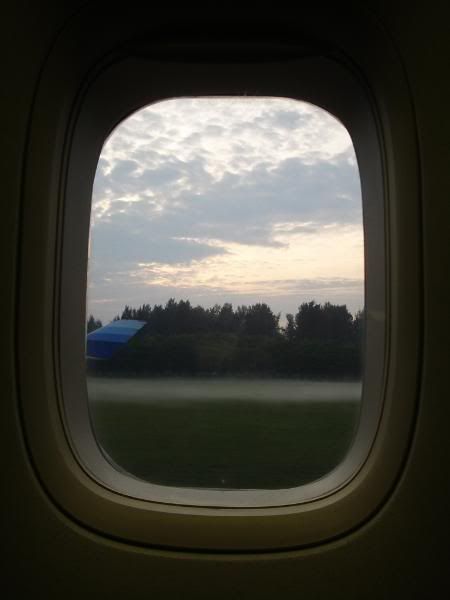 The cloud formations were pretty amazing, quite spectacular.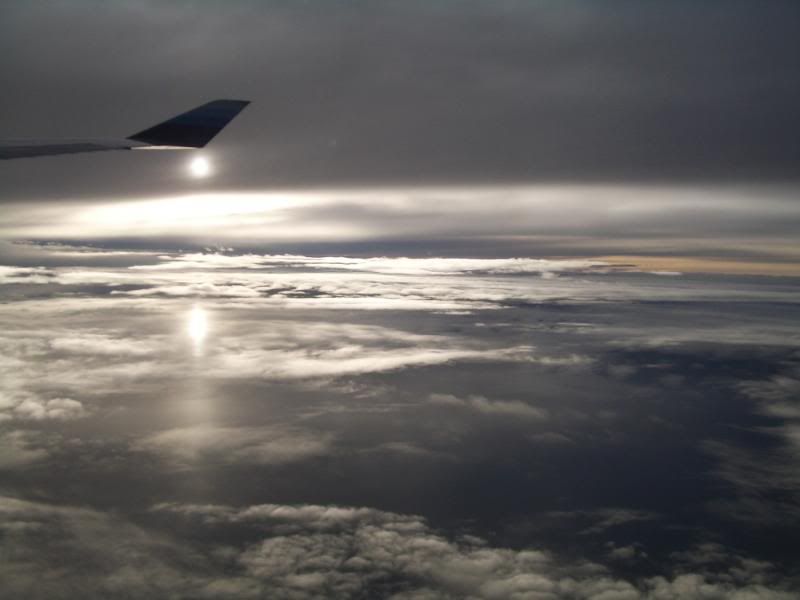 The meal served was about a prepossessing as dinner was. A cardboard box containing a muffin, fruit salad and a Danish pastry. I had a tea and a soda water to go with it. It all tasted pretty good, but it would have been nice to get something hot to eat. During all of this, the turbulence got pretty severe, and the FAs, who were pasing my row at the time, sat down in the aisle seat whilst holding onto the trolley. I was a bit worried about spilling my tea.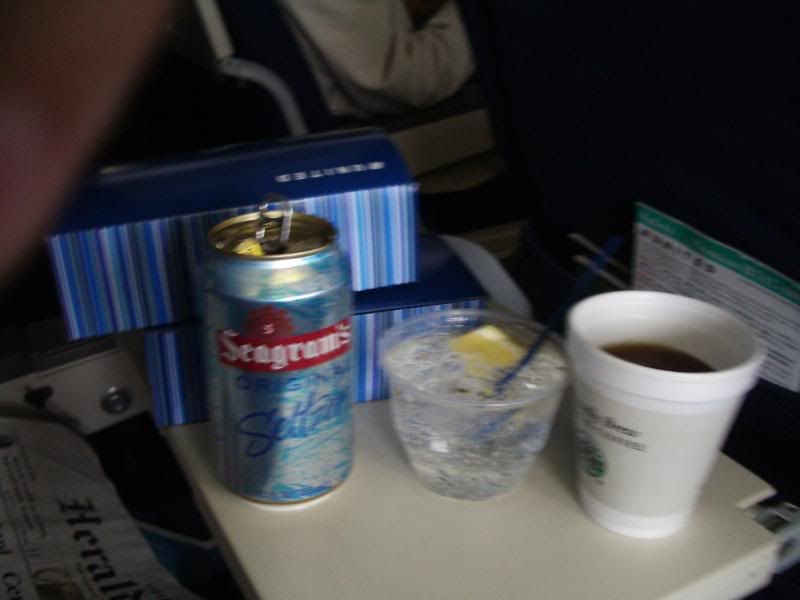 Towards the end of the flight, the FAs came through offering duty free. Unfortunately, I was sat near a large group of Chinese pax who all seemed to go into hyper drive upon hearing this. For the next half an hour at least, there were about 15 people constantly milling around the back ten or so rows to and from door 5R where the trolley was stopped.
They were talking really loudly, and leaning over the back of the seats, then going around showing their buys to their friends. So annoying. I went to the bathroom during this, and came back to find two people sat in my seat, having put my bag on the ground! Argh!, Get out! I told an FA, and she said there wasn't much she could do about the people walking about, which I thought was pretty crappy of her. There were about 4 FAs involved in the duty free selling.
The crew otherwise were quite good though. They came though and offered more drinks, and I got a second breakfast box on request. Channel 9 was on on this flight, but there was some sort of technical error, so it wasn't actually playing, which was annoying.
Just before landing, the captain came on, to thank the crew for all their hard. He then made quite a passionate speech about the crew, mentioning that the Singapore crew base was nearly closed, and that this was the last flight for this crew and the 'short-sighted' management was shutting down the base. I think those were his words anyway. He seemed quite cut up about it anyway, saying that he thought they were the best crew in the network. I'd read about the closing of the base, but didn't realise that it would be happening then.
Approaching HKG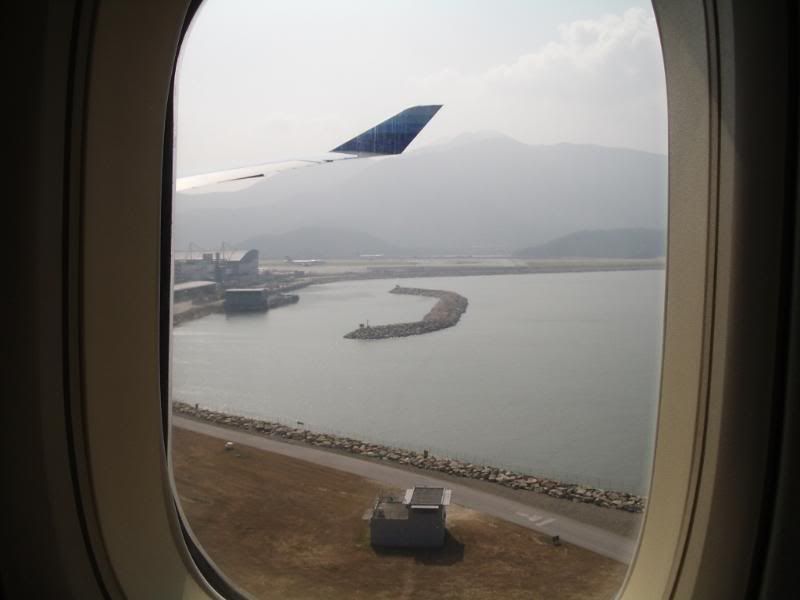 Touchdown
Our reflection in the terminal building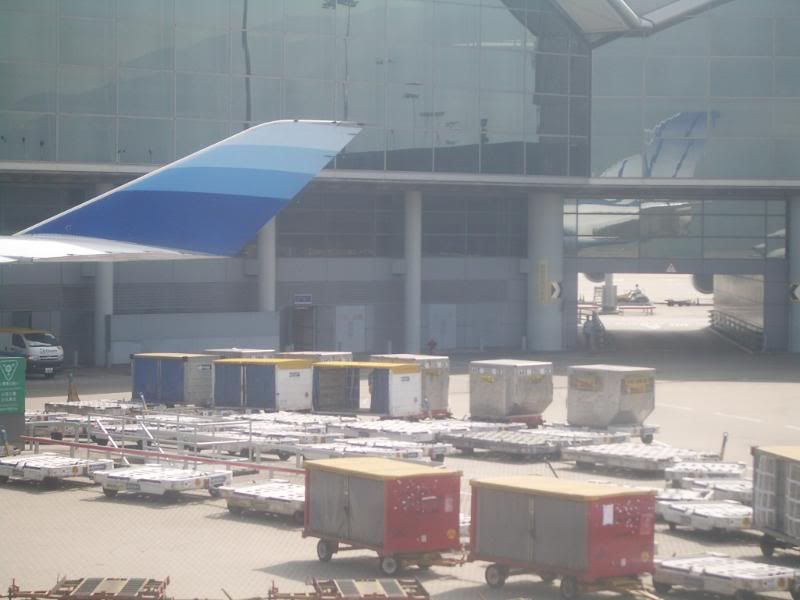 As I was at the back, I asked the nearest FA about the base closure. He said that they believed it would be a temporary measure (2 years), and that these flights would now be operated by HKG based crew. He seemed quite upbeat about it.
As I was last off, I asked if I could take some pictures of the First cabin, and the FA was more than obliging. They were a very friendly crew.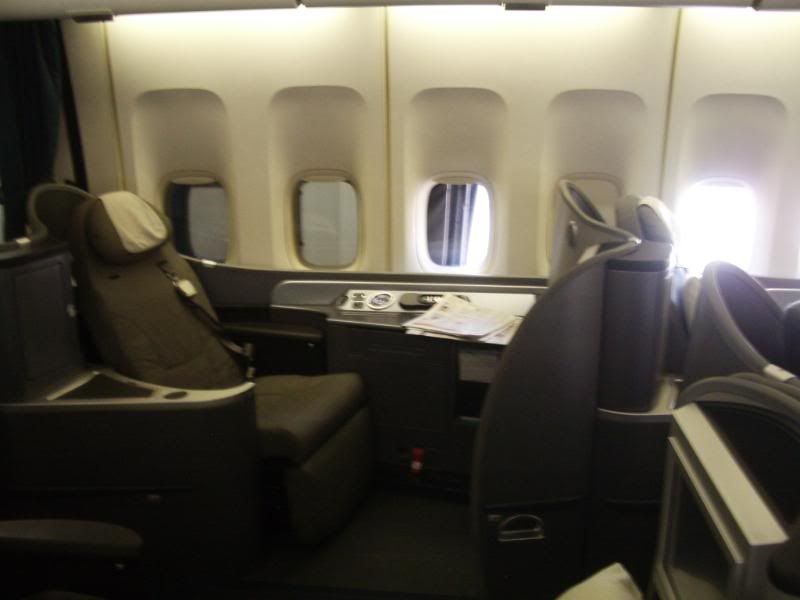 As I was disembarking, I heard the purser say, "thanks guys, see you at 1730", so I assume they work the morning 0650-1025 SIN-HKG, spend all day in Hong Kong, then return on the evening 2000-2335 HKG-SIN. Quite a long day!
I got the shuttle train to arrivals, where there was a 30 minute wait for immigration. As normal, all the other queues seemed to go faster than mine
. Finally, I was back in the Greater China Area (technically China…), ready to get my visa, and back to Beijing. I'm actually planning on starting offering aviation tours in China. If anyone is interested, please PM me for more info
Arrivals
My battle-hardened bag with a nice aray of tags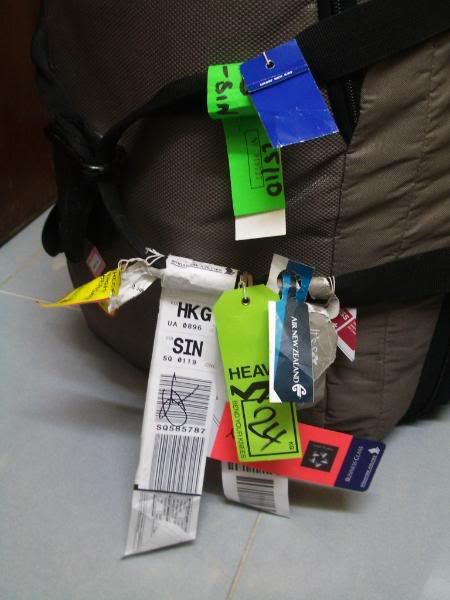 I hope you enjoyed this report. I just put my Tiger Airways report up this evening. Hopefully, I'll finish my SQ A380 report soon…