Short & Splendid: MXP-MUC on Air Dolomiti's BAe 146-300
Intro
Air Dolomiti
and its BAe 146-300 are covered in the third and final part of my latest trip report series. Parts 1 and 2 can be found here:
Winglets On A Classic: MUC-RIX-HEL On Air Baltic
3 Hours On Blue1: HEL-MXP On The MD-90
Malpensa Spotting - Police Check Included
Directly after arriving from Helsinki I went to the main terminal hall and printed my boarding pass for the Air Dolomiti flight at a check-in machine. Then I started searching for a good spot - and indeed, there is a large glass front where you can see most of the movements. Many people were hanging around there, so I decided to stay. Even though Alitalia has significantly downscaled its operations at MXP, it was quite busy in the late morning. There was a large variety of interesting planes, e.g. Air Italy 762, Blue Panorama 763, Cargoitalia D10F, Cargolux 744F, Libyan CR9, Mistral Air 733, NCA 744F, TAM 763 and Thai A346. Iran Air A310 just ahead:
After about one hour, an EL AL 762 arrived and was parked just next to the Iran Air A310:
When I realized the LY 762 would taxi to the gate close to the window I assumed it would be only a matter of time until someone calls the police: I had been using binoculars - which should be enough. And indeed, two Italian police officers showed up - but they first checked a man some meters away. The man appeared to be an Italian and didn't use binoculars or anything else, but who knows. A few minutes later he got his ID back and the officers immediately had a new target - yes, of course, the guy from Germany with his binoculars.
One of the officers asked me what I had been doing here and wanted to see an ID. At least he remained friendly and was able to speak English. I explained that watching planes is my hobby and I tried to show him an aviation magazine as a reference - but he didn't want to see it. Then he took my ID and walked away with it, apparently for a check on the computer. Meanwhile the other policeman - with a slightly grim expression - kept watching me. Now the question was: Should I continue to use my binoculars in that situation? I decided to do so - because there was nothing to hide. And the officers hadn't asked me to stop. Business as usual. Some minutes later the other policeman arrived back at the scene, handed over my ID...said thanks and walked away, together with his watchdog. Well done, guys - common sense was the winner today.
Saturday, 16 August 2008
Milan (MXP) - Munich (MUC)
Air Dolomiti, LH3905
17:00-18:15 (16:58-17:59)
Flying time: 00:50 (hrs)

BAe 146-300
I-ADJF Aida (MSN 3193), built in 07/1991 and first delivered to Dan-Air in 07/1992 as G-BUHC
Seat 16F
Former appearances as G-BUHC (Dan-Air London, Air UK, Flightline) and EI-CTO (Aer Lingus):
Boarding
After some more hours of spotting it was time to proceed to the gate. Boarding was started on time and we had the pleasure to enter a bus which would bring us to the plane. We stopped next to
I-ADJF
, named
"Aida"
, a 1991 model: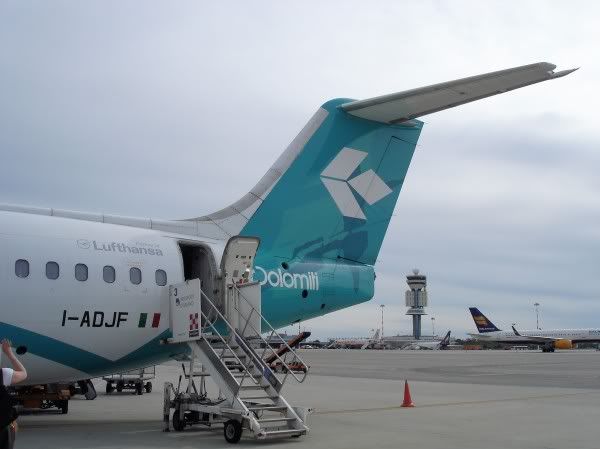 Unlike most other passengers, I preferred to use the rear door. The plane's exterior wasn't completely spotless, but quite clean.
Cabin Comfort
A smiling female FA welcomed me on board and I took my seat in row 16. The plane was equipped with dark green leather seats - unfortunately, arranged in a 3-3 configuration.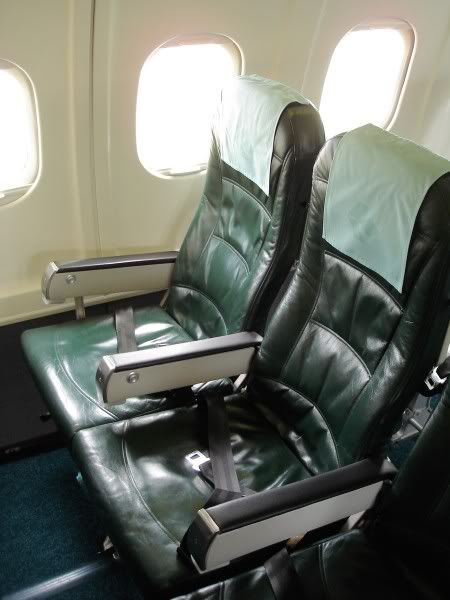 However, my disappointment was gone when I noticed the generous seat pitch.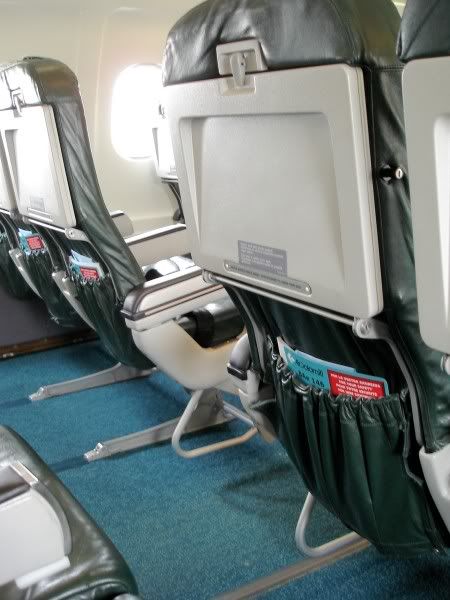 Actually, the seat pitch was superb - more than I had seen before in Economy Class on a short haul flight. Not to forget, the seat itself was comfortable, too. And without any other passenger in my row, even the 3-3 configuration didn't matter.
The cabin view (picture taken later during the flight) reveals a load factor of about 60 percent: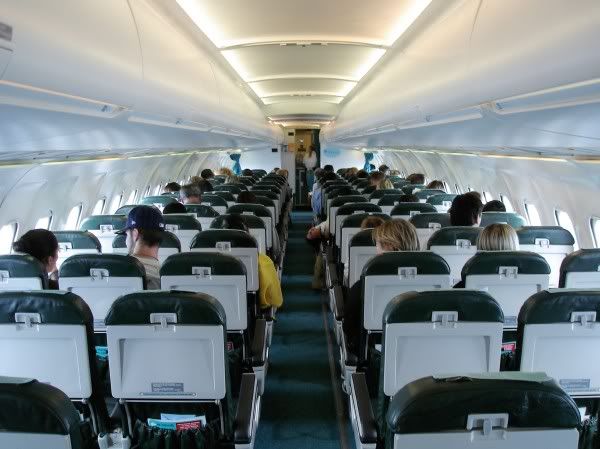 Lots of unused space in the cabin:
Captain's Speech and Refreshing Towel
While standing next to the cockpit door and (facing the main cabin), the captain welcomed the passengers on board and mentioned some details about the flight. The next surprise followed only a minute later: the friendly FAs distributed refreshing towels - not a common practice on European short haul flights.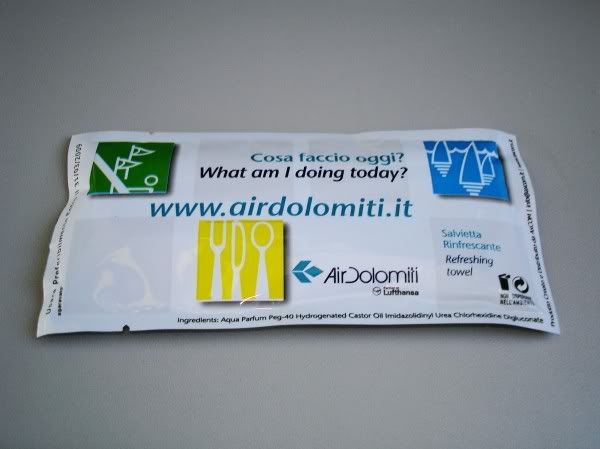 We left the parking position early and entered the runway...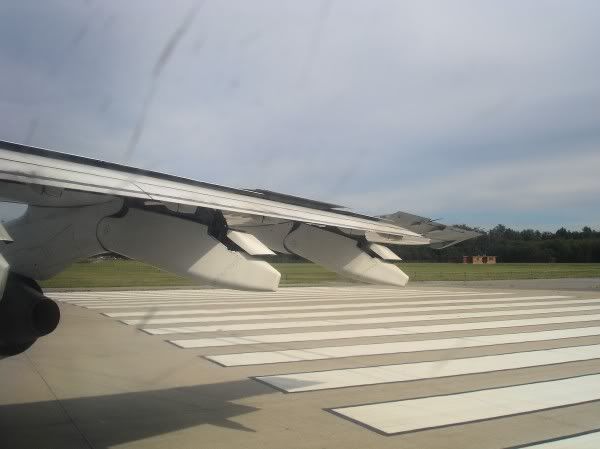 ...for a powerful takeoff...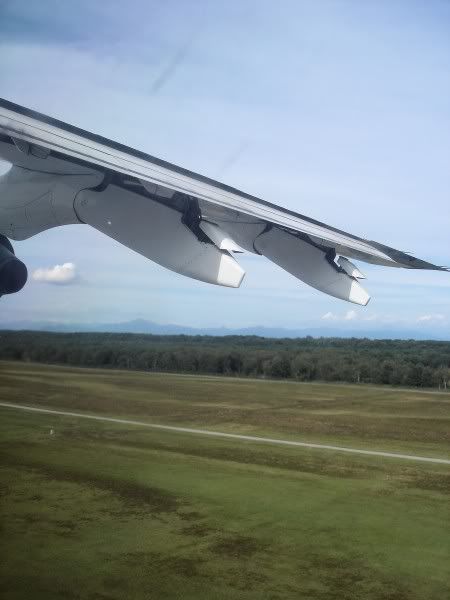 ...and a steep climbout: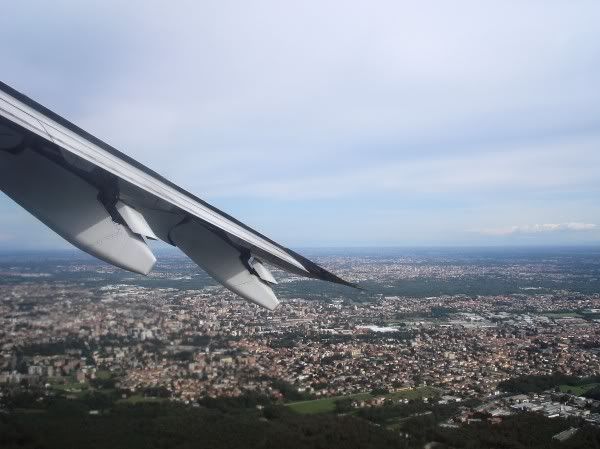 The Alps mostly covered by clouds:
Snack Service
Only a few minutes after takeoff, the two FAs had already started to prepare the snack service. Once we had reached the cruising altitude, they distributed snack boxes and offered cold and hot drinks. Air Dolomiti introduced the
"Settimocielo by Air Dolomiti"
(= Seventh Heaven) in 1996, a registered trademark which gives its name to the onboard hospitality and a range of exclusive products. I was curious to see whether the food and drink service as part of that concept would still be as good as often reported.
Here's the snack box, together with a cup of coffee: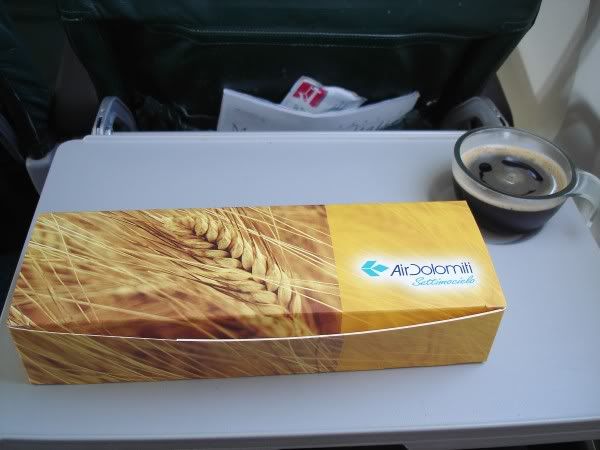 The box contained a biscuit filled with lemon jelly, crackers with olive flavor, gelatine candies and a cup of water. While the candy was just ok, the biscuit and the crackers tasted quite good. And the coffee was excellent - probably the best airline coffee I have ever got (Alitalia's wasn't bad, either, btw).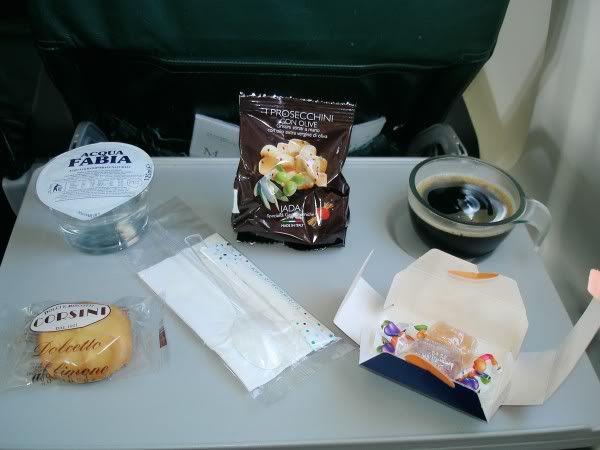 Innsbruck & the Walchensee
Just when I had finished the snack we already passed the city of Innsbruck: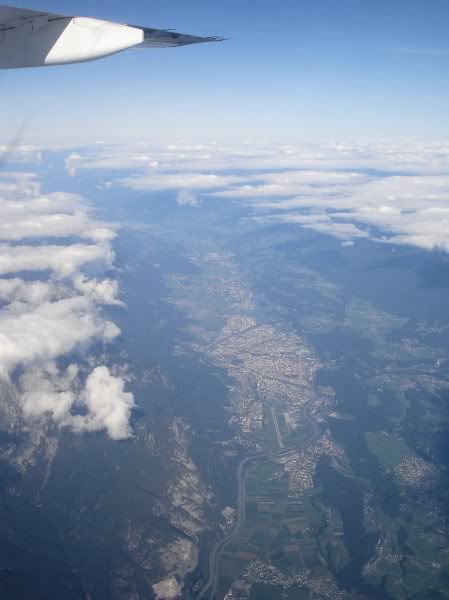 Of course I had a closer look at the airport:
Three minutes later we passed the Walchensee or Lake Walchen, one of the deepest and largest alpine lakes in Germany: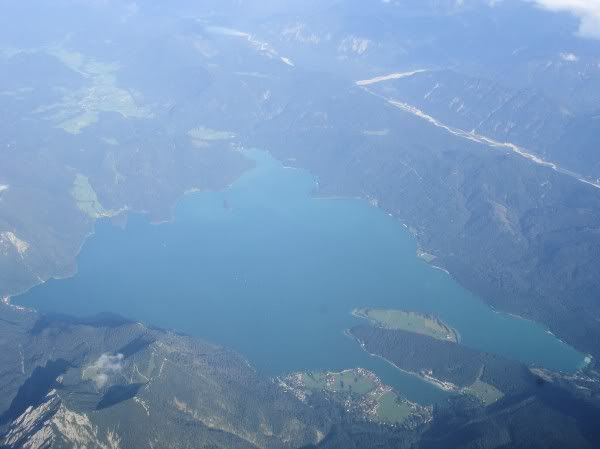 Approach
The FAs were still busy with collecting the last items of trash when we started the approach. There's a small village right in the middle of numerous acres:
This is only a small part of the facilities which logistics companies have built close to the airport:
Only seconds from touchdown on runway 26L: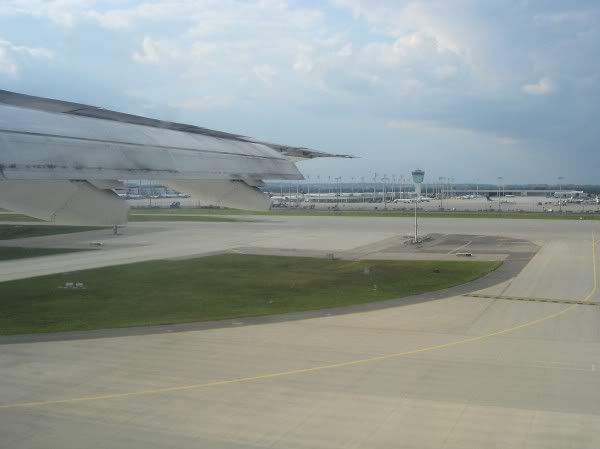 We taxied to a remote parking position far from Terminal 2 where a bus was already waiting. Last shot of
I-ADJF
today: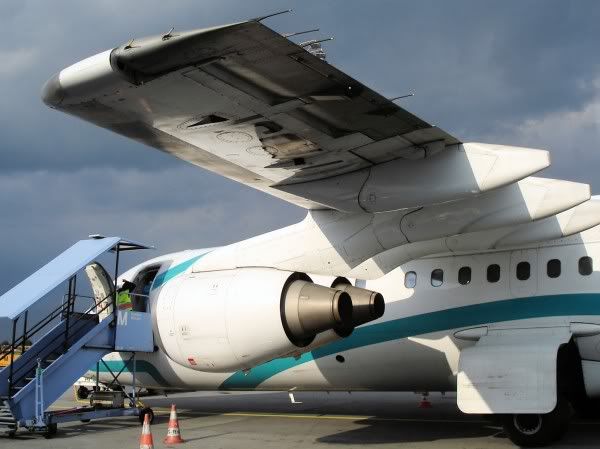 Conclusion
Flying
Air Dolomiti
was a true pleasure. Ground staff and flight attendants were friendly and customer-orientated. The cabin was clean and in good shape, overall seating comfort was good, pitch in particular was simply excellent. The food service was apparently downgraded, but it's still decent, considering many carriers don't serve anything to eat any more on such short hops. And let's not forget the coffee which deserves an extra praise.
Lufthansa can be glad about having such fine regional partner - let's hope the airline will keep its identity along with its high quality product in the future.
Best Regards,
PlaneHunter