Can one ever go wrong choosing Singapore Airlines? Even a non-fan hoping to find fault will admit the task is a difficult one. The consistency with which service is dispensed, the quality of the offerings, and the seemingly perfect down to her symmetrical smile Singapore girl are some of the reasons why so many travelers choose nothing else – and this doesn't even include the fan(atic)s who seem to live and breathe SQ. The fact remains that wherever one's loyalties lie, there's no denying this airline is a class act – one that consistently manages to hit the right notes. After all, when was the last time you scrolled down an airline poll and
not
find the airline's name among the top of the list?
I chose Singapore Airlines because I had to be in Melbourne, and having over-stretched my budget for the trip already, I was looking for something that was ideally free, or at least almost free. With just enough miles left in my TG Royal Orchid Plus account for a Star Alliance Business Class return ticket from Kuala Lumpur, the decision was a rather obvious one. Not bad, as Hobson's Choices go.
Although I'd flown Singapore Airlines many times before, this would be one of the few times I get to try Business Class, and the first time I am spending more than an hour on "SpaceBed", the business class seat, introduced in 2002, that's designed for the 0.00001% of us who enjoy sleeping on a playground slide. I had originally hoped to test the new flat Business Class seat on the B777-300ER, but that flight proved impossible to snag on a redemption ticket, so settle I did for the older version on the B747-400. Considering that SQ is in the process of putting both the SpaceBed and B744 out to pasture, I am now rather glad it worked out this way.
October 18: Outbound from Kuala Lumpur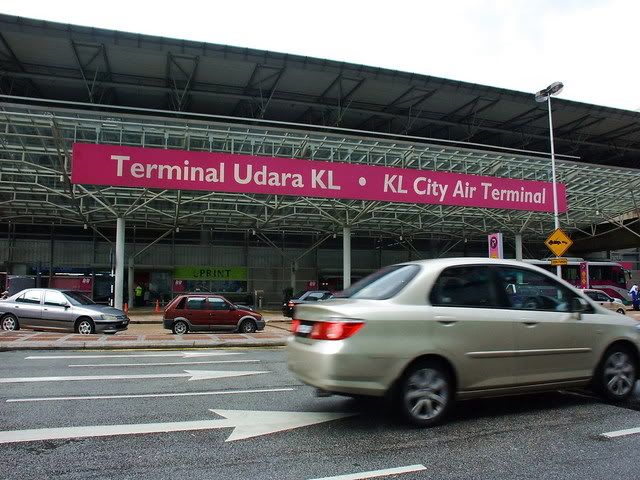 The journey starts here. There are baggage check-in facilities at the KL City Air Terminal, but only for a handful of carriers: Malaysia Airlines, Cathay Pacific, Royal Brunei, Emirates and I can't think of any more. If you're travelling on most other airlines out of KLIA – and that includes Singapore Airlines - you'd be carting the bags to the airport. I wonder why that's the case. This is in sharp contrast to the city terminals at Hong Kong, for instance, where the vast city center check-in facilities are used by the majority of airlines.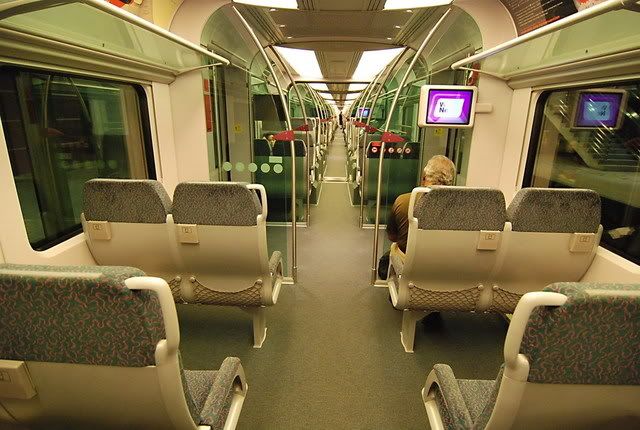 The KLIA Ekspres Siemens-manufactured train traveling on a dedicated railway track gets you from the center of Kuala Lumpur to the airport over 70 kilometers away in a little under half an hour. The train is comfortable enough, but the continuous TV infomercials are a little annoying - there's no 'quiet' compartment on the KL Ekspres.
Arriving at KLIA some 90 minutes before departure, I head straight for Singapore Airlines' check-in desks which, like huge sections of this airport, are largely empty this Saturday night. A minute's wait at the Business Class counter and I'm all set for Melbourne. Some parts of the airport are decked out in Hari Raya cum Deepavali celebratory regalia, which provide an interesting diversion for the camera.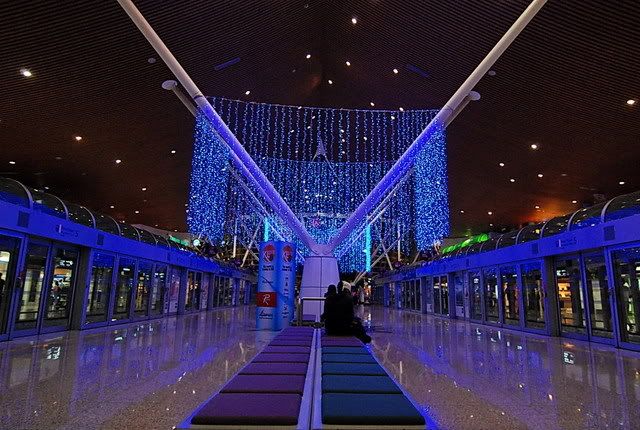 The satellite, reachable from the main terminal by what the airport quaintly calls an Aerotrain, is where many medium and long haul international flights depart. Almost all foreign airlines use the satellite too. The upper level of the satellite is where the airline premium lounges are located. Balconies run all around the upper level of the satellite building, so it's also a good place to while away your boredom by taking in a stroll with a view.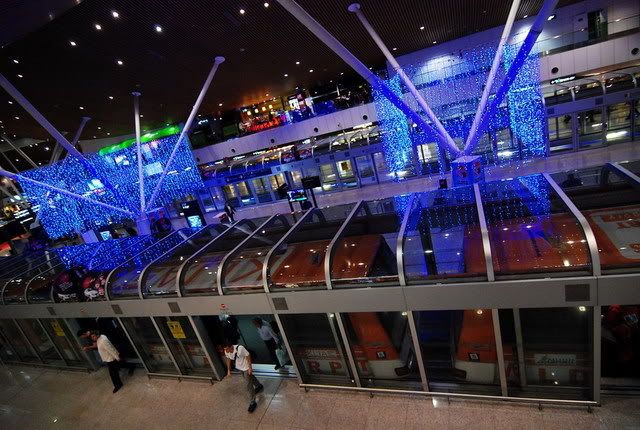 Singapore Airlines' Silver Kris Lounge has a remarkably life-like cutout at the door. It is one of the easier lounges to find, but not to enter. The airline's own First and Business Class passengers are of course invited, but the Star Alliance riff raff are not welcome here. No wonder some question SQ's commitment to the airline alliance.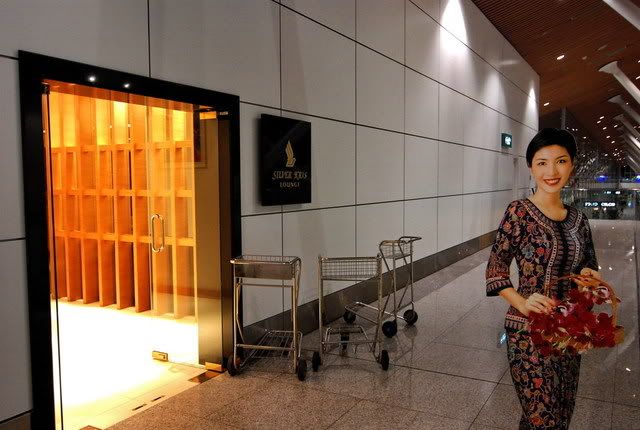 This lounge is as old as KLIA, which this year celebrates its tenth birthday. From the look of things, it seems to have been refurbished. It's been years since I set foot in this place and have forgotten what it looked like before, but the upgraded version looks promising.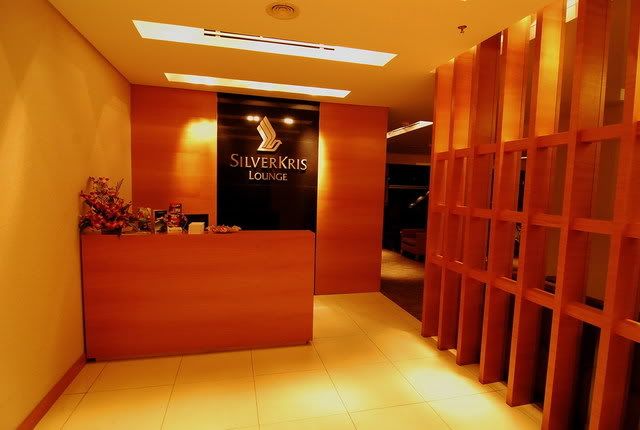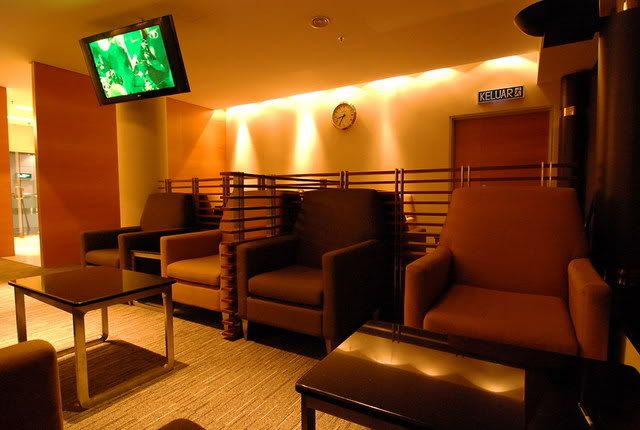 Inside, SQ's signature lounging caramel-chocolate is very much apparent. It's a comfortable enough place, but with no wish to work on my laptop or company to chat with, I quickly lose patience in most premium lounges, and strangely feel the urge to leave the moment I enter. I take a window seat, fix myself a drink, and ten minutes later spot the incoming B772 from Singapore pulling up on time at the gate. It's the cue for me to hightail it out of here…
Across from the Silver Kris Lounge is Thai's Royal Silk Lounge, looking resplendent after its recent refurbishment. This is a much larger facility, and far more welcoming to Star Alliance members.
A Singapore Airlines metal parked at favorite gate C2 is one of those things one takes for granted. The airline's high frequencies to KLIA (of up to nine flights a day in its heyday) made them an almost permanent feature. But alas not any more – low cost competition on the Kuala Lumpur-Singapore route is taking its toll. Already, the airline is cutting frequencies in favor of subsidiary Silk Air, which has started flying in with smaller A320s from end-October. And from December, Singapore Airlines' B772s will hardly feature at all at KLIA during the weekend, with frequency cut to a measly two flights a day on Saturday and Sunday. Who would have thought – SQ a rarity at KLIA!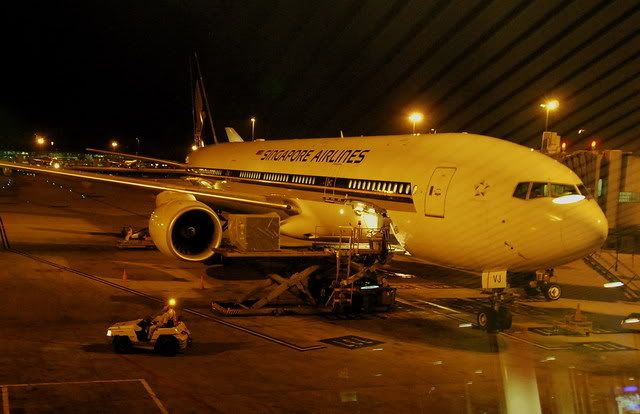 Singapore Airlines SQ 119
Kuala Lumpur – Singapore
Boeing 777-200ER registered 9V-SVJ
Depart 2145, Arrive 2248 (8 minutes late)
SQ 119 is the last Singapore Airlines flight out of the day, and many of the passengers are connecting to late night departures from Changi to Europe, Japan and Australia. With a light load - no more than a hundred passengers in total and less than a third of the 30-seat Business Class filled - boarding is swift and efficient. I am greeted at door 1L and shown to my pre-selected window seat at the back of the cabin.
9V-SRJ is a SpaceBed-equipped triple seven that usually plies the thinner European routes and other longer hauls like Johannesburg and Auckland. The KUL route gets more of the regional-configured 323-capacity B772s but there's usually at least one flight a day operated by this lower 285 pax-capacity aircraft. Even though SQ has none of the A-market 772s, it only calls the SpaceBed-equipped sub-type "ER".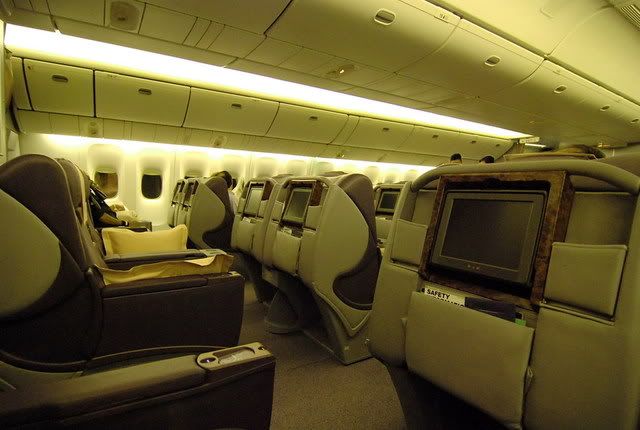 Thirty seats arranged in a 2-2-2 configuration in an empty front cabin should leave plenty of room to spare. Except it feels oddly cramped, and far less spacious that what I imagined. Comfortably padded it may be, but the SpaceBed seems like an overly-cumbersome contraption that takes up both seat pitch and width, without necessarily adding to my own. The seats have a not disagreeable pastel hue of an SQ going through its middle-aged lilac-lavender phase. Even so – and I never imagined I'd say this - I think SQ's regionally-configured J cabin feels far more spacious. (Oh, just in case some may feel the urgent need to flame the writer at this moment, that's a totally subjective observation, not a complaint!)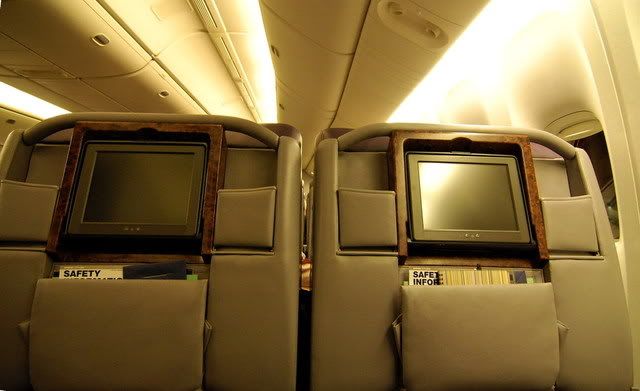 After all, what's there to complain. We push back right on time, and the service from three cabin crew members on a light load is efficient, friendly and so by-the-book SQ, I can hardly remember it. I think that's meant to be a compliment, but those SQ-flyers among you will know the drill: hello greeting, symmetrical smile; drinks, symmetrical smile; newspapers, symmetrical smile; magazines, symmetrical smile; hot towels, symmetrical smile; address-by-name, symmetrical smile; notice passenger 16K doing weird things with camera, symmetrical smile… jokes aside, we are
so
pampered in this part of the world, we take it all for granted.
It's the shortest of hops to Singapore – with the plane ready to descend almost immediately it reaches cruising altitude – making catering a challenge. The single trays are dispensed quickly, and there's even a choice of chicken or mutton tortilla wraps. Perfectionists will dislike the presentation, but underneath that plastic and paper wrapping, the snack is remarkably tasty.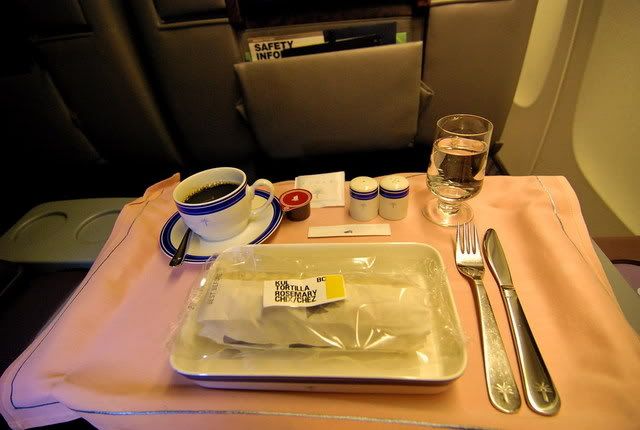 Thunderstorms in the vicinity of Singapore and a taxi around Changi that seems to take an eternity delay our arrival. We tour the entire length of Terminal 3, where we pass no less than three A380s (boy, these birds are getting common!), circle around BA, Qantas, JAL, KLM and Air France heavies readying for their night-time departures at Terminal 1, and finally reach our stand E8 at Terminal 2. Normally, I would have enjoyed this type of detour, but not tonight – with the delay, my 55-minute scheduled connection time is looking very precarious indeed.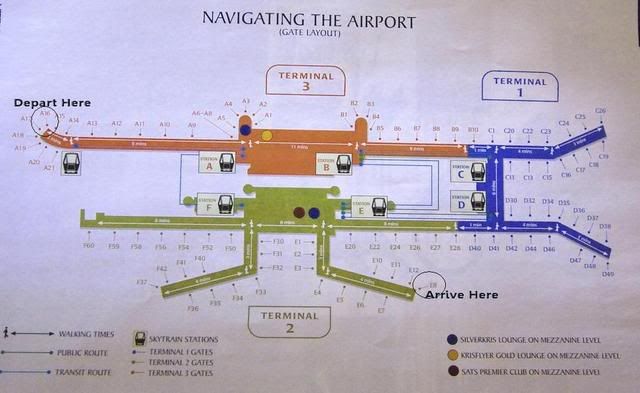 Ground staff with a board showing SQ flight and gate numbers greet us on arrival. I find out the Melbourne flight is leaving from gate A16 in Terminal 3, quite possibly the farthest place in the airport building you can get from here. By this time, I have barely 40 minutes to make the connection. What happens next is a scene out of Amazing Race as I tail two others from the flight, rushing to make the same connection. Brisk walking bordering on a sprint; shops, lounges, travelers, trains, Singapore girls whisk by in a blur of anxiety and sweat – it takes us 25 minutes to get to A16, where the last of the passengers are boarding when we arrive.
Singapore Airlines SQ 237
Singapore – Melbourne
Boeing 747-400 registered 9V-SPI
Depart 2352, Arrive 0945 next day (on time)
Everyone in Business Class is already seated when I board. I'd reserved a middle aisle seat in the usually less popular lower deck cabin on this overnight flight, hoping for an empty seat next to mine. But no such luck today - the flight is going out 100% full. Dripping with sweat after racing across the airport, I must have been quite a sight when I turn up that my new neighbors – a distinguished-looking Cambodian couple – look at me funny: the wife who is already comfortably installed in the middle seat next to mine gives this creature the once-over, whispers something to her husband, and then promptly swaps seats with him!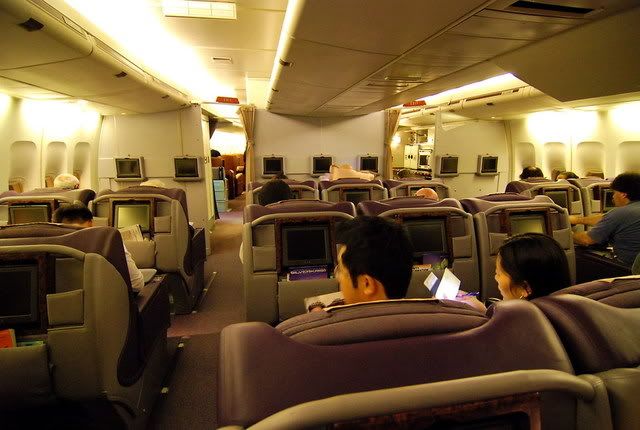 Although configured 7-abreast and despite the full cabin, the SpaceBeds here feel a little more spacious than on the B772 - it could be purely psychological. The usual rounds of drinks and towels cool me down as I sink into the seat (it's actually rather comfortable), recover from my cross country run, and quietly enjoy the surroundings. The B747 does feel rather special; and it's sad to see more and more airlines, including SQ, start retiring them in favor of those boringly efficient twins. They'll never be able to truly replace the 747. Of course, had I been sitting by the window, my adoration for the queen of the skies could have been dampened somewhat by the rain falling on my head. For in addition to the wonderful things Singapore girls usually do, the ones on this flight are also busy mopping overhead compartment panels and stuffing paper towels into crevices to stop air conditioning condensation or suchlike drenching some Business Class passengers. Ah, the charm of older planes! The captain comes on to say we've all boarded but there's a slight ATC delay – with a short flight time of 6 hours 30 minutes, we'd still get into Melbourne on time, he says.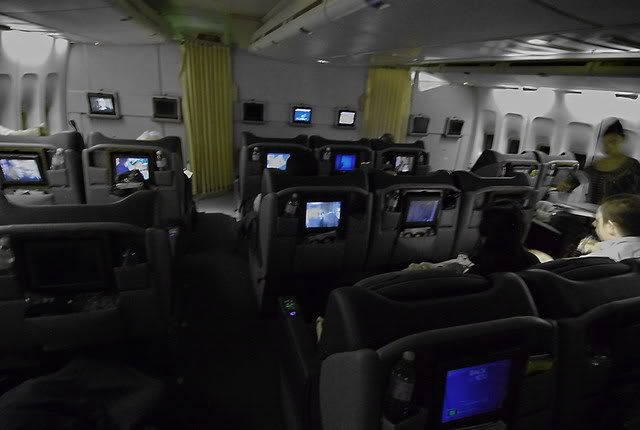 Taking off into the dark sky after midnight, the lights are suitably dimmed. A small comfort kit of socks and eyeshades, noise-cancelling headphones and menus have been distributed, while most of the passengers just nod off. As drinks are served, Michelle, a pretty and very chirpy Singapore girl serving the cabin, comes round to take meal orders. She apologizes to me for being the last person in the cabin to be asked.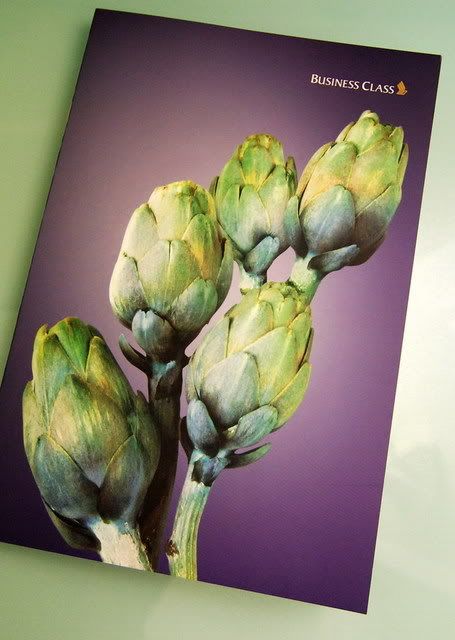 The menu has changed somewhat since my last J class experience earlier this year on SQ; cosmetically, the size of the menu has shrunk by a third, while the wine list is now incorporated into the menu. Corny SQ terms like "The Main Event" have thankfully disappeared. But perhaps most surprisingly, there is only one meal (that resembles a snack, or alternatively, breakfast) served between Singapore and Melbourne on this red-eye flight - which you can choose to take either after take-off, or 2 hours before landing. The airline will no doubt say passengers prefer simpler meals on late night flights, but I detect the hidden hand of the bean counter meddling in the kitchen. Everything on offer fits on one page: not good at all.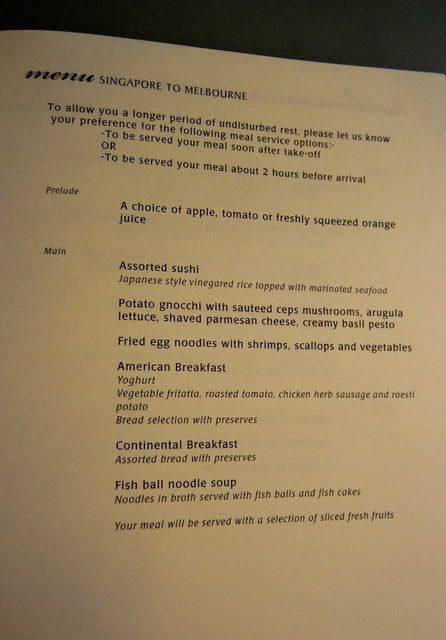 Still, I find it hard to decide. When I eventually opt for the fish ball noodles to be served later, Michelle warns that the noodles are of the instant variety, "but it's quite alright, many of the crew like it too," she says. I must have looked hungry for Michele then says: "Why don't you have the sushi too? You can have sushi now… and the noodles before landing! I think we'll be able to manage that." I ask if that's not being a little greedy, and the response threw me: No, that's just getting your money's worth, she says cheekily.
The sushi is promptly delivered and devoured, after which Michelle returns asking how it was. I say fine, to which she replies with a wink: Good, I'll be having one now, before disappearing behind the curtains. That's certainly a different - and very refreshing - face to the usual SQ formality! Perhaps, it's acceptable to be human now
In the dim surroundings of a night flight, there's a limit to what photos you can take. Behind the cabin where the washrooms are located, the stairs to the upper deck is a nicely lit-up exception.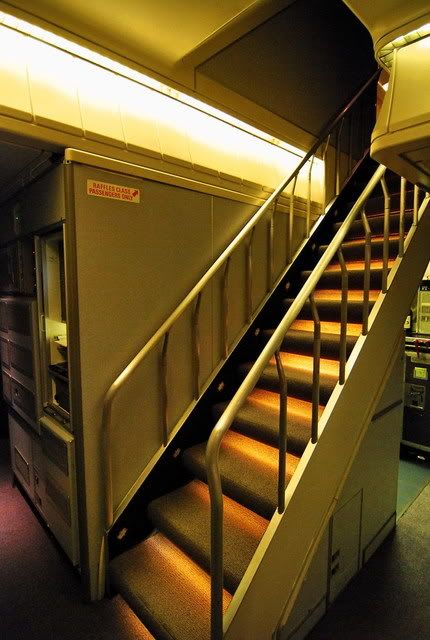 I settle in to bed after most other passengers, recline my seat to a semi-flat position and, despite my earlier misgivings, find the SpaceBed surprisingly comfortable. It is on the narrow side, but feels less slide-like than similar CX, MH or TG offerings. I sink into slumber easily and manage about two hours, before Michelle appears with noodles as the second meal for this unashamedly self-indulgent passenger.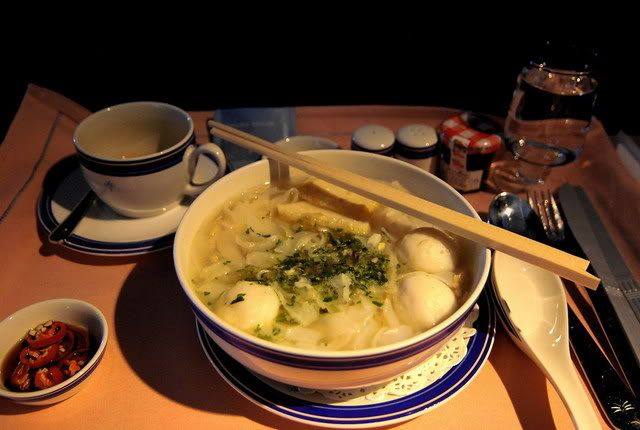 We land on time in Melbourne on an overcast Sunday morning. The next few days are the subject of a previous trip report – so, we pick up the story from there…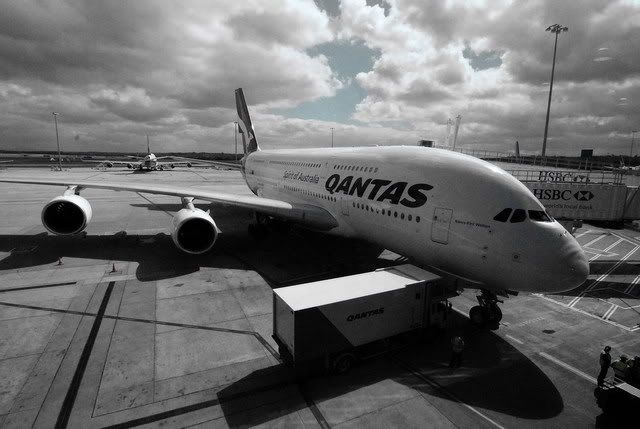 October 22: Return from Melbourne
The first westbound transpacific Qantas A380 flight brings me back from Los Angeles into Melbourne Wednesday morning. According to the schedules, I have exactly two hours to connect to my SQ flight to Singapore at 11.15 a.m. which is a bit of a risk: granted there seems to be plenty of time, but only if you don't encounter flight delays or have to clear customs in Australia. Luckily, the inbound flight is a few minutes early, and QF agents at LAX had kindly tagged my bag all the way through to SIN and onto my final destination KUL - despite me holding separate tickets, and flying on a different alliance for my onward sectors. That's a nice surprise, as airlines these days don't generally feel the need to help you in this way anymore.
Melbourne's obviously not a big international transit airport like Changi or Dubai as I seem to be the only passenger from my flight following the "International Transfer" signs that lead me back, after a quick security check, to the Departures level. I also can't find any transfer desks either – does Melbourne have any? Then it strikes me: as a Business Class passenger, I can get my boarding pass at the lounge! Before I go there, I take another peek at gorgeous Nancy-Bird that flew me here – and notice a baffling directional sign for the Emirates and Qantas First lounges.
As an aside, both Singapore Airlines and Qantas are featuring the A380 as key stories in the October issues of their inflight magazines. QF celebrates the first commercial flight on October 20, while SQ commemorates the first anniversary of its inaugural flight between Singapore and Sydney on October 25.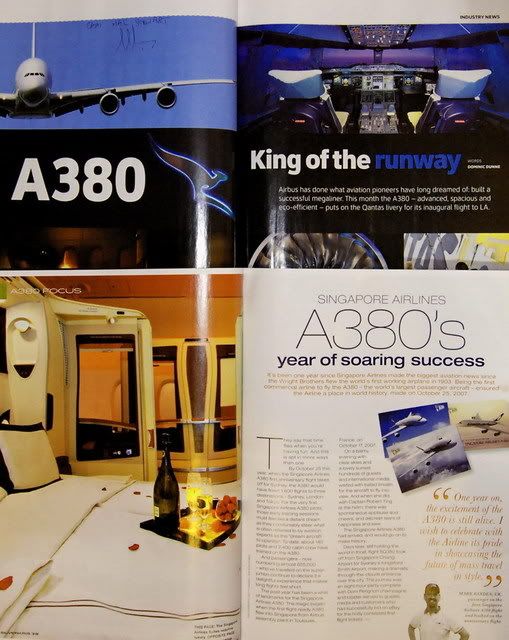 The Silver Kris Lounge is located one level down from Departures alongside the lounges for Cathay Pacific, Malaysia Airlines and Air New Zealand. Unlike at KLIA, this one is open to Star Alliance members.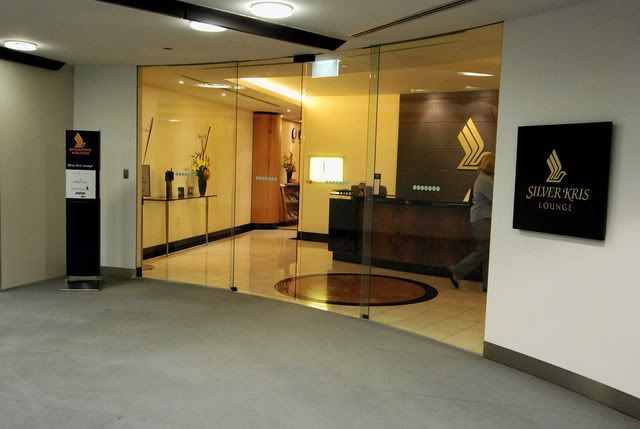 I receive a warm welcome from a friendly lounge agent, whose name I would have remembered had I been a better trip reporter; she gets rather excited when I tell her I just stepped off the QF A380. You must be really tired, she says. It hadn't struck me until now how long I had been flying to basically get where I started from – but tired I certainly am not. In fact, I am - rather inexplicably - feeling refreshed. My boarding passes are quickly and efficiently issued; I am told flight 238 to Singapore has 20 free seats in Business, but my reserved upper deck seat has a companion. "The upstairs is always busier… why don't you move to the main deck? I can get you a window seat and block the one next to you." Much as I would like to try the upper deck on the return, the offer is too tempting to pass up.
The SQ lounge is divided into two sections: just like on boarding a B747, First Class passengers turn left, while Business goes right.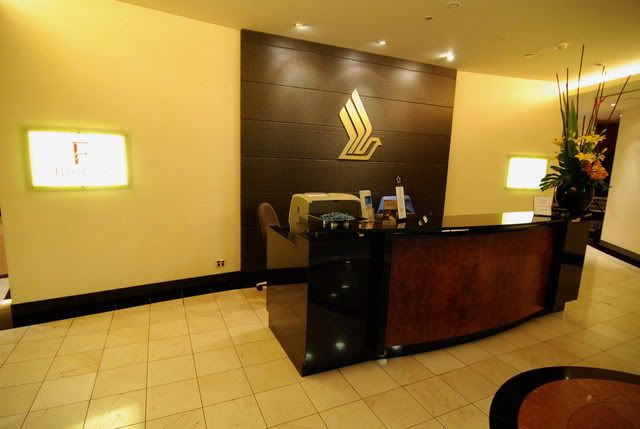 The Business Class lounge is a decent one, but it's nothing special. Normally, I would be wanting a shower about now, but forget all about it… after a coffee, I am all out of lounging and raring to go. As I leave, I am told there's a departure delay of up to half an hour due to late arrival of the incoming aircraft, so I end up spending an enjoyable 10 minutes at reception reliving my inaugural QF A380 experience sharing pictures on my camera with Miss Lounge Agent.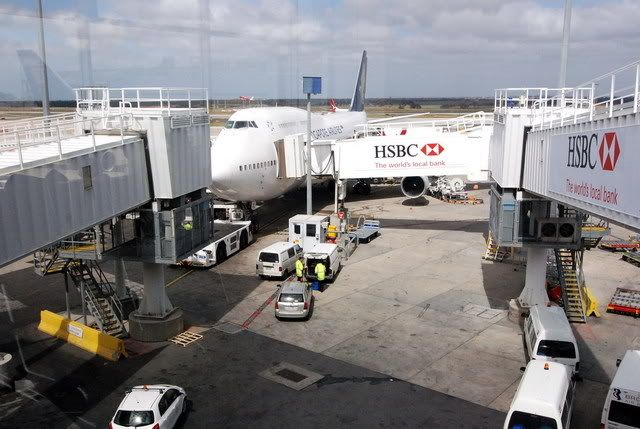 When I get to gate 8, 9V-SPE (delivered 1995, among SQ's more mature machines) has just arrived, and is hurriedly being prepared for the return to Singapore. At the same time, an earlier-arrived company B744 sits parked on the apron, awaiting a much later evening return flight. Interesting to me how SQ schedules its overlapping equipment into Melbourne: one B744 has a scheduled turnaround of 90 minutes (arrives 09.45, departs 11.15), while another B744 has a turnaround time of nearly 10 hours (arrives earlier at 07.10, departs later at 16.50)! I would guess the shortage of gates at Melbourne's International Terminal during the morning peak hours, and a desire to cut down on towing charges could be the reason behind this unusual rotation. Or is it something else? Any insights from SQ insiders will be welcome.
Singapore Airlines SQ 238
Melbourne – Singapore
Boeing 747-400 registered 9V-SPE
Depart 1132, Arrive 1545 (15 minutes early)
From the lack of crowds at the departure gate, it's obvious this morning's flight will be leaving with a light load; and that always puts everyone – passengers and crew alike - in good spirits. The anticipated half hour delay does not materialize either: we board marginally late, and eventually push back just a quarter of an hour behind the timetable. Not a major problem, says the captain, with today's faster-than-expected 6 hour 50 minute flight, we'll be getting into Changi early in any case.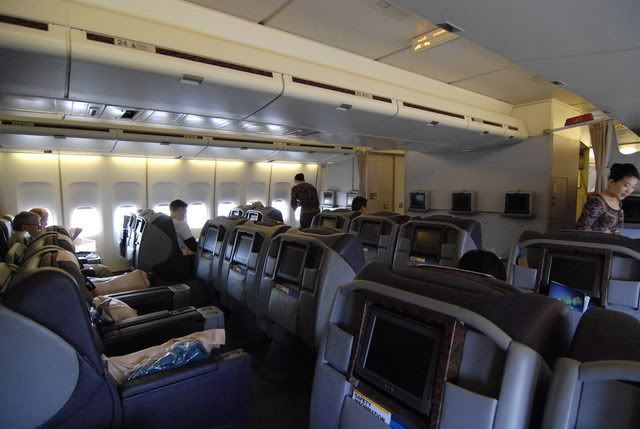 I am glad I was offered the lower deck. Today, it has the type of passenger-to-crew ratio I like best: nice and low with an abundance of empty seats, so service is personalized and attentive; but not so empty that one becomes the center of attention for a bored crew. Even if there is no Michelle-equivalent among the Business Class crew on this return flight, the service is still warm and friendly, if a little by-the-book; dare one even utter the word "robotic"? It is inevitable that when you've flown SQ a few times, you start developing expectations of the airline that are far higher than most others. That must be said to be fair to SQ and to put things into perspective, for one does not gush into praises when a crew member remembers your name, or refills your drink without asking – these things are not extraordinary for SQ. Maybe for some airlines, they warrant an essay, but on this airline, it's all part of the routine. So, in the grand scheme of things, saying an SQ flight is "unexceptional" - as this is - is already praise indeed.
Taxing out to runway 16, we bid a distant farewell to Nancy-Bird as well as the SQ B744 on the day-long layover.

With a light load, this four-holer is set for a powerful takeoff tracking northwest into the heart of outback Australia. Having just got off an A380 where the selling point is an almost complete absence of noise, I am more conscious than ever to this, the old-fashioned feel and sound of flying: the purrs, grunts, roars, groans and mechanical thuds from a plane of dials and levers that was first conceived more than 40 years ago. Yeah, noise! And loving it.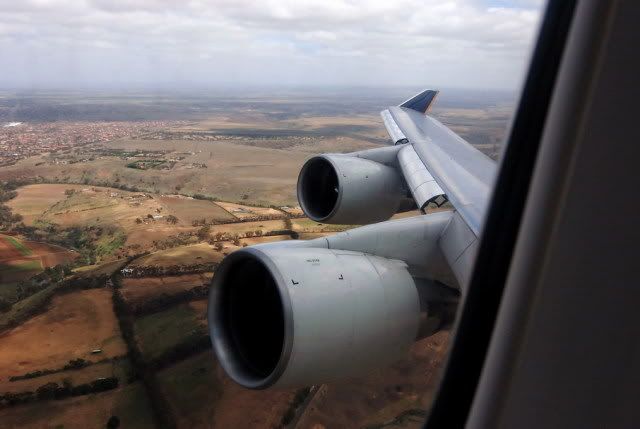 A toast to aviation seems in order. I ask for a tall glass of the Charles Heidsieck bubbly as an aperitif. A senior ranking red kebaya-attired Singapore girl delivers it to me.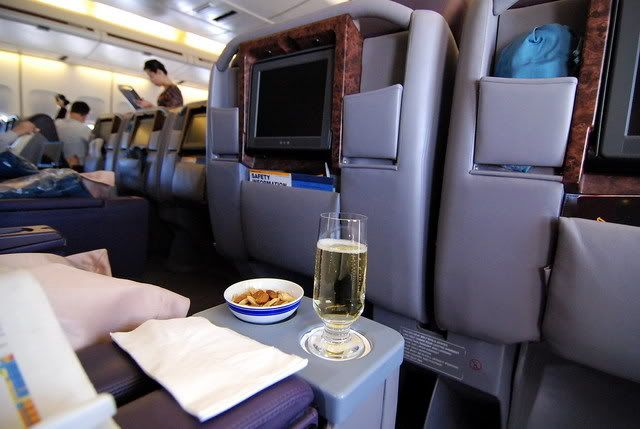 I am about to take my first sip… when I spot something amiss on the glass. But where's the logo? I recall
Lufthansa747
in his recent SQ First Class trip report causing more than a couple of unexpected ripples with his "the F logo on the glass is not facing me" comment. Can this be true? Does lightning strike twice? Am I witnessing
another
SQ service failure right here, live aboard SQ238? And one committed by a red kebaya, no less? I look at the glass again up close: yup, no logo…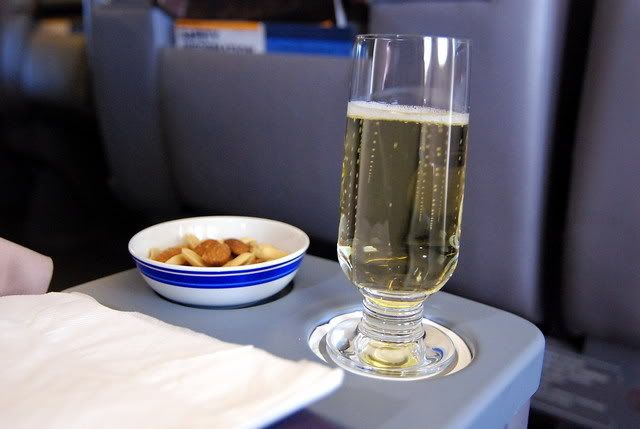 I do eventually find the logo – of a palm tree, trademark of the now defunct Raffles Class – but it faces away from me. Dear oh dear. Whatever is the world coming to?
The menu for the return daytime flight is more substantial than on the outbound red-eye. Still, the offerings - with the absence of a salad and satay to start for instance - do look like the let's-see-what-we-can-cut, budget-light version of what used to be. Lunch is to be served not long after takeoff, while refreshment will be dished out before arrival.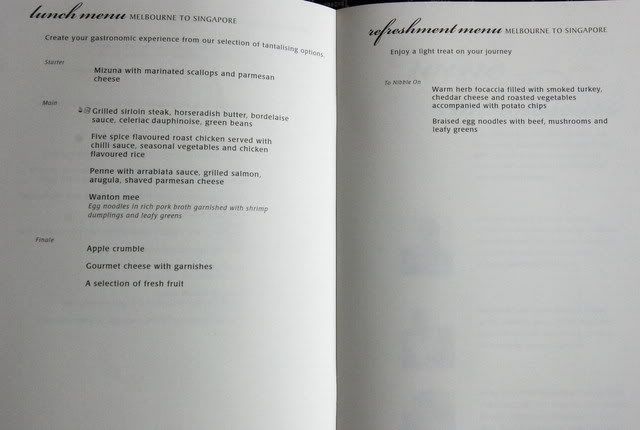 First lunch: I am famished. Yummy marinated scallops to start. Notice how the old palm tree Raffles Class logos are still very apparent in the tableware.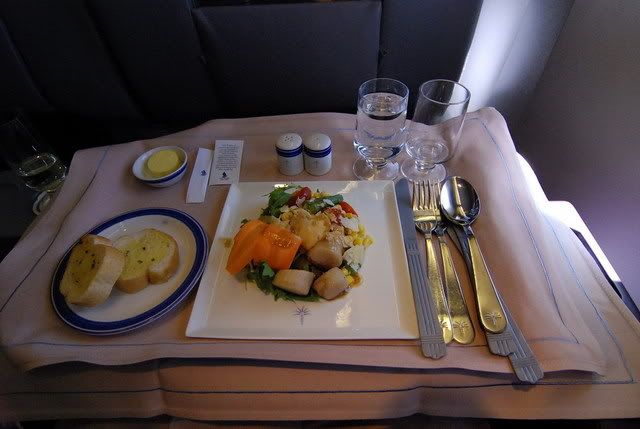 Australia must be one of the few remaining major countries in the world where flying stainless steel knifes are still banned. SQ uses grey plastic knifes which do not flatter the meal presentation at all.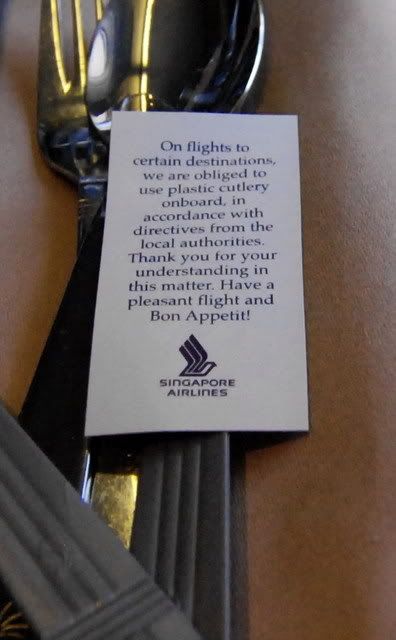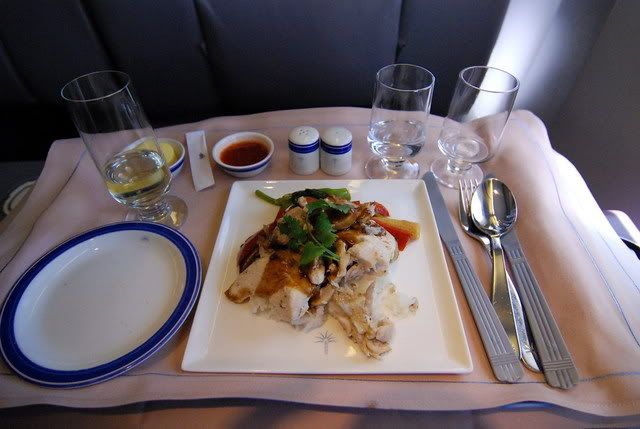 For the main course, I choose a Singapore favorite, the chicken rice. Not quite the real thing but it's a decent offering. Up to this point, the meals aboard SQ have not been bad but they are not particularly impressive – with attempts at cost cutting quite apparent even to an infrequent Business Class passenger. Compared to the truly high quality offerings one gets in Y Class, what's served in J Class looks rather ordinary. Perhaps it's time to start lowering expectations.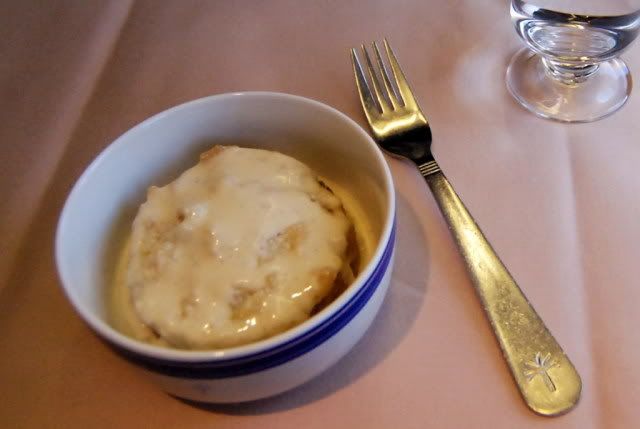 But never mind about the food. One thing this restaurant does have is a table with a great view. Flying across Australia during the day must be one of my favorites. The scenery is quite simply out of this world.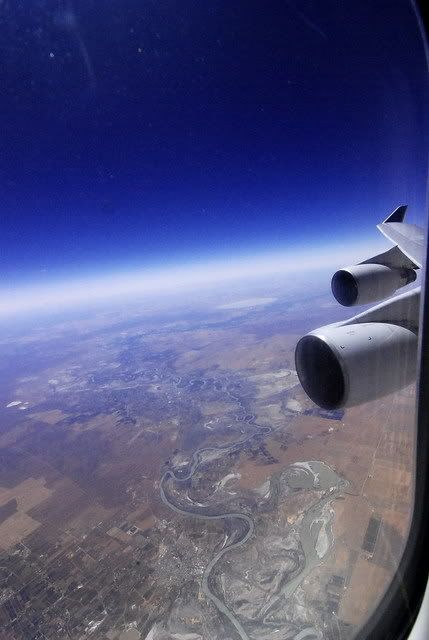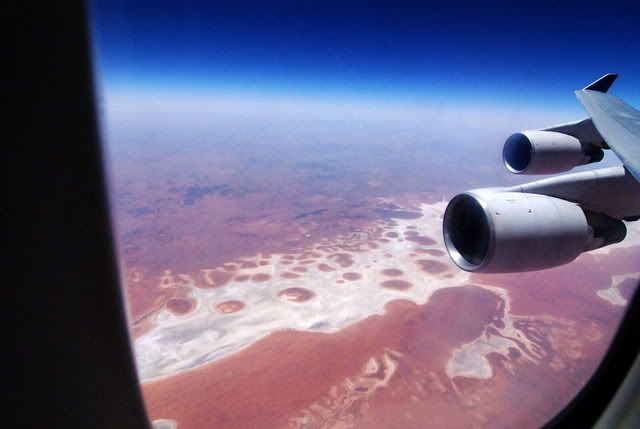 As we near the red heart of the continent, the vivid and unfamiliar landscape look like they should belong on another planet.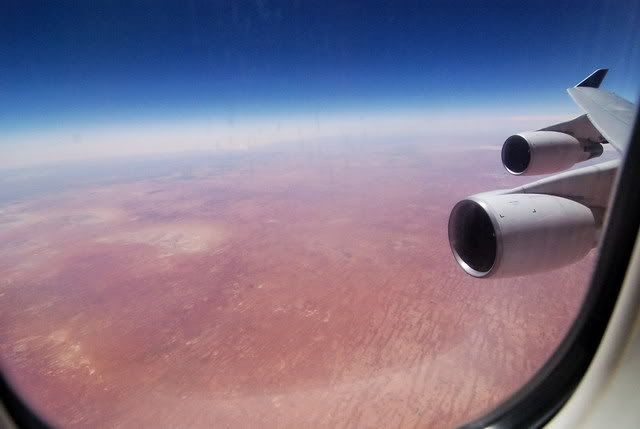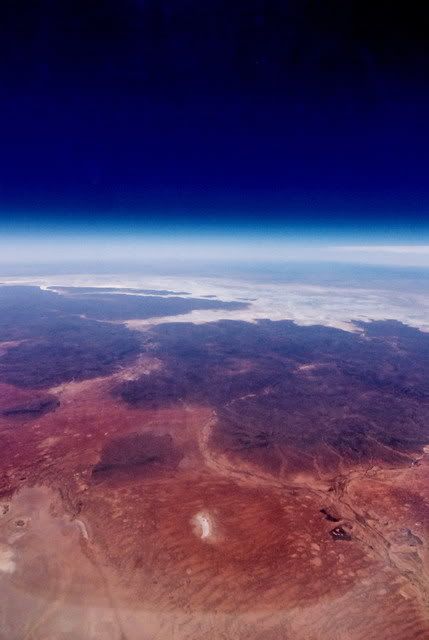 A sense of quiet calm descends on the cabin. You know that phase of the flight, right? The passengers have been fed, cabin lights dimmed and the flight is cruising along on its "contentment" trajectory. Another particular favorite time of mine; best enjoyed in monochrome, I feel.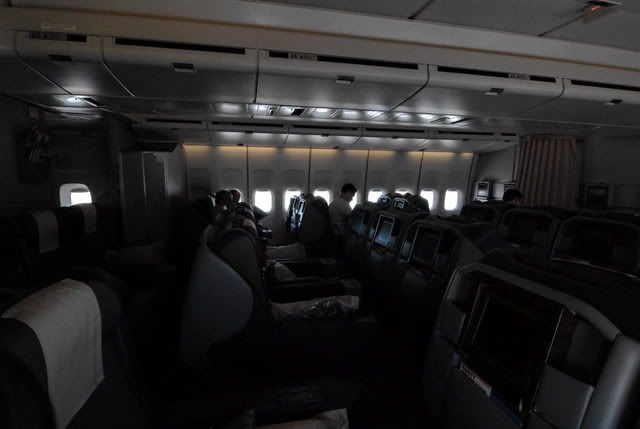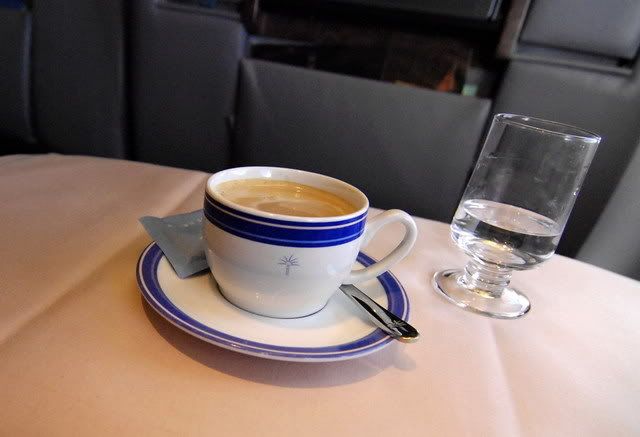 Normally, I would take the opportunity on an empty flight like this to snap more cabin photos. I should be making a trek up to the upper deck at this stage, but like an over-fed reptile, I feel strangely contented slumped in my SpaceBed, unable to move. The last few days of flying are starting to take a toll on energy levels - plus I must make a start on a long over-due project – so I stay put, reluctantly power up the laptop, ramp up on caffeine levels, and just enjoy the strange sights as they pass outside.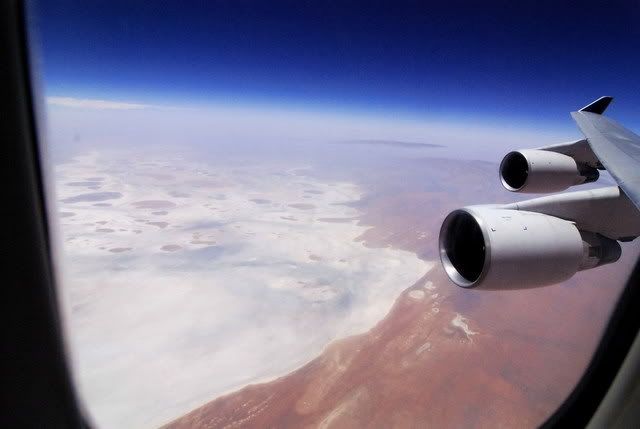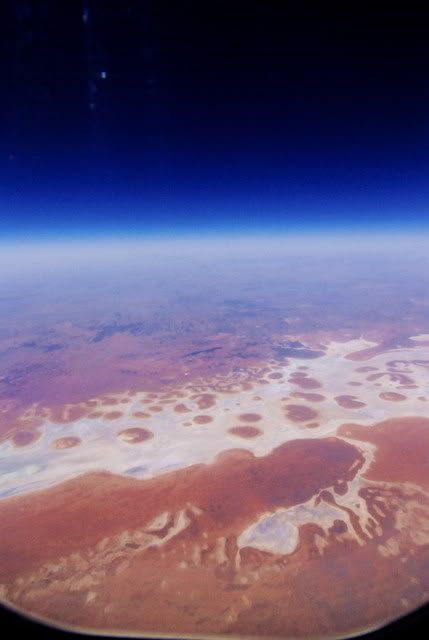 A couple hours pass quickly. A discernable increase in cabin traffic suggests we are about to be fed again. Hot towels and juices are followed by an offer of a snack an hour and a half before landing.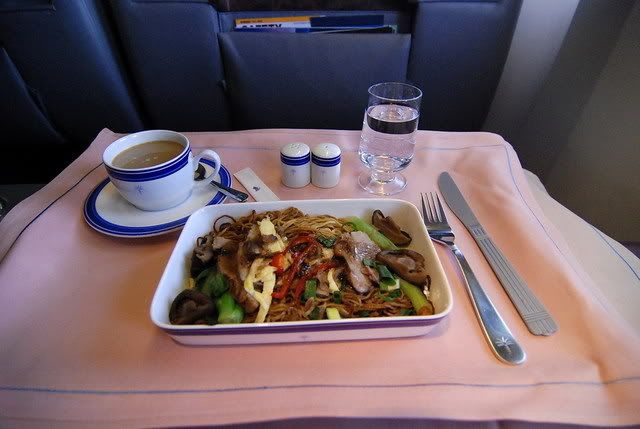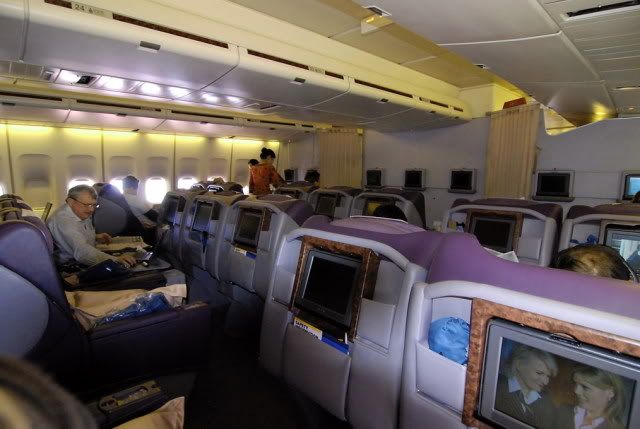 Arriving into Singapore Changi Terminal 3 fifteen minutes ahead of schedule and with a slightly longer connection of 60 minutes this time round, I do not need to sprint to make my connection on a full SQ B772 back to Kuala Lumpur.
Final Words
Singapore Airlines excels in what it does. Its standards remain one of the highest and most exacting in the industry and it is emulated, feared and despised – probably in equal measure – by its many competitors. Coming up trumps has become something of a habit for the airline, and little wonder. I can imagine that for many traveling executives where flying is more work hazard than genuine pleasure, booking a Singapore Airlines flight means – at very least - knowing what to expect.
But the airline is not perfect. The words "robotic" and "clinical" that's sometimes associated with the service is probably a tad unfair, but not entirely untrue. There are obviously exceptions - and Michele on the outbound flight is a refreshing one – but the average crew member on SQ follows such a strict regimen that individual personality seems to have been left at home (or at least hidden behind the galley curtains). After a few flights on SQ, one can almost set the watch by the predictability of the seemingly pre-programmed welcomes and all-teeth-showing smiles.
It's a double-edged sword: you have consistency for sure, but what you lose is spontaneity. Some of SQ's regional competitors think – with some justification – they have the edge over SQ in this department, with more genuine welcomes and less contrived smiles. The airline's Siamese twin Malaysia Airlines, for instance, has a keen following precisely because some prefer its natural and relaxed style. Cathay Pacific, on the other hand, seems to have far better senior crews who are genuinely friendly and make it a point to chat with passengers, particularly in the premium classes. This was notably absent from my SQ experiences; maybe it just wasn't on someone's check-list of things to do.
That said, the overall package that is Singapore Airlines is fantastic, even if recent cost-cutting is making the product a tad less attractive. All it needs perhaps is some humanizing; bringing personalities and spontaneity to the fore - even at the risk of a few logos on glasses going askew.