http://flightaware.com/live/flight/N...6/history/20081101/1359Z/KPHX/KMSP
Airline-Northwest Airlines
Flight Number 116
Date, November 1st 2008
Seat 24F Window. LF 100% full
Route-Phoenix (PHX) to Minneapolis (MSP)
Departure Time, 6:58AM MST,
Arrival Time, 11:32AM CDT,
Departure gate. 26 Arrival gate C-15.
Departure Runway 8 Arrival Runway 12L.
Aircraft. N376NW, A320
Flying time 2:34, at FL370.
View Large
View Medium


Photo © Ben Graden
My alarm woke me up at the early hour of 4:30AM, and my parents and I were out of the house driving to the airport by just after 5:00AM, The 1st was a Saturday so traffic was nice and light on the freeways and it didn't take to long to reach the airport, Although traffic on Sky Harbor blvd was terrible, there was only one lane open from T4 to T3 as they were doing some roadwork, So because of that we didn't get parked in the ramp until just after 6. We didn't check any bags this trip so we just quickly printed out our boarding passes at one the self serve kiosks, and a few minutes later we had tickets in hand and we went thru security, The line wasn't long at all and we where threw it in 5 minutes or so. One interesting thing, I forgot to take the liquids out of my bag before sending it threw the X-ray but the TSA didn't seem to notice, thankfully, As then they would have done the whole search you and your bag routine.
By this time boarding was going to be starting in soon so my parents and I got a quick bite to eat at Starbucks as well as some coffee before boarding. I got a peek of the aircraft before I got on and noticed it was N376NW which is one of the few mainline planes still in the old colors. Unfortunately gate 26 doesn't offer any good photo ops so I didn't get a picture of the plane at PHX. Flight 116 was the only NW flight departing at the moment so the gate area wasn't to busy, The next flight to leave was a 7:20AM to MEM. Northwest boards First class and frequent flyers first then then instead of boarding economy by row or groups they call all the economy pax at once which made for a mad dash to get on the plane to secure overhead bin space, Seems like an inefficient way to board to me, defeats the purpose of assigned seats. Never the less all the passengers were boarded by 6:50AM and a few minutes later we were pushed back ahead of schedule and after a bit of a smokey engine start and the obligatory safety demo, We taxied out to runway 8 for take-off, Runway 8 is the best one for eastbound and northbound flights because once airborne you are already headed in the right direction. We were number 1 for take off and we only had to wait a few minutes for a Mesa CR9 to land. just after lining up the aircraft's two CFM-56 engines roared to life power accelerating us to V2, In the process creating a lot of loud rattles from the overhead bins and paneling. The aircraft became airborne between Terminals 3 and 4 and continued to climb and fly east for a ways before making a left turn out over east mesa and climbed up to FL370.
The flight was your run of the mill domestic USA flight, the in-flight service consisted of free soft drinks and snack boxes that were for purchase, I opted for orange juice and settled in to watch Mythbusters on my iPod for the rest of the flight. The crew provided adequate service, nothing great but it was good enough for me, one good thing is they were giving full cans of soda and juices out, Something not all airlines do anymore. We made pretty good time, with a total flight time of 2:30 which is pretty good as it usually seems to take 2:50 to fly this route. According to the pilot we started descending about 80nm from the airport and 15 minutes later we made a very smooth touchdown on runway 12L in a balmy MSP at 11:32AM about 15 minutes ahead of schedule. As the aircraft slowed down we turned onto the taxiway and conveniently the pilot turned off the runway right by our gate of C-15. We had to wait on the taxiway by the gate for a few minutes for the ground crew to show up to marshal the airplane into the gate and we were docked at the gate by 11:35 and in the terminal shortly thereafter. The flight was good, Safe travel from point A to point B with adequate service provided by the crew, It will be interesting to see what the future holds for the combined NW and DL.
Here are some Pictures
Taxing off the runway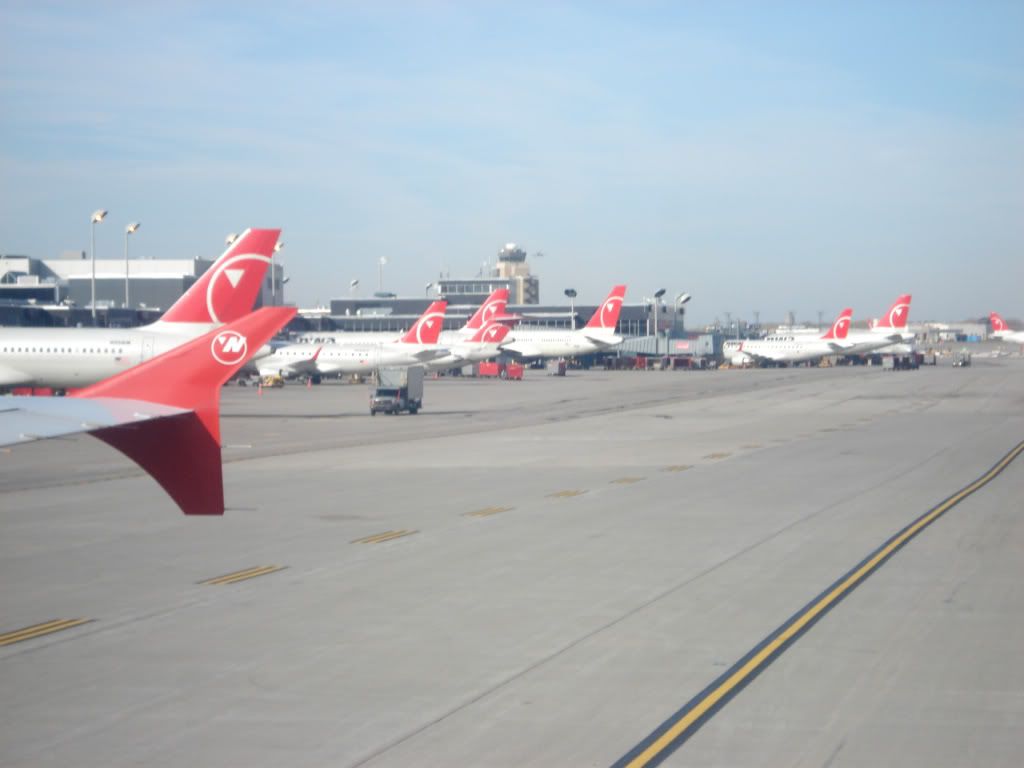 just pulling into gate C15
Just after getting off the plane, The aircraft continued onto LGA about 2 hours later.
N376NW getting a breather before flying onto New York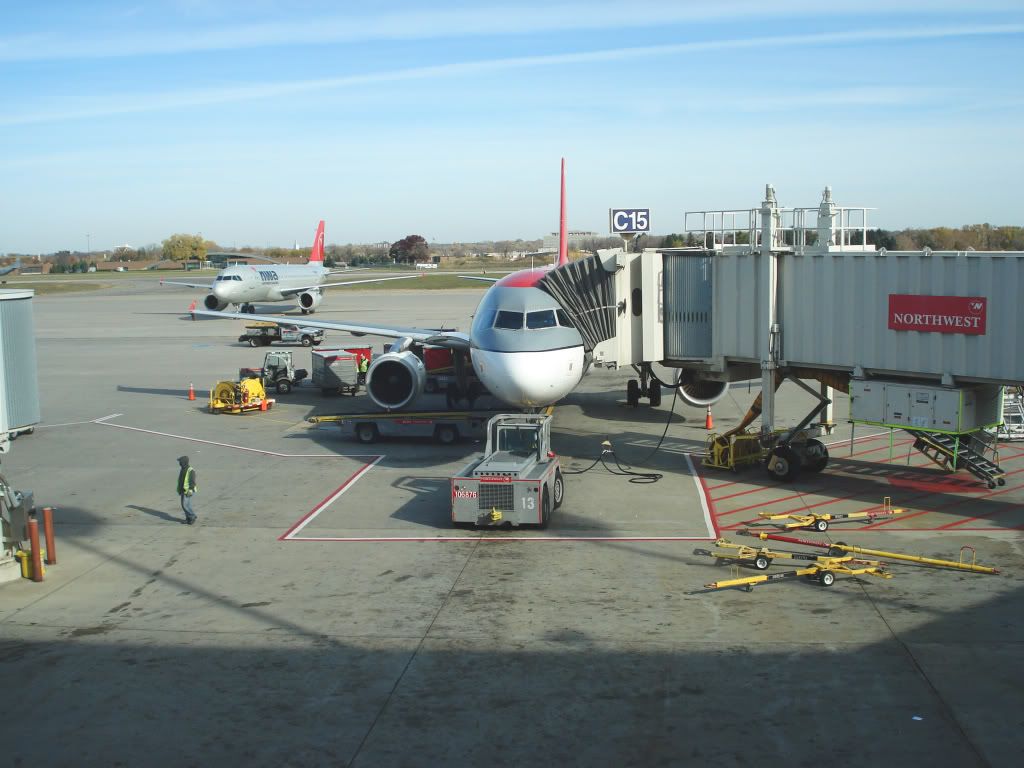 MSP-BJI leg of the trip will be in a new post.