Feedback always appreciated.
Trip Report: 056
Flight Category: Y-ISR (See Report End)
Date: 30 Oct-08
SDT/SAT/Dur/Delay: 1930/2/02:20 hrs
Flight:
Sky Europe NE 127
, 821 miles
Routing: LTN-BTS
Aircraft: 73G
Seat: Economy, 1A
I > Background:
I had never been to Bratislava, and never flown on Sky Europe … so this was the perfect opportunity to tick both off from my lists. A quick search on A.Net tells me that this is the first report on NE's LTN-BTS link … and given Sky Europe's precarious finances, might be one of the last?
II > Pre-Flight:
a) Before Airport:
Established in 2001, Sky Europe is a LCC headquartered in Bratislava, with its main operational bases at BTS, PRG, VIE, and KSC. It has been going through a financial difficult time and many analyst openly question whether their cash position is sustainable during a difficult economic environment.
LTN-BTS is served twice daily using their Boeing 737-700 aircraft and I decided to take the evening flight out.
Ticketing for the flight was done on the extremely well designed and easy to use Sky Europe website at
www.skyeurope.com.
The site is crisp and clear, and one can view their booking later and do modifications. Additionally, it allows online check-in (select airports; not LTN) and my biggest requirement, seat selection! For seat selection, you have to pay a small fee (5 Euros for any seat; 7 Euros for window – very new fee; 10 Euros for premium seats). Since I wanted the additional legroom, I paid up the 10 Euros and got myself seat 1A and more legroom than I ever need!
b) At Airport:
Once you get past the rather gloomy check-in area (am convinced it is because of the depressing lighting), Luton is actually a very convenient and efficient airport which I prefer to STN. Sky Europe uses 2 check-in counters; one for all passengers, and the other for "priority" passengers. This "priority" status can be bought for 3 Euros. Check-in was remarkably smooth and the nice agent was able to issue my boarding pass and check my bag in within 5 minutes.
After collecting my boarding pass, I went through the fastest security and was greeted by a slightly more cheerful terminal. After doing some window shopping, it was soon time to board. Boarding was chaotic and it seemed that the agents did not distinguish between regular boarders and those who had paid additional fees. C'est la vie. Luton's boarding process is interesting … the agent takes your boarding stub and you go down this non-descript staircase and wait until you're "let out" to the apron. Give London was freezing, the experience was not pleasant!
Upon boarding, a very attractive FA welcomed me as I took my seat. It seems that most people had not opted for preferred seating as most of those seats remained empty. Y load on the flight was a tad north of 60%.
Airport - External:
(London Luton Airport)
Check-in: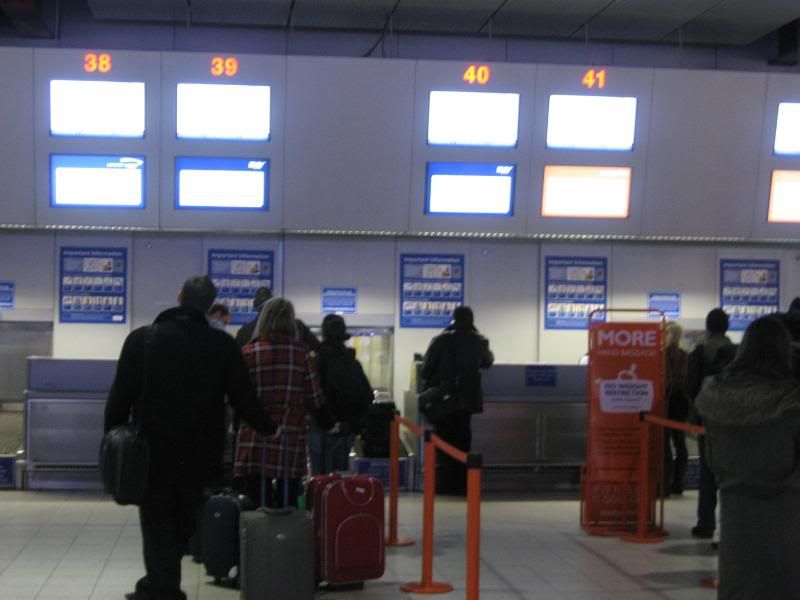 Airport - Internal:
(Pre-Security)
(Post-Security)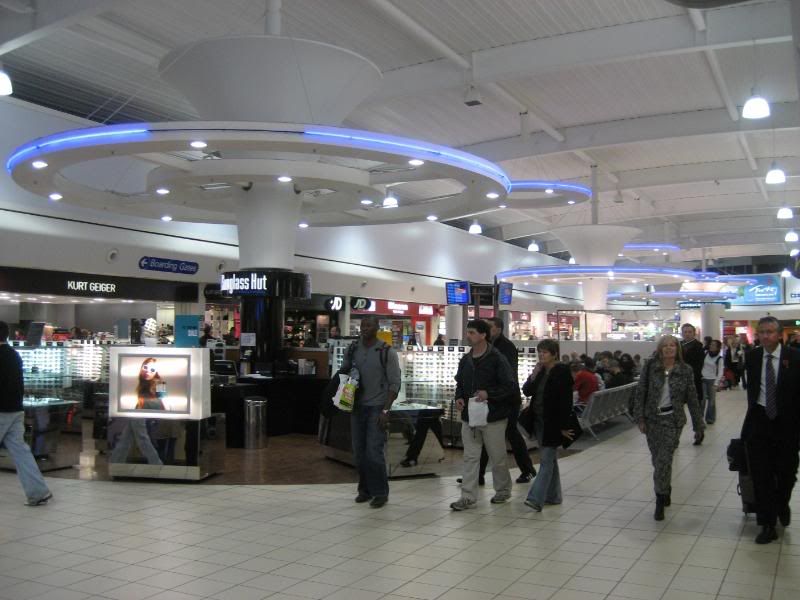 (FIDS)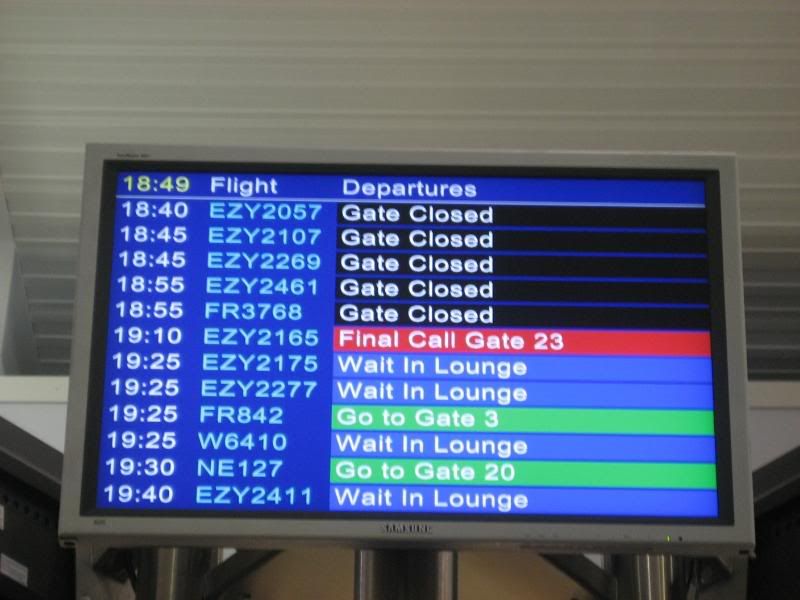 Scenes of the tarmac:
NONE
Lounge
NONE
Boarding:
(Boarding gate area)
(Boarding called – so you stood on this line, then went and held on a freezing staircase)
III> In-Flight:
a) Service Schedule + Impressions:
Food and beverages for sale, followed by in-flight shop, and finally more food and beverages for sale.
b) Aircraft + Seats:
My Sky Europe 73G was OM-NGA with some hot model serving the purpose of the logo-jet. The aircraft looked good in NE's colors. Inside, the Y leather seats were surprisingly comfortable (especially for a LCC) – in fact, they were probably more comfortable and padded than most mainline carriers Y. Of course, 1A had plenty of legroom … and it actually was not too shabby on the other rows either. What surprised me was the recline … probably one of the most generous recline in Y … and for sure, a market leader among LCC's.
Aircraft:
(Logojet 73G)
Views from Aircraft:
NONE
General Seat Views + Seat Legroom
(Legroom)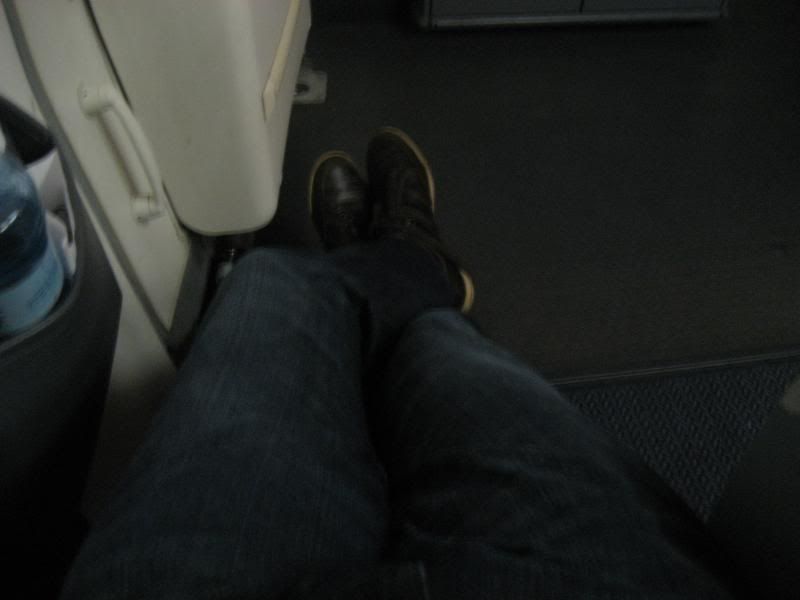 Seat Recline + Angle View:
(Extremely geneous recline)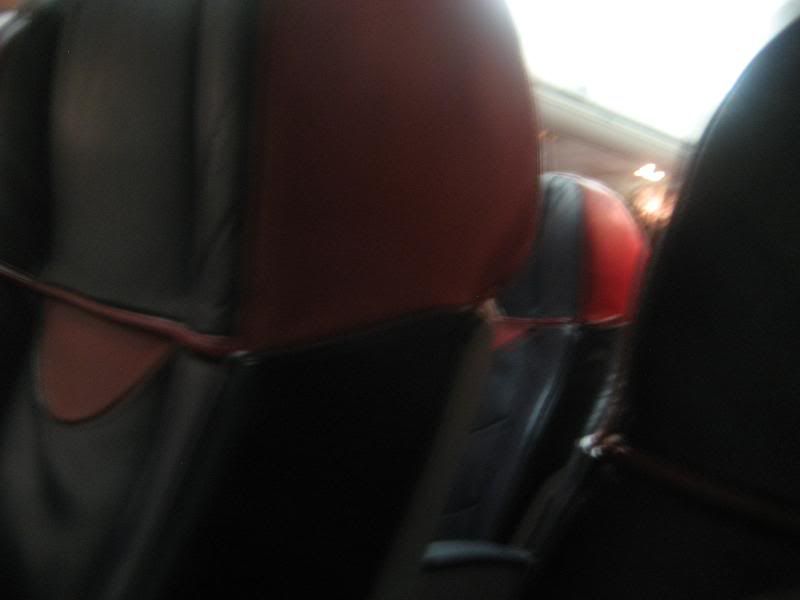 Cabin:
(Photo Courtesy: Ingo Lang)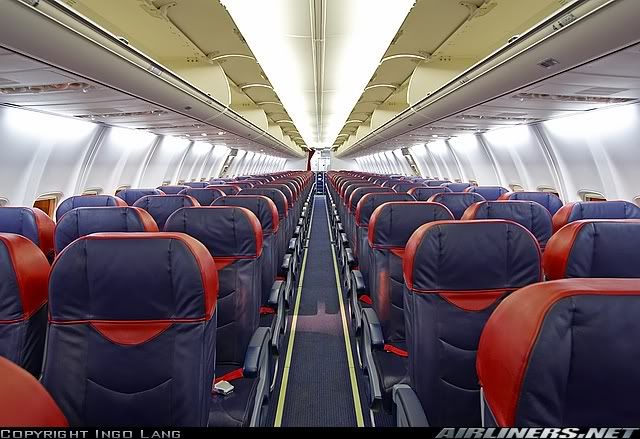 c) Meal + Beverage:
Call me a snob, but I am still not used to the concept of paying for food and drinks. When the FA came and asked what I wanted, I had naturally assumed that it was free. Oops. Anyways, I requested a food/souvenir sale catalogue and ended up buying a croissant and some café. Both were 2 Euros and relatively reasonably priced. Since I don't have much experience with BOB on European flights, perhaps my European A.Net colleagues can tell me where NE stands in terms of meal and beverage prices and selection.
(What I ordered)
(Partial BOB options)
d) Inflight Entertainment:
Sky Europe has no audio/video programming on its flight. It does have a decent magazine which I had fun reading.
("In-flight magazines", Boarding Passes, etc.)
e) Crew:
There was a crew of 3 – and each of them were totally different. The beautiful lead FA was absolutely wonderful. She was ex-Slovakian Airways and we had a great time talking about the Tu-154 and the crazy noises it would make. She was a veteran of the job (even though, she was hardly over 30) and clearly enjoyed aviation. The other, was a super *****. She was curt, not polite, and everything you requested from her seemed like a big ordeal. Thankfully, she was much more pleasant after the senior crew member excitedly told her of our common interest in aviation. Seriously, how can 2 crew be so different?
IV> Post-Flight:
Landing at around 10pm, I could see the Air Slovakia 757 and a bunch of other random aircraft parked around the airport. Immigration was SLOW. Now, my Liechtenstein passport was in Vaduz for renewal, and I was travelling with my brand new Venezuelan passport … just because I had never used it. God, did it raise a red flag. The border official was clearly used to cookie-cutter passports and I was curiously studied and grilled on my intentions in the Slovak Republic. He was additionally confused why I "looked like a European" (duh) and did not actually believe that Venezuelans did not need a visa to Slovak Republic. Anyways. Bratislava is a TINY TINY airport and I was out in a taxi soon post grilling.
(BTS Airport)
V> Impressions + Scores:
I will admit that I don't have much experience on European LCC's. I guess Sky Europe did what an LCC is supposed to do with ease – provide cheap ticket from point A and B and hope for ancillary revenue. It got both from me. An added bonus for me were the comfortable seats and the ability to pay a little extra for better seats. It could do with more IFE options (perhaps another revenue stream?), and its crew would be better if it was consistent. The whole Dr Jekyl and Hyde act was a bit too much. Definitely would fly them again … especially if the competing airline is another LCC.
1.0 > RESERVATION: 8.5
2.0 > CHECK-IN: 7.0
0.5 > LOUNGE: n/a
0.5 > BOARDING: 5.0
2.0 > SEAT: 7.5
0.5 > AIRCRAFT OVERALL AMBIENCE: 6.0
1.0 > IFE: 5.0
2.0 > CREW: 6.0
2.0 > FOOD: 4.0
0.5 > BEVERAGES: 5.0
0.5 > A.KITS + OTHER FREEBIES: 5.0
0.5 > DISEMBARKATION: 7.0
1.0 > ON-TIME RECORD: 9.0
WEIGHTED OVERALL IMPRESSION (WOI): 6.33
(Pre-flight WOI of all reviews: 6.43)
* Weighted Overall Impression (WOI) aligns scores with what matters most. Weights are indicated alongside each category.
(Scores are based on comparison with other airlines in THAT class of service – No comparison of Y vs. F for example)
VI> Other Trip Reports:
PREMIUM:
8.61:
Air Canada (49): YYZ-SCL: 06/2008
8.11:
Aeroflot (33): MOW-DEL: 09/2007
8.04:
Korean Air (40): NRT-ICN: 10/2007
8.02:
Delta Airlines (24): JFK-CDG: 08/2007
7.46:
LAN (55): YYZ-JFK: 09/2008
7.82:
Singapore Airlines (06): EWR-SIN: 09/2006
7.14:
Swiss (52): SCL-GRU: 06/2008
6.93:
Delta Airlines (18): SEA-JFK: 11/2006
6.81:
Air Canada (17): ICN-YYZ: 10/2006
6.70:
KLM (32): EBB-AMS: 08/2007
6.25:
Korean Air (45): NAN-ICN: 10/2007
6.11:
TAP Portugal (53): GRU-OPO: 06/2008
5.75:
Singapore Airlines (16): CCU-SIN: 10/2006
5.64:
NorthWest (46): ICN-NRT-SEA: 10/2007
5.39:
LOT (54): WAW-JFK: 06/2008
4.42:
Air France: CDG-JNB (25): 08/2007
ECONOMY: Long + Medium:
9.26:
Air India (48): JFK-DEL: 02/2008
7.38:
Avianca (01): BOG-LIM: 07/2006
6.26:
Jet Blue (21): CUN-JFK: 02/2007
6.06:
Air Canada (04): YYZ-YVR: 09/2006
5.89:
USA 3000 (19): PUJ-BDL: 01/2007
5.79:
Air New Zealand (42): RAR-NAN: 10/2007
5.46:
TAP Air Portugal (23): OSL-LIS: 05/2007
ECONOMY: Short
8.56:
Paramount Airways (38): BLR-MAA: 09/2007
8.24:
Kingfisher (14): IXA-GAU: 10/2006
7.87:
Indian (34): BOM-MAA: 09/2007
7.72:
Alliance Air (13): CCU-IXA: 10/2006
7.57:
Indian Airlines (10): DEL-CCU: 09/2006
7.23:
West Jet (03): YYC-YVR: 09/2006
7.15:
JetLite (37): BOM-GOI: 09/2007
6.70:
Spice Jet (09): CCU-DEL: 09/2006
6.63:
Air Fiji (44): NAN-SUV: 10/2007
6.58:
Air Tran (02): EWR-MDW: 08/2006
6.44:
CO Micronesia (39): ROR-YAP: 10/2007
6.41:
Pacific Sun (43): NAN-SUV: 10/2007
6.37:
Skybus (47): SWF-CMH: 02/2008
6.33:
Kenya Airways (29): NBO-BJM: 08/2007
6.33: Sky Europe (56): LTN-BTS: 10/2008
6.31:
Indigo (15): GAU-CCU: 10/2006
6.22:
Air Link Swazi (28): MTS-JNB: 08/2007
6.22:
Air India (36): HYD-BOM: 09/2007
6.13:
Adam Air (07): SIN-CGK: 09/2006
6.13:
Air Rarotonga (41): RAR-AIT: 10/2007
6.00:
Transairways (27): INH-MPM: 08/2007
5.95:
Air Canada (05): ALB-YYZ: 09/2006
5.85:
SAS Norge (22): OSL-AES: 05/2007
5.81:
LAM Mozambique (26): JNB-MPM: 08/2007
5.69:
Air Deccan (12): IXZ-CCU: 10/2006
5.67:
Rwanda Air Exp (30): KGL-NBO: 08/2007
5.07:
Go Air (35): MAA-HYD: 09/2007
5.00:
Sky Airline (51): IQQ-SCL: 06/2008
4.96:
Valuair (08): CGK-SIN: 09/2006
4.78:
Air Comet Chile (50): SCL-IQQ: 06/2008
4.74:
Fly 540 (31): MYD-LAU: 08/2007
4.33:
Viva Aerobus (20): ELP-MTY: 02/2007
4.11:
Air Sahara (11): CCU-BOM: 09/2006
(Note on Codes: Y – Economy, J – Business, F – First :: I/D – International/Domestic :: SR/MR/LR – Short/Medium/Long Haul)
VII> Other Pictures:
As has become customary, here are some pictures form Bratislava.