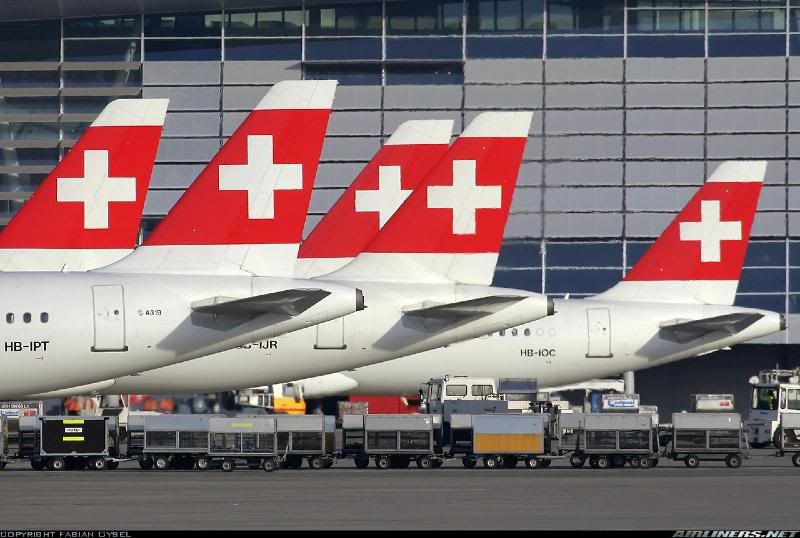 OK, another LX trip report, and another return to Greece. Someone who shall remain nameless (OA260, you know who you are!) has cornered the market on LX trip reports to Greece. ☺
I was doing a day trip to renew my Senator status, and my routing was to be LCY-GVA-ATH-ZRH-LHR. It sounds bizarre, but all of this can be done in a day.
As I was travelling on a Saturday, there is no choice but to return back to Heathrow, as City shuts down on Saturday afternoon.
LX443
London City- Geneva Cointrin
Dep 07.45
Arr. 10.30
RJ100
Business Class
I had an early start to get the tube and DLR from my home in Central London. On a November Saturday morning, the airport was quiet. I had tried to check in online, but the Swiss website was experiencing an annoying glitch the previous day.
I was not too worried as I take these flights a lot and they don't seem to be too busy in business class.
The check in agent gave me all 4 boarding passes for my trip, and expressed surprise that I was going to Athens for a day trip, but was not surprised about my doing a mileage run.
I got my £4 voucher- Swiss do not have a lounge at LCY, so they give business class passengers a voucher. It is a nice idea, but £4 does not go too far at LCY.
It was the usual morning scene at City, with other LX flights departing to Geneva, Basle and Zurich. There is an LX flight to GVA at 06.45 and another flight an hour later.
My flight arrived inbound from Geneva on time and at the gate I counted around 40 passengers. By now the sun was coming up. Connections through Geneva on Swiss are quite limited these days. Of course, there is always New York, Athens, and a few others.
Whenever I go to Athens via Geneva, I always seem to be the lone connecting passenger.
Boarding was unhurried. I was welcomed in the business cabin by a female Maitre de Cabine, and as I was the only passenger in business class, I was told to sit anywhere I pleased. There was the usual water, towel and newspaper offered.
The Maitre de Cabine gave me what felt like my own personal safety demo, and in no time we were off. We also had a short flying time today of around 1.10, due to tailwinds.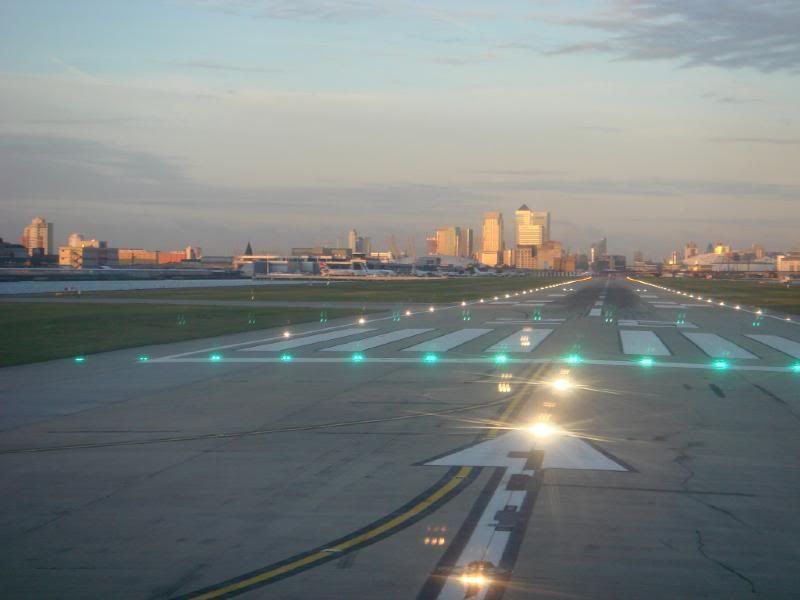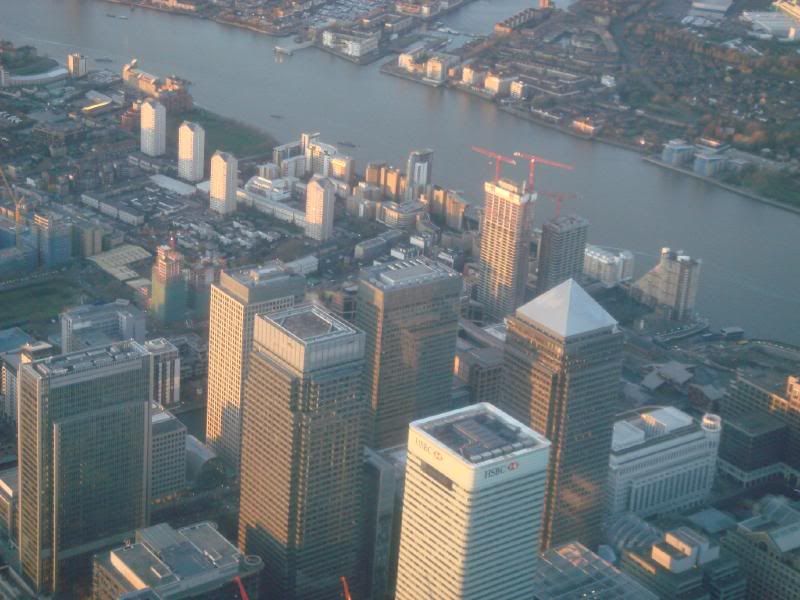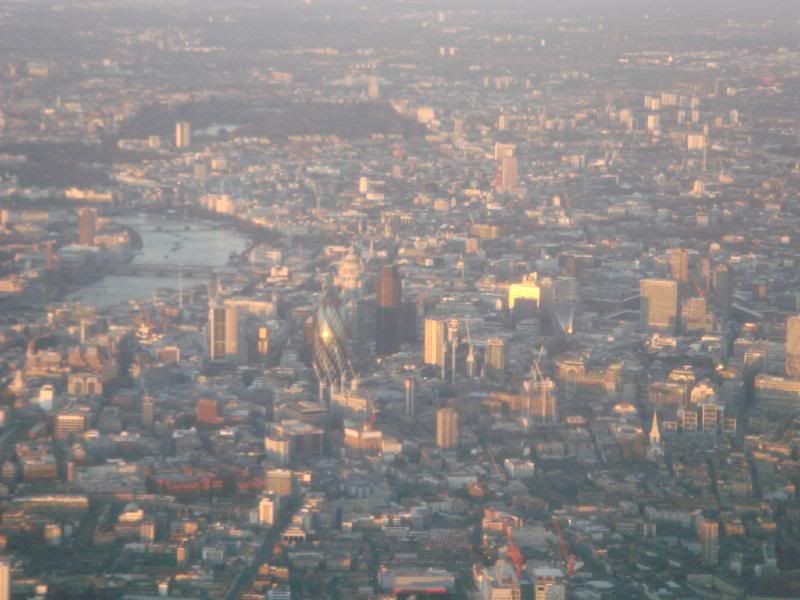 We made a sharp turn to head eastwards over south Essex, before turning south over the Thames Estuary and Kent. As we were crossing Romney Marsh, breakfast was served.
Swiss have been publicising their upgraded business class catering recently, and the breakfast on this short hop has improved of late, now comprising a bowl of delicious bircher muesli, fruit plate and selection of bread and pastries from the basket.
As the only passenger in business class, I received excellent and attentive service from the Maitre de Cabine. She made sure that I had everything that I needed before going to help her colleague in the back. Then she came back and talked me into having yet another croissant, and we chatted for about 15 minutes. Then it was the usual coffee and chocolates, before our descent into GVA.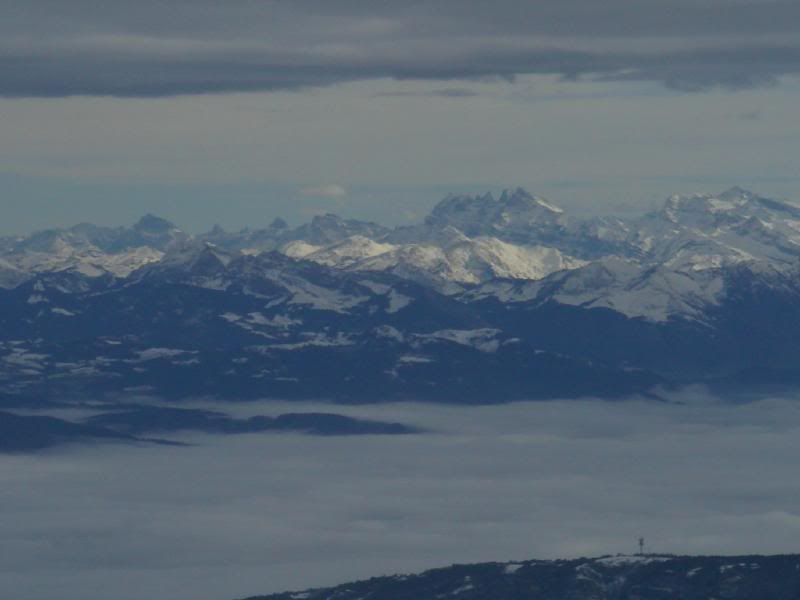 She told me that snow was forecast for Geneva today, which may result in flight delays later in the day. As we made our descent into Geneva, there was some light turbulence, before breaking through the cloud and getting a view of Lake Geneva.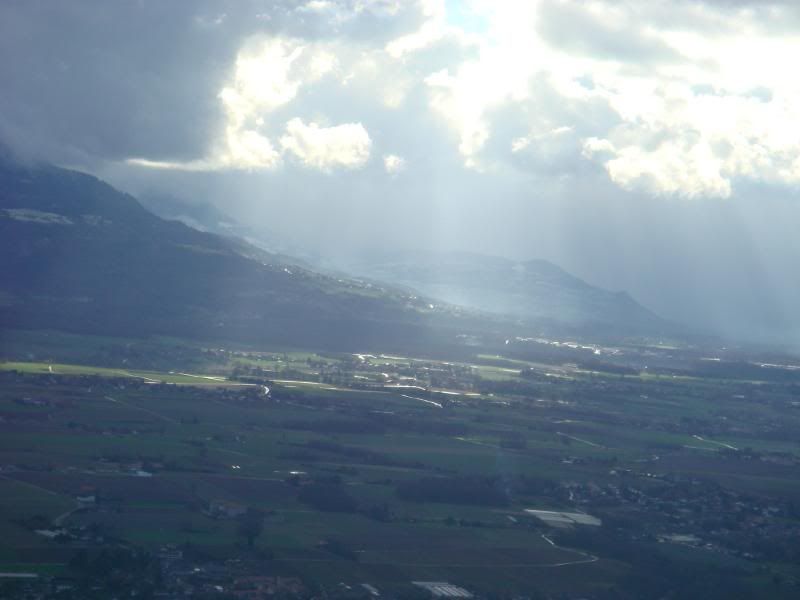 We made a smooth touchdown to the usual mid morning scene in Geneva, where easyjet predominates, along with a mix of exotic carriers such as Tunisair and Etihad, which hark back to the glory days of GVA. All we needed were a few SR 743's to complete the picture. If only…
We docked at the satellite and I made my way to the Swiss Business lounge, which was refurbished earlier in 2008. I do like the look of the Swiss lounges since their upgrade.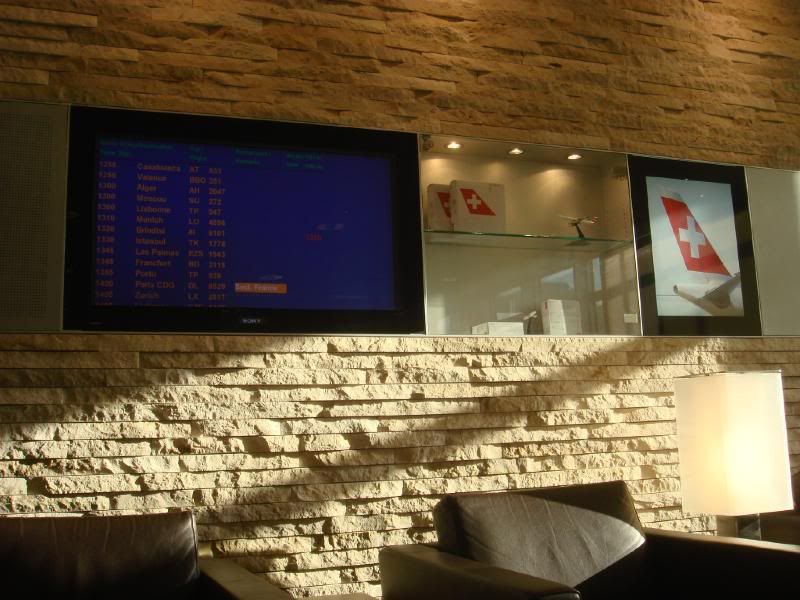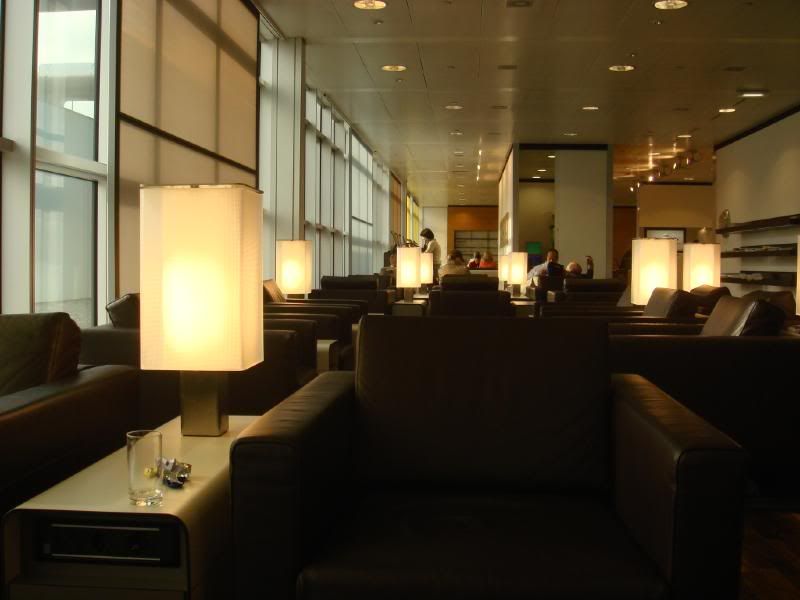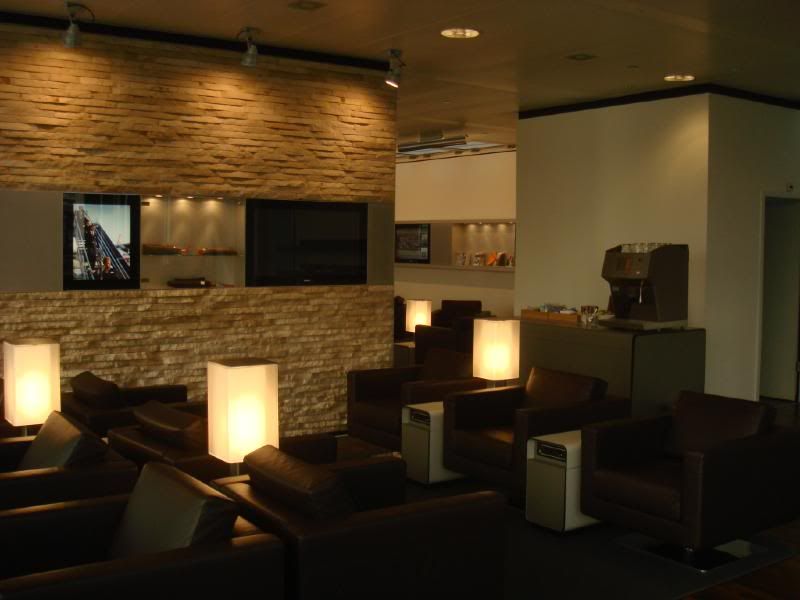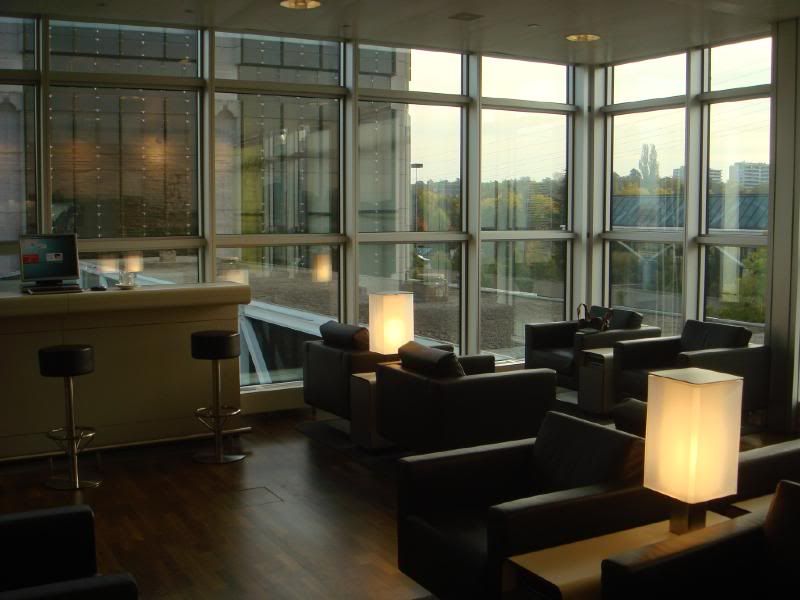 The food selection was ok, but I was full from breakfast. I did take a few packs of the Dar Vida (or Darth Vader, as I call them) crackers that they have on LX. I really like them. Can I get them in the UK?
I kept an eye on the screen. There were quite a few delays this morning. It seems that there was heavy snow in Germany today.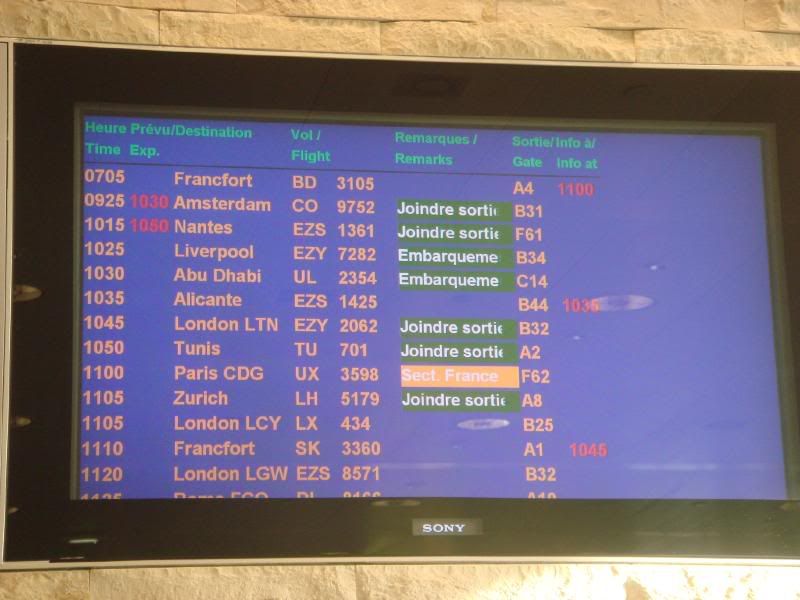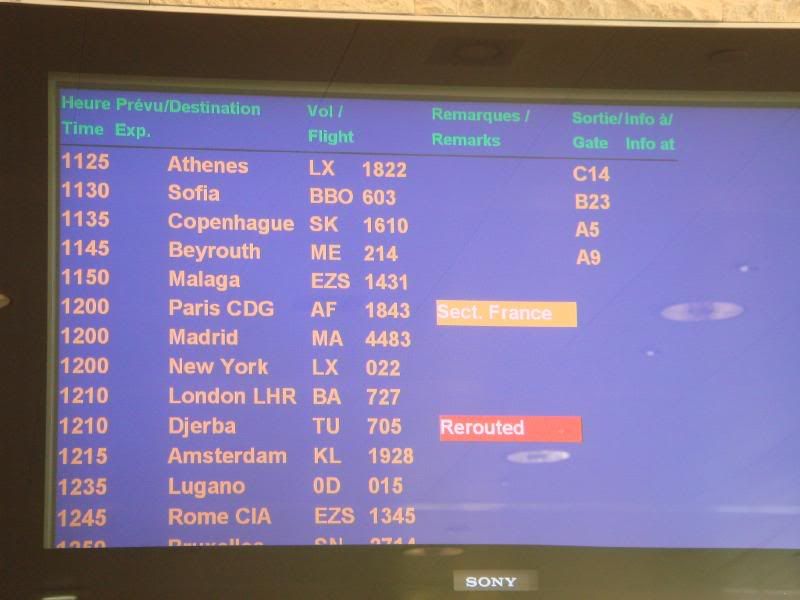 After a while I decided to head to the gate. Today the flight would depart from C14- this is where the New York flight leaves from. The really crappy part of the airport. Often the ATH flight leaves from the A gates.
Getting through security to the A and C gates can be a nightmare on a Saturday morning, and unlike in ZRH, there is no business class lane. Today it was not so bad and I was through quite quickly, despite the many US passengers bound for JFK, who have so many carry ons. There must be some kind of scientific formula: quantity of carry ons is inverse to the passengers preparedness in getting through security. Grrrr…
As I was walking to the gate, I caught a glimpse of the new KL E190, looking resplendent at the gate. This being GVA, it was impossible to take a decent photo. I also saw an LXA321 (HB-IOK) leaving for ZRH. This aircraft would take me from ATH to ZRH later on that day.
I made the trek down to C14- although this is a crappy area, I have fond memories of taking many Athens flights from this gate. Soon the flight was boarding, and it would be a light load today. In fact, I was the first to board.
LX1822
Geneva Cointrin- Athens E. Venizelos
Dep 11.25
Arr. 15.05
A320
Business Class
I was welcomed by a friendly crew. Water, towels, and a selection of Swiss and Greek newspapers were offered. The usual easy listening music was playing during boarding. Whenever I hear, "Mr. Bojangles", I shall think of an LX flight…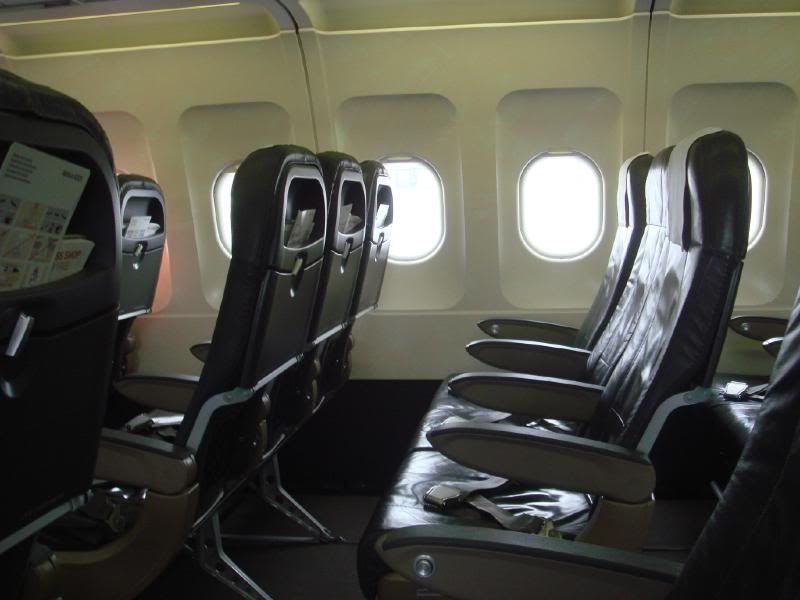 As we waited to pushback it began to snow heavily, and I began to wonder if we would leave on time. The LX A330, bound for JFK, began to recede in the snow.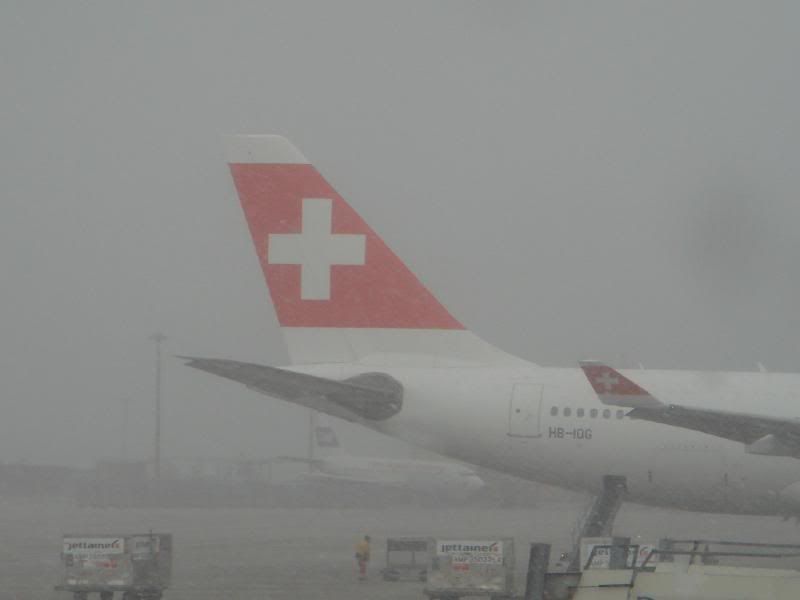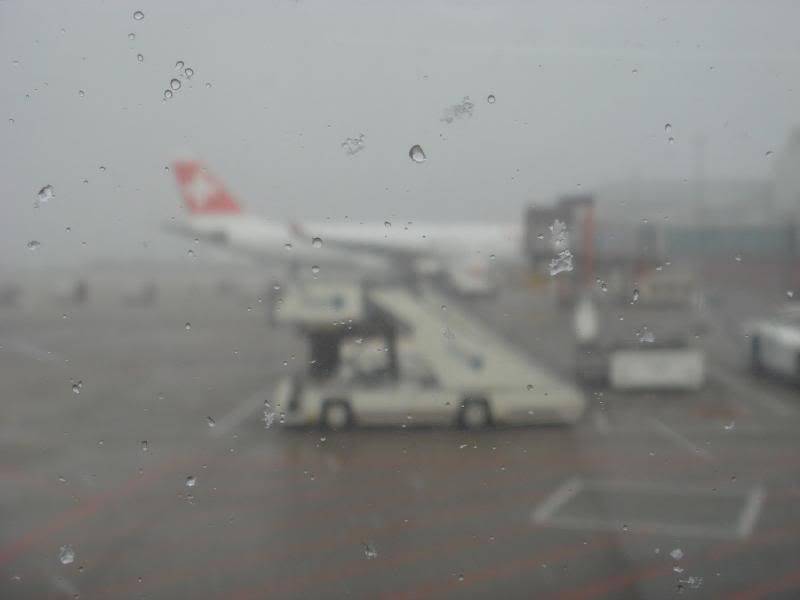 However, we pushed back on time. Today there were 6 people in business class- all Greek, from what I could surmise. There was a light load in Economy, but for some reason, the divider went way back down the cabin, leaving plenty of room for us to spread out.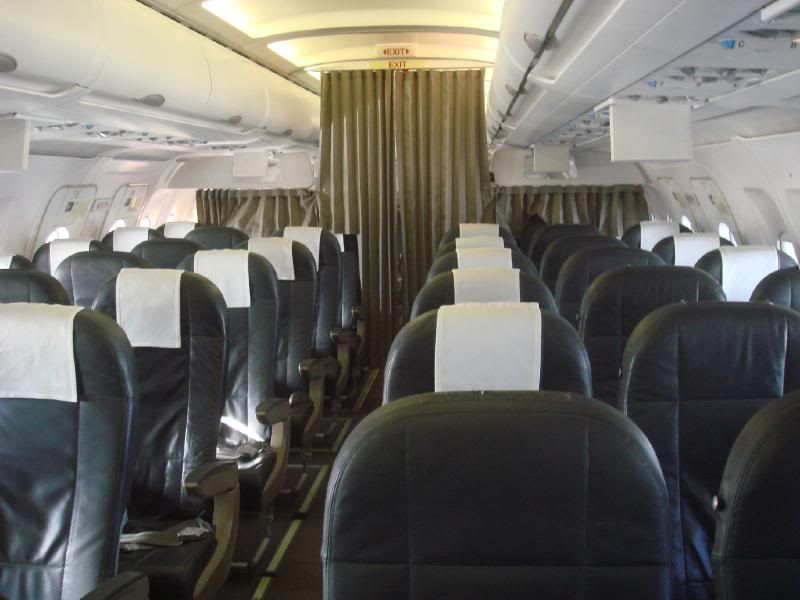 We made a fast rotation and banked south towards the Alps.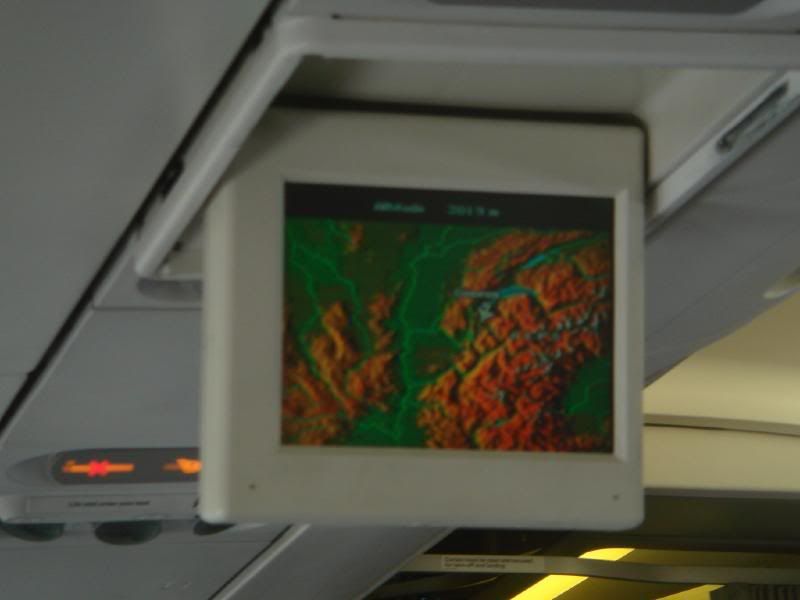 The views when flying south from Geneva are unparalleled. With a glass of champagne and the Alps sliding by below, this flight is hard to beat.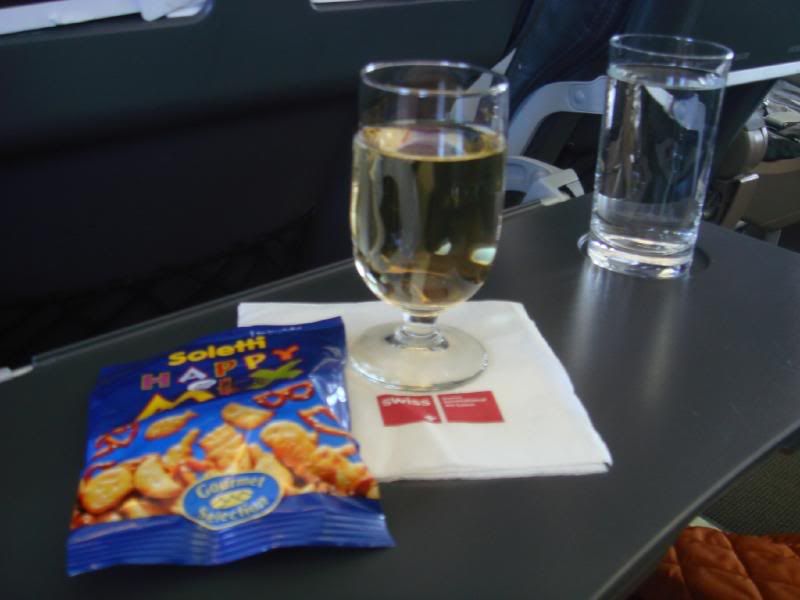 I went crazy with my camera at this point, so bear with me.,,,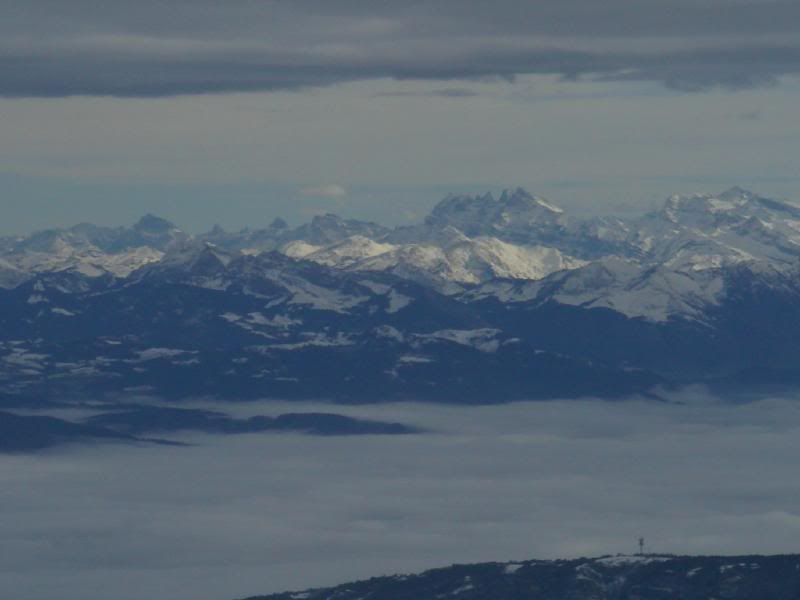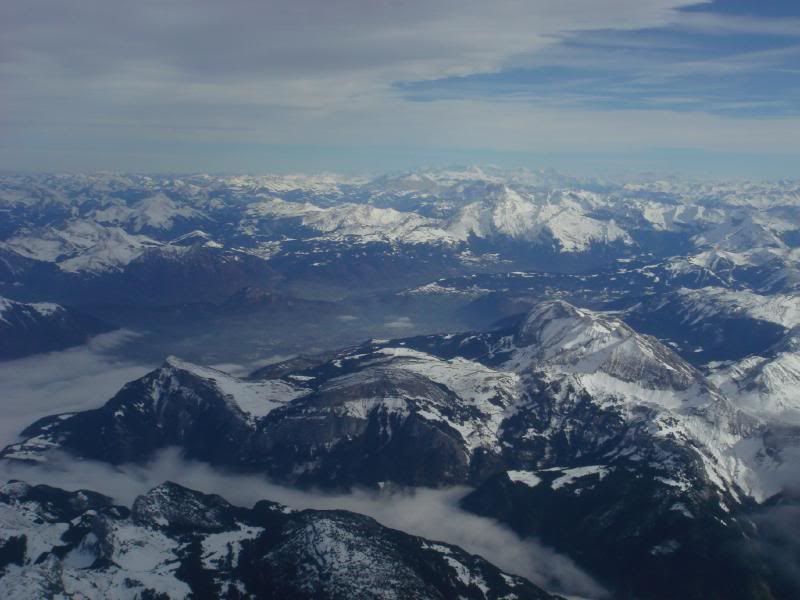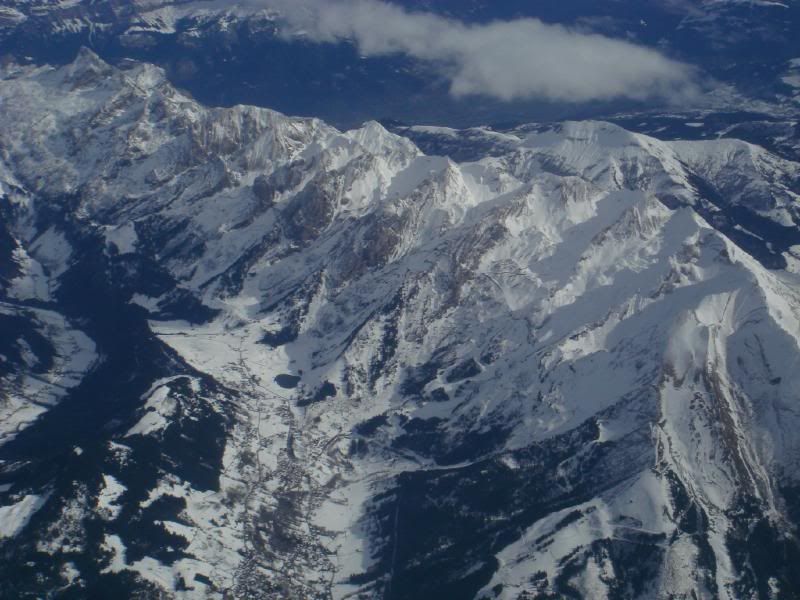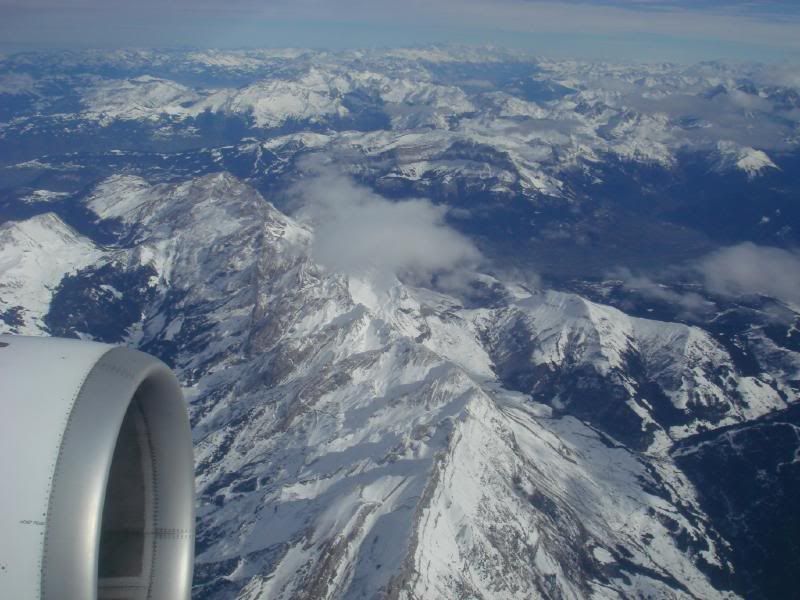 Our route today would take us over the Alps to Turin, then Florence, Split, Dubrovnik and Tirana.
The champagne was flowing, and the Maitre de Cabine had time to chat with the passengers. Normally when I fly Swiss, I try to sit to the rear of the cabin as this offers more privacy, and meals seem to be served from the rear. Today this did not seem to happen. The salad course was the first to be served. It is a nice touch to have a feta salad en route to Athens.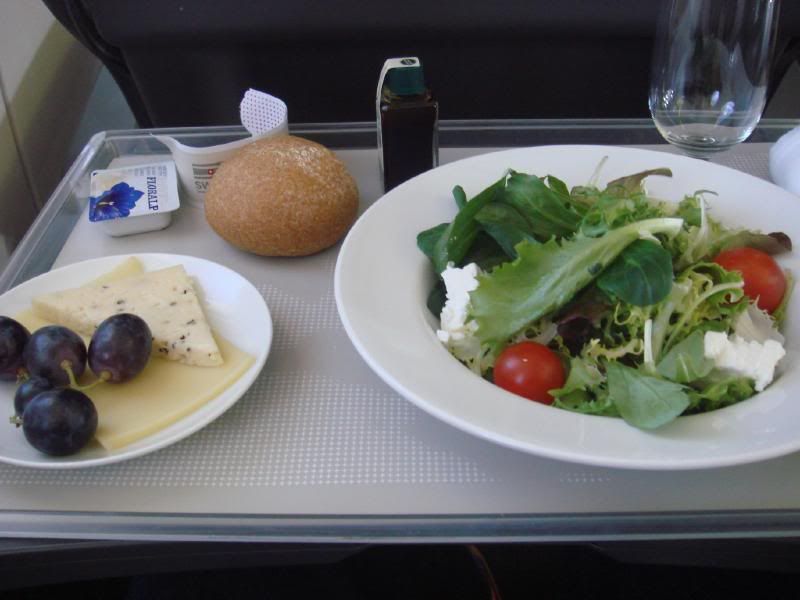 When the main course was served, I was served last, and was not offered a choice. I imagine that they had ran out of alternatives. Luckily, it was the chicken and tagliatelle meal that I like.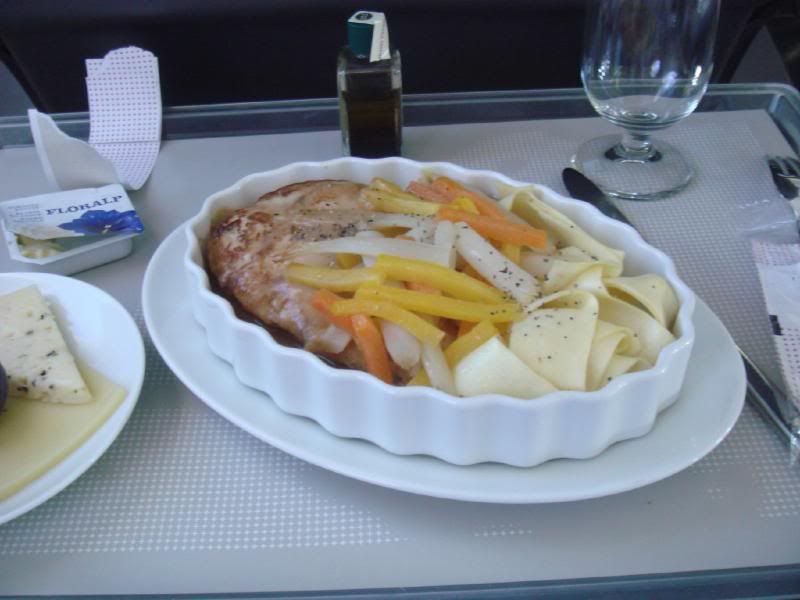 As we flew down the Dalmation coast, the weather improved.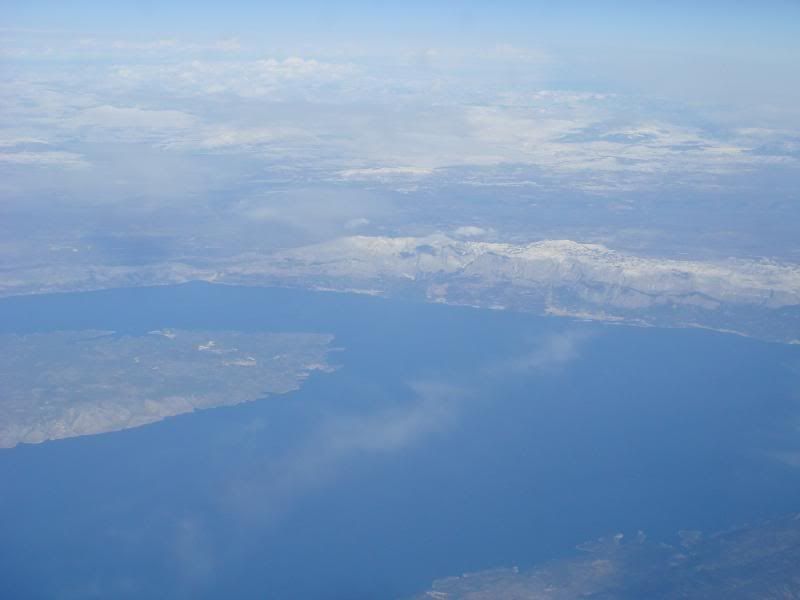 Dessert was mousse- rather insubstantial, but tasty nonetheless. I was offered a digestif, but I had already had a few glasses of champagne, plus wine.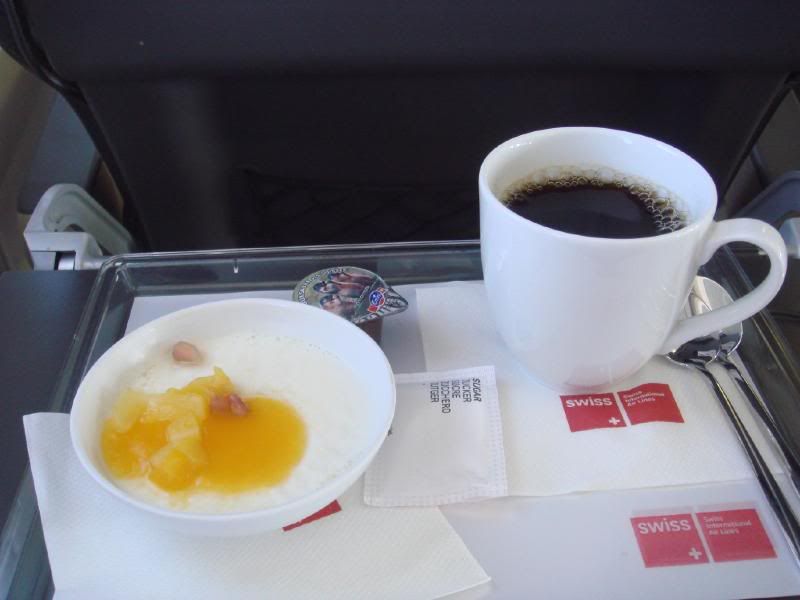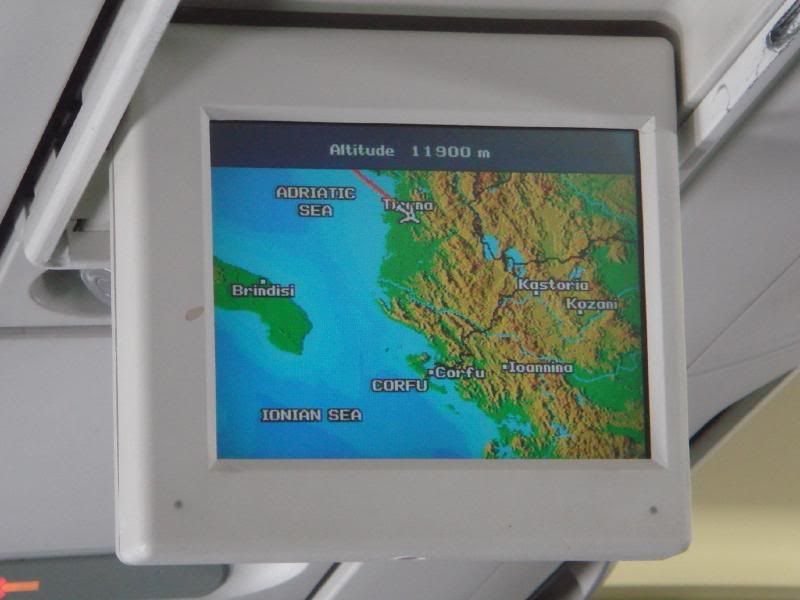 On our approach to Athens, we overflew the airport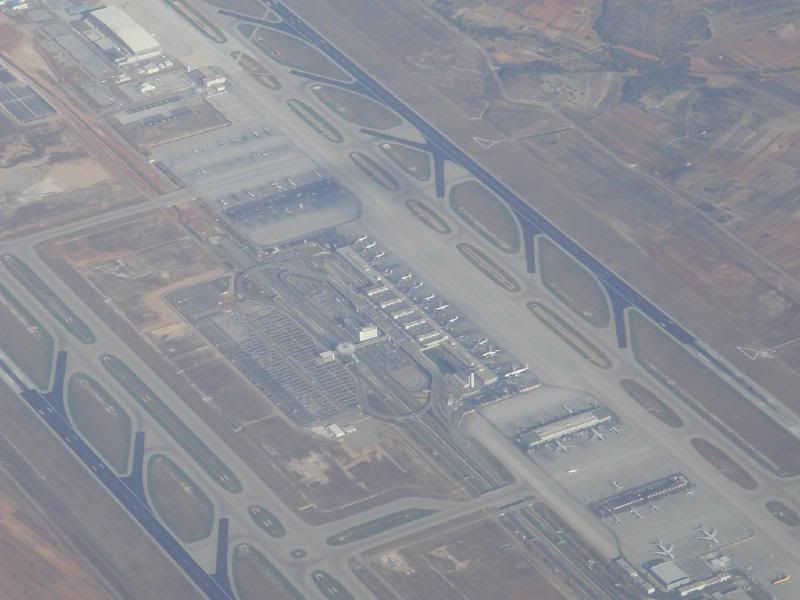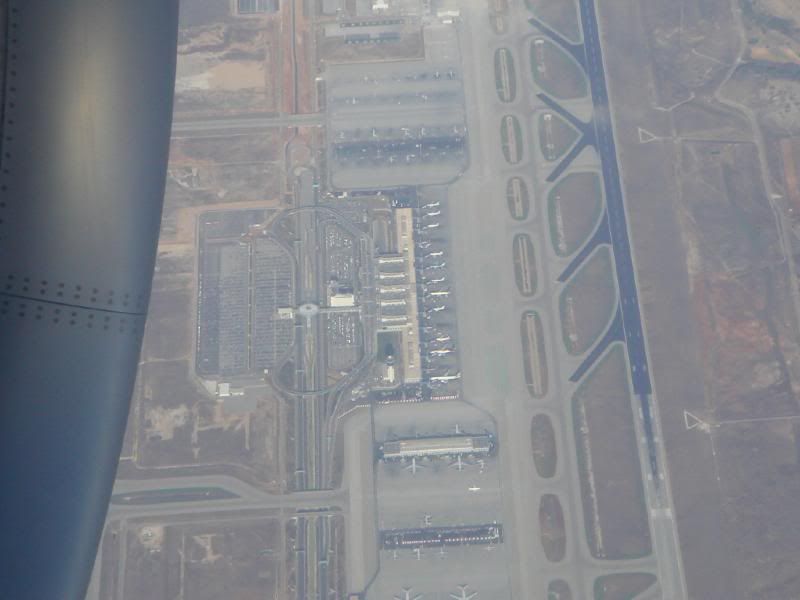 Final Approach to E. Venizelos
Soon it was time to say goodbye to our friendly crew…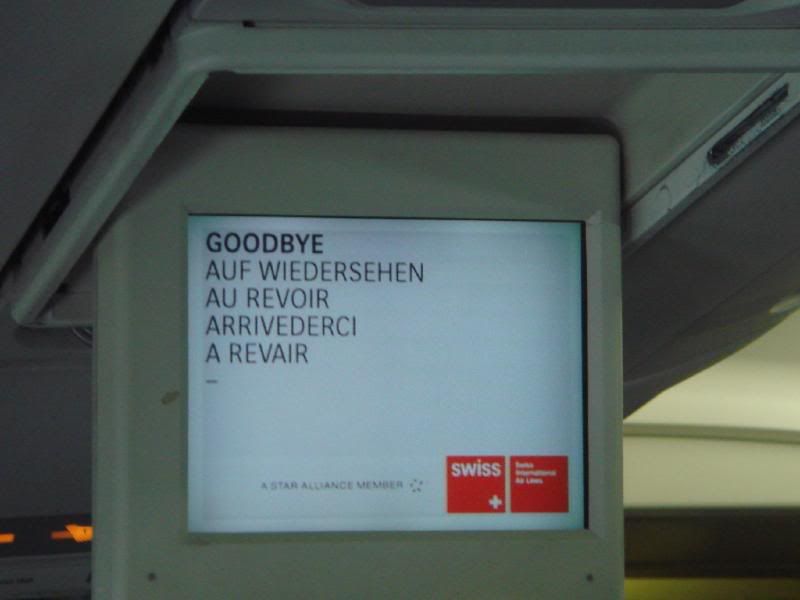 Gulfair A320, Thai and Emirates 777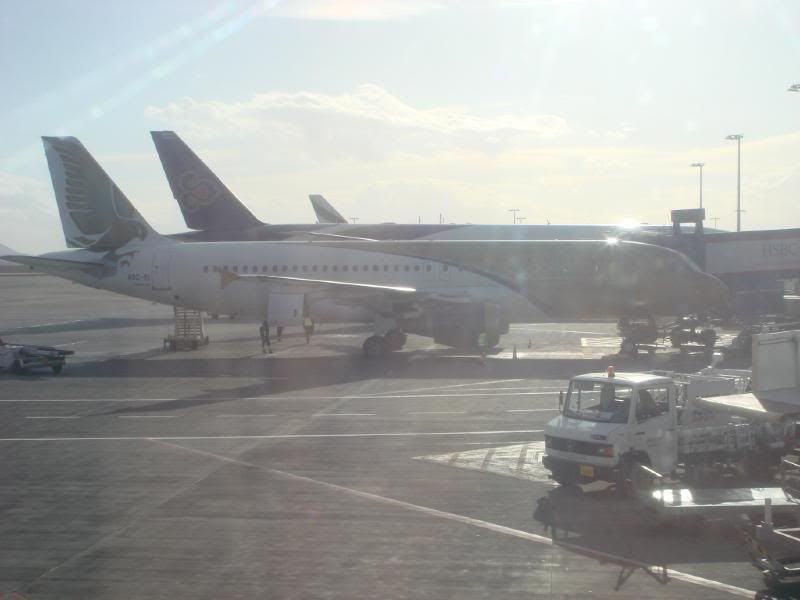 The Captain also came out to say goodbye to us, which is always a nice touch. I was first off and through passport control very quickly. I already had my boarding pass for my return legs, so there was no need to go back to check in. I went outside and sat in the winter sunshine. It was about 22 degrees in Athens today- very pleasant, and a change from the Arctic winds that were battering the UK.
I went to visit the chapel, as I always do when I am in Athens. Then another ritual- stocking up on Greek cds at Metropolis. Then I was feeling tired, so I decided to head for the Swissport lounge in the non Schengen area.
The Swissport lounge was also refurbished recently. It is quite funky.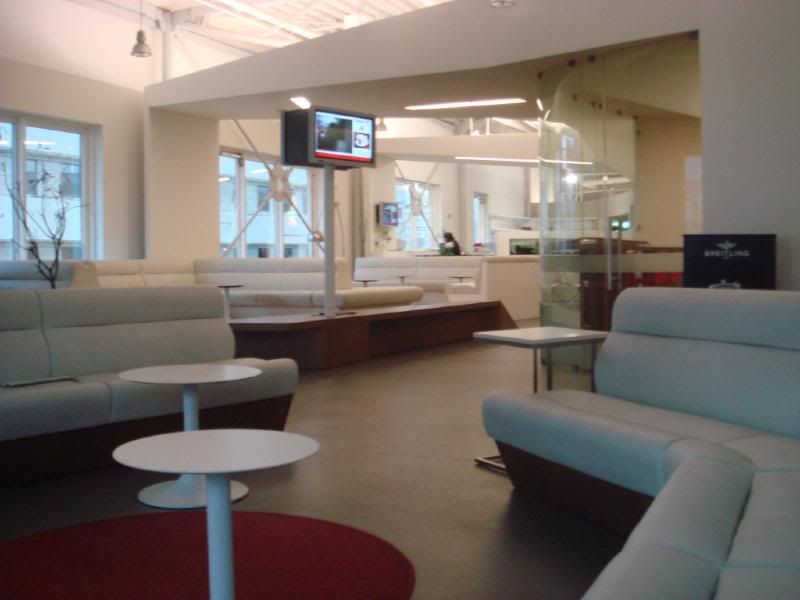 One of the best aspects of the lounge is the variety of airline magazines that they have. Everything from Tarom to Emirates, Cyprus Airways etc.
Soon HB-IOK arrived from Zurich. I saw this aircraft earlier today in GVA.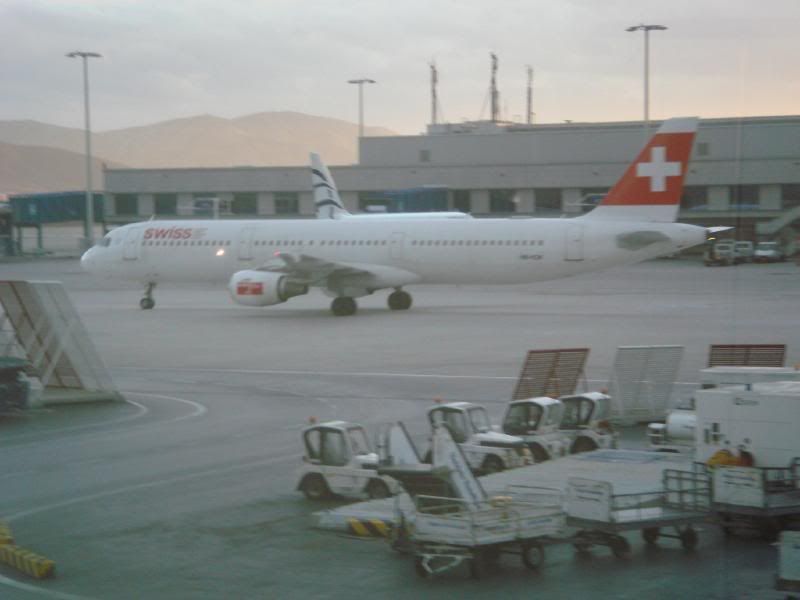 After a while, I got bored and went to the gate.
LX1839
Athens E. Venizelos- Zurich Kloten
Dep 17.20
Arr. 19.10
A321
Business Class
I take this flight quite often, and it is normally busy. On this November afternoon, it was to be a light load again, with 5 passengers in business. Once again, the divider was far down the cabin, behind the overwing exit. A lot of room for 5 passengers.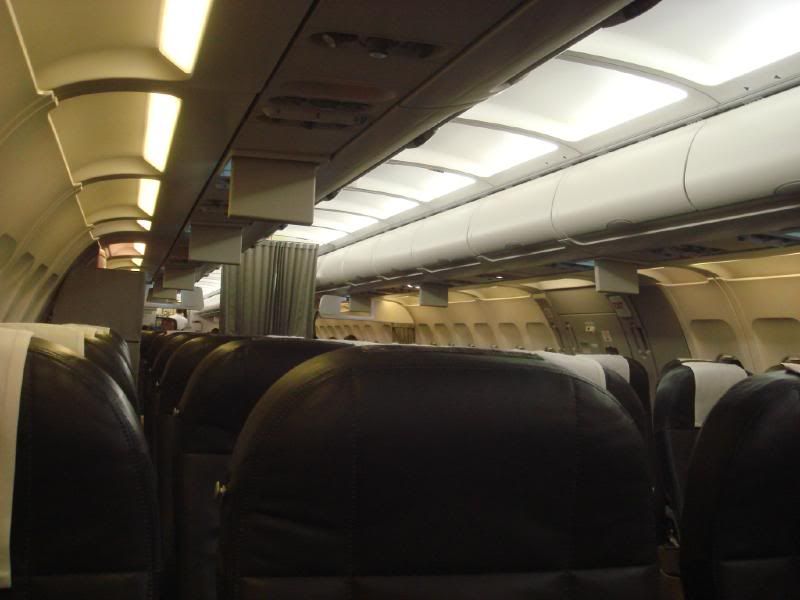 Water and towels were handed out, and Mr. Bojangles serenaded us once again.
Lining up for takeoff.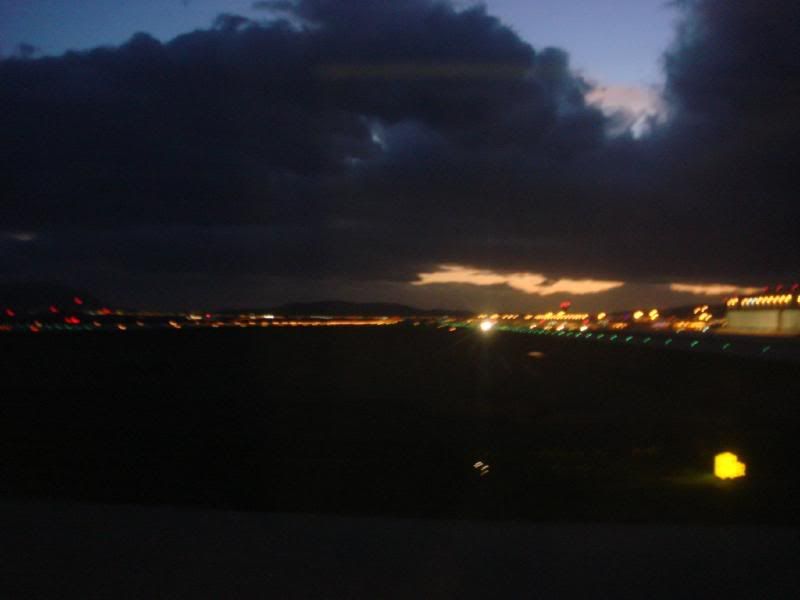 The winds that had sped us down to Athens would now add to our journey time to Zurich- 3h 20, due to strong headwinds.
There was an unhurried aperitif service, with refills generously offered. More champagne. In fact, I think that everyone was having champagne. There was a relaxed atmosphere in the cabin as the meal service got underway.
The Red and White show began, highlighting innovations and improvements in the Swiss product, followed by the Joking Around clips, interspersed with the airshow.
I almost think that the steward forgot to serve me, as once everyone else was served, and offered a choice of meat or pasta, he came back to me and gave me my meal- pasta, with no choice. This was the second time that this happened to me today. I was starting to get paranoid. Do they profile passengers who they think are less likely to make a fuss if the choice of meal has run out?
I am even more surprised as I am a Senator, and on each flight I got a particular welcome on board, and was addressed by name throughout.
Luckily I also know and like this pasta meal, so I wasn't complaining.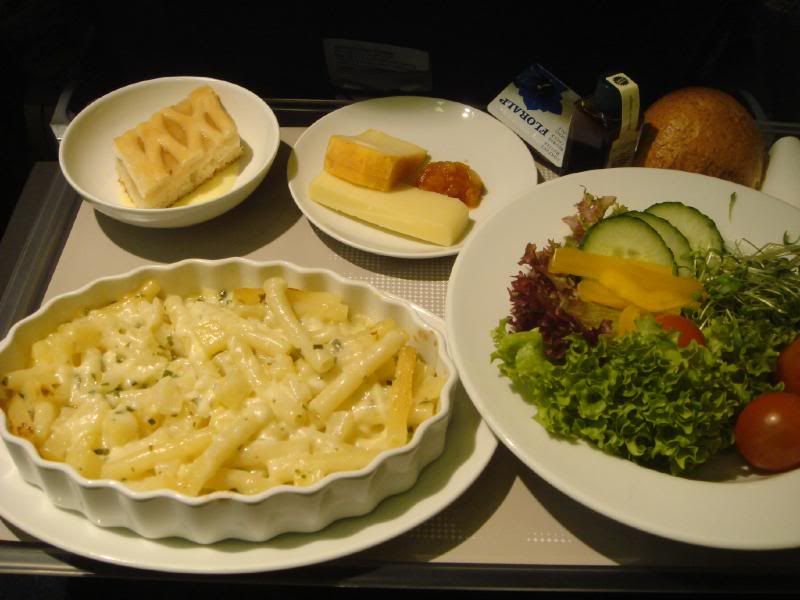 Our routing would take us over Tirana, then following the Croatian coast to Venice, before crossing the Alps to Zurich.
The meal was very good and the crew were efficient with topping up drinks, offering bread etc. Unlike on the GVA flight, the salad, main course and dessert were served together. Perhaps this was because I had been forgotten?
Coffee and chocolates followed.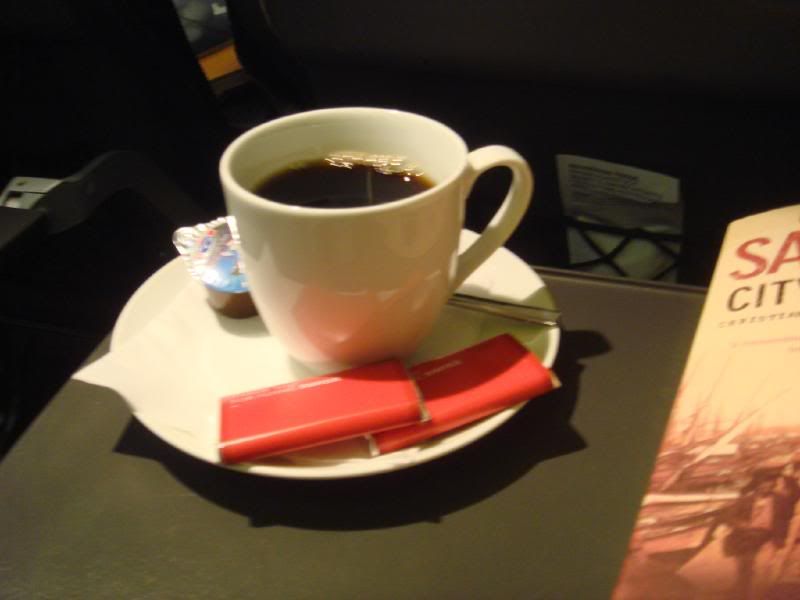 As we neared Zurich, the arrival information was given about Zurich airport, including our arrival gate and gates for connecting flights.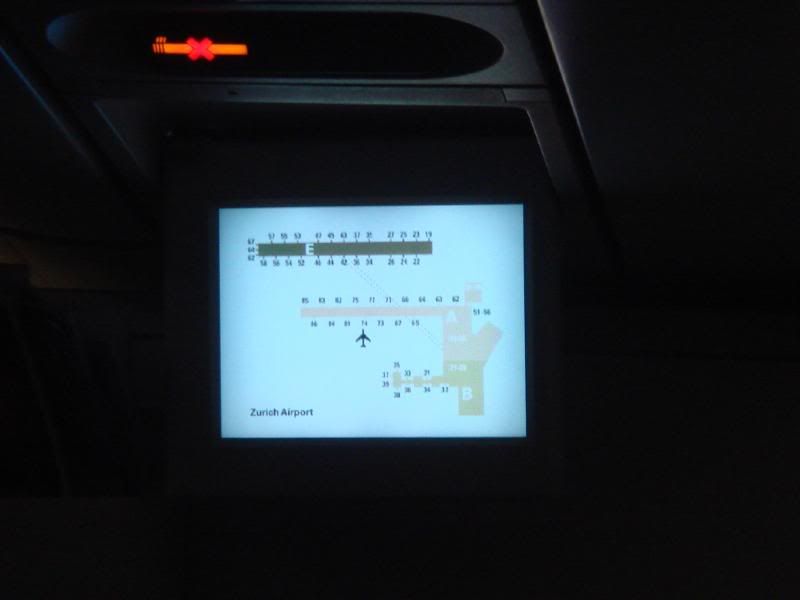 When we arrived in Zurich the temperature was -3 degrees, with snow on the ground. ZRH is my all time favourite airport, and connecting is a breeze.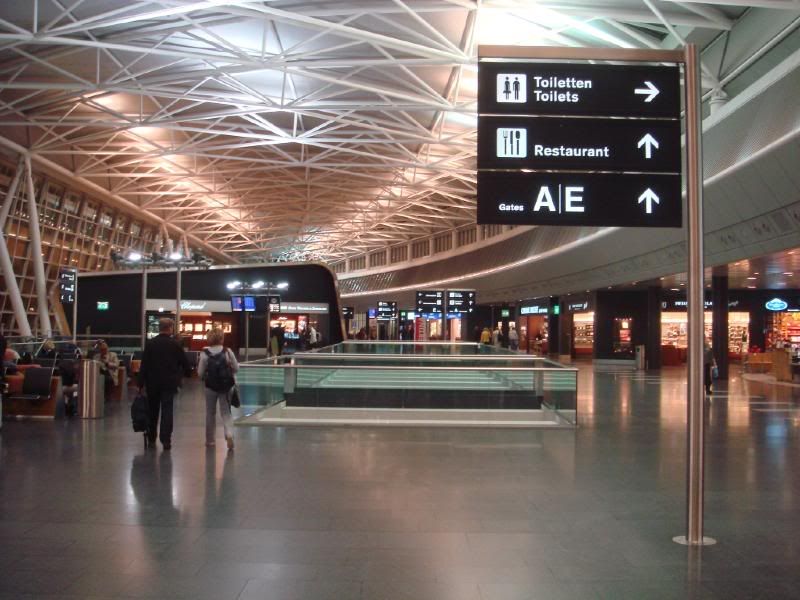 I didn't have too long to connect and I wanted to have a look around the shops. I have spent more time in the lounge in ZRH than I care to mention, so I decided to give it a miss this time. I bought some Sprungli chocolates (can't resist them!) and headed for the gate. Again, there would be a light load on this flight, and most passengers seemed to be connecting from India and Africa.
Night scene in Zurich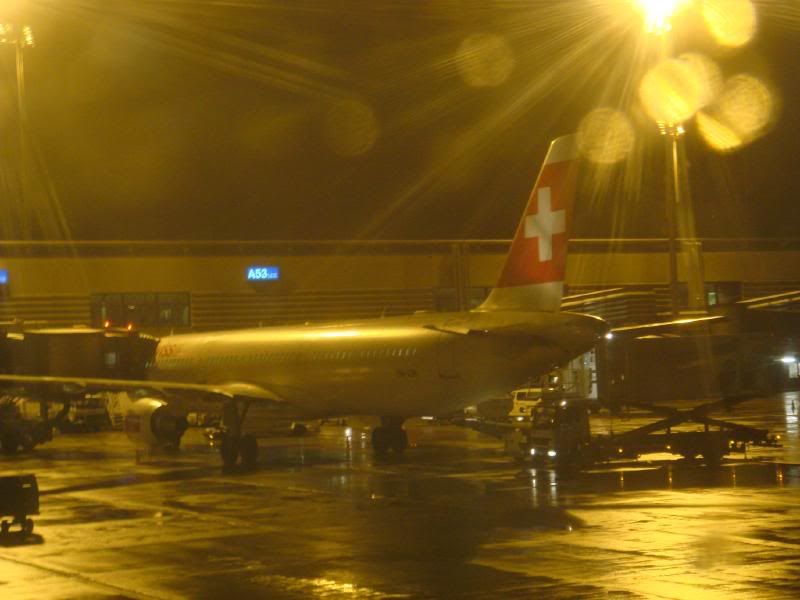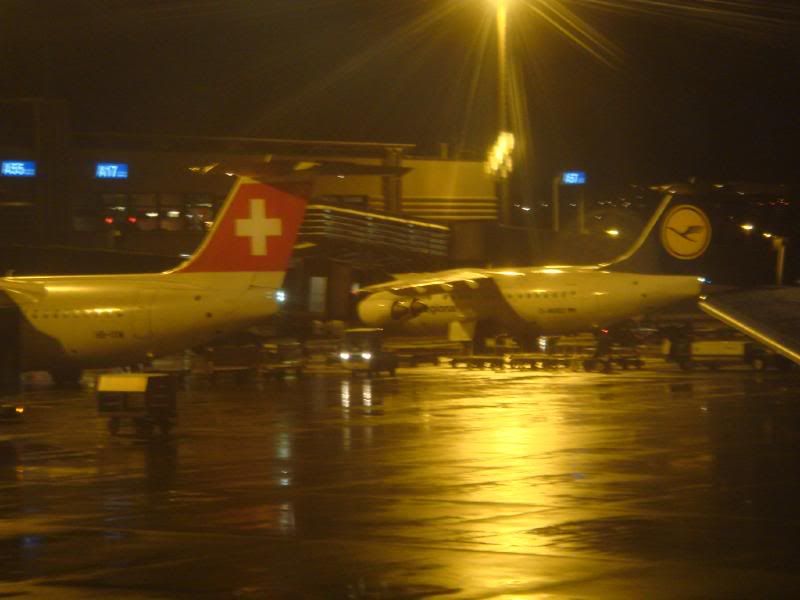 We were welcomed aboard by a friendly crew. More water and towels. They also had the FT. I enjoy reading the "How To Spend It" magazine, which seems terribly decadent right now!
I love taking LX340. It never seems to be busy and there is always a relaxed atmosphere on board. There would be only 2 of us in business class tonight.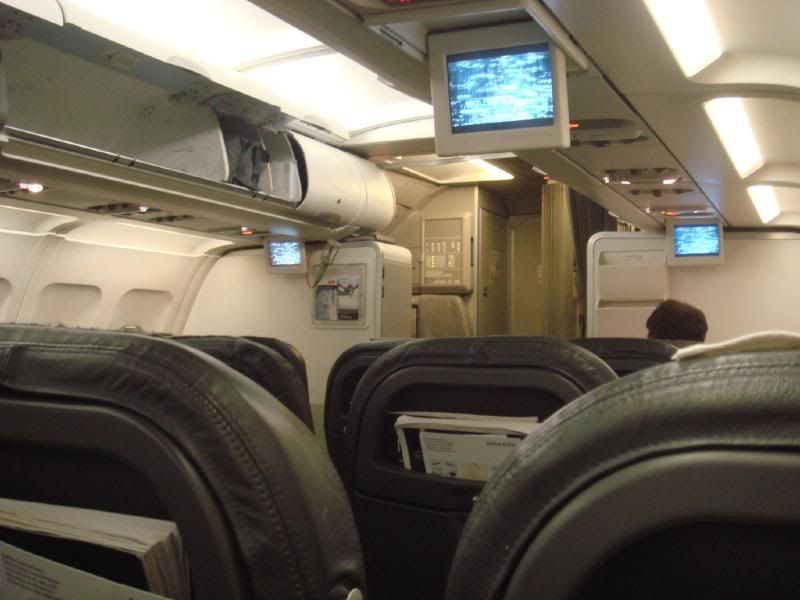 As there was a layer of snow covering the wing, I assumed that we would be de-iced before departure.
LX340
Zurich Kloten- London Heathrow
Dep 20.25
Arr. 21.15
A320
Business Class
Unlike at Heathrow, where a flake of snow brings everything to a halt, in Zurich de-icing is a matter of routine.
AB A319 getting de-iced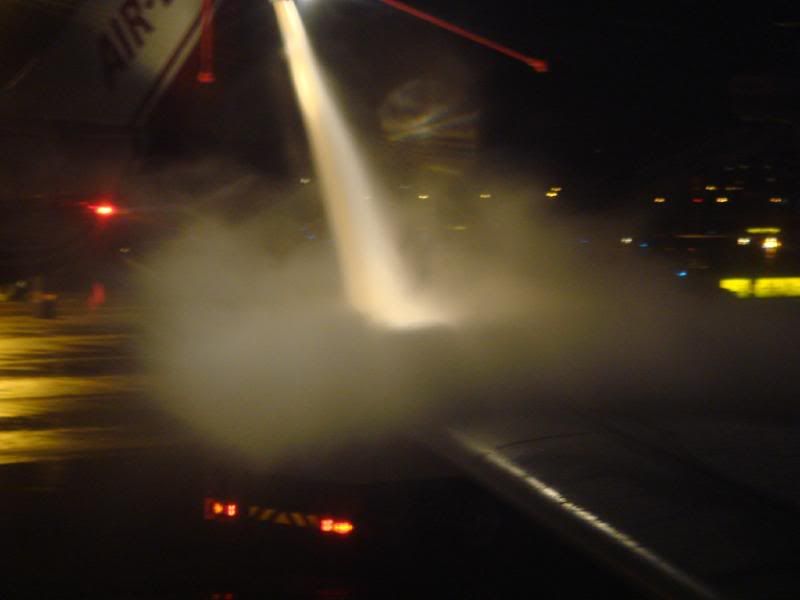 LX340 getting de-iced!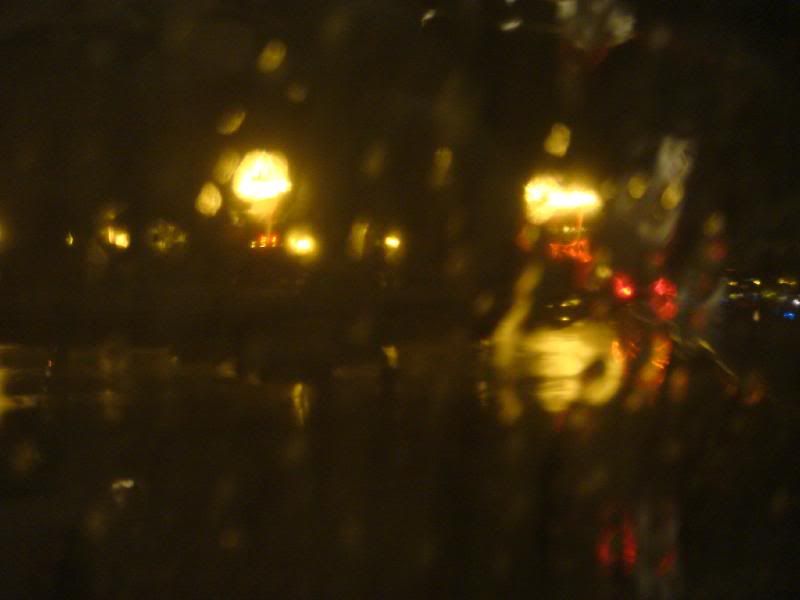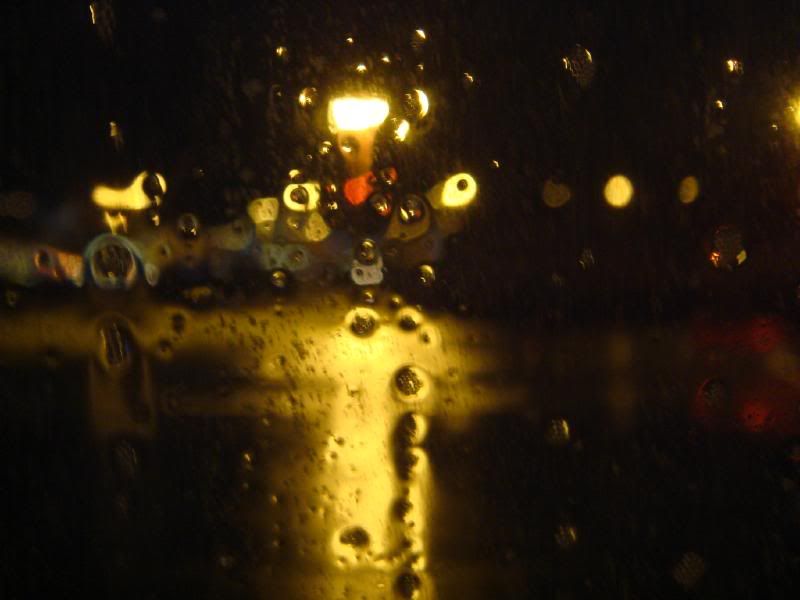 We powered into the night sky towards London, overflying Basel before heading above the clouds. With 2 passengers in C, service was relaxed and personalised. Time for more champagne…
Another familiar meal appeared before me- this salmon and potato salad meal seems to be a staple aboard LX340…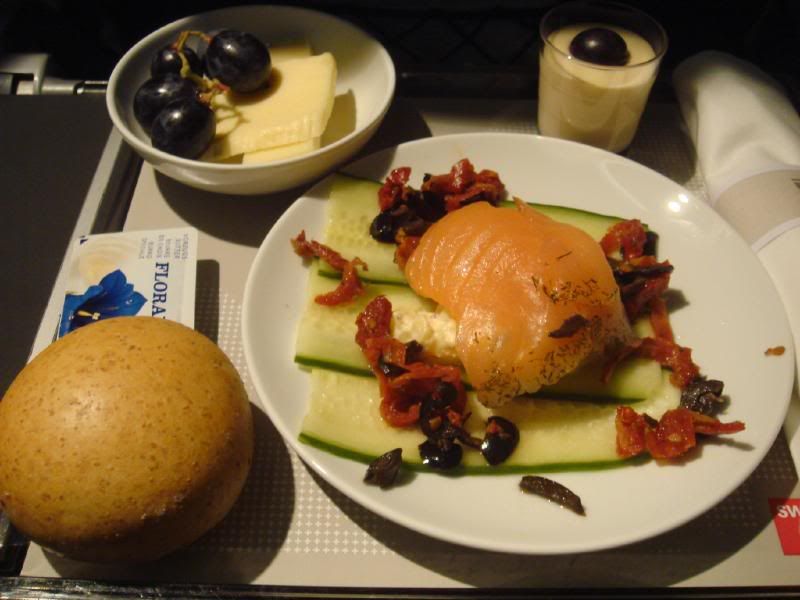 Although I like this meal, the dessert is rather stingy.
Then it was time for coffee and chocolate.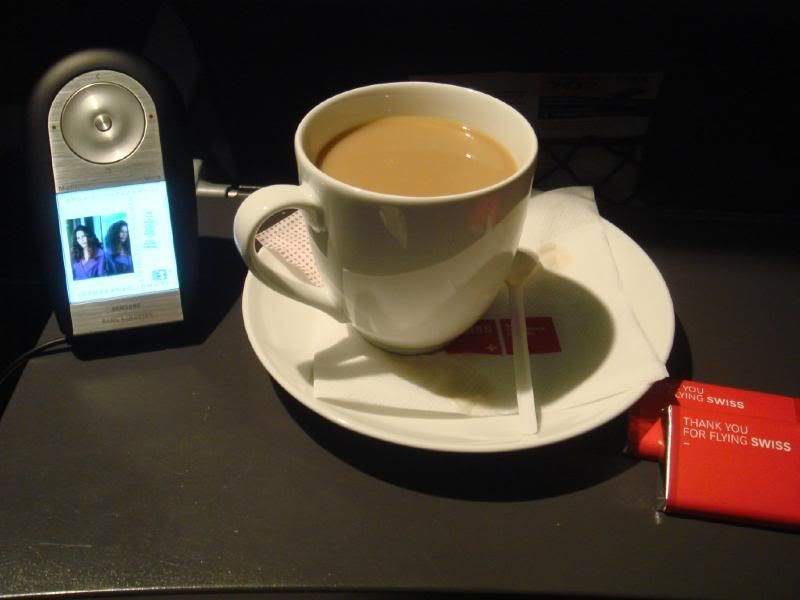 Soon we were overflying Paris, then heading over the Channel. There was light traffic tonight- we made a direct approach to Heathrow over London.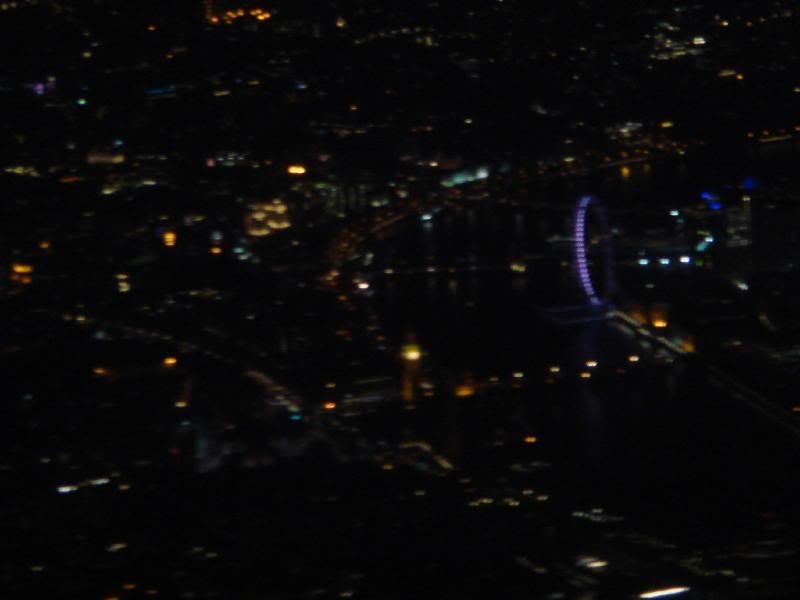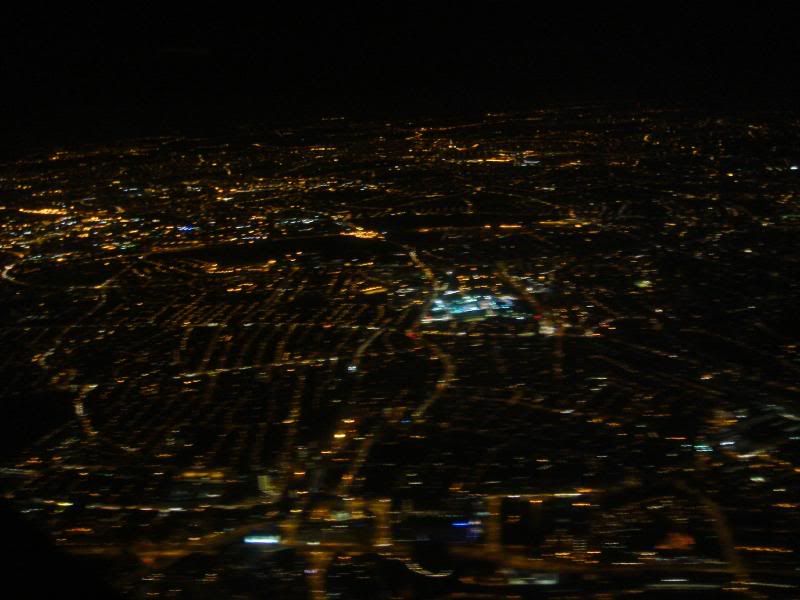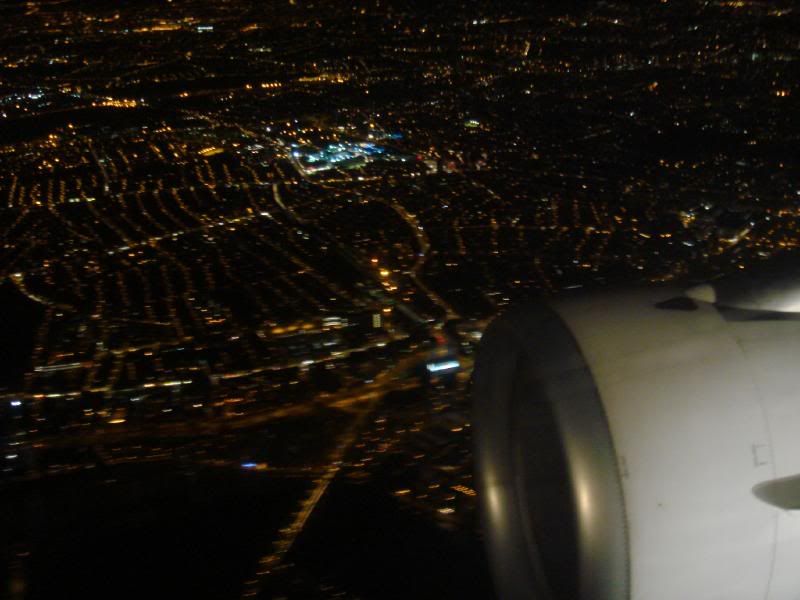 Then my odyssey was over. As I was walking through a near-deserted terminal 2, I looked at the 3 remaining departures that night, which were Bellview to Lagos, Aeroflot to Moscow, and Olympic to Athens. A tempting thought!
What can I say about Swiss? They offer excellent service- flying just as it used to be? All flights were on time. Connecting at Geneva and Zurich is stress free.
Service levels are consistent and their catering product is very good, perhaps second only to Austrian in Europe. Swiss is my number 1 choice for flying, whether I am going to Geneva, Athens, New York or Singapore.
Thanks for reading my report. Any comments or questions are welcome.