Hello Dear readers,
It was about time to get flying again, and some special offers on the internet made me to try out Ryanair for the first time. Since I somehow always missed out on the 737-800, it would also mean that I could add a new type for my personal log. Also I could add 3 new airports and don't forget a couple of hours short of sleep.
Since FR does not fly to AMS, I had to drive some miles extra to get on a FR flight.
I preferred NRN this time, so I needed to drive for 2,5hrs to get there.
The itinerary I choose was NRN-SXF-NYO-NRN for the total amount of € 18.43 including all taxes and credit card fees. The booking was made approx. 1 month before the flights and I could easily check in via the internet.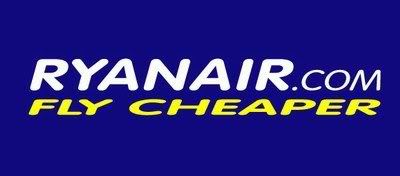 Enough talking for now, let's get flying!
Saturday morning 02.15hrs my alarmclock went airborne and I needed to get out of bed after just 3 hours of sleep. Within 45 minutes I hit the road and headed southbound to NRN airport. It took me just under 2,5 hours to drive the 275km to the airport, which was not too bad. I arrived around 05.30 at the airport with some 30 minutes to spare before the gate closes, so I decided to line up at security straight away.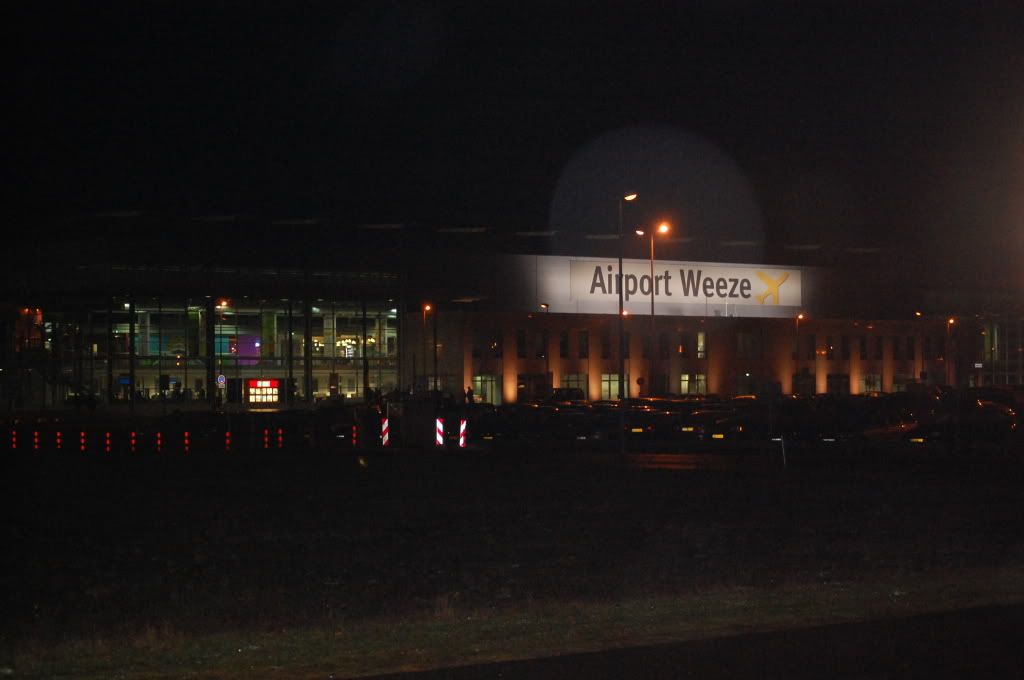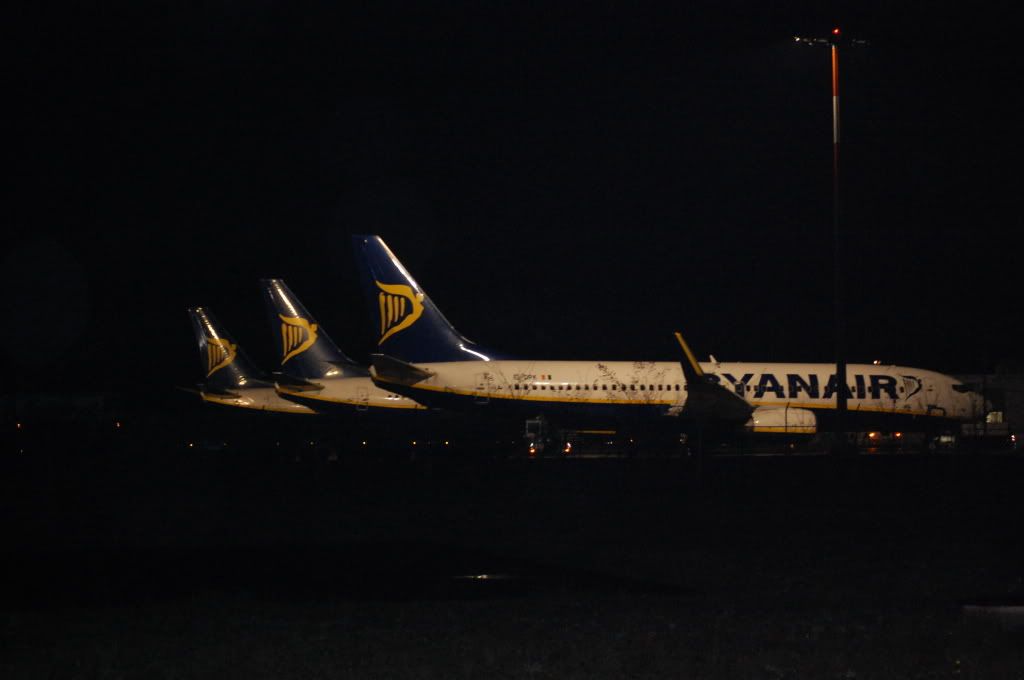 It was only a 10 minute wait, so had all the time in the world to get to the gate for my first flight of the day.
Flight: FR2178
Stretch: NRN-SXF
Date: 15-nov-2008
Aircraft: Boeing 737-8AS (WL)
Registration: EI-DLI
Delivered: 23-03-2006 to Ryanair
Seat: 27F
Loadfactor: 75%
Ticket price incl. all taxes : € 1,19 (excl. credit card fee € 5,00)
1st flight on the 737-800 and therefore the 1st on this machine.
When I arrived at the gate some 2 minutes after I finished the security-check, boarding was just started and I could easily enter the line and even got on the first bus to the aircraft.
This morning there were 7 FR birds parked at NRN, and since I never flew with FR, the machine would be a new entry in my log anyway.
There were 2 Cobus3000 buses who brought the passengers to the aircraft, which turned out to be EI-DLI, a 2006 machine.
I didn't know exactly what to expect since there are so many different opinions about FR.
My first impression was actually quite ok, with the machine being quite clean and the friendly welcome from the cabin crew. An annoying songs was played far too loud for this time of the day, so anybody still asleep would be awake instantly.
I always prefer to have a windowseat, and for this flight the starboard side would be perfect since the sun would rise during this short flight to SXF, being one of only two remaining airports in Berlin since THF was shut down. I sat down on seat 27F and made myself as comfortable as possible. Legroom was very tight, but I expected this to be, so no problem for me this time.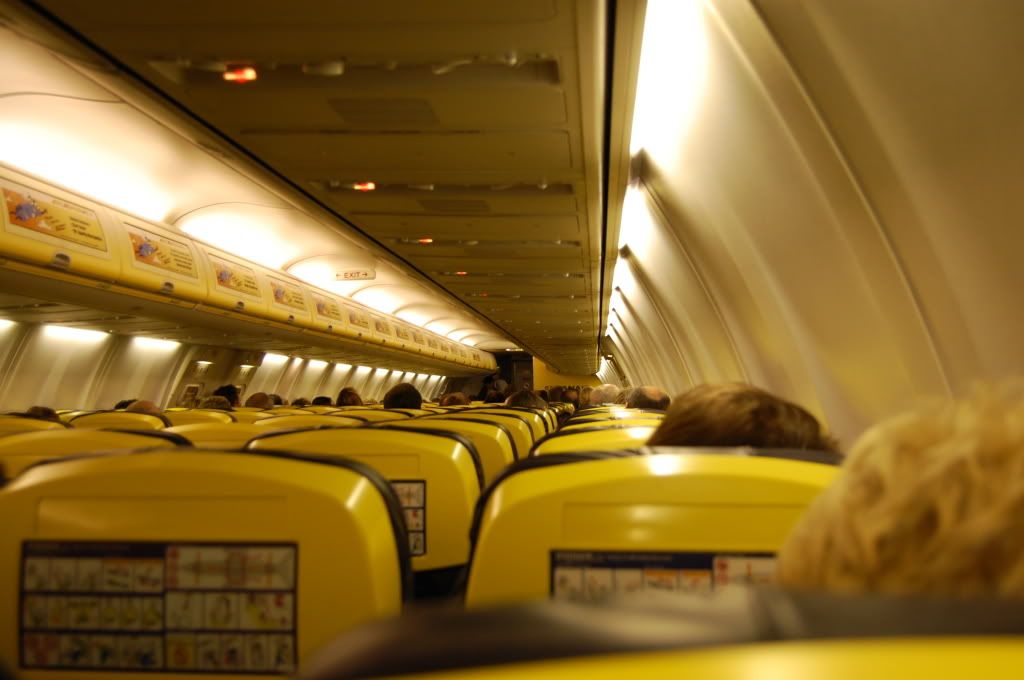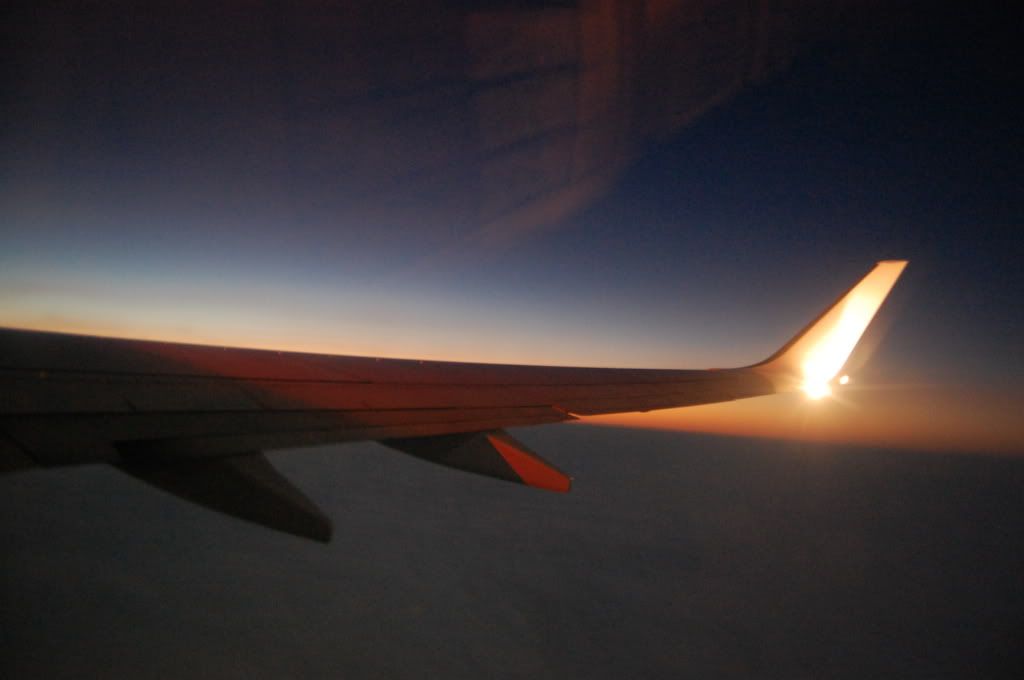 The load on the flight was quite ok with around 75% of the seat occupied. Luckily the middle seat next to me remained empty, so I could use a bit more space to store my feet.
My seatmate on the aisle-seat was a German guy, who already slept before the doors were closed.
The very friendly cabin crew with 3 male and 1 female attendant really did their best to deliver the FR product as good as possible and a big thumbs up for them!
After the boarding was completed the safety-demonstration was done manually during our taxi to the active runway, which was rwy27 this morning. We made a rolling start and soon we were airborne. Some sharp turns direct after take off, and we headed in an easterly direction towards the capital of Germany.
During the flight the audiosystem on board was used for several strange tunes, sounds and commercials, which was very disturbing, especially for those who wanted to sleep. On board service was quite quick, even though quite some people bought a coffee or so. The coffee tasted very good, but the price is rather high at € 3,00.
As you can see in the pictures the sunrise was just stunning!!!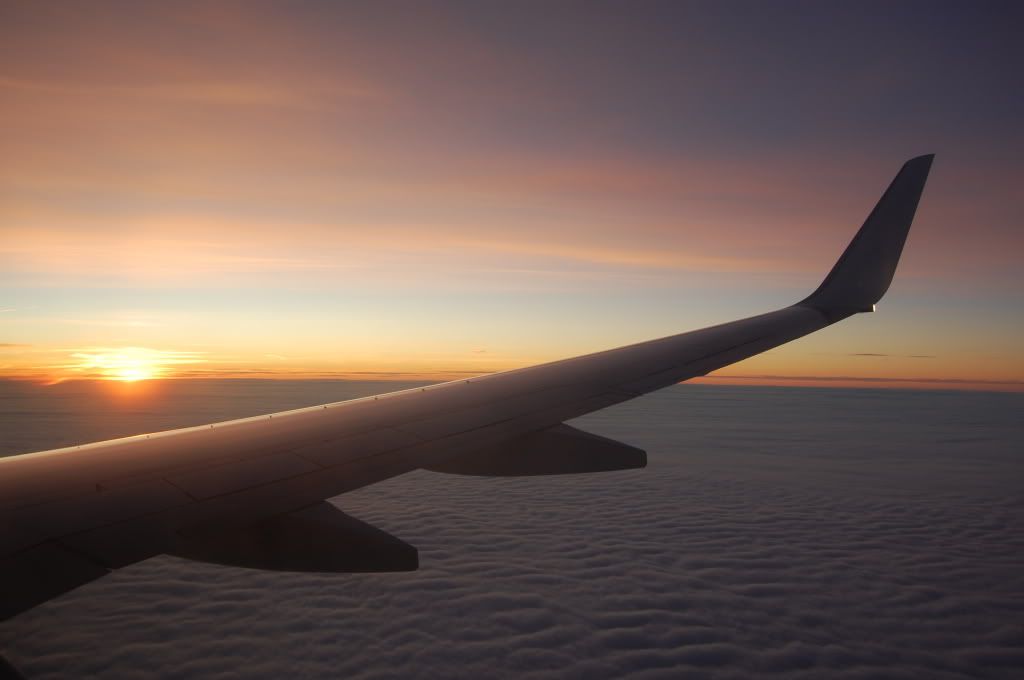 Somehow I thought of a report, written by a fellow a.netter about chewing gum on FR planes, as I spotted one at the seat in front of me….. Unfortunately this wasn't the last time to spot chewing gum……..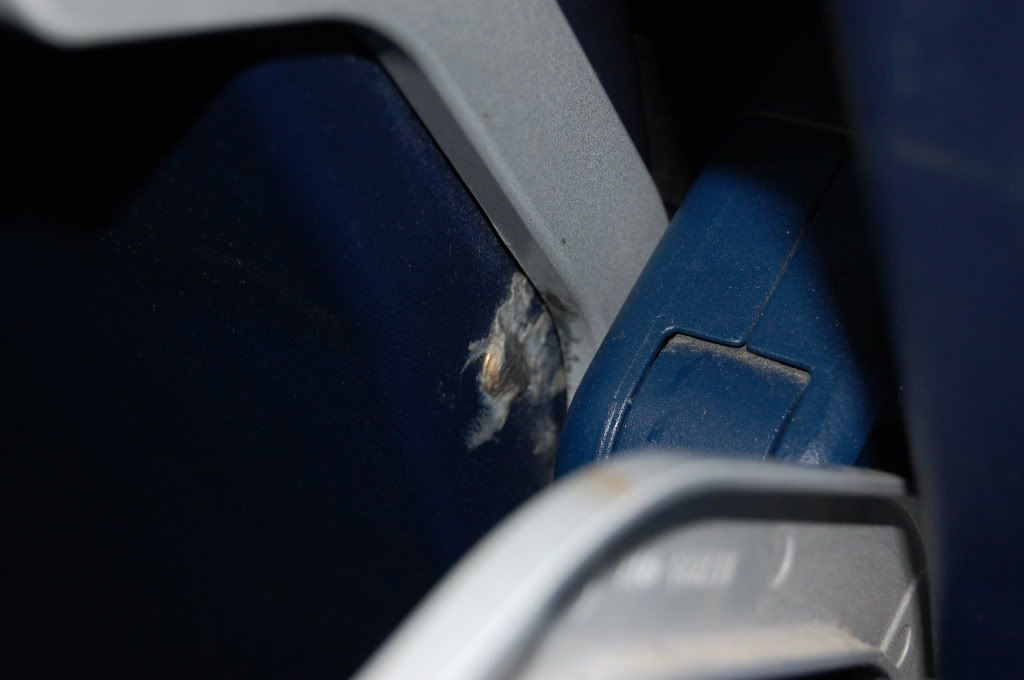 Yuck!
Soon our descent into SXF started, and we were asked to put our seats in the upright position, ehhhhh, I think those seats are always in a upright position since you can't lower them….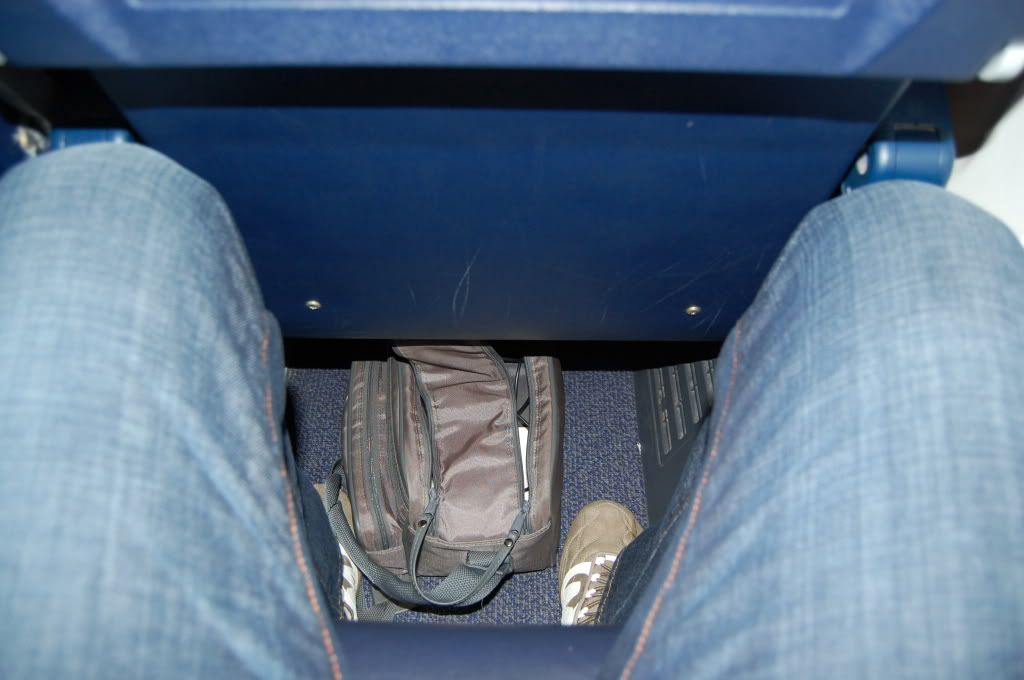 Legroom actually quite ok on FR!
The landing was smooth, and we taxied on a wet airport to our stand.
I walked to the terminal, and needed to check where to go now, since I had not too much time before my next flight would leave.
I hoped that I could just walk from one gate to the other, but this was not possible. I had to go the long way via the arrivals hall, up the stairs, keep on running, through the departures hall, to the security checkpoint. Some people in the queue saw my rush and let me go first, without me asking them to. Very kind of the nice and friendly Berliners!
After the check I had to run back to the far corner of the terminal, to the gate next to the one I arrived at, and I was just in time to hop on the flight to NYO.
My luck here was that I did not board the same aircraft, which would have been sooo useless!
Flight: FR9704
Stretch: SXF-NYO
Date: 15-nov-2008
Aircraft: Boeing 737-8AS (WL)
Registration: EI-DYD
Delivered: 14-03-2008 to Ryanair
Seat: 27F
Loadfactor: 55%
Ticket price incl. all taxes : € 1,00 (excl. credit card fee € 5,00)
2nd flight on the 737-800 and the 1st on this machine.
This time I could walk to the plane, which was only a short walk. I entered this 8 month old Boeing via the aft. door. With this flight only about half full, I could still pick a window seat, and sat on seat 27F again. I expected this bird to be one of the older birds in the fleet since it was worn and very dirty.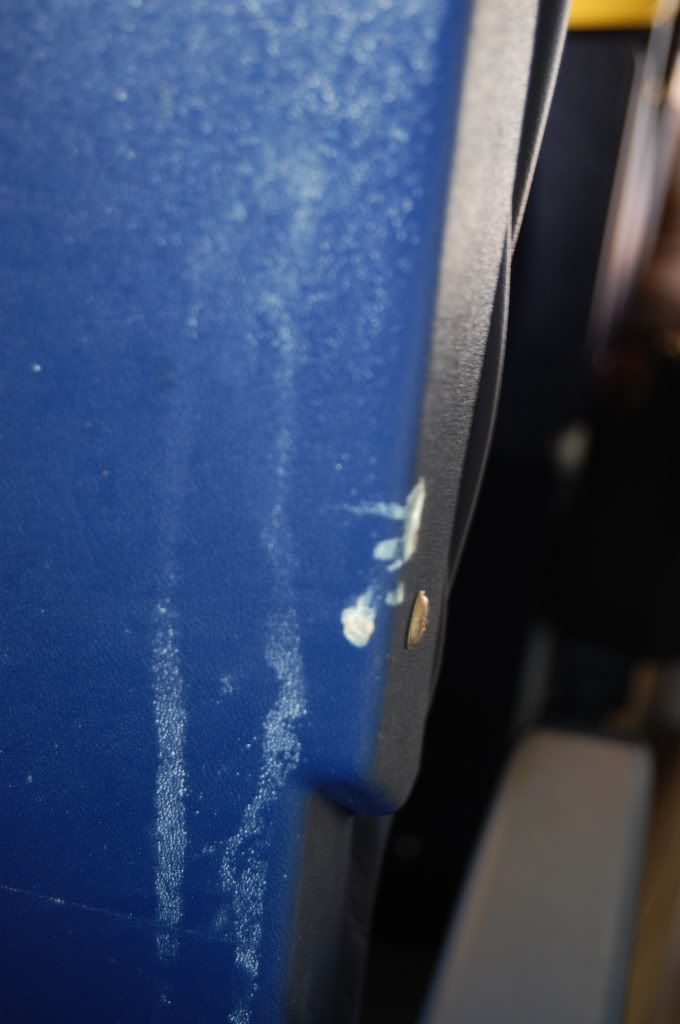 Chewing gum again!!
This is not good Ryanair! I know the flights are cheap; no frills etc. but at least clean them! My tray table was still covered with some ketchup and the table on the empty seat next to me was covered with spoiled coffee and some bread leftovers.
Also the crew on this flight was not too friendly, and just did that, what they are getting paid for. Again the annoying song was played, and still runs through my mind a couple of days later….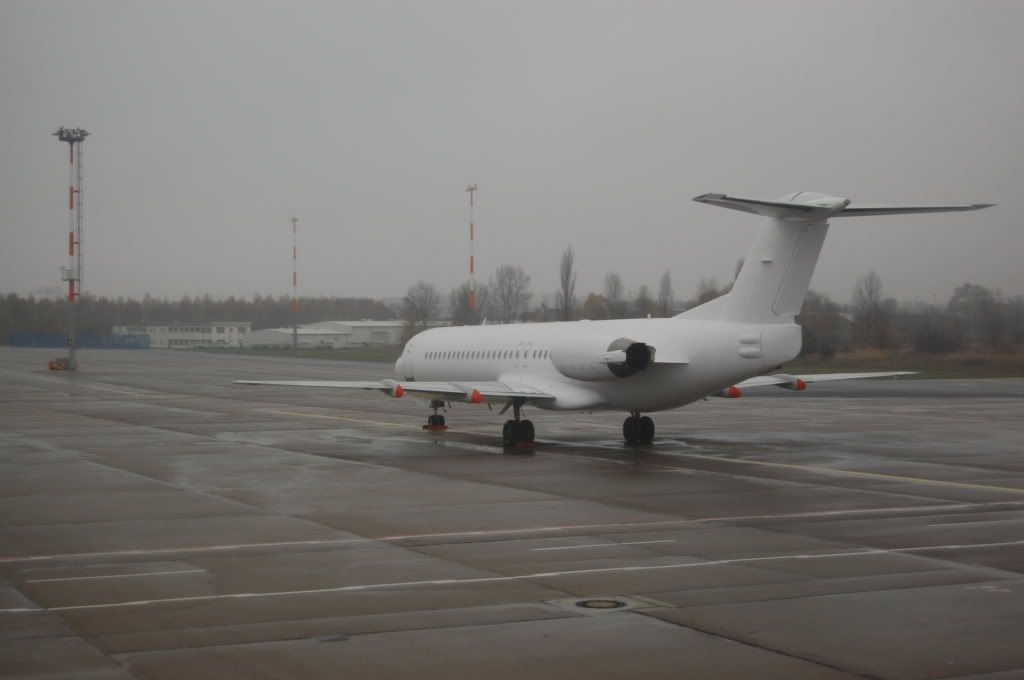 During our taxi to the active runway we passed an all white ex AB F100 and later some more still painted AB F100's (also stored).
Take off was powerful and soon we hit the cloudy skies over Berlin.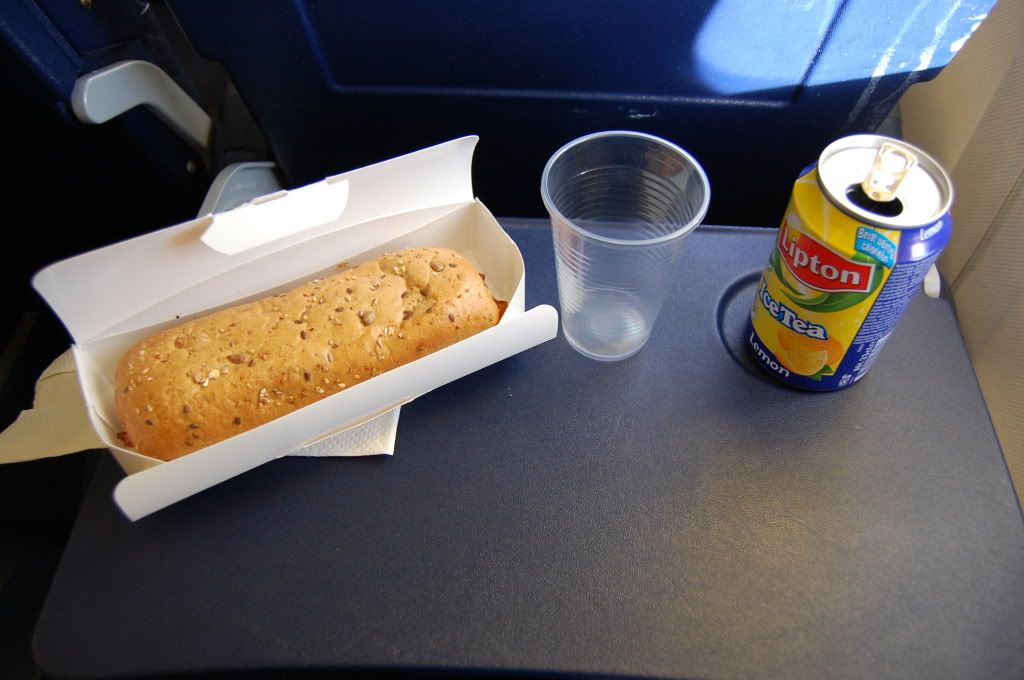 During the service I decided that I could eat something and ordered a can of Icetea and a ham/cheese sandwich. Total cost : € 8,10 which is a tad overpriced….
I lowered my table and what did I see, yes…..CHEWING GUM LEFTOVERS!
The flight itself was rather uneventful as I only saw clouds, clouds and more clouds.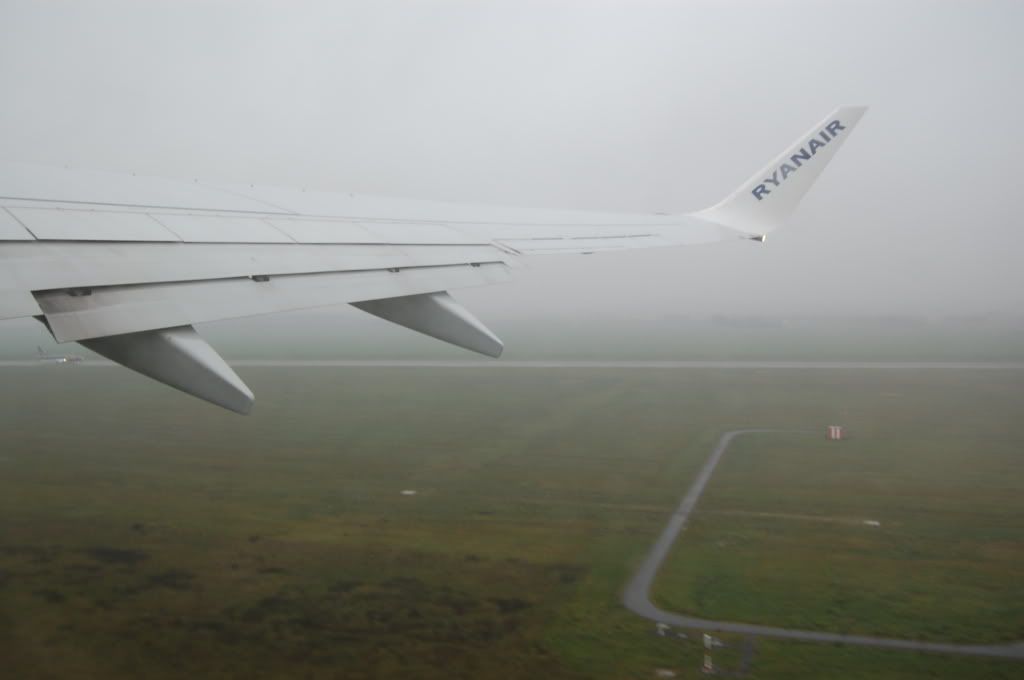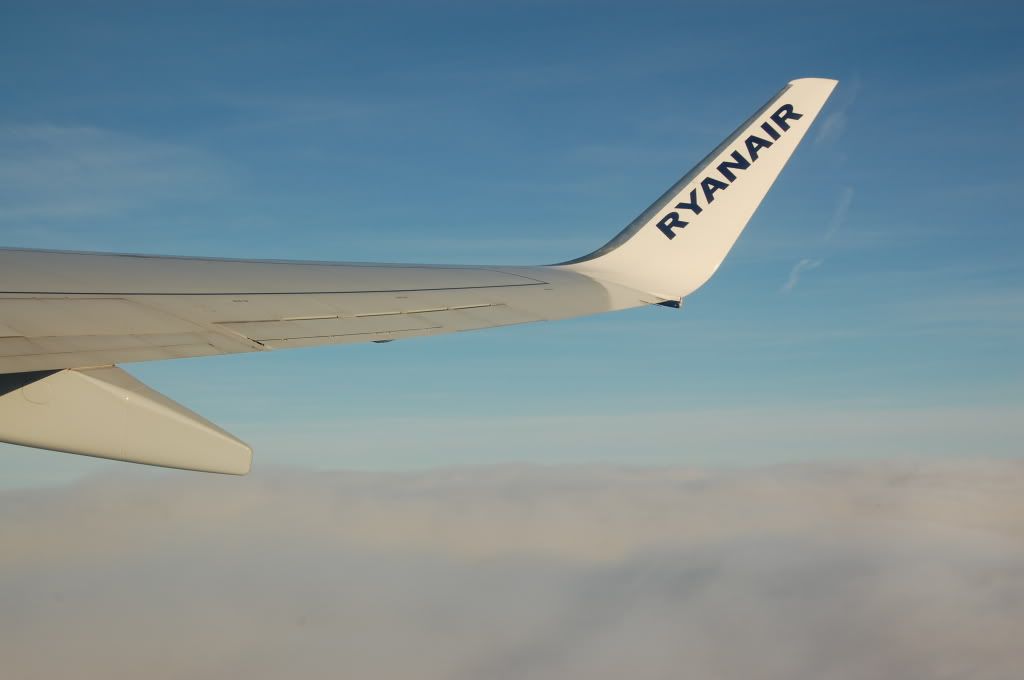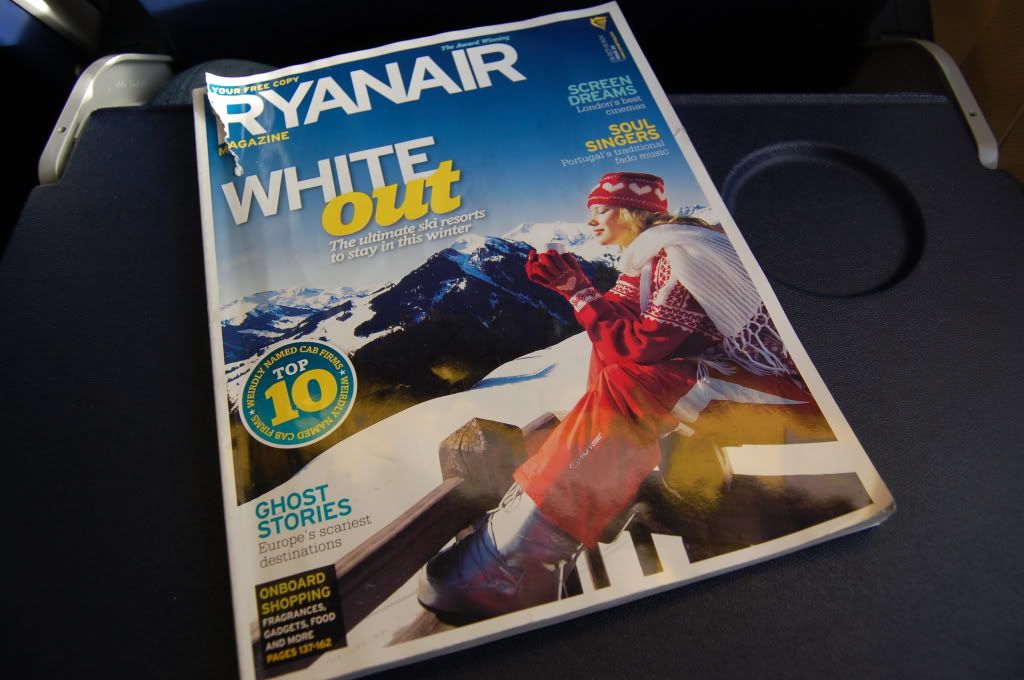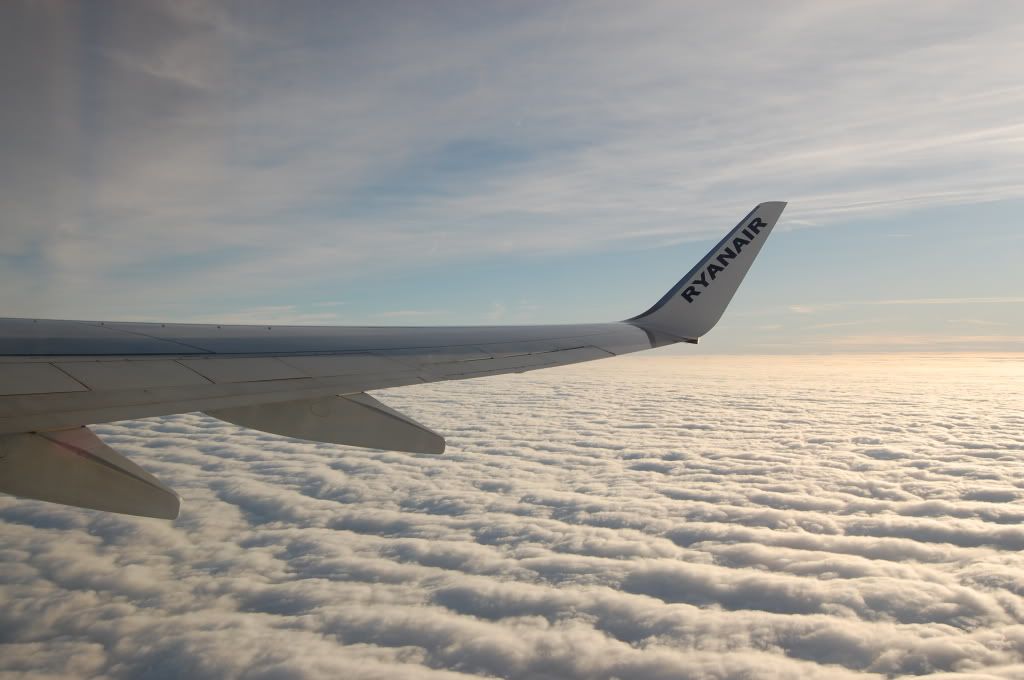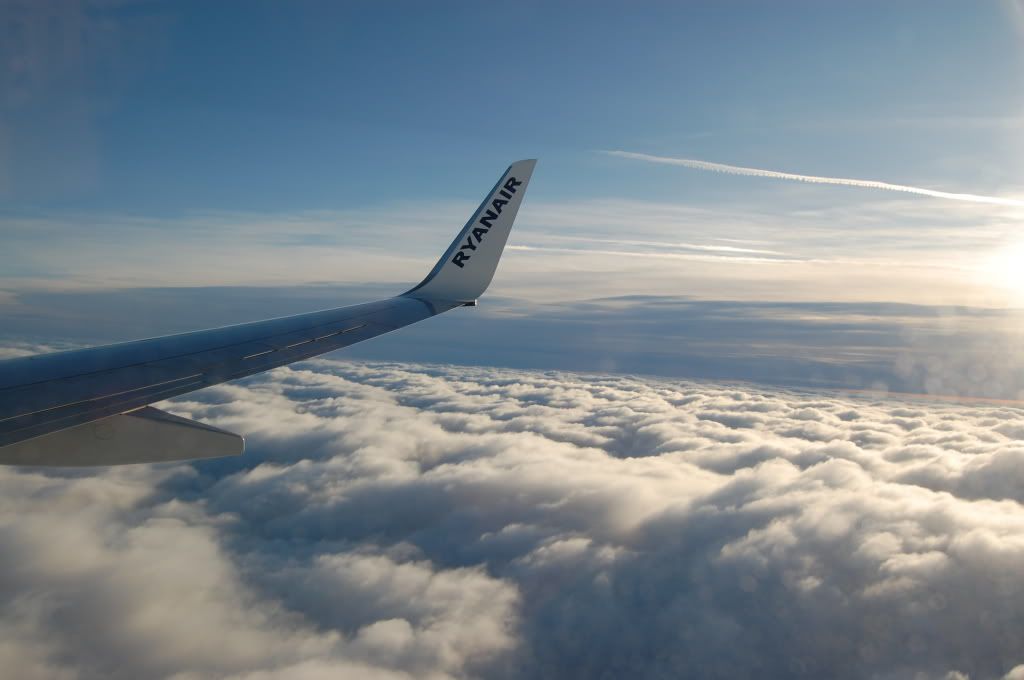 Soon we started our descent into NYO where we made a very smooth landing.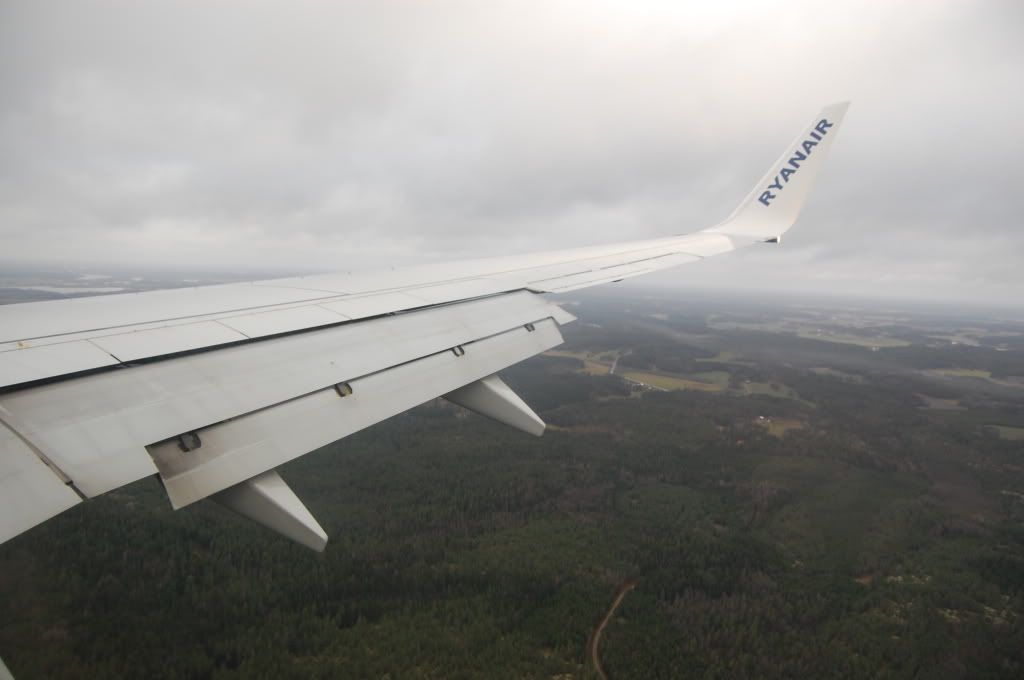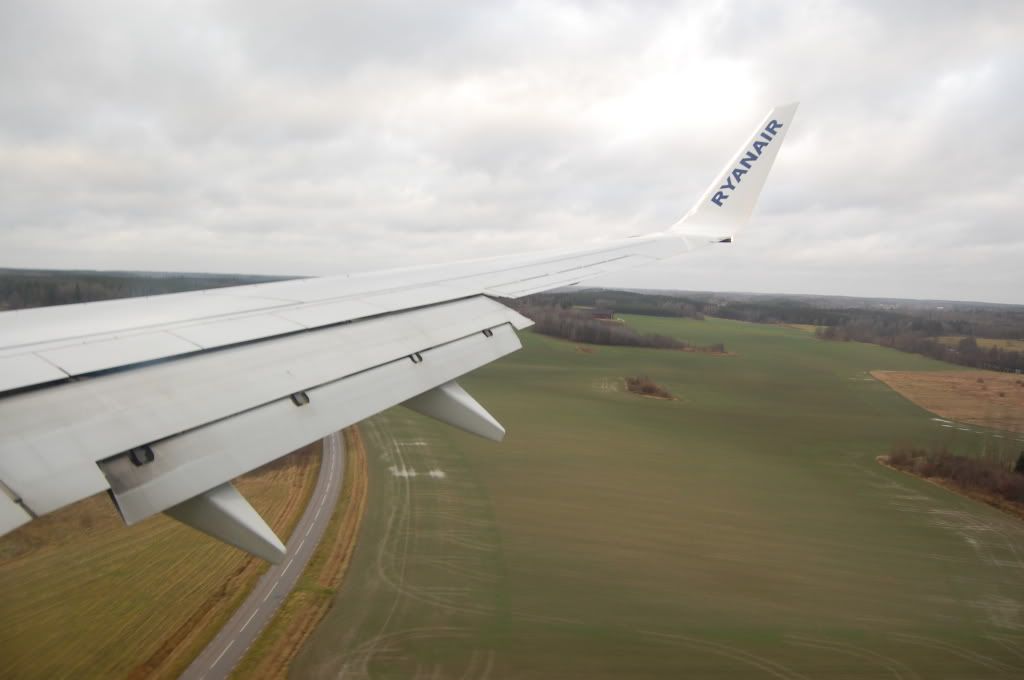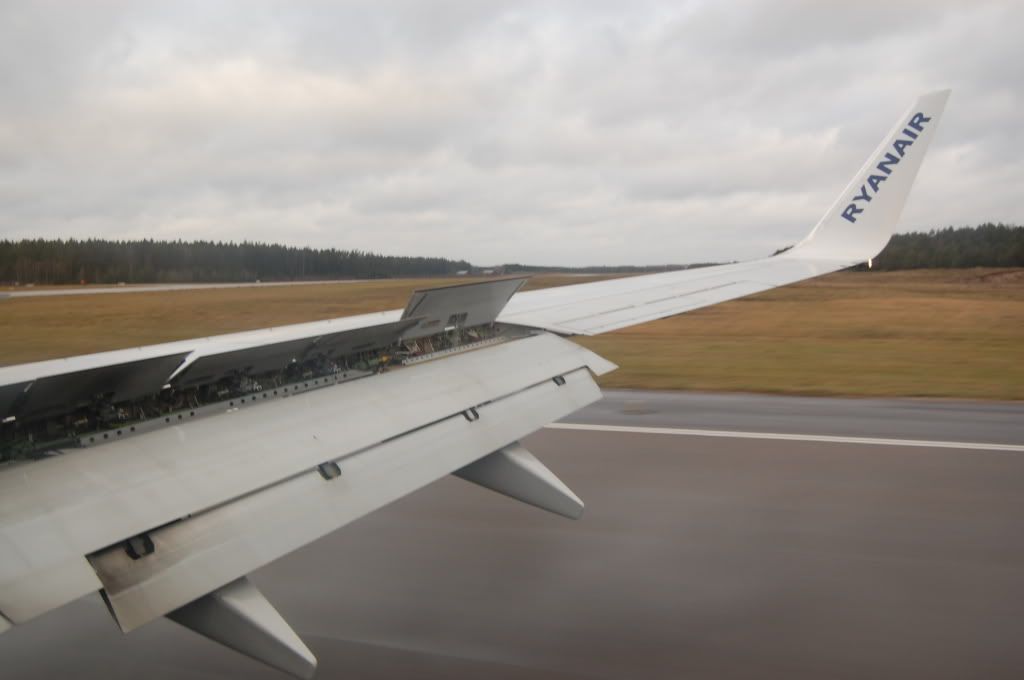 We taxied to the apron where only 2 other FR 737's were parked at that moment.
It took about 3 minutes from leaving the plane to walking outside the terminal, so a rather quick service here.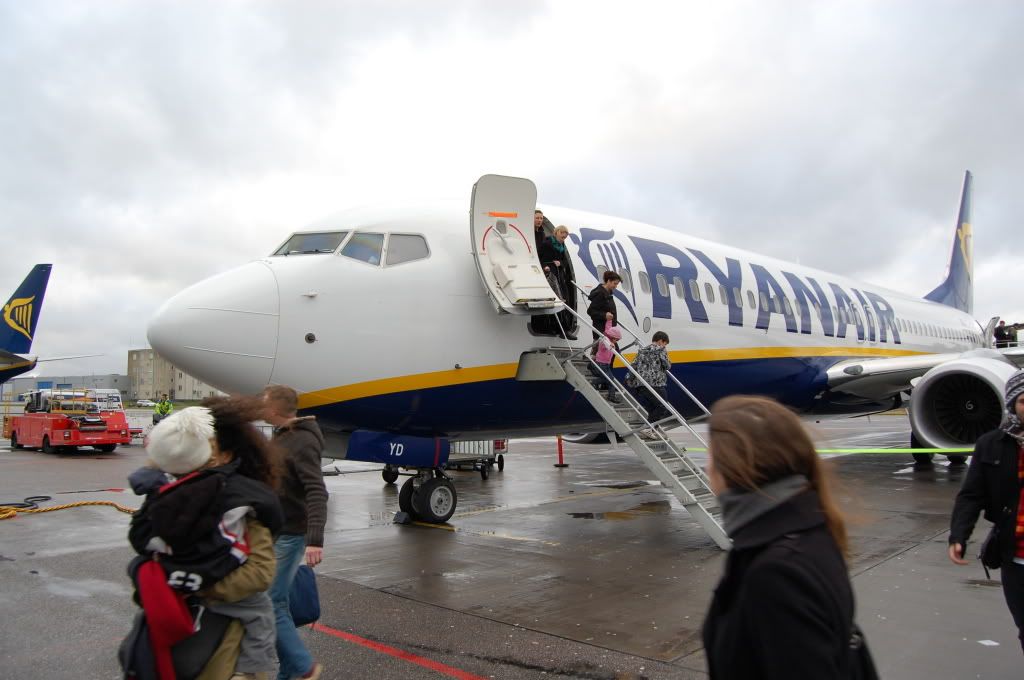 With roughly 90 minutes to spare I decided to walk around the airport a bit and make some pictures and do some spotting. At NYO there is not too much action, but I managed to see some very interesting Coastguard planes.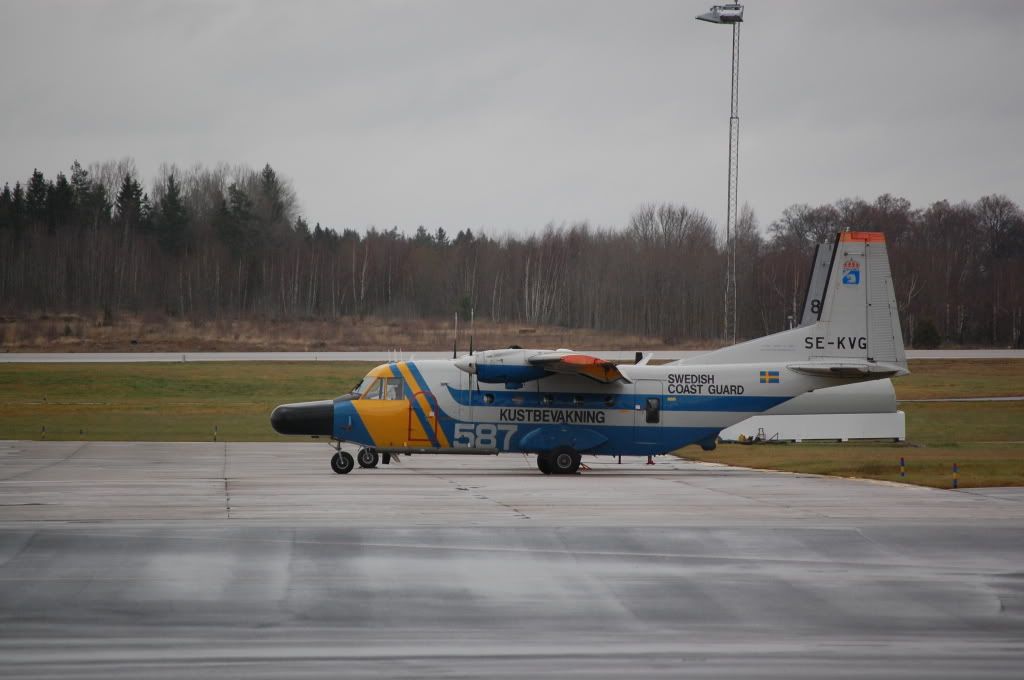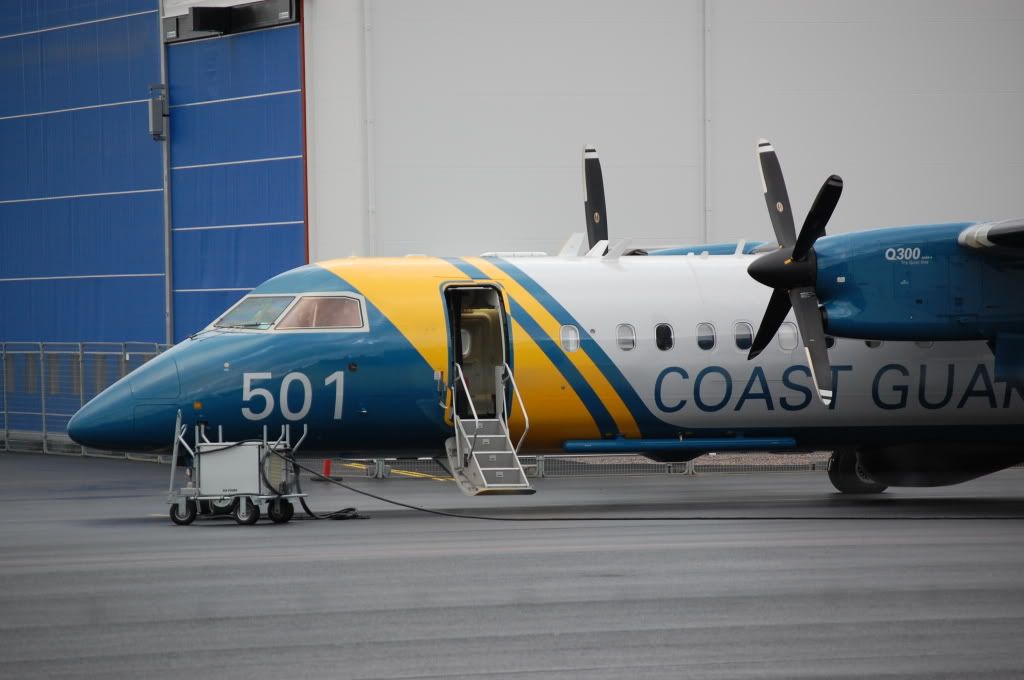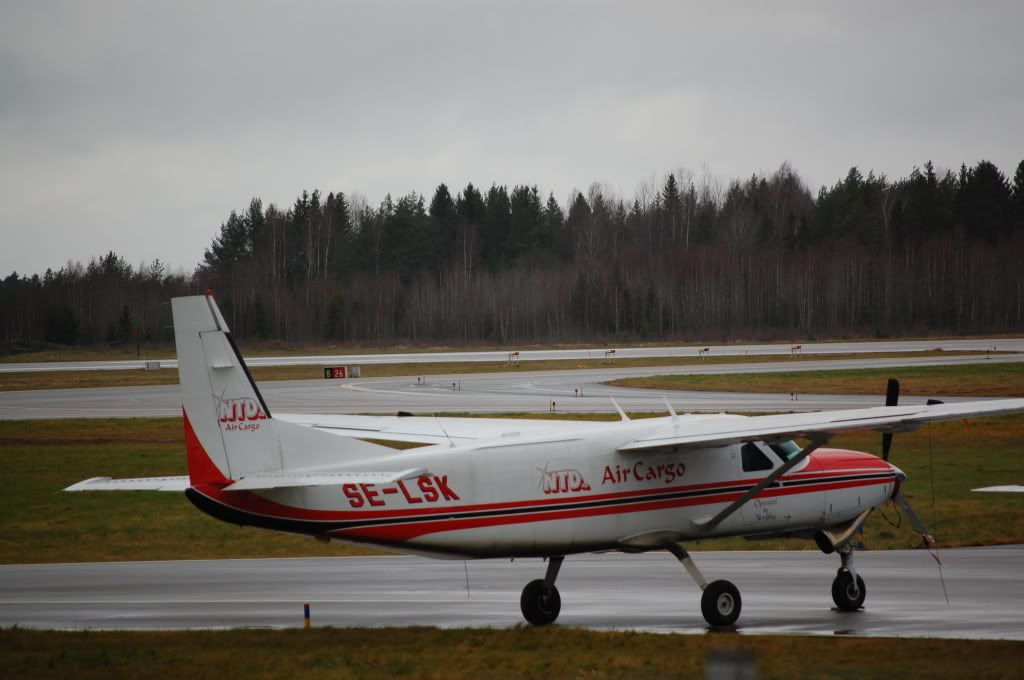 At a nearby (closed) museum a cockpit section of a Saab Fighter was stored which was a nice sighting I think.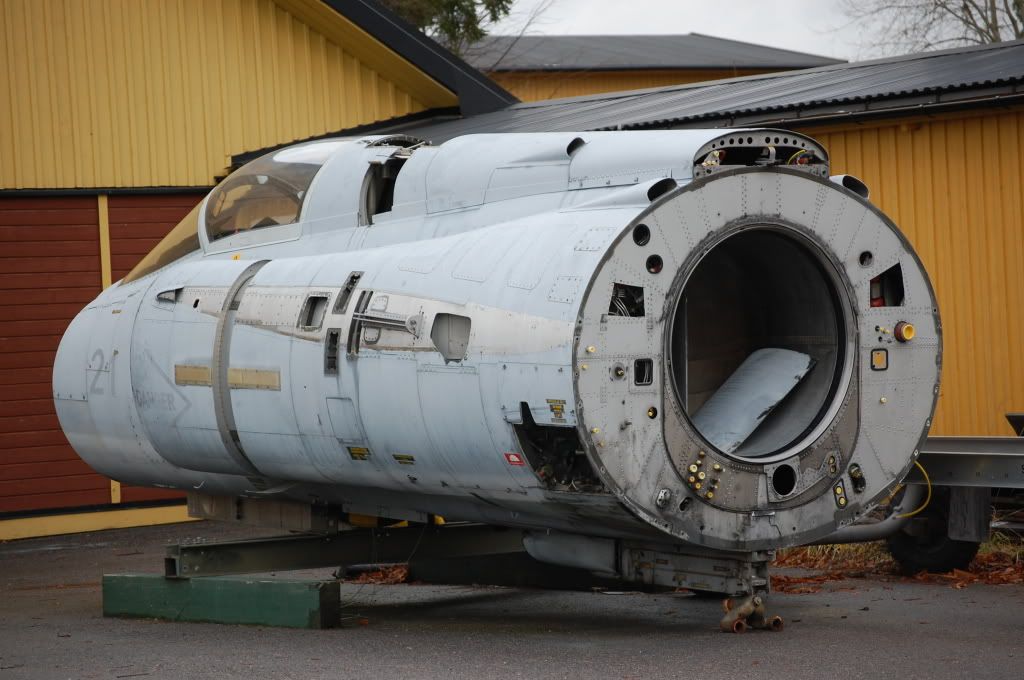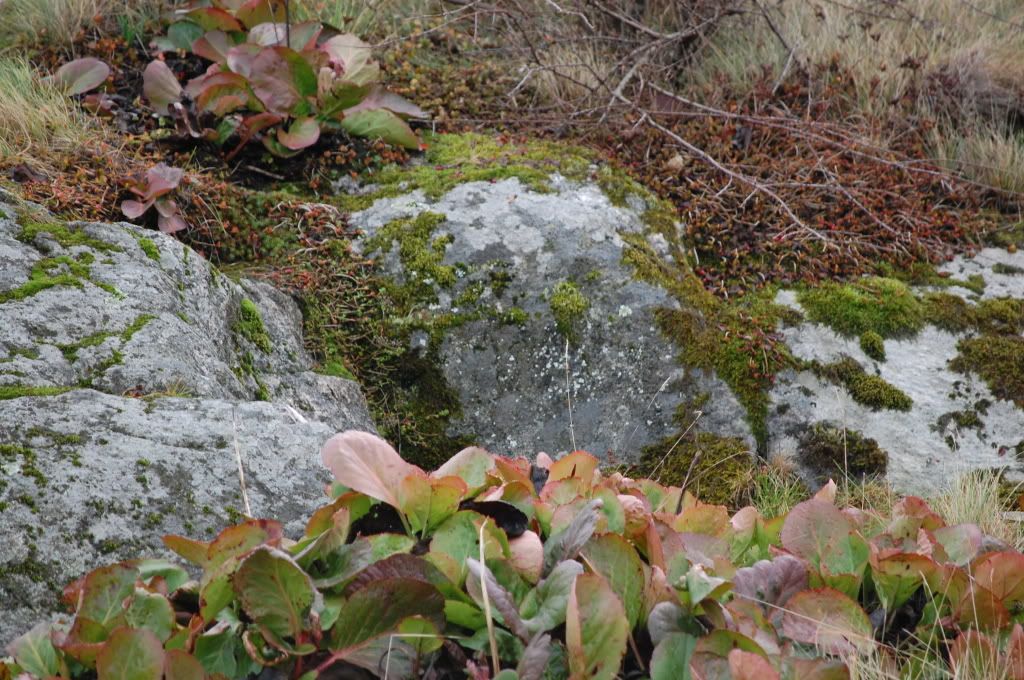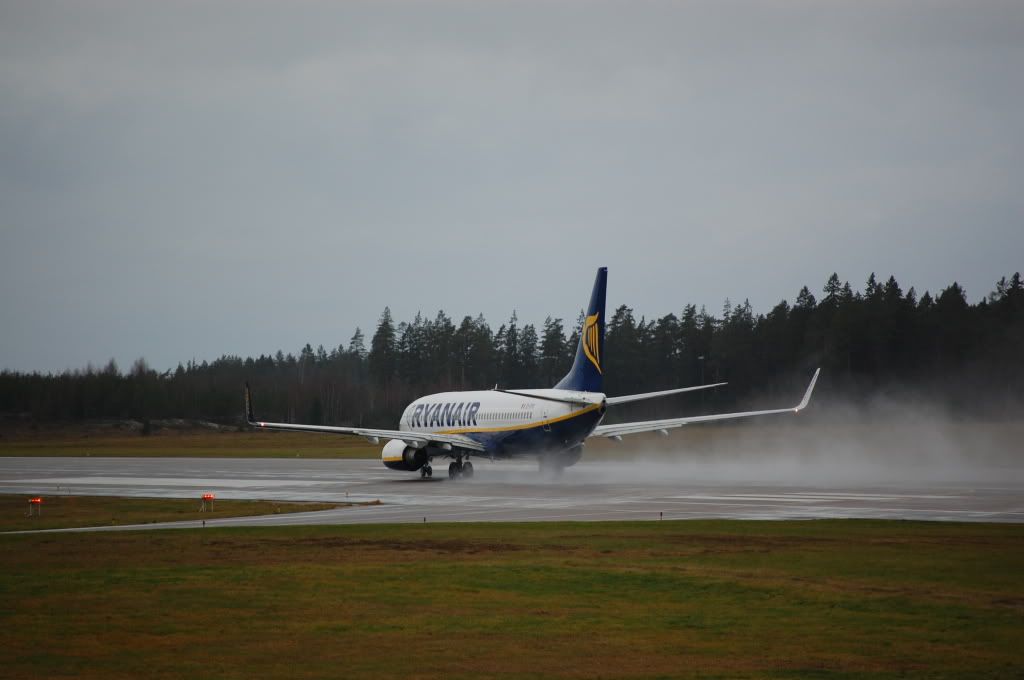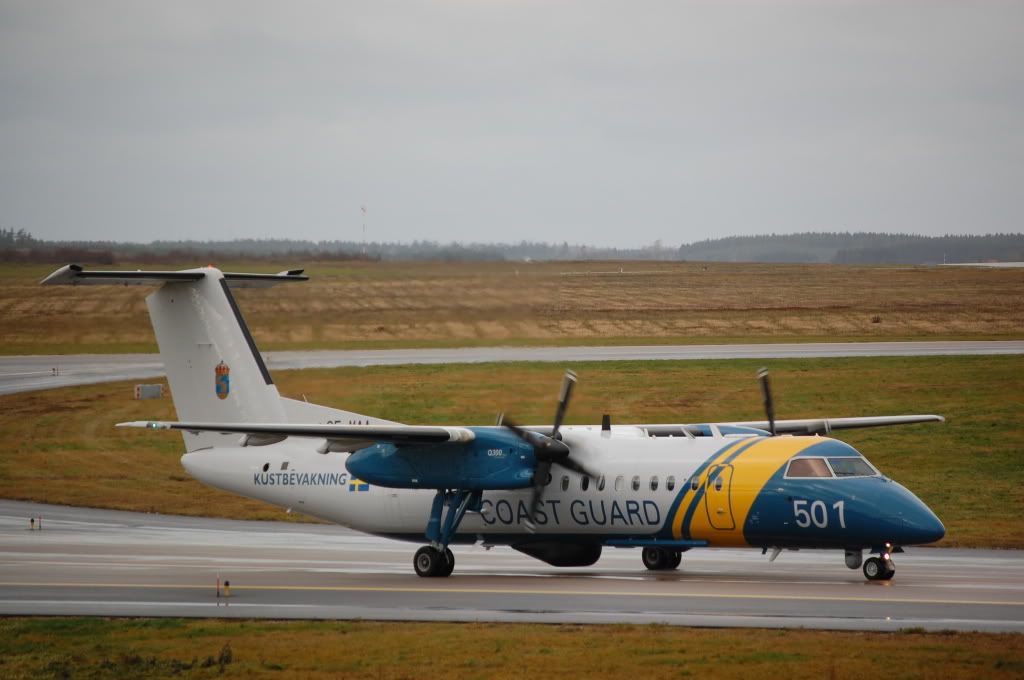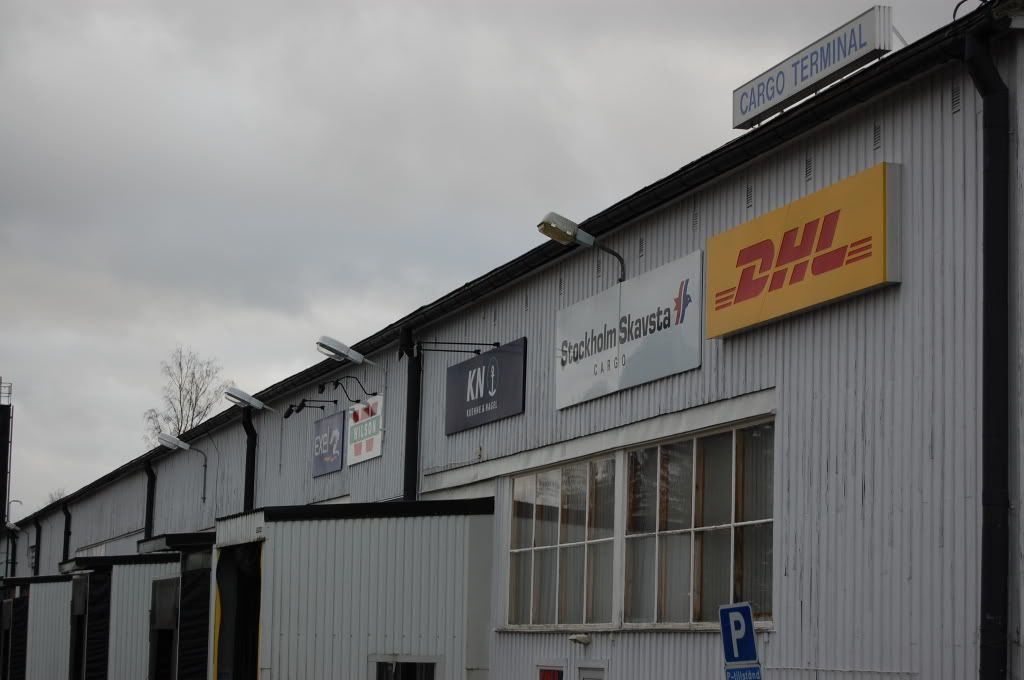 After a while it was time to head back to the departures terminal and went to security. Check was done within minutes as there was almost no queue.
I now had to wait for some 15 minutes before boarding was commenced.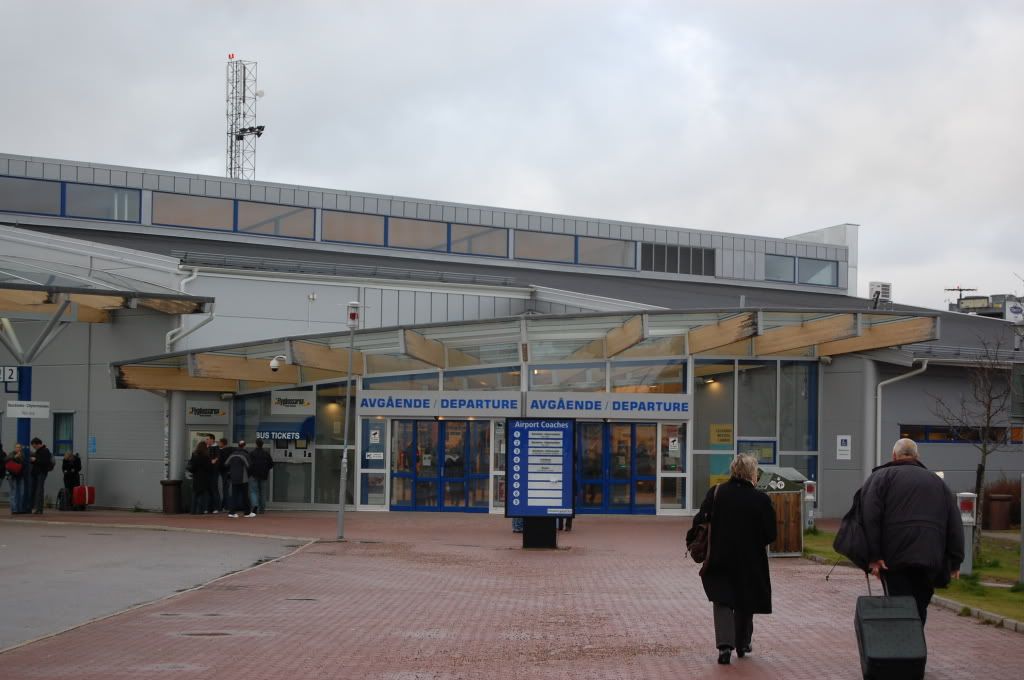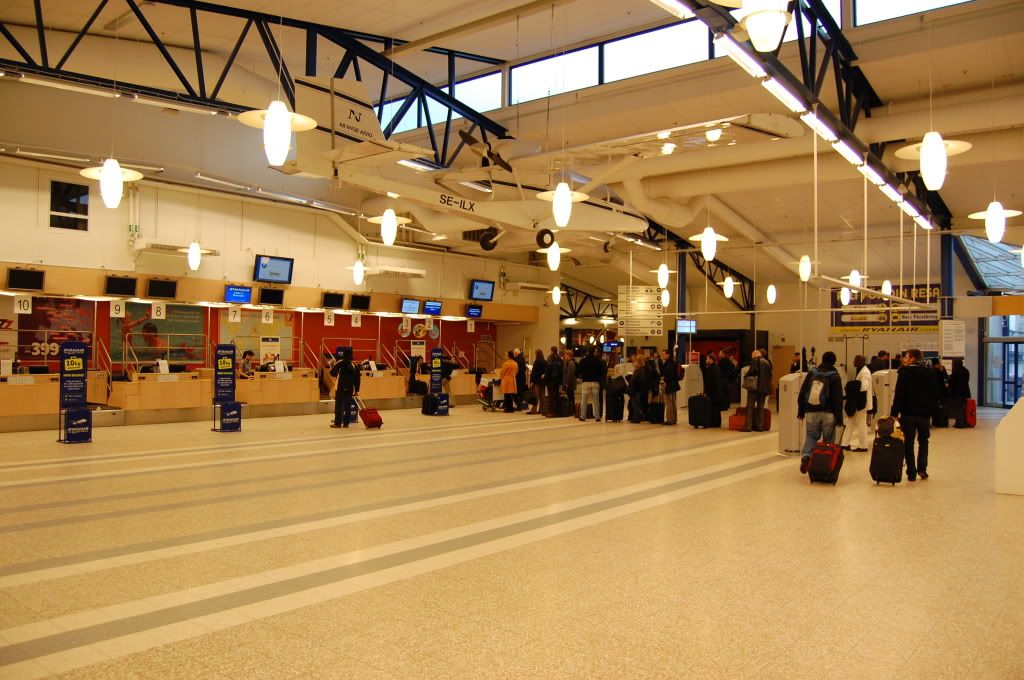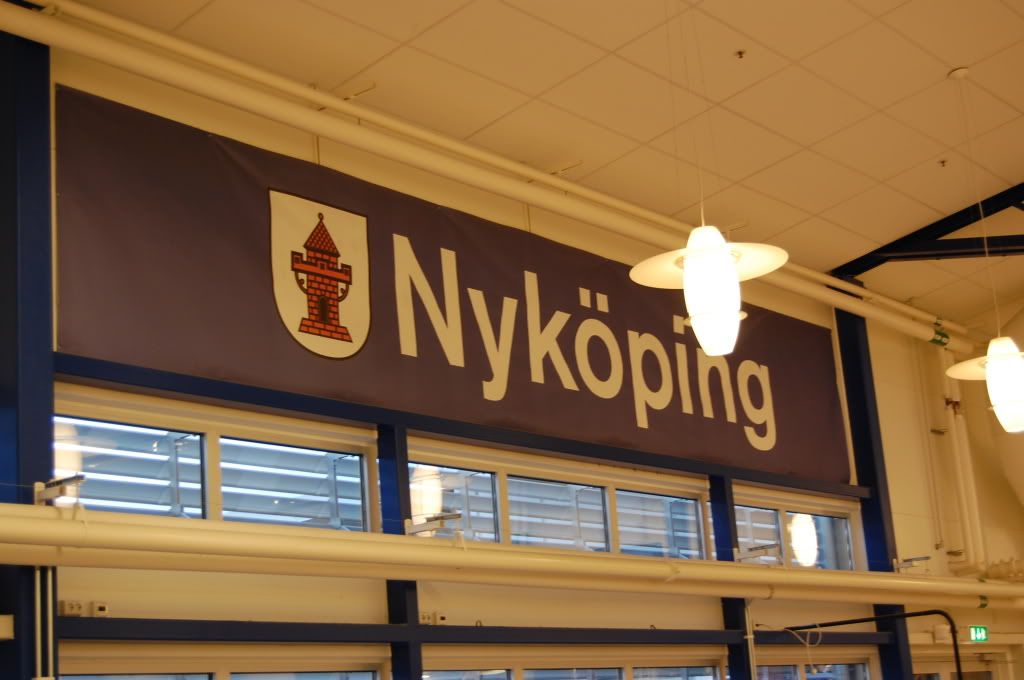 Flight: FR1951
Stretch: NYO-NRN
Date: 15-nov-2008
Aircraft: Boeing 737-8AS (WL)
Registration: EI-DPK
Delivered: 16-02-2007 to Ryanair
Seat: 27F
Loadfactor: 70%
Ticket price incl. all taxes : € 1,24 (excl. credit card fee € 5,00)
3rd flight on the 737-800 and the 1st on this machine.
Boarding was started a couple of minutes early, and we could just walk to the plane. Again I decided to take the rear door and sat down on 'my' seat 27F.
Again the annoying music, too much commercials, and no I don't want to buy any scratchcards, ringtones, or rental cars. Really, you should not fly too often with FR, as they really brainwash you. OK, I must admit that flying with FR to airports were FR is one of the few airlines operating helps a lot in getting a feeling with the brand.
Anyway, my first impression of this particular aircraft was rather good, seats were clean, again the bright yellow headrests and blue leather seats.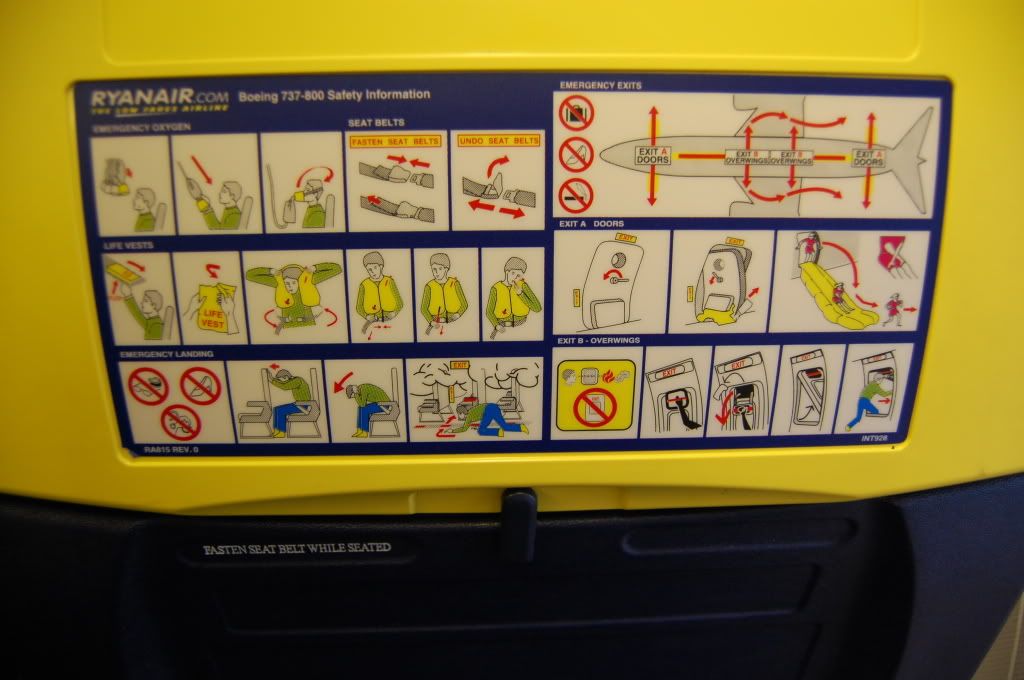 Window was a bit dirty and scratched but ok for me.
The crew on this flight existed of 2 male and 2 female attendants. Boarding was soon completed and we were pushed back from our stand.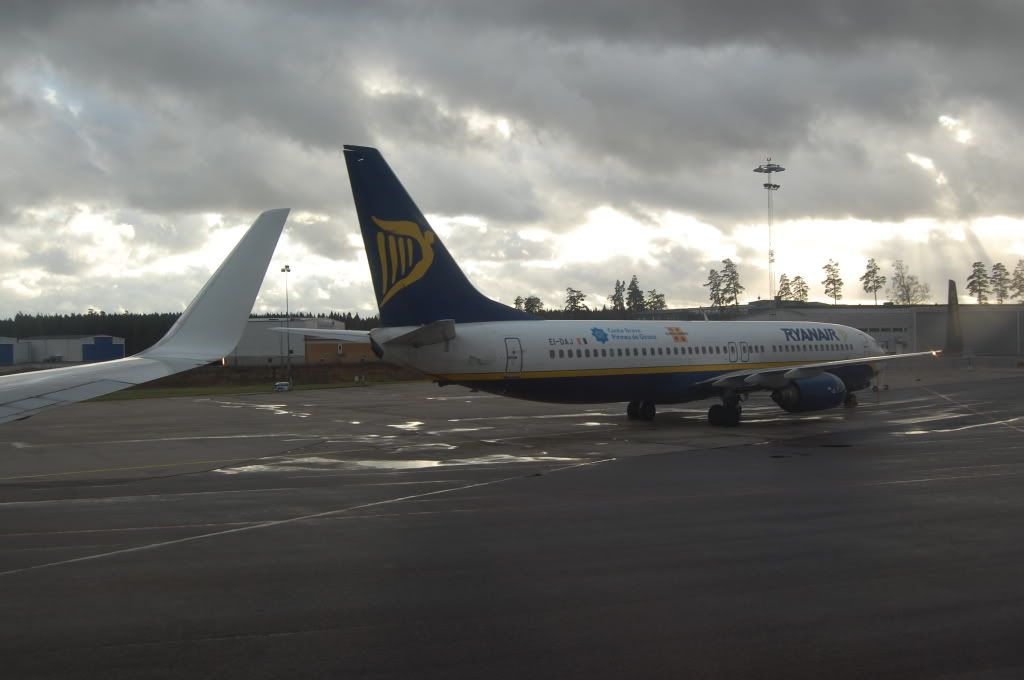 Take off into the cloudy skies and soon we could see the beautiful Swedish sky above a thick layer of clouds.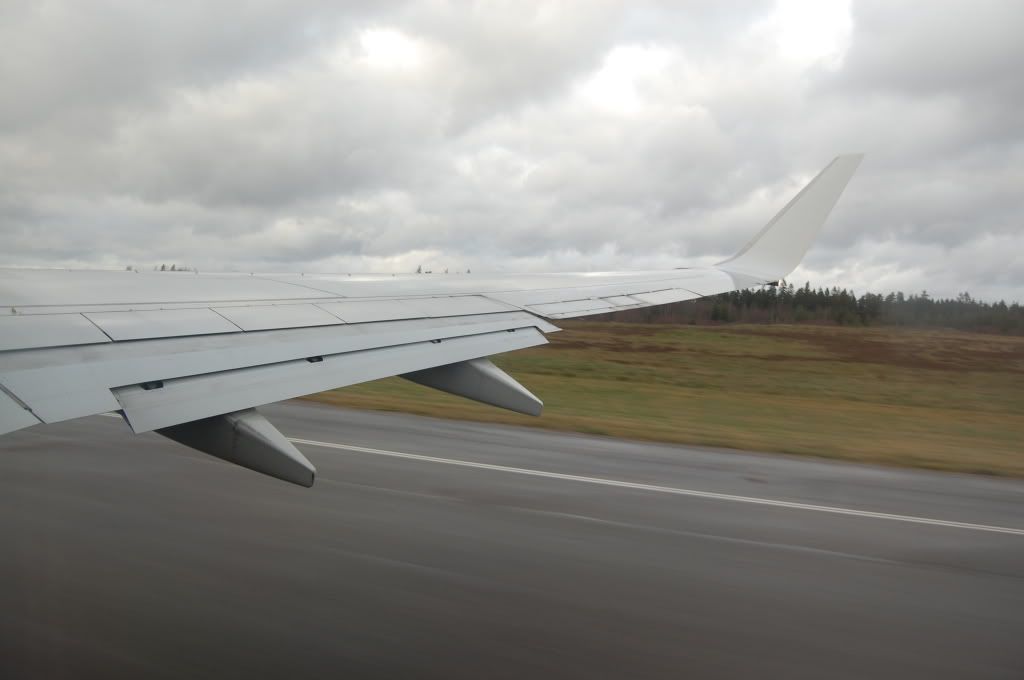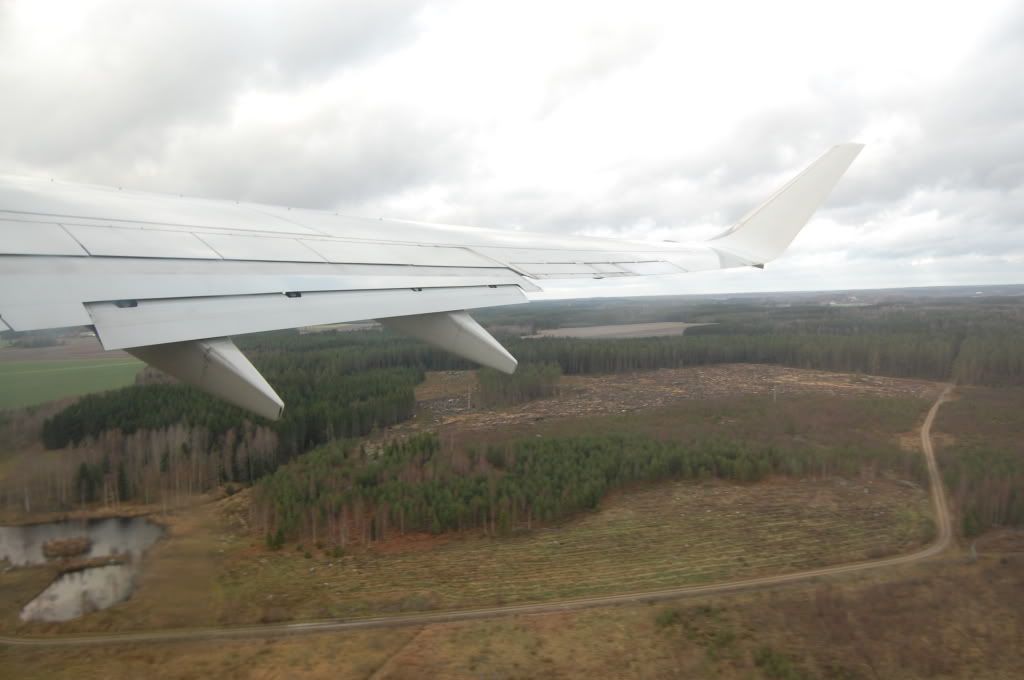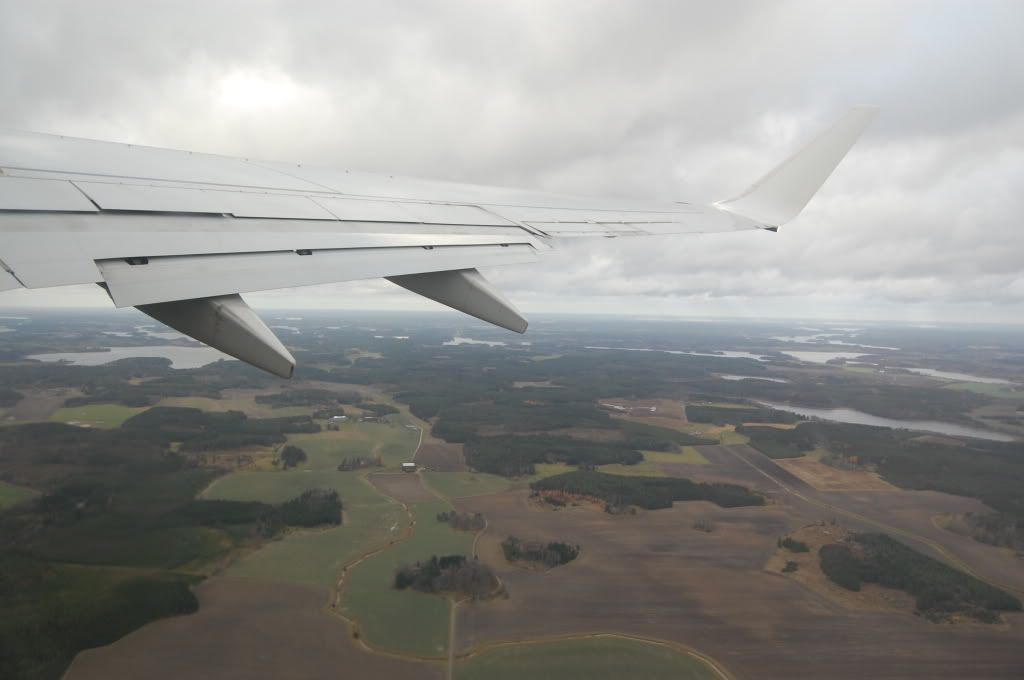 Cruising alt. was 37.000ft according to the informative speech by our F/O. Our route was NYO-MMA-HAM-DUS-NRN.
The service was quick but very messy. Cabin crew members were running up and down the aisle, yelling at each other and very unprofessional. About halfway our flight one passenger spoiled some beer, and another one started shouting at him with some very unfriendly words.
One of the male attendants saw what happened, and did absolutely nothing about the situation. He just continued his work as nothing had happened. My idea is whenever a passenger is getting aggressive, he needs to go there and find out what is exactly wrong. But not on FR!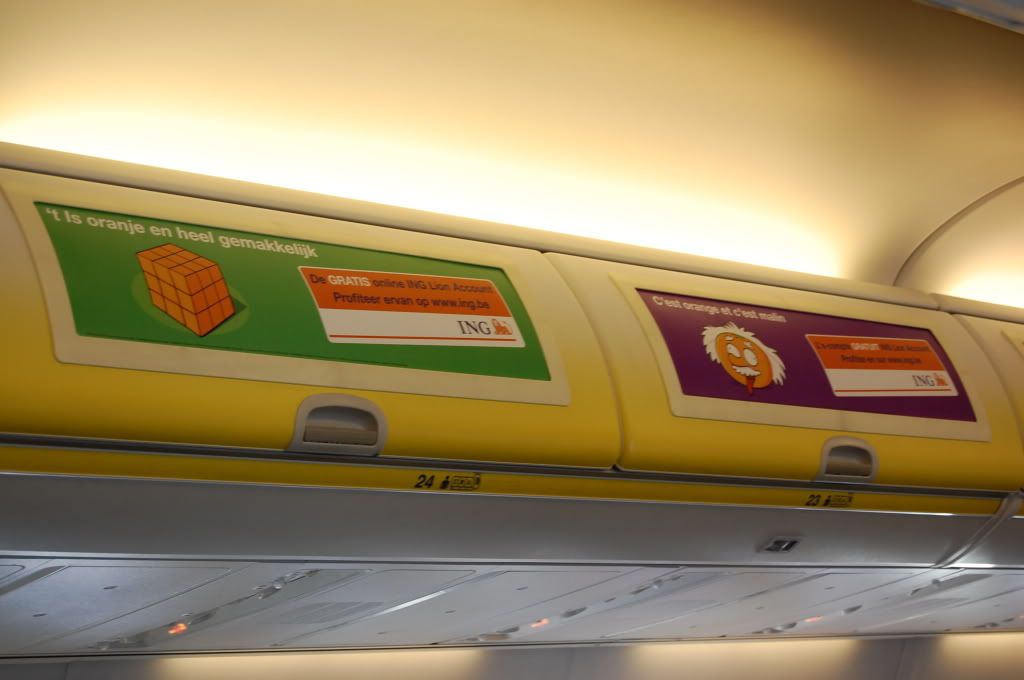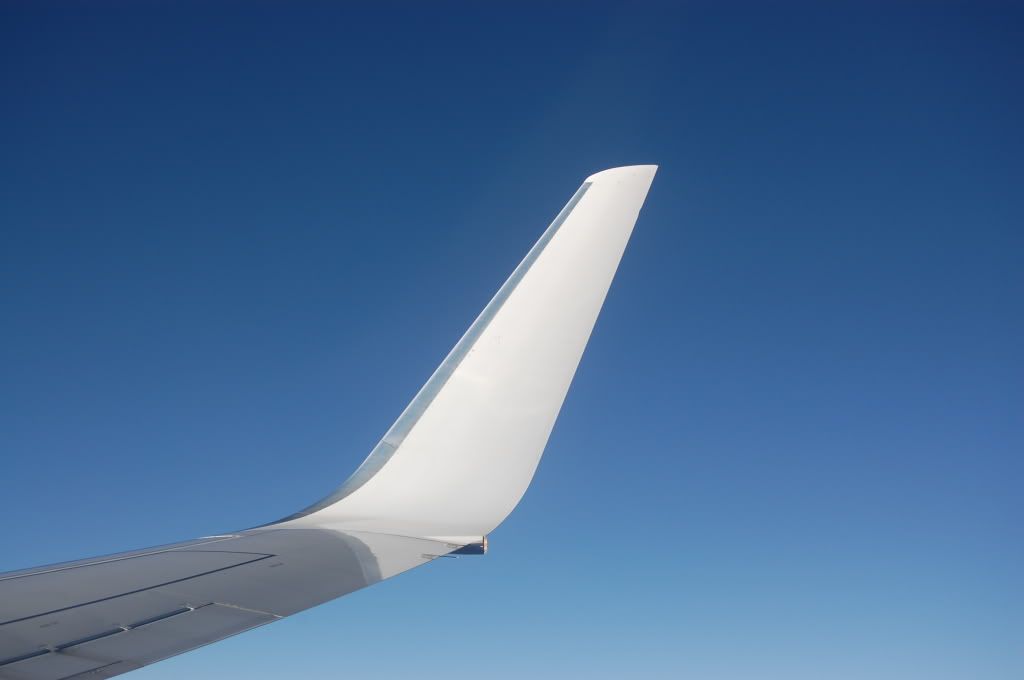 The remainder of the flight was uneventful and soon we started our descent into NRN.
Whoops…before I forget, again on this machine I found a sticky piece of 2nd hand chewing gum placed on one of the seats in front of me! Seems to be standard equipment on the FR 738's.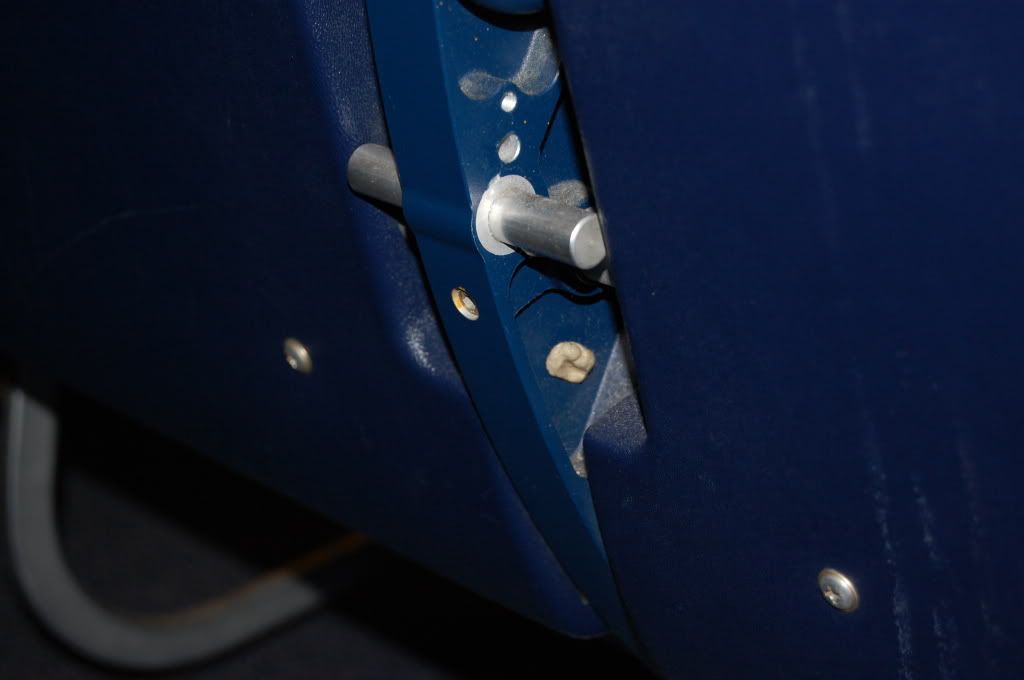 Landing was very smooth, and comfortable. Braking also not to hard and we taxied to our stand. Our parking stand was next to EI-DLI which brought me from NRN to SXF earlier that day.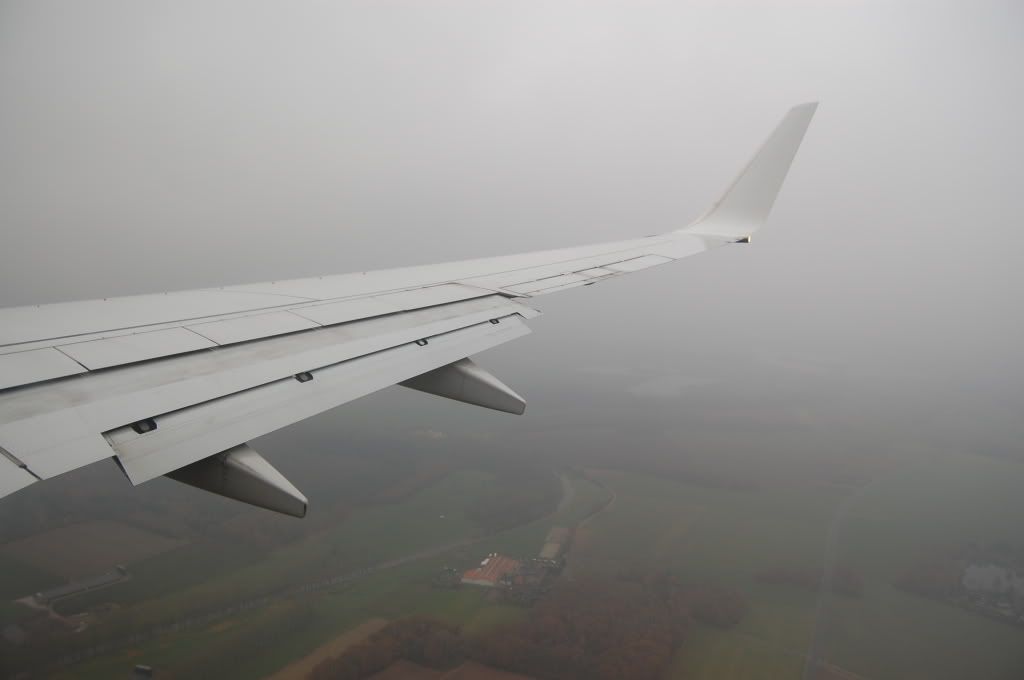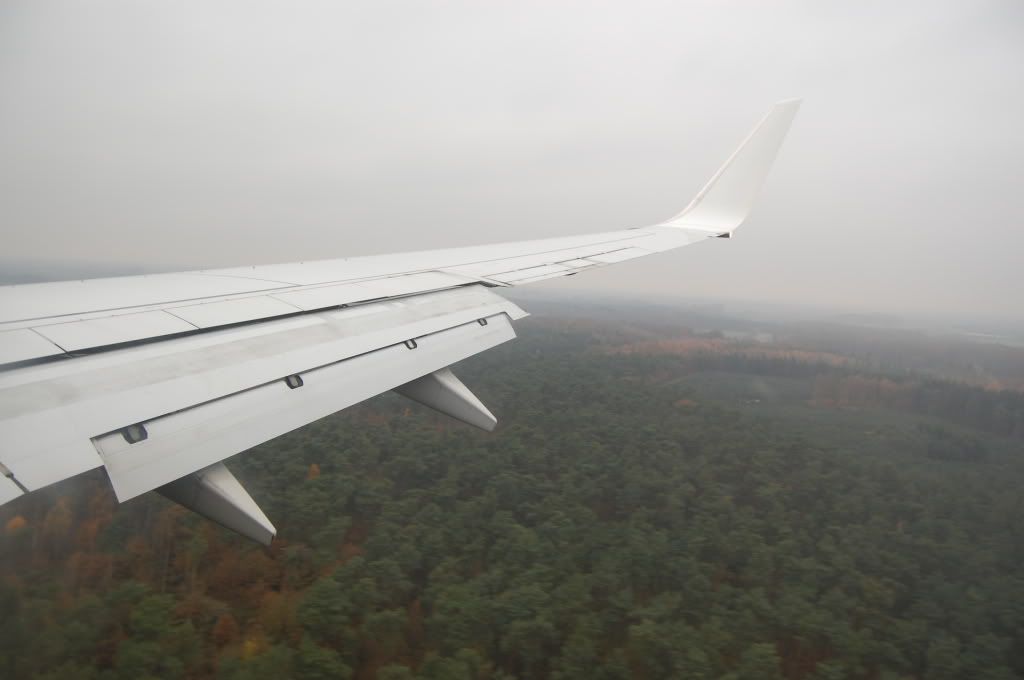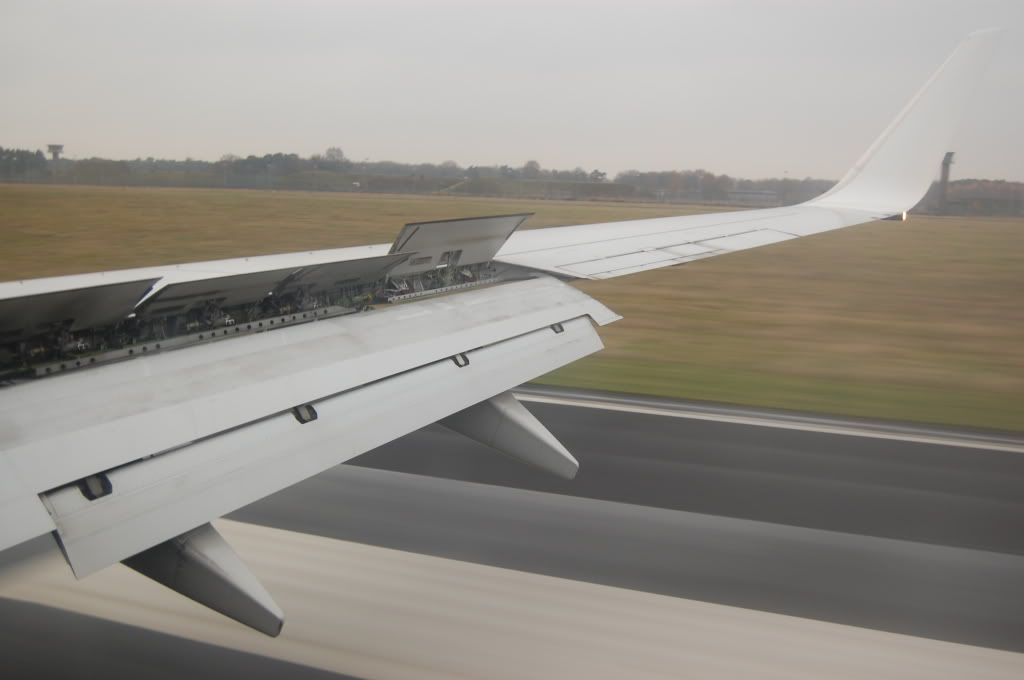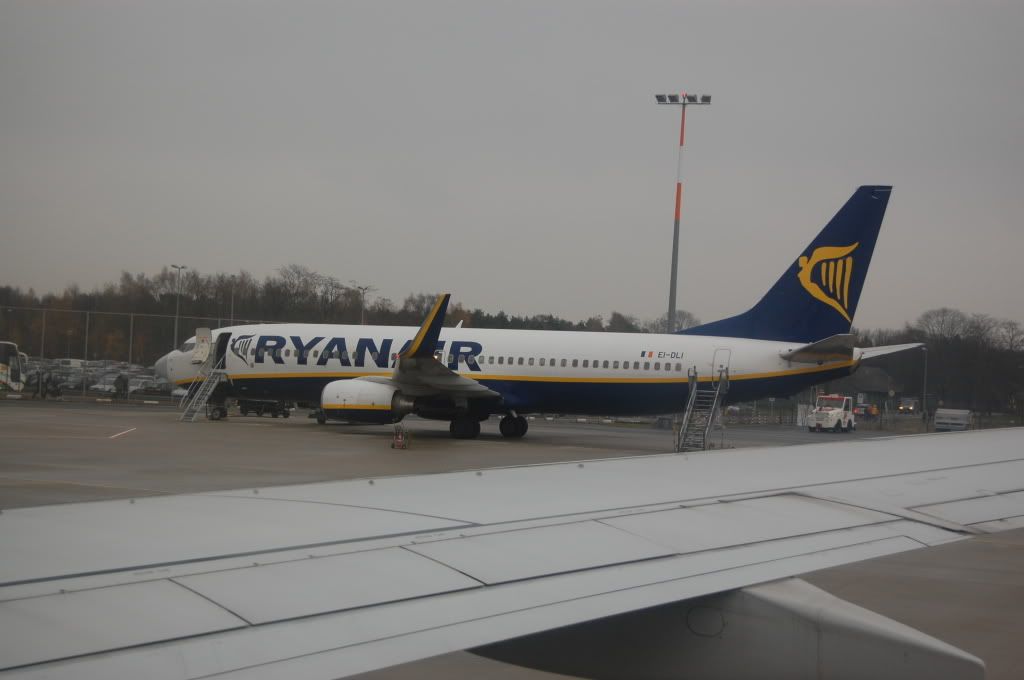 De-boarding via the rear door again, and we walked to the terminal.
It was just a matter of minutes before I was outside again, and walked to my car, ready for another 2,5hrs drive back home.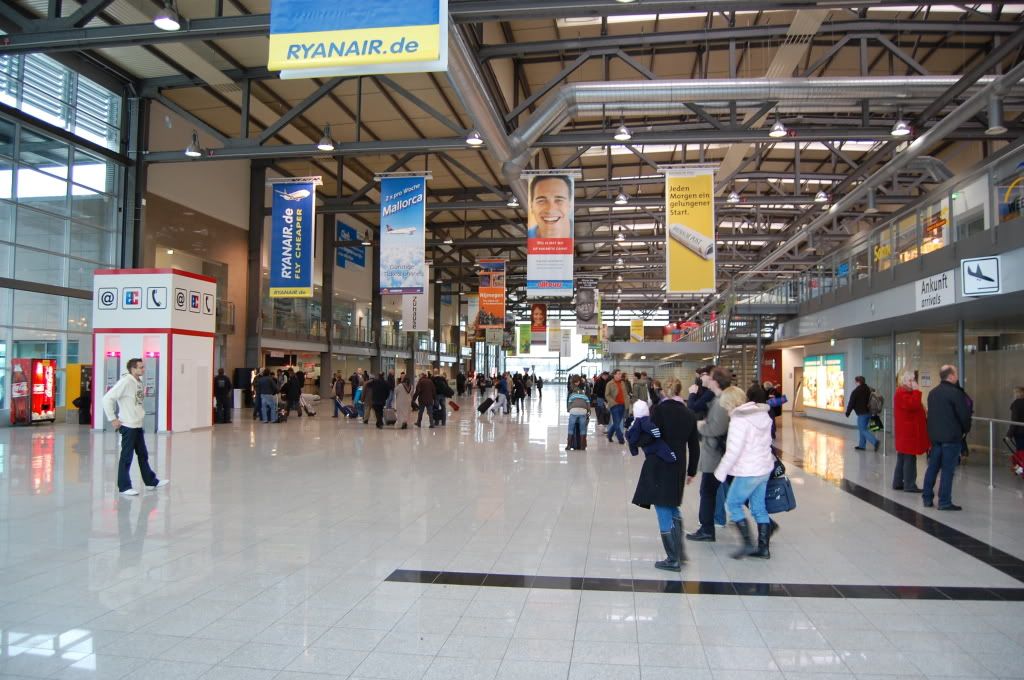 The nice NRN terminal
My conclusions for this reg-hunting trip and nice day of flying :
Airports :
NRN : Nice, clean and very comfortable airport, really customer friendly.
SXF : Seemed ok, but I think TXL is the better of the two remaining Berlin airports.
NYO : Nice little airport, not too much action just like NRN
Airline :
FR : An airline who brings you save from A to B, but quality is rather low.
The aircraft are very new, but quite dirty. Crews vary per flight but seem to be on a lower level than other airlines. Exception here is the male attendant on my NRN-SXF flight, who was top notch!
I would use FR again, but only when it really is the best option. I rather spend a bit more money on flying with U2. Although next month I will be flying FR again as booking was made before this day. You really get what you pay for.
So far for this time, I hope you enjoyed my report.
Please feel free to give your comments.
Next report will land here in December as my GF and I planned some Christmas shopping in London.