Over this Thanksgiving holiday, I made a rather extended trip home, stopping in Chicago for a few days for a Model United Nations conference with the rest of the Embry Riddle delegation, before parting ways and heading back to Maine for Turkey Day.
My first flight was early on Saturday the 22nd, flying from Orlando to Chicago's O'Hare with the Model United Nations team. The early departure of this flight dictated an even earlier departure from Daytona Beach, but once the sun rose at the airport, I quickly woke up (airplanes tend to have that effect on me).
KMCO - KORD
Flight
#UA1445
Equipment:
Airbus A320 (N439UA)
Scheduled Departure:
08:45
Scheduled Arrival:
11:05
Since our delegation was flying in two groups, one group on AirTran at 8:10, and my group on United at 8:40, that gave us a good amount of time to get through United's lengthy check-in line, wade our way through the sea of clueless travelers at Security, and get to the gate in time for plenty of plane spotting.
I was surprised at the number of 757s and A320s at the airside that morning. There was not a single 737 or CRJ in sight. Not that I'm complaining though. I love the 757, and took the opportunity to try to get artistic with some 757 pictures.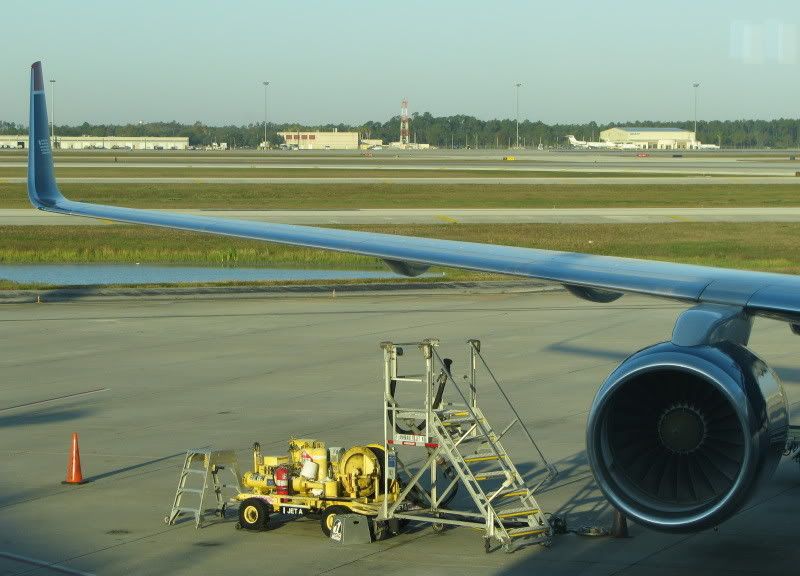 The beautiful combination of a Rolls Royce RB.211, and a Winglet...
Our aircraft this morning was an Airbus A320 in the United Airlines new colors, although the interior (as well as all the tickets and gate equipment) were still labled as TED.
The sun rises over our A320.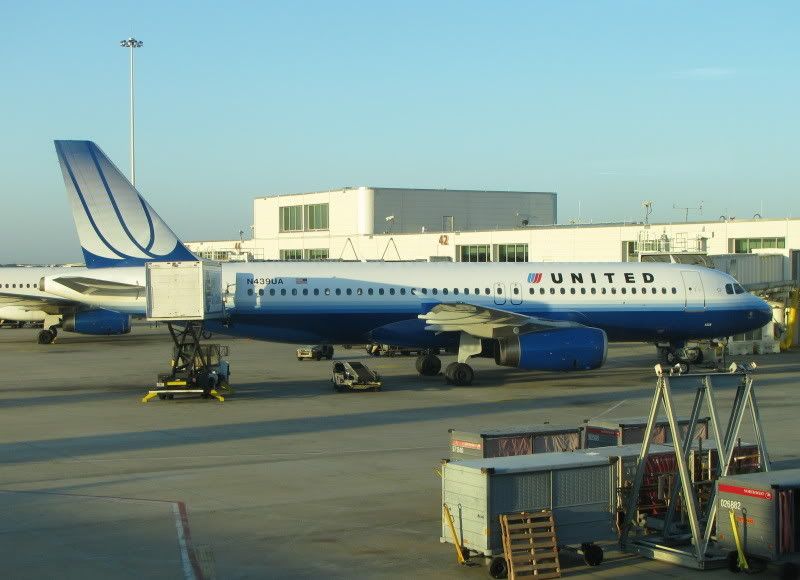 Same plane, from a not so backlit angle.
About an hour before the scheduled departure, a gate agent approached our group and asked if we would prefer to be reseated in a single area of the plane as a group. We quickly agreed, and were soon glad that we did. Our delegation was reseated to the two exit rows, free of the extra charge that usually goes along with a premium seat.
I ended up with 14E, a window in the exit row. While I'm not usually one to complain about legroom in the first place (I'm just short enough to wedge into an economy seat without too much complaint), this seat was spectacularly spacious. With my original seat assignment being a middle seat in row 26, this was certainly an upgrade.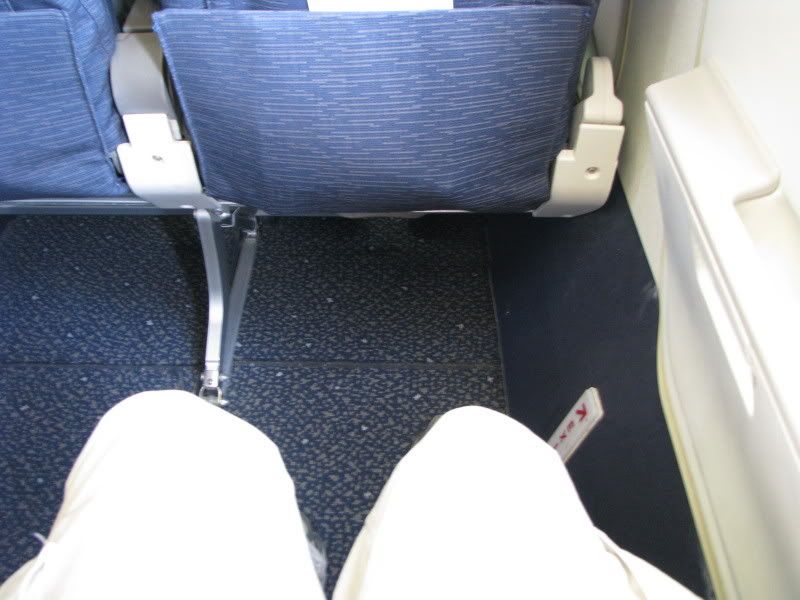 Ample, ample legroom
Boarding and departure was hassle-free and efficient, and we made our scheduled departure time with ease. After a quick taxi to runway 36R, we were airborne to Chicago.
Channel Nine was turned on for the flight, a very pleasant surprise, so I spent the entirety of the flight tuned in to ATC while attempting to finish writing an essay for school. The ATC didn't make it easy for me to focus on my school work though. There were more planes in the airspace around us than I have ever seen before. Soon after departure I heard ATC giving a traffic advisory for our flight, warning of an AirTran flight 1000 feet above us and at 2 O'Clock. As I watched out the window, hoping to catch a glimpse of the plane, it crossed directly over our path, 1000 feet high. This set the theme for the rest of the flight, as there were at least a dozen more aircraft that were within close viewing distance of ours.
As we were passing over Atlanta, the captain came over the PA to advise the left side of the aircraft to look down to see Atlanta, and the right side of the aircraft to look up, as another A320 was cruising just above us on the same route. It turns out that this was United's flight from Tampa to Chicago, and it shadowed us the whole way.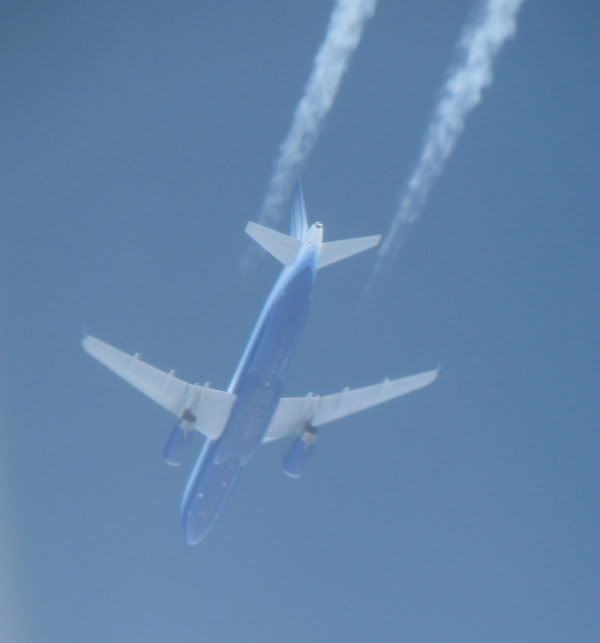 Our plane's clone, just above us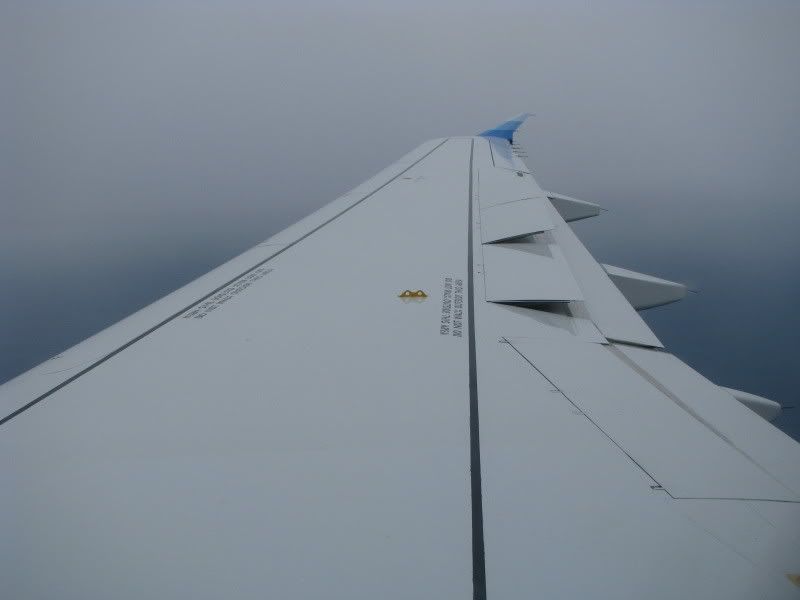 The view out the window. Anyone know what the fixture on top of the wing is that looks like a tie-down?
In a testament to how much legroom the exit rows have, a person from across the aisle was able to easily walk down our row of seats to a window to view the plane just above us.
The rest of the flight was more or less uneventful. Drink service was offered, but no food of any kind. I did purchase a $6 Snack Pack, which was about as tasty as preservative-laden airline food can be.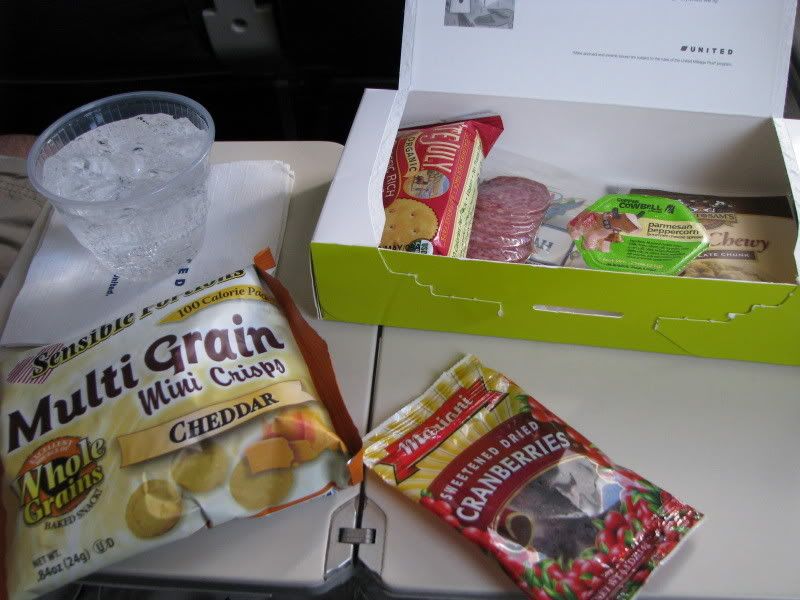 Crackers, Cheese, Pepperoni, Chips, Cookie, Fruit, and complimentary Sprite
Descending into Chicago we flew over a number of snowy fields, but unfortunately the City of Chicago hadn't received any snow itself.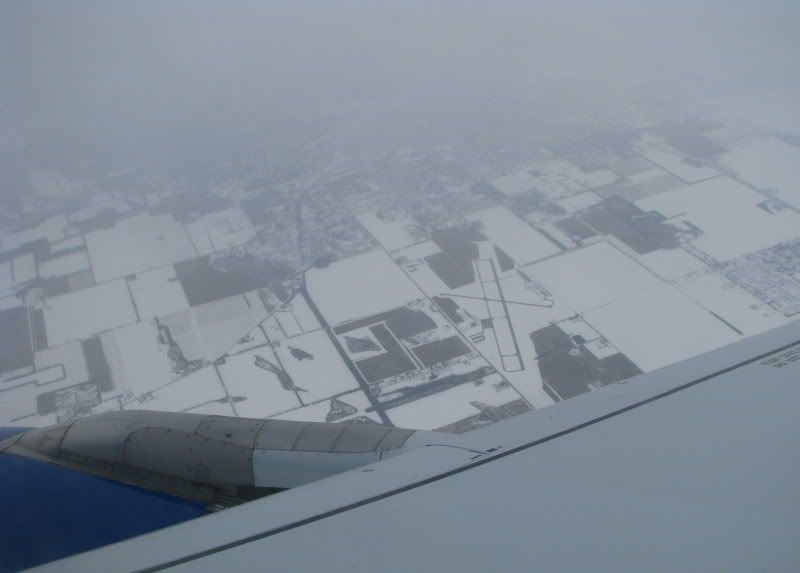 ID The Airport anyone?
Approach and landing were...uneventful. The landing roll came to a rather abrupt end, I assume to make a turnoff for a taxiway, but it was a rather violent stop. It left me thinking how robust the breaks on planes must be, to bring that much mass to such a quick halt.
I had never been to United's terminal in O'Hare, and I was pleased by what I saw. O'Hare's architecture has always impressed me, and Terminal One is no exception. Bag claim was quick, and after a 10 minute walk, we were off to Chicago via the CTA Blue Line. (The trip on the Blue Line is a story in itself, involving a line closure for construction, a lengthy diversion to the bus system, all culminating in one of the students in our group leaving their bag on a bus...which we later found out prompted a bus station evacuation when it was discovered. That's a story for another time though.)
After a very successful United Nations simulation, many slices of deep dish pizza, and three nights of far too little sleep, I parted ways with the rest of the Embry Riddle group, and headed for home.
Unfortunately, due to the day's schedule, I wasn't able to find a flight directly to home in Maine, instead I ended up on Southwest, heading to Manchester, New Hampshire. This was my first flight through Midway, my first flight through Manchester, and my first flight in recent years on Southwest. I was pleased by all three.
KMDW - KMHT
Flight:
#SWA3008
Equipment:
Boeing 737-700 (N479WN)
Scheduled Departure:
20:25
Scheduled Arrival:
23:15
Getting to Chicago Midway couldn't be easier from the Loop. The Orange line on the L, straight to the end. Midway is the end of the line, so there's a large rail depot right next to the terminal. I would have snapped a photo of the rail yard, but I received an odd look from a security guard when I took out my camera, so I decided against it.
I ended up arriving at the airport much sooner than I expected (a full four and a half hours before my flight), and Southwest does not accept checked baggage more than four hours before a flight. This meant I had a half hour to kill sitting next to the check-in line before I could proceed through security. Once I was fully checked in, security was a breeze. Midway had about a dozen lanes set up, split into family, casual, and experienced traveler lanes. At the time I went through, there were only a half dozen people in each lane, and the TSA personnel staffing the lanes seemed much less stressed than I expected. If anything, the TSA was almost pleasant (something I certainly
couldn't
say about Orlando earlier in the week.)
Midway's airport was much nicer than I expected (and much bigger). Being a Southwest/LCC hub, I somehow had anticipated less well maintained facilities.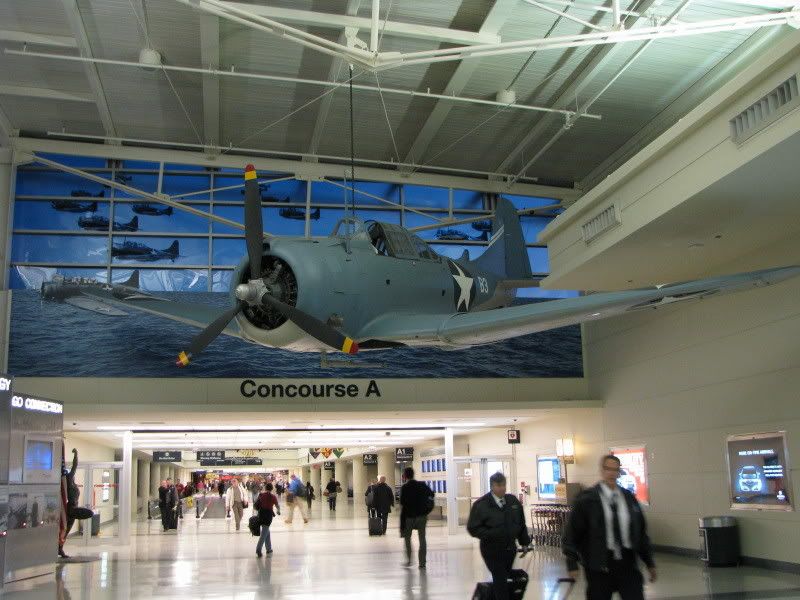 The WWII Naval Bomber hanging from the ceiling wasn't a bad touch either.
Midway didn't provide free internet, but for four hours I was willing to fork over the $6.25. Conveniently, the departure gate for my flight was moved to the empty area I was sitting at right as I went to pack up my computer. I boarded with area B28. When I got onboard, the window and aisle seats in the front half of the plane were mostly full. I managed to snag 9E, a window seat right at the leading edge of the wing. By the end of boarding, the plane was just about 2/3 full (very few middle seats were taken) a low load for being the day before Thanksgiving.
Taxi and takeoff was brief and uneventful. About 15 minutes into the flight the FA's came around taking drink orders, and came back shortly with the drinks, as well as packets of Ritz chips and Peanuts. Southwest is still the only airline that I'm aware of that actually offers Peanuts these days.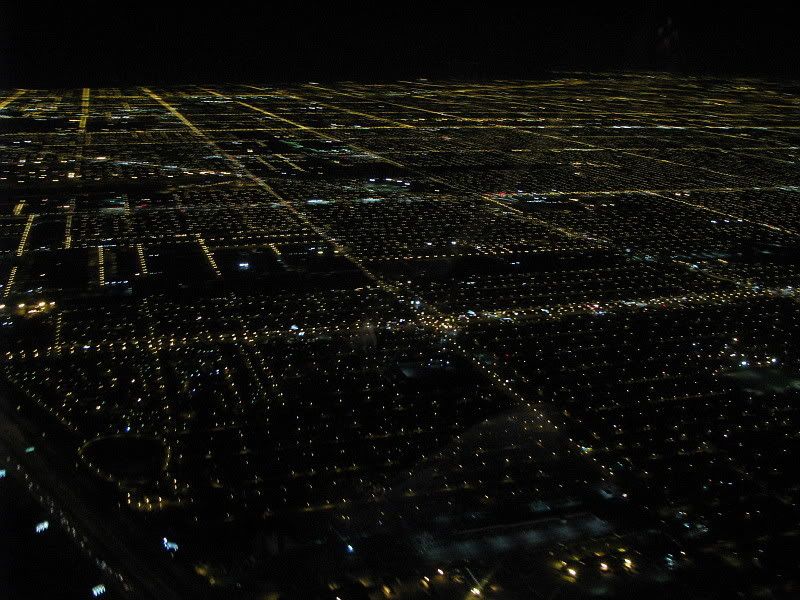 Chicago's Suburbs at night.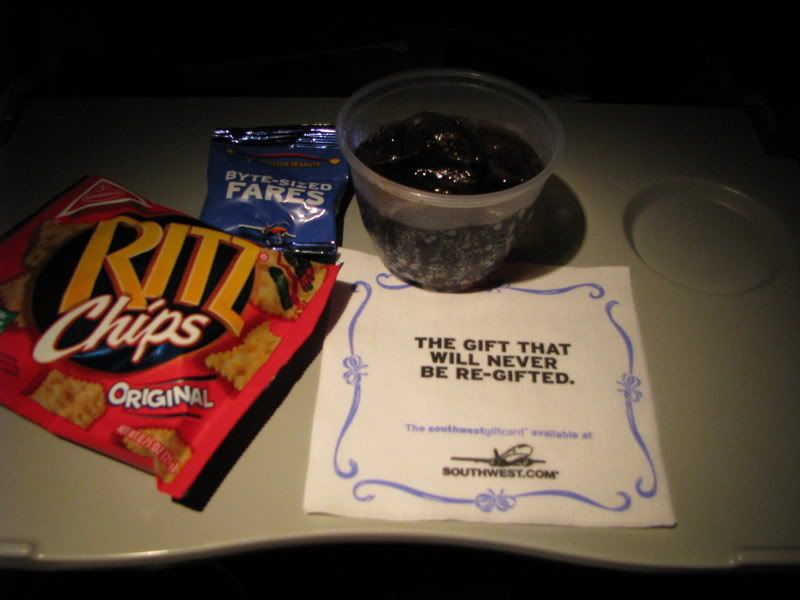 Not bad snack service for an hour and a half flight
Apart from about 30 seconds of heavy turbulence when descending into Manchester, the rest of the flight was totally uneventful.
Upon landing, I waited to leave the aircraft, so that I could see the flight deck and talk to the flight crew. Both the Flight Attendants and the captain were very friendly and eagar to talk to me about Embry Riddle, and flying in general, despite the fact that it was close to midnight, after what must have been a very long day of flying.
737NG Flight Deck.
And that leads me to here, back in Maine for Thanksgiving. I will be flying with JetBlue PWM-MCO on Sunday to get back to Riddle for finals. I'll be sure to have the rest of my trip report online by then.
Hope you've enjoyed my trip so far!