…and so, the inspiration continues….
Welcome to my 11th Trip Report.
This TR will cover the following flights on Etihad Airways in Pearl Business Class:


- AUH - AMM: A319 (My first flight on the A319)

- AMM - AUH: A320

My previous Trip Reports can be found here:
Malaysia Boleh!: On The Malaysian Airline System
(by
Ronerone
Oct 28 2008 in Trip Reports)
Pearls & Diamonds: Inspired By Etihad Airways
(by
Ronerone
Sep 12 2008 in Trip Reports)
The Future Has Arrived: EK A380 Inaugural Flights
(by
Ronerone
Aug 4 2008 in Trip Reports)
Syrian Special Performance, Featuring Sam Chui
(by
Ronerone
May 23 2008 in Trip Reports)
This Is Royal Jordanian!
(by
Ronerone
Apr 12 2008 in Trip Reports)
Ultra-Competitive, Ultra-Long Haul: EY Vs EK
(by
Ronerone
Mar 21 2008 in Trip Reports)
Suvarnabhumi, The Etihad Way!
(by
Ronerone
Jan 18 2008 in Trip Reports)
Cathay Delight: A Trip To Asia's World City
(by
Ronerone
Oct 5 2007 in Trip Reports)
Etihad: Pearl 2 AMM, Coral Right Back Pt 2 PixVidz
(by
Ronerone
Jul 5 2007 in Trip Reports)
Etihad: Pearl 2 AMM, Coral Right Back Pt 1 PixVids
(by
Ronerone
Jul 4 2007 in Trip Reports)
CX: JFK-HKG-DXB In Y A346/772 (Lots Of Pics/Vids)
(by
Ronerone
Aug 28 2006 in Trip Reports)
A trip to Amman has been cooking up for several months. Unfortunately however the past two or three times I made a booking, something urgent came up at work and I had to cancel. This time my sister really wanted me to attend my brother-in-law's 50th birthday party at the Dead Sea. So while things at work have calmed down, I decided to go along for the weekend, and take my mother with me.
Royal Jordanian is my default choice on this route, regardless of their fare which tends to be more expensive than the competition usually. The only drawback is their horrendous timings which are so not sexy for the O&D passenger. In this case, timing was crucial for me and Etihad offered the perfect alternative. Furthermore, I was able to purchase both my mother's and my tickets using my Etihad Guest miles. So Etihad it was!
Thursday November 20th 2008
I left work late that day, and had to rush to the terminal which was a 5 minute walk from the office. As such, I was not able to document anything until I boarded the aircraft. A major loss out of this was the lack of reporting a departure experience from Abu Dhabi International Airport's brand new, Etihad-exclusive, Terminal 3, and a quick peek at Etihad's new, and much nicer might I add, premium lounge.
One thing to note, is that Terminal 3 has not officially opened as it isn't complete yet. However some Etihad flights operate from it on a soft-opening trial basis. As such, all departing passengers must check-in the usual way from Terminal 1, and then proceed down the long DXB-like hallway on an array of escalators through the connector between the two terminals. Once you enter T3, you will notice a refreshing improvement. The terminal itself is nothing special, however, large glass windows that overlook the ramp and the parked aircraft gives it an abundant supply of much needed natural light, making it seem like a sketchy amateur HKG; at least I won't have to worry anymore about the 'hunt' for aircraft registrations when I fly Etihad in the future.
So, fast forwarding the events a little, it was approximately 1:10PM when boarding was called for our flight. We proceeded to the podium and handed the Etihad ground staff our boarding passes. Tearing off her portions, she handed back our stubs and wished us a pleasant flight. After a quick walk down the aerobridge, we arrived at Door 1L of this A319 where a Malaysian male cabin manager was welcoming everyone on board.
"Mr. & Mrs. Hawi, welcome on board, seats 5A & C are straight ahead, the last two seats on the right"
By 1:15PM we were on board.
Flight Information
Airline:
Etihad Airways
Flight No.:
EY 513
Routing:
Abu Dhabi - Amman
Scheduled Departure Time:
1:45PM
Actual Departure Time
1:45PM (Pushback)
Scheduled Arrival Time:
3:05PM
Actual Arrival Time:
3:00 PM (Touchdown)
Equipment:
Airbus A319-131
Registration:
A6-EIE
www.airfleets.net
reports that A6-EIE was delivered to Etihad on May 9th of this year, and was previously owned by PrivatAir. Being five years old and with a premium operator previously, the aircraft looked and felt great. A6-EIE is the second out of a total of two A319's in the fleet, and apart from the occasional hops around the region, these aircraft are deployed on range-hungry thin routes such as Minsk, and Almaty which commences in a few days. Naturally, being the ULH of narrow-bodies, the A319 instantly became my best friend!
Back to the flight, and judging by the cabin manager's new gray uniform, it seemed that the tone was pre-set for Inspired Service (IS); could it be so on a narrow-body and a short-haul flight? Surprisingly, yes it was, and so, I can assume it to be implemented across the airline's entire network.
As we arrived at our seats, we were welcomed by an Egyptian female cabin crew who's eyes glowed with amazement when I asked if today's flight had IS. How the hell did I specifically know, her look seemed to tell. But this was followed my mother showing me off to her as an aviation enthusiast, which was quite the embarrassment I must admit. All in all, these few preliminary moments on board had already set the tone for today's flight.
An open bar service was available before takeoff, and we were offered the liberty to choose anything we wanted. My mother opted for a glass of water, and I declined the offer altogether this time.
By 1:30PM, our captain made an announcement to welcome us on board. He also advised us that our flight time to Amman would be 3 hours and 10 minutes, and that we would be pushing back on schedule, however the long taxi to the new runway (13L/31L) may cause a slight delay. By that time, my mother asked the cabin crew if she could switch to an empty pair of seats located a few rows ahead. Since all passengers were on board, she was given the green light.
Etihad's Afternoon Presence At AUH's Terminal 1
And Out Pops A6-EHI, Etihad's Very Latest A346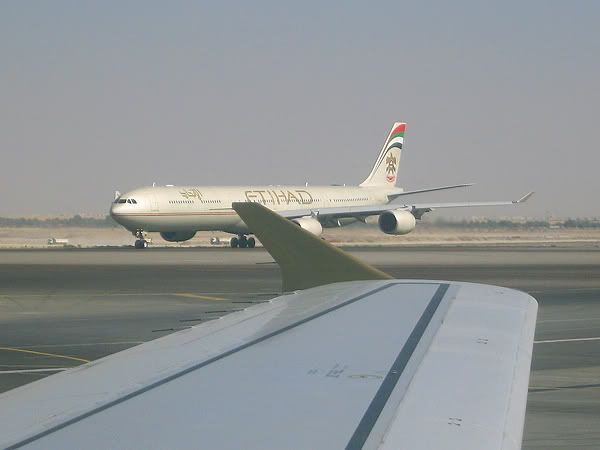 A6-ETC and One Of The Sexiest 77W Uniforms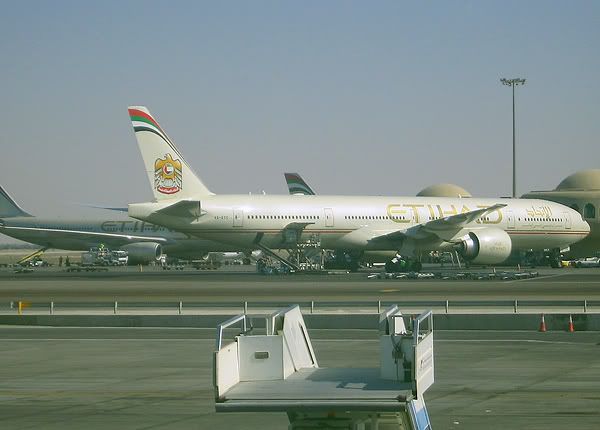 Settling in my seat, I had no issue with it as it seemed comfortable for this short flight. This was contrary to the bitching and complaining I kept hearing about Etihad's narrow-bodies. What the hell more would you want for a short-haul flight? There was no IFE on board however, so safety demonstrations were performed manually, and portable IFE players were available in Pearl Business Class.
Leg-Space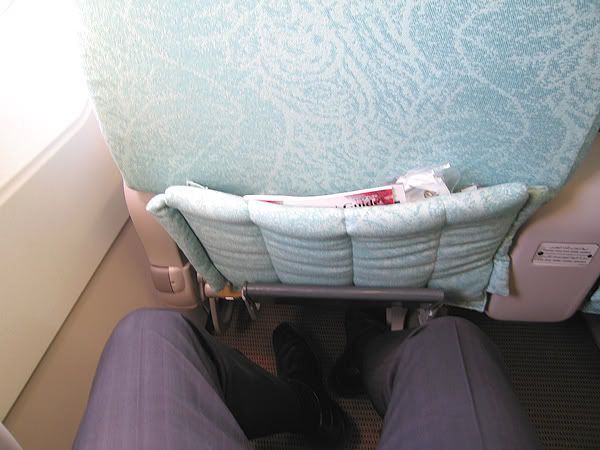 Cabin Shot While On The Ground
Menus were handed just before the doors were closed and the seatbelt sign was switched on.
Menu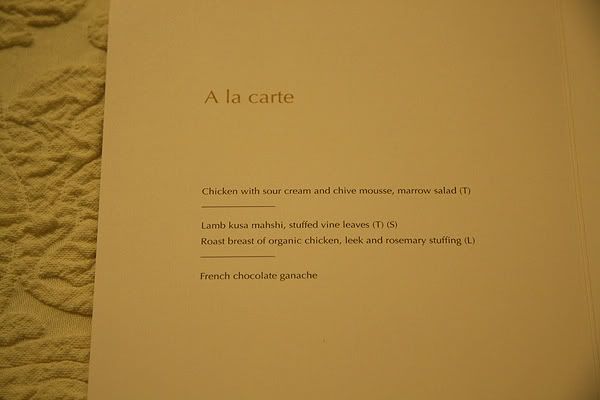 Wine & Beverage List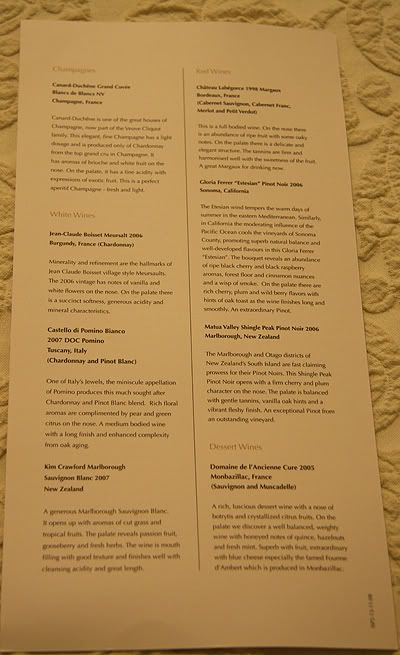 A departure announcement was made while the cabin crew collected and stowed away empty glasses in preparation for departure. At exactly 1:45PM pushback occurred, and this small baby of an aircraft spooled into a rather roaring life as its engines started. As we were scheduled to takeoff from the new runway, this was going to be a rather long taxi.
A6-EYD Parked At Terminal 3
A6-EYC, A Familiar Aircraft: AMM-AUH In 2004 Piloted By EY's Very Own Chairman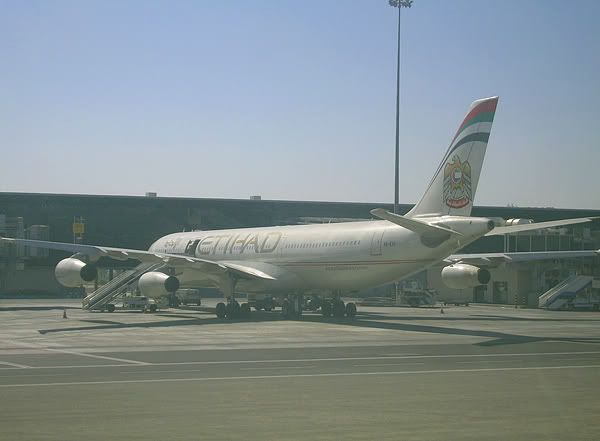 After about 25 minutes we arrived at the runway, where A6-EIE gained momentum and by 2:10PM took to the skies and on its way to Amman. The A319 seemed like quite a powerful bird during takeoff roll; all I know is that it definitely felt different from the A320, and a tad bit quieter too.
During Our Climb To Cruise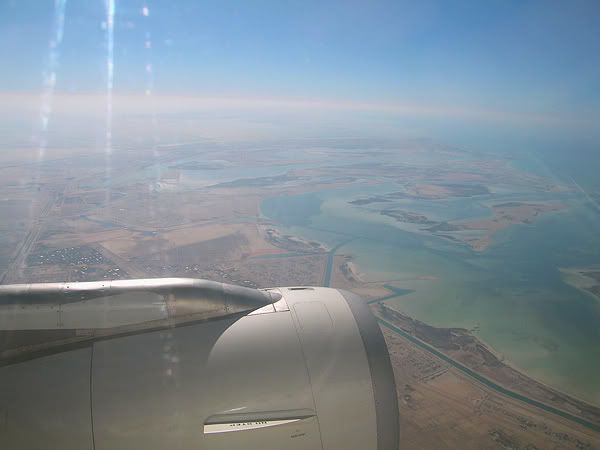 As we reached cruising altitude, the seatbelt was switched off, and the cabin crew got off their seats to prepare for the service. While some passengers opted to sleep during the flight, most of us stayed awake for the service, which commenced with the distribution of portable IFE players.
Fellow Passenger Fast Asleep
Portable IFE Player
Support Services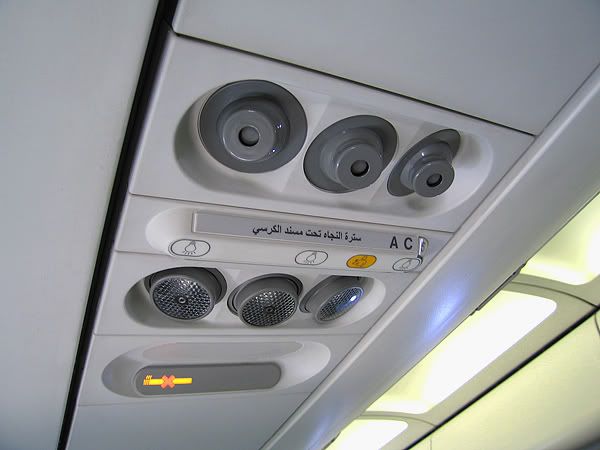 The Malaysian cabin crew then appeared by my seat to take my drink and lunch order.
"Mr. Hawi, what can I get you to drink?"
"A tomato juice please"
"Certainly, may I also take your order for lunch?"
"Yes, I'll have the chicken please"
My drink was brought to me moments later with an 'Amuse Bouche' that consisted of roast beef.
Amuse Bouche & Tomato Juice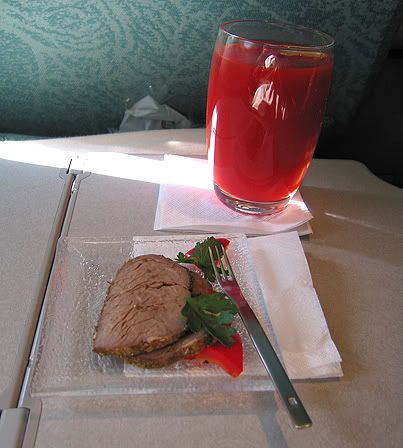 Once finished, my table was promptly cleared and replenished with my meal tray and starter.
Meal Tray & Starter
The food was, as expected, fantastic. The vegetables were not greasy as they tend to be at restaurants and such, which is exactly how I like them. The chicken was also very tender, however maybe a little to 'garlicy' to eat in public. Of course, nothing beats the bread, which was heavenly. Well done Etihad!
Once through with my starter, the Malaysian cabin crew cleared it away, returned back to the galley, then reappeared in the aisle with my main course.
"Mr. Hawi do you work in the medical field?" he suddenly asked
"No I do not, why do you ask?"
"You just look like a doctor, that's all"
Maybe it was because I was wearing my work clothes or something, but that was a first for me!
Main Course
The main course was excellent, and ranked as one of the best western options I have had. The stuffing was very tasty and the sauce had sweet zest to it; it was simply fantastic.
Once finished, my tray was cleared away, when I opted to have dessert and coffee too.
Dessert & Coffee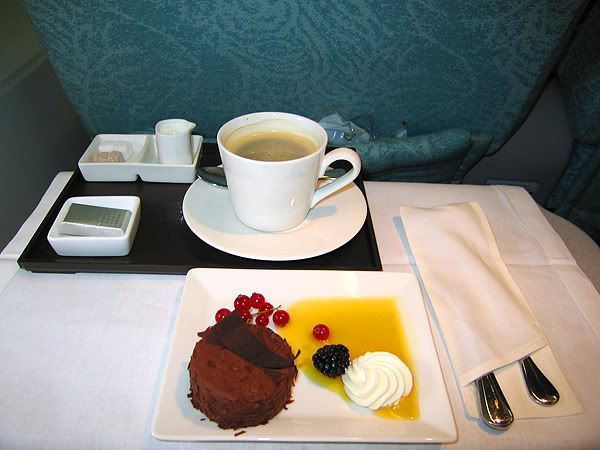 Hot Towels To Conclude The Service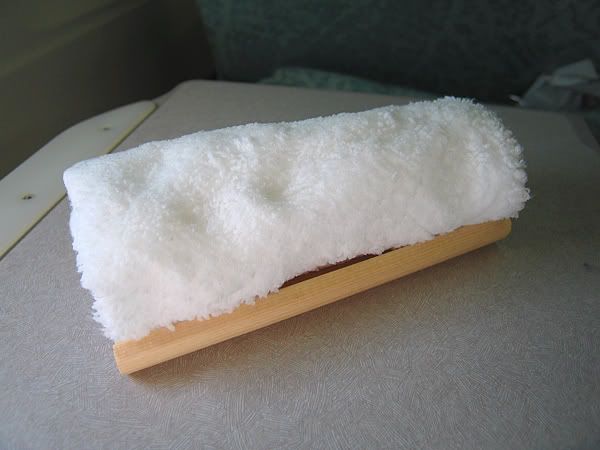 I then reclined my seat and relaxed while watching the IFE without any sound to pass some time and absorb the comfortable roaring sounds of the cabin as we cruised.
At 2:30PM Amman time, our captain made an announcement to inform us that within a few minutes we were to begin our initial descent towards Queen Alia International Airport. Ten minutes later we began our descent, when the seatbelt sign was switched on. The cabin crew began their preparations for landing, and collected the headsets and IFE players, and handed back coats and jackets to the passengers.
The View Outside During Our Descent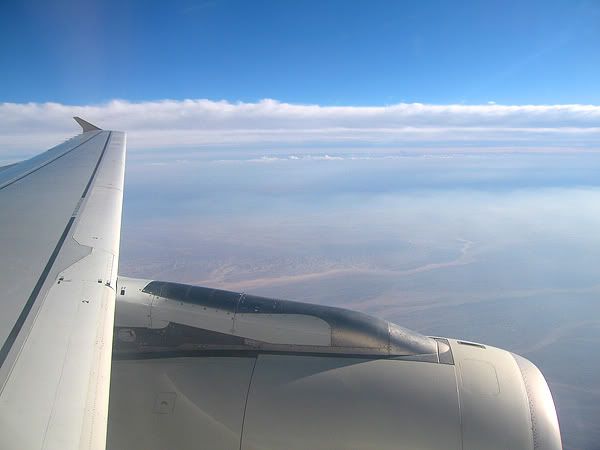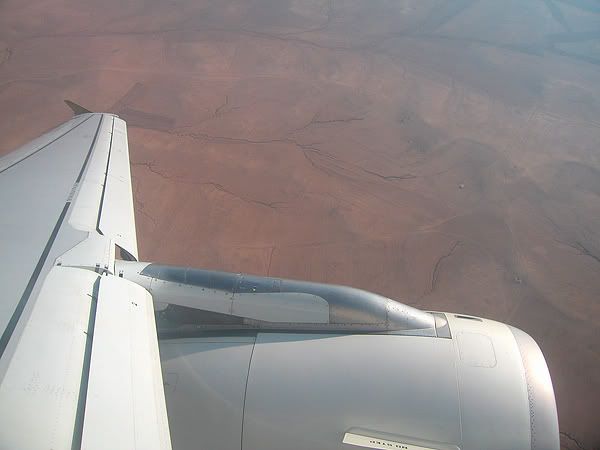 At exactly 3PM, we touched down at Amman's Queen Alia International Airport, bringing this short flight to an end. After a short taxi, we docked by an aerobridge, and A6-EIE powered off. When the seatbelt sign was switched off, everyone got up to gather their belongings.
The doors were opened and we were set free. I walked up the aisle to Door 1L, thanked the cabin crew for an outstanding flight, and proceeded into the terminal towards immigration. Since my Jordanian passport has been submitted to Jordanian Embassy for renewal, I had to use my American one. As such I needed to get a visa on arrival, which somewhat worried me. I did not know if there would be an objection to me entering with my American passport when I had a Jordanian one.
I stood in line by the visa counter, and when it was my turn, the officer asked me if I had possessed any other passports. I told him I had a Jordanian one, but it was submitted for renewal. Without any hesitation, the kind man issued my visa and let me through.
We proceed towards baggage claim and through customs, and within no time we were at the arrivals hall, and then on our way to the Dead Sea.
CONTINUED BELOW