Having visited Gran Canaria two years ago and Tenerife last year, I decided to keep to the tradition of my annual short trips to the Canary Islands. This year it was time to visit Fuerteventura. At first I searched for any strange airline/aircraft/routing combinations, but in the end I ended up booking STR-FUE on Condor, and the return flight FUE-STR on TUIfly. Both flights were booked well in advance (March) and both flights cost 99EUR including tax.
STR-FUE
DE2538
25Nov2008
STD: 08:35 ATD: 08:50
STA: 11:55 ATA: 12:10
A320-200
Number of passengers booked: 152 (out of 174 seats available)
D-AICN
This aircraft was built and delivered to Thomas Cook UK in 2003. In 2006, it was transferred to Thomas Cook Germany, who re-branded themselves back to Condor a few months later.
As we had our company christmas party the day before, I decided to use the late-night check-in and then head directly from the airport to the christmas party. I arrived at the airport by 18:10. In front of the single Condor late-night counter, there were about 25 passengers queueing. After about 35 minutes in line, it was my turn to check in. I requested a window seat in the rear and got 30A. The boarding time printed on my boarding pass was 07:45.
The next morning I arrived at the airport at 07:40, went straight through Terminal 1 security control (no queues at all) to gate 361, a bus gate on ground floor. The gate area filled up quickly, most passengers for this flight were elderly couples. By 08:10, boarding was called, and I was in the first bus to the aircraft. I boarded through the rear door, and when I heard another passengers asking for newspapers or magazines, the flight attendant replied "Row 22 in the overhead bin". Imagine the chaos when everybody tried to get to row 22 before taking his seat... I decided not to need a newspaper today.
A second bus arrived a few minutes later, so by 08:30 boarding was completed.When everybody had taken their seats, one of the four flight attendants made a welcome announcement, followed by the captain wo informed us that we would have to wait a few minutes before we could taxi to the de-icing platform.
Engines were started, and about 15 minutes behind schedule, we taxied the short way for de-icing. Here's a video of the de-cicng process:
http://smg.photobucket.com/albums/v5...ENov08/?action=view¤t=FUEMov2.flv
When de-icing was finished, the windows were quite dirty of course. So please excuse the quality of the following pics.
By 09:15, we took off from runway 25. I took a take-off video, but as this video basicly only shows de-icing fluid passing in front of my window, I didn't put it online.
The flight attendants informed us about the service on this 4-hour-trip. A drink service, followed by a hot breakfast, then another three drink services throughout the flight. Headphones were offered for 2,50EUR, but I had my headphones from some earlier flight with me.
Here's a pic of the hot meal: scrambled eggs with potato and spinach, a roll, butter, cheese, ham, jam, and a yoghurt. All in all quite tasty, thumbs up. I had a tomato juice with my meal, later an apple juice, a Coke, and then before landing again a tomato juice.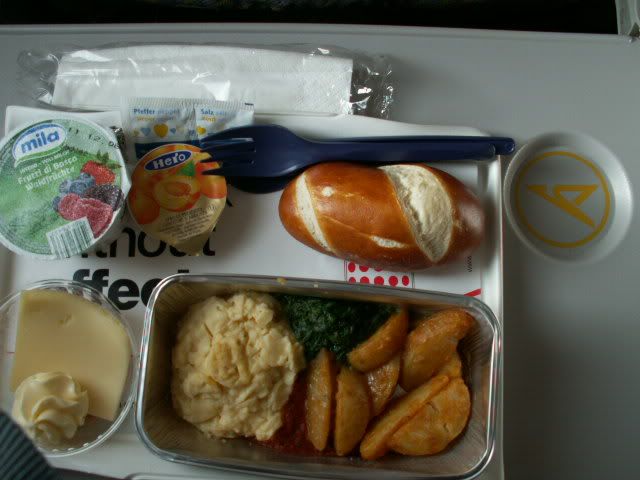 The entertainment program had already been started soon after take-off. At first the flight map and flight information were shown, then some music videos (Jason Mraz "I'm Yours"), comedy ("The Nanny" and "Pink Panther"), before they started the main movie: "Get Smart", quite a funny movie with Steve Carell and Anne Hathaway. In addition to the two audio channels for the movie (German and English language), there were 10 radio programs available. Unfortunately the socket outlet of my seat was broken, I had to keep the headset plug pressed into the outlet because otherwise it would keep falling out.
Our routing was Stuttgart - Geneva - Porto and then over the Atlantic Ocean along the Moroccan coastline.
Leaving Portuguese mainland behind: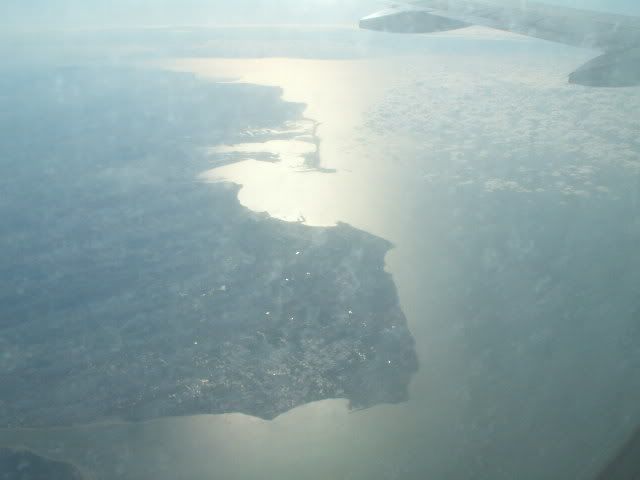 The airport of Porto(?):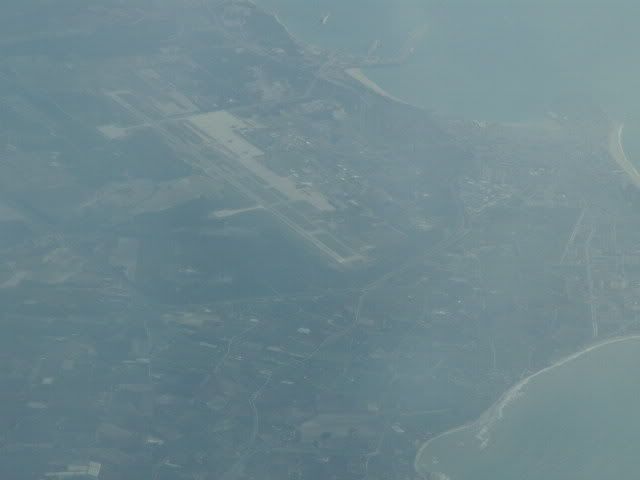 The flight attendants were quite friendly, and the pilots made several detailed announcements about our routing. After a flighttime of about four hours, we landed at FUE, passing the island in the east and making a 180° turn to the right.
Here's an approach video:
http://smg.photobucket.com/albums/v5...ENov08/?action=view¤t=FUEMov4.flv
http://smg.photobucket.com/albums/v5...ENov08/?action=view¤t=FUEMov5.flv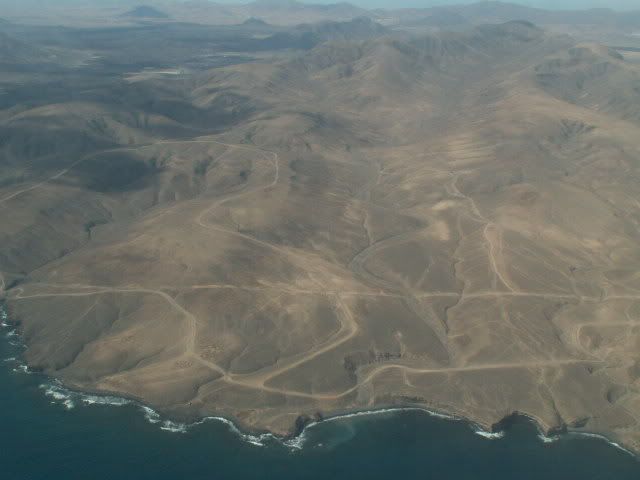 The landing video:
http://smg.photobucket.com/albums/v5...ENov08/?action=view¤t=FUEMov6.flv
FUE airport:
Appartently Tuesday is the German day at FUE, I saw a total of six Condor aircraft (A320s and B757-300s) and an Air Berlin B737-800. In addition to that some Binter ATRs, a European Aircharter B737-200 and a Spanair A320.
View after arrival:
We had arrived about 15 minutes behind schedule. Apparently, our crew was to fly back to STR, however not on this aircraft but on one of the other Condor A320s. Deboarding took place via a jetway, while through the rear door the new crew boarded already, and passengers were asked to leave the aircraft a bit quicker. But de-boarding a load of German pensioners can take some time
Construction site of a new terminal next to the existing one: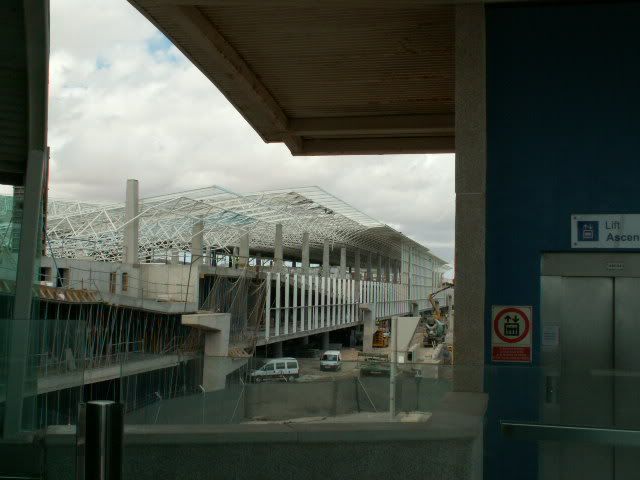 Arrival screen:
About 20 minutes after arrival, I got my checked luggage and stepped outside the terminal building. Hmmm, not as warm as the years before on LPA or TFS, and quite stormy. I took a photo of the good old European Aircharter B737-200 - little did I know that this would be the last time I'd see one of these aircraft flying:
A few seconds after I had taken this shot, a police officer approached me and asked me to stop taking photos and to leave this place. So I took a taxi to my hotel in Calete de Fustes, located about ten kilometers south close to the beach.
I spent the next two days trying to catch some sun, however it was more rain and storm unfortunately. Two days later the weather started to improve, just when I was to fly back to Germany. Oh well, just my luck.
FUE-STR
X3 2175
27Nov2008
STD: 08:30 ATD: 08:30
STA: 13:40 ATA: 13:40
B737-800
Number of passengers booked: 186 (out of 189 seats available)
D-AFHY
This aircraft was built and delivered to Hapag-Lloyd in 2001. Hapag-Lloyd rebranded themselved to Hapagfly, and then to TUIfly. Our aircraft was still in Hapagfly colours.
When I booked this flight back in March, the departure time was 17:15. In September, I got an eMail from TUIfly informing me about a schedule change. The new departure time was to be 08:30 already, meaning 1/2 day less on the island. They also offered me a free re-booking to another date or another destination airport in Germany, but I decided to stay on this flight.
08:30 departure was quite early, I wondered how TUIfly would manage to get an aircraft from Germany to Fuerteventura this early. I found out that this aircraft had a long day, leaving FMO at 04:00 in the morning, flying FMO - FUE - STR - FUE - FMO and returning back to FMO after midnight. I had to get up quite early, shocked the lady at the hotel reception ("You want to check out already? It's six o'clock in the morning - are you sure?!") and took a taxi to the airport.
The departure board - as you can see, ours was the only holiday flight leaving that early: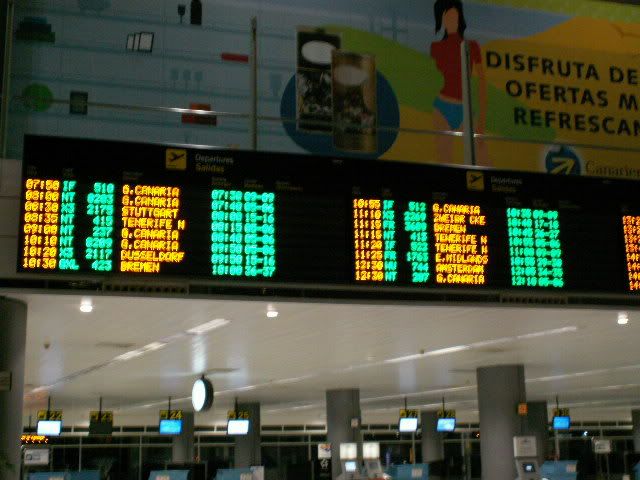 An adverticement at the Dan-Air Ticket counter
: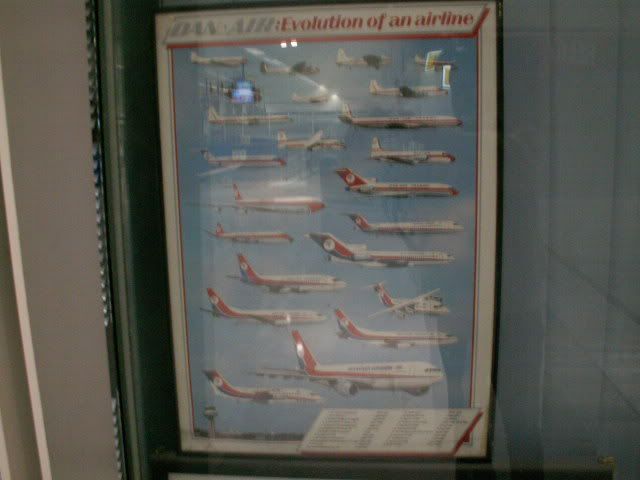 Hmm, looks like I'm the only one who showed up at the airport two hours before departure - German pensioners don't like getting up that early, and not even the check-in agents had arrived:
By 06:35, a bus with the first load of tourists arrived, two queues were formed in front of the two TUIfly counters. One agent arrived and -of course- opened not the counter in front of my queue but the other one. About ten minutes later, the other counter was opened as well. I asked again for a window seat in the rear, but I was informed that window seats were only available in the front, so I got 6F.
I went through security, had some breakfast and bought some souvenirs at the "Things Unnecessary" gift shop. The departure board included some destination weather information - hmmm, 20°C at Stuttgart? I couldn't quite believe this, and in fact it was snowing in Stuttgart that morning: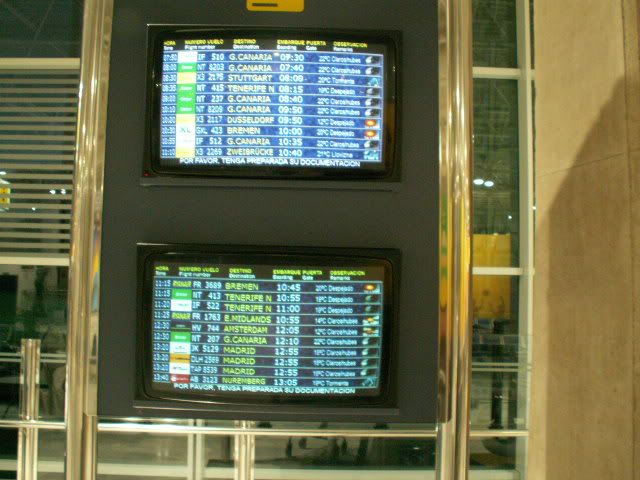 Sunrise at the airport:
D-AHFY landing from FMO:
By 08:10, boarding was called, again via jetway. At the aircraft door, one of the four flight attendants offered a bar of "Mars" to everybody. Free magazines and newspapers again in the overhead lockers, I only took a copy of the "Flyjournal" onboard magazine.
Boarding was completed soon, doors were closed, and we pushed back perfectly on-time.
Taxiing to the runway: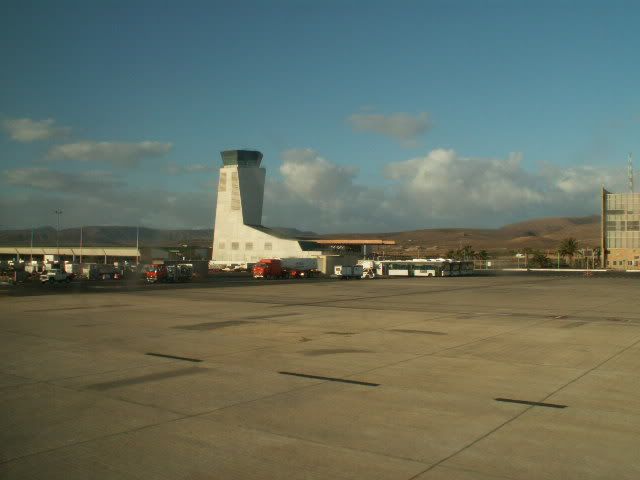 The monitors showed a map with our aircraft's position. Funny detail: apparently the Google Earth data is a bit outdated here, some of the taxiways we used did not exist on the map yet
Here's a take-off video, showing our aircraft taking off in northern direction and then turning right over the Atlantic Ocean, in order to avoid flying over the towns and beaches north of the airport:
http://smg.photobucket.com/albums/v5...ENov08/?action=view¤t=FUEMov9.flv
Headsets were sold again, I think 3EUR. The movie on this flight would be "Flawless", with Michael Caine and Demi Moore. Alright, a bit better than the Antonio Banderas dance movie which was shown last year on my TUIfly flight TFS-STR - still I decided not to watch this movie. The whole entertainment system was started only about one hour after take-off. Once again, my headset didn't seem to work - but no, it was not my headset, because nobody else could hear anything. Finally, one flight attendant told the other one "You forgot to press the PLAY button", so at least the audio system was running now. The video was started even later, but as mentioned before, I didn't want to watch that movie anyway. Out of the four radio programs, I decided to listen to the "eighties and oldies" program, as the other channels were "comedy", "children" and "Schlager" (german folk music).
Only two drink services throughout the flight, and a cold meal, consisting of two rolls, butter, cheese, ham, jam, and a fruit salad (honeydew melon). Both quantity- and quality-wise not as good as the meal on Condor, anyway it was alright. When I finished my meal, I was still hungry, and as the elderly couple sitting next to me had only eaten one roll each, I was happy to help them by eating their remaining rolls and jam.
Our routing:
The Moroccan coastline:
Spain: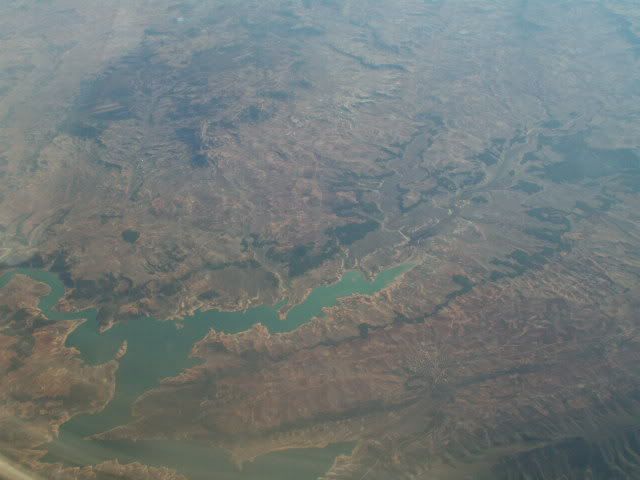 The Pyrenees:
I couldn't quite identify this airport, it was somewhere near Lyon, but I don't think it's LYS:
The Alps:
Some other airport, somewhere over Switzerland: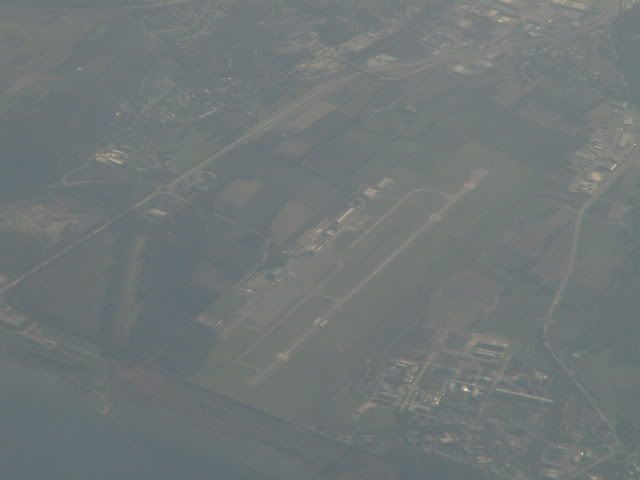 The Thunersee: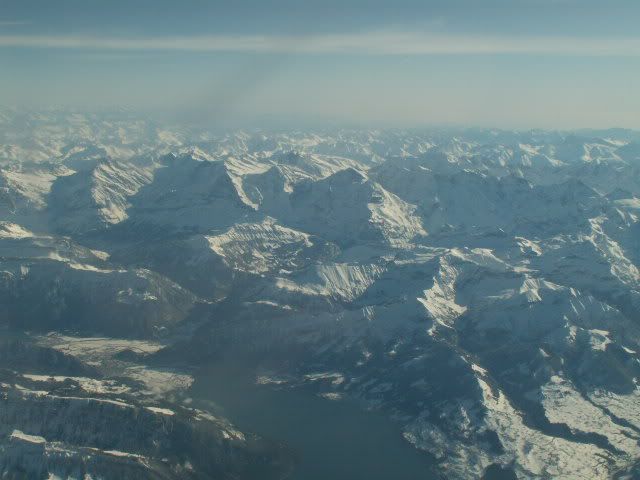 We left our cruising altitude somewhere over Zurich, flew over Freiburg, followed by a nice approach over the sunny Schwaebische Alb (Swabian Mountains).
The city of Grabenstetten:
Oberlenningen. The factory on the photo is the old paper factory Scheufelen, who went into administration earlier this year:
Autobahn A8: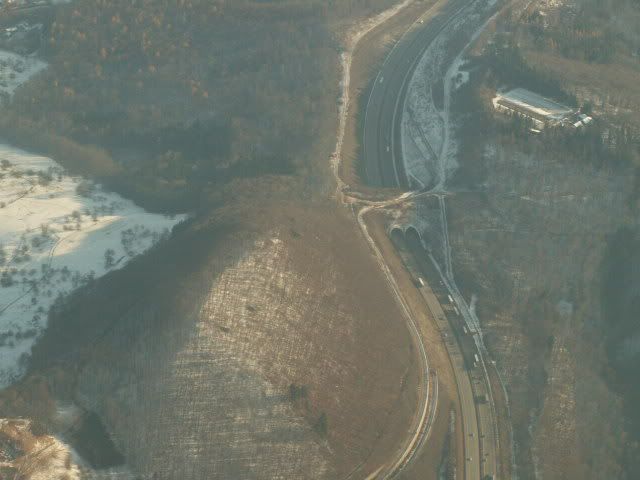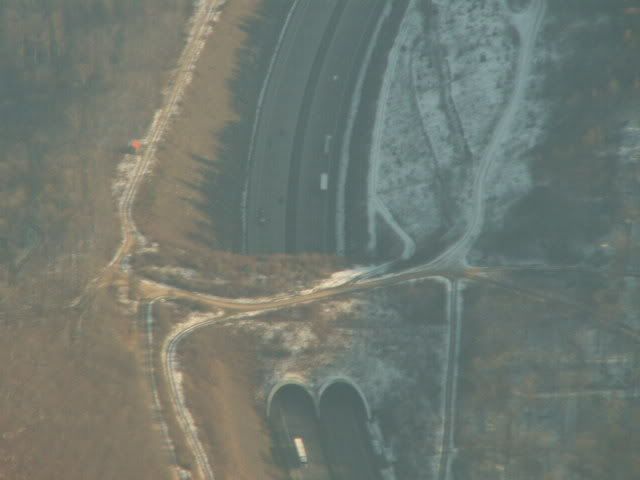 Goeppingen: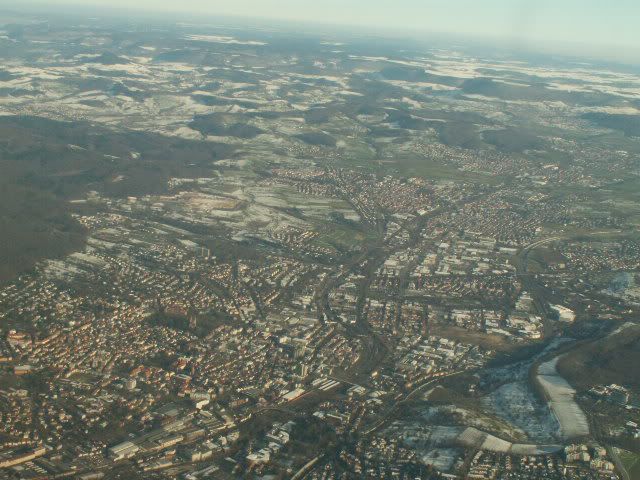 Esslingen: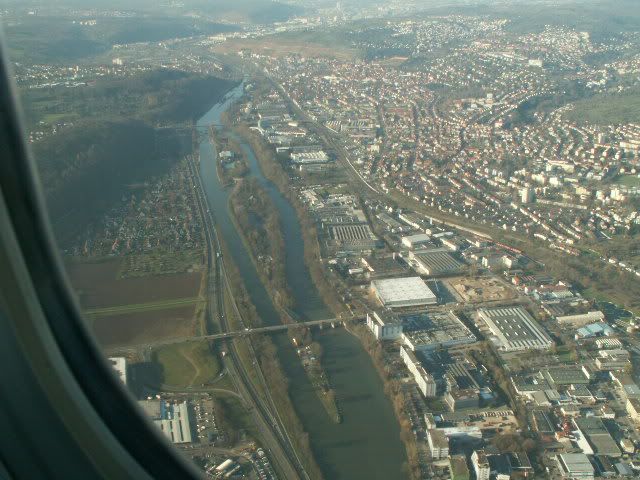 The Festo headquarters:
And here's the landing video:
http://smg.photobucket.com/albums/v5...Nov08/?action=view¤t=FUEMov10.flv
We landed on-time and taxied towards a jetway position. The flight attendants said goodbye and distributed candy at the aircraft door. About 10 minutes after landing, the first bags arrived at the baggage claim, and ten more minutes later, I got my baggage back.
Let me finish my report with a short comparison between Condor and TUIfly: Both flights were more or less ontime (Condor 15 minutes late due to de-icing), and the flights cost me 99EUR each. The schedule change on TUIfly reduced my already short stay on Fuerteventura even more. Meals, drinks and entertainment on TUIfly were alright, but they couldn't match Condor who served a hot meal, four drink services, twelve audio channels, ...
I collected 750 Miles&More miles on Condor (useless to me, as my M&M milage ballance is faaaaar away from a free flight) and 3,000 TUIfly Bluemiles (more useful to me, as my Bluemiles account is more active than my M&M account). Crews on both flights were friendly. All in all, it's just a number of very small details which made me prefer Condor over TUIfly once again.
Thanks for reading my report, and as you know: feedback is always welcome, so if you have any questions or just want to leave a few lines, feel free to do so. Looking forward to read and answer them, best regards, Alex.