Feedback always appreciated.
Trip Report: 057
Flight Category: Y-ISR (See Report End)
Date: 4 Nov-08
SDT/SAT/Dur/Delay: 1030/1205/02:35 hrs
Flight:
easy Jet U2 2076
, 929 miles
Routing: BUD-LTN
Aircraft: 73G
Seat: Economy, FS
I > Background:
Budapest remains one of my favorite European cities and I thought I'd do anything from the bitter cold weather that had been gripping London for a while. I flew down from London using Malev's operation ex-LGW and decided to try easy Jet on the way back. I don't have much experience using LCC's in Europe, and though this would be a perfect chance to expand my airline list. A quick search on A.Net tells me that while there has been several reports on U2, none have covered the BUD-LTN route so far.
II > Pre-Flight:
a) Before Airport:
easyJet is a LCC based at LTN. It is one of the largest low-fare airlines in Europe, operating domestic and international scheduled services on 387 routes between 104 European and north African airports.
BUD-LTN is served twice daily using their Boeing 73G aircraft and I decided to take the morning flight out. I was half tempted to try Wizz … but not being a morning person, I was sure to have missed their 6,00am departure.
Ticketing for the flight was done on the extremely well designed and easy to use easy Jet website at
www.easyjet.com
. The site is crisp and clear, and one can view their booking later and do modifications. Additionally, as all LCC's with a strong ancillary revenue stream, U2 gives you several options to buy other stuff such as priority boarding, seating, insurance, etc. I decided to skip on the early seating and take my chances.
b) At Airport:
LCC's use Budapest Feirhegy's T1. This is a gem of an architecture and very reminiscent of LGA (MAT), DCA, and THF … and a great departure from the clone like Ikea terminals that I am so against. U2 uses two counters and the check-in process was remarkably smooth. The agent was super friendly and she gave me my boarding card with zone "A" internet check-in. Now, easy Jet might be the only airline in the world that lets you check-in 60 days in advance! How absurd. After collecting my boarding pass, I went to one of the very few remaining open air terraces to see some apron action. It was majestic to be in the open watching the birds, and it brought back some great memories of childhood when I fell in love with aviation. Nearing departure time, I rushed through security and immigration to a disorganized boarding process which had tons of pushing and shoving within each boarding zone. Moreover, the bus taking us to the aircraft did not leave until it was packed worse than a rush hour Tokyo subway.
I seized the opportunity to board from the rear and was greeted by typical Brit FA's. Since I was lazy, I ended up seating at the back aisle seat. The plane filled up soon thereafter … Y load on the flight was almost 90%.
Airport - External:
(Budapest Airport, T1)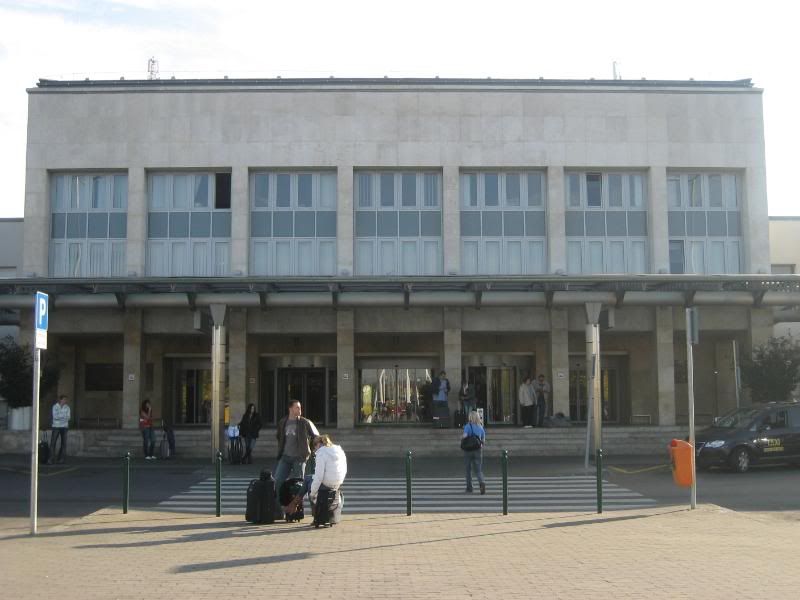 Check-in:
Airport - Internal:
(Pre-Security)
(One of the few airports remaining with an open-air viewing terrace)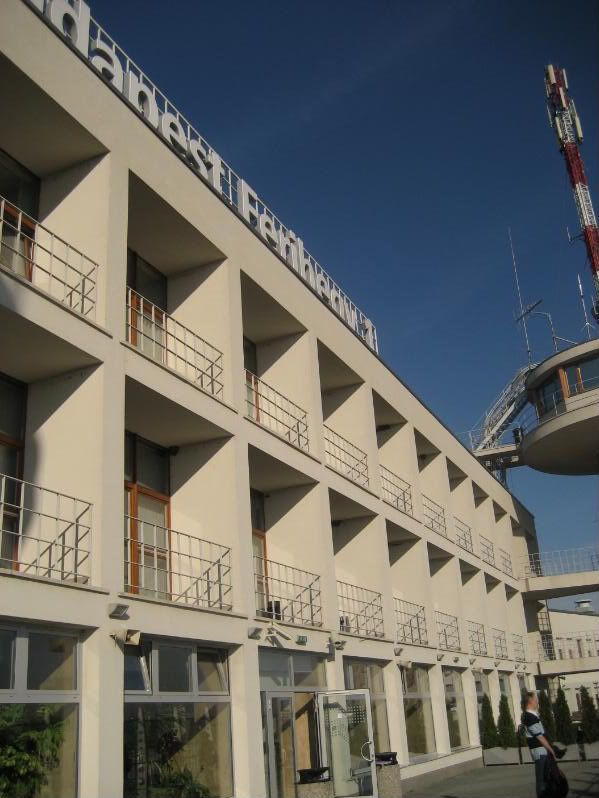 (FIDS)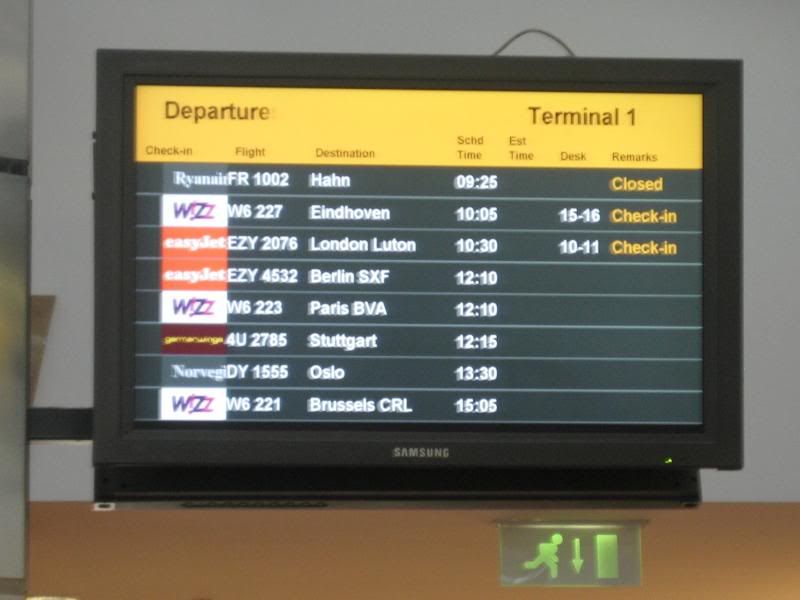 Scenes of the tarmac:
(Taken from the viewing terrace)
Lounge
NONE
Boarding:
(Super chaotic – would make the "ILBST" to shame ...)
III> In-Flight:
a) Service Schedule + Impressions:
Food and beverages for sale, followed by in-flight shop, and finally more food and beverages for sale.
b) Aircraft + Seats:
My U2 73G was reasonably clean … though, there was rubbish in the seat pocket and random straws near my legs. The cloth based seating was OK. While the legroom was below average, the recline was generous … even by some mainline standards.
Aircraft:
(73G)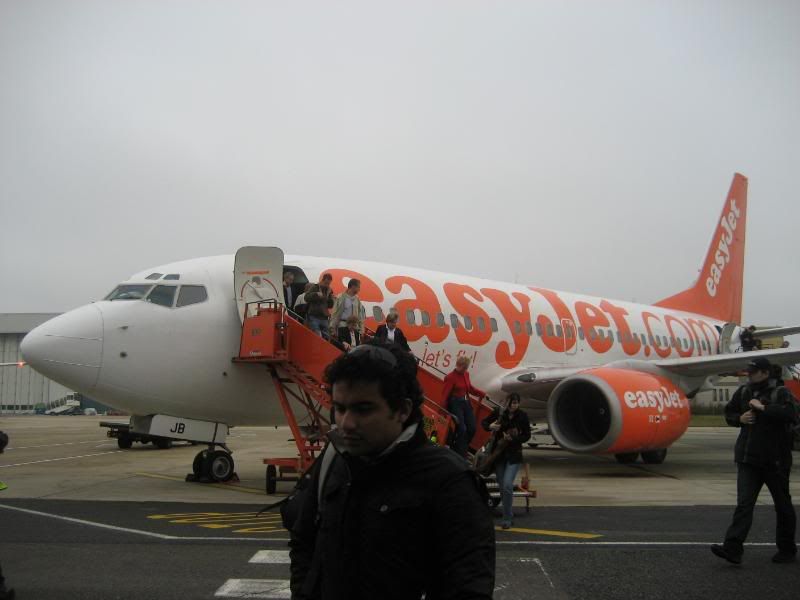 Views from Aircraft:
NONE
General Seat Views + Seat Legroom
(Legroom)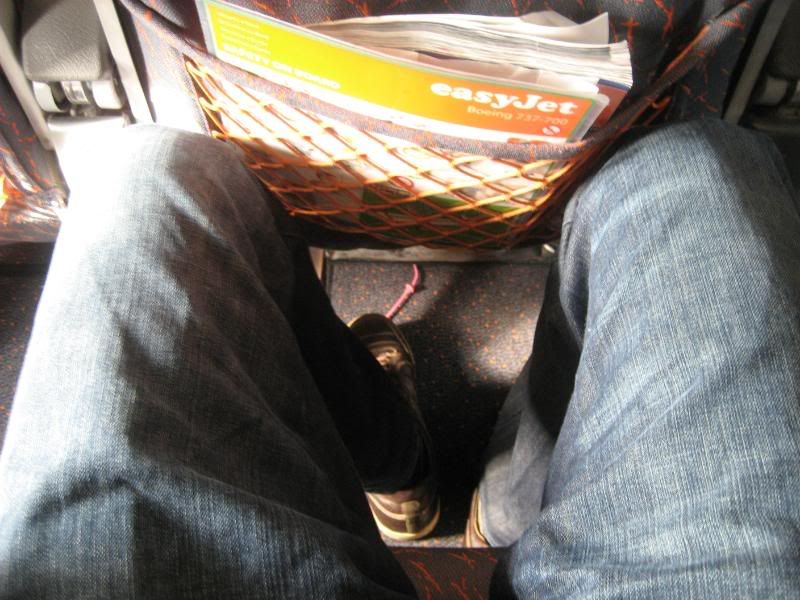 Seat Recline + Angle View:
(Decent Recline)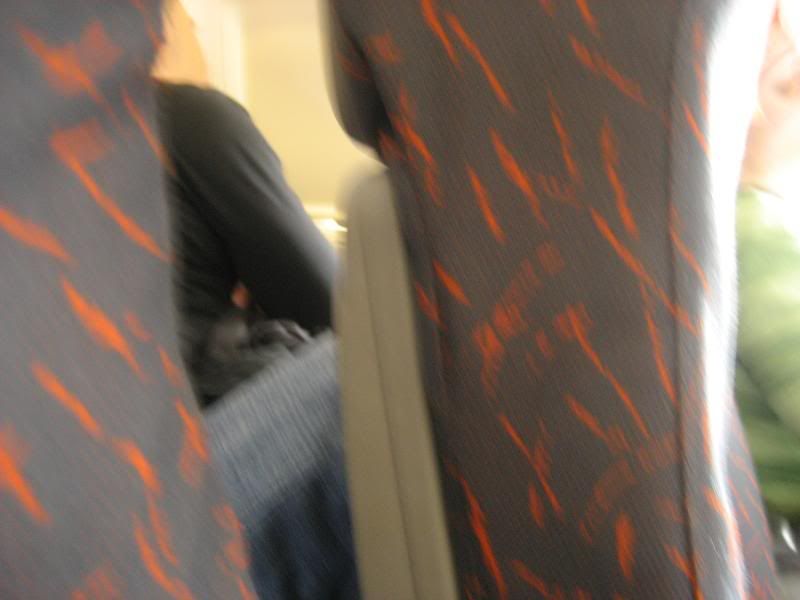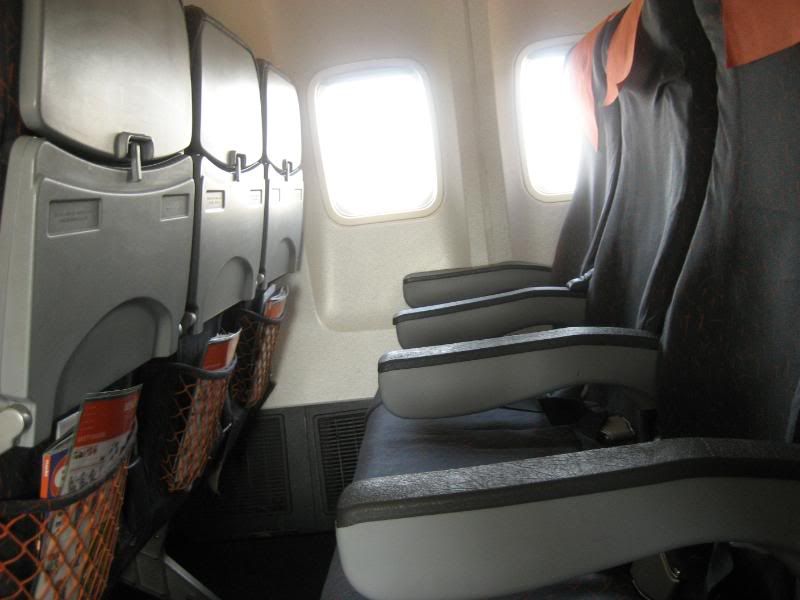 Cabin:
(Photo Courtesy: TZ Aviation)
c) Meal + Beverage:
There was a bunch of stuff that one could order from the in-flight menu … but after couple of hard nights of partying, I pretty much dozed off until reaching LTN.
NONE
d) Inflight Entertainment:
easy Jet has no audio/video programming on its flight. It does have an interesting magazine – where the coolest thing is the guide to each of U2's destinations.
("In-flight magazines", Boarding Passes, etc.)
e) Crew:
I must say that I found the crew of 3 to be remarkably charming with a British sense of humor. I had never flown into LTN and they were most helpful in trying to answer my questions on public transport. They were very chatty, and seemed positive and full of smiles. Of course, I did not request anything from them, but the impression I got was overwhelmingly positive.
IV> Post-Flight:
Now an interesting thing happened as soon as we touched-down and were taxiing to the gate … the pilot came on the speaker and said that his message was referring to just one of the passengers onboard. He continued that if that person does not put his seat belt on in 2 minutes, police would be waiting at the gate for him! Wow! Pretty intense especially no one had stood up as we were taxiing. Any idea how a pilot could have found this out? Or, was this a scare tactic on flights ex-Eastern Europe? Either way, I found it a bit draconian. Anyways, I continue to feel that LTN is a great airport for London. Having several passports come in handy, and Liechtenstein technically not being in the EU is great to skip the 99% EU line and join the line without any wait for non-EU passport holders. It took 1 minute to process and I was buying my train tickets to downtown within 6 minutes of disembarking.
(LTN Airport – Arrivals Area)
V> Impressions + Scores:
As I mentioned in my NE write-up, I will admit that I don't have much experience on European LCC's. I guess easyJet did what an LCC is supposed to do with ease – provide cheap ticket from point A and B and hope for ancillary revenue. An added bonus for me was the friendly crew. It could do with more IFE options (perhaps another revenue stream?). Definitely would fly them again … especially if the competing airline is another LCC.
1.0 > RESERVATION: 8.5
2.0 > CHECK-IN: 7.5
0.5 > LOUNGE: n/a
0.5 > BOARDING: 5.5
2.0 > SEAT: 6.0
0.5 > AIRCRAFT OVERALL AMBIENCE: 5.5
1.0 > IFE: 5.0
2.0 > CREW: 7.0
2.0 > FOOD: 4.0
0.5 > BEVERAGES: 5.0
0.5 > A.KITS + OTHER FREEBIES: 5.0
0.5 > DISEMBARKATION: 6.5
1.0 > ON-TIME RECORD: 9.0
WEIGHTED OVERALL IMPRESSION (WOI): 6.31
(Pre-flight WOI of all reviews: 6.43)
* Weighted Overall Impression (WOI) aligns scores with what matters most. Weights are indicated alongside each category.
(Scores are based on comparison with other airlines in THAT class of service – No comparison of Y vs. F for example)
VI> Other Trip Reports:
PREMIUM:
8.61:
Air Canada (49): YYZ-SCL: 06/2008
8.11:
Aeroflot (33): MOW-DEL: 09/2007
8.04:
Korean Air (40): NRT-ICN: 10/2007
8.02:
Delta Airlines (24): JFK-CDG: 08/2007
7.46:
LAN (55): YYZ-JFK: 09/2008
7.82:
Singapore Airlines (06): EWR-SIN: 09/2006
7.14:
Swiss (52): SCL-GRU: 06/2008
6.93:
Delta Airlines (18): SEA-JFK: 11/2006
6.81:
Air Canada (17): ICN-YYZ: 10/2006
6.70:
KLM (32): EBB-AMS: 08/2007
6.25:
Korean Air (45): NAN-ICN: 10/2007
6.11:
TAP Portugal (53): GRU-OPO: 06/2008
5.75:
Singapore Airlines (16): CCU-SIN: 10/2006
5.64:
NorthWest (46): ICN-NRT-SEA: 10/2007
5.39:
LOT (54): WAW-JFK: 06/2008
4.42:
Air France: CDG-JNB (25): 08/2007
ECONOMY: Long + Medium:
9.26:
Air India (48): JFK-DEL: 02/2008
7.38:
Avianca (01): BOG-LIM: 07/2006
6.26:
Jet Blue (21): CUN-JFK: 02/2007
6.06:
Air Canada (04): YYZ-YVR: 09/2006
5.89:
USA 3000 (19): PUJ-BDL: 01/2007
5.79:
Air New Zealand (42): RAR-NAN: 10/2007
5.46:
TAP Air Portugal (23): OSL-LIS: 05/2007
ECONOMY: Short
8.56:
Paramount Airways (38): BLR-MAA: 09/2007
8.24:
Kingfisher (14): IXA-GAU: 10/2006
7.87:
Indian (34): BOM-MAA: 09/2007
7.72:
Alliance Air (13): CCU-IXA: 10/2006
7.57:
Indian Airlines (10): DEL-CCU: 09/2006
7.23:
West Jet (03): YYC-YVR: 09/2006
7.15:
JetLite (37): BOM-GOI: 09/2007
6.70:
Spice Jet (09): CCU-DEL: 09/2006
6.63:
Air Fiji (44): NAN-SUV: 10/2007
6.58:
Air Tran (02): EWR-MDW: 08/2006
6.44:
CO Micronesia (39): ROR-YAP: 10/2007
6.41:
Pacific Sun (43): NAN-SUV: 10/2007
6.37:
Skybus (47): SWF-CMH: 02/2008
6.33:
Kenya Airways (29): NBO-BJM: 08/2007
6.33:
Sky Europe (56): LTN-BTS: 10/2008
6.31:
Indigo (15): GAU-CCU: 10/2006
6.31: easyJet (57): BUD-LTN: 11/2008
6.22:
Air Link Swazi (28): MTS-JNB: 08/2007
6.22:
Air India (36): HYD-BOM: 09/2007
6.13:
Adam Air (07): SIN-CGK: 09/2006
6.13:
Air Rarotonga (41): RAR-AIT: 10/2007
6.00:
Transairways (27): INH-MPM: 08/2007
5.95:
Air Canada (05): ALB-YYZ: 09/2006
5.85:
SAS Norge (22): OSL-AES: 05/2007
5.81:
LAM Mozambique (26): JNB-MPM: 08/2007
5.69:
Air Deccan (12): IXZ-CCU: 10/2006
5.67:
Rwanda Air Exp (30): KGL-NBO: 08/2007
5.07:
Go Air (35): MAA-HYD: 09/2007
5.00:
Sky Airline (51): IQQ-SCL: 06/2008
4.96:
Valuair (08): CGK-SIN: 09/2006
4.78:
Air Comet Chile (50): SCL-IQQ: 06/2008
4.74:
Fly 540 (31): MYD-LAU: 08/2007
4.33:
Viva Aerobus (20): ELP-MTY: 02/2007
4.11:
Air Sahara (11): CCU-BOM: 09/2006
(Note on Codes: Y – Economy, J – Business, F – First :: I/D – International/Domestic :: SR/MR/LR – Short/Medium/Long Haul)
VII> Other Pictures:
As has become customary, here are some pictures form Budapest – hands down my favorite large city in eastern Europe.