saturday
Optimists have gone on an extended break. The weather's turned monsoonal. Pre-dawn thunderstorms at the weekend are designed for sleeping in but I am awake today, locking the front door behind me, and acknowledging a cheerful greeting from Mr. Wong, my favorite taxi driver, as he guesses correctly: Going to Bangkok again? I must be getting predictable.
Flying the two hour hop between Kuala Lumpur and Bangkok has become something of a routine this year. Only nothing is routine in these tumultuous days. Like the worsening weather, a large depression has descended on, well, everything. At work, a recent email from someone I don't know warns of looming layoffs; in the midst of the financial crisis, at least you've still got a job, the memo reads - not too subtly - between the lines. And as I write, Southeast Asia's busiest airport is still reeling from a week in lockdown mode. Gloom and uncertainty are omnipresent. I'm in need of cheering up.
But, maybe, melancholy could be the right mood hue for this journey. Today's usual triple seven has been replaced by an A340-500, and that is something of a rare treat. Thai Airways announced their disposal some months back, but this being TG, they're still around - at least for now. I am painfully aware that this could well be my last chance to fly on one.
The Airbus 340-500 has become a victim of circumstance. Low on capacity, gas guzzling and perfect in proportion, this gorgeous bird will soon be leaving, and I can't let it do so before saying farewell. I hope you'll indulge me this trip report.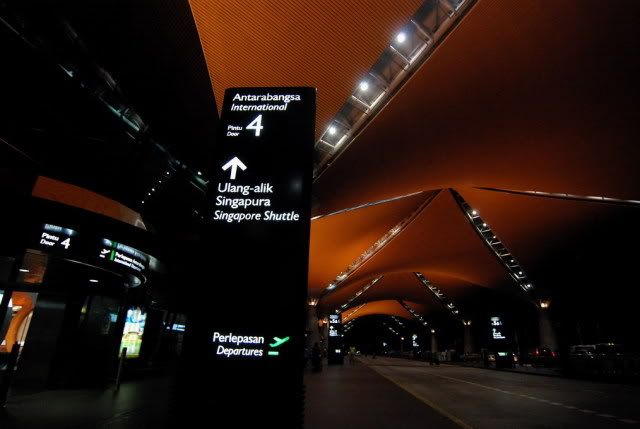 airport >>>
It's still dark and raining when we get to Kuala Lumpur International Airport. Appropriately, I am dropped off in front of a redundant sign. The
Singapore Shuttle
harks back to the not-so-distant days of the profitable SQ/MH duopoly on the Kuala Lumpur-Singapore route. But starting this month, open skies will bring multiple new daily frequencies from AirAsia, Tiger Airways, Jetstar Asia and Silk Air – and a price war – on this route. The national carriers must be sighing with nostalgia at the good old
Shuttle
days.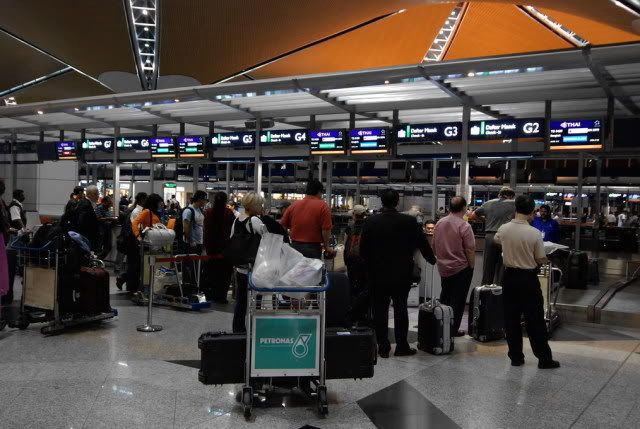 The six check-desks used for TG 420 to Bangkok are busier than usual, which is a good indication of the load on this flight. The queue moves quickly for me as the passenger ahead decides to let me overtake. It seems he is awaiting a uniformed TG staff (check-in is done by MH) to administer an upgrade to J class. It is an open secret that paid airport upgrades on TG are available at most stations and they're often the cheaper way to a higher class of travel, as long as seats are available. It must be said here that one element of MH which has improved is check-in: I am impressed with the check-in agent who makes an attempt at speaking Thai to a fellow passenger who has difficulty understanding English.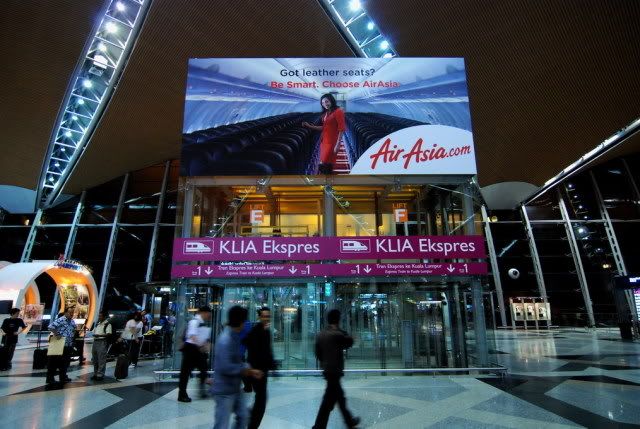 Even though low cost AirAsia doesn't fly from this terminal, a huge billboard directly opposite the MH economy class check-in island is unambiguous in its target market. The LCC is not winning over this passenger today, but it is getting harder to ignore an airline that frequently offers more convenient schedules than full service airlines on many regional routes. AirAsia's 8x daily Kuala Lumpur – Bangkok schedule, for instance, is more than MH and TG combined.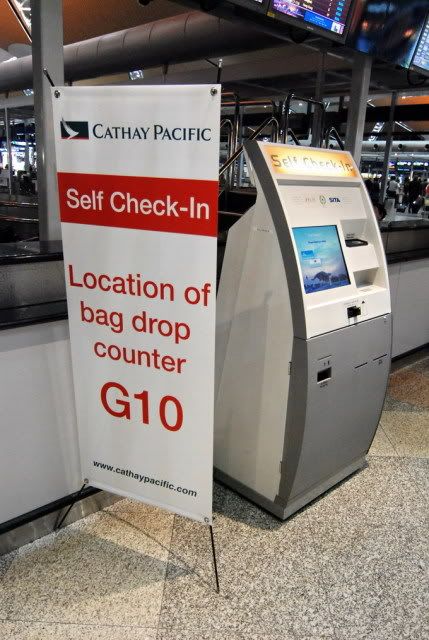 Forgotten machines at the airport? KLIA offers common self check-in machines, but their use is half-hearted – Cathay Pacific, along with KLM and I have absolutely no idea who else, offer the service but their existence is all but ignored by most passengers. The airport webpage makes no mention of them. Much is made of the
World's Best Airport
thing - unfortunately, like so many other trumpeted "successes" in this inferiority complex-inflicted country, there's more form than substance in this claim.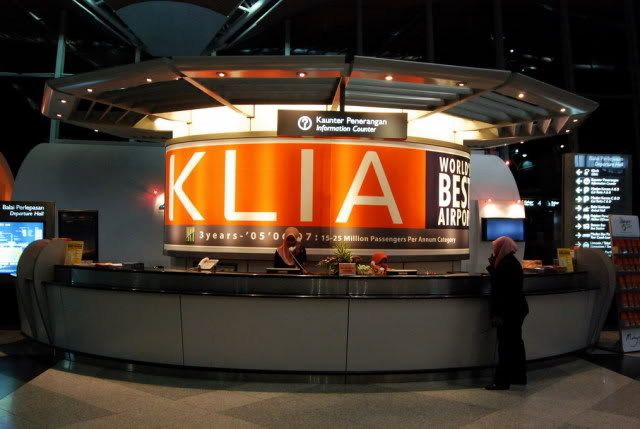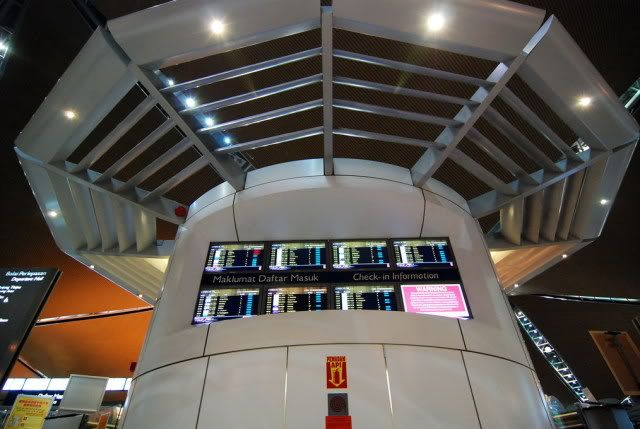 But there's no denying that architecturally, KLIA is a constant delight. Even now, ten years down the road, I still find new angles to seemingly familiar objects. Below, an exhibit depicting the history of the airport together with bits of Malaysian aviation of years gone-by makes an interesting diversion – it is part of the airport's tenth birthday celebrations this year.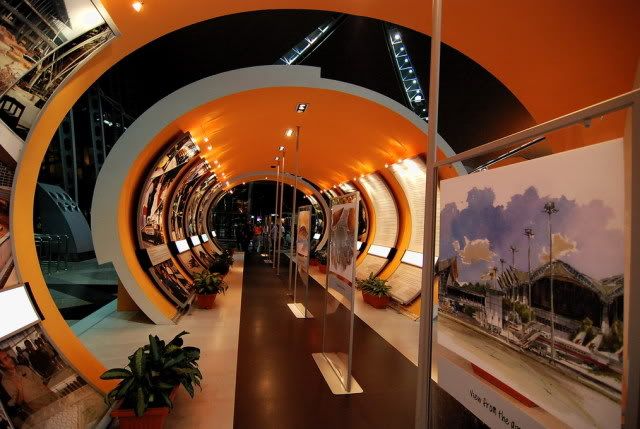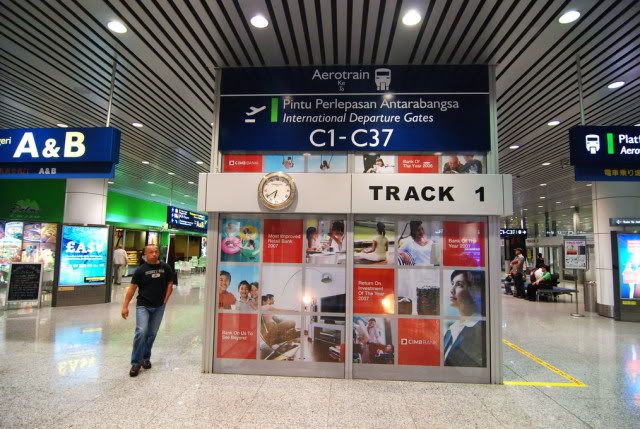 No queues at immigration means I breeze through to KLIA airside. Like almost all other foreign airlines serving the airport, TG departs from the "C" gates located at the satellite that's reachable by a driver-less
Aerotrain
. The most notable plane there – for me, at least - is this Biman Bangladesh DC10-30 boarding for Dhaka. I post this photo for the benefit of those who are still trying to catch a ride aboard this wonderful trijet: come to KUL, D10 comrades!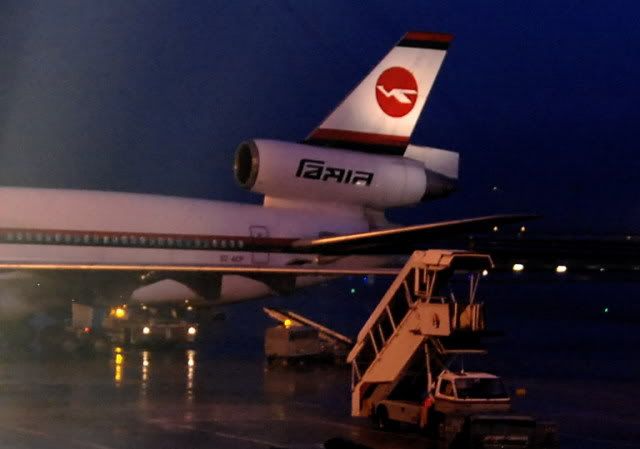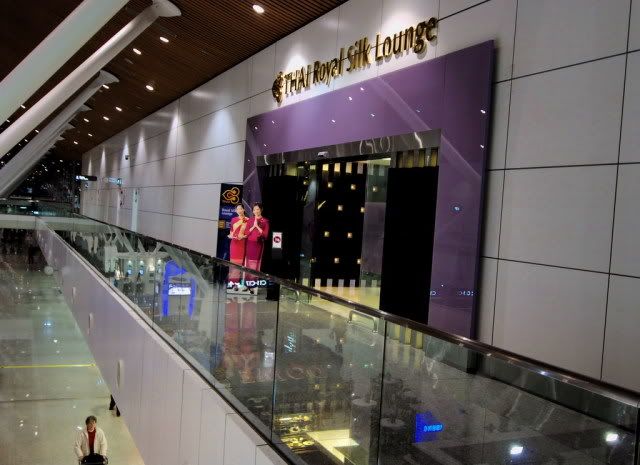 Thai Airways' Royal Silk Lounge, recently reopened after an extensive renovation, welcomes the airline's Business Class passengers as well as Star Alliance Gold members. That's probably why the lounge is far larger than TG would ever need for its three daily flights from KLIA. Early on this Saturday morning, the place is quiet and empty.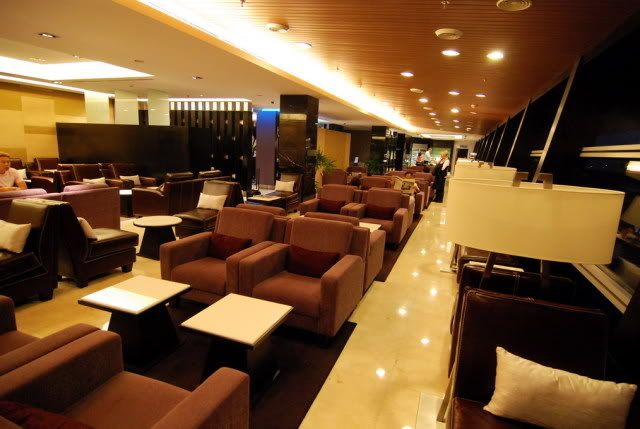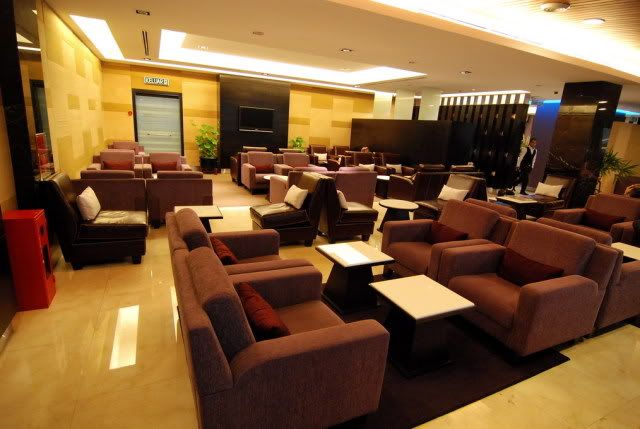 A medley of 1980s chart toppers plays in the background as dawn breaks to reveal an overly spacious and wet tarmac. The rain seems to have stopped but the sad, overcast skies will not make for good photography I fear.
As usual, I leave the lounge early to head for the departure gate. En route, I get another chance to view S2-ACP, now in a slightly better light. The trijet is joined by an MH B747-400 just arrived from London Heathrow as MH 003.
KLIA may not be a spotter's paradise, but it does have its fair share of globally unique visitors. At another arm of the satellite from the Biman DC10 sits an Iran Air B747SP, awaiting its departure later this morning for Tehran. The SP flies a regular three-times-a-week schedule from this airport.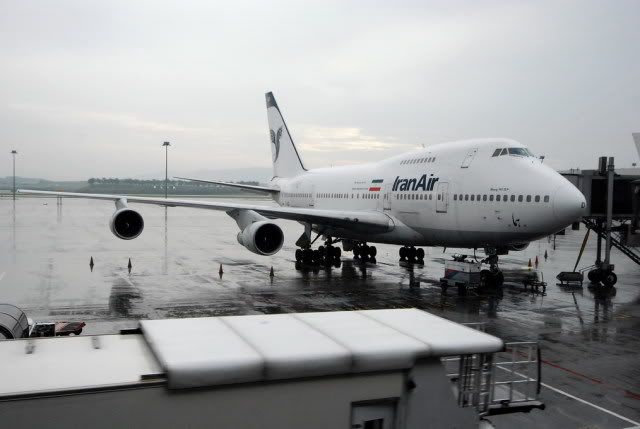 TG 420 is departing from Gate C17 this morning. This is one of the three end-gates at the satellite earmarked for the A380 – when, and if, they start operating from KLIA. Note the split level waiting areas that are clearly visible from the gate entrance.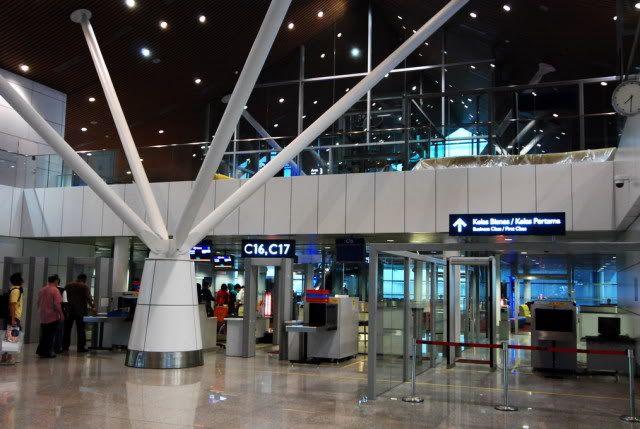 Inside the departure lounge holding area, escalators and lifts connect the lower and upper levels. Two boarding aerobridges are connected to the lower level and another is attached to the upper level.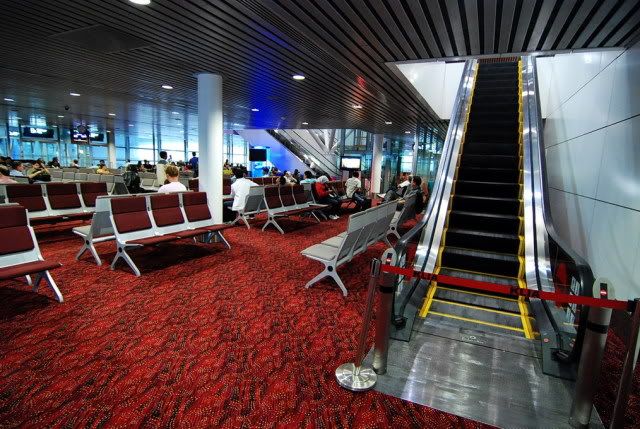 departure >>>
Thai Airways International
Kuala Lumpur – Bangkok on TG 420
Airbus 340-541 HS-TLA
Dep: 0759 Arr: 0858 (on time)
I spot HS-TLA – Thai Airways' 2005-delivered first of four A340-500s – as my ride to Bangkok, but this is one of the few gate areas at KLIA where there isn't a good vantage point to view or photograph aircraft. So it isn't until we're boarding through the glass aerobridge that I manage to get a better look.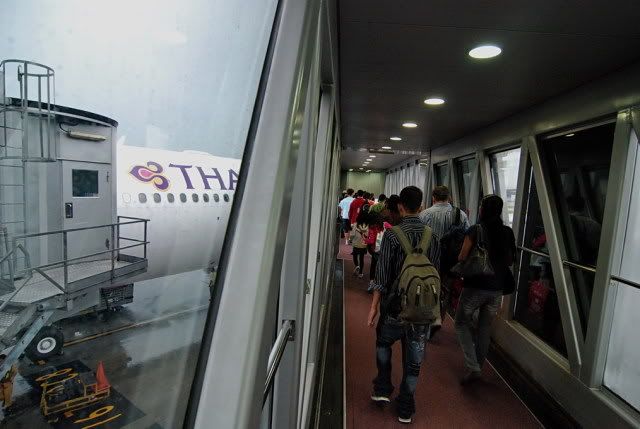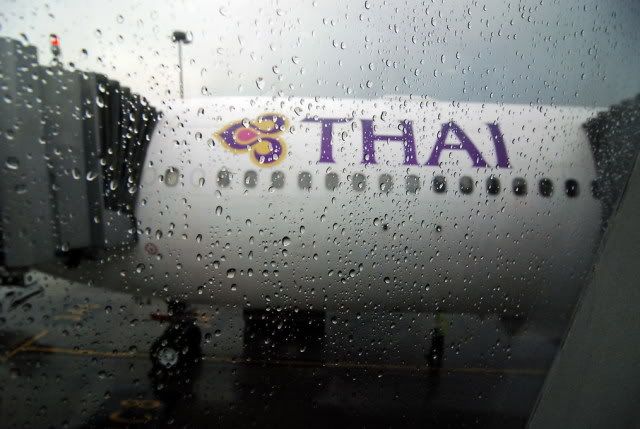 It's not as good a view as I had hoped. The early morning rain puts a damper on any attempt at a half-decent picture. You know those cooking programs where the host says:
here's one I prepared earlier…?
Well, below is "the one I prepared earlier" – more than 2 years earlier to be precise, in October 2006. Here HS-TLA is being primed for departure from gate B22 at New York's JFK Terminal 4 on the ultra long-haul to Bangkok, a route the airline no longer flies. It's perhaps appropriate that I should be saying my farewell to TG's A340-500 on a plane I am familiar with – I flew on HS-TLA for both legs of my long trip to and from New York that fall.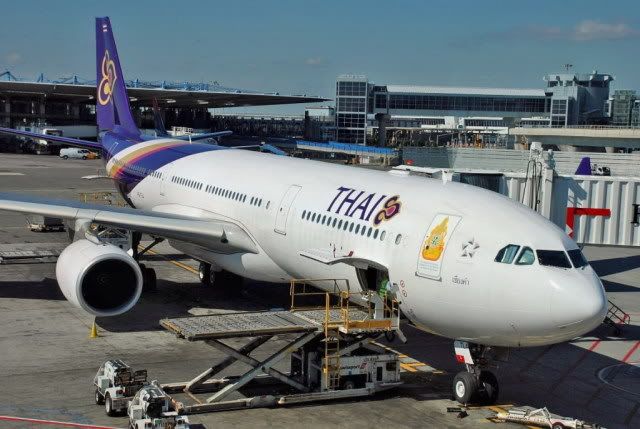 Welcomes aboard TG are hard to beat: the
Sawasdee
greeting is genuine and makes you feel you're in Thailand already. All along the fuselage, you are greeted with "wais" so personalized that you sometimes forget you're flying economy. This aircraft is equipped with 60 Business Class angled-flat sleepers, 42 Premium Economy Class seats at a 42-inch pitch and 113 Economy seats at a generous 36-inch pitch. On this flight however, the Premium Economy cabin is sold as economy and available for selection at online check-in. I choose a window seat at the back of the Premium cabin. This is my view across the same row: just check out that legroom.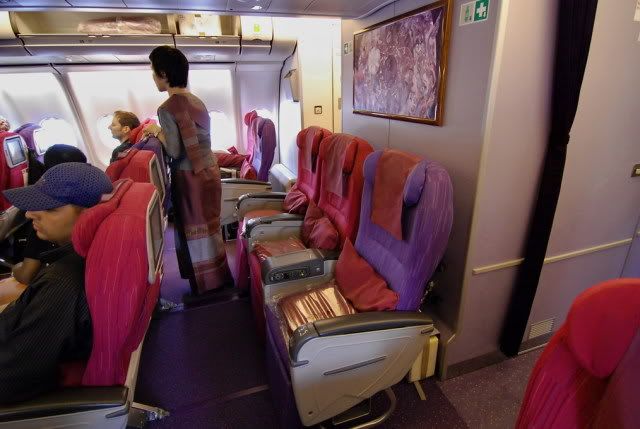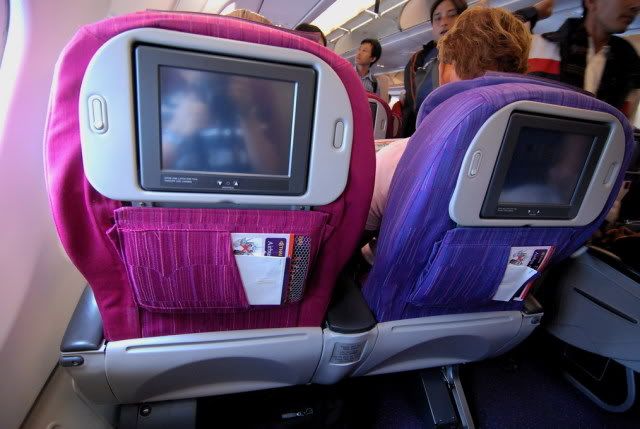 I settle into seat 36A, which is wider than the normal steerage offering. What you do immediately appreciate is the general feeling of space. Elbow, shoulder and, dare I say, knee room: there's just more of everything around.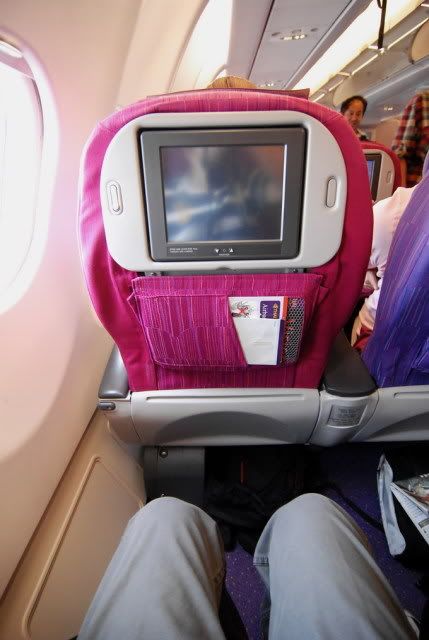 The cabin fills up: it's a full flight. Once, that would have limited my photo taking opportunities as I try to keep the camera hidden in discreet corners. (I notice many trip reporters on A.net still do.) But I don't any longer and actually, it's so much better. I apologize in advance to my neighbor for the strange behavior – he's nice about it but is generally disinterested in why I would want to document this flight. Your fellow passengers already think you're weird anyway (you think they didn't catch you sneakily photographing your meal?), so you might as well go the whole nine yards, and act the part.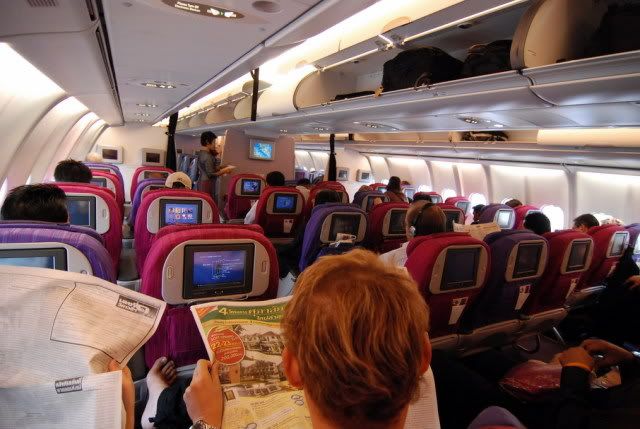 We push back four minutes behind schedule – the Rolls purring as we taxi – and follow the Biman DC10 to 32R, where there's no queue for takeoff at this hour. Light as a feather on this relatively short hop, we climb quickly away from the rainy oil palm plantations and clear the clouds to bluer skies at cruising altitude.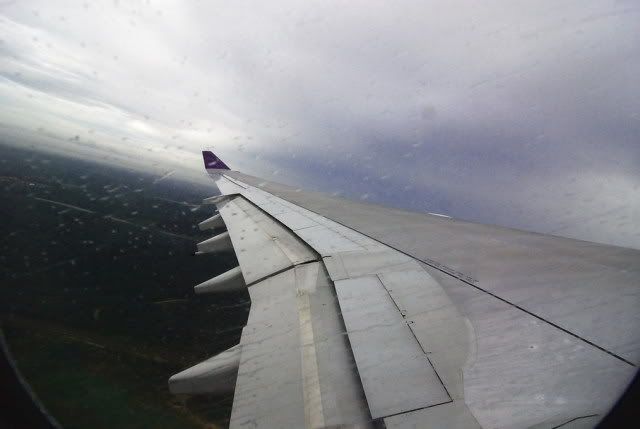 inflight >>>
Over the past three years, I have been flying the KUL-BKK route more than any other, and usually it's on TG. But familiarity breeds a sort of sense numbing routine that's not good at all for trip reports. The feeling of wonder and excitement – an important ingredient for good reports – is so often missing because the reporter has become a mere commuter. It's not surprising therefore that some of the most interesting trip reports are written by outsiders to a region: they spot things and details locals and regulars miss, or dismiss.
I realize I just torpedoed this report even before finishing it, but hey, that's the reality. Having said all that, the desire to write this report allowed me to examine afresh some things I have (or would have) taken for granted. And I have to say I am hugely impressed with TG's offering: it's in the details. In the midst of cost cutting orgies and encroaching LCC competition, having this large, thick and comfy duvet-like blanket placed on every seat in this cabin is almost decadent for a short 1 hour 50 minute flight.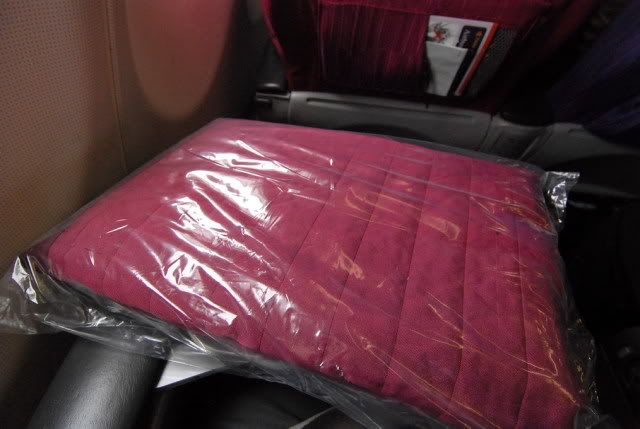 And when was the last time you travelled economy and was offered postcards and writing paper in an individualized folder? On this flight, every passenger in the Premium cabin finds this throwback to the glory days of flying (airline forwards your letter or postcard free of charge) in his/her seat pocket. What an indulgence.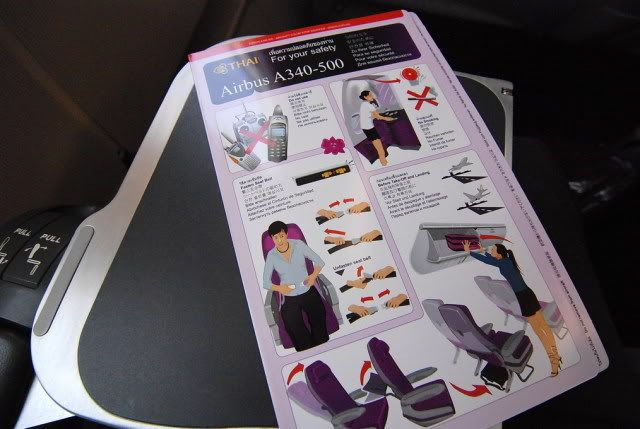 The seat pocket also contains a lavishly illustrated safety information card which may interest some A.net members. I am not a collector of these cards, but I would imagine TG's must be among the nicer ones to keep for those who do.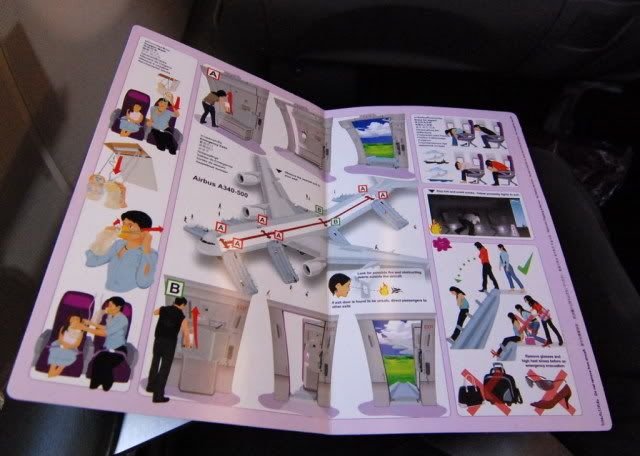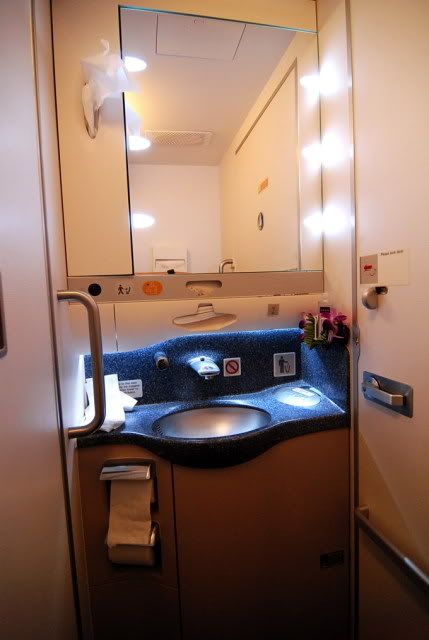 There are four washrooms shared between the Premium economy and economy cabins. Even here, there is attention to detail you just don't find on many carriers – even less so at the back of the bus on a short flight.
We're just overhead Penang when it's time for breakfast. Decent in size, the sturdy tray tables are found in the armrest.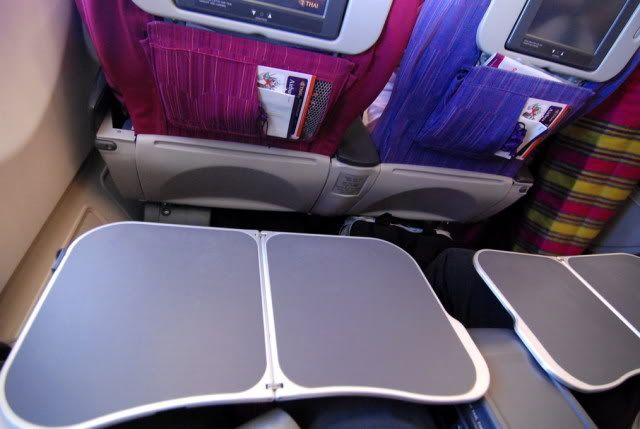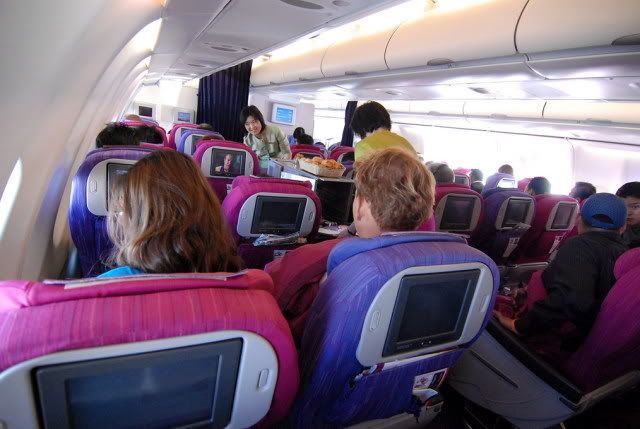 The trolleys appear from behind the Business Class curtains and breakfast service starts from the front of the cabin. A cheerful duo is doling out the trays: they're standard Y class rather than the linen/china style of Premium Economy. The choice this morning is between omelet and Chinese-style chicken with fried rice, together with offers of coffee, tea and juice. Catered from KUL, the meal is decent but unimpressive. I've had better on TG; especially the fiery Thai curries out of BKK are delicious.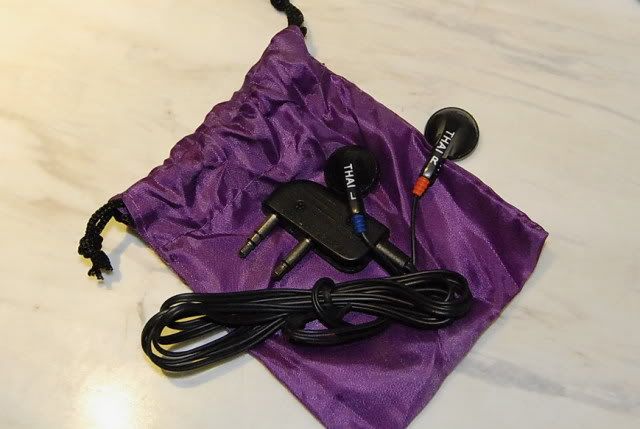 The airline this year changed the style of headsets it uses in economy class. This small purple pouch containing the device is passed out to passengers for them to keep. My AVOD froze on me so I had no use for mine, but in any case, I wasn't planning to spend my short time aboard watching half a movie.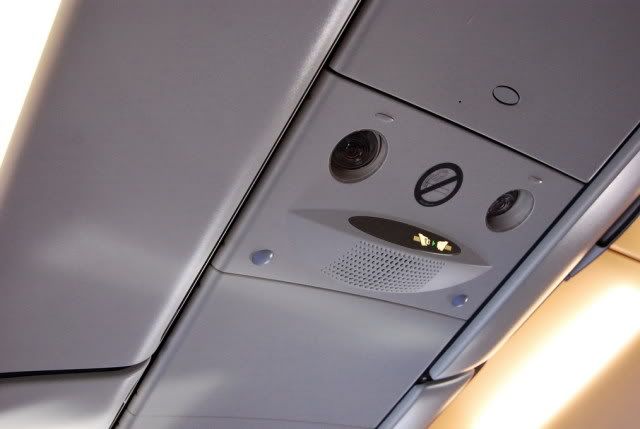 There's a fair bit of turbulence over southern Thailand, but I take the opportunity between the pockets of rough air to walk about. Below are the six rows of Premium Economy. Notice the open curtains between this cabin and Business Class. That's because all J Class passengers today are seated in the forward cabin ahead of the galley.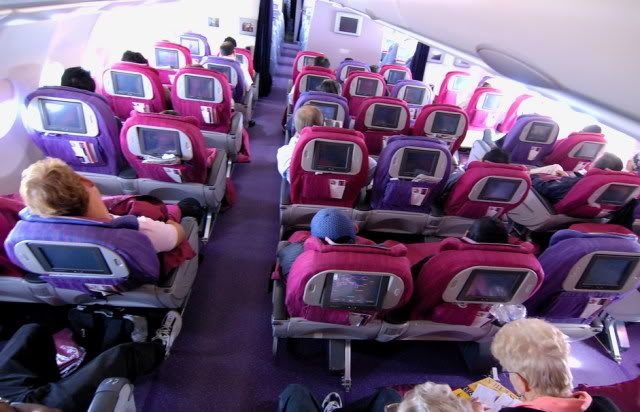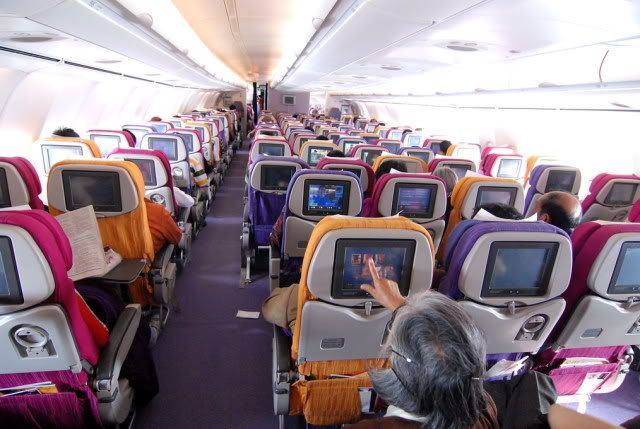 The economy class cabin is spacious and cheerful: the seats have the same sized PTV screen as in Premium Economy. One of challenges of being a trip reporter is trying to "do the job" without being too much of a nuisance to others. My neighbor chooses to sleep for most of the flight which would have meant disturbing him every time I get out of my window seat. Luckily, the Premium Economy seat slides down and forwards into its partial shell; so even in full recline mode, it encroaches only a little on the space of the passenger behind. Which means I get to squeeze past with minimal disturbance.
arrival >>>
It's not long before we're over the Gulf of Thailand and preparing for descent, and a smooth landing at Bangkok Suvarnabhumi Airport.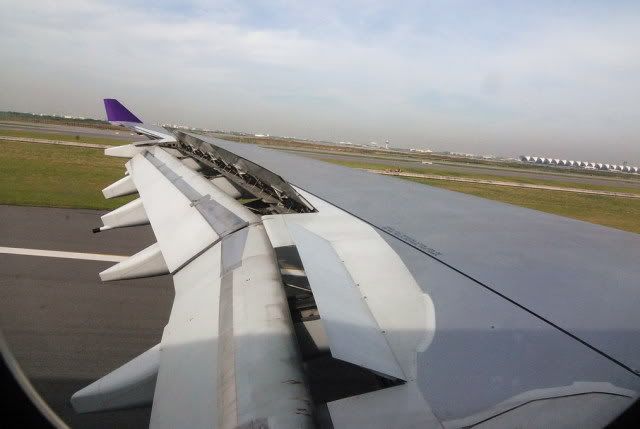 We have come to the end of the flight, and dock two minutes ahead of schedule next to a company B744 in the Star Alliance livery.
Most passengers may be anxious to get off, but not this one. I take my time as the whole of Premium Economy and then economy empties around me. This is the window seat at row 36 without its former occupant.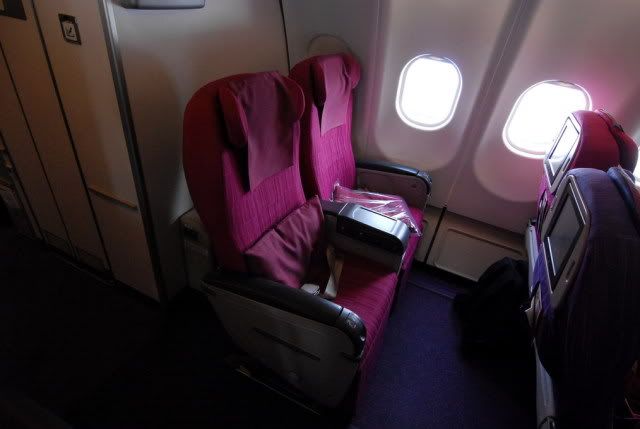 Back in economy class, the exit row seats are the ones to take for legroom. They beat any in Premium Economy or even Business Class.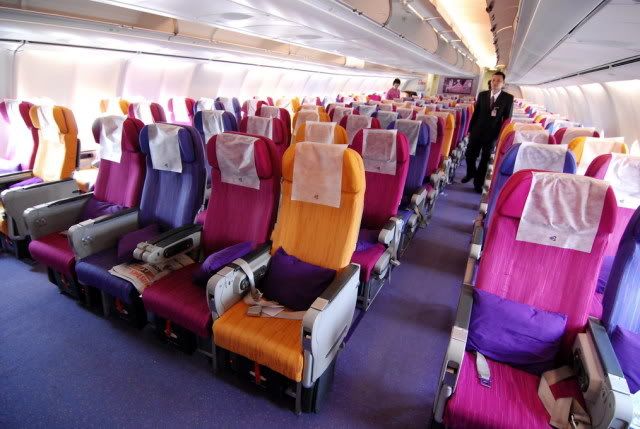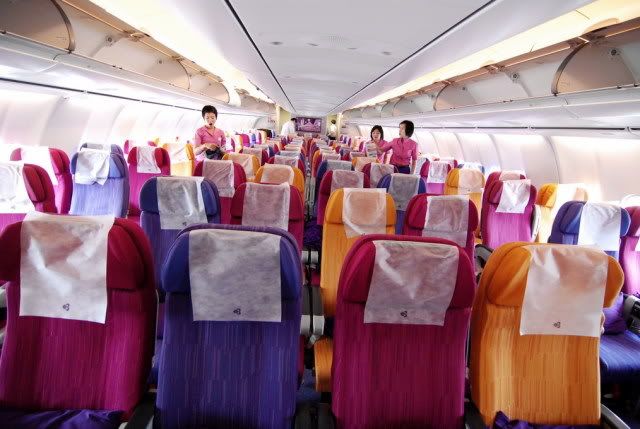 The crews are still busy clearing up but they oblige when I ask for a posed photograph. It had been a very pleasant flight, and these wonderful girls are responsible for making that happen.
Not for the first time, I am the last passenger to get off the plane. It had been a wonderful experience aboard TG's A340-500; though, if I am lucky again tomorrow, it will not have been my last.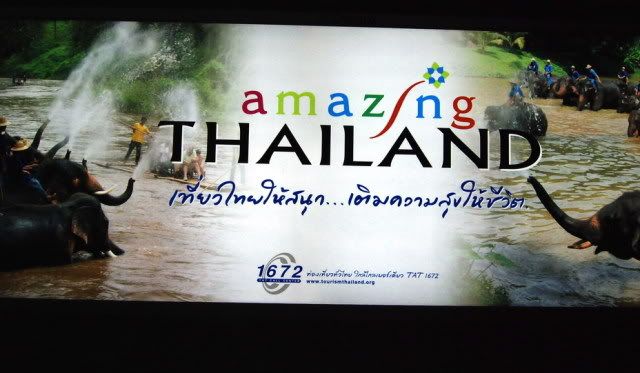 sunday
Did I forget to tell you I bought an insurance policy? Checking where the A340-500 is being used around the region (LAX is stretching the budget!) became a bit of an obsession after I booked my KUL-BKK flight. After all, TG is notorious for changing equipment around: I had to be sure I'd get on one, so I take two stabs at it. When I find that it's slated to operate the BKK-SIN sector next day, I knew what I had to do. I'd be heading home via SIN.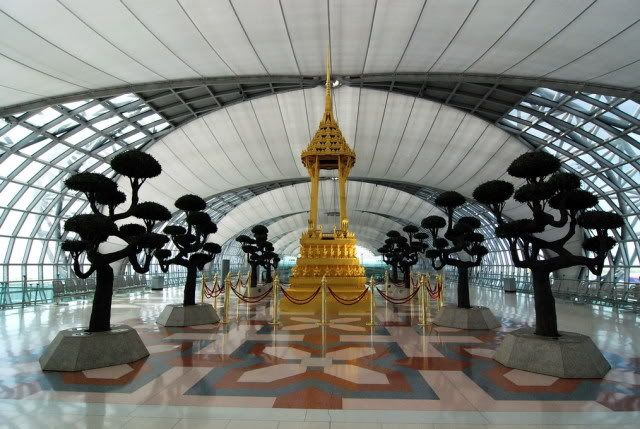 airport >>>
This is Suvarnabhumi two days before the storm. Protests are in full swing at Government House and in parts of town, and already, there is talk they're aiming for the airport. Thousands of passengers pass through this hub – the region's busiest – blissfully unaware that it will soon be paralyzed for a whole week. Below, TG's Royal Silk (Business) Class check-in desks are busy in a business-as-usual mode. Economy is full on this flight, so I fork out a little more for J class.
The fast track immigration desks are close to the Royal Silk Class check-in, and they bring you immediately to the sign below. If you take the escalators, you'll reach the Royal Silk Lounge at Concourse D, the largest of TG's many lounges at the airport. Today, it's totally packed out, so I move on.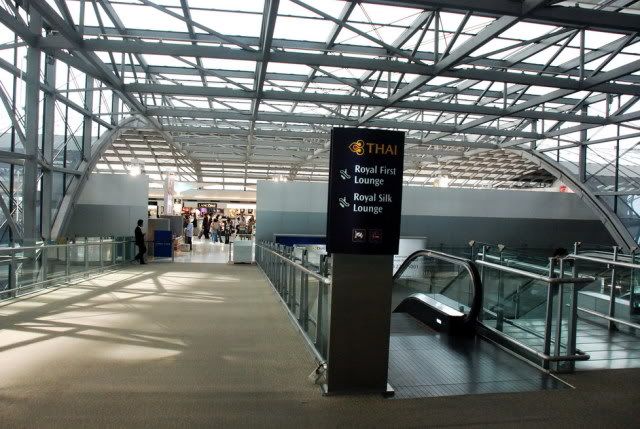 I next try one of TG's two lounges at Concourse C, which is a bit quieter; but as usual, I quickly tire of the confines of the place and nomad-like, move on to the next one.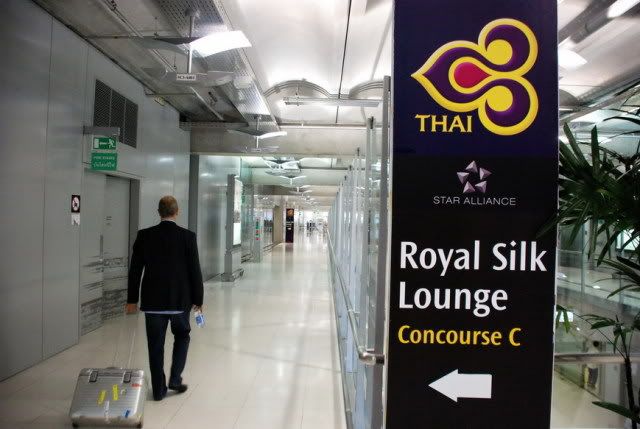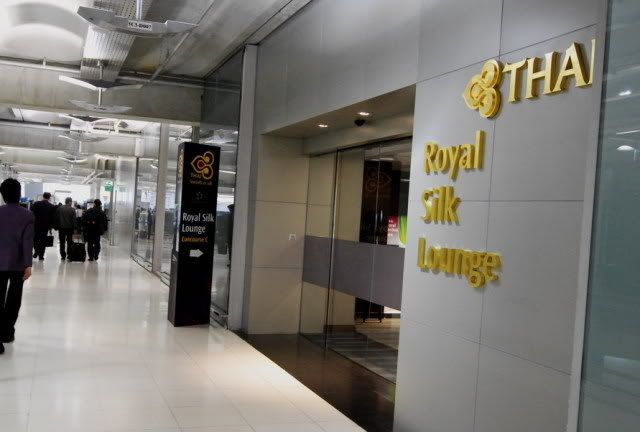 I am curious to see the Royal Orchid Spa – unlike many of the other lounges which are open to Star Alliance members, this one is only for the use of TG's own F and J class passengers, so today is a rare opportunity to see it. I went in hopes of taking pictures only, but am talked into a 15-minute neck and shoulder massage instead; which – for this novice – is rather more pain than relaxation! There's a nice feel to this lounge though: cool, serene and (apart from the muted moans from one SIN-bound passenger) quiet, as spas should be, I guess.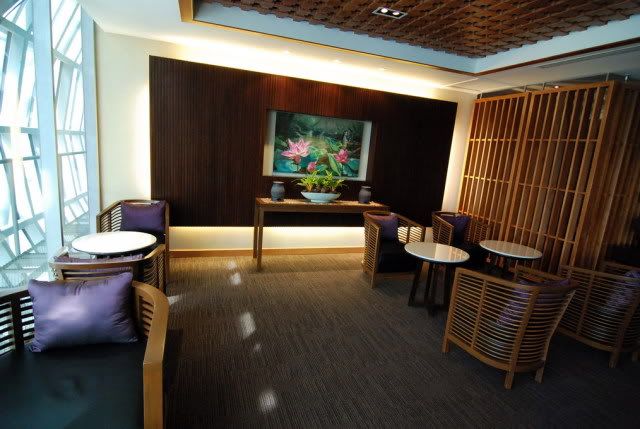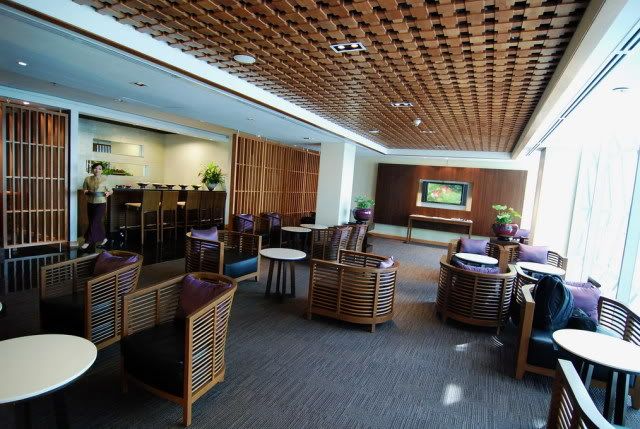 My attempt at taking more photos was stopped firmly, but politely. Sorry Sir, you can take pictures of the lounge area but not the inside of the spa. Please enjoy your herbal tea…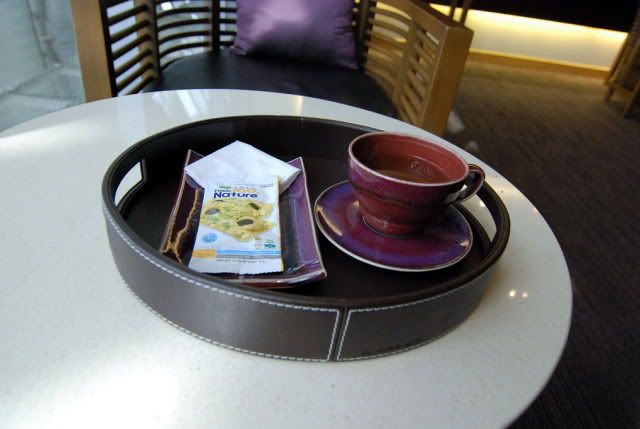 Having exhausted my photo opportunities at the spa, I move on again. Next door, I find another TG lounge, but as I don't seem to fit into any of these categories, I saunter off towards the gate with still plenty of time to spare.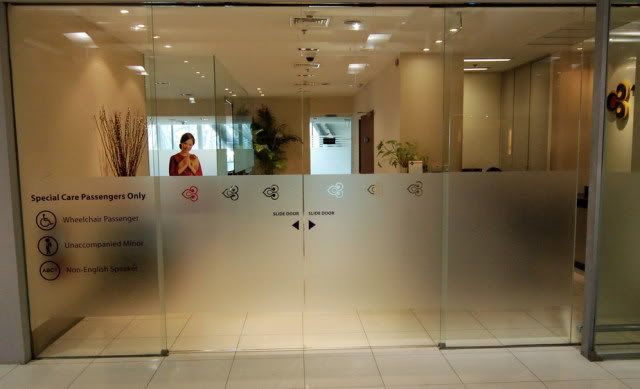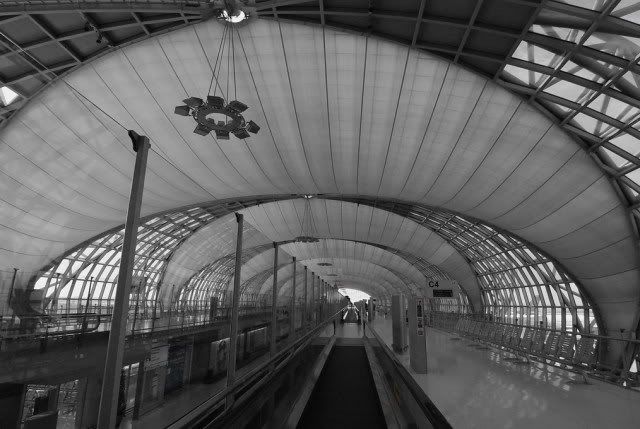 Architecturally, Suvarnabhumi is another stunning airport. What a shame, the overly complicated, multi-level design makes it such a nuisance to use.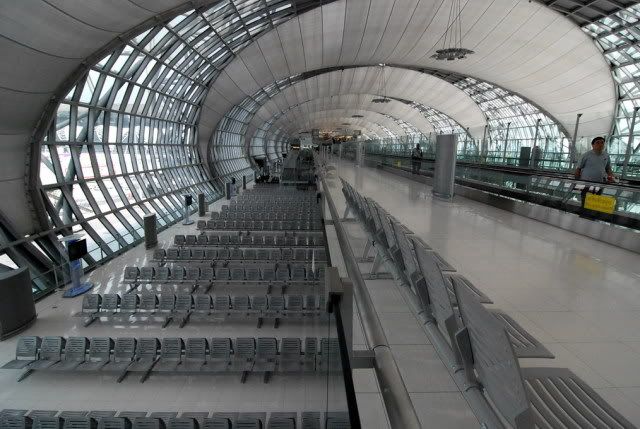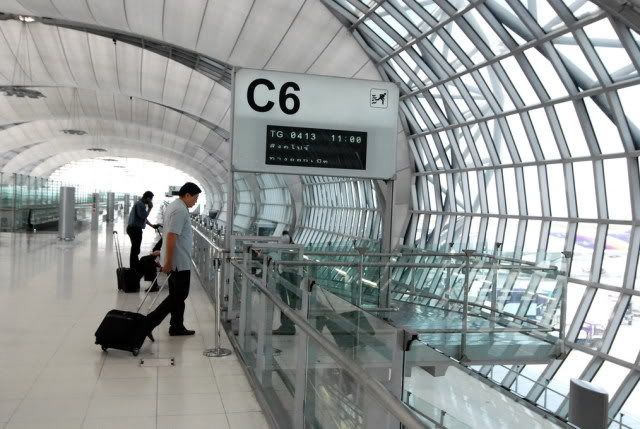 Boarding for TG 413 to Singapore is from gate C6. I look out at the tarmac, half expecting an aircraft substitution – maybe it'll be an A300-600 or something equally sinister? But not to fear, it's a four-holer all right.
And guess what, it's HS-TLA again!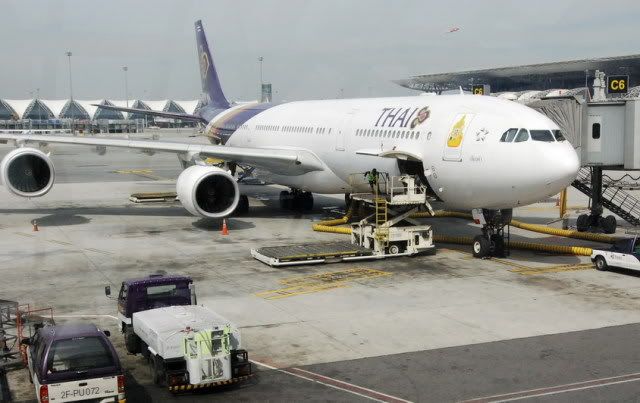 departure >>>
Thai Airways International
Bangkok – Singapore on TG 413
Airbus 340-541 HS-TLA
Dep: 1055 Arr: 1412 (on time)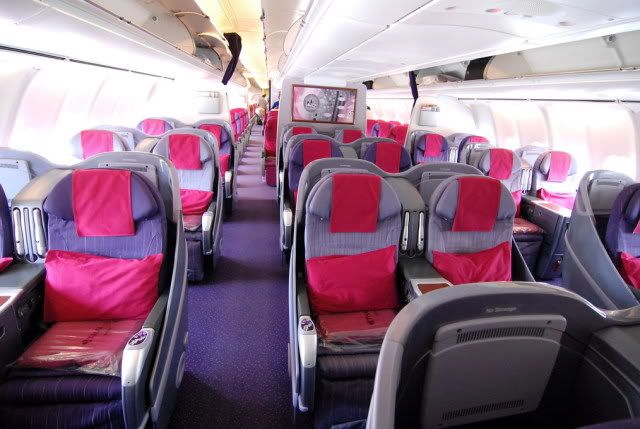 There are only 4 passengers, including me, seated in the back Royal Silk Class cabin; the front cabin is somewhat busier. Although quite a number of airlines use these generic J class sleeper seats, there's something about the TG color scheme and cabin that makes them seem nicer than the rest.
Welcome drinks are served, menus distributed and lunch orders taken while we're still on the ground. Khun Kannika, who leads the team today, comes round to say hello – but ends up chatting for a long time after she discovers I am aboard today "because of the A340-500". She tells me there are 20 passengers in J class today, but economy is full. She doesn't know about A.net ("I try not think about work… when I am not flying, I am with my kids and praying to God," she says) but does know why this plane is still in the TG fleet. Kannika points to the Trents outside: it's four-engines, uses a lot of fuel. "I guess no one wants to buy this plane," she says with a sigh.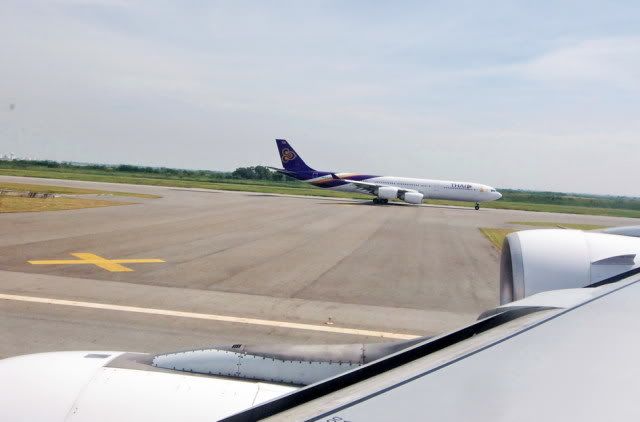 We push back five minutes early, taxi past another A345 and head away south towards Singapore.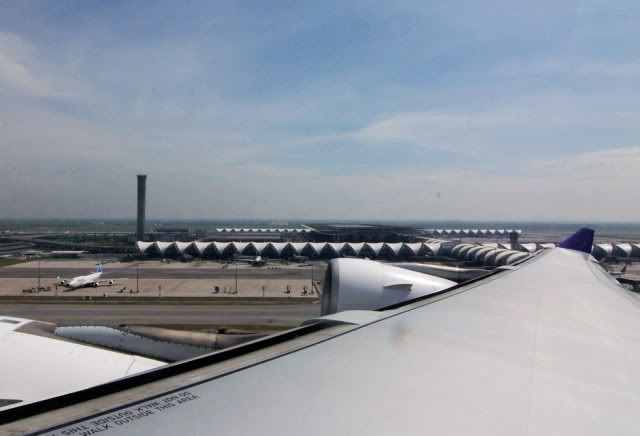 inflight >>>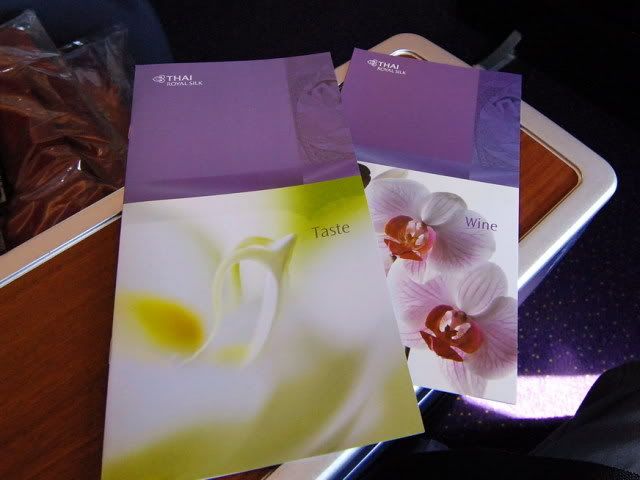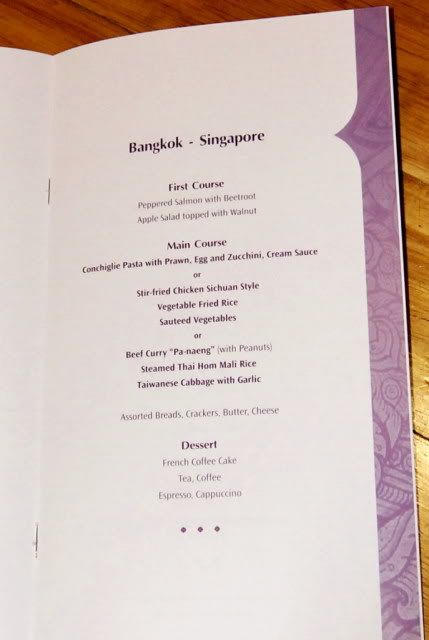 A glass of TG's excellent iced lemon tea is a great way to start the Royal Silk Class experience. As this is the 'insurance' flight, I take it easier and become more passenger than trip reporter. This flight is to be savored.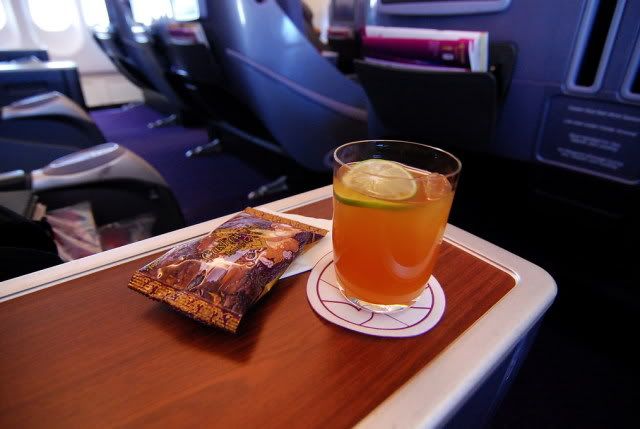 Lunch service starts promptly the moment we're at cruising altitude. First, the peppered salmon appetizer to start.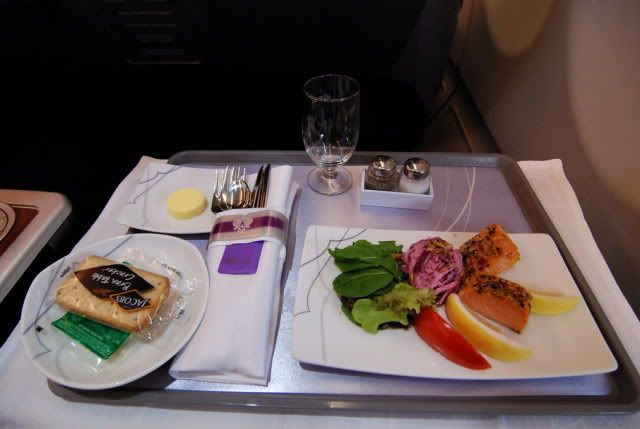 This is followed by a very delicious beef curry.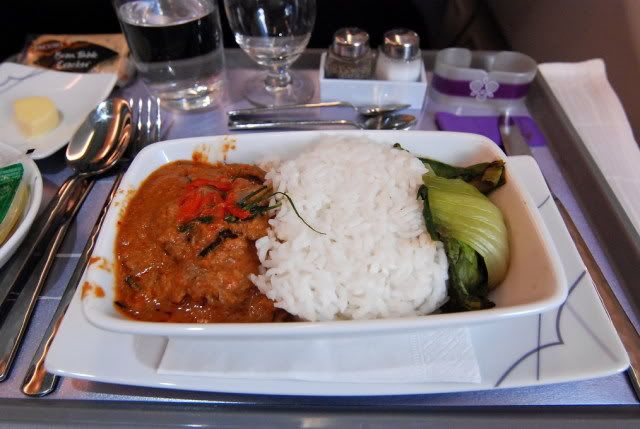 Dessert and liqueurs are served from the trolley. The cake and coffee round-off a very satisfying meal.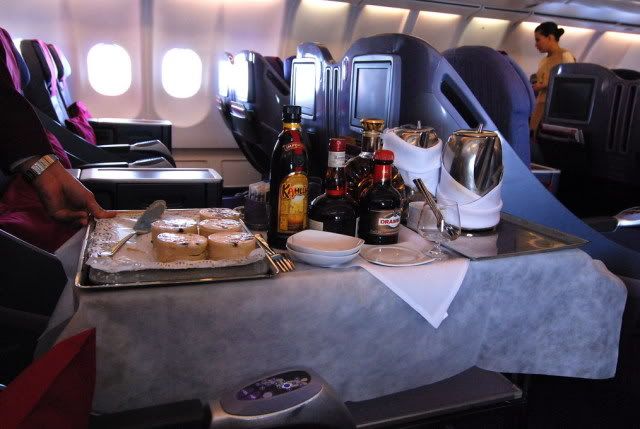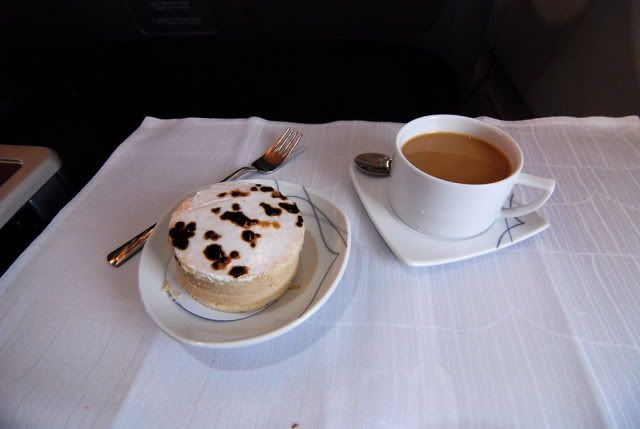 The BKK-SIN flight is only marginally longer than the KUL-BKK service, so there's really not much time to sit back and watch a movie or have a snooze. But there is time to reflect on my adventures this weekend, which is personally satisfying – even if a little extravagant in these troubled times. There still are plenty of A340-500s flying today, and some are even being newly delivered, but their use will be confined to specific routes and airlines not easily accessible to all. I'm almost certain the A340-500 will join the likes of the B747SP in achieving a unique status as one of those special rare birds. I am just grateful I had this opportunity.
Flying in an empty-ish cabin also allows me to take more pics. Even though I didn't get the opportunity to sleep in it, here's my seat in sloping bed mode.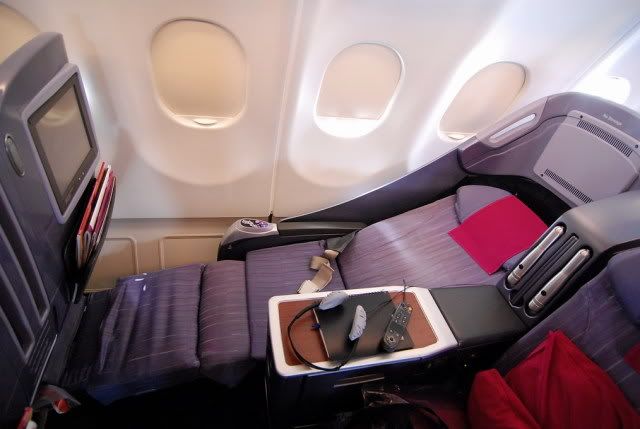 arrival >>>
All too soon, we're descending into Singapore Changi. We land on time despite the bumps as we break through dark clouds heavy with rain. As I bid farewell to HS-TLA, small droplets have already started trickling down the window panes.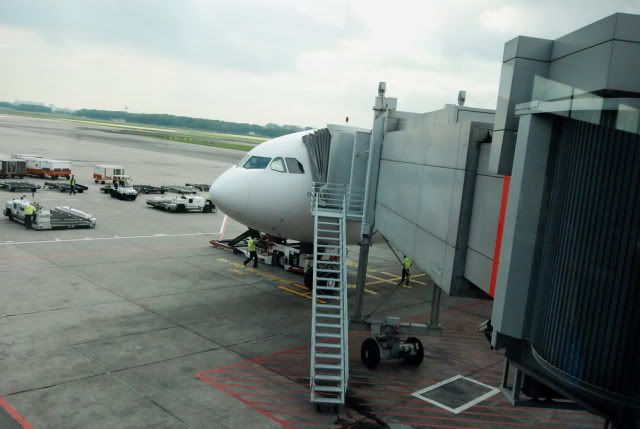 By the time I board my SQ B772 connection to Kuala Lumpur, Sunday afternoon had been completely washed out.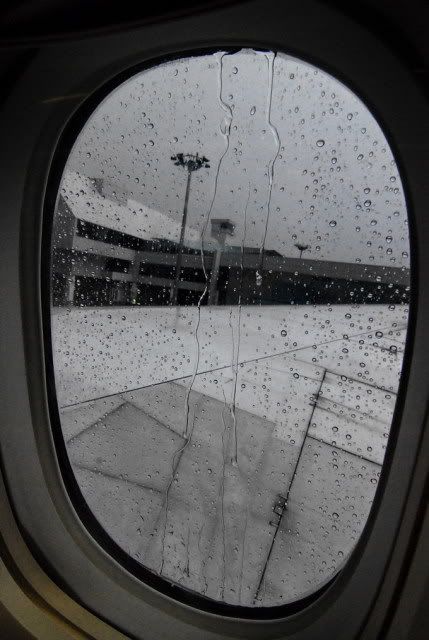 Thank you for reading.