An unexpected meeting in Brussels caused that I needed to go to BRU on short notice.
With the timing at 10.00 in the morning it was the best option to go and fly on KLM Cityhopper as otherwise I would need to pass by Amsterdam, Rotterdam, Antwerp and Brussels during rush hour.
I booked some tickets just 3 days on forehand and I was actually looking forward to it, as it has been a while since I flew on a Fokker 50, the aircraft planned for the morning flight to BRU.
The return flight in the afternoon was scheduled as a Fokker 100, a new type for the log.
Also BRU would be a new addition to my log.
At 04.40 I hit the roads to the airport and actually I was surprised to see traffic already so busy at this hour of the day. It took me 1,5hrs to get to the airport, where I usually need 1hr.
I made my check-in just in time at the crew desk of KL. This was possible since I had a paper ticket stating STAFF ON DUTY, although I'm not KL staff!
Security check was light this morning and I made my way to the B-concourse where the bus-gates to the commuter apron are located.
I was just in time at the gate to get the first bus, a Cobus2700, to the apron.
With 2 flights on the Fokker 50, the odds to get a new registration are good.
We drove of and headed to an area where a Fokker 50 and a Fokker 70 were parked.
The Fokker 50 was PH-LXR which is covered twice on a total of two flights on the Fokker 50 so I wasn't excited at all!
But luckily we passed her and stopped at the L1 door of the Fokker 70.
Flight: KL1721
Stretch: AMS-BRU
Date: 4-DEC-2008
Aircraft: Fokker F70 (cn11577)
Registration: PH-KZF
Delivered: 28-10-1996
Seat: 15E
Loadfactor: 85%
2nd flight on the Fokker 70 and the 1st on this machine.
We boarded via built-in stairs the Fokker is equipped with and I was the 2nd person on the plane. We were welcomed by two female attendants, one very friendly, the other a bit short of sleep I guess. On this flight I had a middle seat, which was a pity, but sometimes it happens.
Cabin view of the Fokker 70
For pictures it made no difference since it was still dark outside.
After a second bus arrived with some late passengers, the doors were closed quickly and soon we started our engines and taxied to the active runway. Meanwhile also the manual safety instructions were done. Taxi time was short, as we were assigned rwy24 for departure. Take off was rather powerful and we headed to the dark skies above.
As this is a very short flight, I think even the shortest in the KL network(according flightmemory.com only 157km), the cabin crew started service only minutes after take off.
We were all served a tiny cup of Orange juice and a chocolate cookie.
The service was followed by a short message from the flightdeck, about the weather situation in BRU, which was rather cold at 1°C.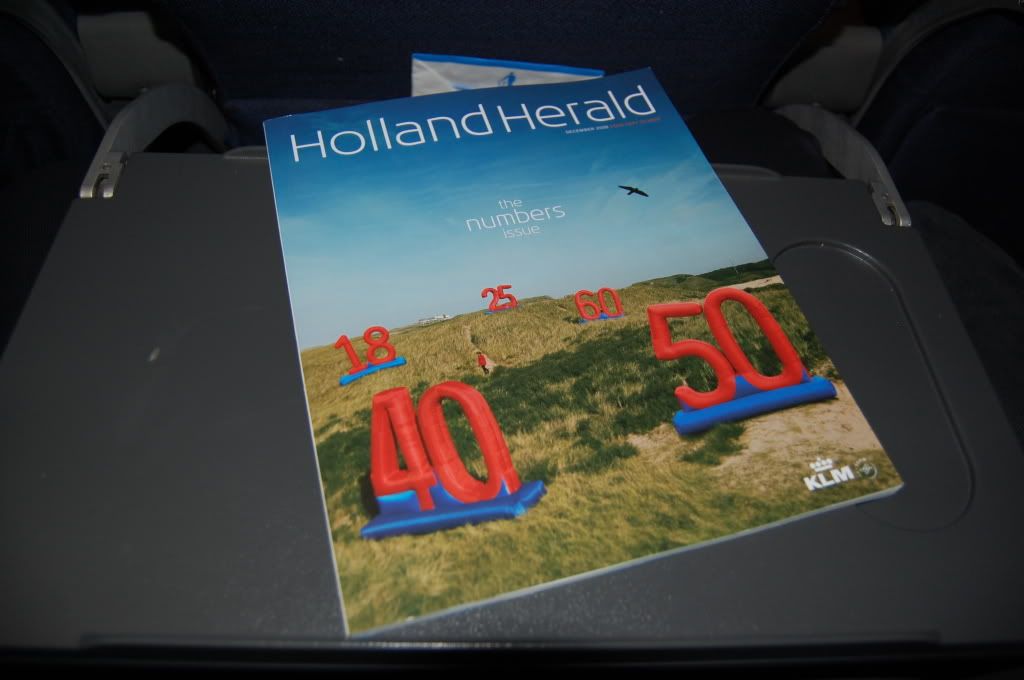 Holland Herald, KLM's inflight magazine
Directly after this info we started our descent into BRU, and soon we landed very very smooth on the Belgian Tarmac. A short taxi to our gate in the new terminal and we were in BRU. Total flying time was just over 20 minutes, which is really short!
Since I never was at the passengers side of BRU airport, I didn't know what to expect and just followed the signs EXIT. Actually I was surprised as it was a 15 minute walk to get outside, almost as long as the flight itself!
One of my colleagues picked me up and we drove off to the office.
After the meeting I was brought back to the terminal and I had some spare time since I missed my planned flight….
I grabbed some Pizza at the PizzaHut and decided to make some pics.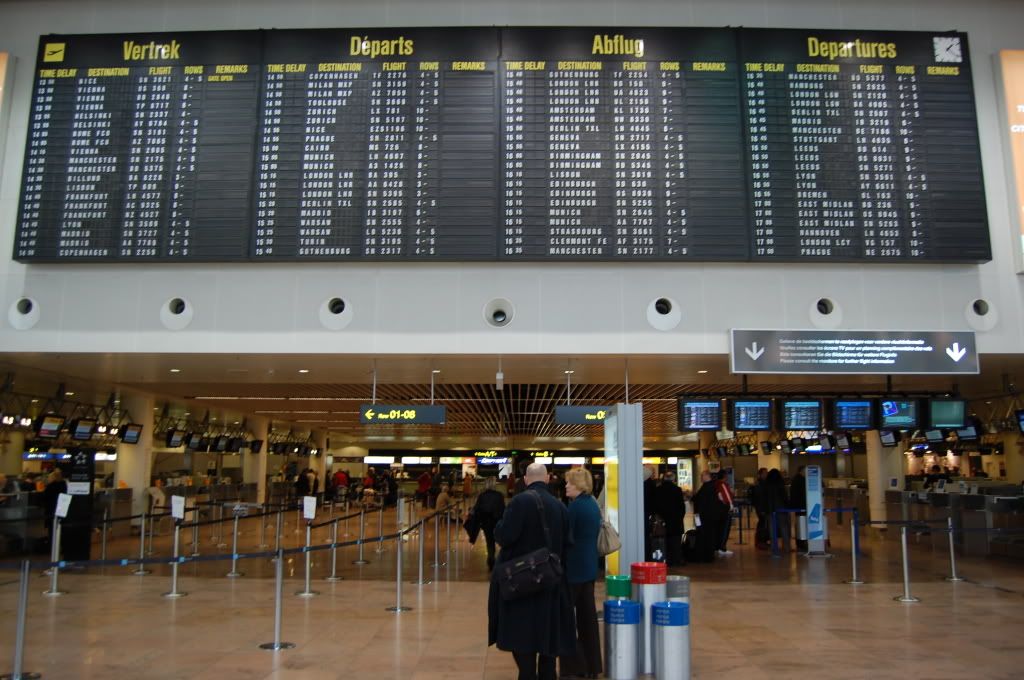 Departures on the old fashioned screen
Departures Hall at BRU
After check in was opened I checked in, which took a while since the agent had some trouble with her system.
Then I started the long walk to the departure gate, which was A58.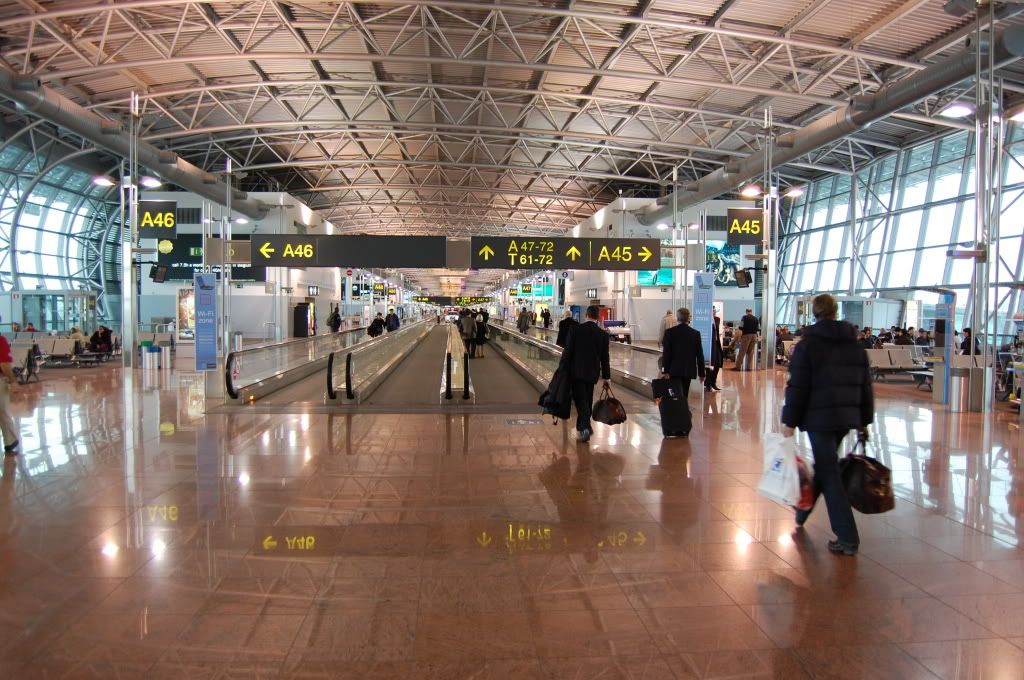 As you can see, the new terminal is very modern, clean, and roomy. I like it very much.
Still over an hour to kill before my flight leaves, so picture time. I selected a clean window and started shooting the very interesting mix of airplanes calling at BRU.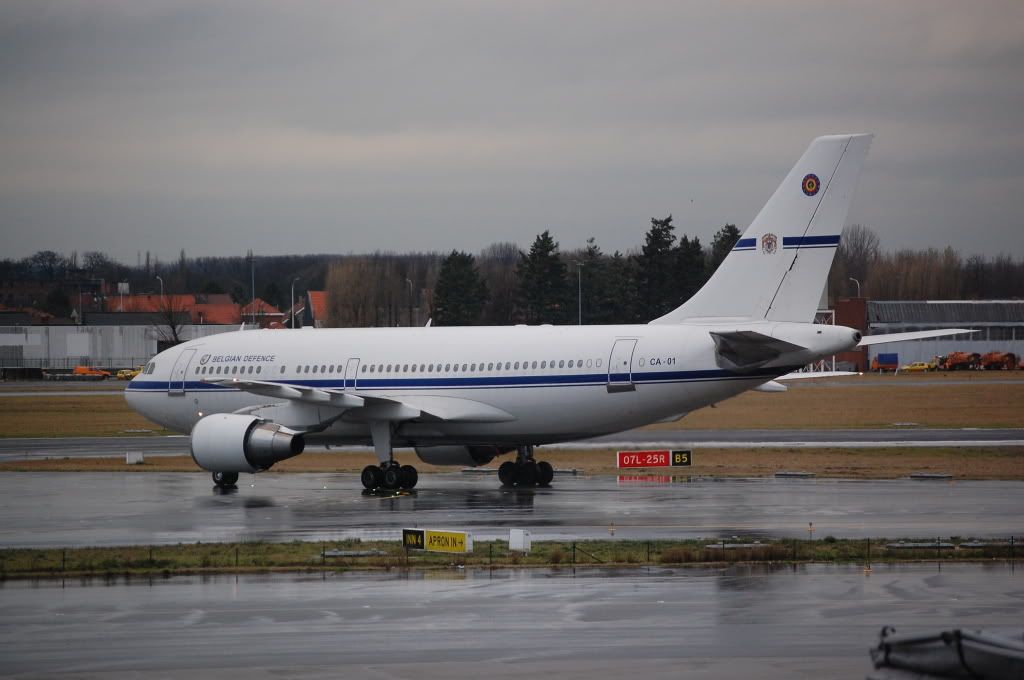 Belgian Defence Airbus A310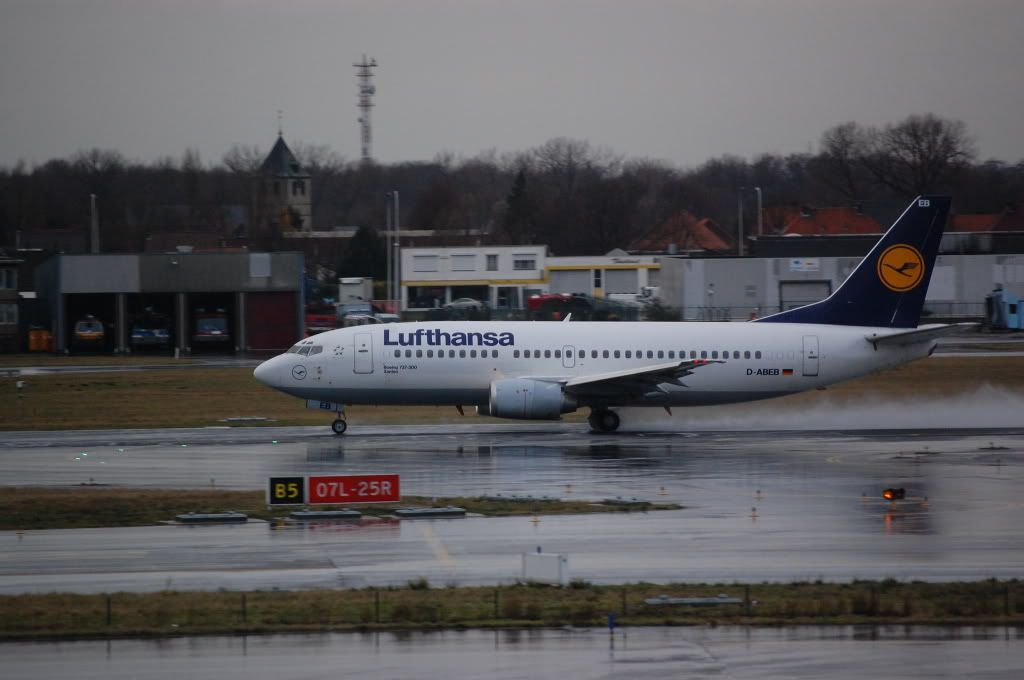 LH 737-300
SN Avro RJ100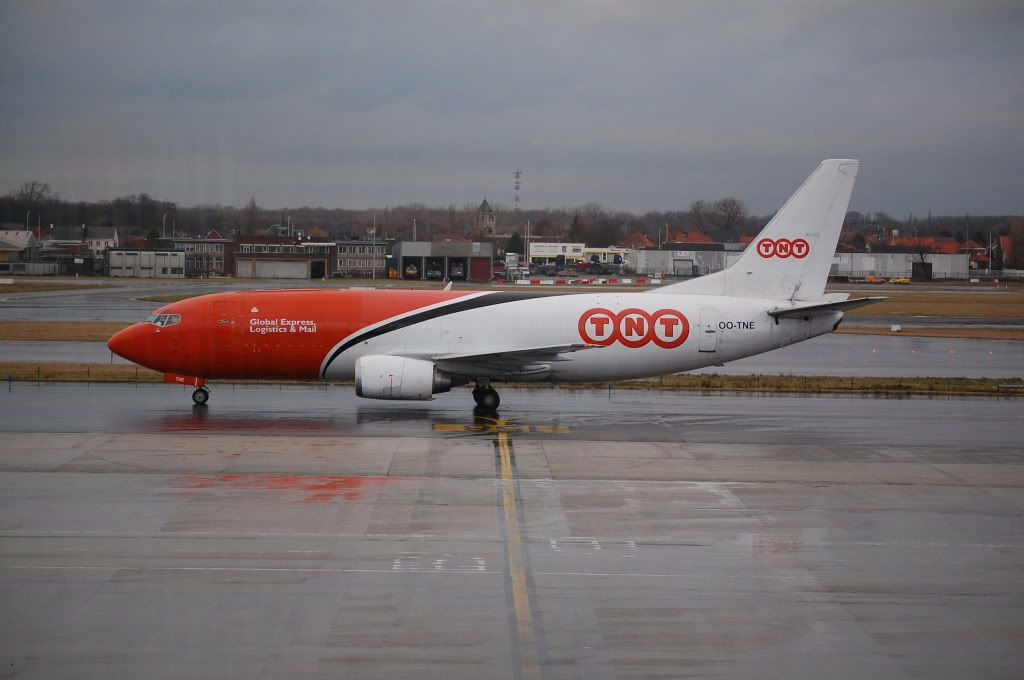 TNT 737-300F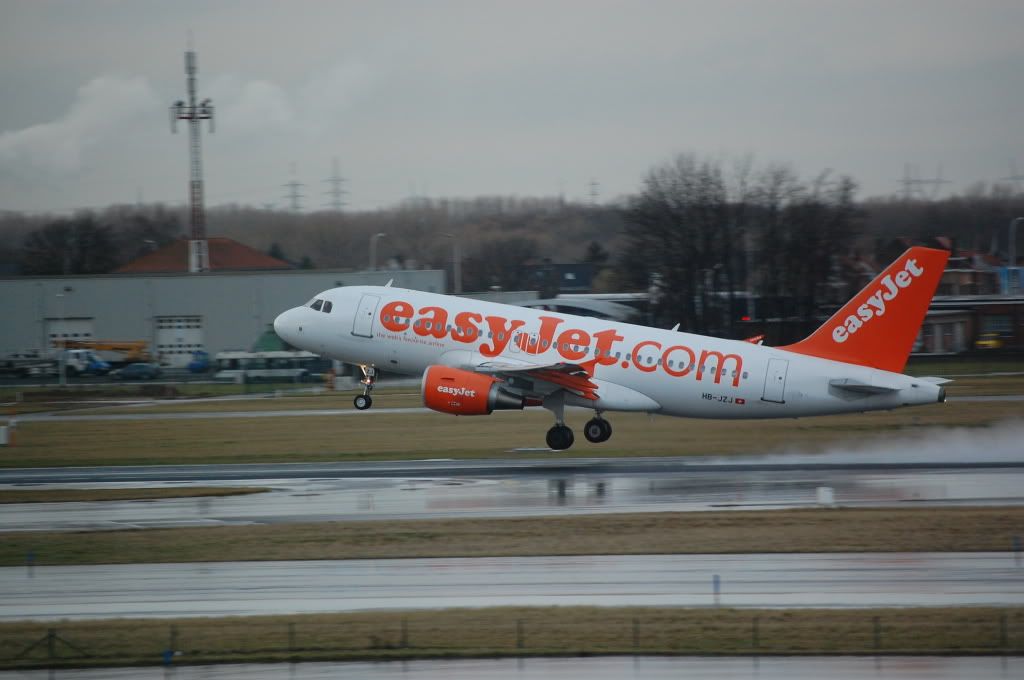 U2 319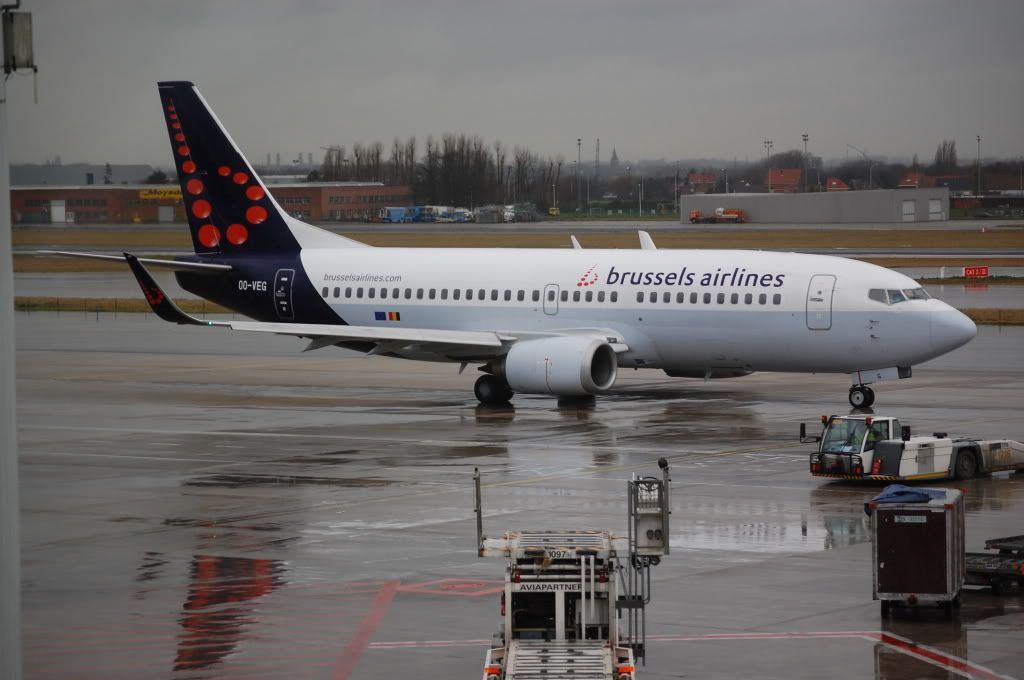 Wingletted SN 737-300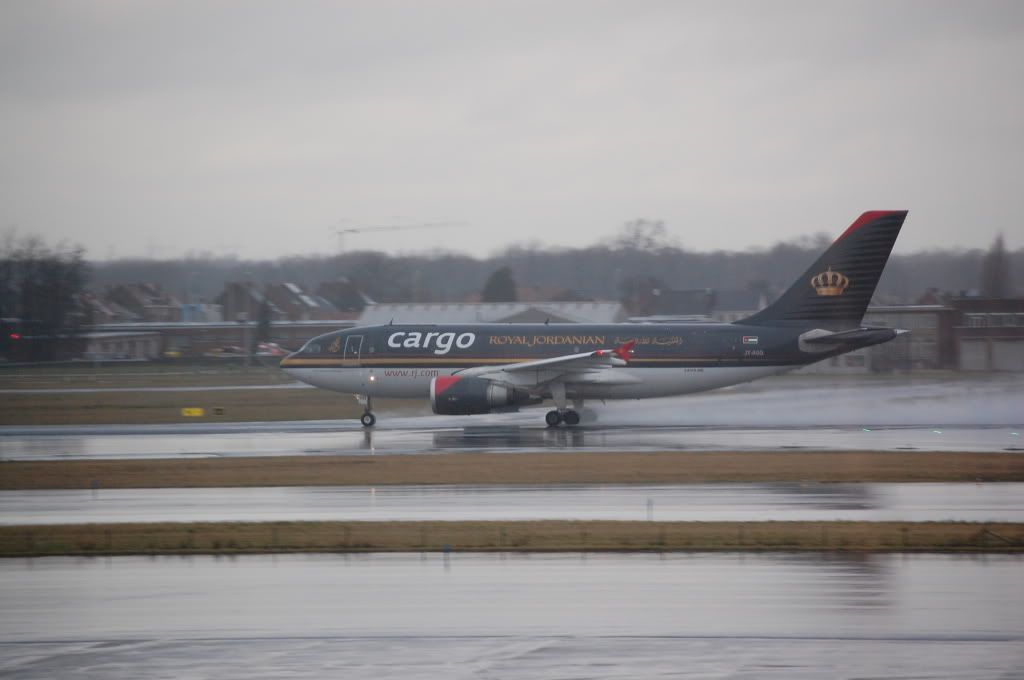 RJ A310 Freighter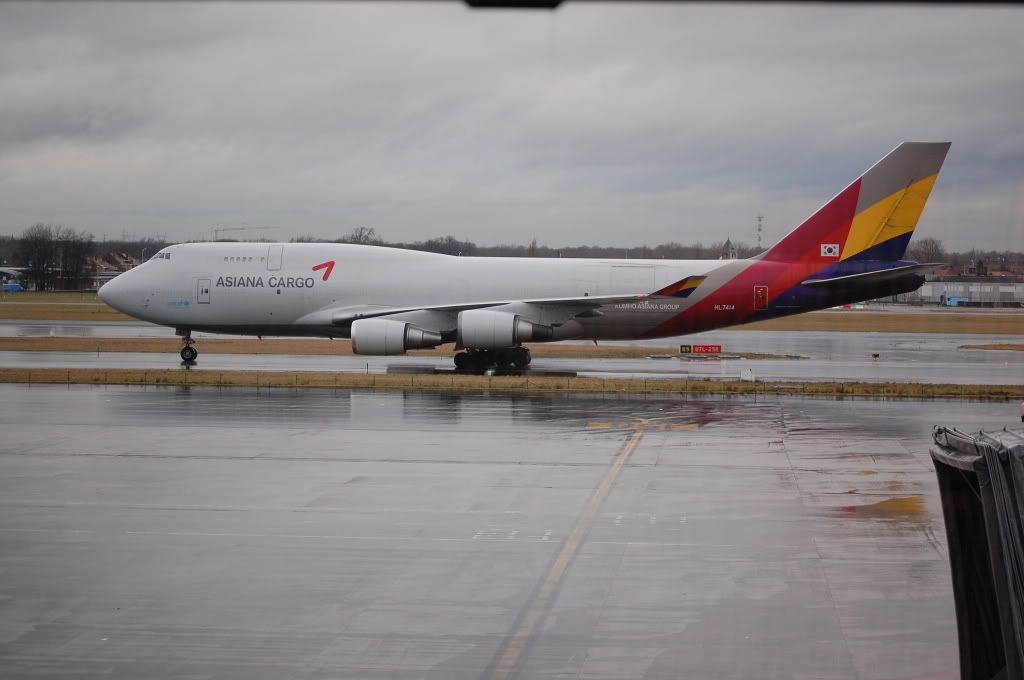 Asiana 747-400F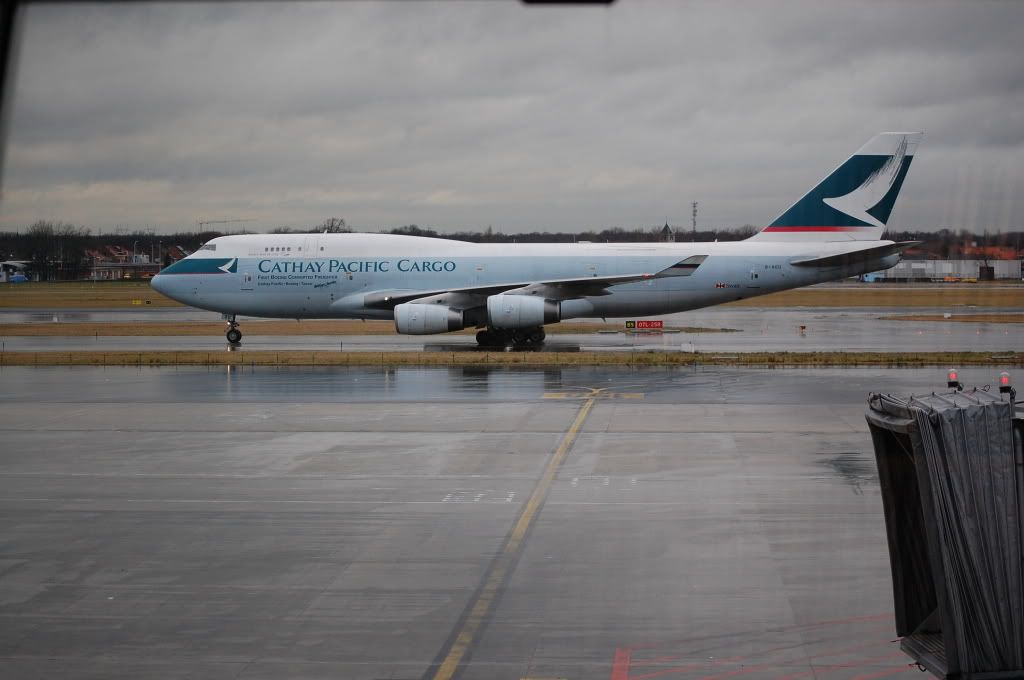 CX The virst ever built 747-400BCF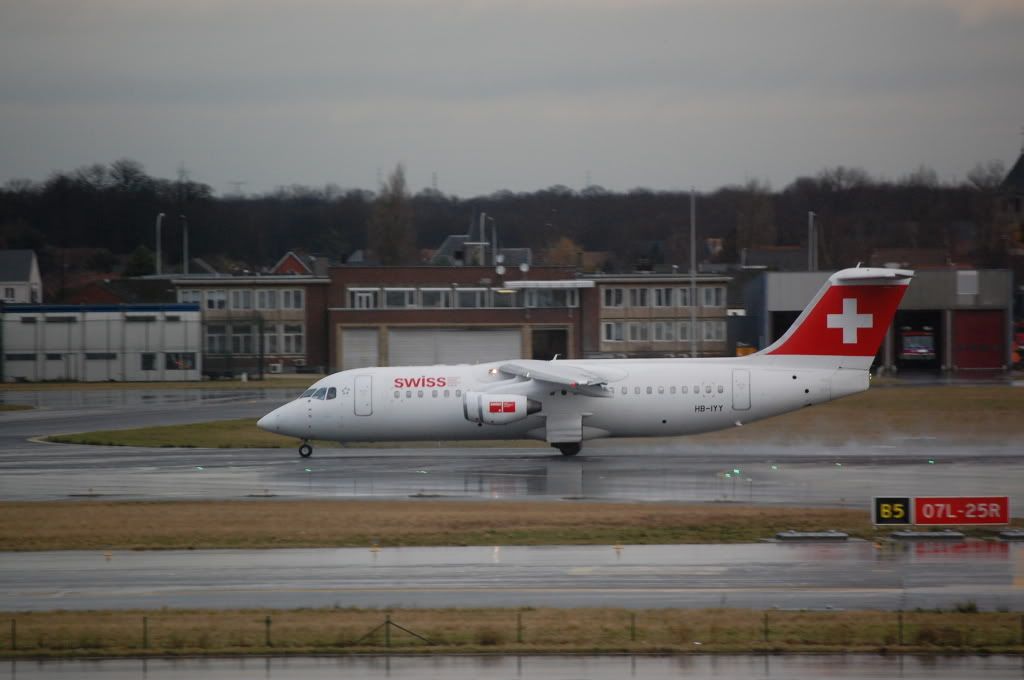 LX RJ100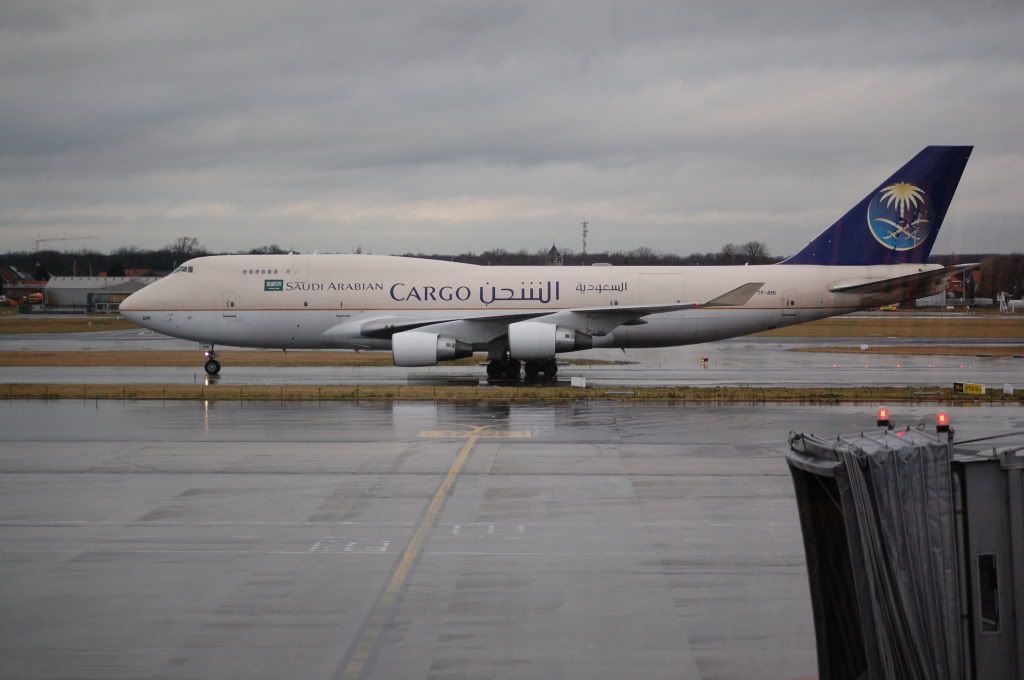 SV 747-400F ( operated by Air Atlanta Icelandic )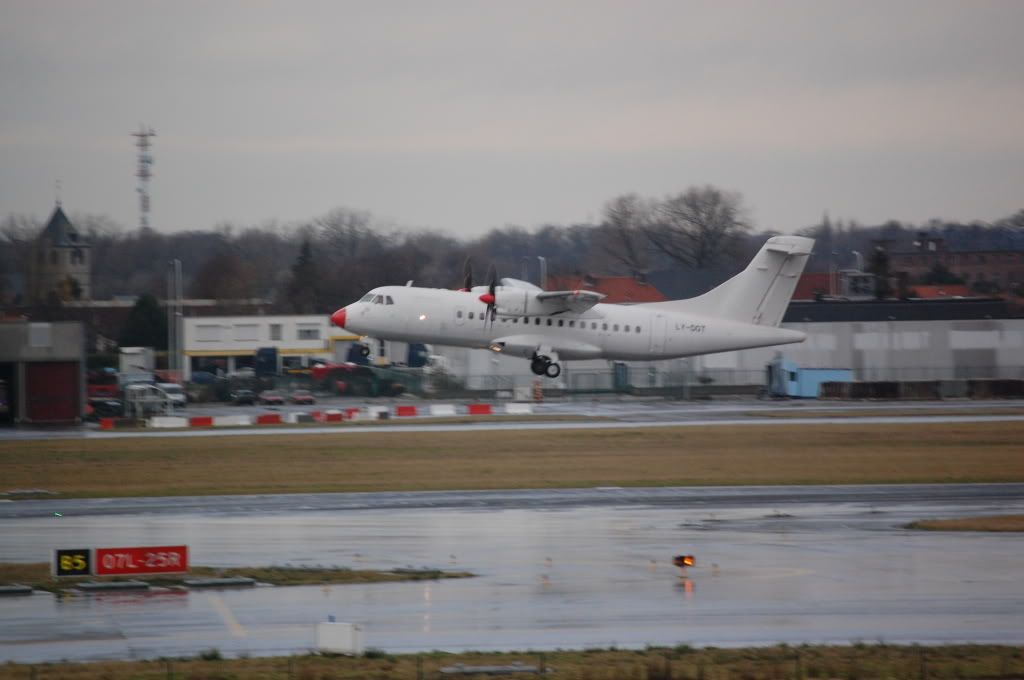 Unknown ATR Freighter
Time flew by, and soon a somewhat dirty Fokker 50 popped up out of the blue.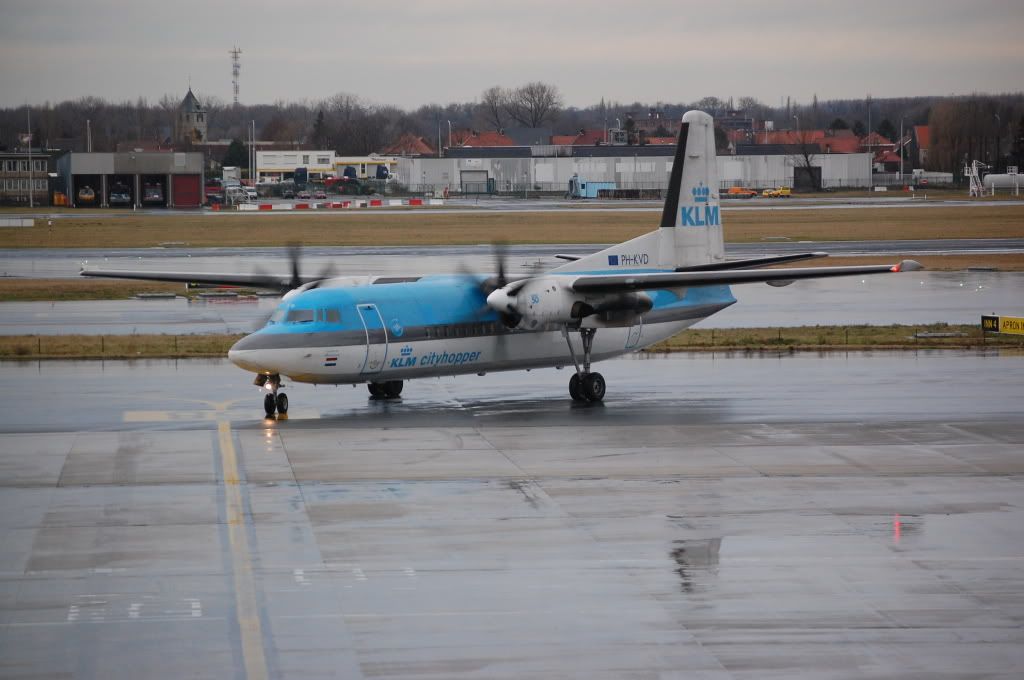 Friendly captain waving to me
Flight: KL1730
Stretch: BRU-AMS
Date: 4-DEC-2008
Aircraft: Fokker F50 (cn20197)
Registration: PH-KVD
Delivered: 15-10-1990
Seat: 11F
Loadfactor: 75%
3rd flight on the Fokker 50 and the 1st on this machine.
Boarding started only minutes after the last passengers left the inbound flight.
This time I had a window seat just after the wing, so I had some views, only the window was very dirty. Cabin crew were 2 very nice and handsome female attendants.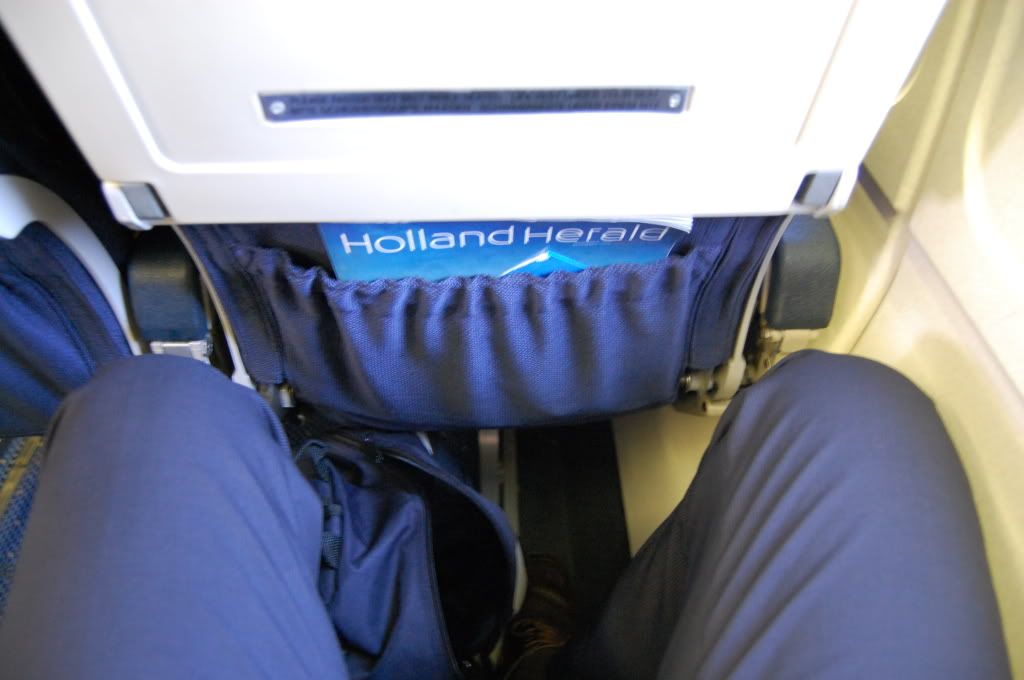 Good legroom on the Fokker 50
Behind me was a young woman shaking as she was cold, and one of the attendant instantly grabbed a bright blue blanket for her to put over her legs. Super service I think!
Still I managed to make some pictures in-flight, but quality is a tad lower than usually.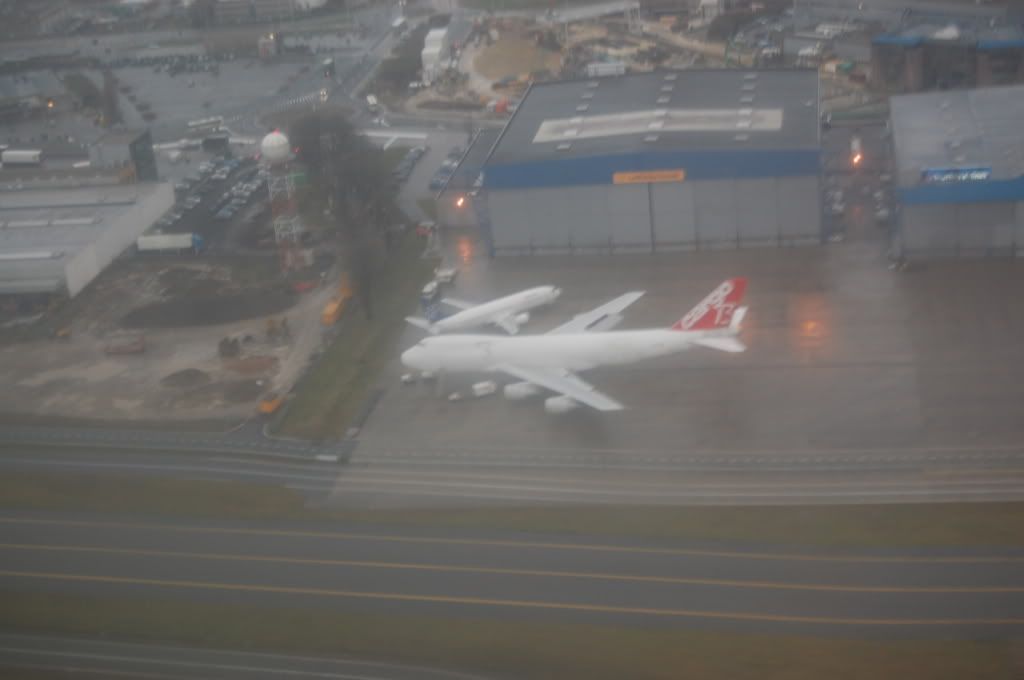 This Cargo B B747-200F fell on its tail during loading earlier that week.
Push-back was also quick, and soon we taxied to the active rwy. I must say that I love the sound of a turboprop engine, and the shaky feeling it creates.
Take off was more powerful than expected, but therefore also very nice!
Our climb was a bit bumpy. But going through the could layers it was very comfortable and nice!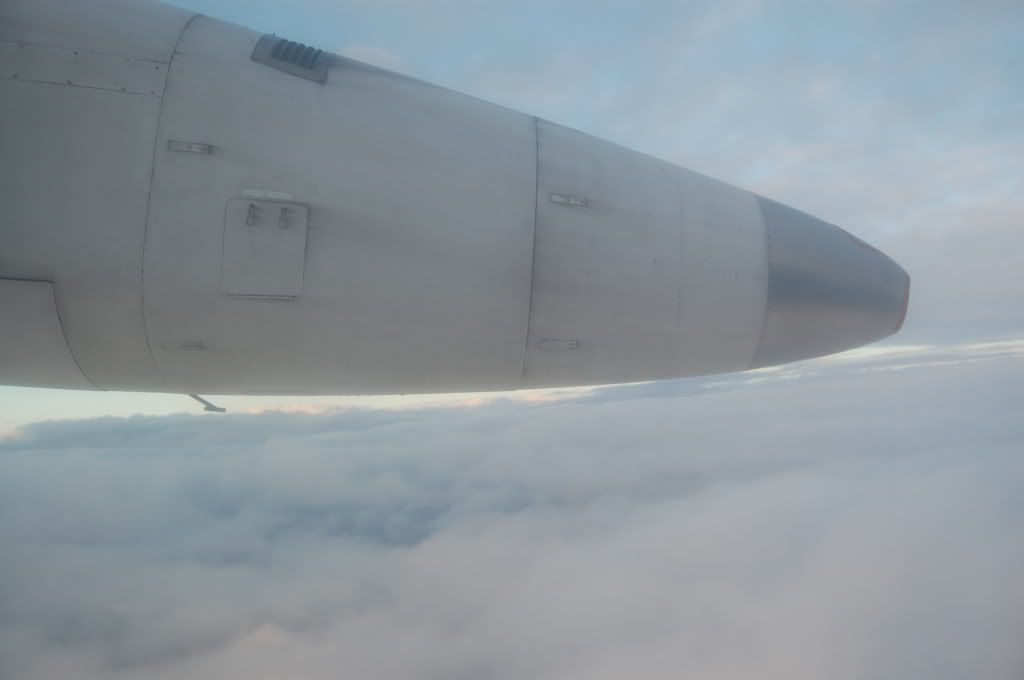 Service was the same as the morning flight. The captain came on the speakers telling us that the descent would be very bumpy due to the weather in The Netherlands, with strong winds and snow-showers.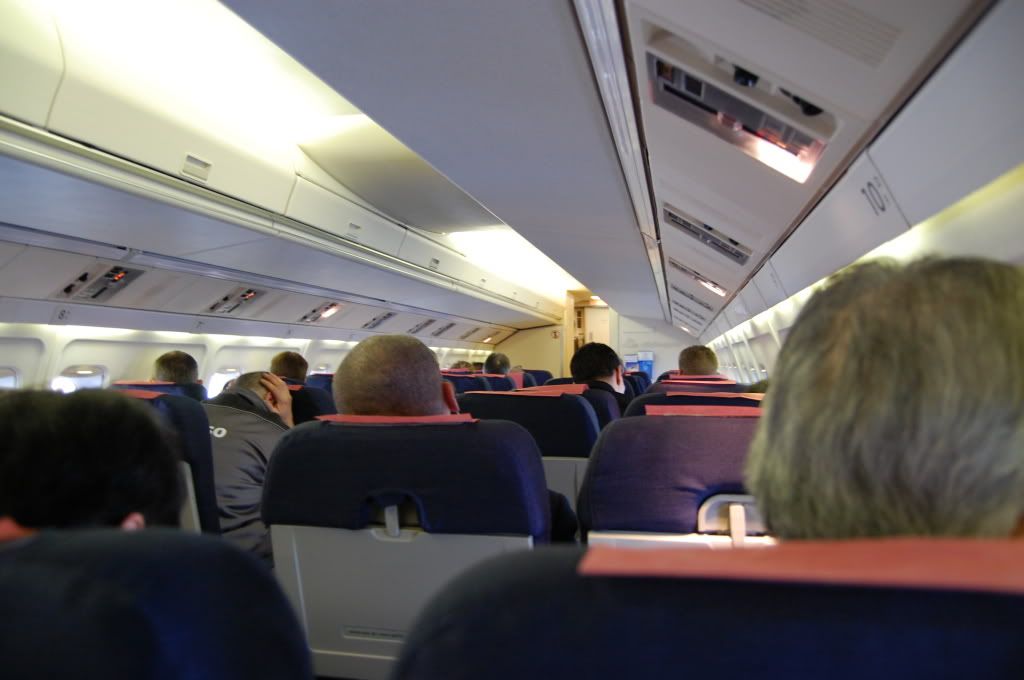 Old-Fashioned Cabin lay-out on the Fokker 50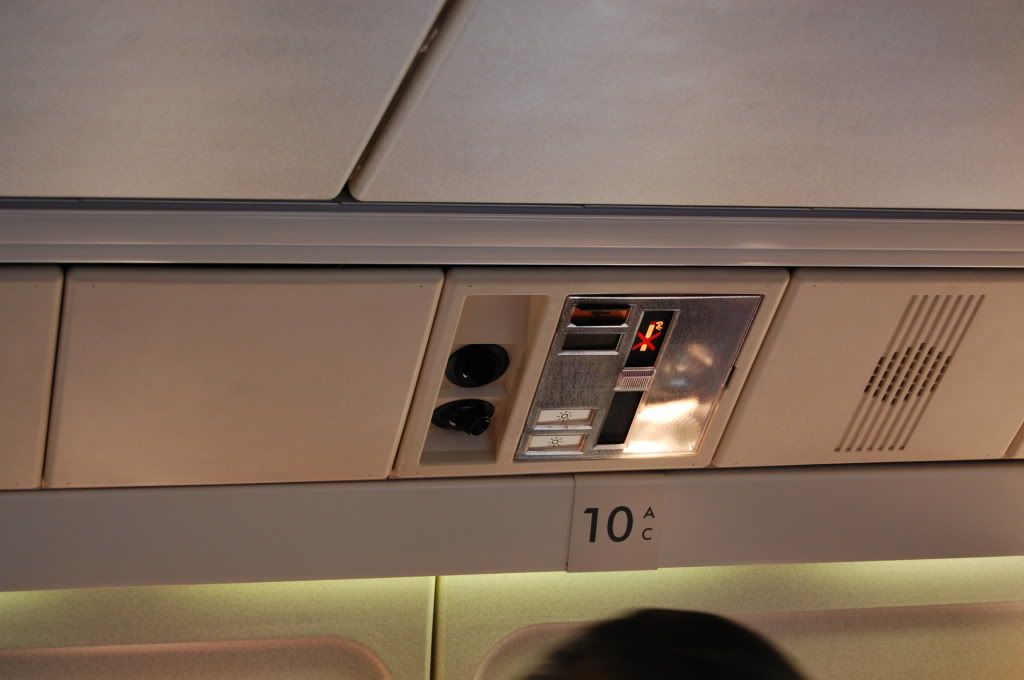 More old fashioned styling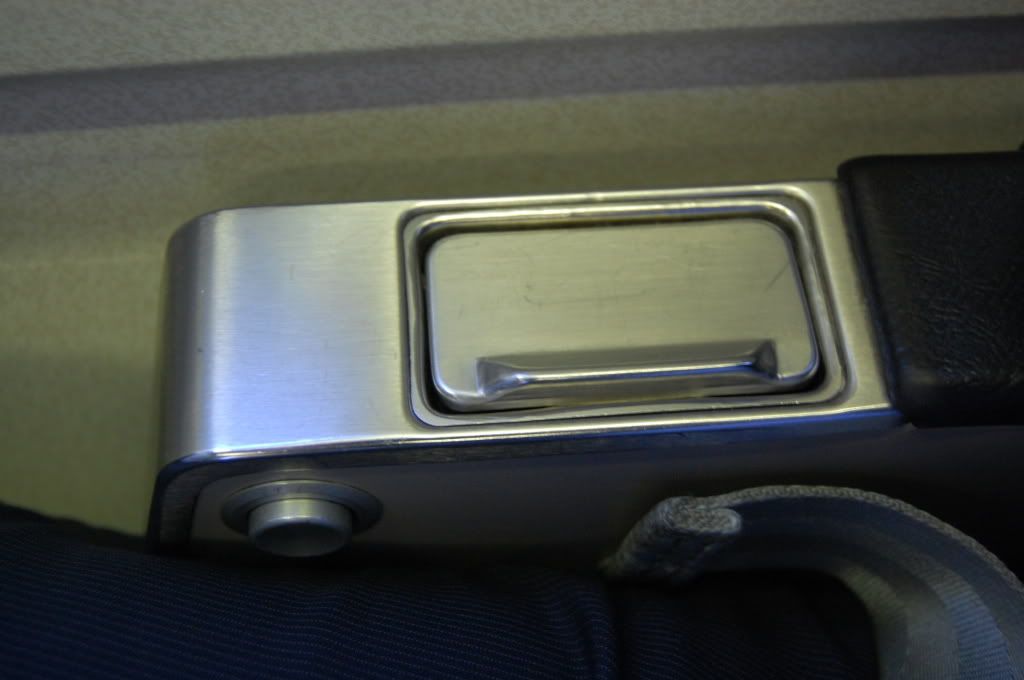 Even ash-trays still on board this aircraft.
No word too much, as the descent was indeed very bumpy! Especially since I was seated at the rear side of the aircraft. I liked it a lot! I must have been the only passenger smiling at that stage!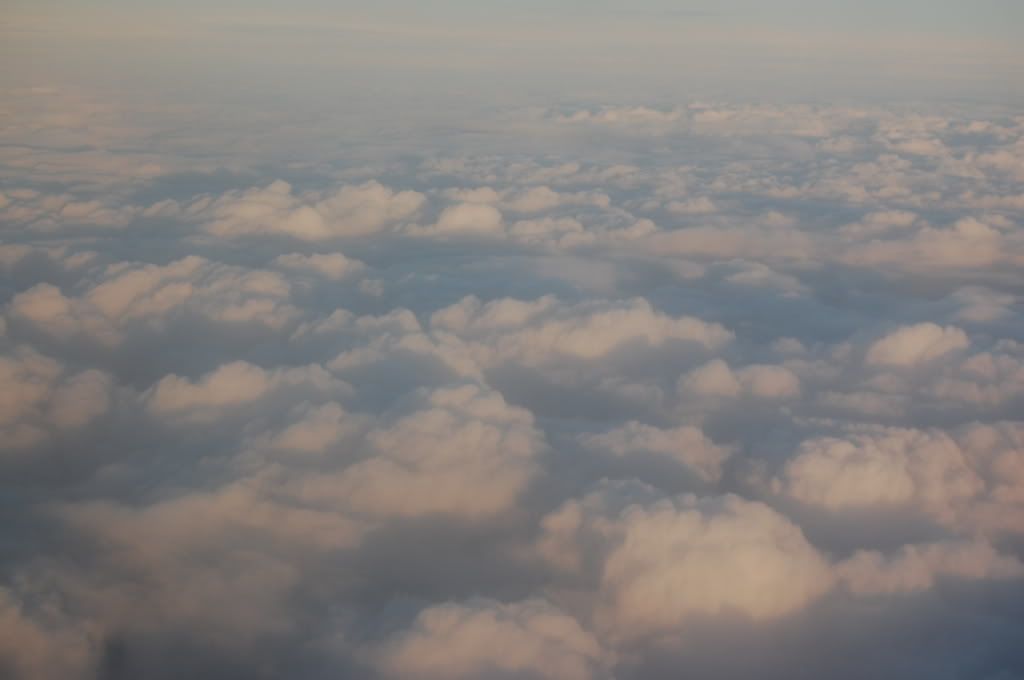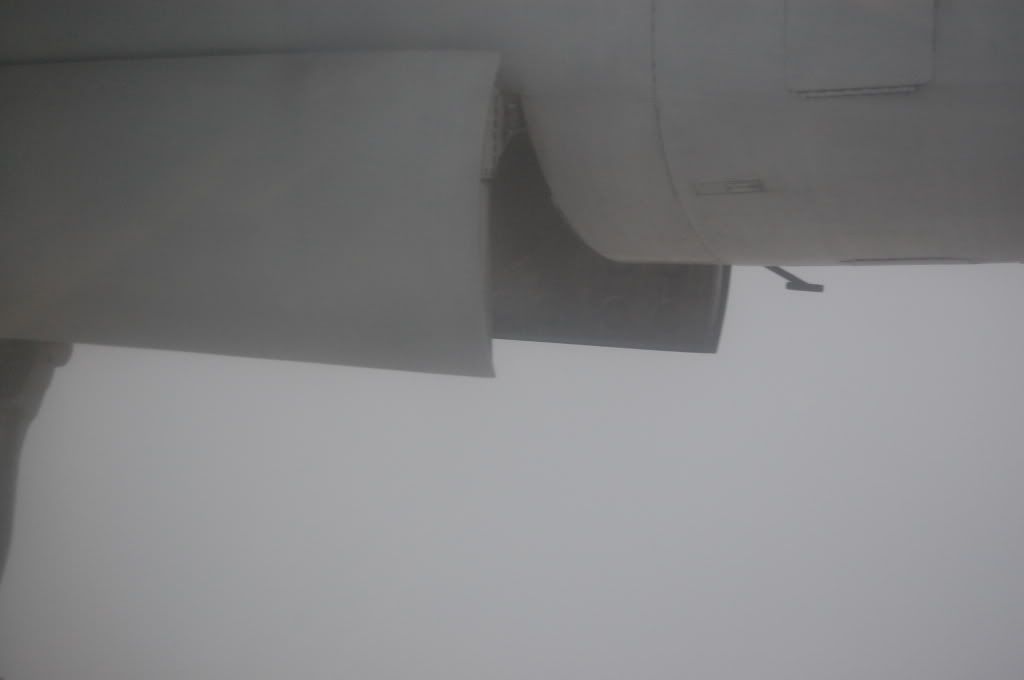 We touched down again very smoothly on rwy18R, which is the infamous Polderbaan.
Taxiing costed us another 15 minutes, which is rather quick.
We disembarked the plane and went into the bus to the Schengen arrivals hall, and soon I was outside, since I only had my camera and laptop with me today.
Thanks for reading my report again, and please feel free to comment.
Joost ( D-ALCE )