Three legs on Aegean Airlines STR-SKG-ATH-CHQ
Giasou, dear readers,
my intention around these trip was, as usual, something new for my log.
But also to see some sun and breath some fresh southern air with the winter months ahead.
Somewhere in Greece seems like a good decision. Chania comes to my mind.
Well, let´s go to Crete and add four new registrations, two new routes and one new airport to my log.
Monday, 17.11.2008
STR (Stuttgart-Echterdingen) - SKG (Thessaloniki-Makedonia)
Duration: 2 hours
Service A3 511 operated by Aegean Airlines Boeing 737-400 SX-BGH
Scheduled: 11.05 // 14.30
Actual: 11.15 // 14.15
Gate: 310 Seat: 26A
Load factor: Around 70%
Fare: 50,43 EUR
History:
25.10.1988: Delivered to Istanbul Airlines
27.03.1996: Further to China Xinhua Airlines
29.04.1998: In service with Cronus Airlines
28.10.2001: Merged to Aegean/Cronus
26.04.2003: And now Aegean Airlines
Leg no. 9 on the B734 and the first on this machine.
My usual try to check-in online was not succesful this time.
Aegean offers self-service check-in only for flights from Athens or with cabin baggage only.
Ok, lets join the desks at STR. Surprisingly only limited traffic that monday morning. Enough time for some spotting near the runway.
Parked the car at P4, a short walk to the terminal and no queues at the three open desks.
Some background around my booking. The flight was bookable by some online agencies, but around 25% more expensive than on Aegeans website.
No question for me, as the always cost sensitive traveller, to book it by Aegean. But while the flight was open in the lowest class, it was impossible to
connect the service with the STR-SKG-ATH legs. Well, finally I´ve done two separate bookings by Aegean and hoped, that it was possible to check my back to my final destination.
The friendly girl at the desk told me, that she will try it to check my bag for CHQ, finally done after some working, but can´t print me a boarding pass for third leg.
I will collect it later at ATH. Ok, passed security without anytime to wait and down the stairs to the ground level where I´ve followed the sunny action outside.
My plane was ontime announced from SKG and so it was.
STR arrivals board: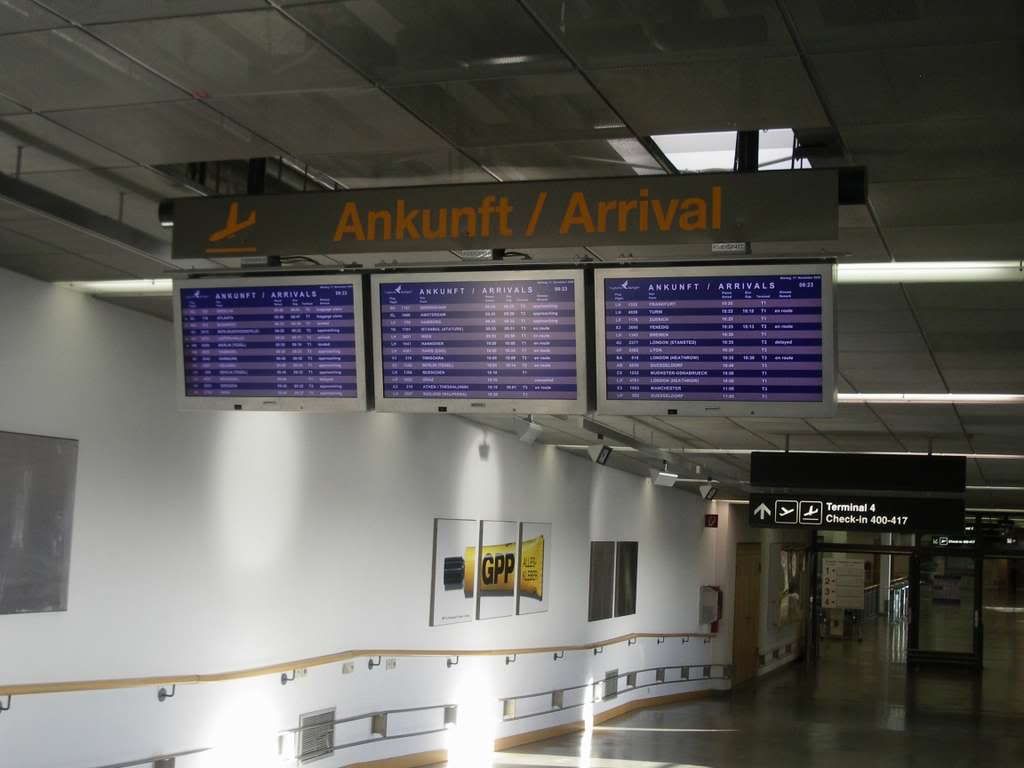 Aegean on finals: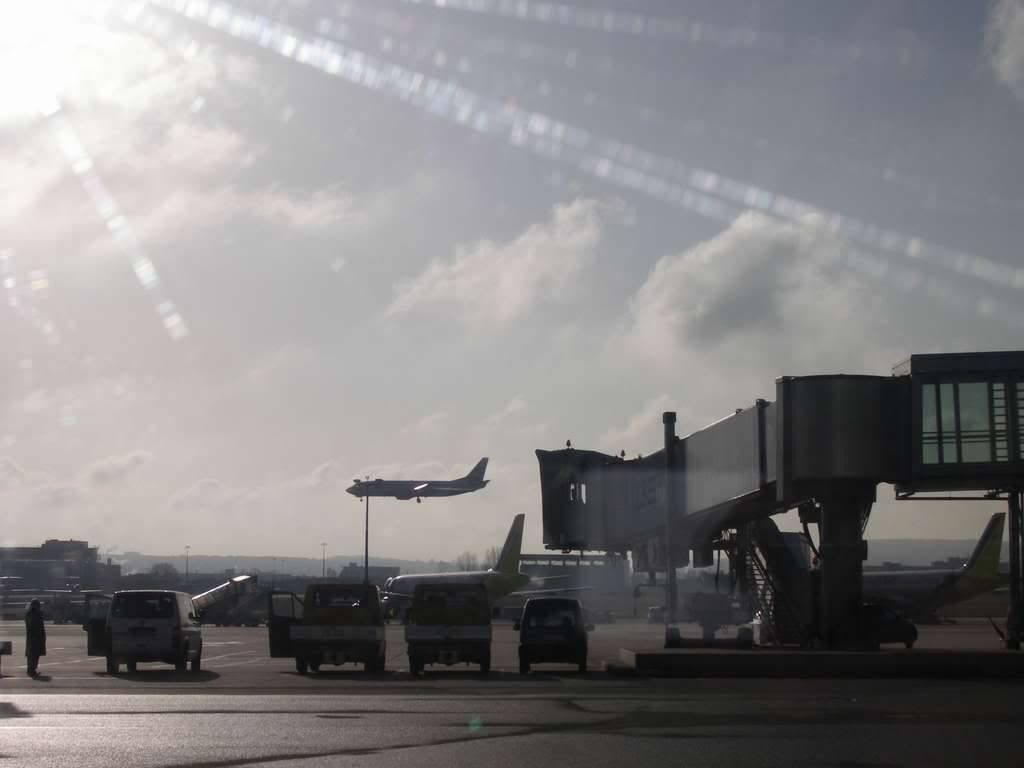 Aegean taxi:
Under the bridge?:
At the gate: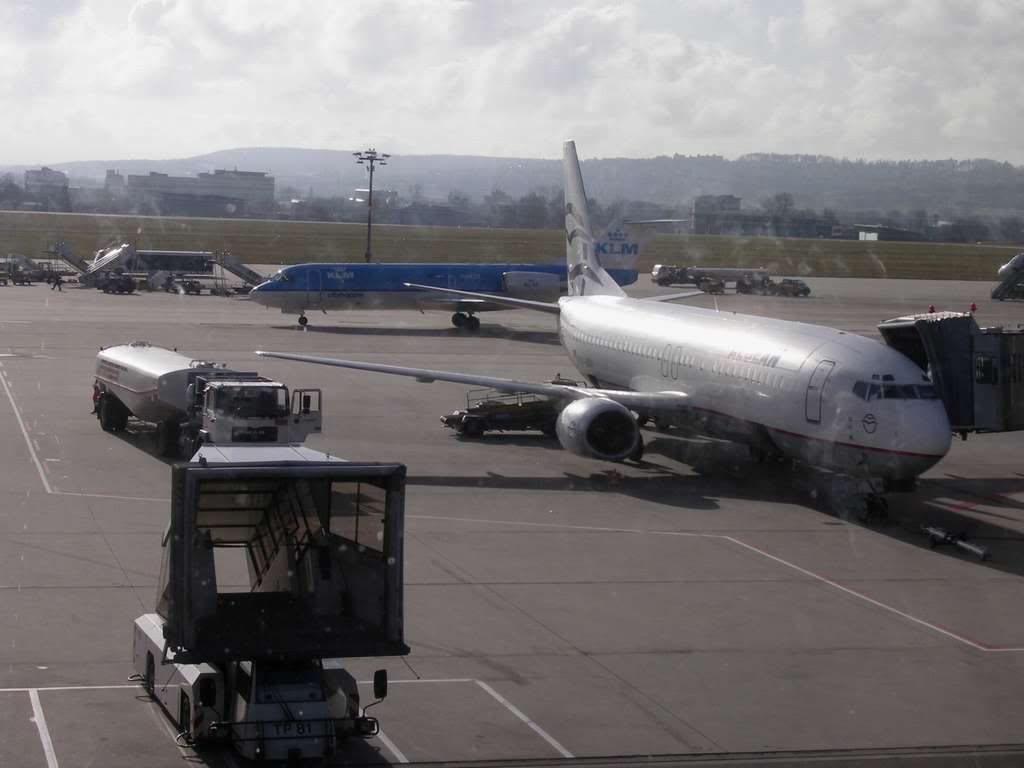 Hello MD 90 subs Germanwings to STN only four hours delayed:
The expected 737-400, a less covered type in my log till now, not bad.
Finger boarding from Terminal 3 today.
Boarding was called as announced, four friendly female FA´s welcomed me.
The cabin fitted with dark, blue leather seats. Legroom was ok. Worn out?. Oh, yes definitely.
My seat: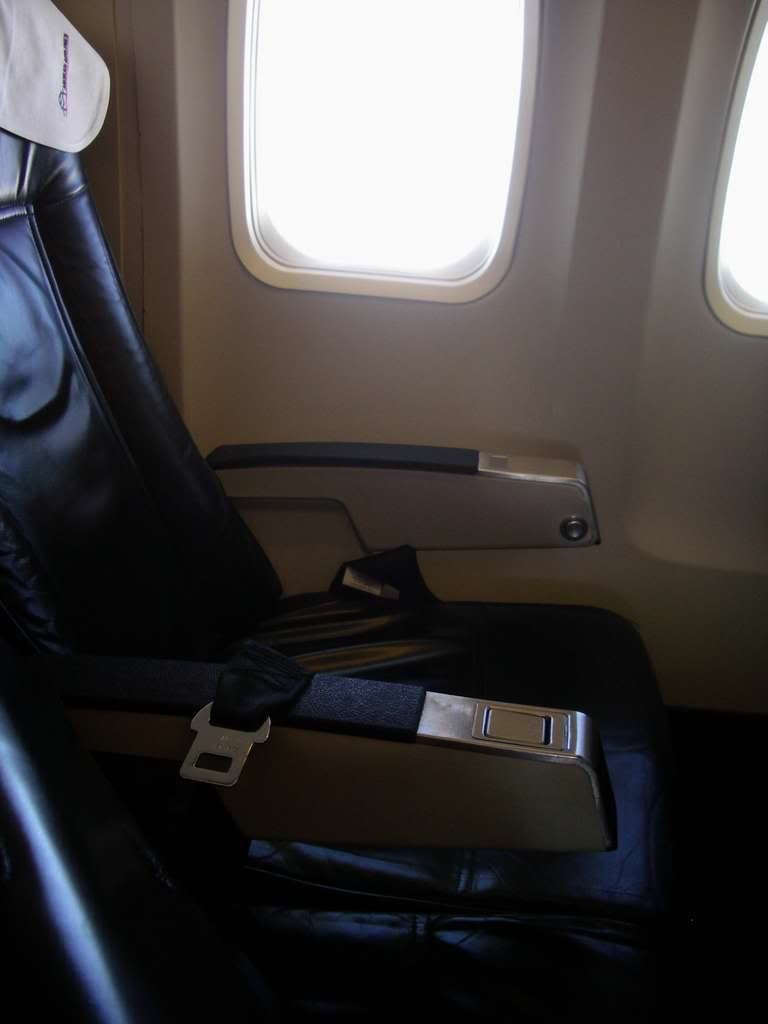 Cabin: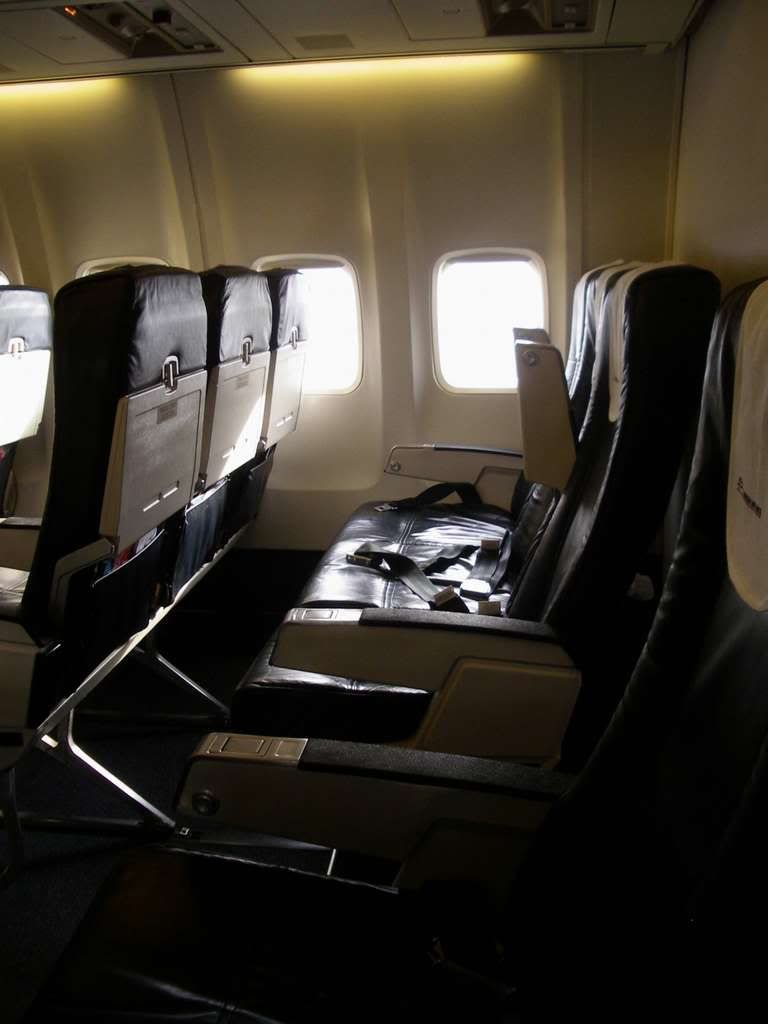 More details: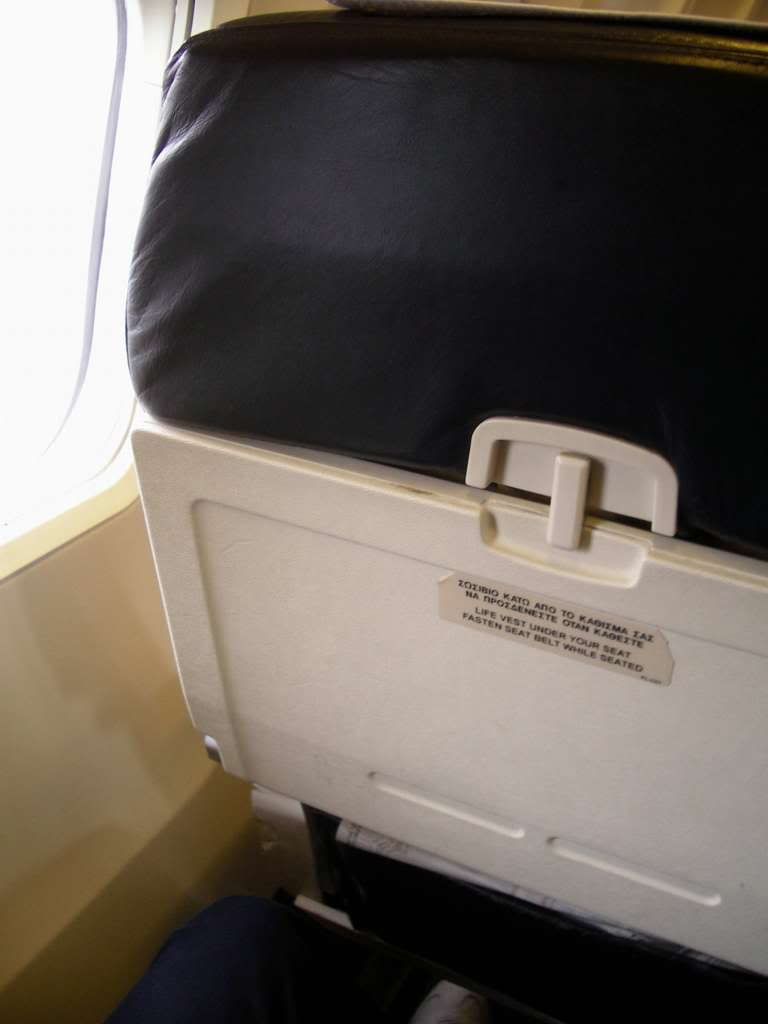 Departure runway was 07 today, in flying direction. We´re gone above Austria, Serbia to Skopje. Mixed clouds along the whole way.
Inflight: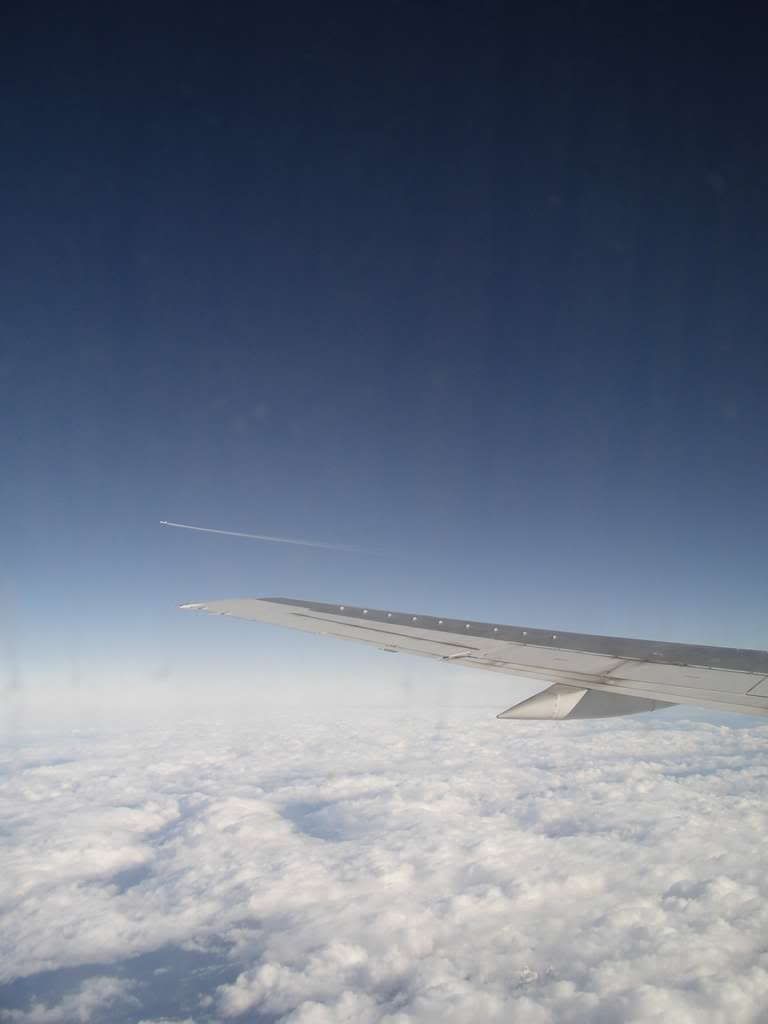 Service was not bad, a hot meal with two times free drinks.
Hot meal: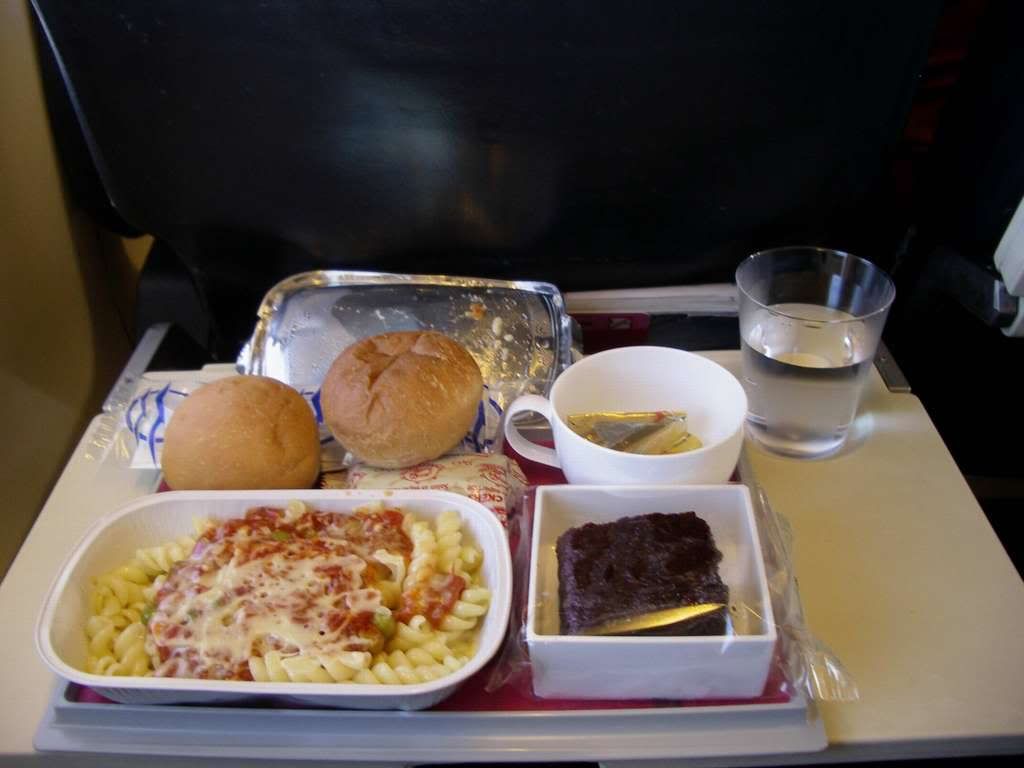 Cockpit crew was from Greece. The captain told us detailed informations during cruise, about departure/route/level(33.000 feet)/speed, weather and arrivals later into SKG. Good job.
He wished us later a friendly goodbye.
Approach was real interesting, above the city and touchdown on runway 16 well ontime.
We´re taxied to the apron and parked in front off the terminal.
Suspicious black Avro: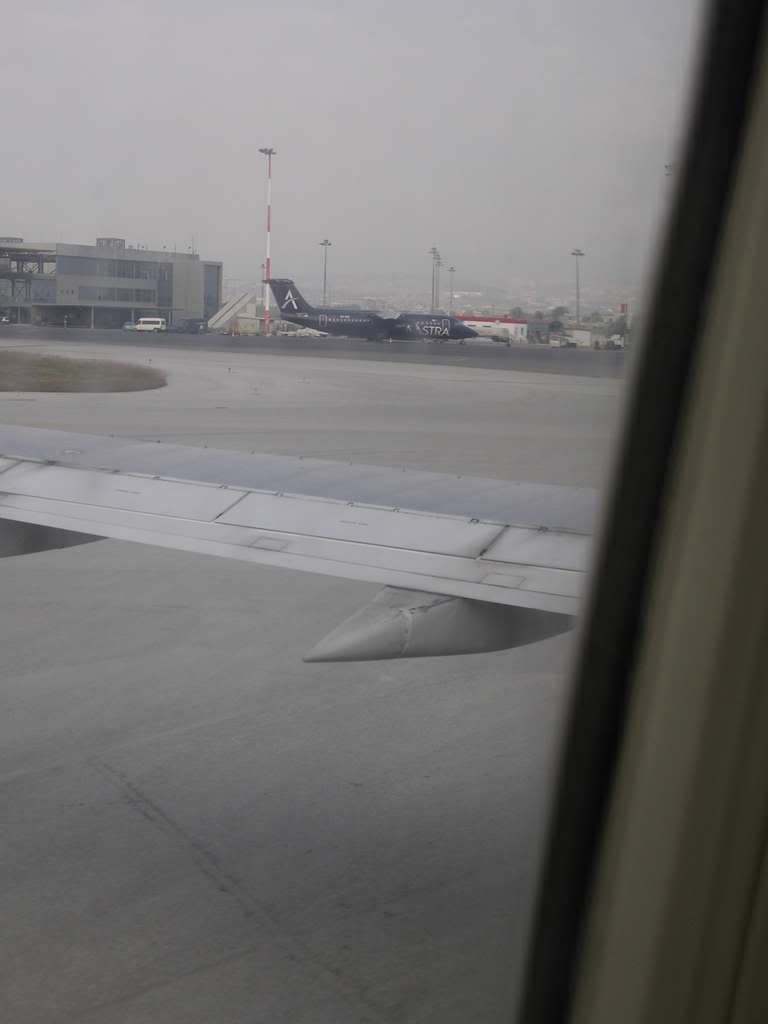 SKG (Thessaloniki-Makedonia) - ATH (Athens-Eleftherios-Venizelos)
Duration: 40 Minutes
Service A3 511 operated by Aegean Airlines Boeing 737-400 SX-BGH
Scheduled: 15.10 // 16.05
Actual: 15.15 // 15.55
Gate: - Seat: 26A
Load factor: Around 80 %
Fare: 50,43 EUR
Leg no. 10 on the B734 and the second on this machine.
The plane will continue to ATH, that means pax for SKG deboarded and me and the others for ATH stayed on the plane.
A good number, around 2/3 deboarded. While the purser informed us about the procedures, some of the pax seems not amused.
The plane needs refuelling and therefore the restrooms are closed.
Only some minutes after refuelling was finished, the new pax boarded, looks like a good load.
The cockpit crew changed, again from Greece, but the cabin crew was still the same like on the flight from STR.
Departure from runway 34 in the opposite direction.
SKG from above: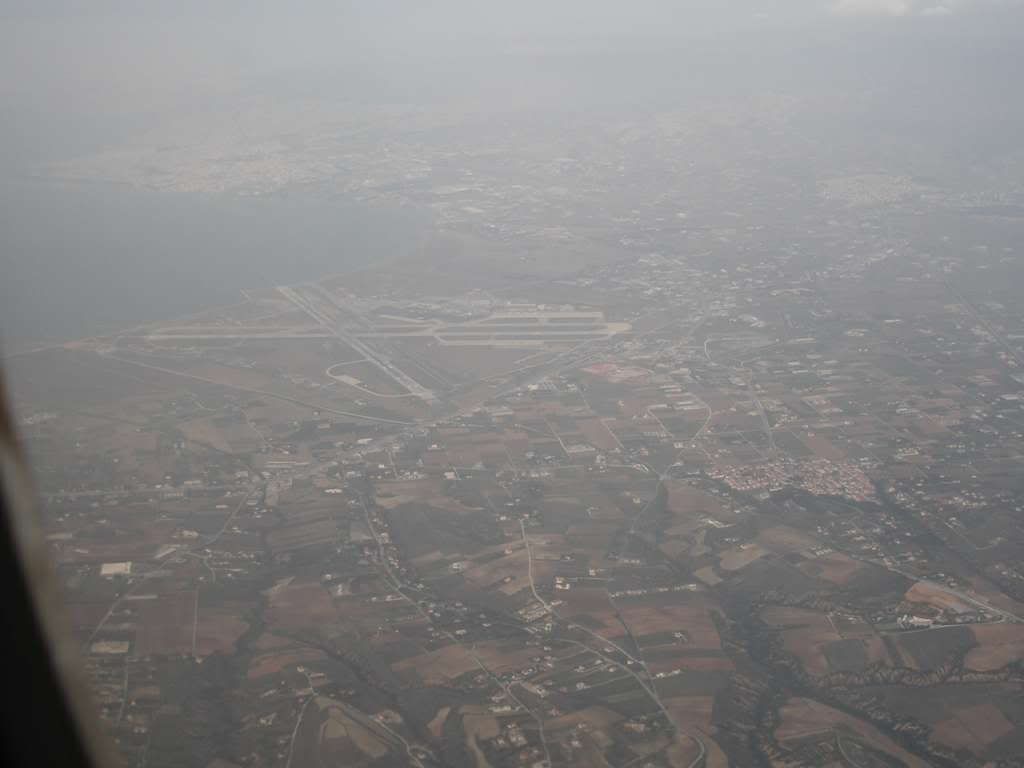 The captain send us a friendly welcome with some inflight informations.
Level 23.000 feet down the coastline to Athens.
Shaking and cloudy after departure, calmer near ATH or regarding the dark clouds, finally not?.
Approaching ATH: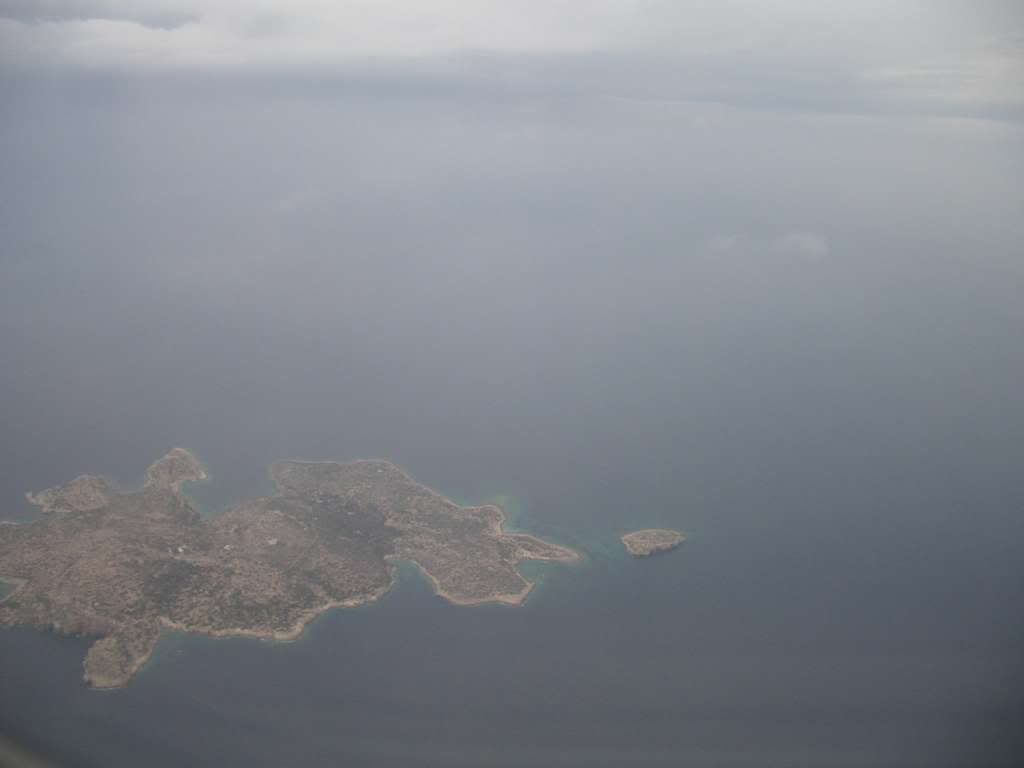 Also a cookie and free drinks on this short leg.
Arrival at ATHs runway 03R soft and well ontime.
Parked at the last finger gate and after a goodbye to the nice crew, I was ready to enter Greece once more.
Arrived:
ATH (Athens-Eleftherios-Venizelos) - CHQ (Chania-Souda)
Duration: 35 minutes
Service A3 342 operated by Aegean Airlines Boeing 737-400 SX-BGH
Scheduled: 16.50 // 17.40
Actual: 17.35 // 18.10
Gate: B15 Seat: 11F
Load factor: Around 90%
Fare: 45,74 EUR
Leg no. 11 on the B734 and the third on this particular machine.
There was no way to the gates directly from my arrival point. What about looking for a Aegean transfer desk?.
Not along my way, also no information counter. Finally I had to decide, out in the public or upstairs to the gate area.
Upstairs was my way, down the whole terminal building to my announced gate.
But there was one hurdle to pass, a security check with boarding pass control prior to my gate area.
You know, there was the problem at STR. I´ve showed the guy there my bag tag with destination Chania and explained the problem at STR.
After some discussion here and there, he waved me through and finally I was in the gate area without a boarding pass.
Two agents at the gate, a young male followed my story. He answered, that he don´t know why they can´t print the paper at STR and will see
whats possible. He answered also that he saw me leaving the plane at the gate some minutes earlier.
What?. Flying the same reg on the first two legs, ok, no problem, but flying the same plane also on the third leg, that´s not my intention.
But that´s also not my decision. He checked me in but the printer doesnt work, so finally he decided for a handwritten paper boarding pass and told me
no problem at all. Only some minutes later boarding was called.
Welcome back on SX-BGH, the cabin crew has changed, three females one male, all together friendly.
And surprisingly the cockpit crew changed for the third time again. Another crew from greece there.
The pilot was on the speakers and told us some differencies between boarded pax and bag numbers.
Well, I am sure that I was not one of the differencies, or not?.
He was two times there to apologize for the delay.
Finally the female gate agent entered the plane, rushed trough the cabin, called some pax names, and you know, me included, asked how much bags, one,
so it seems I was not the only one with differencies.
OK, time to go for runway 03L , it was nearly dark and very cloudy outside.
Heavy clouds:
Cruise level 25.000 feet.
The captain was once more to hear inflight, also a good job there.
Also here a cake and beverages.
We´re done a full circle above Chania with nice nightly views and finals to runway 29 heavy brakes and turned around on the runway.
No other plane on the apron when we parked.
My bag was one of the last on the belt, but finally it arrived.
No public transport options at CHQ, so taxi time now, only some 30 minutes later I´ve reached my accomodation.
The Best Western Porto Veneziano, directly located at the venetian harbour in Chanias old town.
Oldfashiond but clean, ok for my one night stay here.
The nightly harbour: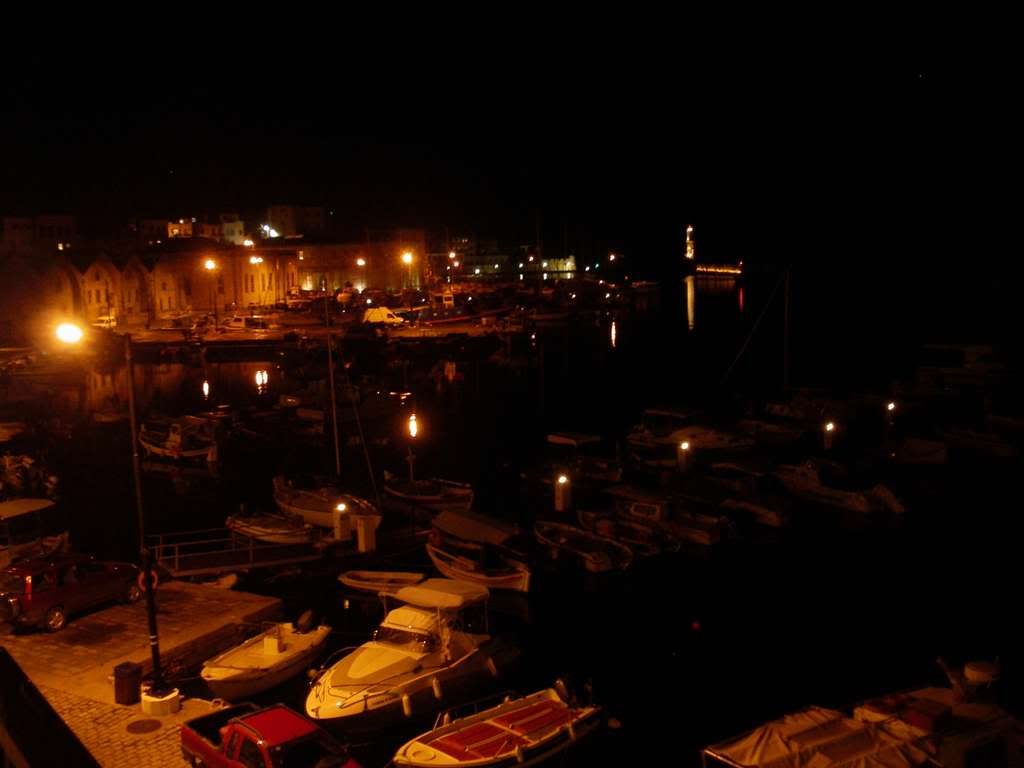 The ancient mosque: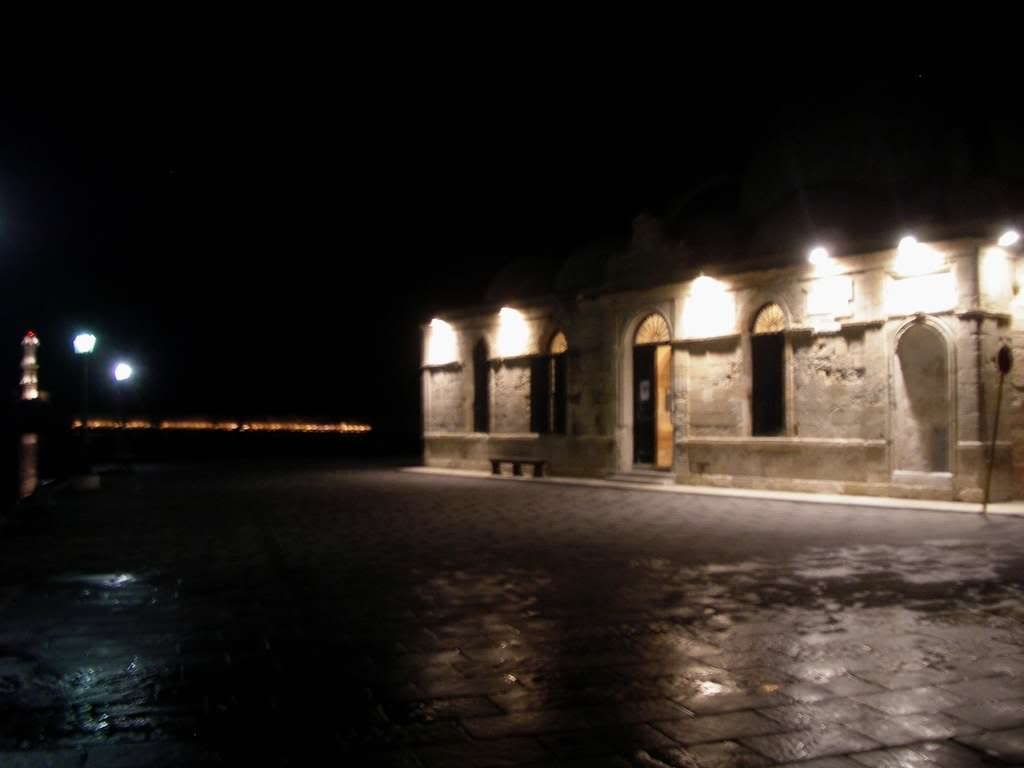 It was completely dark, when I´ve arrived, so we will see how, hopefully, nice it looks tomorrow morning.
But, you know, thats another story.
Comments welcome,
Markus (FLIEGER67)