Feedback always appreciated.
Trip Report: 059
Flight Category: J-ILR (See Report End)
Date: 25 Nov-08 (See Report End)
SDT/SAT/Dur/Delay: 1815/1155/10:00 hrs (Delayed 01:00)
Flight:
Turkish Airlines TK 002
, 5016 miles
Routing: JFK-IST
Aircraft: 343
Seat: Business, 3B
I > Background:
The global airline and economic slowdown had meant that my utilization for November looked bleak and I could take extra time off. Moreover, I tend to leave Venezuela during any kind of elections as I am convinced that many Latin countries have lost the ability to work across the left/right divide and engage in constructive dialogue. Oh well. Anyways, so I searched through websites and found an unique deal. I had to be in NYC for work … and could get in a week in (drum roll) … Tashkent (Uzbekistan)! Turkish Airlines was having a decent deal in Business class and I jumped on the opportunity.
I believe this is the first review of intercontinental J class on TK – and should help those Star alliance fliers who think admitting TK into the alliance was a mistake.
II > Pre-Flight:
a) Before Airport:
Turkish Airlines (TK) is the "flag carrier" of Turkey, and was formed in 1933. It is owned primarily by private investors, with the government retaining a large (40%?) share in the company. A member of Star Alliance since 1st April 2008, TK has been on a consistent rapid growth path which would finally capture on its strategic location and take advantage of its membership into the world's largest alliance. On a personal note, TK is one of the few airlines that I strongly think is poised for long-term growth. JFK-IST is one of the premier routes and is operated nonstop using a 343.
Ticketing for the flight was done on the recently updated Turkish Airlines website at
www.thy.com.
The site is pretty clear and crisp and bookings are done easily. You can also view and modify your PNR later. The only thing it does not provide is advanced seat selection. The other small issue is the inability to add any FQTV information outside of TK.
b) At Airport:
Like many foreign carriers, Turkish Airlines uses T4 at JFK. After being dropped by my taxi, I proceeded to the rather empty TK check-in counters at JFK. TK seemed to have 8 counters open (!) with two dedicated to J and Star Gold fliers. Check-in was a breeze and I was handed the "fast track" immigration authority at IST as well as an invitation to the Korean Air lounge. TK's 1815 departure meant that the airport was relatively empty and I could breeze through security. The "J/F" security line is a joke because you basically end up merging with the general line. Why even bother?
Anyways, the KAL lounge is used by a plethora of airlines … and since the LH lounge is closed, it was being used by LH for their MUC passengers. This ensured that the lounge remained extremely crowded for most of the duration and was standing-room only for most of my visit there. Service offering was weak … though, I did like the noodles they had. There was a cordoned off section for First Class passengers.
Boarding was announced 45 minutes prior and I slowly took my time to do some spotting and basically be at the gate vicinity. Soon, we approached departing time with no activity and I knew that we would be delayed … because of TK … and then because we would miss our departure slot. Several announcements were soon made to calm passengers that the flight was delayed. At 1815, the crew lazily arrived (uugh) and 30 minutes later we boarded the aircraft. On a side note, I wasn't pissed at subsequently missing the departure slot and taking off almost 90 minutes behind schedule (30 minutes were made up) … I was more pissed that no apology or acknowledgement was made of the delay.
Anyways, when boarding was called, it was very calm and collected … surprising given that a line of Y passengers waited just in front of the gate. Prior to entering the aircraft, a crew member was distributing amenity kits to Y passengers, and there was a good collection of newspapers and magazines. Upon entering the aircraft, the crew greeted me and directed me to my seat. The male FA was a little frantically ensuring that all coats were collected from the passengers. J load was 100%; and so was Y!!! Of the Y load, 60%+ were on their Hajj connecting to a SV flight at IST. More on that later. Also, having spent enough time in India, I could tell they were of Indian descent. There is a specific name for this community. Can the Indian A.Netters help?
Airport - External:
(New York Kennedy, T4)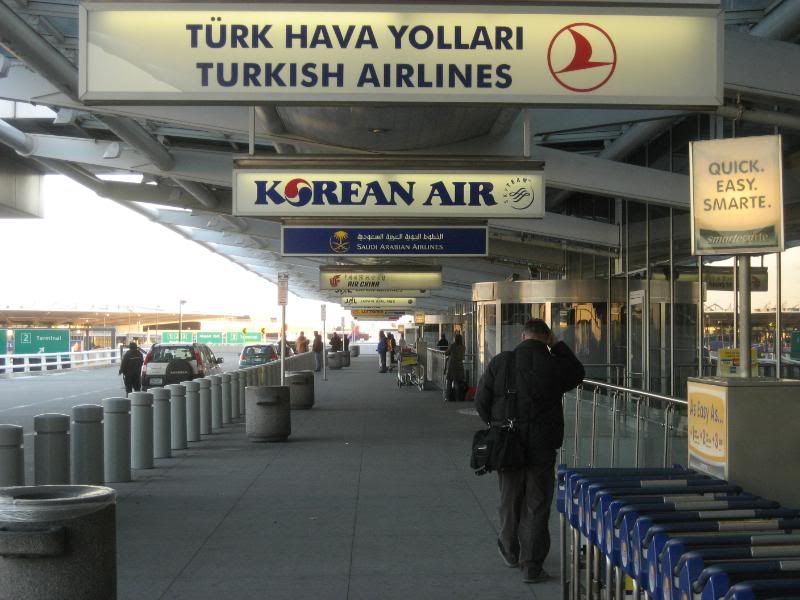 Check-in: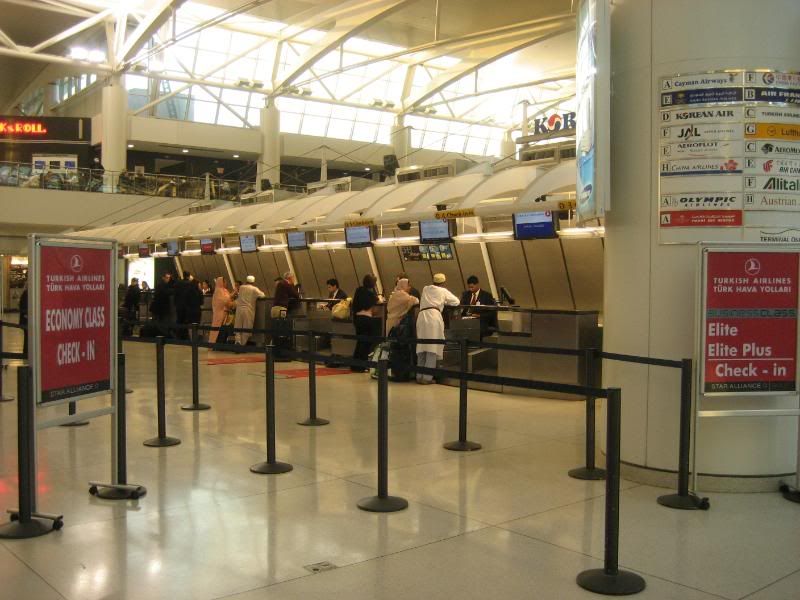 Airport - Internal:
(Pre-Security: spacious T4)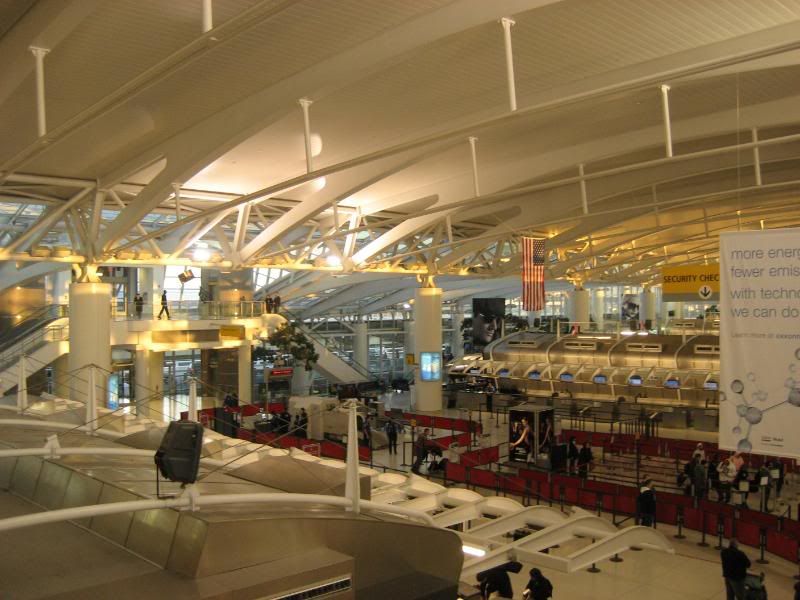 (FIDS – notice another AZ cancellation)
(Post-Security)
Scenes of the tarmac:
(JAL next day to NRT)
(RAM to CMN – since when is this downgraded to a 763?)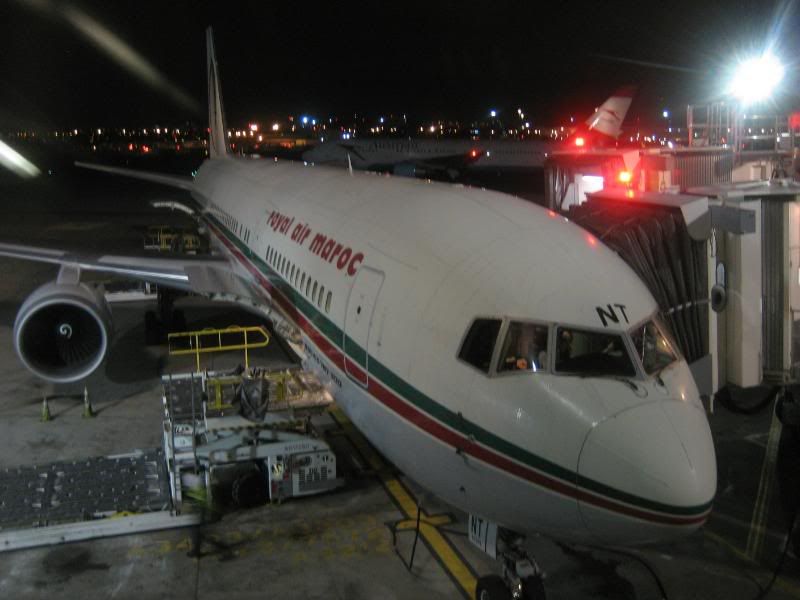 Lounge
(KAL Lounge)
(Confused? Everyone uses it as a lounge)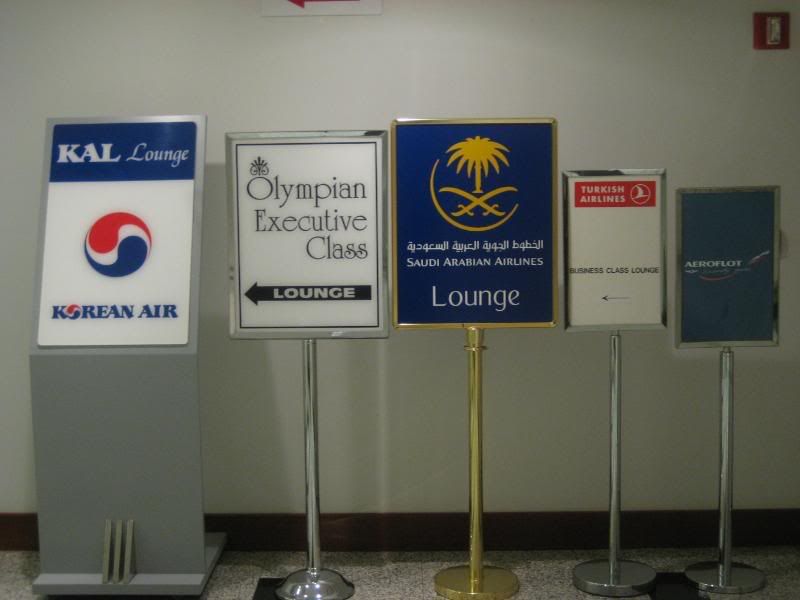 (Food)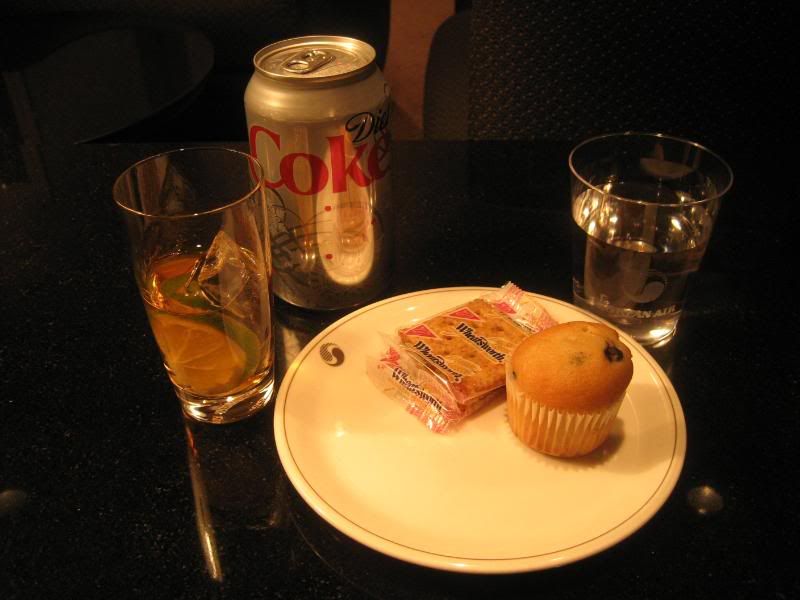 (Bar/Food Area)
(Crowded)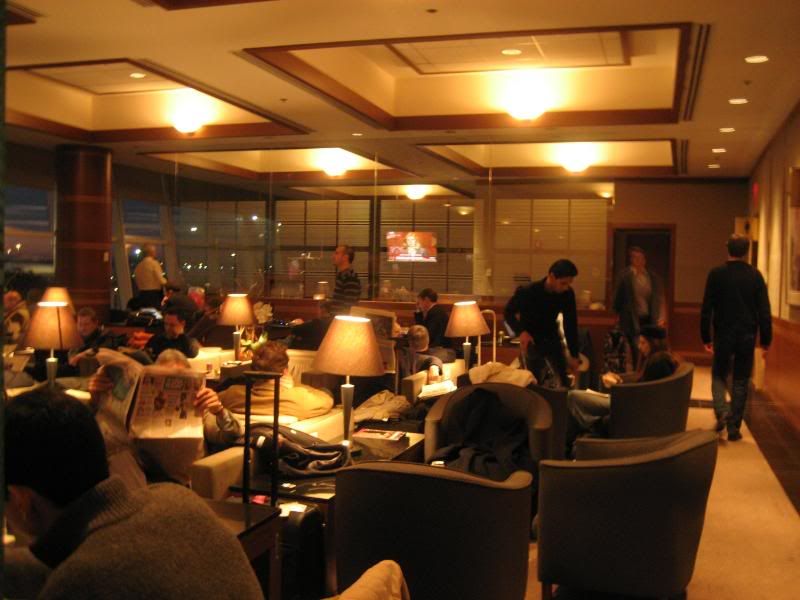 Boarding:
(Boarding Area)
(Boarding – relatively calm)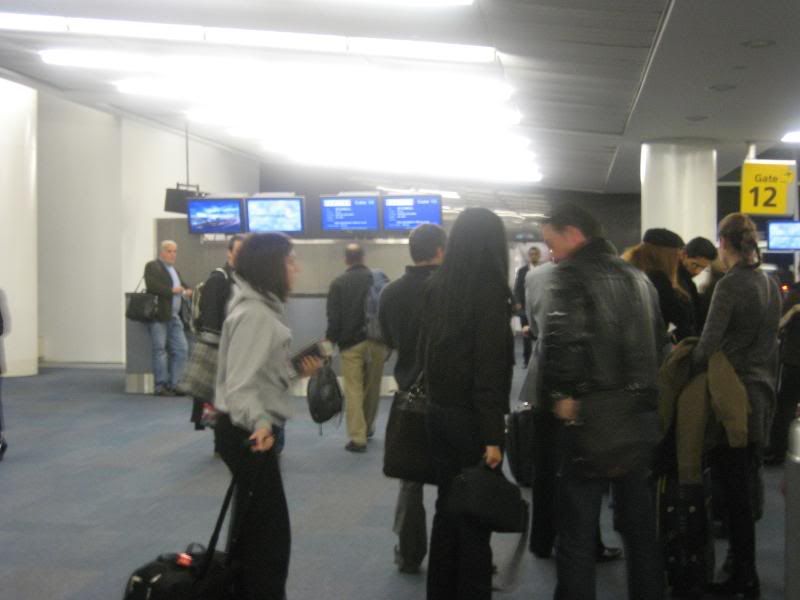 III> In-Flight:
a) Service Schedule + Impressions:
An impressive service schedule overall – and a good positive impression as soon as you walk in (with a bartender!). Pre-take off, champagne/OJ/water service directly from the bar and distribution of amenity kits. Post-take off, head phones are distributed, menus are distributed (more on that later), hot towels, beverage and dinner service, duty free service, and then 2 hours prior to landing, cold towels, and breakfast.
b) Aircraft + Seats:
Turkish Airlines 343 was immaculately maintained in the J class … including the lavs … though, they were being stocked after take-off. While mood lighting was missing from these older birds, I actually thought the color combination used throughout the cabin was very soothing. Also, the pale pink curtains actually do not look as bad as some in A.Net had initially thought … one hardly notices them as it blends pretty well with the cabin. I was surprised actually given I was one of those skeptical ones on A.Net.
The lie-flat seat that Turkish Airlines uses is the average lie-flat seat you'd find on other Euro carriers (KL/AF/LH/etc.). It is extremely comfortable to sit on and you can get nice crouched/recline positions while watching TV, etc. However, in sleep mode, it goes the way of other lie-flat seats with way too many pronounced "breaks" and folds that ultimately lead to not the best sleeping experience. Thus, in fully reclined position (like its counterparts at the Euro carriers), the back of the seat moves down, however is at an angle which is not the same as the rest of the seat or the leg rest … thus 3 different angles or "breaks". I am not a big fan of lie-flat in general … though, the old Raffles lie-flat is pretty good as far as lie-flats go. Having said that, TK's lie-flat is still better than say Air France as there is plenty of legroom which allows you to sit in various positions and not have your knee bang up with the seat in front.
Aircraft:
(My bird bringing me to Istanbul … aptly christened "ISTANBUL")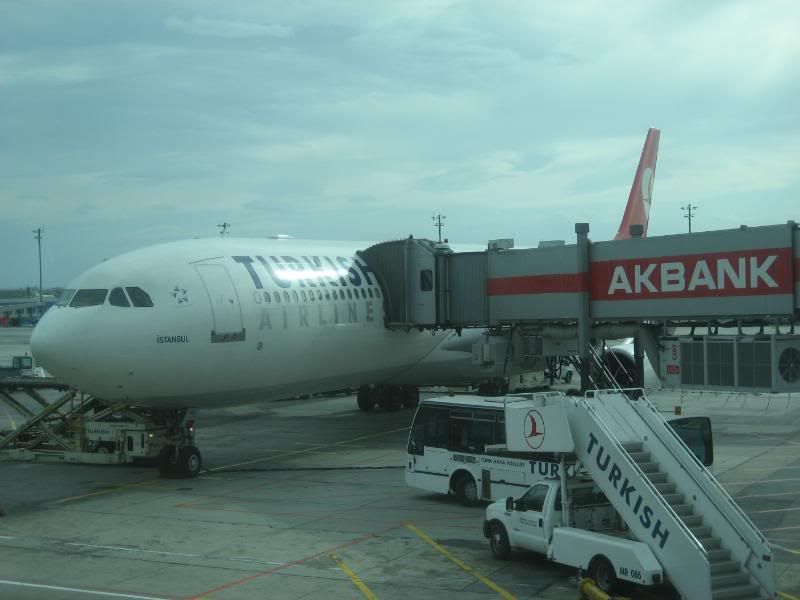 Views from Aircraft:
NONE
General Seat Views + Seat Legroom
(J Class Seat)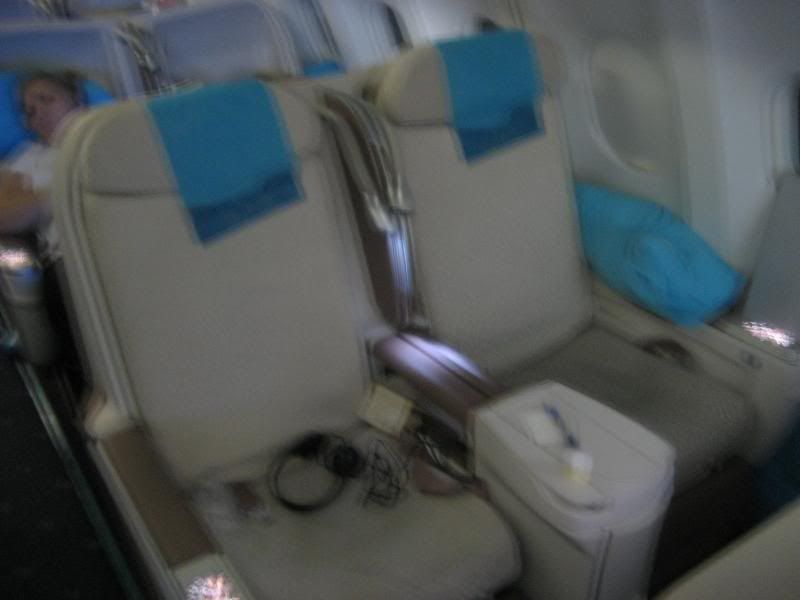 (Useful power supply)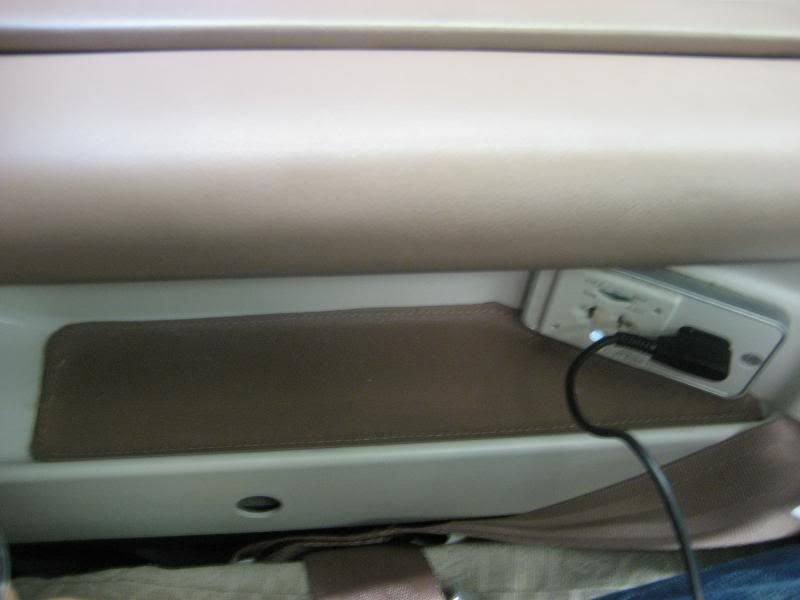 (Legroom and lots of places to keep stuff)
(Front of seat)
Seat Recline + Angle View:
(Total Recline Mode)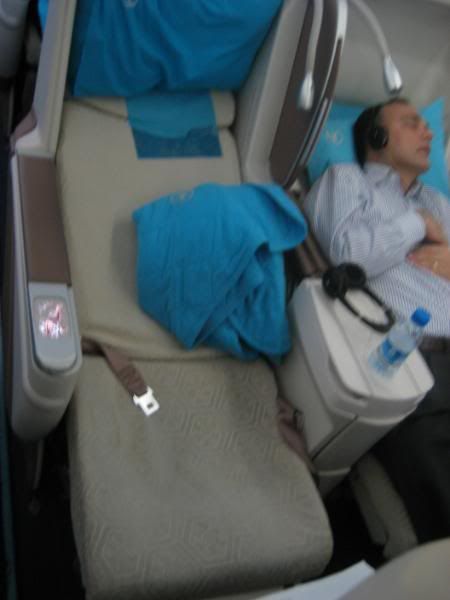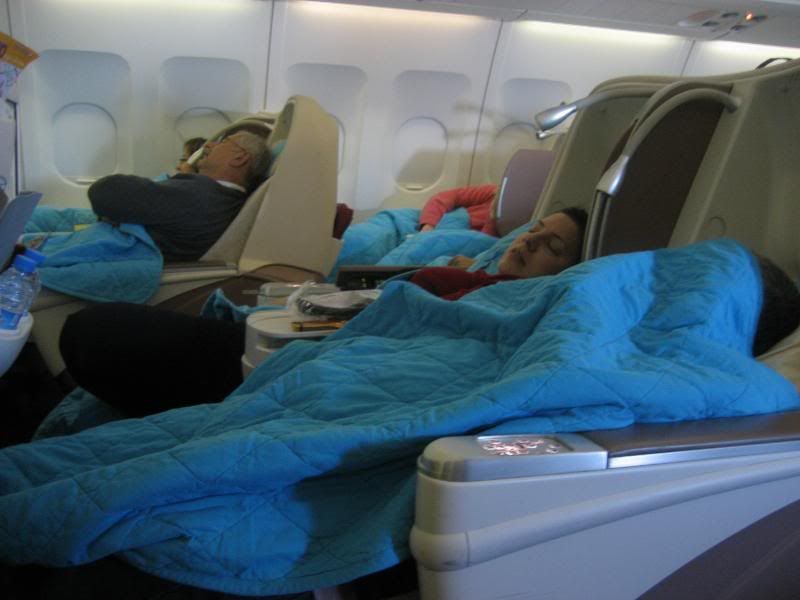 Cabin:
(I am becoming a convert to the TK colors)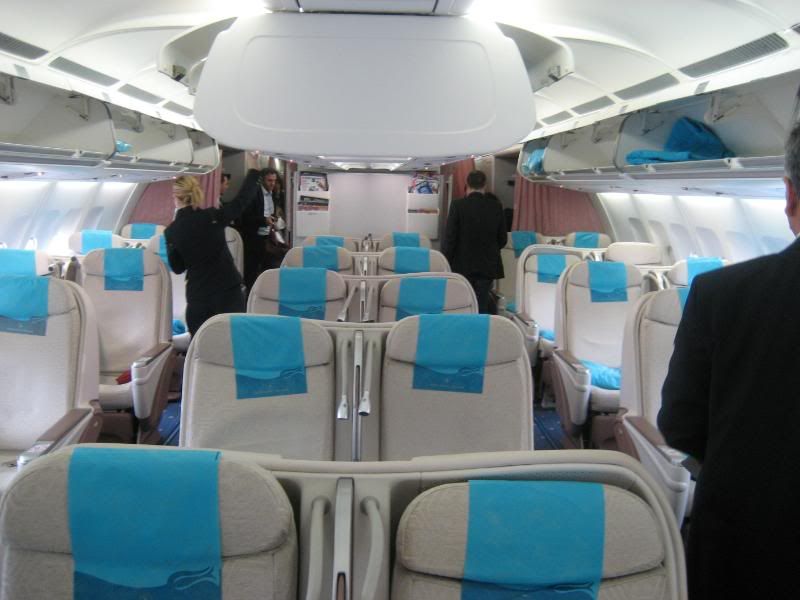 (Gotta love the bar)
(Bathroom)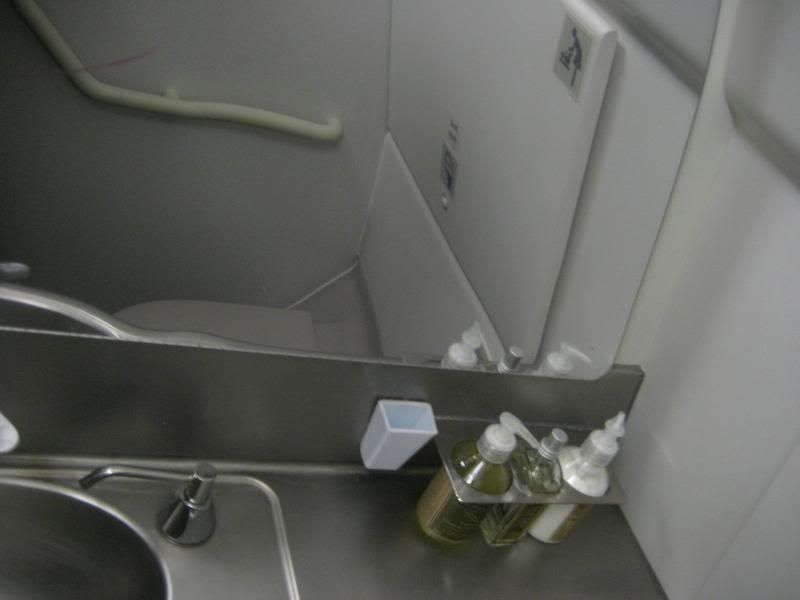 c) Meal + Beverage:
While on the ground, a beverage service is done where you can chose from OJ/champagne/water. It is all done in front of you – one attendant pours the drinks, the other delivers. Soon after take-off, menus were distributed. Now, these were high quality menu holders and had a section on the breakfast where you made your selection and the crew later picked it up. Not bad!
Post take off, there was an exotic drink service – which included various mixed champagne based drinks (ex: Belini) and some exotic non-alcoholic juice mixes. Presentation from the tray, and the proper way of serving (holding your other arm behind you) added to a level of panache about the service. Table was set up and bread rolls were distributed. Soon thereafter, the actual dinner service (from tray) commenced. It was an elaborate affair with plenty of sumptuous options (see menu). For the main course, I elected the "Sis Kebab" which was absolutely wonderful. Seriously, outside an Indian airline, I have never tasted food so good in a very long time. After the brilliant dinner, a lavish dessert service followed with excellent Turkish baklava, a really tempting coffee vanilla bean panna cotta, chocolate soufflé, and sorbets. I usually avoid on-board desserts … but this was just an absolutely lavish affair. Finally, the post desert trolley rolled by including tea/coffee, a collection of digestives (including some kind of special Turkish wine), and some awesome "petit desserts". Adding to the atmosphere was the genuineness Turkish hospitality by the crew who insisted on making you eat … again, very reminiscent of service on board Indian carriers.
After dinner service, plenty of further alcohol runs were done, and finally bottles of water were distributed as people began to doze off. I got some shut eye, and then watched an amusing Indian flick.
I was gently woken up by the absolutely wonderful male FA for the breakfast service. I had pre-selected the fresh made smoothie (or you could have fresh squeezed juice … how wonderful!), had a fresh fruit plate, and then topped it off with a great omelette and sausage. Again, just really delicious food and served with a smile.
Also, water and beverage runs were done throughout the flight … even at the oddest hours where most people were sleeping. All together, very impressive!
(Menu)
(I like the small touch of having customized names)
(Pre-take off champagne)
(Post-take off exotic drink service by the wonderful male FA)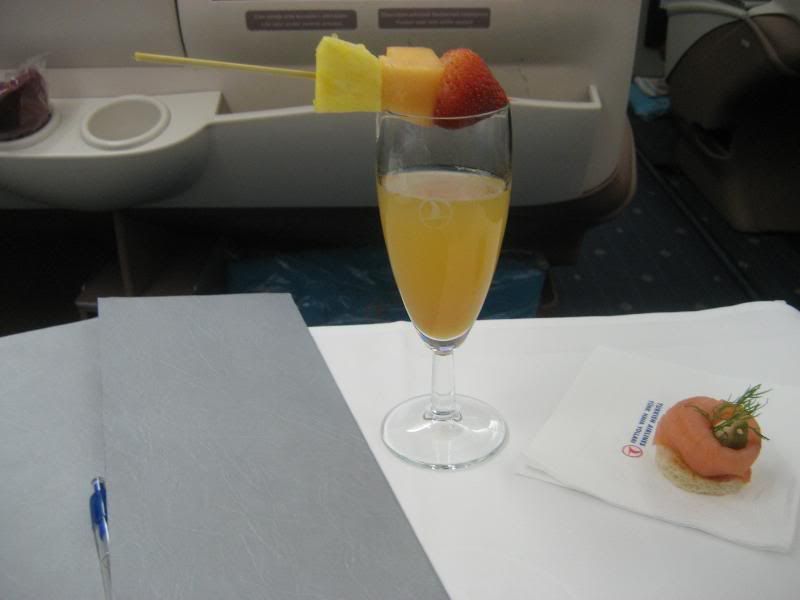 (Table setup + bread)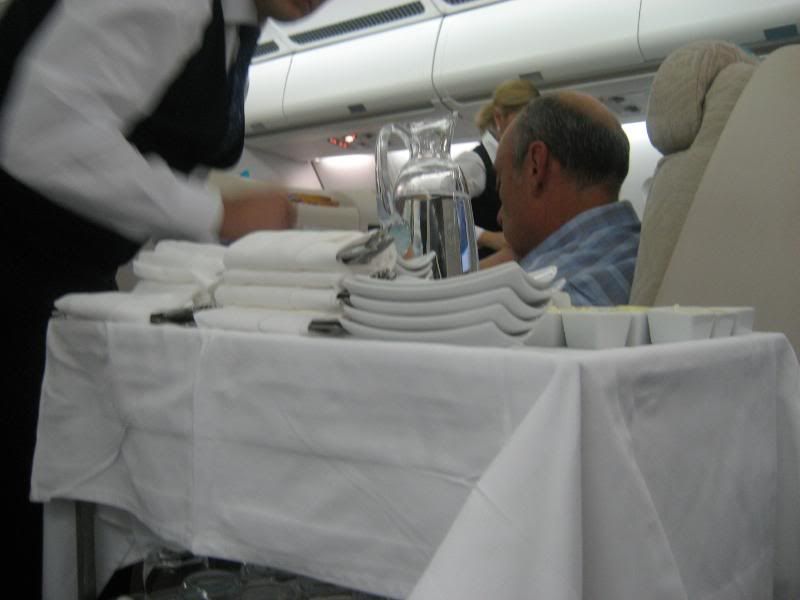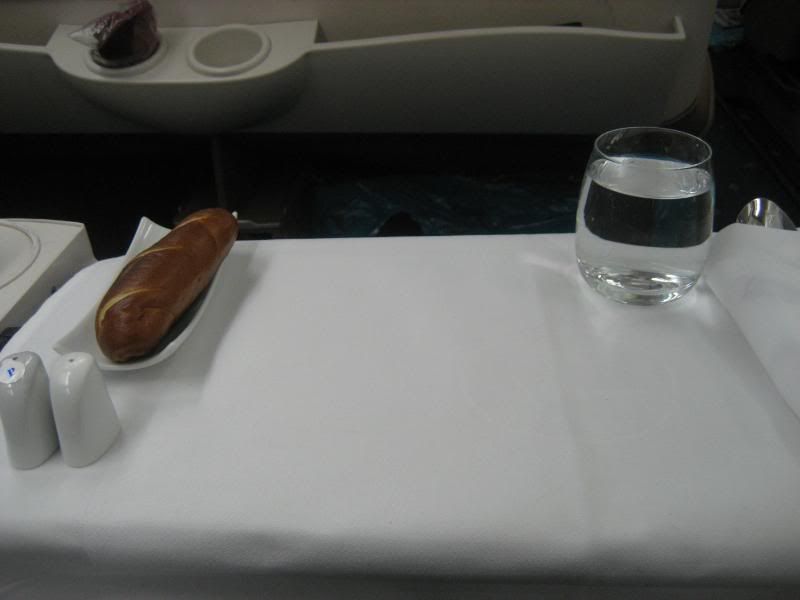 (Appetizers)
(Main)
(My compatriot got the fish)
(More wine service)
(Yummy – dessert trolley – made me hungry as I type this)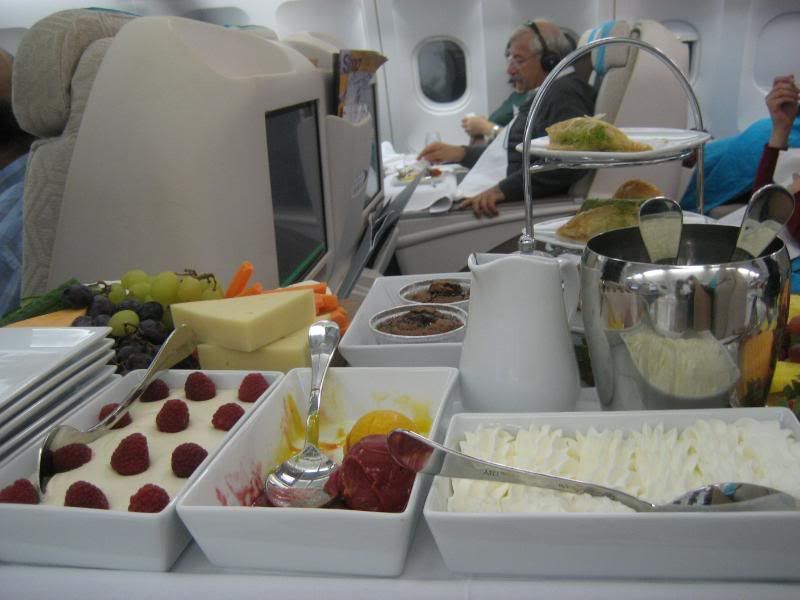 (Tea/Coffee/Digestive/Petit Dessert Trolley)
(More alcohol)
(Water prior to lights off)
(Breakfast)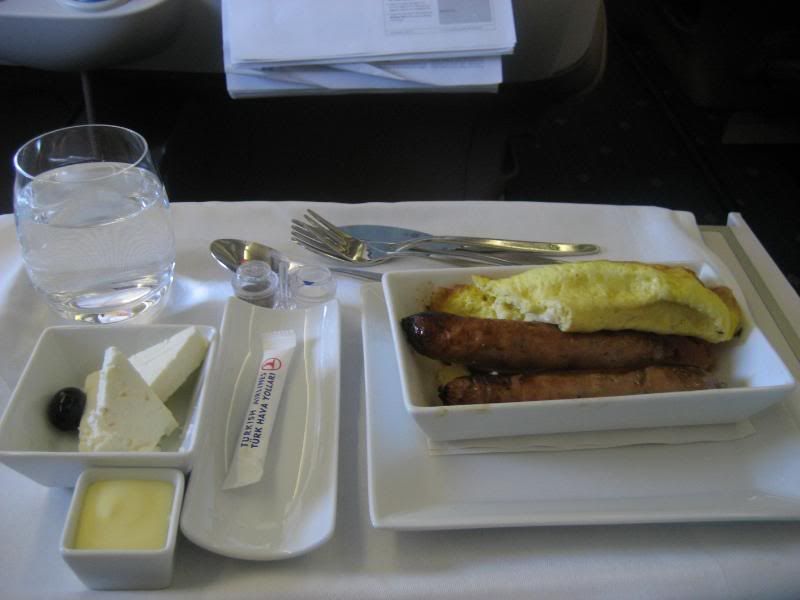 d) Inflight Entertainment:
Turkish Airlines has a fully equipped AVOD system with over 30 movies, plenty of TV shows, games, an awesome interactive 3D flight map, and cockpit/camera view. While their AVOD selection is not amazing or top of the line, it is significantly above average. What was amusing to me was the fact that they had more Indian movies than Turkish ones! Jaja. Oh, and the head phones were good noise-cancelling quality. The only thing that was slightly off from an excellent product was the quality of the video was not as crystal clear as it could have been. Perhaps the huge LCD screens also accentuated this problem.
There was a very generous and diverse stock of English and Turkish newspapers and periodicals and the in-flight magazine was excellent … very reminiscent of older Lufthansa in-flight magazines.
(IFE system)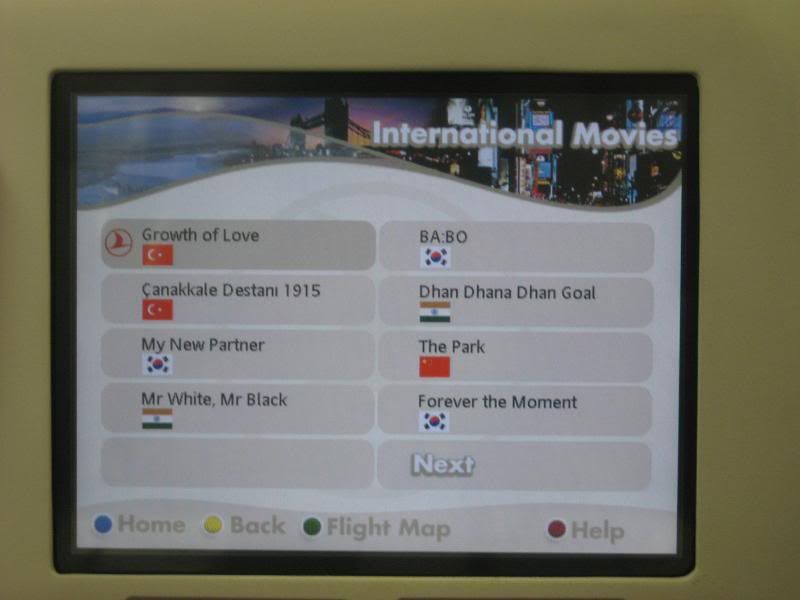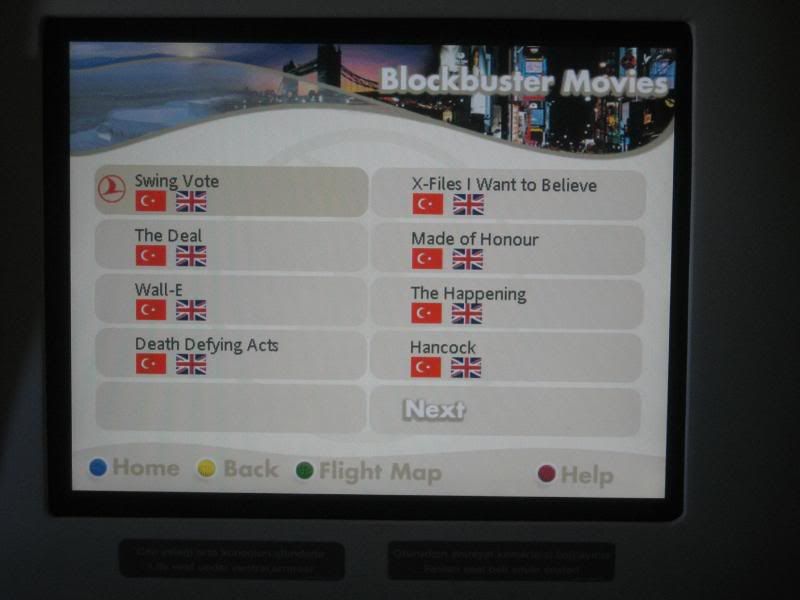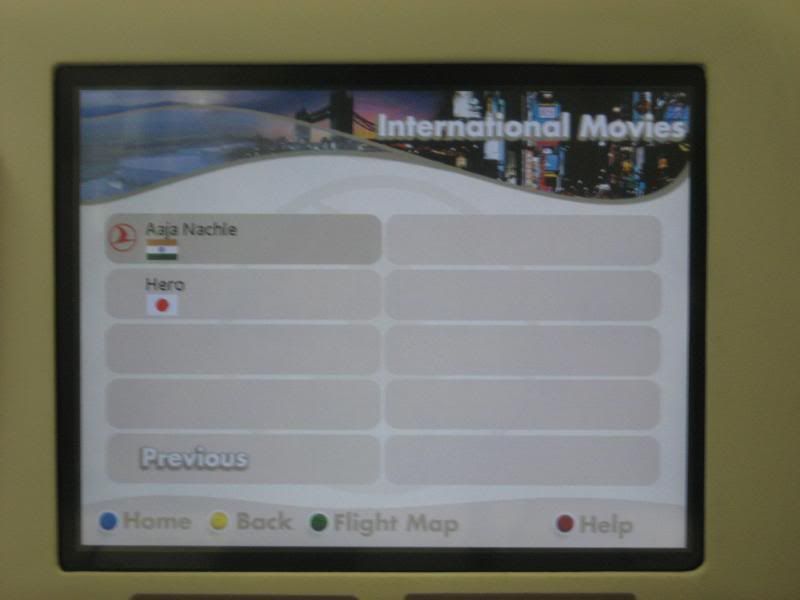 (Random Indian movie I watched – most of it made no sense)
(Great feature)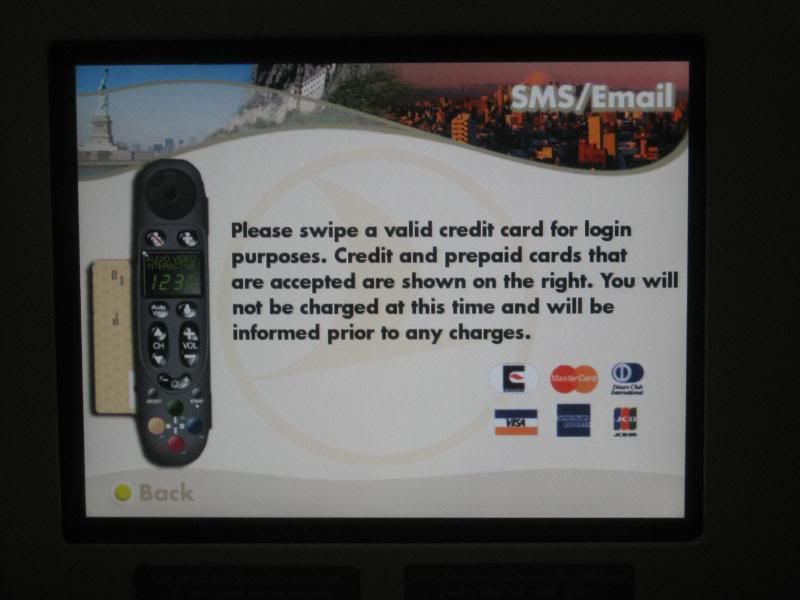 (Live news was actually constantly updated)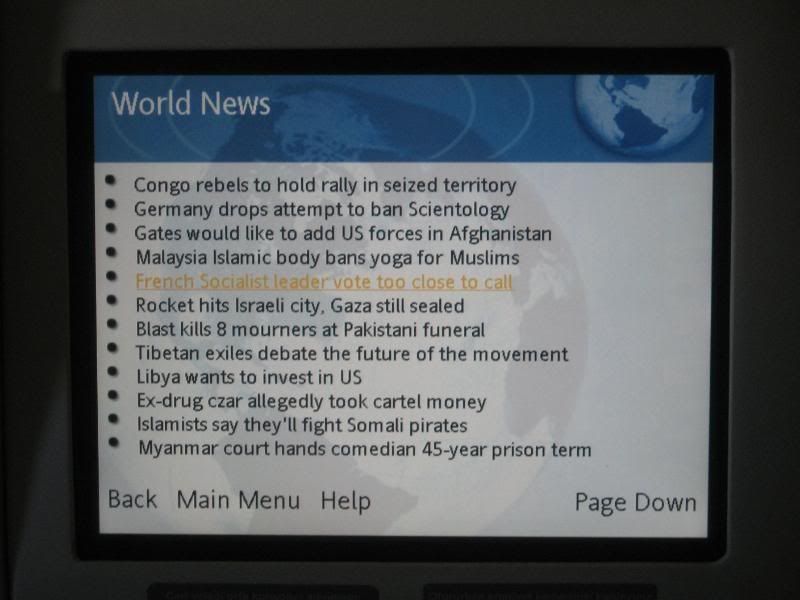 (Forward and Down Camera)
(Sea of Red, IST)
(Headphones and screen during movie)
("In-flight magazines", Boarding Passes, etc.)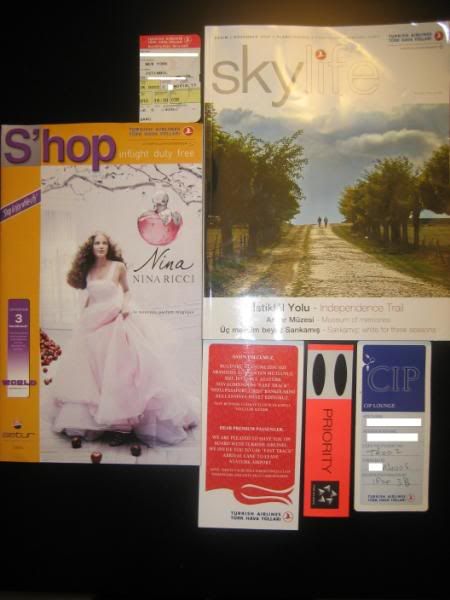 e) Crew:
Turkish Airlines crew have come in for criticism in the past from many frequent fliers, and on this board. However, my experience was completely contrary to previous discussions. I was impressed by their professionalism and "grace under fire" attitude as they were able to carry out a large service offering to the 100% load. At the beginning of the flight, they did look a little stressed … and overall, they lacked the finesse of say MH or 9W crew, but this I attribute mostly to inexperience … and something that can be learnt with time. What was great was the genuineness of their hospitality, and small touches like helping every passenger with their luggage, proper eye contact when serving, making suggestions for food, convincing passengers to eat more, asking several times if you needed refills, hand back when serving alcohol, checking-in on passengers, all along smiling with a genuineness that is missing even from more fancied carriers. Some of the female FA's were a little reserved … but the male attendant was absolutely brilliant. I wrote him a good complement letter and hopefully seniors at TK will reward him for it … or, perhaps they will read about his service here and reward him! Good job TK … I was pretty impressed.
(Crew distributed to everyone encouraging feedback, specifically negative!)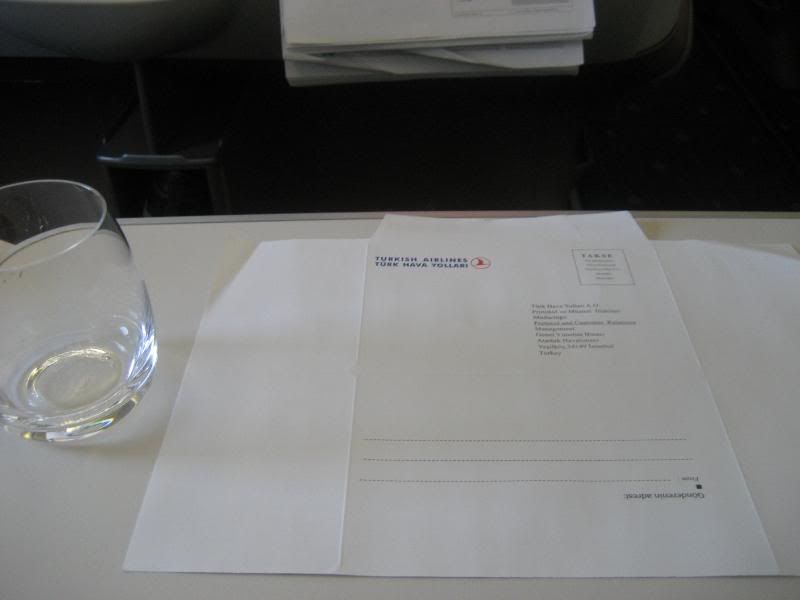 IV> Post-Flight:
Landing in Istanbul was smooth and after thanking the crew for a wonderful flight, I made my way to the TK transfer desk. Ground handling at IST has improved remarkably, but they are still not as efficient as a network carrier can be. This is one are where they can learn a lot from their mentor LH. They especially had problems processing the Hajj pilgrims … one agent absurdly suggesting they had to do immigration and go outside to check-in because they were flying Saudia!
Anyways, now to the highlight of the post-flight experience … the absolutely delightful CIP lounge of Turkish Airlines at Istanbul. When top lounges in the world are discussed, rarely is the one at Istanbul mentioned … and I have no idea why! It is a gorgeous lounge with the pomp and occasion that beckons the romantic old days of travelling. It is huge, airy, and the décor is lavish. While the food options are not benchmark setters, the amenities (mosque, showers, kids room, computers, padded seating areas) coupled with an amazing setting propels this to one of my favourite lounges worldwide.
(Wonderful TK lounge at IST)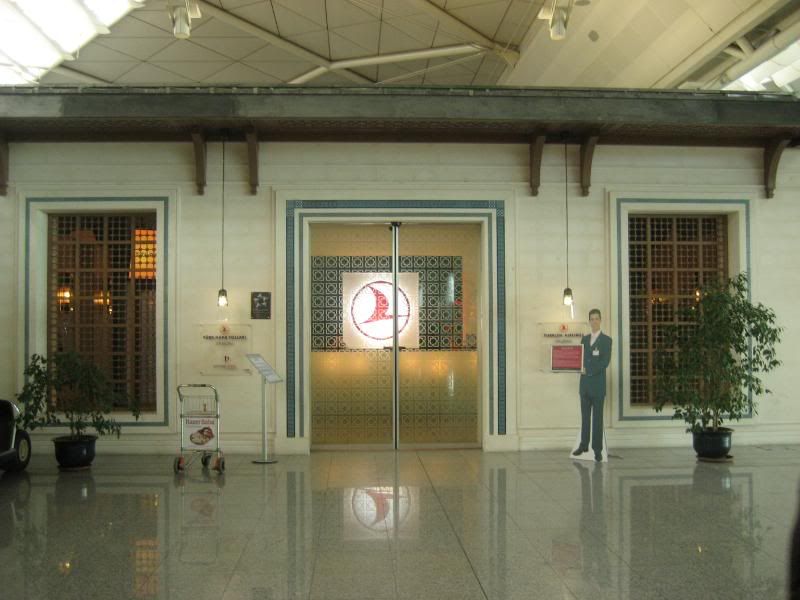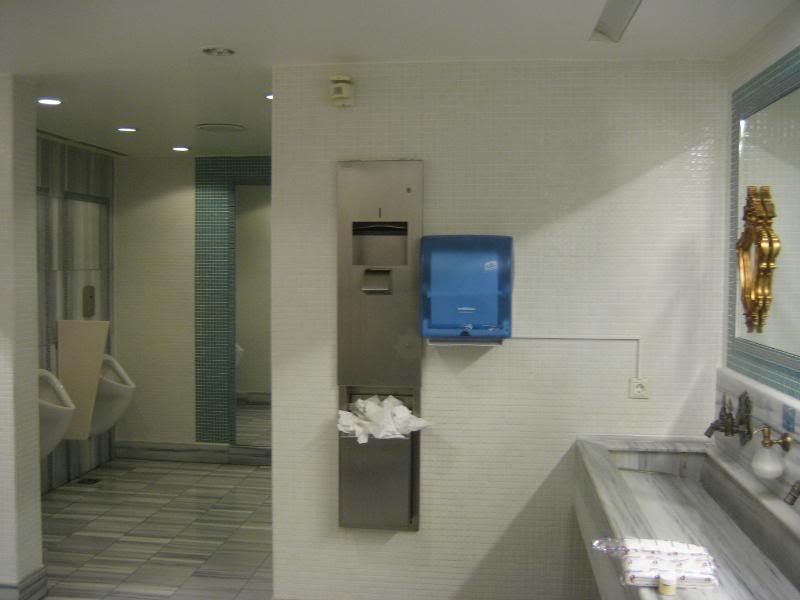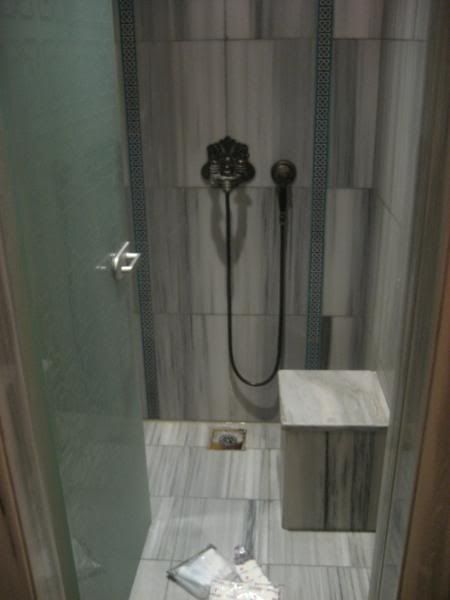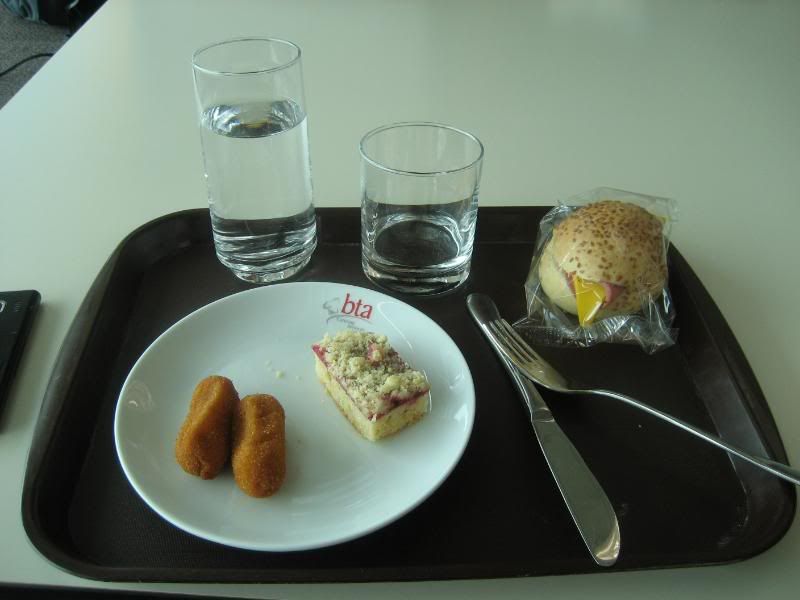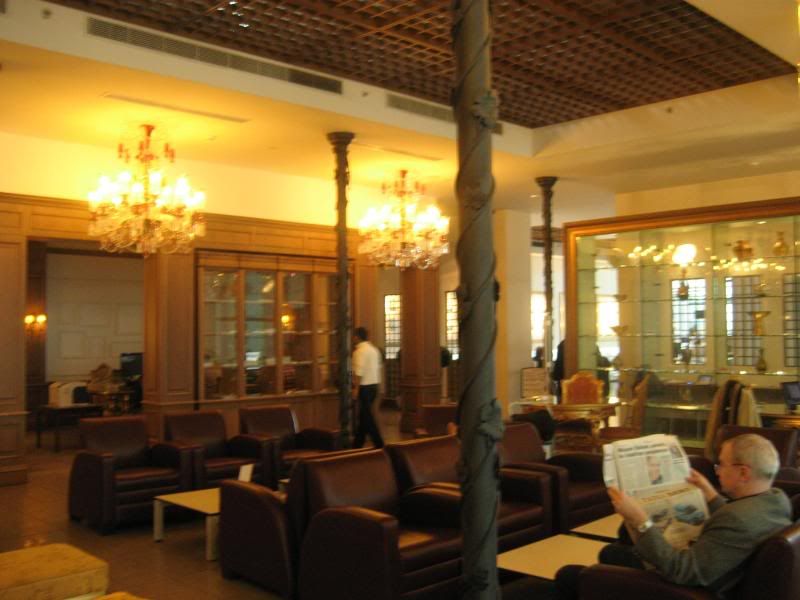 (Istanbul airport)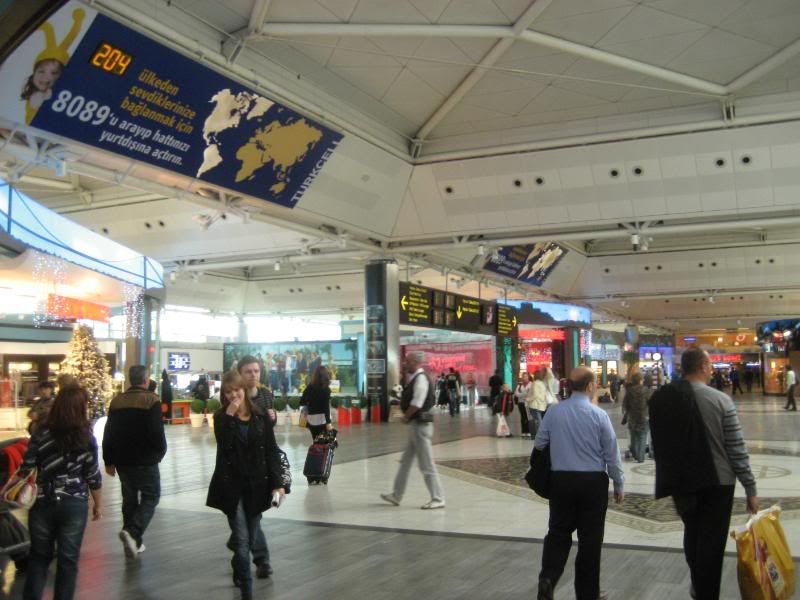 V> Impressions + Scores:
THY won me over by their service standards. The food was top notch; the crew was excellent; while not industry benchmark setters, their IFE rocked, and they had an excellent lounge at IST. An above average seat coupled with relatively good ground handling at JFK ensured a really positive flight. If there is an area that needs to be addressed soon, it must be ground handling at IST.
What TK now needs to do is deliver this kind of service consistently over and over and over again. They need to focus on building their IST hub and ensure that it handles system glitches flawlessly. For this, it needs to continue the excellent work that is already done at the human capital level. Additionally, it needs to invest into becoming a true premium carrier by going for full-flat seats and perhaps embracing an F cabin (9W might have come at the right time). I think this is important for TK from commercial strategy perspective … TK does not yet have the brand recognition it deserves … and most high-value fliers would fly over reliable LH than TK. The only way for TK to crash this party and differentiate themselves is by adding a better product. Of course, back this up with consistency that is the hallmark of LH. However, just being consistent is not enough … as inertia would mean that current high-value fliers chose the perceived safer option.
I am convinced that Star Alliance made the absolute right decision by inviting Turkish Airlines to join. Like Turkey, THY has come a long way and is poised for sustained growth. While not flawless, their product is FAR FAR superior than most Star carriers and indeed much better than most current Star members. In fact, on the basis of this flight, I would rate THY miles better than Lufthansa, Austrian, Swiss, SAS, bMI, etc. and my choice for flights to Europe and to connect to Asia.
Without a doubt, I give Turkish Airlines two thumbs up and recommend it as the preferred carrier for a plethora of routes.
1.0 > RESERVATION: 8.0
2.0 > CHECK-IN: 9.0
0.5 > LOUNGE: 7.0 (JFK lounge)
0.5 > BOARDING: 7.0
2.0 > SEAT: 7.5
0.5 > AIRCRAFT OVERALL AMBIENCE: 10.0
1.0 > IFE: 8.0
2.0 > CREW: 9.5
2.0 > FOOD: 10.0
0.5 > BEVERAGES: 9.0
0.5 > A.KITS + OTHER FREEBIES: 9.0
0.5 > DISEMBARKATION: 10.0 (includes TK lounge IST)
1.0 > ON-TIME RECORD: 7.0
WEIGHTED OVERALL IMPRESSION (WOI): 8.70 – NEW BEST FOR PREMIUM CABIN!
(Pre-flight WOI of all reviews: 6.43)
* Weighted Overall Impression (WOI) aligns scores with what matters most. Weights are indicated alongside each category.
(Scores are based on comparison with other airlines in THAT class of service – No comparison of Y vs. F for example)
VI> Other Trip Reports:
PREMIUM:
8.70: Turkish Airlines (59): JFK-IST: 11/2008
8.61:
Air Canada (49): YYZ-SCL: 06/2008
8.11:
Aeroflot (33): MOW-DEL: 09/2007
8.04:
Korean Air (40): NRT-ICN: 10/2007
8.02:
Delta Airlines (24): JFK-CDG: 08/2007
7.46:
LAN (55): YYZ-JFK: 09/2008
7.82:
Singapore Airlines (06): EWR-SIN: 09/2006
7.14:
Swiss (52): SCL-GRU: 06/2008
6.93:
Delta Airlines (18): SEA-JFK: 11/2006
6.81:
Air Canada (17): ICN-YYZ: 10/2006
6.70:
KLM (32): EBB-AMS: 08/2007
6.25:
Korean Air (45): NAN-ICN: 10/2007
6.11:
TAP Portugal (53): GRU-OPO: 06/2008
5.75:
Singapore Airlines (16): CCU-SIN: 10/2006
5.64:
NorthWest (46): ICN-NRT-SEA: 10/2007
5.39:
LOT (54): WAW-JFK: 06/2008
4.42:
Air France: CDG-JNB (25): 08/2007
ECONOMY: Long + Medium:
9.26:
Air India (48): JFK-DEL: 02/2008
7.38:
Avianca (01): BOG-LIM: 07/2006
6.41:
American Airlines (58): LHR-BOS: 11/2008
6.26:
Jet Blue (21): CUN-JFK: 02/2007
6.06:
Air Canada (04): YYZ-YVR: 09/2006
5.89:
USA 3000 (19): PUJ-BDL: 01/2007
5.79:
Air New Zealand (42): RAR-NAN: 10/2007
5.46:
TAP Air Portugal (23): OSL-LIS: 05/2007
ECONOMY: Short
8.56:
Paramount Airways (38): BLR-MAA: 09/2007
8.24:
Kingfisher (14): IXA-GAU: 10/2006
7.87:
Indian (34): BOM-MAA: 09/2007
7.72:
Alliance Air (13): CCU-IXA: 10/2006
7.57:
Indian Airlines (10): DEL-CCU: 09/2006
7.23:
West Jet (03): YYC-YVR: 09/2006
7.15:
JetLite (37): BOM-GOI: 09/2007
6.70:
Spice Jet (09): CCU-DEL: 09/2006
6.63:
Air Fiji (44): NAN-SUV: 10/2007
6.58:
Air Tran (02): EWR-MDW: 08/2006
6.44:
CO Micronesia (39): ROR-YAP: 10/2007
6.41:
Pacific Sun (43): NAN-SUV: 10/2007
6.37:
Skybus (47): SWF-CMH: 02/2008
6.33:
Kenya Airways (29): NBO-BJM: 08/2007
6.33:
Sky Europe (56): LTN-BTS: 10/2008
6.31:
Indigo (15): GAU-CCU: 10/2006
6.31:
easyJet (57): BUD-LTN: 11/2008
6.22:
Air Link Swazi (28): MTS-JNB: 08/2007
6.22:
Air India (36): HYD-BOM: 09/2007
6.13:
Adam Air (07): SIN-CGK: 09/2006
6.13:
Air Rarotonga (41): RAR-AIT: 10/2007
6.00:
Transairways (27): INH-MPM: 08/2007
5.95:
Air Canada (05): ALB-YYZ: 09/2006
5.85:
SAS Norge (22): OSL-AES: 05/2007
5.81:
LAM Mozambique (26): JNB-MPM: 08/2007
5.69:
Air Deccan (12): IXZ-CCU: 10/2006
5.67:
Rwanda Air Exp (30): KGL-NBO: 08/2007
5.07:
Go Air (35): MAA-HYD: 09/2007
5.00:
Sky Airline (51): IQQ-SCL: 06/2008
4.96:
Valuair (08): CGK-SIN: 09/2006
4.78:
Air Comet Chile (50): SCL-IQQ: 06/2008
4.74:
Fly 540 (31): MYD-LAU: 08/2007
4.33:
Viva Aerobus (20): ELP-MTY: 02/2007
4.11:
Air Sahara (11): CCU-BOM: 09/2006
(Note on Codes: Y – Economy, J – Business, F – First :: I/D – International/Domestic :: SR/MR/LR – Short/Medium/Long Haul)
(Note on Date: Dates are modified to be +/- 3 days from actual flight date to not reveal actual flight pattern)
VII> Other Pictures:
(Very generous L'Occitane amenity kit)