Recently Alex (A.Net-user name Ndebele) and I thought it was about time for another short spotting break at London Heathrow. We also wanted to have a look at the recently opened new Terminal 5 which is exclusively used by BA and their partners, so our first thought was flying BA from our home airport STR to LHR. The cheapest fare on BA was EUR 161.00 return, so in the end we decided to take LH as we still got some cheap 99.00 Euro-tickets (return, including all taxes). Another reason for LH was the fact that our STR-LHR flight was scheduled to be operated by a CJR 700, a type of aircraft that was still missing in Alex's log. Both LH and BA operate three daily flights between STR and LHR.
Sunday, 30 November 2008
Stuttgart (STR) – London Heathrow (LHR)
Airline: Lufthansa (operated by Lufthansa CityLine)
Flight number: LH 4780
Scheduled departure time: 06:55
Scheduled arrival time: 07:40 (local time; time difference -1 hour, so flight time was 1:45)
Type of aircraft: Bombardier CRJ 200LR
Registration: D-ACJG "Oberstdorf"
This aircraft was built in 1998 and delivered to Lufthansa CityLine.
In the morning on the day before our flight I checked the web page of Stuttgart Airport and found our flight operated by CRJ 700 confirmed. However, later that day, we found out that there would be a downgrade to a CRJ 200, so again no CJR 700 for Alex.
As we both live very close to Stuttgart Airport, we decided to use the late-night check-in option. We met at the airport at 18:00 and with no waiting time at all we proceeded to a free check-in counter. A friendly lady asked us for our seating preference. We opted for the second last row and got seats 12D and 12F. To avoid dealing with the liquid rules, we checked in a small trolley.
The Lufthansa check-in area in Terminal 1: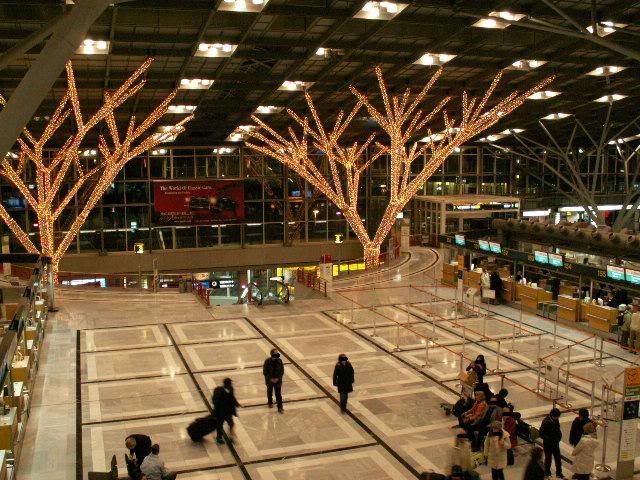 The next morning we me again at gate 121, a bus gate on the ground floor of Terminal 1 in the non-Schengen area. Various newspapers were available at the gate. Boarding started at 6:35 which was 20 minutes before scheduled departure time. A bus took all passengers to our aircraft which was D-ACJG, named after the town of Oberstdorf.
Boarding D-ACJG (sorry for the low quality of this picture):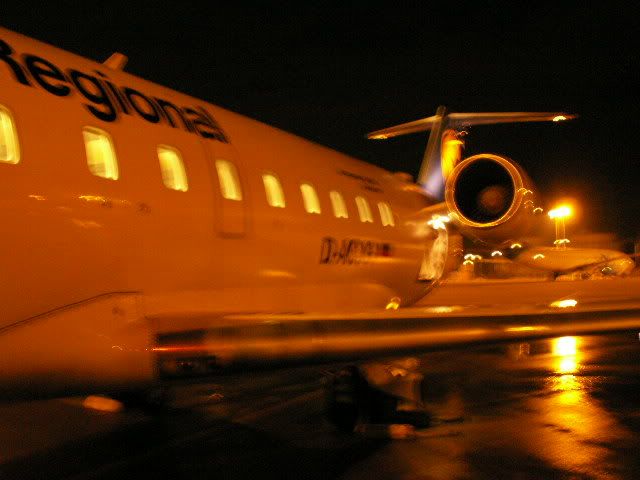 We were welcomed by two friendly female flight attendants. The cabin was well maintained; the first three rows were reserved for Business Class, but nobody was sitting there. We took our seats in the second last row. I counted 17 passengers, so load factor was only 34% on this early Sunday morning flight. As there was plenty of space, Alex moved to seat number 12A while I stayed in 12F, so we both had a window seat. The captain made a welcome announcement and told us we still had to wait a few minutes for the catering to arrive.
We were off-block at 7:00 and taxied to runway 25 where we took off in Western direction immediately. It was clear outside, but as it was still dark, there are no pictures. The captain informed us about our flight route which would be STR – FRA – Liège – BRU – Oostende and then crossing the North Sea towards the UK and into LHR.
Cabin crew started meal and drinks service. Everybody got a small sandwich (cheese or ham), some small sweets ("Giotto") and hot and cold drinks. Alex chose the ham sandwich while I opted for cheese, so you can enjoy a picture of both options: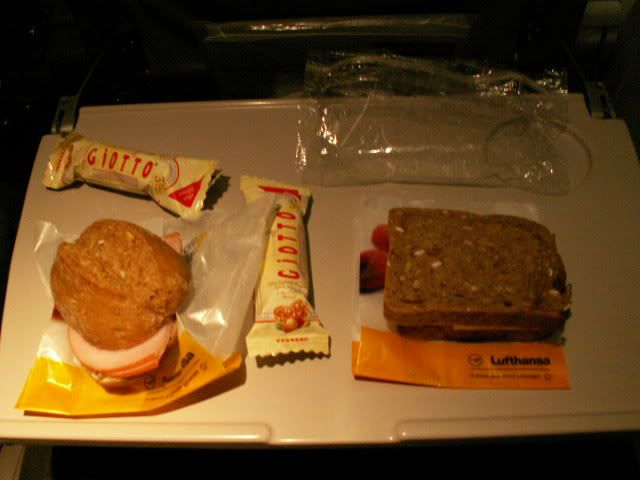 I had a coffee and an orange juice while Alex had a tomato juice. Outside it became more and more clouded and it was still dark, so there wasn't much to see outside. I read a bit in the in-flight magazine. Later cabin crew passed by with a second drinks service which was nice.
We approached LHR, and the weather was absolutely bad: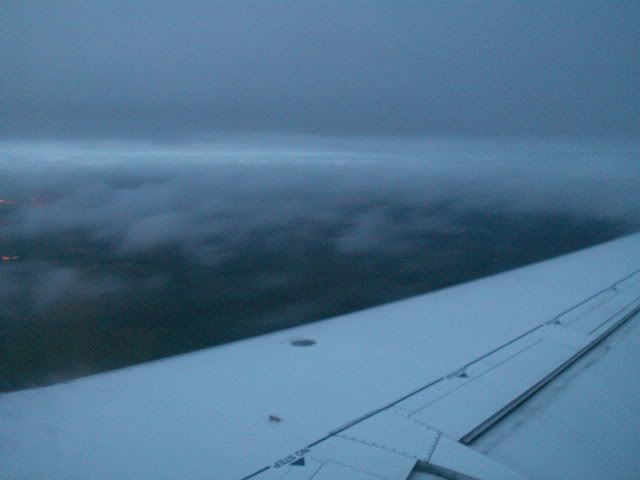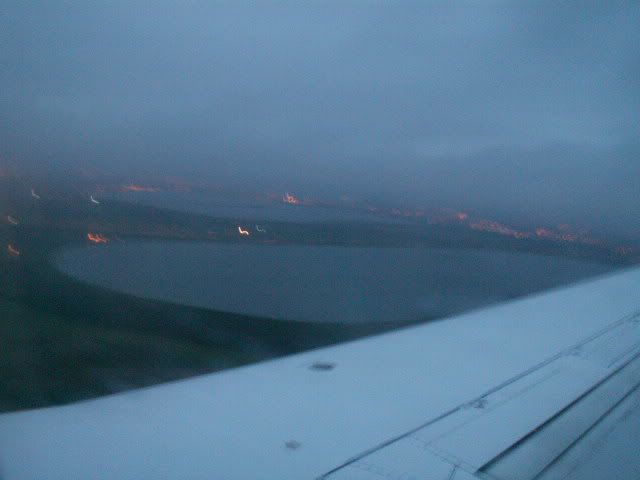 We touched down on runway 09L and taxied to a parking position in front of Terminal 2 where we were on-block at 7:35 local time which was 5 minutes ahead of schedule.
Leaving D-ACJG: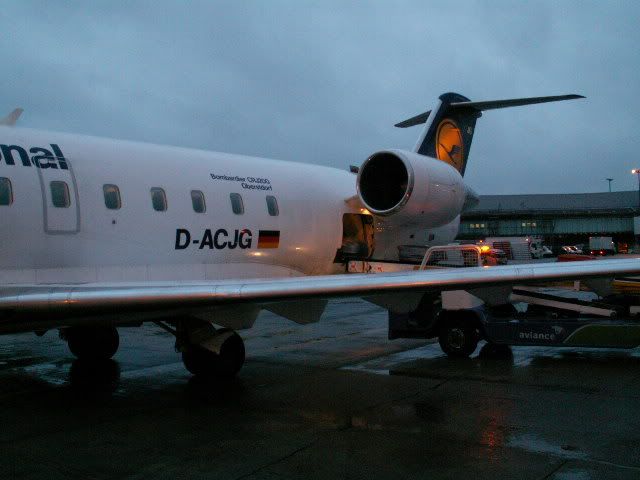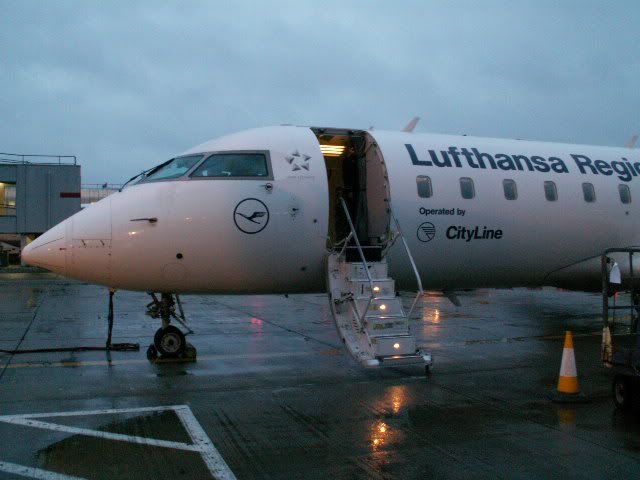 Our aircraft parked at the gate: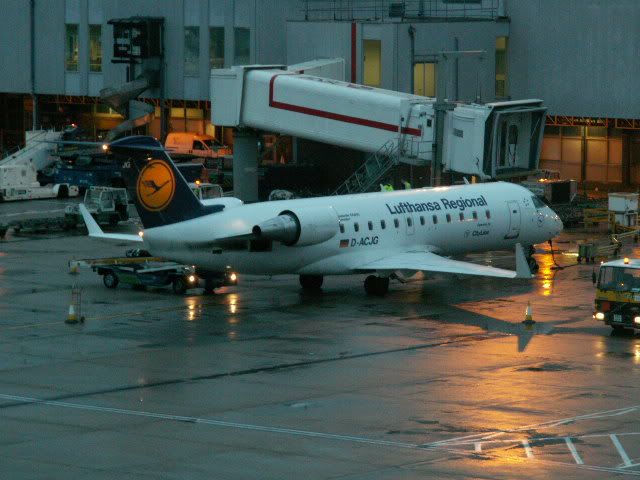 As nearly all operations of BA have moved to Terminal 5, there were some changes regarding the airlines serving Terminals 1 and 2. The two terminals are linked airside, so we walked around a bit for some spotting. Then we passed immigration. Soon we realized that we had passed immigration in Terminal 1 instead of Terminal 2  
, where we had to collect our luggage, but it was too late: there was no way back. We asked at a United counter in the baggage area what to do; the agent told us that the only way was leaving the security area, proceeding to Terminal 2 and re-entering the security area at a special entrance that only leads to the baggage area. That's what we did; at this special entrance there was a courtesy phone and a list of all airlines serving the terminal as all passengers entering trough this entrance had to be escorted by airline staff. So we phoned LH, and within only a few minutes, a lady of LH-staff arrived. We explained the situation, but she didn't seem to be surprised at all – obviously that happens quite often. We passed the security checkpoint together with the LH-agent and entered the luggage area of Terminal 2 where we finally collected our trolley.
As we wanted to have a look at the new Terminal 5 as well (at least the landside part), we proceeded to the station of the Heathrow Express train as this train is the official way of transport between the terminals and it can be used free of charge within the airport area.
Terminal 5 is quite impressive, very spacious and definitely a great improvement for Heathrow Airport. However, landside spotting options are limited, and the only good outside spotting points are occupied by members of security staff who immediately tell you to go away. So we took a bus to our hotel which was the Renaissance Hotel, located at Bath Road, where we had requested a room with airport view.
On the next day, we left our hotel at around noon and took a Hotel Hoppa bus to Terminal 2.
Monday, 01 December 2008
London Heathrow (LHR) – Stuttgart (STR)
Airline: Lufthansa (operated by Lufthansa CityLine)
Flight number: LH 4775
Scheduled departure time: 14:45
Scheduled arrival time: 17:20 (local time; time difference +1 hour, so flight time was 1:35)
Type of aircraft: Bombardier CRJ 200LR
Registration: D-ACJI "Rothenburg o. d. Tauber"
This aircraft was built in 1998 and delivered to Lufthansa CityLine.
A huge sign outside Terminal 2 tells about the scheduled demolition in 2009 and the plans for a new terminal: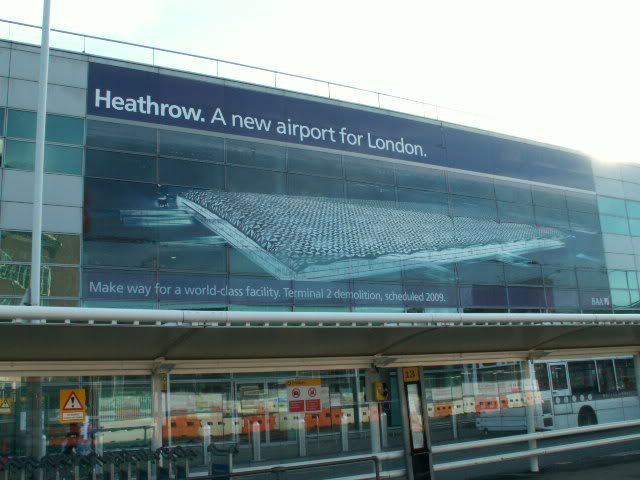 The check-in hall of Terminal 2 with its (un-)famous low ceiling; I guess an improvement of this facility will be welcomed by passengers and staff: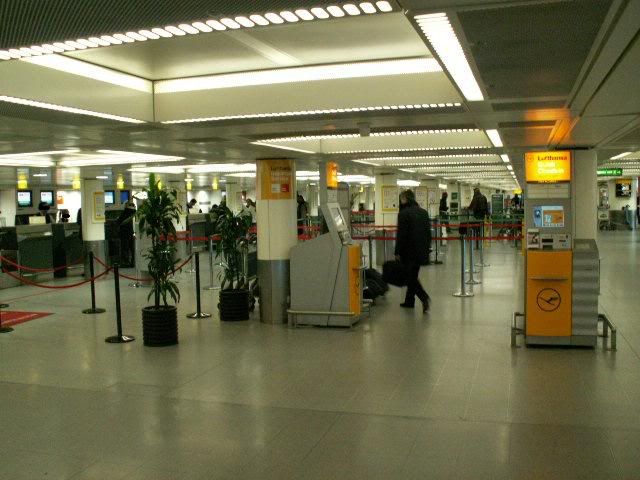 We proceeded to a free check-in counter without any waiting time. A young lady was working there, advised by a more experienced colleague who was standing next to her. Obviously it was her first working day as she didn't know how to deal with the letter "ü" that our names contain, and I'm sure you have to deal with these special German letters frequently when working at the LH check-in. No problem for us – we had lots of time, and everybody has had his / her first working day once. At first she printed out boarding passes for two aisle seats. We asked if it would be possible to get some seats together, and the experienced agent offered the exit row seats to us which we kindly accepted.
We passed security check with nearly no waiting time - it wasn't very busy around noon. We had a look through the shops and did some spotting.
This used to be a part of the gate area of Terminal 1; now it looks like a driving school for busses: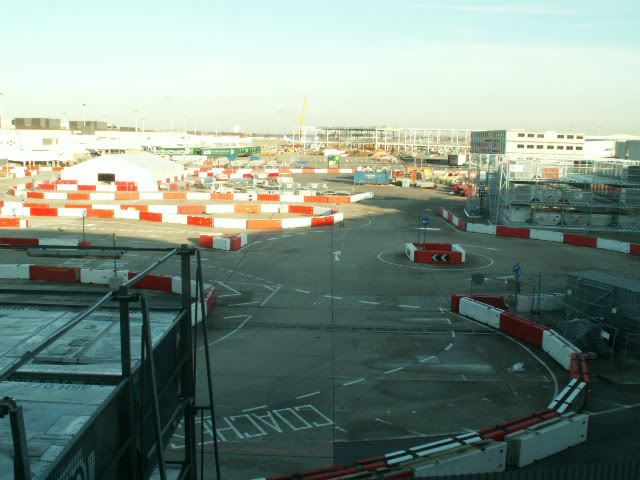 Soon we could watch our aircraft arriving from STR ahead of schedule. This time it was D-ACJI which is named after the town of Rothenburg ob der Tauber: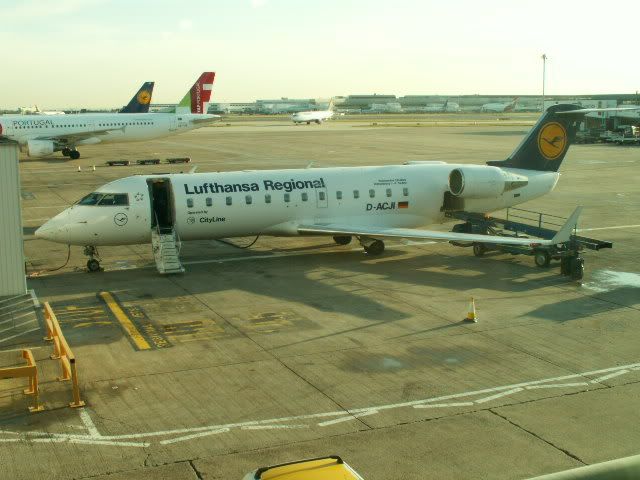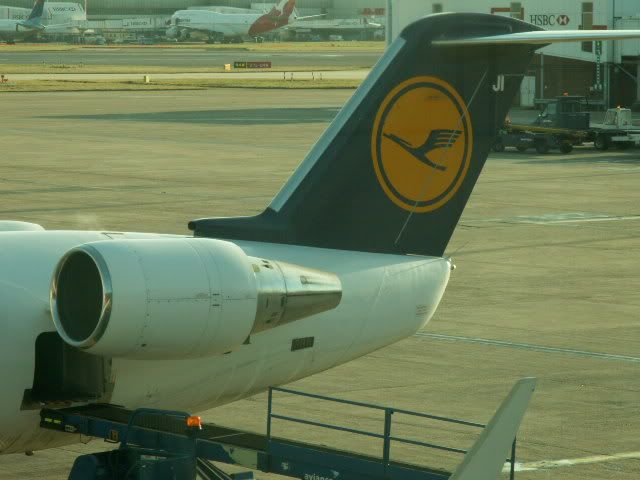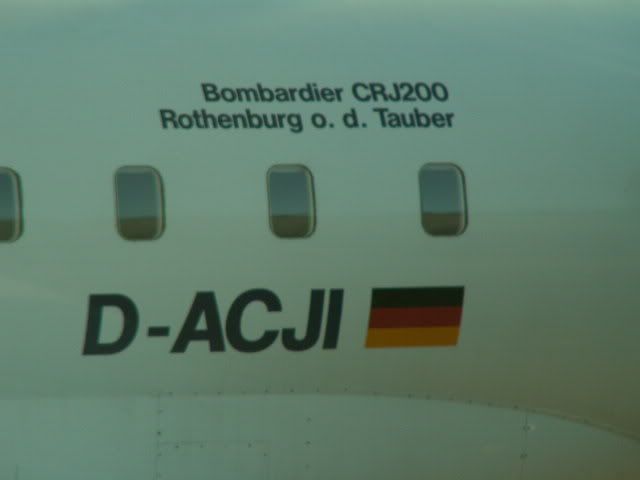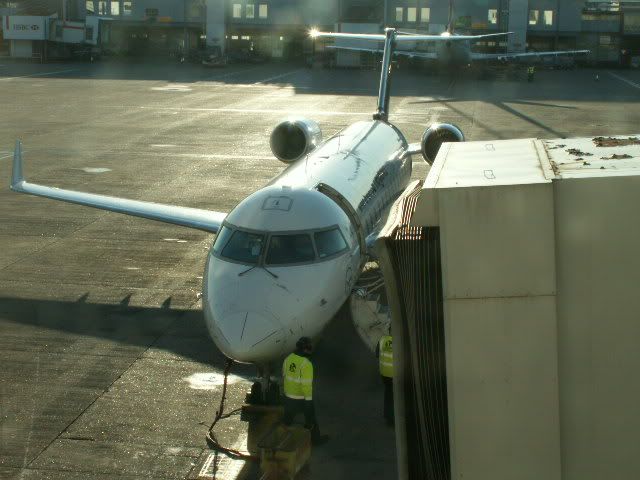 An interesting detail: there was a crew-change on our aircraft at LHR. As the only night-stop of an LH City-Line aircraft at LHR is a DUS-service, the crew for our flight to STR must have arrived from DUS the evening before. But as there are flights between STR and DUS operated by CityLine as well, it should be no problem to get the crews from STR to DUS or the other way round.
The gate for our flight was announced about 30 minutes before departure. British and German newspapers were available in the gate area. Boarding started shortly after at 14:25 and we walked down the stairs to the parking position of our aircraft. Two female flight attendants welcomed all passengers. A sign near the entrance door informs you about the name of the aircraft: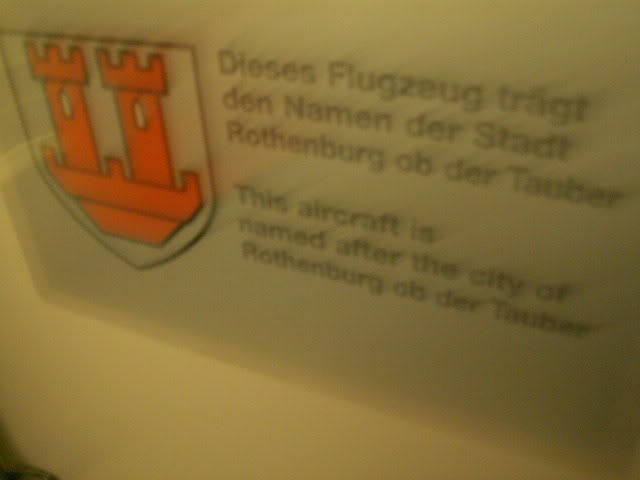 We took our seats in the exit row. This time there were 32 passengers on board which was a load factor of 64%. Some of the passengers had obviously transferred from an Air New Zealand flight. Again there was a short welcome announcement from the captain.
We were off-block at 15:00 which was 15 minutes behind schedule. There was no information about this short delay, but it was probably a slot restriction as it happens quite often at LHR.
The weather had really improved compared to the day before: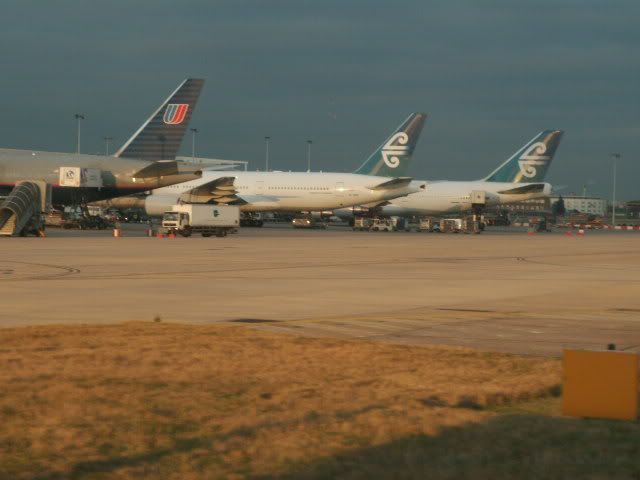 The remains of the BA B777 G-YMMM that was damaged in January 2008 at a landing outside of the runway are hidden behind a fence: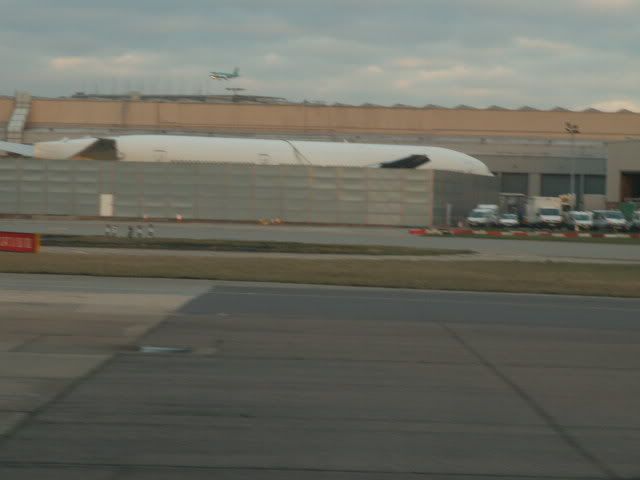 After some more waiting time in the departure queue we took off from runway 27L. Terminal 4: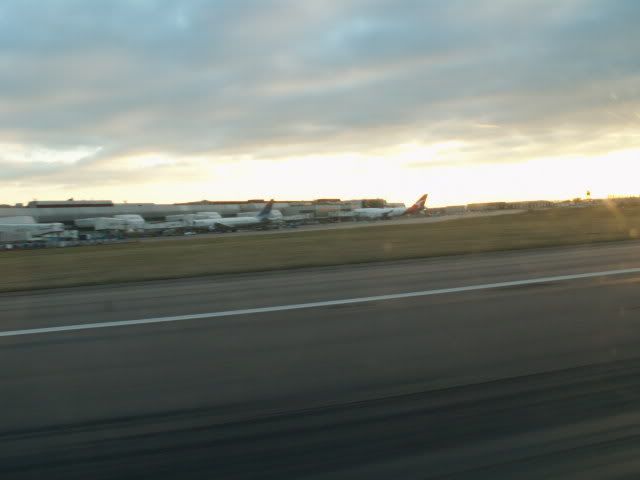 The cargo ramp: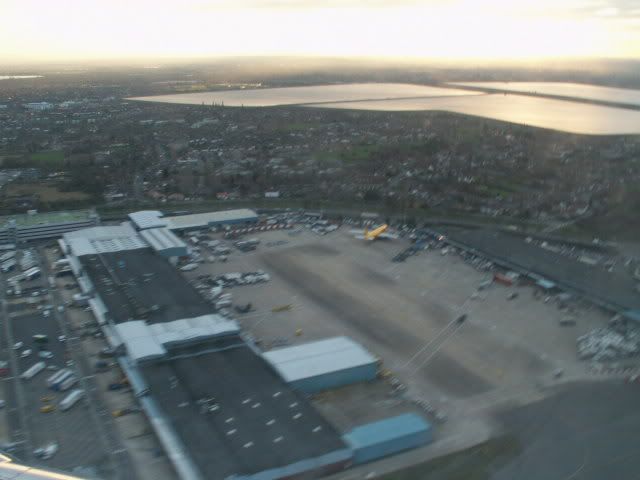 Some artificial lakes near the airport: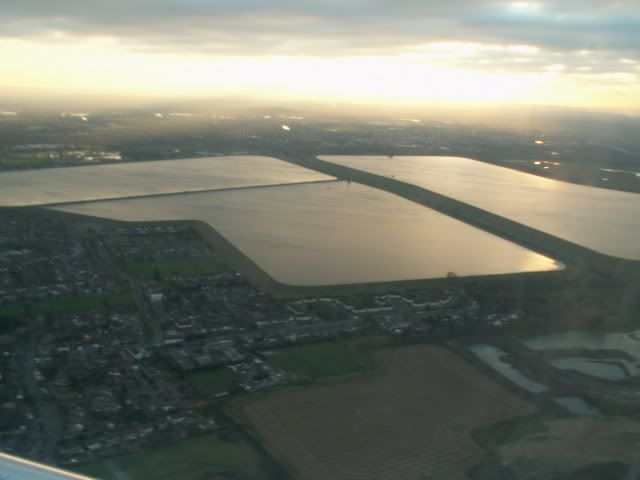 Nice light conditions: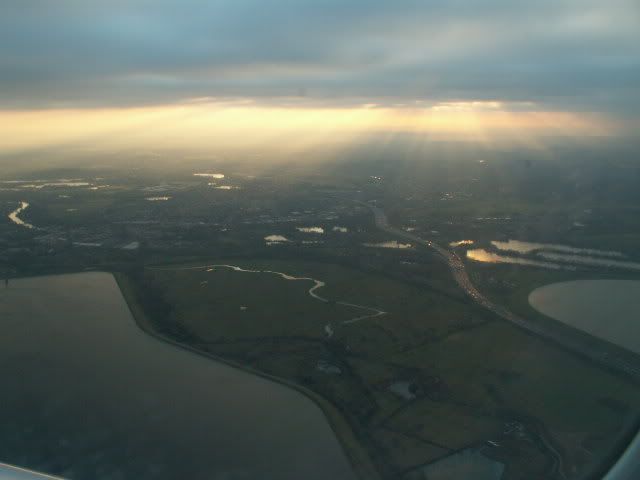 Suburbs of London: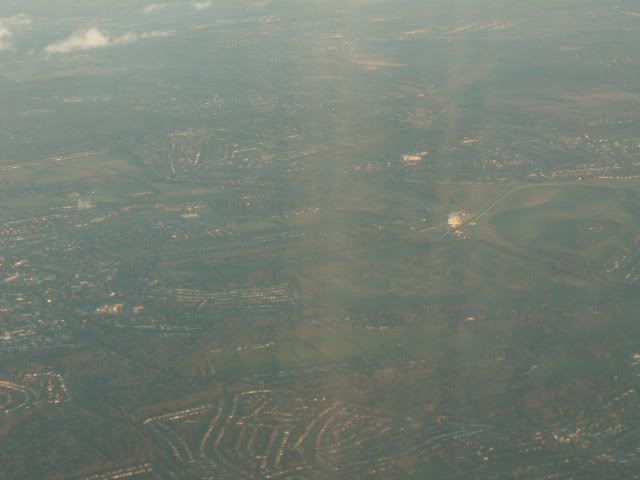 Landscape in the Southwest of England: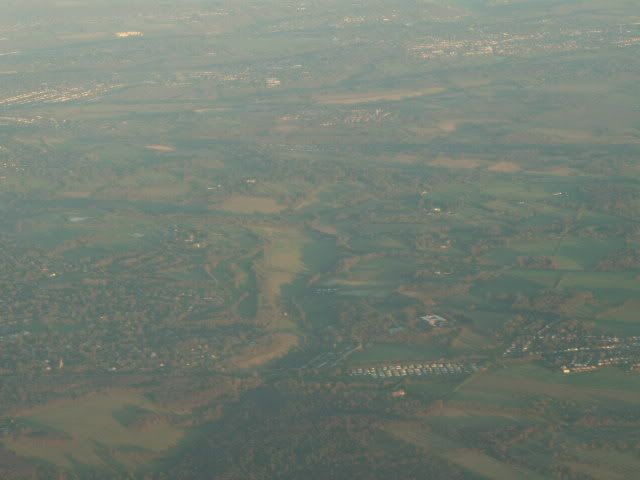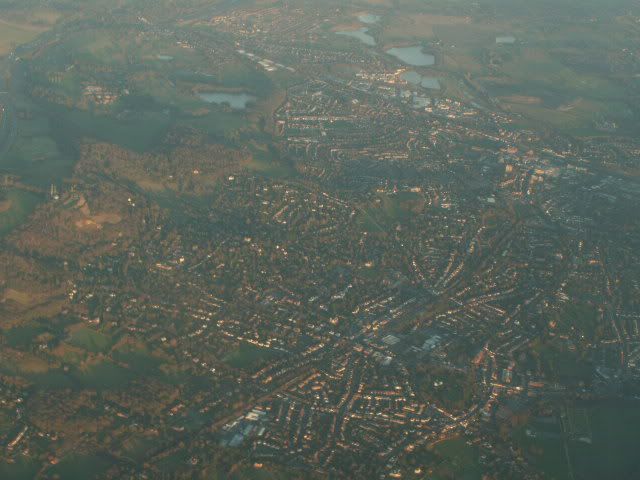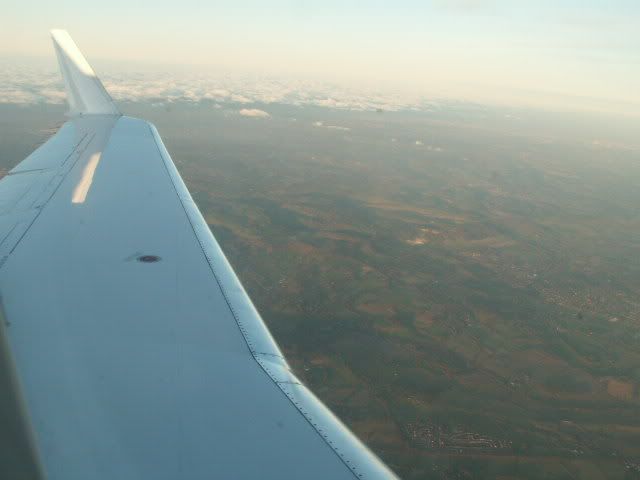 Flying along the River Thames:
River Medway: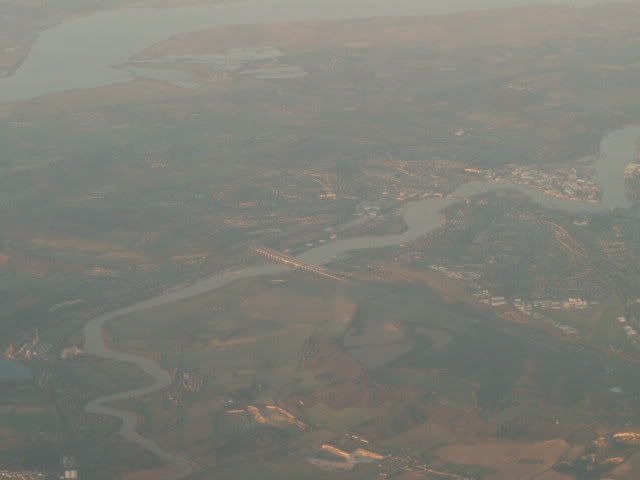 The mouth of River Thames: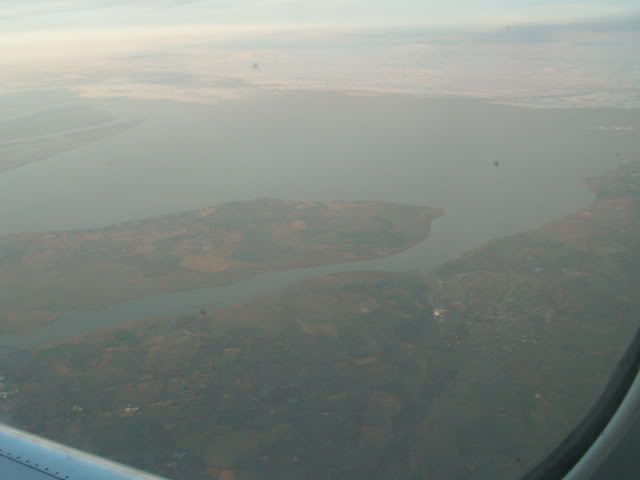 When we reached the North Sea it got clouded again. Cabin crew started their service that was the same as the day before: sandwiches with cheese or ham, small sweets and two drinks services with hot and cold drinks. Soon it got dark outside. I had a look into the in-flight magazine which had changed since the day before: as we had a new month, we could enjoy the brand-new December-issue.
The remaining flight was uneventful. Soon we approached STR from the East and touched down on runway 25. We taxied to a parking position on the apron where we were on-block at 17:30 which was 10 minutes behind schedule.
Leaving our aircraft: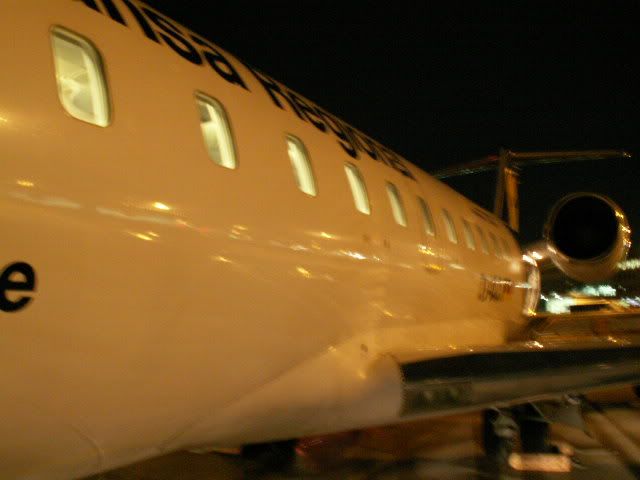 A bus took all passengers to the international arrivals facilities of Terminal 1. After passing immigration we proceeded to baggage claim where luggage of all passengers arrived at 17:38, only eight minutes after on-block time which was very quick indeed. We said goodbye to each other and left the airport by train in different directions.
Conclusion:
Once again LH did a good job. They took us to LHR and back on time for a very good fare. Staff was friendly and service was good and efficient. I will definitely fly LH again.
Thanks for reading this report. Questions and comments are always appreciated.
Regards
Christoph
[Edited 2008-12-14 13:21:01]