Greece 2/2: On the Aegean Avro and the A300-600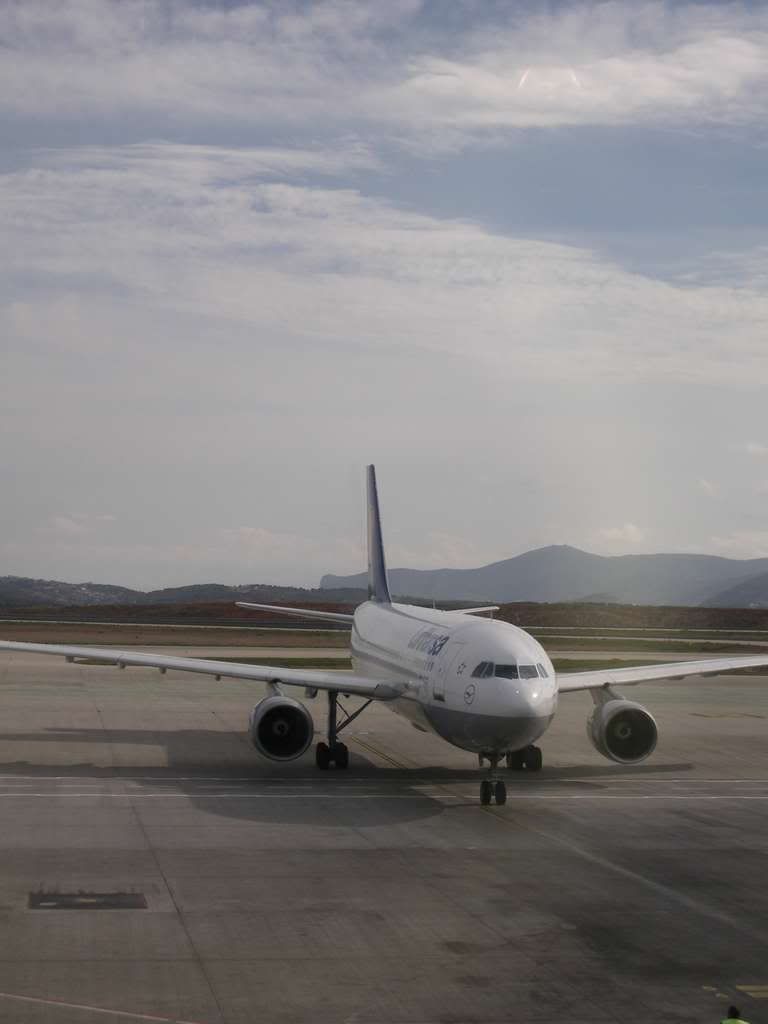 Giasou, dear readers,
these story covers my three return legs from Chania to STR during late November.
The outbound leg on Aegean Airlines is posted here:
http://www.airliners.net/aviation-fo...ums/trip_reports/read.main/138355/
Early wake up time, to catch some, hopefully, sunny pics of Chanias Old Town.
View from my balcony:
The arsenale: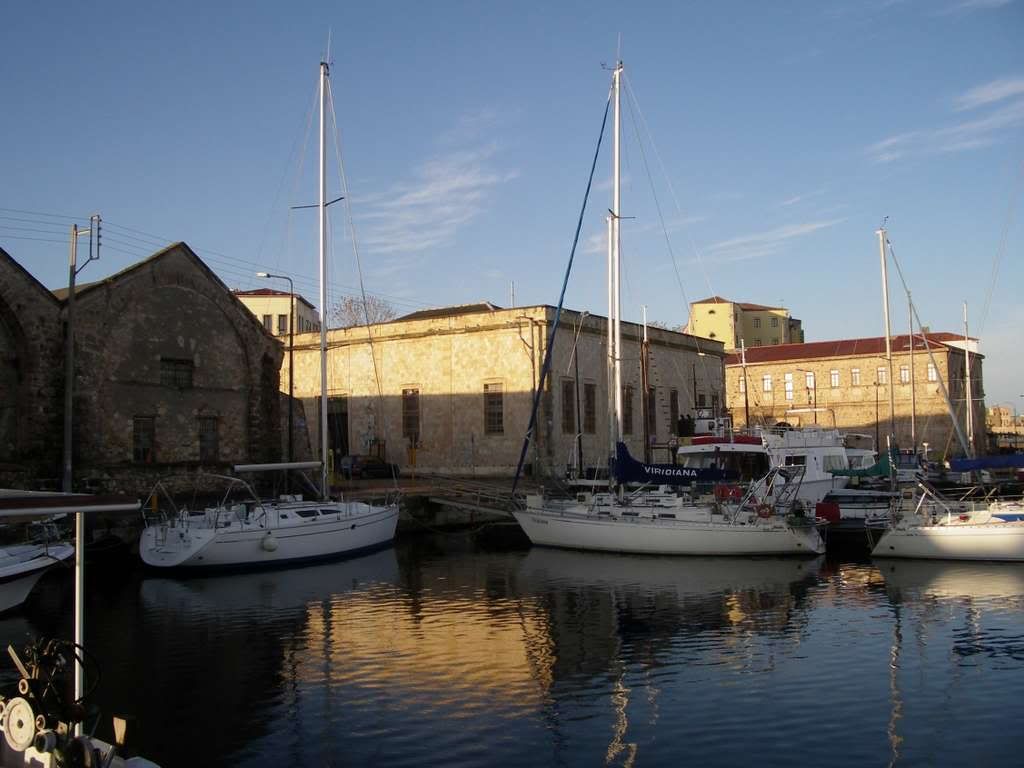 Interesting architecture:
The harbour: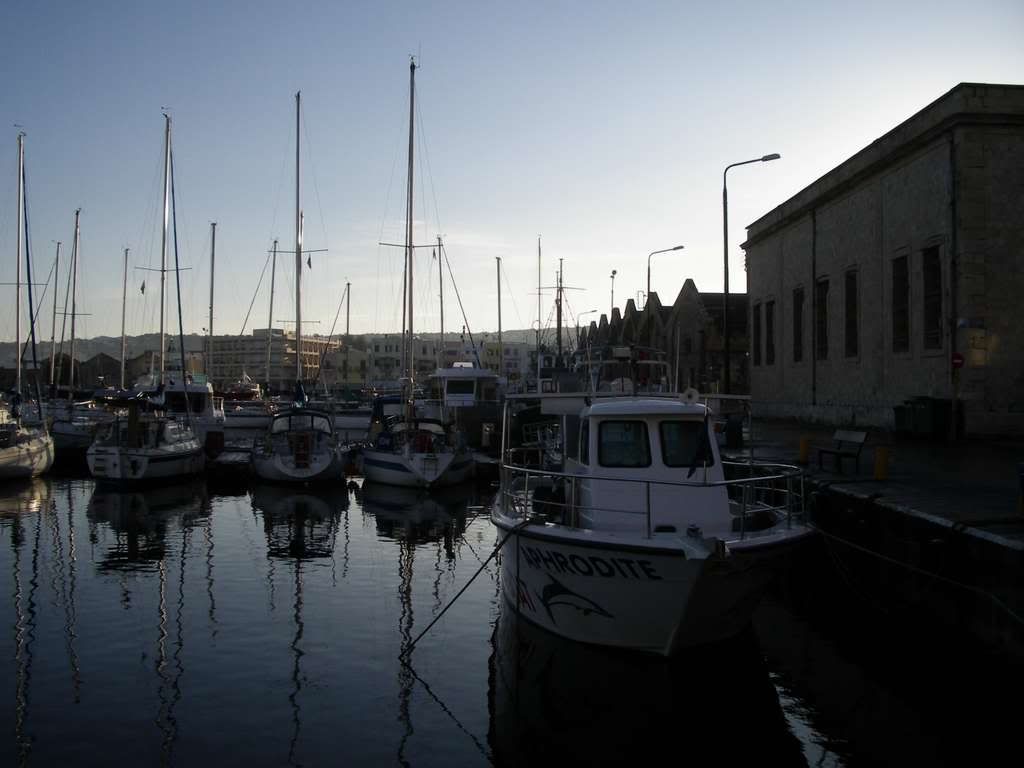 More details: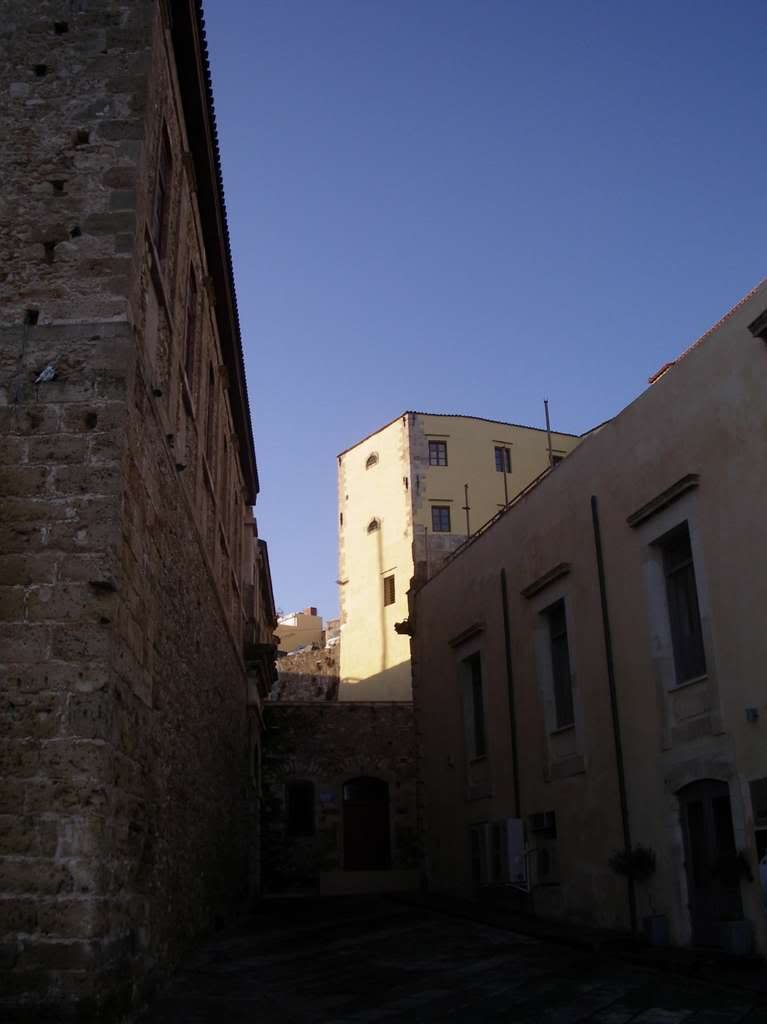 The venetian harbour: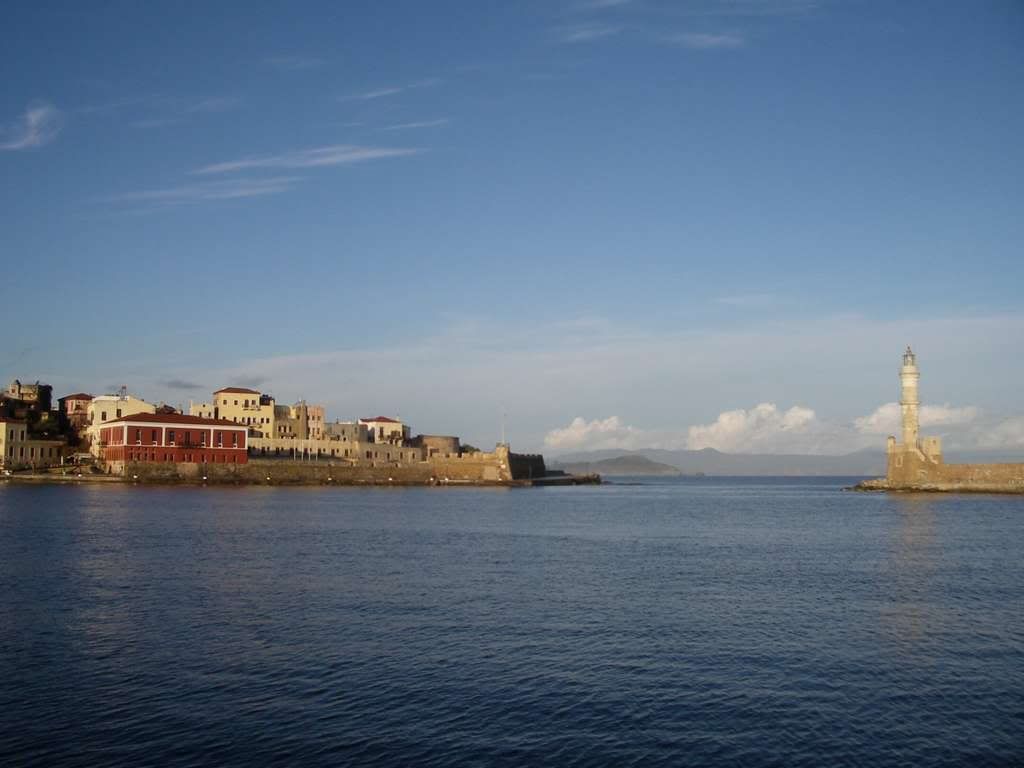 The mosque:
The maritime museum: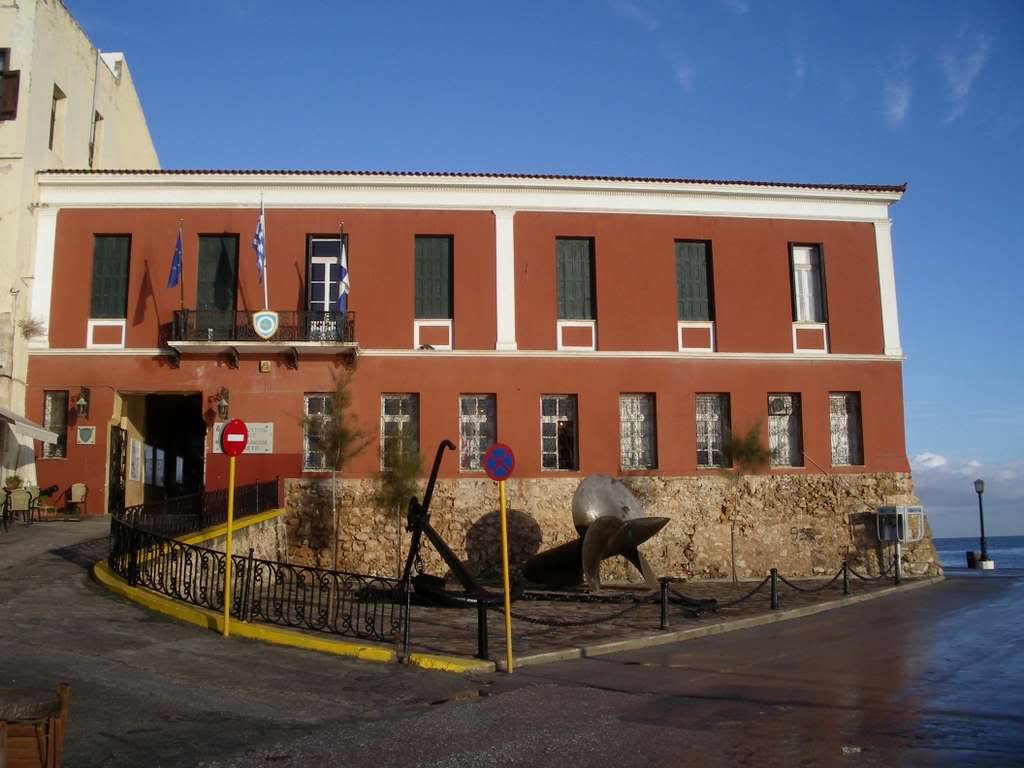 The lighthouse:
And finally by taxi back to the airport.
Tuesday, 18.11.2008
CHQ (Chania-Souda) - ATH (Athen-Elefterios-Venizelos)
Duration: 35 minutes
Service A3 333 operated by Aegean Airlines Avro RJ 100 SX-DVD
Scheduled: 10.45 // 11.35
Actual: 11.05 // 11.40
Gate: 1 Seat: 21F
Load factor: Near 100%
Fare: 45,74 EUR
History:
14.12.1999: Delivered to Aegean Airlines
Leg no. 6 on the RJ100 and the first on this machine.
Well, dear readers, what about some pix from Chania airport?.
Nope, no way, its also a military base with huge NATO fighter presence.
I´ve walked a bit along the fence after checking in for my first flight today.
The girl there was real friendly. She managed to fix a big, fat, red priority tag at my bag. I´ve dont even asked about it.
Back to the fence, where I´ve followed touch and goes by some Greece F16 fighters.
Military police with a soldier at the gun, goes very slowly aside me, it seems I´am looking suspicious.
An Air Mediterranean A321 was parked on the apron, but no flight on the screen.
No chance to do pics there, MP everywhere, so time to go through security and in the gate area.
That´s what I call efficiency. All the pax had to wait in a area after security. At one door to the next room, boarding passes for an delayed OA service gone checked.
Some minutes later the second door was opened and pax for Aegean to Athens are called. Btw. only flights to Athens on the screen.
There was only one waiting room after the check, so OA and A3 pax mixed again. OA was called first without a further boarding check, a guy shouted
"Olympic, Olympic", but we all know, also some Aegan pax found it interesting to go for the gate and also some OA pax seems not that really interested, that their flight was called. Some confusion all around.
OA operates an ATR 72 on this flight, my machine was also arrived some minutes earlier, the scheduled RJ100.
Warm welcomed, another not that much covered plane in my log.
No chance to do pix here also, signs "no photos" everywhere, the apron separated by a large fence from the terminal and btw, Military police driving by.
Bus boarding, no fingers here.
CHQ terminal: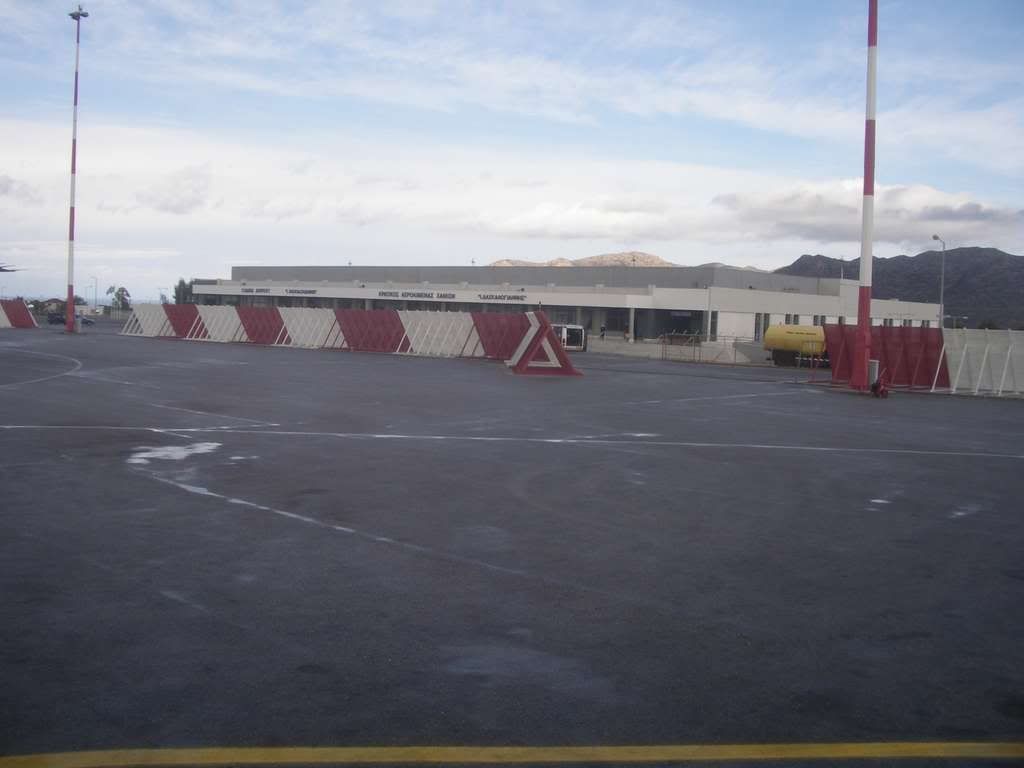 Three females on the plane, the nice FA serving the rear part of the cabin real friendly on the whole flight. She asked me later: "Cake or peanuts" and before I´ve answered
she gave me five to six small packs, not bad.
The cabin fitted with dark, blue leather seats, clean and in really good conditions.
Departure from runway 29. Cockpit crew was again from Greece, the captain with detailed informations inflight. Flight level 22.000 feet, partly cloudy sky, some shakers here and there.
Just departed: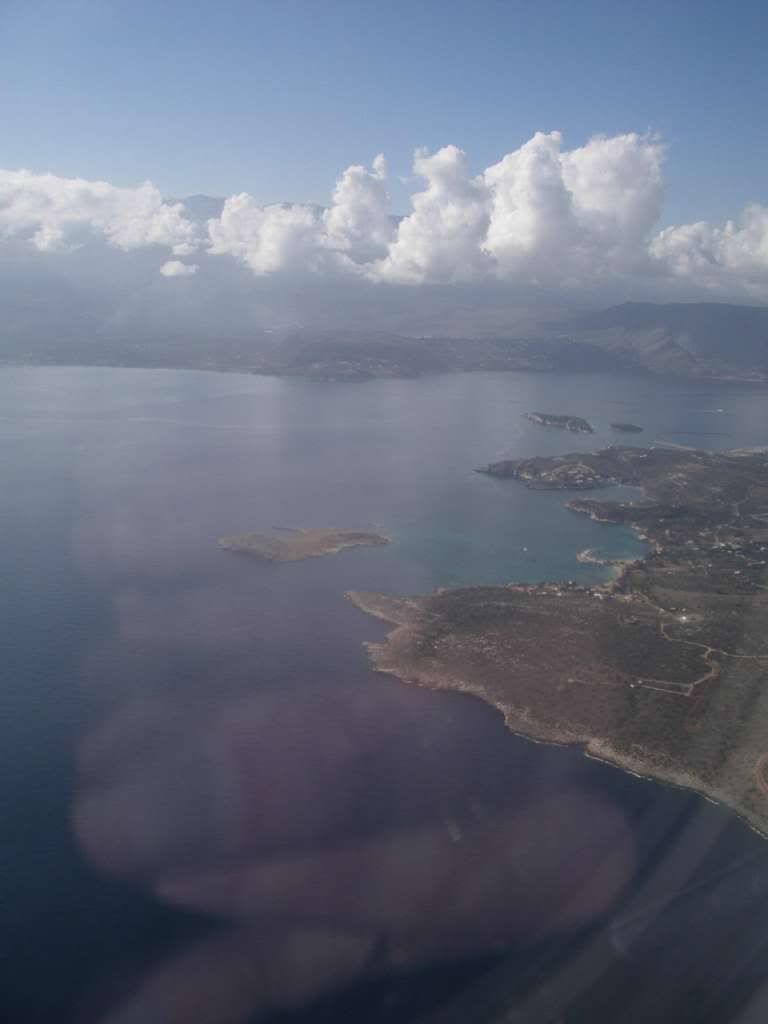 Engine view:
Another nice island: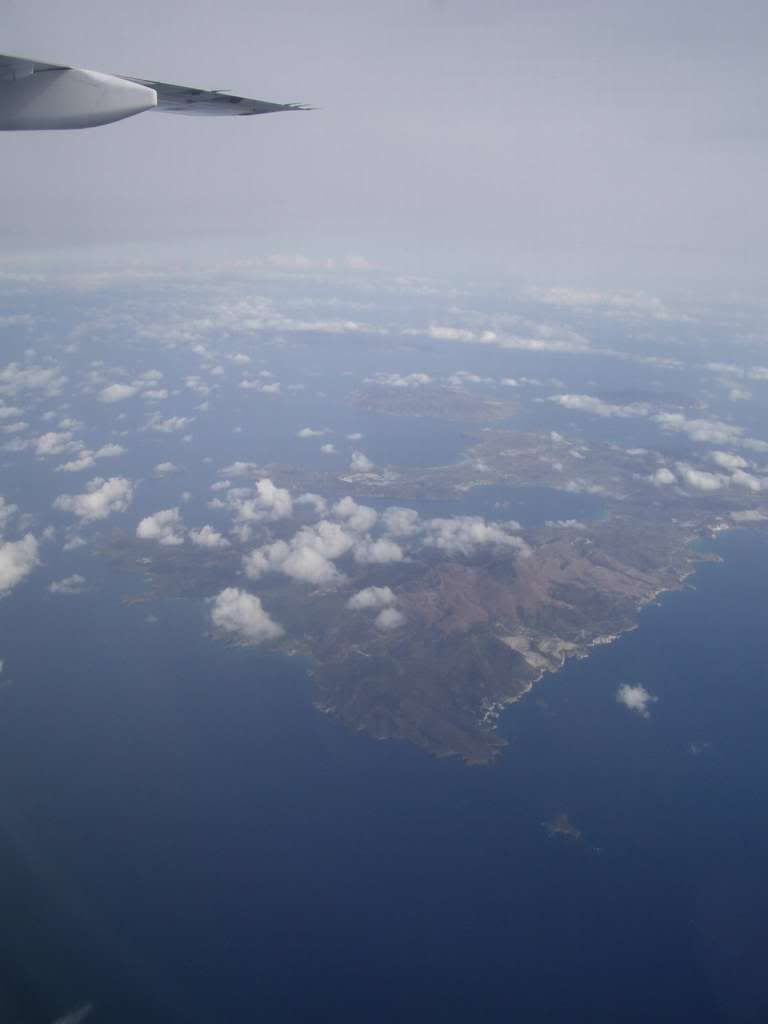 Touchdown at ATHs runway 03L once more ontime. Good punctuality here on Aegean.
Parked on the apron, wished the FA a good day and back at ATH.
Reg. shot:
Nice machine:
Bye-Bye: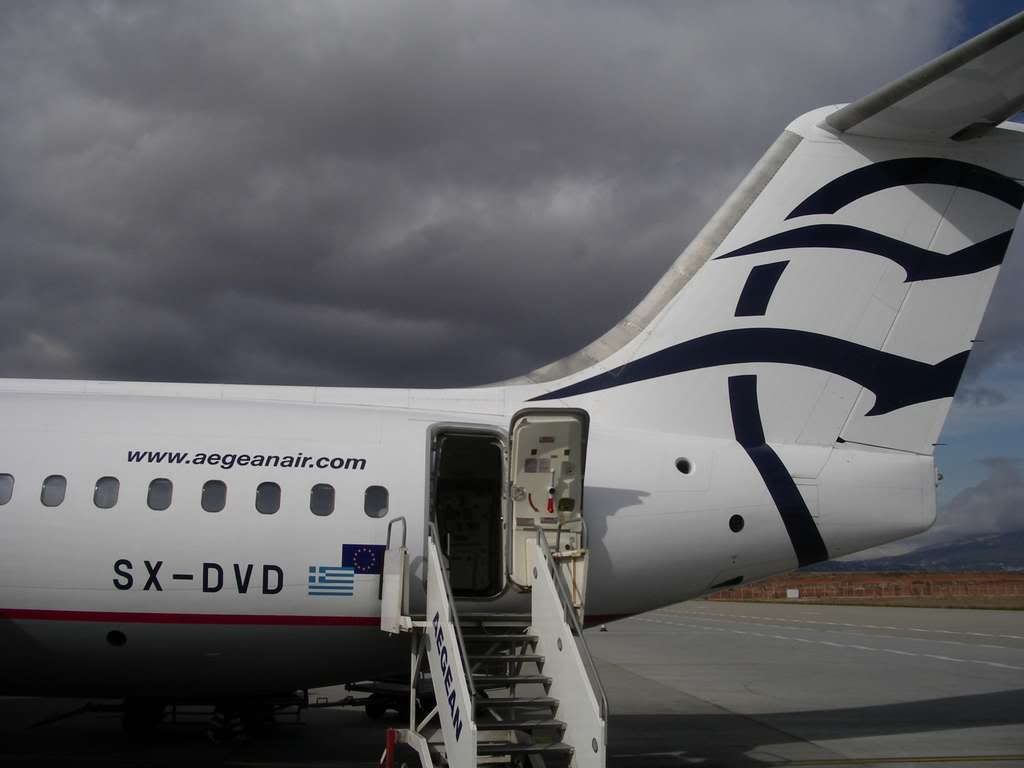 ATH (Athens-Eleftherios-Venizelos) - FRA (Frankfurt-Rhein-Main)
Duration: 2 hours, 40 minutes
Service LH 3381 operated by Lufthansa Airbus A 300-600 ABA Interkontinental D-AIAU
Scheduled: 13.55 // 16.00
Actual: 14.20 // 16.00
Gate: B09 Seat: 45A
Load factor: Around 90%
Fare: 52,24 EUR
History:
13.01.1992: Delivered to LH
Leg no. 2 on the A306 and the first on this machine.
The red tag works really well, my bag was the first out on the belt, not bad.
The last time here at ATH by LH it was possible to select your seats at the self service desks and drop the bag at a separate counter.
These possibility seems gone, no machines there.
The queue was not that long, but with only two eco desks and pax with lots of bags, some fifteen minutes to wait for me.
The female agent was really bored there, no eye contact, no conversation. I´ve asked for window last row, as always, she worked and printed something,
but for sure not window last row. I´ve asked again and finally my wish was heared, my bag checked to STR and both legs window last row.
No time to wait at security near the gates. Catched a sunny seat with a good view to the apron and one of the runways, time to wait for my big ride to FRA.
Cyprus back to Larnaca: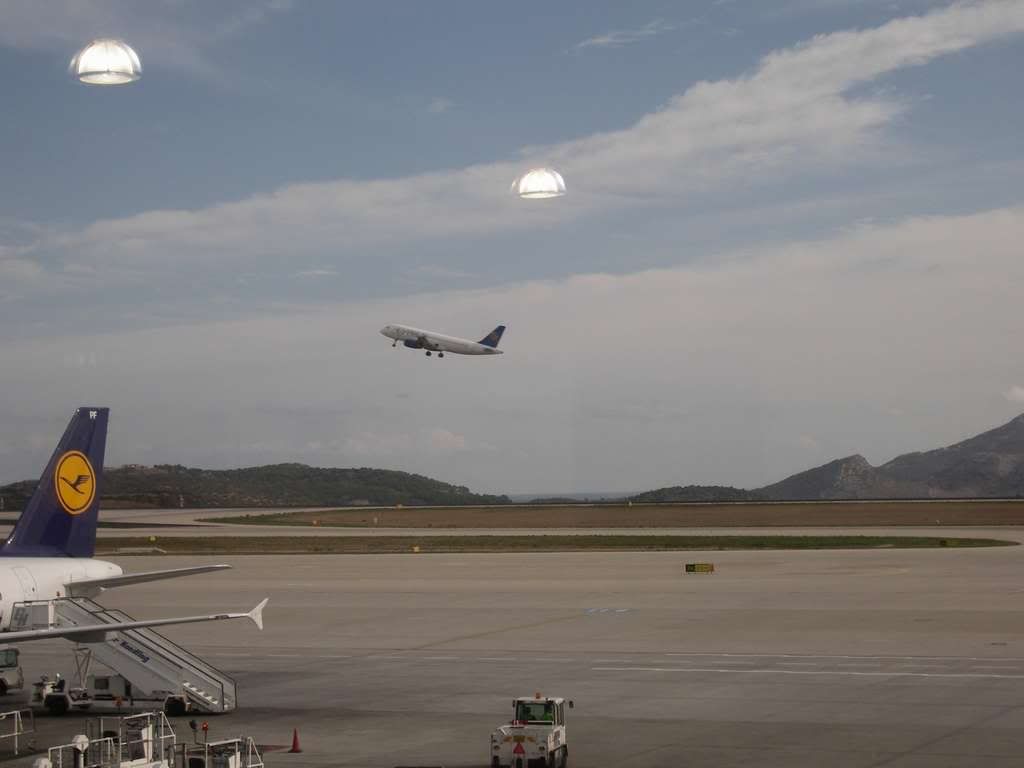 Taxi Olympic:
Just arrived:
Big taxi: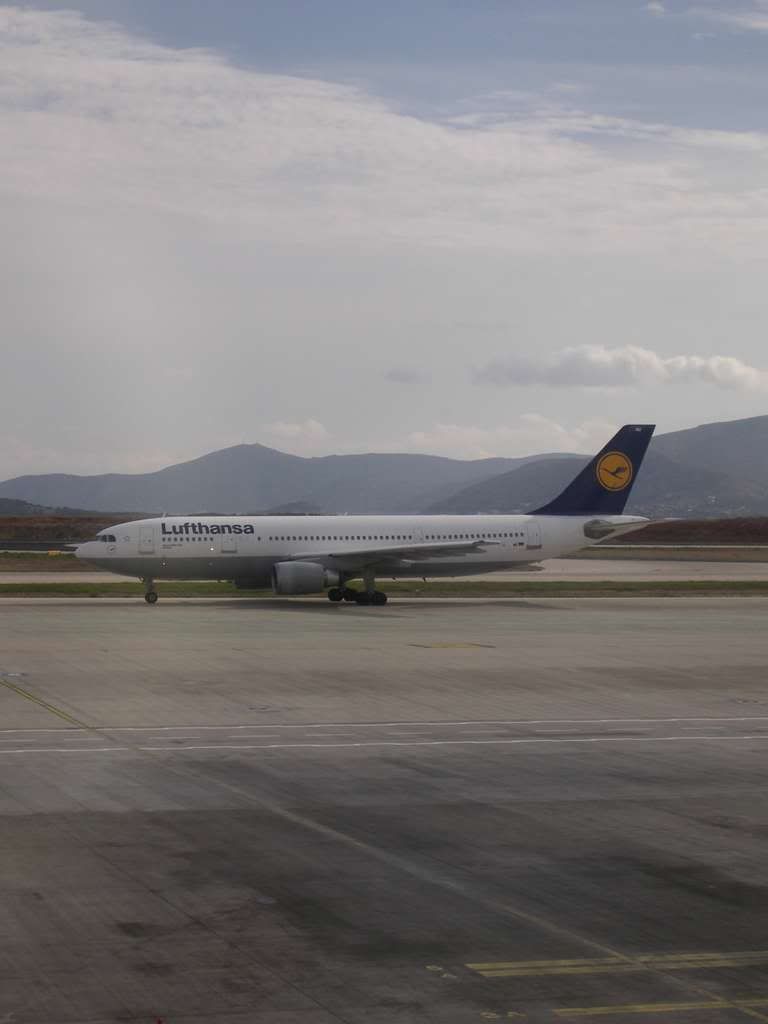 More:
And more: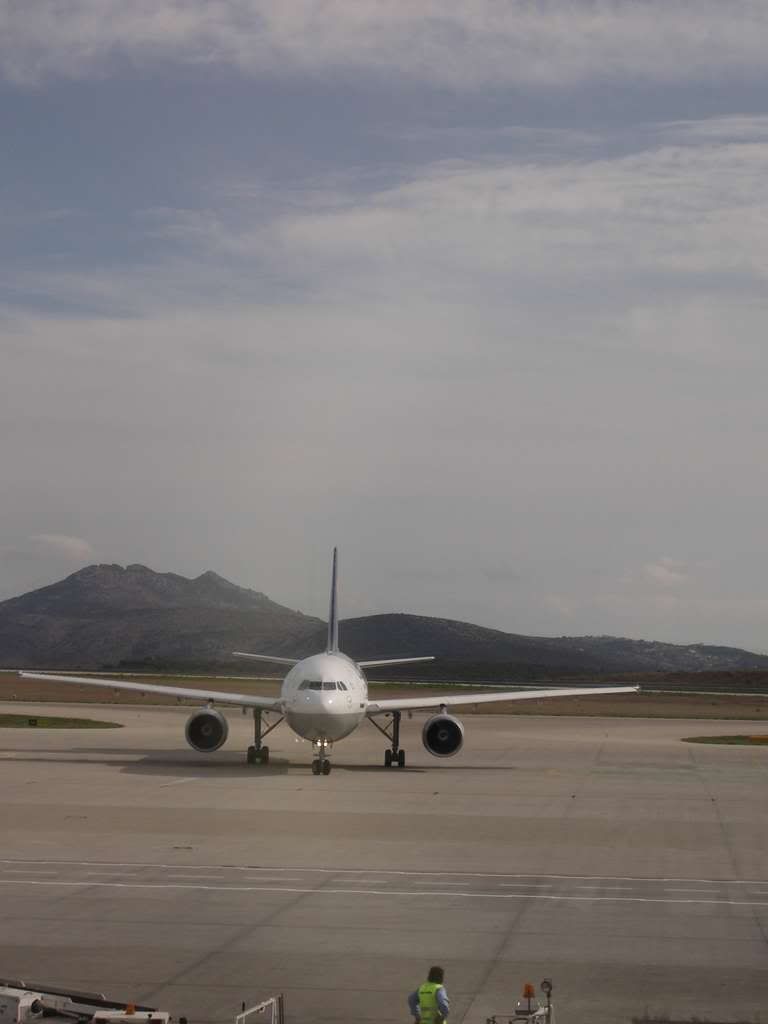 And once more: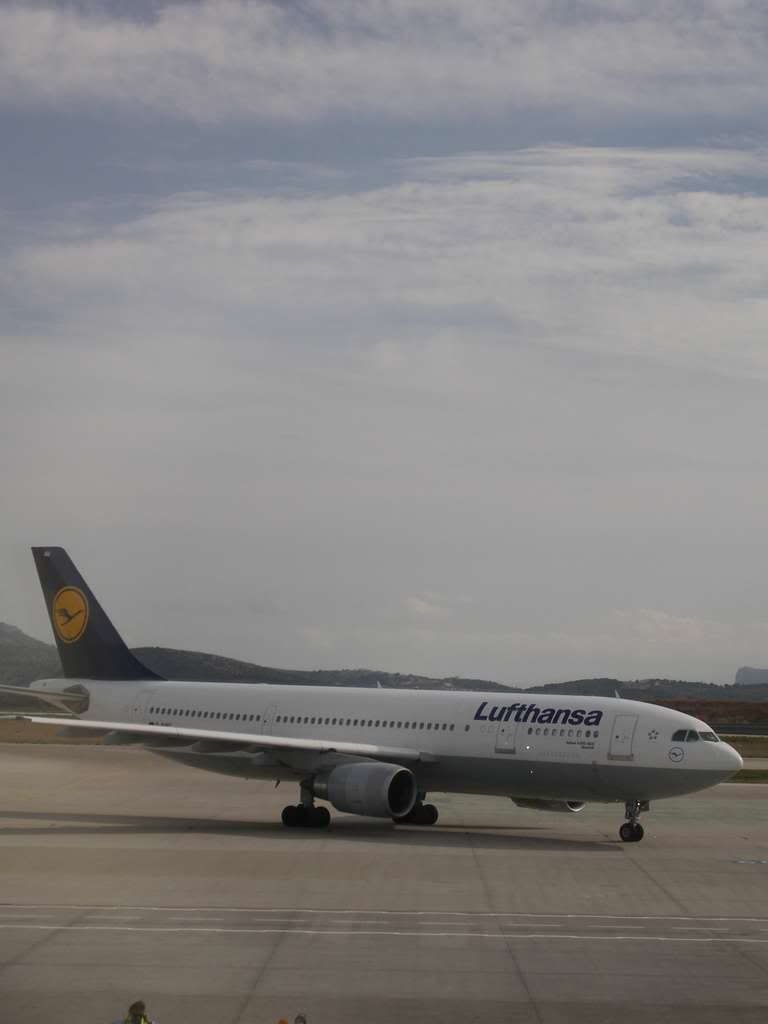 My machine arrived well ahead to schedule.
Heavy activity all around and lots of pax in the gate area. This plane was needed here!.
Close up:
And parked: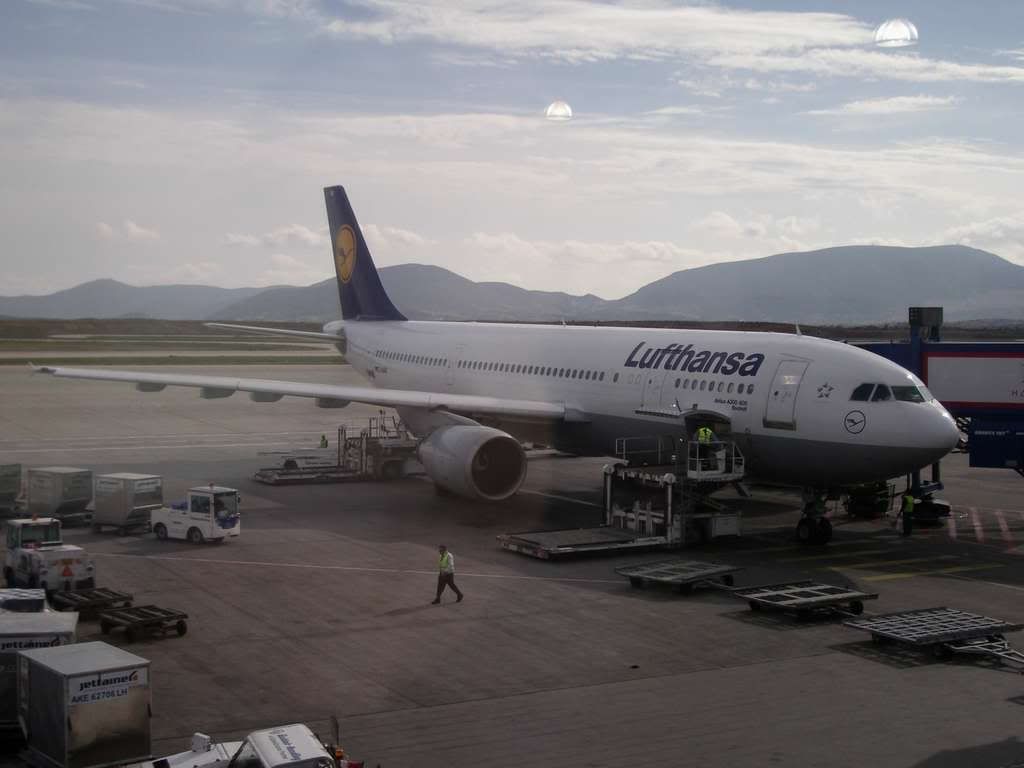 Spot my flight: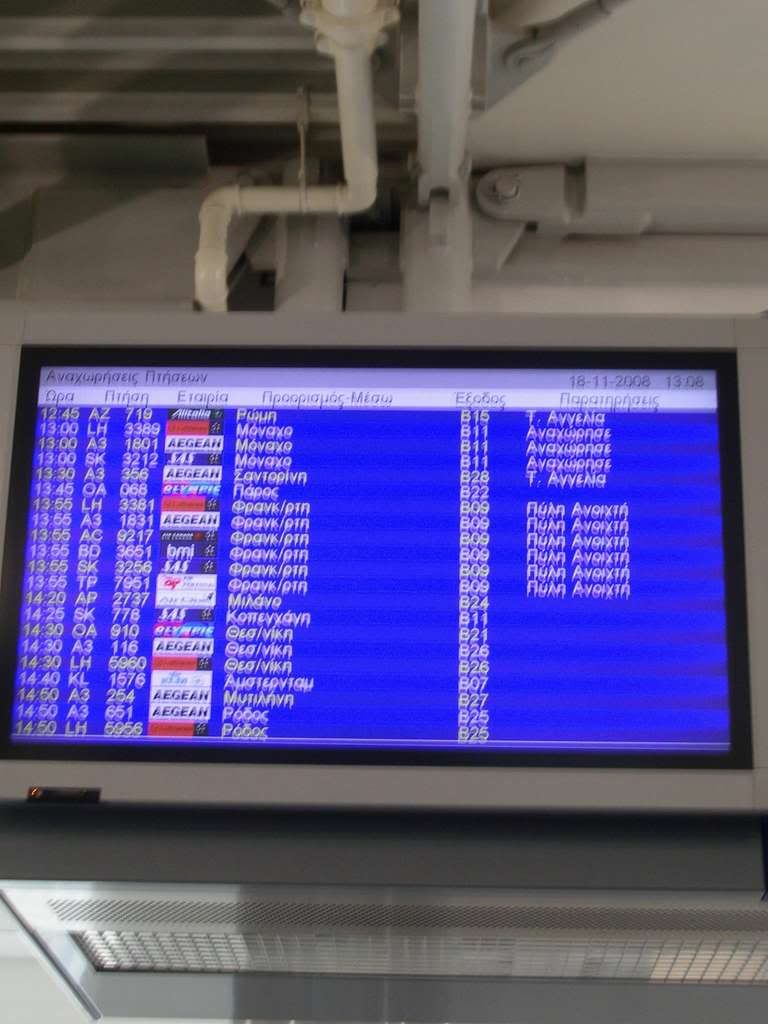 Whats that?: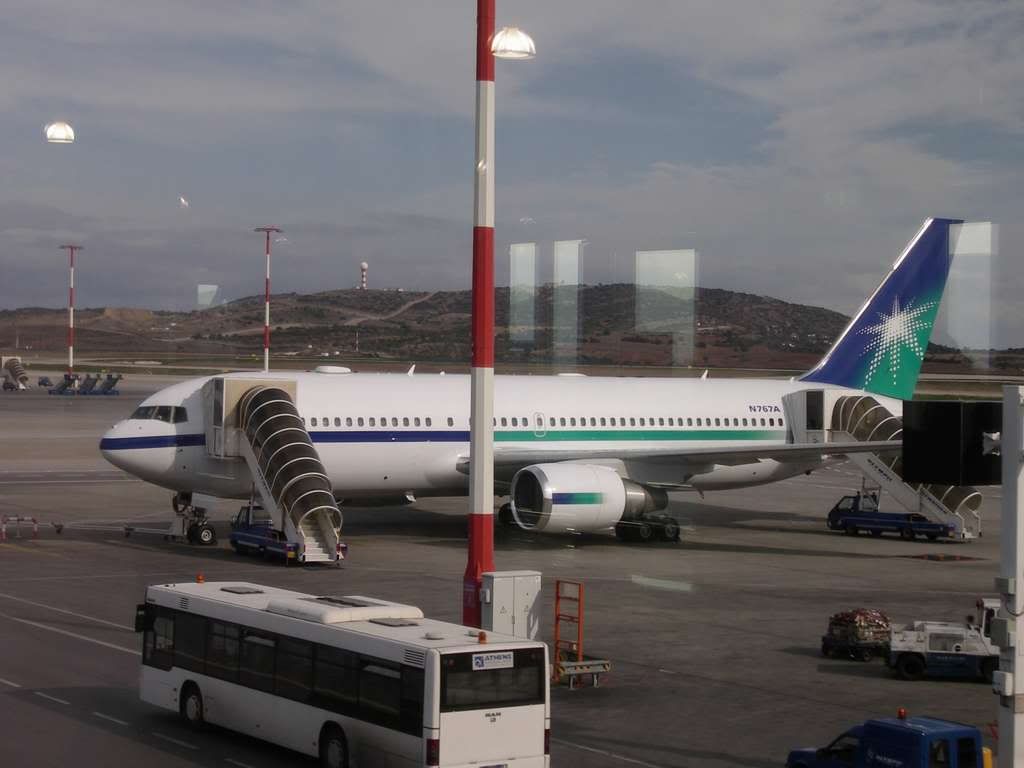 From the gulf:
Finger boarding. Two male, four females on the machine, let me say neutral friendly, nothing special.
The cabin spotless clean, dark grey leather seats and good legroom.
Cabin: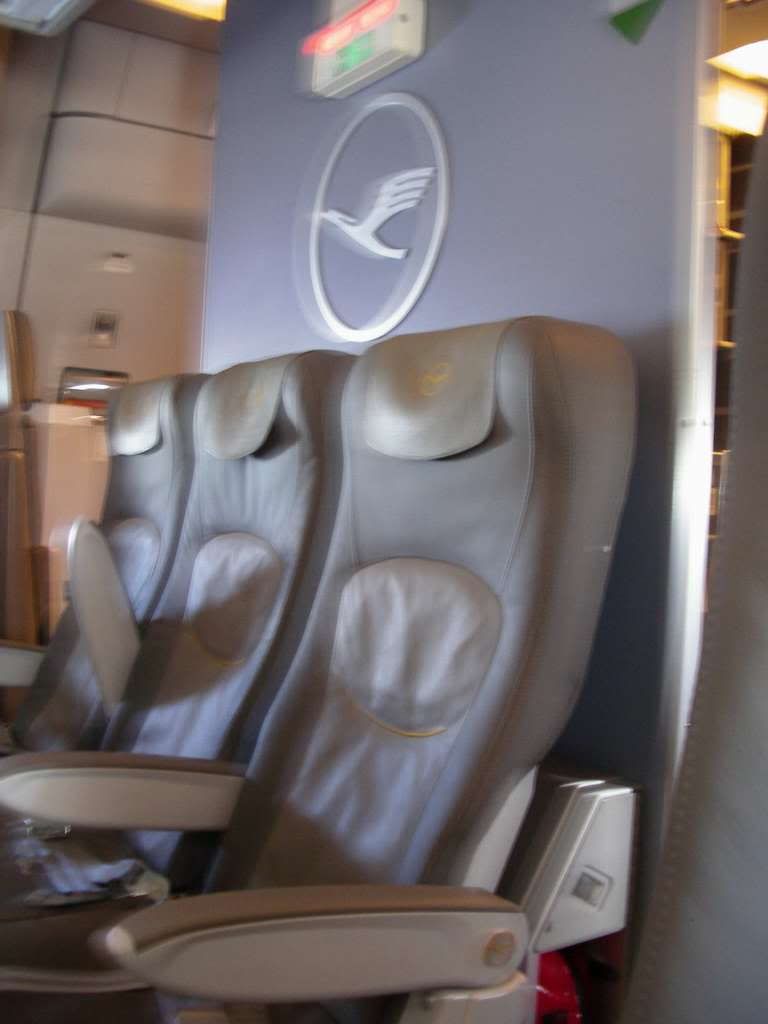 A friendly welcome and detailed explanations on the ground from the captain.
Cockpit crew was from Germany.
One pax was not arrived at the gate, but the bag was loaded, so deloading need some minutes.
Departure from runway 03R in direction Dubrovnik-Sarajevo-Zagreb-Linz-Munich and FRA.
Cruise level 34.000 feet. Cloudy after departure, good views above Croatia and again cloudy from Austria onwards.
Clouds:
Croatia: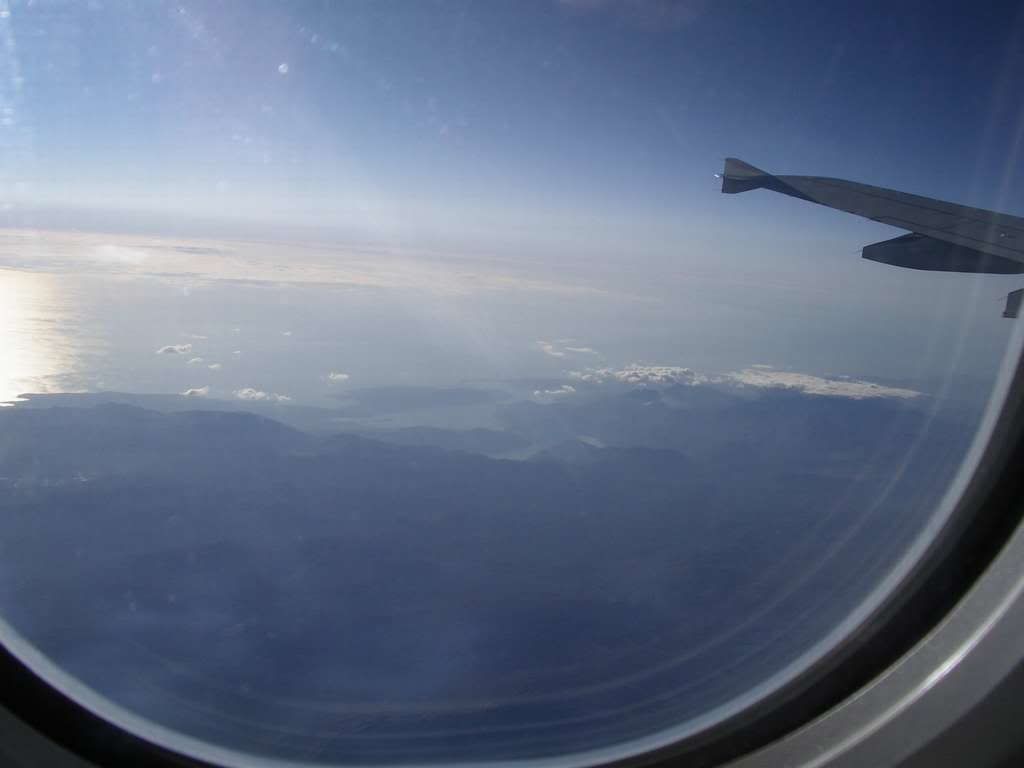 Service was ok, a hot meal and two times free drinks.
The meal:
The FO was also later on the speakers with inflight informations and wished us a nice afternoon at FRA during descent.
Arrival on runway 25L nearly ontime.
Touchdown: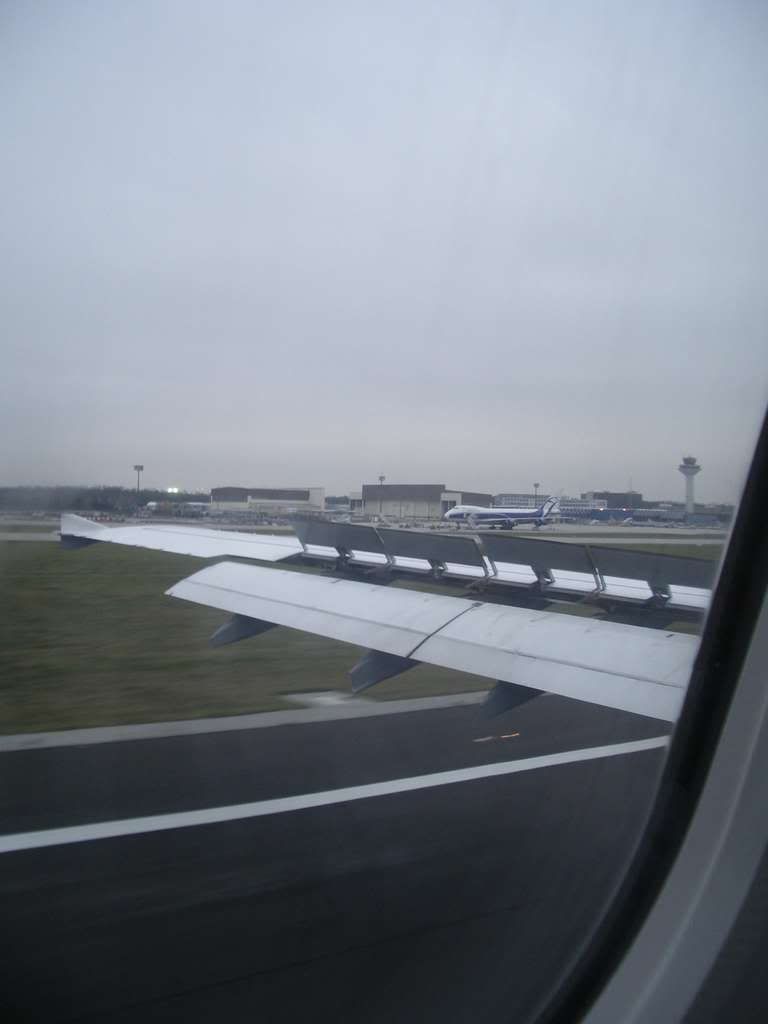 We had to wait, as often in FRA, till our assigned gate was ok and you know what these pax doing,
as soon as the plane stops, jumping up, catching the bags and so on. The purser told them to sit down, well, no way, the purser told it again loud and harsh
but some of them need personal attention to sit down again till we taxied and parked.
Gate was in the A area, the same area for my next flight.
Deboarded:
FRA(Frankfurt-Rhein-Main) - STR (Stuttgart-Echterdingen)
Duration: 25 minutes
Service LH 1356 operated by Lufthansa Boeing 737-300 D-ABXZ
Scheduled: 17.25 // 18.05
Actual: 17.25 // 17.50
Gate: A03 Seat: 24F
Load factor: Around 90%
Fare: 52,24 EUR
History:
25.01.1990: Delivered to LH
Leg no. 32 on the B733 and the first on this machine.
I´ve walked down to the end of the A area with the direct views to the runways.
Spend some minutes there and walked back to A03, the usual bus gate area for the apron parking positions.
Boarding was called, self service for me, I like it do walk along the queue to the self boarding machine, usually no time to wait this way.
My plane was arrived from GVA early according to FRA ops.
Nightly boarding, I was surprised about the good load, not bad .
Reg. shot:
Another classic: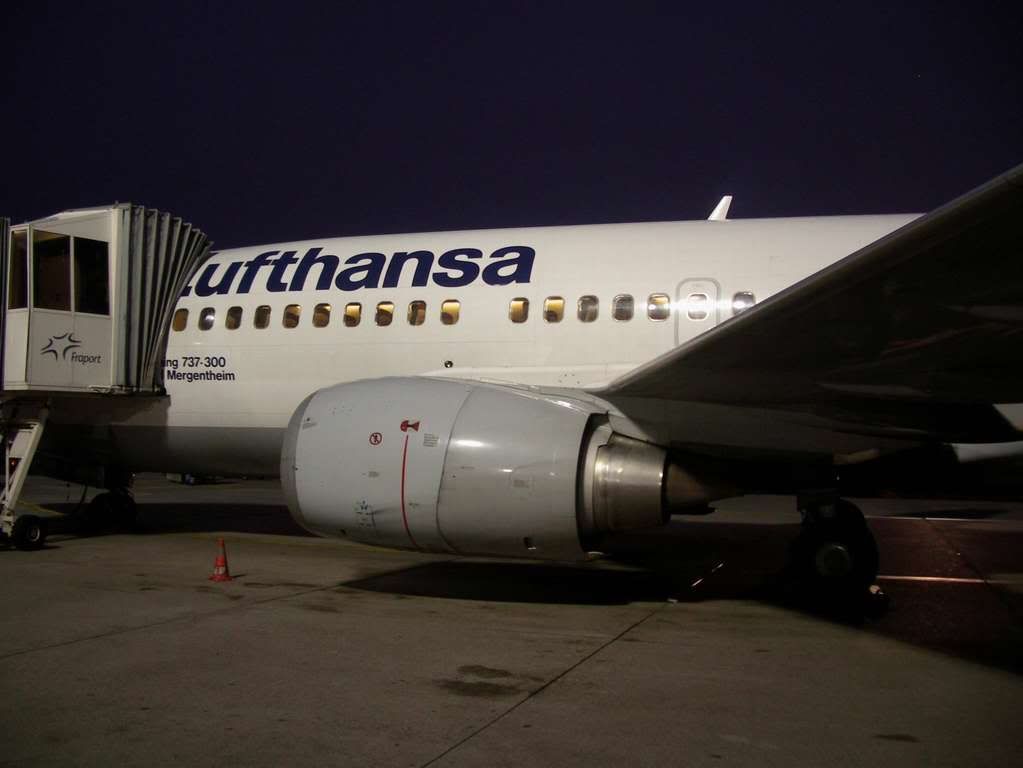 One male, one female FA, neutral friendly to say the least, not really motivated today.
Also here the dark grey leather seats, clean and good legroom.
Last row window means only a partial window on the 737-300, but no problem, it was dark and cloudy outside.
Cockpit crew was from Germany, a friendly welcome from the Captain during boarding, with route and weather details.
No stop at the entrance to runway 18, thats what i call a rolling takeoff.
Further southern side to Heidelberg and Karlsruhe, no flight level info.
No service on this leg.
Touchdown hard and heavy on runway 25, a very fast taxi and parked at a terminal 1 finger.
Not bad, 15 minutes ahead to schedule during a 40 minutes schedule.
This time the priority tag was in closing time, but my bag arrived and I was on the way back home with several new impressions.
Flying the A300-600 was once more a nice experience, I like this spacious machine.
LH FA´s, well its Germany, businesslike on ATH-FRA, annoyed on FRA-STR, but otherwise good fares and ontime flights.
Real friendly staff on Aegean, especially on the RJ 100 leg from CHQ to ATH, a recommendable airline, ontime, good fares and else.
And Chania?. North Africa is not to far away, a nice place to stay.
So, this was the last 2008 story.
What about 2009?:
Something Marocain on Royal Air Maroc, Portugal with the SATA ATP, short haul on EK´s 77W to Cyprus, USA on USAir A333 and
finally, till now, 22 legs around Norway, Wideroe Lofoten scenic flights and the worlds northernmost airport with scheduled jet service,
Longyearbyen, Svalbard, Spitzbergen included.
Comments welcome,
Markus (FLIEGER67)