Not too many trip reports to Dhaka on these forums, here's one.
Due to the large amount of pictures i'll post the report in two parts as i don't want to crash
anyone's computer.
Background - As far as visiting Bangladesh is concerned, November is a good time to go,
the fares are cheaper and the temperatures aren't extreme. Searched the internet
thoroughly and QR came up the cheapest option nearly all the time. A total fare of £461
return with good connecting times was appealing. My previous two trips to Dhaka were on
British Airways and Emirates, and neither were nowhere near as cheap as QR, though there
was the option of Jet Airways via DEL at £480. I was tempted to book with 9W but the
familiarity of flying via the Middle East swung it for me.
Itinerary
Fri 21st Nov 08
Qatar Airways
London Heathrow (LHR)-Doha Int'l (DOH)
Flight QR 002 (BMI codeshare)
Depart: 20:30 GMT
Arrive: 06:05 local time
Aircraft: Airbus A340-642
Reg: A7-AGA
Flight time: 5 hrs 45 mins
Load factor: 45%
After ninety tedious minutes on the motorway thanks to Friday evening rush hour, i found
myself at T3. The departure area has been renovated and redesigned with funky purple
lighting at the entrance. Qatar Airways check-in is located in zone F to the western side of
T3 opposite the Emirates counters. There were hardly any queue's, just a trickle of passengers. Departure would be from gate 42 which meant a long 15 minute walk, gate 42
is in the box-shaped pier in the northwest corner of T3. Proceeded to passport control and
security, again there were hardly any queue's, LHR was playing ball today. Passports were
checked again and shoes screened for explosives. Saw three Jet Airways 773's on my way
to the gate, was close to flying one of these beasts. Having reached the gate area a Virgin
Atlantic gate agent asks me if i'm flying to Newark, obviously not. Most of the pax had
already boarded minus me and two other remaining pax.
Boarding passes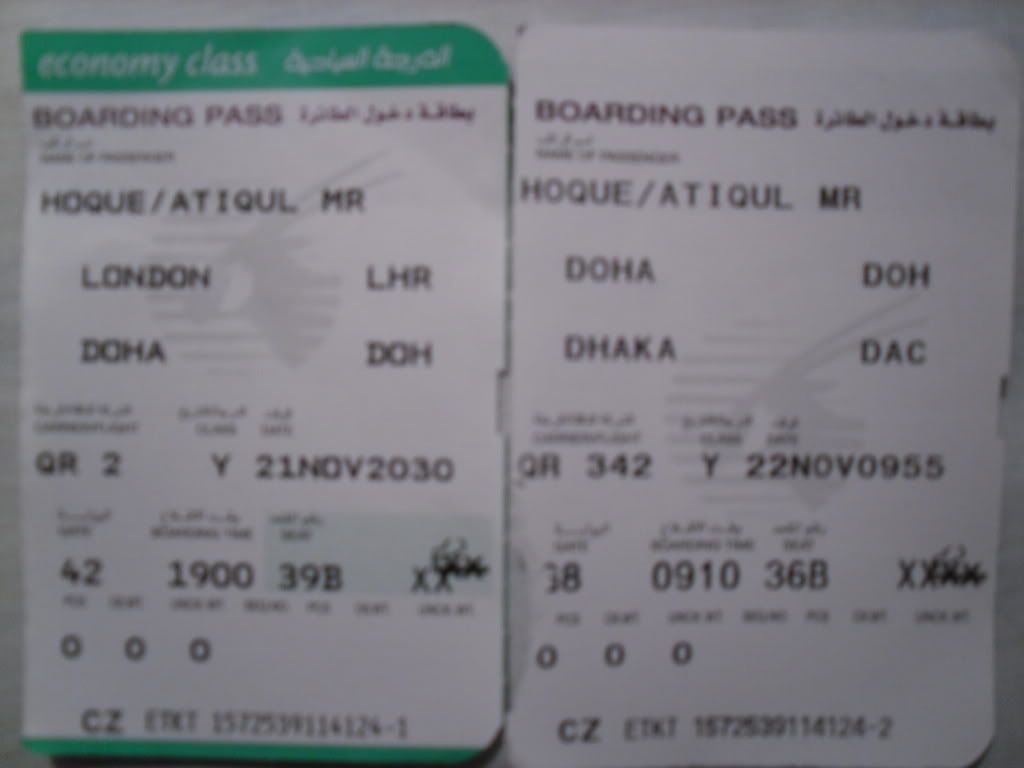 There were two female flight attendants standing at the door, one welcomed me with a "Hello, welcome aboard" with a nice smile while the other checked boarding passes and
directed me towards my seat. A window seat on the port side of the aircraft parallel with
the winglet. As soon as i had taken my seat a FA offered me a glass of water. Found a
amenity kit and a blanket on the seat, hot towels, sweets, headphones, newspapers and
menu's were distributed. Suprisingly the flight was very lightly loaded, masses of empty
seats everywhere. To our left was a VS A346 (VS 017 to EWR), next to that another QR
A346, the QR 008 at 21:25. Taxiing was a slow 20 minute crawl to 27L. Even this late in
the day the take-off queue was impressive. Behind us was a Etihad A346, to our left were
a AF and LX A320, further ahead a Icelandair 752 and an Emirates 77W took off ahead of
us.
Take-off would be in a westerly direction, the engines came to life and we rolled down the
runway, not suprisingly it lasted no more than 25-30 seconds given our light load. The
actual take off was rather gentle, no pushed-back-in-your-seat feeling. We were airborne
at 20:50. Made a immediate left turn and another one heading southeast giving us a
stunning view of LHR and the rest of London all lit up at night. Cabin service commenced
swiftly, dinner was served 30 minutes after take-off. Chicken or Lamb biryani were the
options. It consisted of biryani rice with pieces of meat, bread roll, crackers, chocolate
biscuits, coleslaw salad and a dessert. The biryani tasted as good as anything i've eaten
at home or in a restaurant. Alcoholic and non-alcoholic beverages were available
throughout the flight. After dinner the lights were dimmed and the mood lighting turned on,
giving the cabin a cosy and intimate atmosphere. Watched "Hancock" on the AVOD system, really enjoyed the movie, infact i played around with the IFE all through the flight.
Lamb biryani meal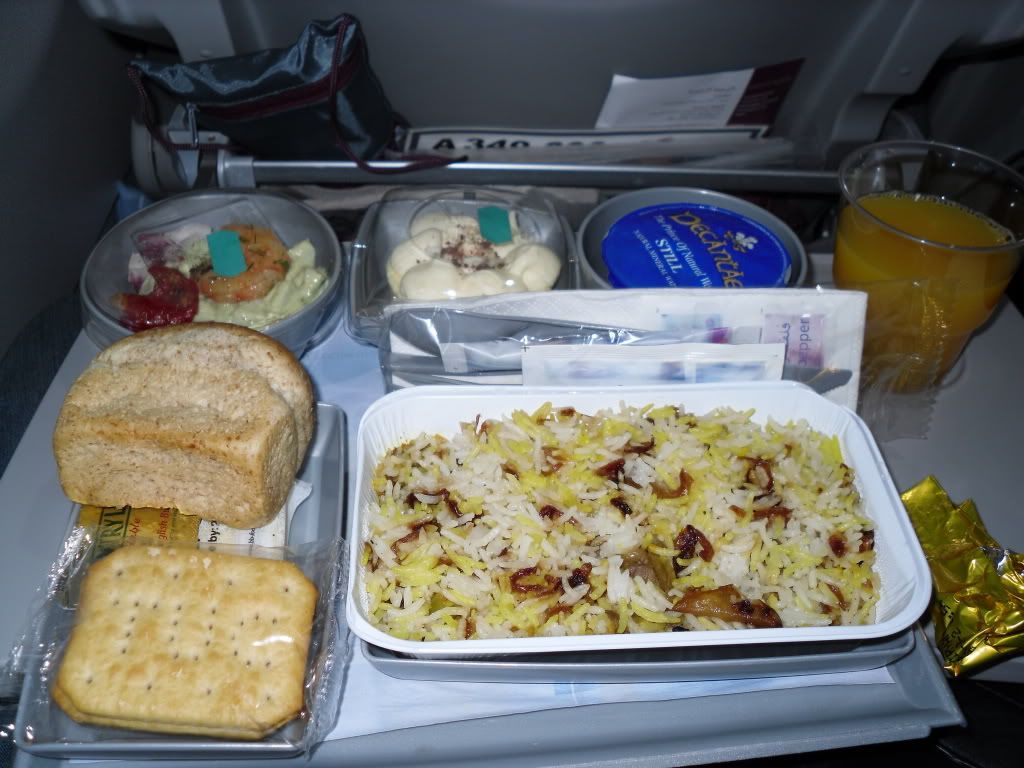 Inflight map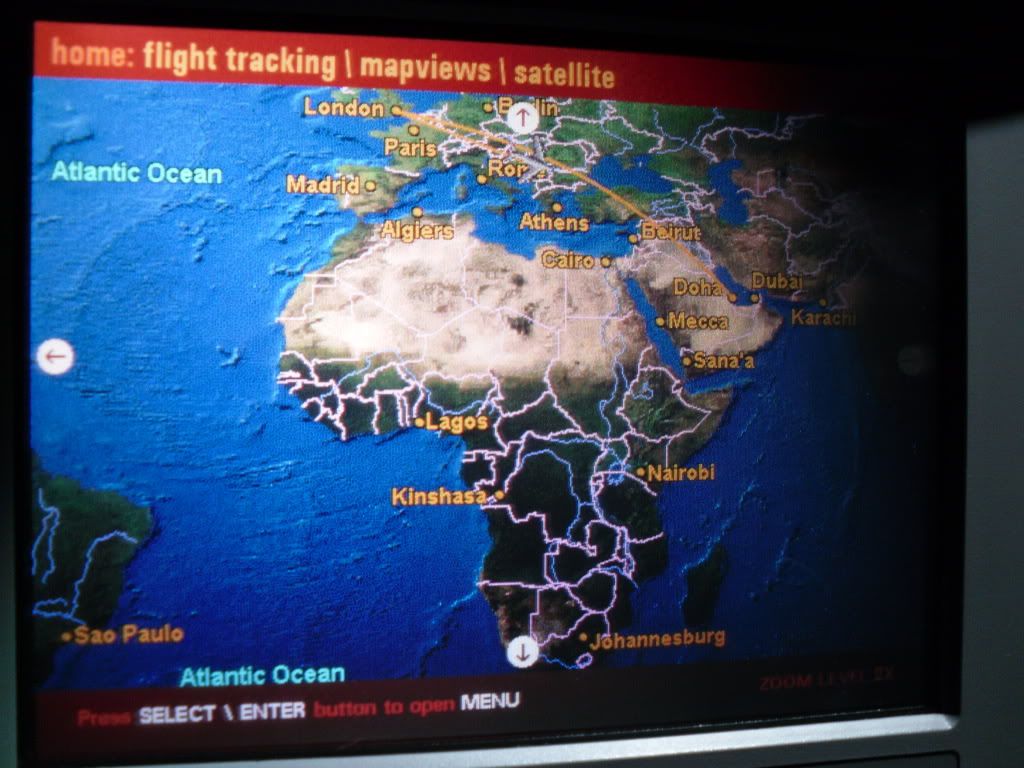 Entertainment system remote control, the rear side is a telephone
The flight itself was smooth and relaxing, helped by the low load factor, there was no queueing for the lavs, no kids, no screaming babies and no crowded aisles. The passenger
profile on this flight was diverse, Arabs, Brits, Southeast Asians and far eastern pax. The FA's on this flight were superb, constantly doing drinks runs throughout the entire flight, they never disappeared into the galleys. I never once got the impression the FA's would rather
be somewhere else than serving the passengers, they genuinely looked focused on their job.
The shorter than usual flight time was due to the big tail winds we had all the way, LHR-DOH
usually lasts around 6.5 hours but we had tail winds of up to and over 100mph. At one
stage our ground speed was 670mph. A hot snack was served prior to landing at Doha, a
delicious egg and chive roll and chocolate biscuits, i had an orange juice with it.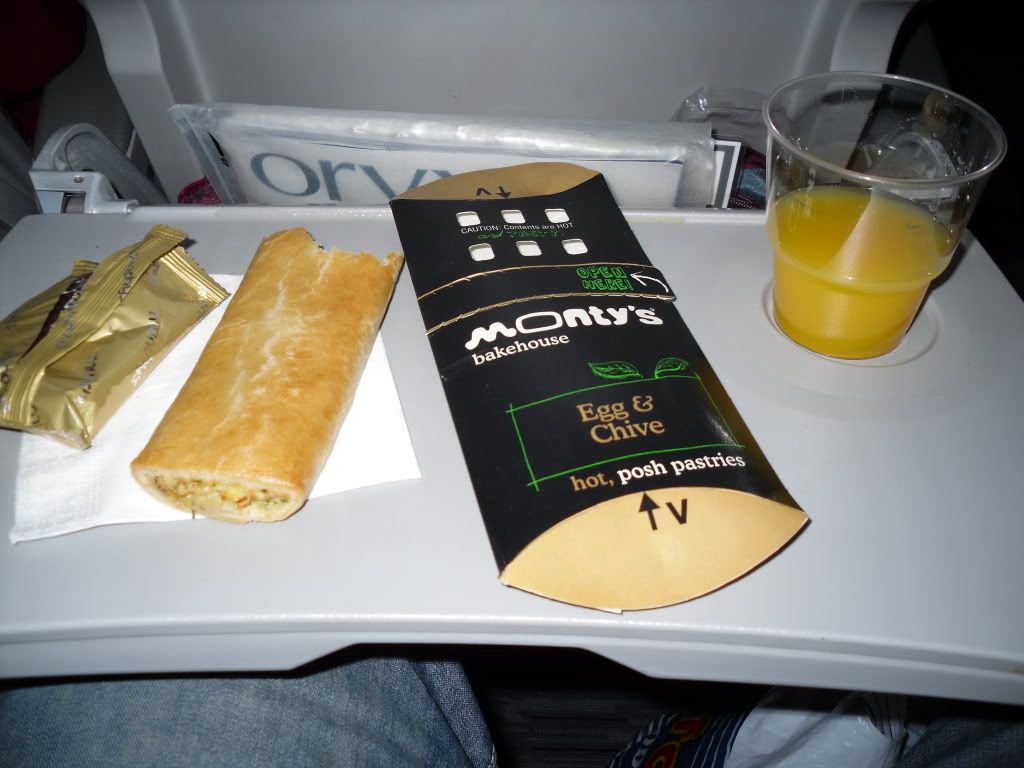 Flight info
Approaching Doha at sunrise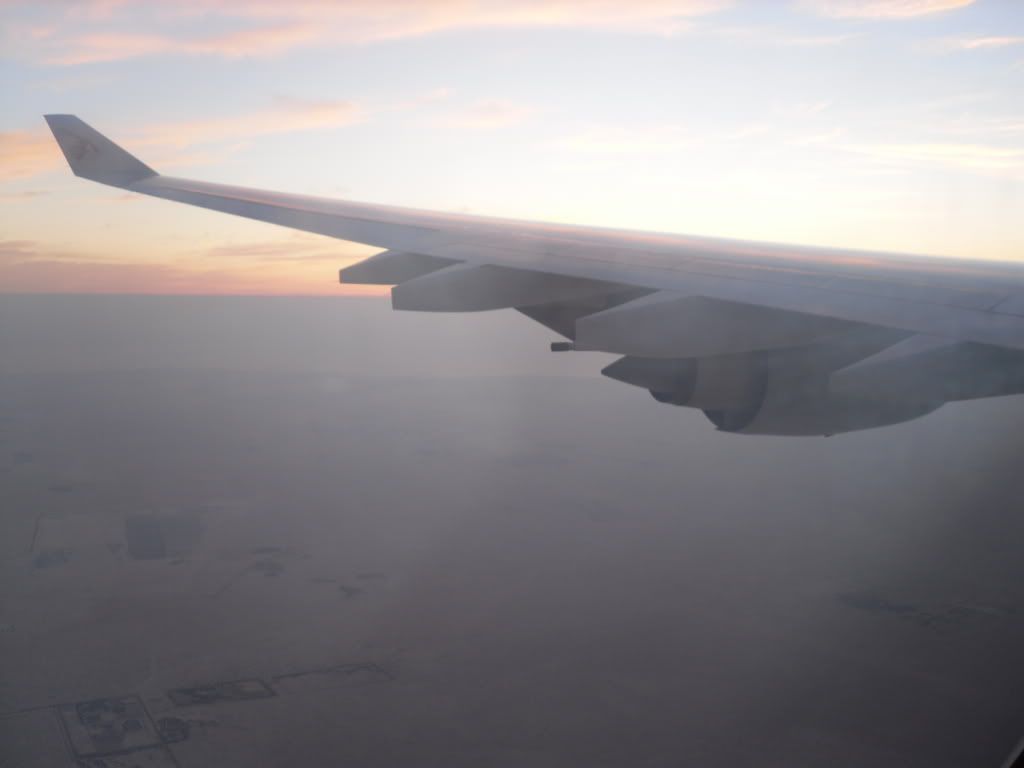 Getting closer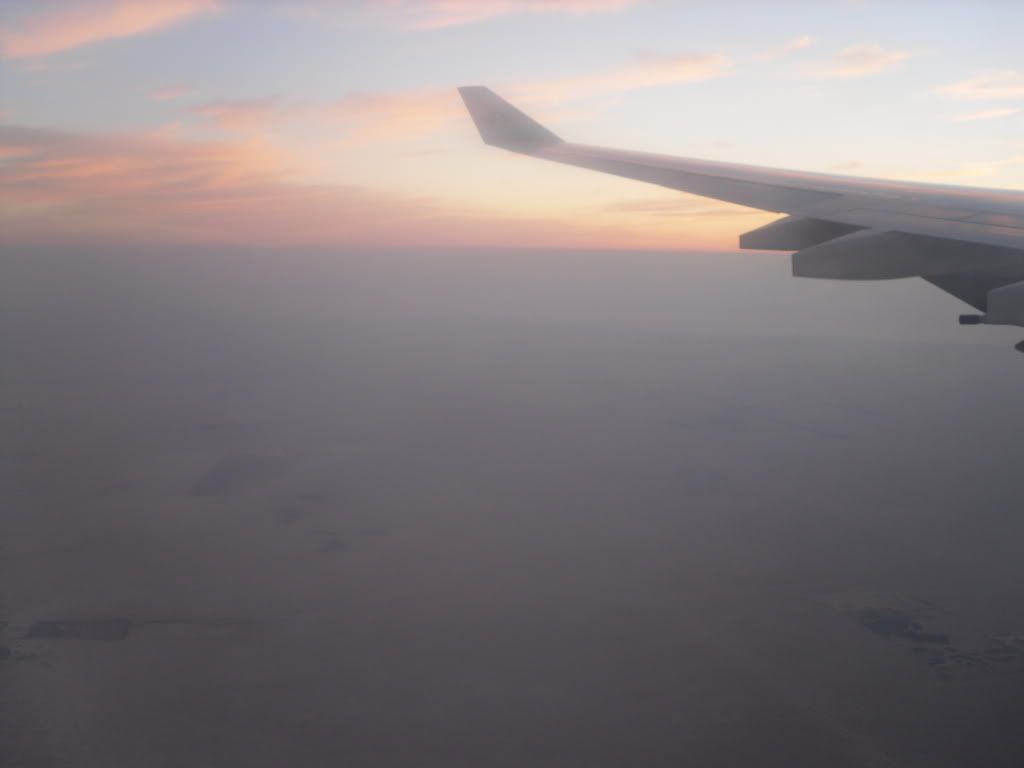 Pulling into the hard stand next to a company A332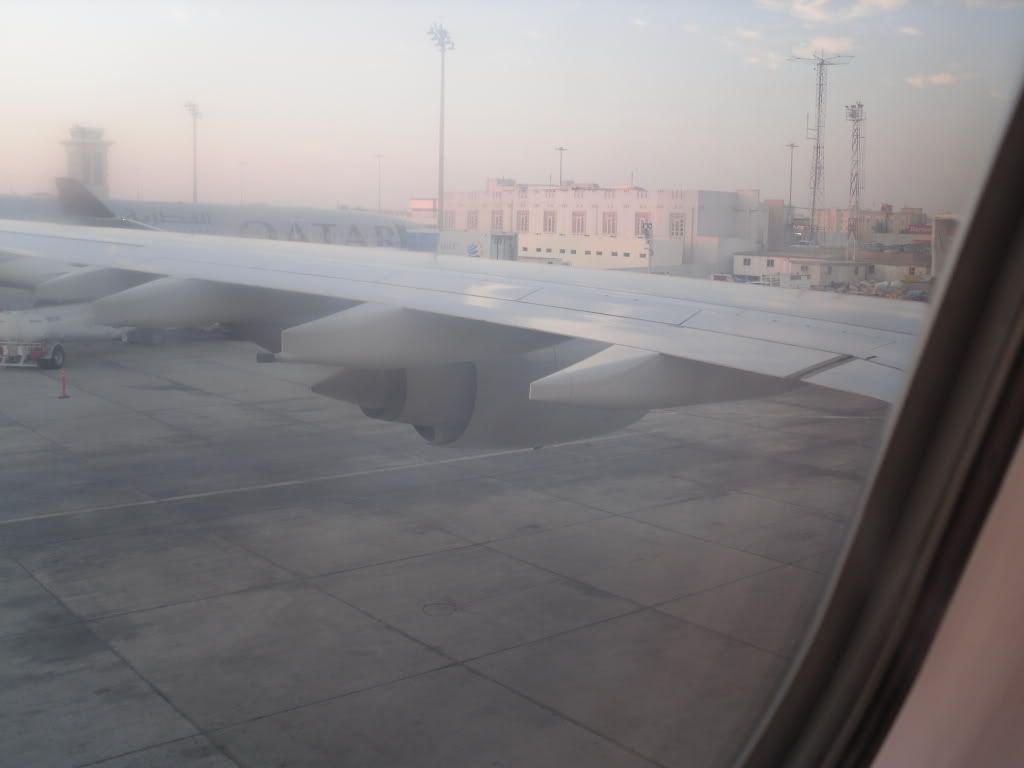 De-boarding via stairs through the rear doors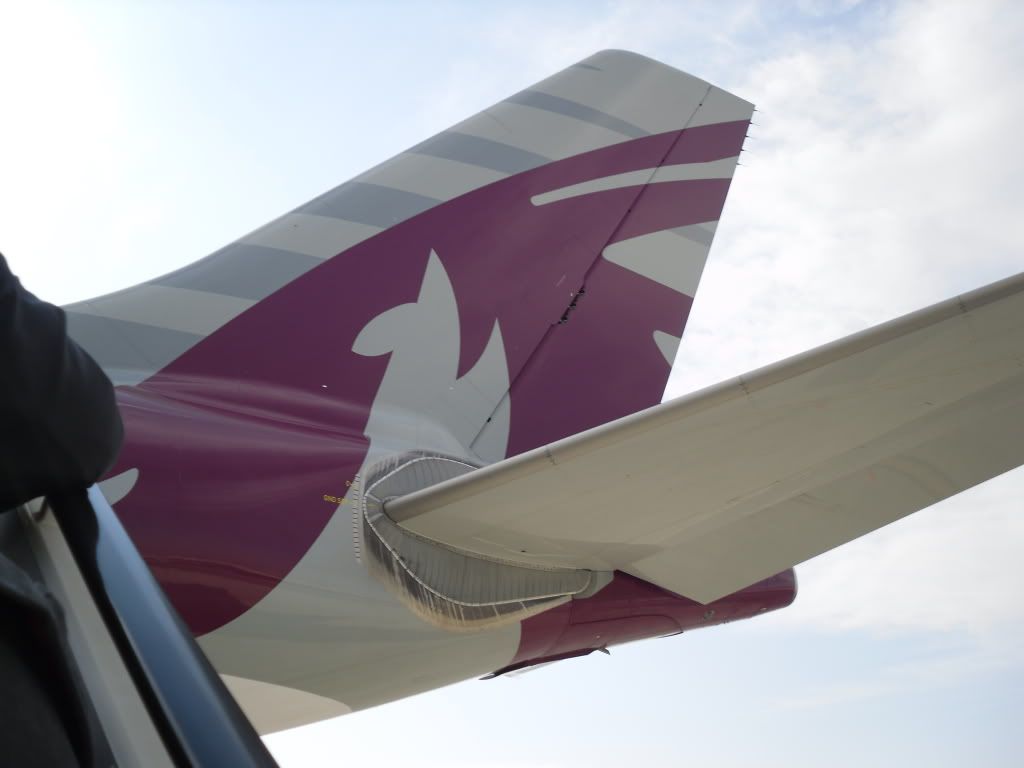 Was bussed to the terminal and had to go through security to reach the departures area,
there was no need to collect boarding passes as they were issued all the way at LHR. DOH
is a pleasant, user friendly airport, clean, spacious, bright and with plenty of seating. Sat
by the large glass window overlooking the apron and runway observing the activities, saw a
QR 773 rotating for a 14 hour flight to JFK. Departure to DAC would be from gate 8, boarding commenced just after 9 am. The bus ride to plane was a long one as our plane was parked on the other side of the runway, i thought we were going sightseeing!!
Sat 22nd Nov 08
Qatar Airways
Doha Int'l (DOH)-Dhaka Zia Int'l (DAC)
Flight QR 342
Depart: 9:55am local time (GMT+3)
Arrive: 17:50 local time (GMT+6)
Aircraft: Airbus A330-300
Reg: A7-AEN
Flight time: 4 hrs 30 mins
Load factor: Full
Boarding our A330-300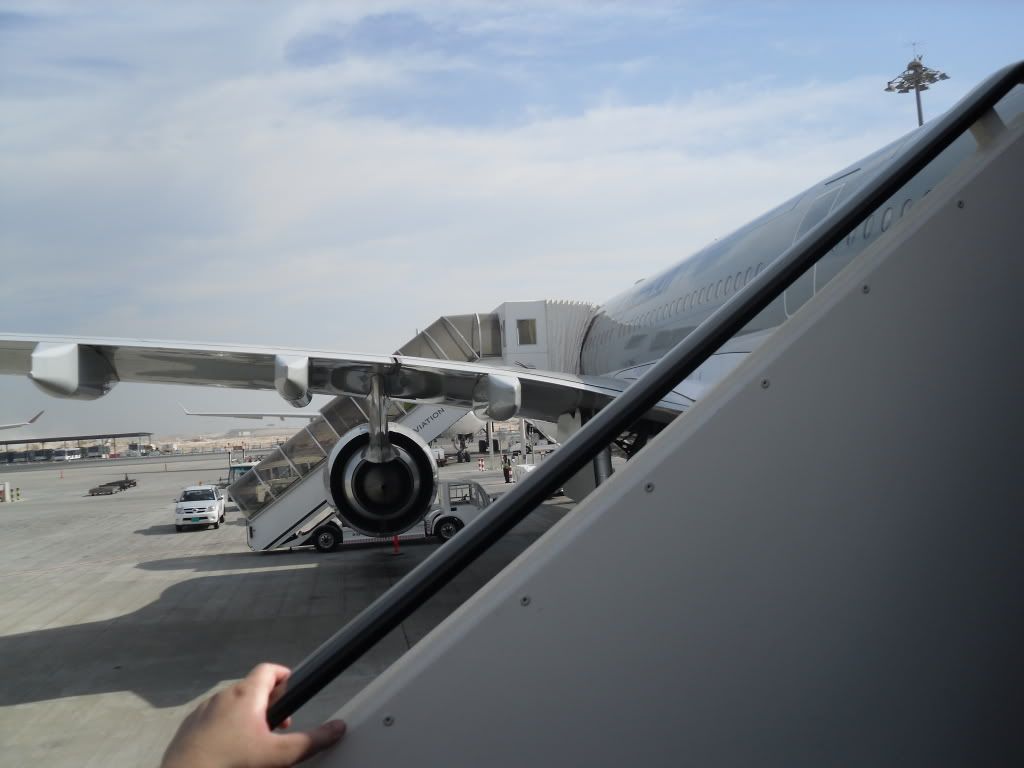 General Electric engines
Another company A330-200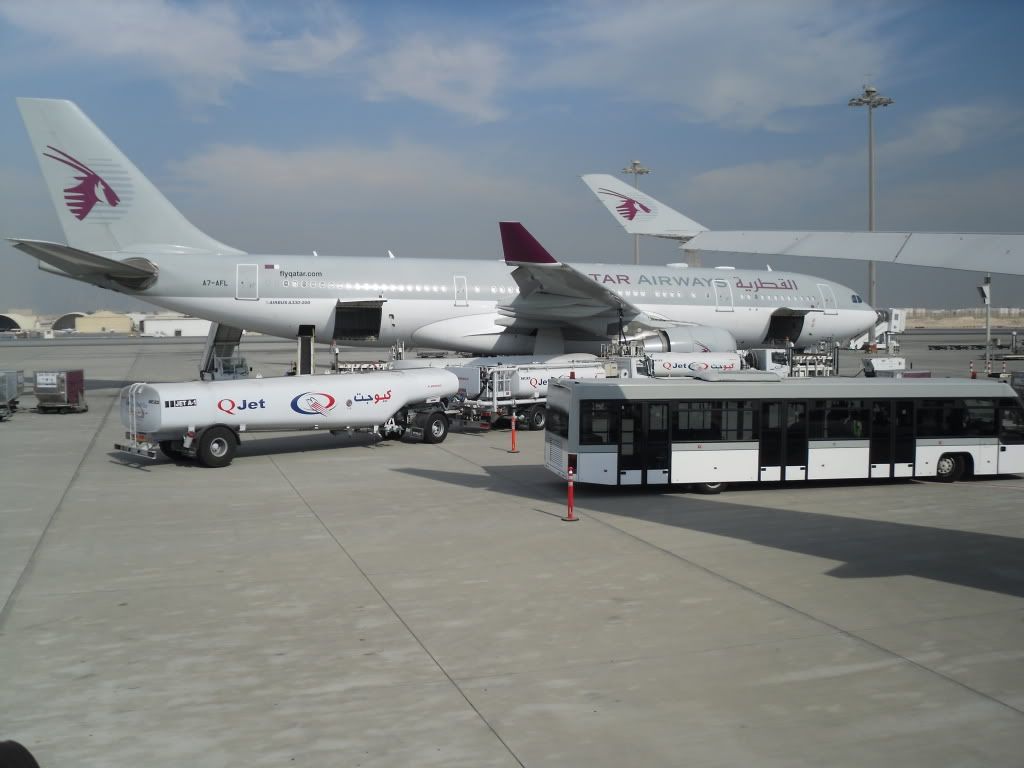 Our A333 was in the new colour scheme looking smart and shiny in the Middle Eastern sun.
This flight was full in ecnonomy, made up entirely of Bangladeshi's. It was the opposite of
LHR-DOH, noisy passengers, long queue's for the lav's, aisles blocked etc. But just like on
LHR-DOH the FA's were very friendly and hard working, always busy attending passengers
requests. There was one meal service on this flight, similar to the outbound leg, lamb curry
with rice and vegetables. To keep myself occupied i watched Batman "The Dark Knight", a
hugely entertaining film.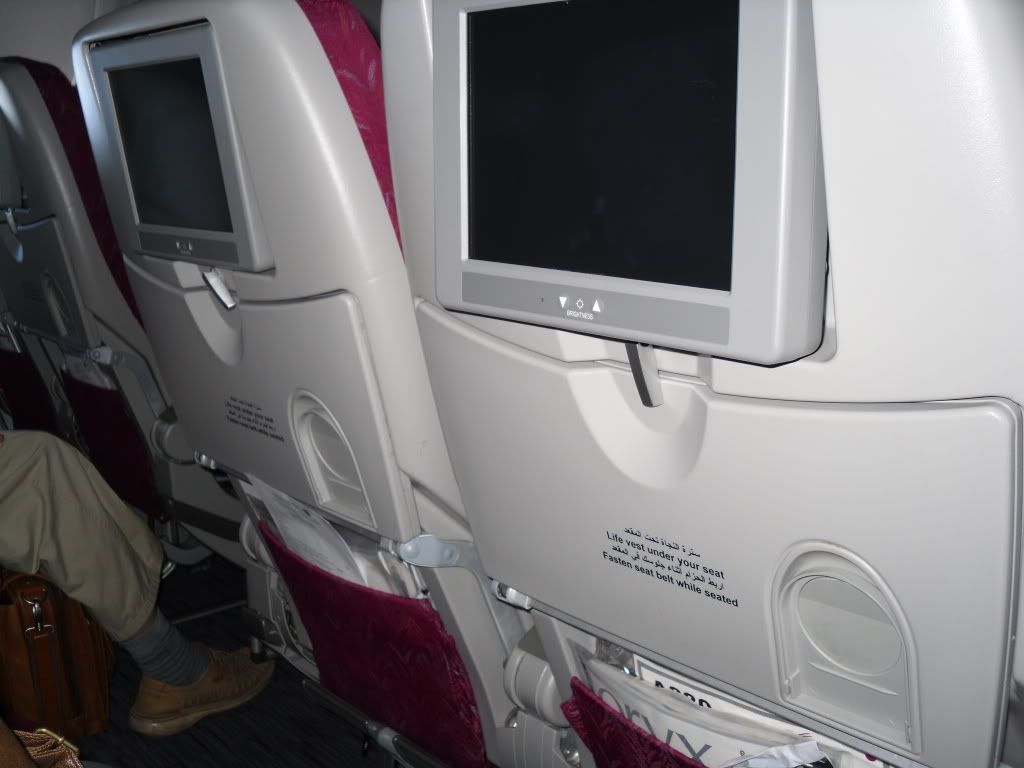 Mid-flight
Forward economy class cabin while leaving the plane.
Thanks for reading, any feedback is appreciated, i'll post the DAC-DOH-LHR asap with plenty of pictures.