Scandinavian Airlines (SAS) used to be one of my favourite airlines a few years ago. You could expect a nice snackbox on short routes like HEL-CPH, often containing very good stuff like smoked salmon. Booze was flowing freely, crews were always friendly and the flights were on time. That all changed a few years ago when they went completely buy on board, crew strikes and maintenance issues caused their on time performance to nosedive etc. Still, fares remained at pretty high levels.
I had not flown SAS intra Europe since these changes even once and tried to avoid it whenever possible. This autumn however, it was time to renew my wife's passport, and since there is no diplomatic mission of her home country in Finland, we had to go to Sweden.
The ferry is of course always a cheap option, but once you figure in the food and drinks, it suddenly becomes expensive. There are no real low cost airlines either; it's a duopoly between Finnair and the SAS Group. Finnair's fares are stuck in the 1990s, a same day return costing at least 400 euros; low fares require a Saturday night stay. SAS quoted 170 euros, much better. But I then got the same SAS flights on Blue1 website for 120 euros round trip – booked as soon as I confirmed that the embassy would be open. Not exactly a bargain but acceptable, and as low as tickets on that route go.
02 September 2008
Helsinki Vantaa (HEL/EFHK) – Stockholm Arlanda (ARN/ESSA)
Scandinavian Airlines SK/SAS 1709
McDonnell Douglas MD-87
SE-DIC
1410-1410 – Early (1405-1355)
Economy Class, Seat 17A (Exit Row)
View Large
View Medium


Photo © Giovanni Verbeeck
Delivered to Scandinavian Airlines September 1988
I did online check-in for us which was excellent, allowing exit rows to be selected unlike on Lufthansa for example. So that's what I snagged both ways for us and printed the boarding passes. I was supposed to be at work till about noon and HEL is about 1.5h drive away from our home, so that was rather tight. And no room for delays either, the embassy would close at 5pm. Speed limits were certainly disregarded this time, and we arrived at the "business" parking at around 1pm. Five minutes later we were in the SAS Lounge, not bad.
Nice snacks for lunch – meatballs, salads, cold cuts and bread rolls, accompanied by some sparkling wine.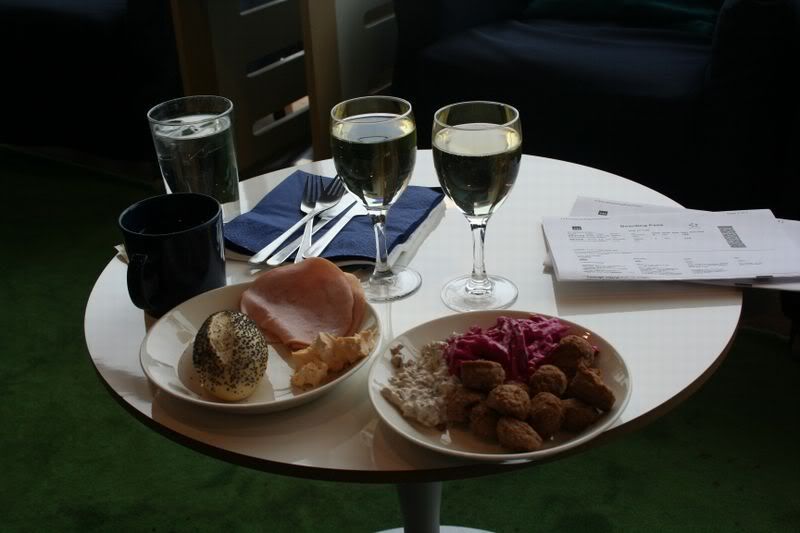 First time I saw Aer Lingus in HEL, I think they have two weekly flights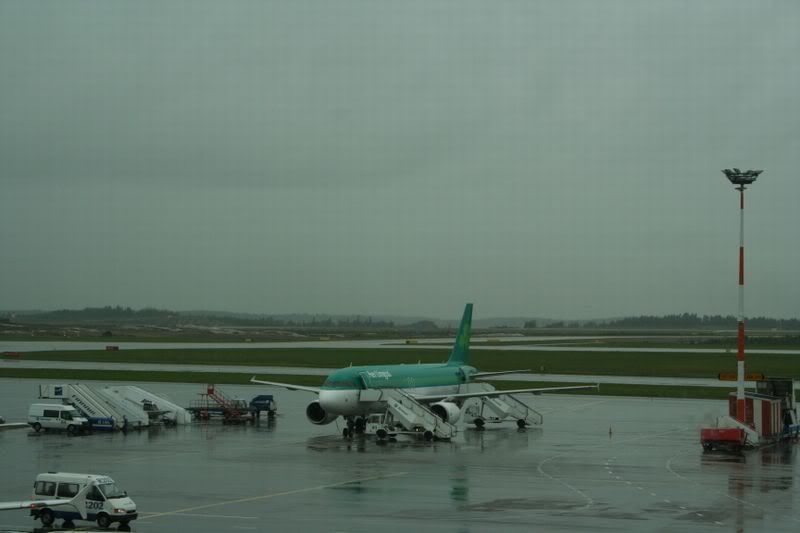 SE-DIC landed early from ARN and taxied to gate 28 – not visible from the lounge. We left the lounge at about 13.45, and boarded straight away. Greeted by a rather friendly crew in Swedish. I hadn't been on a SK Mad Dog for years; the cabins still look pretty nice and well maintained.
Great legroom in the exit row, and the 2-3 seating is great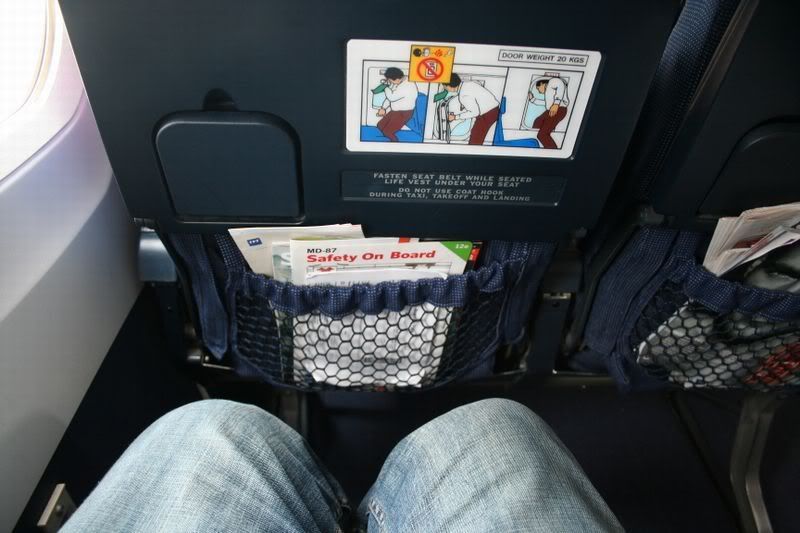 We pushed back about 5 minutes early; it was looking good for the embassy visit. A very powerful takeoff followed, the MD-87 is certainly a powerful aircraft. I had almost forgotten how great the MD-80 takeoffs are.
After takeoff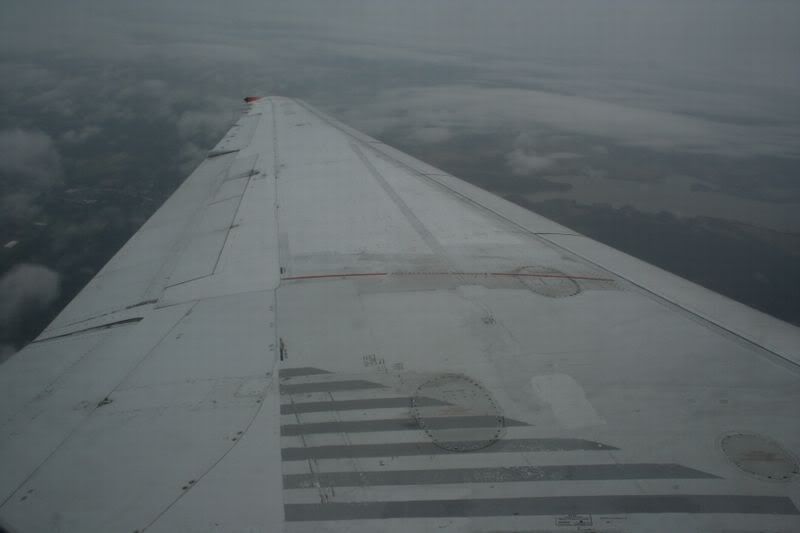 Cabin views
Note the tacky ads for buy on board food…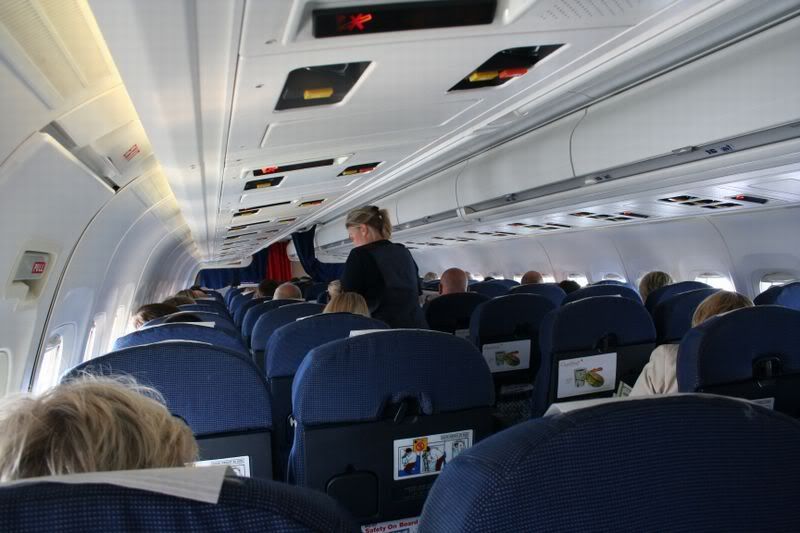 Replaced by exit door instructions in our row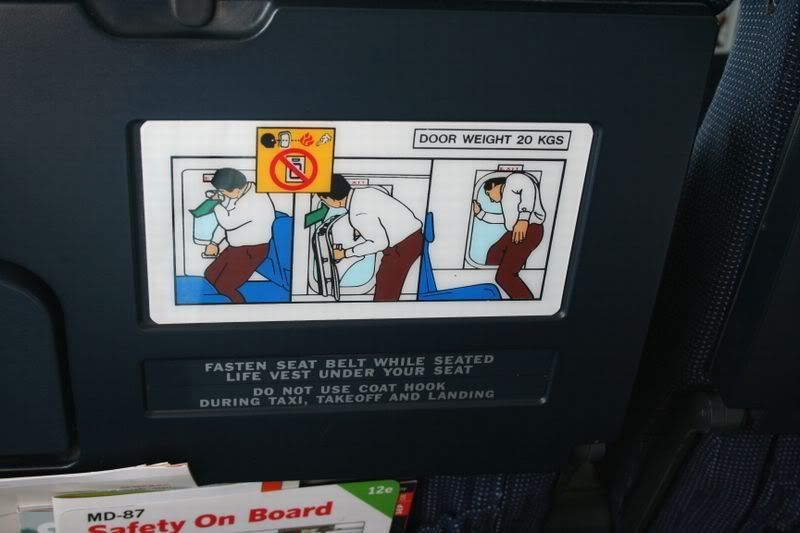 Old style signs and overhead lights
Large, extended overhead bins
Some wing shots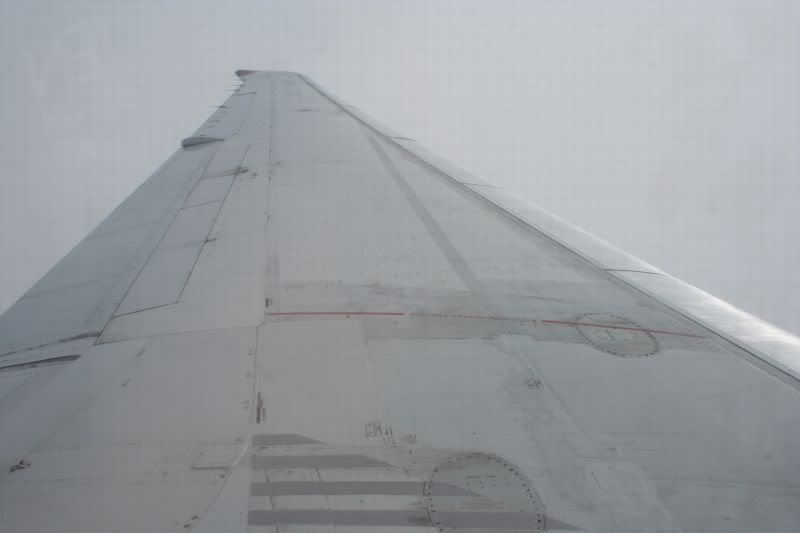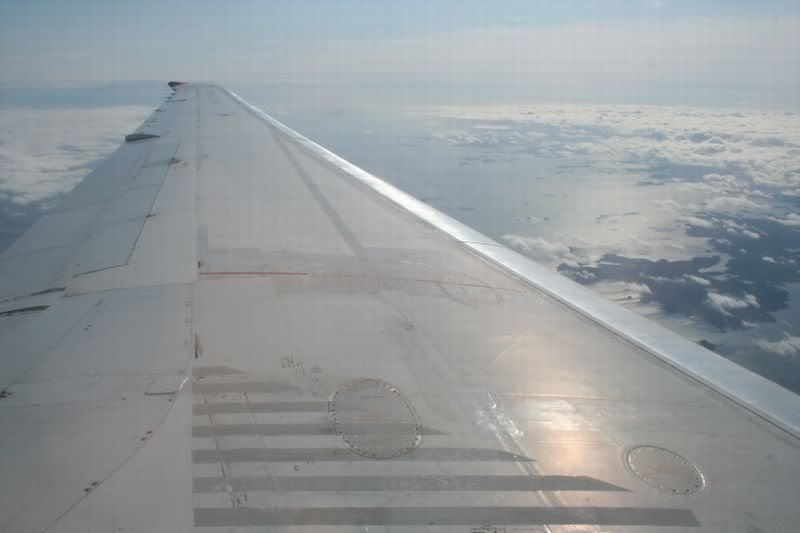 There is no service on SK European economy class, aka peasant class or P class. Buy on board prices are ridiculous; 3 euros for a bottle of water. Needless to say I didn't buy anything and didn't need anything thanks to the lounge visit.
Current menu here
http://www.sas.se/upload/Sweden/Allt%20om%20resan/M&M_se.pdf
Already starting descent into Arlanda, it's a very short 45-minute flight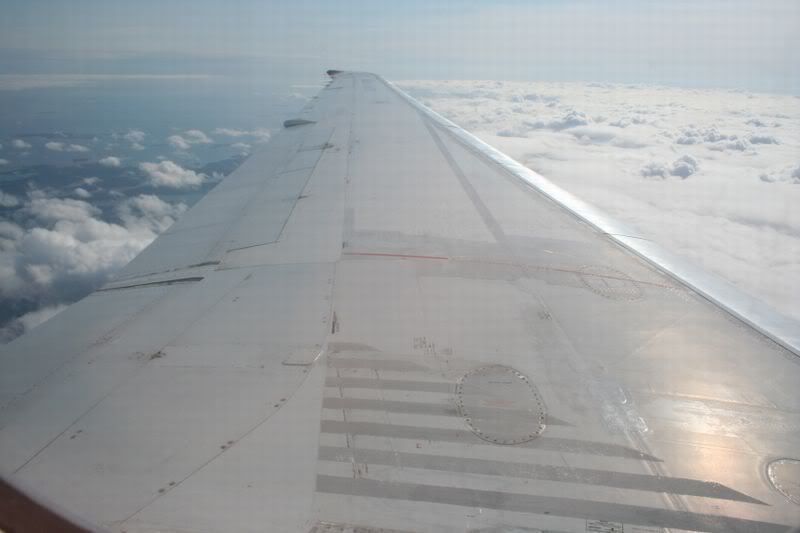 Pretty beat-up looking wing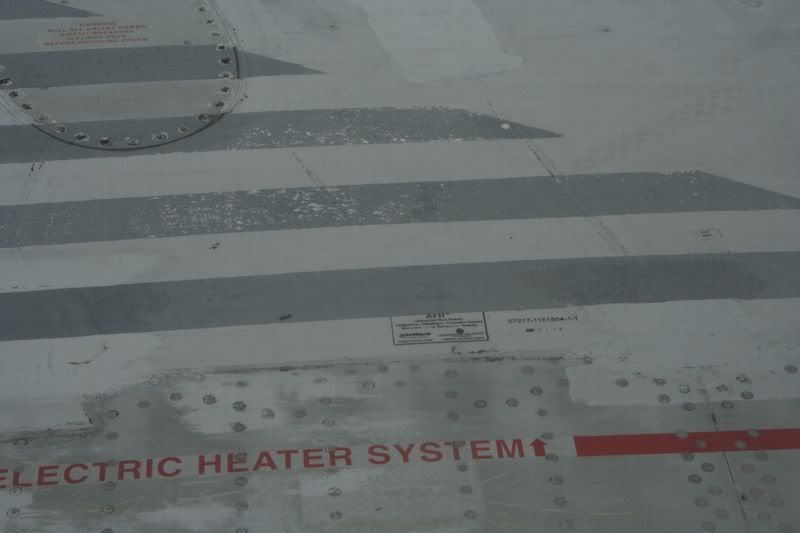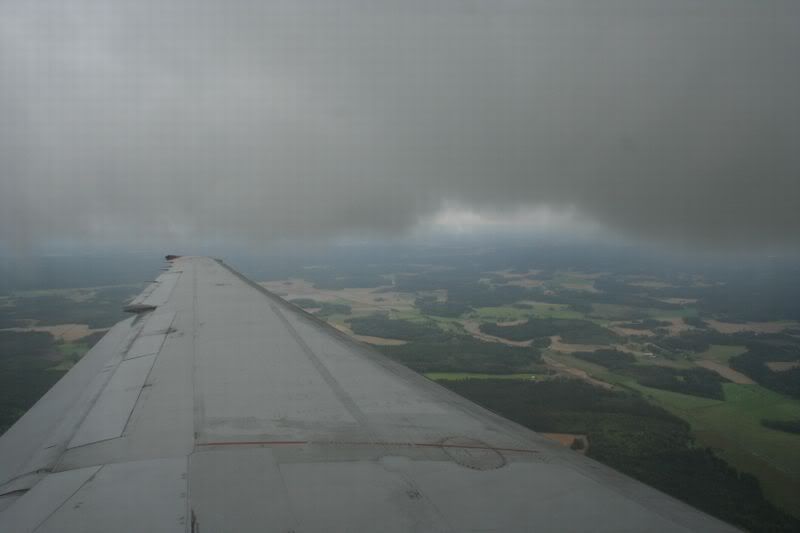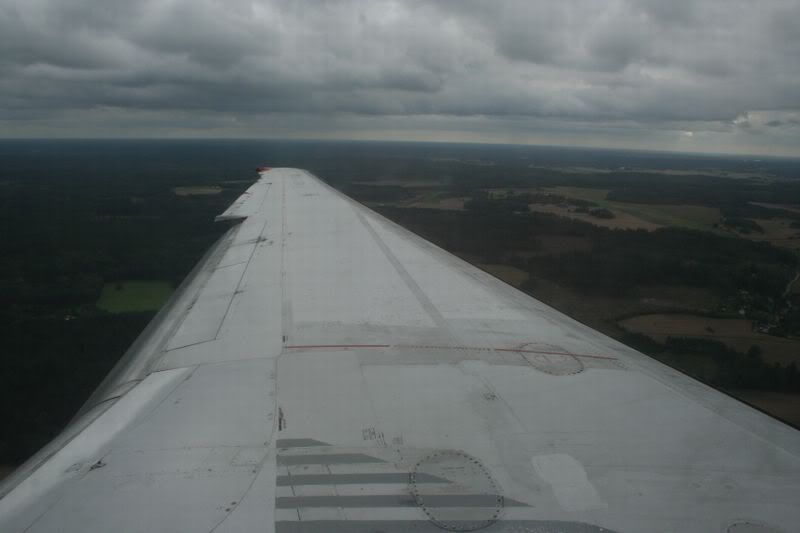 Landing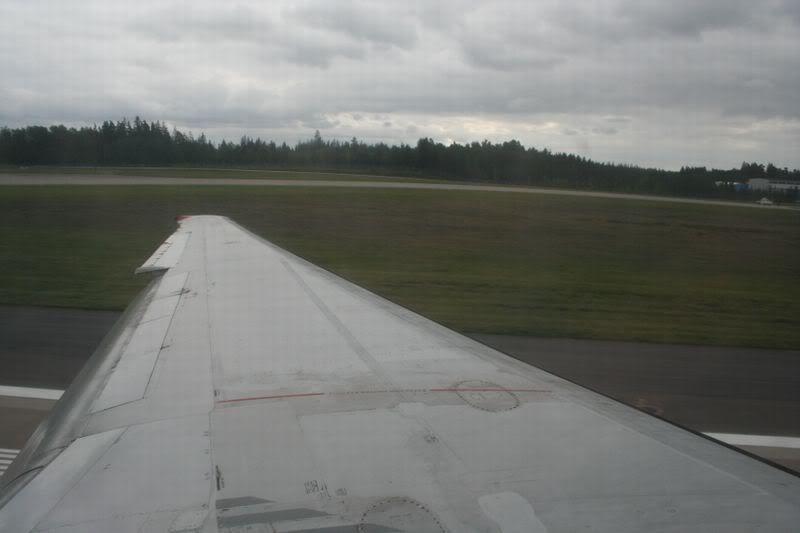 WFU Dash 8s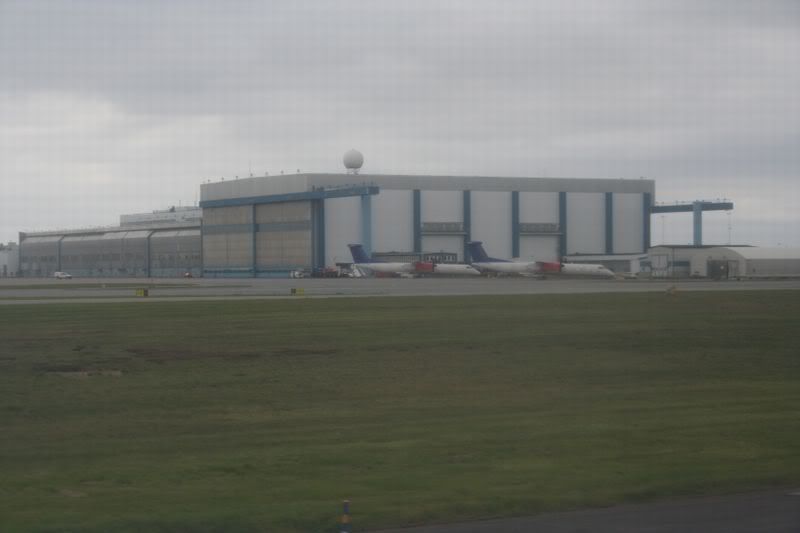 Nordic Leisure MD-80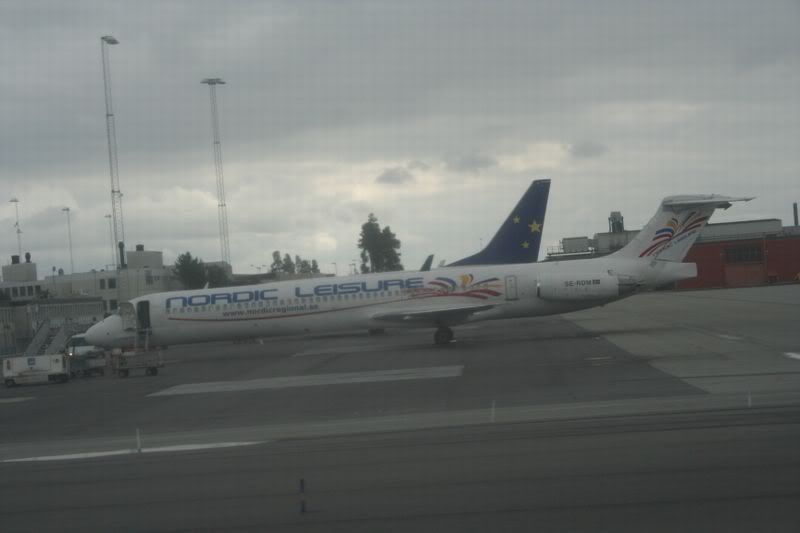 SAS Avro, probably flying to LCY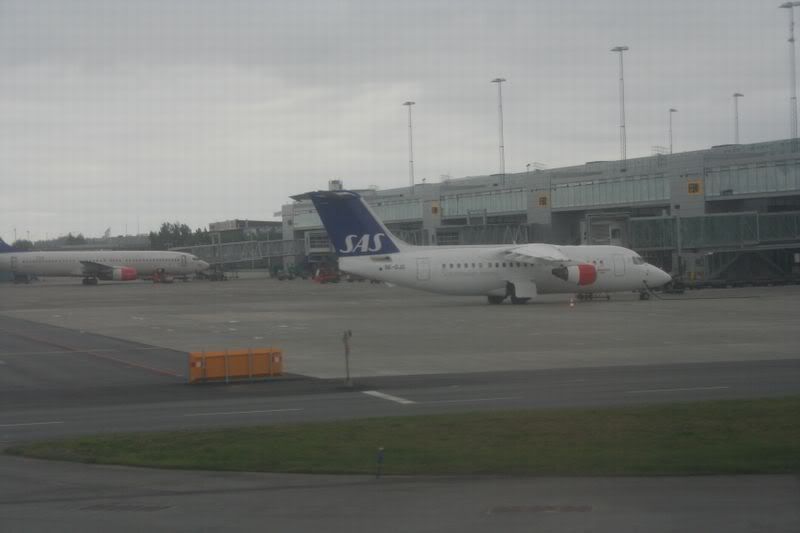 The walkway between the new and old parts of Terminal 5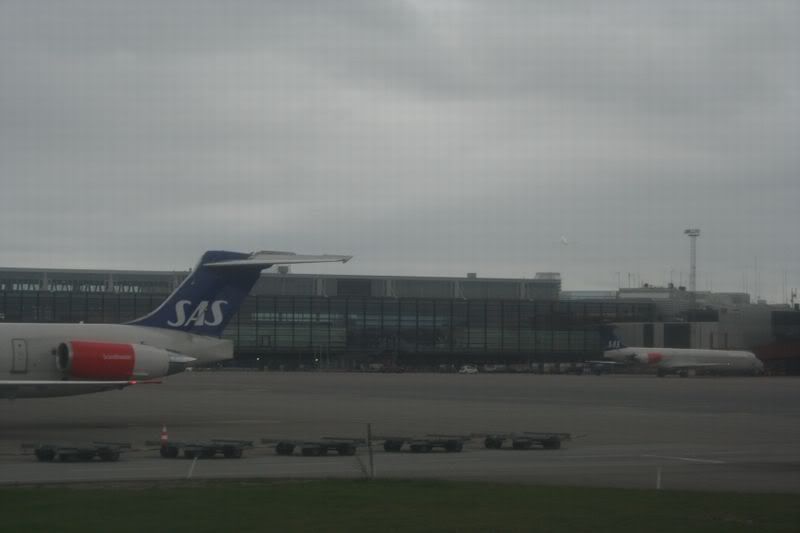 More SAS Mad Dogs
Parked at F35 almost 15 minutes early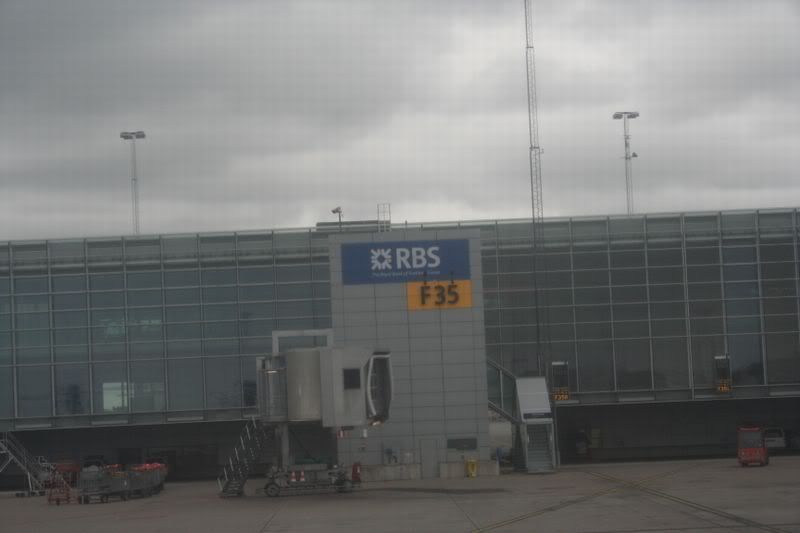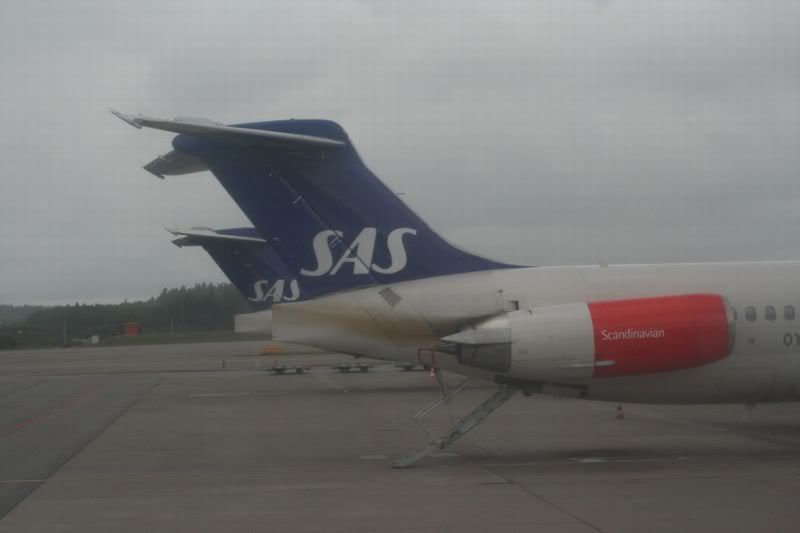 We took the Arlanda Express into town, complete ripoff but it's fast. SEK 300 for a 6-hours return ticket is at least better than SEK 220 one way.
Returned on the late night MD-82 arriving into HEL at 00.50, no pics on that flight but it pretty much mirrors this one. Good lounge, relatively friendly crew, no service, and comfortable exit row seat. Most importantly, both flights were on time.
I didn't miss the service at all on these 45-minute hops mainly because of lounge access. But what does SK have to give the average joe? If, lets say, on STO-PAR a LCC is 10 euros cheaper, the answer is SK gives exactly nothing to justify the higher fare unless you want to count the 25% miles… Poor strategy in my opinion, a sandwich and soft drinks would be a good compromise to offer.
Hope you enjoyed.
Lufthansa747