Feedback always appreciated.
Trip Report: 060
Flight Category: J-ILR (See Report End)
Date: 05 Dec-08 (See Report End)
SDT/SAT/Dur/Delay: 1540/1825/08:45 hrs (Additional 00:42 due to strong headwinds)
Flight:
Lufthansa/Privatair LH 424
, 3851 miles
Routing: MUC-BOS
Aircraft: 73H
Seat: Business, 10F
I > Background:
I went to undergraduate university in Boston and it is somewhat of a tradition for a few of us to meet up in December and re-live our youthful days. God, I sound like such the quintessential 30 year old. Anyways, since I was in München, I decided to take the Lufthansa nonstop (Privatair) flight as I wanted to maximize my short time in the city of the Charles.
I believe this is the first Privatair trip report in over 6 years, and the first on the MUC-BOS segment.
II > Pre-Flight:
a) Before Airport:
PrivatAir is an airline based in Geneva, Switzerland, specializing in scheduled and charter flights. One of the services it provides, is operating exclusively business class flights for Lufthansa, Swiss, and KLM using a mix of 73H and 319 aircraft. It's MUC-BOS flight is done on part of Lufthansa. Since this route has tons of leisure demand, it is done using a 340 during peak times and now reverts to all J during winter months.
Ticketing for the flight was done through an online site as I always remain confused by Lufthansa's own site and its inability to have lower fares. By going through an external site, I saved almost 1,000 Euros … pretty substantial amount I must say! Anyways, I find
www.lufthansa.com
extremely annoying. The inability for a paid business class passenger to chose their own seat, add FF details, and do other modifications is absolutely absurd and inadequate.
b) At Airport:
Compared to the over-crowded Frankfurt, what always surprises me about Munich is how empty the entire terminal is. Perhaps a scope for further LH expansion? But, at what cost? Vienna? Frankfurt? Zurich (which by the way, I also find remarkably uncongested for an Euro hub).
LH has a dedicated row of J class counters and these were extremely empty today … so without much wait time, I got my boarding pass and my bag tagged priority to BOS. I did wonder how amusing it must be to have each and every bag on this flight being tagged priority … hehe.
Anyways, after a quick immigration and security … in both instances, the Y line moved MUCH faster than the J line (what is up with that? I thought LH being a premium product would have figured this by now), I made it to the LH lounge..
Now, the lounge attendant was absolutely rude. The lounge is cordoned off to a First/Star Gold section and a Business class section. She would absolutely not let me in to the First/Star Gold section without seeing my physical Star Gold card. Apparently, having "*G" printed on the boarding pass was not sufficient. Worse, she was such a b**ch about the whole thing. Anyways, after digging through my carry-on, I decided to be a b**ch back (I know, extremely juvenile). Put out 3 *G card and asked her which of the ones she wanted. Anyways, after all that, I was expecting this amazing lounge. Guess what? It sucked! It was like a UAL RCC or something. Extremely crowded – almost no sitting room for the major duration, horrible food options, no free internet, few newspapers, and apparently no shower. It was basically one room – nothing more. I missed the lounge at Istanbul so much at that point. I had been a b**ch for this? This is a First lounge? I shudder to think that the Business class lounge would have been.
All flights departing the U.S. go through a secondary security process … which is pretty much exactly like the first process. Since there is only two checkpoints for 6 U.S. bound flights departing the same time, the queue was insane. 45 minutes later, I was in the calm of my boarding gate.
One of the best things about the Privatair flight is boarding … it was announced just 10 minutes prior to departure … and very soon, all the 42 passengers were on board. Very calm, collected, and efficient. Upon entering the aircraft, we were greeted by 2 FA's … though, no help was forthcoming to the passengers during anytime. J load was 90% … and in a first for me, ENTIRELY male! Weird. At the boarding gate, there were 2 women, but they were apparently not on our flight.
Airport - External:
(München Airport)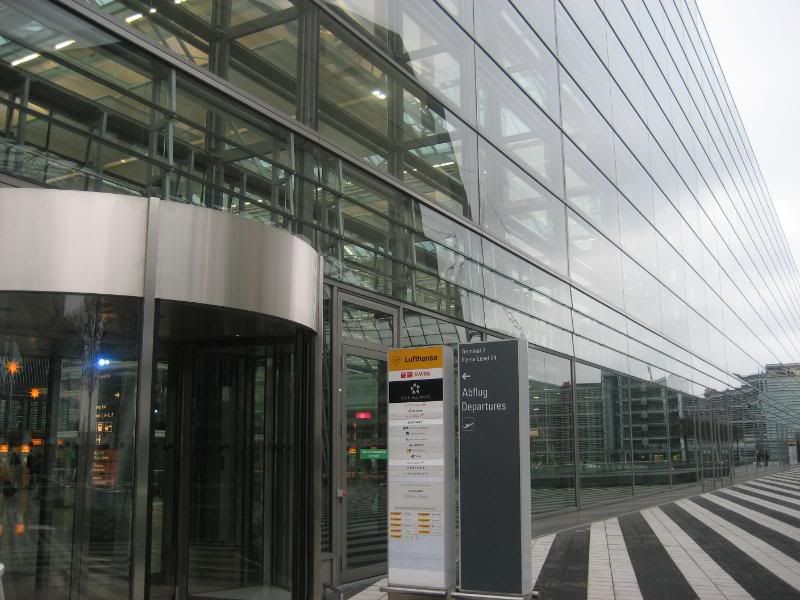 Check-in:
Airport - Internal:
(Pre-Security: beautiful inside)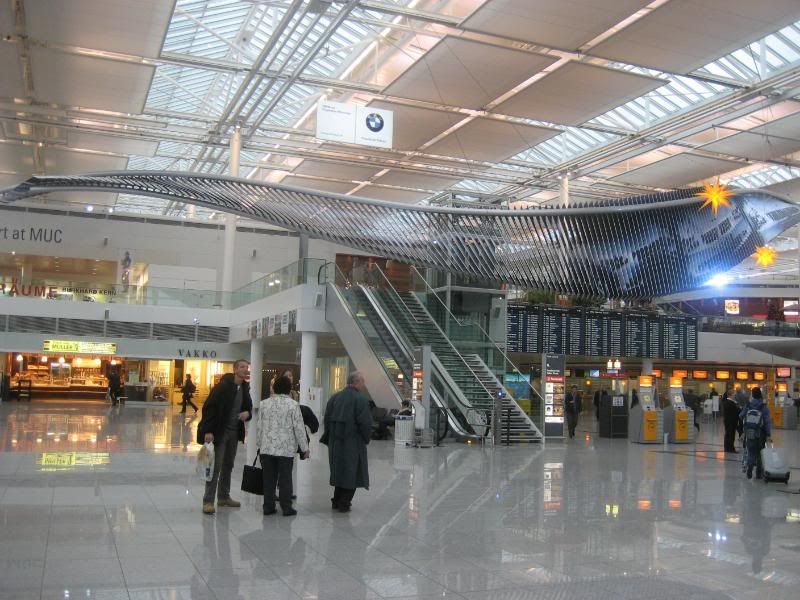 (FIDS)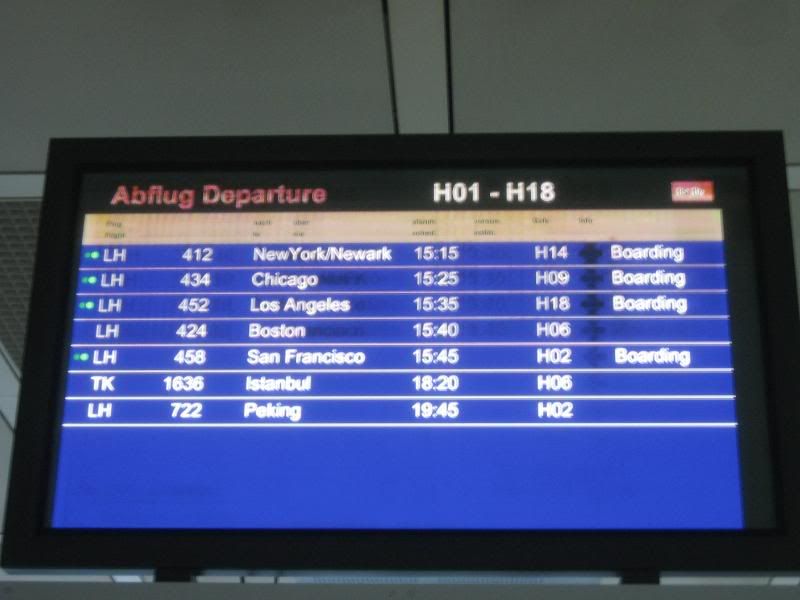 Scenes of the tarmac:
NONE
Lounge
(Small, crowded, and really nothing home to write about)
(Food)
(Paid internet … BAD)
Boarding:
(Very smooth boarding)
III> In-Flight:
a) Service Schedule + Impressions:
Upon boarding, newspapers and magazines were distributed. I was appalled that an international airline like Lufthansa had NO English newspapers and one English language magazine. This was not a loading issue as MUC is a home base and I had encountered the same disdain for English periodicals on a ZRH-FRA a few days earlier. Thank God, I speak German. If I was non-German speaker, I would not have been impressed at paying high fares and getting no options from such a global airline. Anyways, welcome drinks (champagne or water) and hot towel service prior to take-off. After take-off, DVD players were distributed along with menu, then drink service, then meal service, and 90 minutes prior to boarding, another meal service. Amenity kits and hangars were already at our seat when we arrived.
b) Aircraft + Seats:
Privatair 73H was immaculately maintained, including the lavs. The entire J layout definitely gave a relaxed private jet feel to the aircraft. It is hard to describe, but the cabin felt "private" and intimate.
Ok. Let us talk about the seats. The pseudo-lie-flat was NOT comfortable. These are super old generation seats and I really do wonder when Lufthansa will upgrade these. Like many of its peers, it is extremely comfortable during seat mode, and you can get a nice cradle like position while watching IFE or reading a book. However, in the "lie-flat" mode, it is not comfortable at all. Like many of its peers, too many pronounced "breaks" and 3 different angles of recline ensure that there isn't one seat … but 3 different ones at 3 different angles, making a sleep extremely difficult. Perhaps its only saving grace was the additional legroom over the standard Lufthansa J product. Else, give me a traditional cushioned J "arm-chair" anyday!
Aircraft:
(Privatair 73H – sleek and slender)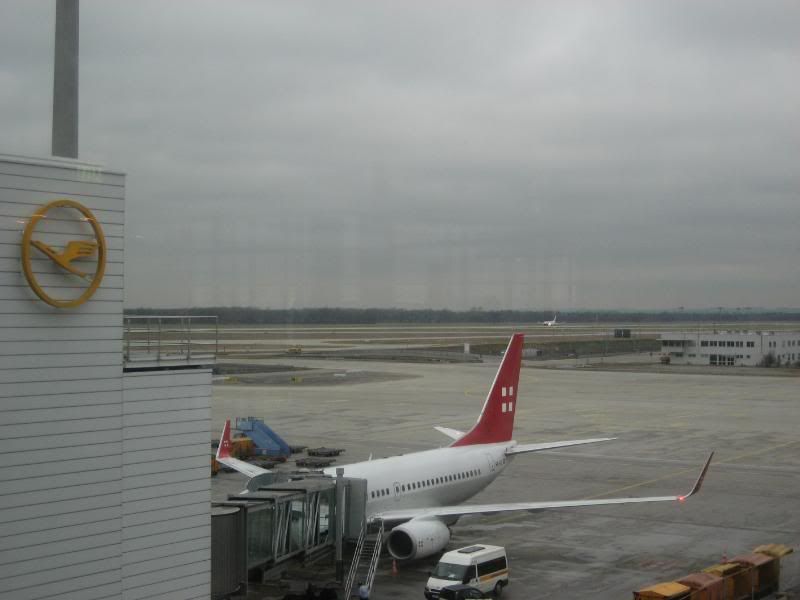 Views from Aircraft:
(Gate-mates – bigger brother)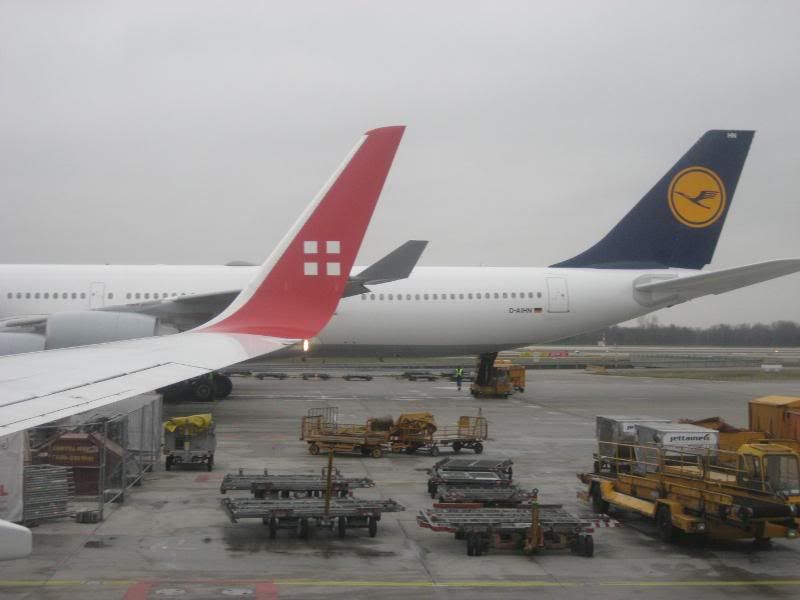 (343 to LAX)
(Beautiful colors en-route)
(Sunset)
General Seat Views + Seat Legroom
(Front of seat)
(Seat controls – needing of a change?)
(Seat legroom)
Seat Recline + Angle View:
(Uncomfortable and "breaks" in recline mode)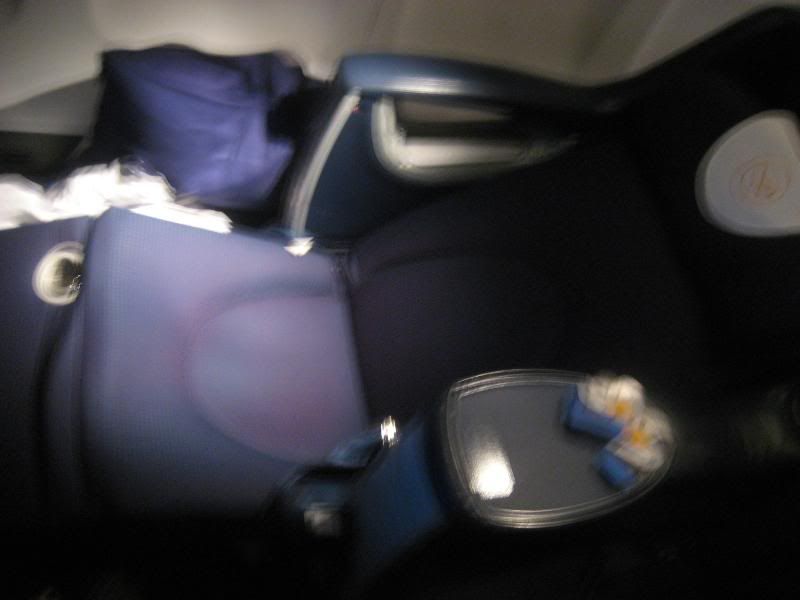 (Cramped legroom)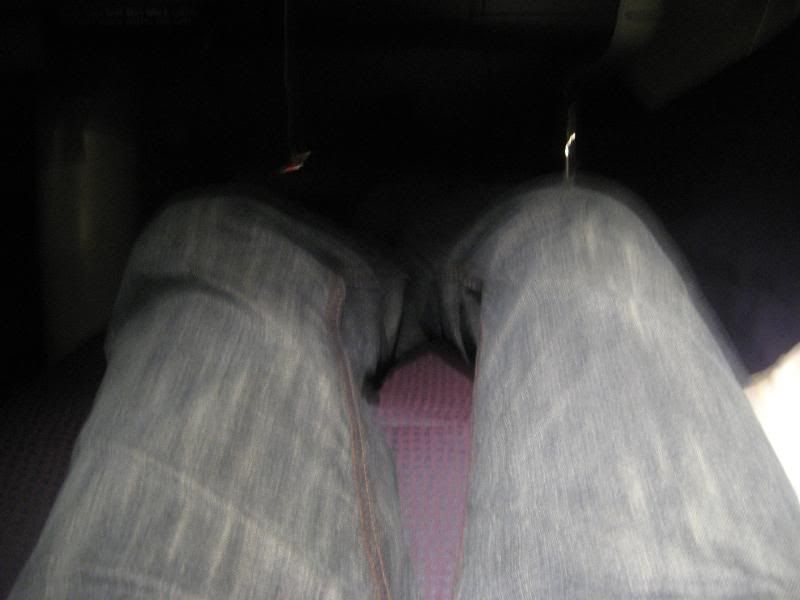 (Side view)
Cabin:
(Cosy cabin)
(Bathroom – tons of important utilities)
c) Meal + Beverage:
While on the ground, a beverage service is done where you can chose between champagne and water.
Menus were distributed soon after take-off and meal service commenced thereafter. First drinks were served with nuts … I chose white wine … from a not-so-exciting wine menu (see picture).
Dinner was served soon thereafter and included an excellent shrimp appetizer followed by my choice of pike Perch served with wild rice. Now several things that must be commented on. First, the presentation itself was poor. The fish was over-burnt and as you can see tasted as mediocre as the presentation. The woman FA came to us and basically held out the two offerings on our face and asked us which we wanted. Not really classy at all. Finally, dessert was skimpy at best. No alcohol was served with dessert, and no post-meal beverage service was done.
Between the dinner and the pre-land meal, there was not a single additional beverage service by the crew. Only after 3 dings on my crew-call button over 21 minutes was a café brought to me.
90 minutes prior to landing, a second meal service commenced. Interestingly, the same woman FA had no idea of the menu and when I asked her for the "Roast Beef", she gave me the other dish ("Asian Specialty") and kept on insisting that it was roast beef! Absurd. Even the fellow Austrian passenger commented on how bad the service had been. Anyways, apparently they had run out of the roast beef, and I made do with the Asian specialty. In Lufthansa's defence however, the "Asian Specialty" actually was very good and definitely the highlight of the meal service.
(Menu)
(Pre-take off champagne)
(Appetizer)
(Main)
(Dessert)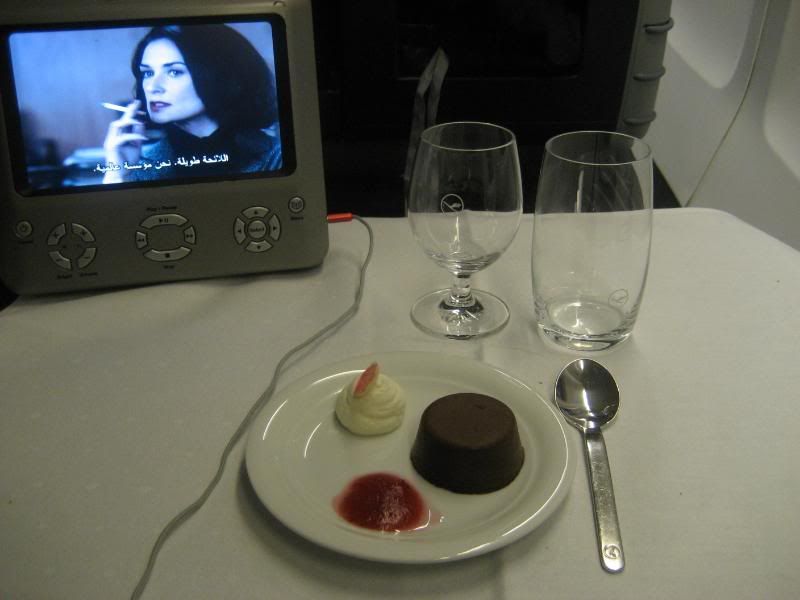 (Café)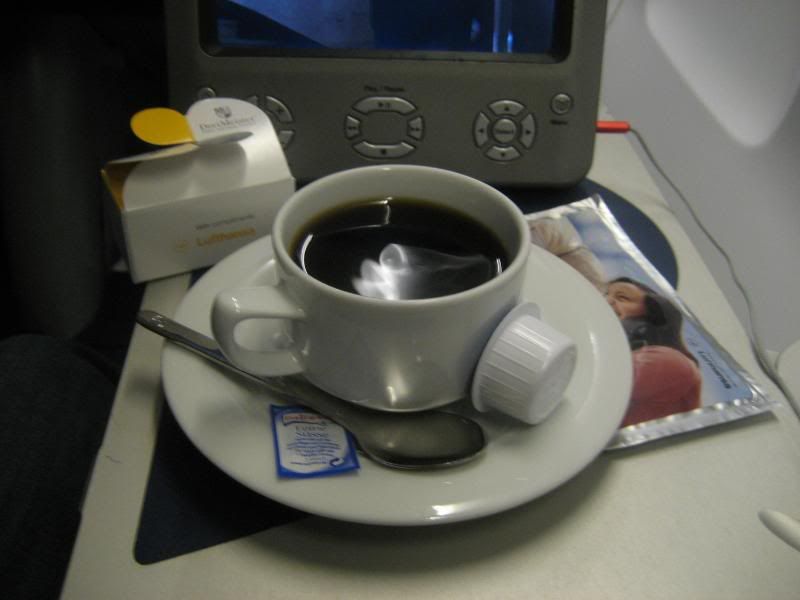 (2nd meal)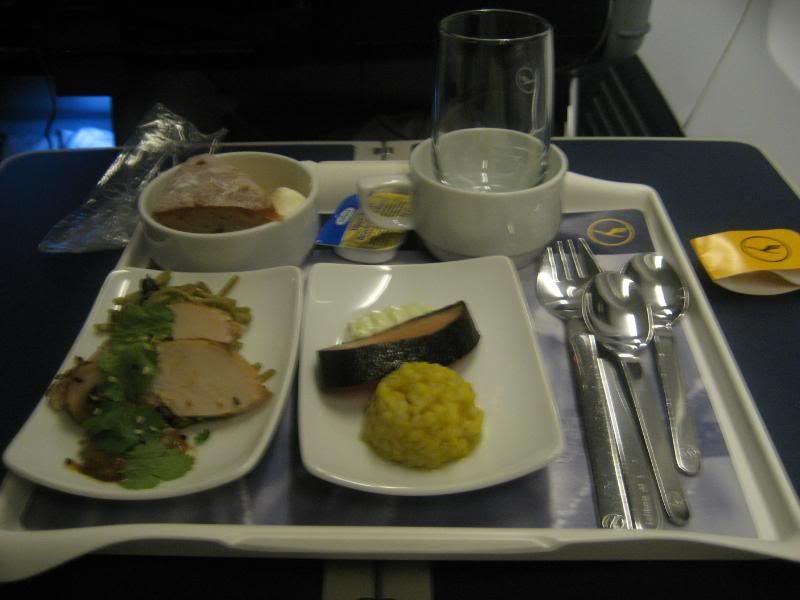 d) Inflight Entertainment:
Lufthansa/Privatair planes do not come with inbuilt AVOD. Instead you get this little personal movie player loaded with an abysmal choice of 12 pretty crappy and obscure movies. For those of us who do this route often, you are out of movie choices pretty soon. Moreover, the headphones were sub-standard and more fitting for Y class than J. In fact, they were so bad that I had to give up using them! The only saving grace is the above average in-flight magazine.
(IFE system)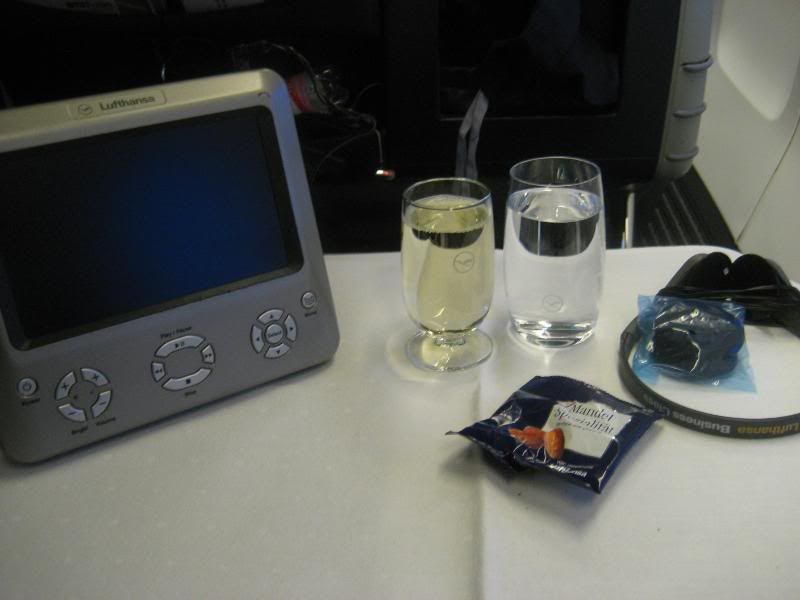 ("In-flight magazines", Boarding Passes, etc.)
e) Crew:
Indifferent and average are the two adjectives best describing this Lufthansa/Privatair crew. They seemed to do the bare minimal and disappear into the galleys. Out of the 4, one woman was VERY good. The other was the loopy one who had no idea about basics such as meal options on board. They all seemed to have an attitude – like put the food on your face, respond to call button after a long time, and be rude about it. Moreover, they were lazy. I did not see them lift a little finger to help during boarding … and they were nowhere to be seen between service runs. Overall, mechanical and absolutely no warmth whatsoever.
IV> Post-Flight:
Boston is by far my favorite U.S. port of entry and I had done immigration in a record 4 minutes. Also, baggage delivery was smooth and I was out of the door within 15 minutes of arrival. It was amusing to see every bag coming out of the carousel marked "PRIORITY".
V> Impressions + Scores:
I wish I could say positive things about the Lufthansa experience. There was not really any part of the experience I enjoyed thoroughly. Ground handling (check-in, baggage delivery) were excellent; but the inadequate lounge at MUC left a lot to be desired. On board, the "hardware" was antiquated … the IFE was poor and the seat was way behind industry benchmarks. Usually, poor "hardware" can be saved by good "software". Alas, this was not the case in this instance as the crew was cold, indifferent, and lazy. Poor food and beverage selections ensured at best an above average ride.
Lufthansa will continue to do well and be profitable due to its sheer size and its ability to capitalize on the economies of scale. If I were an European consumer, I would strongly want anti-competitive authorities to scrutinize LH take-over deals. If LH standards become the European benchmark, God save us all. Lufthansa succeeds because it consistently and reliably gets one from point A to B. This is even more appealing when it serves markets where the local carrier is far from reliable. However, service standards on LH are average at best. Its J product is severely outdated and in need of a complete refurbishment. There are far better carriers out there. Hey, it could even learn a lot from its owned Swiss – which still provides a far more pleasant experience than LH.
If given a choice, I would avoid Lufthansa. Of course, if I had to go somewhere on an important business meeting and it was between LH and a "maverick" carrier, I would have to chose LH by defauly. Let us hope that does not become the norm … it would be sad if we chose airlines due to the lack of competition.
1.0 > RESERVATION: 6.5
2.0 > CHECK-IN: 8.0
0.5 > LOUNGE: 4.0
0.5 > BOARDING: 9.0
2.0 > SEAT: 5.0
0.5 > AIRCRAFT OVERALL AMBIENCE: 9.5
1.0 > IFE: 5.0
2.0 > CREW: 5.5
2.0 > FOOD: 5.0
0.5 > BEVERAGES: 6.0
0.5 > A.KITS + OTHER FREEBIES: 6.5
0.5 > DISEMBARKATION: 10.0
1.0 > ON-TIME RECORD: 8.0
WEIGHTED OVERALL IMPRESSION (WOI): 6.36
(Pre-flight WOI of all reviews: 6.47)
* Weighted Overall Impression (WOI) aligns scores with what matters most. Weights are indicated alongside each category.
(Scores are based on comparison with other airlines in THAT class of service – No comparison of Y vs. F for example)
VI> Other Trip Reports:
PREMIUM:
8.64:
Turkish Airlines (59): JFK-IST: 11/2008
8.61:
Air Canada (49): YYZ-SCL: 06/2008
8.61:
Air Canada (49): YYZ-SCL: 06/2008
8.11:
Aeroflot (33): MOW-DEL: 09/2007
8.04:
Korean Air (40): NRT-ICN: 10/2007
8.02:
Delta Airlines (24): JFK-CDG: 08/2007
7.46:
LAN (55): YYZ-JFK: 09/2008
7.82:
Singapore Airlines (06): EWR-SIN: 09/2006
7.14:
Swiss (52): SCL-GRU: 06/2008
6.93:
Delta Airlines (18): SEA-JFK: 11/2006
6.81:
Air Canada (17): ICN-YYZ: 10/2006
6.70:
KLM (32): EBB-AMS: 08/2007
6.36: Lufthansa/Privatair (60): MUC-BOS: 12/2008
6.25:
Korean Air (45): NAN-ICN: 10/2007
6.11:
TAP Portugal (53): GRU-OPO: 06/2008
5.75:
Singapore Airlines (16): CCU-SIN: 10/2006
5.64:
NorthWest (46): ICN-NRT-SEA: 10/2007
5.39:
LOT (54): WAW-JFK: 06/2008
4.42:
Air France: CDG-JNB (25): 08/2007
ECONOMY: Long + Medium:
9.26:
Air India (48): JFK-DEL: 02/2008
7.38:
Avianca (01): BOG-LIM: 07/2006
6.41:
American Airlines (58): LHR-BOS: 11/2008
6.26:
Jet Blue (21): CUN-JFK: 02/2007
6.06:
Air Canada (04): YYZ-YVR: 09/2006
5.89:
USA 3000 (19): PUJ-BDL: 01/2007
5.79:
Air New Zealand (42): RAR-NAN: 10/2007
5.46:
TAP Air Portugal (23): OSL-LIS: 05/2007
ECONOMY: Short
8.56:
Paramount Airways (38): BLR-MAA: 09/2007
8.24:
Kingfisher (14): IXA-GAU: 10/2006
7.87:
Indian (34): BOM-MAA: 09/2007
7.72:
Alliance Air (13): CCU-IXA: 10/2006
7.57:
Indian Airlines (10): DEL-CCU: 09/2006
7.23:
West Jet (03): YYC-YVR: 09/2006
7.15:
JetLite (37): BOM-GOI: 09/2007
6.70:
Spice Jet (09): CCU-DEL: 09/2006
6.63:
Air Fiji (44): NAN-SUV: 10/2007
6.58:
Air Tran (02): EWR-MDW: 08/2006
6.44:
CO Micronesia (39): ROR-YAP: 10/2007
6.41:
Pacific Sun (43): NAN-SUV: 10/2007
6.37:
Skybus (47): SWF-CMH: 02/2008
6.33:
Kenya Airways (29): NBO-BJM: 08/2007
6.33:
Sky Europe (56): LTN-BTS: 10/2008
6.31:
Indigo (15): GAU-CCU: 10/2006
6.31:
easyJet (57): BUD-LTN: 11/2008
6.22:
Air Link Swazi (28): MTS-JNB: 08/2007
6.22:
Air India (36): HYD-BOM: 09/2007
6.13:
Adam Air (07): SIN-CGK: 09/2006
6.13:
Air Rarotonga (41): RAR-AIT: 10/2007
6.00:
Transairways (27): INH-MPM: 08/2007
5.95:
Air Canada (05): ALB-YYZ: 09/2006
5.85:
SAS Norge (22): OSL-AES: 05/2007
5.81:
LAM Mozambique (26): JNB-MPM: 08/2007
5.69:
Air Deccan (12): IXZ-CCU: 10/2006
5.67:
Rwanda Air Exp (30): KGL-NBO: 08/2007
5.07:
Go Air (35): MAA-HYD: 09/2007
5.00:
Sky Airline (51): IQQ-SCL: 06/2008
4.96:
Valuair (08): CGK-SIN: 09/2006
4.78:
Air Comet Chile (50): SCL-IQQ: 06/2008
4.74:
Fly 540 (31): MYD-LAU: 08/2007
4.33:
Viva Aerobus (20): ELP-MTY: 02/2007
4.11:
Air Sahara (11): CCU-BOM: 09/2006
(Note on Codes: Y – Economy, J – Business, F – First :: I/D – International/Domestic :: SR/MR/LR – Short/Medium/Long Haul)
(Note on Date: Dates are modified to be +/- 3 days from actual flight date to not reveal actual flight pattern)
VII> Other Pictures:
(Skimpy amenity kit – and what is up with the presentation?)