Malaysia Airlines
MH637 / MI9335 / MI9337 / SQ5635 / SQ5637
Kota Kinabalu - Singapore (via Kuching)
Boeing 737-4H6 9M-MME
0905 – 1245H
Part One of this trip can be found
here
.
15 December 2008, KOTA KINABALU INTERNATIONAL AIRPORT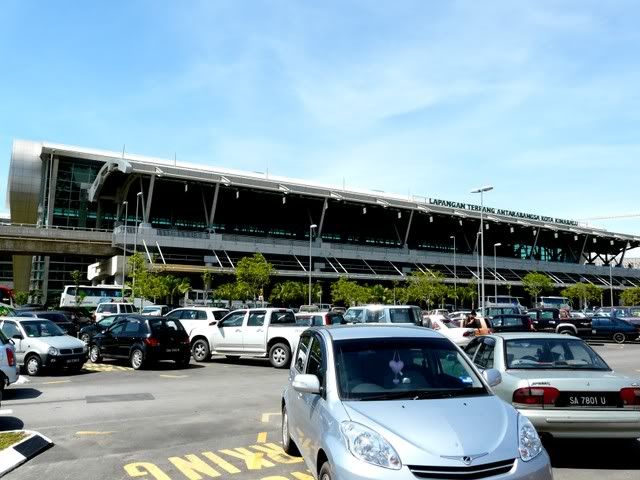 Kota Kinabalu, the state capital of Sabah on the island of Borneo – is an awesome holiday destination in its own right. Leaving it to come back home was done very reluctantly on our part and after 5 fun filled days, it was time to have our very last drive along Jalan Coastal towards Malaysia's newest airport terminal in operation today, KKIA.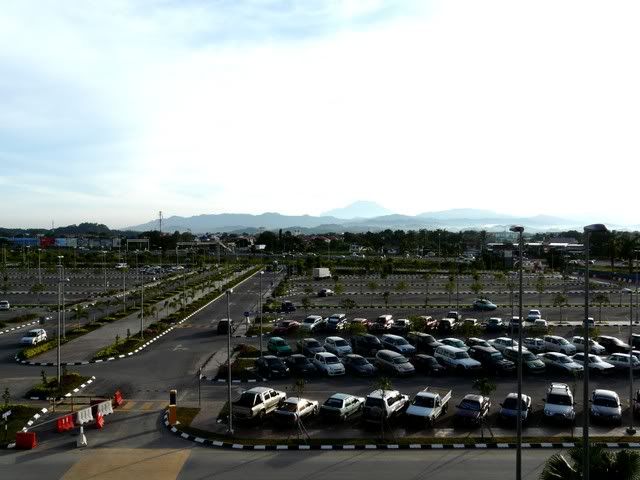 Mt Kinabalu in the distance, watching over the whole of Sabah silently.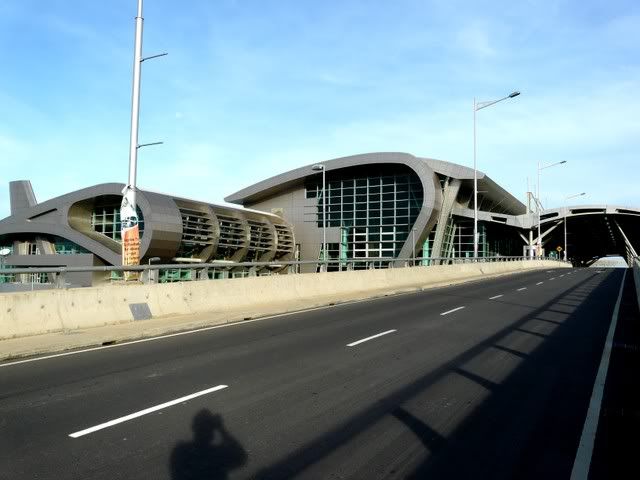 The beautiful aerofoil-inspired façade of the airport to signify the wonders of flight.
There isn't any multi storey car park in KKIA giving it that very "provincial" feel, a charming disposition allowing a much laid back aura to be blessed upon this modern looking terminal.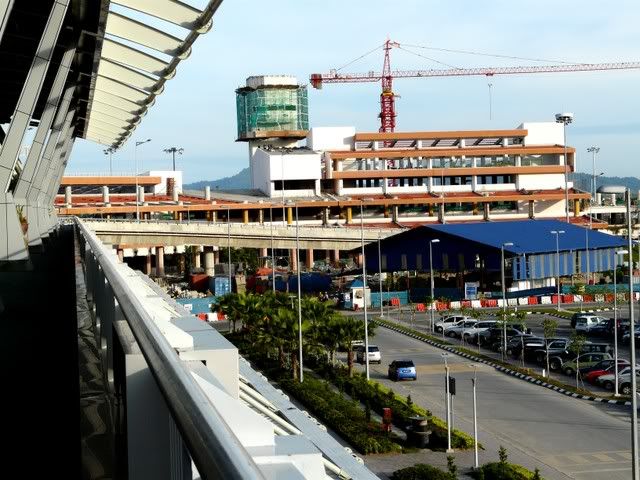 KKIA's older half is going through an extreme makeover. Notice the beheaded control tower?
A 0905H departure time meant that we were up and running at the crack of dawn.
Malaysia Airlines utilizes the check in island B for all their departures and a pleasant Chinese lady was on hand to make sure formalities were painlessly carried out. Josey very nicely accommodated my request to have our seats at the back of the plane on the "A" side. Not surprisingly, the same seats of 26 A/B were allocated to us again.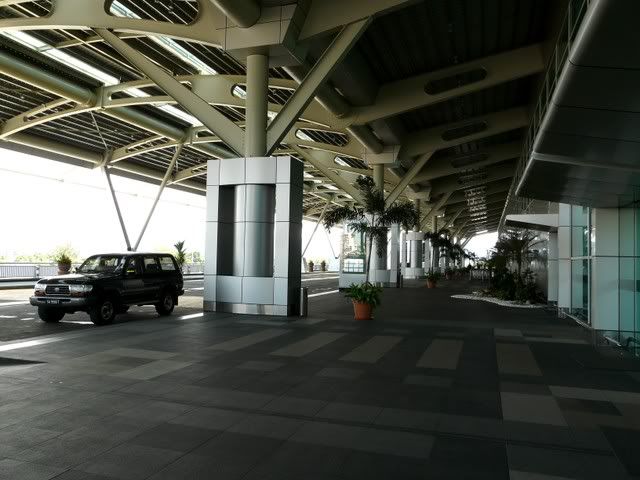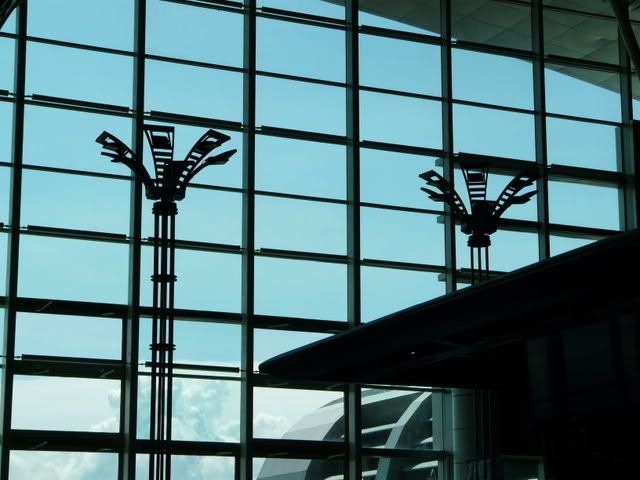 Other than our flight departing for Kuching and Singapore, Royal Brunei's check in was in the process of setting up shop at an adjacent island. Otherwise the terminal was as quiet as a funeral parlor.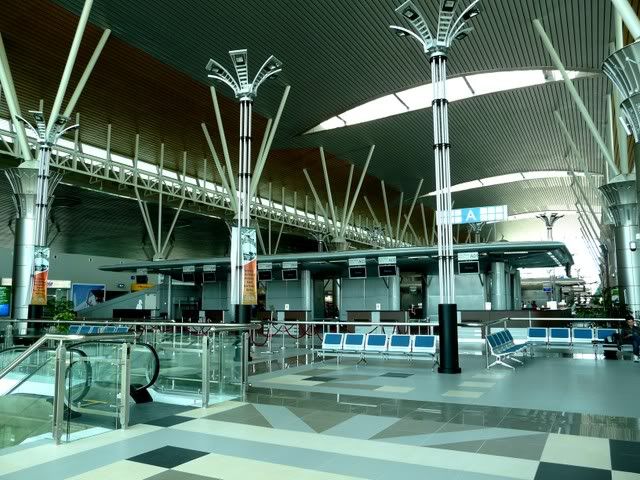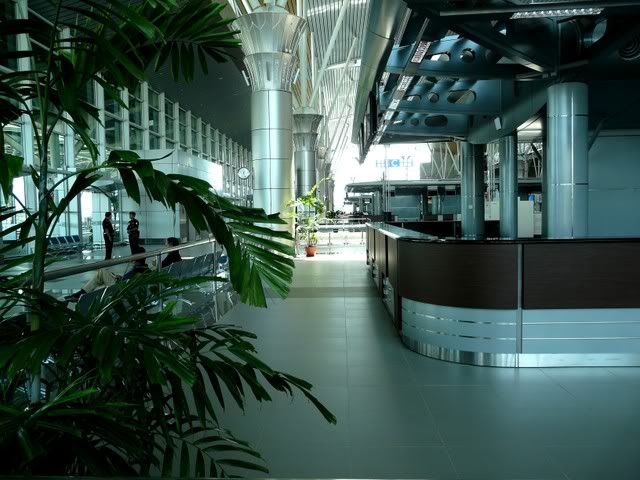 Very little happens in KKIA and the lack of spotting opportunities from landside was a good reason not to waste anytime and to go past immigration. Once entering the sterile compound, beautiful scenery greets us with the tarmac and the South China Sea as a background. It was a delightful way to say goodbye to KK being awed by such a tranquil looking setting. This is especially so in the morning hours as the sun rises from behind the airport to provide what is perfect lighting to view the goings on outside.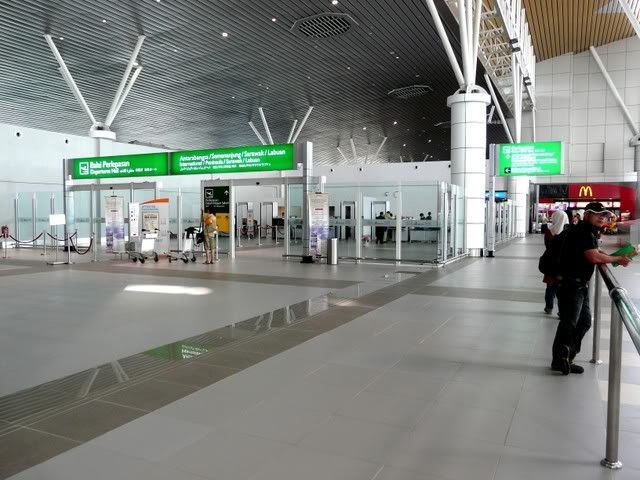 Goodbye KK, and off through to the immigration we go!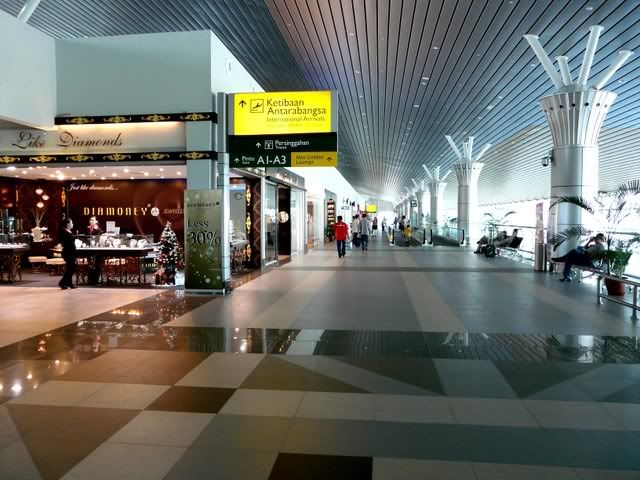 Airside KKIA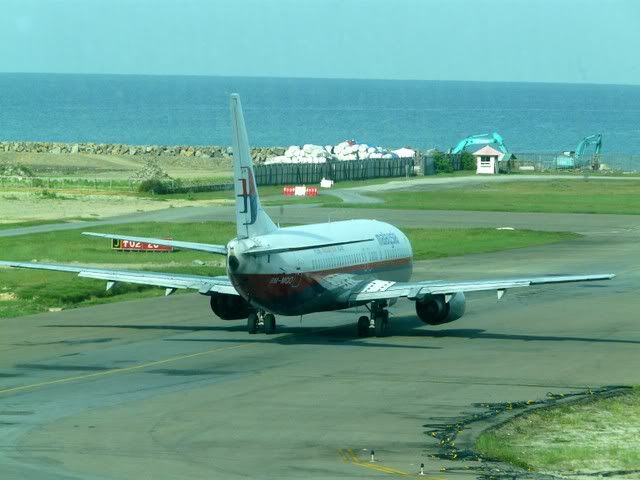 The scenery was nothing short of amazing.
By the looks of the amount of passengers gathering at Gate A5, the flight wasn't very full heading down to Kuching. In fact a bulk of the passengers were holding Singapore passports and were, perhaps, like me who bought $0.00 tickets many months ago. I really cannot fathom why anyone would choose this one stop service over the numerous nonstop flights offered by Silk Air, Tiger, Jetstar and Air Asia from Singapore. MAS's flight used to be nonstop but they decided to add KK as a tag on to their Singapore – Kuching flights during the previous rationalization exercise and did away with the nonstop altogether. This would surely erode their competitiveness, don't you think? But hey, what do I know about MAS? I am just another aviation enthusiast from Singapore.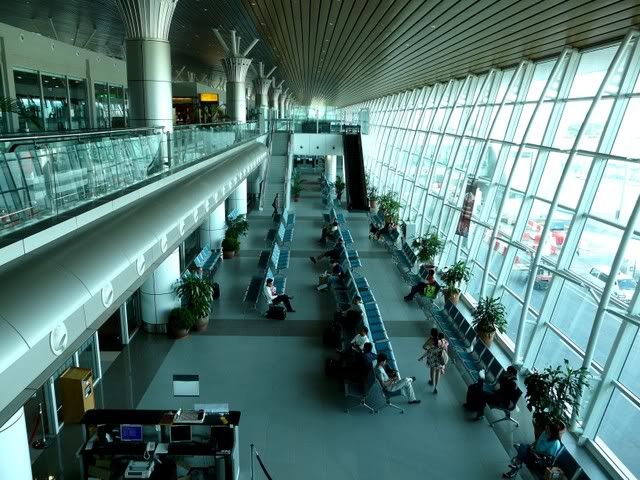 Departure holding lounge for gate A5.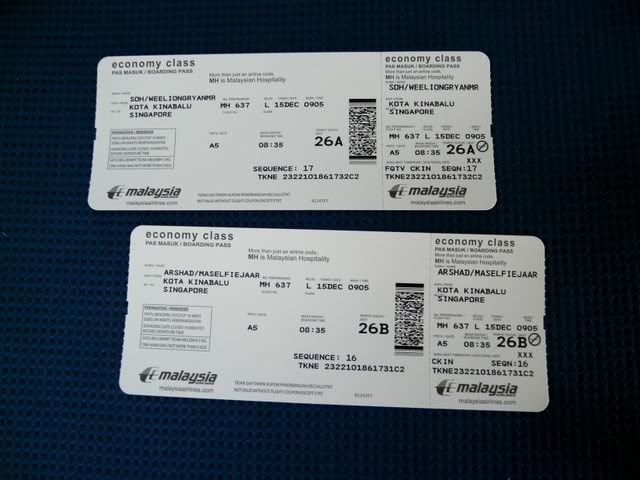 Boarding passes issued were strangely mono-toned. A cost savings measure, perhaps?
0850H: A general boarding call was made and there was no attempt to make it an orderly process using the row-number method so it was basically a free-for-all. Perhaps the passenger numbers were so low there wasn't really a need to?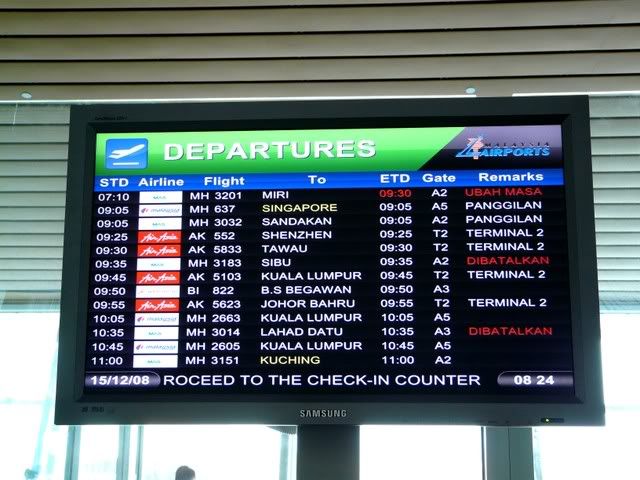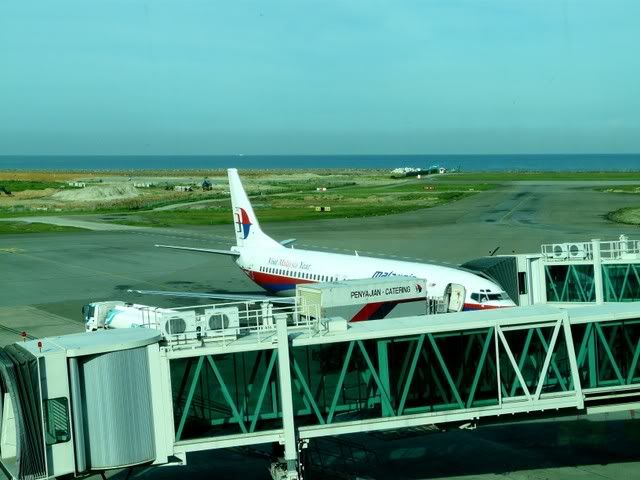 My ride, 9M-MME.
9M-MME was assigned to our flight this morning. She made her maiden flight in Sept 1992 making her one of the elder 737s in the fleet. For a while, she was even loaned to the now-defunct Thai carrier Angel Air. Otherwise, her history has been with MAS since day one.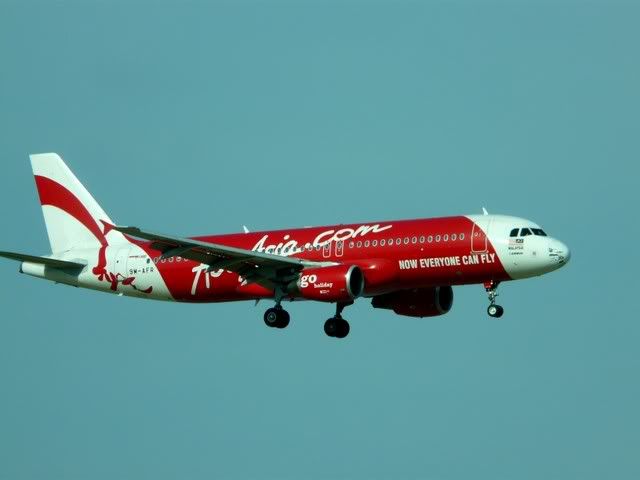 Traffic was very constant at KKIA. The majority of it seemed to be dominated by Air Asia.
A male Leading Steward Aziman gave us the usual greeting at Door 1L, with another stewardess Yan Yong dutifully by his side. The YCL crew consisted of Steward Affandi in the fore cabin and Stewardess Rozanna in the mid cabin. Both seem rather sleepy although they tried to smile through their fatigue. I can only imagine what hectic schedule they had the day before being rostered on this 737, perhaps some killer turn-around duty and the same was in store as they journeyed back to their base in KLIA. Another steward Dilip who seemed to be confined in the galley, occasionally popped out to say "hi" the passengers in the aft cabin.
This aircraft interior was refurbished in the new colors the airline thought was somehow pleasing to the eyes. I swore my color-vision immediately malfunctioned as soon as I stepped on board. The descriptions I can think of are many; Smarties, M&M's, Joseph's Technicolor dream coat, Carmen Miranda, Fanta Fantasy, Mardi Gras, Samba nightmare…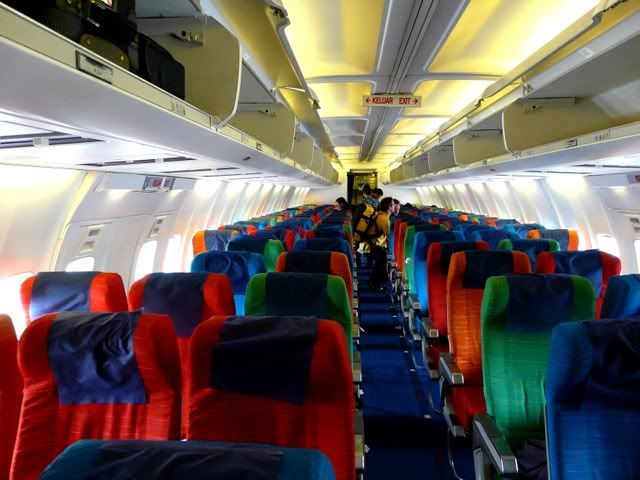 The way the seats were colored, we all had a choice of:
• Chilli red
• Lime green
• Zesty orange
• Jazzy Blu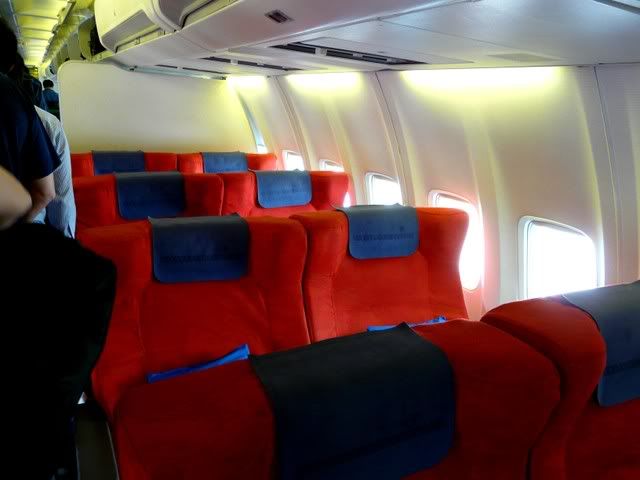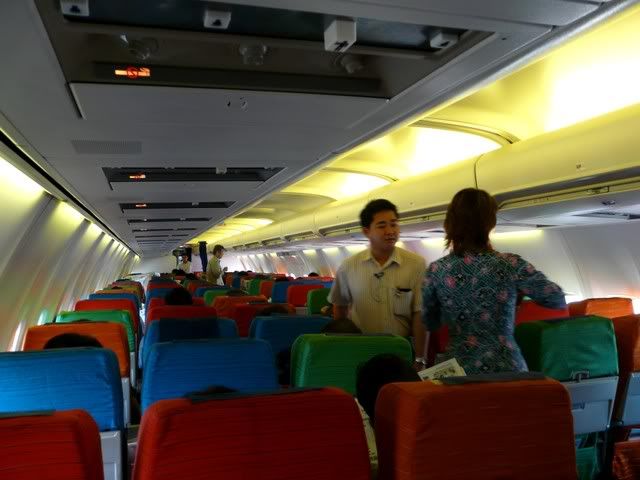 Christ it is an awful color combination. The fact that MAS is nothing more but a glorified LCC these days, what they had done just brought them closer to that as these tacky color choices made them look like a holiday charter airline. Did they say they were a 5-star carrier and only one of the 6 airlines in the world to be awarded this status? I struggle to look for signs of this…
The fact that Rozanna also had on a pair of fake eyelashes making her look like a drag queen in a kebaya, made the entire cabin look like Priscilla gone haywire. Ok we needed to get to our seats fast before passing out from this overload of energetic, untamed and steroid-filled undertones.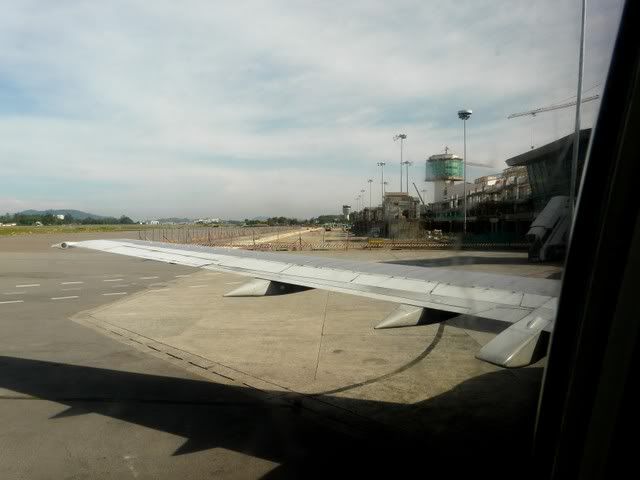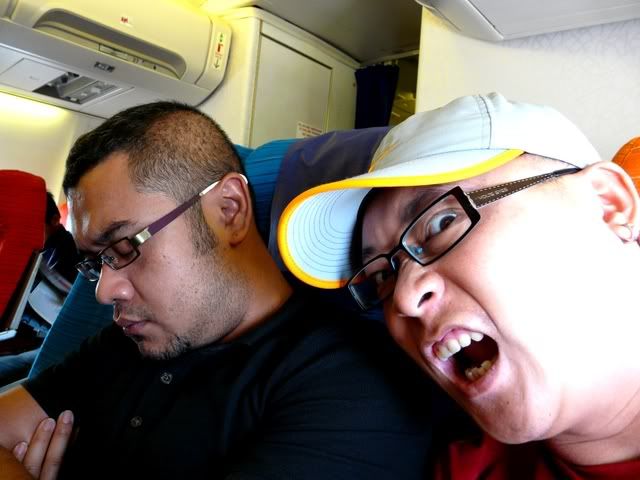 We waited for a long time at the marshalling point for takeoff due to traffic. Not very expeditious of the ATC, I must say. Many passengers nodded off to sleep while I was being… well… myself.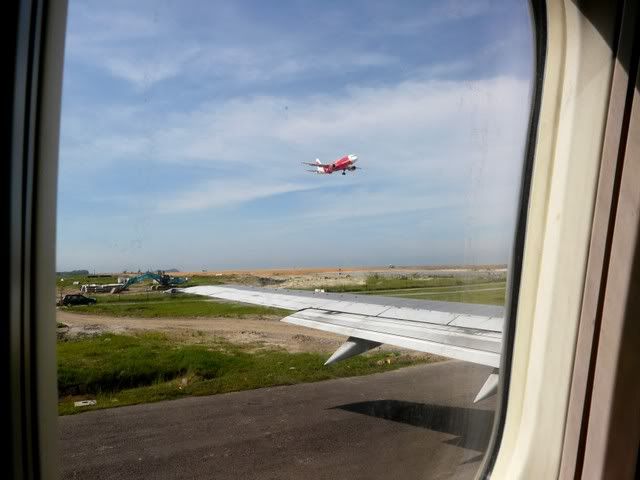 After this, we are off!
0905H: Pushback was fast and swift after the Malay welcome announcement. However, there are many arrivals at this time of the morning so we ended up holding at the marshalling point for a good few minutes while we gave way to arrival aircrafts in the form of some MH 737, AK A320 and a MAS Wings ATR 42.
0925H: The take off was nothing short of picturesque. Coral reefs were almost immediately visible after getting airborne. As the runway in use was 02, a flight path was taken over the city center before turning left over the expansive Tunku Abdul Rahman National Park to begin our southerly 1hr 20 min journey towards Kuching. This was why I chose the "A" seats because we could see Kota Kinabalu and the airport in its entirety. Simply beautiful and a fitting farewell to this wonderful seaside town too!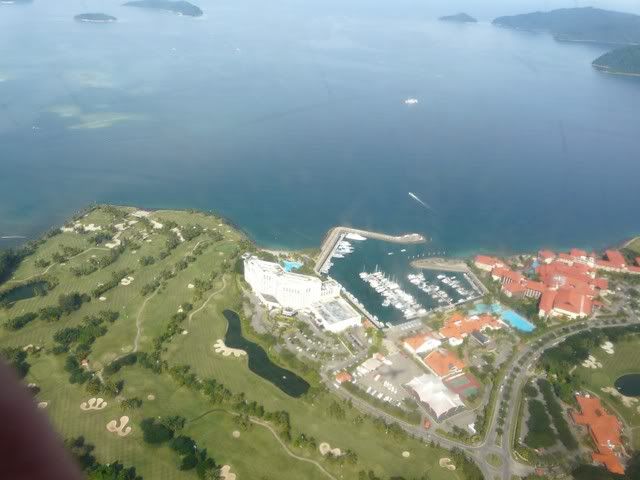 Sutera Harbour Resort located very close to the airport. Notice the shadow of my plane on the ground?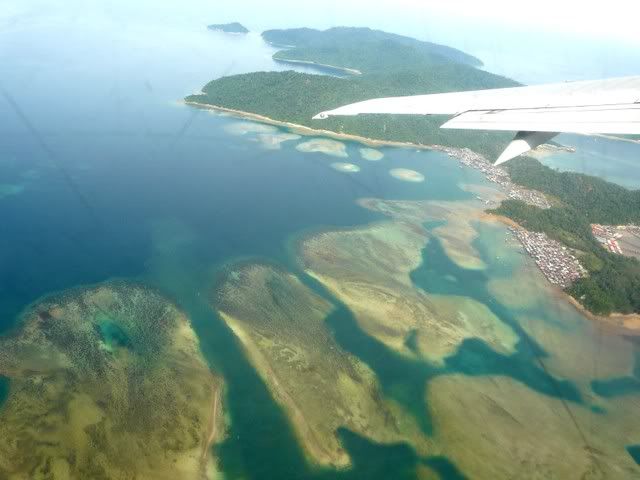 Flying over the city center of KK, we made a left turn over Gaya Island, the largest in a chain of them within Tunku Abdul Rahman National Park. Definitely a must see attraction!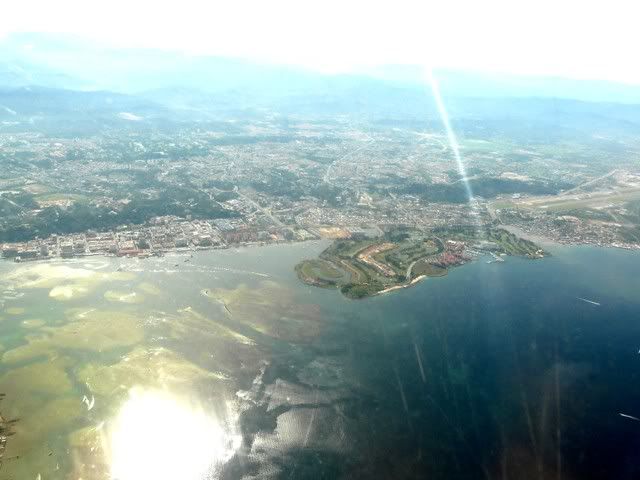 And there you have it, the reason why I chose this seat. KK city center is to the left, and the airport to the right – underlining the fact why the buildings in the city have a height restriction.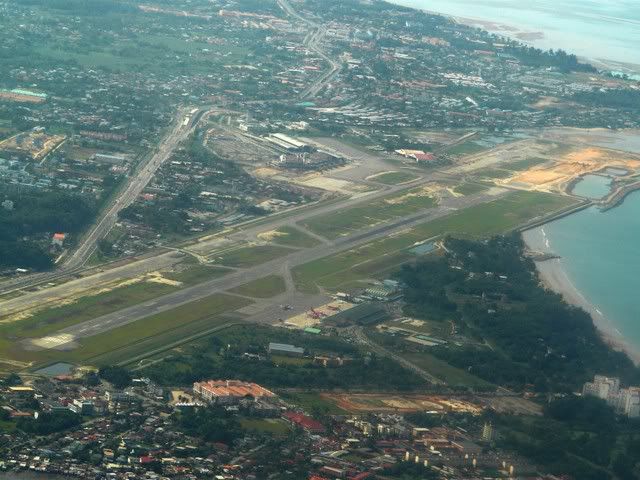 As we climb, I say one final goodbye to KKIA. I will be back before you know it! Visible here are both Terminal 1 and 2, the latter houses Air Asia.
As soon as the seatbelt sign was off, the usual drill of the 2 meal carts made their presence felt with Affandi and Rozanna manning them. Dilip ran out from the aft galley with trays of buns to manually distribute them to the passengers in my vicinity. I have made my views known about the buns in my previous trip report but this time it brought my impression to another low. The "vegetarian" option was absolutely horrid as sin! Why did they even bother?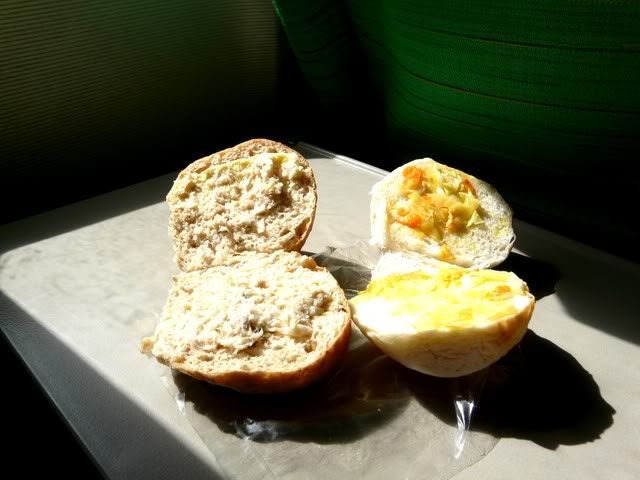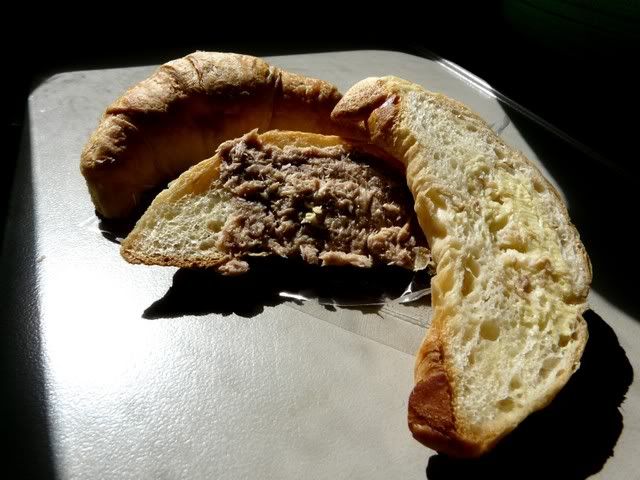 Thankfully, there was another choice of tuna croissant which was far tastier. But still, it is no wonder why their rival Air Asia is presently running circles around them with numerous hot meal options for purchase regardless of domestic or international.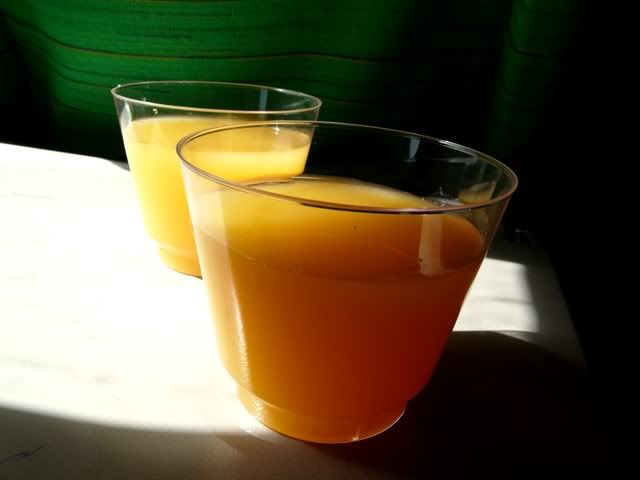 If MAS's retort was to down sell themselves this way, they have not done themselves any favor in the perception department.
Perhaps it was an early start for them, but the crew on this flight seemed distant and very obviously fatigued. The famed "Malaysian Hospitality" was hypoxically absent as they just went through their routine giving out "prized" $1 buns and orange juice.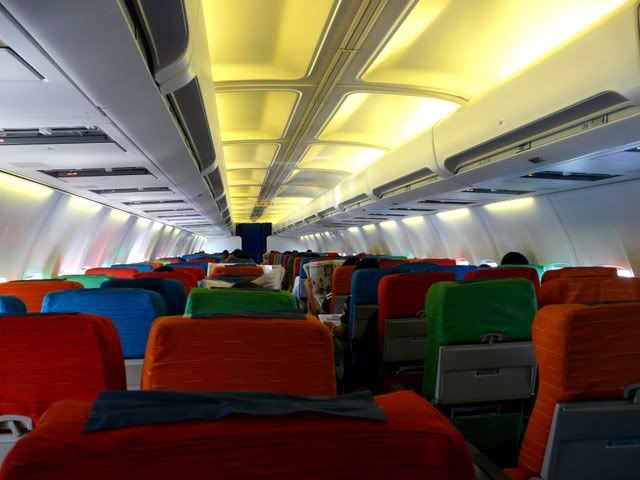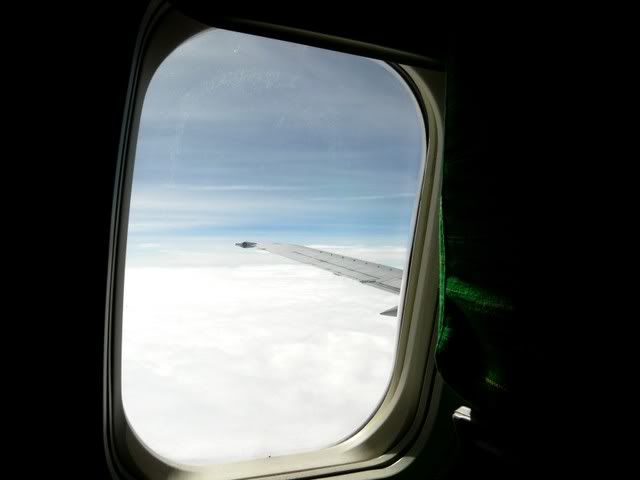 FL300 was the cruising altitude for this flight. It was an overcast flying day so the normally beautiful view along the coast of Sabah and Sarawak pretty much obscured.
1015H: Flight deck announced that we were beginning descend.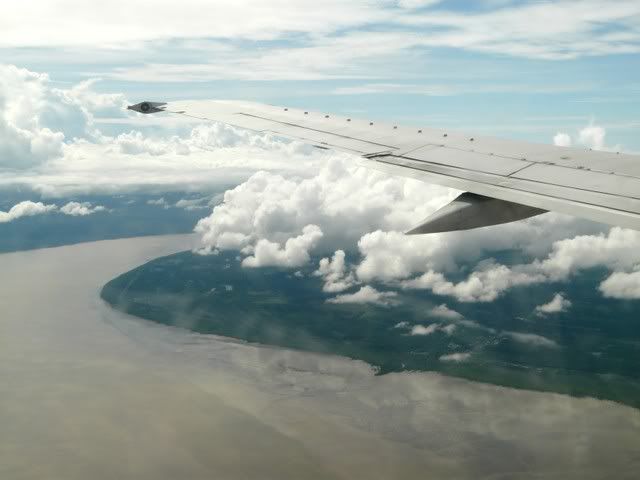 Hello Sarawak!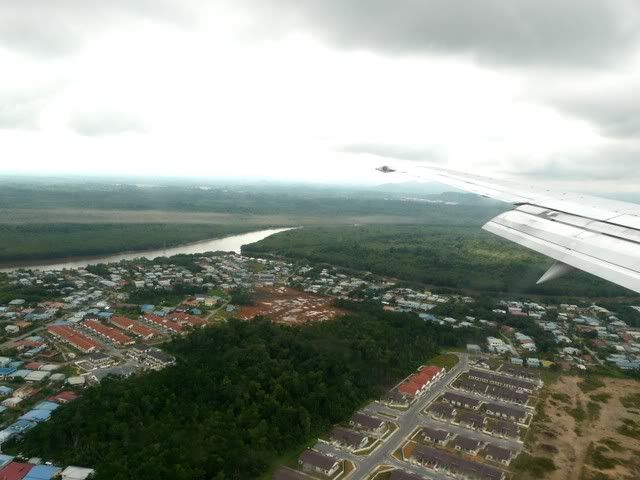 The descend and straight in approach maneuver brought us directly in for a runway 25 arrival. Once again, I was in Kuching to begin my transit stop. This batch of crew would overnight here before continuing back to KLIA the next day.
The largest aircraft in attendance this afternoon was a beautiful A330 turning around for KUL.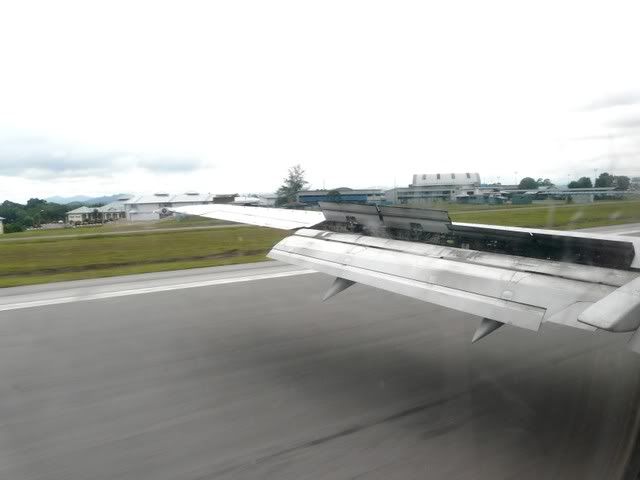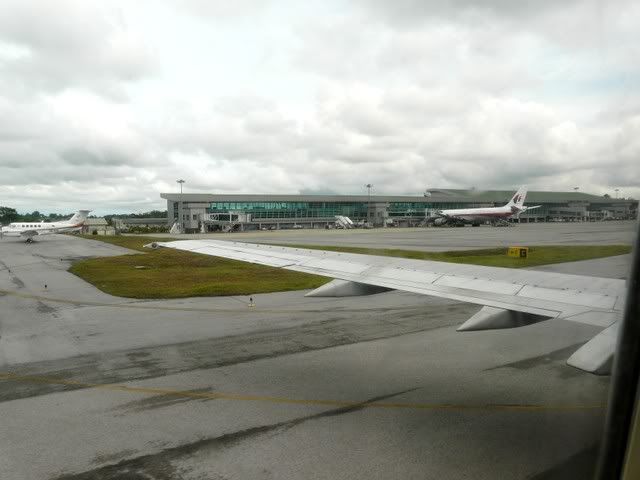 Strangely no announcement was made this time round about the confusing immigration procedures for Kuching. As the passengers slowly made their way out of the cabin along the aisle, Dilip already had his crew bag, ready to leave and rather shooing the remaining people off the plane, as if impatient to disembark himself. I thought he was quite rude about it.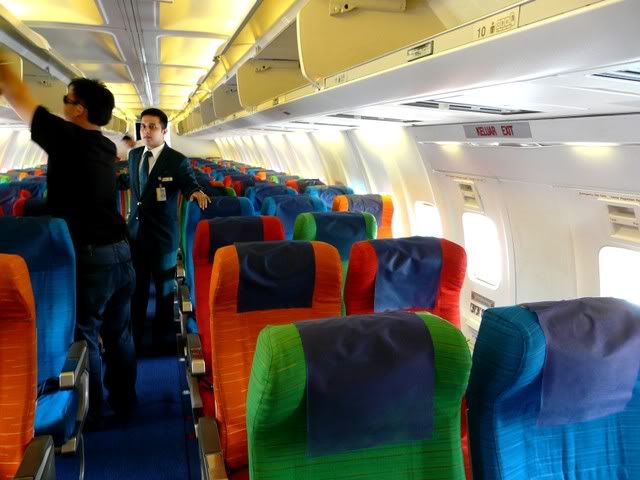 "Sir, you need to get off this plane…" Rude, rude, rude…
Sigh… I could only hope the crew taking over this flight would be friendlier.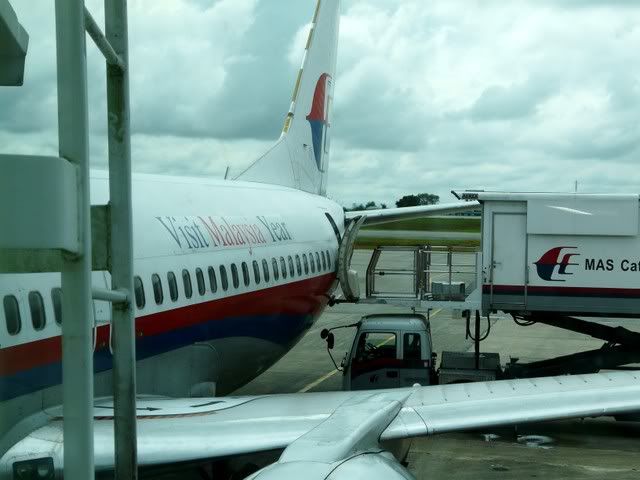 KUCHING INTERNATIONAL AIRPORT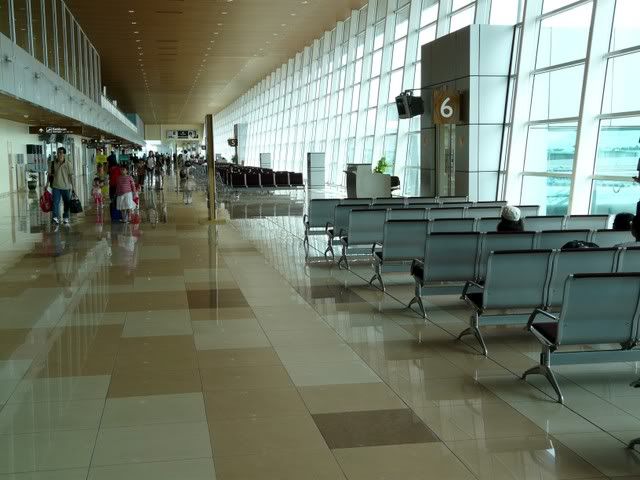 We weren't about to be tricked into wasting time at immigration. So an exploration about freely at airside after collecting onward boarding passes was in store. Similar to KKIA, there was really nothing much to do at this airport other than looking at the action outside the tarmac.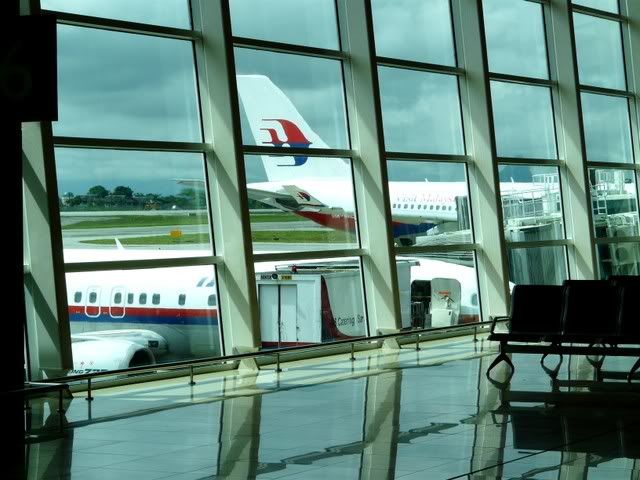 The transit was uneventful and in no time, we were back at the holding lounge of Gate 7, solemnly awaiting the boarding call.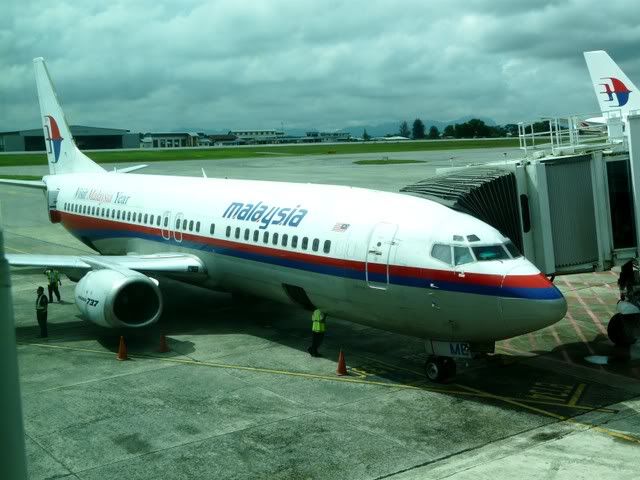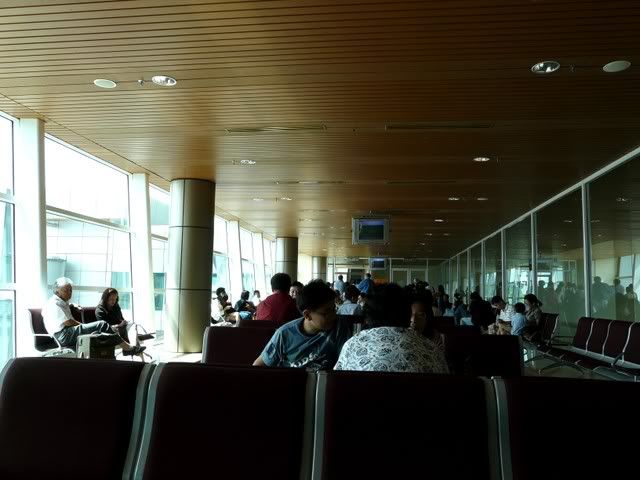 Meanwhile, the beautiful A330 over at gate 8 began its pushback to KUL as MH 2507.
The boarding call was uneventful and it looked like we had a pretty full load for this continuing sector to Singapore. We strangely sat at the gate till 1130H and the reason given was the late inbound of this aircraft from KK. I knew this wasn't true as we departed and landed on time from there so one can only wonder why the need to pass the buck like that?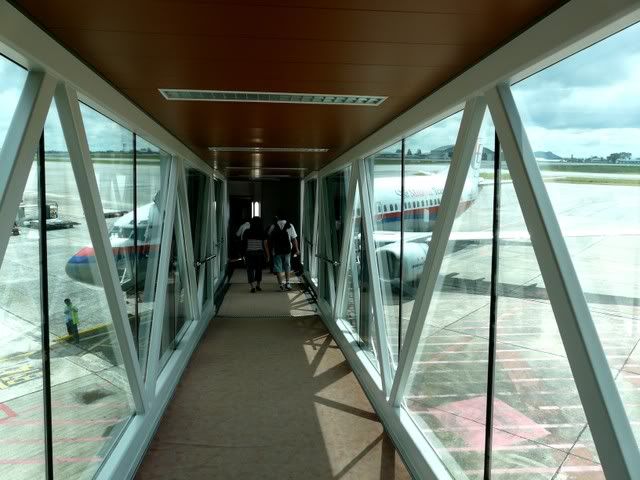 Here we go again.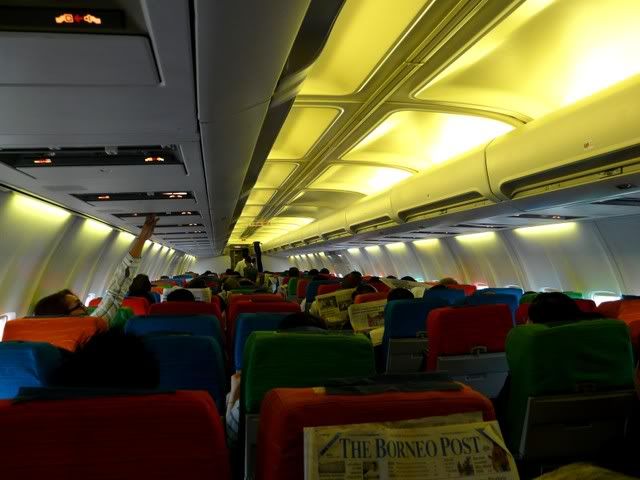 Putting memories of the previous crew behind me, Leading Steward Alfian Shah welcomed us at the door together with stewardess Cheryl Ong. The rest of the YCL crew consisted of stewardesses Nor Aini and Nadia at the fore and mid cabin (once again, both were standing silently, not exactly doing anything) and a steward Mohd Fikri at the aft cabin. MAS seemed to be under-performing in the service department today.
The A330 next to us, who pushed back as we were boarding was still standing there, and the engines weren't running anymore. I do not envy the passengers there; a technical delay was obviously in the cards. Did someone sabotage this plane AGAIN?!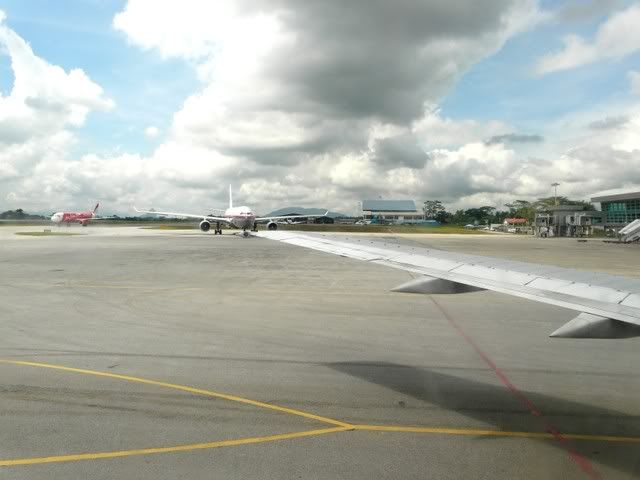 A330 not going anywhere now.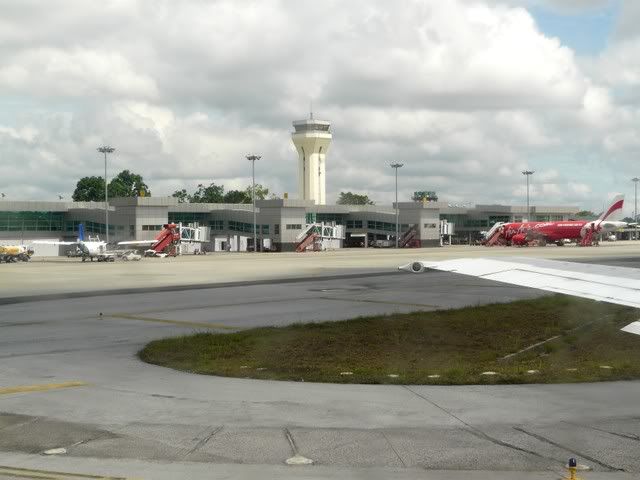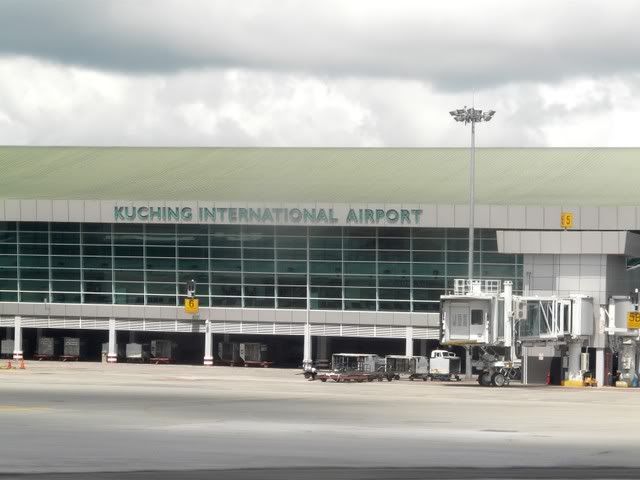 Bye bye Kuching!
A quick u-turn and ready to go down Runway 25.
1140H: As if accompanying the somber mood in the cabin, the clouds formed and made for a rather bumpy ascend into the tumultuous skies of Sarawak that afternoon. Not really a departure for the faint hearted, we lost some altitude during the climb a few times causing a screams to radiate about much to the amusement of us.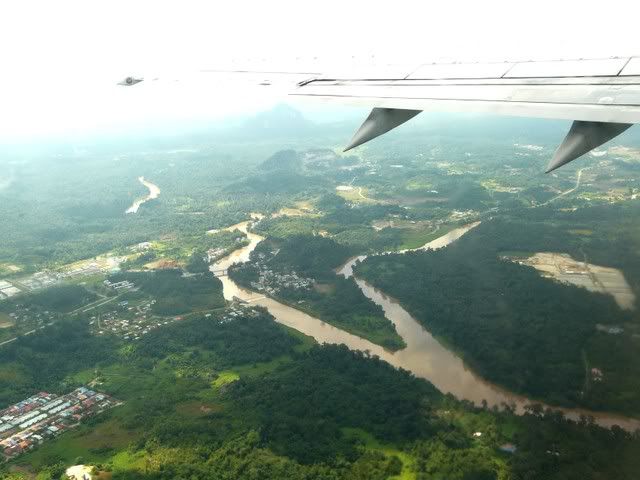 Climbing out of Kuching International Airport. Doesn't this look like Middle Earth?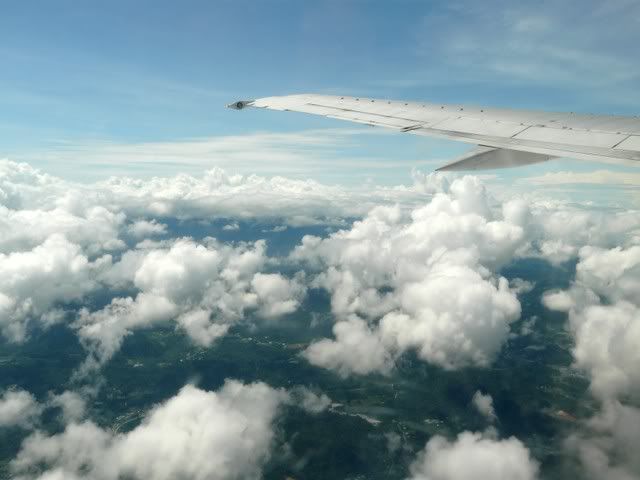 Seatbelt signs were extinguished as soon as we stabilized… MEALTIME! I knew what to expect with the snack boxes this time but what made things different from my previous flight was that they didn't run out of choices.
1200H: Watching the cabin crew in action this time was like Disorganization 101. 2 meal carts were charged by Nadia in the fore cabin and Nor Aini in the mid, working their way aft. These 2 carts were constantly running out of orange juice (seems to be the only drink option) which required frequent refills from Fikri running back and forth from the aft galley. He consequently lost his flow and was darting from seat to seat in random order asking for the meal choices to the point he was perspiring from his temples. At one stage, he even missed a few rows and had to be tapped on his arm by the passengers there.
"Guys, what you want? Chicken with tomato rice, or butter rice?"
That sounded kind of Spartan! But we decided to try both meal options. But what Fikri failed to mention was that the tomato rice came with chicken korma and the buttered one with chicken marinara. A definite negative for serving the same choices as my inbound flight a few days back!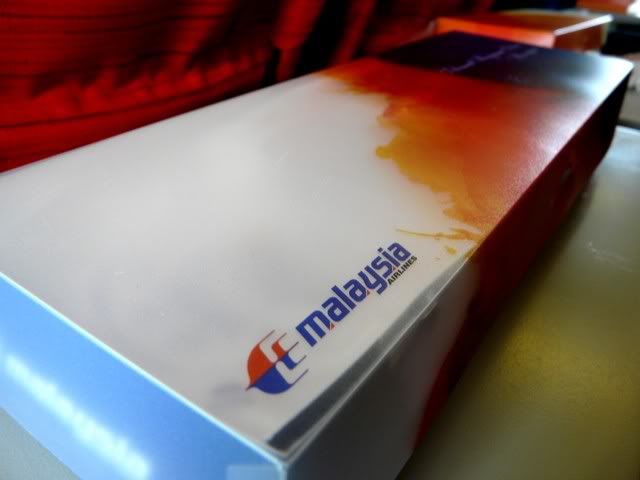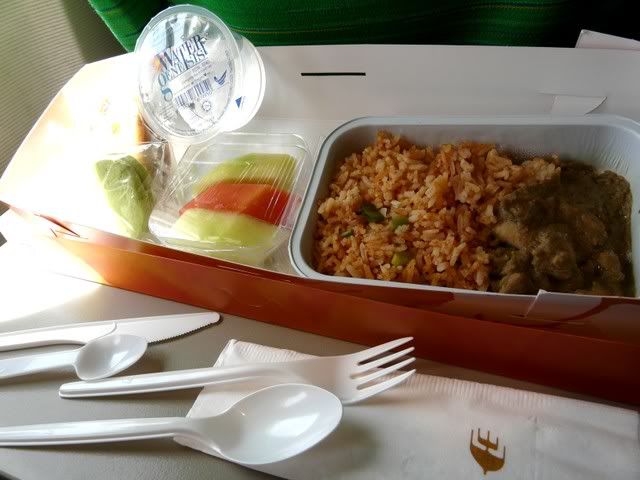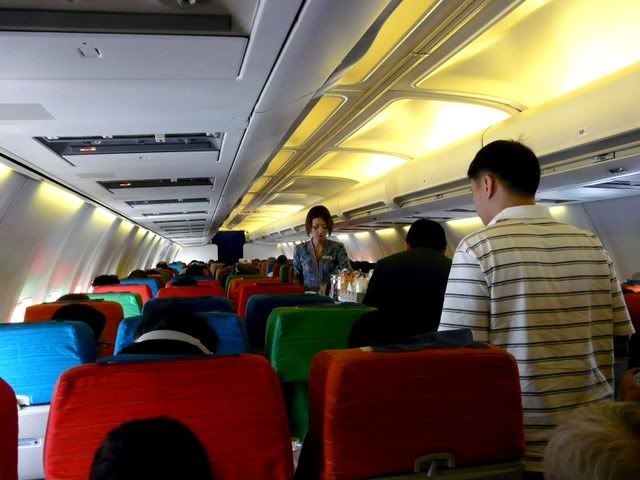 By now… we were approaching the top of descend as the 3 crew members rushed through their serving routine, struggling to cope with finishing up the meal service, and attending to calls for more drinks.
As a result, the aft half of the cabin missed the tea and coffee service altogether.
Not surprising in such a disorganized environment, being friendly was the last thing on their mind.
1230H: As expected… the aircraft dipped its nose towards earth to begin the arrival process. Through the blur of arrival announcements, the 3 cabin crews were literally running up and down the aisle struggling to clear the snack boxes while some of us sat there for the longest time with our tray tables still open, waiting for the remains of the meal service to be taken away.
My neighbor who had the aisle seat finally flagged down Nor Aini who was rushing past to have our items cleared. We thought we'd help her stack our rubbish up so she could just take it in one go. I didn't envy them at this moment. Karma points garnered – CHECK!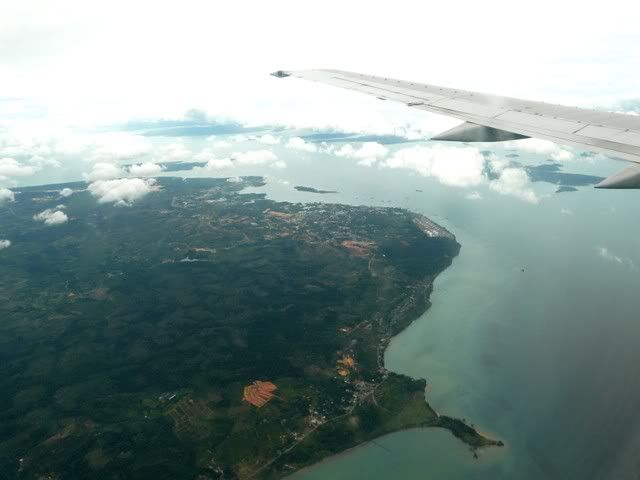 Bintan Island, Indonesia.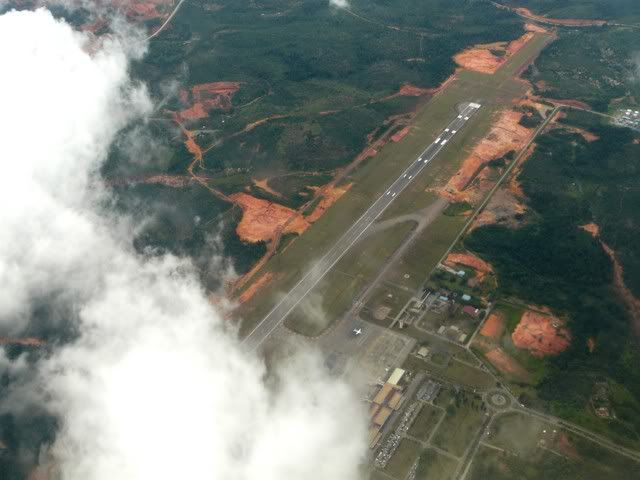 Over Batam Island, this is Hang Nadim Airport. Serving as an alternate to Changi's traffic during severe weather, the runway is currently the longest in Indonesia at 4040m.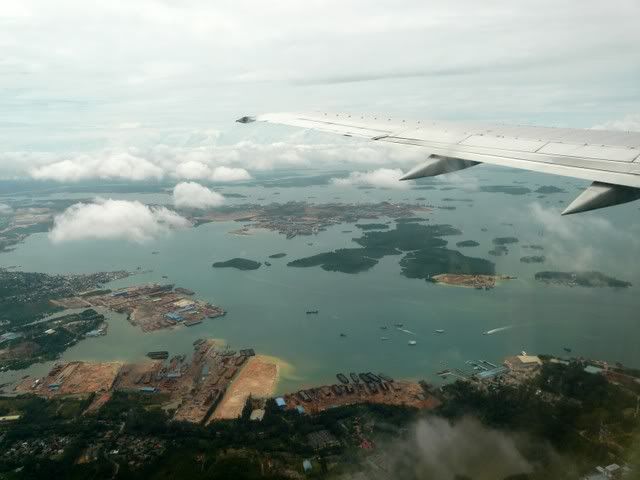 Taking my attention out of the rather chaotic scene along the aisles of the cabin, the descend outside was rather picturesque, journeying over the Indonesian islands of Bintan and Batam - at one stage flying over Hang Nadim Airport! This was a first for me despite flying this approach pattern many times before; I have never noticed this airport beneath me.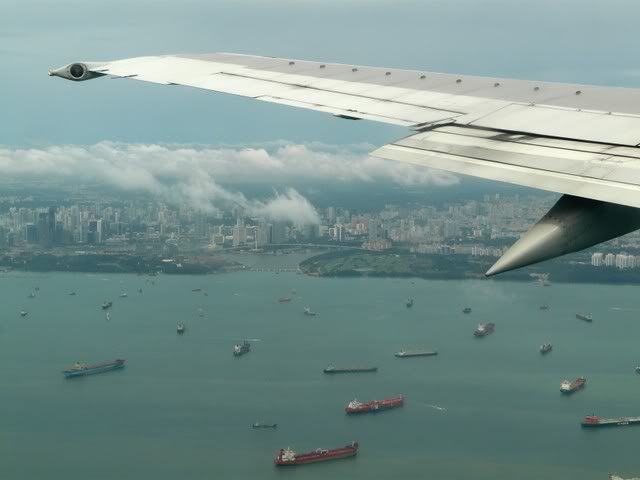 The Singapore skyline soon appeared outside my window as we set up our approach towards runway 02L. Fair weather welcomed all of us home and a bumpy landing ended what were the final moments of our journey from holiday land. E22, the same departure gate from my previous flight became our final stopping point.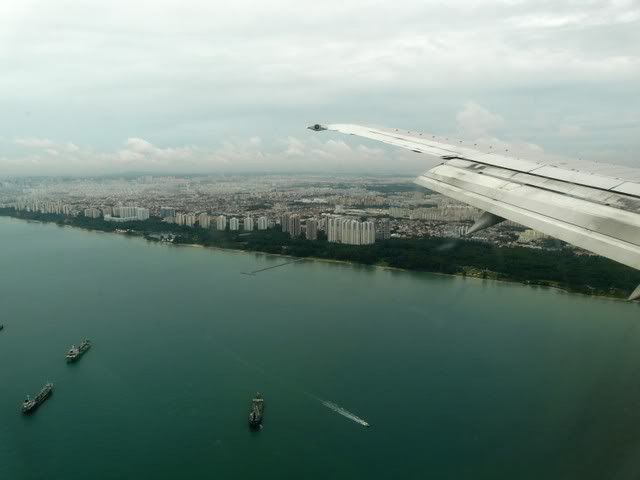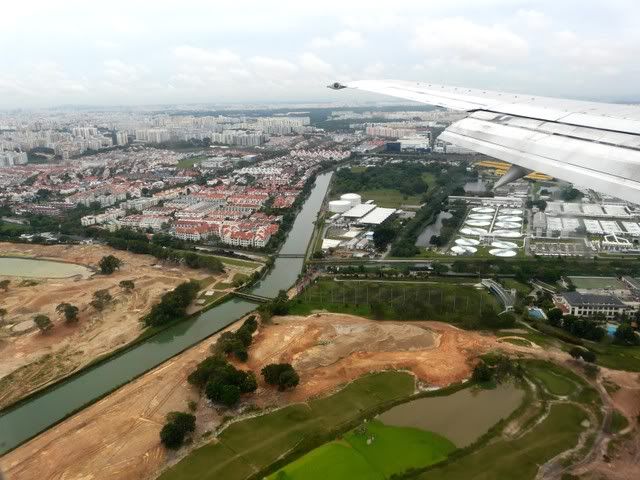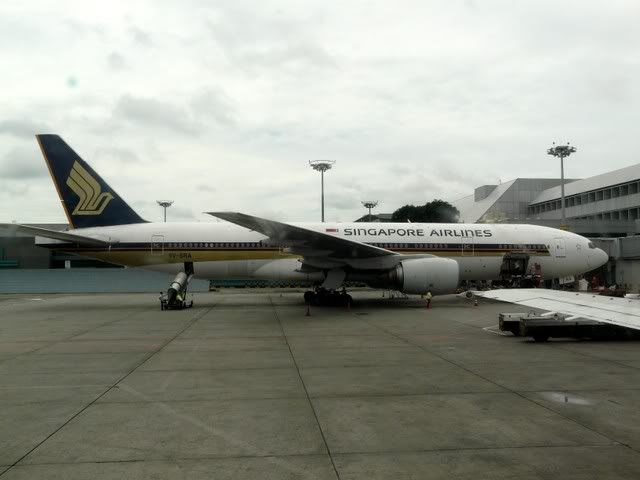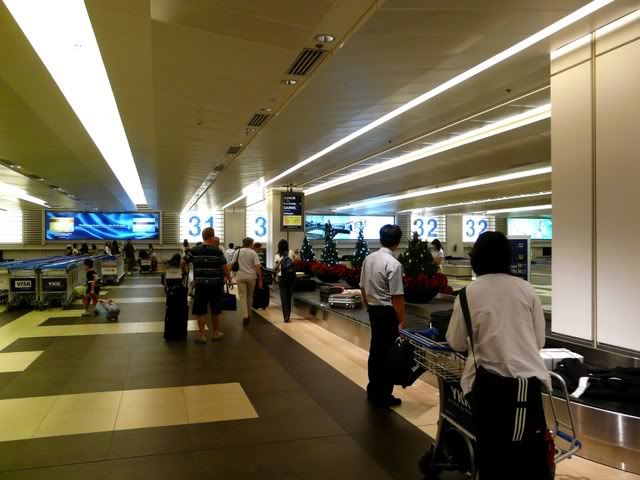 I was officially back on home ground.
EPILOGUE
Malaysia Airlines is in trouble, big trouble. Why do I say that? Humor me for a bit here…
I was (keyword being "was") a pseudo apologist for them constantly consoling myself that despite their questionable hardware, their cabin crew would always be there to save the day. Their many awards underlined the fact just how good they are. However, humans being humans, there is a fundamental flaw in all of us that we REACT to the environment. In this case, whatever parameters that were at play caused not one, but TWO different sets of crew (in a row) to be performing below par service wise. First set was nonchalant (I prefer to believe they were fatigued), and the second one disorganized to the point of near catastrophe.
This weak link snapped and caused the overall product to be presented very poorly. If what Malaysia Airlines think they are doing it right by depending on their cabin crew to save the day for all their flights, they are threading on very thin ice because there are only so many cracks the surface can endure. My return flight was a perfect example of what could happen when this icy surface gives way - plunging all of us into the icy waters when customer service flies out of the window, coupled with previous-decade hardware made for an overall rather sub-standard product.
MH… More than an airline code, it is Malaysian Hospitality
. This tagline can only take the airline's perception so far and in this case, "MH" absolutely didn't stand for what it was supposed to.
SABAH – The land below the wind…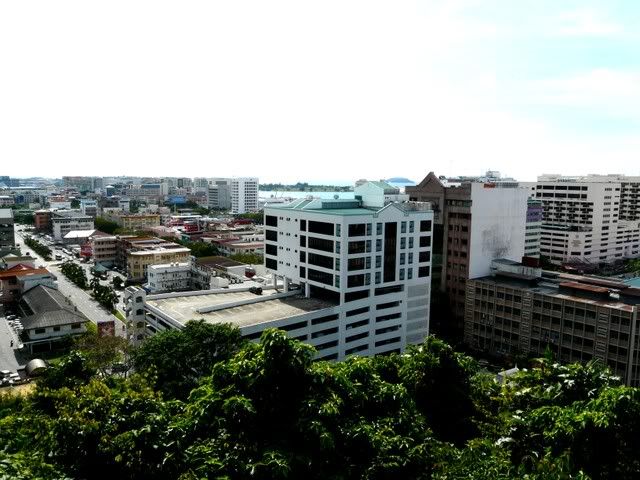 Moving on to the lighter bits of this report… As usual with the end of my journey, I will do a little synopsis of my thoughts about the place I visited during this trip.
The eastern most state of Malaysia is so "un-Malaysia" I do not even know where to begin. Let's start with the fact that the majority of the dwellers aren't Muslims, but Christians. Add to the fact the feverishly proud Sabahan (as a person from Sabah is known as) is so into his home state you'd be forgiven altogether thinking that this is an independent country.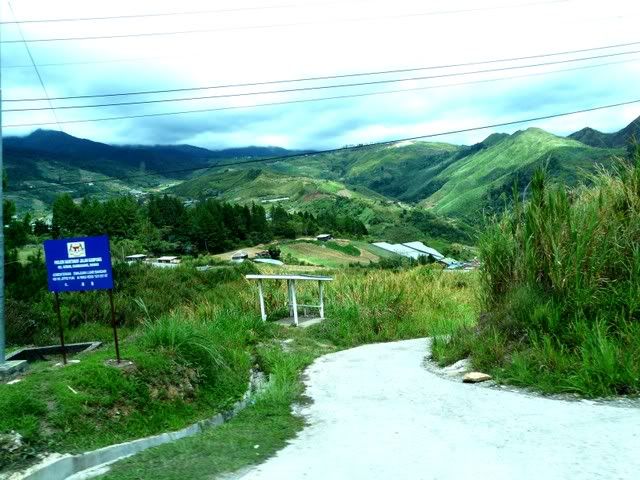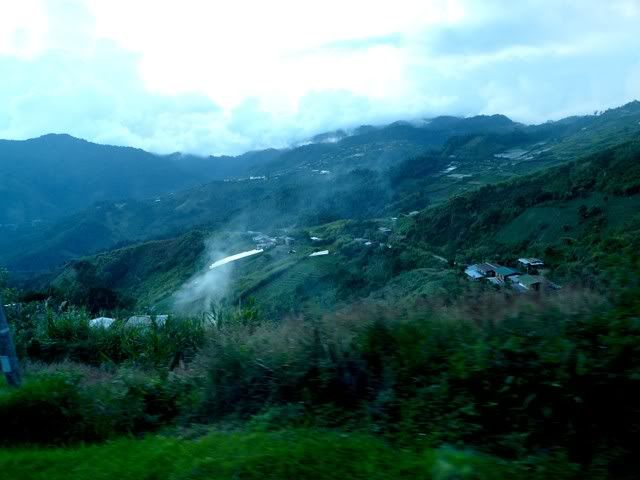 Geographically speaking, much of Sabah is tropical and the weather isn't that different from Singapore. However, once you venture towards the highlands, you are exposed to such dramatic mountainous formations it was simply awesome. Not to mention the change in climate to close temperate and the stark difference in vegetation.
To make matters more mind boggling, including Chinese and Malays, there are a total of 28 nationally recognized ethnic groups presently residing in this state resulting in some interesting creole-like mix of accented languages unlike what I am used to back home. The national language of Bahasa Melayu is spoken with a very heavy slang akin to Indonesian.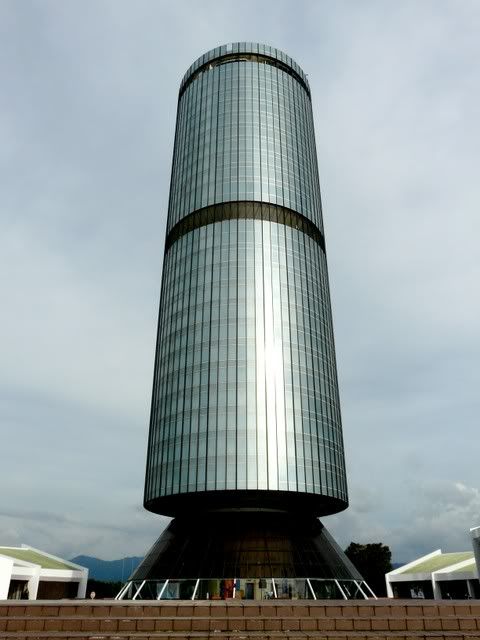 Quirky… Most of KK is rather old and have height restrictions because of the nearby airport. Further down the bay, in the middle of nowhere, this sticks out. Menara Tun Mustapha is the 2nd tallest building in the whole of Borneo after the MOF building in Brunei.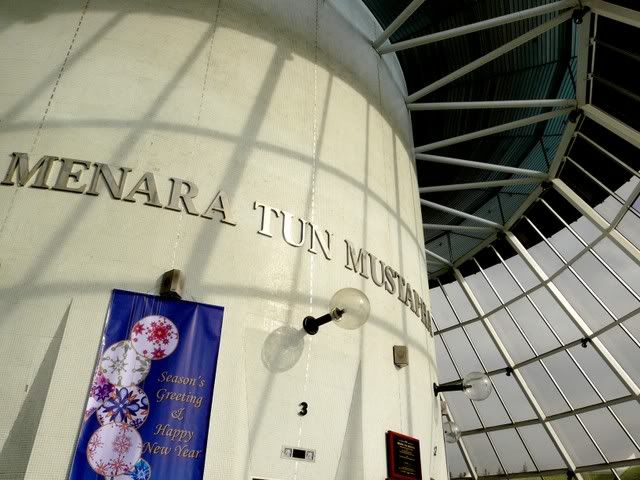 Kota Kinabalu (KK) is the state capital and was previously known as Jesselton until the British rulers' relinquished control in favor of the Federation of Malaysia in 1968. For those who are interested in history, almost all the buildings you see in KK today are post war because the entire city was razed to the ground during WWII with the exception of 3 structures (which are still standing till this day). This small picturesque seaside town is very easily navigable and despite traffic being heavy at certain times of the day, people were giving way on the roads and generally polite – once again a trait that is very unlike their peers over in West Malaysia. I was generally very impressed by how polite people were throughout my stay. Can you believe I hardly heard a car horn being blasted?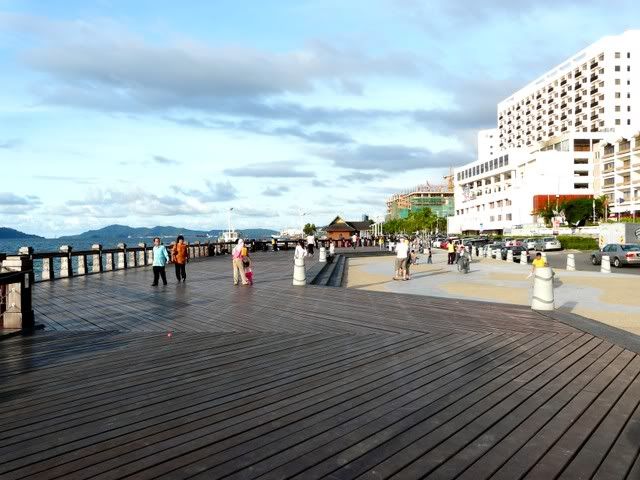 KK city waterfront. Some of the hotels located here charge a premium for the waterfront view.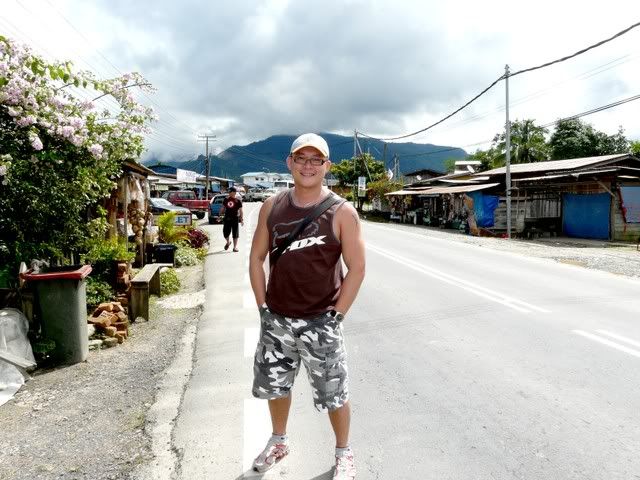 Up in the mountains in the village of Pekan Nabalu. Situated 1500ft above sea level, it is a cooling experience if you want to browse around the markets.
It is such a pity that Tourism Malaysia isn't doing enough for Sabah, at least in my opinion. All marketing efforts frequently concentrate on KL and the Twin Towers, the islands of Langkawi and perhaps a fleeting shot of Mount Kinabalu accompanied by some orang utans thrown in for good measure. What happened to the food, national parks, history, beaches and hiking trails? Now with a pseudo open skies policy being slowly implemented between KK and Singapore, there is a sudden explosion of options flying Tiger Airways, Air Asia, Jetstar and Silk Air (other than MAS) and all these airlines offer nonstop flights.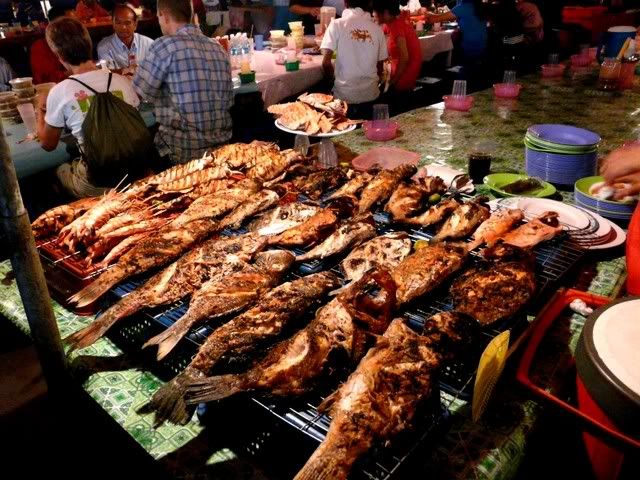 Food… Glorious food… KK is known for its seafood. All the shops sell the same thing, you just have to know how to bargain to get the best deal.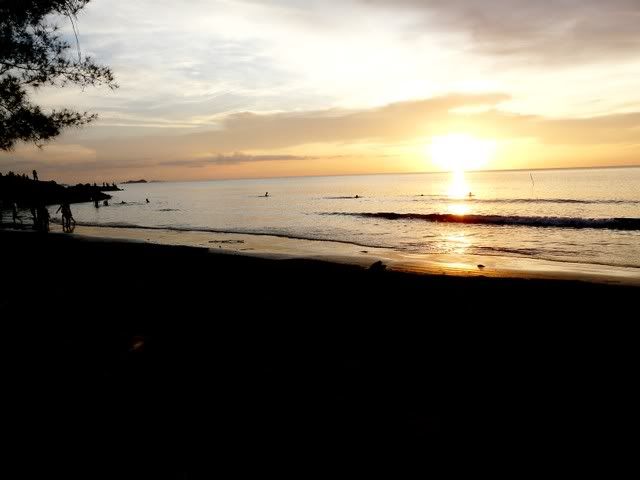 Tanjung Aru Beach behind the airport. No better way to finish a day of plane spotting session…
I sincerely hope KK and Sabah get the exposure they rightly deserve in the future and especially with their shiny, new and spanking airport – could only mean one thing, their doors are open and ready to welcome you.
So why wait any longer? Go ahead and make your way down to see it for yourself!