Here's a report of my best flight out of 899 so far-Emirates First Class Suite on the A340-500, routing DXB-HAM.
I needed to visit home once before leaving Bangkok, decided to buy an EK ticket ex-MNL as the pricing was very attractive. EY and QR had even better fares but their schedules didn't work for me. Routing was MNL-DXB-HAM-DXB-MNL and a separate ticket HAM-FRA-HEL-FRA-HAM on LH. I'm just going to focus on the First Class leg Dubai-Hamburg with a few random pictures from the other flights.
I spent the previous night in Angeles City, and arrived at NAIA terminal 1 at around 9.30pm with the ABC Hotel limousine service. Emirates counters were just opening, and I was the second in line for business class. The Y class line looked awful even at this point… I was a bit worried about my overweight baggage and excessive hand luggage (hauling stuff back from BKK to Finland), but the agent didn't say a word.
Got both boarding passes
EK uses the Club Manila lounge which is an absolute and complete dump. Worth the $12 admission fee for the free booze but it's not a suitable lounge for EK premium cabins for sure. However, they probably get so little premium traffic ex-MNL that it doesn't really matter. Boarding on time, A6-ECB which at the time was the newest 777-300ER for EK. I heard the F/A saying they had 12 pax booked in J but expected a full cabin – that's what it was… A crapload of upgrades.
Nuts and Moet & Perrier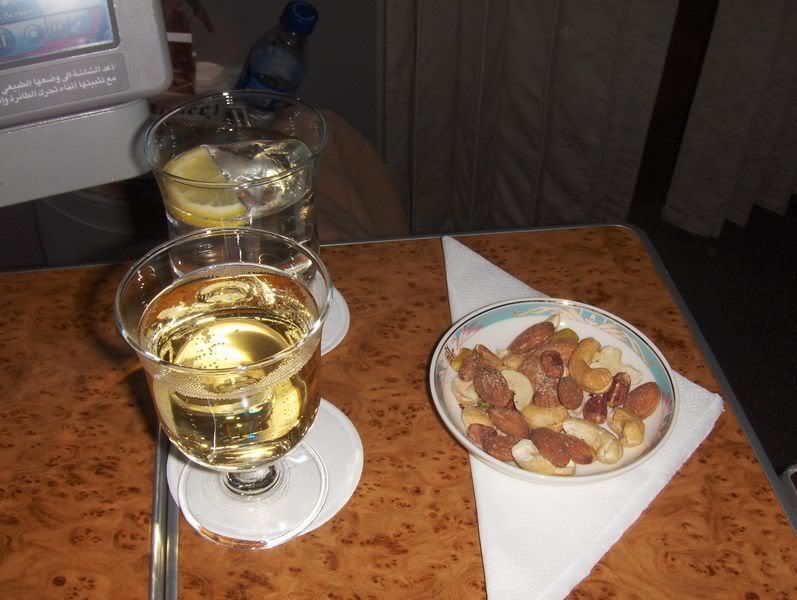 Disappointing first meal service on a 9-hour flight
ICE was of course available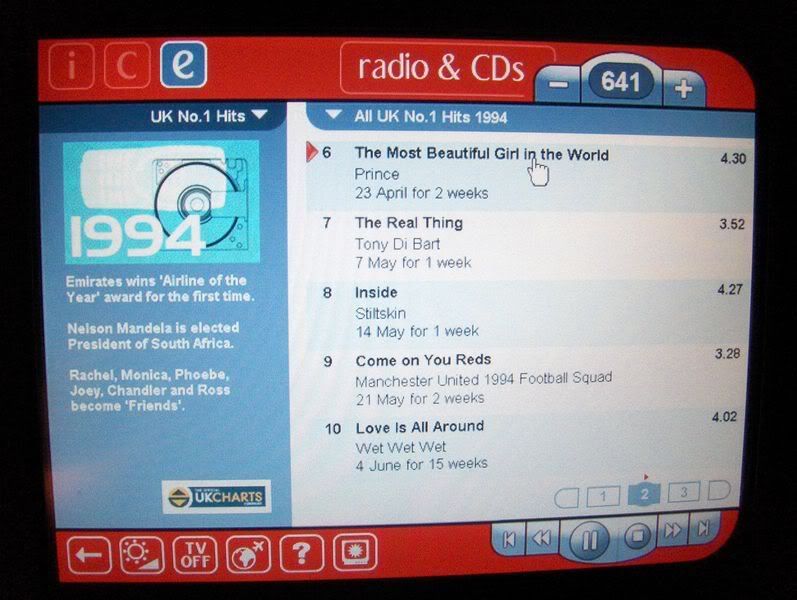 I was deadly tired from the previous night, so slept after the snack service until breakfast despite ECB having the old style cradle seats.
Eggs Benedict for main course, pretty good breakfast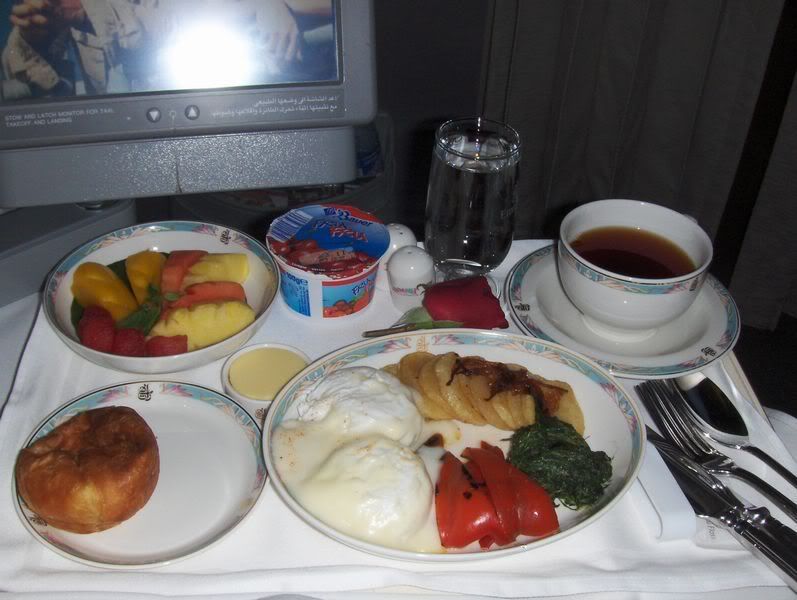 On time arrival at DXB, and I headed to the EK F lounge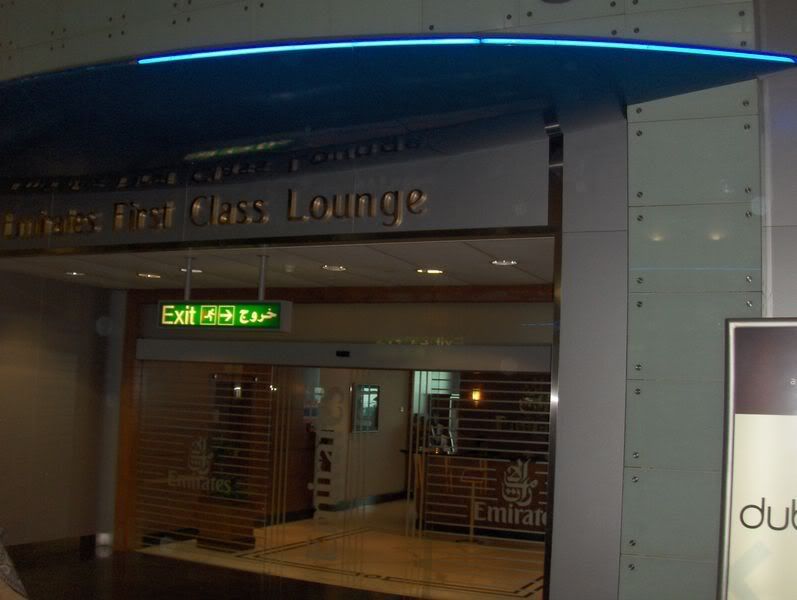 Excellent offerings at the buffet but the lounge was very crowded. Champagne was Veuve Cliquot.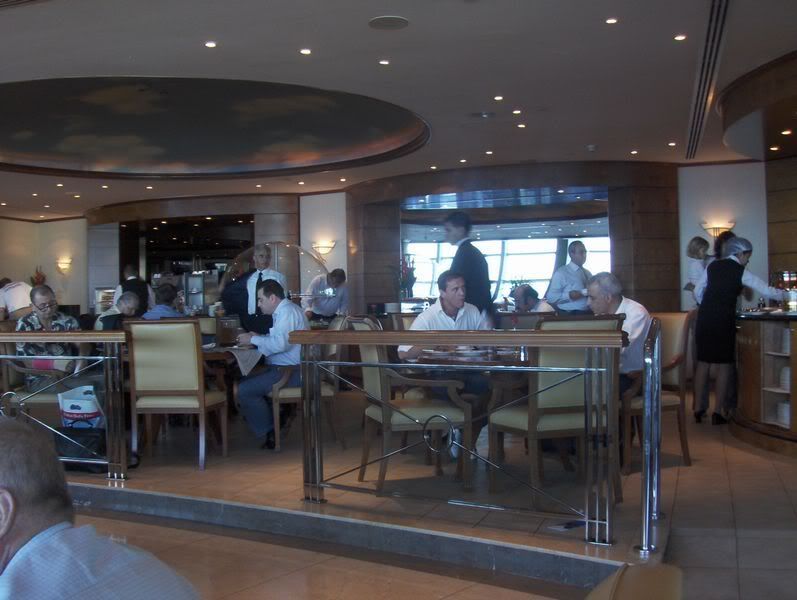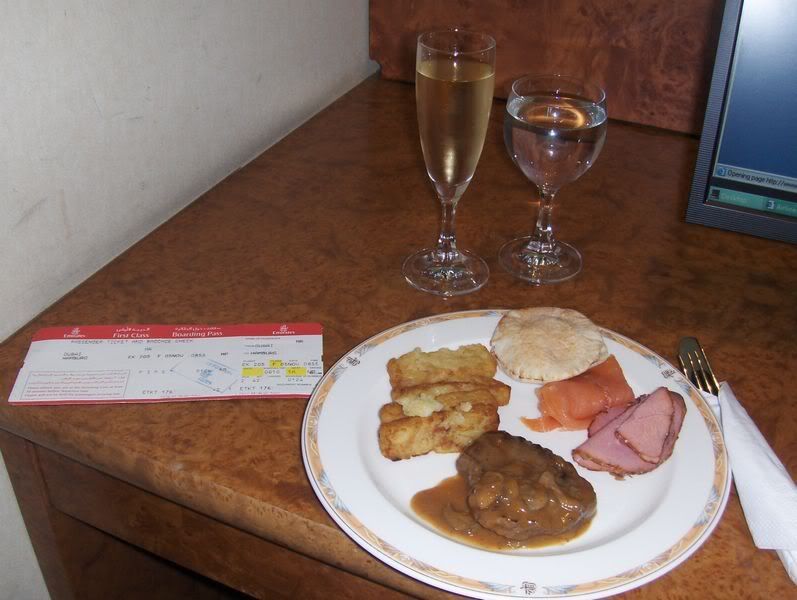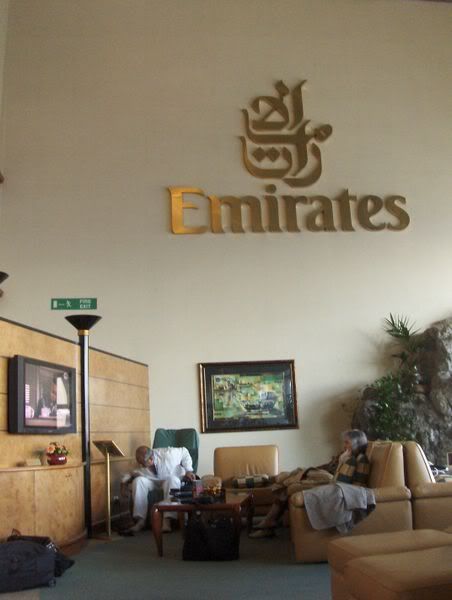 05 November 2007
Dubai International (DXB/OMDB) – Hamburg Fuhlsbuttel (HAM/EDDH)
Emirates EK/UAE 205
Airbus A340-541
A6-ERA
0855-1255 – On Time
First Class, Suite 1A
I was very much looking forward to this flight in the suites. Having flown some of the finest out there, including SQ/CX/TG/BA/QF/LH in First, it would sure be nice to see how Emirates compares with their suite product.
A6-ERA waiting at gate 25, ready for DXB-HAM-JFK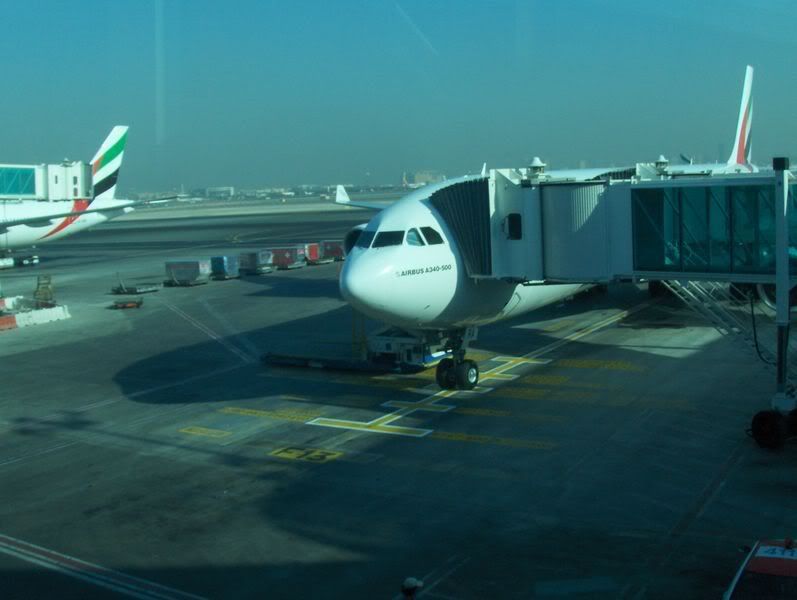 I was immediately greeted by the inflight supervisor and escorted to my suite 1A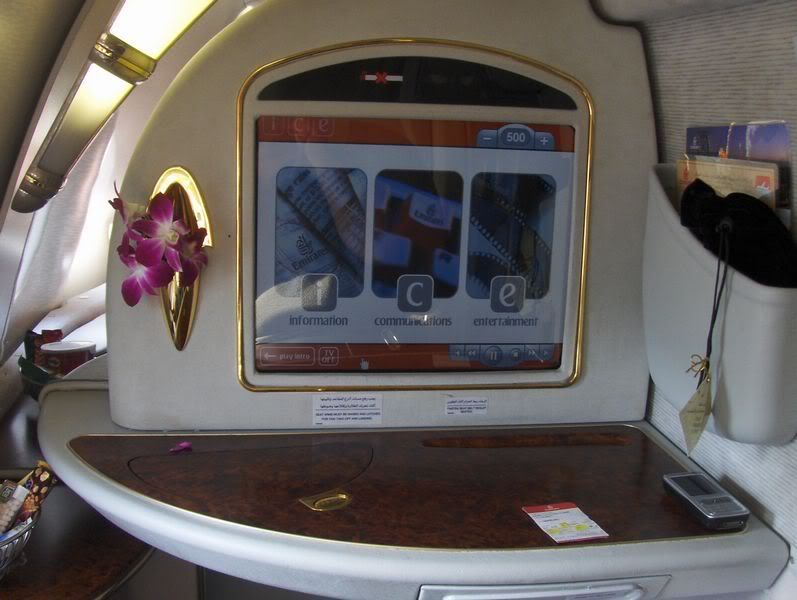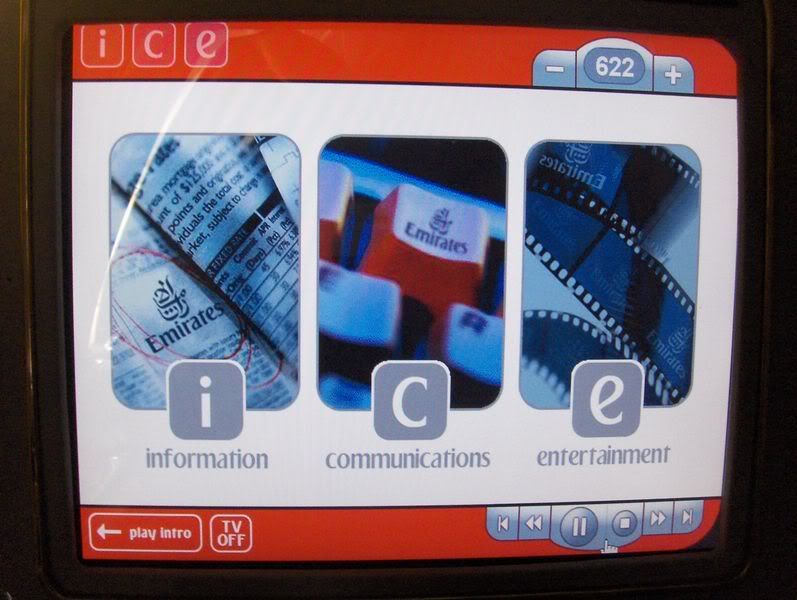 Snacks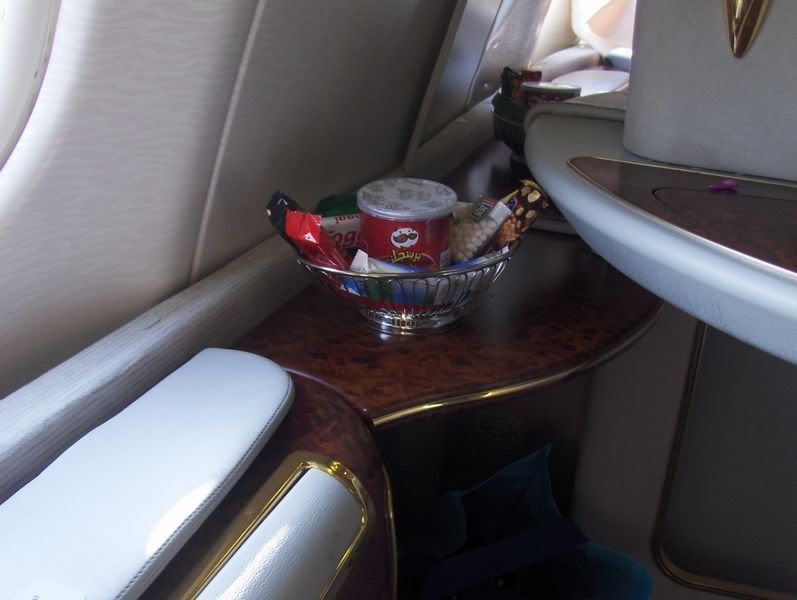 Minibar
Nicely presented noise-cancelling headset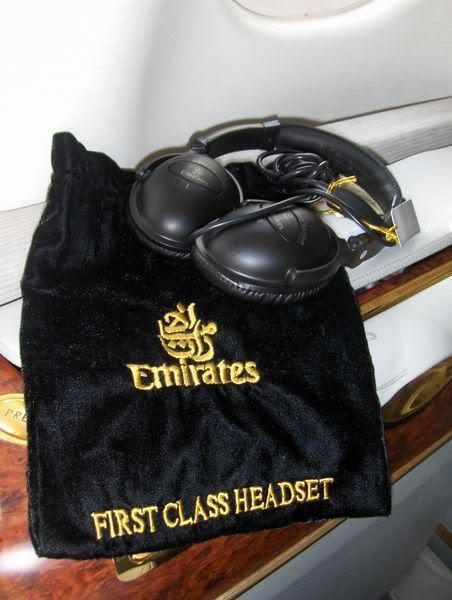 A glass of Dom was poured seconds after I requested it by the half Malaysian, half Arab male F/A. He did most of the service on my side and was really excellent.
Very nice leather amenity kit – Bvlgari products inside. Arabic coffee and dates were served as well.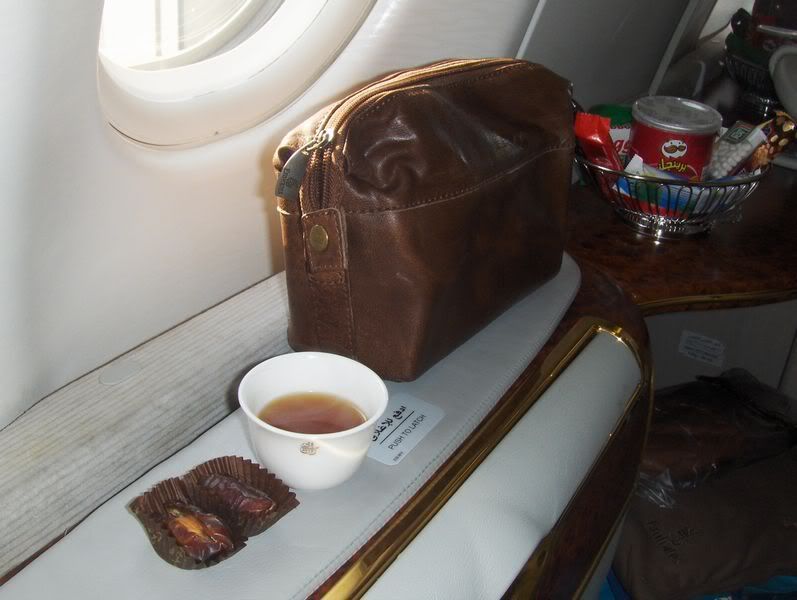 Cabin views-taken later
Doors closed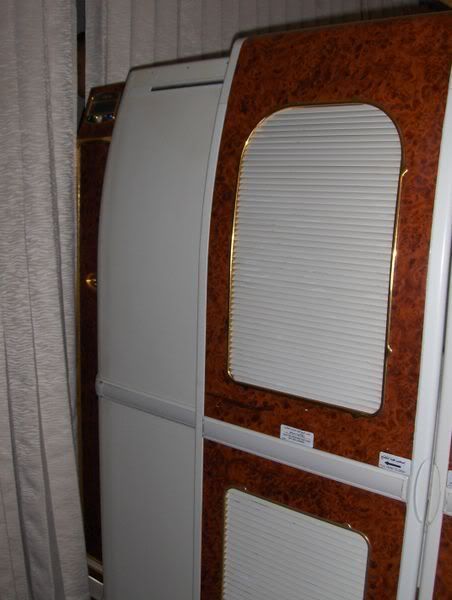 Almost empty cabin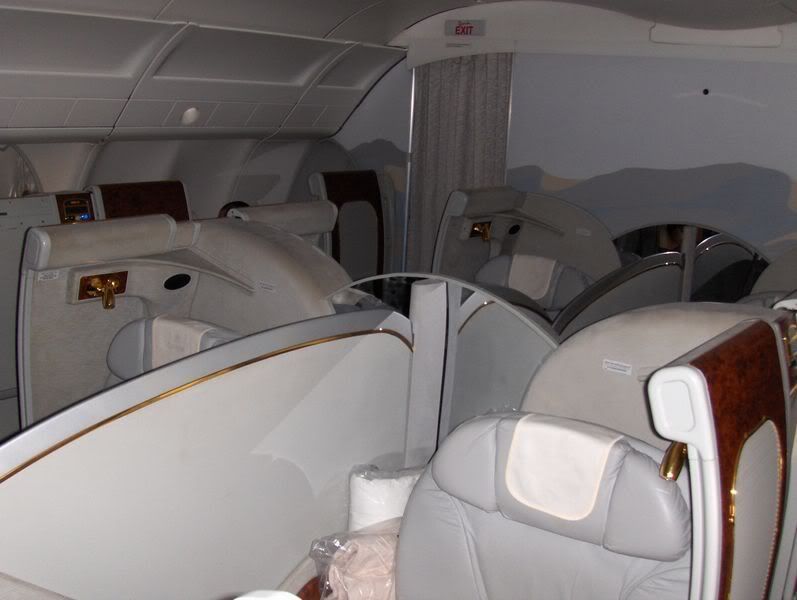 Spacious cabin with no overhead bins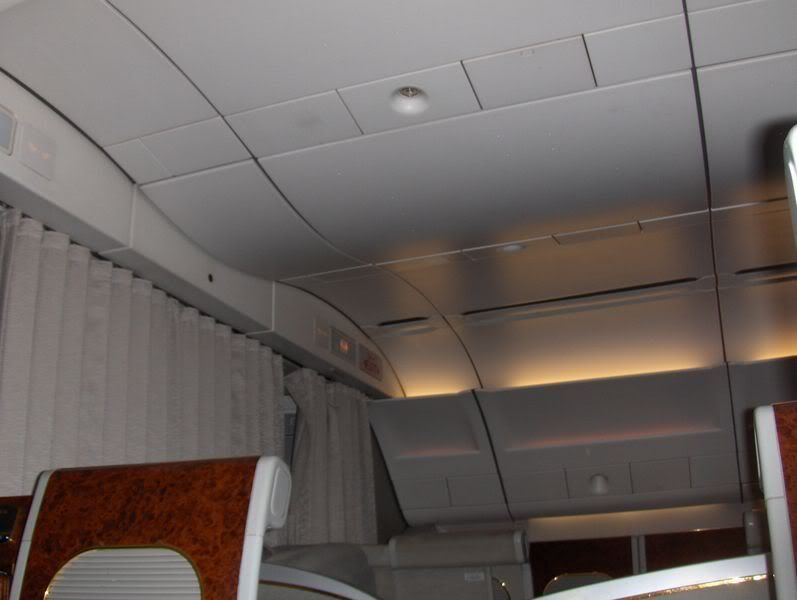 My suite 1A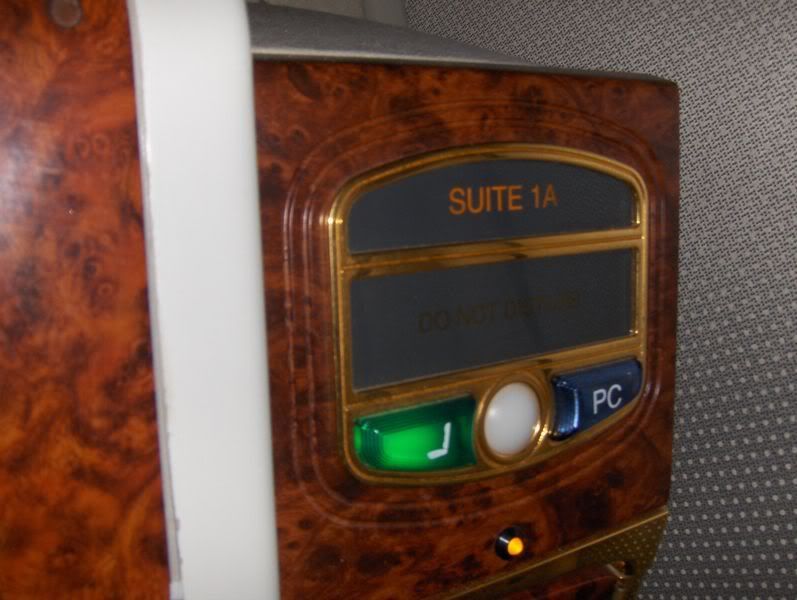 Pushback was a few minutes late, followed by a rather long taxi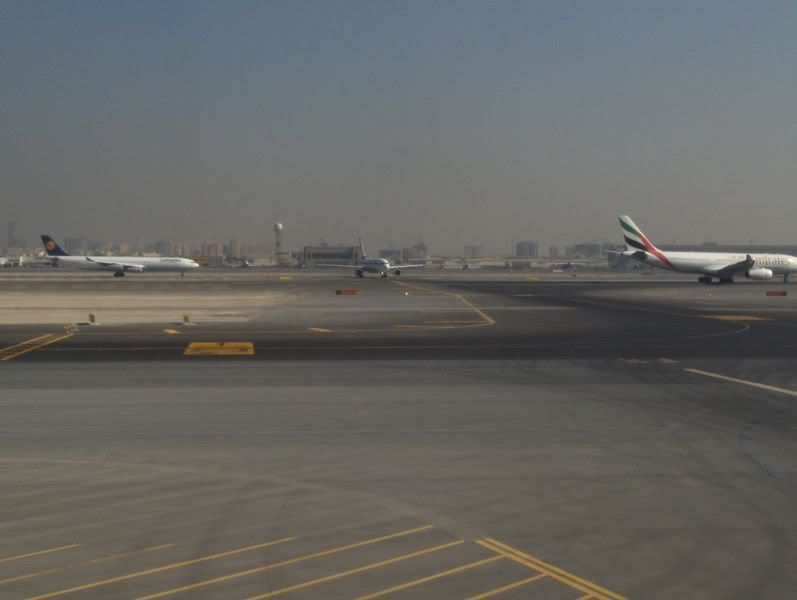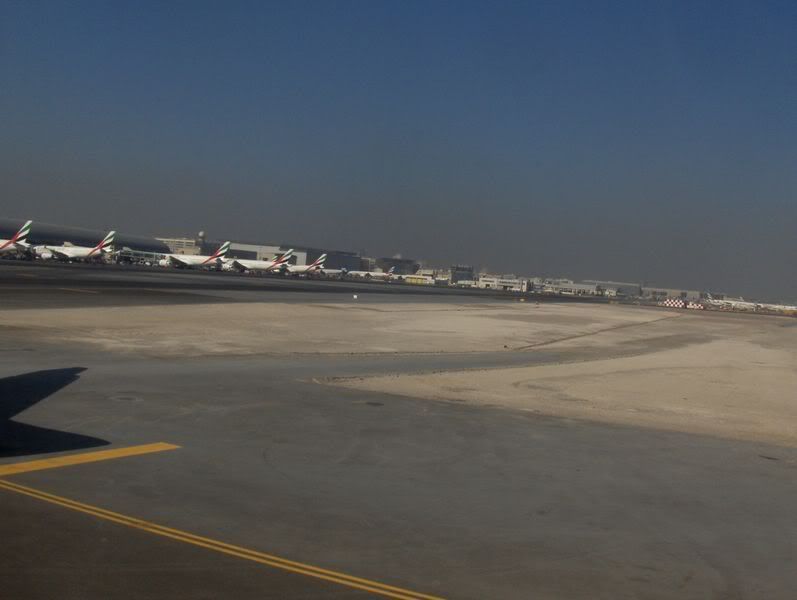 Takeoff from Dubai – the A340-500 is certainly a powerful machine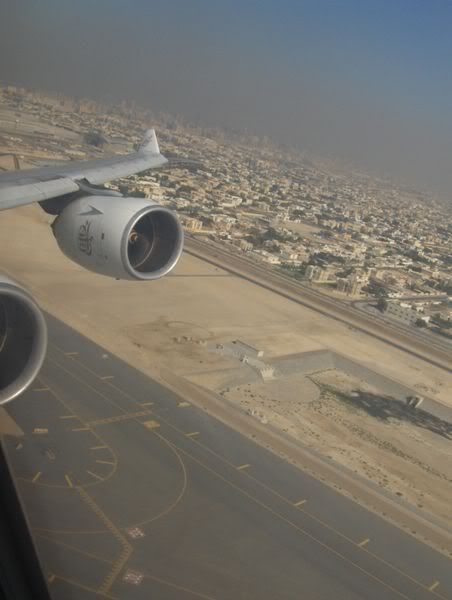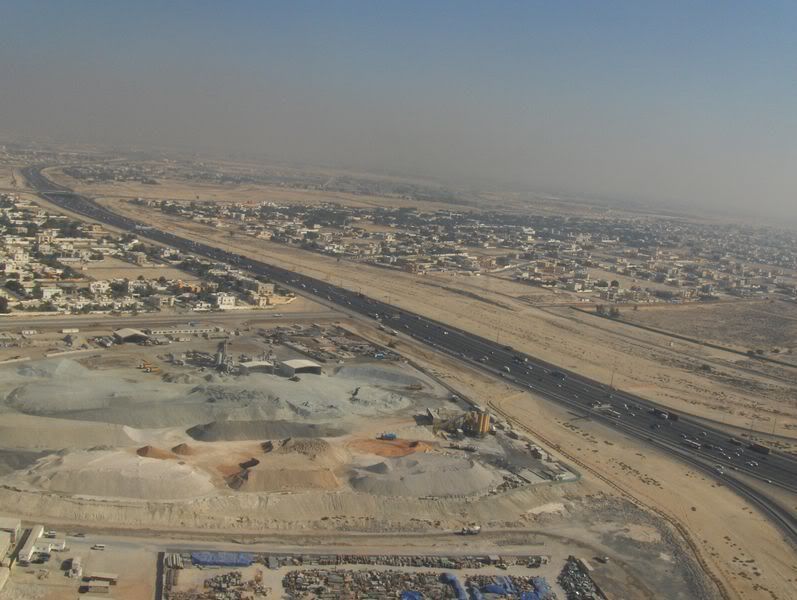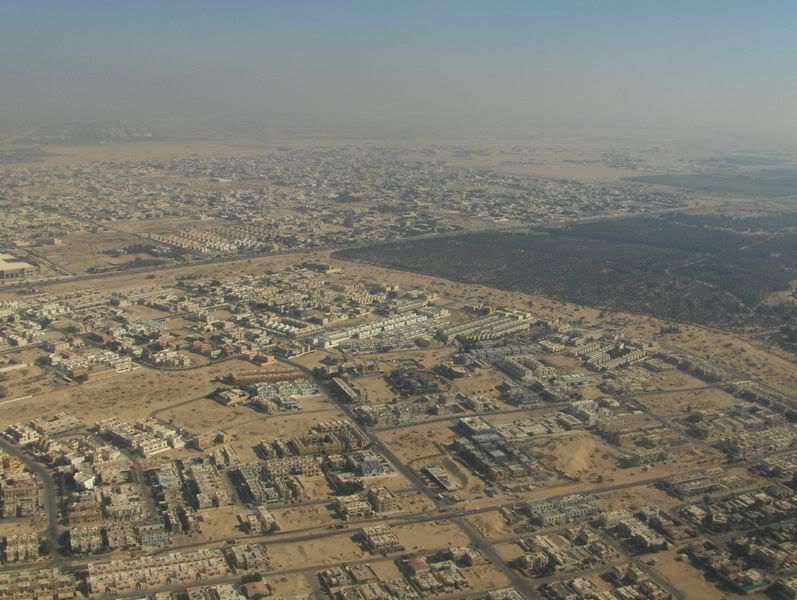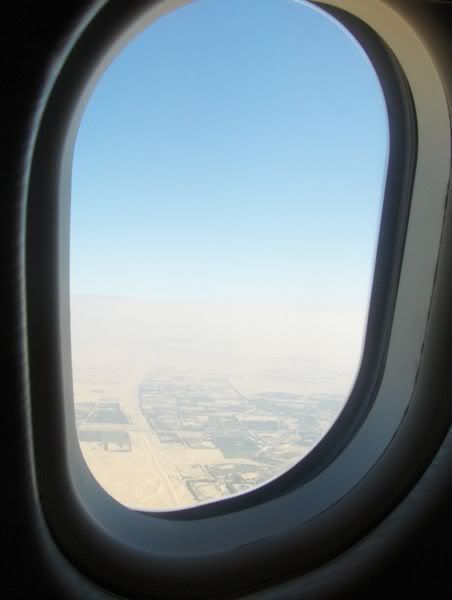 What airport is this? SHJ?
Service commenced right after takeoff, and the menu was the most extensive I've ever seen. Sadly I seem to have misplaced it; went through a 2-feet high pile of menus trying to find it without success. I'm no fan of breakfasts and I just had one, so I just chose some of the a la carte items for the first service – namely caviar, soup and cheese.
Dom Perignon, Perrier and some olives
Menu in a classy leather holder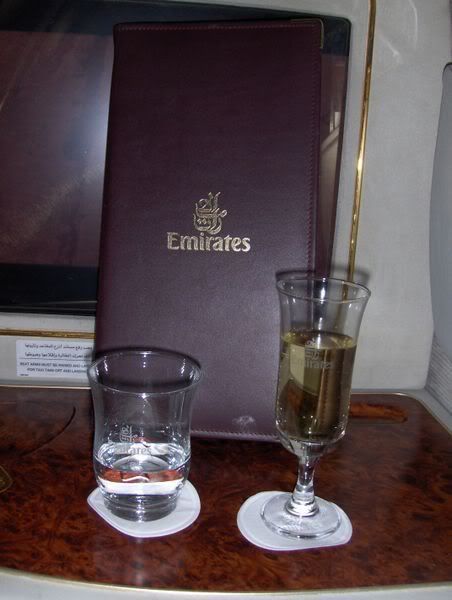 Massive table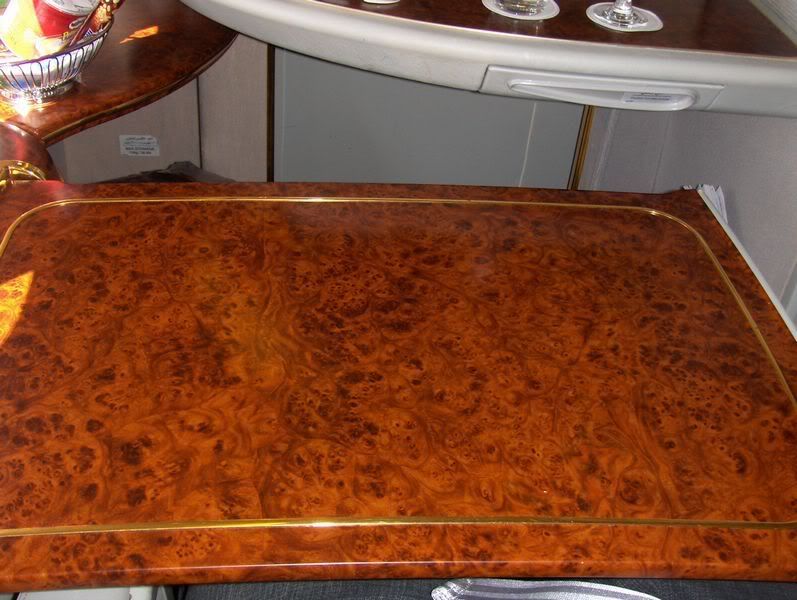 Table setup
Caviar – I believe EK is one of the last airlines to serve proper wild caviar instead of stuff from fish farms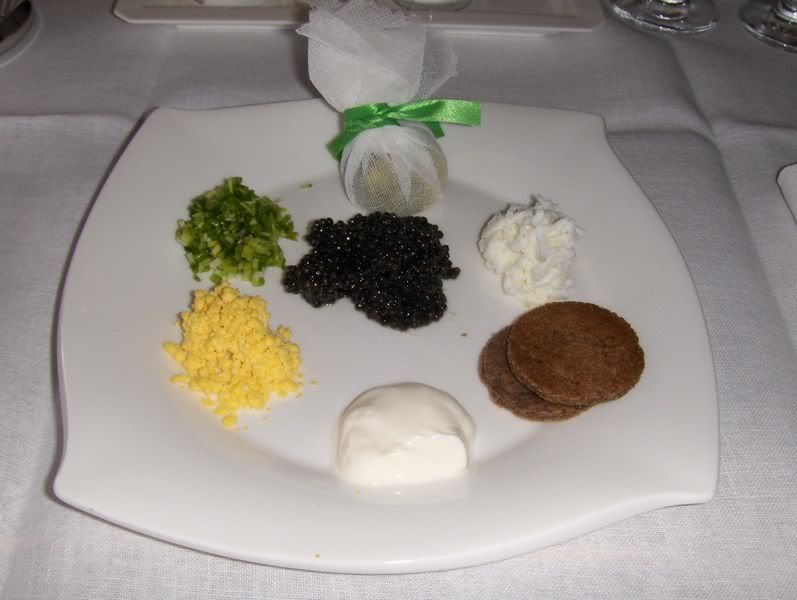 Bread basket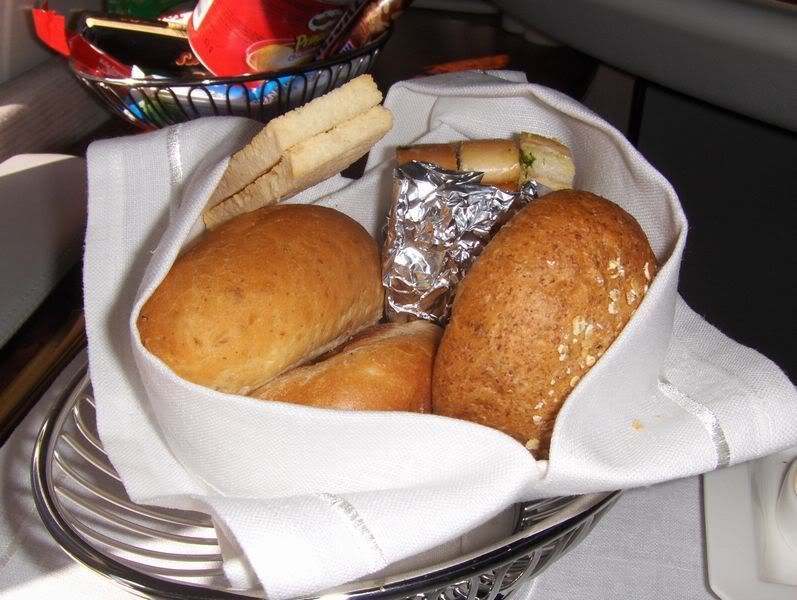 Salt and pepper shakers, butter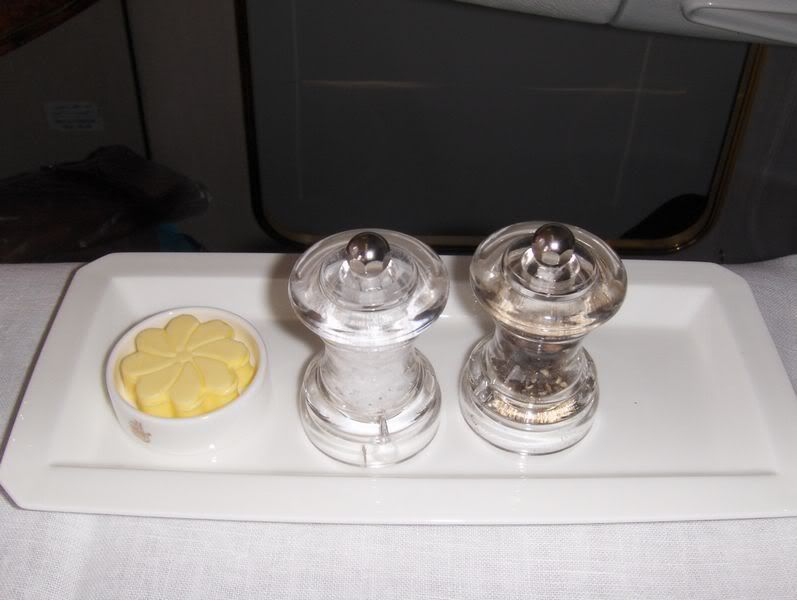 My favourite drinks
Soup – very tasty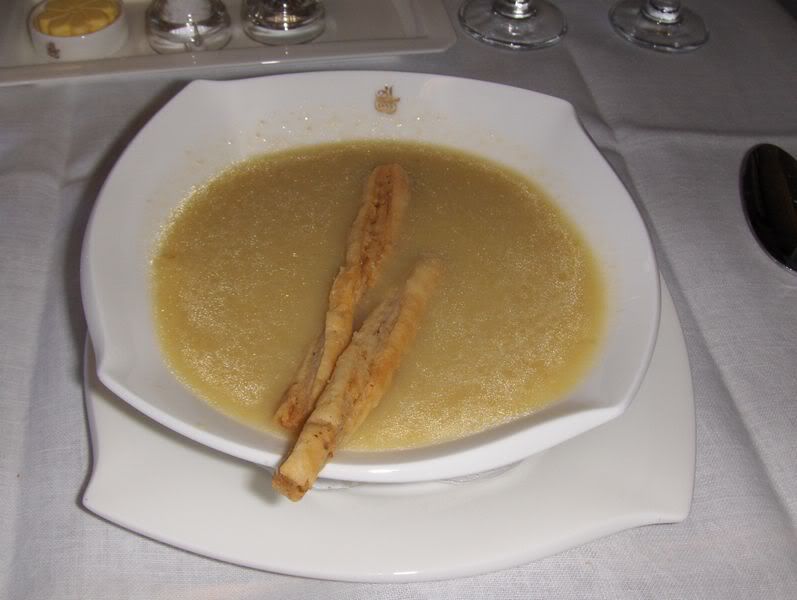 Cheese plate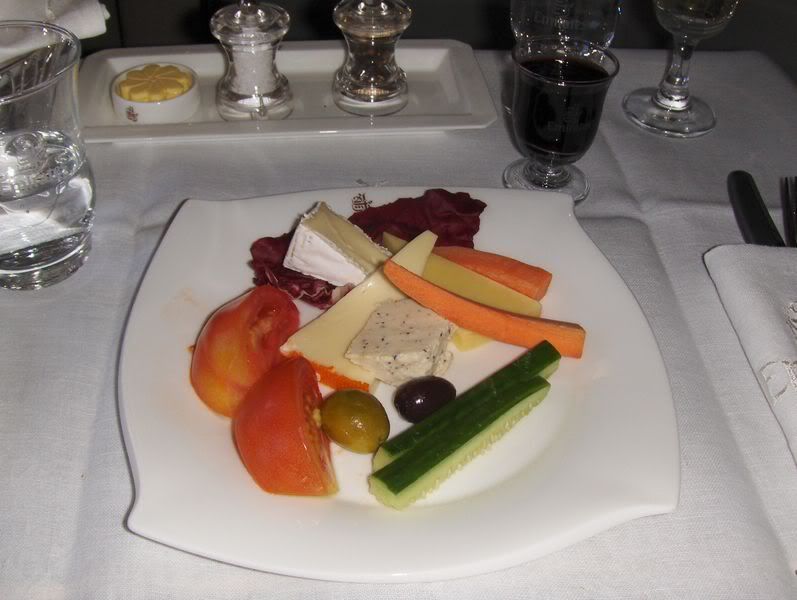 Service was perfect throughout the meal – constant drink refills and the crew kept asking me how every course was.
The views were great as well while enjoying the meal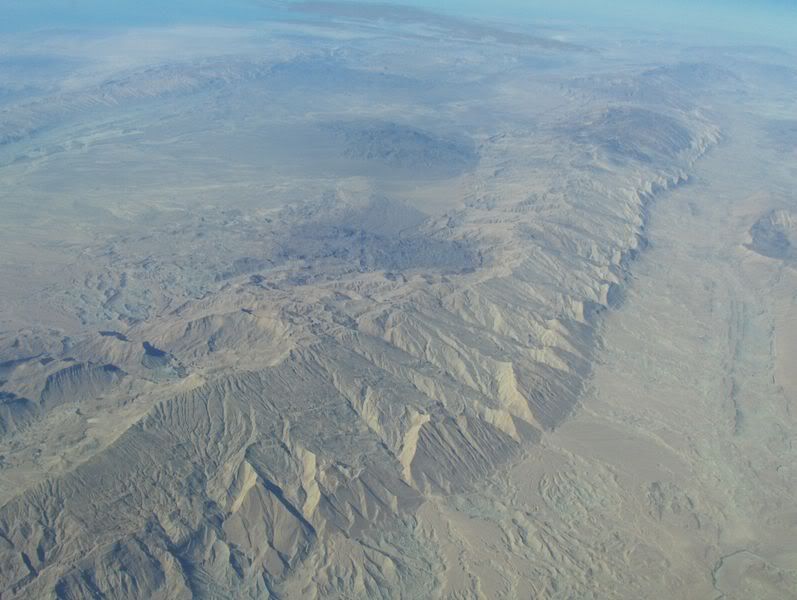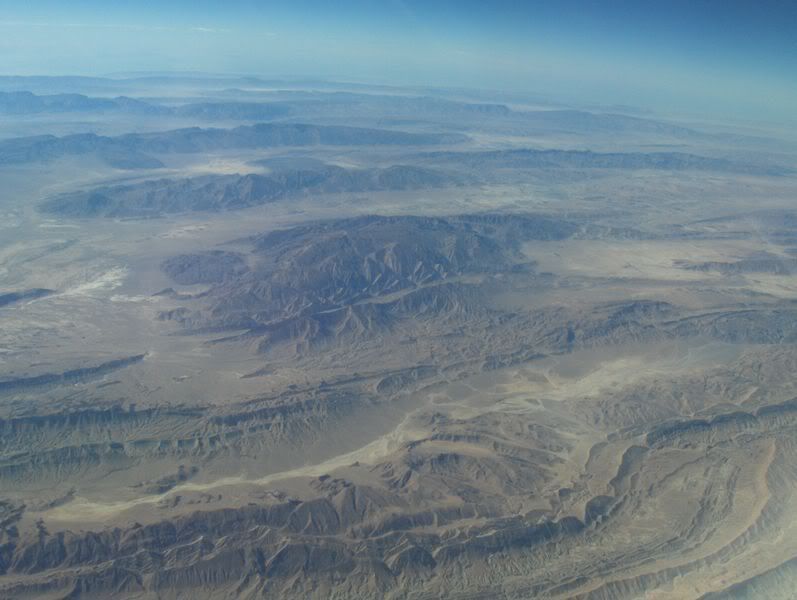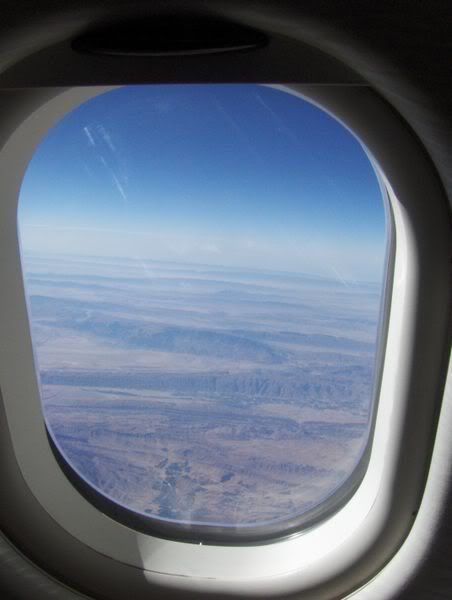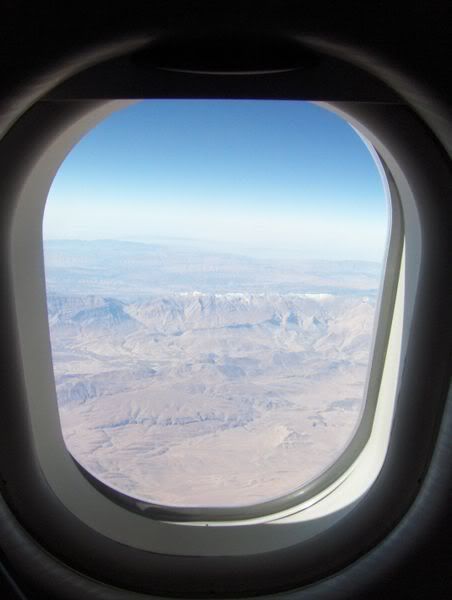 Everything is controlled by the touch-screen remote controller – seat, ICE etc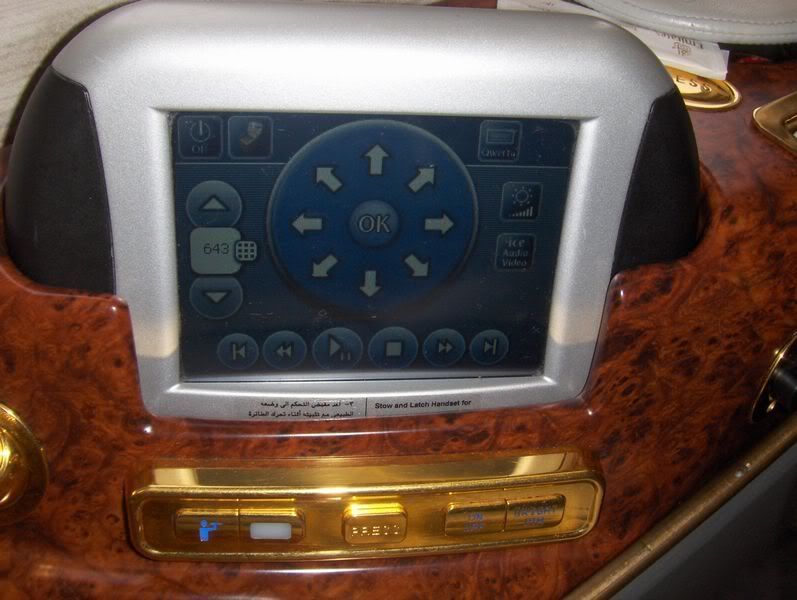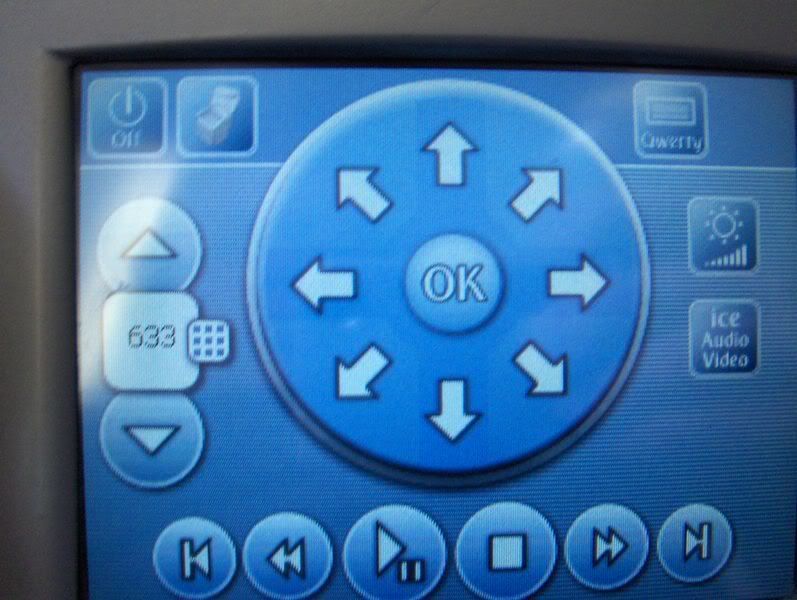 It was then time to change into the pyjamas. Well stocked lavatory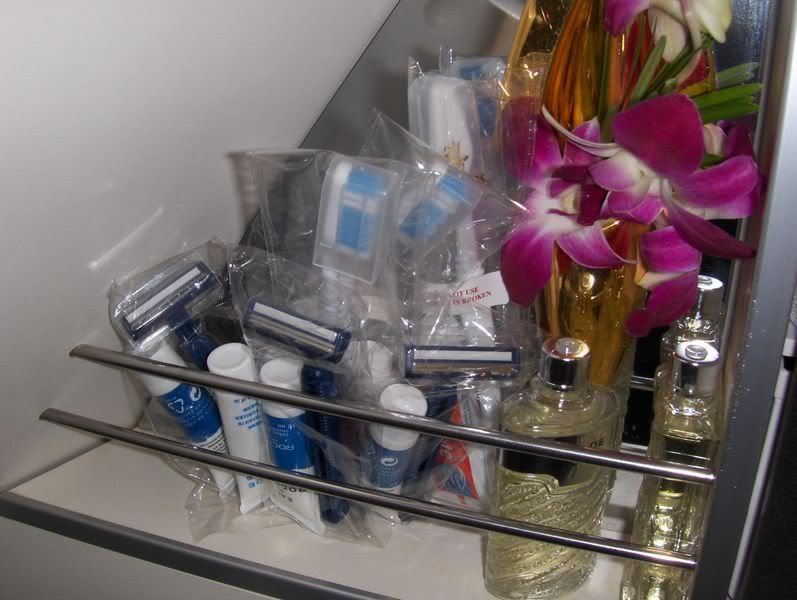 ICE kept me entertained while "my" F/A kept topping up my glass of Dom. We also had a nice chat about working for EK and how sometimes their service levels are not what they should be. But I assured him he was doing a brilliant job today.
Soon, it was time for the main meal service
Table setup and a fantastic lobster apperizer created by the chefs of the Burj Al Arab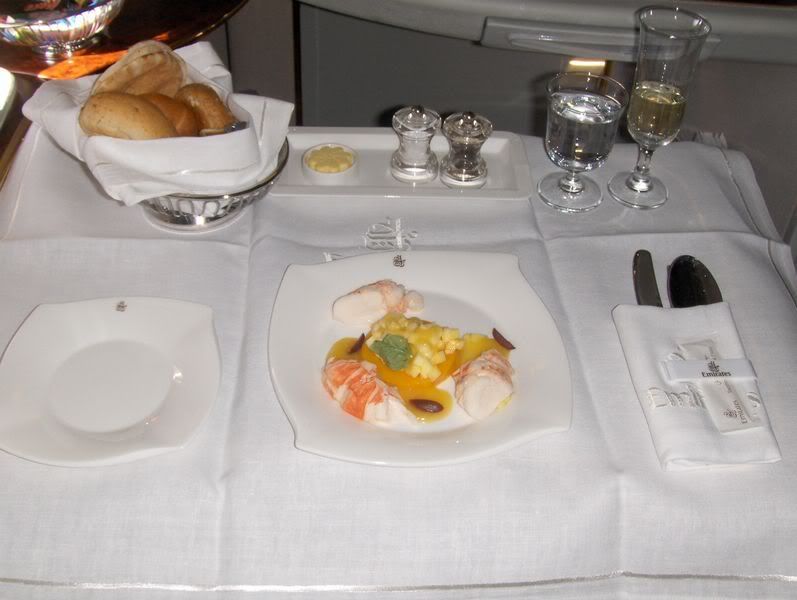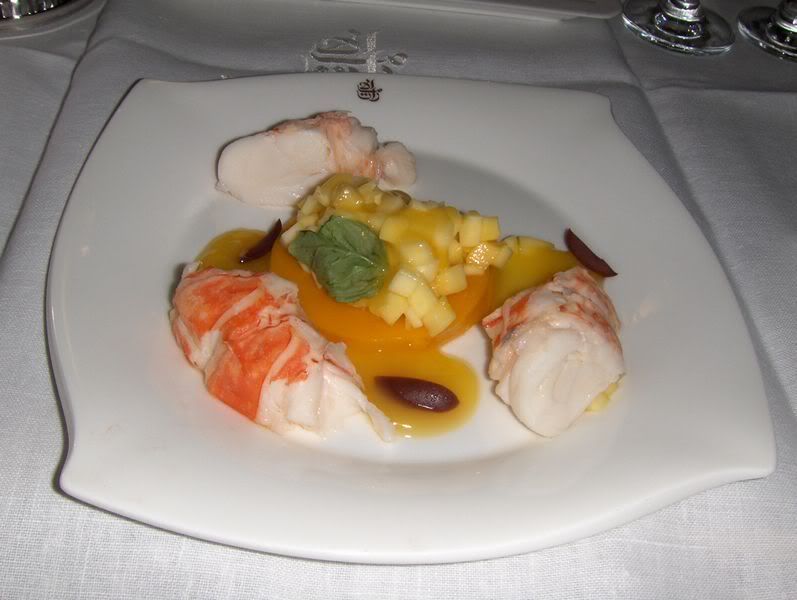 And some more caviar of course!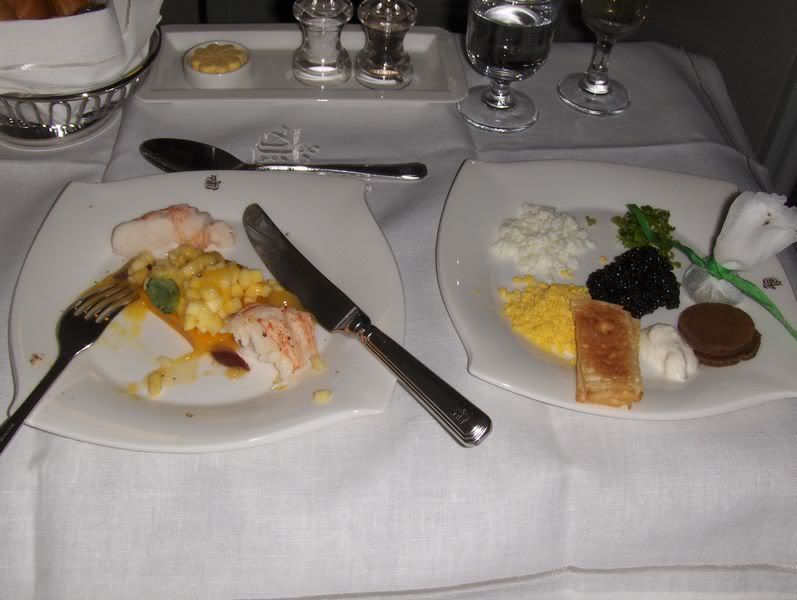 Fantastic seafood entrée – from the Burj as well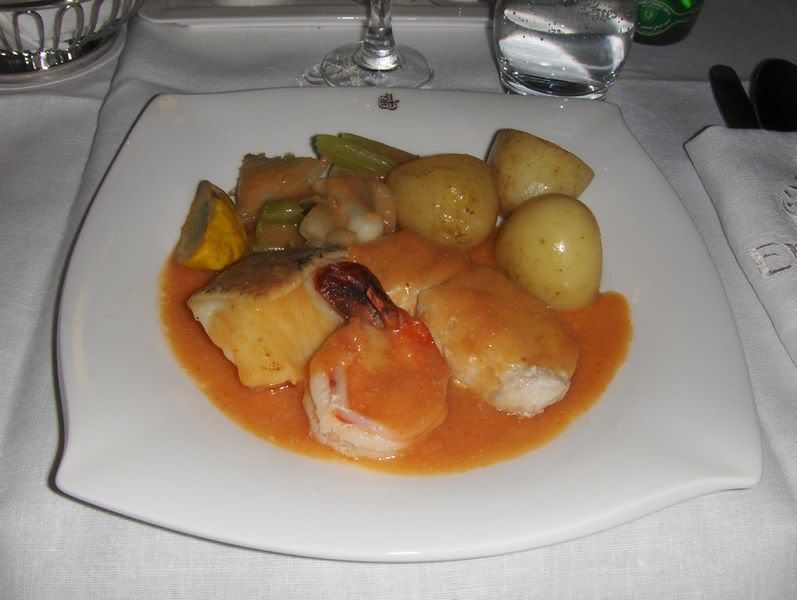 I decided to have some more food so ordered the salad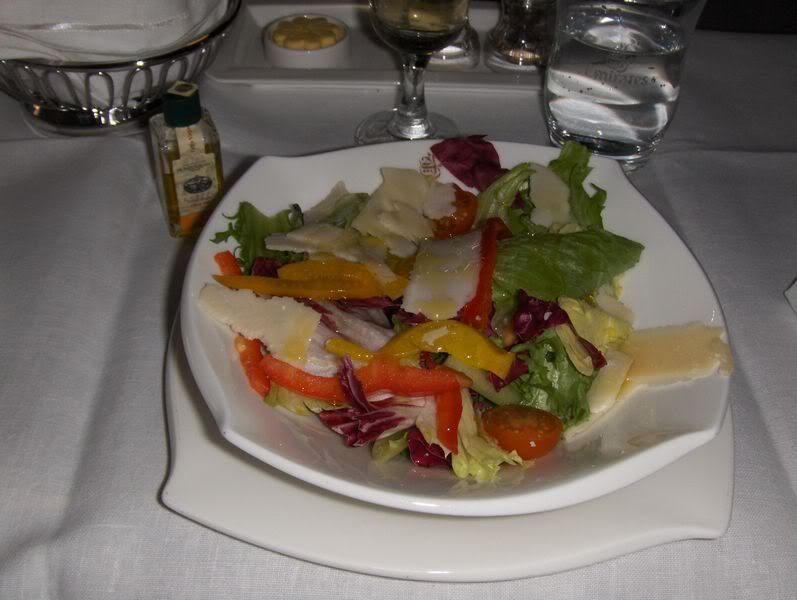 I was quite stuffed by now, so the F/A suggested I take a break before the dessert while enjoying some more Dom… Sure.
Dessert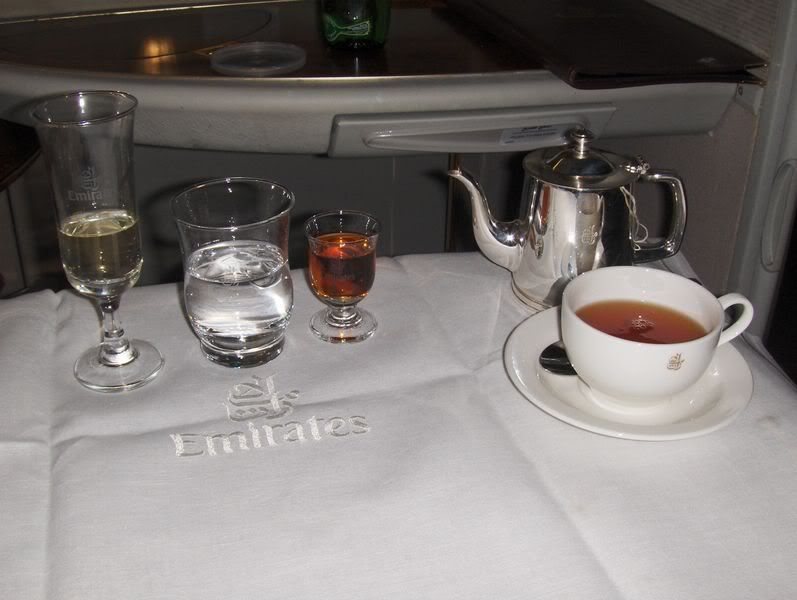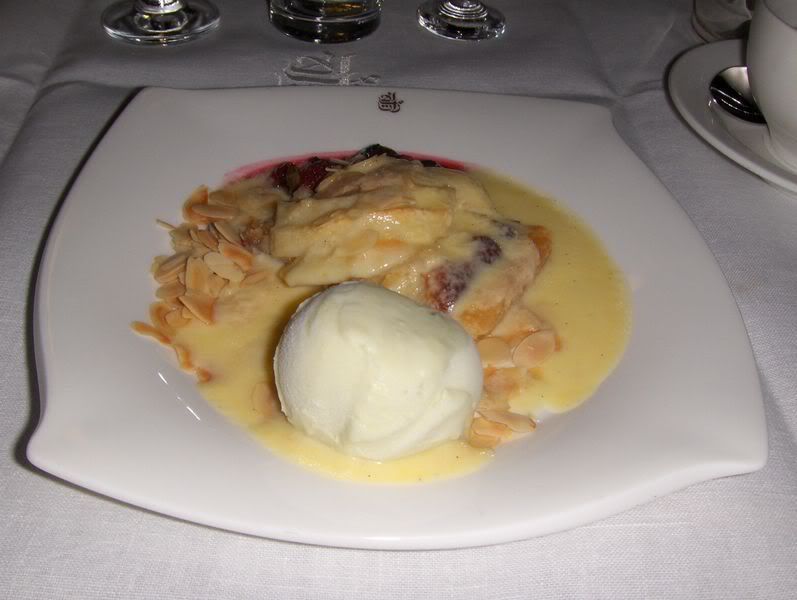 An absolutely fantastic meal complemented by the excellent service of the crew today. Alas, as soon as I was finished, the captain came over the PA and announced we'd soon start descent into Hamburg. I was not looking forward to that – 10 more hours in this suite would have been nice!
Descending into HAM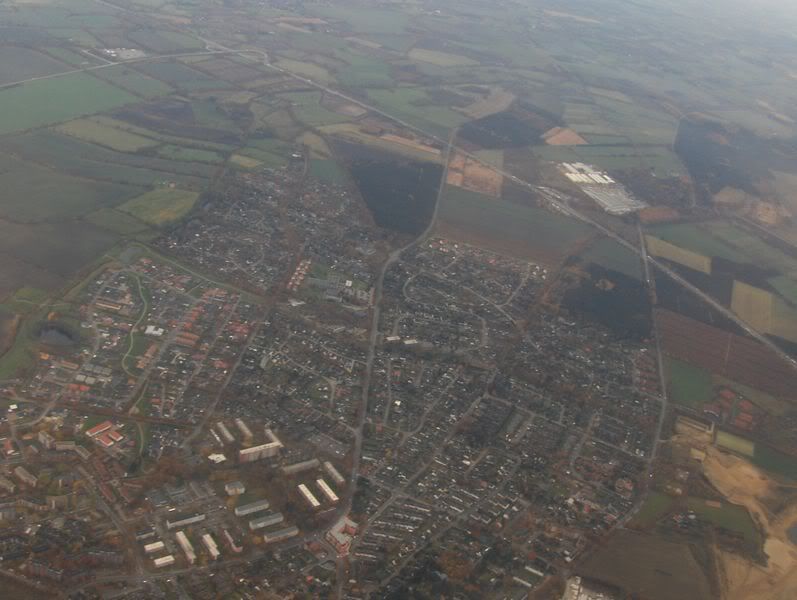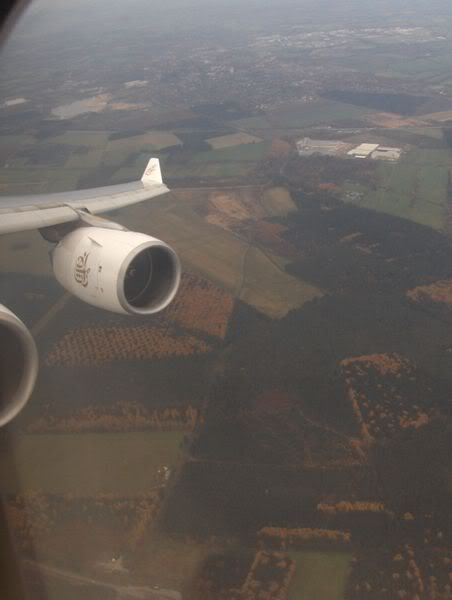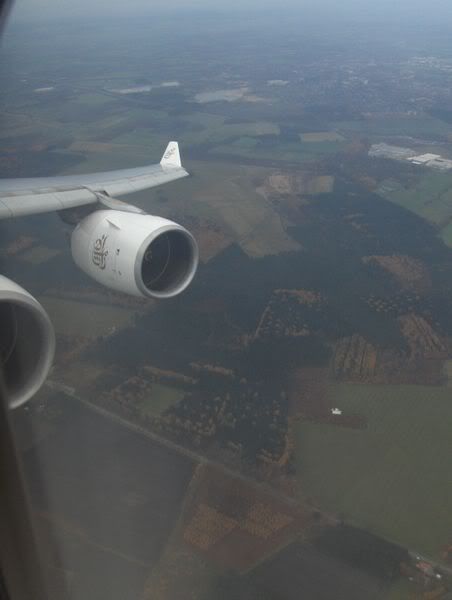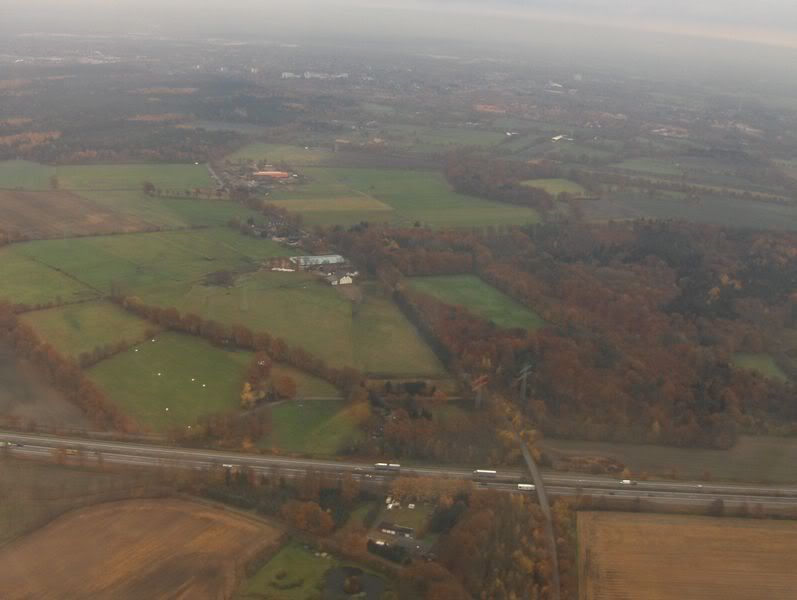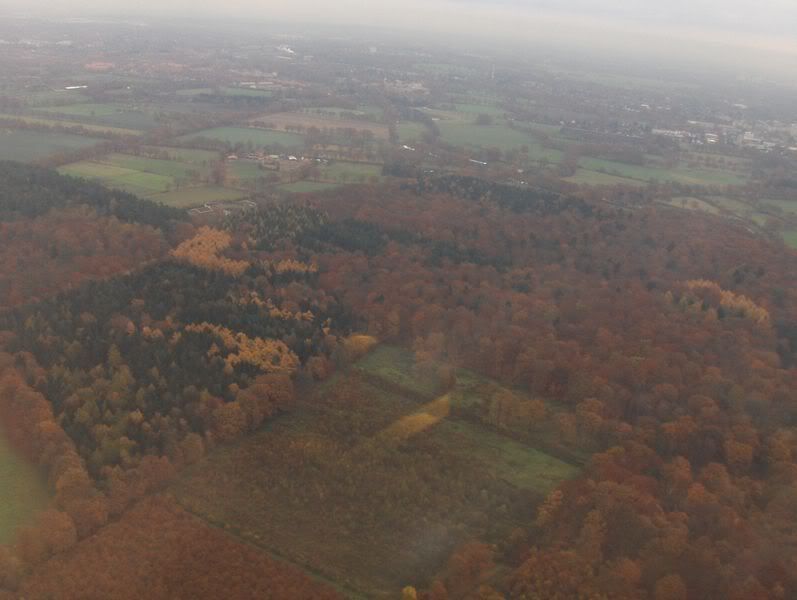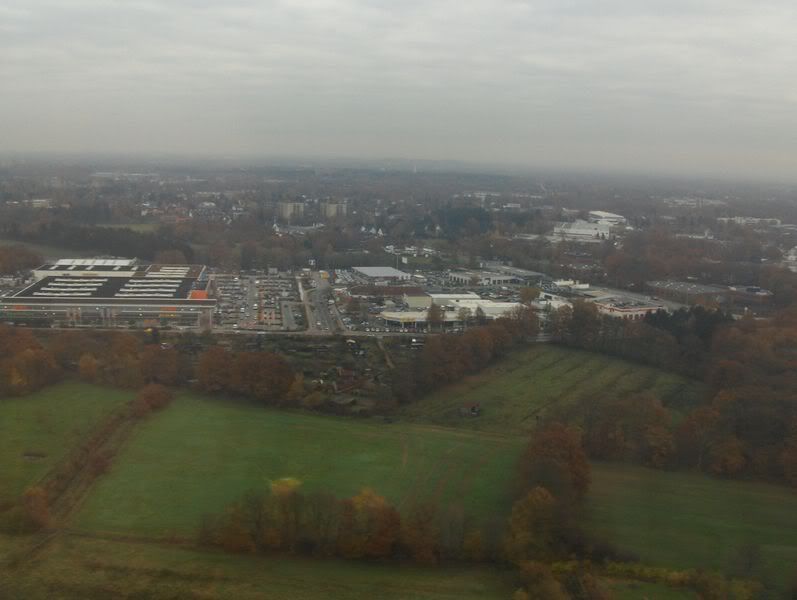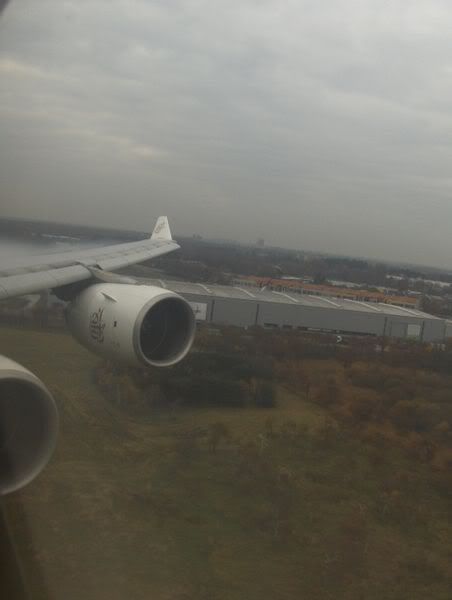 Touching down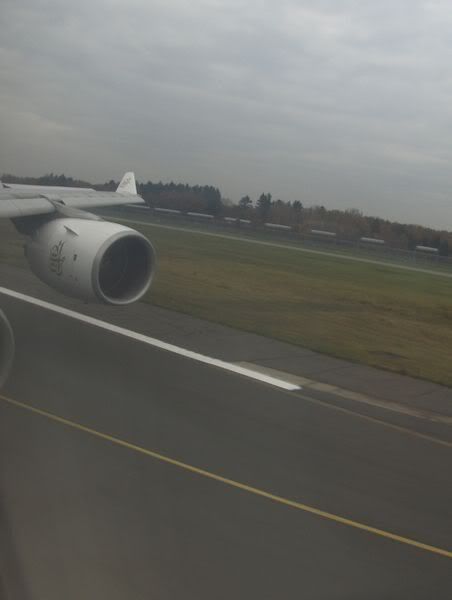 Taxiing
Euro jets at the terminal, on our other side was another EK A345 doing JFK-HAM-DXB, quite a sight to have the two A340s there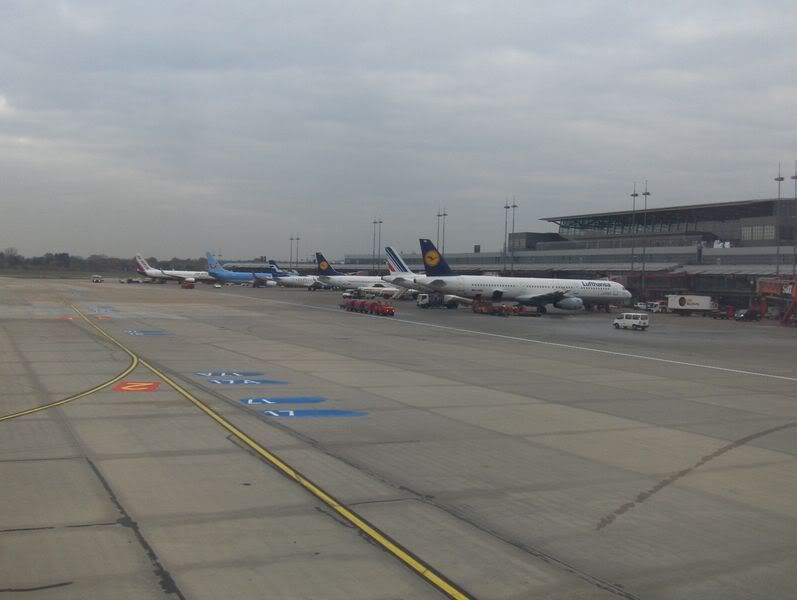 I thanked the crew for a great flight and they seemed genuinely happy I enjoyed the flight. A6-ERA at HAM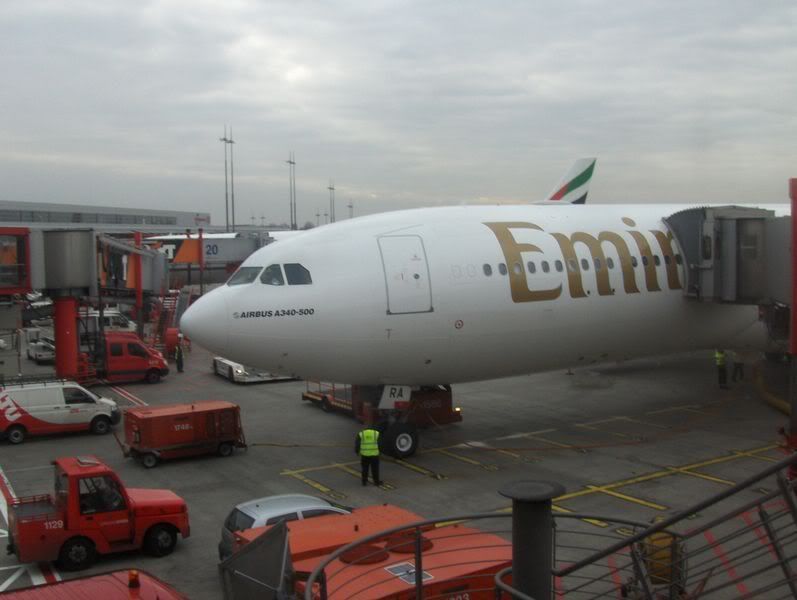 My F class tagged bags were the first out and I hauled them straight to LH F class check-in upstairs for my HAM-FRA-HEL connections.
A300 HAM-FRA downgraded to A320 yet again
Refreshment
Gate for HEL at FRA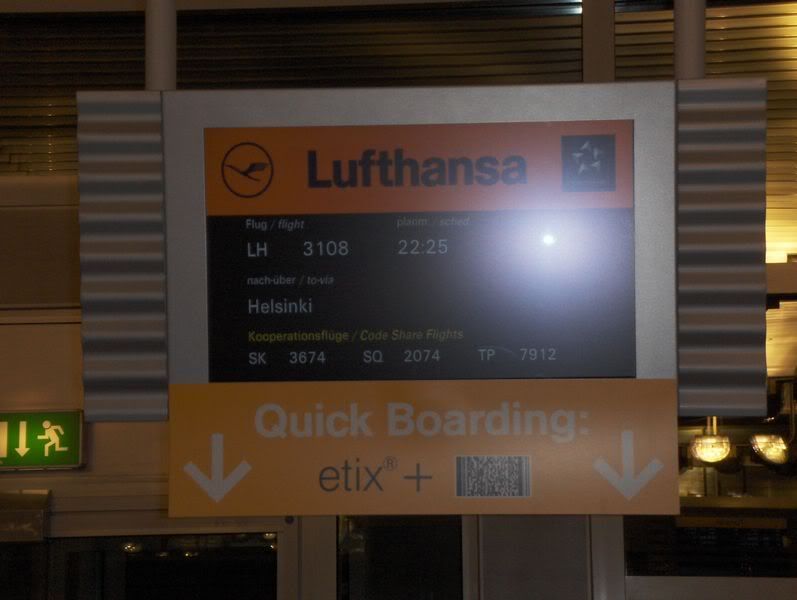 Disgusting hot meal FRA-HEL, worst I've had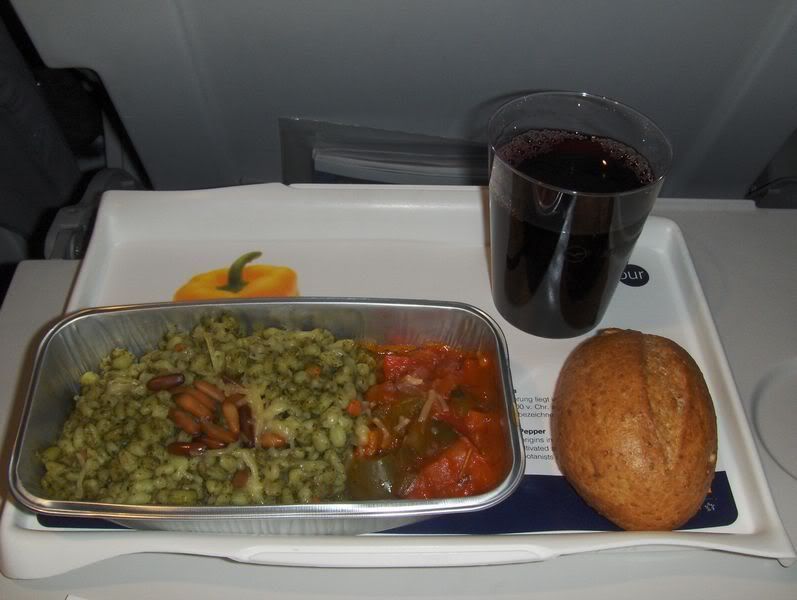 Shared lounge at HAM on my way back
Welcome drink on DXB-MNL, B777-300ER A6-EBA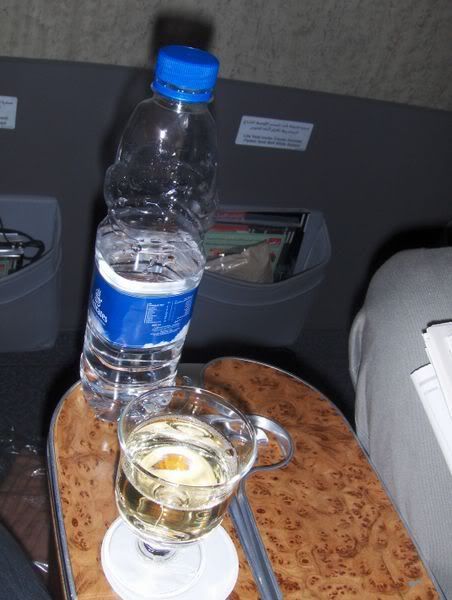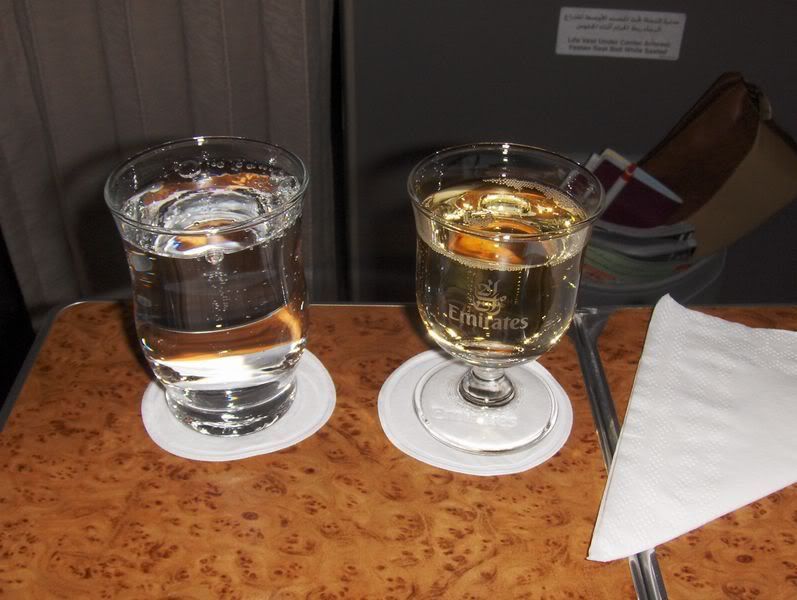 Breakfast in J DXB-MNL
Excellent salmon and lobster laksa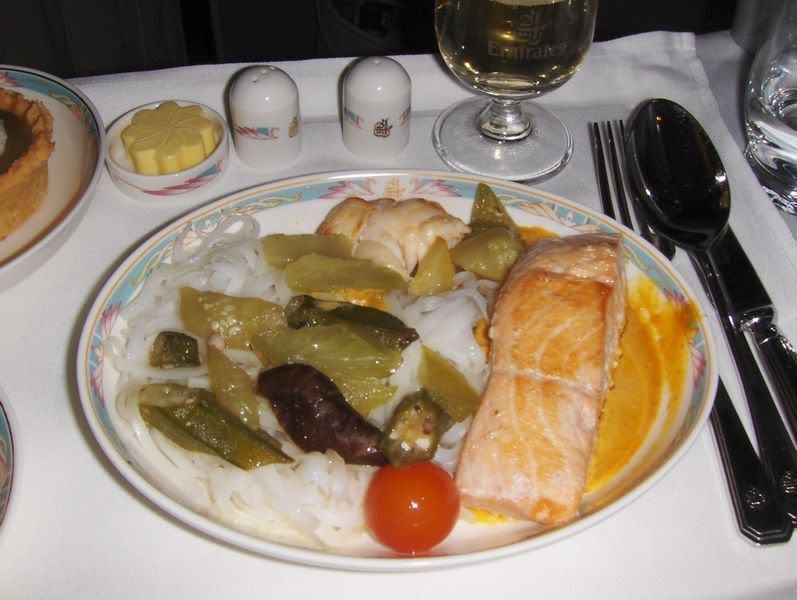 Emirates First Class on DXB-HAM was without a doubt my best flight so far (out of 899 flights). Perfect food, great suite, excellent crew. The MNL-DXB-MNL legs on the high density 77W with lots of upgrades were nothing to write home about but not bad.
Hope you enjoyed.
Lufthansa747