Trip report: Kittila (KTT / EFKT), Finland to Manchester (MAN/EGCC), England.
Flight Details:
Date: Sunday 21st December 2008
Departure Airport: Kittila (KTT / EFKT), Finland
Airline: Thomsonfly (Thomson Airways) (BY/TOM)
Flight: TOM3838
Equipment: Boeing 737-8K5
Registration: G-FDZO
Destination Airport: Manchester International (MAN/EGCC), England. Terminal 2
Allocated Seat: 30B (A)
Departure Gate: 5
Scheduled Departure: 1230 (GMT+2)
Actual Departure: 1700 (GMT+2)
Departure Runway: 16
Scheduled Flight Time: 3 hrs 25 minutes
Scheduled Arrival: 1355 (GMT)
Actual Arrival: 1806 (GMT)
Actual Flight Time: 3 hrs 06 minutes
Arrival Runway: 23R
Distance: 1333 nautical miles
Arrival Gate: 206
Following a wonderful and magical week in the winter wonderland of Yllas, Lappish-Finland, it was sadly time to pack the bags and head for home. My outbound trip report, flight TOM3837 from Manchester to Kittila is available
here
. Through the week, we met Santa;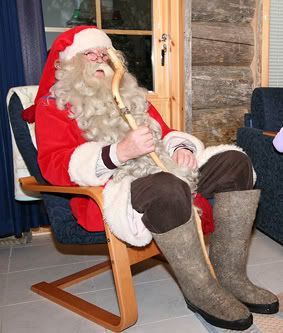 who came to our log cabin to visit us and show the kids Rudolph and talk about how he delivers presents on Christmas eve (notice our impressive snowman!);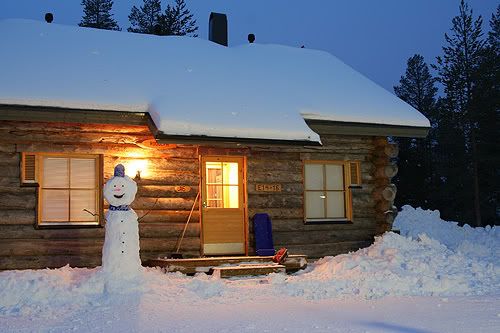 We had loads of fun driving ski-doo's through the pine forests around Yllas;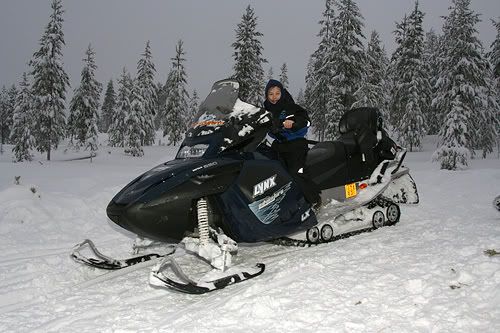 stopping at a log cabin to warm up and enjoy a hot berry juice;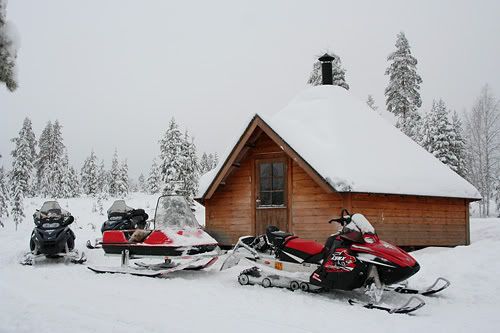 Drive husky sleights through the pine forests;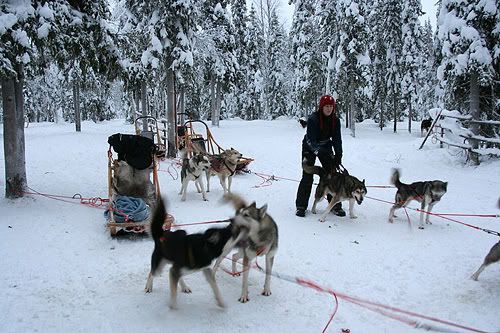 and drive our hire car down the snow and ice covered arctic roads!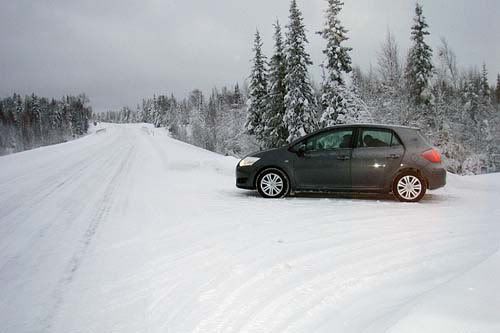 We saw lots of Reindeer roaming the streets;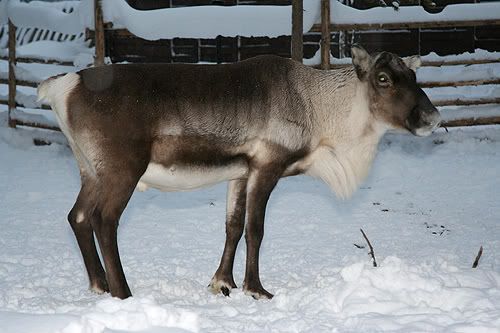 It really is a magical place for a short break at Christmas and thoroughly recommended to take kids before they get too old. I wouldn't go for a day trip though; you'd miss out on too much and not get a real feel for the place.
Anyway, back to the subject of the flight home! For those who've read my outbound trip report from the previous Sunday, the inbound flight was pretty good. I was hoping for a repeat on the return journey. Our flight was due to depart from Kittila at 1230 and we needed to have the hire car back at the airport for about 1000, so we decided to set off for the airport at about 0900. It wouldn't take an hour to drive the 60km from Yllas to Kittila, but better to allow an extra few minutes just in case as the snow was falling quite heavily and there's always fog when driving over Yllas fell. A few days previous, it was total white-out conditions when I was driving back from Levi. That was rather fun!!
We reached the airport for 0945 so well ahead of time and no dramas. Considering all the activities we'd done through the week, one of my highlights was driving on the arctic roads. A slight dusting of snow in England leads to the country almost grinding to a halt with severe congestion on roads. I know this part of Finland is well catered for this sort of extreme weather and cars have studded winter tyres fitted, but I think our country could take a few tips from how the Finnish handle things. The airport is quite small, but then doesn't handle many flights for the majority of the year. It's a different story in winter though with ski charters and Santa trips. The airport was almost deserted when we arrived. We must have beat the coach loads expected! We parked the hire car in the car park and said goodbye to the snow for one last time.
View Large
View Medium


Photo © Darren Wilson
We enter the terminal building to find a Monarch flight checking-in at desks 1-4 (there are only 6). Our flight was on the board but wasn't checking-in yet. I knew our flight was pretty much on-time as a friend text me to say the outbound flight, TOM3837 had left Manchester at 0633z, so only 18 minutes behind schedule. Thanks Claire! We had a quick look around the shop, dropped the hire car keys in at the desk and waited for about 20 minutes before our flight was ready to check-in. More passengers had arrived at this stage so the departure area was starting to get rather busy. Luckily we missed most of the rush and managed to get checked-in quickly. Check-in was at desks 1-4. It was a little slow because flights were being checked in manually. It didn't take too long though, 15 minutes and it was our turn. Thomsonfly (Thomson Airways) pre-allocated seating 24 hours before the flight operates so the agent had a seat allocation printed and wrote our boarding cards out accordingly. We were allocated the whole of row 30 for the 5 in our group; A-F.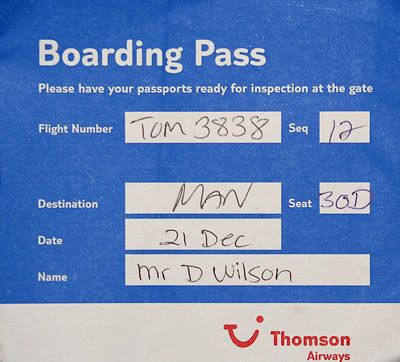 With the departure area being pretty cramped by now, and there not being much to see or do landside, we proceeded through the security checkpoint and headed for the departure lounge. We passed through without any problems, and I didn't get searched again!!!!
The departure lounge was set out slightly different to most airport I've been through. Because traffic for the majority of the year is domestic, mainly flights to Finland's capital Helsinki, there are 4 domestic gates (1-4) and 2 further international gates (5 & 6) through passport control in a different section of the departure lounge, to the right. I don't suppose there's a need for passport control for the majority of the year so it's an annex to handle the increased international traffic in winter. There's a small gift shop selling last minute souvenirs such as soft toys, cups and fridge magnets and a small café adjacent serving snacks, coffee, beer, wine etc. It's a little on the pricey side so be warned. A 500ml bottle of water is 2.80 euros with hot drinks 3 euros. It's not quite Dalaman (Turkey) expensive, but not cheap either. This is compounded by the poor exchange rate at the moment.
Seating in the departure lounge is at a premium. I'm sure there are loads available on a normal day, but this was one of, if not the busiest day of the year at the airport with it being the weekend before Christmas. Pretty much all seating was taken by the time we arrived and there were hordes of passengers still yet to come though. Many people resorted to sitting on the floor, including us around gate 3!! The large windows of the terminal make for great viewing over the snow covered apron. Right on schedule at 11am, a Finnair A320-214 (OH-LXC) from Helsinki arrived at gate 3;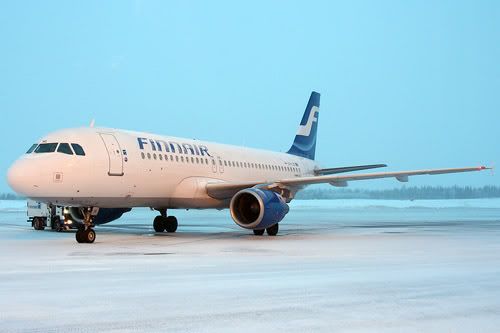 Just as that arrived, I receive another text from Claire; she said for some reason our flight was now showing as arriving back in to Manchester at 1600, rather than the 1355 it was scheduled to be. That was strange considering we knew the flight had left only 18 minutes late. It was scheduled to land at 1130 in Kittila, so we should expect to see it at around 1150. Had something happened on-route, a diversion? Only time would tell.
Several other aircraft landed, mainly charters from the UK. These included Thomsonfly 738's and 752, Monarch A321's, a Jet2 752, First Choice A321 and Europe Airpost 737. That must bring all of Santa's mail!! The Finnair flight started to board from gate 3 and we were lucky enough to then get seats next to the gate as passengers boarded the flight. The flight to Helsinki was pretty quiet, there couldn't have been more than 30 or 40 passengers boarding. Right on time, the flight was de-iced and pushed back for it's 1145 departure. Runway 16 was in operation today. Just after it departed, a Thomsonfly 738 landed and taxied over to gate 3; that was our flight arriving. It landed pretty much as expected, 20 minutes late. It wasn't the aircraft we were expecting; it was G-CDZH, one of the older non-wingletted aircraft. It was expected to be a 73H as per the outbound flight. These have older generation seating that are a little more cramped than the excellent slim line Recaro seats fitted to the 73H's (G-FDZx). At least the aircraft was here but it was still a mystery as to why the flight was expected in Manchester 2 hours later than scheduled.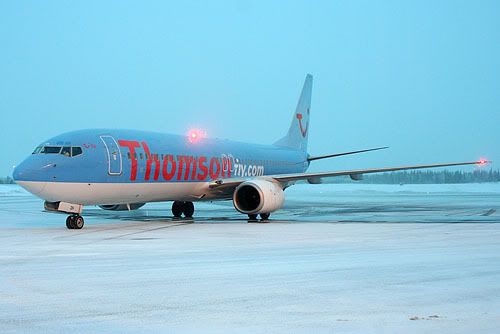 Our scheduled departure time was 1230, but with the late arrival of the incoming aircraft, we expected to be departing at around 1300. It just said on the screen 'check-in'. We waited for 30 minutes and nothing changed, so we decided to go through to the international departure area. On the way, we noticed a photo display of the airports history. There were photos of the airlines who've served Kittila over the years with the usual Scandinavian and Finnair Md-80's and some older aircraft, through to more modern types. It was interesting to note the departure area suffered a huge fire in July 2006. The part of the terminal we were in had to be rebuilt.
Because flights weren't been called, the queue for passport control was small. I handed my passport over to the officer and asked him to stamp it for me as you don't get stamps these days when travelling within Europe unless you ask for them. The officer was very friendly and asked us if we'd enjoyed our stay and was it our first visit. Once in the international departures area, passengers were packed in like sardines! There was very little room to manoeuvre. I was beginning to realise why our flight was showing as not expected back in Manchester until 1600; airport congestion. With all the extra flights landing, ground staff were struggling to turn aircraft around. It was looking like the delay was true.
We sat around the gate 6 area, luckily we found some seats but most were sat on the floor. I could see our aircraft being refuelled and bags were being loaded one trolley at a time. As more flights arrived, staff were being taken from departing aircraft to arriving aircraft. They were working their socks off but there were just too many aircraft to handle at once. I noticed a second Thomsonfly 738 (wingletted) arriving from Gatwick followed by several other aircraft. They were having to park them anywhere they could find room. A Flyglobespan 737 arrived (G-SAAW) that was parked on the taxiway to disembark because there was no room on the apron!! Our scheduled departure time of 1230, and anticipated 1300 had long passed by this time and there was no word from anyone as to the extent of the delay. If it wasn't for Claire's texts, I wouldn't be any the wise. A few passengers were asking questions so I told them the information I had, we were delayed at least 2 hours. If I knew, then I'm sure the handling agents knew and maybe they could have made an announcement to keep passengers updated as some were getting a bit annoyed with the lack of information. A few passengers started to quiz ground staff, who to be fair to them couldn't really tell us much because they didn't know what was going on either.
At 1400, a dispatcher came to the gate to update staff on the situation. Apparently, Thomsonfly had issued instruction that there was to be an airport change. As if the handlers didn't already have enough to do, they would have to unload our aircraft of the bags and switch them to the incoming Gatwick flight as they were rotating the aircraft. The 738 (non-wingletted) we were originally going home on was being changed to the 73H from Gatwick as it was apparently needed in Manchester to operate a subsequent flight. This delayed us a further 1 hour while handlers swapped luggage and catering between aircraft. Eventually, we were called for boarded at 1545, about 3 hours later than expected. We were to board from gate 5 and be bussed to the aircraft waiting at a remote stand. The bus had to negotiate its way between aircraft, they were sat on every part of available apron space. As many of the charter flights were for day trips and arrive early and depart late in the evening, it caused a parking nightmare for them! It was dark by this time so views across the apron were limited. We reached our aircraft, we would be travelling on one of Thomsonfly's latest additions to their fleet; G-FDZO. As with G-FDZJ we'd flown in on, the aircraft was built in 2007 and was originally delivered to sister airline TuiFly, as D-ATUA in April that year. It was transferred to Thomsonfly only a few months previous on 03/06/2008.
We embarked the aircraft via steps at the L1 door, to be welcomed by the friendly cabin crew. There's nothing like a delay to get everyone seated quickly!! Everyone were in their seats and ready to go far quicker than normal. I sat in 30B but would swap with my niece later in the flight and take the window seat (30A) so she could lie across 30B/C and try and sleep. The Captain made an announcement; first thing was a big apology from the crew for the delay. He explained they landed pretty much on schedule as we already knew, but they'd been sat on the apron for the last 2.5 hours while they awaited instruction from head office and assistance from ground handlers. As we found out in the terminal, Thomsonfly had taken the decision to rotate aircraft in Kittila because there wouldn't be enough time to position aircraft once back in the UK. They'd swapped the Manchester and Gatwick aircraft. Because of airport congestion, the Gatwick flight was in the hold for an hour before it could land which compounded things. He said we were just waiting to be de-iced and as soon as that was done, we'd be off.
With the doors closed, we sat and waited but there was no sign of the de-icing truck. 20 minutes later, the Captain made another announcement. He said once again apologies from the crew, the de-icing machine had run out of fluid and it's gone to fill up! It would take about 30 minutes. The cabin crew made an announcement to say while we waited, they'd start the in-flight film, to be continued once we were airborne. As an apology once we were airborne, refreshments would be complimentary as would headsets. This was a good move by the cabin crew as the flight was made up of families with young children who were getting pretty restless by now. The screens dropped from the overhead panels and the film started; Wall-E. It was a cartoon feature film and it soon settled the kids down.
View Large
View Medium


Photo © Darren Wilson
As expected, about 30 minutes later, the Captain was pleased to announce the de-icing truck was here and it would take 5 minutes or so to clear the ice and snow off the wings and tail and we'd be away. The film was paused and replaced with the safety video and the cabin prepared for take off. The CFM56-7B26's burst in to life once de-icing was complete and we were finally under way, a delay of 4.5 hours in total. We taxied on to runway 34 and backtracked to the end for a 16 departure. Once lined up, the brakes were held firm as the engines spooled to take off power, then release. We shot down the runway with some acceleration, this aircraft had some punch!! We were pushed back in to our seats as we rotated and climbed in to the darkness. We climbed straight in to low cloud so couldn't see anything outside. After take off, we made a long, slow right hand turn on to our south-westerly heading. Our route would take us 50km across the northern tip of Finland to the Swedish border, through Sweden and across the central part of Norway, then across the North Sea entering British airspace at Newcastle. Our cruise altitude would be 40,000ft;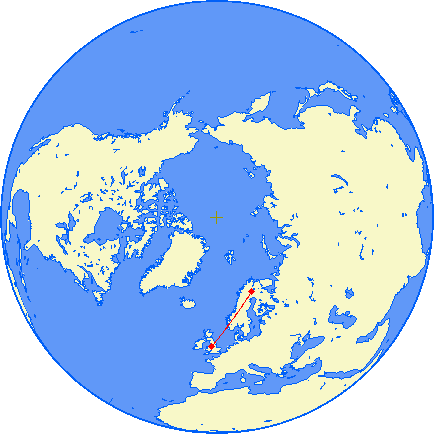 The scheduled flight time was 3 hours 25 minutes. Soon after take off, cabin crew restarted the IFE and did a drinks service. This was complimentary as promised so I had a can of Stella Artois since I wasn't driving when we landed! I could smell our meals were in the oven. 45 minutes after take-off, cabin crew starting to serve them. To our surprise, they were special Christmas meals of a traditional Turkey diner. They were neatly presented in a Christmas box rather than the usual plastic trays, a nice touch. I've not always been a fan of the meal service on Thomsonfly flights of late because of the Aldo Zilli inspired menu. But now they've gone back to more traditional offerings, and this one in particular, it was of the highest standard. The turkey was cooked to perfection and was nice and moist, the roast potatoes just how I like them and the vegetables steamed. The red cabbage was crunchy and tasty and the gravy just perfect. For those who like brussel sprouts, I was told they were nice too! I must say as airline meals go, this was probably the best I've had in quite a while. For desert, we had a mini chocolate roll followed by cheese and biscuits. This was served by a choice of tea, coffee or orange juice. For those still hungry, cabin crew came round to give out spare meals to those who wanted a second helping. No point wasting them!
The flight was uneventful after the meal service was finished. We experienced a few bumps and shakes of turbulence along the way, but nothing major. Once the feature film had finished, the usual BBC repeats were shown such as Dragon Den. It was one I hadn't seen before so I watched that. The captain made an announcement just as we were entering British airspace, about 45 minutes before landing to give us a progress report. He said we were just about to drop to an intermediate altitude of 25,000ft around the north-east of the country before making a direct approach in to Manchester. He said the weather was expected to be clear, although a little gusty from the westerly wind with a temperature of 10 celsius. Tropical after the 0 to -9 celsius we'd had all week!!! This is the first time I've travelled back to England where it was warmer than the departure country!!! I felt the aircraft start to descend as the throttles were pulled back. Once we levelled out, we could see all the lights below us and I recognised a football stadium; it was St James Park in Newcastle. They were playing Tottenham Hotspurs. Newcastle won 2-1!!
We continued our descent and lined up for our final approach for runway 23R. The weather had cleared and we could see all the lights of the suburbs of Manchester out of the port side, and the city of Manchester out the starboard side. The aircraft was buffeted by the winds, nothing too serious though. I felt the front of the aircraft lift as we flared, and touched down nice and gently. Brakes were applied moderately with no thrust reverse used. We rolled to the high speed exit adjacent to Concorde at the aviation viewing park and exited the runway. Welcome back to Manchester! Concorde wasn't lit by the usual coloured lights as a new hanger is currently being constructed to house the impressive and historic aircraft in order to preserve her. You could just about make out her sleek profile through the darkness. We taxied down alpha, and over to Terminal 2 stopping at gate 206 ready for the aircrafts next flight the following morning. Touchdown was at 1806, just over 4 hours late. We'd made up about 25 minutes in-flight.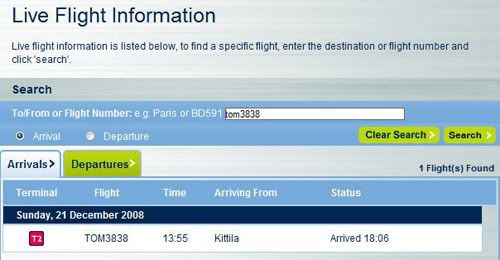 We collected our belongings and disembarked via the L1 door, up the air bridge in to the terminal. Depending on how busy the airport is, it can take some time to proceeded through immigration with the new security checks. Luckily, we were the only flight at the time so it only took a couple of minutes. By the time we got to luggage reclaim, our bags were beginning to arrive on carousel 1. 5 minutes later, with all our bags, we made our way out in to the arrivals hall then via a lift, upstairs to the departures area. We had to make our way to the new terminal interchange to catch the shuttle bus to Airpark Gold where the car was; a 5 minute walk through the link-bridge between the terminals that is lit up with it's distinctive purple lighting. Once there, a bus to Airparks Blue was just boarding, our bus was the next one. A minute later, and we were off for the last part of the journey home, a trip up the motorway on the proper side of the road!!
So sum up, I was quite impressed by this Thomsonfly experience. Even given the delay on the inbound flight, which to be fare to Thomsonfly was only partly their fault, the aircraft were modern, clean and offered plenty of room for the length of flight. It may have been a different story if we had returned on the original aircraft or one of their aging 752's, but the 73H's offer a great standard for short-mid haul flights. Cabin crew were friendly and courteous throughout as were the Crystal Ski representatives in resort. Thumbs up all round.
My next trip is in March 2009 when I'll be flying with Thomsonfly (Thomson Airways), this time to Mombassa (Kenya) as I embark on some diving in the tropical waters of the Indian Ocean and a mini-safari to see some big game. I'll be travelling on one of the ex-First Choice 767-300/ER's, now part of Thomson Airways. I've flown on these several times and when it comes to long haul economy (charter) travel, there's very little to beat them. Until then, Happy New year!
Darren