Hello and Happy New Year to everyone,
I just returned from a short holiday in Spain and I just decided to write a brief report about the flights with easyJet because they were very pleasant. I am sorry for the quality of the pictures, all of them were made with mobile phones because we had no proper camera available. I hope you enjoy the report though.
About the trip:
As some of you might know, flying to Spain after Christmas is a good old tradition of my best friend Seb and myself. The days between Christmas and New Year's Day are usually incredible boring as well as incredible cold here in Germany, so we enjoy it to fly southwards where it is warmer and where is a better nightlife. There is only one country in Europe where you can find this at the end of December... yes, in Spain!
Originally we had planned to fly to Alicante this time but easyJet cut some routes from Dortmund with the beginning of the winter timetable 08/09, and unfortunately they also cut Alicante as well as Palma and Malaga. EasyJet's only Spanish destination that was left from Dortmund was Barcelona, we also spent the last two Christmas holidays there and we always liked it so we decided to fly there again.
The flight to Barcelona:
We left Seb's apartment at around noon and drove to the next train station where we parked Seb's car. Then we wanted to buy tickets but the display of the automat showed: "Out of order", that was a good start actually, the ride to the airport was for free since we had no chance to get the tickets elsewhere. On a side note, the leg to Dortmund is not served anymore by Deutsche Bahn but by a company called Eurobahn. That was luck again for us because the wagons were very new and clean, the complete opposite of these rolling trash cans of Deutsche Bahn. We left the train at Holzwickede station and took the shuttle bus to the airport, the fee was 1.50 EUR per person and took approximately ten minutes instead of the usual five minutes because some moron crashed his car on the street to the airport and blocked the traffic for some minutes.
Eventually we arrived at the airport and went directly to the bar to have two beers. Check-in was not necessary for us anymore because we used easyJet's online check-in and printed the boarding passes by ourself back in November already. I can recommend an internet check-in, when you do it as early as we did, you can look forward to get "Boarding Group A". We finished our beers, went to the newspaper shop to get some reading material and cleared security. The guys there were not the friendliest, one of them shouted to me: "
I told you to remove all your jackets
", I told him: "
Errr... my jacket is going to the x-ray machine as we speak here
", then he pointed his finger on my sweatshirt and asked: "
And what is that?
", I told him that it is a sweatshirt in my book but he said: "It has a zipper so it is a jacket, take it off now". I did what he wanted and he was happy. We had a few minutes left until boarding begun so we had two more beers at the bar of the departure area, there we had a nice talk with the bar-lady, she even showed us the daily timetable where I could see the registration and the pax load of our flight.
Date: 29th of December 2008
Flight Number: U2/EZY 4915
From: Dortmund (DTM); To: Barcelona (BCN)
Departure: 14:30h; Gate: 0
Equipment: Airbus A319-100
Registration: G-EZAE
Pax Load: 149 of 156; Seats: 23A and 23B
We were still chatting at the bar when we heard the first boarding call, finishing our beers and saying goodbye to the bar-lady was a matter of seconds. We went to the gate where it was a bit funny, the gate agent who checked the boarding passes had to shout the name of everyone who had a home printed boarding pass to her colleague because the boarding pass reader could not identify us. When it was my turn, I handed the gate agent my boarding pass and shouted my last name to her colleague, they laughed and wished me a nice flight. The plane stood on position #2, it was a 20 second walk from the terminal to it. Here is a picture I took during we walked: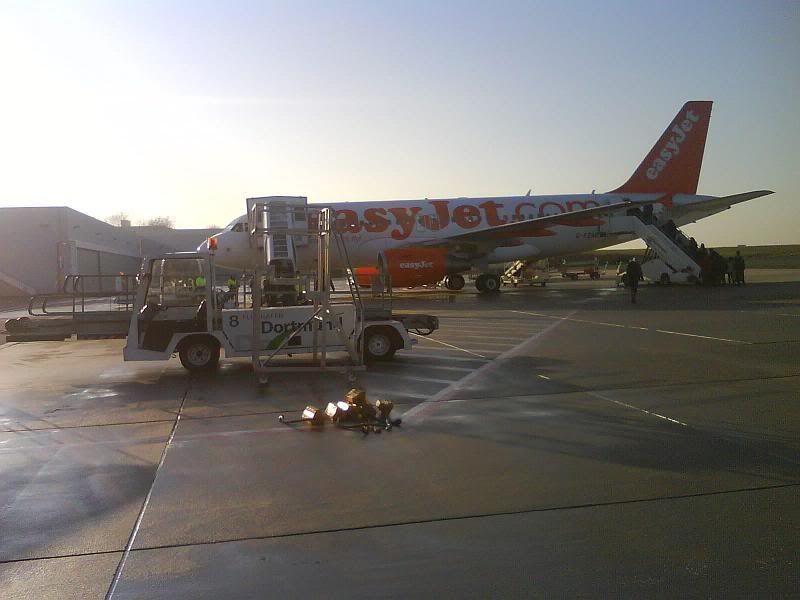 G-EZAE at position #2 in Dortmund
We decided to enter the plane through the rear door where we got welcomed by a friendly flight attendant. Immediately we found two seats in row 23. There was even still enough space in the overhead bin to store our onboard trolleys, the whole boarding process went perfect and not as chaotic as I thought before. Boarding was quick despite the high load, I can imagine that everyone rushed to the plane to grab a good seat, actually an advantage of free seating. Here is a cabin shot I took during boarding: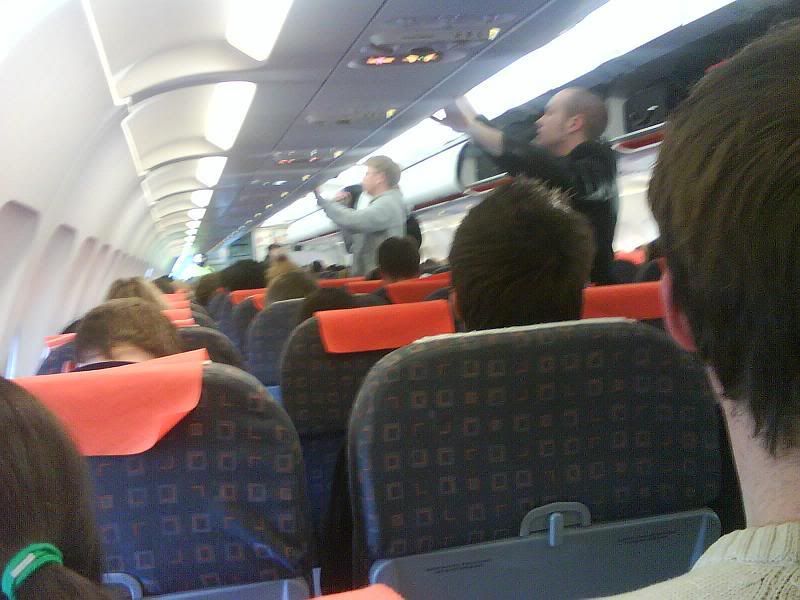 Boarding was quick despite of the high pax load
The seat pitch was not the best for someone like me who is 1.90m tall but it was absolutely ok for a two hour - and maybe even for a three hour - flight: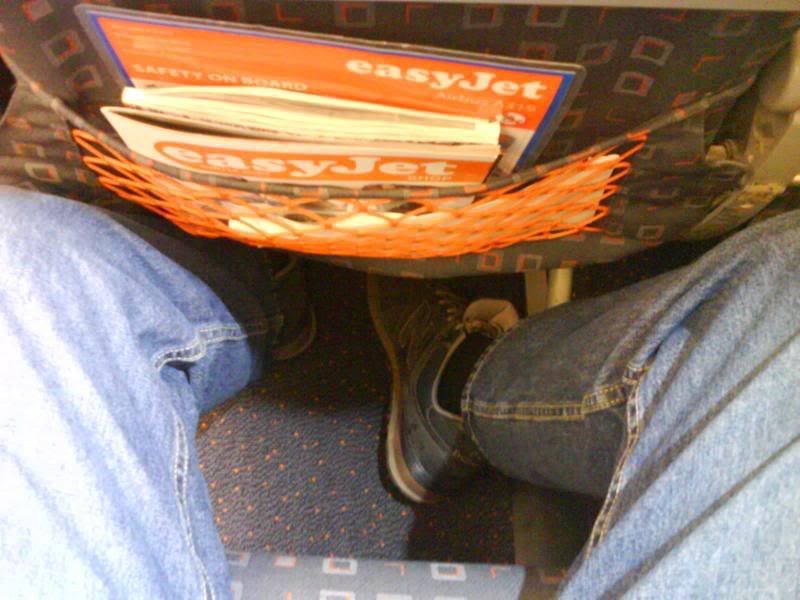 Decent seat pitch for a short-haul flight
The captain made an announcement as soon as everyone was sitting, at first he introduced himself, the first officer and the cabin crew, then he gave some details about our route to Barcelona, the weather there, and so on. The safety briefing follwed shortly while taxing to the runway, at first in Spanish (from the tape), then in German (again from the tape) and finally in English (live demo by the cabin crew). The take-off was nice, we could see some suburbs and downtown Dortmund before we dissapeared into the clouds for a short while, the cabin crew was out of their seats after passing 10.000 feet and the service begun shortly after reaching cruising altitude. Seb and me decided to annoy the girl next to us as well as the guy in the row in front of us a bit, we were a bit drunk already and had a bit fun with them, I guess it was the worst flight ever for them, their facial expressions were priceless after five minutes.
Eventually the cabin crew came around with the drink cart and we took two beers. Ok, I know that no-frills airlines like easyJet must make a bit of money via the buy-on-board stuff, but come on, nine Euros for two small 0.33 liter cans of Carlsberg Export is pretty outrageous in my book! Anyway, after so many beers we had to pay the lavatory a visit and since the jumpseats next to it remained empty, we decided to stay there to enjoy the better legroom. Here I am:

It's me! Look at my eyes, a bit small after a party in the night before
And here is Seb:

Seb still wearing his Borussia Dortmund wooly hat
The cabin crew was pretty cool, they had nothing against our seat changing mission, in fact they even sold us two more beers while we hung out there. Some time later we went back to our seats to annoy the people next to us a bit more and to read the newspapers we bought at the airport before. We drunk another beer and the flight time passed really quickly, the descent was announced earlier than I thought but probably because I was not able to follow our flight route. It is too bad that easyJet's aircraft are not equipped with monitors, I simply love it to know the actual position of the plane I am sitting in, then you can look out for stuff like cities, lakes, mountains and so on.
We arrived at Barcelona's El Prat Airport on time and fortunately we did not have to pick up our luggage because we were travelling with carry-on trolley only. We went outside, had a smoke, took a taxi to our hotel, checked-in there and went to the next bar.
The stay in Spain:
Barcelona was once again fantastic. We had great weather and we enjoyed the tasty Spanish cuisine as well as the great Spanish beers. The following pic was taken on New Year's Eve at around 22:30h, we still sat outside of a bar to enjoy a glass of Sangria, and guess what... it was not cold... only in Spain:

Seb drinking Sangria on the Ramblas at night
The flight to Dortmund
Date: 2nd of January 2009
Flight Number: U2/EZY 4916
From: Barcelona (BCN); To: Dortmund (DTM)
Departure: 18:05h; Gate: 53
Equipment: Airbus A319-100
Registration: G-EZBR ("100th Airbus for easyJet" special livery)
Pax Load: 109 of 156; Seats: 2D and 2E
We took the A1 airport express bus from Placa Espana to the airport, the fee was just 4.05 EUR, definitely cheaper than a taxi. Again was there no need to check-in because we already had our home printed boarding passes with us. We had a coffee, cleared security without any problems, went to the duty-free shop where I bought a carton of Lucky Strike for myself and a carton of Fortuna for a friend. Smokes are still very cheap in Spain compared to Germany, I paid 28.80 EUR for a carton of Luckys with 200 smokes, here in Germany you pay 39.00 EUR for a carton with 170 smokes. Eventually we sat down at gate 55, then the writing on the monitor changed from "Dortmund" to "London LHR", suddenly we saw "Dortmund" at gate 54 but the writing dissapeared again and the only visible thing on the monitor was the AENA logo. Then, 5 minutes later, was announced that we would depart from gate 53 where the KLM flight to Amsterdam was still boaring. The KLM flight left and there was indeed a "Dortmund" writing on the monitor.
The flight was a bit late because of the weather situation in Northern and Middle Europe, lots of planes had to be de-iced and that cause some delays until the evening. I had no problems with that, there is no difference if I arrive on time or just 30 minutes late at home. Boarding was again done in groups, we were the 4th and 5th passengers in the plane so we stored our carry-ons in the overhead bin and took seats 2D and E. The flight was uneventful, Seb sleept and I read the newspaper. We did not take any pictures because it was dark already. The flight time was approximately two hours and we had a sandwich from the easyKiosk, it was pretty expensive (4.50 EUR) but the taste was ok. The flight time passed quickly and suddenly - on short-final - I felt a vibration in my pocket. Damn, I forgot to turn my mobile phone into the flight mode! I got a SMS from a friend, he asked if we already arrived, I wrote back that we will be there in two minutes, then he run to the observation deck to watch our landing. LOL!
I got a shock when we left the plane, it was -5°C, that was at least a temperature difference of 20°C compared to the weather in Barcelona. Seb and me were the first passengers that left the plane and we needed less than two minutes from the plane to the arrival area where our friend Mathias and his girlfriend Inga were already waiting for us. Matze drove us to Seb's apartment where we met with some other friends to have a few drinks together.
Final notes:
EasyJet was fantastic, we enjoyed the flights with them very much. Barcelona was also fantastic, we enjoyed our stay there very much.
I hope you guys enjoyed the short report! Please excuse some typos, I wrote this report in just an hour tonight.
Feel free to leave a comment when you have questions, comments or complains.
Patrick